This article examines problems I had with my expensive 2009 BMW R1200R motorcycle. Updated for 2019, still more to come!
Make no mistake, the BMW R1200R 'hex-head' motorcycle is a superb bike in many respects. Overall, it's a joy to ride and a pleasure to work on. However, a collection of BMW R1200R motorcycle problems, creating headaches like this, this and this, and an absolutely appalling "Too bad so sad" attitude of #BMWMotorradaus potentially ruin the enjoyment of owning this and other similar models. They certainly did for me, I doubt I'll ever own another BMW, thanks mostly to BMW Australia.
What I've done with this article is to outline each major issue and solution, where there was one. None of these problems is a deal-breaker if BMW fixes it and pays, as they should. However, if you have to fix all this stuff yourself, as I did, any one of them is a major dealbreaker. Shame on you BMW. I hope this helps other owners and potential owners.
#BMWAustralia
#BMWMotorrad
#BMWMotorradaus
#BMWProblems
#BMWR1200RProblems
UPDATE! More coming soon including the throttle body pulley debacle.
BMW R1200R Problems
I've owned more than 15 bikes over the years and the R1200R is one of my favourites in terms of being fun to ride, having gobs of torque, one finger no-dive brakes, awesome handling, great range and fuel economy and the list goes on.
Unfortunately, with the good comes some real bad. BMW baked in some engineering and design goofs that cause serious and expensive problems for owners. These are annoying at best and extremely dangerous at worst.
Read on for a run-through of the major problems I've had with the bike, all of which ultimately contributed to my selling it. I've also made a couple of videos about these issues:
This next video documents one of the worst problems, a design flaw with the fuel tank that allows water to accumulate at the bottom of the filler assembly and rust out the tank.
Jump directly to read about this, or watch the video!
Rear Wheel Carrier Cracking
The first is really dangerous. The rear wheel carrier that holds the rear wheel to the final drive, breaks, potentially leading to the rear wheel falling off.
Cracks form in the threaded sections containing the bolts that hold the wheel on. It goes without saying that this is an appalling engineering goof.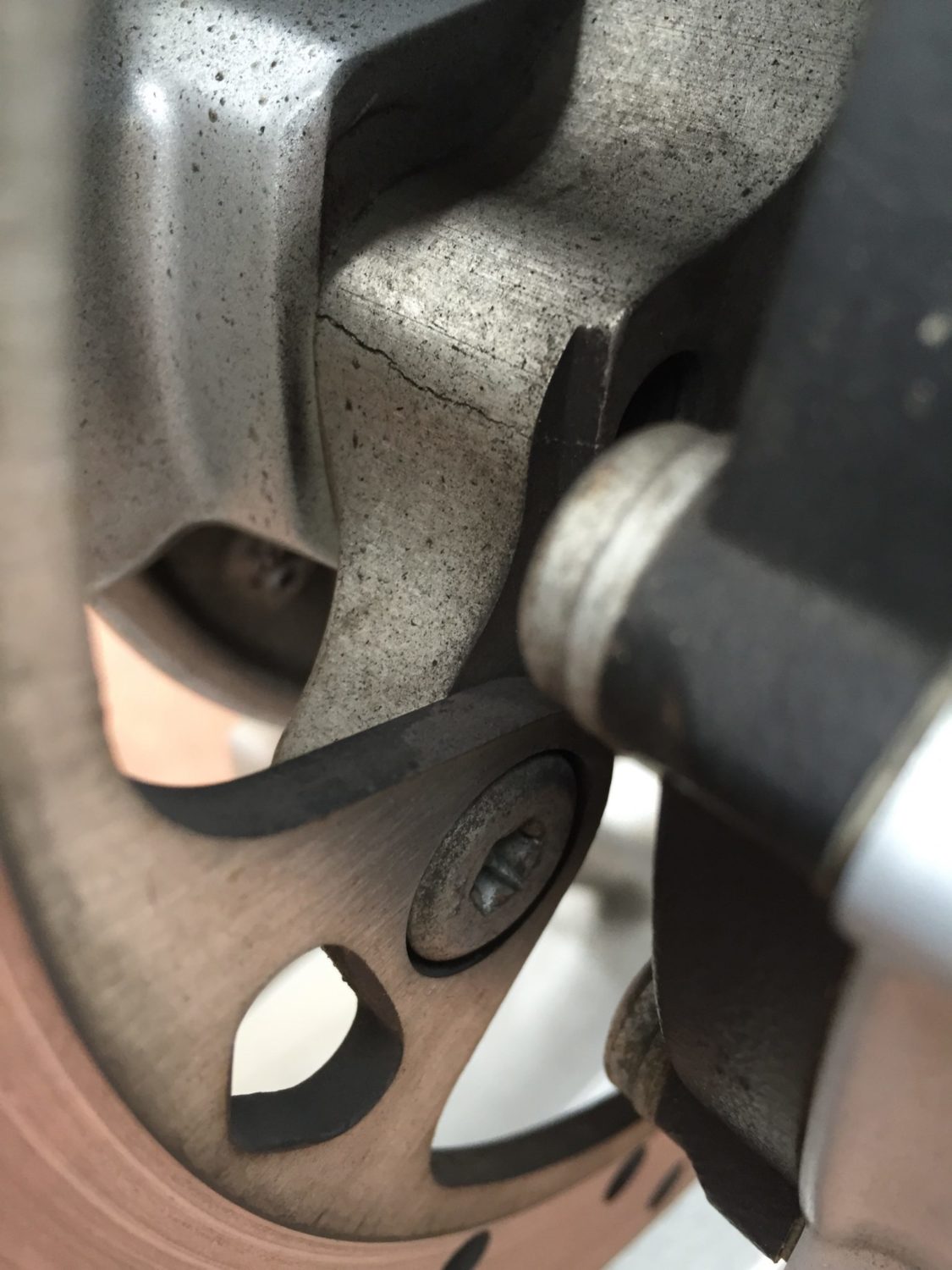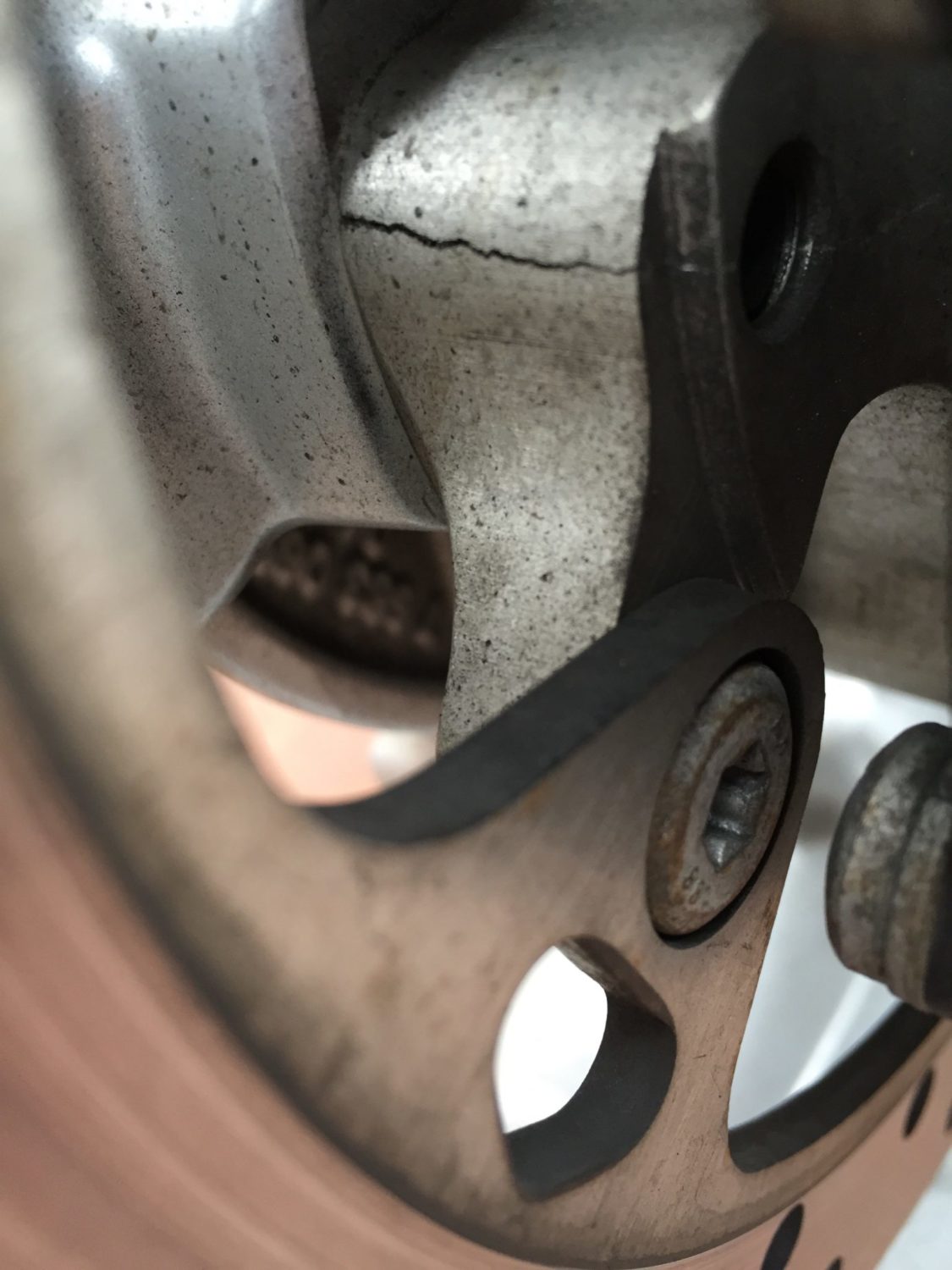 I took these images and made a video which also went to BMW Australia. They finally agreed to replace this part under an extended warranty. Shortly after they agreed to do this, BMW announced a worldwide safety campaign to replace this part on ALL affected bikes.
Leaky Final Drive
The second issue also relates to the rear end. Oil started leaking out of the crown gear seal area on my bike. It turned out that the bearings in the final drive exhibited wear, creating too much movement for the seal to cope with, allowing the oil to escape.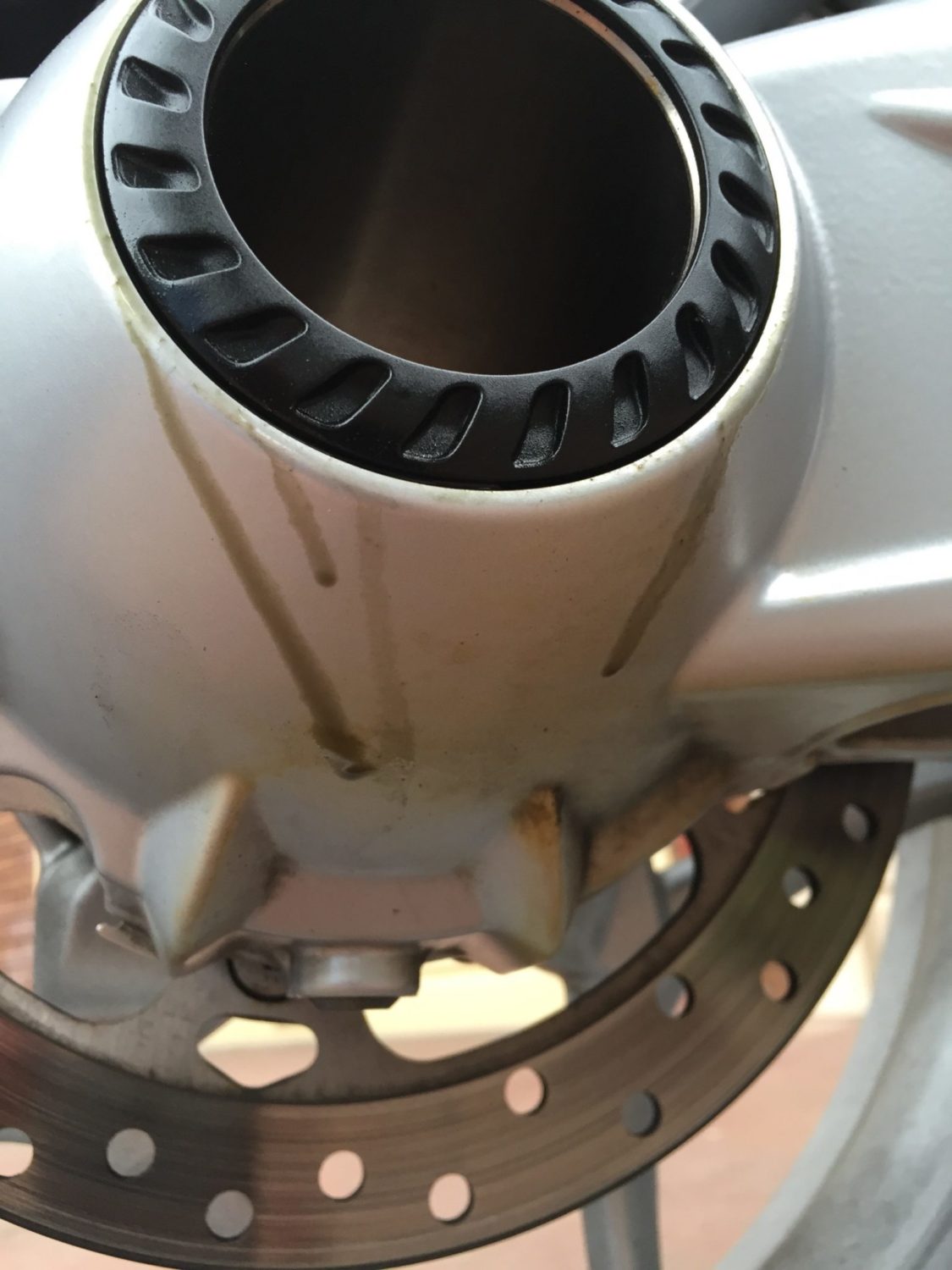 This is a common problem and my bike had been looked after even more strictly than the service schedule requires. BMW offered no help, despite knowing about this problem and how well the bike had been maintained.
They made me pay $800 for the new parts for a final drive rebuild. Thanks, #BMWMotorradaus for your unethical, unhelpful attitude, every time I've had the misfortune of dealing with you.
Auto Classic, the BMW dealer here in Perth, fixed this issue but not the first time I took it in and not the way it should have been repaired.
Poor Workmanship
The guys at Auto Classic didn't take the best care of my bike. Nor did they repair the final drive according to the BMW factory service procedure. What they did was to leave the final drive in my bike and whack the new bearing in sideways with a hammer. Nice.
Naturally, using a hammer against alloy damaged the metal housing of the final drive. Who knew this might happen…? There is a special jig designed to work on the final drive, but they didn't use it. The damage can be seen in the pic below.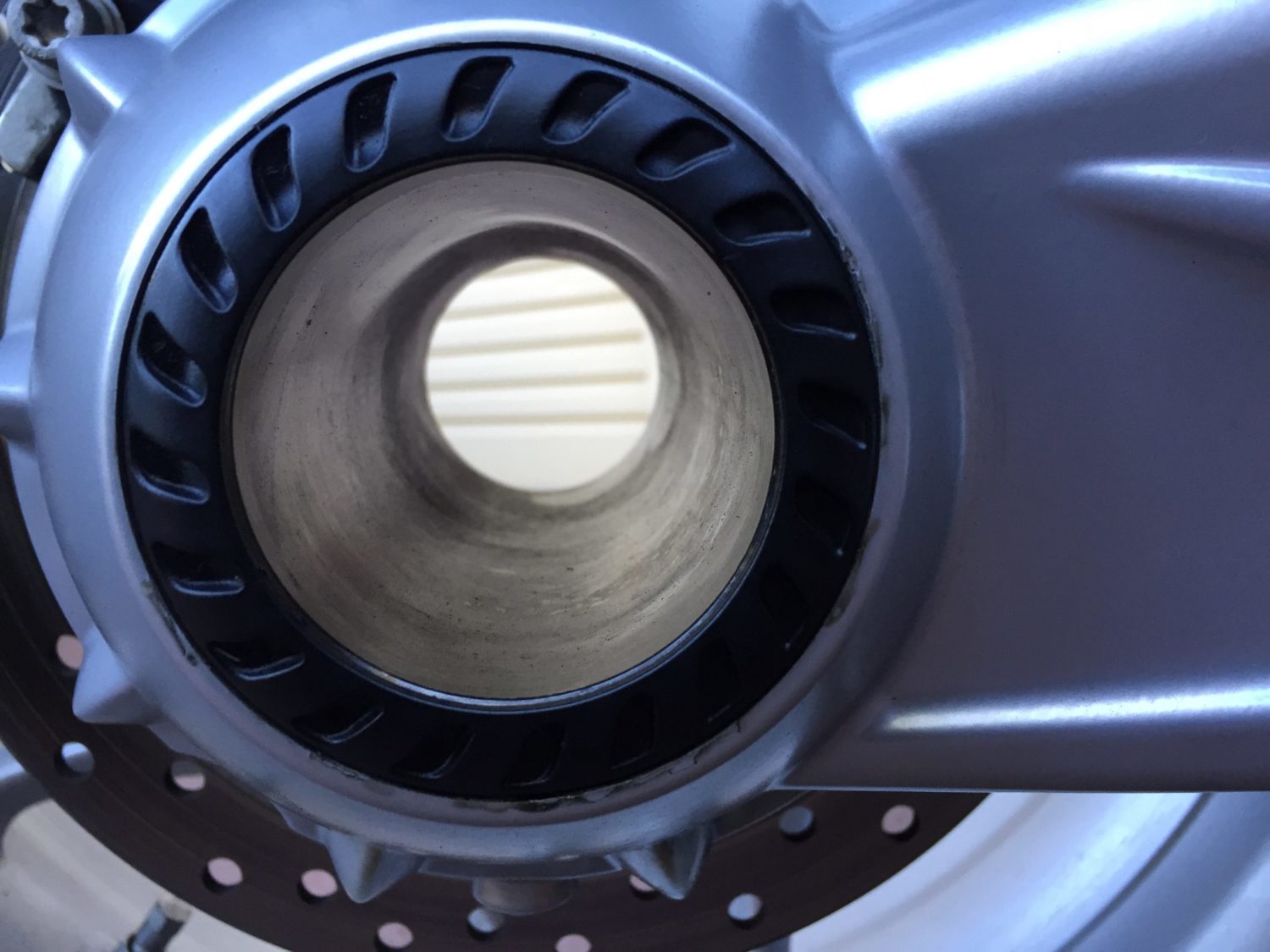 I took it up with the head mechanic and he was very apologetic. He asked me to bring the bike back in so that they could have the paint repair look at it, and touch it up.
Loose Bearings, New Part Numbers…
The real problem was that there was still a heap of bearing free play in the rear wheel, even after the rebuild. It was clicking when you grabbed the wheel top and bottom and moved it. There was also some wobble in the pivot bearing.
I again took this up with the head mechanic. He offered to do the job himself this time, with the diff off the bike, as per the factory service procedure, at no additional cost to me. In addition, as a gesture of goodwill, they offered to inspect and replace the pivot bearings, in case they damaged them during the previous repair.
The bike went back a third time. They had it for three more days and rebuilt the diff and the pivot bearing assembly. They replaced the bearings and seals in the diff, the pivot bearings, checked the crown and pinion gear backlash. They also repaired the cosmetic damage to the final drive housing, at my insistence.
So what's the issue here? I think they stuffed up the repair the first time. But there is also a design issue, the evidence for which is the new part numbers for the improved bearings BMW now supply for this final drive. You don't revise the part number unless you revise the part and you don't revise a part there is nothing wrong with.
Leaking Plastic Fuel Pump Recall…
There is also a factory recall for the fuel pump. After a ride, I got off my bike and could smell fuel. Looking down, I saw fuel escaping from somewhere deep under the tank. I figured I'd pull the tank and find a loose connector or hose. What I actually found was amazing.
The fuel pump outlet, a high pressure, quick release fitting, was leaking fuel. I could see a hex fitting wet with fuel so I tried to see if it was loose, by gently testing it with a small spanner. To my amazement, it sheared clean off, with virtually no force applied! Check it out, the bike was unrideable again of course.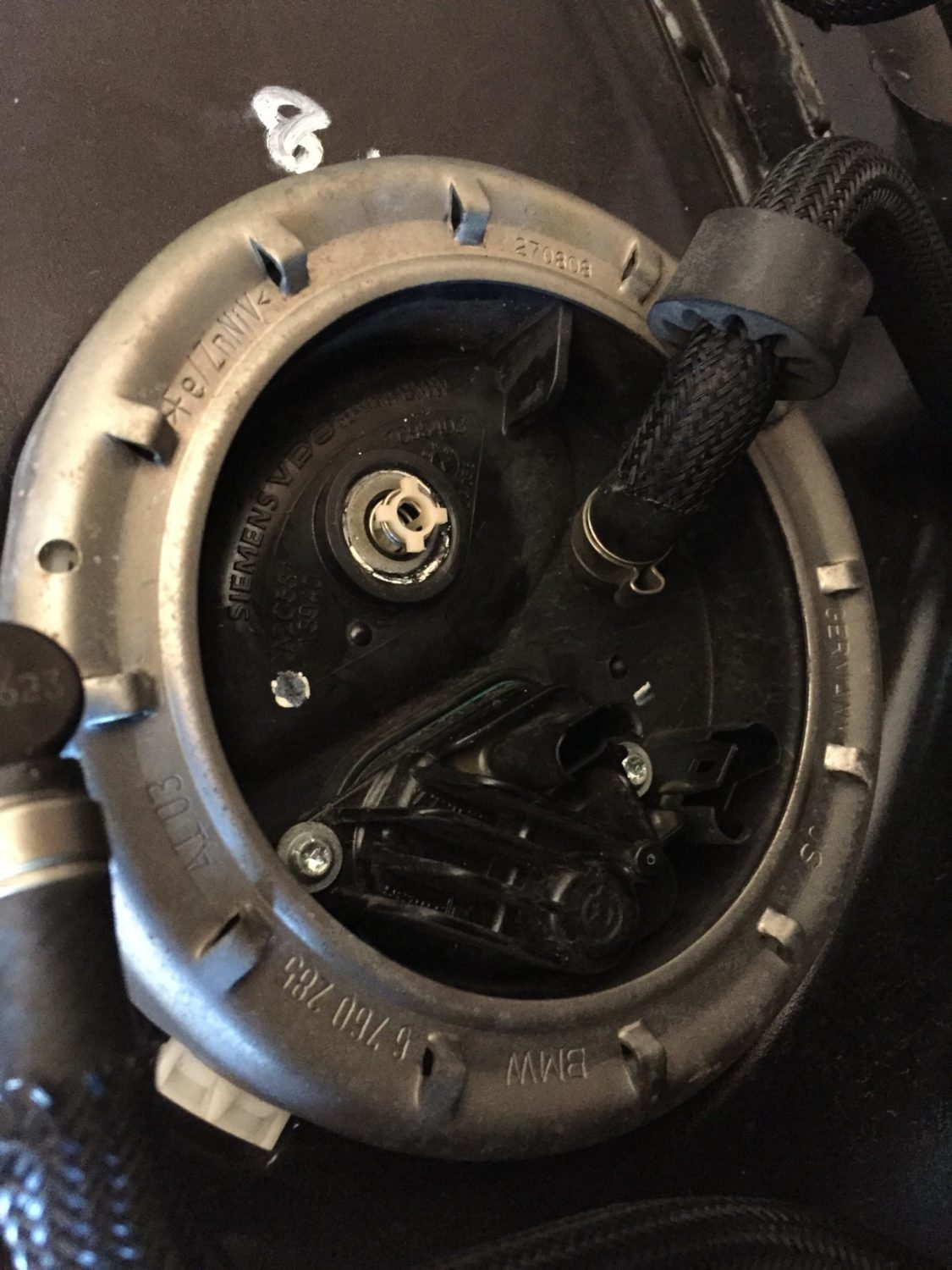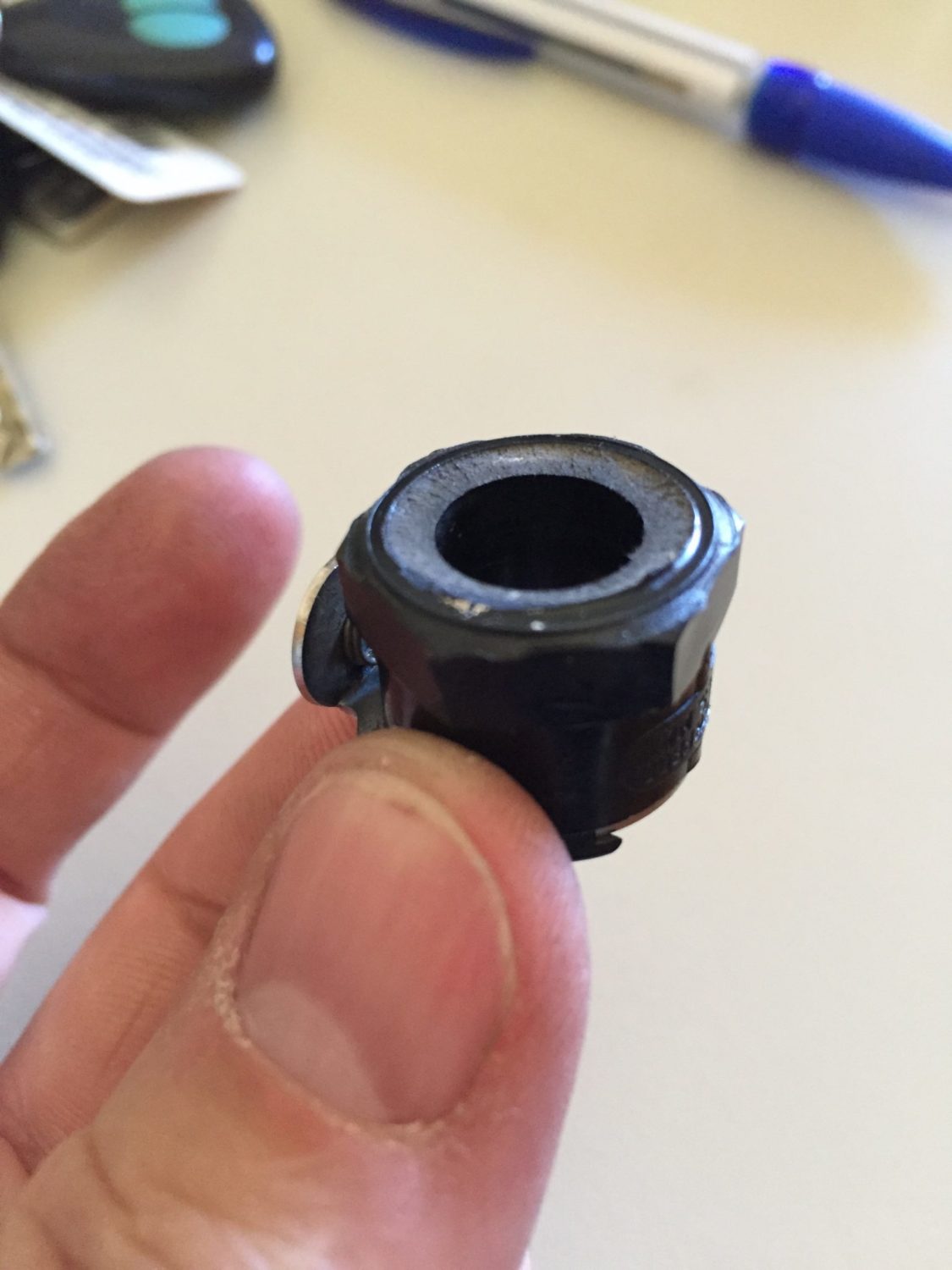 A BMW mechanic friend of mine told me that this was common and another factory recall item. Again, I rang Auto Classic who told me they would fit a brand new and redesigned fuel pump assembly, at no charge, if I brought the tank to them.
Luckily they fixed this problem without too much drama, but really, you can see just how tedious owning this bike became for a while.
R1200R Rusting Fuel Tank Problem
This one is one of the worst issues I had to deal with and sadly, many other owners have had this nightmare to deal with also.
You'll hardly believe your eyes when you first see photos of just how bad this is. Check out some of these images on my own rusted fuel filler area before I repaired it. My jaw hit the flaw when I removed the filler for the first time.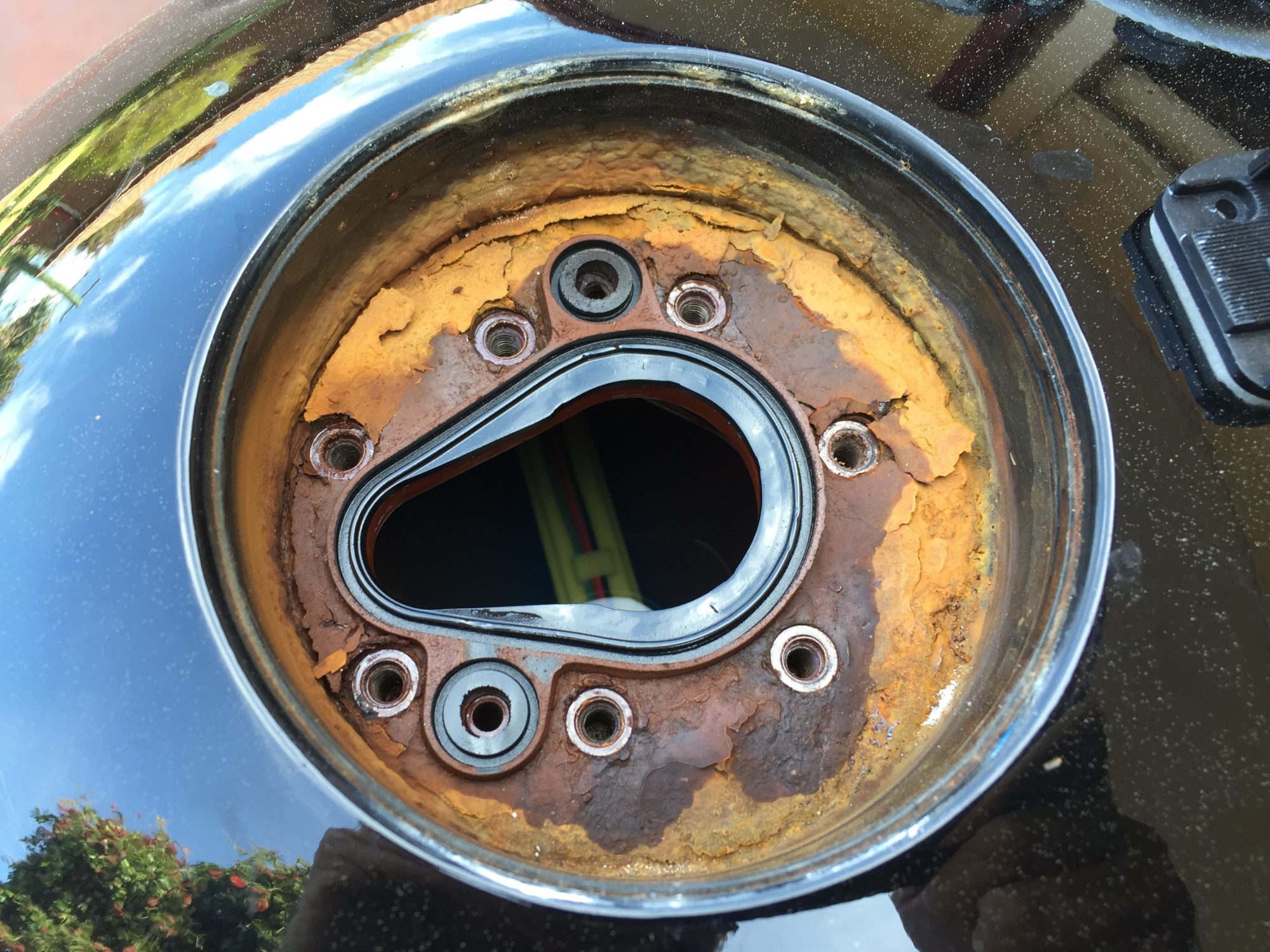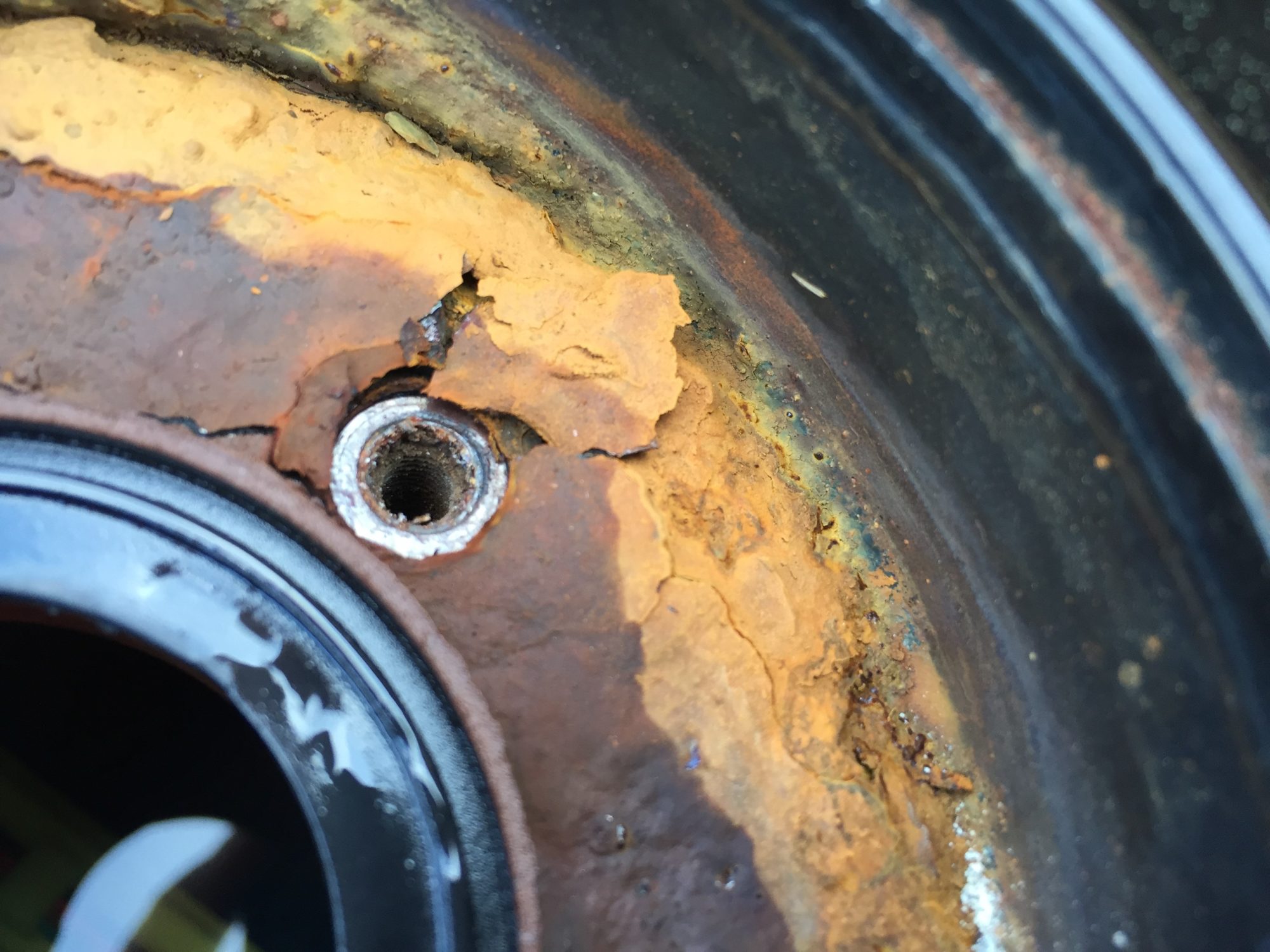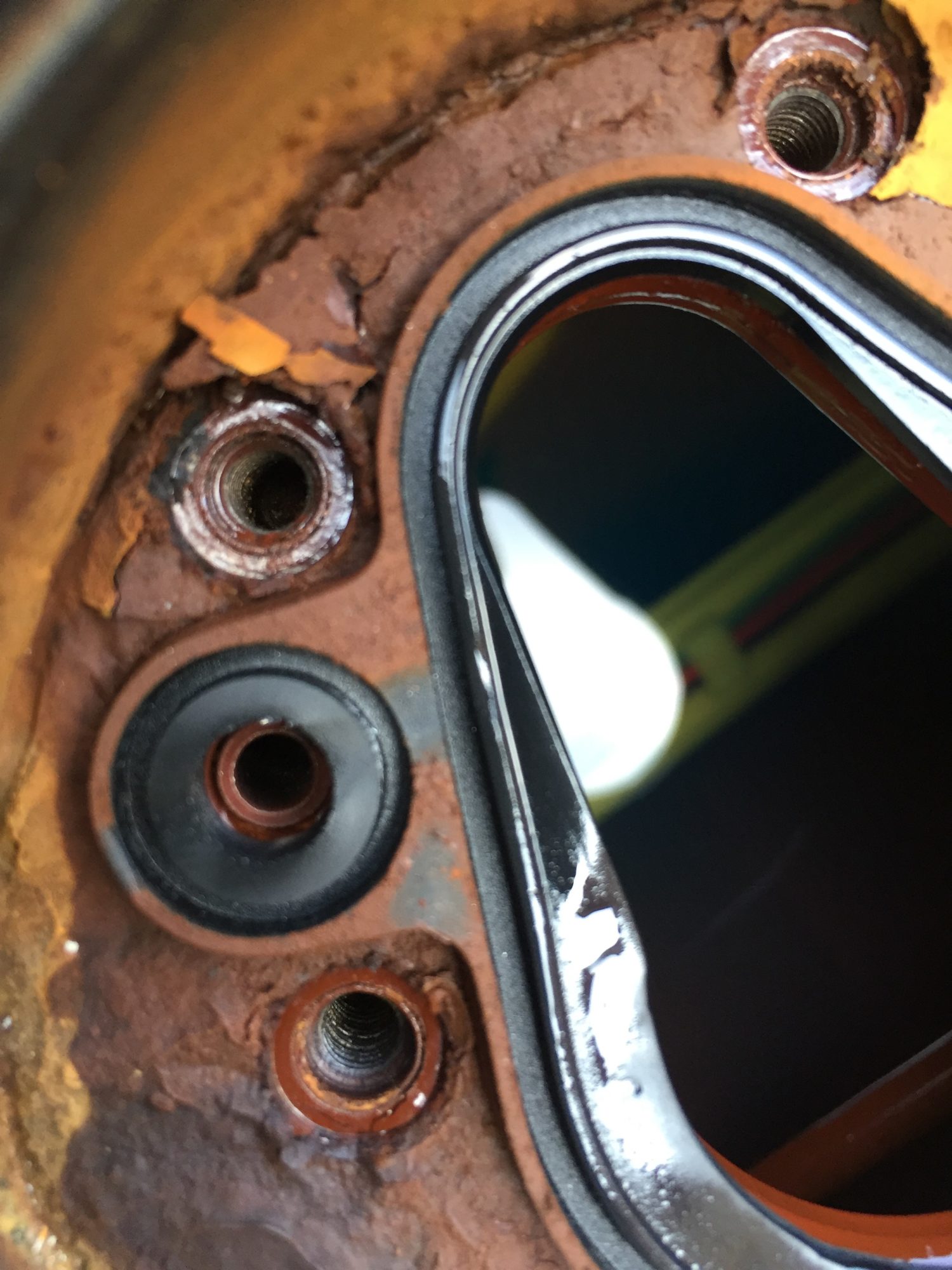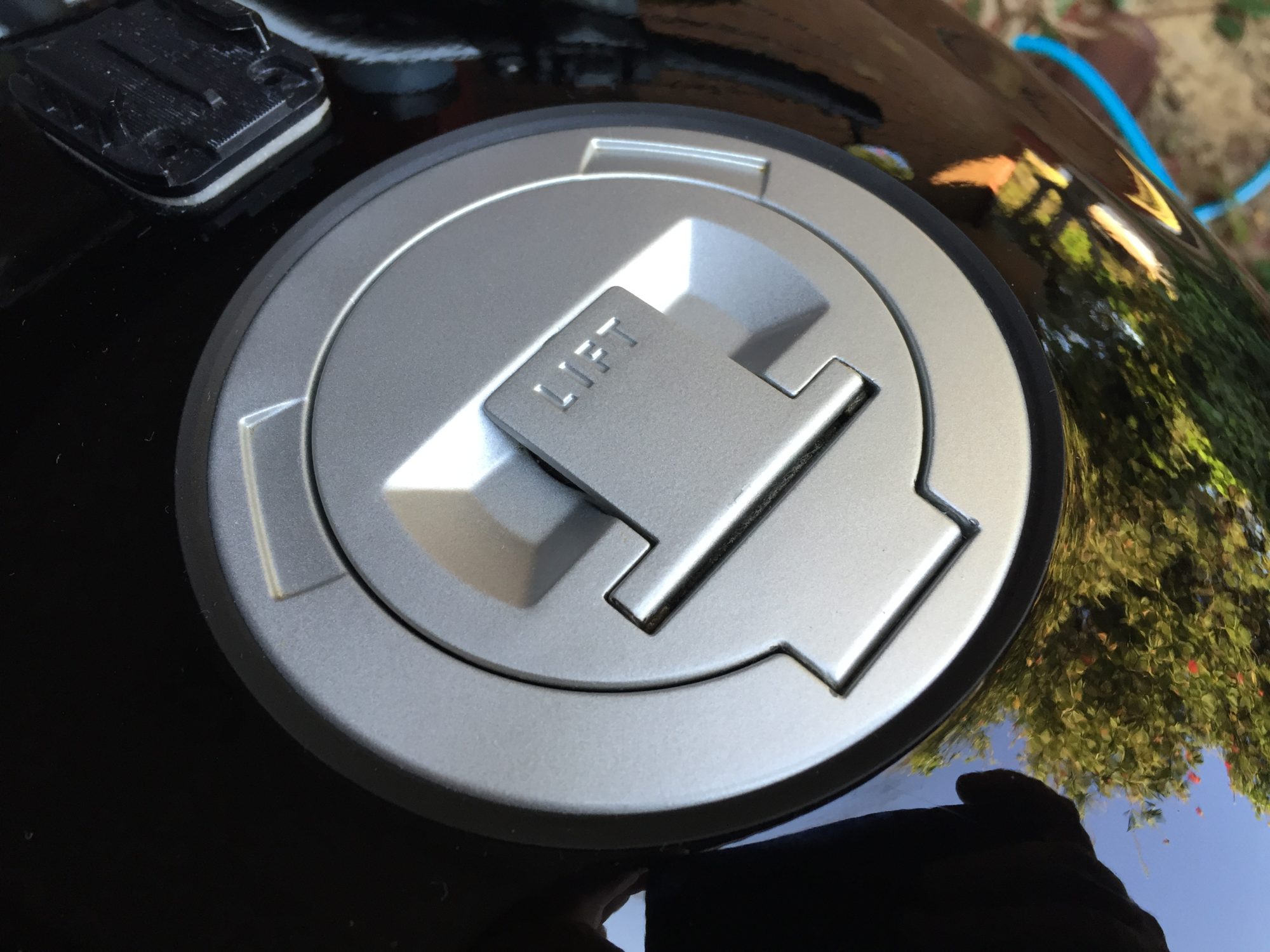 I made a video about the fuel tank rusting problem and how I repaired my bike, check it out:
Can it Get Worse..?
Yep, sadly it can, in a way that tested my patience to the very end. BMW didn't and does not care. More on this shortly…
I loved the bike, but in the end, my BMW R1200R problems and the appalling treatment I received from BMW Australia made me decide to sell the bike.