The Yamaha GT-2000 direct-drive turntable is a super-deck from the golden era. Come along as I install a new RCA cable on this beautiful deck.
Make no mistake, if you want one of the very best turntables, it's going to be a high-end deck from Japan. For many, it will be a direct-drive deck like a Kenwood L-07D, a Technics SP-10 or perhaps a Yamaha GT-2000. For others, it will be a killer belt-drive like a Luxman PD-350 or Micro Seiki SX-8000 Mk 2.
The GT-2000 is so big that GT actually stands for 'gigantic & tremendous'… It's so large that it's difficult to carry, my L-07D is denser, but it has handles, the GT-2000 does not. The GT's platter alone is nearly 6kg of machined aluminium and the chassis is so big that it's awkward to pick up and move around.
The GT-2000 is, in basic form, a nearly 30kg beast, that gets out of the way and plays records. Very simple to operate and with few frills, you get on/off and speed controls and that's it. You can add an auto arm lift that raises the arm at the end of the record, and beyond that, Yamaha's accessories catalogue was the go.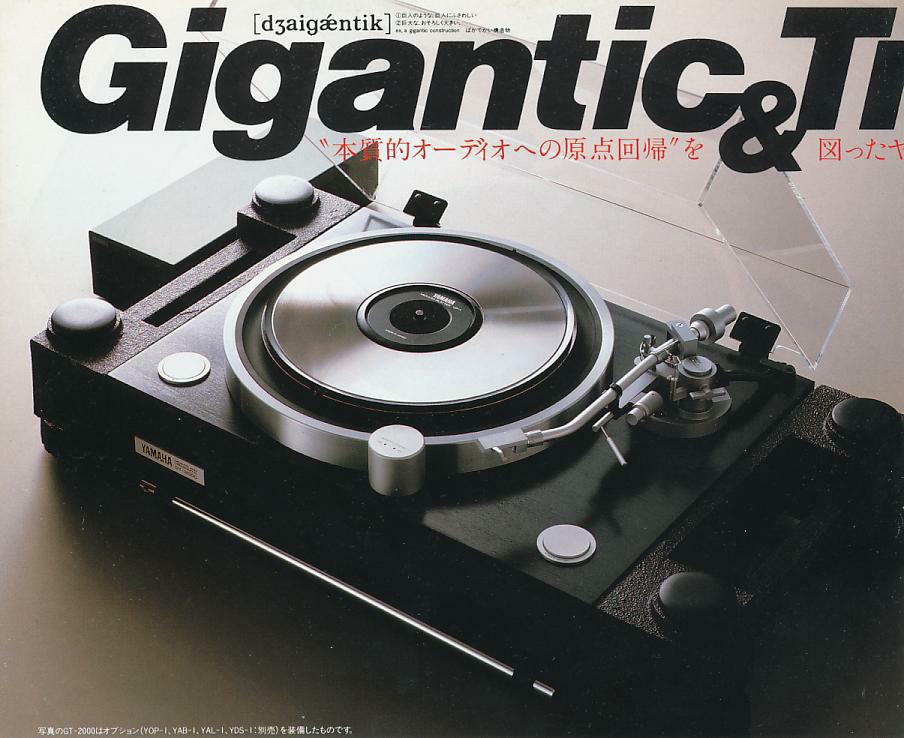 Yamaha offered a range of accessories for the GT-2000, some of which are pictured above and most are described in the table below. If the 6kg platter wasn't enough, you could grab the 18kg gun-metal platter, for just 180,000 Yen, or the YAB-1 cast-iron base, for 90,000 Yen…
Hi-fi lovers are searching out this high-end vinyl gear because many are fed up with paying top dollar for what are often just light-weight belt-drive decks. High-end vintage decks like the GT-2000 are becoming so popular now that Yamaha recently announced a modern 'replacement' for the GT-2000, the new GT-5000. Check it out and have a think about which one you prefer…
You can read more about the GT-2000 at The Vintage Knob. If you want more holy grail decks, check out this article with five of the very best. Also, check out my GT-2000 service article and my video overview to accompany this article, below!
Yamaha GT-2000 Specifications & Accessories
(Courtesy of The Vintage Knob)
Turntable

Motor :
DC 4-phase 8-pole Bi-directional servo
Platter :
37,4cm / 5,8kg, Anodized
Inertia moment :
1,2t / cm2
Start-up :
2kg / cm
Electronic braking :
With YOP-1 ext. power supply
Wow & flutter :
0,005% (FG measured) – naughty Yamaha…!
S/N ratio :
85dB

(DIN-B)

PC :
7W

(GT-2000)

, 12W (GT-2000L)
Dimensions :
54,5 x 12,5 x 39,5cm
Total weight :
28kg.

YA-39 Tonearm

Type :
Static-balanced
Effective length :
26,2cm
Overhang :
14mm
Effective mass :
22g (I'm not sure about this spec…)
Cartridge weight :
1…20g (no way with the standard counterweight)
Wiring :
Neglex 2496

Accessories

YOP-1 :

External power supply @

32,000¥

YDS-1 :

Air-pump mat @

60,000¥

YDS-3 :

680g wood+metal puck @

8,000¥

YDS-9 :

Metal puck

YSA-1 :

Straight tonearm @

40,000¥

YSA-2 :

Straight tonearm @

60,000¥

YAB-1 :

Iron base @

90,000¥

YGT-1 :

18kg gun-metal platter @

120,000¥
Longer Cable
Yamaha knows what they are doing and fitted a Mogami Neglex 2496 RCA cable to this deck. Neglex, in its various iterations, is superb stuff and found in studios and serious home systems around the world. What's not great is the 1-metre length of the factory cable. The owner needs 2 metres and, rather than use adapters, he asked me to custom-make and install a new, longer cable.
Mogami is a Japanese cable manufacturer that makes some of the best cable stock available. I used Mogami here for my custom cable build, as I often do in serious installations, this time choosing a Neglex cable type that can be used in single-ended or balanced configurations.
It's worth considering that Mogami cable, dressed up with different coloured jackets and labels, is often sold for hundreds of dollars per metre from boutique manufacturers. Canare and Mogami are who the OEMs go to, it's the real deal, real copper, made in Japan. Best of all, it's affordable, a rare high-end hi-fi bargain, though that puts people off can you believe!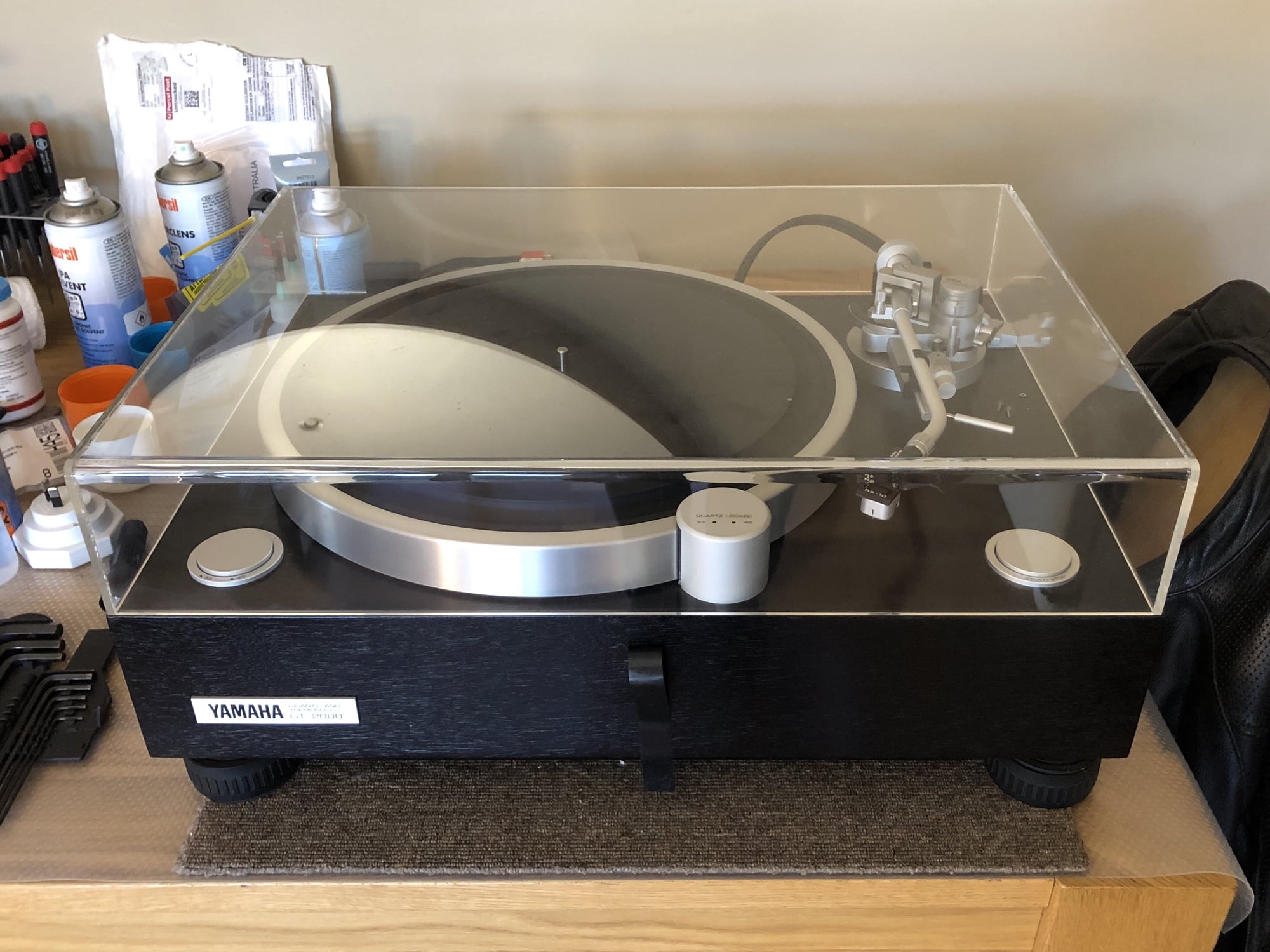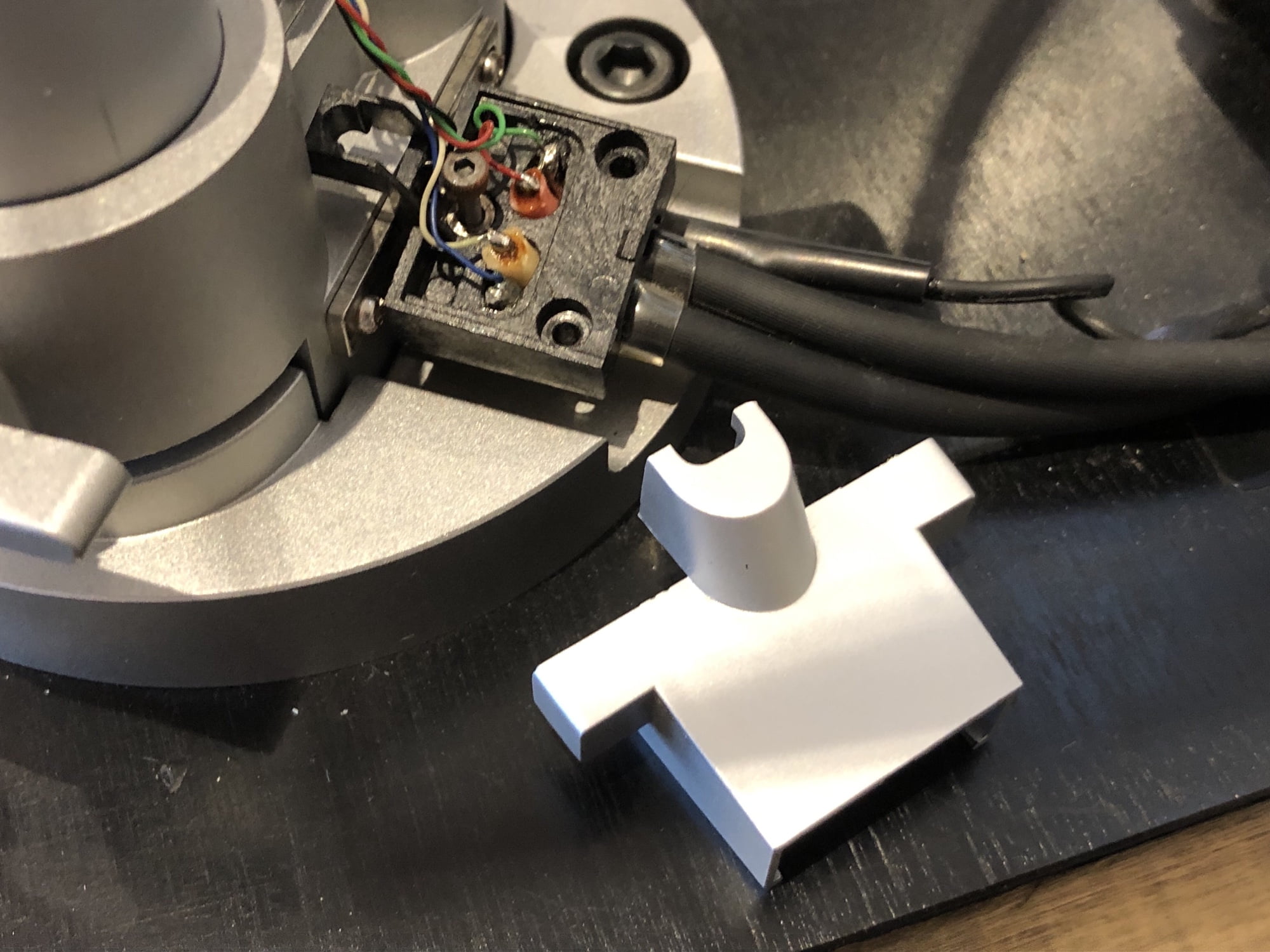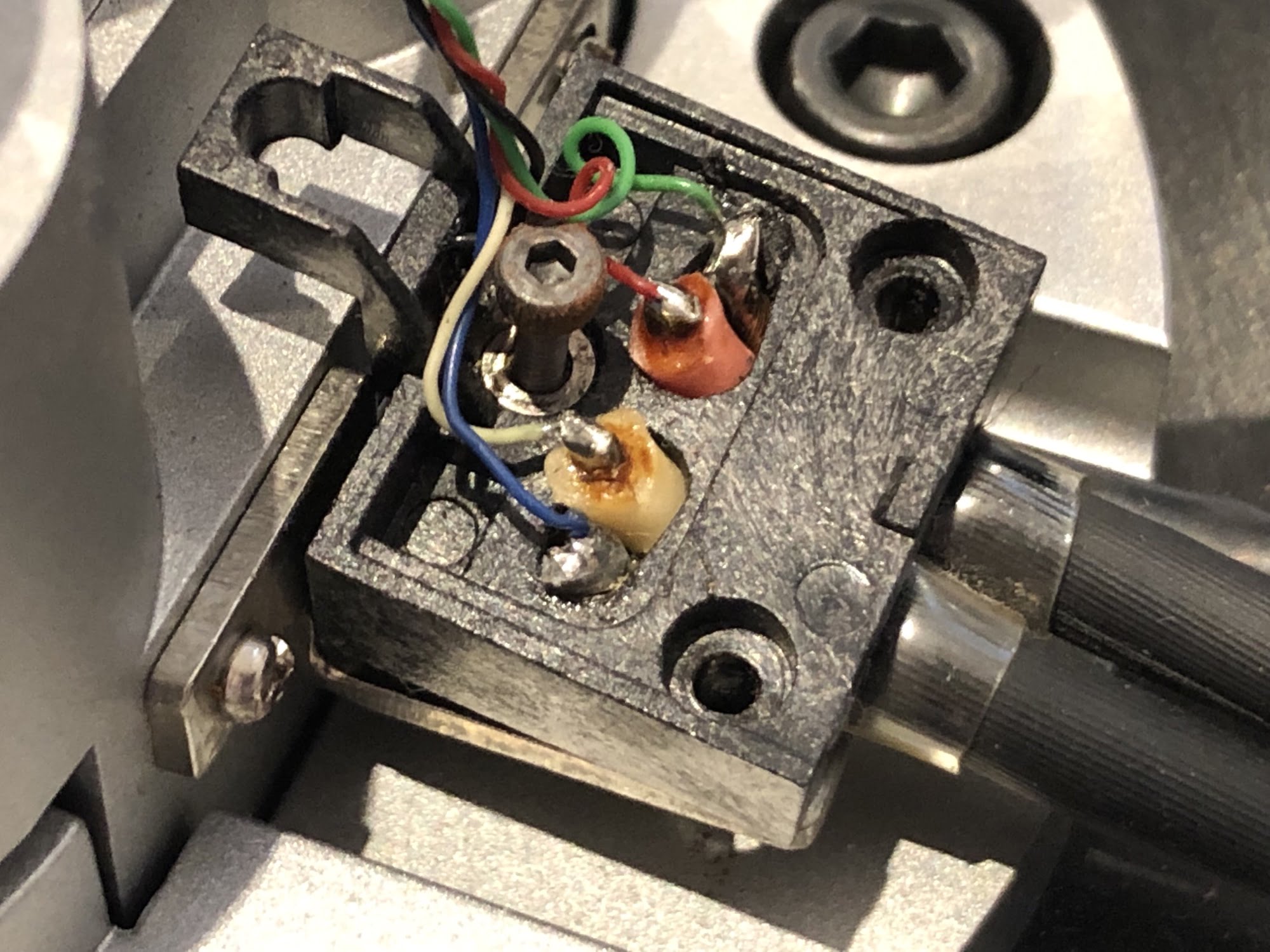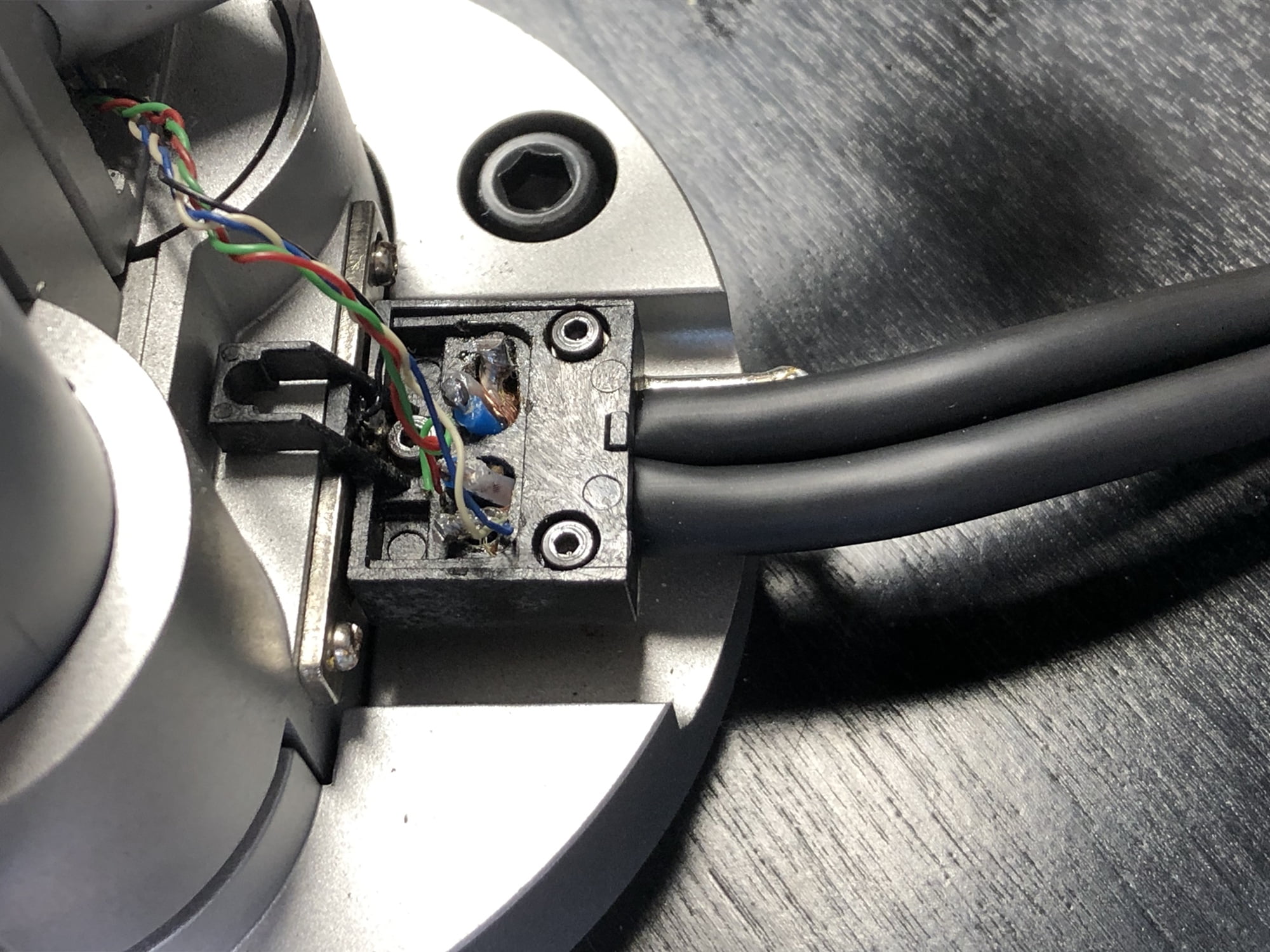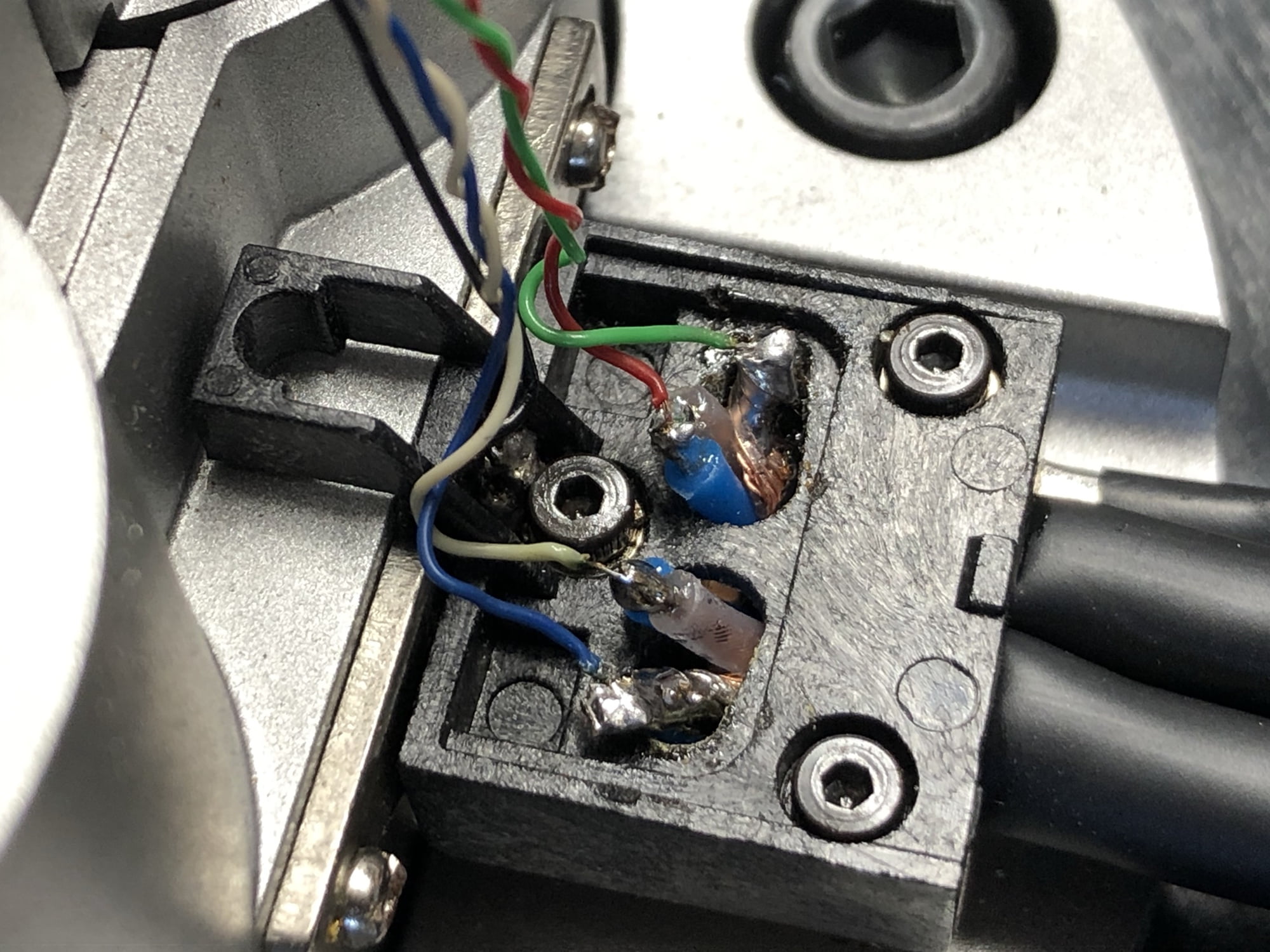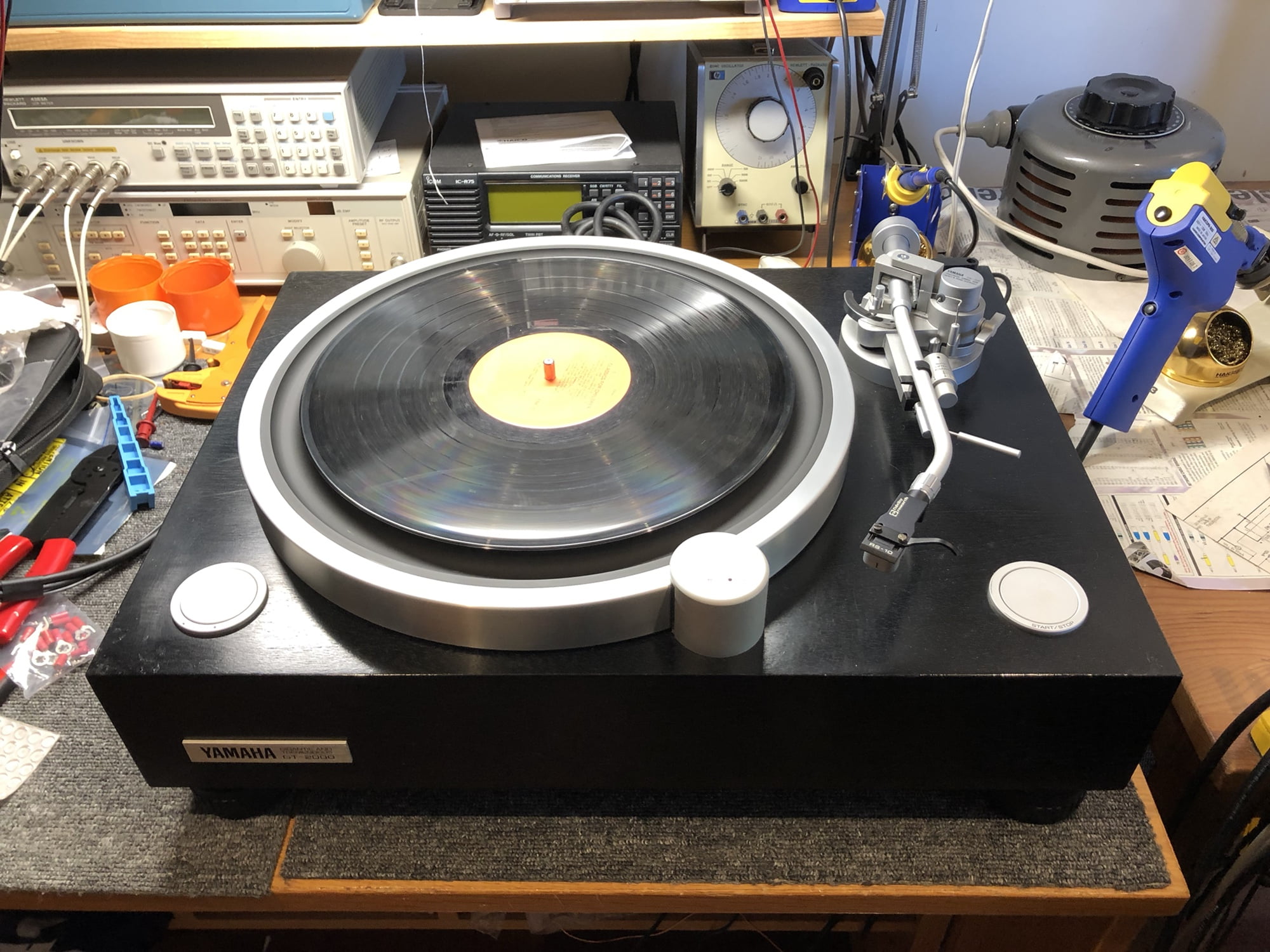 Performance
You'll see the details in the review panel, but cutting to the chase, the Yamaha GT-2000 is a very serious record player. In terms of rumble, the GT-2000 is dead quiet and wow & flutter is almost unmeasurable. The GT-2000 contributes virtually nothing to the sound, a superb technical performance, expected from a machine of this calibre.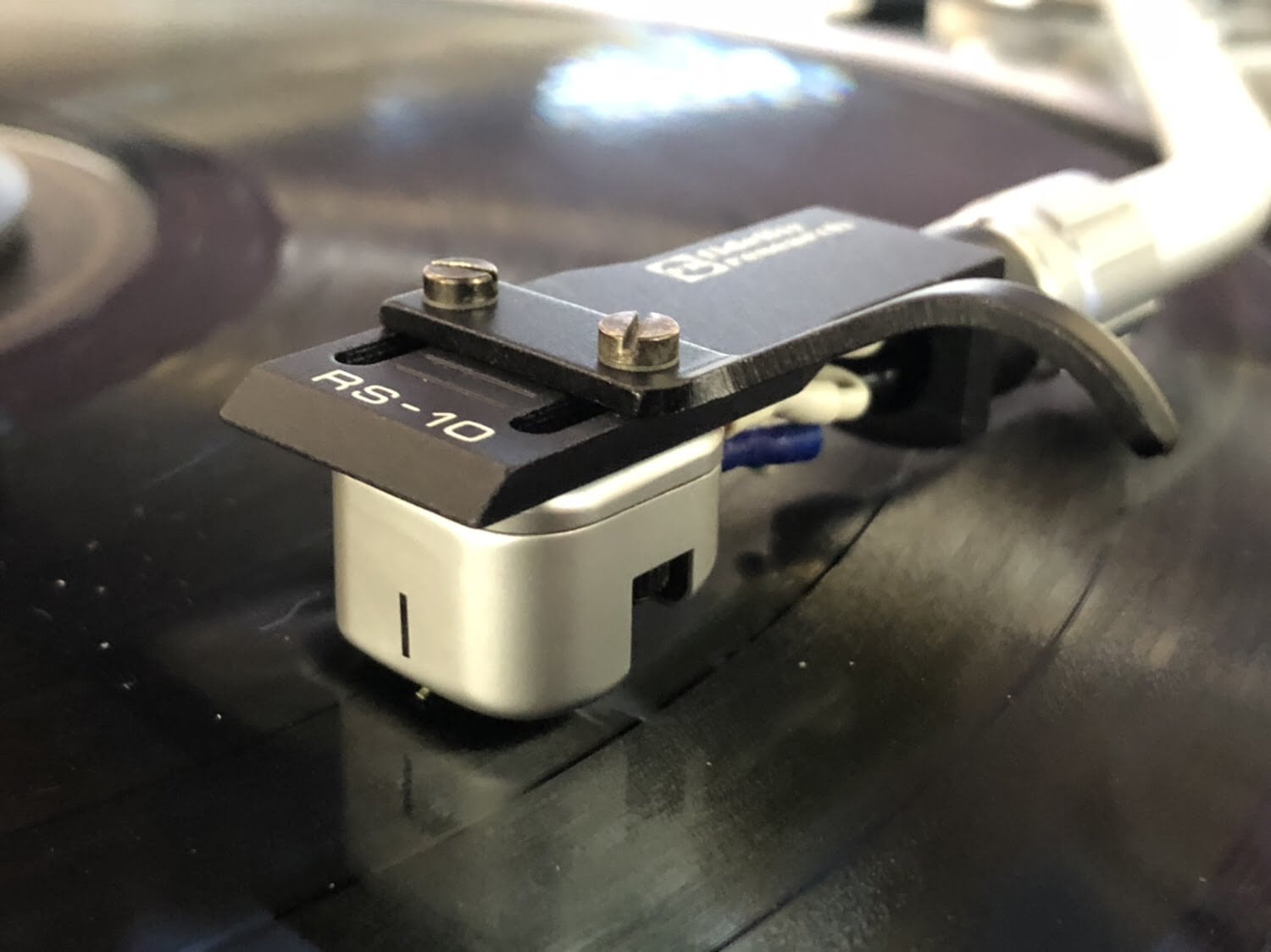 It's worth noting that Yamaha specifies their wow & flutter measurement at the FG (frequency generator) output, not from a test record and wow & flutter meter (like my Kenwood FL-180A). That's not really fair and Yamaha's 0.005% wow & flutter measurement is therefore not comparable with others made conventionally.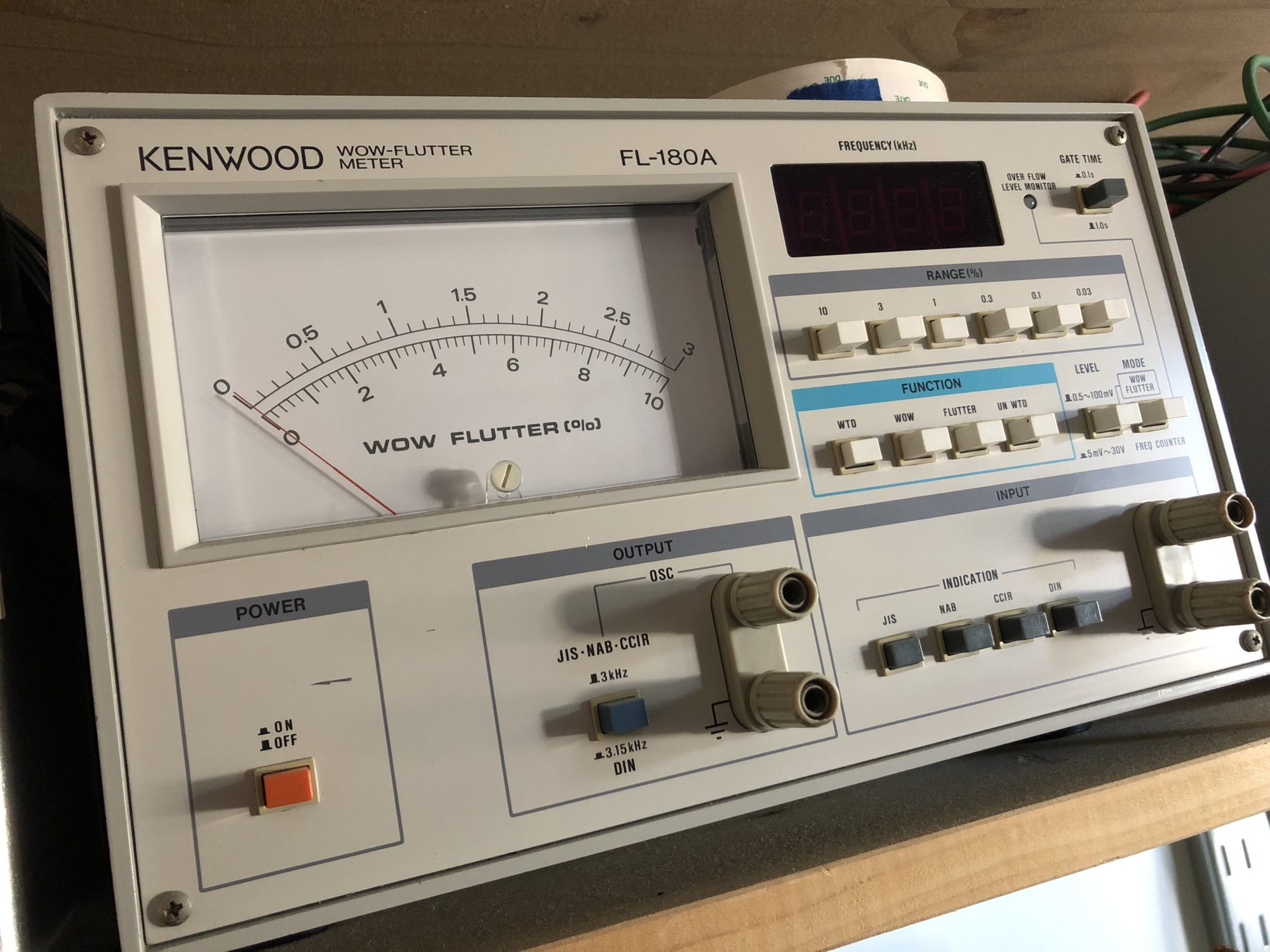 Sonically the Yamaha GT-2000 is a heavyweight with a deft touch. The deck renders the slightest breaths and nuances with incredible precision and lightness, whilst digging deep into the bass and maintaining a rock-solid stereo image. Very few decks are this quiet or exhibit wow & flutter this low, so if these sonic attributes matter to you, and they should, this is an excellent start.
This level of insight is only possible with very heavy decks like the GT because, with turntables, great mass is needed to ground everything and render the chassis inert. The longer tonearm used here helps to reduce tracking distortion. Compared to lesser machines, especially the swathe of belt drives so many people are familiar with, playing records on a GT-2000 is like hearing them again for the first time.
You don't actually realise just how good records players get until you own a Japanese heavy-hitter like this. It's then that everything clicks in terms of how obsessive the Japanese are about vinyl replay, and why this sort of machine is the path so many of us must take.
Other Considerations
The Yamaha GT-2000 is limited by its tonearm. I've spent a lot of time with this arm, it isn't in the same league as the superb arm that comes with the Kenwood L-07D for example. Old-school low-compliance MC carts which can sound great aren't ideal here.
The GT's medium mass arm and small counterweight need a medium to high-ish compliance cartridge to match, despite the 22g effective mass specification. Does the 22g spec include a cartridge? Hard to know. I've worked with many arms, including some that are 20+ grams effective mass and they certainly feel heavier than the YA-39 tonearm.
The FR-2 fitted here, whilst sounding great, is not an optimal match to the owner's system. The low-mass counterweight also limits the weight of headshells and cartridges one can fit. All of this must be considered for good mechanical matching and I've been working with the owner to refine this. A new cartridge is coming soon…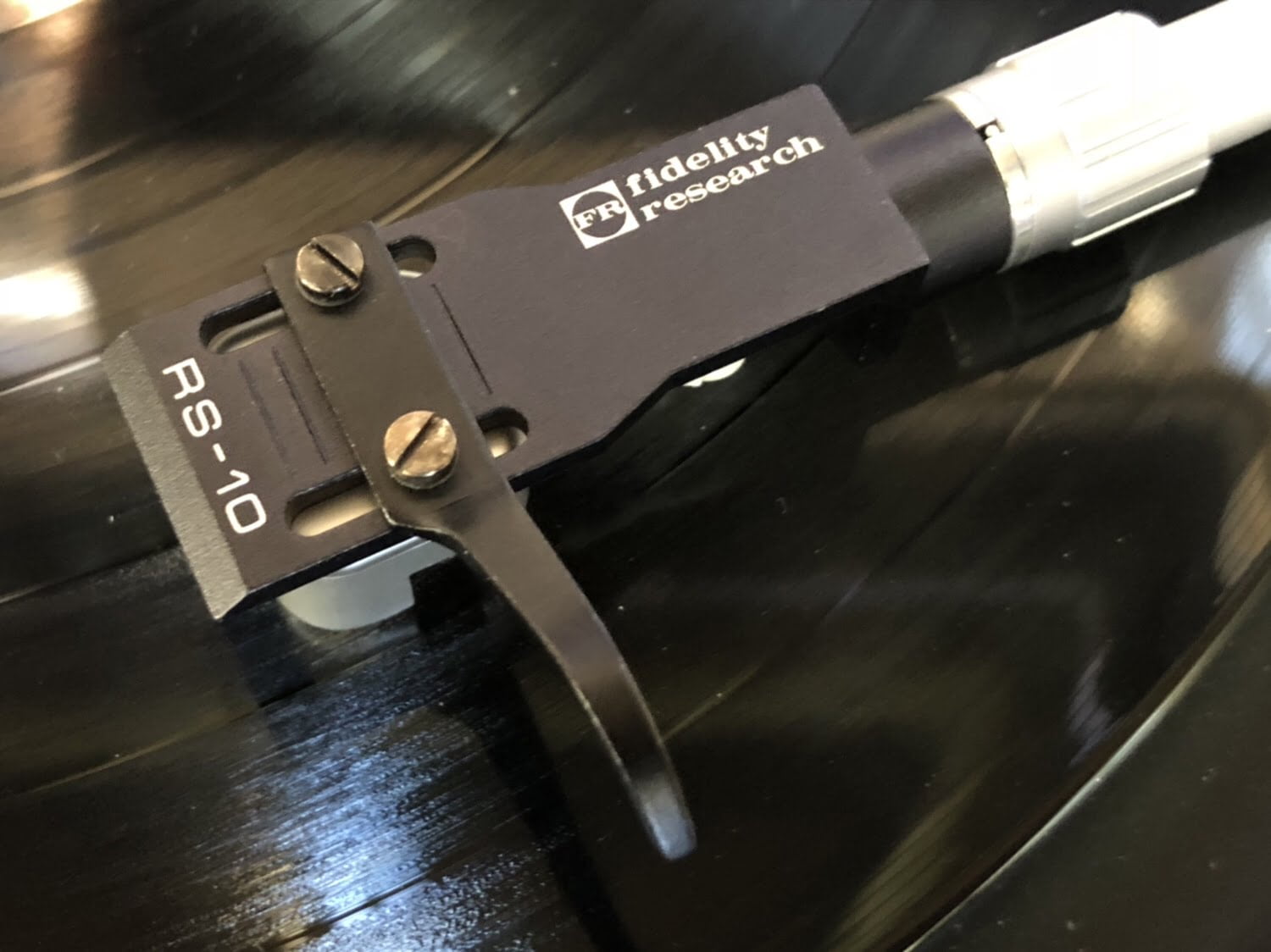 Based on careful consideration, modern cartridges suited to this arm and calibre of deck include the Ortofon 2M Black, Audio Technica AT/OC9 Mk 3, Shelter 501 III, Hana SL and Benz Micro-Glider SL.
Bang Per Buck
Overall, the Yamaha GT-2000 is a superb turntable and a great buy, especially with ever-appreciating heavyweight deck prices. We're just lucky that this deck was popular back in 1982 because there are plenty available now and that keeps them sensibly priced, for now.
What are your options? Well, Yamaha wants $9,000 AUD for their modern version of this deck, the Yamaha GT-5000. Technics will take $4,000 from you for a new SL-1200, albeit with a lovely sounding 2M Black cartridge. Luxman wants $8,500 for the gorgeous PD-171A.
The GT-5000 is a belt-drive deck with a very disappointingly puny motor. The deck looks great but doesn't have the technical performance or collectibility of the GT-2000. Only time will tell if it too becomes a classic, but I doubt it will, certainly not in the same way as the GT-2000 has.
The Luxman PD-171A is a stunner, I've set up and listened to one, but again it's a belt drive and doesn't have quite the GT-2000's specs. The SL-1200 is lovely and a classic, but not in the GT-2000's league. You can pick up the real thing for 2 – 3K, so here again, the value of vintage hi-fi gear is obvious.
Final Thoughts
At the end of the day and as I keep telling people, decks like this will only continue to appreciate in value and appeal. More and more folks realise this and understand the value, performance and collectability of wonderful analog equipment from the golden era. If you want a Japanese super-deck, the Yamaha GT-2000 is an excellent choice.
As always, thanks for reading and if you like me to set up and service your Yamaha GT-2000, get in touch.
Yamaha GT-2000 Direct-Drive Turntable
$2000 - $3000 AUD
Pros
Gigantic & tremendous!
Superb sound and build quality
Wide range of excellent accessories
Yamaha reliability & servicability
Amazing value for money
Cons
Tonearm limits ultimate performance
Tonearm limits range of suitable cartridges
(But a better tonearm is available..!)