In this second of my Quad 405 series, I review the legendary Quad 405-2. Find out why there is so much love for these amazing little amplifiers and why you should buy one.
The Quad 405 and Quad 405-2 are incredible amplifiers, even now, some 40+ years after they were introduced to the world. This article you are reading right now is one of the most popular articles on my site. That should tell you something about the Quad 405's enduring qualities and how people are drawn to these lovely amplifiers.
For more, check out my updated Quad 405-2 restoration and Quad 405 refresh articles!
Tellingly, the Quad 405 and 405-2 are most loved by those for whom listening to music is more important than looking at power meters, fiddling with controls and discussing technical specifications. It's curious, but this little industrially styled amplifier punches well above its weight, all these years later.
Don't get me wrong, I love power meters, but the 405 is a study in elegant, stripped-back, understated design. It's a true champion of the 'less is more' philosophy and an amplifier that just gets out of the way and plays music. Surely this is what every true hi-fi lover wants in an amplifier?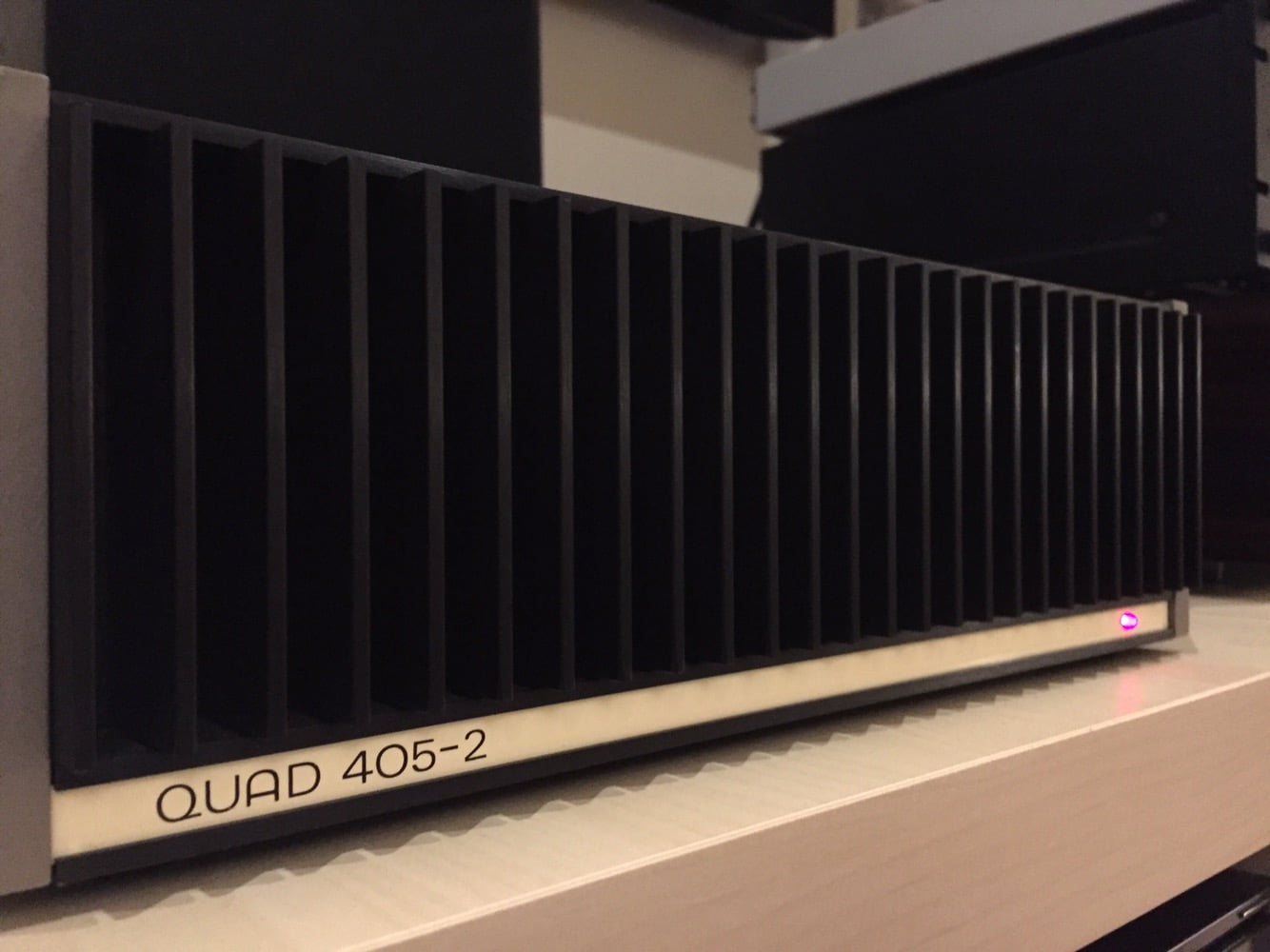 Quad 405 vs 405-2
The Quad 405 and 405-2 are almost identical, compact, heavy, power amplifiers. Both punch out 100 watts per channel, into 8 ohms. Where they differ is in their ability to deliver current into lower impedances.
Specifically, Quad modified the current limiting circuitry of 405-2 to be a little less aggressive. There's a wider power envelope with the 405-2, allowing it to better drive lower impedance loads. If you own current-hungry speakers or those with a nominal 4 Ohm impedance, a 405-2 is the better option.
Quad also implemented various iterative improvements over a long period. In my opinion, the later amplifiers sound and perform slightly better. If you are interested in more technical detail, I recently overhauled a Quad 405-2 and you should also check out the 'Further Reading' section at the end of this article.
Innovation
Quad's legendary design engineer Peter Walker utilised a principle called 'feedforward error correction' in the 405 design. He wrote a paper about it, which you can read here.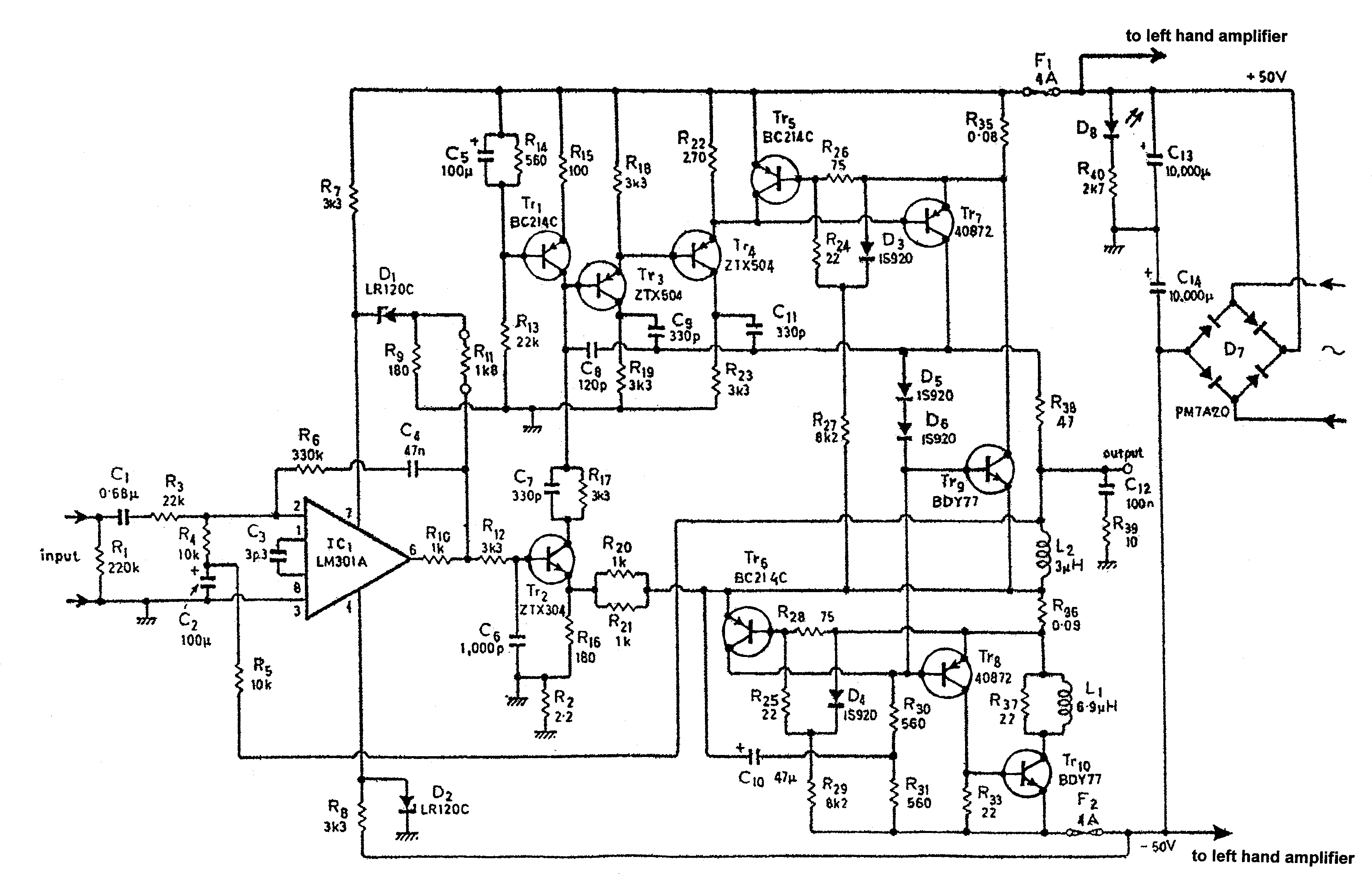 As Stereophile pointed out in their review of the original 405:
"This is something we don't see too often: an entirely new approach to power amplifier design. As Quad points out in its literature for the 405, class-A operation of transistors provides the lowest distortion, but drastically limits the amount of power an output transistor can deliver without overheating. (Most transistor amps use class-AB output operation, in which each of a pair of power transistors handles part of each signal cycle and shuts down during the other part.

Imperfect synchronism between the two halves causes the familiar "crossover distortion," which accounts for most solid-state sound. In class-A operation, each output transistor draws current though the entirety of each signal cycle, eliminating the crossover transition but doubling the amount of time current is drawn, and thus tending to cause the transistor to heat up more.)

In "current dumping," a low-powered, low-distortion class-A amplifier is used to control the amount of current passing through a pair of heavy-duty "dumping" transistors, and it is the latter which provide the driving power (100Wpc) for the speakers."
Stereophile didn't particularly like the original 405, but they reviewed the 405-2 much more favourably. Keep in mind that the Quad 405 is about as far away from typical US amplifiers of the time as one could get. It's unlike any other power amplifier from that era.
Elegant Design
The Quad 405 and 405-2 are compact, measuring just 115 x 340.5 x 195mm. At 9kg, this is a small, dense amplifier, heavy for its size. The 405 can deliver 100 watts per channel, more than enough to drive most speakers. I can't think of a more compact and commercially available amplifier, with fewer parts or with a simpler layout than the Quad 405. Tell me if you know of one.
The driver stage consists of two TO-220 devices operating in class-A. The output stage utilises two identical N-channel TO-3 devices, per channel. The driver stage is of very high quality, the output amp is the 'current dumper' and is a less precise, more robust unit operating in class-B.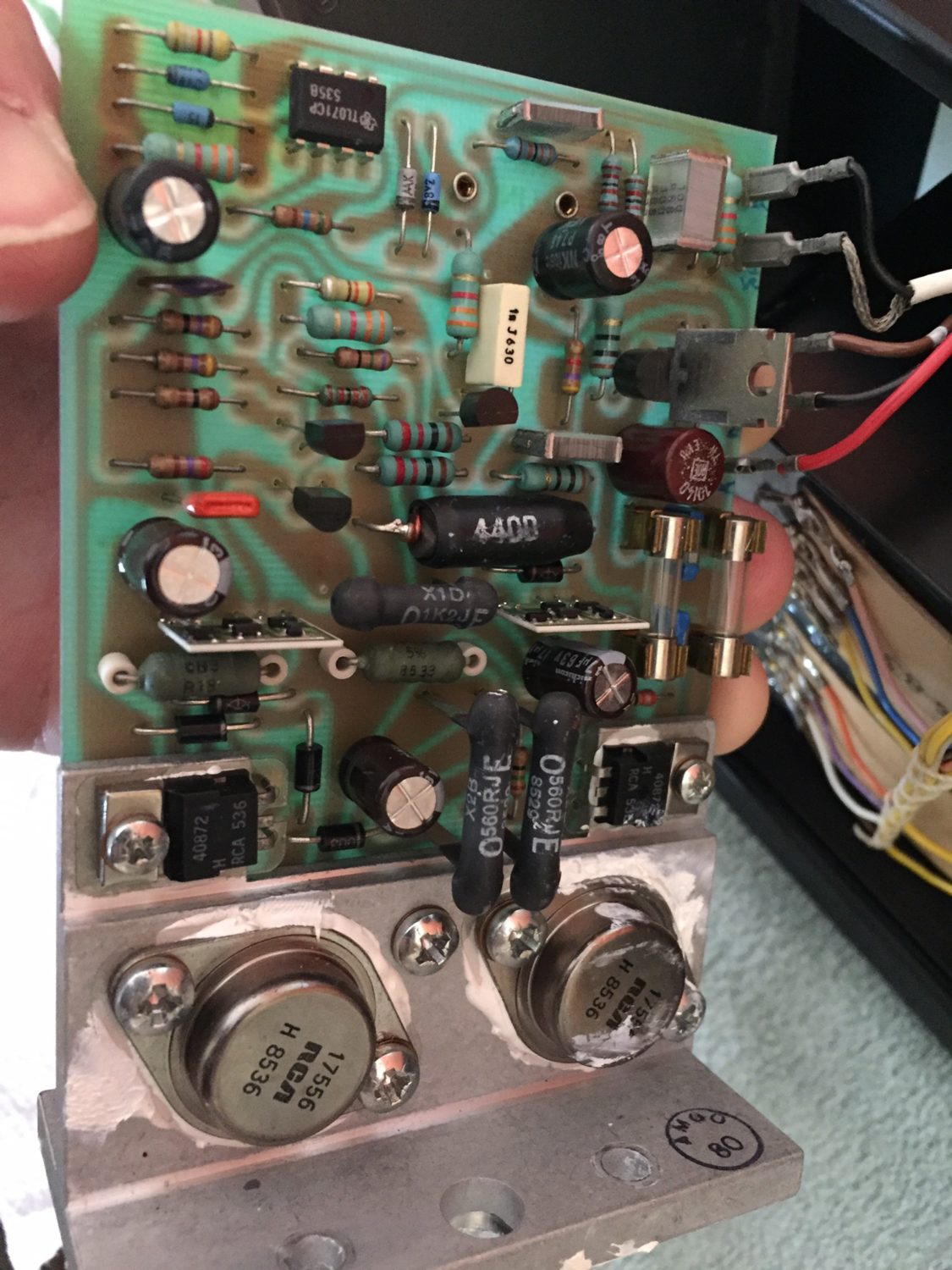 The driver and output transistors are thermally coupled to one block of aluminium. Everything is board-mounted, there's almost no wiring. The assembly forms one amplifier module, there are two modules per chassis. This is evident in the images above and below.
Thermal coupling helps lower distortion and the design as a whole minimises wiring and maximises serviceabilireally is genius in terms of packaging and miniaturisation at a time before SMD manufacturing.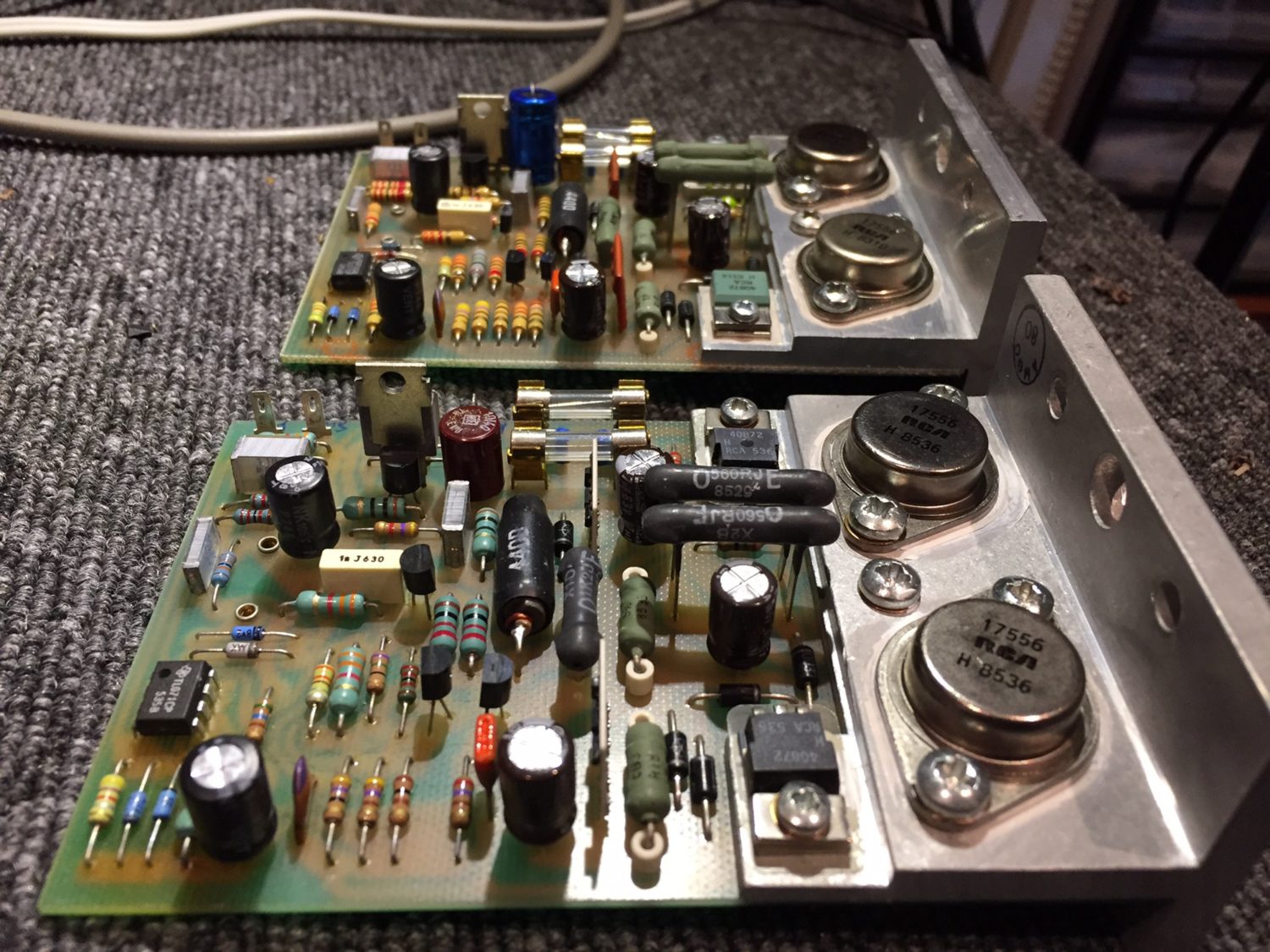 The two amplifier modules make up virtually all the electronics in a 405 / 405-2. Other elements include a superb-quality potted transformer, two 10,000uF filter capacitors, a diode bridge, some power supply wiring, a large front-mounted heatsink and some sockets. As a repairer, the Quad 405 series amplifiers are just about the easiest to service if you know what you are doing.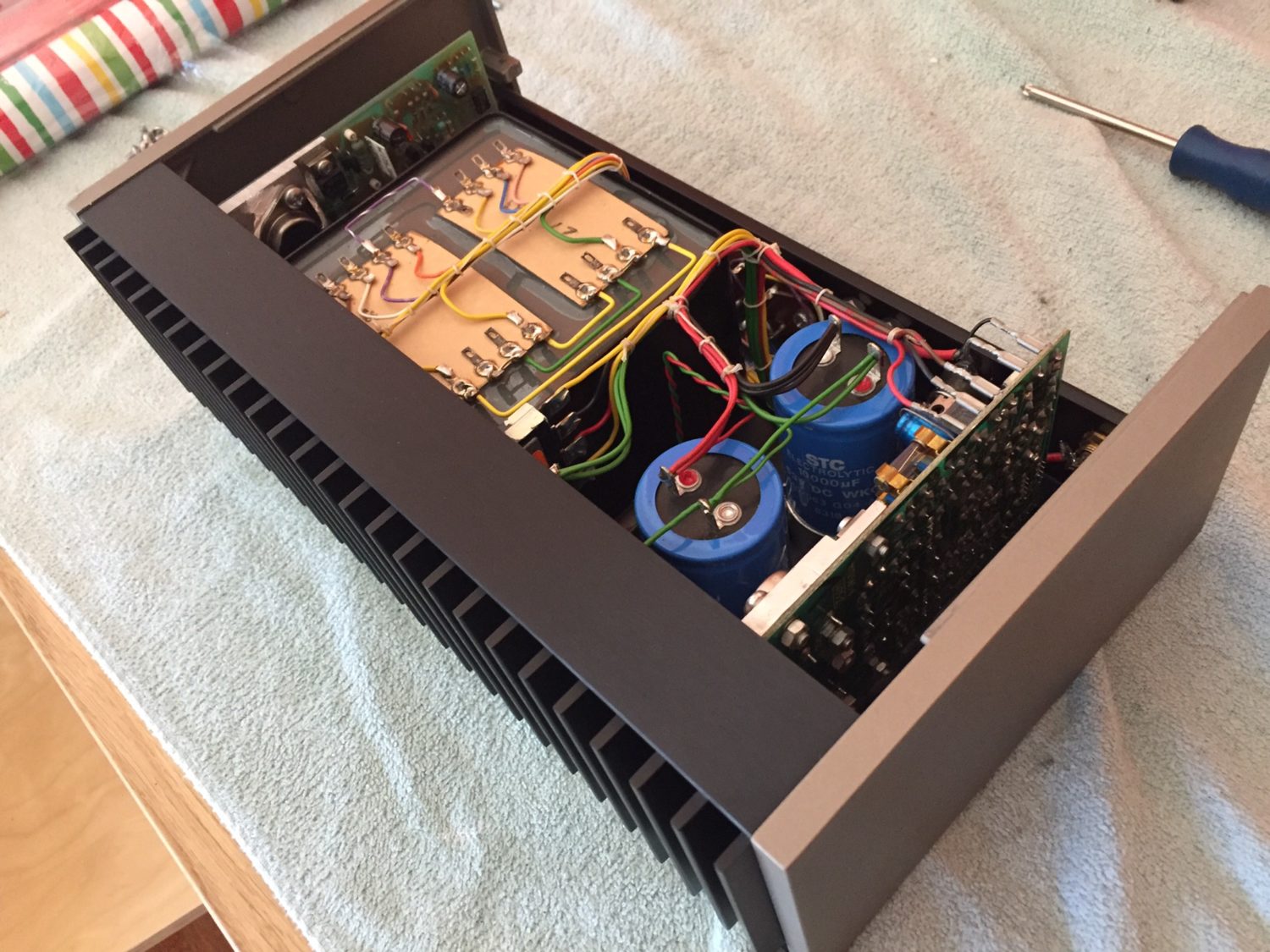 Quad 405-2 Specifications
Courtesy of Hi-Fi Engine
Power output: 100 watts per channel into 8Ω
Frequency response: 20Hz to 20kHz
Total harmonic distortion: 0.05%
Input sensitivity: 0.5V
Signal-to-noise ratio: 96dB
Speaker load impedance: 4Ω to 16Ω
Dimensions: 115 x 340.5 x 195mm
Weight: 9kg
Effortless Sound
Quantifying sound quality isn't easy but let's get this out of the way – the Quad 405 and 405-2 are beautiful sounding amplifiers and amongst my favourite affordable solid-state designs. They aren't the best at any one thing, but what they do well, they do very well, and from the moment you hear one you'll enjoy relaxed, effortless and fatigue-free listening.
Overall, the Quad 405 errs on the warmer, mellower side. These amplifiers add little in terms of distortion, something you'll hear in the relaxed flow of music and long periods of fatigue-free listening possible with one. If you find a 405 that doesn't sound smooth, there's something wrong with it or with another part of your system.
I work on plenty of 405s and 405-2s and whenever I test one in good condition, I'm taken by how incredibly sweet they sound. The lack of glare is noticeable and unusual with solid-state gear. But, as might be expected, original units can sound tired, 'hummy' and in general need of TLC at this age. they can also pop and thump at turn-off and many have been messed with, and not in a good way. As always, expert advice is needed here.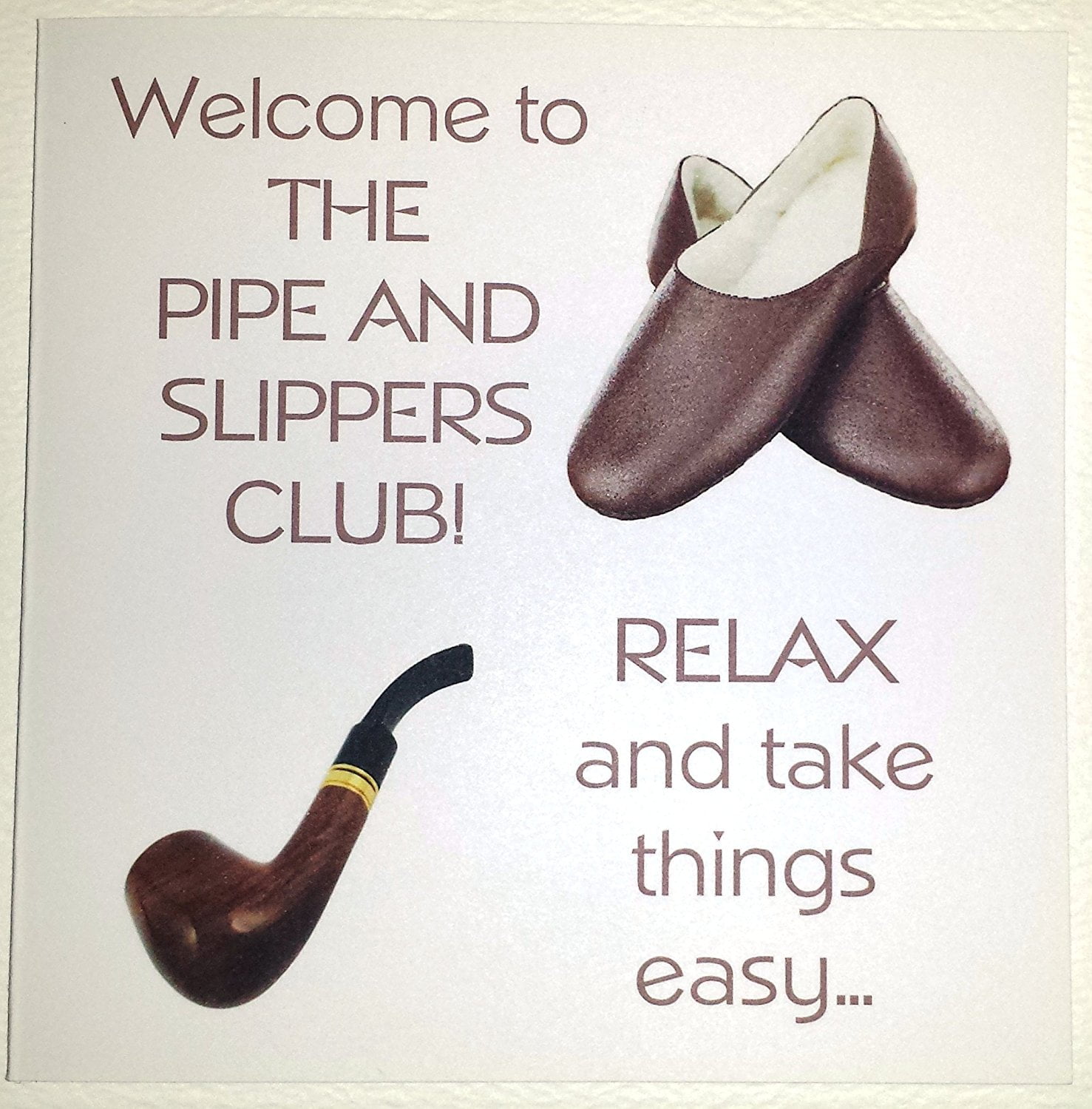 Mellow..?
Some describe the 405 as sounding rolled off, but I disagree. To me, these amplifiers sound smooth and lack the brittle, edgy quality of many transistor amplifiers. Measurements don't support the claim of a rolled-off top-end, though measurements certainly don't capture everything, but it's not a fast, wide-bandwidth amplifier by any means. It's also unlikely to blow up like one either!
The bass is clean and rich. It lacks the last word in slam and authority. If anything, it's the bass that's rolled off to my ears and keep in mind that these amplifiers are capacitor coupled at the input, so they do have an input filter. There's no 'bass bloom' here to flatter small speakers though, just clean, accurate bass. Remember, this amp has just one pair of output devices per channel, so the most current-hungry speakers are going to stretch these diminutive amps.
The midrange is warm, resolved and three-dimensional with good source material. This is a strength of the 405-2, like a good valve amplifier perhaps. Sound staging works to enhance this feeling of three-dimensional realism and pinpoint image. The treble is smooth and never etched or bright. What a welcome antidote to the bright and sometimes even painful solid-state amplifiers so commonly found at this price point.
Overall, a good, fresh Quad 405 or 405-2 is a beautiful-sounding amplifier. My only criticisms are a slight lack of sparkle, air and deep bass compared with the very best. These audible traits separate the 405 and 405-2 from the very best I've heard in my listening room, like the Perreaux PMF-5150B, Krell KSA-150 and BAT VK-500. These limitations are dramatically reduced however with a series of improvements that I implement in these amplifiers.
Quad 405 Serviceability
The Quad 405 is an easy amplifier to work on compared to most. The whole unit can be completely apart and broken down to board level in minutes. You can even remove the side panels and work on a module whilst it's still bolted to the chassis. Check out some of my Quad 405 work here and here.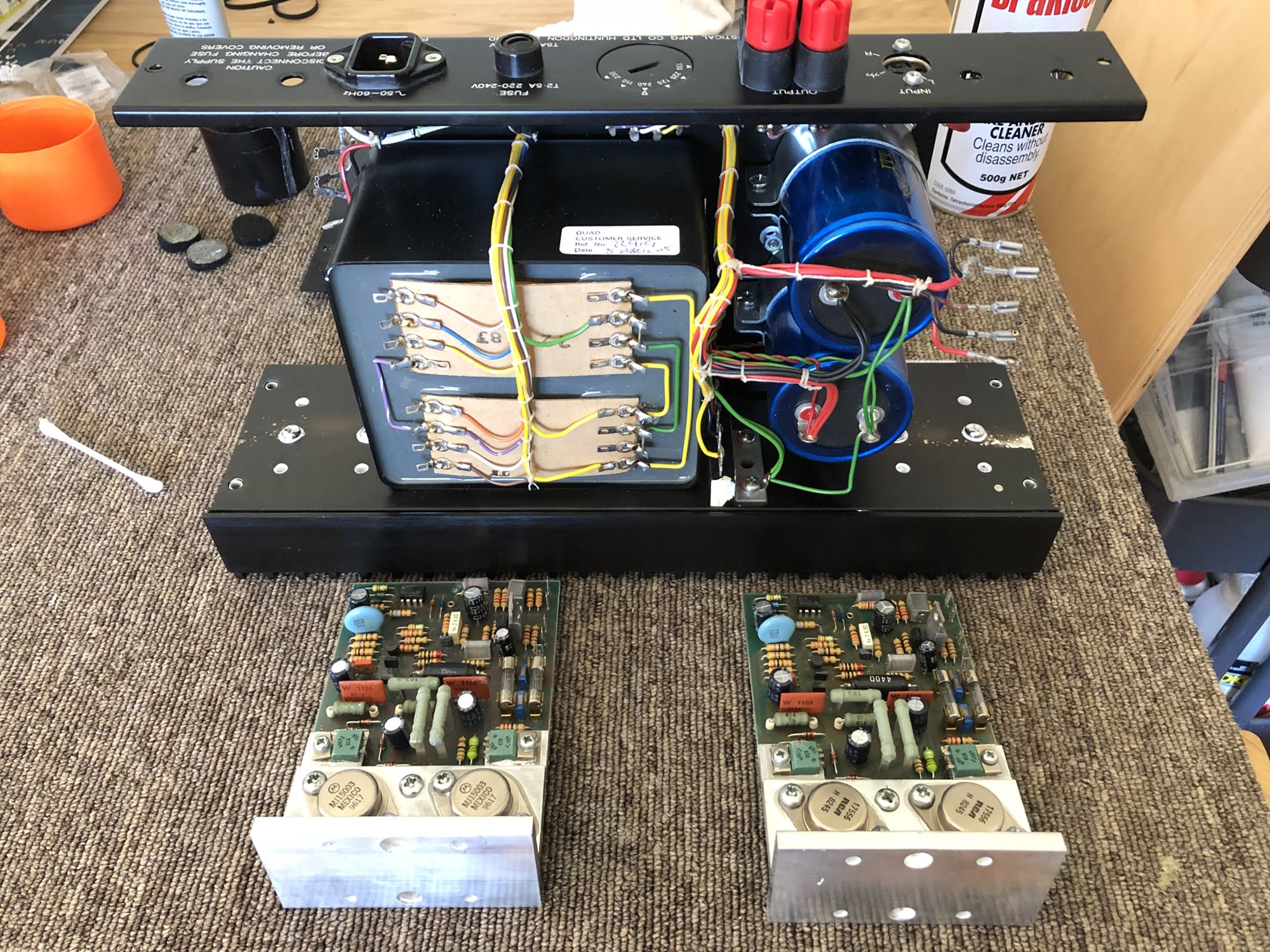 All electronic parts are replaceable with modern equivalents, but the original factory parts quality is excellent. The only issue that is the 405-2 current limiting sub-boards are no longer available, but even this is no real problem. You can remove them altogether if you like to operate with no protection, the amp will work fine without them. Better still, they've been reverse-engineered and are available from Dada Electronics for example.
Furthermore, the popularity of the Quad 405 and 405-2 has spurred the development of a range of modern replacement modules. Some are rubbish like these cheap Chinese boards found on eBay for example. But others look amazing, like the NET Audio 405-3 boards, unfortunately no longer available. I had a customer who owned two '405-3' amplifiers contact me and we chatted for a while about how good these modules sounded! More on what they sound like here.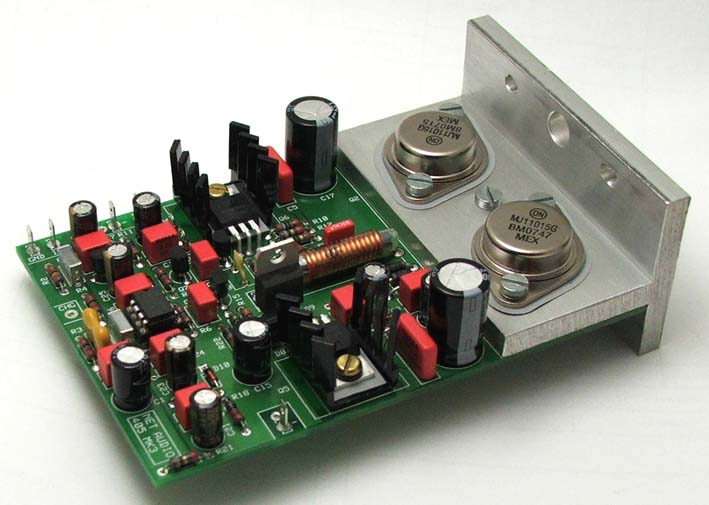 Clones & 'Copies'
I'm often asked about the cheap boards and 405 clones found on eBay and elsewhere, by people thinking they might save a few bucks by purchasing them. Check the comments and you'll see I've had long discussions with readers about this, and probably won't have many more as I've outlined the relevant details and facts here in this article. Understandably, people will have questions, especially those with limited experience with really good audio gear.
I'll always struggle to understand trying to save just a few bucks on something that's already cheap, already a bargain. Thinking that, because your total BOM or parts cost for a kit might be less than a real Quad 405, this makes it better somehow is such a flawed way of thinking that it's hard to know where to start to try to correct it. Quad 405s are cheap! If you can afford one, save up for a couple of extra weeks, for goodness sake!
There's a strong parallel here with replica watches. Just like a real Rolex or Omega, a real Quad 405 contains premium quality, genuine parts rather than cheap fakes. This is fact, not opinion: the case, boards and transformer in a real 405 are superb, as are the thermal interfaces, loomed wiring, semiconductors, connectors, Roederstein, Vishay, Zetex etc parts used in many iterations. The original, high-quality parts all contribute to the sound. Clones use the lowest grade re-labelled and fake parts in an attempt to con the gullible. Nothing about this has merit.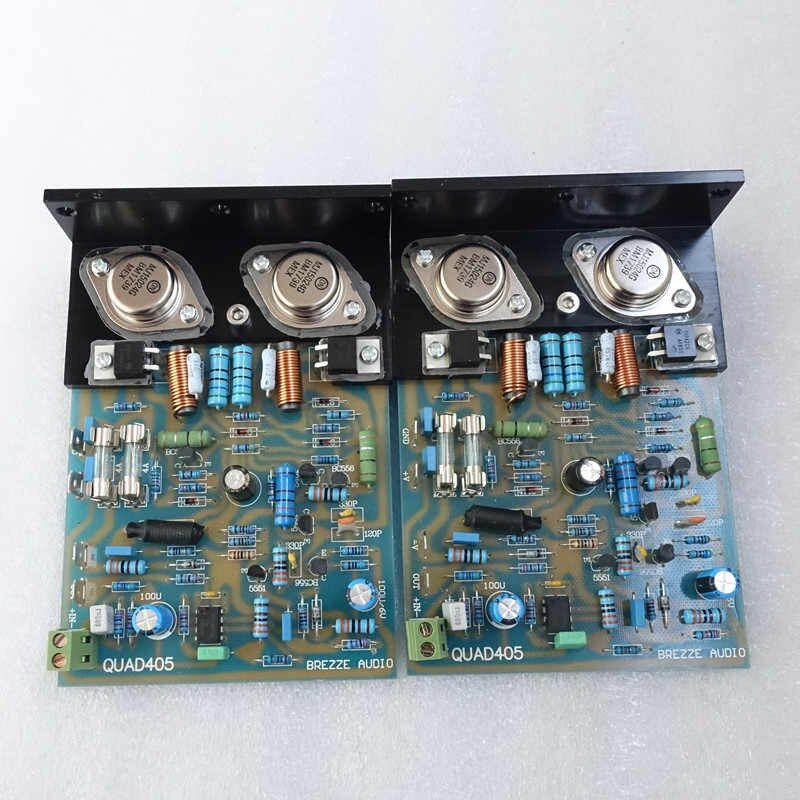 "But Mike, they are Quad 405 boards, it says so..!"

Bemused visitor
No, they aren't. I can wear a badge that says I'm Brad Pitt, but I'm still not, unfortunately.
Did you know that the superb original potted transformer makes a big contribution to the sound? Clones often use cheap toroidal transformers wound with sorry that's not real copper and will not sound anything like the original, for this reason alone. Don't even get me started on semiconductors and how important they are.
China is the number one source of counterfeit semiconductors and most are simply rebadged, cheap parts made to look vintage that are clones or copies of other well-known parts. Real On Semi 15024 devices are $10 – $20 each, depending on how many you buy. Do the math and figure out how each board can sell for $40 with way more than $40 worth of 'real' parts on it. Anyone..? Bueller..?!
A real Quad 405 or 405 board contains the actual DNA and parts specified in the original design. Replicas have redrawn boards, circuit changes, and cheap board material, populated with the aforementioned fake parts. They have no performance guarantees and are built and sold by people cashing in on the desirability of the original product and on buyers looking to find a 'bargain'.
Confirmation Bias
If you're looking to buy a clone, you are likely inexperienced, hunting for a 'bargain' and haven't heard a real 405 or 405-2. The replica watch comparison here is an excellent one.
But Mike, I've read the reviews of people who've bought these, they love them!

Another bemused visitor
Look harder, definitely not all of them.
Confirmation bias ensures that you'll read positive reviews from people who've convinced themselves that these are great value. These reviews are typically written early and can't be changed later, when the amplifier fails, the reviewer hears a real Quad 405 and the 'value drunkenness' wears off. A lack of experience means that, for many, a clone may even be the best amplifier they own. It may even be the only amplifier, further reducing the credibility of such reviews.
So, would you wear a fake Rolex? Do you think a 'clone', with a cheap imitation case, heatsink and fake parts is good value when you can get a real one for around the same money? If you answered yes, buy a clone, but just don't call it a bargain. Call it what it is – a rip-off, low-quality copy of one of the great amplifiers, made by people who don't give a $hit about freebooting other people's hard work and IP.
For everyone else, clones, replicas and counterfeit parts are a waste of money for the same reason fake watches and fibreglass Porsches are. A real Quad 405 or 405-2, made in England, is a genuine hi-fi bargain, often selling for only a few hundred bucks. These amplifiers still represent the ultimate high-value hi-fi. Yes, they are old, but so what? Have a skilled technician put a few hours of work and some parts into a Quad 405 and I guarantee you won't be able to stop smiling.
I hate copycats wherever they lurk. Buy the real thing, whether that be a watch or a Quad 405 and you'll help not fund the production of counterfeits and ripoffs. Invest in having your amplifier professionally overhauled and you'll have a low-cost, high-value hi-fi friend for life! I've kept mine after all these years and I'll likely never sell it😉
System Matching
People also often ask me "What would go best with this" and so on. For a while, I ran my Quad 405-2 with a pair of Yamaha NS-1000M monitors. This is an excellent match, the slightly mellower sound of the Quad 405-2 is a great partner to the airy clarity of the wonderful NS-1000. Ultimately, the Quads lack the authority and resolution of the best amplifiers in this use-case though. I now drive my NS-1000s with my Accuphase P-360 power amplifier.
Many will also be aware of the legendary Quad electrostatic speakers like the ESL-57 and later ESL-63. Quad designed the 405 and 405-2 to drive their speakers, so this is also an excellent match, though as a commenter pointed out, the ESL-57 can be too tough a load for many amps, so the 405 and 405-2tely better with the ESL-63.
The 405 and 405-2 ultimately lack a little scale and gravitas though, so don't expect one to drive your Infinity Kappas as it just won't work. The Quad is better suited to small to medium-sized speakers of moderate sensitivity, in moderately-sized rooms. Remember what the Quad 405 is and how much they cost, and that will help keep expectations in check.
Overhaul & Upgrade
Unimproved Quad 405s and 405-2s currently sell for around $500 – 750 AUD. They would be a deal even at $1500, so they are a fabulous buy for less. Seriously, what else can you get that sounds this good for 500 bucks? The best thing is the understatement of these lovely amplifiers, like fine pieces of 1950s English industrial art.
It's a very good idea to have your 405 or 405-2 overhauled if it hasn't been. Many are running original capacitors and parts, a testament to their durability, but they can be dramatically improved. This is something I've been doing for a while now, with great results. I have a series of improvements I can apply to your 405 or 405-2, developed, tested and implemented for various customers, and in my own 405-2 of course. The sonic benefits are not subtle, turning this already great-sounding amp into a serious heavy hitter.
A full restoration is an even better idea, part of the complete overhaul and upgrade process I've developed for these amplifiers. This includes output-matched devices, thermal pads, op-amps, special MIL-spec silver mica, polystyrene and polypropylene capacitors, various premium electrolytic capacitors, new lab-grade power supply caps and more. Everything has been carefully chosen and tested for the best results.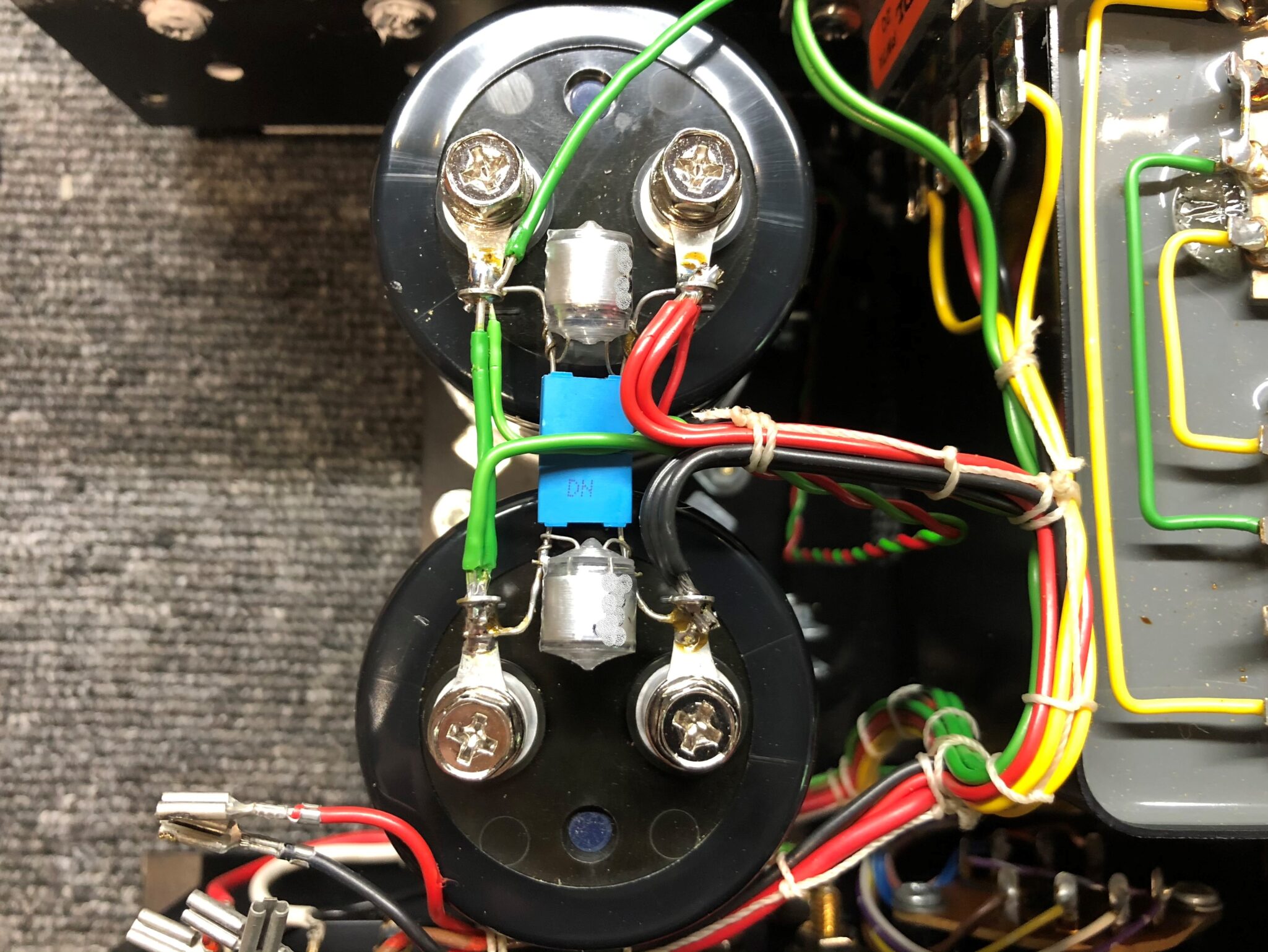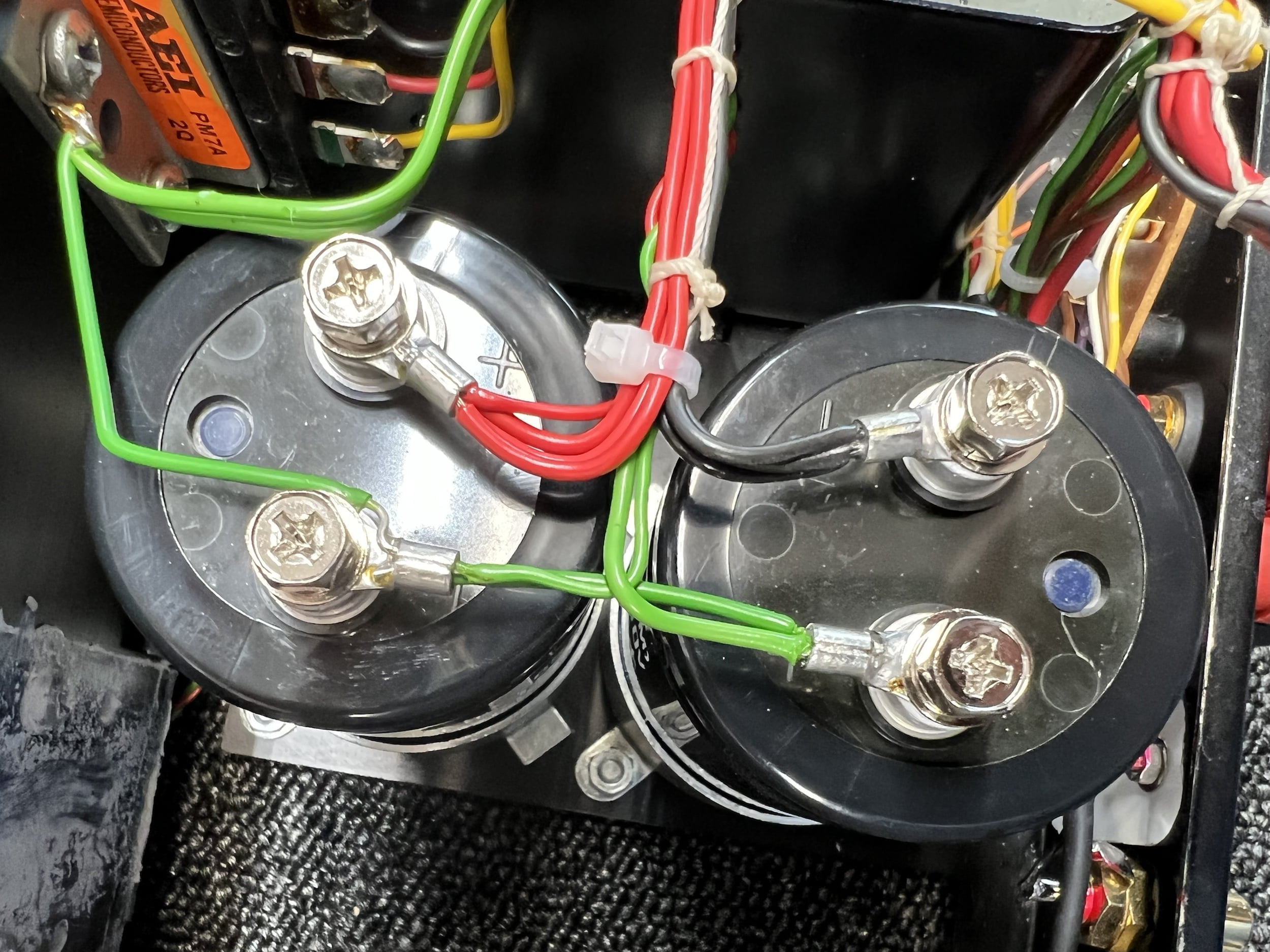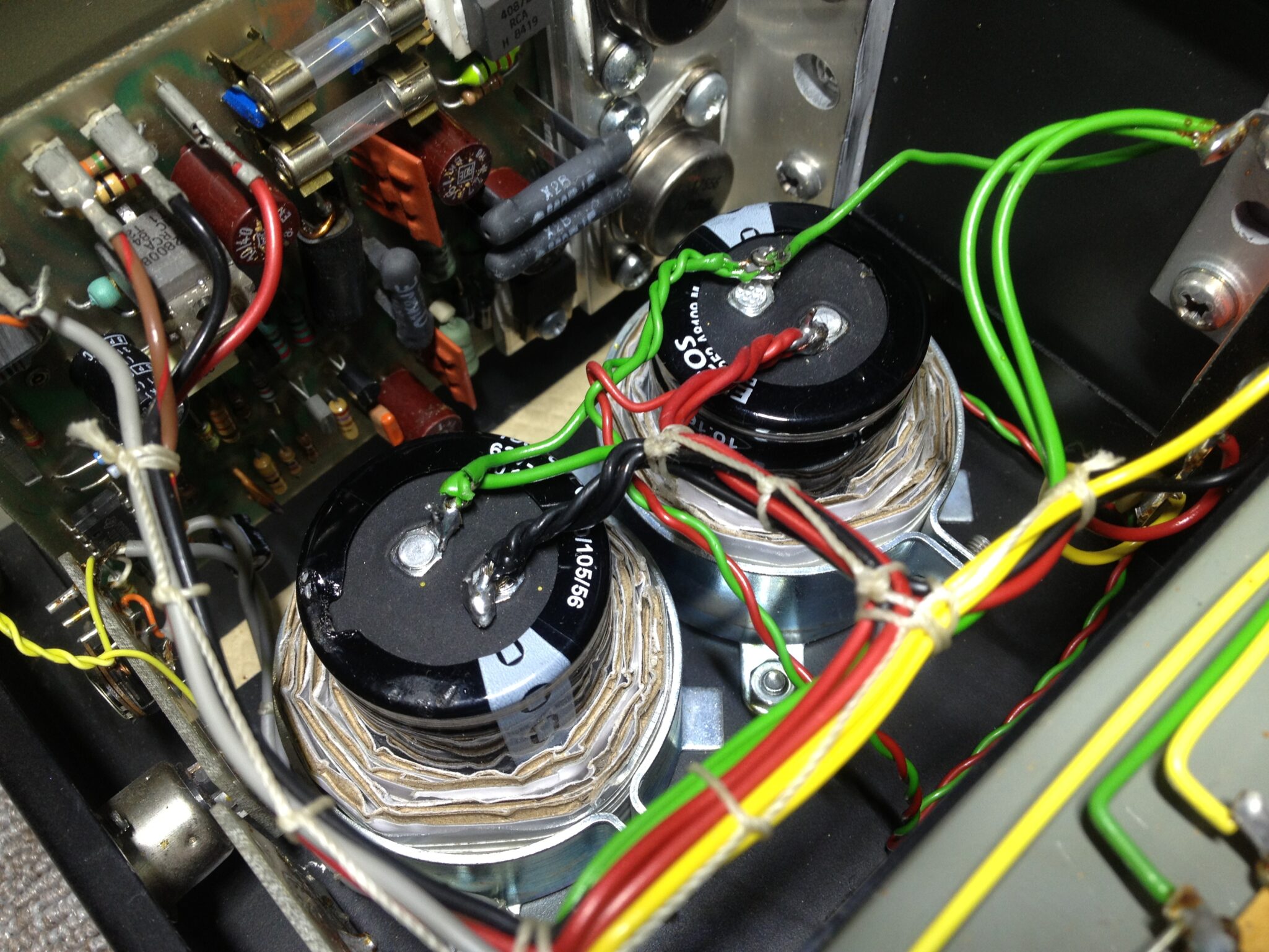 I've had customers ask if it's worth upgrading a Quad 405 or 405-2. Consider that to replace a 405 or 405-2 with something decent but that probably won't sound as good, will cost $5000 AUD or more. With this in mind, spending a few hundred dollars to refresh and seriously improve your Quad is one of the great no-brainers in hi-fi!
Have a go if you know what you are doing, but if you don't, spend the money and have the work expertly done. I've seen too many of these amps where people have fiddled and caused problems. Consider what you could be doing to earn money while an expert works on your amplifiers instead! If in doubt, look at the 405 above.
Further Reading
The Stereophile reviews of the 405 and 405-2 are good places to start to get your head around what people were thinking when these amplifiers were released. I've written a lot more about the Quad 405, including several pieces about restoration, modifications and upgrades, and servicing. Positive Feedback has a great piece, with lots of mods and other technical details. Yet another page lists more modifications and upgrades.
One of my favourite resources is Keith Snook's fantastic Quad repository. Keith goes into detail about his journey with the 405 and breaks things down over two large and very detailed pages. The first covers the original 405 and its various iterations, the second covers the 405-2.
The Bottom Line
If you want an amp to soothe the soul, I encourage you to listen to a Quad 405 or 405-2. Better still, just grab yourself one to play with on a rainy day, you won't regret it. For the price you'll pay for the genuine article, you simply cannot go wrong.
If you already own a Quad 405 or 405-2 and you'd like me to service, overhaul or improve it for you, visit our Contact page to get in touch.
If you enjoyed this article or it's helped you choose a Quad 405, you can say thanks by buying me a drink via the donate button. Articles like this are provided to help, they take many hours to create, on top of the many years of experience needed to be able to create them 🙏
Quad 405-2 Power Amplifier
$500 - $1500AUD
Chassis / Build-Quality
9.5/10
Pros
Superb build and parts quality
Smooth, relaxed, refined sound
Ease of service, high reliability
Tiny for the level of performance
Multi-voltage
Cons
Deep bass and air slightly lacking
DIN connectors and no power switch
Capacitor coupling non-DC design