Come along as I overhaul and upgrade a beautiful British classic, the Quad 405-2 power amplifier.
The Quad 405-2 is still revered, some 40 years after its release. These are truly special amplifiers, don't let the understated English looks fool you. What almost all of them need however is work, so come along for this Quad 405-2 Power Amplifier Restoration as I walk through some of what I cover when I do this sort of work.
UPDATE: Revised with additional information, in 2021!
For some extra reading, check out my Quad 405-2 review, Quad 405 refresh, and Keith Snook's Quad 405-2 page.
Quad 405-2 Design
The amplifier we are looking at here is a Quad 405-2, but the previous 405 and 405-2 are similar. They are masterpieces of thoughtful, understated design and showcase the less-is-more approach of Quad's legendary engineer, Peter Walker.
I can't think of a mainstream commercial amplifier with fewer parts than the Quad 405. Yes, there is an op-amp in the front-end to keep the parts count down, but the driver stage is just two TO-220 devices operating in class-A. The output stage is another two N-channel TO-3 devices per channel. No complimentary pairs here!
The driver and output transistors are thermally coupled to a block of aluminium and board-mounted, eliminating wiring. Add a sprinkling of passive components of very high quality and you have the elegant simplicity that is the Quad 405 amplifier module.
Restoration
I tend to utilise a less-is-more approach to my work, avoiding senselessly replacing perfectly good parts. Quad used excellent parts in most places and most are perfect, so why change them? To that end, transistors, resistors and most other parts remain stock.
This 405 needed some TLC, despite the seller telling me it was 'restored'. I was keen to see what that actually meant, but it turns out it means something very different to me. This amplifier was not restored and needed a full overhaul. On top of that, the amp was damaged during shipping. I made a claim through eBay and was refunded most if not all of the original purchase price, a good result.
Apart from that, this unit has two different amp modules, one revision apart. Quad made something like 10 revisions of the 405/405-2, improving them as they went. This is of no real consequence in a dual mono amp like this, and I've since acquired and installed a matching revision module, but an original must have blown up at some point.
Quad had a simple repair policy – simply install a new module, job done. My amp contained a few original and dead caps, some old chewed-out screws and other bits and pieces that I decided to sort out. Let's have a look inside…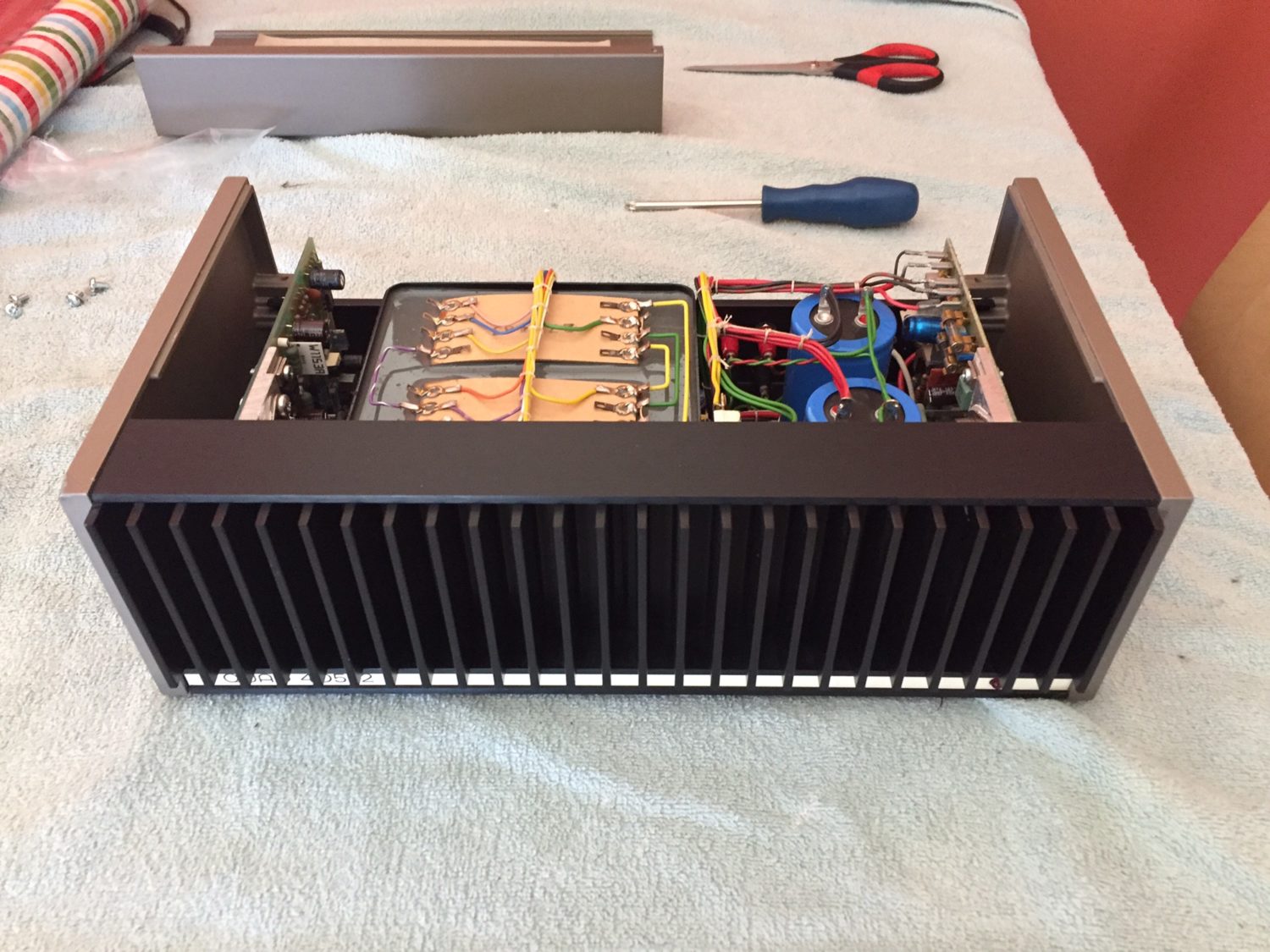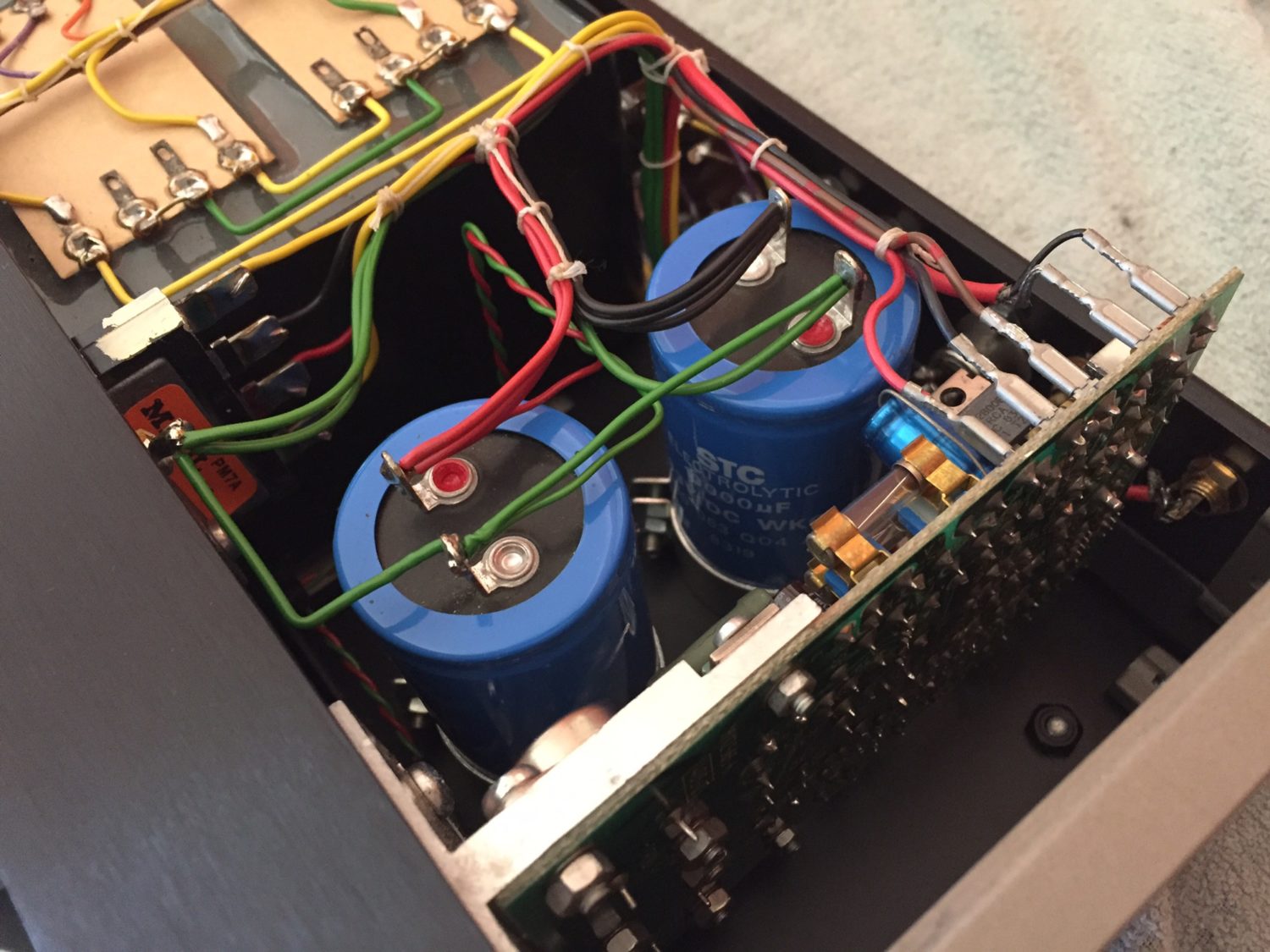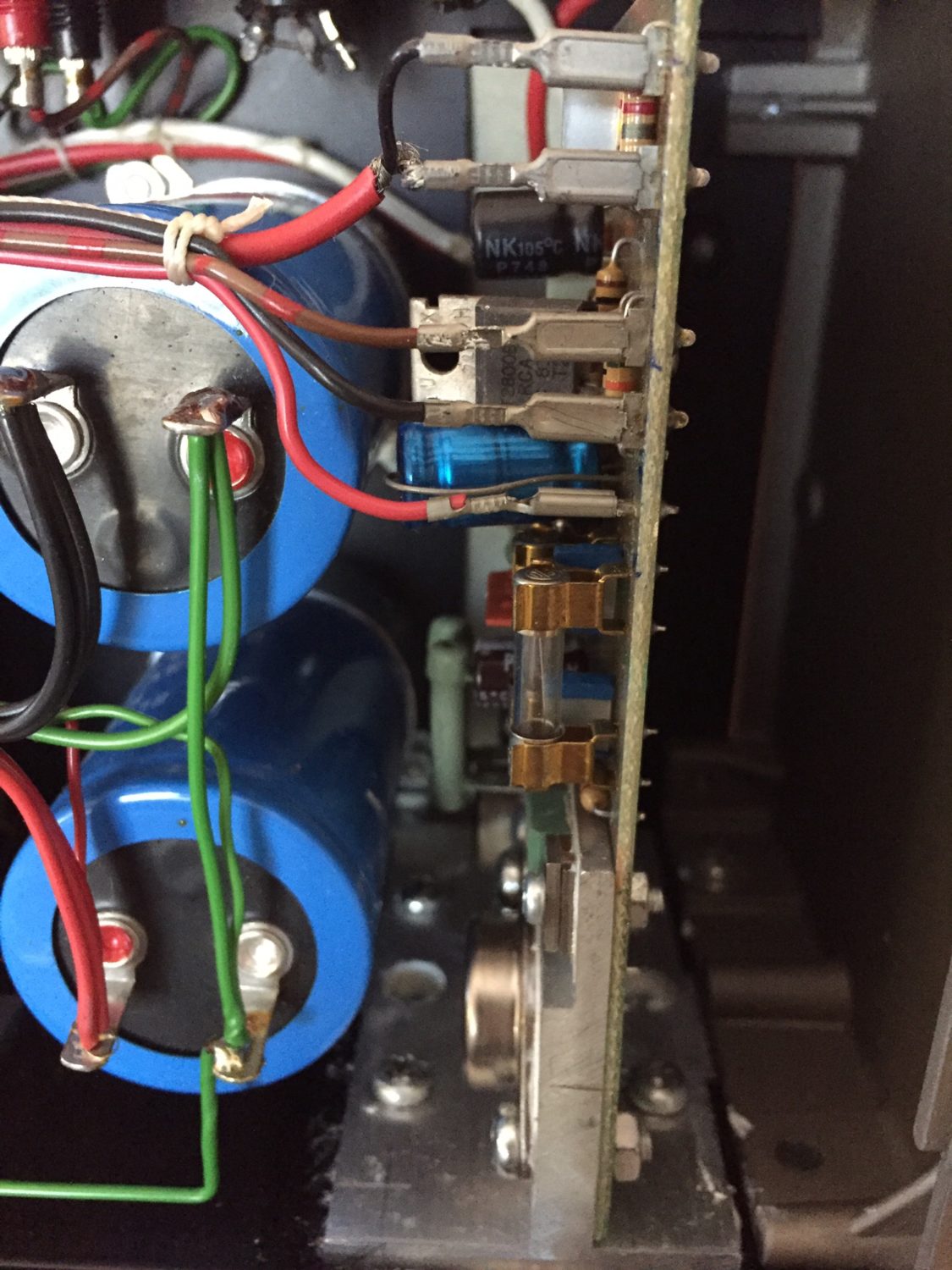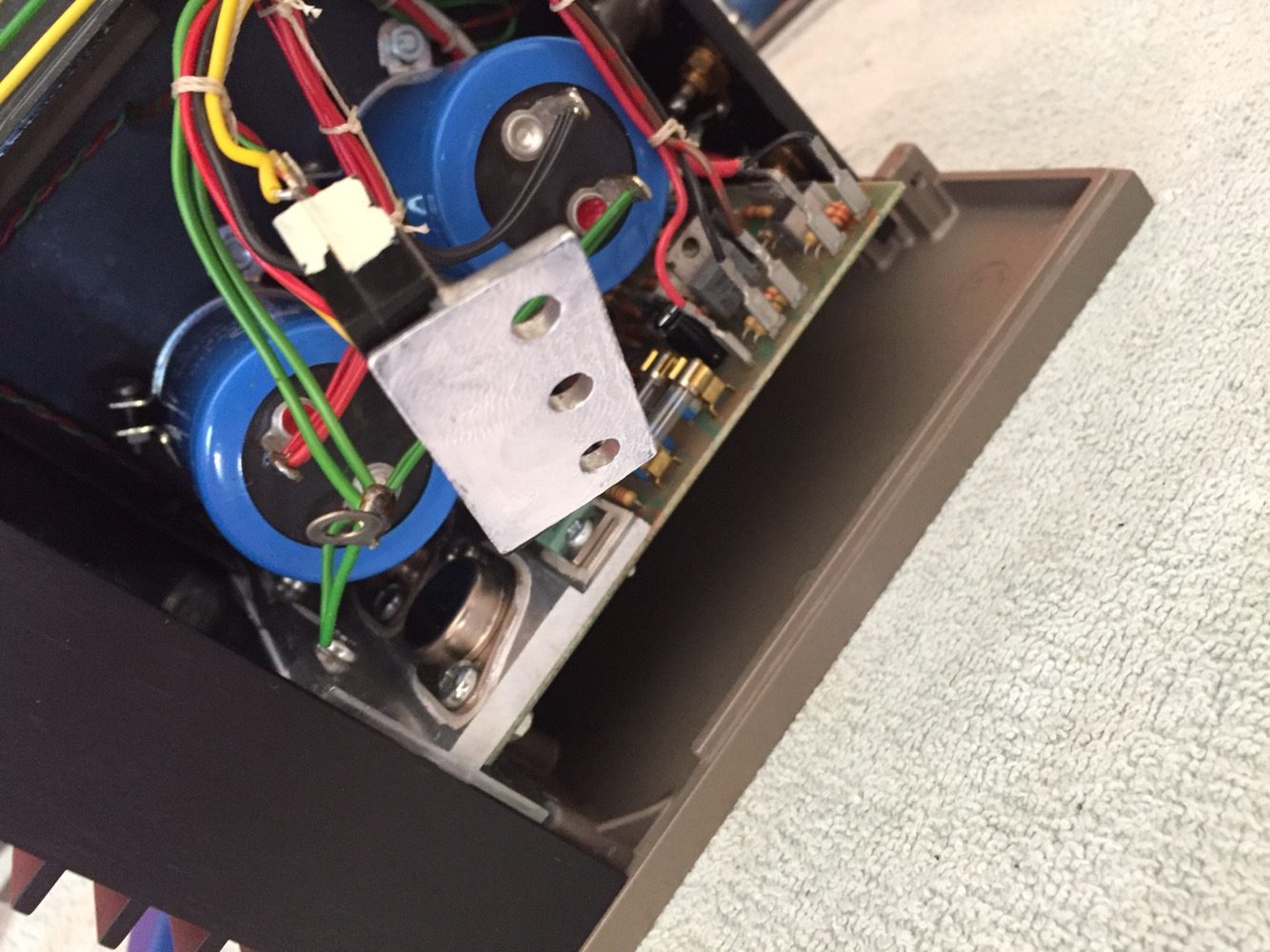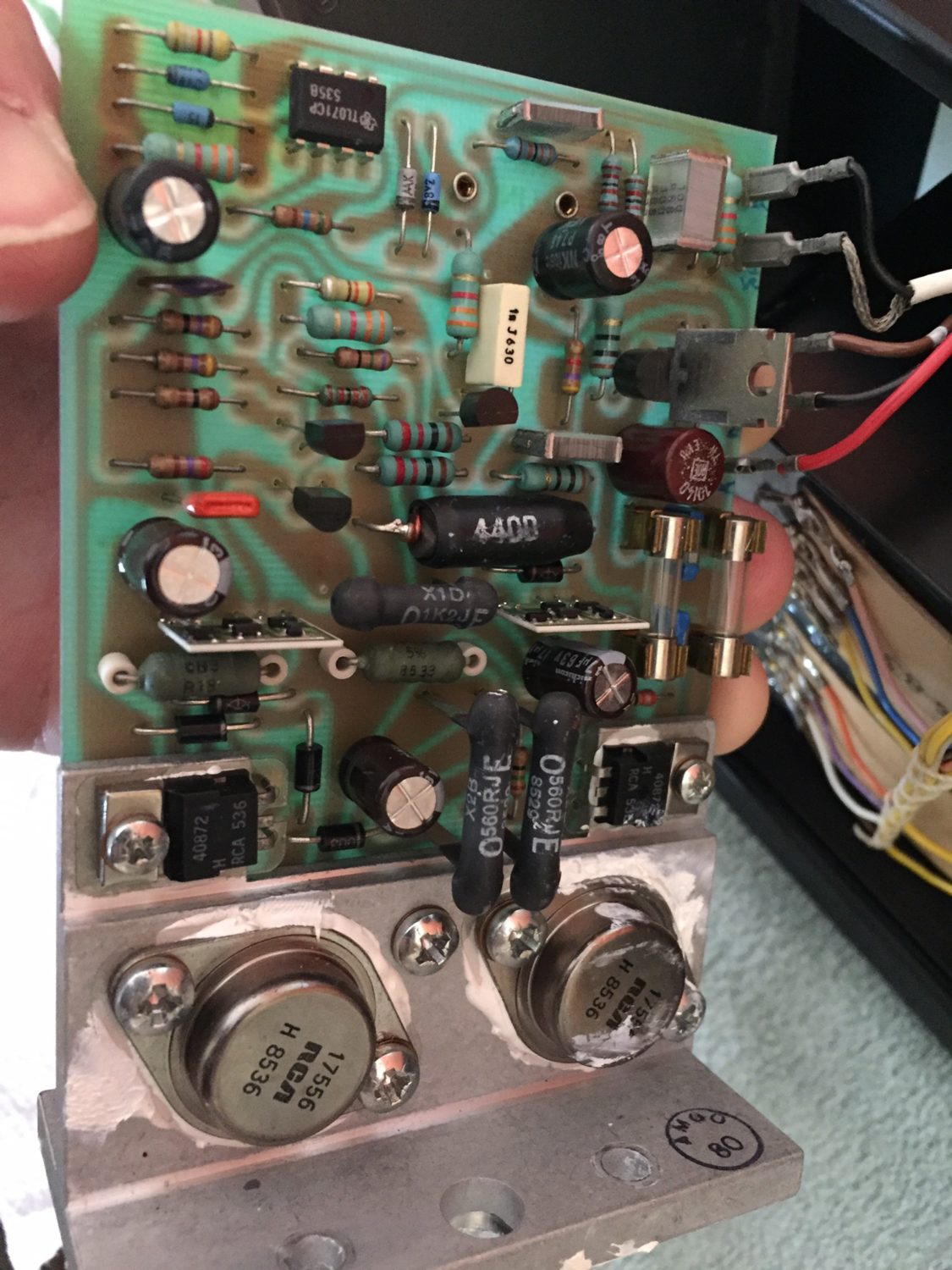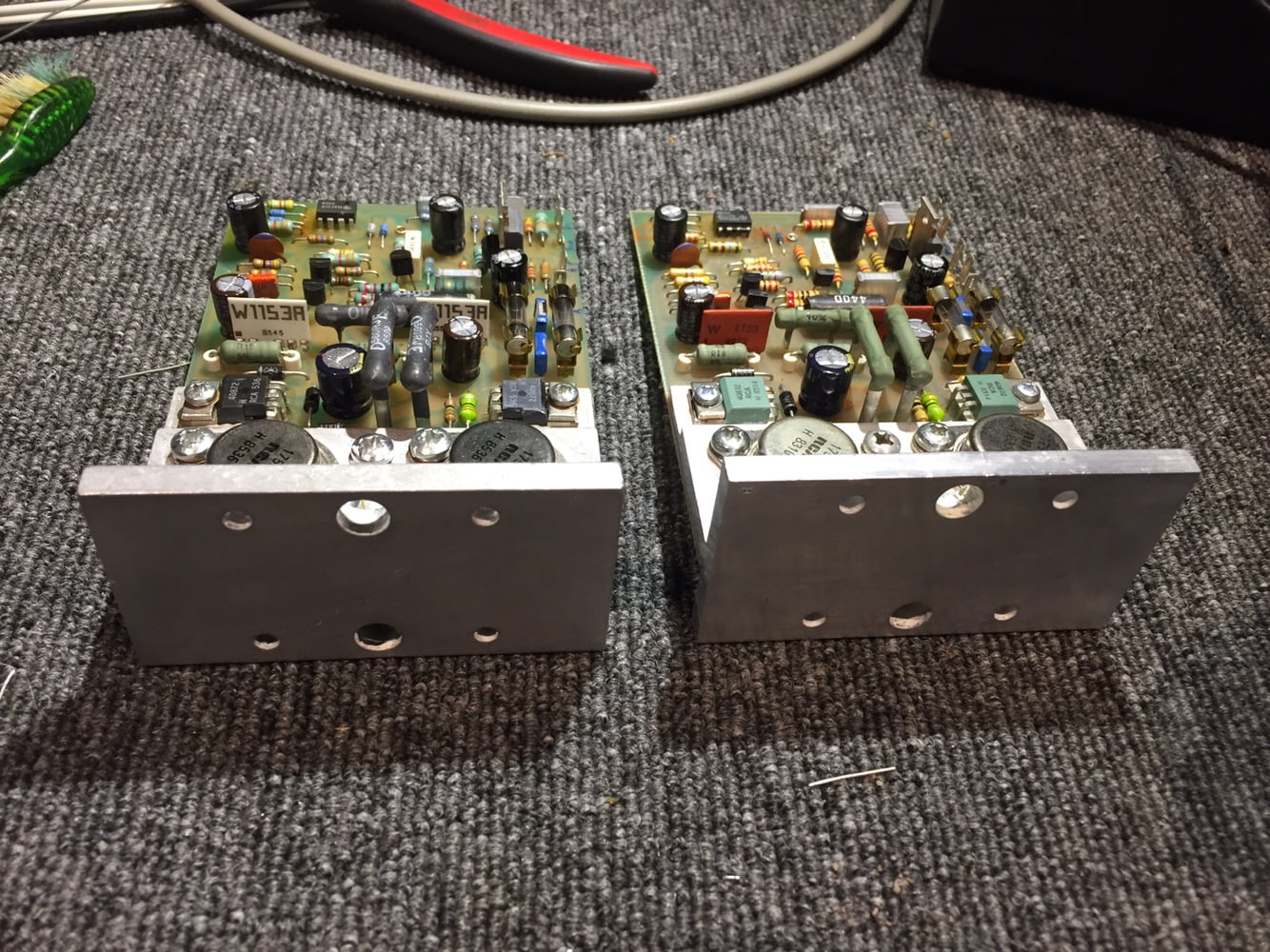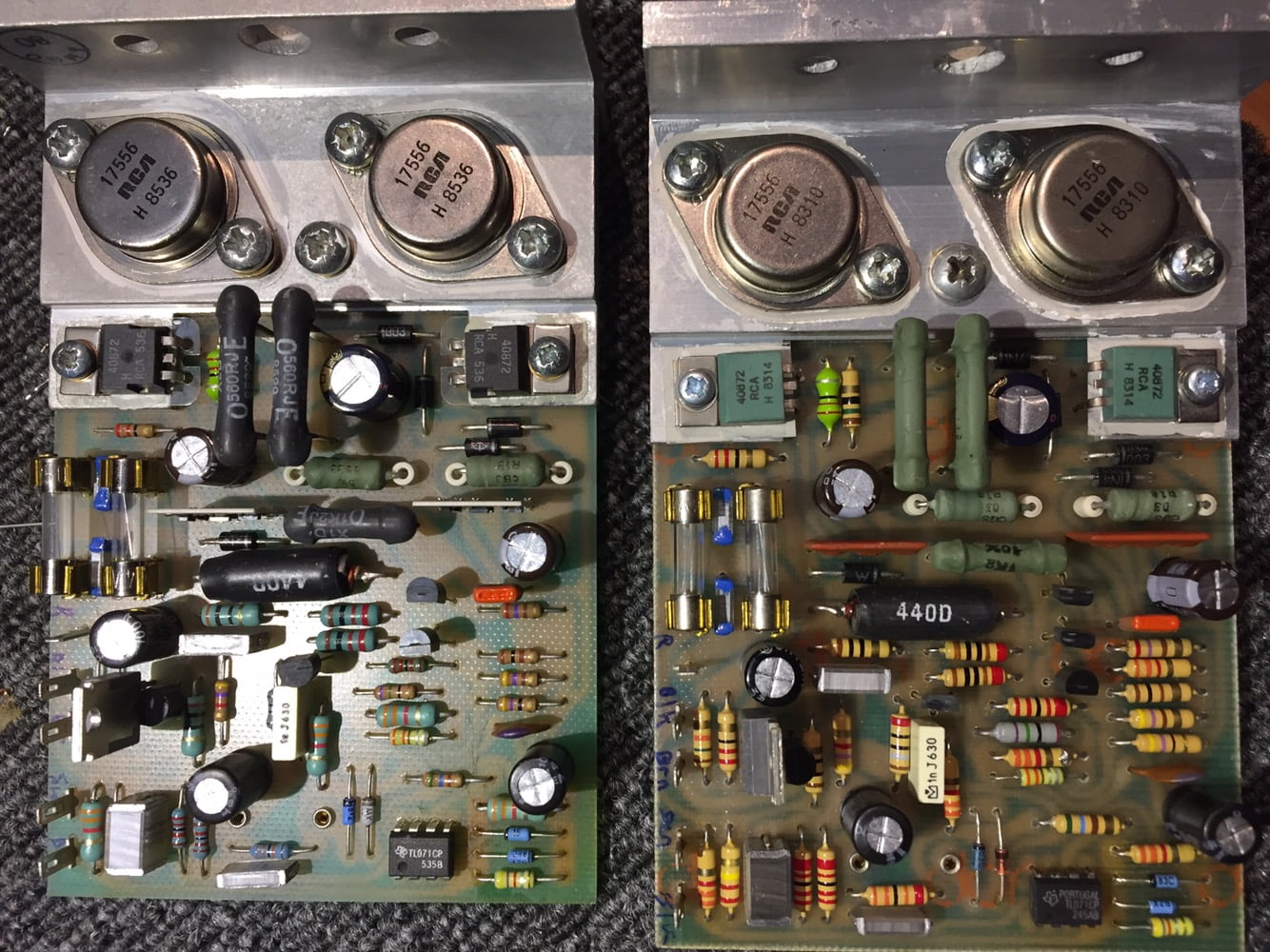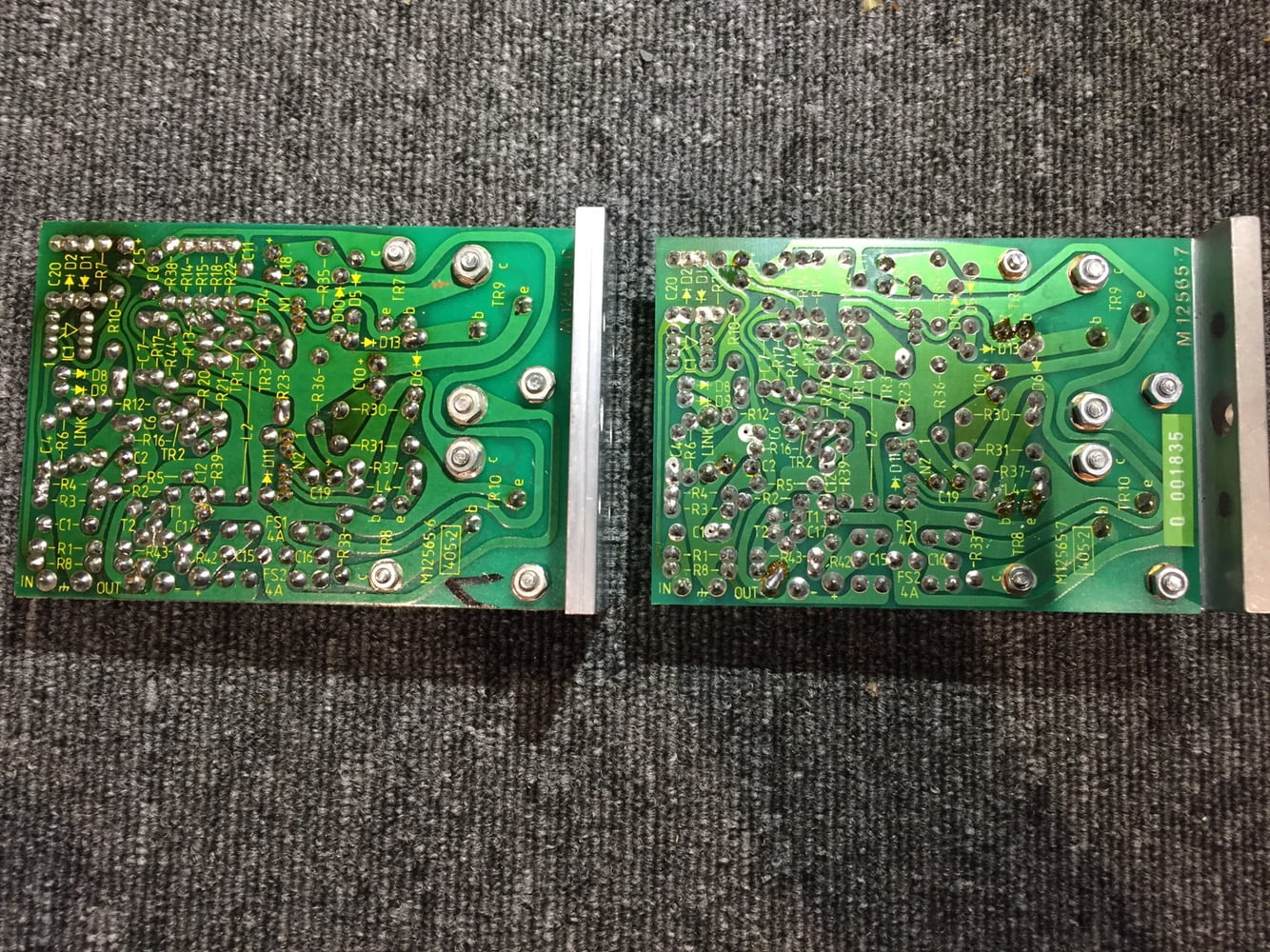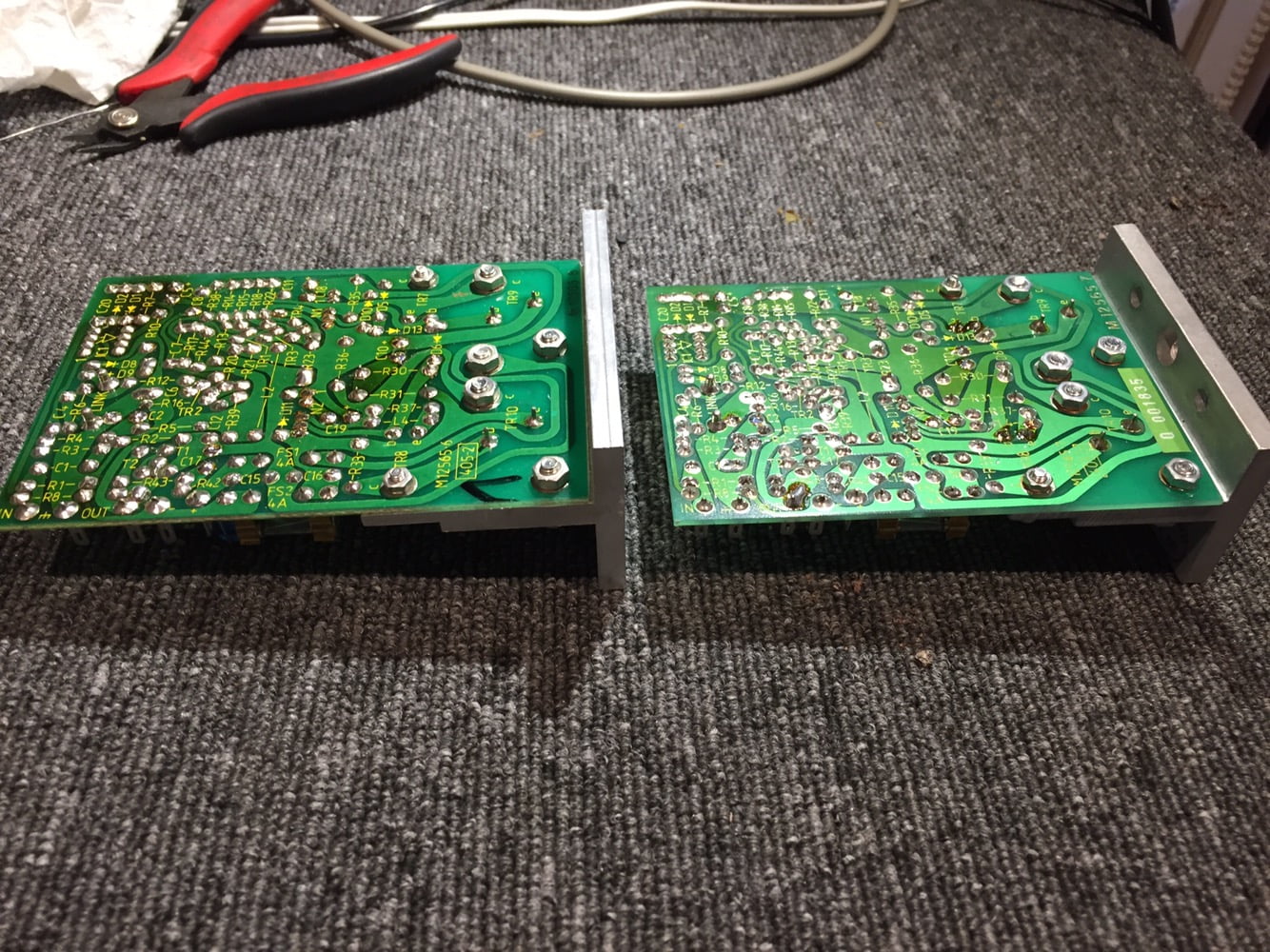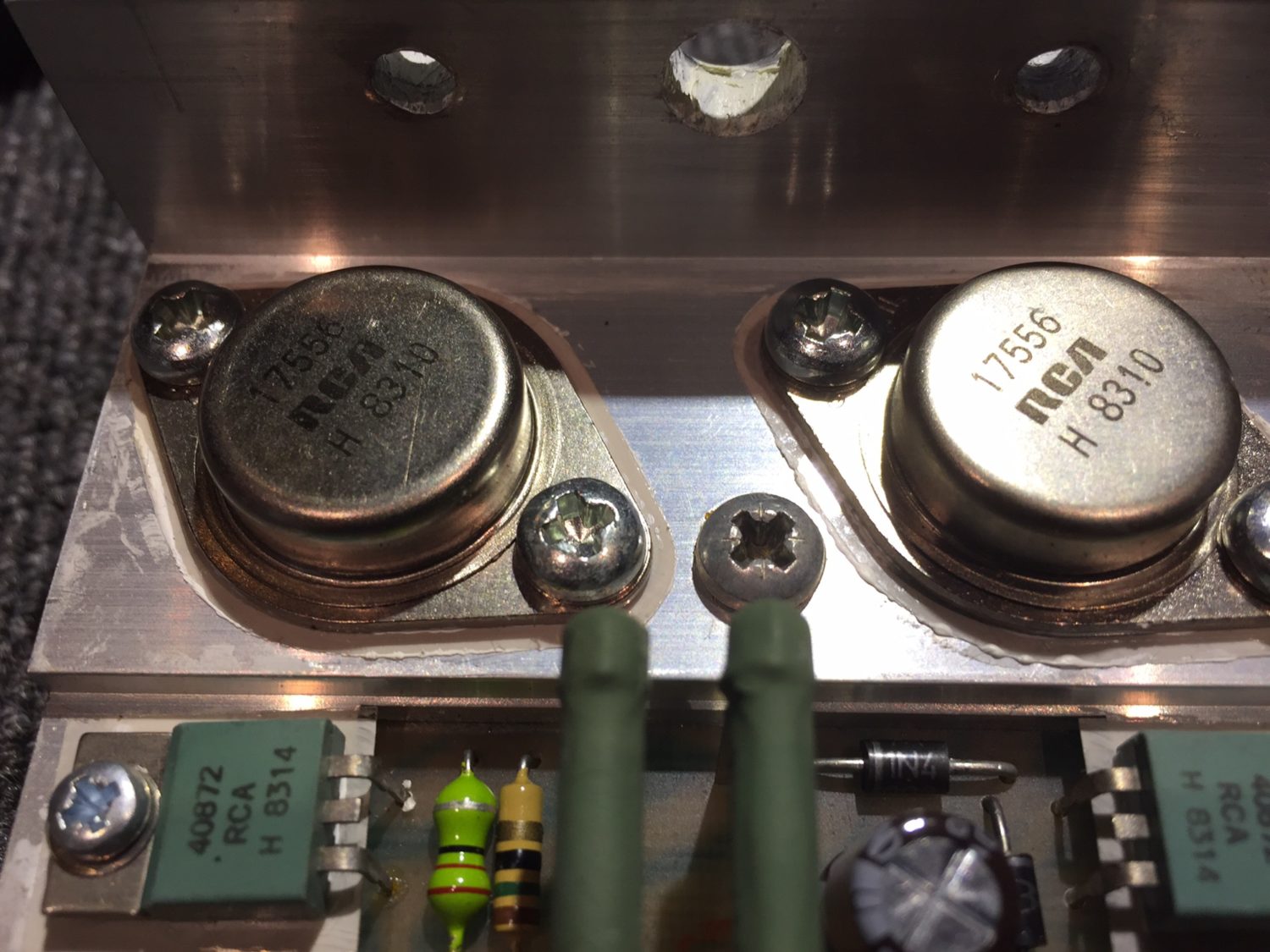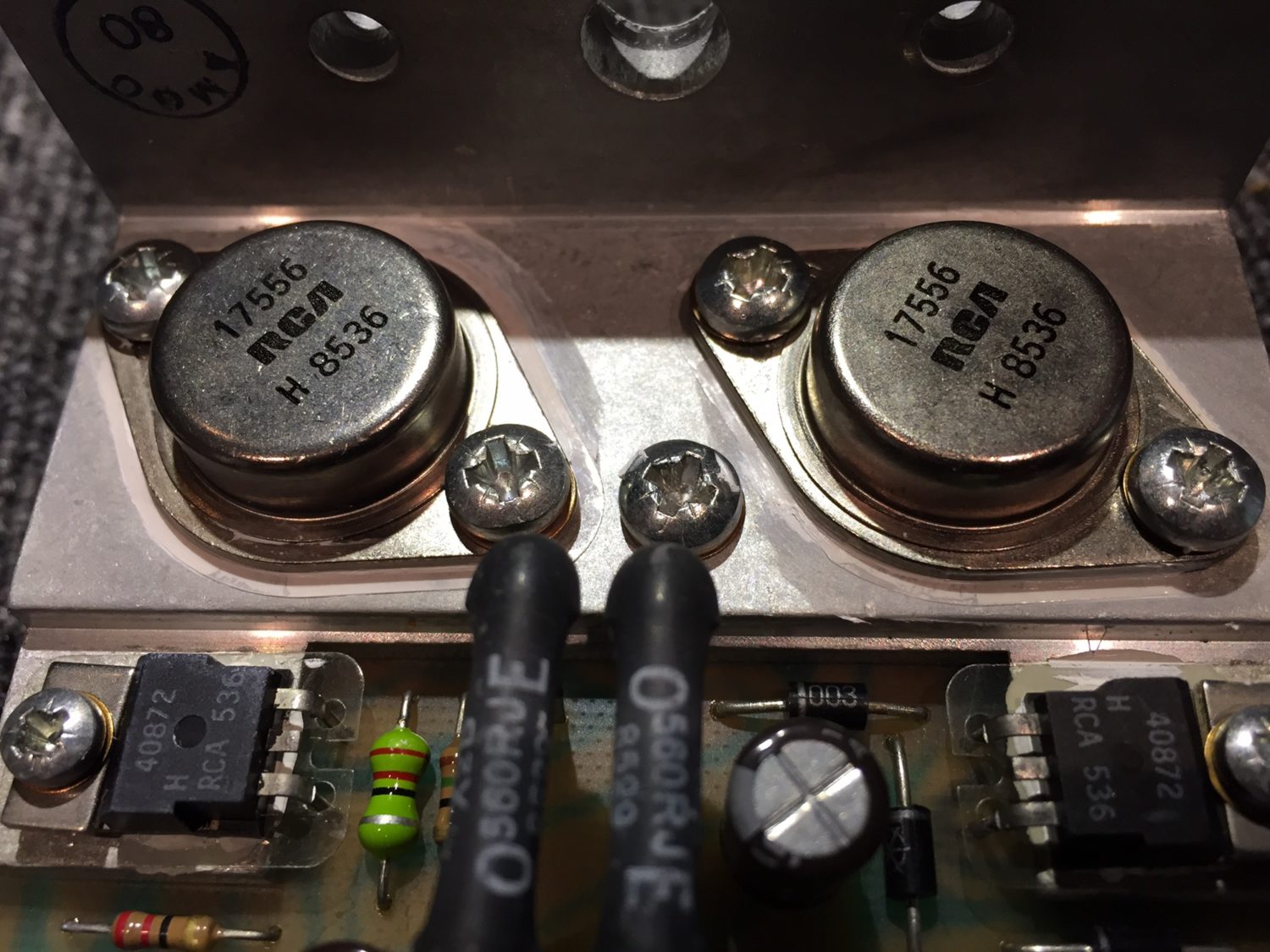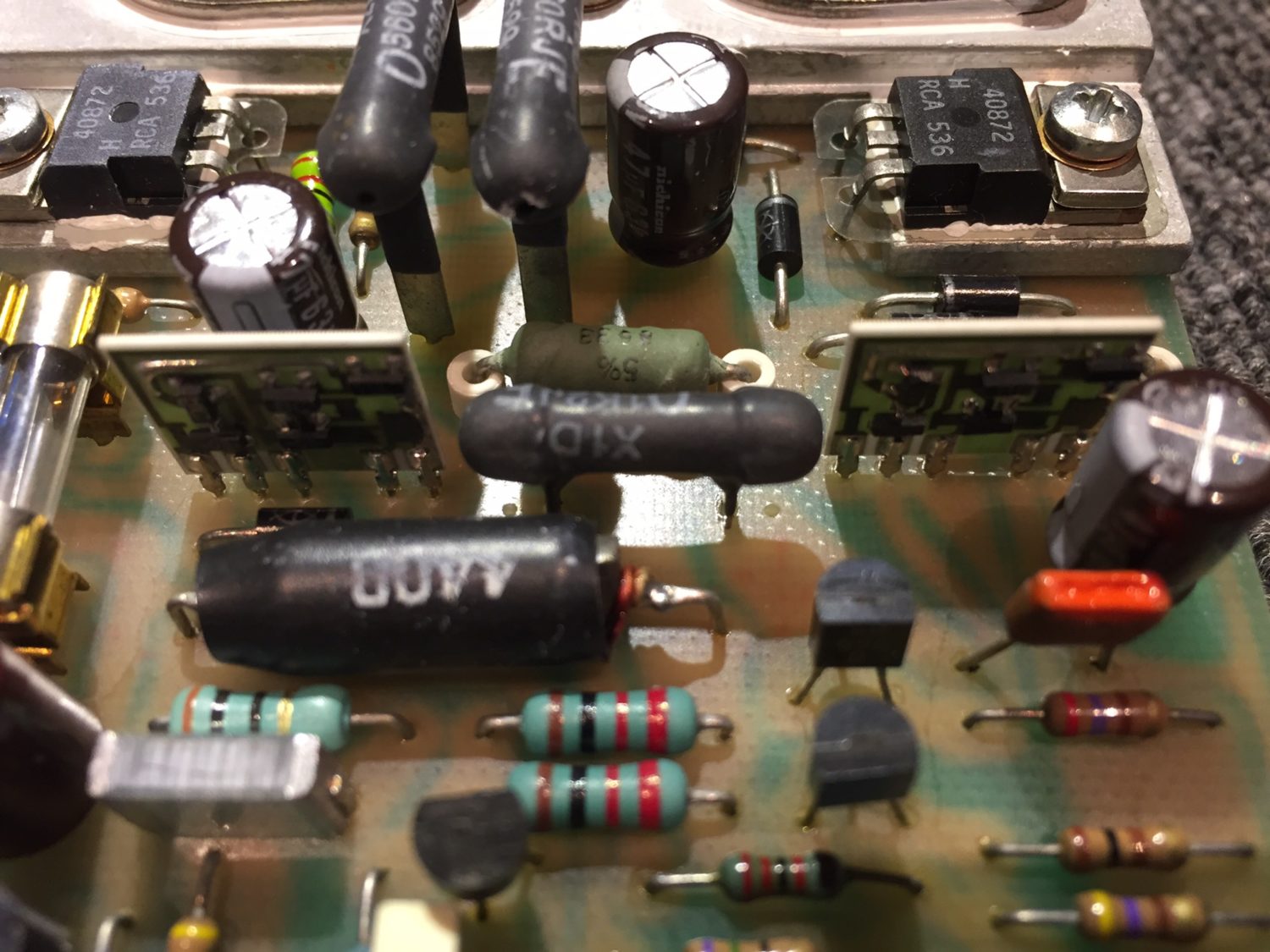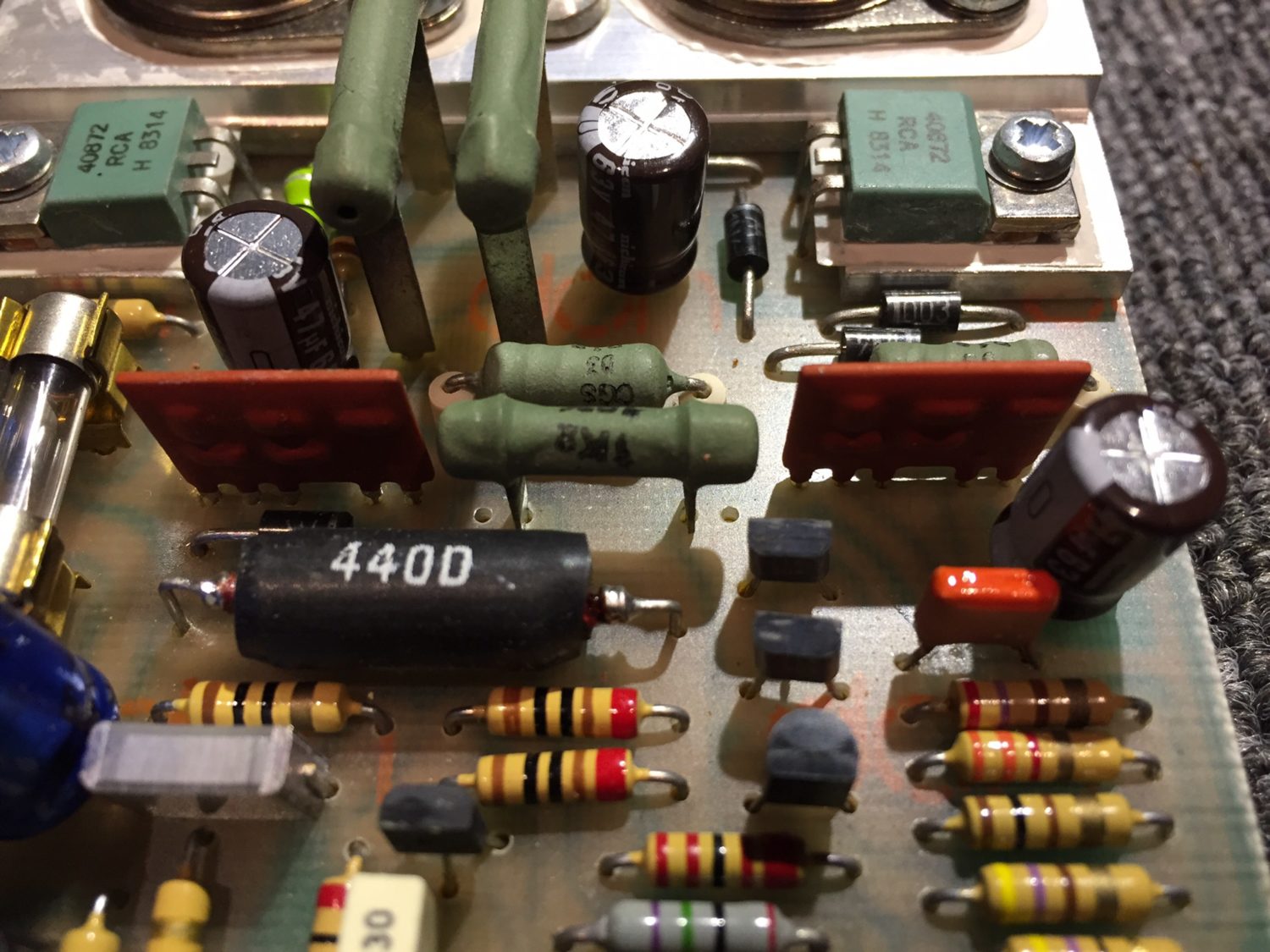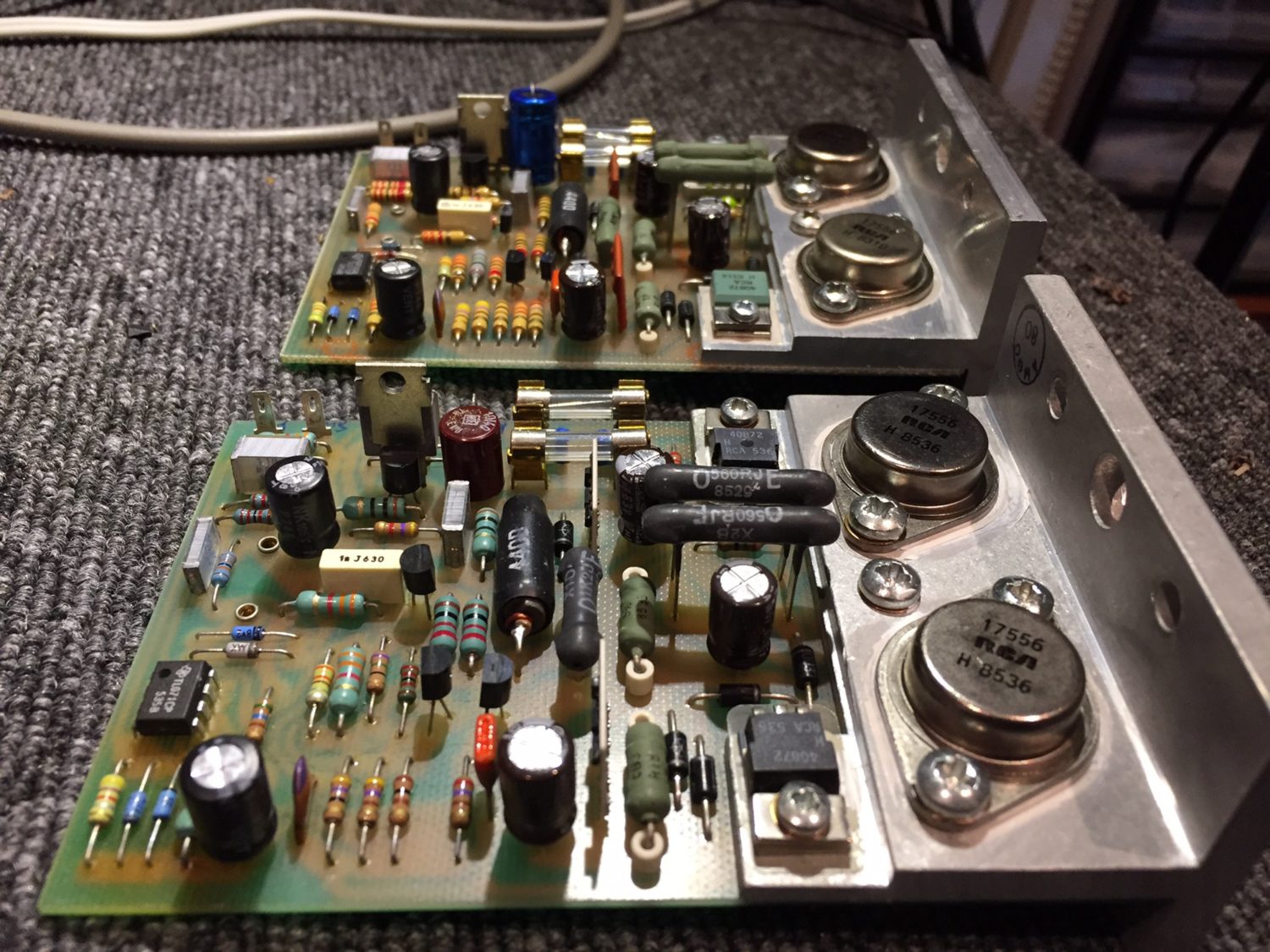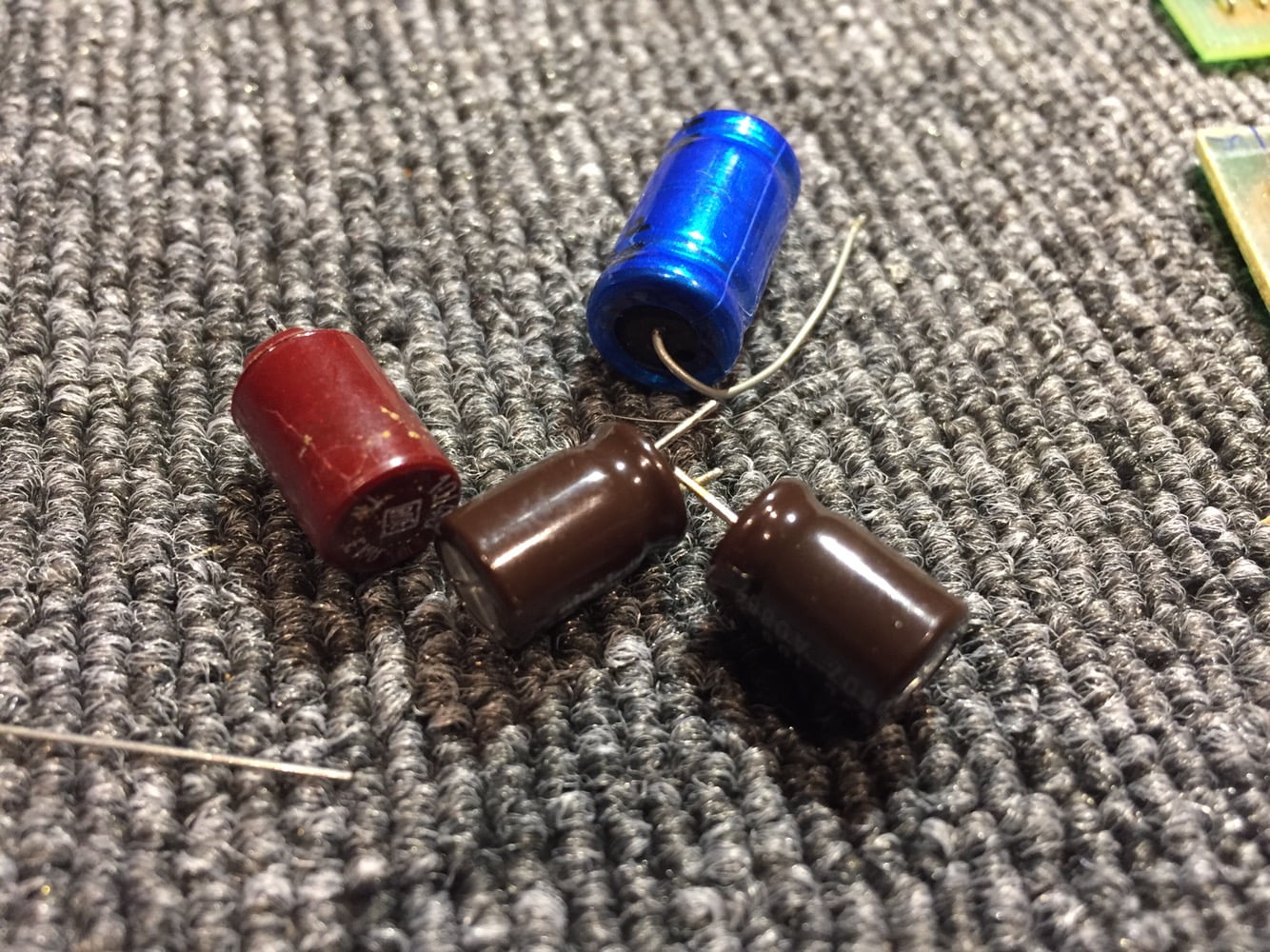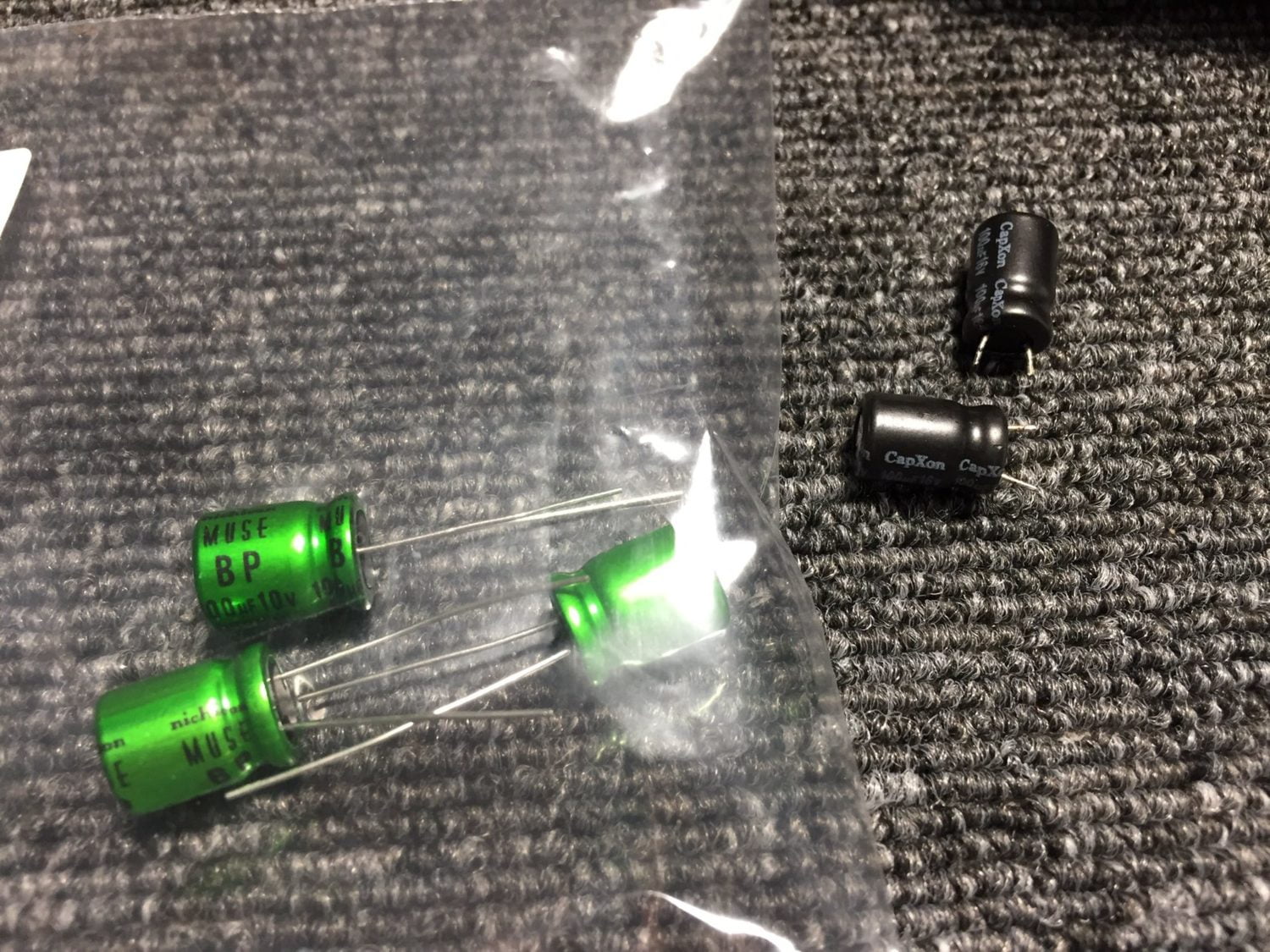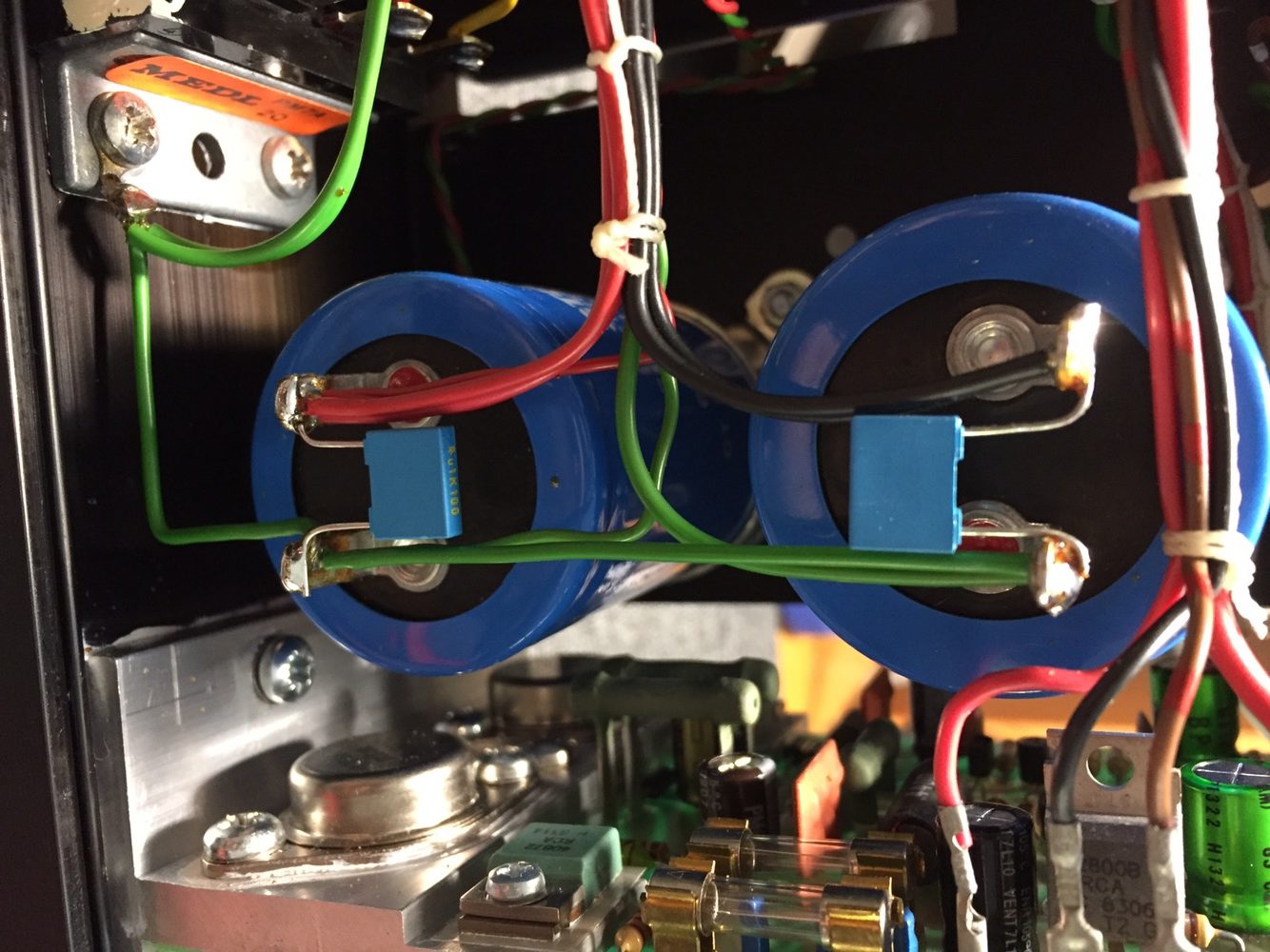 After completing this initial overhaul work, the Quad 405-2 sounded great. The 405-2 sounded much better after replacing the old board-mounted capacitors and generally tidying up the old girl.
Phase 2 – Additional Quad 405-2 Restoration & Improvement
I initially left the original TL-071 FET input op-amps in place as I wanted to baseline and characterise the first steps of improvement, so I could speak with authority about how each step influenced the sonic results and performance of the amplifier. As some will already know, I'm against the unscientific swapping of op-amps. It's better, and smarter, to try to understand the reasons behind the choices originally made and then pick an actually better replacement, based on science.
There are several other improvements I've tested and now incorporate into most customer jobs. The first is to replace a few critical ceramic caps with polystyrene or silver mica 1% rated parts. The second is to replace the TL-071 input op-amps with the modern TL-2071 equivalent. Other FET input op-amps work as well and there are a couple of others I also use, with great success in more premium overhauls. I also now modify the ground scheme in many of the 405 and 405-2s I work on along with the RCA connectors. I upgrade the mains inlet and fit special film snubbers there and in other locations on the transformer and filter caps.
Filter Capacitors
The remaining important mod with this particular Quad 405-2 was to replace the original filter capacitors with modern, higher-spec parts. STC branded 10,000uF @ 63V parts came factory-fitted. I replaced these with premium Kemet capacitors. The Kemet parts sound better and are rated for much longer service life. Before doing so, I examined the increased inrush current to ensure this was within the limitations of the diode bridge.
In some 405 and 405-2 upgrades, I now fit even better computer grade Illinois Capacitor parts, shipped to me all the way from the USA! These awesome capacitors are a real bonus in terms of the extra bass control and authority they provide, in combination with the other improvements I incorporate into my current resto's.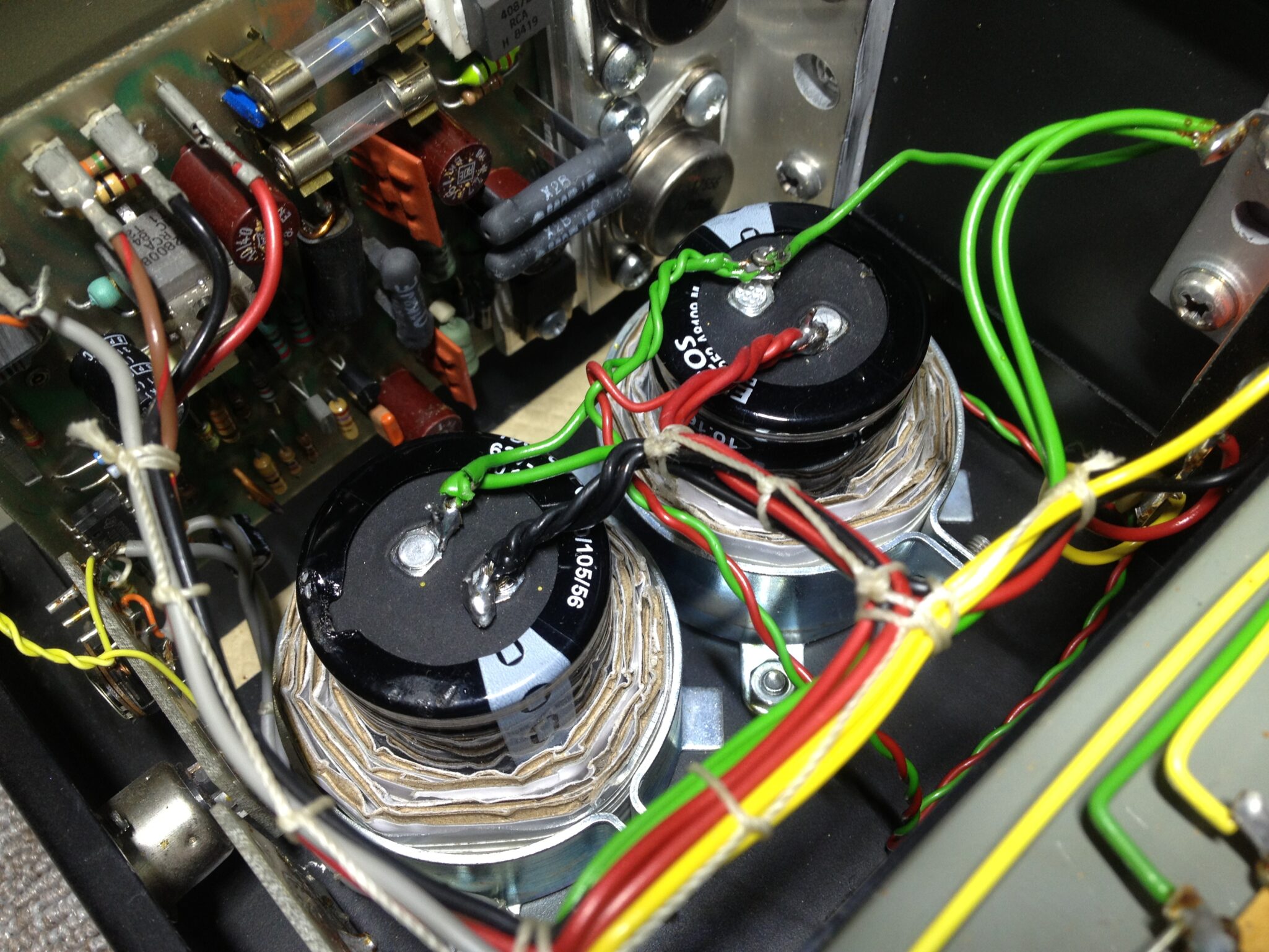 The original STC filter caps measured quite poorly. Capacitance was OK, but ESR was quite high for large caps. We should see an ESR of very close to 0 Ohms for large caps, measured using a proper ESR meter. The STC caps measured around 0.5 Ohms, which is too high. The new Kemet parts were as close to zero as you can get, at around 0.01 Ohms, plus they have 50% greater capacitance, so this is a worthwhile improvement.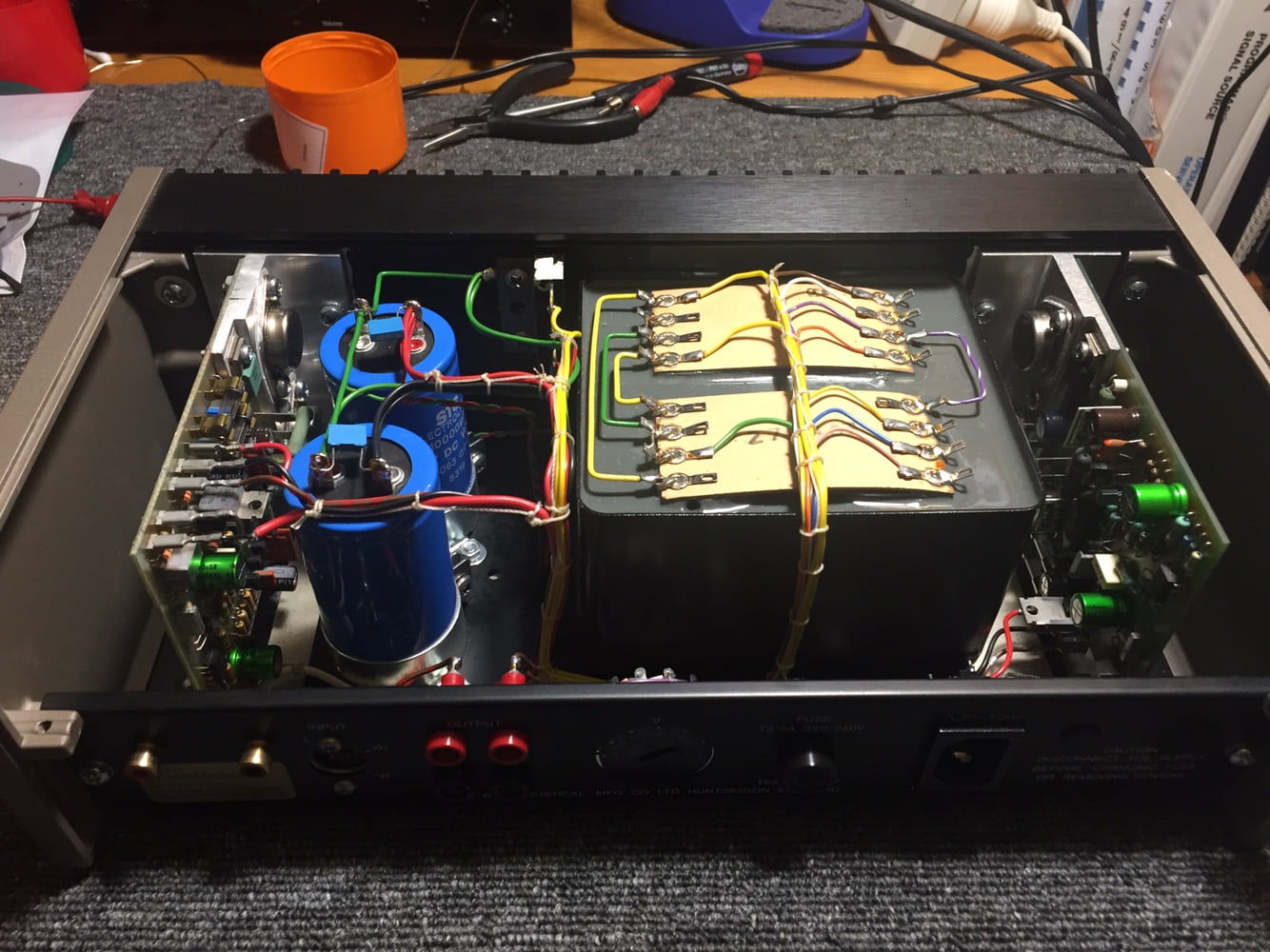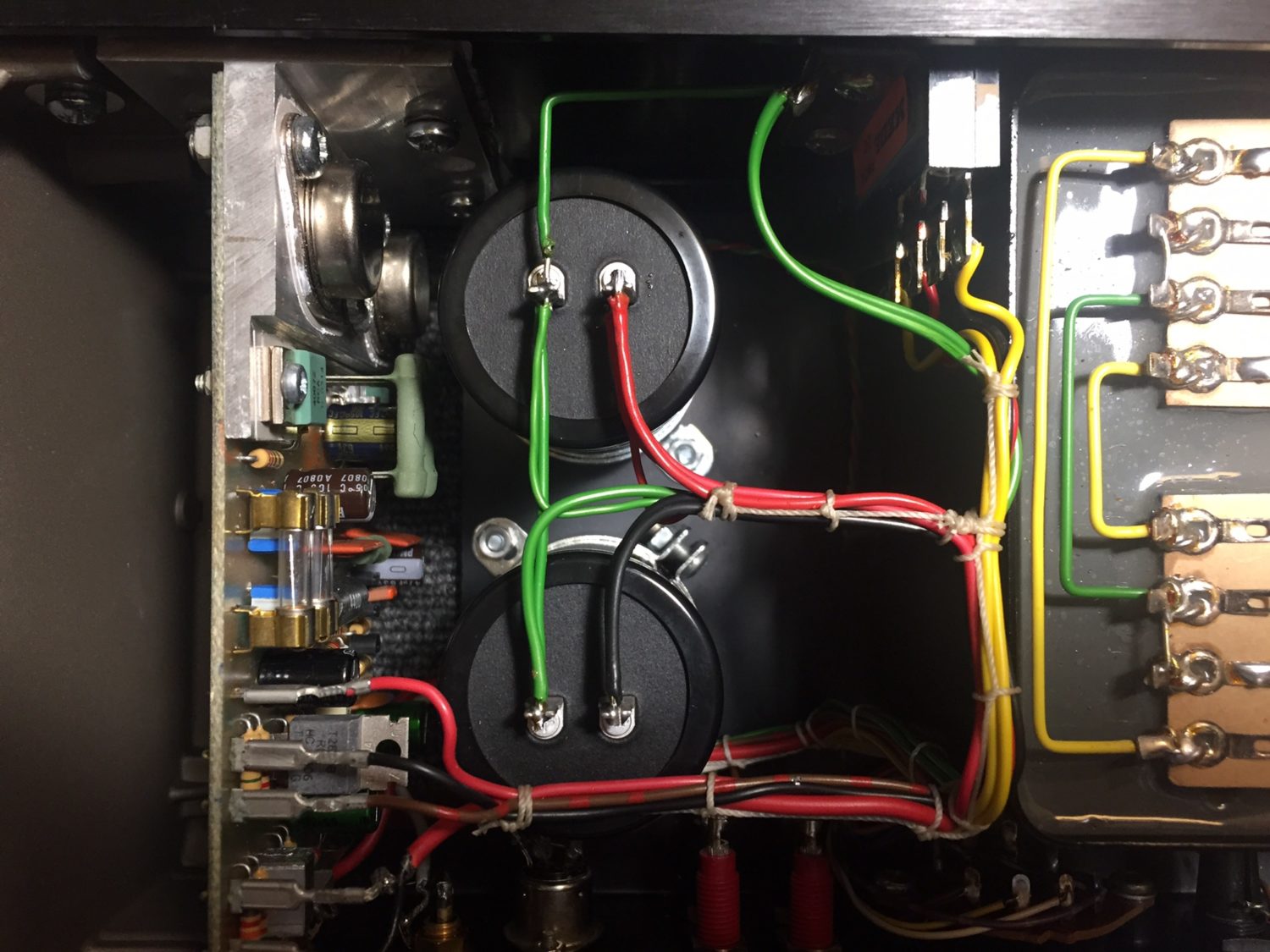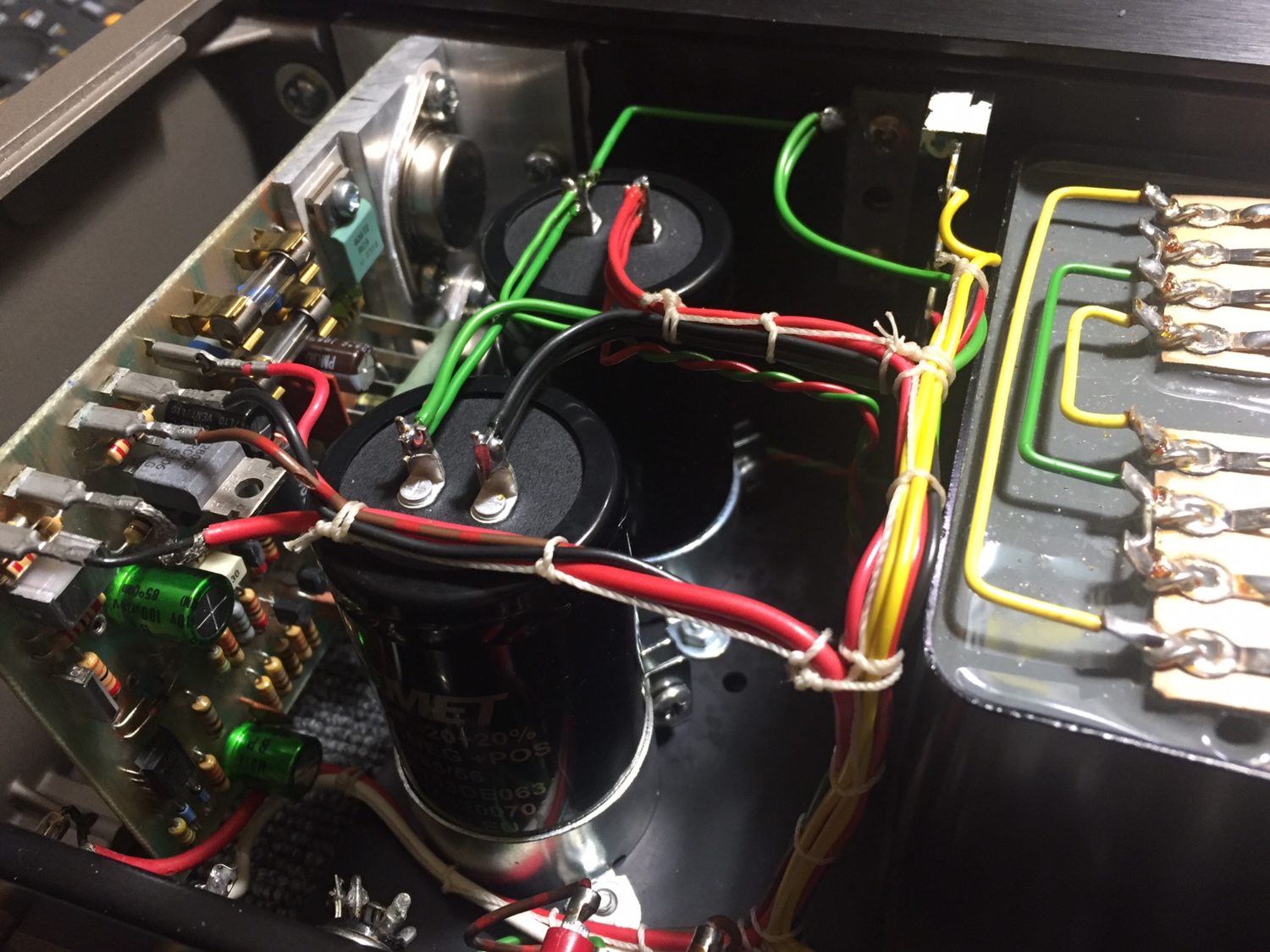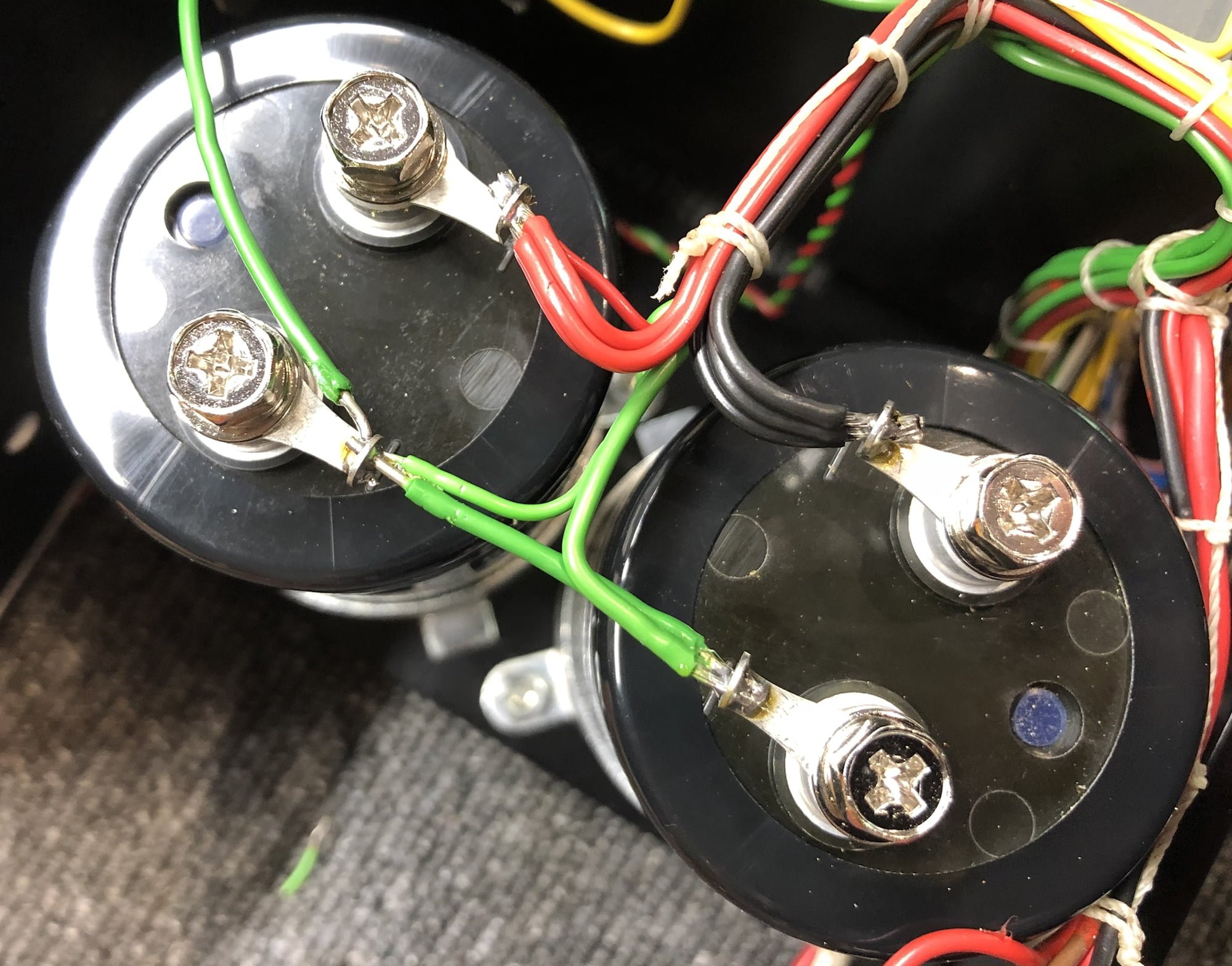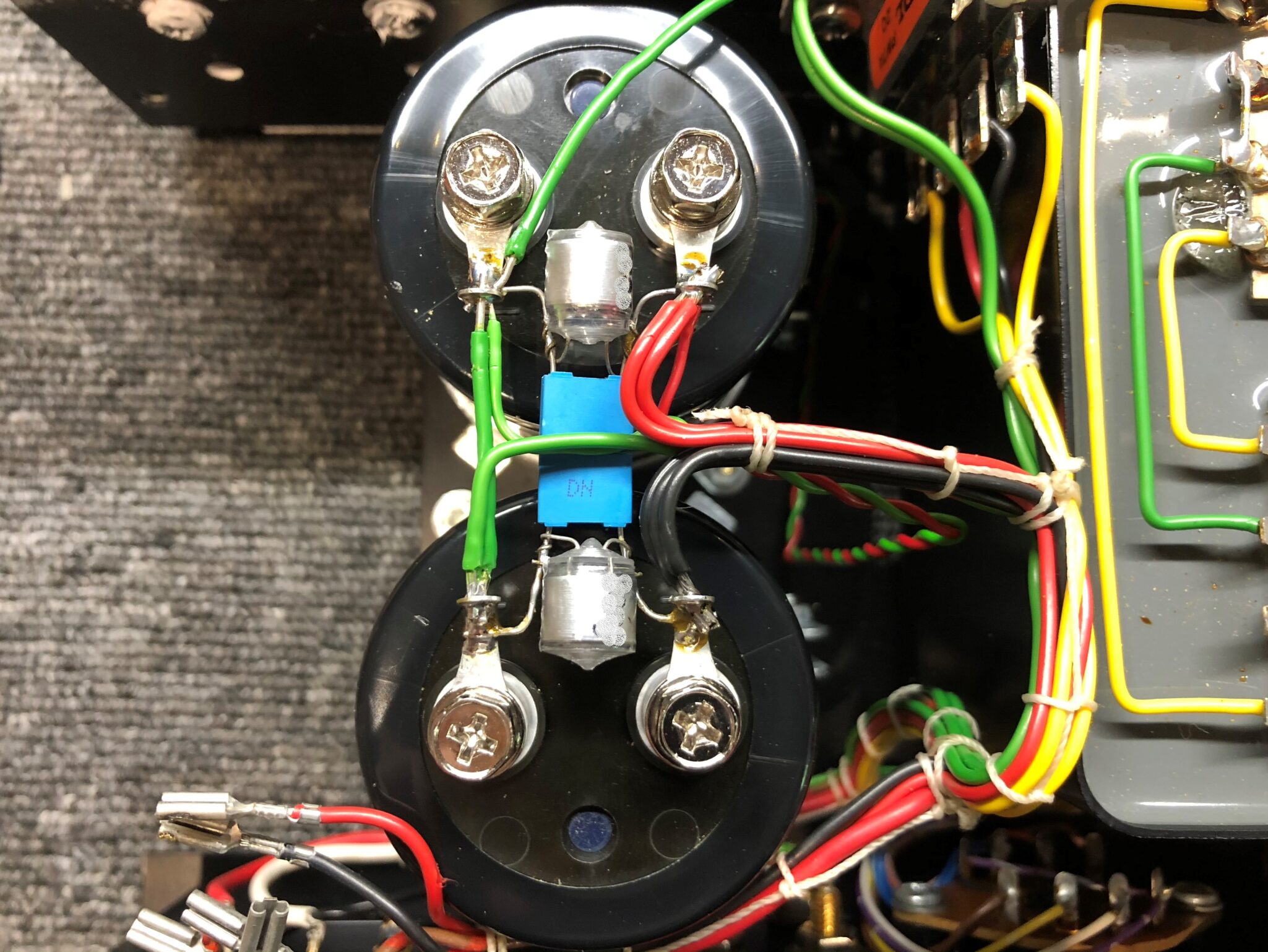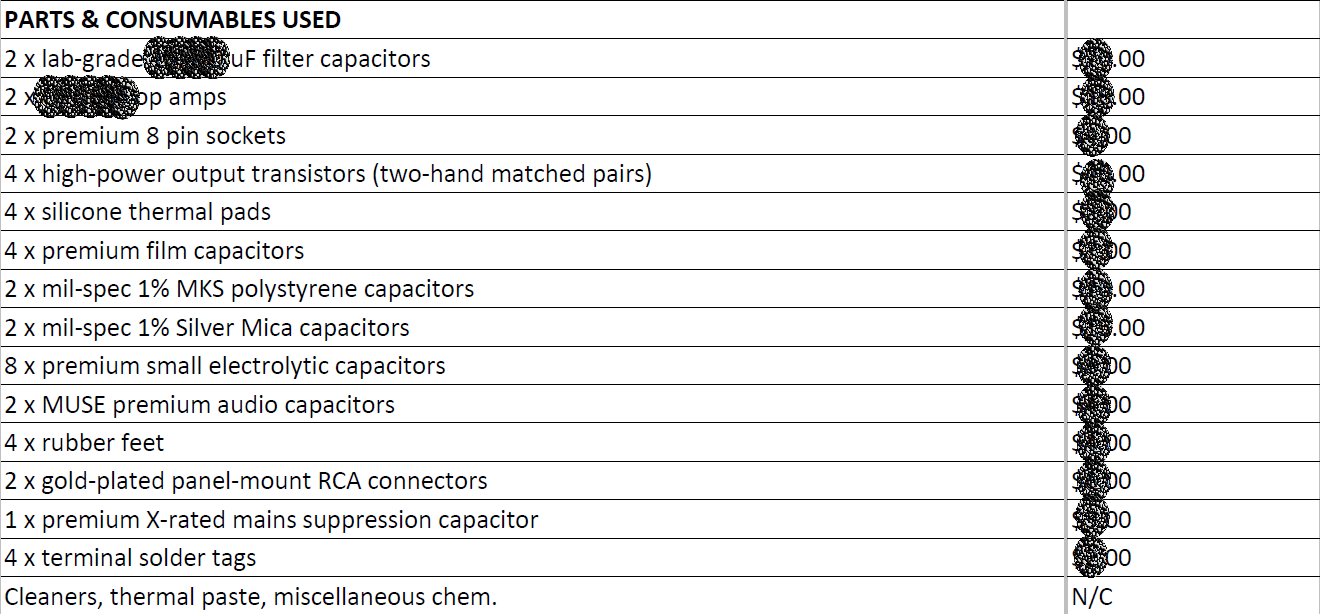 The Chassis
To complete the Quad 405-2 restoration and because of the damage incurred during shipping, I decided to replace the screws with new zinc-plated parts. New fasteners were easy to find at my local fasteners supplier, yours too I'm sure. They made a big difference to the appearance of my Quad 405-2.
The last thing is a new side panel to replace the dented one, ordered from Quad UK and on its way. That isn't here yet and so does not feature in these images – yet!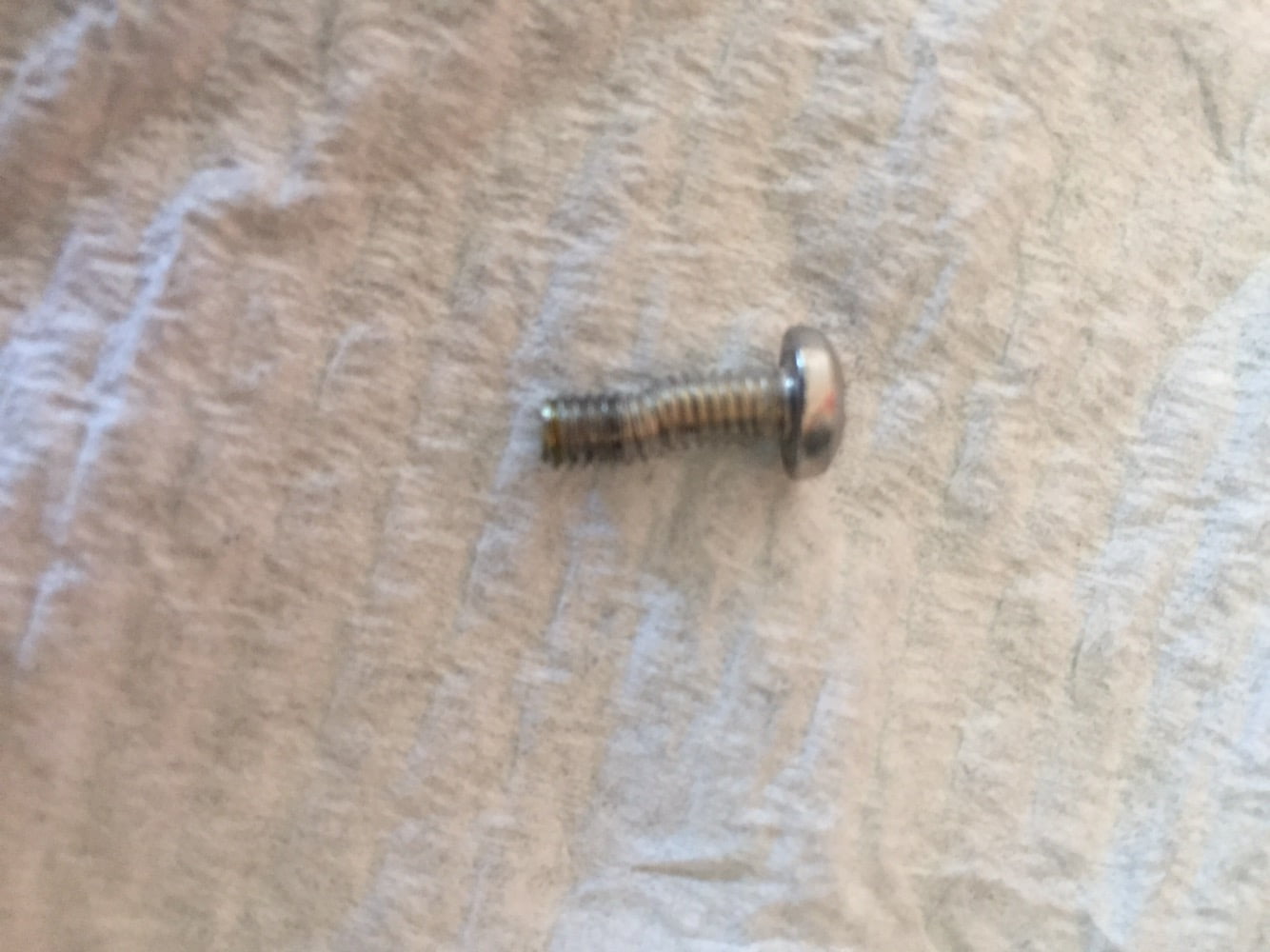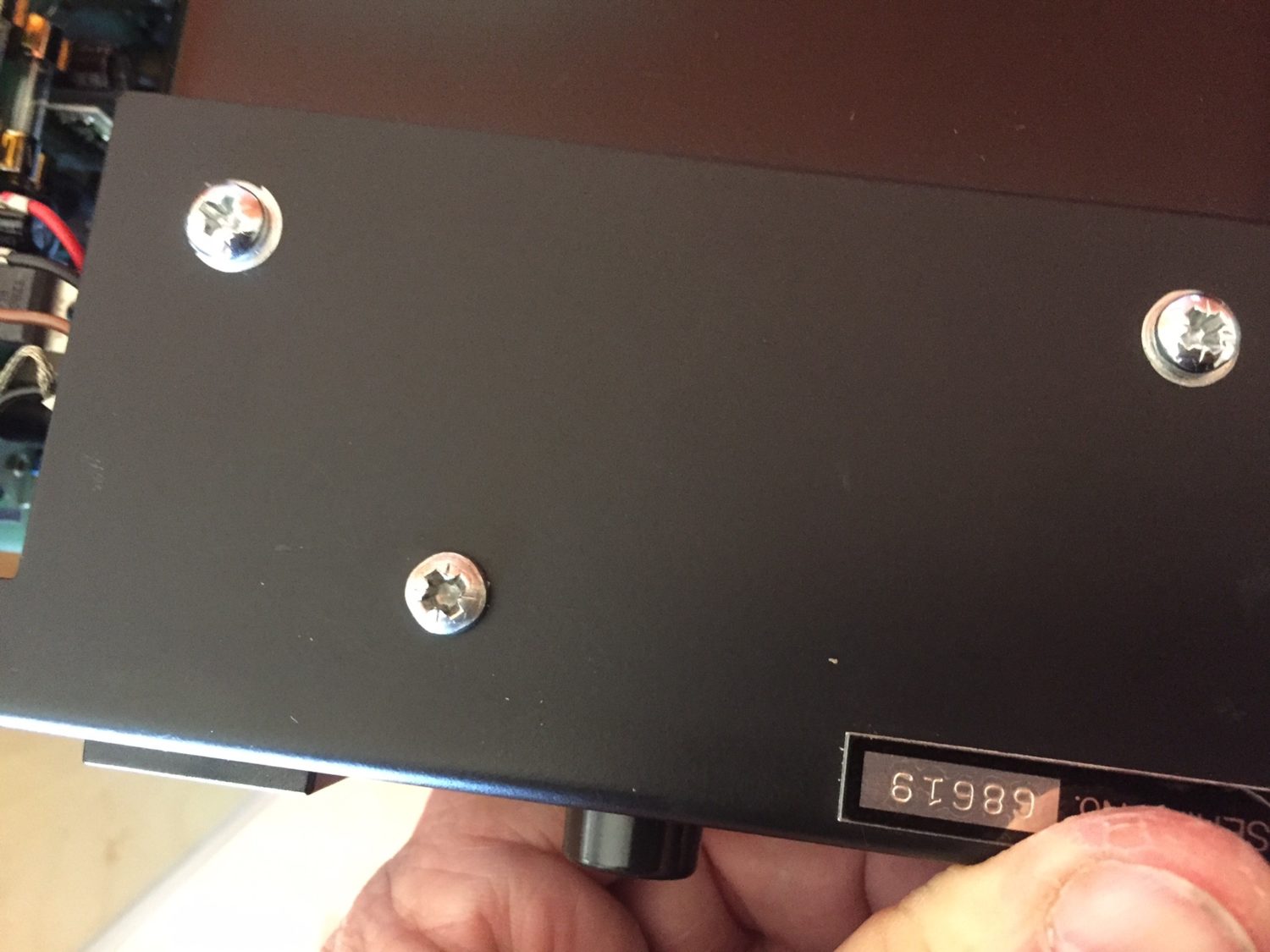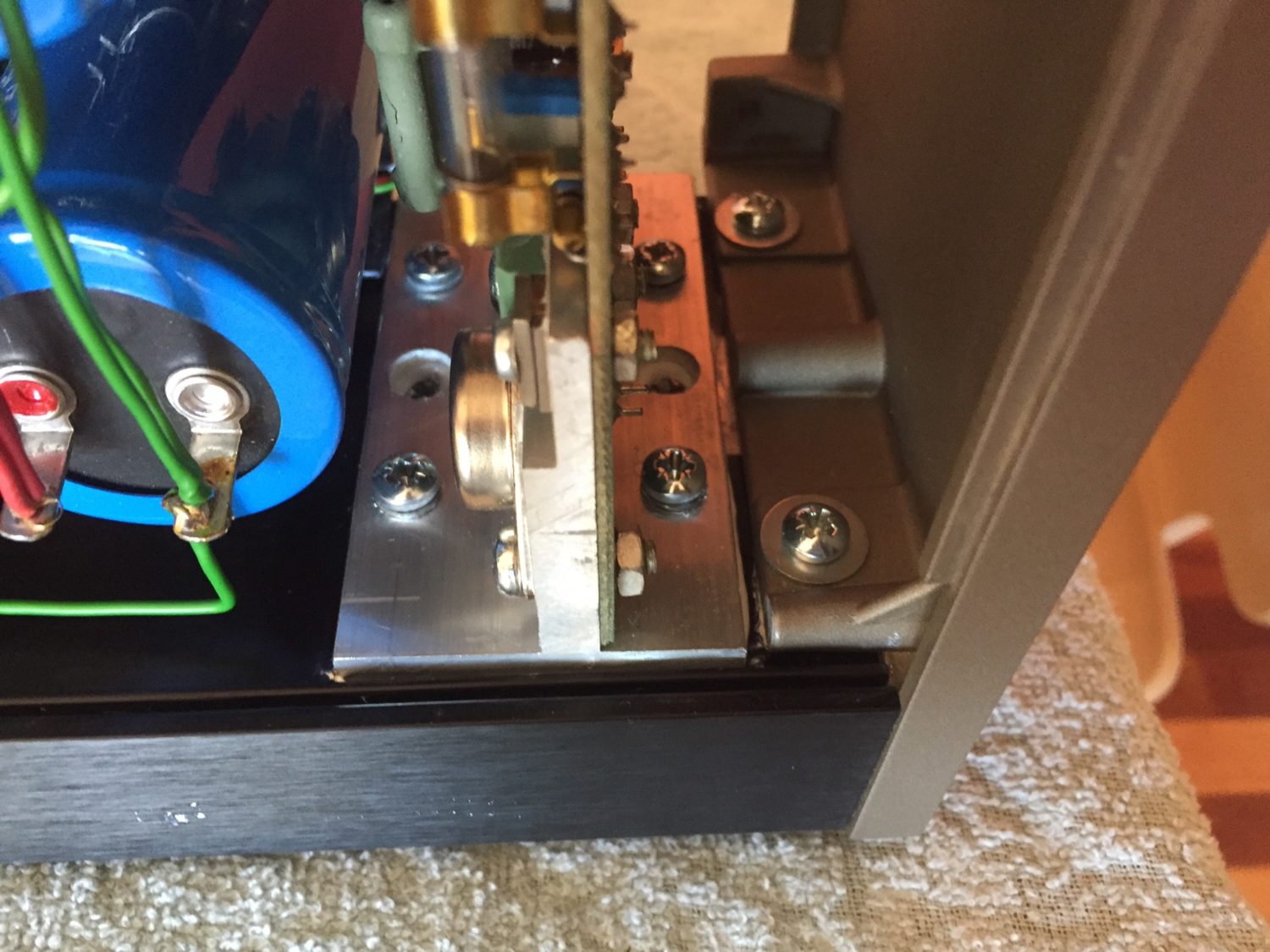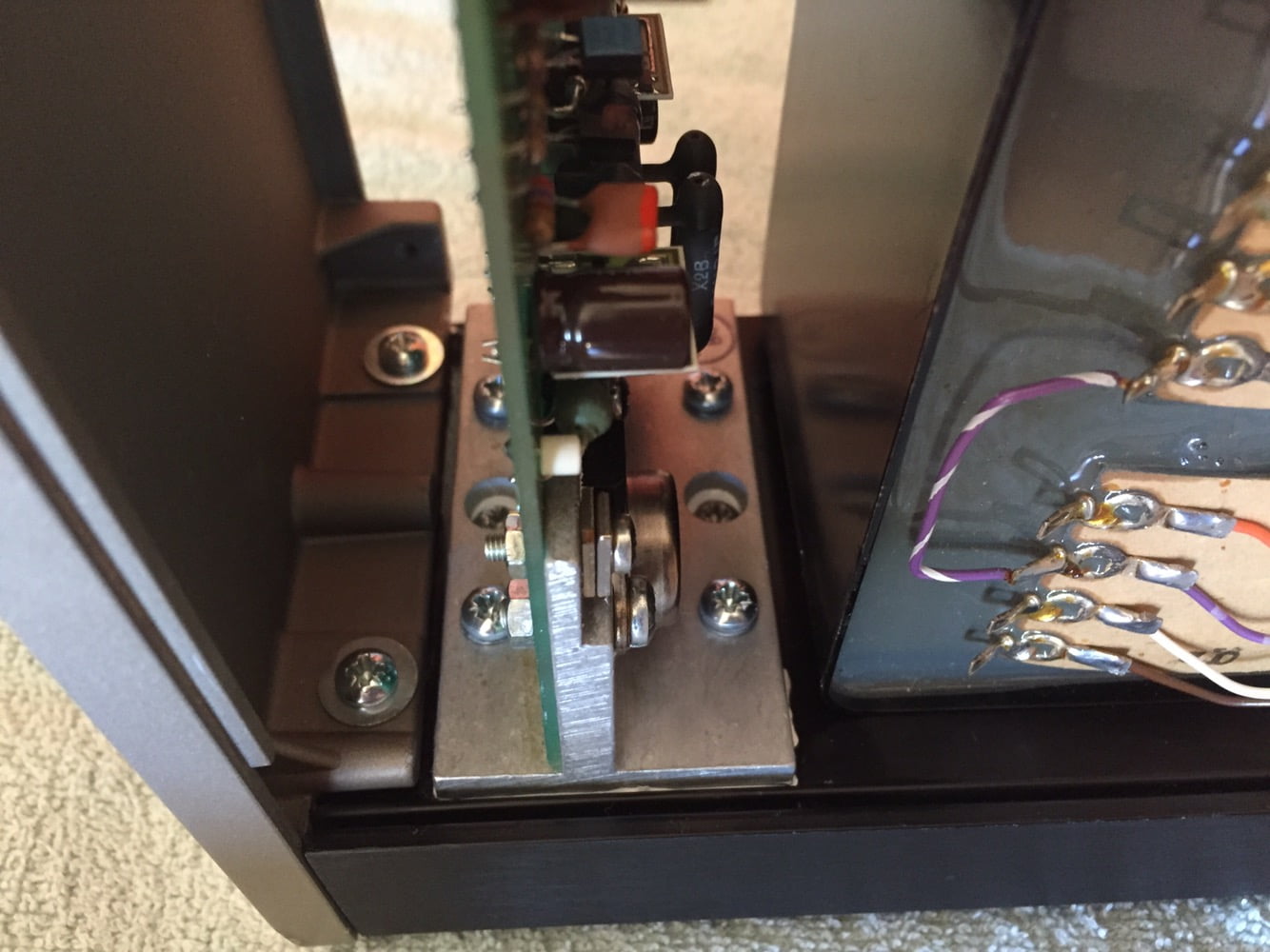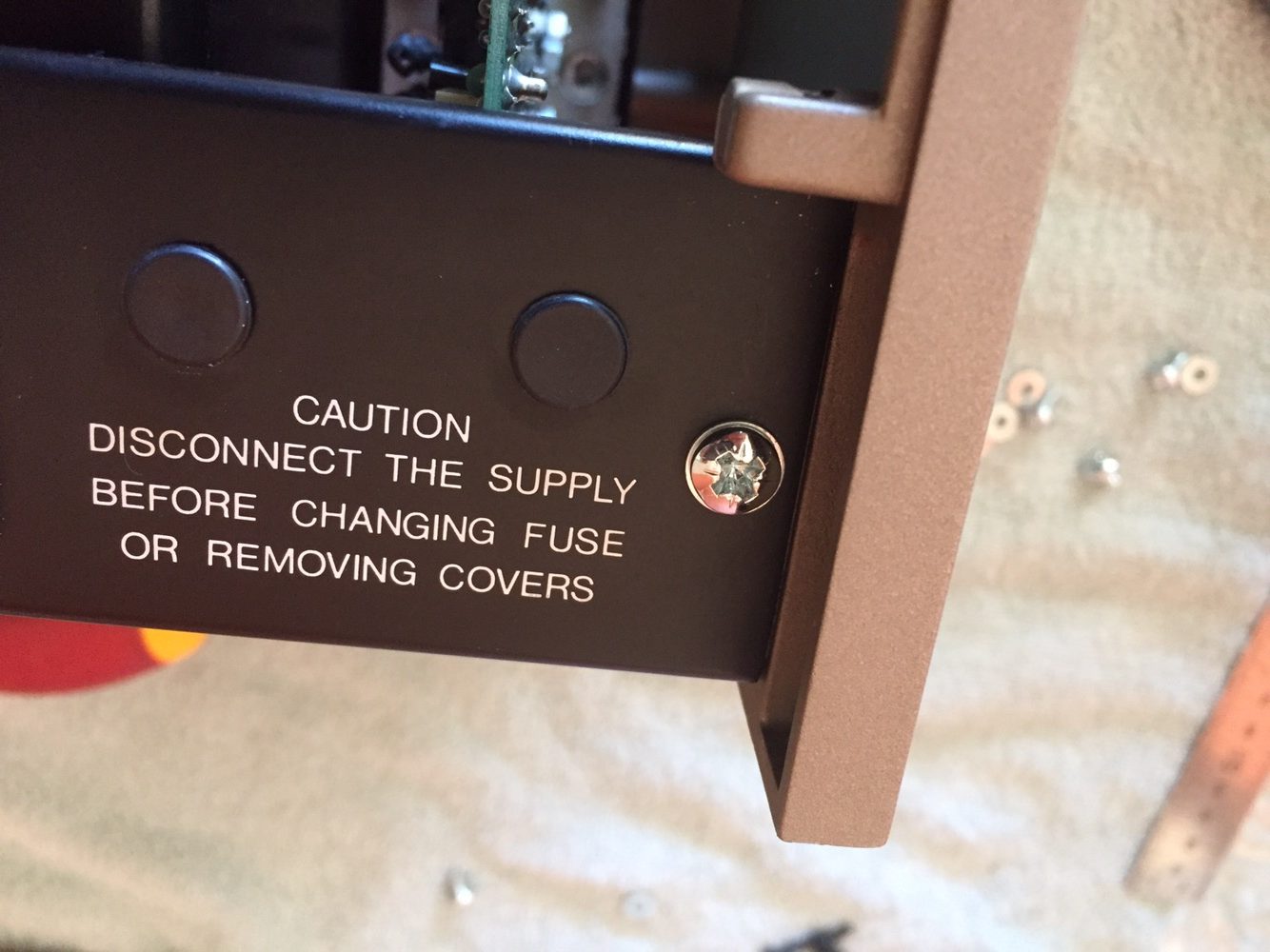 I hope you've enjoyed this Quad 405-2 restoration. If you would like me to take care of your Quad 405 or 405-2, you need only visit my contact page.