In my Naim Nait article, I noted that the Mission Cyrus One is perhaps its closest contender from the time. Let's take a look at the Mission Cyrus One as I repair and service this example.
I'm going to try to keep articles coming, even the smaller ones like this one. Stay tuned as there is so much more in the pipeline including equipment that you honestly won't believe! Anyway, a chat about the Mission Cyrus One is the perfect complement to our discussion last time about the Naim Nait, so let's go.
Mission
Mission is/was an interesting company with a fascinating history. Another UK manufacturer, Mission started out with some seriously weird gear – the classic Mission 776 and 777 pre and power amplifiers. They also made some absolutely classic speakers over the years, like the stunning Mission 752 Freedoms, a pair of which I proudly owned for many years, and the classic Mission 753, which I nearly bought, but liked ever so slightly less.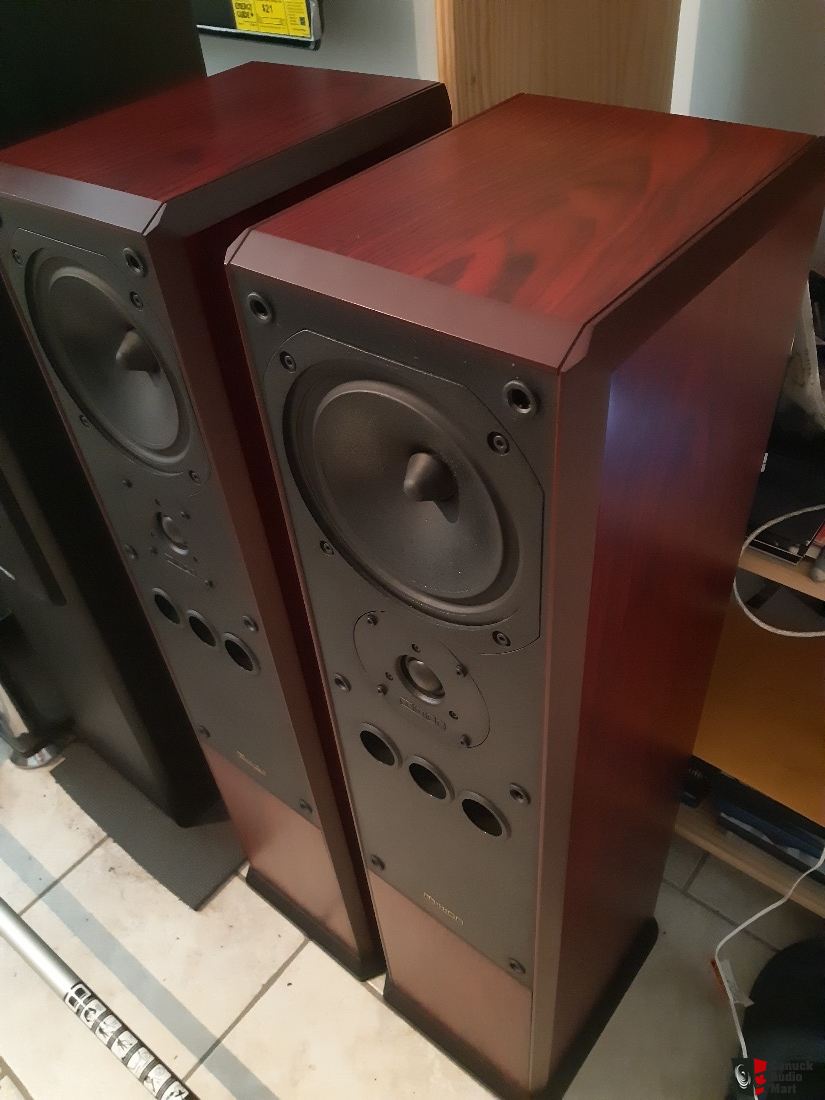 Mission morphed into Cyrus over the years and are still around, albeit in a very different guise, unlike Naim. Their product line is not something I'm especially fond of and I can't really think of a good reason to buy modern Cyrus gear but hey, that's just my opinion! They do retain some of the original design aesthetics of the very first Cyrus products though if that helps.
The Cyrus One
Mission was perhaps best known for the classic Cyrus product line that began with the slightly famous Mission Cyrus One integrated amplifier. The Cyrus One is a 25 Watt per channel baby, similar in size and slight more powerful than the Naim Nait we discussed in my last article.
Don't confuse this original Mission Cyrus One with the new Cyrus One. You can read a comparison of these two at What Hi-Fi.
Let's get this out of the way – the Cyrus One isn't an amplifier I particularly love. Given the stiff competition from Japanese, European, American and local competitors like the aforementioned Naim Nait, I just found and find it difficult to get excited about a plastic amplifier with upward-facing RCA connectors and loose knobs that shed paint.
That being said, the amp is moderately more powerful than the Nait and, whilst in my experience doesn't sound as good, is nice and compact and does sound good! Some folks love them and they certainly sound nice, there's just too much that's off for me.
Mission Cyrus One Specifications
Power output: 25 watts per channel into 8Ω (stereo)
Frequency response: 1Hz to 50kHz
Total harmonic distortion: 0.005%
Damping factor: 100
Input sensitivity: 0.4mV (MC), 4mV (MM), 65mV (line)
Signal to noise ratio: 67dB (MC), 84dB (MM), 86dB (line)
Dimensions: 85 x 215 x 345mm
Weight: 4.5kg
Finish: black / grey
Price: GBP £230 (1991)
Mission Cyrus One vs Naim Nait
In terms of design, the basics are quite similar. Both are shoebox-sized, low-power bipolar amplifiers. Both use just two pairs of TO-220 output devices, a transistor case style reserved for low power designs. The Cyrus used high-voltage devices with higher power dissipation than the Nait, but then hobbled it with the worlds puniest heatsink!
The Nait utilised complementary devices in its design, whilst the Cyrus One featured a quasi-complementary design with a pair of identical NPN devices per channel. This eliminates the issues created by PNP/NPN device differences. Both feature reasonably high-quality parts.
The Nait has an altogether more industrial build though. It feels much more substantial and expensive. In the Nait, the chassis is the heatsink. The Cyrus One has a horrible (to be honest) plastic case and the aforementioned internal heatsink that can simply cannot dissipate the heat created when the amplifier is run under load.
Mission I think hoped that duty cycle considerations and the small systems British hi-fi owners typically employed would mitigate the cooling problem. It doesn't, this is a problem, just less so in a cold climate. Here in Australia, you really need to keep an eye on this.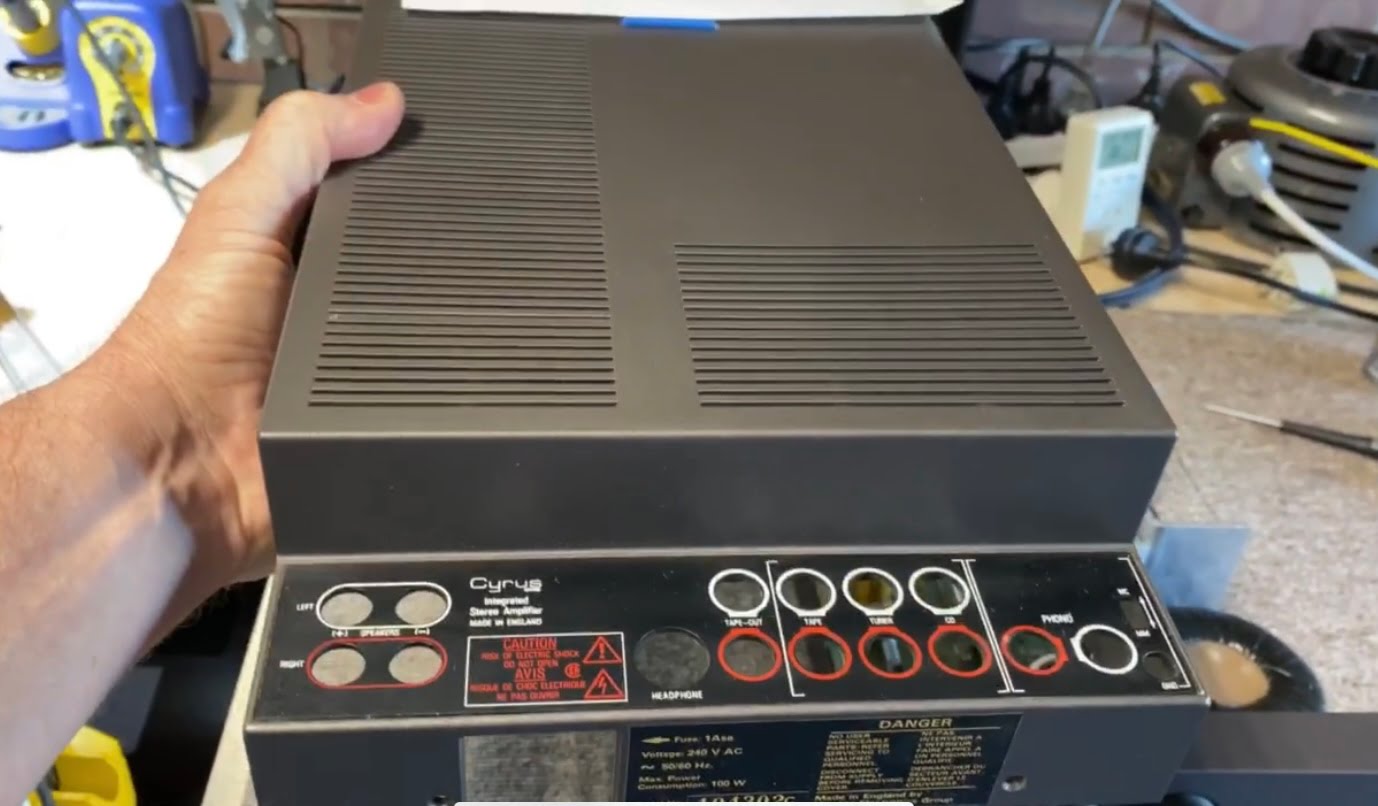 So, sonically and from a design standpoint, I prefer the Nait. Your mileage may vary!
Service and Repair
This particular Cyrus One came to me with the usual complaints on switch and control issues, dirt, dust, bias drift etc. My standard approach in cases like this is to clean everything, wash the chassis using my proprietary process, service switches, controls, trimmers, lubricate controls, shafts, rework boards, adjust and test. In other words, all the little things that others often don't understand or know about.
Only once all this is done, do I deal with any remaining issues, and there are usually far fewer to deal with after this logical, stepwise approach.
You'll sometimes hear or read people talking about capacitor replacement as a matter of course. I'm strongly against this approach, always preferring to test and measure parts and replace them if they need to be replaced, or under customer instruction in terms of making improvements to their equipment.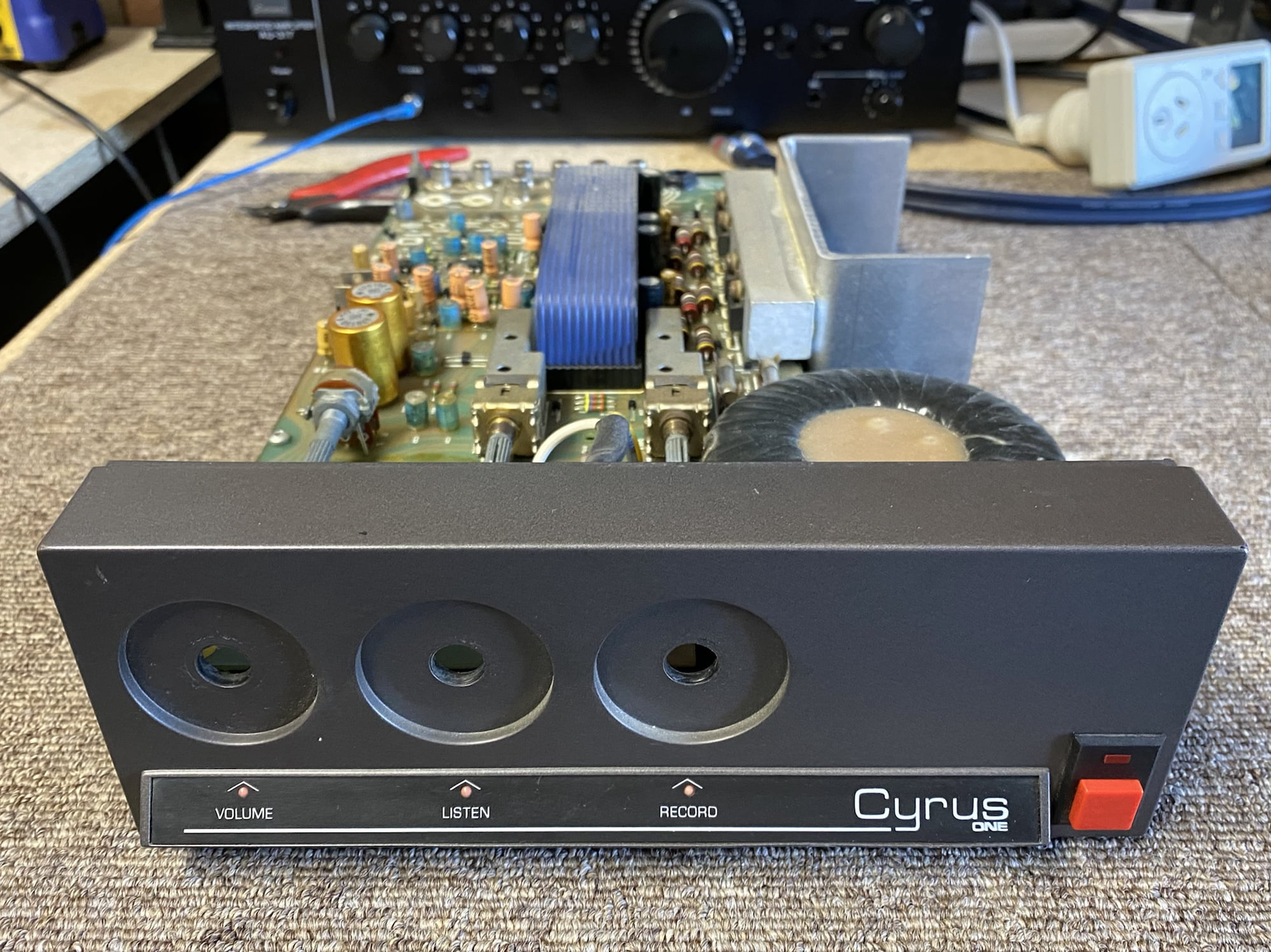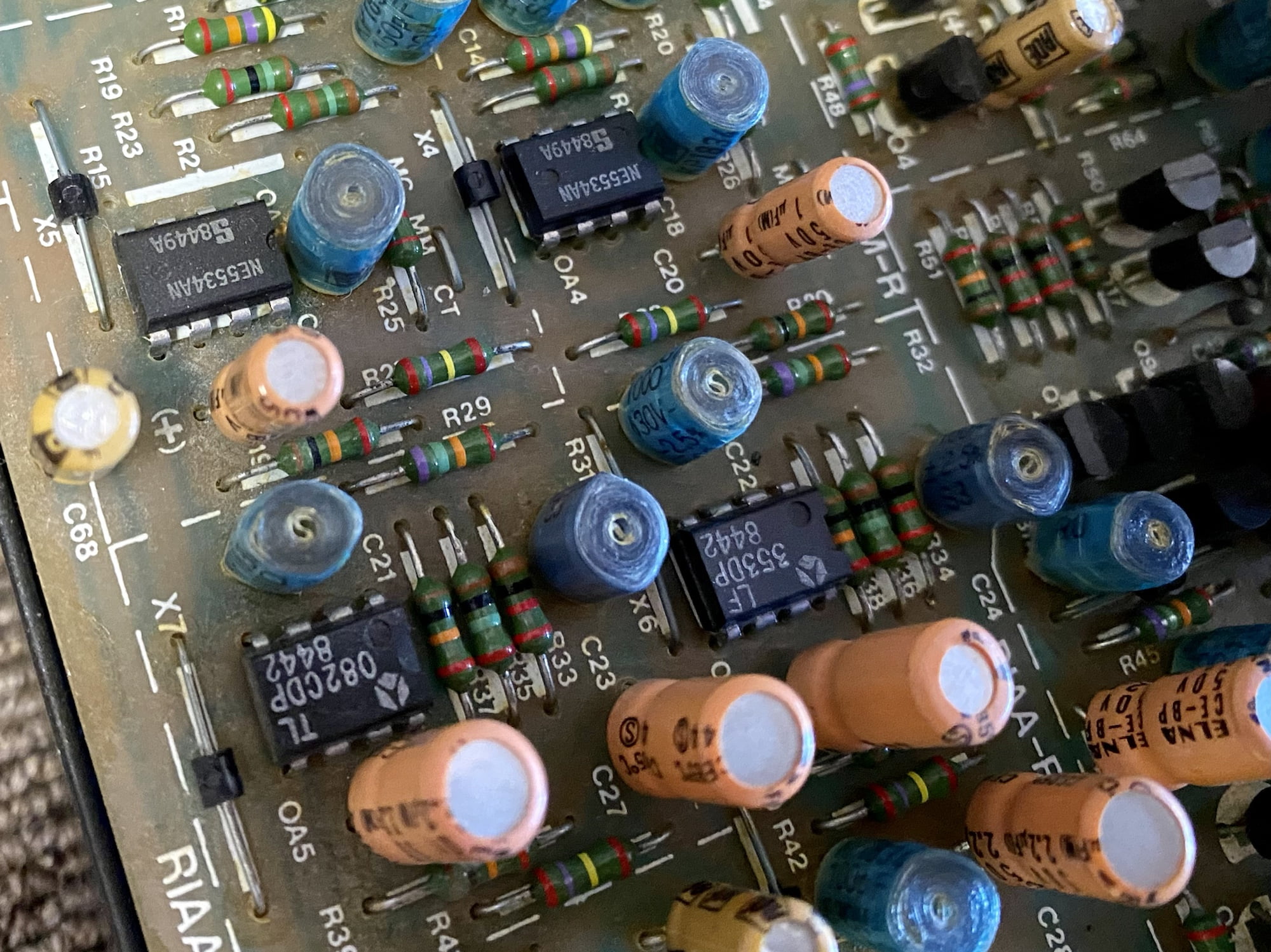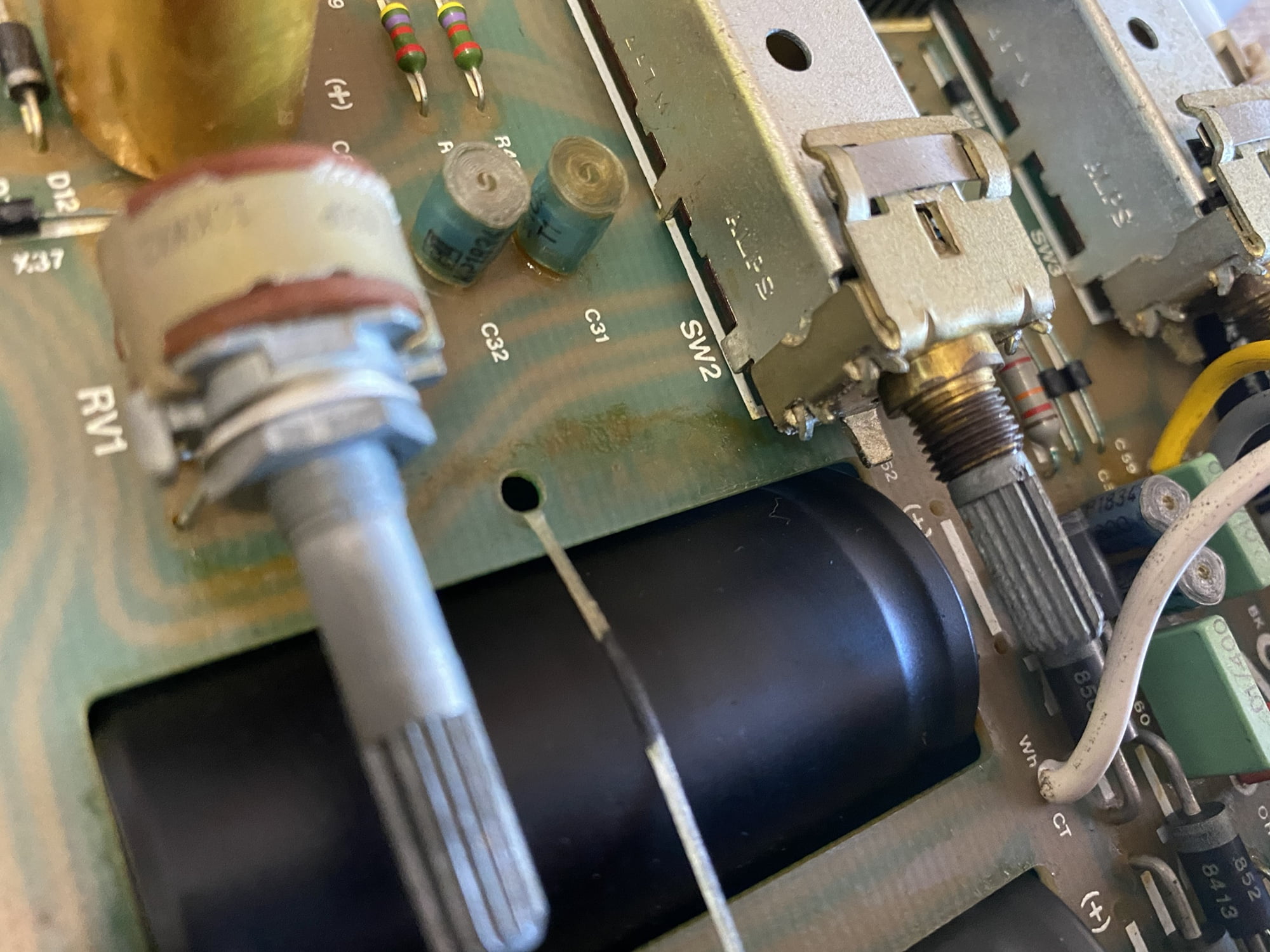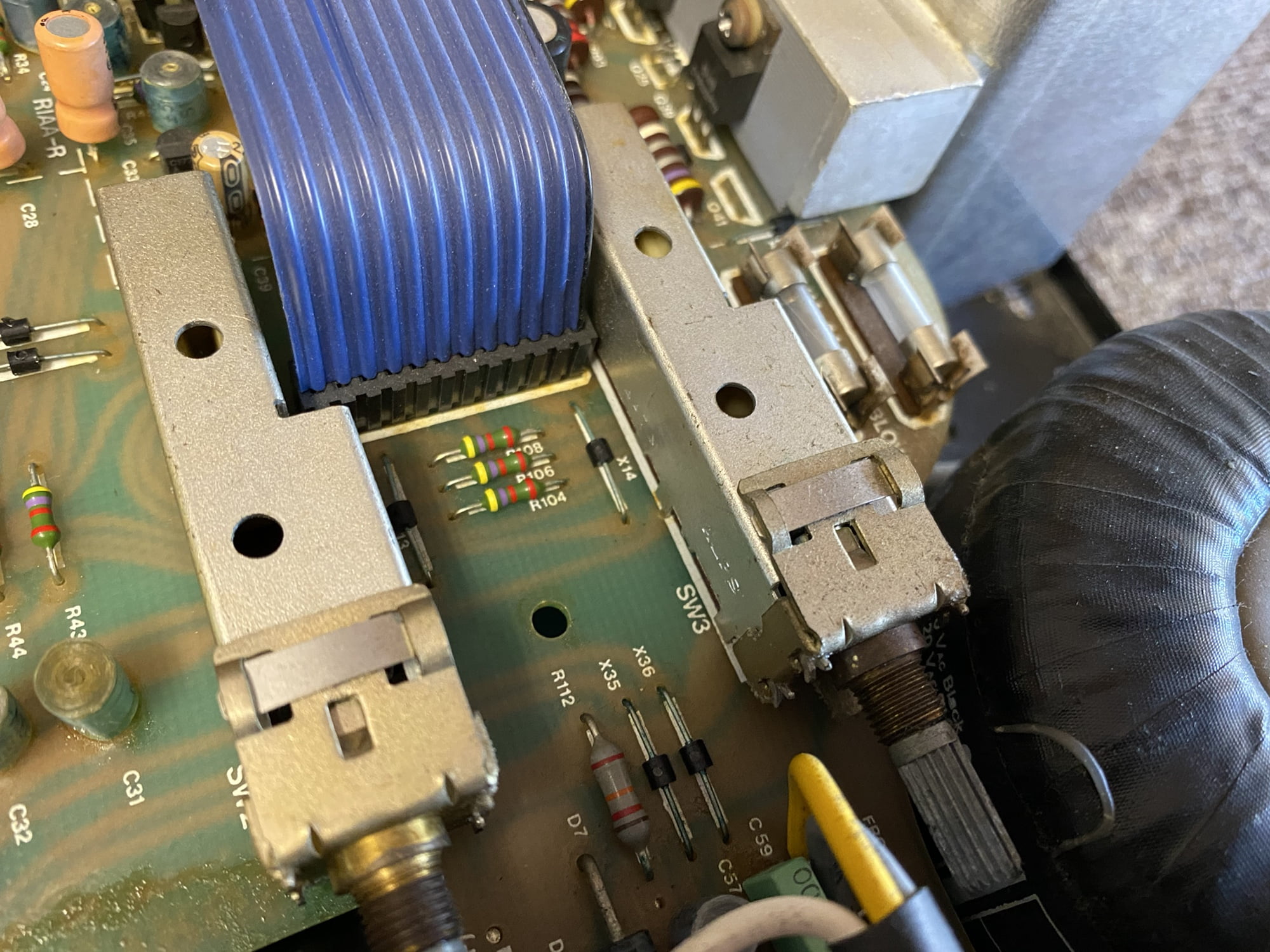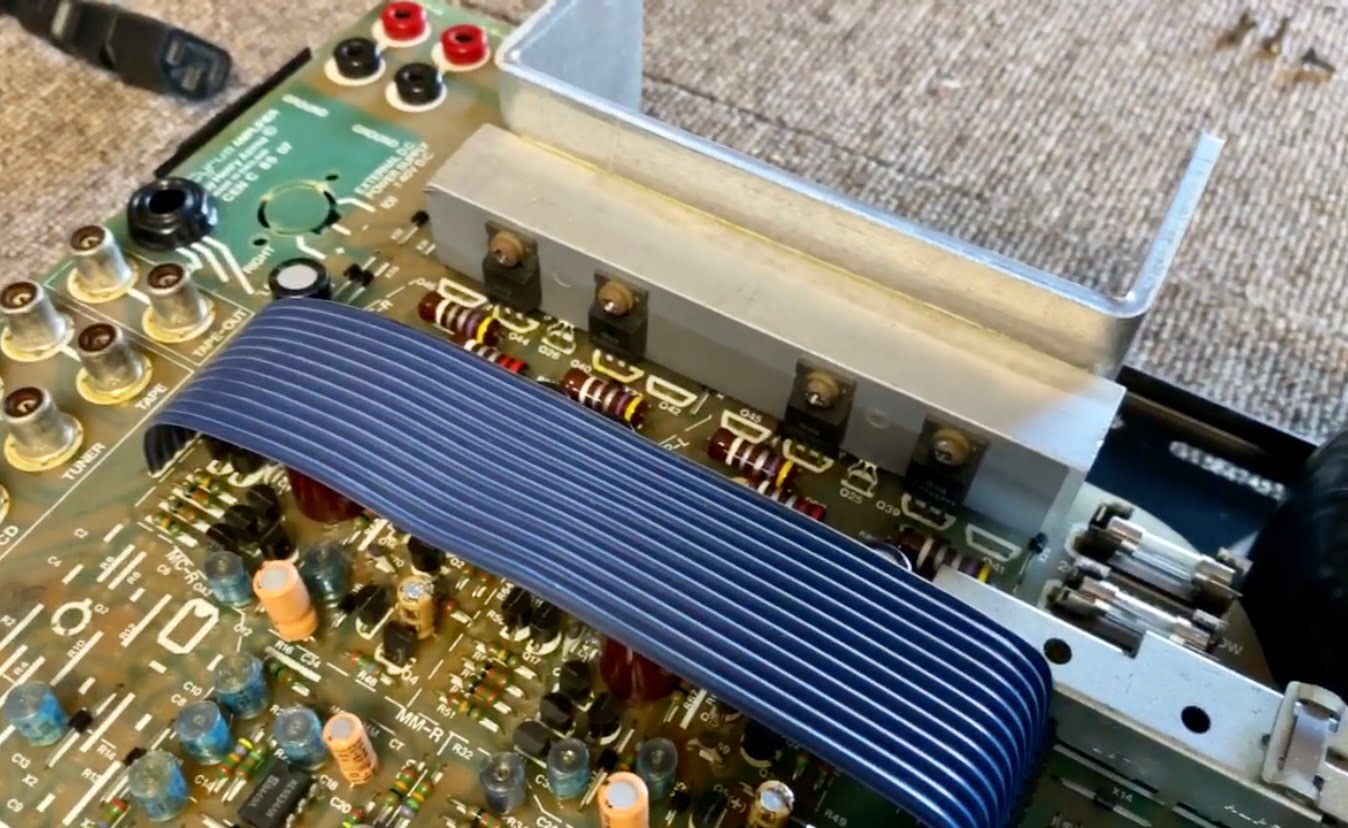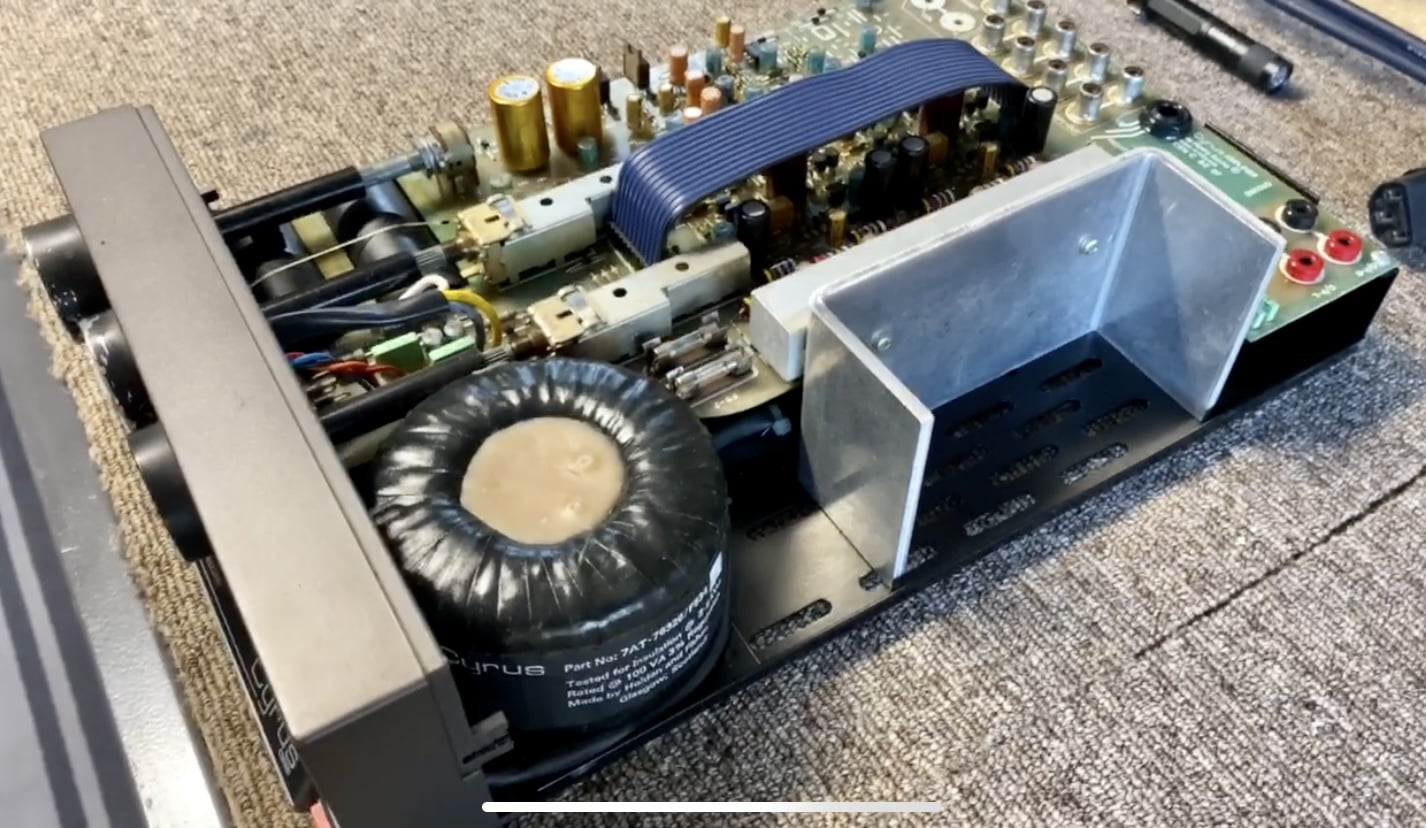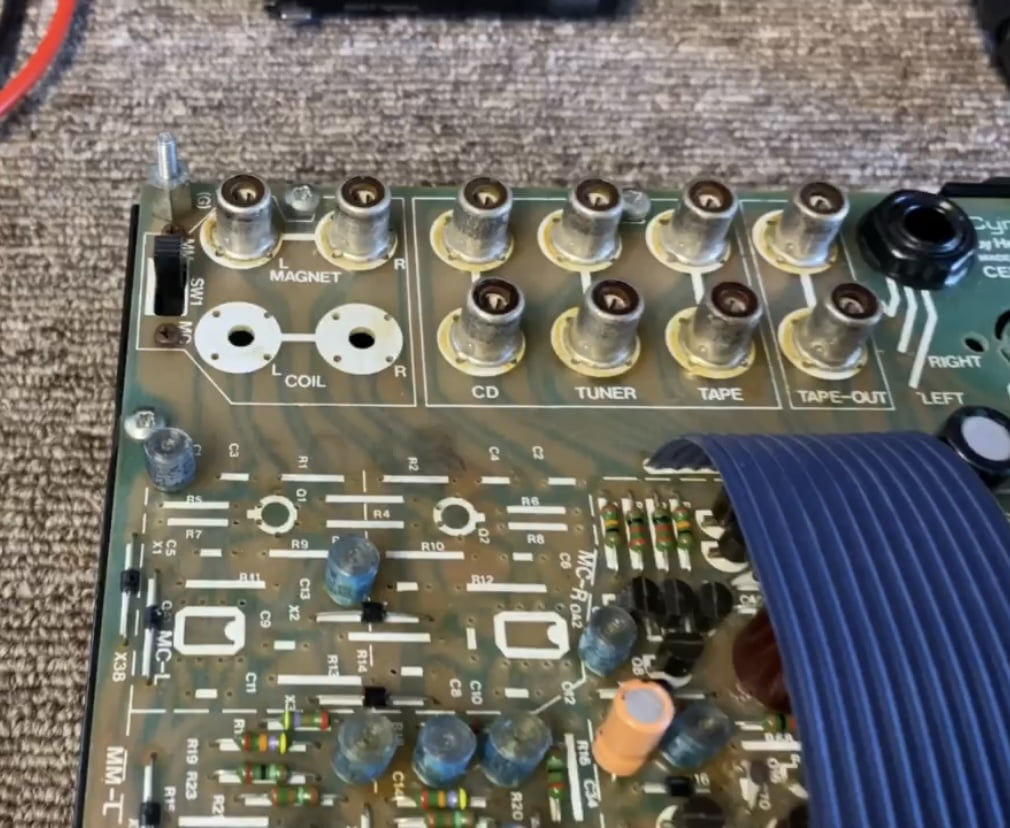 Results
After service and much-needed maintenance, this Cyrus One purred again for her happy owner. The process of deep chassis cleaning, washing away decades of accumulated grease, grime, crappy contact cleaners and so on, never fails to improve every aspect of operation and aesthetics of a piece of hi-fi equipment, like this Cyrus One.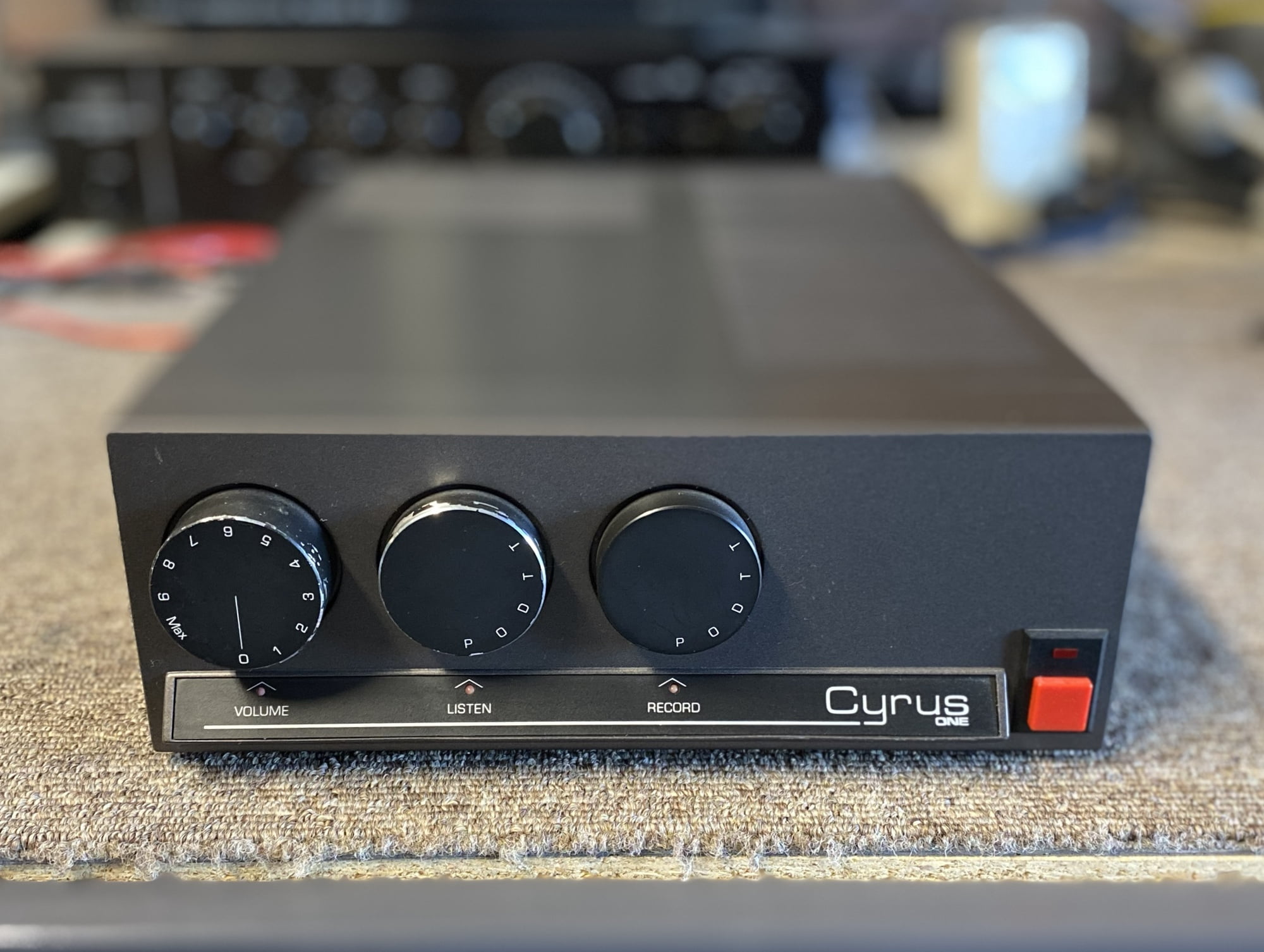 Performance
There's not a great deal to note here, except to say that this thing crushes low-powered Japanese STK module based amplifiers in most cases, and gives other contemporaries like the Naim Nait and NAD 3020 a good run for their money. I'd rate the Audiolab 8000A and Naim Nait as definitely better, the 8000A, in particular, is a favourite of mine.
The  Mission Cyrus One really does sound great. Listening to this little amp as I do all equipment that passes through the Liquid Audio workshop, powering my Yamaha NS-10s, I'd describe this as a clean, snappy amplifier, quite detailed and fast sounding. It has surprisingly good bass performance for its size and power rating and for me, the Mission Cyrus One is really only let down by build quality issues and the inability to run and higher power for any length of time, due to the inadequate heatsinking.
I would choose an Audiolab 8000A over the Cyrus one, as it is an altogether better made, more powerful amplifier. That being said, the Cyrus One was cheaper at the time of sale and this has to be factored in. If you can live with the lower power, I reckon the Naim Nait also sounds better, but it does struggle to keep up with bigger, more powerful competition.
The Bottom Line
If chasing down a Mission Cyrus One today, look for some sort of service history and check that everything works. Keep an eye out for wobbly connectors, those knobs that shed paint and the general condition of the plastics. Other than that, for the right price, for those looking for an affordable, smaller, genuine high fidelity amplifier, this could be a perfect choice.
As always, thanks for reading. Don't hesitate to let me know if you'd like me to service your Mission Cyrus One, or any other hi-fi stereo amplifier!
Mission Cyrus One
$300 - $750 AUD