Welcome to the Liquid Audio Hi-Fi Store!
You are invited to browse our curated and regularly updated collection of hi-fi equipment currently for sale.
If you've seen something that doesn't appear here, it's been sold. You'll no doubt find it in our sold equipment gallery.
Every piece has been expertly inspected, cleaned and serviced
Hi-Fi equipment features a three-month warranty unless otherwise noted
Try getting that from sellers on eBay or Gumtree!
Local sales are preferred but shipping via Pack and Send is available on most items
Our attention to detail means you can purchase with confidence from a specialist with an enviable reputation for fair trading and assisting the hi-fi community. If you have questions, don't hesitate to ask.
---
Product Categories
---
Amplifiers & Preamplifiers
Timeless & Classic Quad 405-2 Power Amplifier!
Yes, I'm clearing inventory and one of the greats, this unrestored Quad 405-2, in perfect working condition and good overall condition must go.
UPDATE: Sold, pending payment and collection
Many will already know that these are one of the nicest sounding solid-state amplifiers ever. This example is no exception and sounds lovely.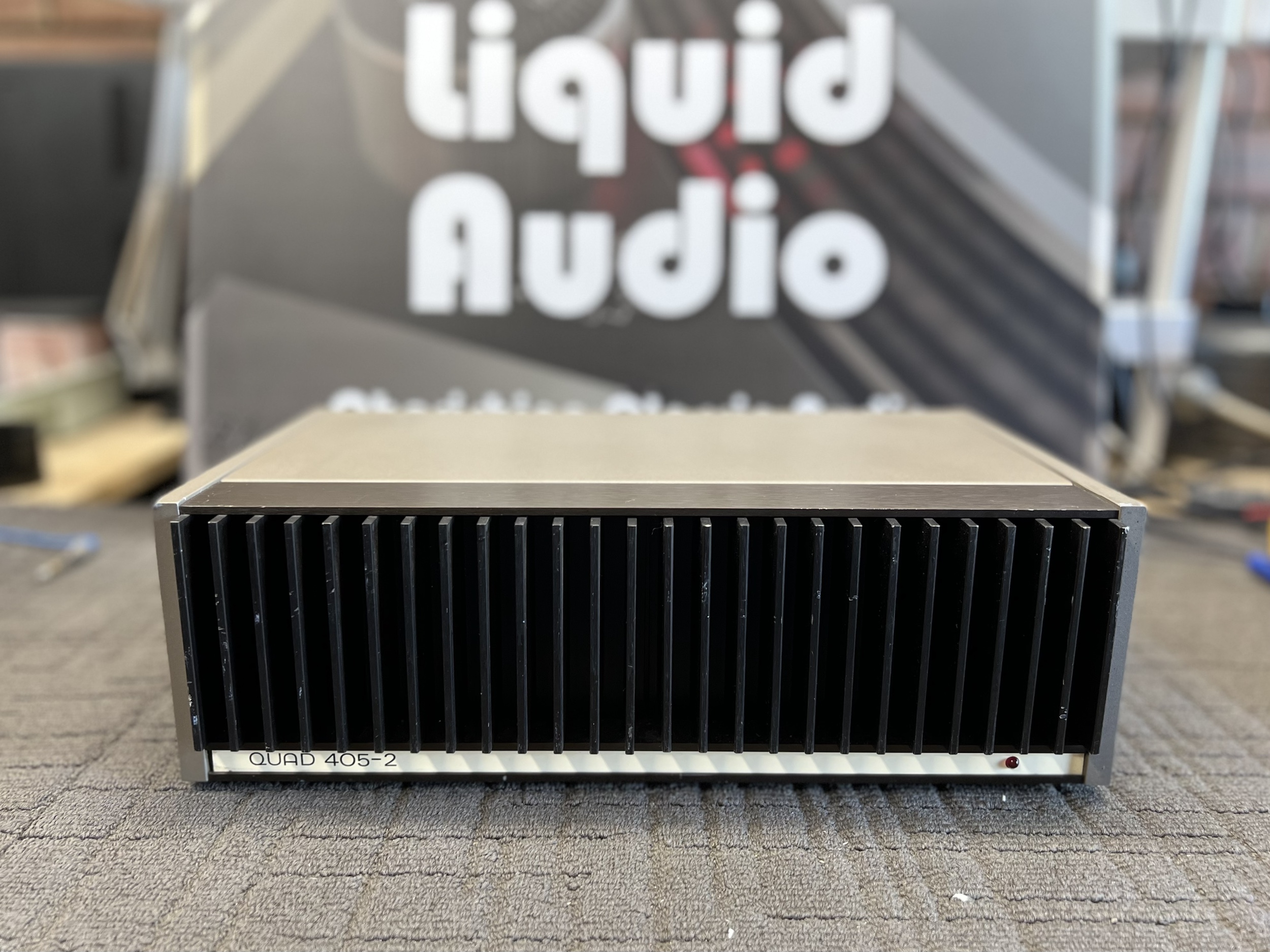 I've written and worked on a ton of these over the years and you likely already know how much I love these amplifiers. This one could definitely benefit from our upgrade packages or an overhaul. You don't need to do that immediately, she runs well now, but I would have those improvements done to any Quad 405. Once you've heard them, you'll understand why.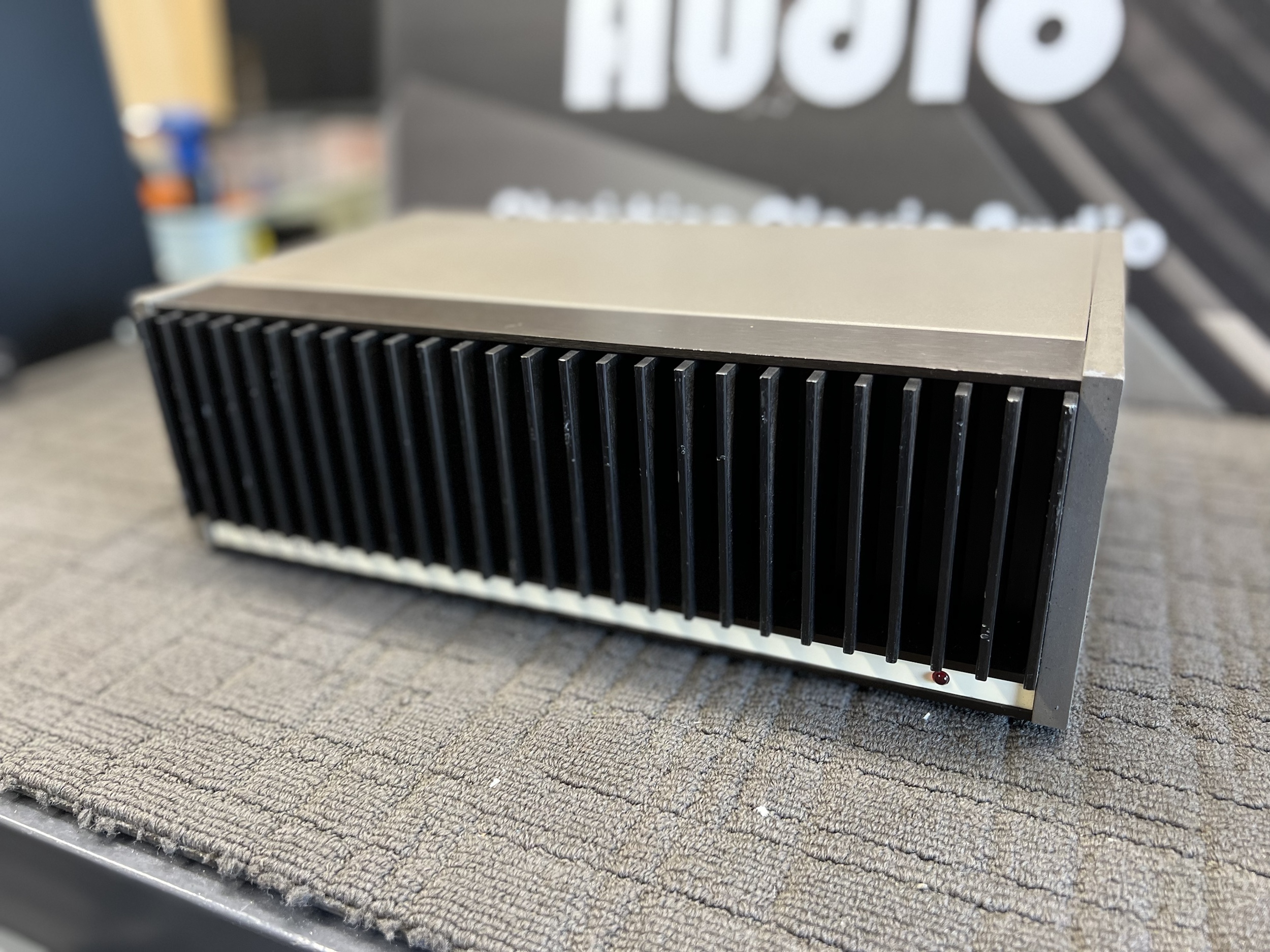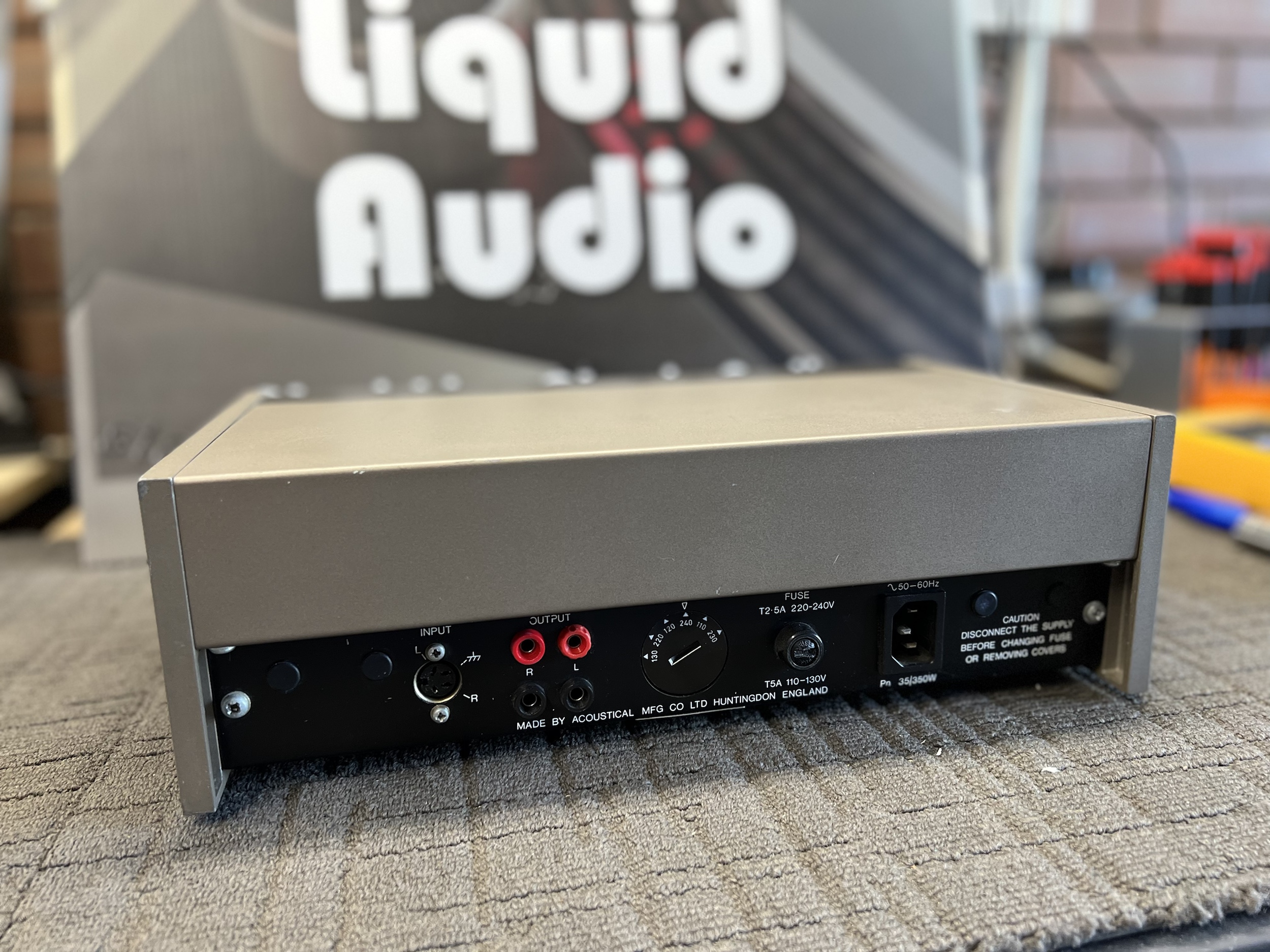 Grab this hi-fi classic Quad 405-2 power amplifier for $595.
---
Classic Technics SU-Z65 Integrated Amplifier, New Class A, (almost as good as New Gold Dream!)
If you are after something with a little more power, this classic Technics SU-Z65 might be just what you need. With 50 Watts per channel, this lovely old girl has a bit more punch than either of the two smaller amplifiers I have for sale, all housed in a very slimline and stylish package.
The New Class A amplifiers were very popular back in the day and this one is more reliable than some because it uses a discrete output stage rather than the chip hybrids common in amps of this type and which are prone to failure.
The SU-Z65 has some great features including vacuum fluorescent (VFD) meters that work well, phono preamplifier and lots of tape switching capability for those with cassette deck fever! Technically, New Class A, filters, speaker switching and loudness round things out.
This particular unit has received the standard clean, service and adjustment we execute with precision because all the work is done here, in-house, just as if the amplifier was yours.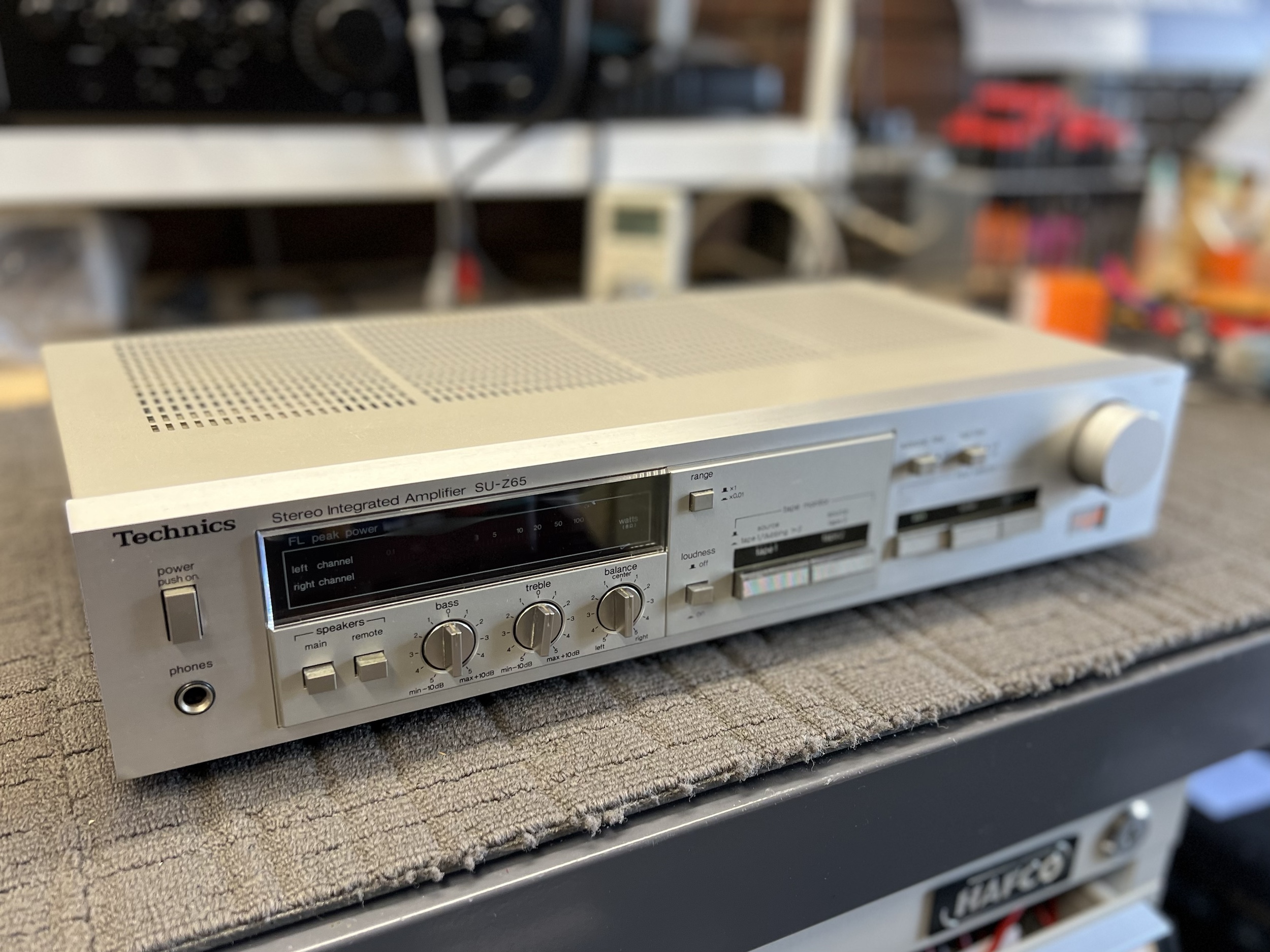 Specifications, courtesy HiFi Engine
Power output: 50 watts per channel into 8Ω (stereo)
Frequency response: 20Hz to 20kHz
Total harmonic distortion: 0.007%
Damping factor: 40
Input sensitivity: 2.5mV (MM), 150mV (line)
Signal to noise ratio: 75dB (MM), 86dB (line)
Channel separation: 50dB (line)
Output: 150mV (line)
Speaker load impedance: 4Ω to 16Ω
Dimensions: 430 x 86 x 288mm
Weight: 6.3kg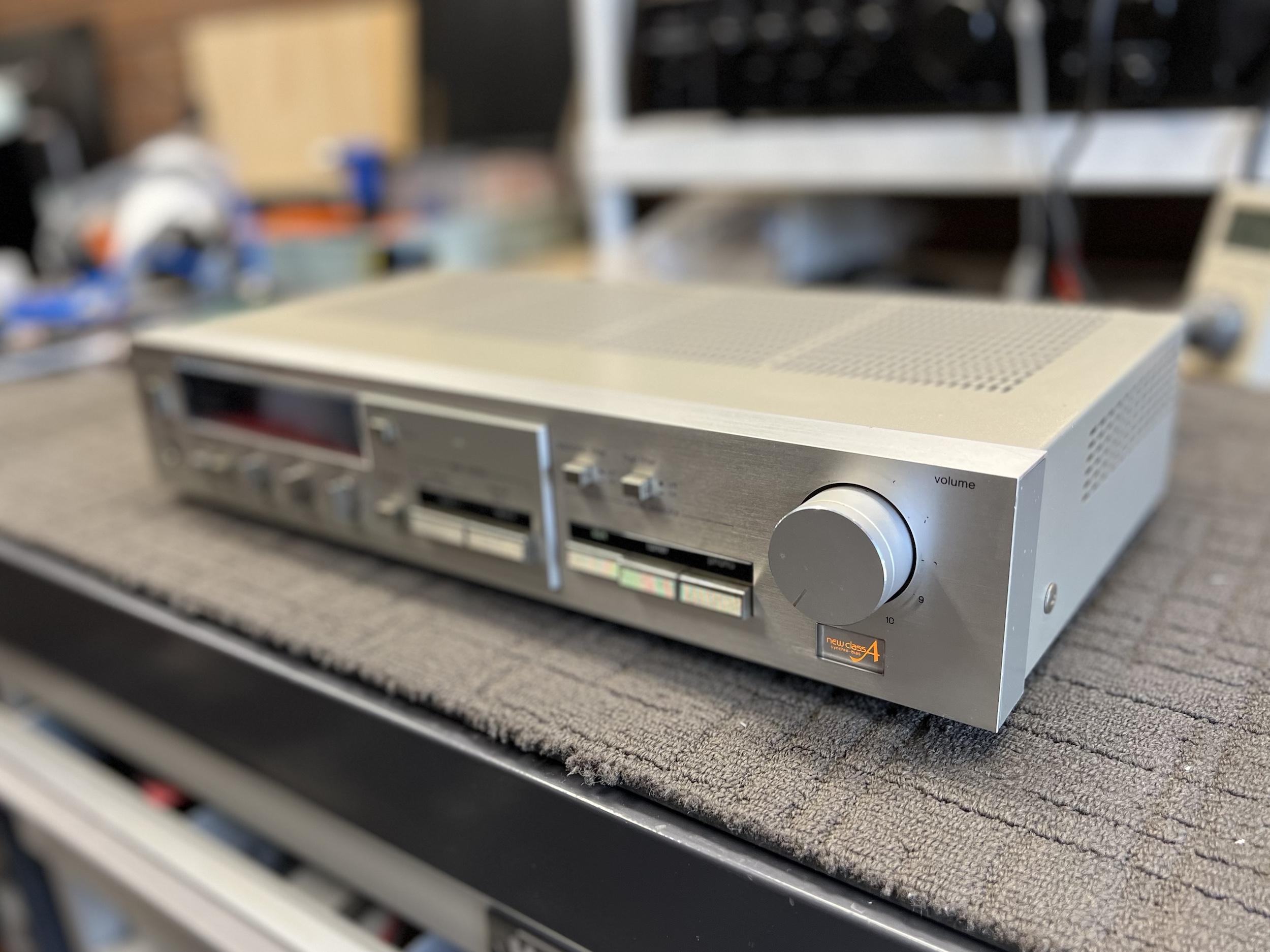 Overall, this is a lovely amp and has been serviced by me, for my customer, over a long period of time. Everything works well and she's a beaut!
Don't miss out on this little gem, this Technics SU-Z65 can be yours for just $495.
---
Chipamp LM4780 Deluxe Dual-Mono Amplifier Kit, NOS, Genuine Audiosector Kit
Many of you will have seen my LM3886 gainclone amplifier build and know how great that amplifier sounds. It is also for sale, here very soon. But here we have another kit from the same great vendor, Peter Daniel, who operates Audiosector and is famous for these kits and amplifiers.
This is the LM4780 parallel kit, the highest power, highest-fidelity option available, with each LM4780 running in parallel, creating a 120 Watt per channel dual-mono hi-fi stereo amplifier. The LM4780 is two LM3886 dies in one package, the idea being to increase current capability and power output.
I wrote about my plans for the amplifier in this article, but never got around to building it!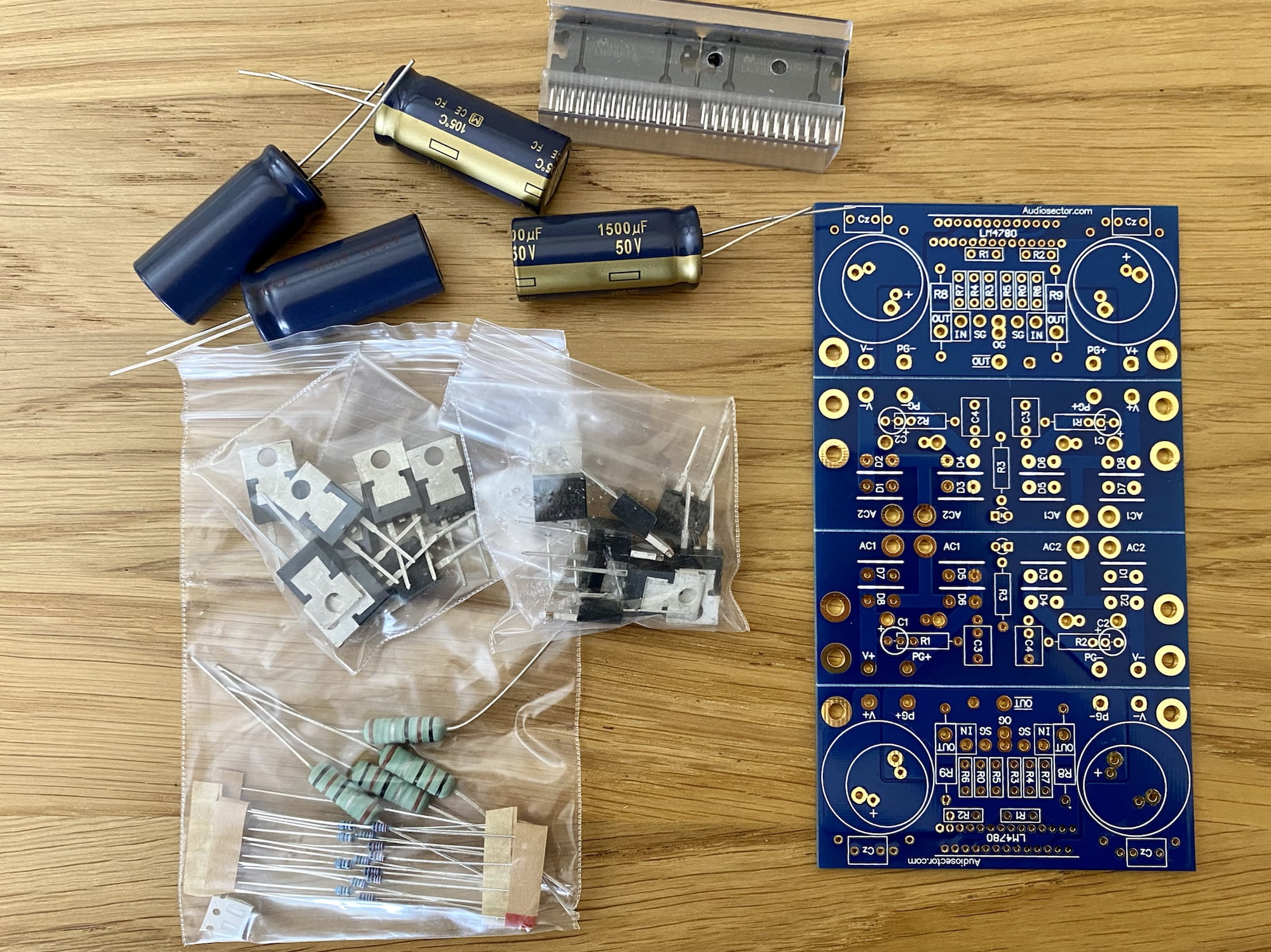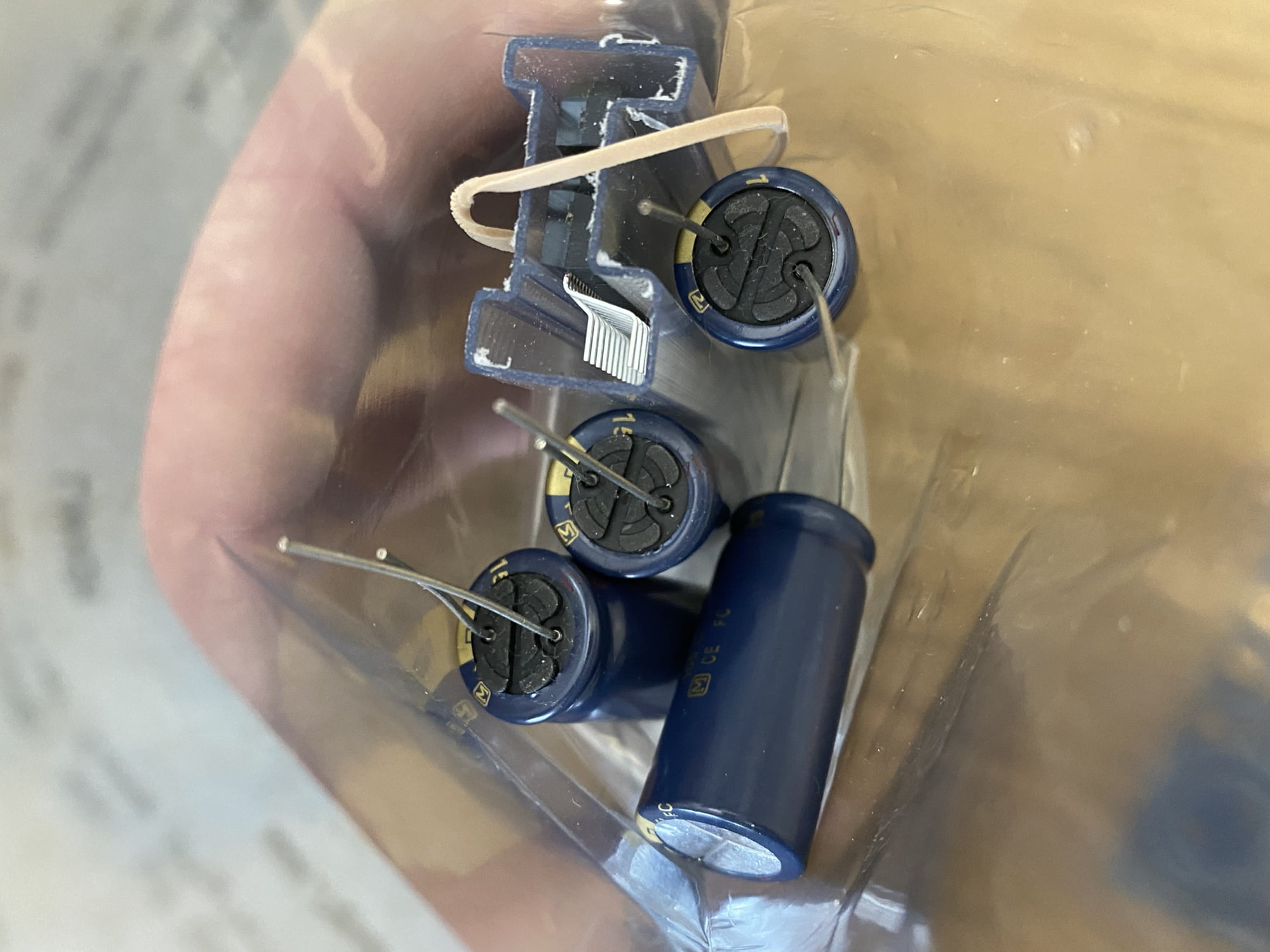 These kits are super high-quality, with premium parts, thick boards, gold plated traces, the complete opposite of the kits you'll find on eBay. I really rate these which is of course why I bought it. I never got around to building it though and it needs to go to a new home.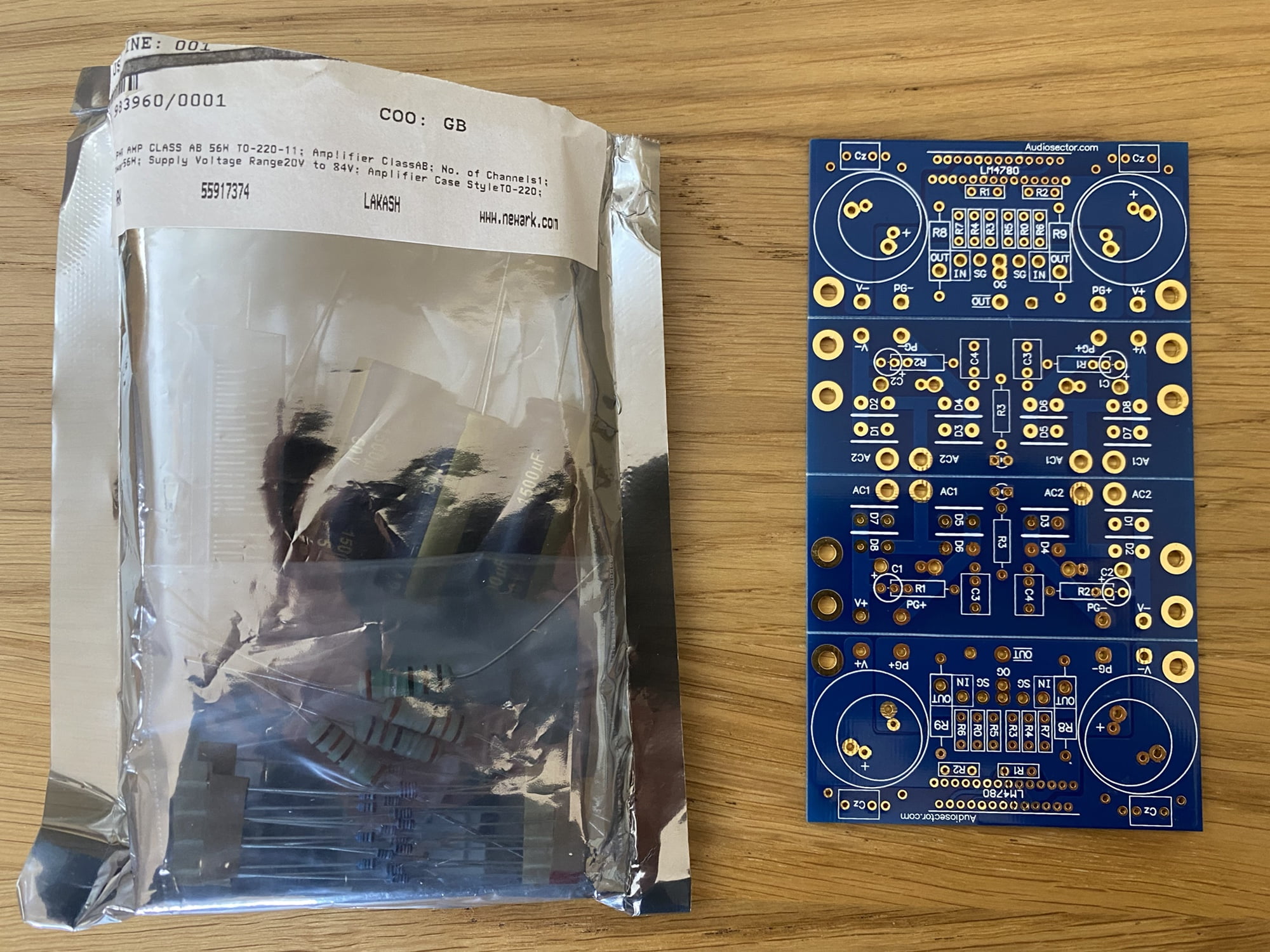 For those wondering the dual-mono LM4780 has more than twice the 40 – 50 Watts per channel produced by the LM3886. This one also comes complete with the heavy-duty, high capacity power supply capacitor option of 4 x 22 000uF capacitors.
To complete the kit, you can refer to Peter's site, to the circuit diagrams that come with it and you'll also need a suitable transformer, or transformers, depending on how you want to complete the kit and how far you want to take it. This is a premium kit with all genuine parts from the best vendors.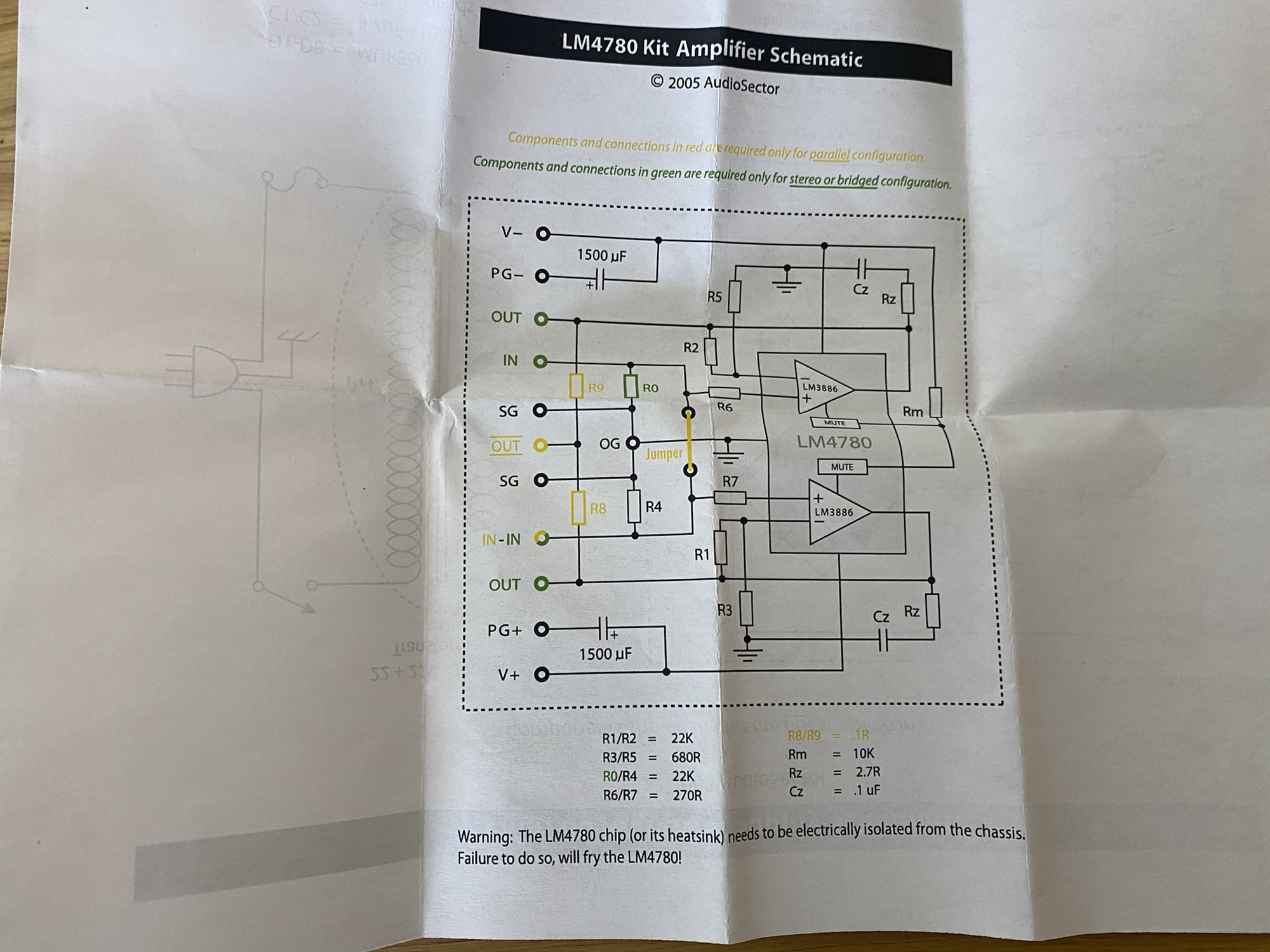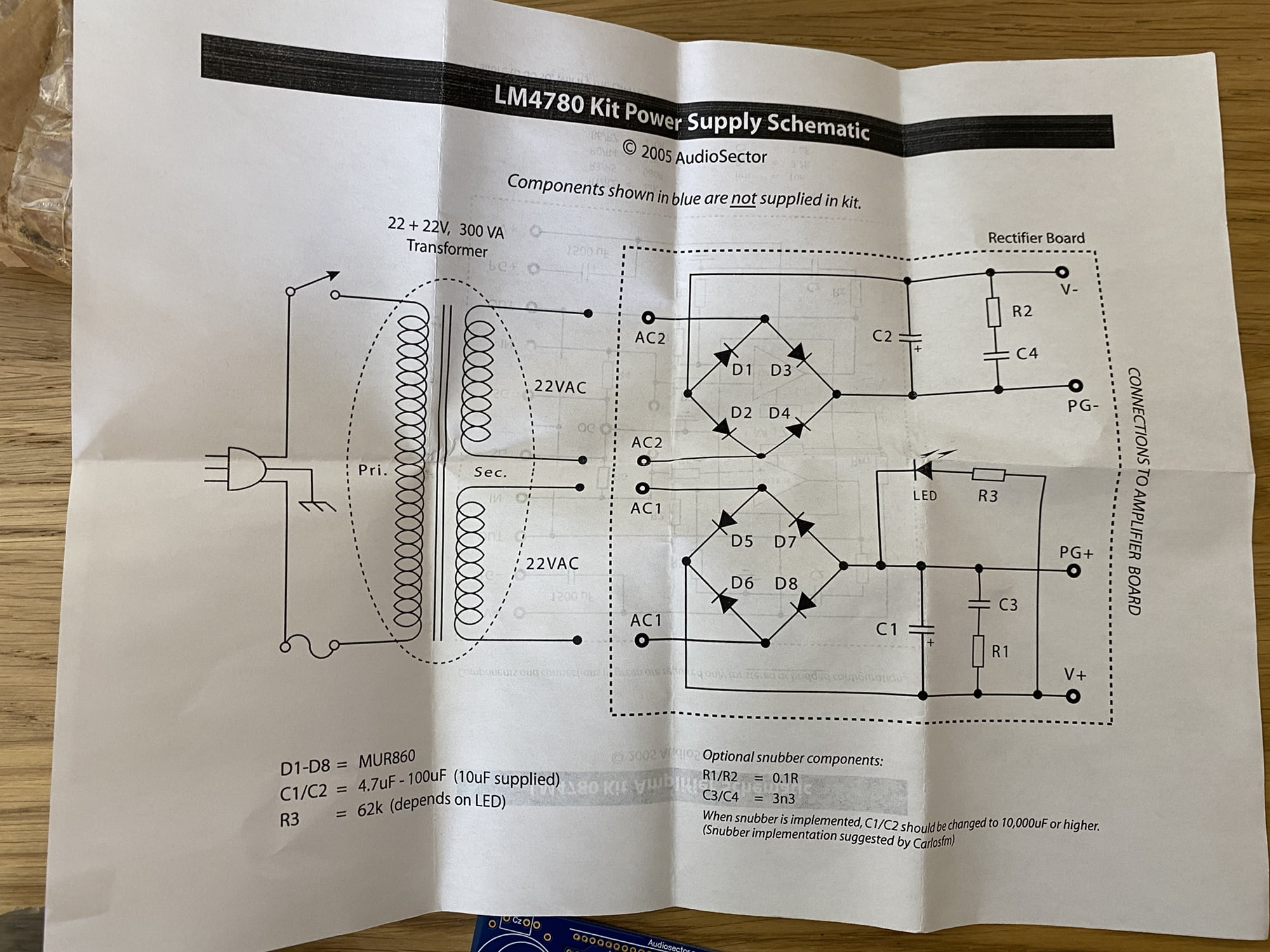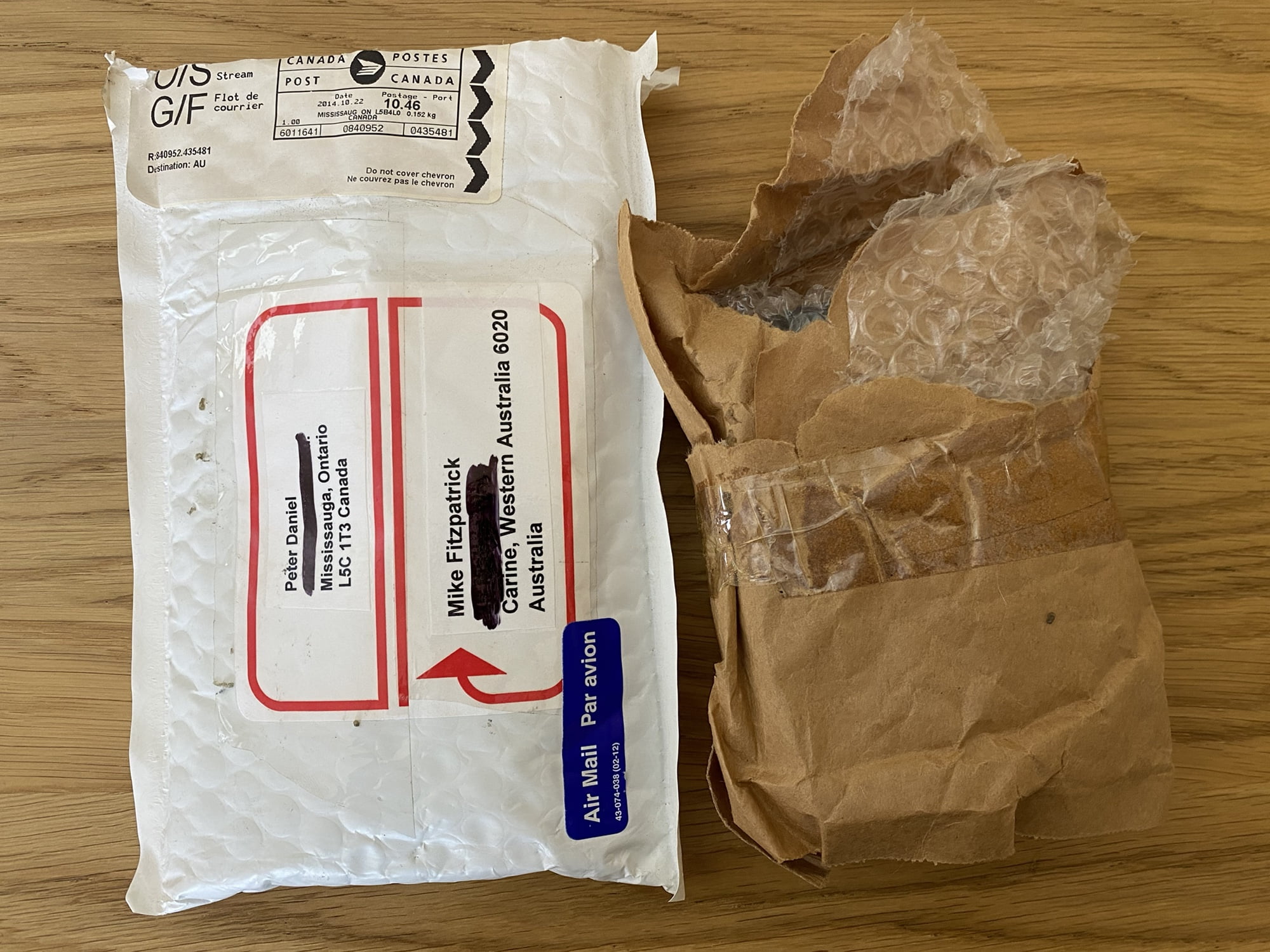 The LM4780 dual-mono chip amp kit, with the high capacitance upgrade and all the extras, is around $200 landed. I'm looking for something close to that for this complete and unused premium kit, let's say $150.
---
NuForce Reference 9 V2 Special Edition Monophonic Power Amplifier
Wow, have a look at this lovely NuForce Reference 9 V2 Special Edition single-channel power amplifier, just listed!
Read on, these very popular power amplifiers sold for over $5000 AUD a pair, in 2007! Read even more about these, here.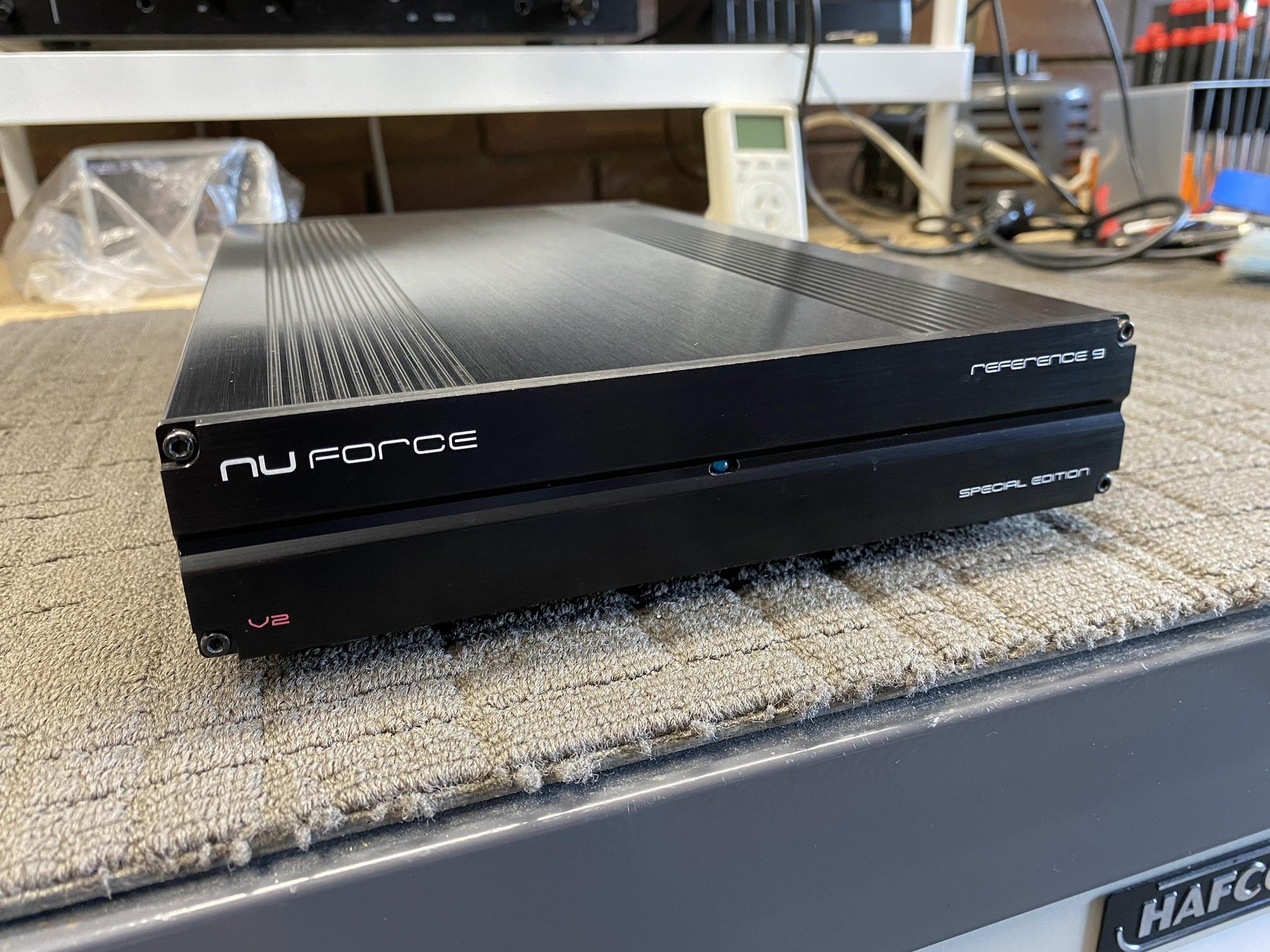 Many will remember NuForce, an unusual start-up out of Taiwan, focussed on producing class-D power amplifiers and other products. These products quickly gained a 'cult' following but then just as quickly fell out of favour as people realised not everything was quite right with class-D gear or NuForce.
That being said, they iterated through versions, fixing and improving things as they went. This is the second version, in special edition guise, of their Reference 9 power amplifier. It's a very powerful and great-sounding amplifier, but must be used with caution!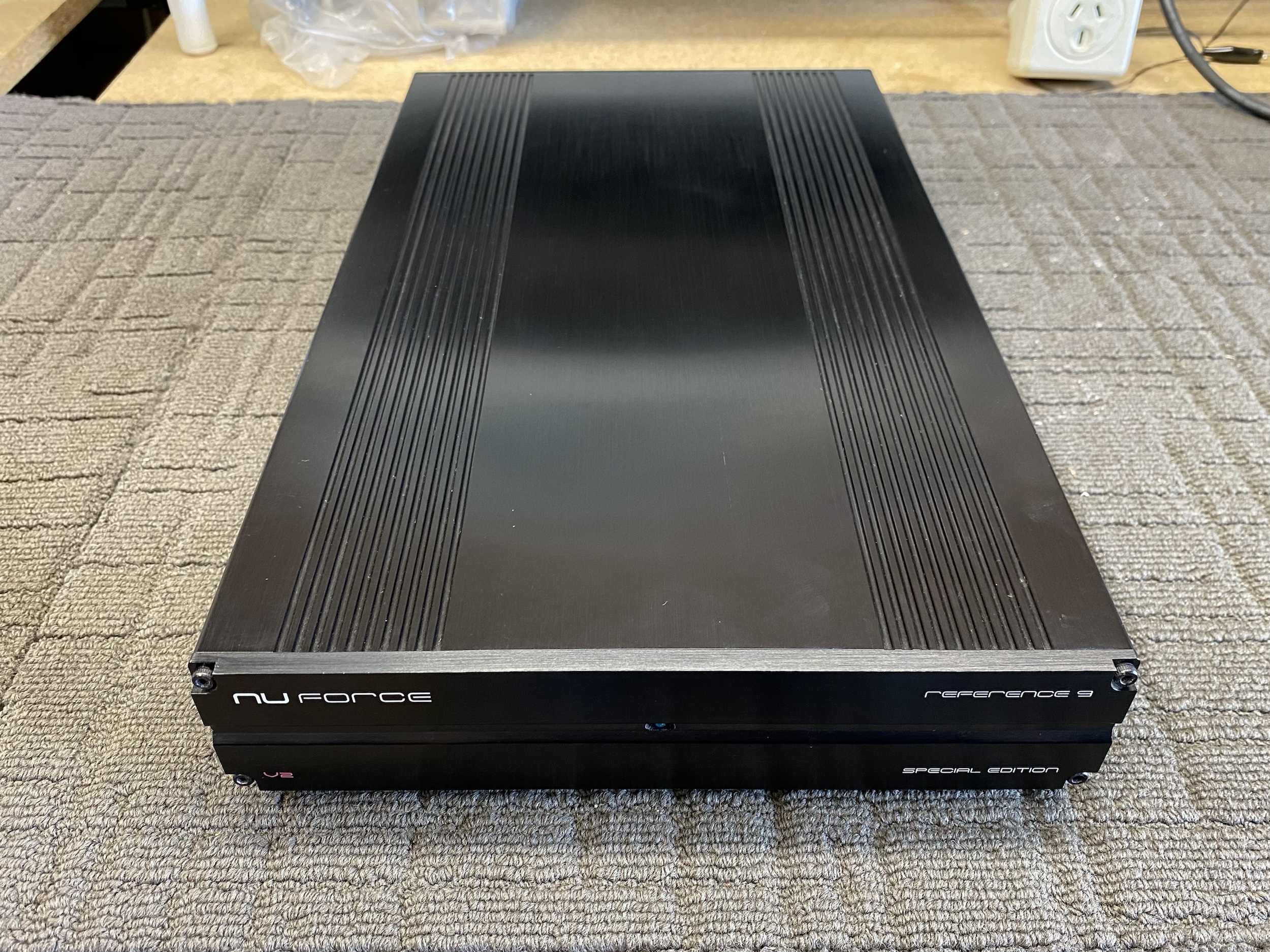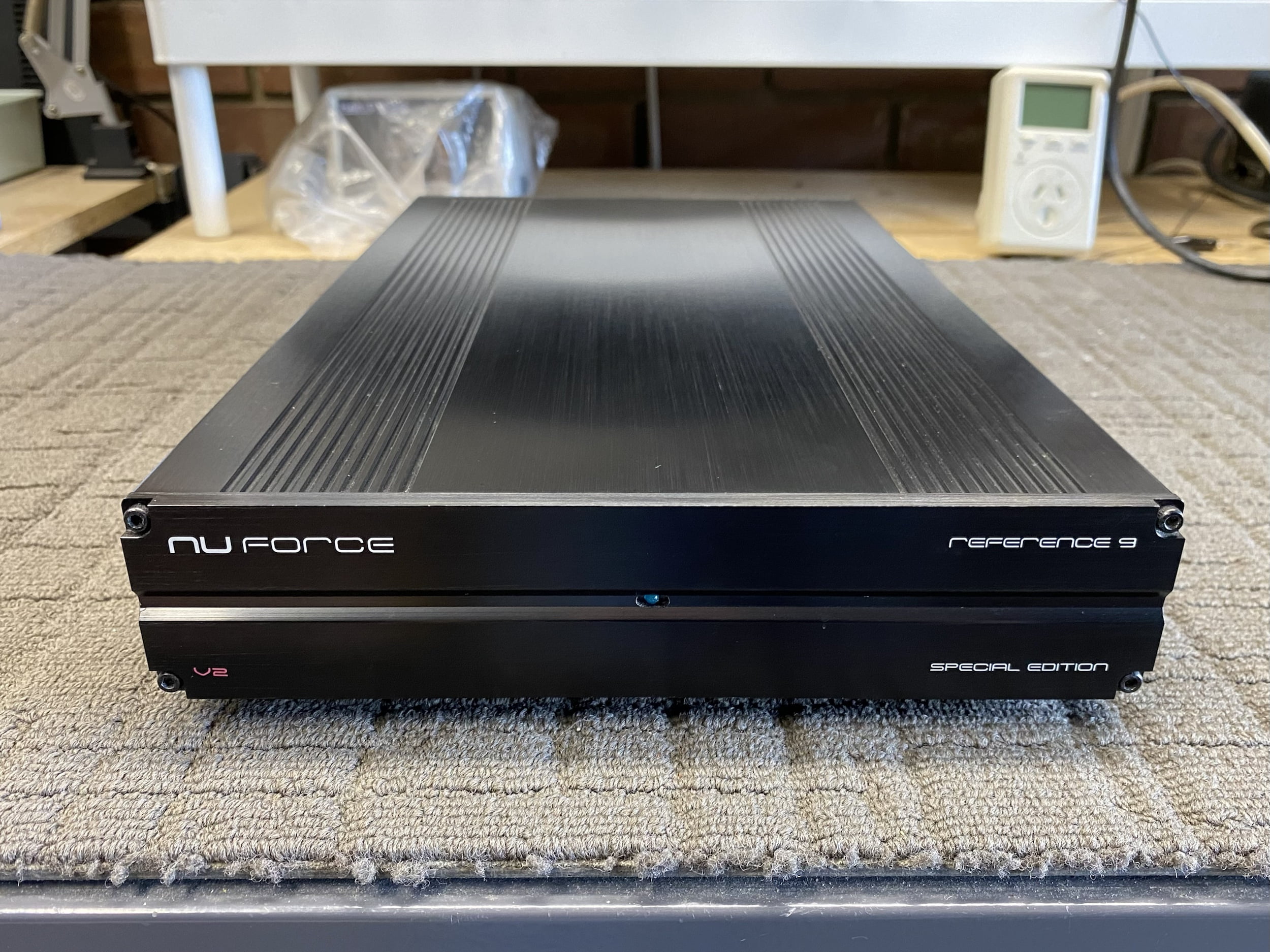 Here's a little more about the Reference 9 V2 SE, courtesy Stereotimes:
"The rear panel contains high-quality XLR and WBT NextGen RCA input jacks. Eichmann Speakerpods are standard, as is an IEC AC receptacle. The IEC receptacle allows one to use after-market power cords. The rocker-style Power switch is also located on the rear panel. The bevelled aluminium front panel contains a single blue LED in the centre indicating power on/off. The LED is just the right intensity for my taste, as opposed to other LED's that are simply way too bright. The finish on my amplifiers is anodized Rose Copper; Black and Silver finishes are also available.

NuForce is very proud of the new V2 amplifier board, which they consider a breakthrough. The V2 board was issued a patent on May 22, 2007. NuForce has painstakingly refined this board using an ultra-short signal-delivery pathway. Additionally, the board is now mounted to the top cover for much more efficient heat transfer from the output devices. Unique to the Ref 9 V2 SE is a proprietary ESR power capacitor bank to help the amplifier deliver a very steady and stable stream of high power to the speakers. Thus, the rated power has increased from 150 watts to 190 watts RMS at 8 ohms and undistorted power peaks of 325 watts and 650 watts can be achieved at 8 ohms and 4 ohms, respectively.

The bottom line is that the new board has allowed the amplifier to become considerably more efficient and powerful while simultaneously decreasing the already very-low noise floor by another 20 decibels. Incredible!"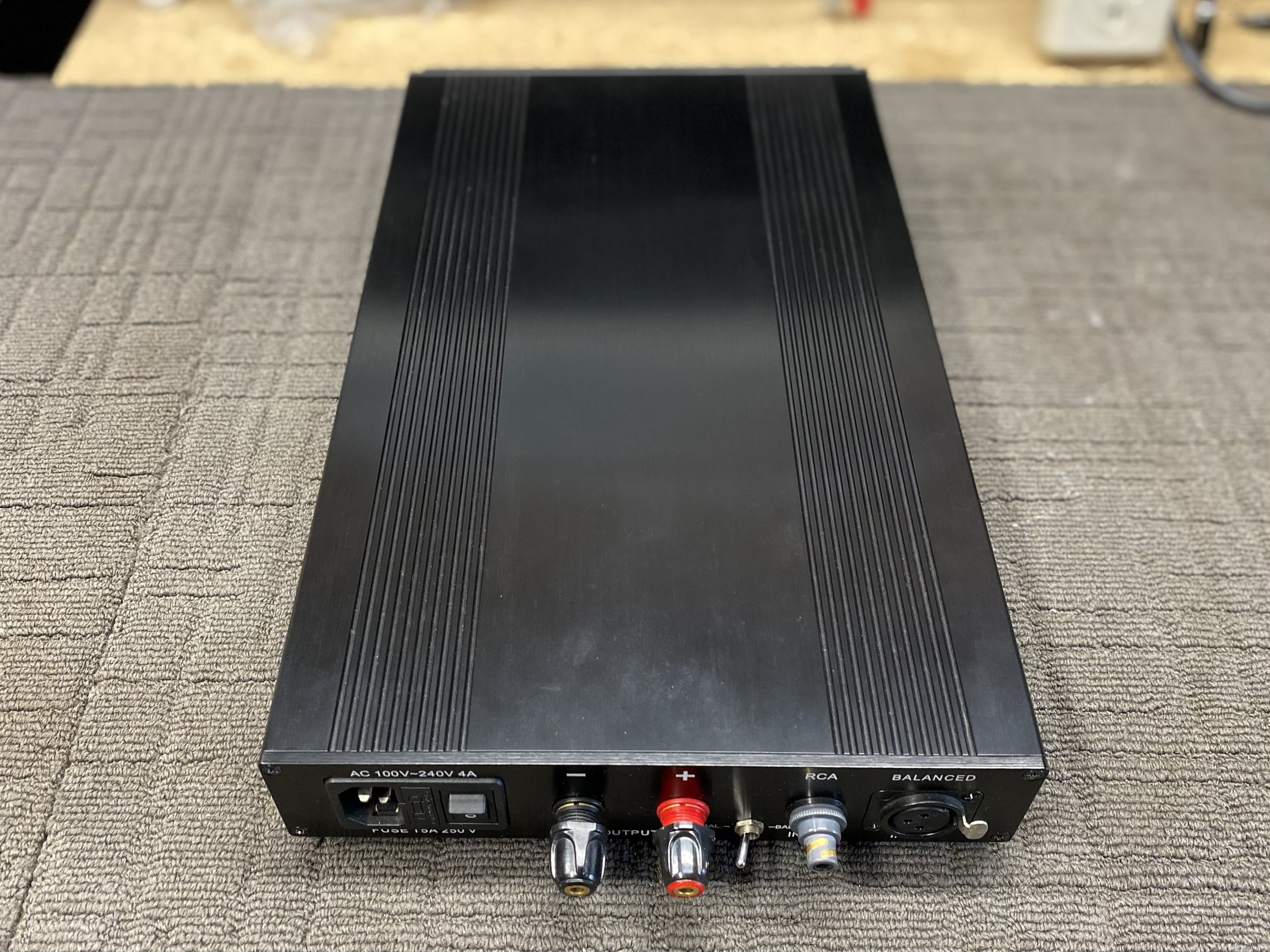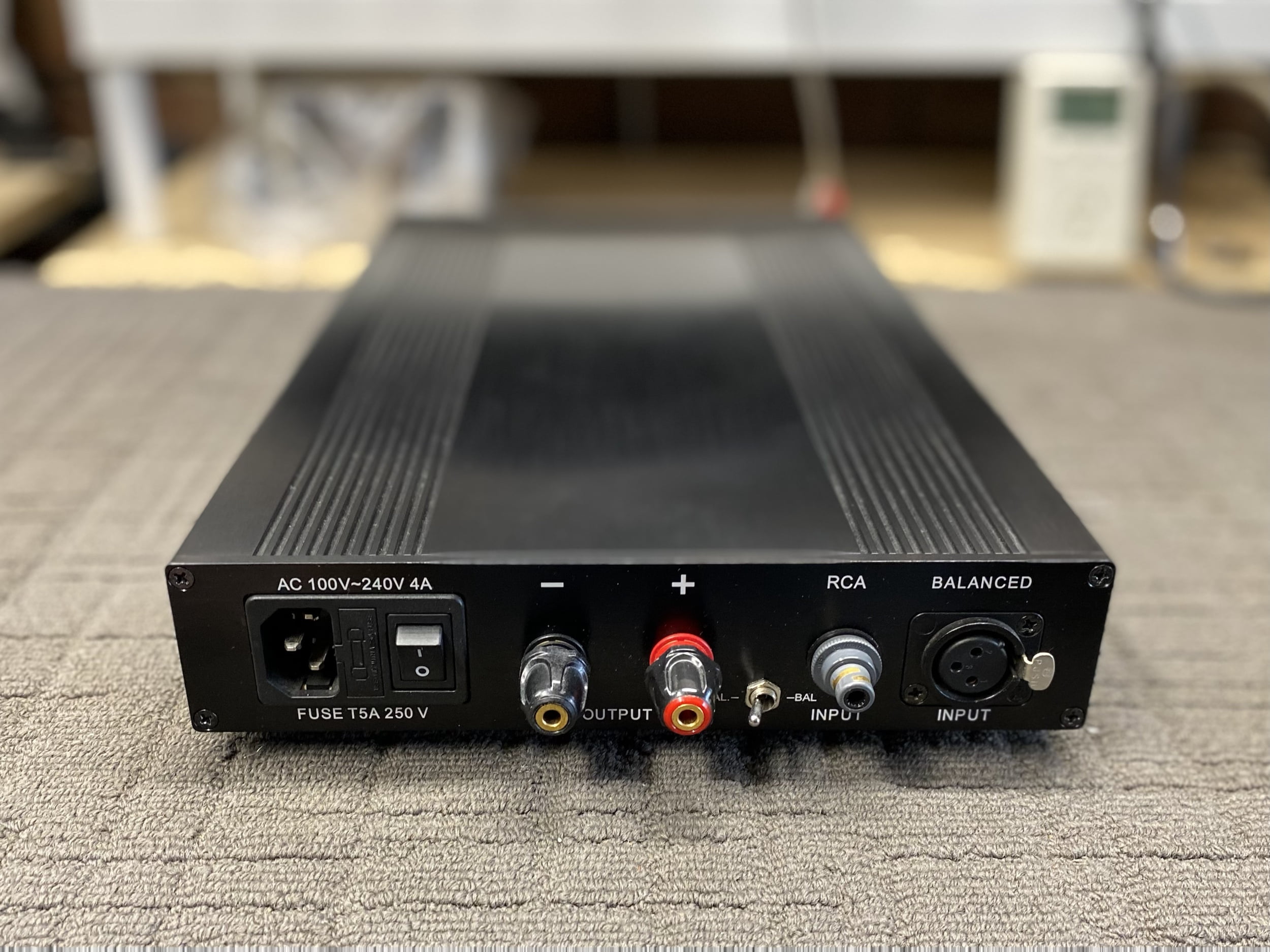 Specifications
• Configuration: Mono Input, RCA and balanced XLR
• Power output: 190 Watts RMS @ 8 Ohms, 300 Watts RMS @ 4 Ohms
• Power bandwidth: 100Hz to 20kHz +/- 0.8 dB 10Hz -0.5 DB 60kHz -3dB
• THD+N: 0.03%, 1kHz, 10 Watts
• Input impedance: 45kOhms
• Gain: 27dB
• S/N ratio:100dB at 100 Watts
• Eichmann Cable Pod binding posts for spades and banana plugs
• Chassis is made of high-grade anodized brushed aluminium to reduce resonance
• Dimensions: 8.5″W x 14″D x 1.8″H (height does not include feet)
• AC voltage: 84VAC to 264VAC (worldwide compatible)
• Weight: 8 lbs, 3.5kg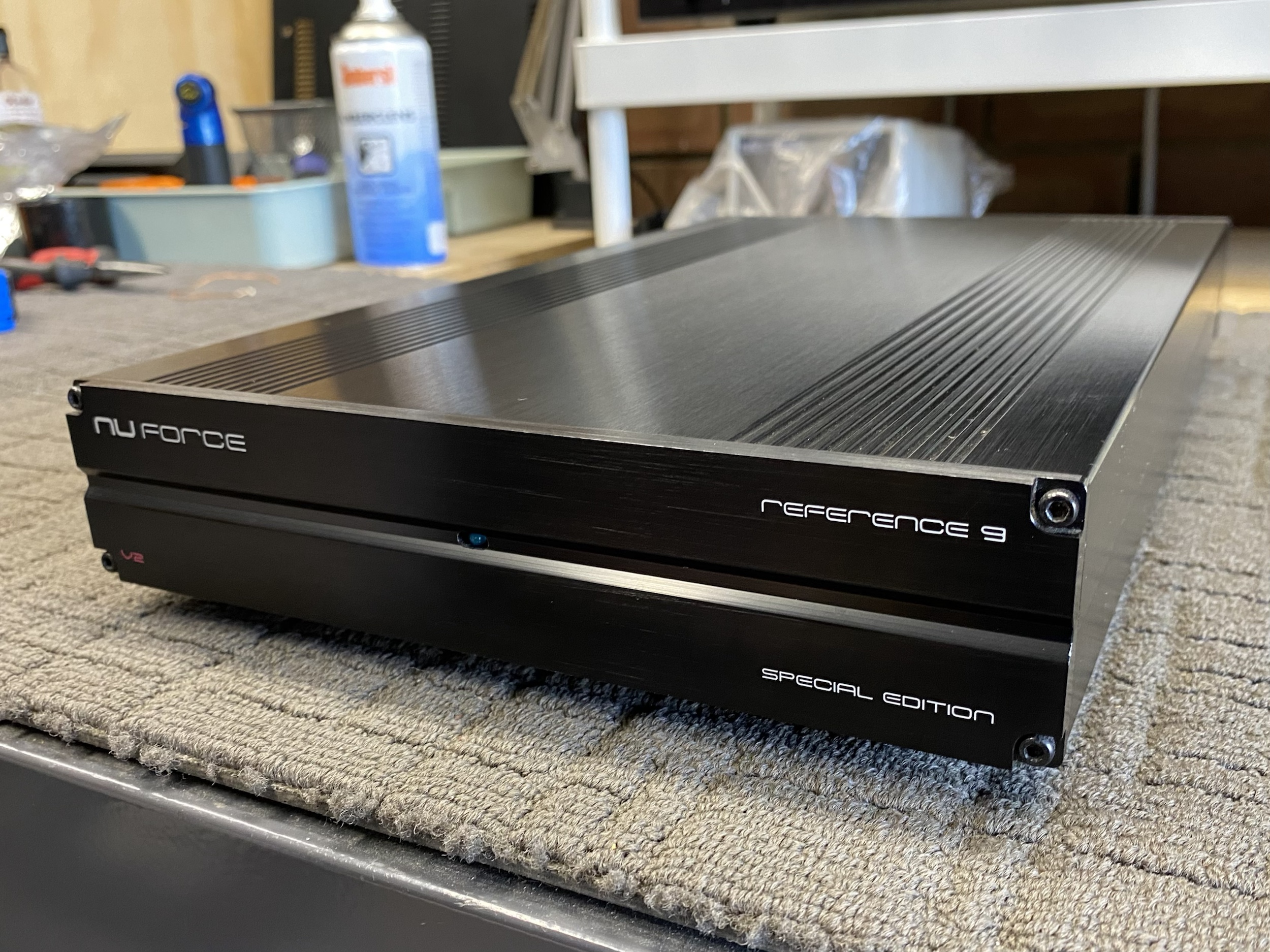 Glowing Reviews
Check out what Robert Levi thought about the NON-SE version which is definitely not as good as this one!
"I still haven't heard their top 9SE V2 design and can't wait! Meanwhile, if $3500 is your wallet's limit, you will love this amp. I can't name a solid-state amp that gives you soundstaging, imaging, or depth perspective better than these little guys at under $8000! Moreover, at this kind of high power. What a deal! The Reference 9V2s are the best yet from NuForce and receive my highest recommendation."
So, what's the catch? There isn't one, but there is only one for sale. This is perfect for a centre speaker or subwoofer. I also won't warranty gear like this because of the limitations in the original design. You must, for example, NEVER connect or disconnect anything whilst this is running or you might damage something downstream. Mind you, this is standard practice, but you must observe it, strictly, with this amplifier. Finally, NuForce is no longer with us, so support is no longer a thing.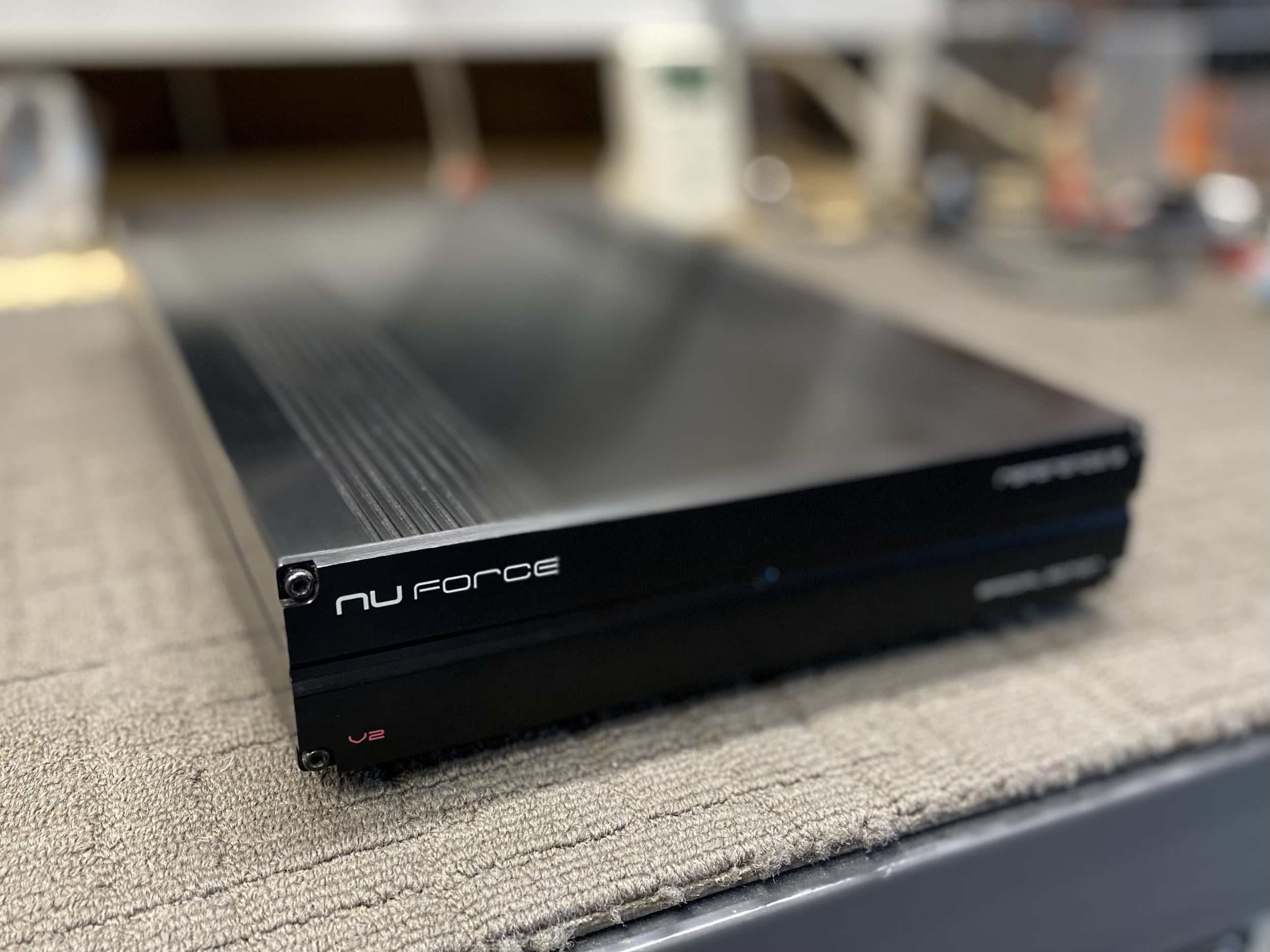 Interested? You are welcome to purchase this NuForce Reference 9 V2 Special Edition mono power amp, in almost perfect condition, for $750.
---
Rotel RTC-970 Processor/Tuner/Preamplifier
Also newly listed, this lovely Rotel RTC-970 surround sound processor/tuner/preamplifier is perfect for building a stereo or home cinema system around.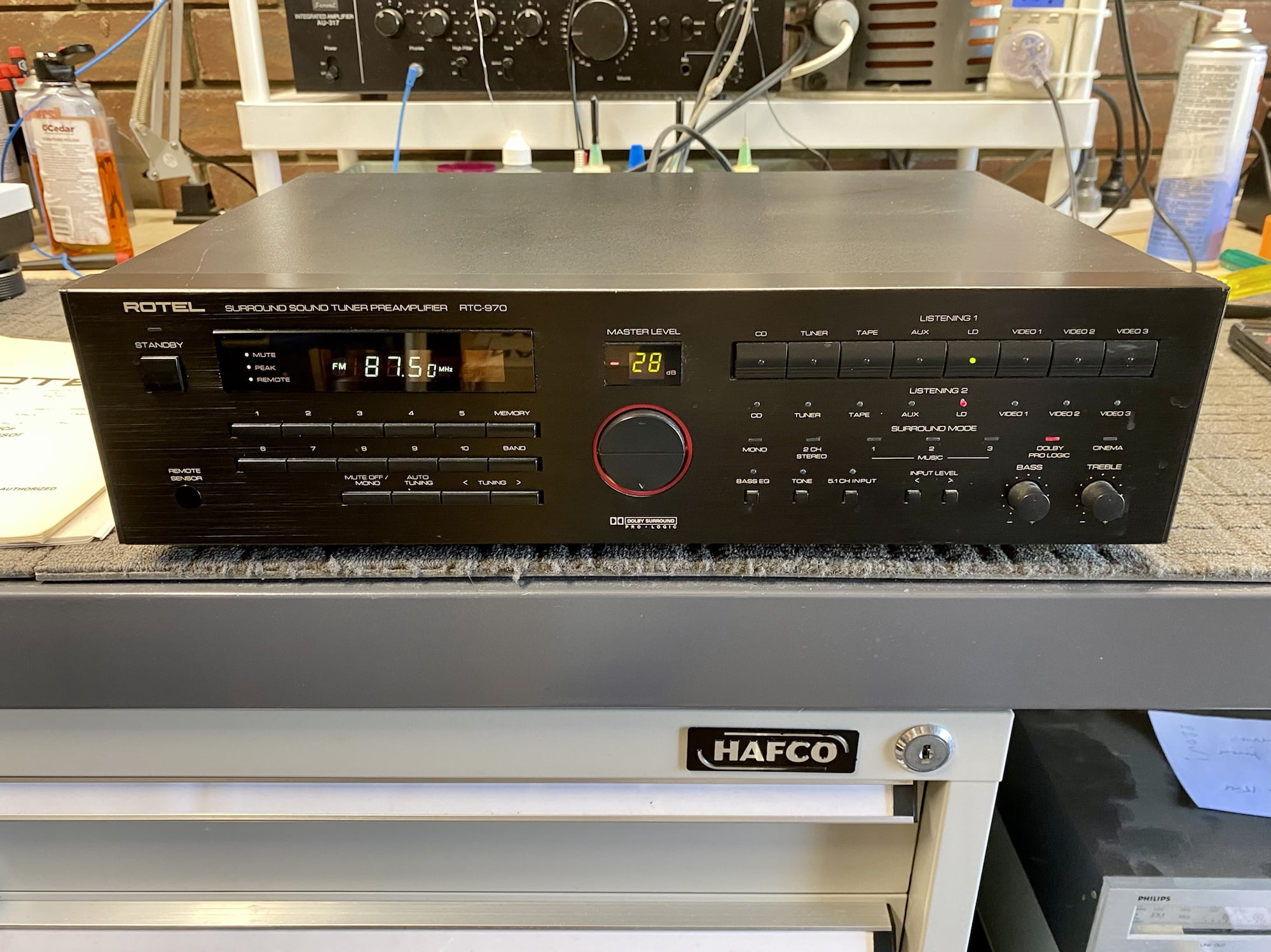 This tuner/preamplifier supports five channels, though you can use it as a stereo tuner and preamplifier in almost any system, so it is very flexible. Use it as a tuner, use it as a preamp, or both!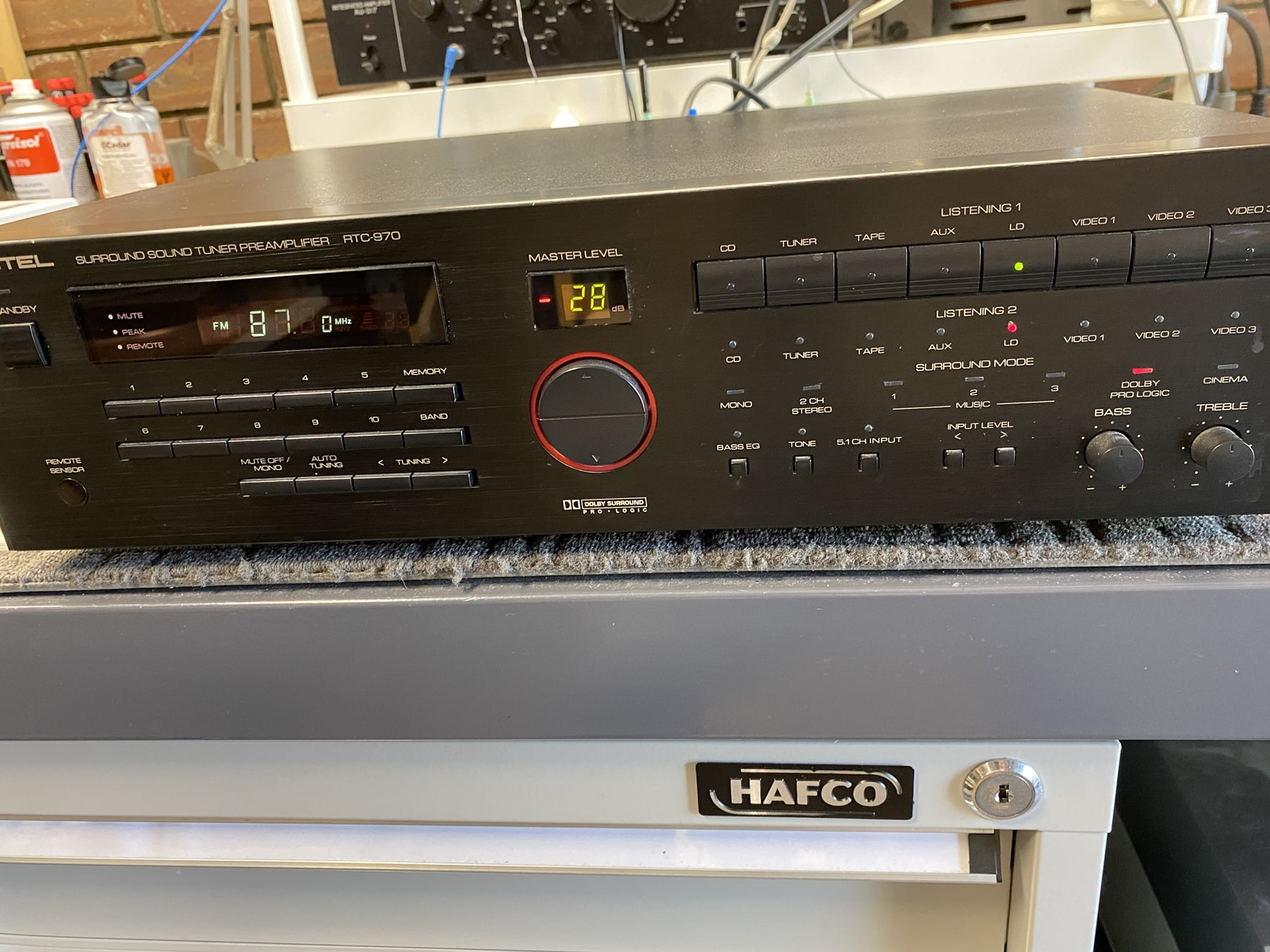 This almost pristine example comes with a new mains plug, original remote control and owner's manual. Here is the owner's manual in PDF.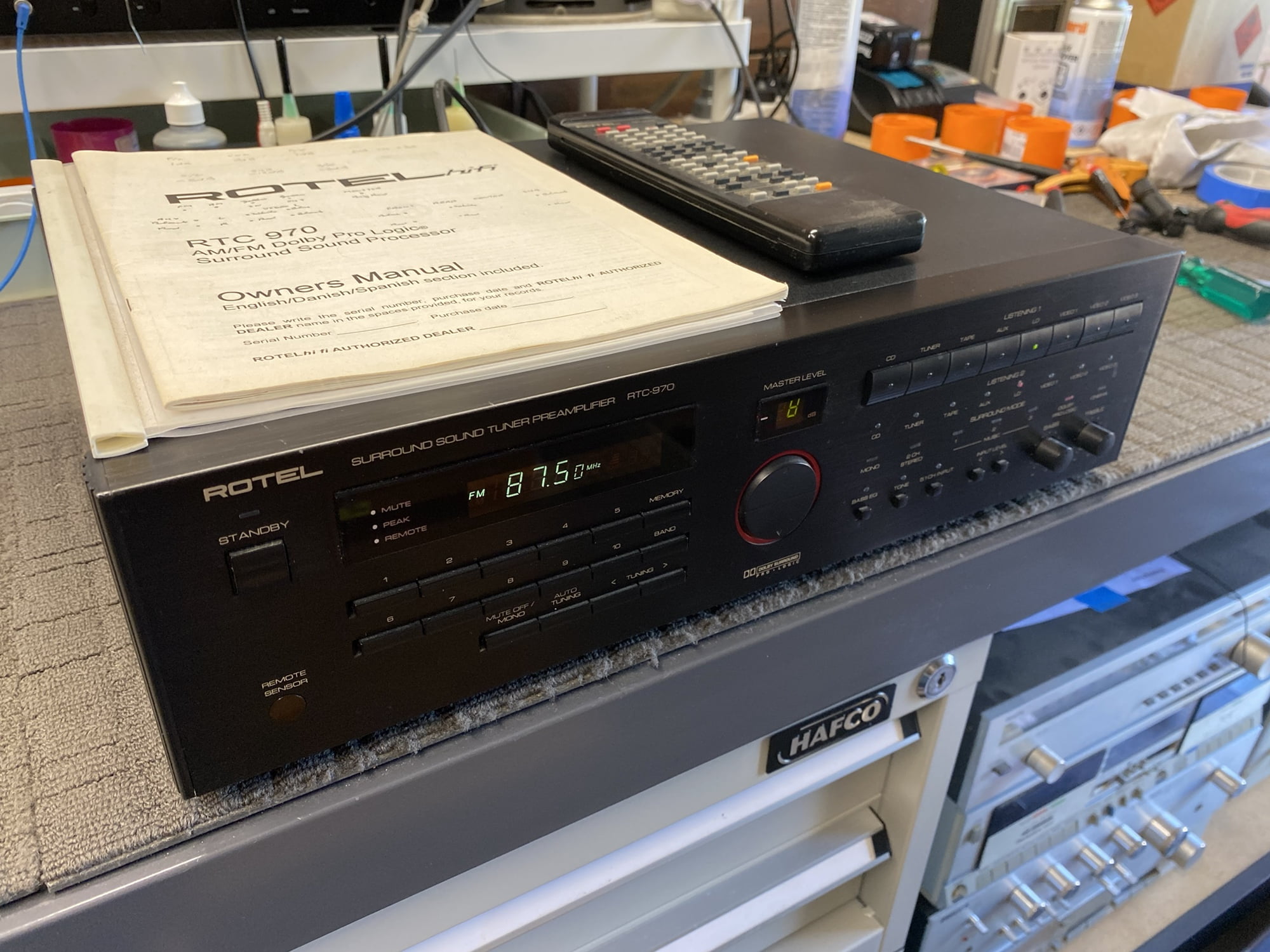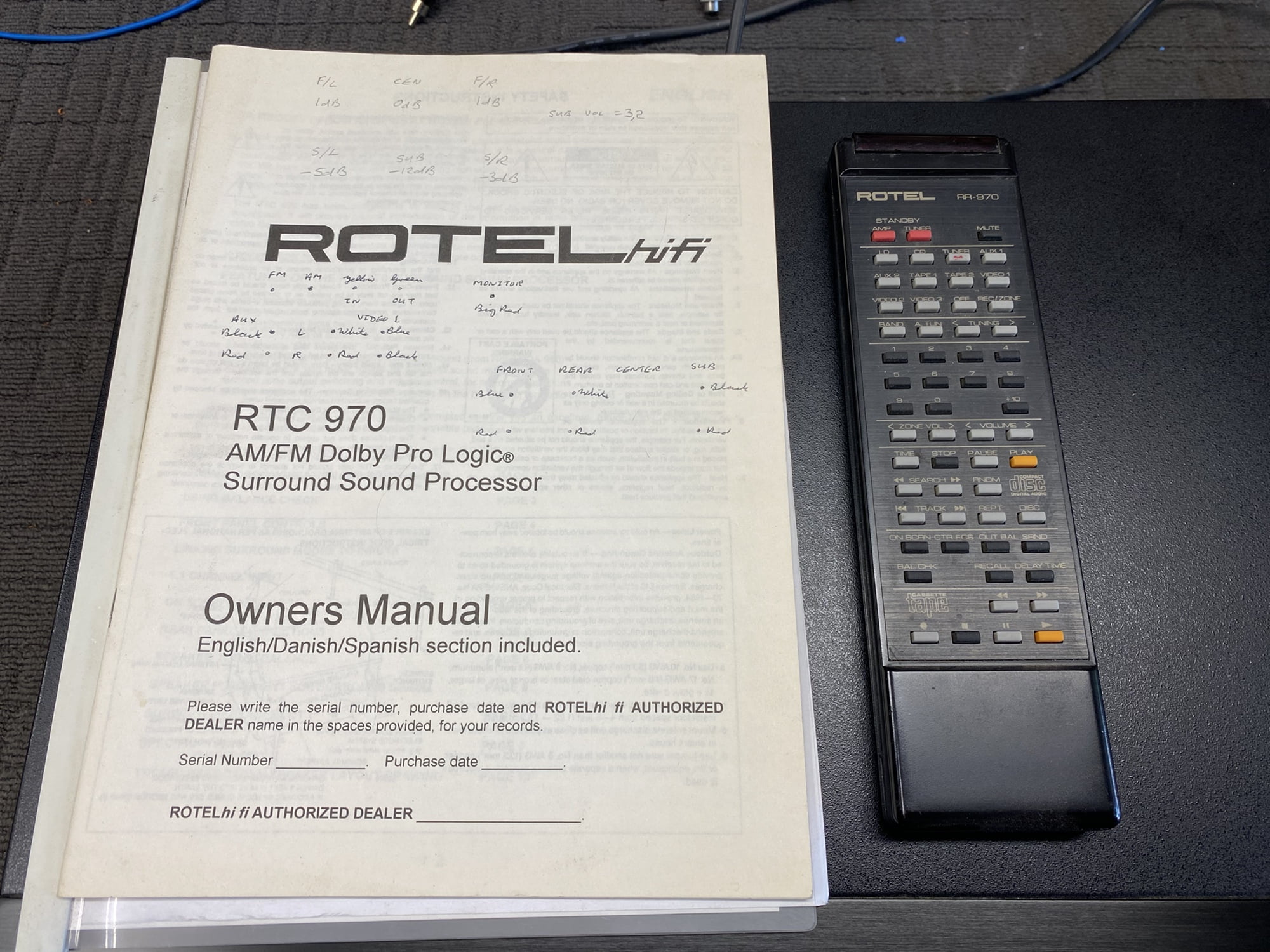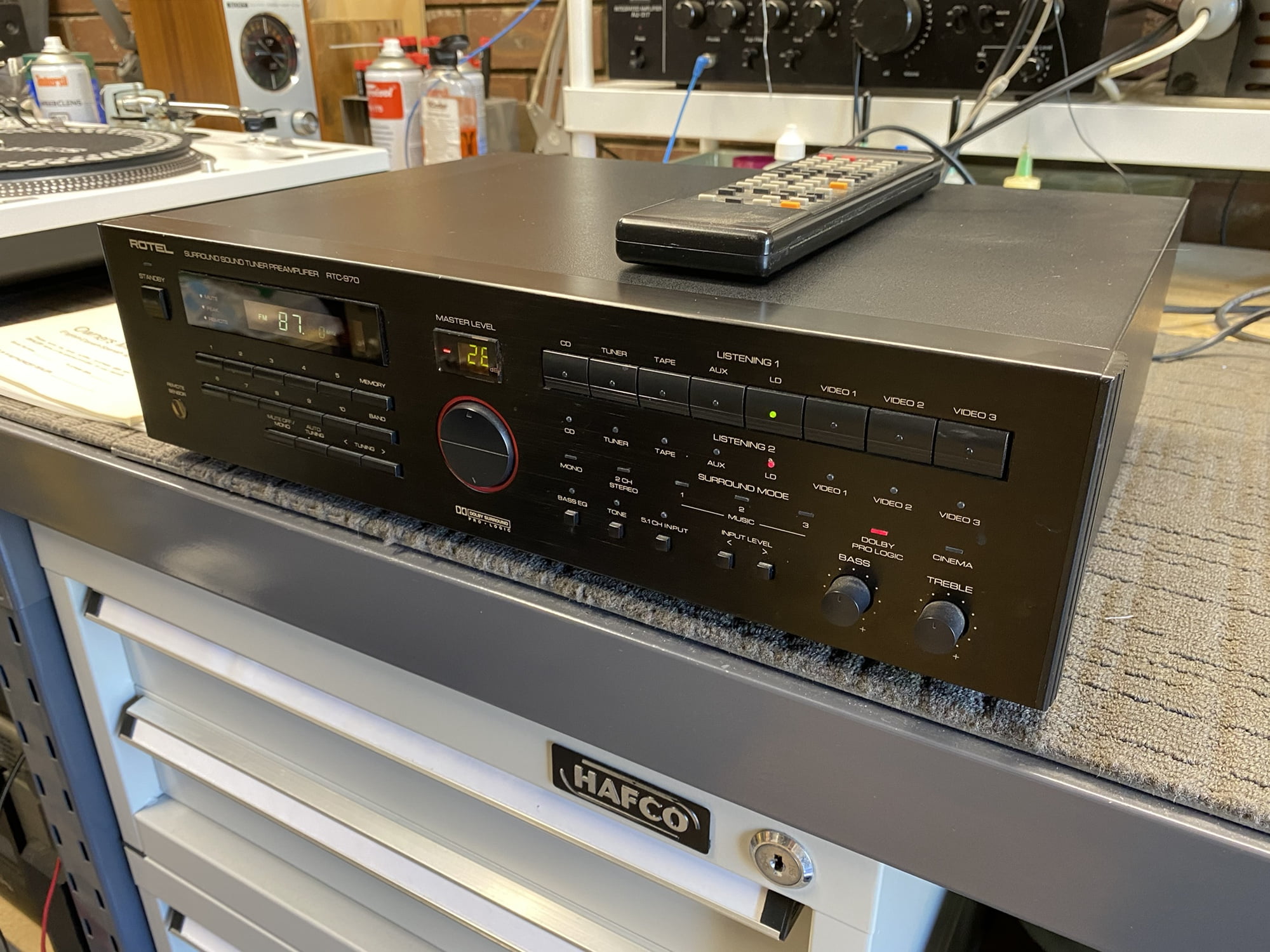 You can own this lovely Rotel tuner/preamplifier for just $250.
---
Cassette Decks
Rotel RD-850 Cassette Deck, Serviced, Dolby B & C!
Here we have another nice cassette deck, a Rotel RD-850, in very nice condition.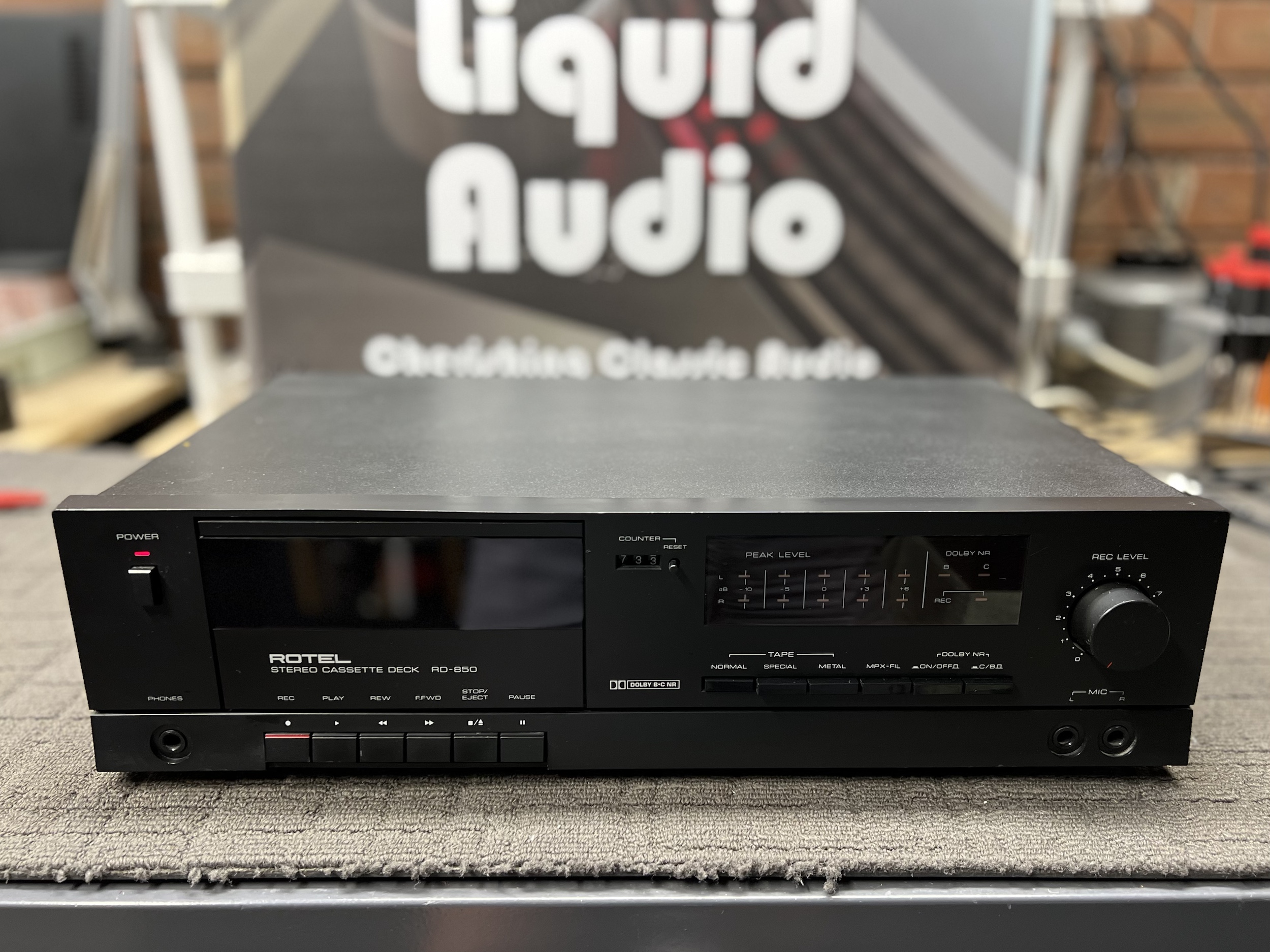 I've also just serviced this deck, installing a new reel drive belt, cleaning and de-magnetising the tape path.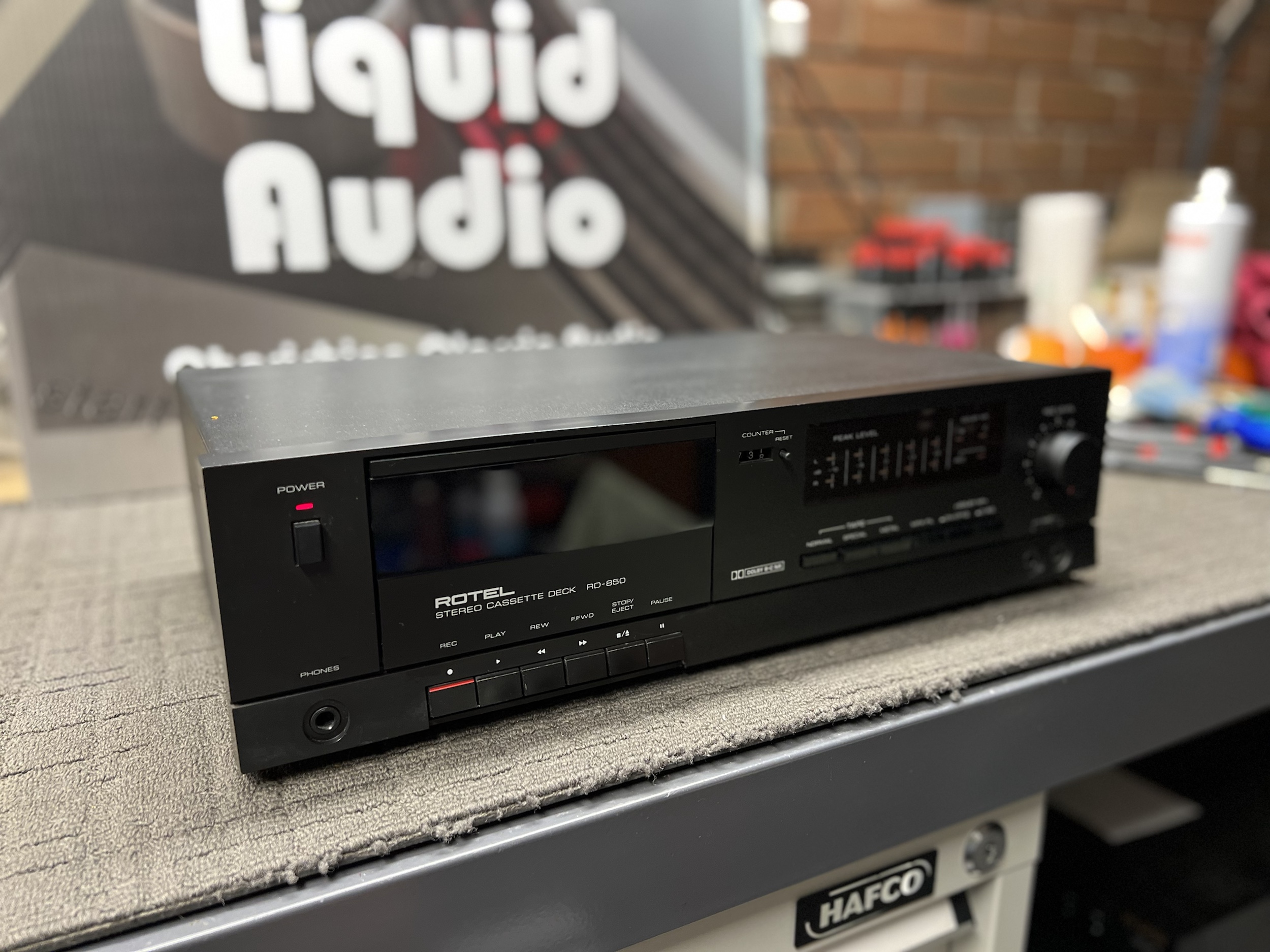 You can read a bit more about the Rotel RD-850 here.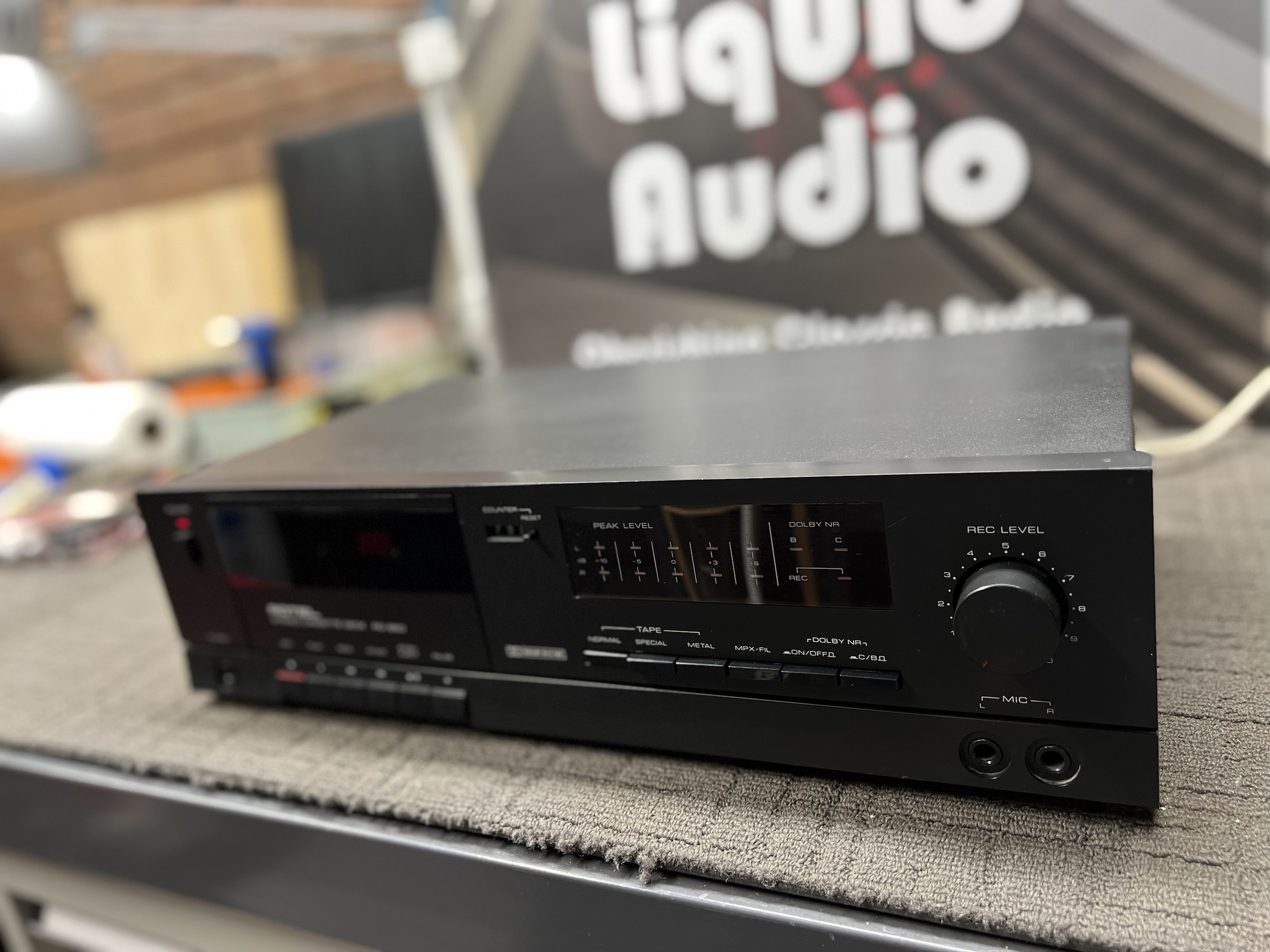 This Rotel RD-850 is a great little first deck for someone. Grab it for just $250!
---
CD Players & DACs
Stunning Marantz CD-65 CD Player, TDA1541, One Owner, Box & Manual, no kidding!
Yes, I have another classic Marantz CD player, this time a beautiful and perfectly functional Marantz CD-65, in the box, with manual and power cable, donated by her very kind original owner.
The Marantz CD-65 is a classic Philips TDA1541 player, with CDM 2 mech. In other words, these sound fantastic and are generally very reliable.
This black beauty is made in Belgium of course and everything works perfectly under test. I just finished cleaning and testing her and, whilst I generally can't offer a warranty on older players like this one, I'm pretty confident she will be as reliable as the stunning Marantz CD-84 I recently sold.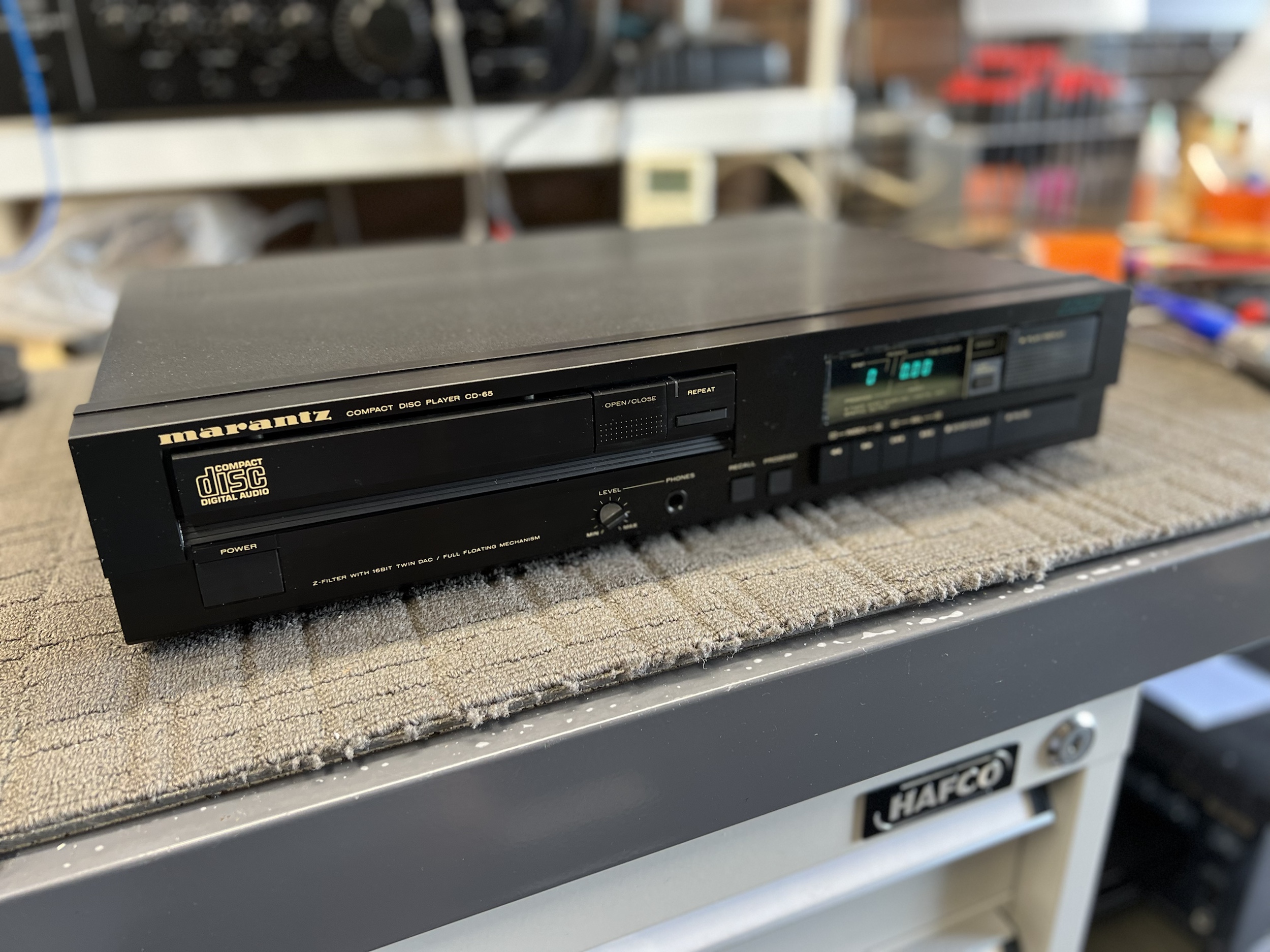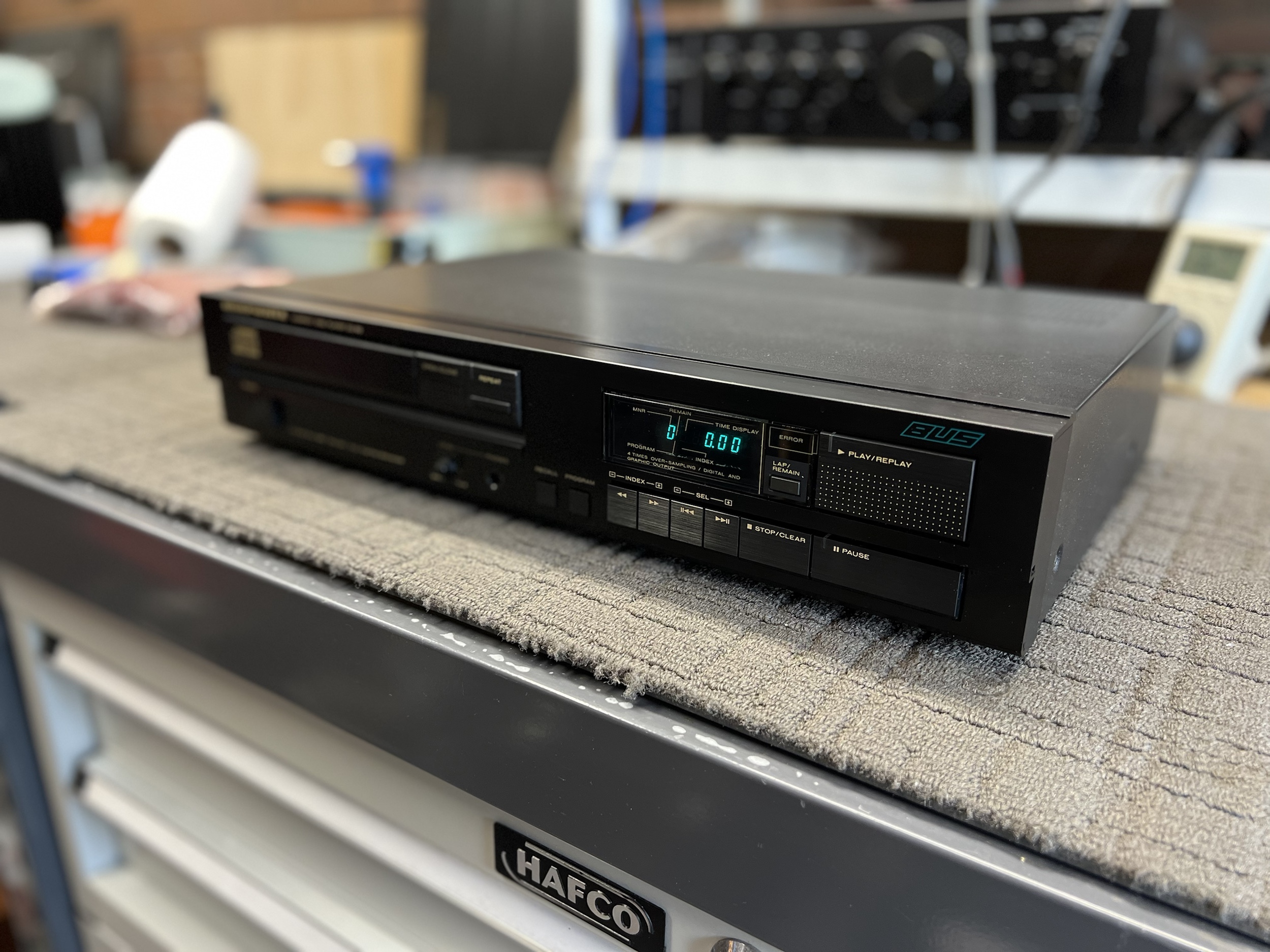 Specifications, courtesy HiFi Engine
Disc format: CD
Digital converter: TDA1541
CD Mechanism: CDM-2
Frequency response: 20Hz to 20kHz
Signal to Noise Ratio: 96dB
Channel separation: 90dB
Total harmonic distortion: 0.005%
Line output: 2V
Dimensions: 420 x 85 x 280mm
Weight: 3kg
Year: 1988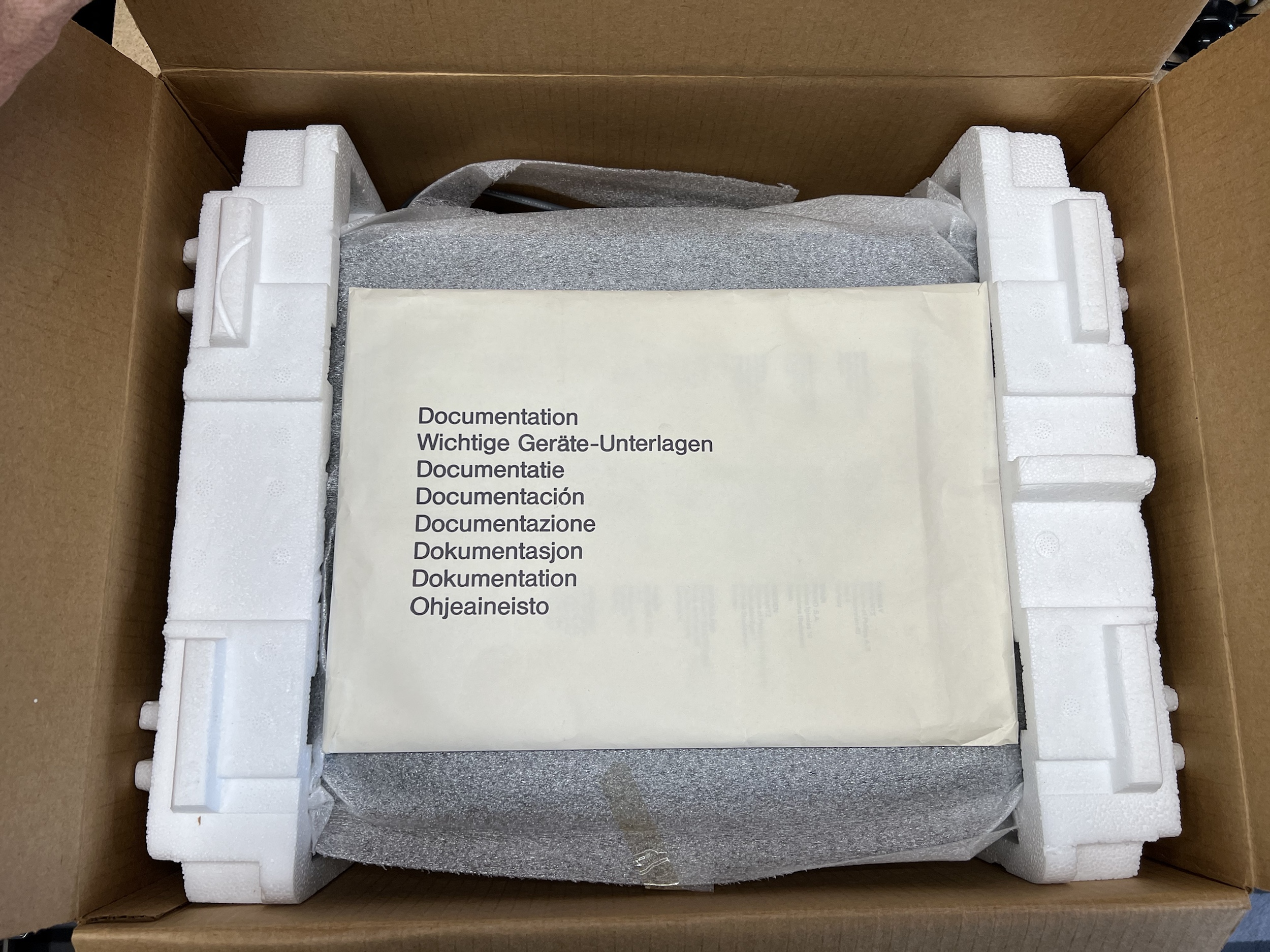 If you want a classic early Redbook TDA1541 CD player like this one, don't miss this opportunity to own this beautiful example. This Marantz CD-65 can be yours for $595.
---
Beautiful Rega Jupiter CD Transport + Solar Remote Control
Take a look at this beauty newly listed for sale. Featuring a top-loading Sony transport and Rega's minimalist design aesthetic, the Rega Jupiter has to be one of the coolest CD transports from the heyday of the compact disc. This is truly a cool CD transport, just begging for a really nice DAC to go with it.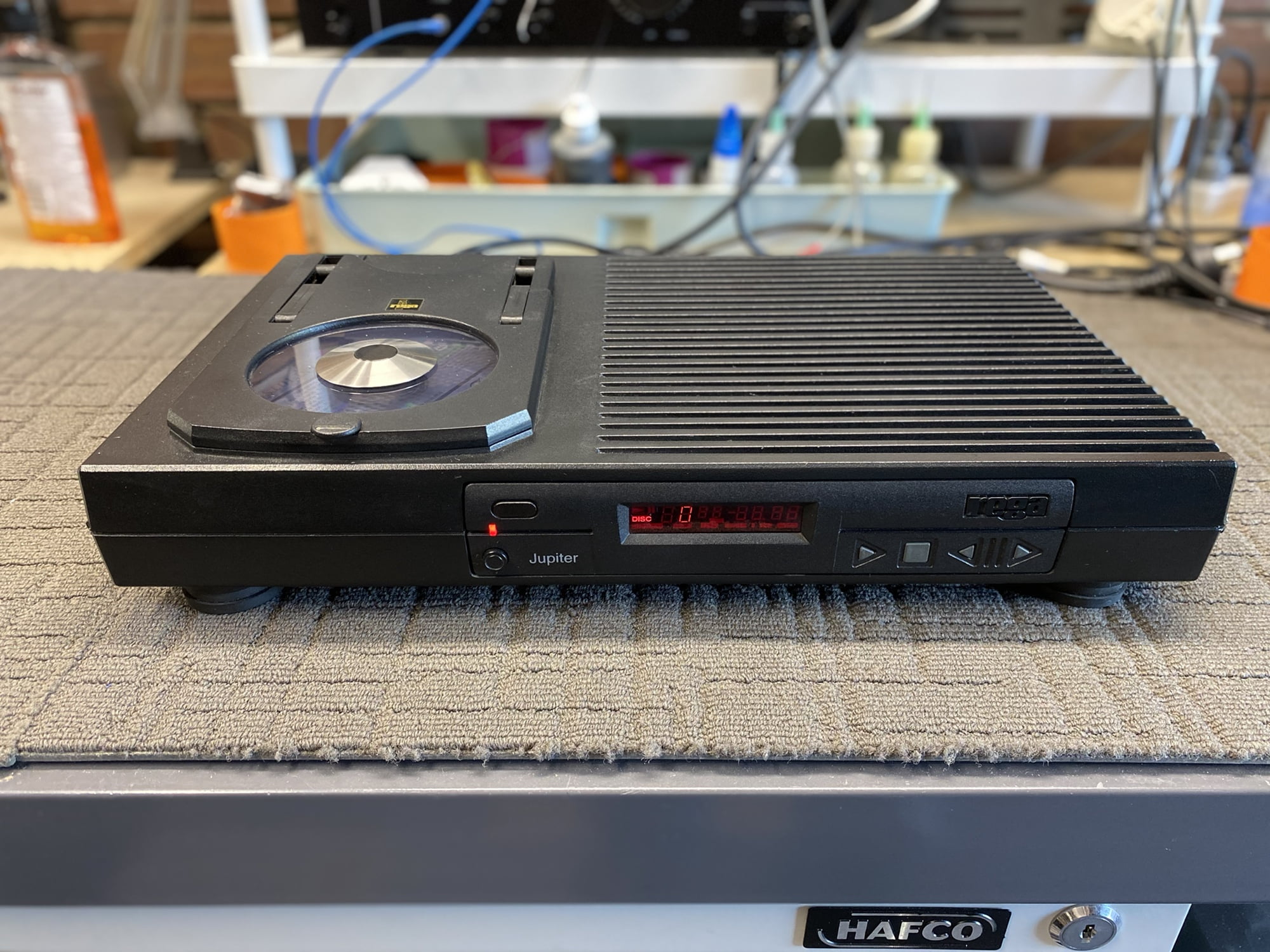 The Rega Jupiter is a CD transport only, with coaxial digital out, meaning you'll need a DAC. Rega planned for you to buy their Io DAC, but any good DAC will work well with this transport, be it in a receiver, streamer, or a dedicated standalone DAC.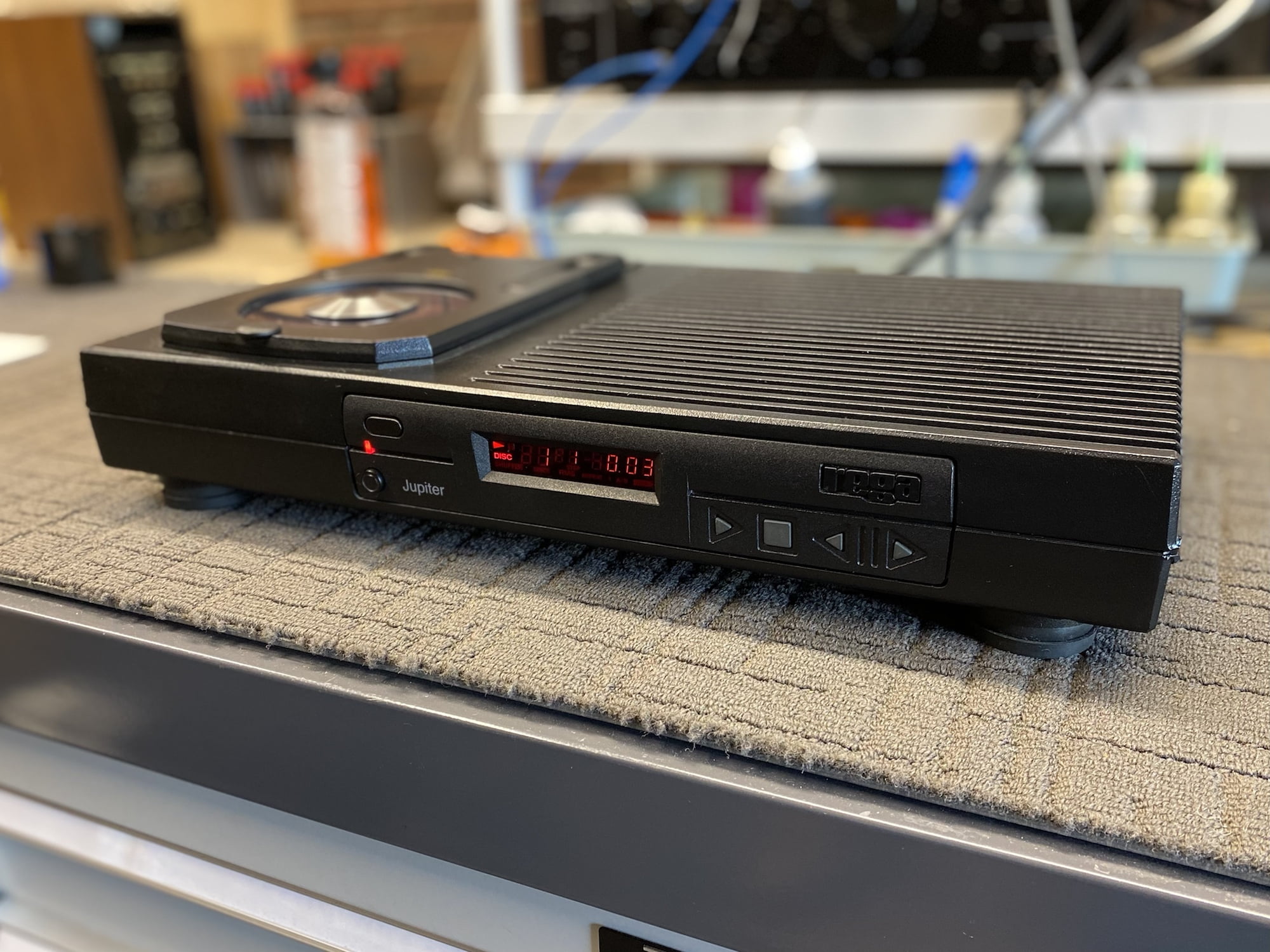 So why a transport? Well, a CD transport isolates the mechanical and RF aspects of disc playback from the sensitive analog circuits found in the DAC. This ultimate separation of duties allows for the very best sound quality. It's the way I do things for CD playback in my own system for example.
The Rega Jupiter is a well-regarded transport from one of the big names in British hi-fi. You can read some real reviews from owners here. I love the minimalist design and red LED display. The top-loading drive is a very nice touch. You simply load a disc and let the lid slowly drop onto the disc, clamping it in place and activating the drive.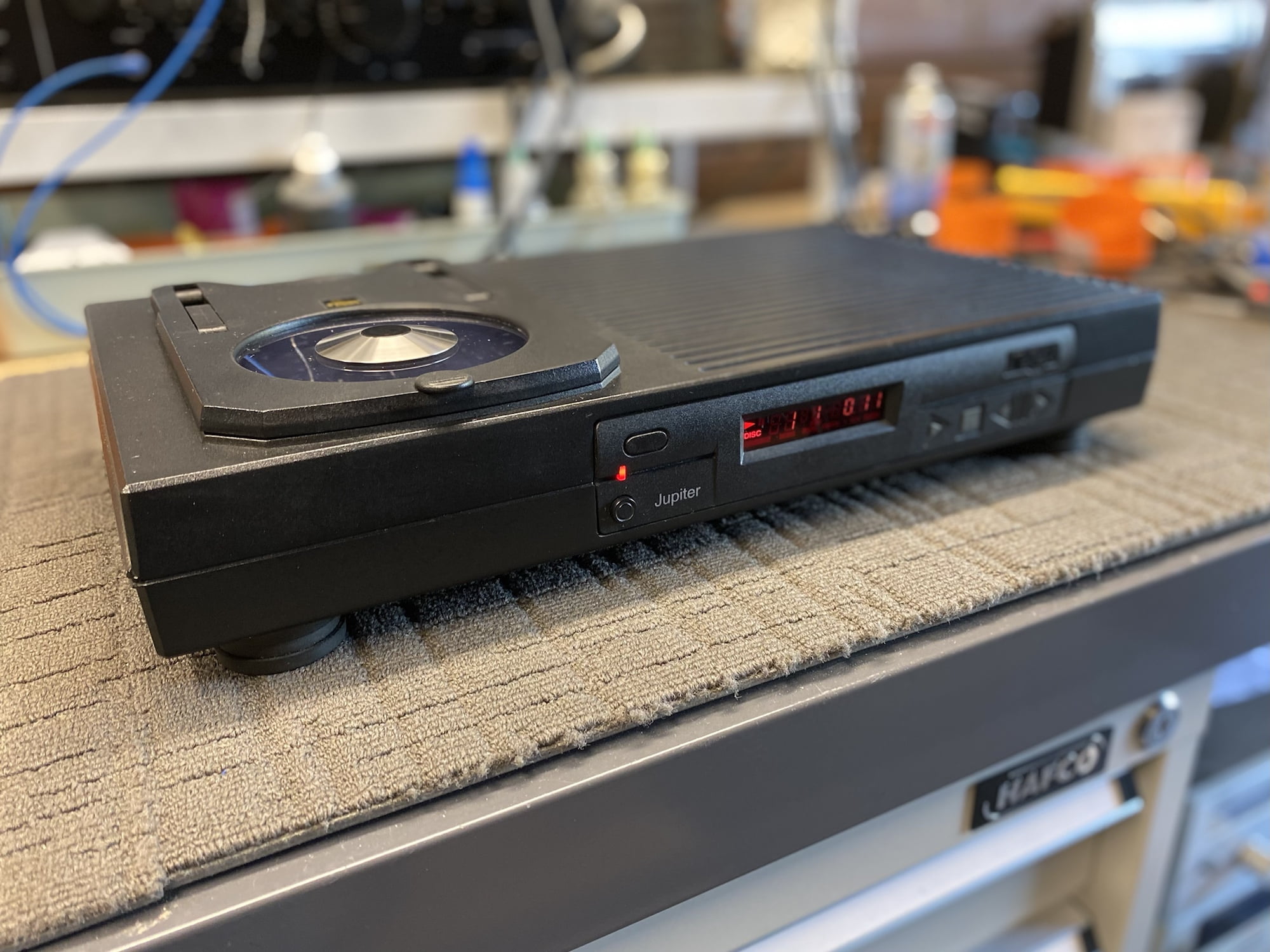 Freshly cleaned and serviced, this Rega Jupiter also comes with the original owners manual and a pristine Solar remote control. The Solar is a Rega system remote that operates a whole slew of their gear from this era. It's a super useful thing to have if you already own a Rega system, and collectible now in its own right.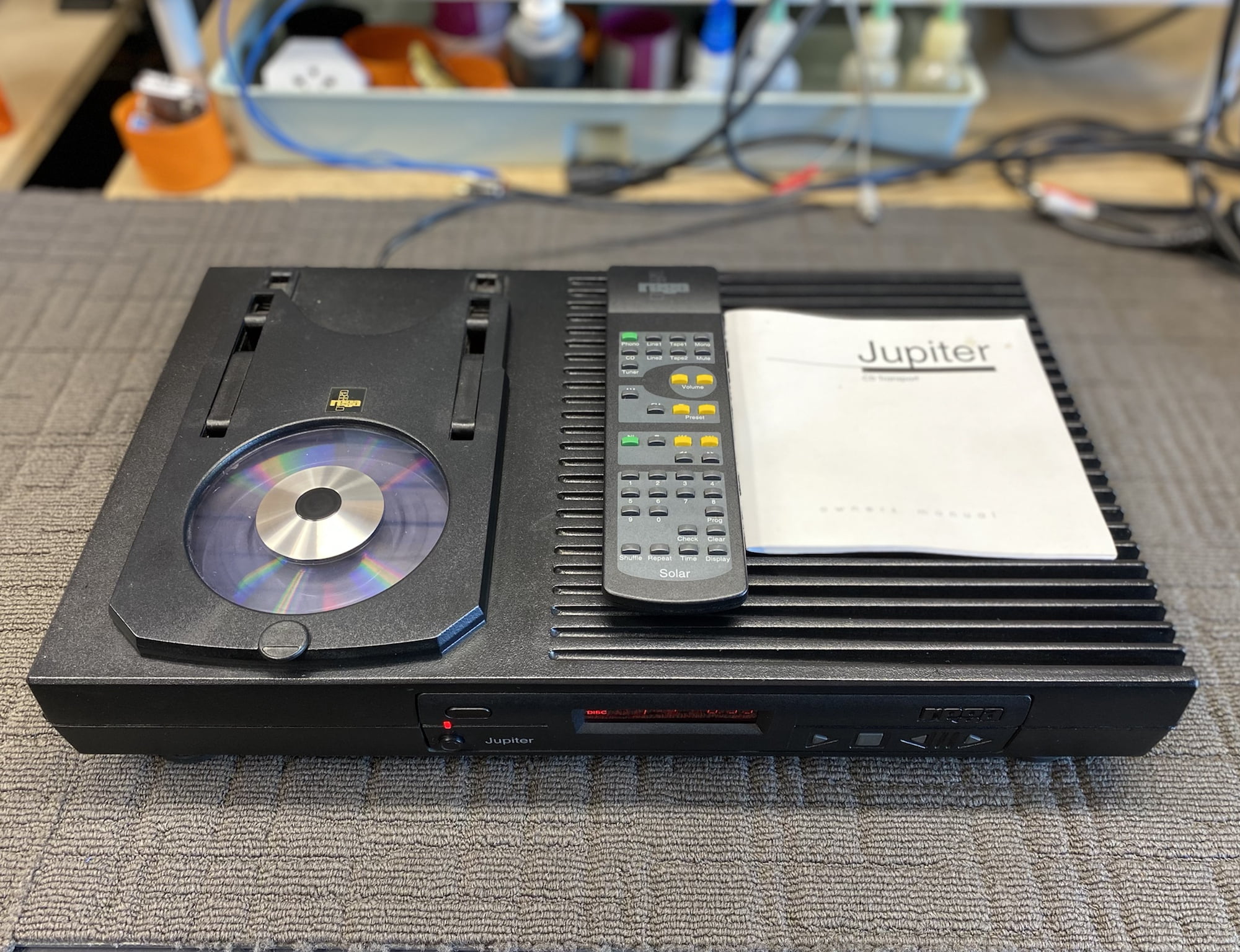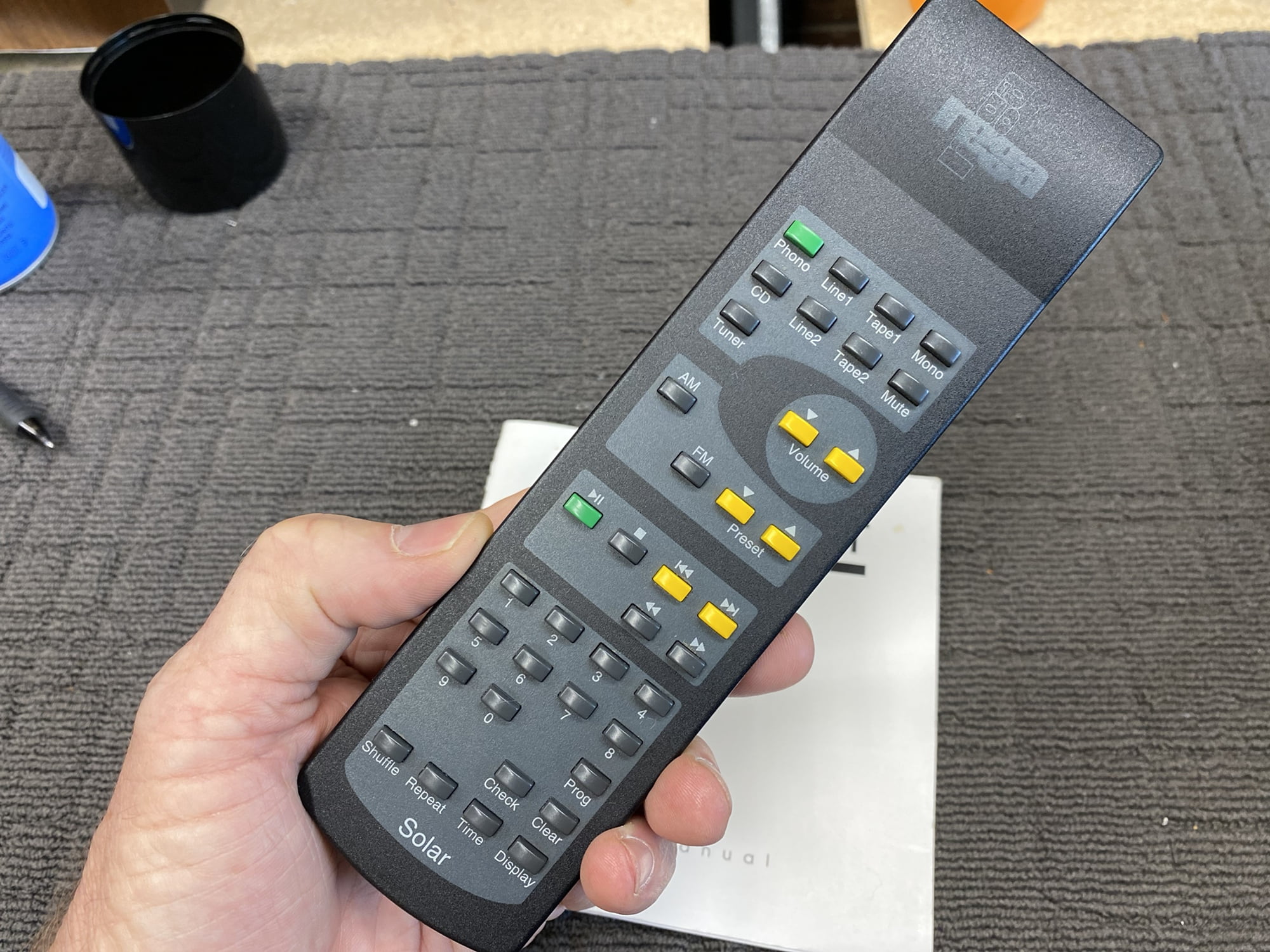 Try to find a single mark on this Solar remote control!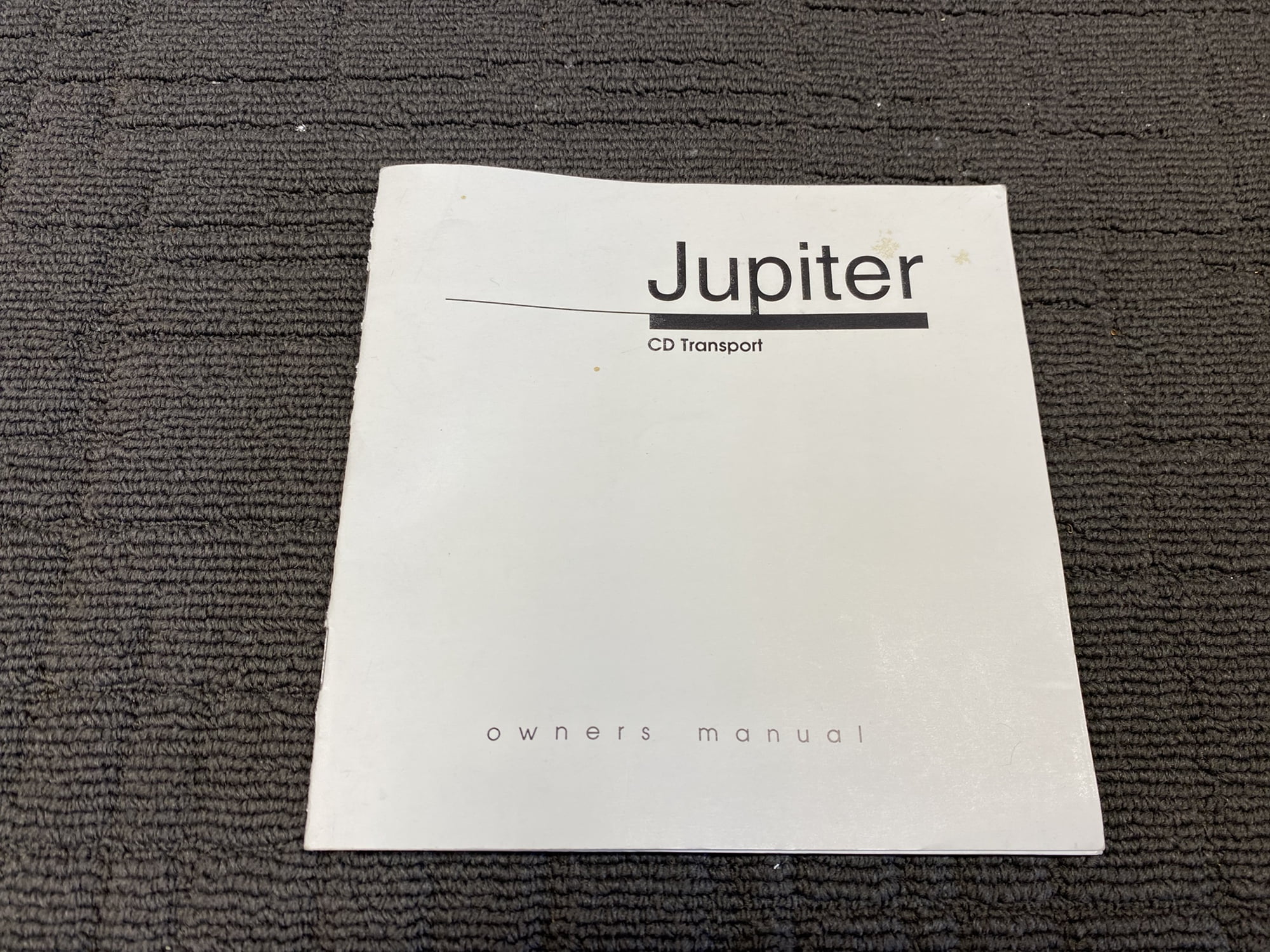 This machine had just one original owner before she came into my possession and is a beautiful example of this now rare CD transport.
This rare Rega Jupiter CD transport and Solar remote can be yours for just $495.
---
Kenwood DP-R5060 5-Disc CD Player
I've just listed this cool Kenwood DP-R5060 5-disc CD player. This is a multi-disc machine and not as nice as the Yamaha player listed elsewhere in the store, but still a good machine, perfect for a second system or to replace a dead multi-disc machine.
This Kenwood DP-R5060 5-disc player is perfect for someone wanting a simple, easy-to-use machine. Grab this classic for just $175.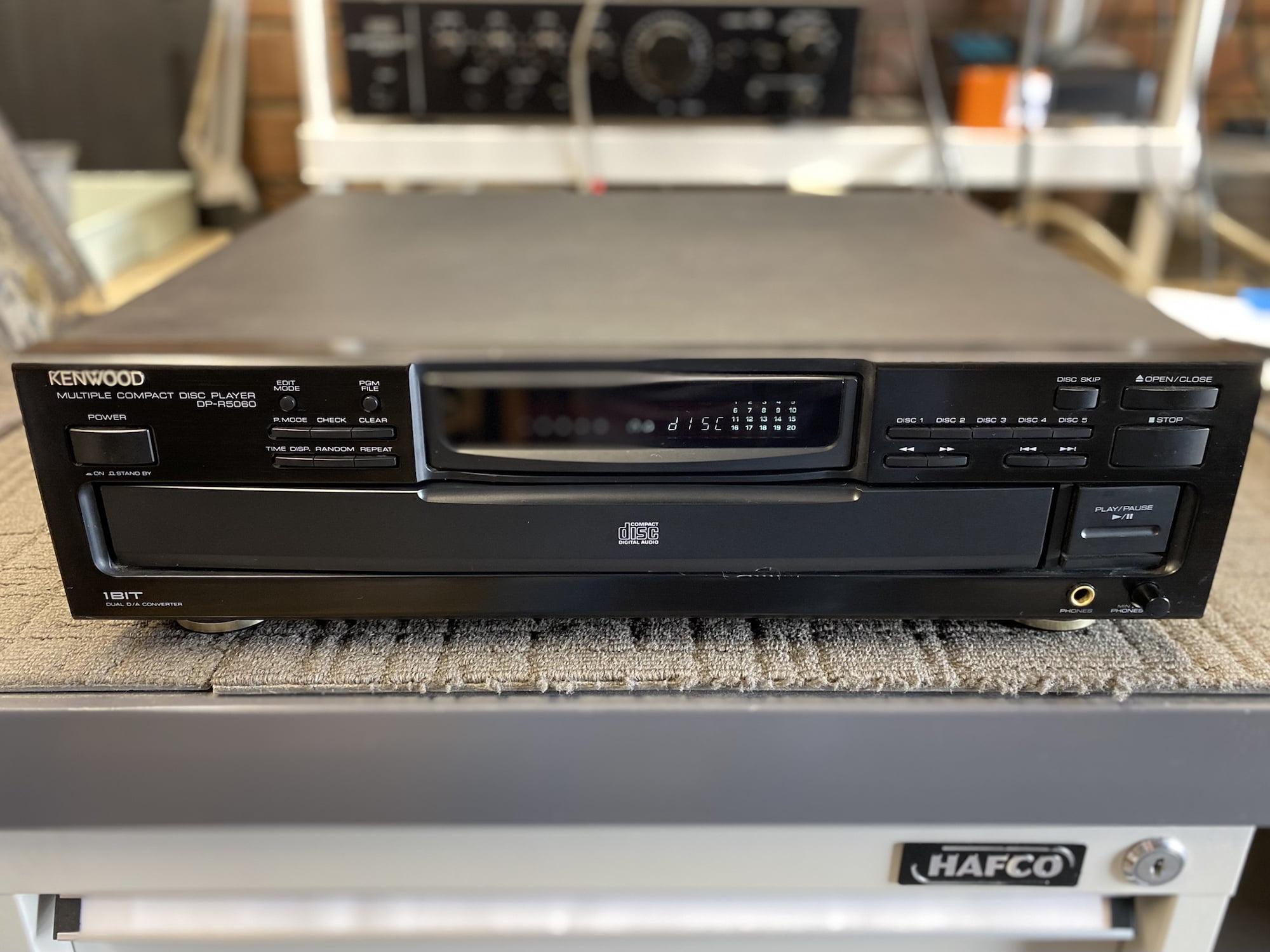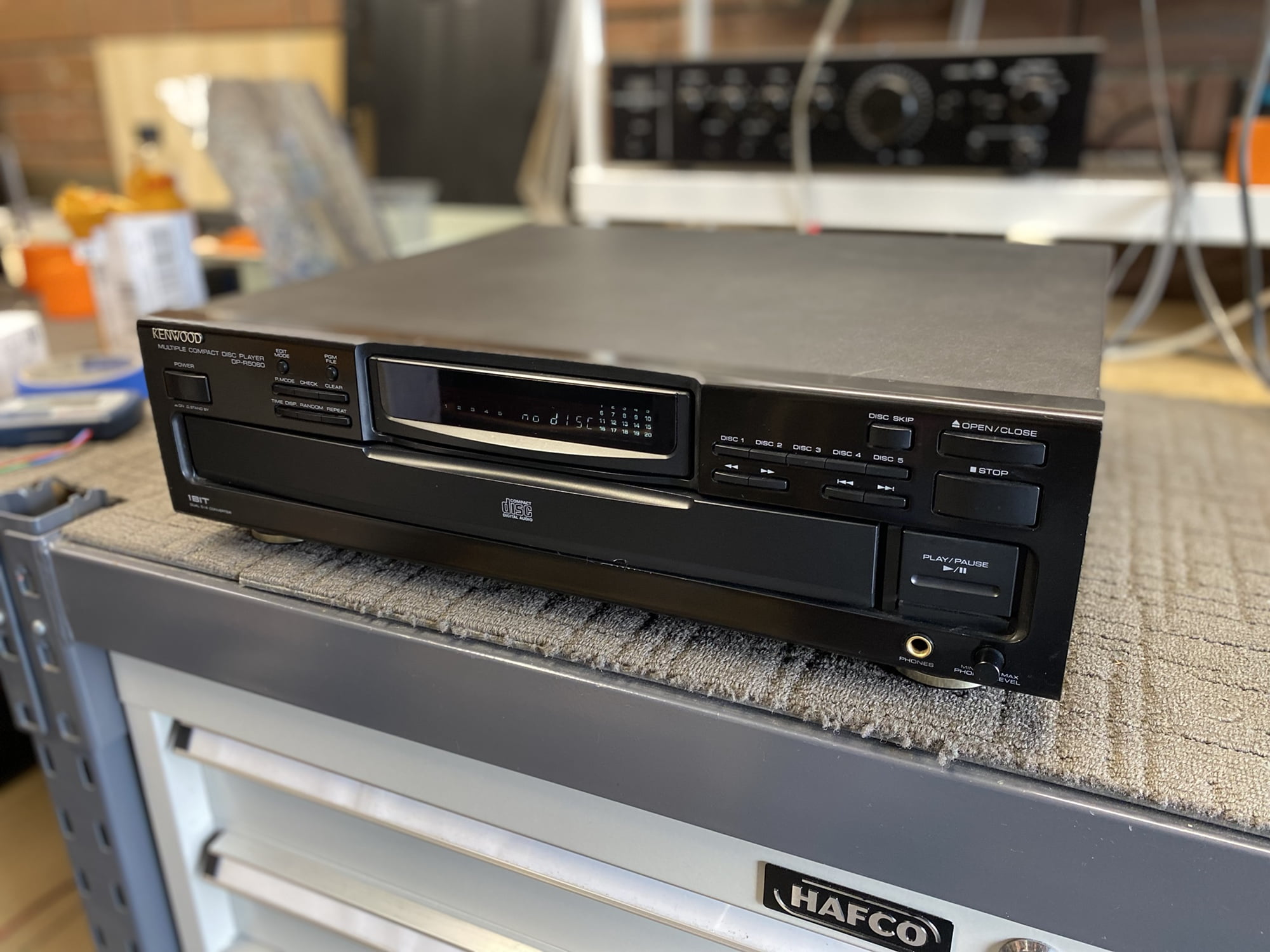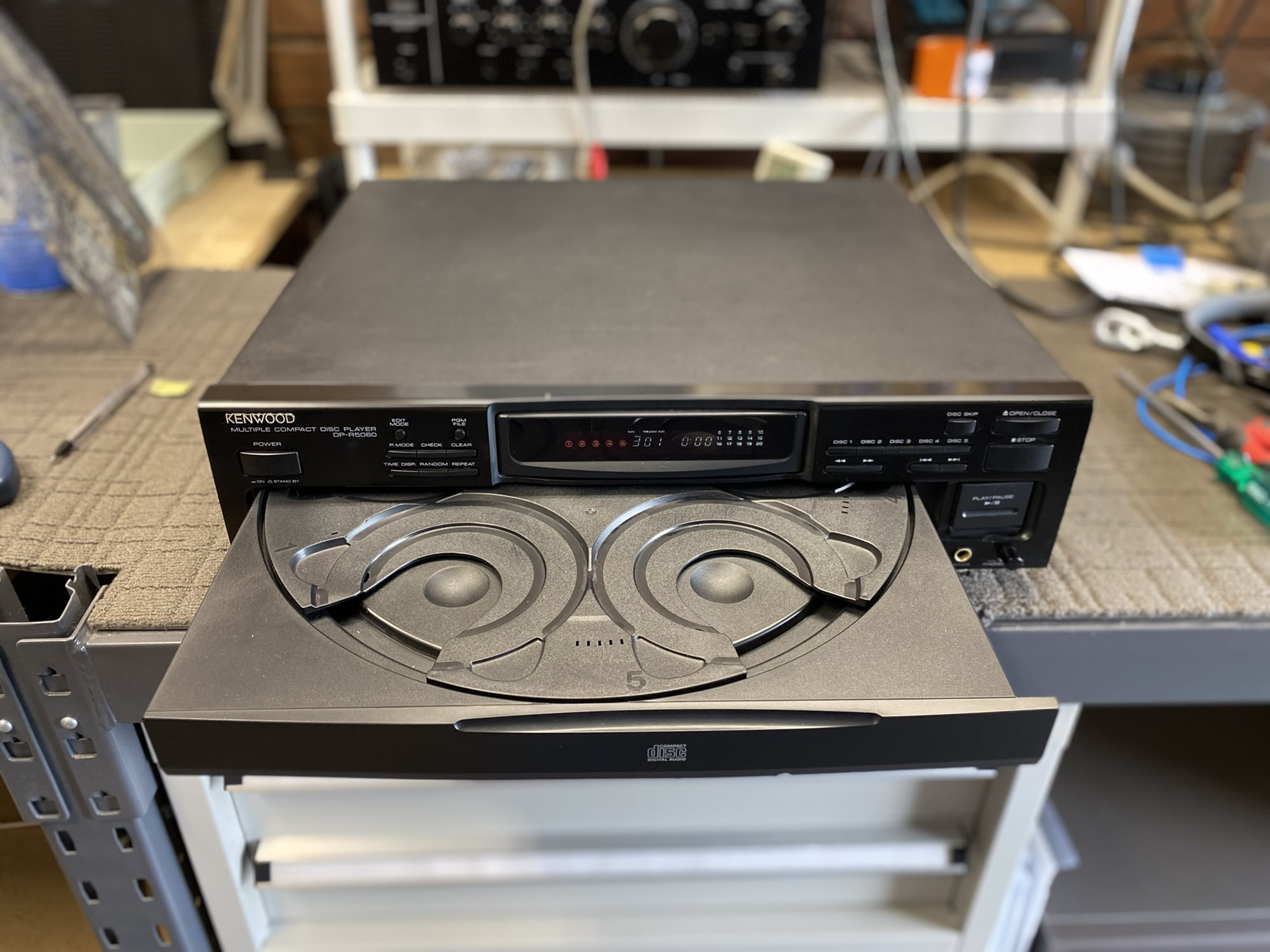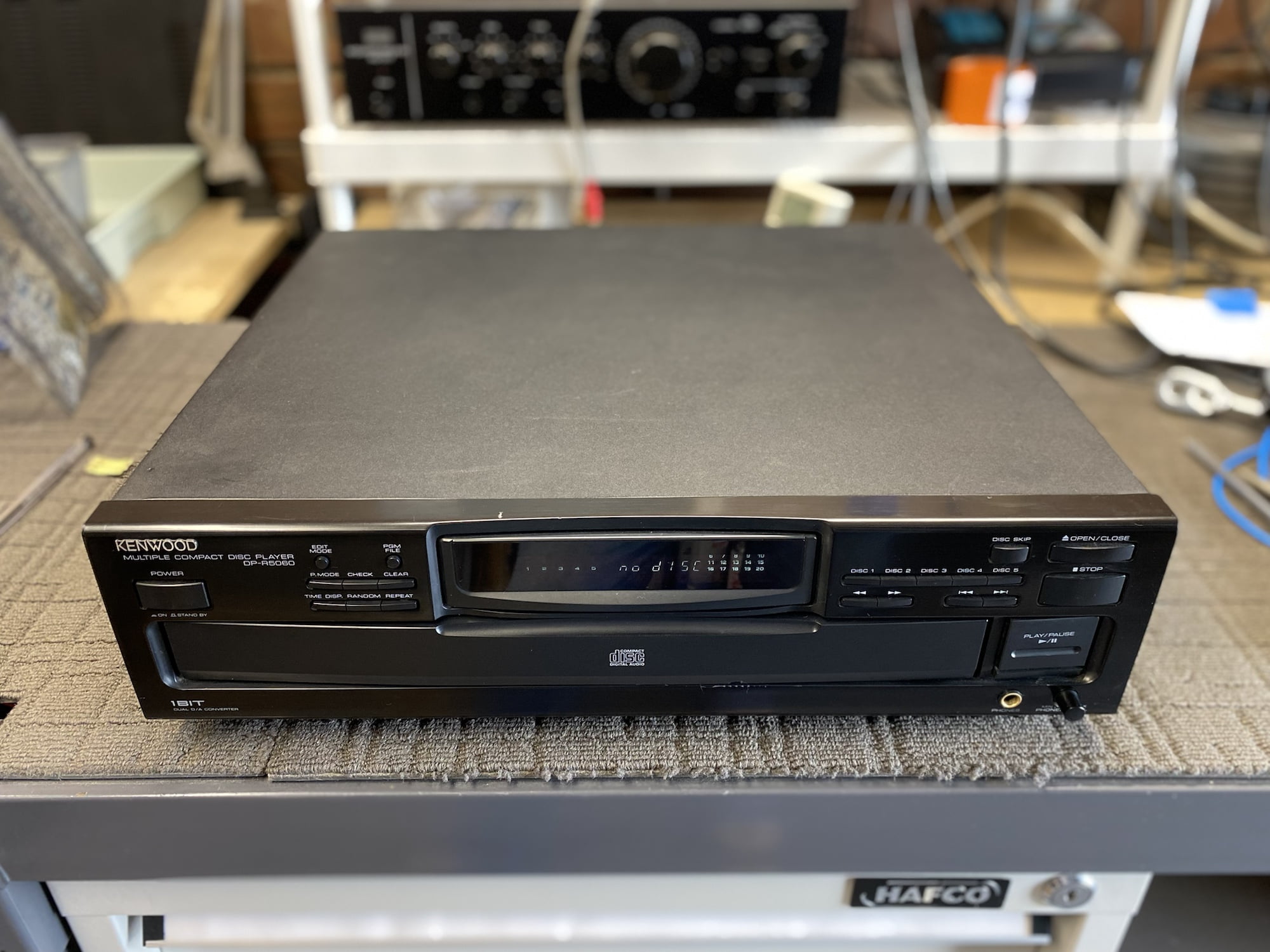 ---
Receivers
Gorgeous Harman/Kardon 230e Receiver, what a beauty!
You just have to see and hear this lovely vintage Harman/Kardon 230e receiver to believe how rich and warm it sounds, and how amazing it looks!
The Harman/Kardon 230e is the last in a very famous H/K receiver lineage that goes back to the late '60s. This final 'E' version really has some '70s energy running through it. I mean just look at the kooky front and top viewable green tuning scale for a start. Plus is plays vinyl, of course, and has a headphone jack, super useful.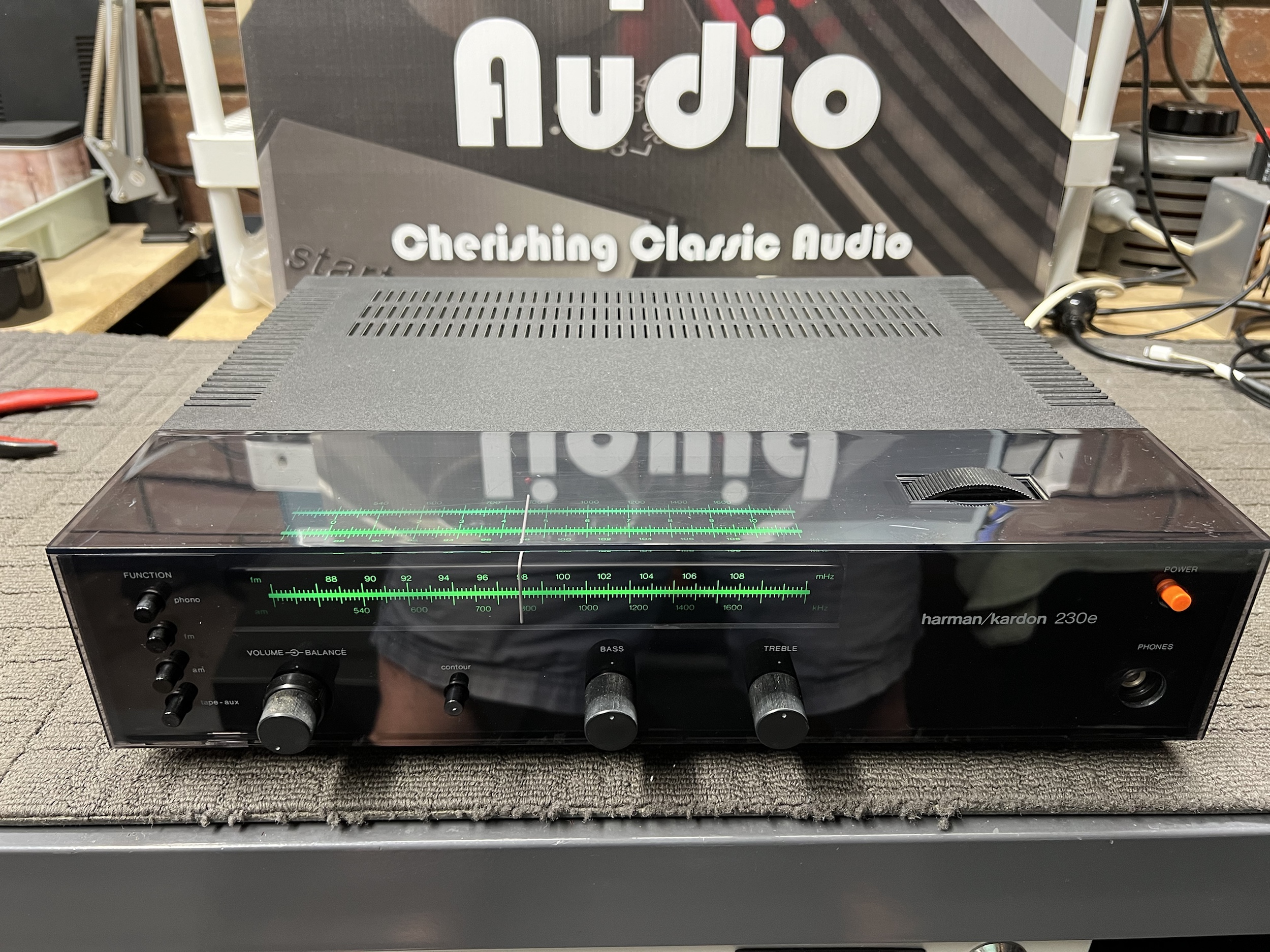 Specifications, courtesy HiFi Engine
Tuning range: FM, MW
Power output: 15 watts per channel into 8Ω (stereo)
Frequency response: 5Hz to 80kHz
Total harmonic distortion: 0.5%
Damping factor: 30
Input sensitivity: 3mV (MM), 200mV (line)
Signal to noise ratio: 60dB (line)
Dimensions: 406 x 356 x 108mm
Weight: 6.4kg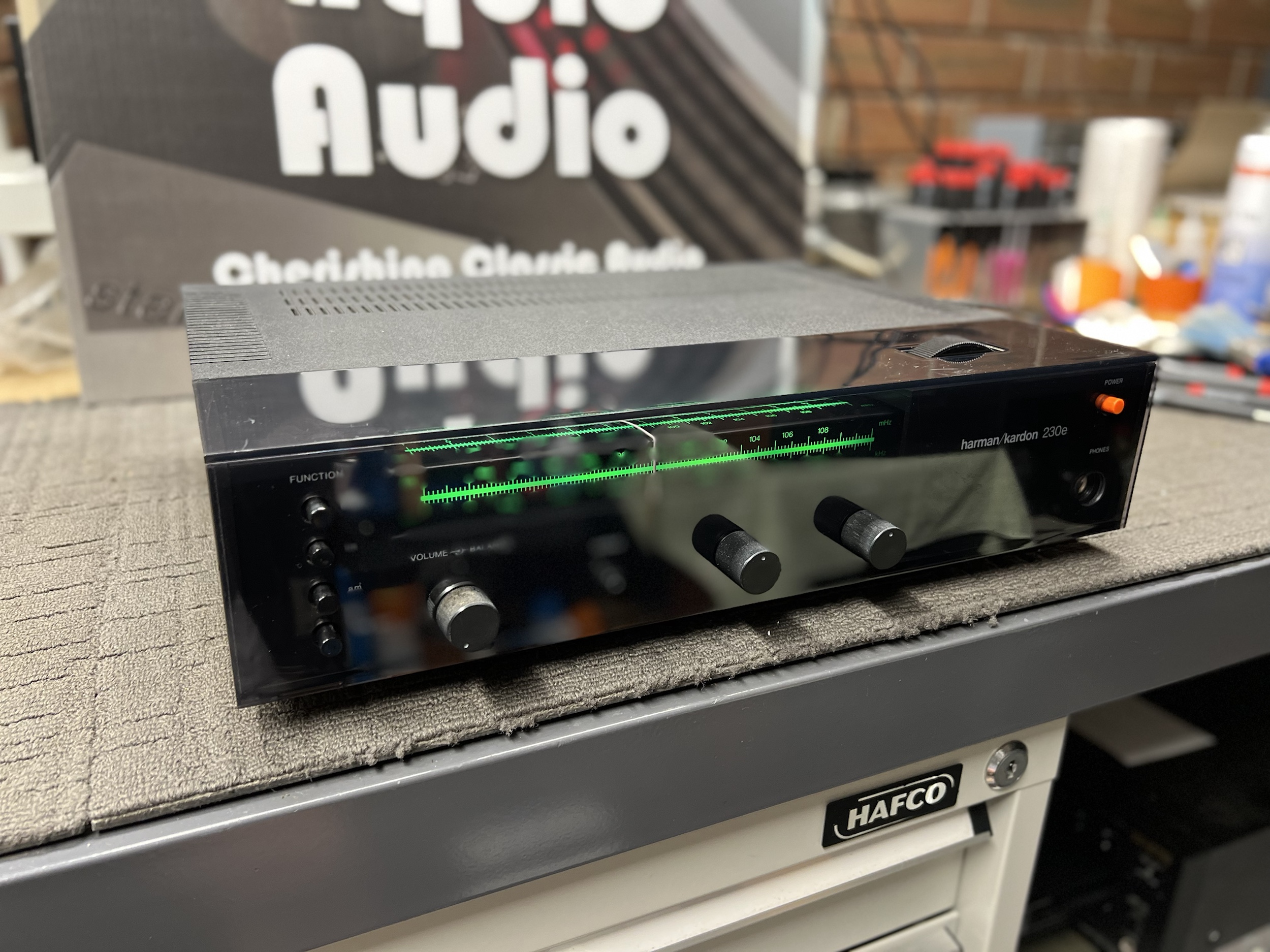 As usual, freshly serviced and this one was no mean feat, taking me several hours. That's several hundred dollars of work you don't need to have done, including four new LED lamps. these were such a pain to replace, I was only going to do it once, hence the LEDs.
This old girl has all the usual features of equipment from this era – solid build, serviceability, warm sound and retro/vintage looks that just cannot be replaced, no matter how hard they try.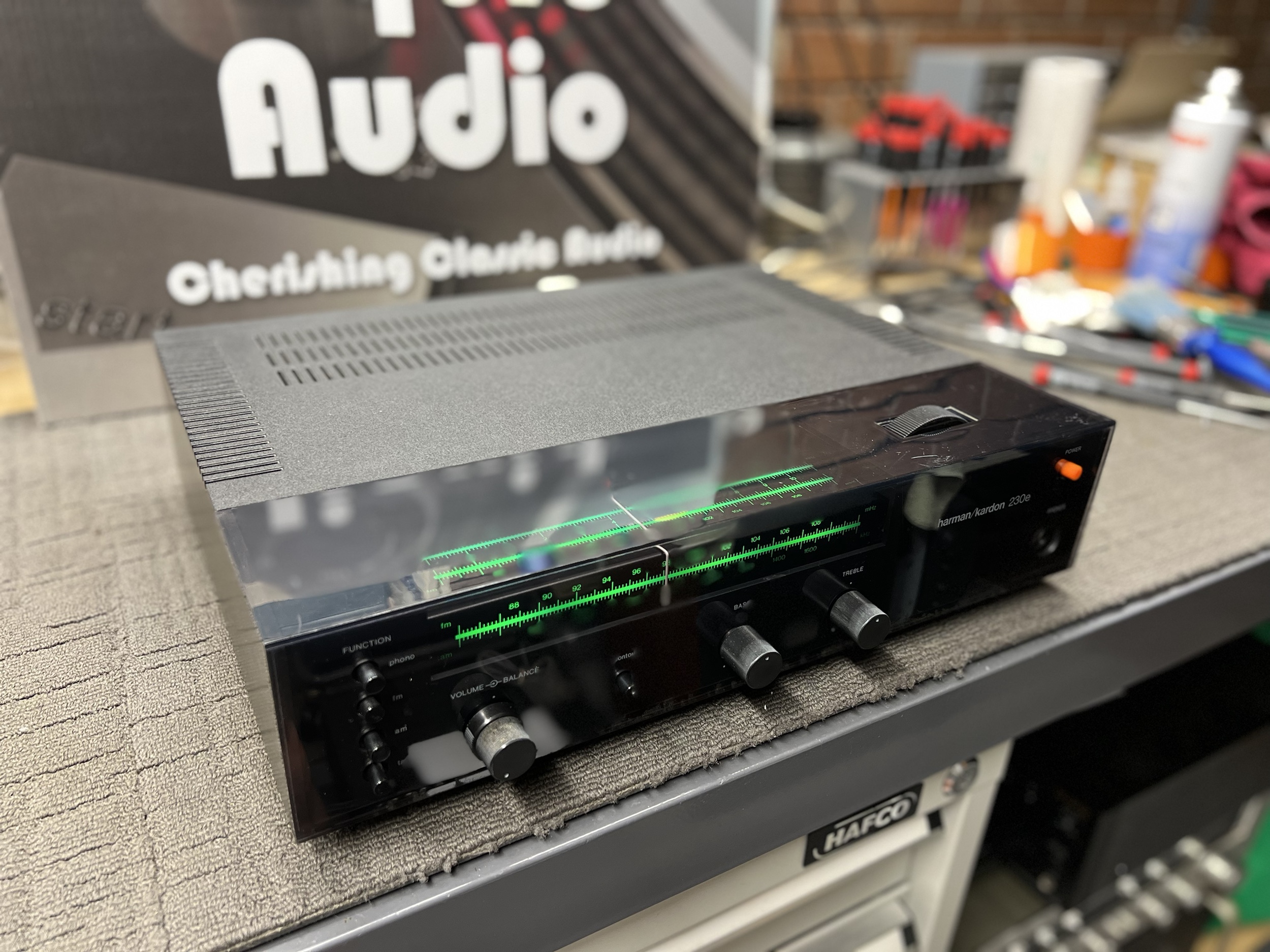 This classic Harman/Kardon receiver is just begging to be situated in a cool, retro system somewhere. Grab her for $495.
---
Speakers
Uber-Rare Set of Two Genuine NOS Yamaha NS-1200 / JA3120 Woofer Re-Cone Kits!
These NEVER, EVER come up.
Yes, this is likely the only set of two genuine Yamaha NS-1200 JA3120 woofer re-cone kits left. IN. THE. WORLD!
I have too much NOS stuff and as long as I don't own NS1200s, I need to move these kits on. I realise that as soon as I sell them I'll find a pair, but that's too bad.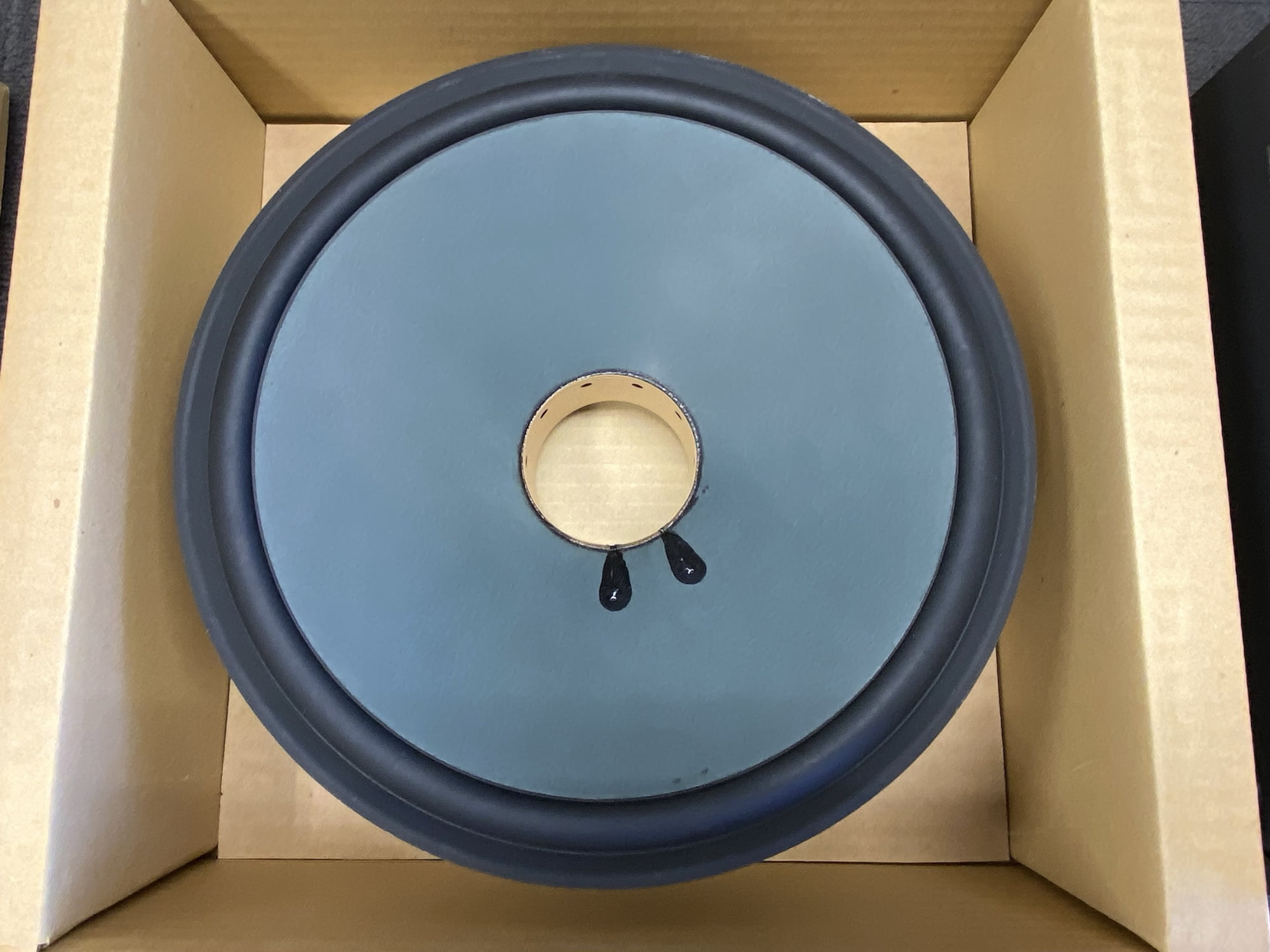 If you own NS-1200s and want to re-cone your JA3120 woofers, the only way to do it properly is with genuine parts like these. The woofers won't retain their Theile-Small characteristics unless you use genuine parts.
This pair of re-cone kits will repair damaged spiders, voice coils and surrounds. These genuine Yamaha parts come in factory original boxes and include cones, surrounds, voice coils, spiders and braids. The original boxes retain all of their foam support material, so shipping should be perfectly safe.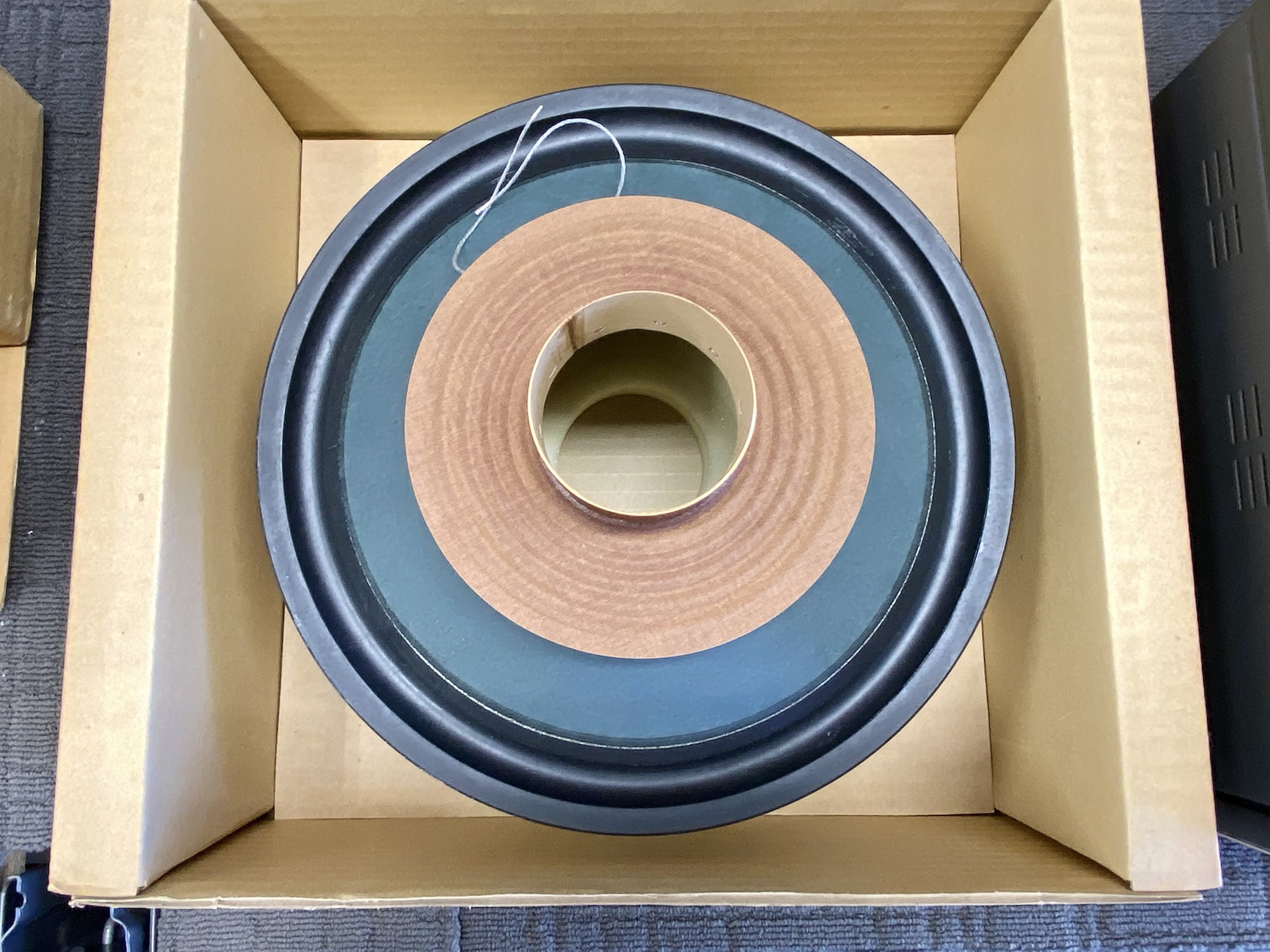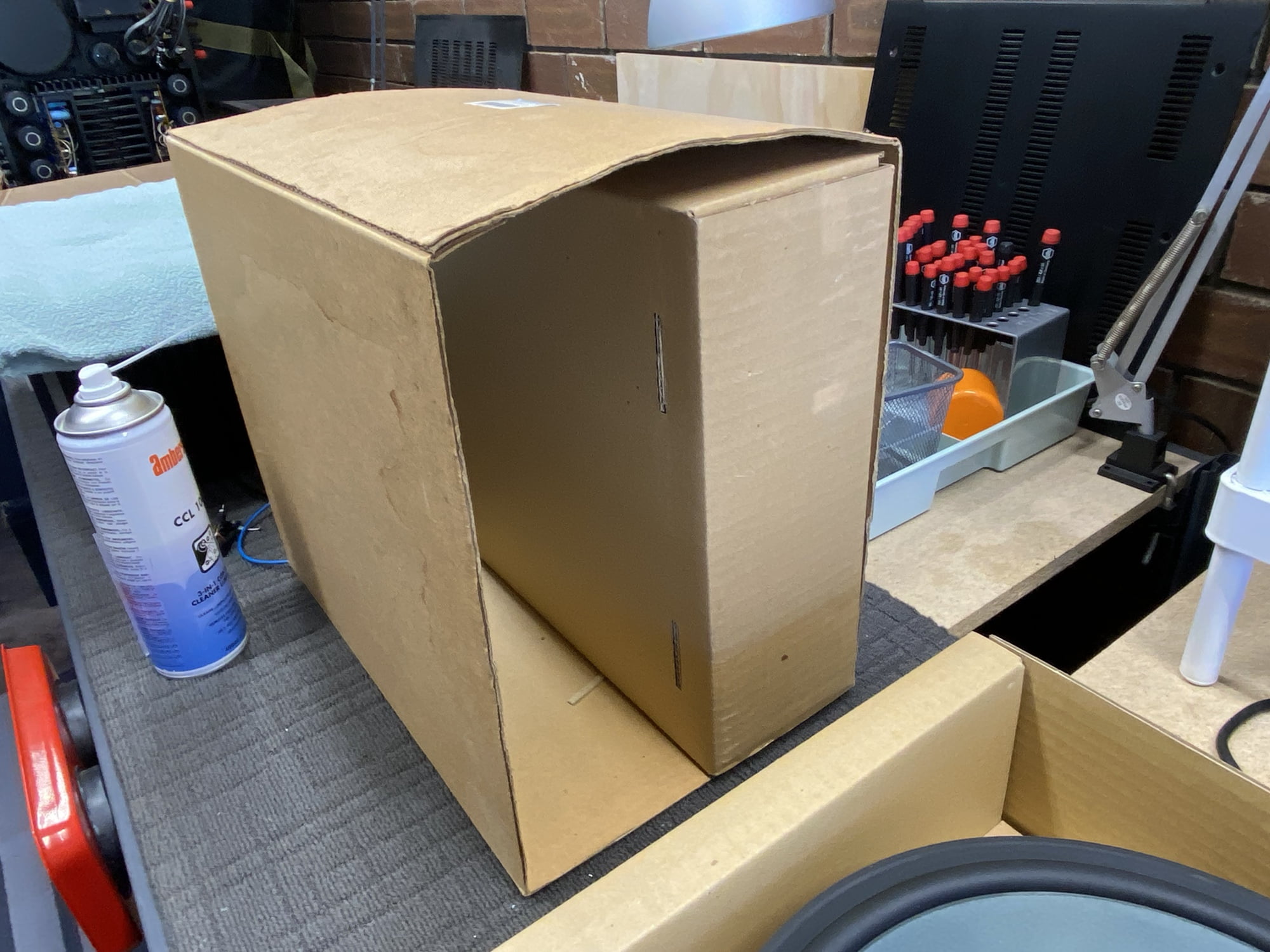 These are in perfect, unused, original condition. Shipping anywhere, at cost. Sold as-is, these are NOS spare parts, no warranty.
Keep in mind there will likely never be another pair of these for sale.
All serious offers entertained, get in touch to discuss.
---
Turntables
Gorgeous Yamaha P-500 Fully Automatic Direct-Drive Turntable
Check out this gem, another one owner beauty from a wonderful customer of mine. This very well cared for Yamaha P-500 direct-drive turntable is an absolute classic and naturally has also just been serviced. This great deck is good to go.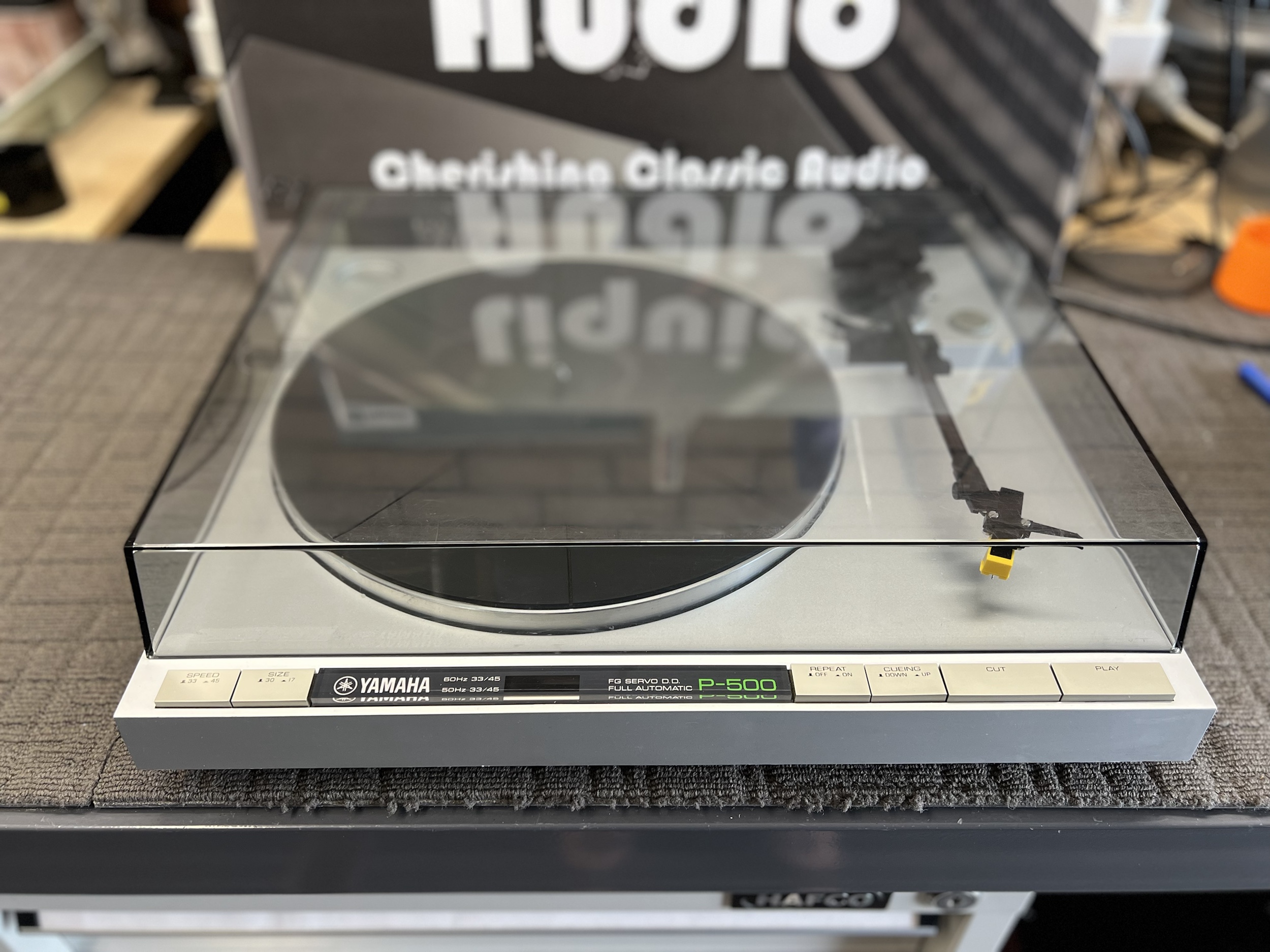 This is a really decent machine, you'd spend a couple of thousand dollars now to get anything of this quality new and trust me, it won't be full-auto, made in Japan or a vintage hi-fi classic like this one. This Yamaha P-500 is a literal world away from the cheap junk out there under $1000.
Specifications, courtesy Vinyl Engine
Drive system: FG servo direct drive
Motor: 8-pole coreless DC hall motor
Platter: 300mm, 1.0kg diecast aluminium
Speeds: 33 and 45rpm
Signal to noise ratio: 78dB
Wow and flutter: 0.025% wrms
Tonearm: straight arm
Effective length: 222mm
Overhang: 16mm
Offset angle: 23 degrees
Cartridge weight range: 2.5 to 9g
Dimensions: 435 x 111 x 378mm
Weight: 6.4kg
With this futuristically styled deck, you just hit play and she plays, doing everything from moving the arm to the first track, to lifting and lowering it gently onto the record.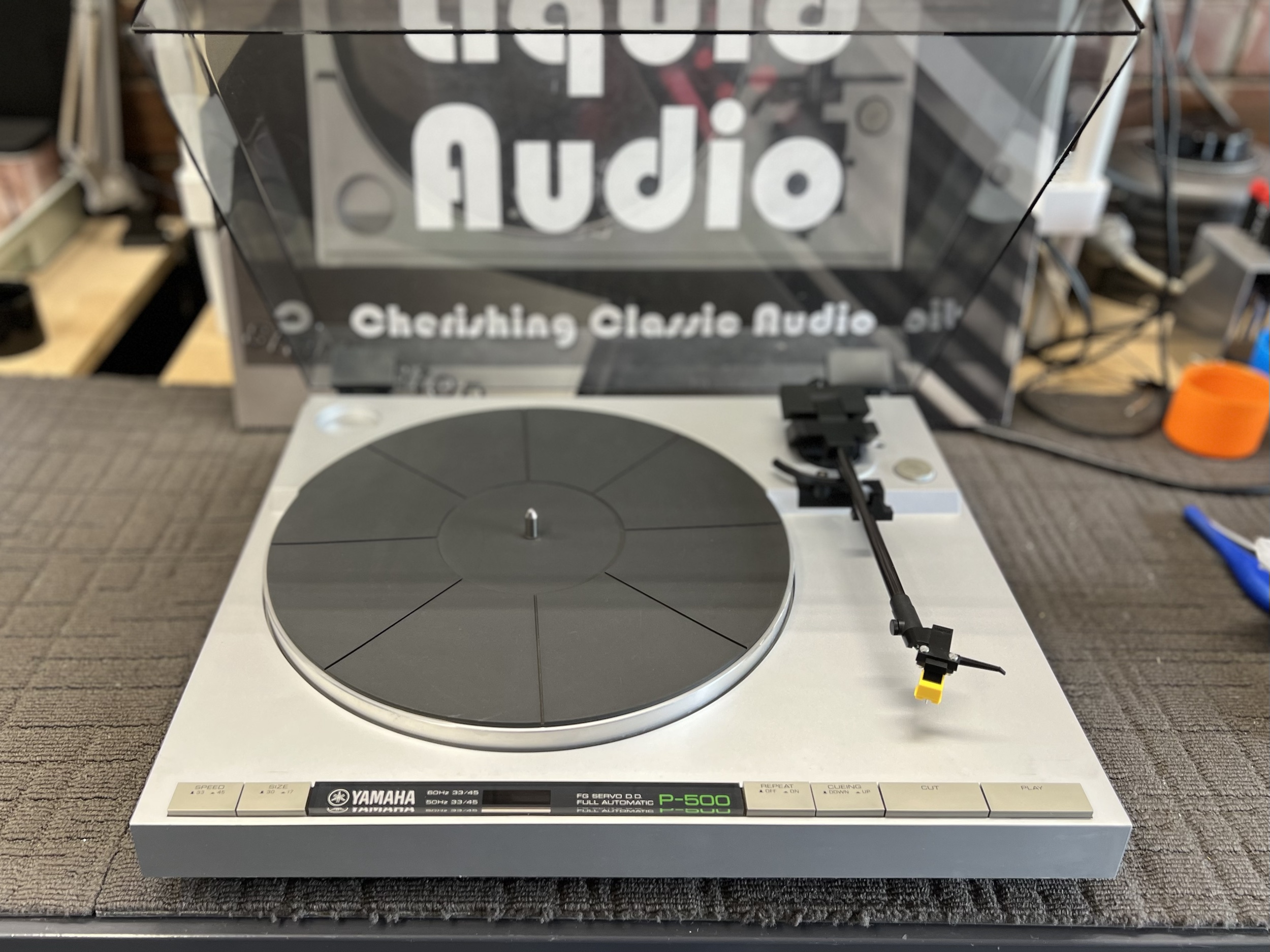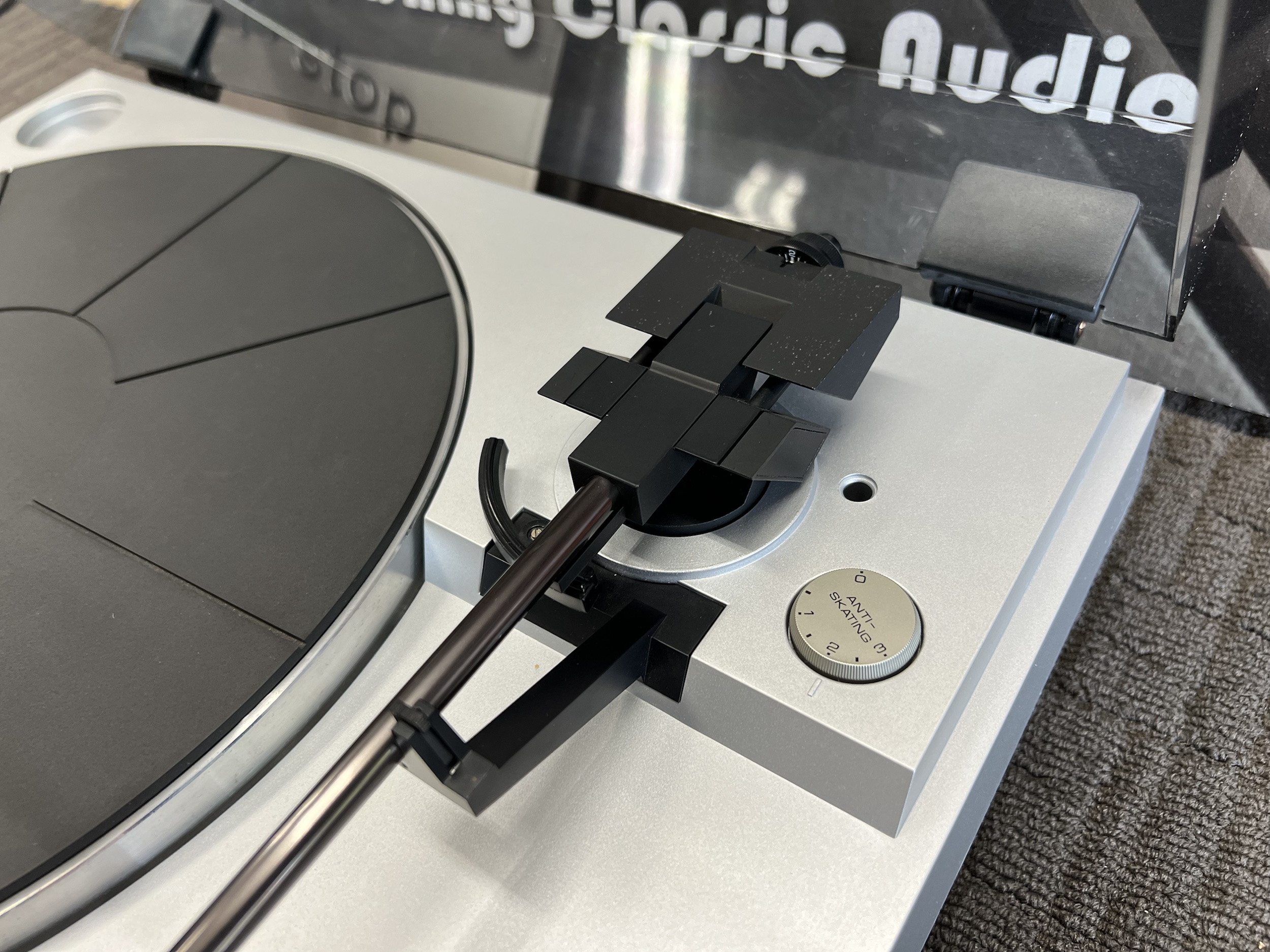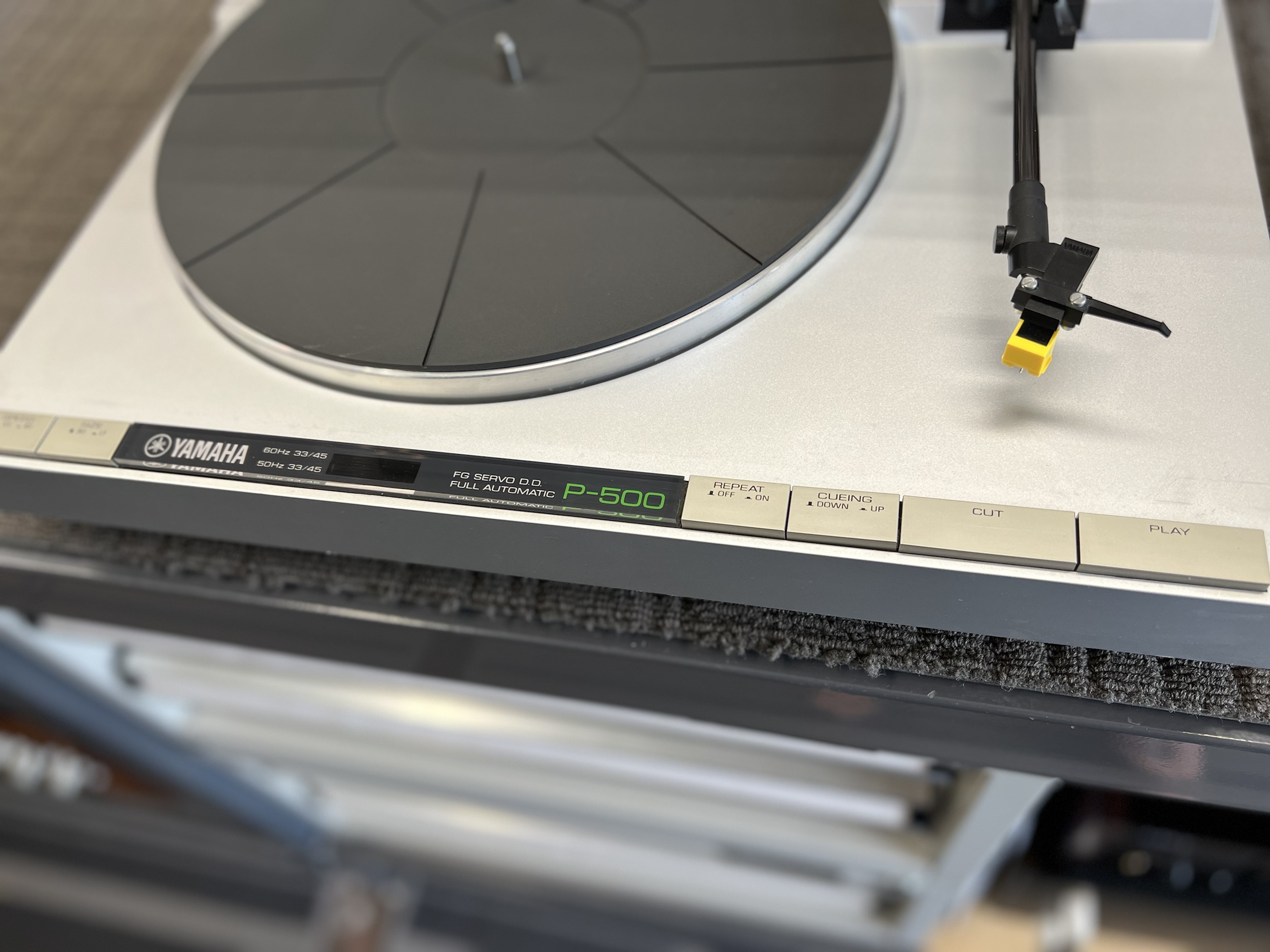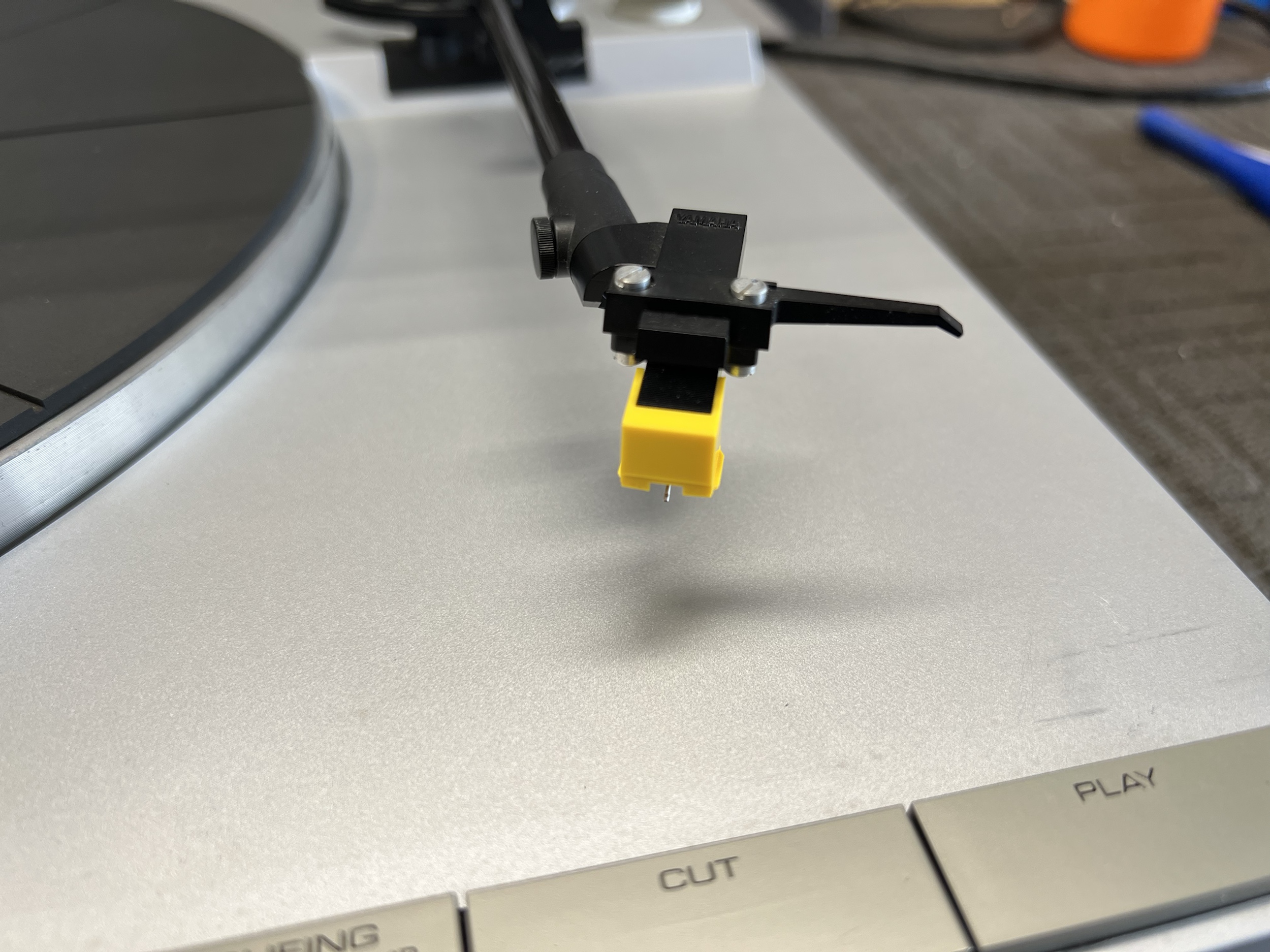 This lovely, one-owner Yamaha P-500 direct-drive turntable perfect suits the Yamaha collector or anyone looking for a simple but high-quality automatic deck for a main or second system. Let me know if that's you! She's just been serviced and is yours for $750.
---
Miscellaneous
Stunning Sony MDS-JA30ES Minidisc Player
The MDS-JA30ES was Sony's second from the top-of-the-line minidisc player and an absolute beauty.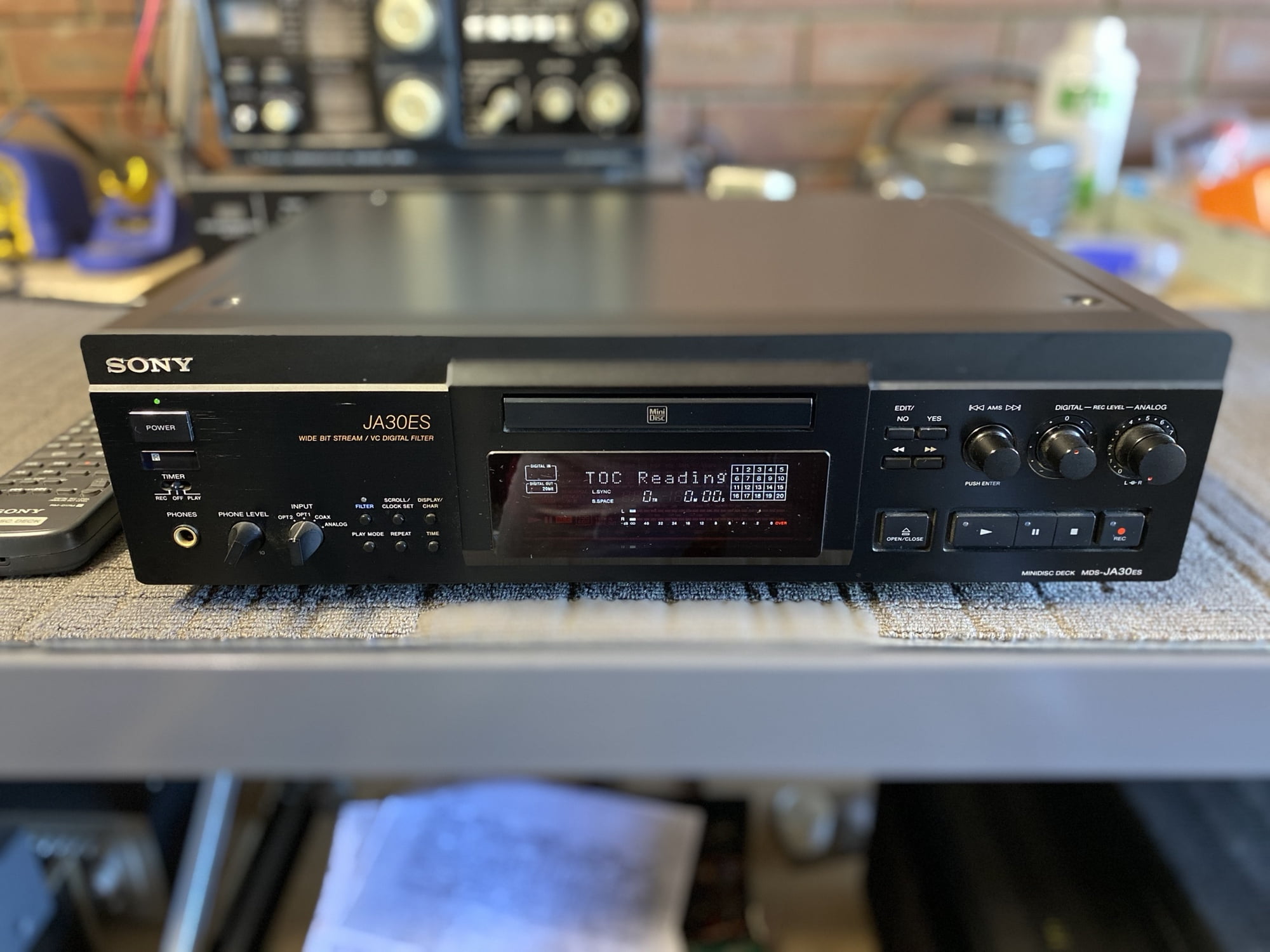 This unit is from my personal collection and is in as close to pristine condition as you'll find. I've just given her a full mechanical service, new drive belt, cleaned and lubed the loader and replaced several capacitors in the power supply.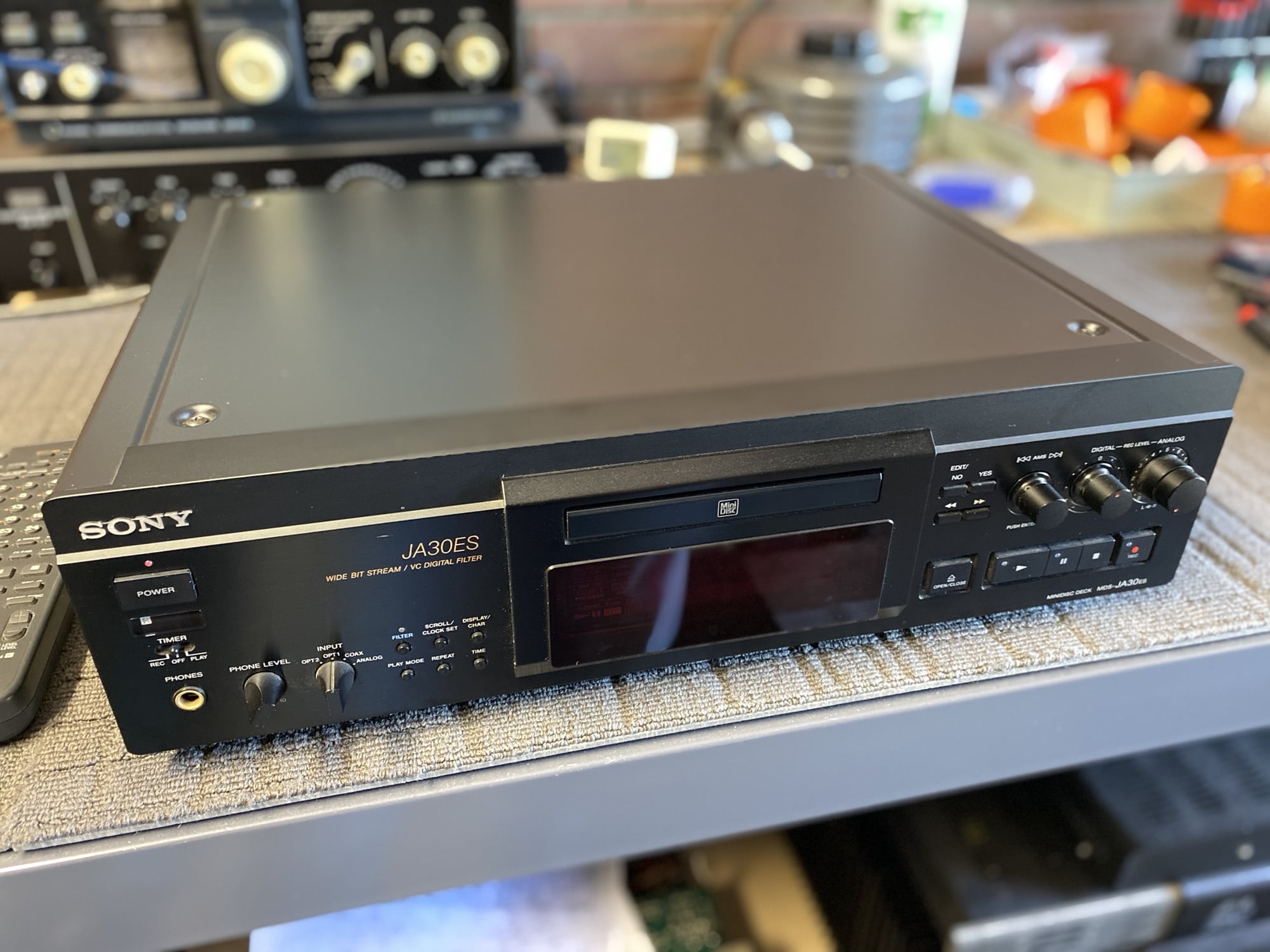 Specifications, courtesy HiFi Engine:
Type: Minidisc Player/Recorder
Track System: 2-channel stereo
Optical Pickup: KMS-210A/J-N
Sampling Frequency: 44.1kHz
Frequency Response: 5Hz to 20kHz
Signal to Noise Ratio: 104dB
Analogue Inputs: 125mV (line)
Analogue Outputs: 2.0V (line)
Digital Inputs: coaxial, optical
Digital Outputs: optical
Dimensions: 430 x 125 x 345mm
Weight: 9.3kg
Accessories: remote control
Year: 1997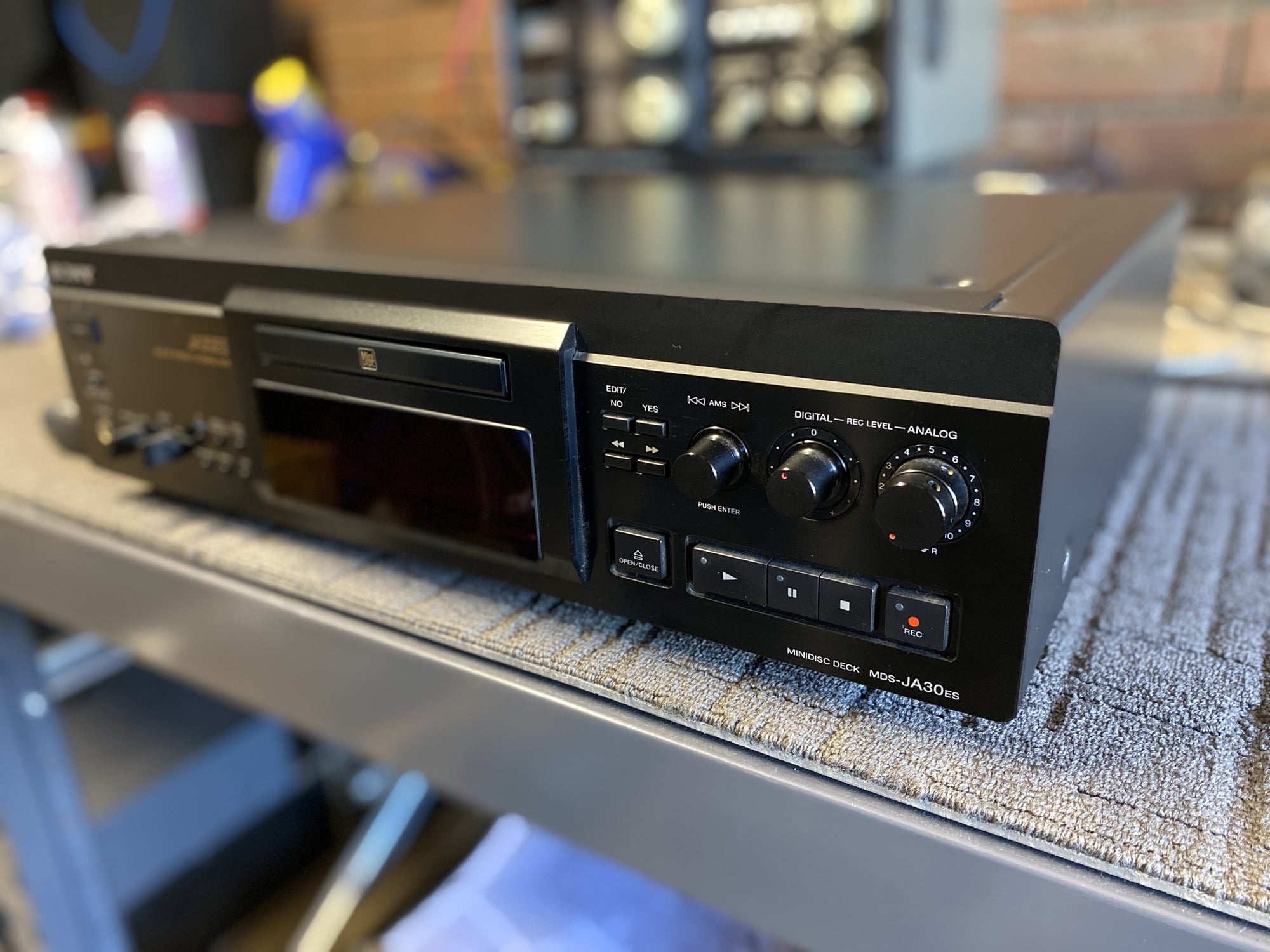 There is a problem though, this MDS-JA30ES no longer reliably reads discs. This is a common problem amongst Sony mini-disc players of this era. Sometimes she reads and plays a disc perfectly, other times not.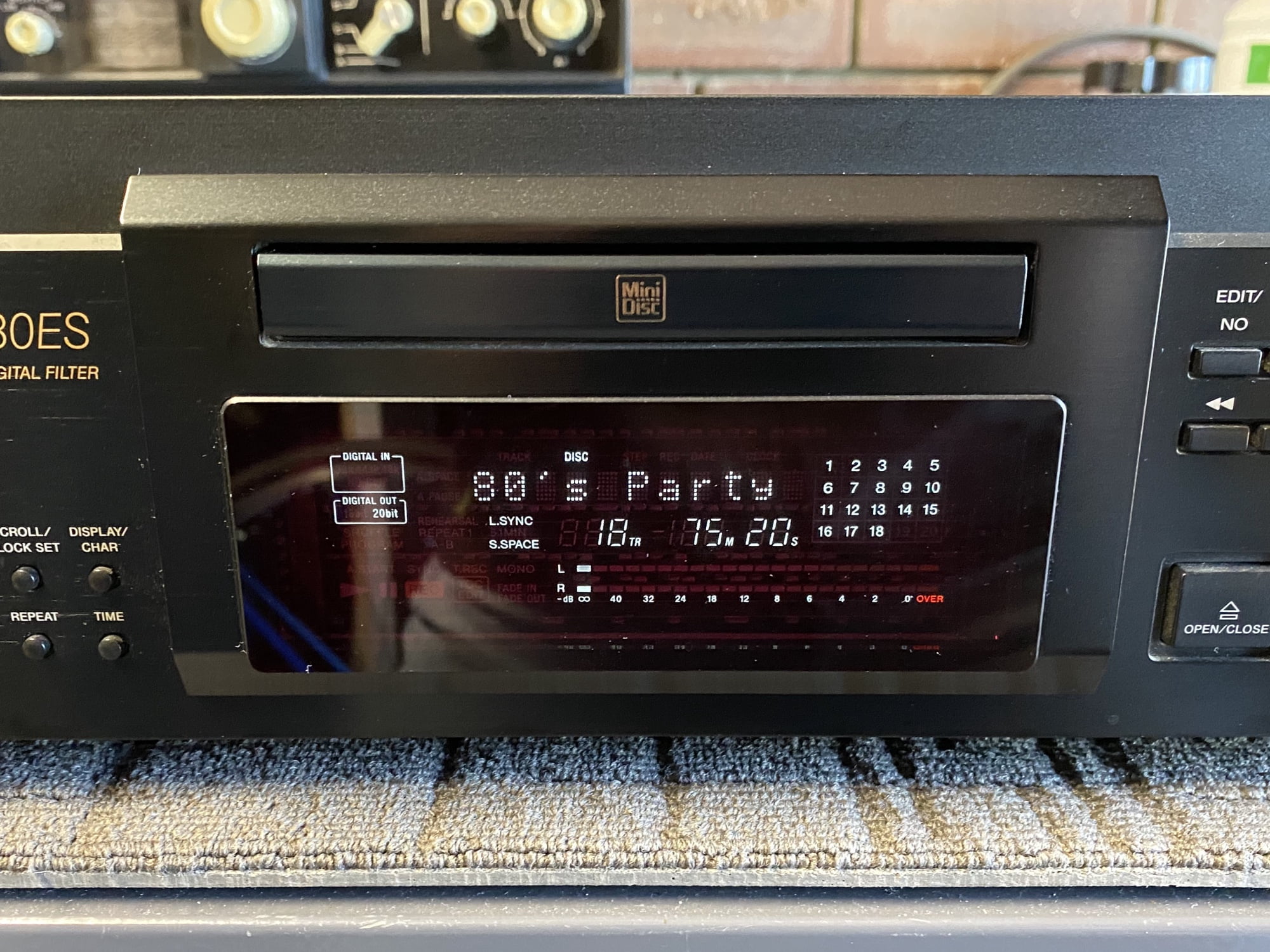 It most likely just needs a new laser. These are hard to come by and sadly this means that this stunning machine is sold for parts or project work only. She also comes with a pristine remote control. Offers welcome on this one!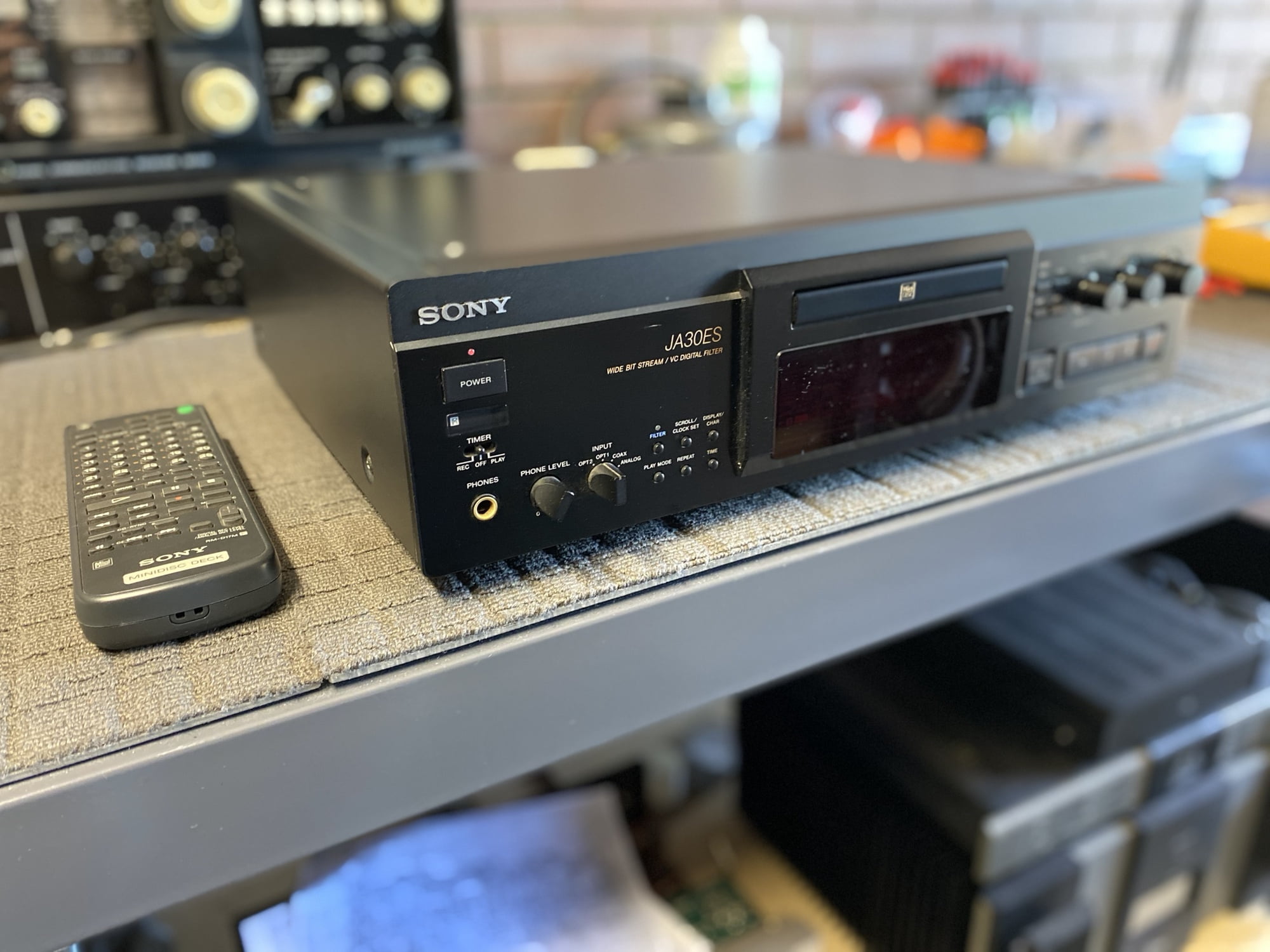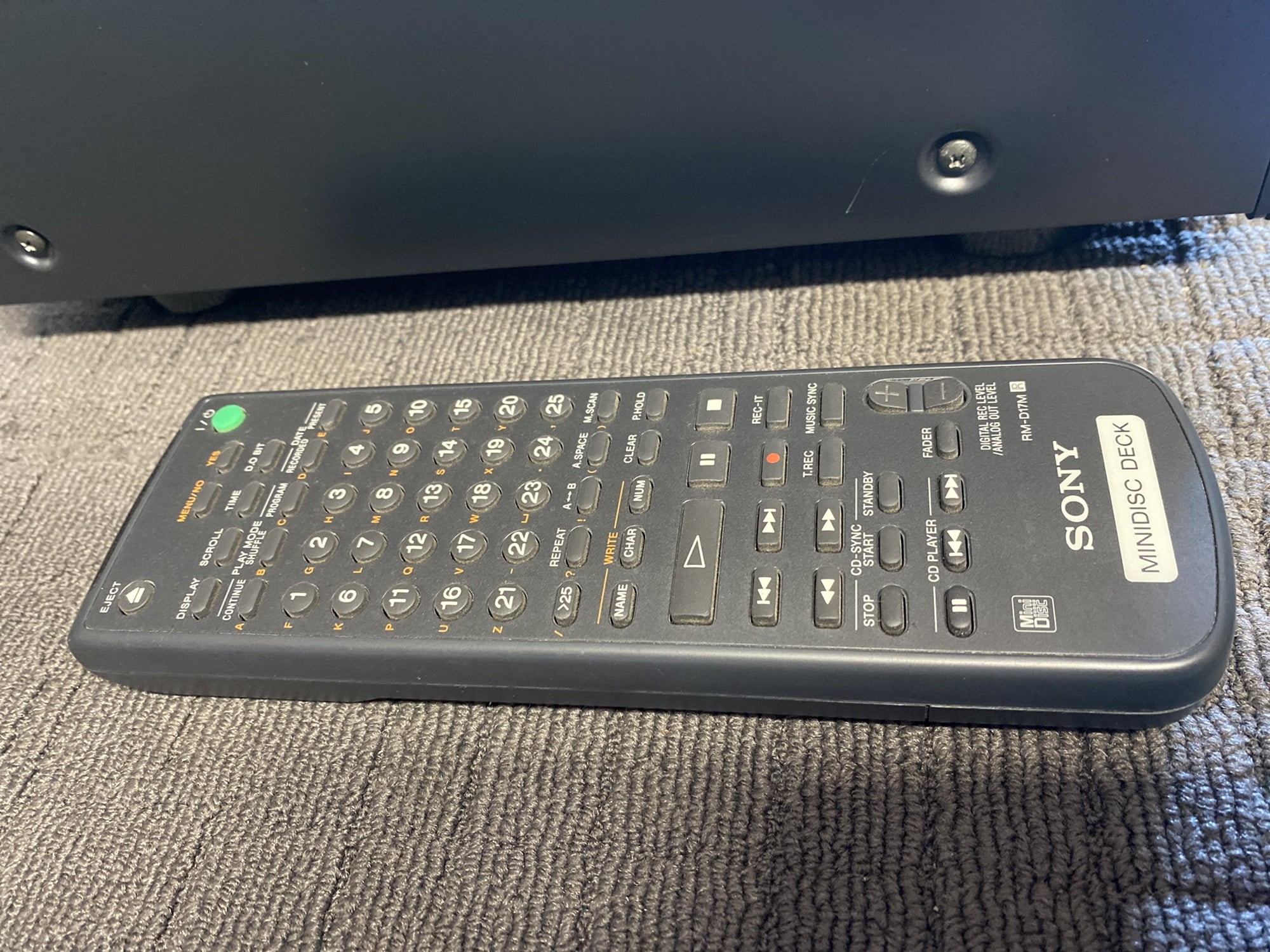 ---
Raytheon JAN 5703WB 'Trivistor' Vacuum Tubes
Many will have seen my articles and videos on the iconic Musical Fidelity Tri-Vista 21 Tube DAC. If you need a set of 5703WB vacuum tubes for yours, look no further.
I have 50 – now approx 35  Raytheon 5703WB vacuum tubes available for sale, all from the same production batch. This is the mil-spec, 50+G rated triode tube used in the class-A output buffer of the Tri-Vista 21, Tri-Vista SACD Player, the Tri-Vista 300 Integrated Amplifier and others.
This batch of NOS Joint Arm Navy Raytheon 5703W tubes was made in December 1979 and is a rare find. Good examples like these rarely come up for sale. Many I've seen are later examples, in tatty boxes, sometimes even used! Remember, with NOS tubes, the older the better, generally speaking.
All boxes are intact and in excellent to perfect condition. All tubes are NOS, never used, in perfect condition.
Grab a pristine NOS set for your Musical Fidelity Tri-Vista 21 or other project whilst these early date code units are available. Keep them tucked away for when you need them – if you own equipment that uses them, you will eventually need to replace them.
Priced at just $25 AUD per tube. Remember, these NOS tubes are all from the same 12/1979 production batch.