This Pioneer CT-A7X three-head cassette deck service and repair is quite a story and one that I hope you'll enjoy as much as I enjoyed the job.
I love cassette decks, especially decks like this beautiful Pioneer CT-A7X. In fact, my own reference deck is a Pioneer CT-A9X, the best deck Pioneer made for many years. I also own a Nakamichi 670ZX, Harman/Kardon CD-491, and others. Don't ask me why cos I don't know!
Pioneer made some extraordinary cassette decks over the years, some of my absolute favourites. Both the CT-A7X and CT-A9X share very similar 'Reference Master' mechanisms, the iteration found in the CT-A9X being probably the greatest mechanism Pioneer put into a cassette deck.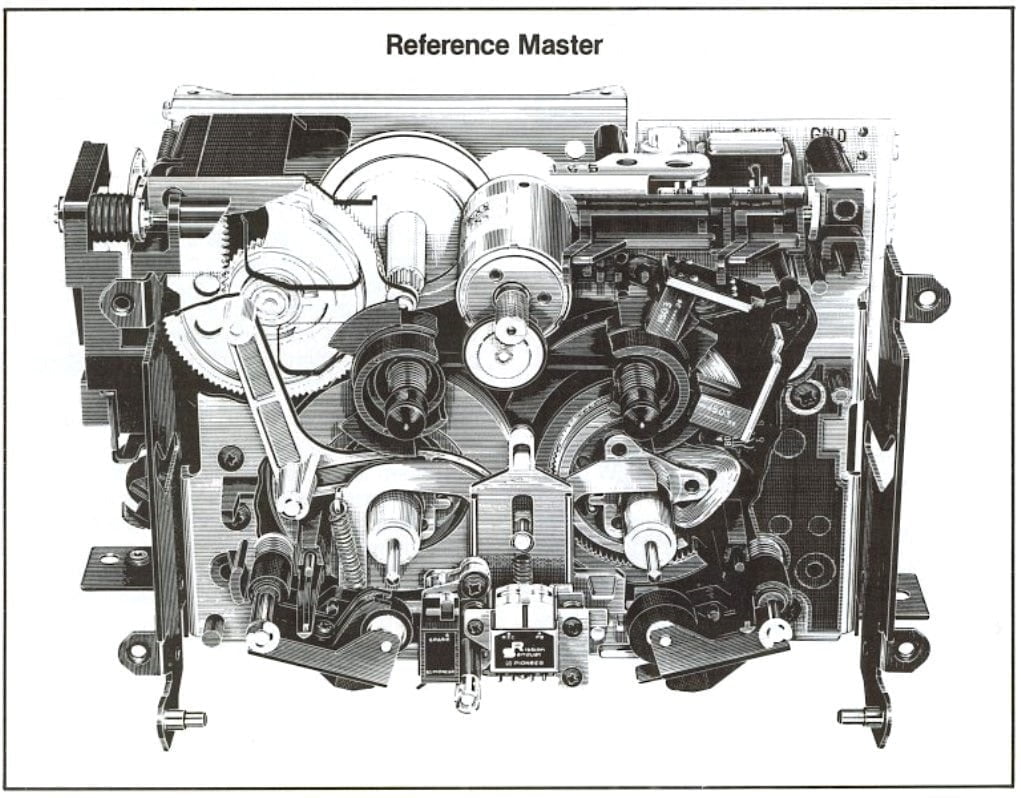 The other Pioneer I'd love to own is the rare and stunning Pioneer CT-A1. I'll get one, eventually. Another excellent and slightly older Pioneer cassette deck is the CT-F1250, one of which I repaired for her lucky owner last year.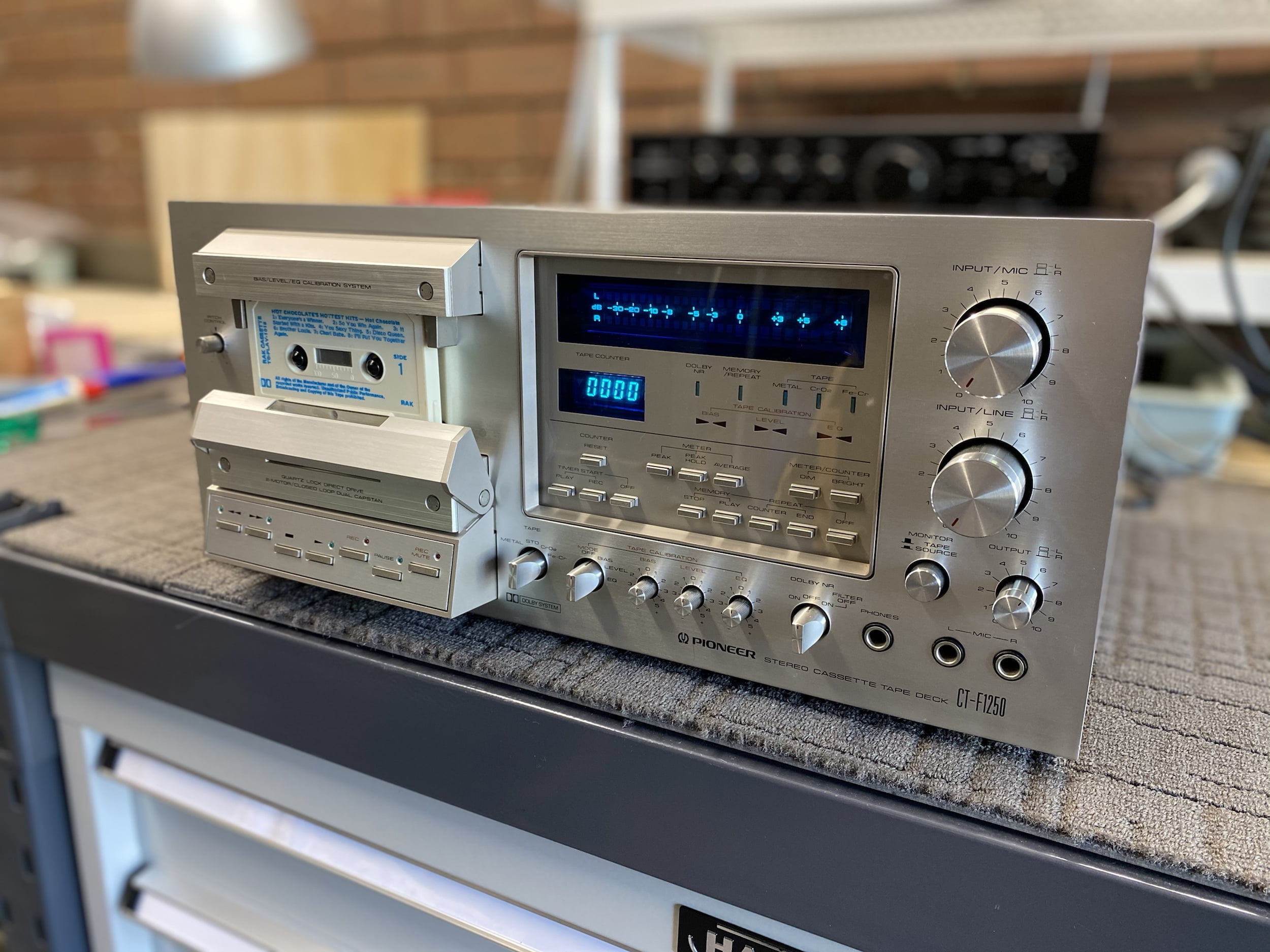 I'm specifically making time to write as there are literally hundreds of long-overdue articles on the most amazing gear to be written. Keep in mind that this means I have even less repair time available. This article took four hours to create for example.
Here is a short video I made a few years ago about servicing this legendary mechanism:
This absolutely drop-dead gorgeous Pioneer CT-A7X belongs to a customer and friend of mine who bought it as a "new-in-box, unused, working" deck. I should point out that when it arrived it was neither working, nor had it never been used, but it was close.
I'm a bit of a stickler for understanding what terms like NOS and NIB mean and only using them where they are strictly correct. More on that shortly.
Features
The Pioneer CT-A9X was at the time the best deck Pioneer sold and sat at the top of their range. It was preceded by the CT-A9 and superseded by the almost identical CT-A9D. Internally the A9X and A9D are basically identical. The weight difference is because of the wooden side cheeks which the CT-A9D came standard with, whereas the A9X did not in some markets. Performance-wise they are also basically the same, though the A9D has amorphous heads and minor associated changes.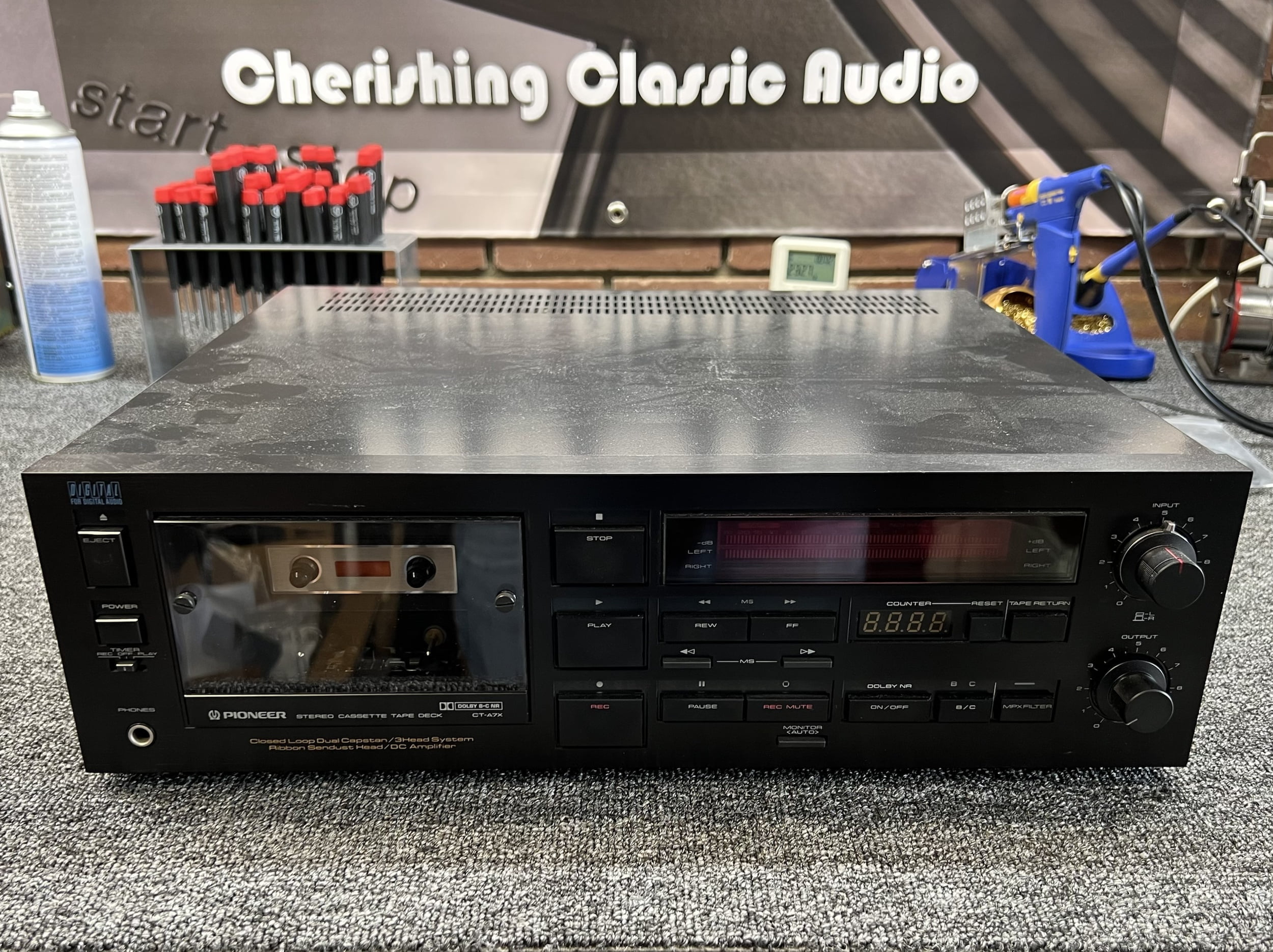 The CT-A7X shares the Reference Master mechanism, a rightly revered mech in tape circles. It loses Pioneer's awesome Automatic Bias Level Equalisation or ABLE – a digital, automatic bias, level and equalisation computer that perfectly calibrates the deck for recording on any tape type.
The CT-A7X specifications are also marginally poorer, it also loses the stunning direct drive capstan motor of my CT-A9X for example, and has correspondingly slightly poorer wow and flutter specs as a result. Keep in mind though that the quality of capstan belts used plays a big part in wow and flutter performance, as do correctly lubricated capstan axial and thrust bearings. I use synthetic oils and greases for this.
The CT-A7X features a closed-loop, dual-capstan design for excellent speed stability, three heads, with ribbon-sendust record and playback heads for excellent frequency response and low distortion and that delightful auto-loader which I just love.
All controls are soft-touch and operate motor-driven mechanicals. There's a digital counter with memory, and music search functions, and aesthetically, I don't know about you, but I find this series of Pioneer gear to be just about perfect. Inspired aesthetic design I think.
This is one beautiful cassette deck and you'll find more about it at CassetteDeck.org and Axel's legendary The Vintage Knob.
Pioneer CT-A7X Specifications, Courtesy of The Vintage Knob
Track type :
4 channel /2 track stereophonic
Recording head :
1x ribbon sendust
Playback head :
1x ribbon sendust
Erasing head :
1x special alloy
Motor with Constant Speed :
1x quartz PLL direct-drive coreless capstan
Reel Driving Motor :
1x coreless DC high-torque
Wow & flutter :
< than 0.028%

(WRMS)

± 0,085%

(DIN)

Frequency response :
20Hz…20Khz

(-20db ; 30Hz…19Khz, ±3dB, Type I)

20Hz…20Khz

(-20dB ; 25Hz…19Khz, ±3dB, Type II)

20Hz…11k Hz

(0dB, Type II)

20Hz…20,5Khz

(-20dB ; 25Hz…20kHz, ±3dB Type IV)

20Hz…16kHz

(0dB, ±3dB Type IV)

S/N ratio :
> 57dB

(Dolby off)

More than 70dB above 5kHz

(Dolby C on)

THD :
< 0,8%

(0dB)

Inputs :
2x line

(63mV / 120 kOhm)

Outputs :
2x line

(630mV / 3 kOhm)

1x headphone

(0,45mW / 8 Ohm)

PC :
35W
Dimensions :
42 x 13 x 37,4cm
Weight :
7,9kg
Problems
OK, so this working new old stock Pioneer CT-A7X did come in the factory box as promised, but, other than powering on, nothing worked. Also, it was not 'never used', as specified in the listing. It had indeed been used, for some short period of time years before, and then put back into the box.
Evidence of this is the light oxide deposits I found on the pinch rollers and heads. The belts then unfortunately decayed into a sticky black tar that anyone working on cassette decks will know, and loathe, as I do!
The issues found included:
Decomposed capstan and mech drive belts
Heavily contaminated drive pulleys and other parts
The mechanism needs full service
Electronic adjustments needed
Tape path cleaning and demagnetisation needed
Once again, and as I've mentioned before, our post-purchase inspection saved this customer hundreds of dollars in the form of a substantial refund.
As I often do, I've made a video about this job if you'd like to watch that, here:
Service & Repair
I've written about how maintenance-heavy cassette decks are, typically needing more service time than any other type of hi-fi component. This means regular tape path maintenance, plus periodic servicing, for all cassette decks, no exclusions. Well-designed decks make this process less painful, but there is always pain involved, it's just the nature of the beast.
To resolve all the issues in one hit, this lovely Pioneer CT-A7X needed a full 'mech-out' major service. This entails removing the entire mechanism and stripping it down into its component parts to enable cleaning, replacement of three belts in this case and re-lubrication of capstans, motors, pulleys, levers etc. We replace idler tyres as needed, though in this case, the idler tyre was perfect. The belts, however, were a decomposed disaster!
Naturally, before starting anything like this, you need a service manual and all the service parts ready to go, plus a range of lubricants, precision screwdrivers, and so on. Don't start if you don't have everything to hand.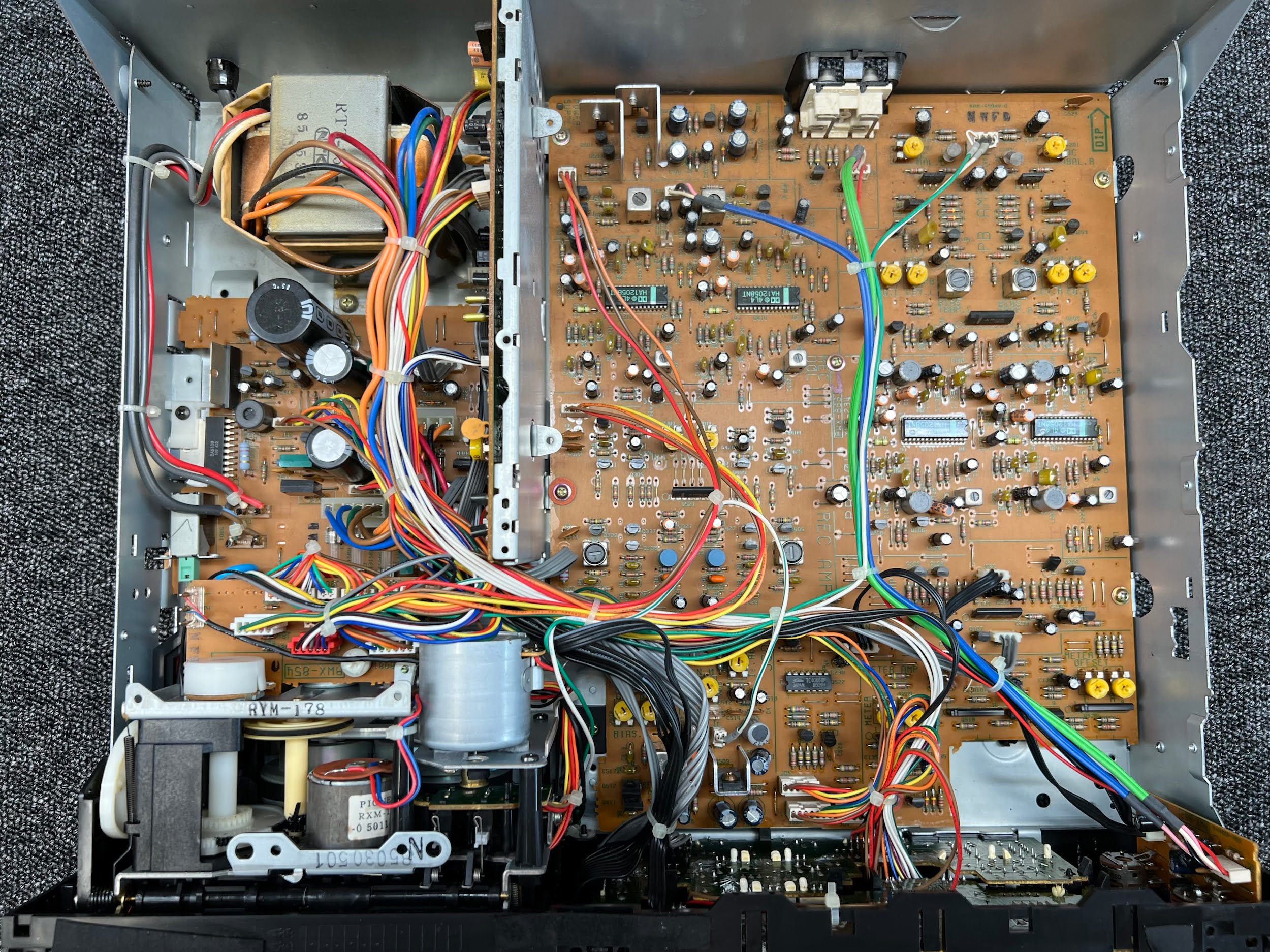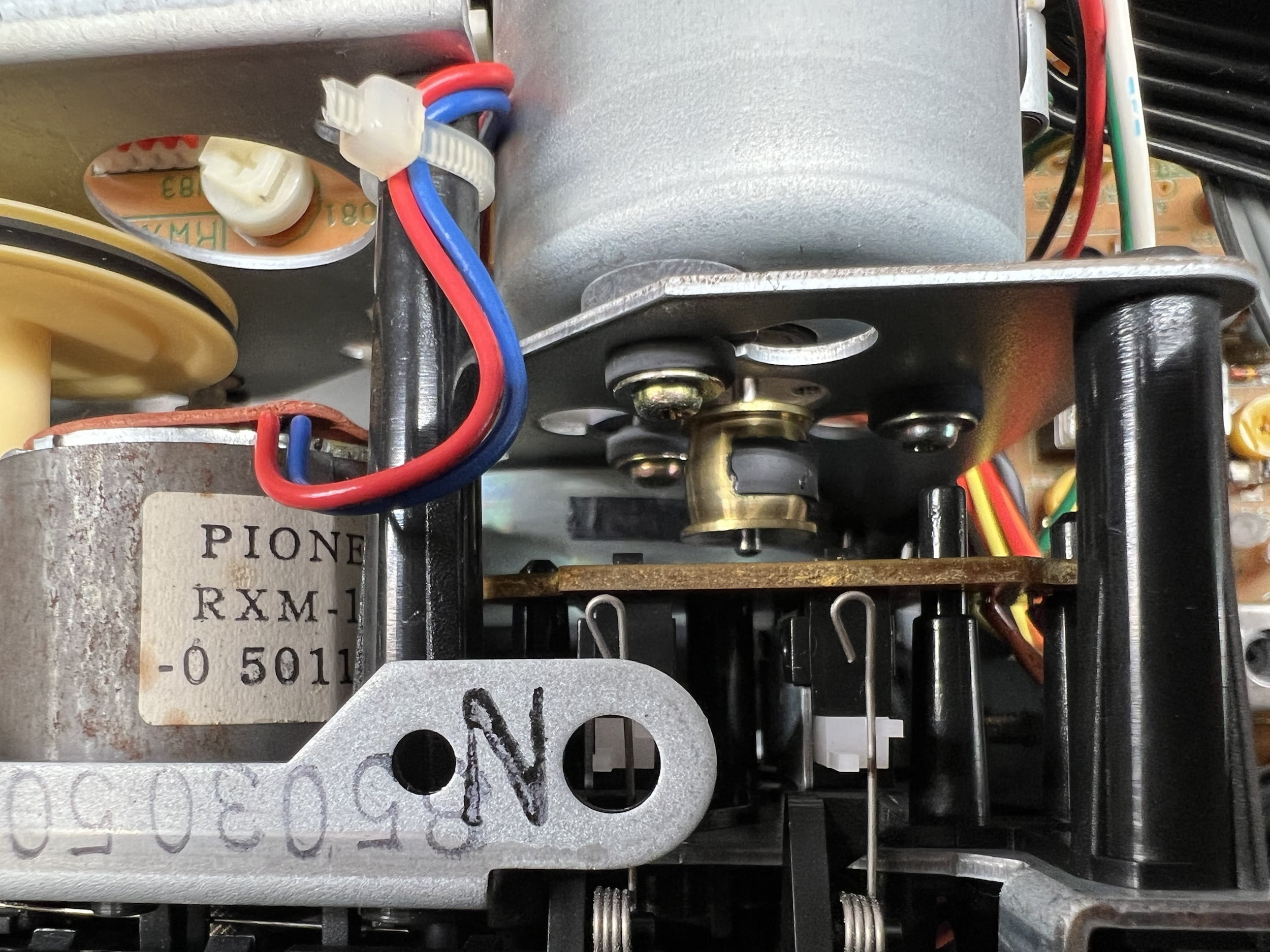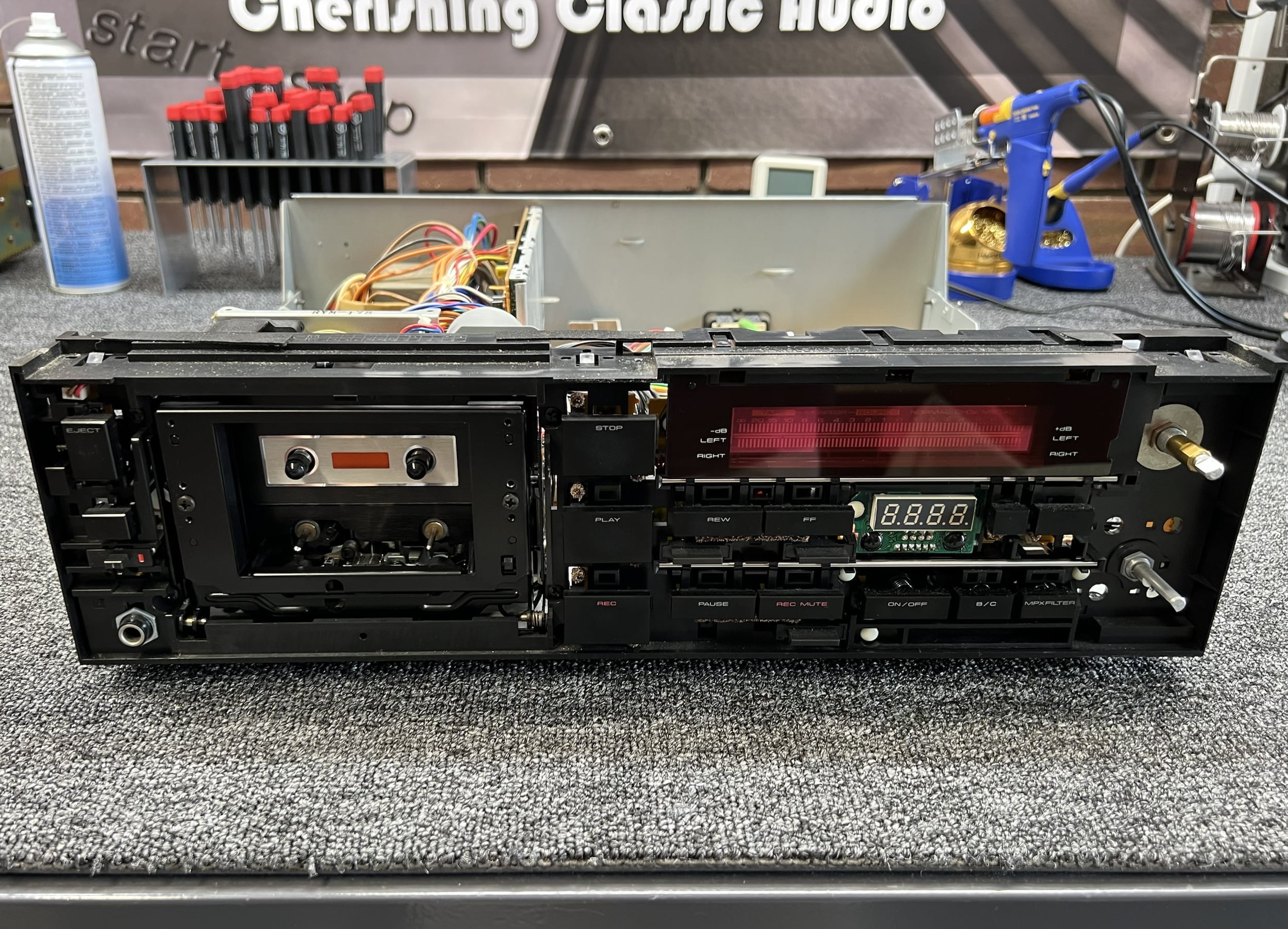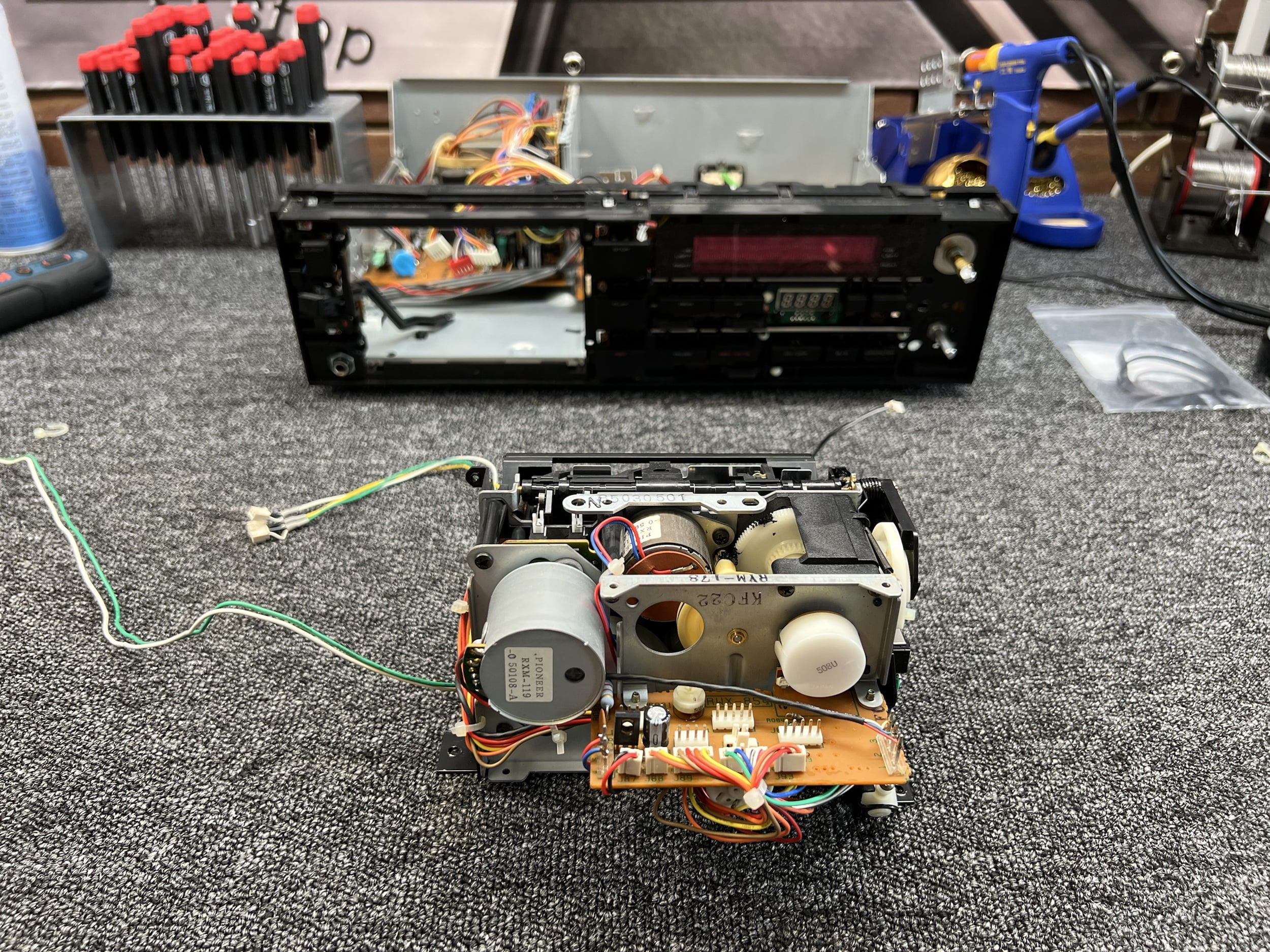 Now, unfortunately, because I was so engrossed in this job and in not losing any of those 'Jesus' parts, I didn't capture much of the reassembly process. My apologies, but there is more detail in the video, so check that out.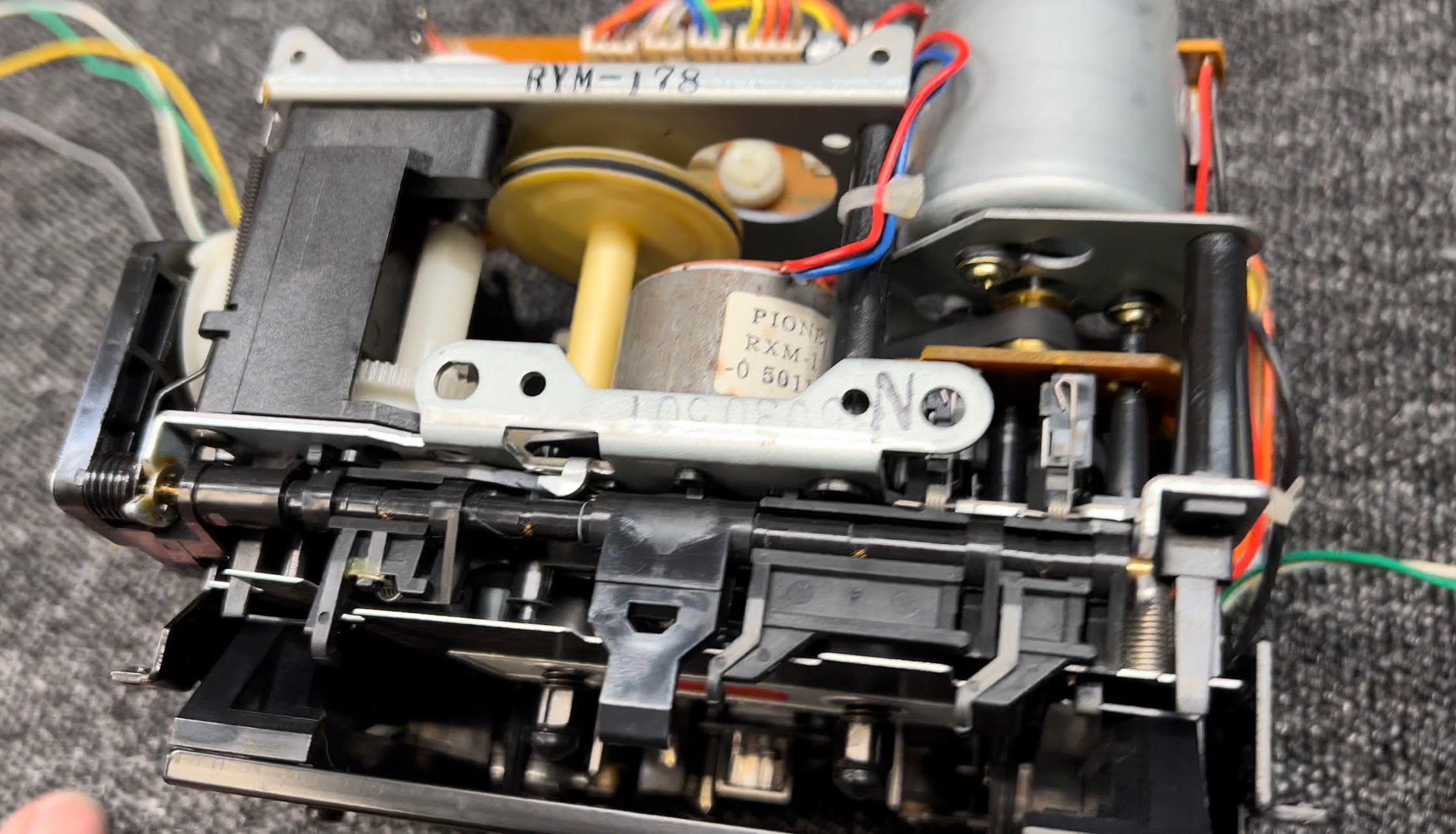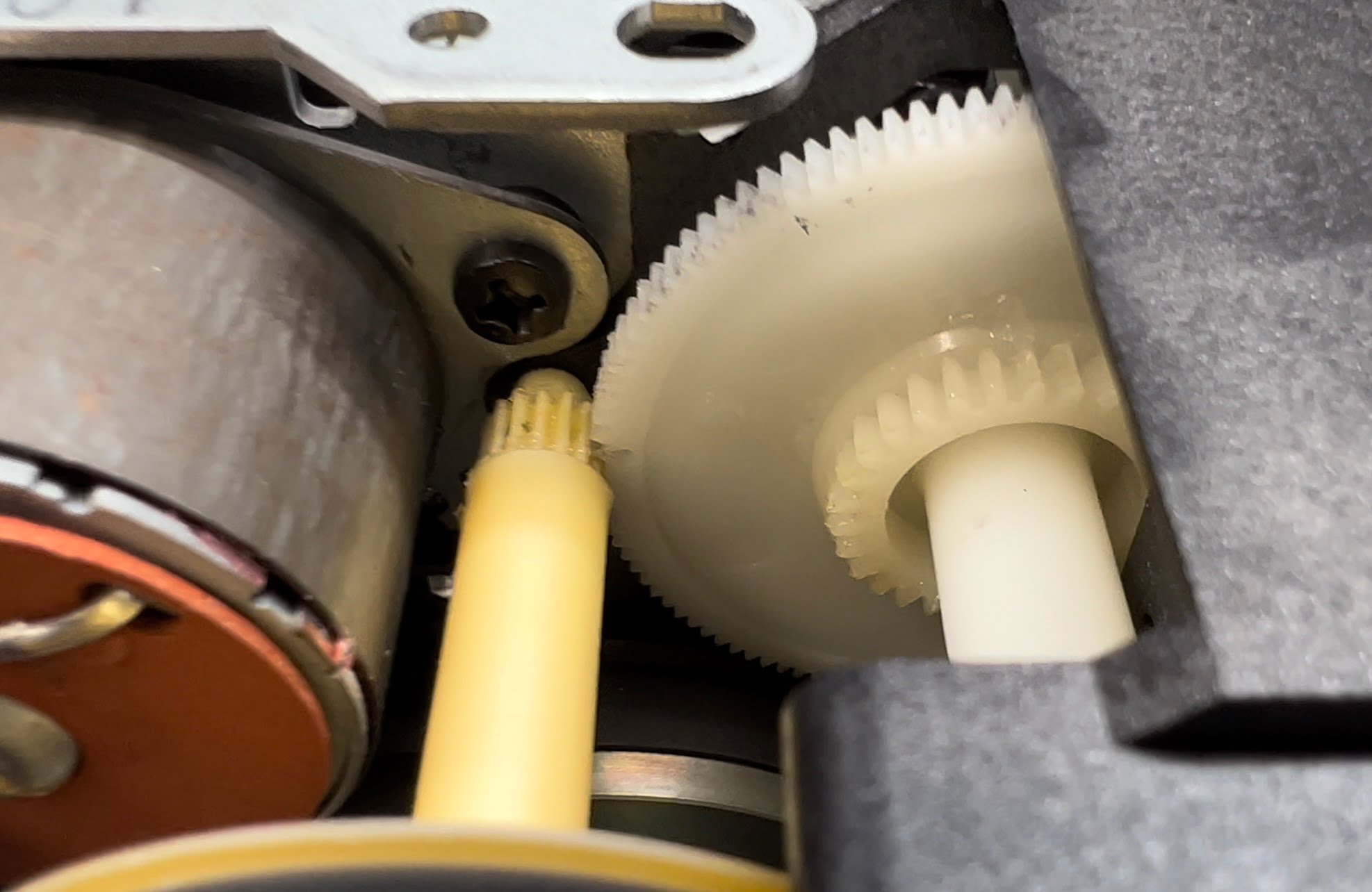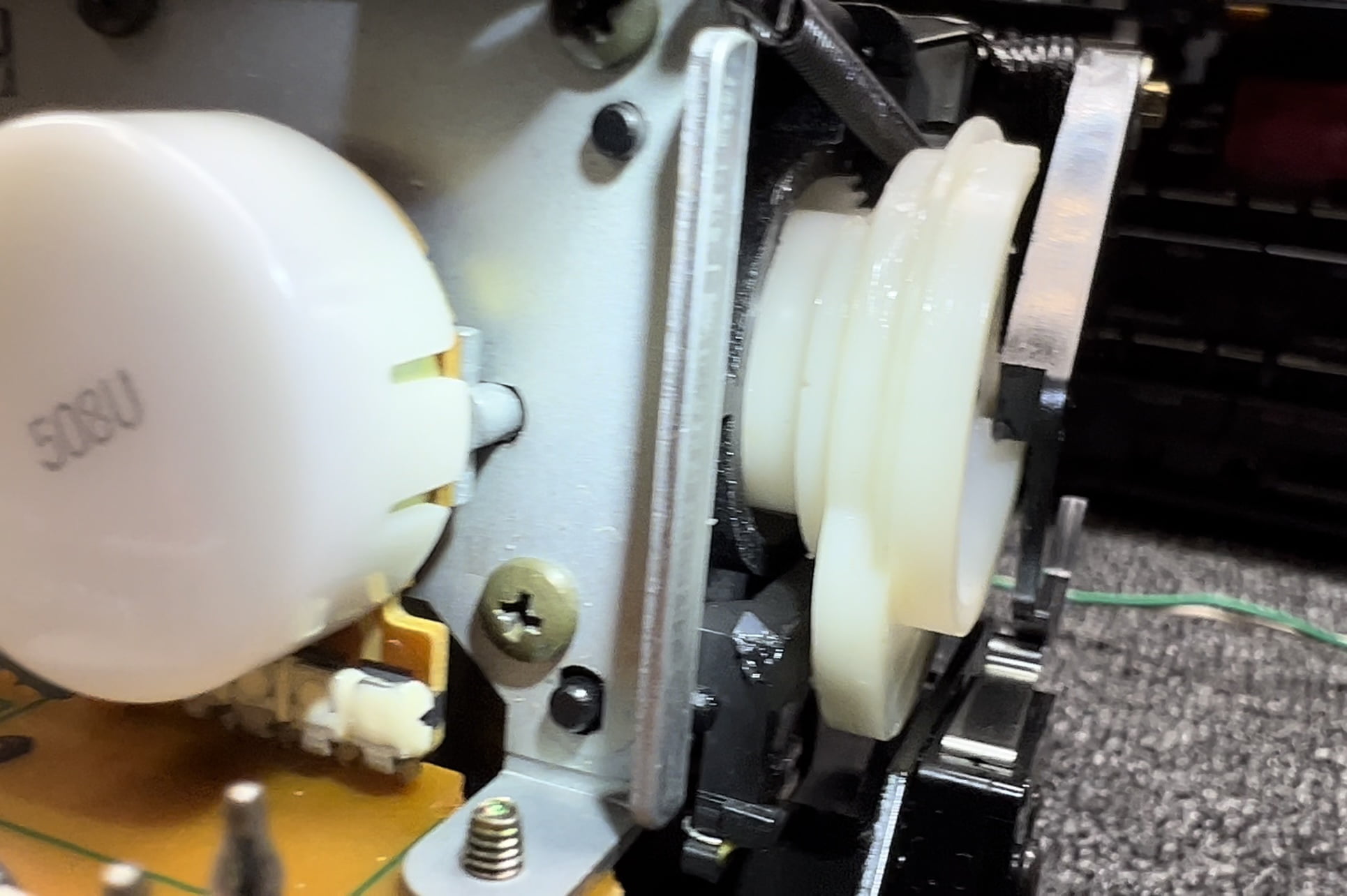 Results
I was more than pleased when I reassembled and tested beautiful this Pioneer CT-A7X cassette deck. Everything works perfectly, literally now like a brand new deck. I did have to make some electronic adjustments and made a small adjustment to playback speed. I also cleaned and demagnetised the tape path, lubricated various critical points and that was the mechanical side done.
Thankfully I have various calibration tapes and tools for the job and specific Pioneer calibration tapes for setting the bias, level and EQ master adjustments, playback settings and meters.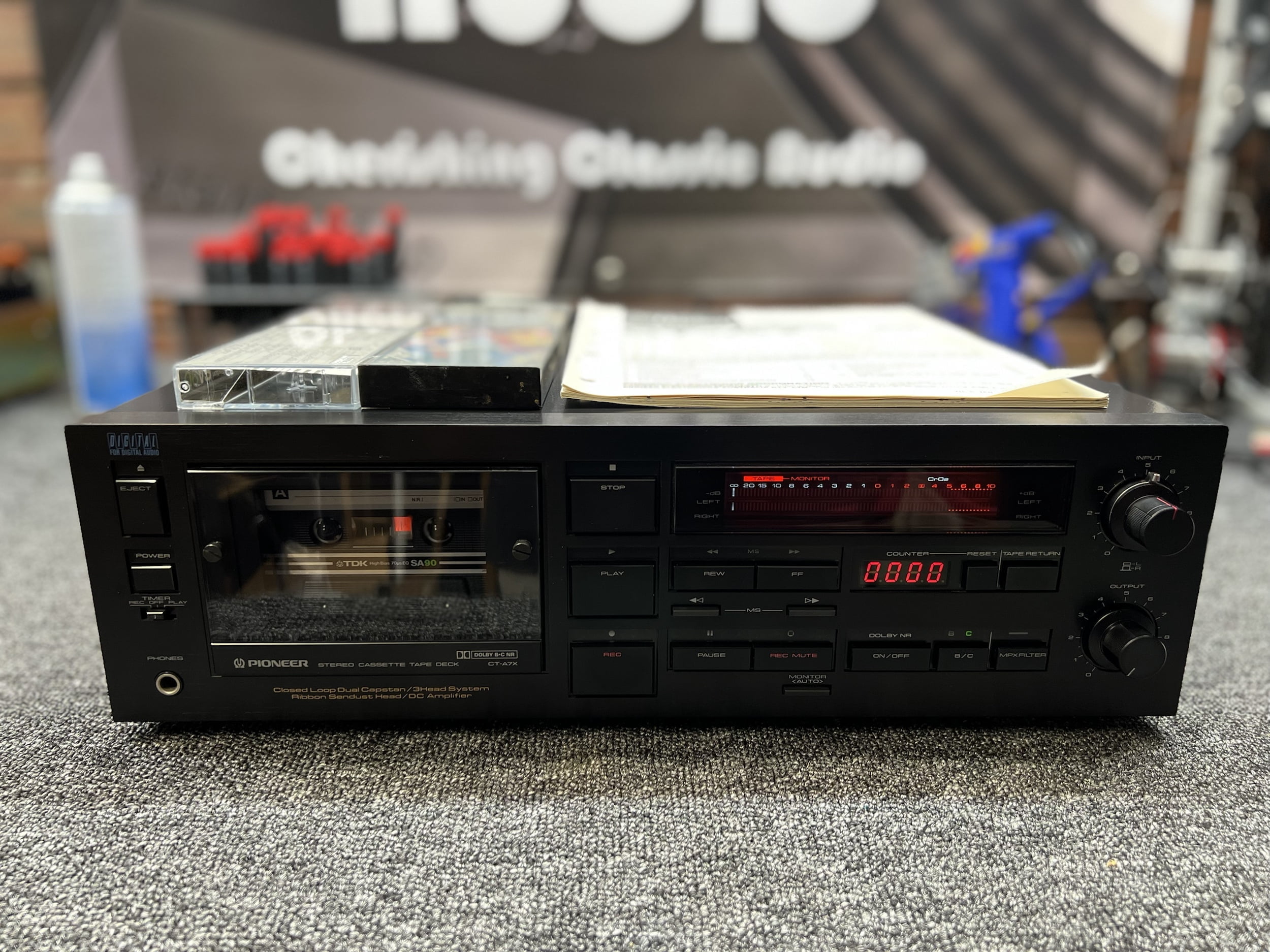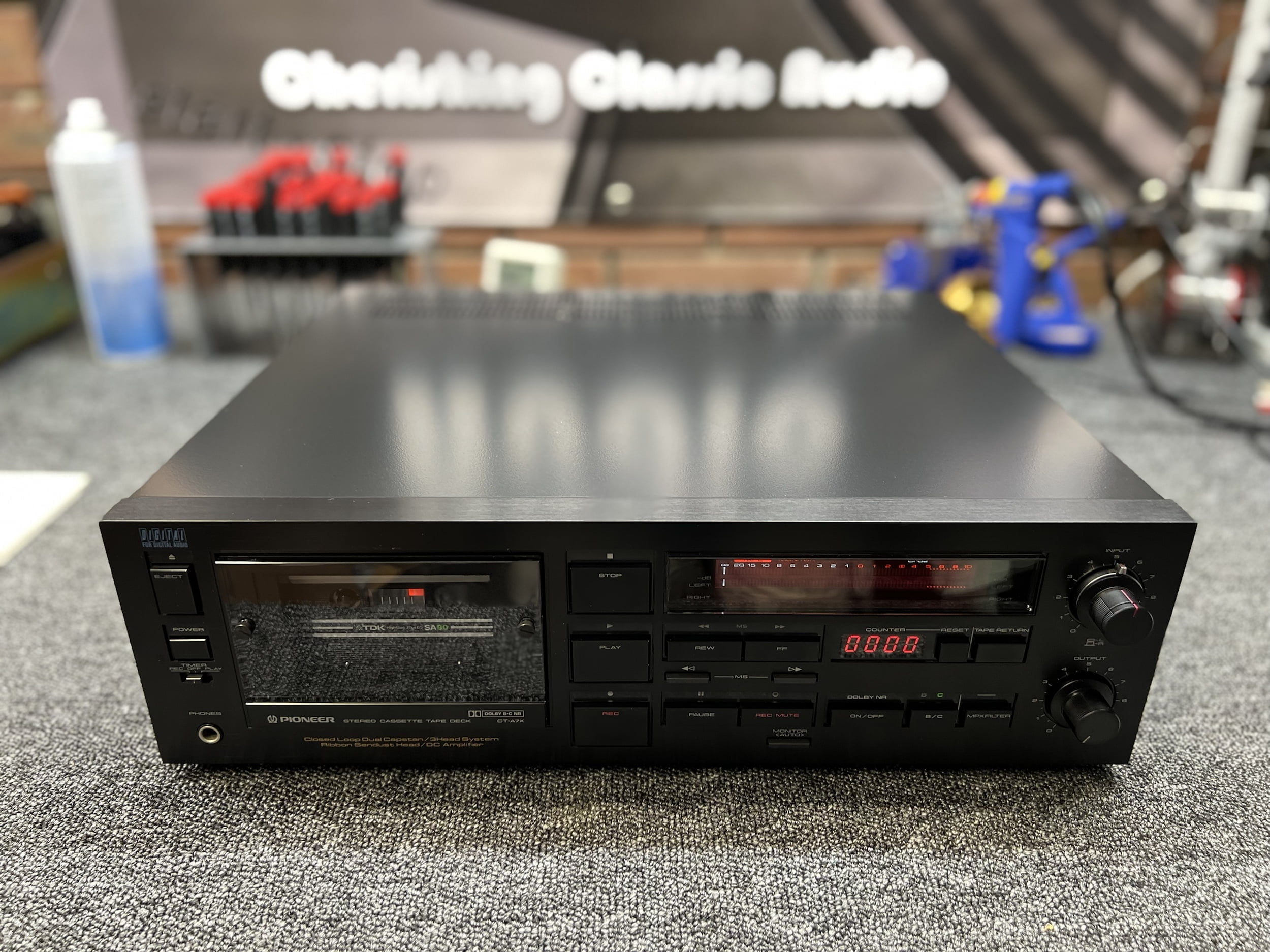 Performance
I'll keep this part brief, except to say that the Pioneer CT-A7X is both a great playback machine and recorder. The ribbon sendust heads and FET head preamplifier really does extract prodigious bass from what is a very rudimentary medium. Tape speed stability is excellent thanks to the heavy build, precision machined and balanced capstan pulleys and closed-loop, dual capstan design.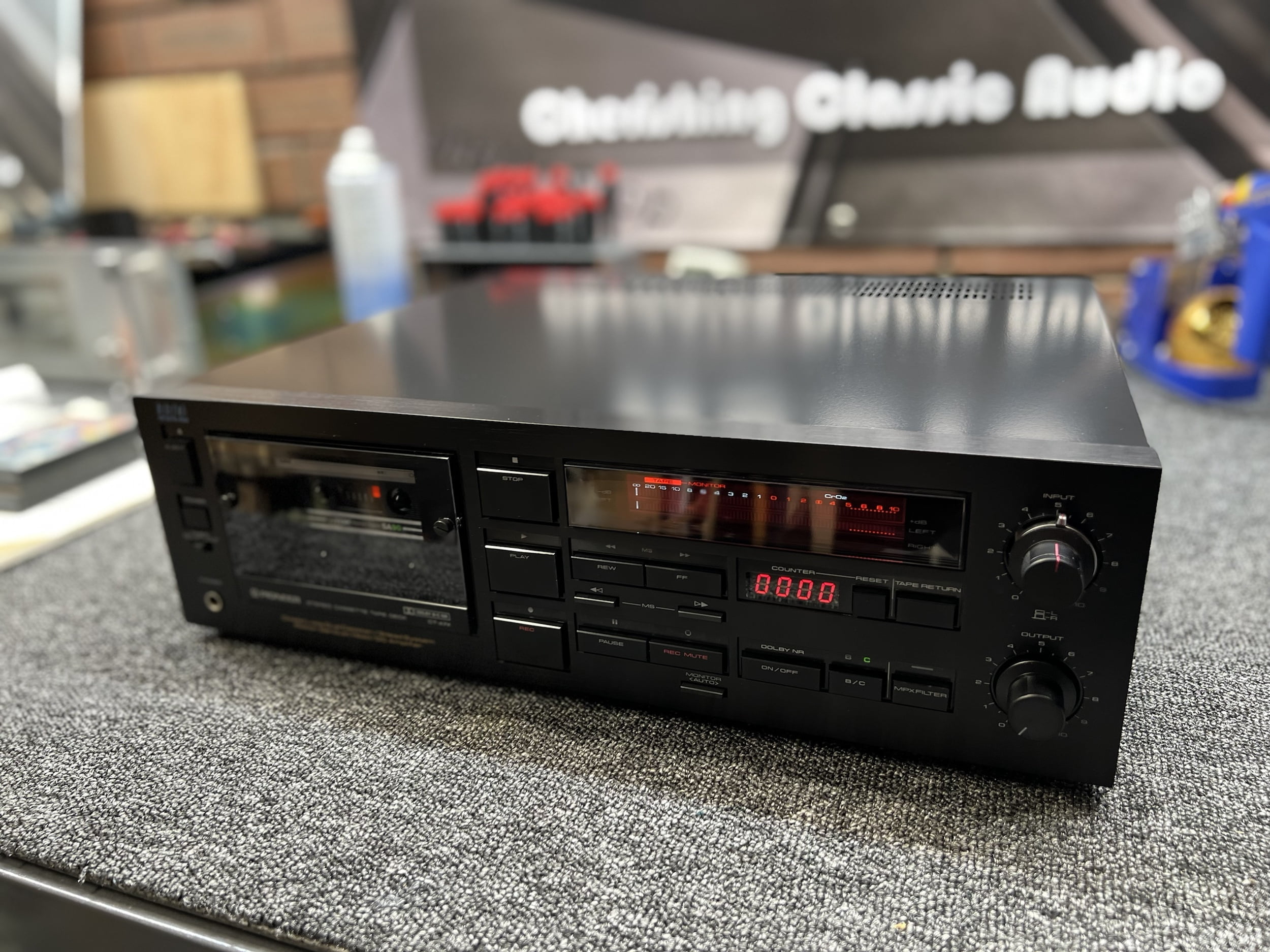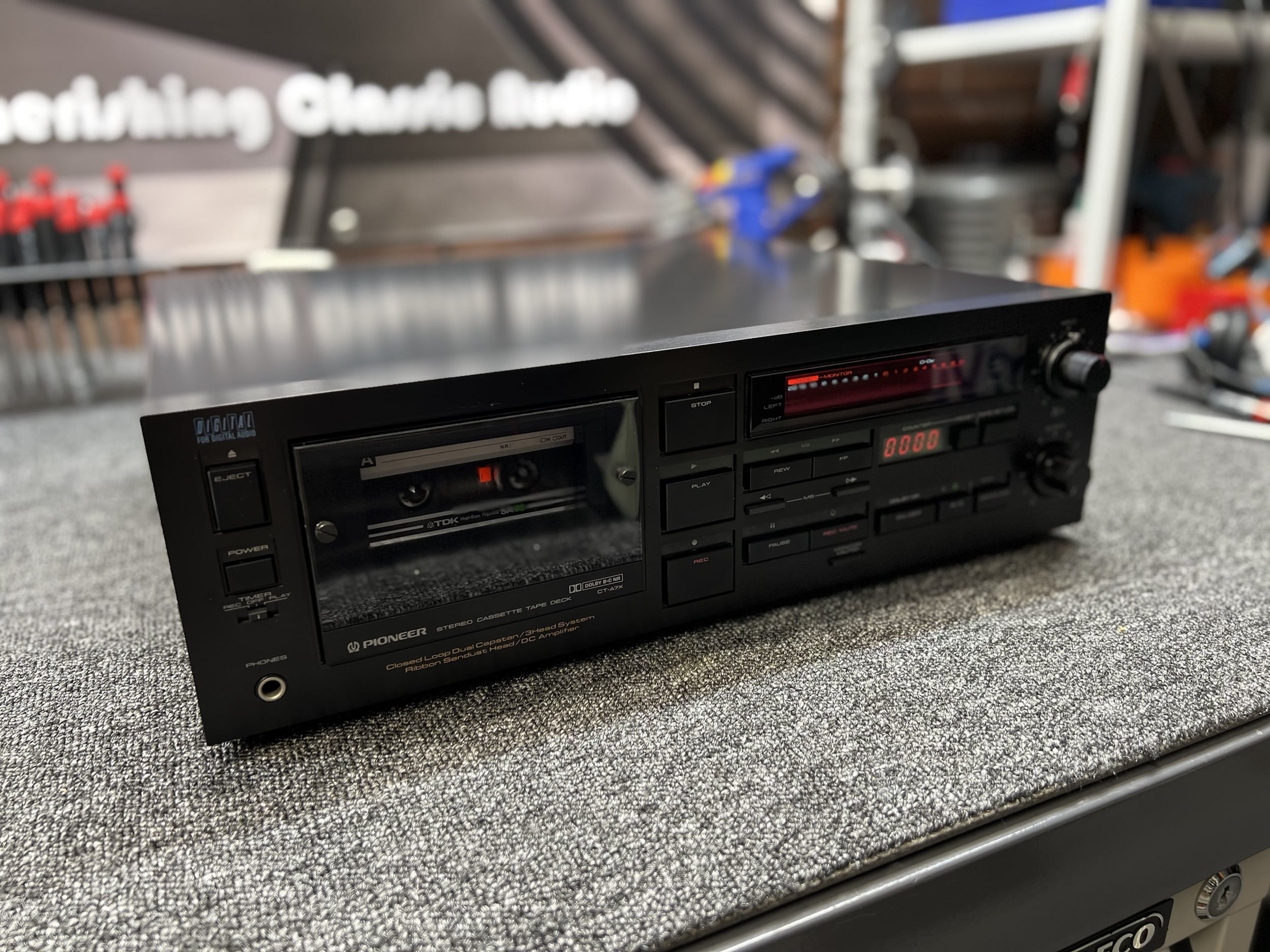 Sound from the line out or headphone buffer is open, warm and punchy, and really only bettered by a handful of more expensive machines, from the likes of Nakamichi, Pioneer, Revox and one or two others.
In terms of features, the deck is limited as a viewer of my YouTube video pointed out. The lack of adjustable bias, level and EQ for recording purposes is an omission that die-hard recording fans won't be able to overlook. I totally understand this and agree, but it's slightly missing the point.
Those features are found on the Pioneer CT-A9X and those record-o-philes will no doubt gravitate towards the deck or others like it. The CT-A7X is really meant for those who prefer a simple arrangement with less to worry about when recording. The CT-A7X both records and plays back tapes really nicely, with most of the performance of the better, more complex decks, at a considerably lower price.
Bottom line
Put simply, if you are chasing a high-performance cassette deck that's easy to operate, has flawlessly smooth operation and great looks, look no further than the Pioneer CT-A7X. For the sensible money these decks are selling for, despite the cassette reinvigoration, you really can't go wrong with what is a simple yet premium cassette deck.
If you'd like your Pioneer CT-A7X, CT-A9X or any other decent cassette deck serviced, this is something we do and enjoy, albeit in limited numbers.
PS: If this article has been useful and you appreciate the hours I put into making it, you are welcome to buy me a drink via the donation button in the footer! 🍺
Pioneer CT-A7X
$500 - $1000 AUD