Come along as we repair another stunning Accuphase P-300 power amplifier, this one deemed unrepairable.
This is definitely one of the most technically involved repairs I've done in a while, and I've repaired quite a few Accuphase P-300 power amplifiers and a ton of other Accuphase equipment.
This beauty, having failed catastrophically and been shopped around to various repairers, was an involved, technical repair that took the best part of a day, back in 2020. Welcome back everyone, as we continue to work through a long catalogue of stories that need to be told!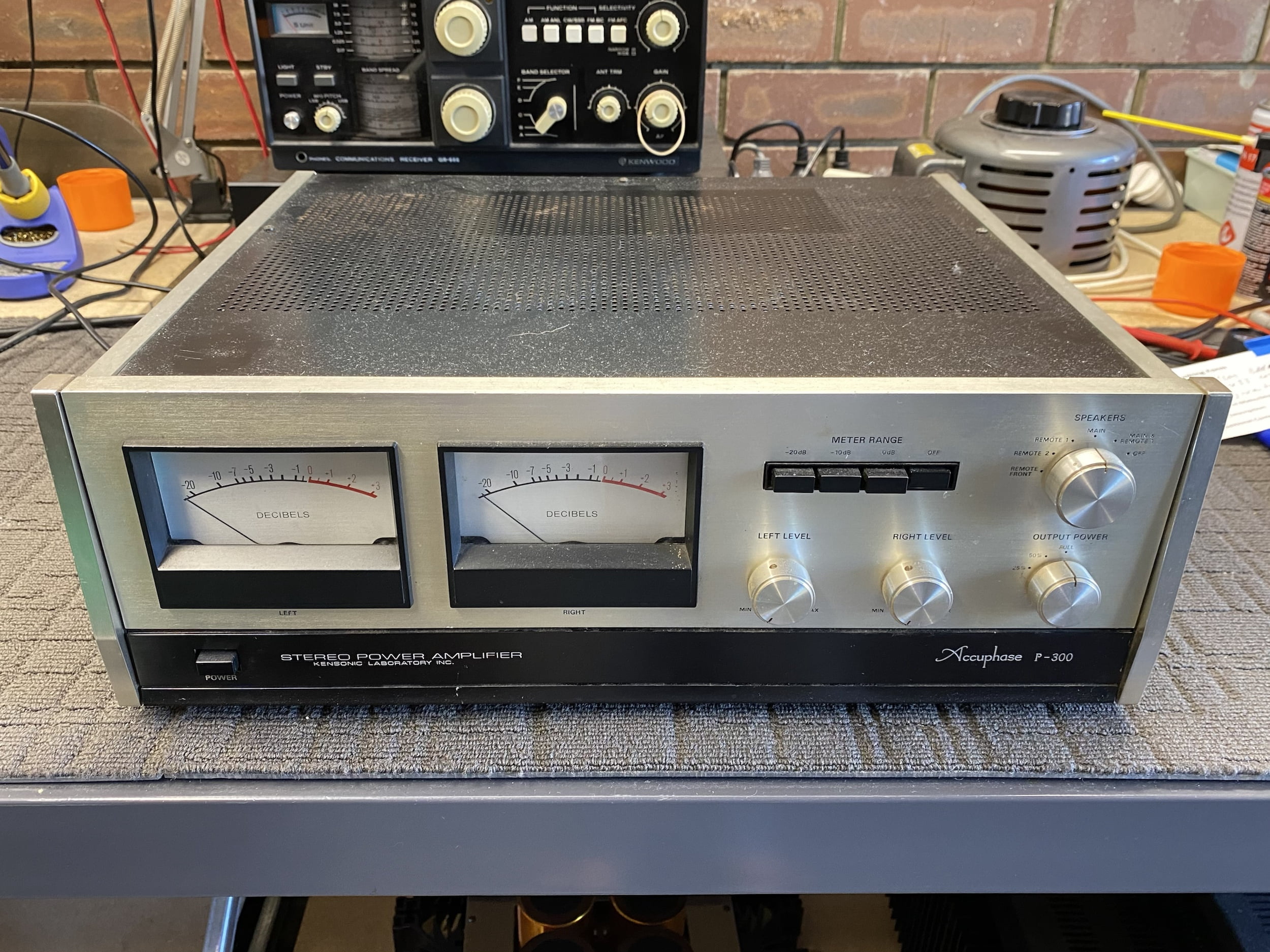 This lovely Accuphase P-300 belonged to one of my long-term customers back in 2020. He'd recently acquired it from another fellow as I recall, in non-working condition. The previous owner had taken her to several local repairers, none of whom repaired her and she then sat gathering dust and in need of TLC for years before my customer acquired her and brought her to us.
I'll let you in on a little secret: I really like fixing these sorts of pieces, especially gear like this beautiful old girl. I know it might sound almost ghoulish, but I get a kick out of repairing 'lost causes' like this. The technical challenge alone makes it worthwhile, but the fact that these things often come to us after they've been elsewhere makes repairing them just that little bit more satisfying.
Jobs like this are where technicians earn their keep. Nothing about this repair was easy, from diagnosing and finding the multiple faults to designing a repair solution including suitable replacement parts and getting to everything inside this cramped amplifier. We made some reliability enhancements to her, as well as to rectify poor previous work and of course, repair the faults – a blown right channel and other issues that likely caused it.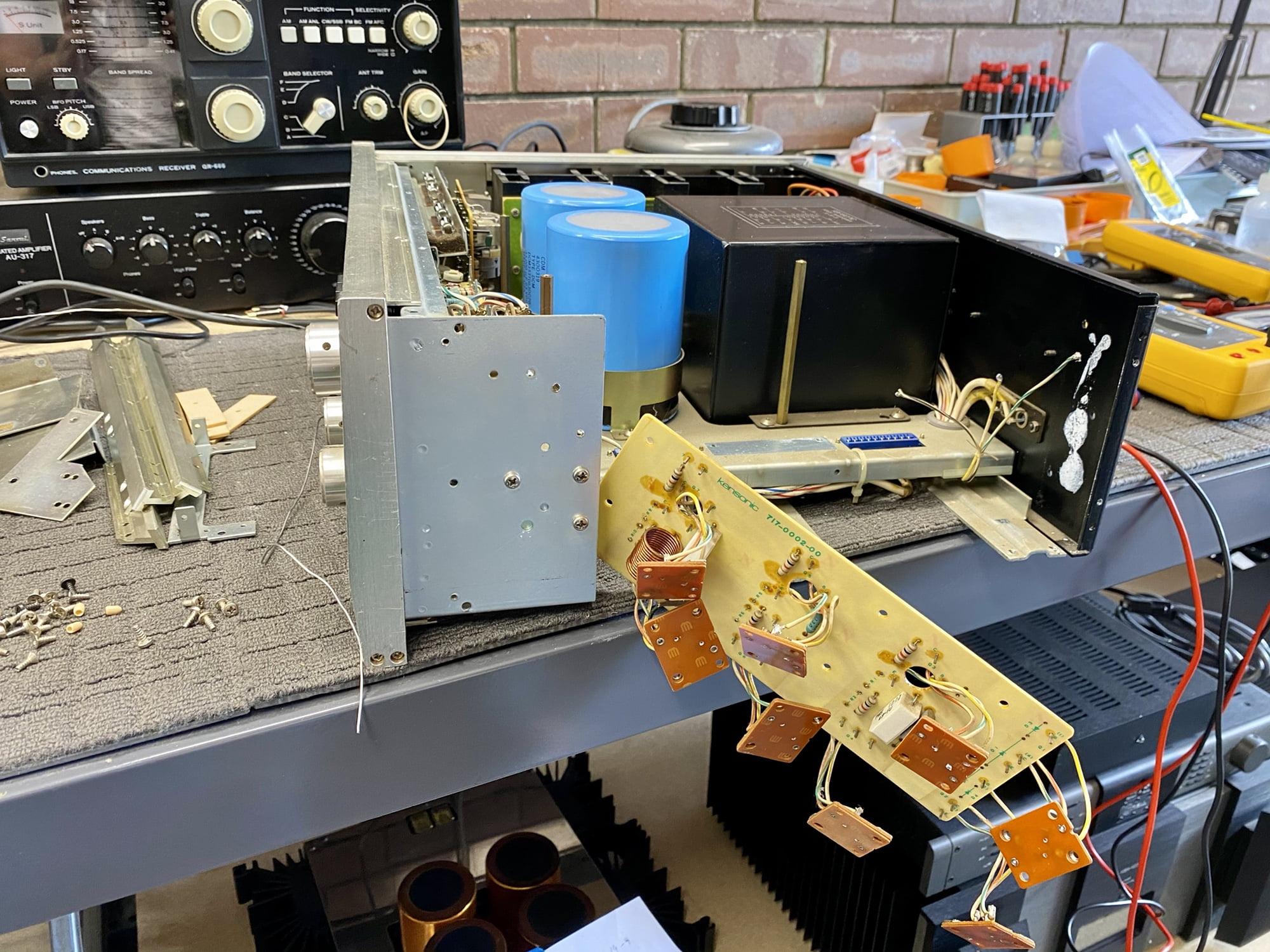 Accuphase P-300 Specifications
Courtesy of HiFi Engine
Power output: 150 watts per channel into 8Ω (stereo)
Frequency response: 20Hz to 20kHz
Total harmonic distortion: 0.1%
Damping factor: 60
Input sensitivity: 1V
Signal-to-noise ratio: 100dB
Speaker load impedance: 4Ω to 16Ω
Semiconductors: 73 x transistors, 1 x IC, 2 x thermistors
Dimensions: 445 x 152 x 355mm
Weight: 25kg
Features
The Accuphase P-300 is one of the all-time great what I would call mid-range power amplifiers. The P-300 isn't up at the heavy hitter Gryphon / Krell / Mark Levinson end of the market, but it's far ahead of most other contemporary manufacturers' products and even now, is a bit of a hidden gem.
Accuphase P-300 is built like a battleship and bulletproof when properly maintained and overhauled at this age as is necessary. They also sound fantastic, with a powerful presence in any system and bags of power to drive all but the toughest loads, with finesse and subtlety to boot.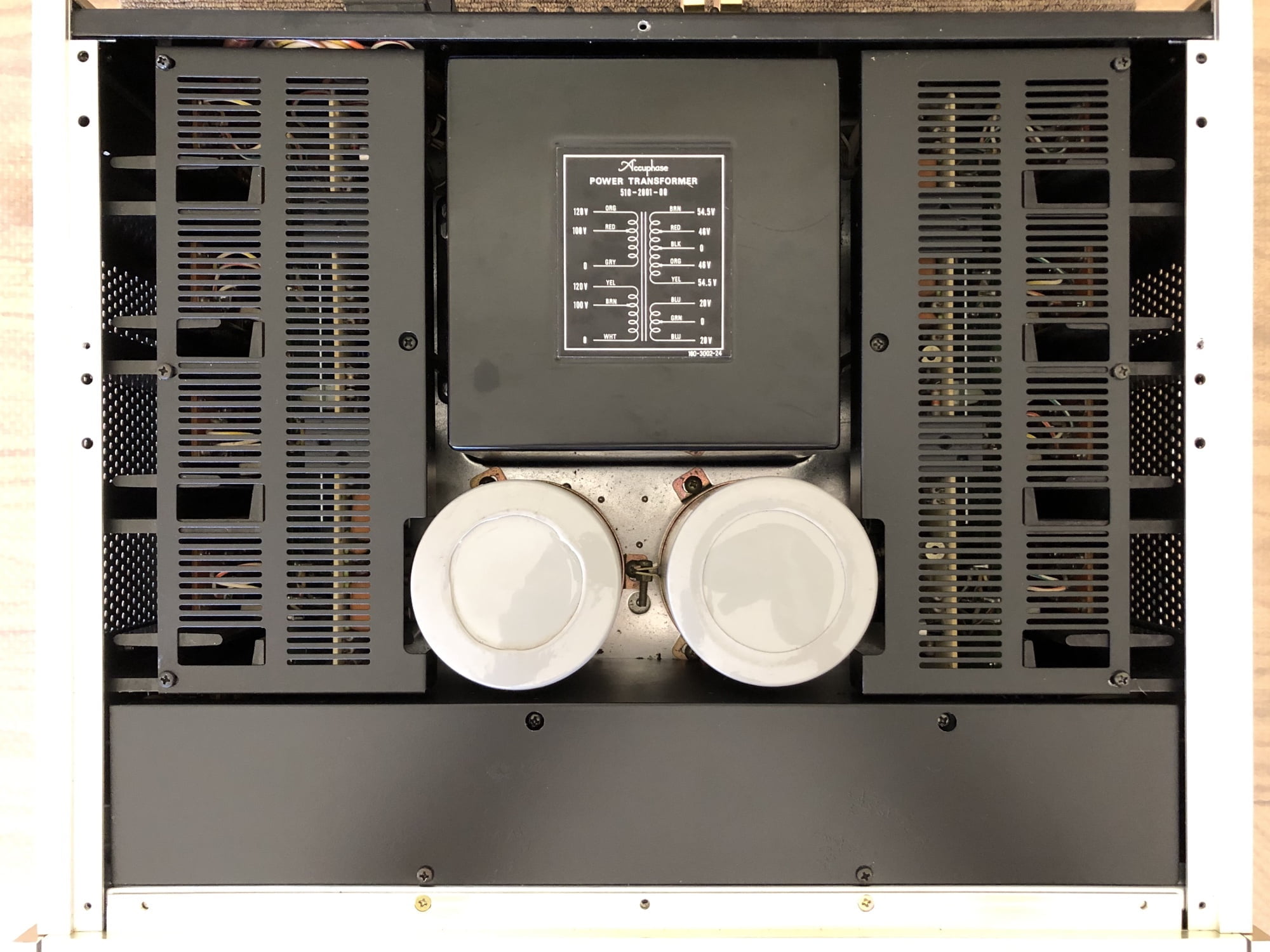 The P-300 has a great-sounding headphone socket, filters, twin analog meters, multi-voltage capability and superb build and sound quality. It also features attenuators and front panel RCA inputs that give great flexibility and allow the P-300 to form the basis of an awesome no-preamp, line-level setup.
I won't go into too much detail as I want to keep this mostly about working on this particular unit, but if you are looking for a super well-built, powerful and amazing-sounding amplifier, the Accuphase P-300 should definitely be on your shortlist.
Accuphase has more information about the P-300 on its website. I've written about this great amplifier previously, so check that out for more.
Problems
This otherwise beautiful Accuphase P-300 had some history as mentioned and her owner confirmed that he had never listened to it, after picking it up cheaply. The blue LED power meter illumination is not my thing on an elegant old girl like this, but hey, some folks like this look and I have to say it definitely grew on me!
This Accuphase P-300 had one ashed channel, heavily fluxed boards, multiple dead components and some very ordinary previous work. It had never had the work it needed though, despite having been previously looked at and this was immediately obvious.
By an 'ashed' channel, I mean completely dead, killed and yet still receiving all power supply voltages. Because of various shorted semiconductors, these power supply voltages were appearing in all the wrong places, like the speaker terminals if it weren't for protection, so a dangerous situation in some ways.
The right channel of this lovely P-300 had no intact driver or output devices. All of these devices needed replacement and, adding to my pain, so did all of the emitter resistors for these devices. Not only that, but fitting in the sorts of parts readily available was no easy job, necessitating full removal and strip-down of the problem heatsink/output device assembly.
I often find Accuphase gear has been badly worked on and I think this often comes down to misguided attempts to save money. Here's a video I made about another bodged Accuphase P-300. Stories like this are unfortunately far too common:
Understanding what diagnostic measurements mean about which parts have failed is part of the art of electronics repair, as is knowing what replacement devices to use where and dealing with blown TO-66 devices is an excellent example of this.
This transistor form factor is NLA in almost all cases. We need to adapt packages that are available for the role, as Accuphase themselves did when these parts ceased being produced. TO-66 failures are often deemed unrepairable when in reality they usually are repairable.
Here's a list of the issues with this particular amplifier:
Blown right channel
Failed pre-driver, driver and output devices
Multiple failed emitter resistors
Previous repair and thermal damage to the protection board
The amplifier hadn't run in years
Repair
Enough waffle, let's get into this Accuphase P-300 repair, step through the repair process and let the images tell the rest of the story. I'll also post a video of this repair right here, soon.
As always, we start with the inspection, fault diagnosis and basic service work including cleaning of boards, components, and connectors. From there we remove bad modules and parts and repair each element as required.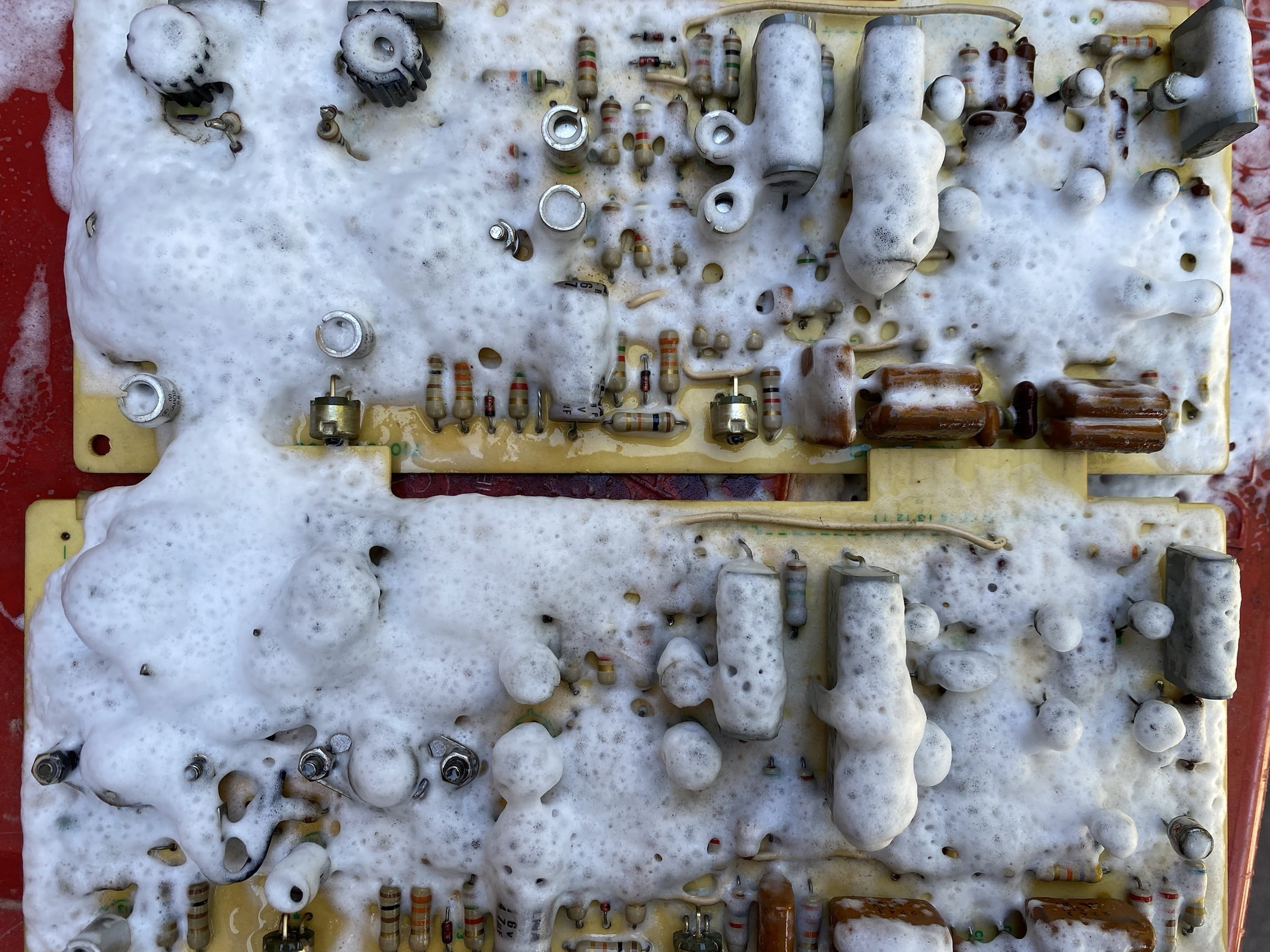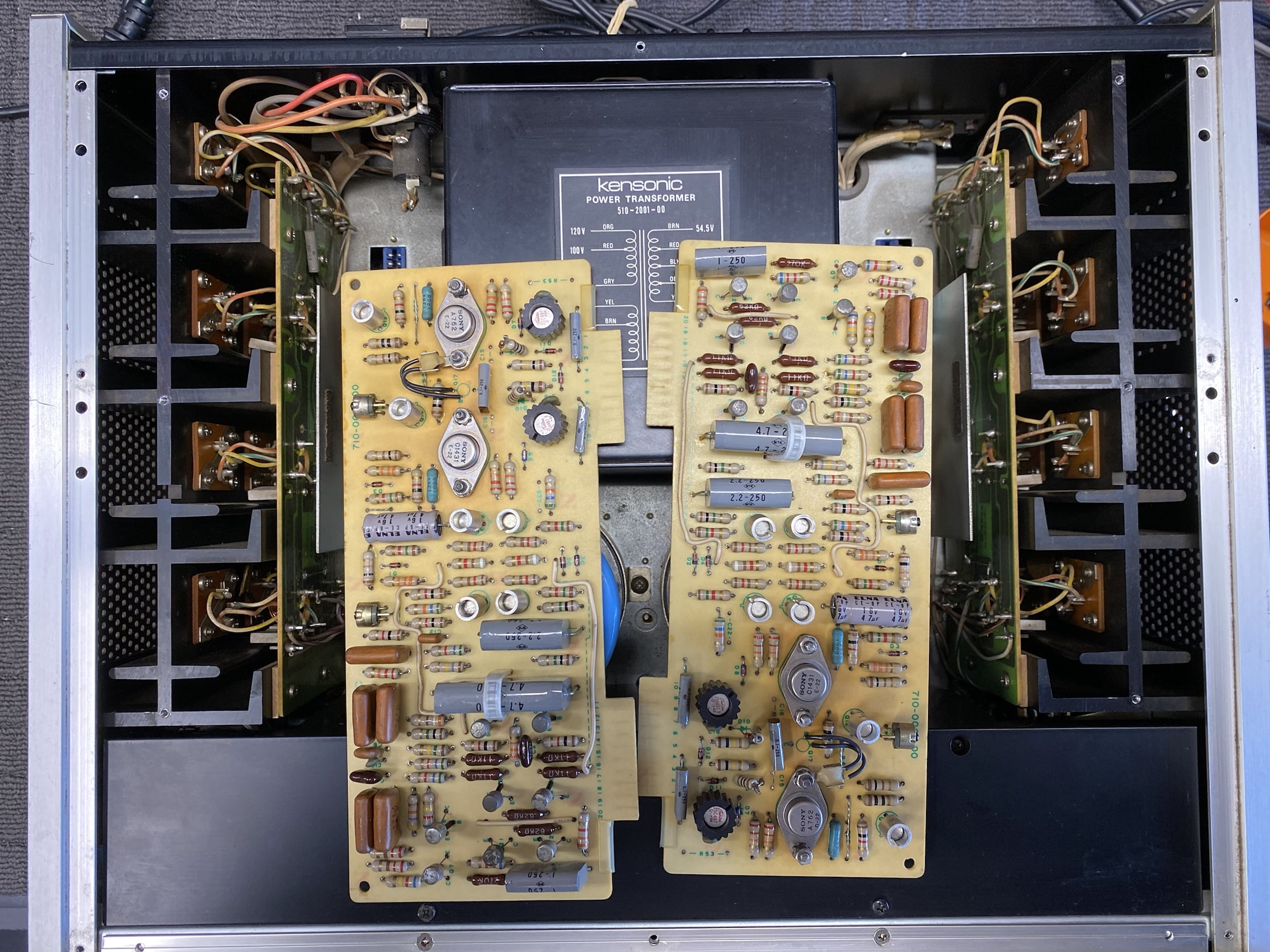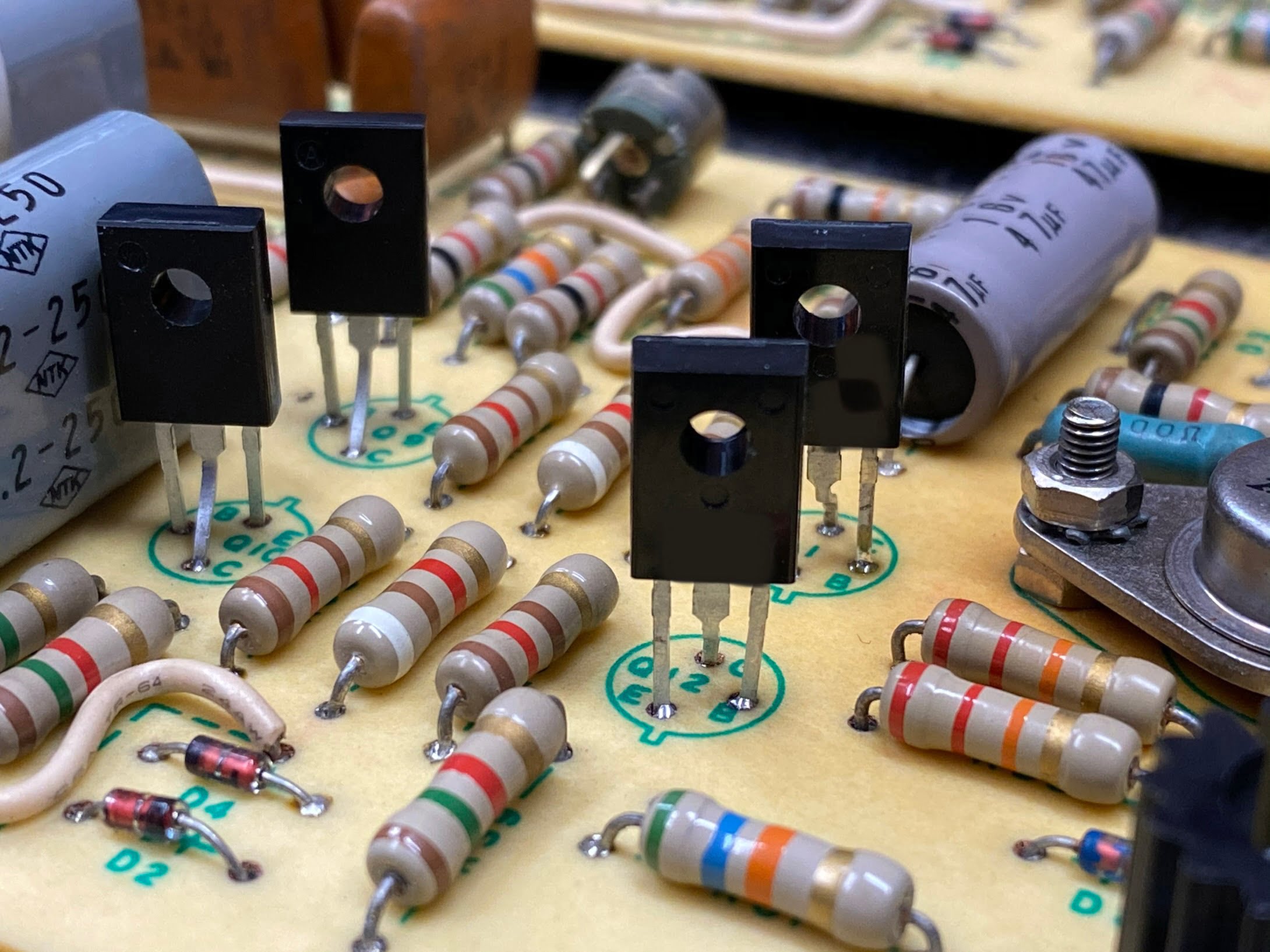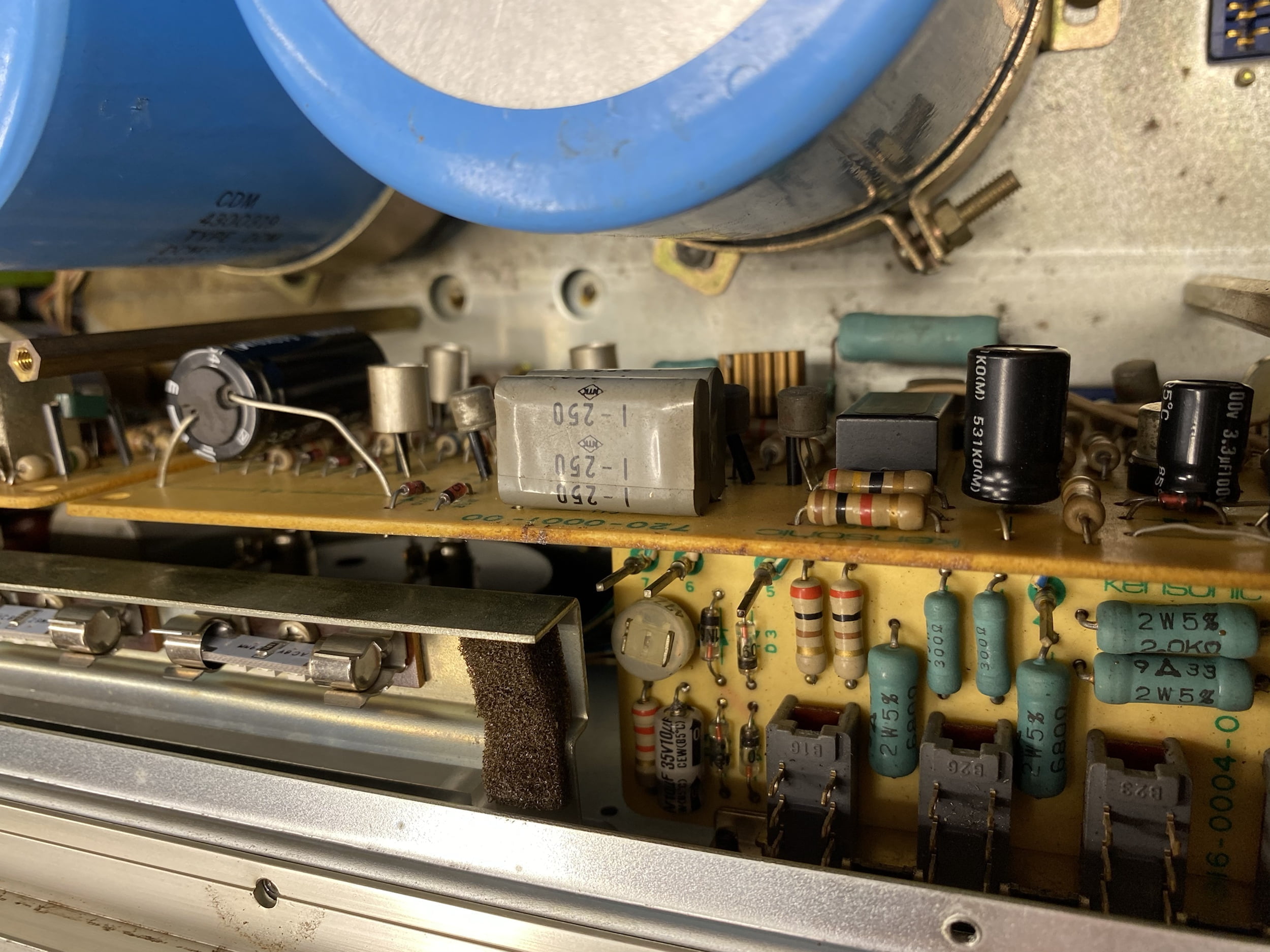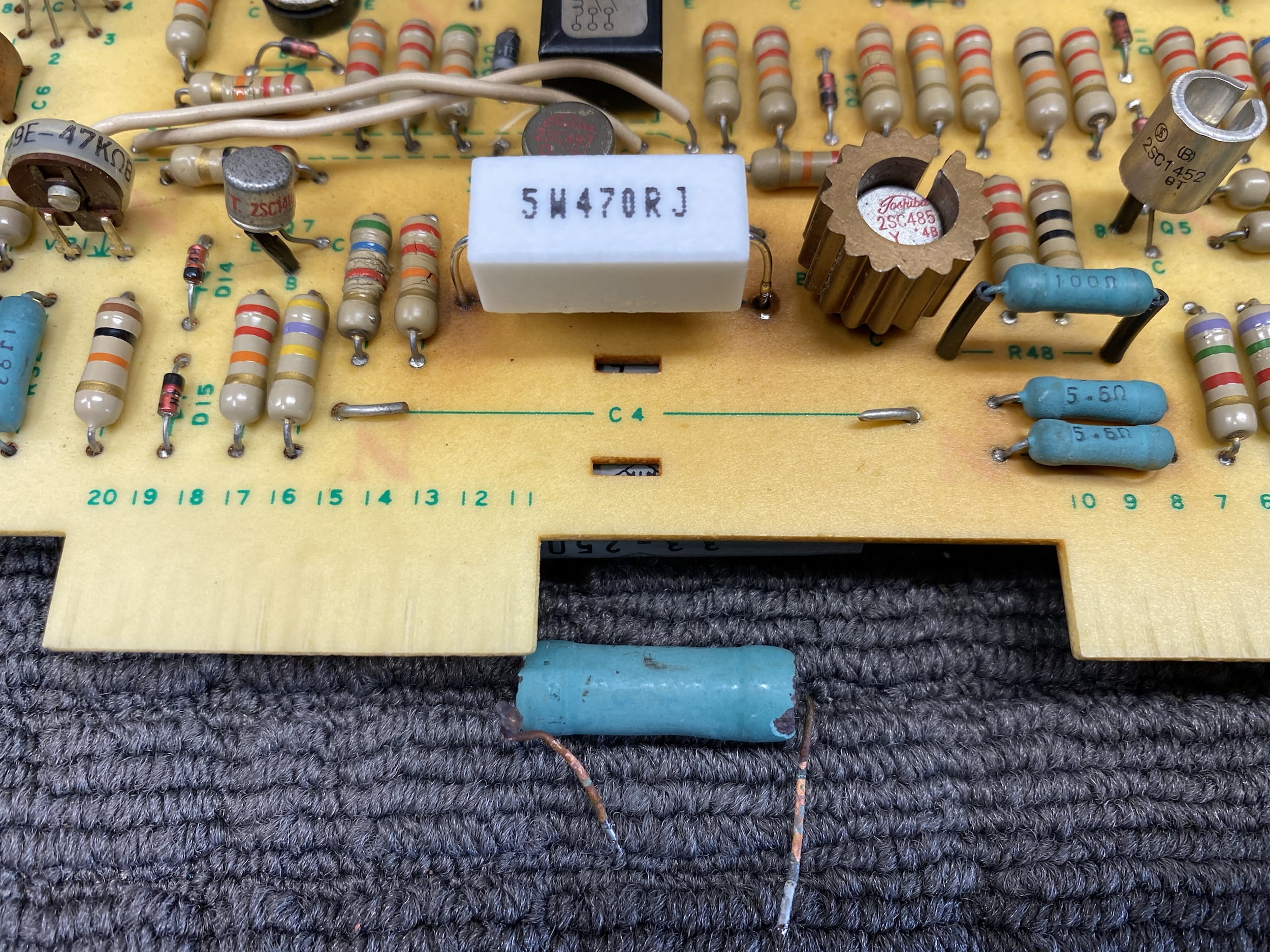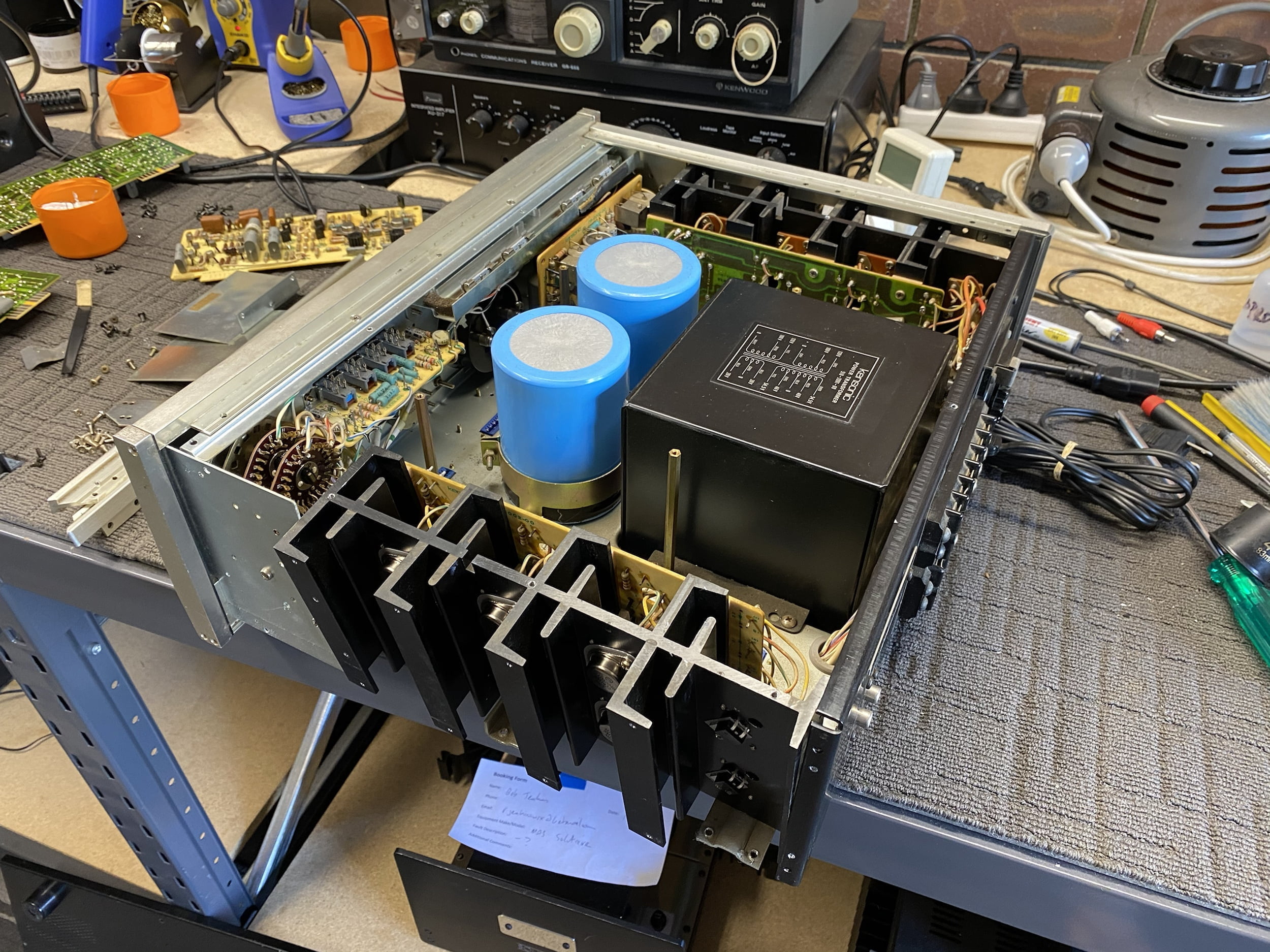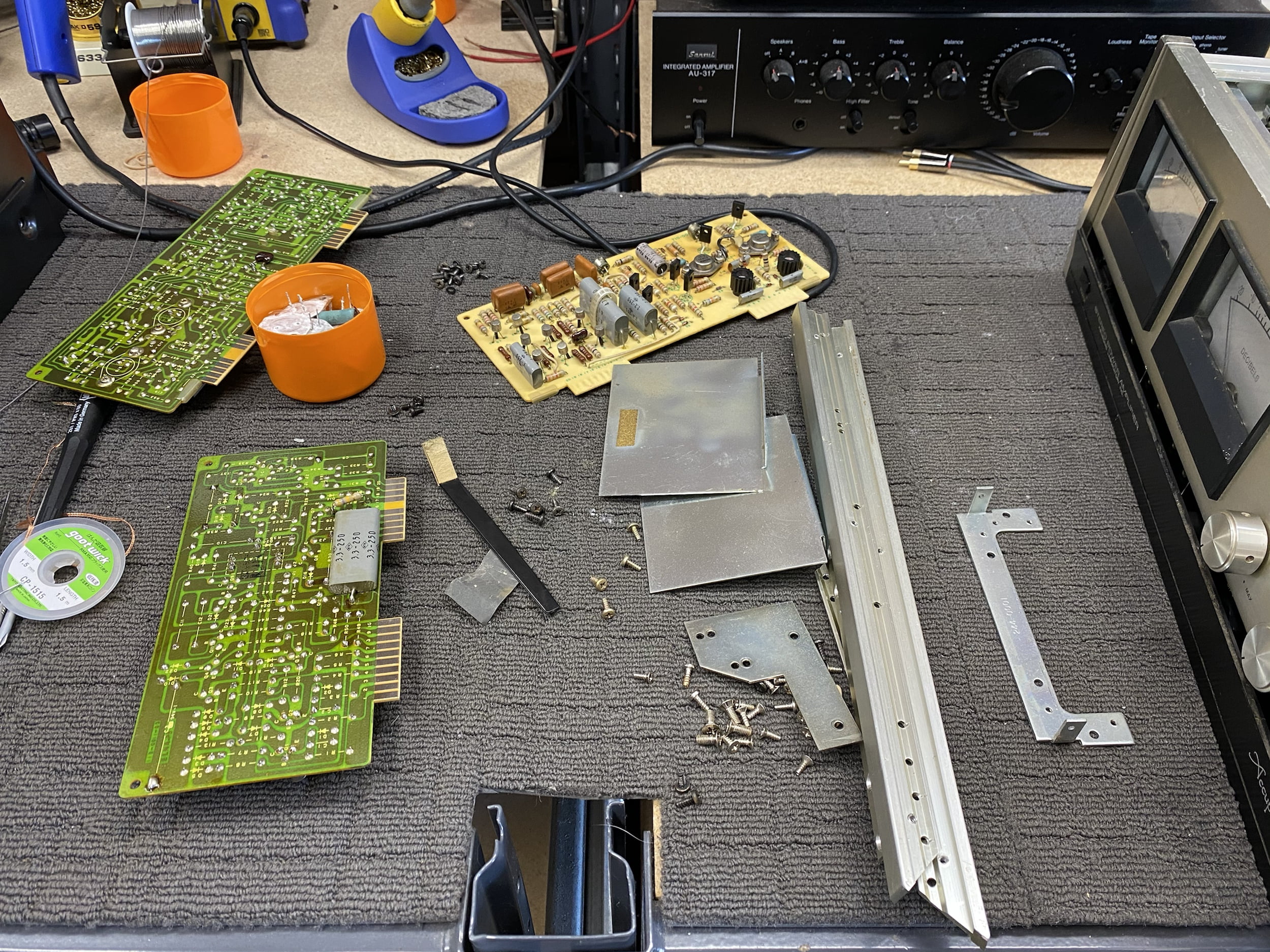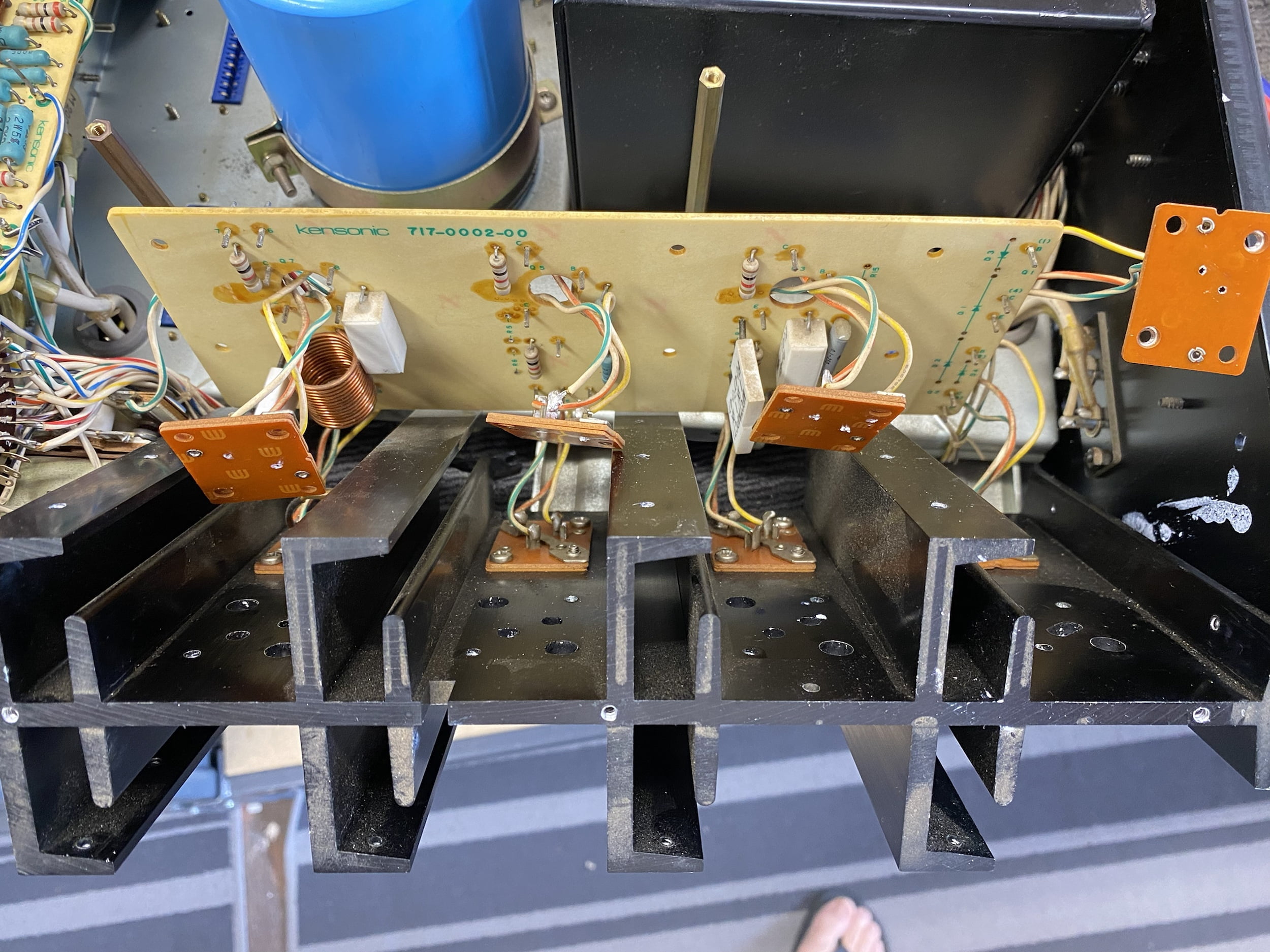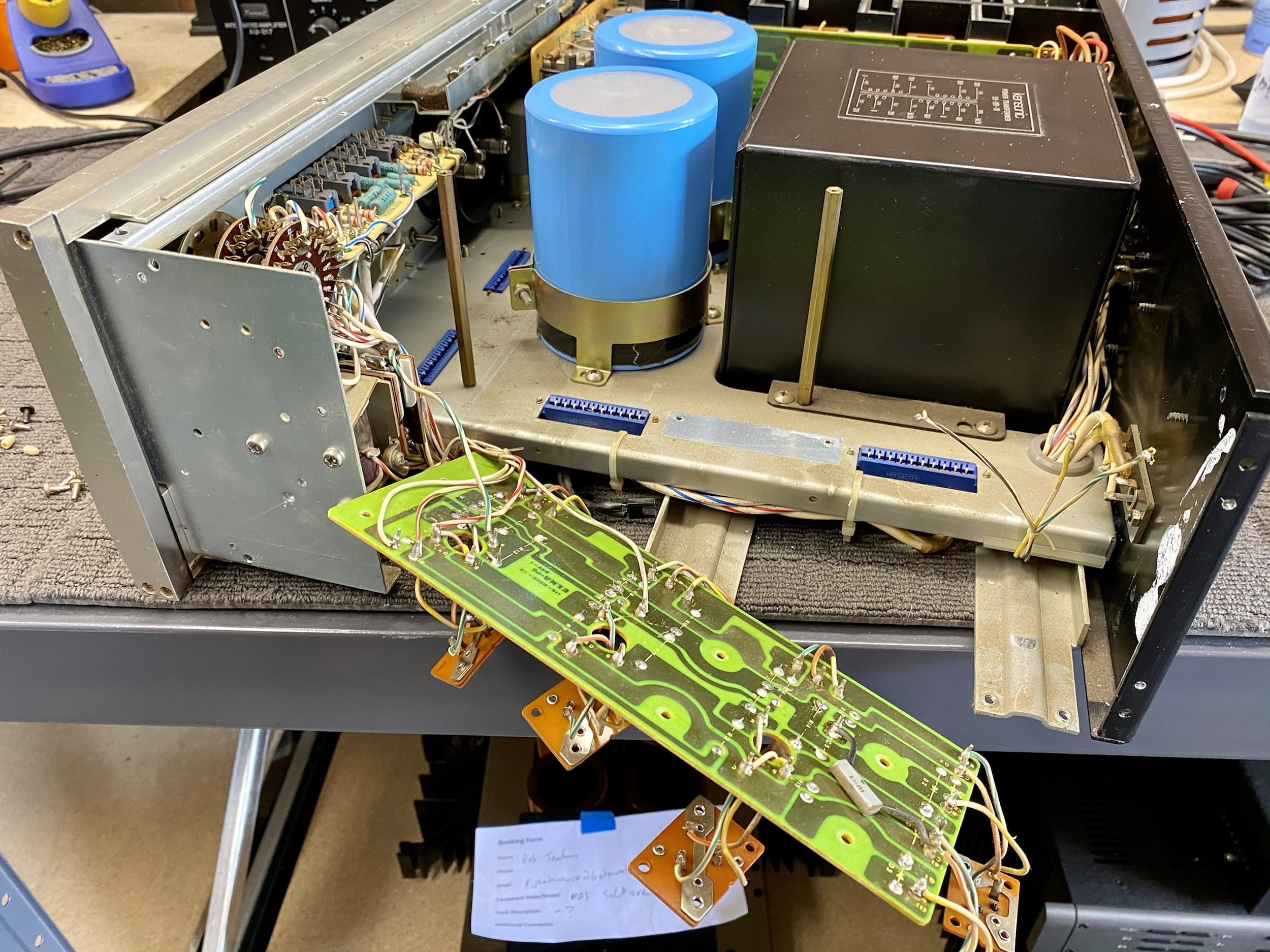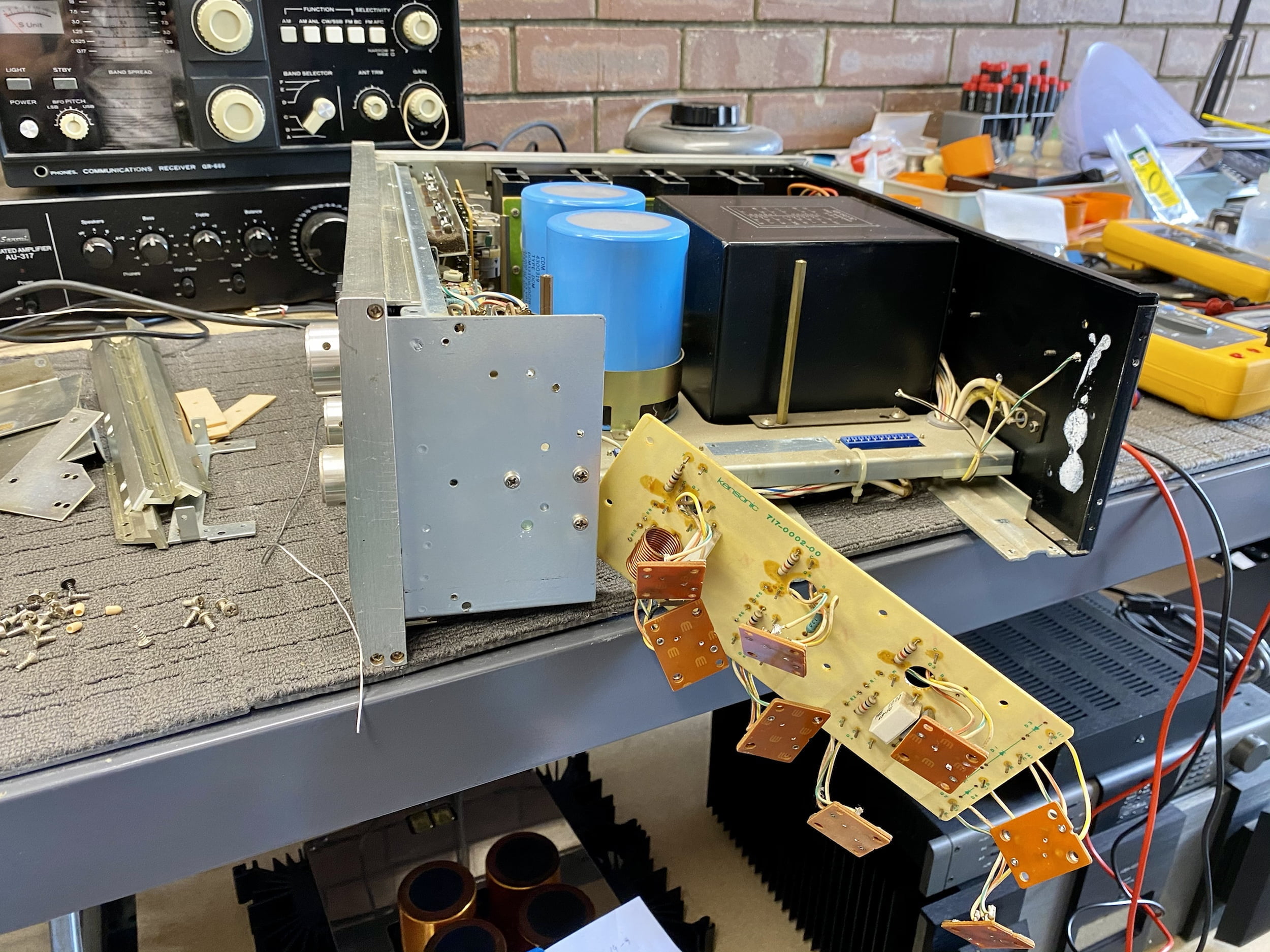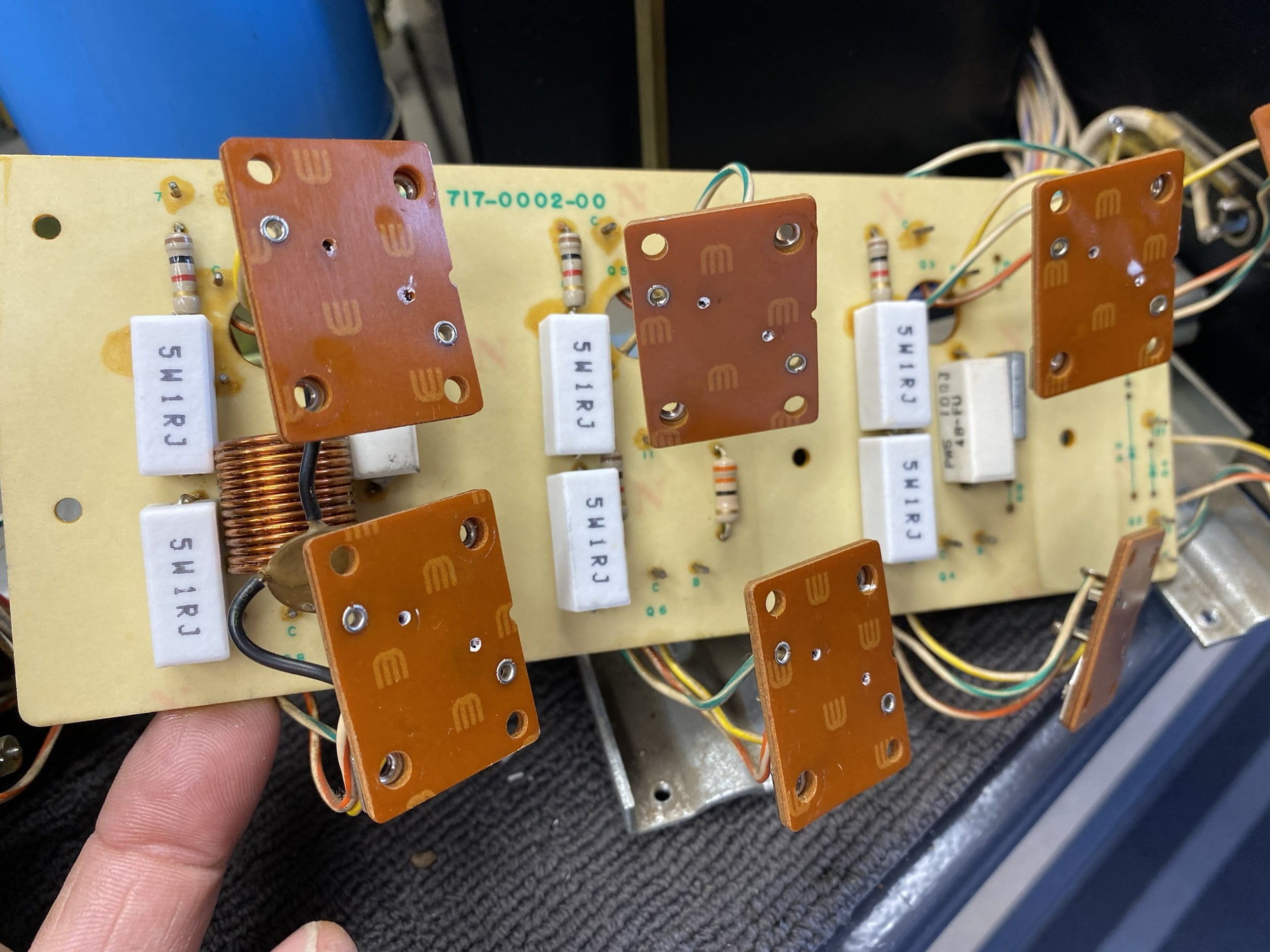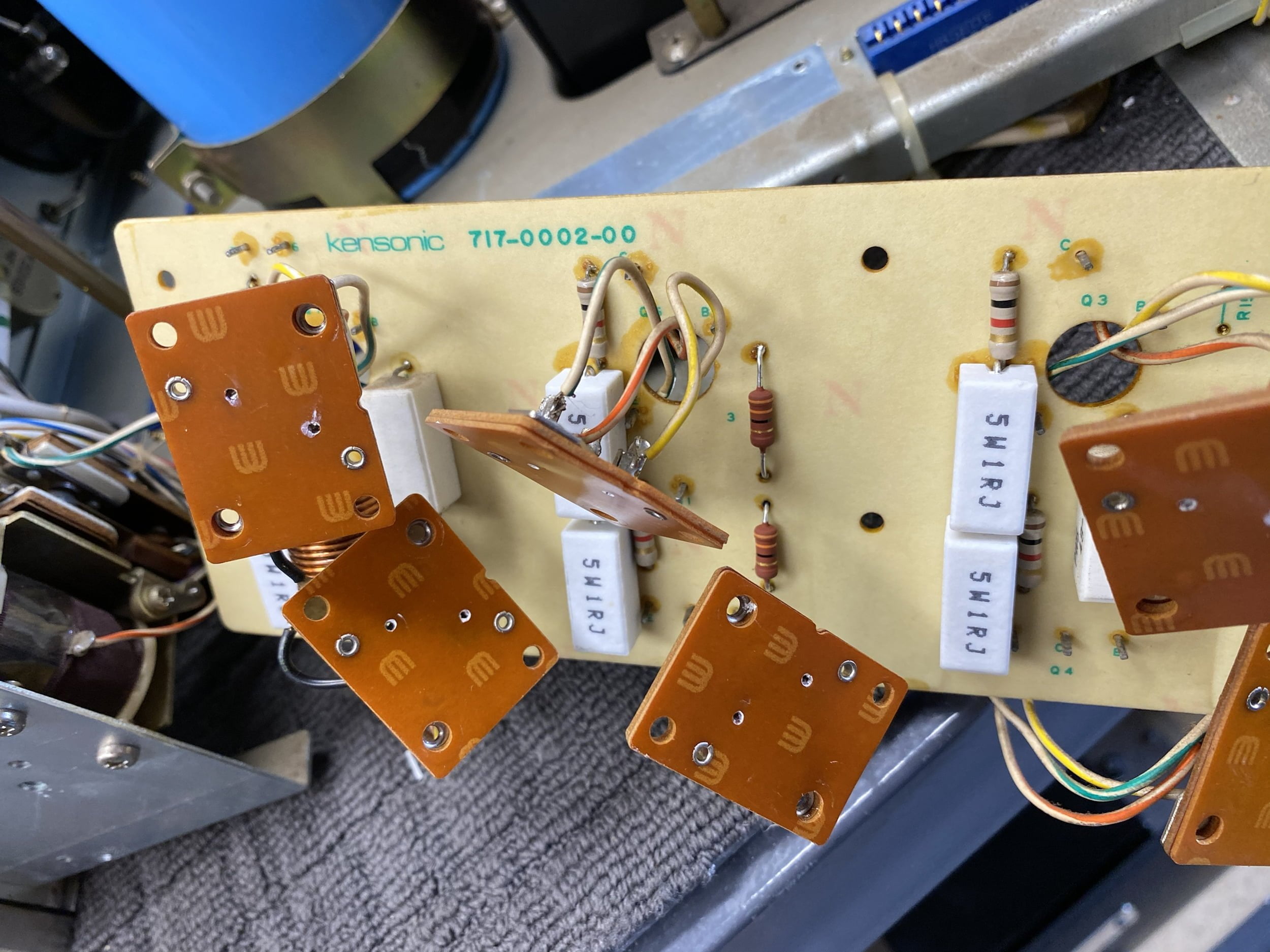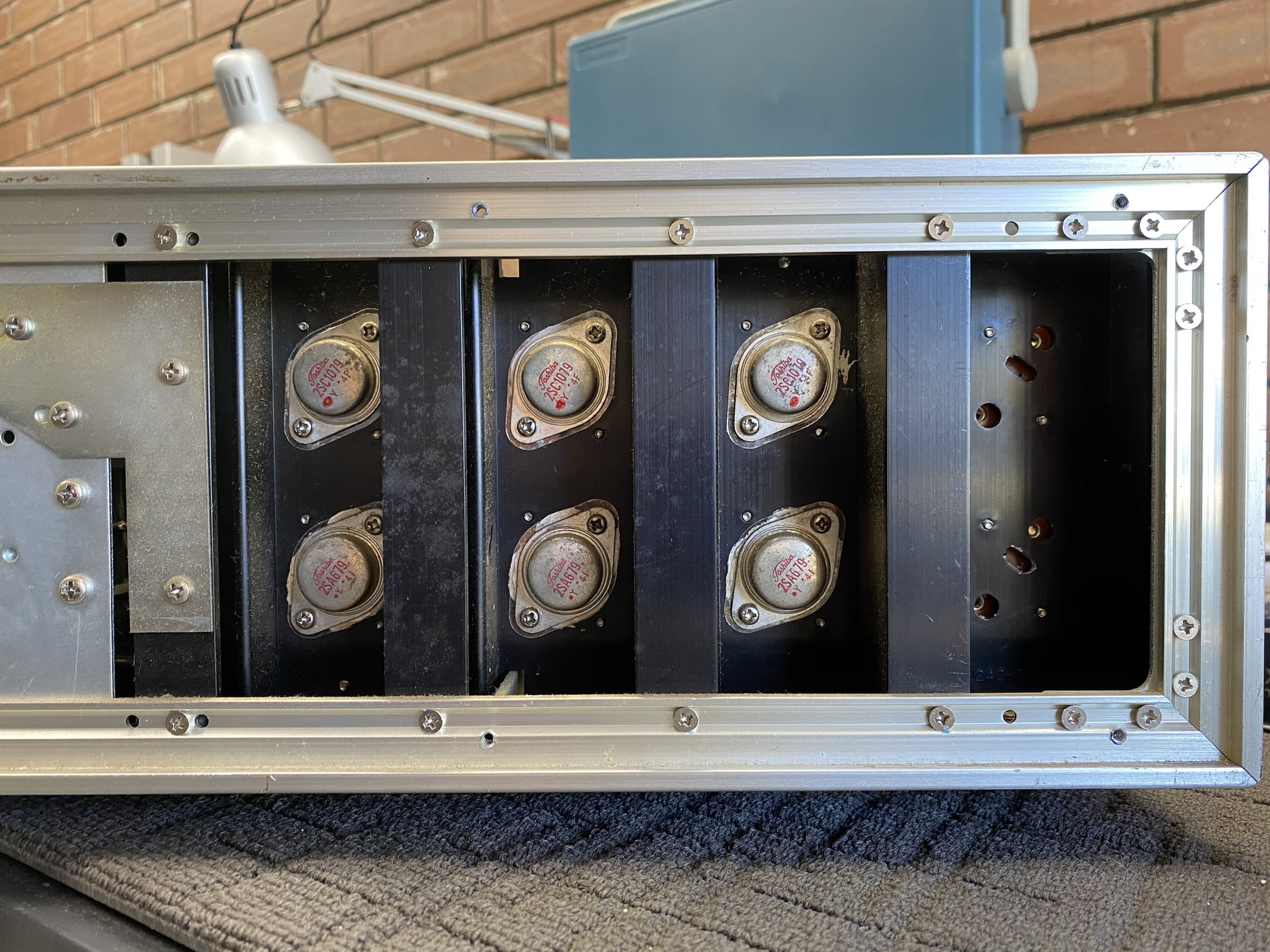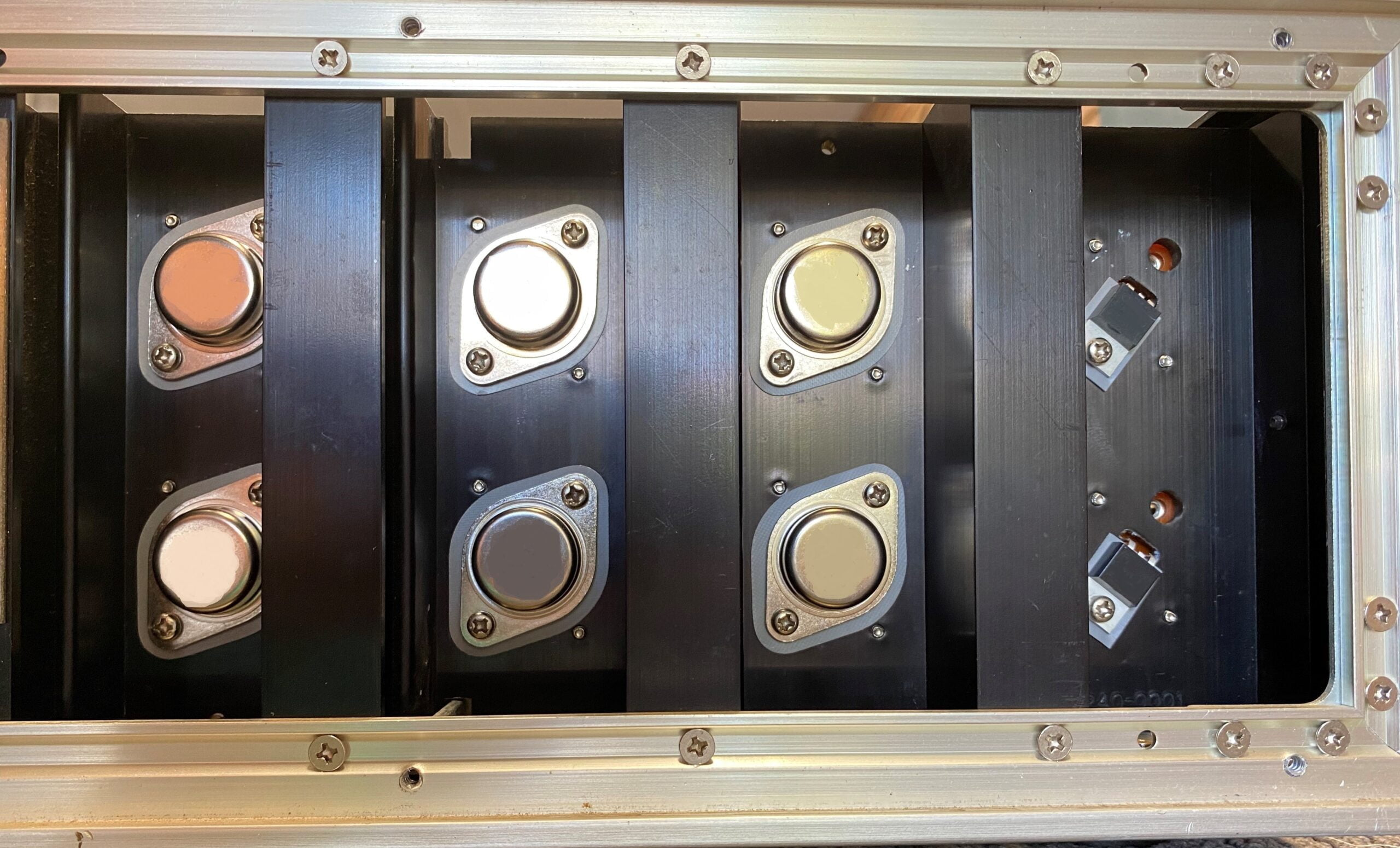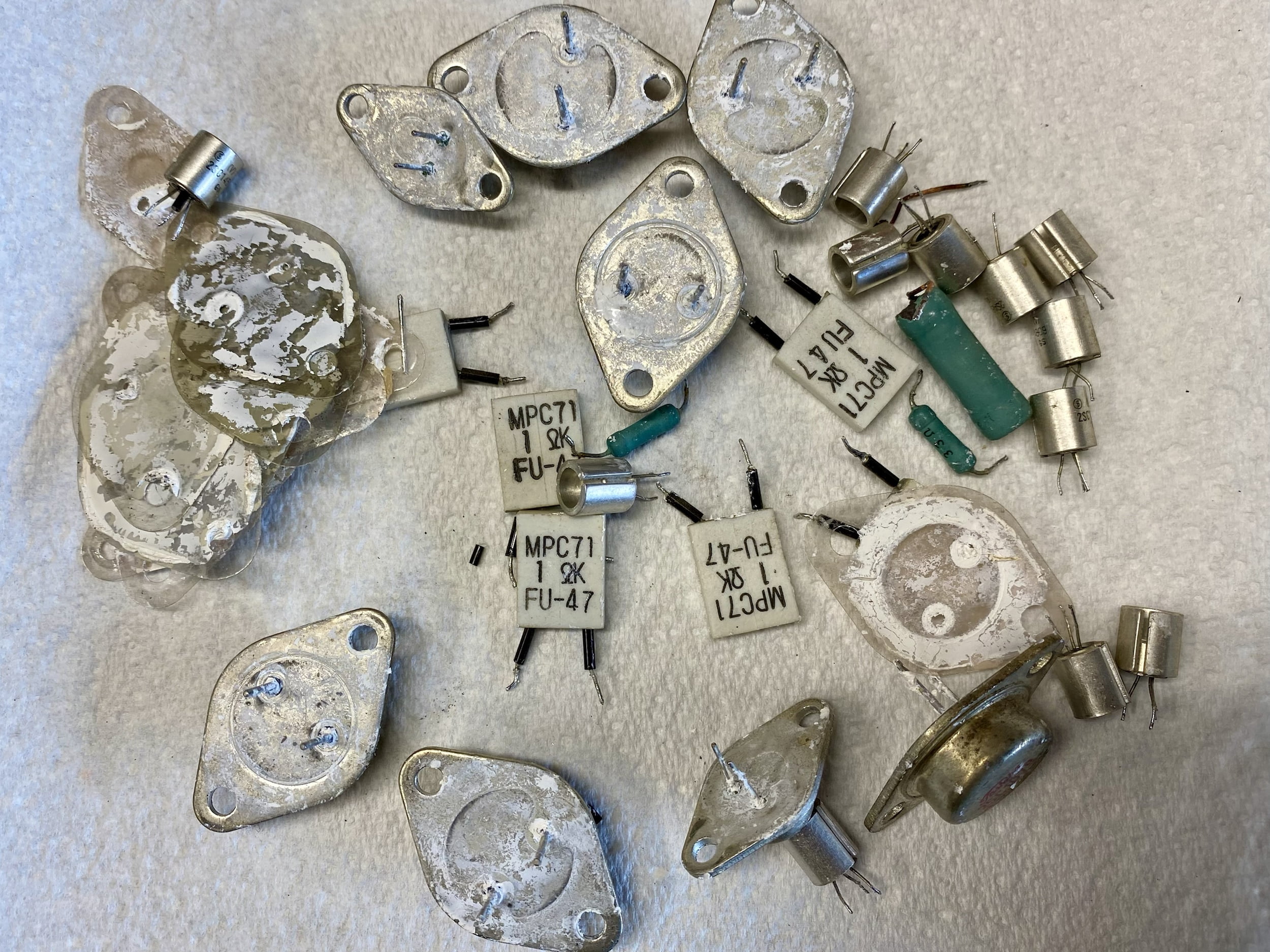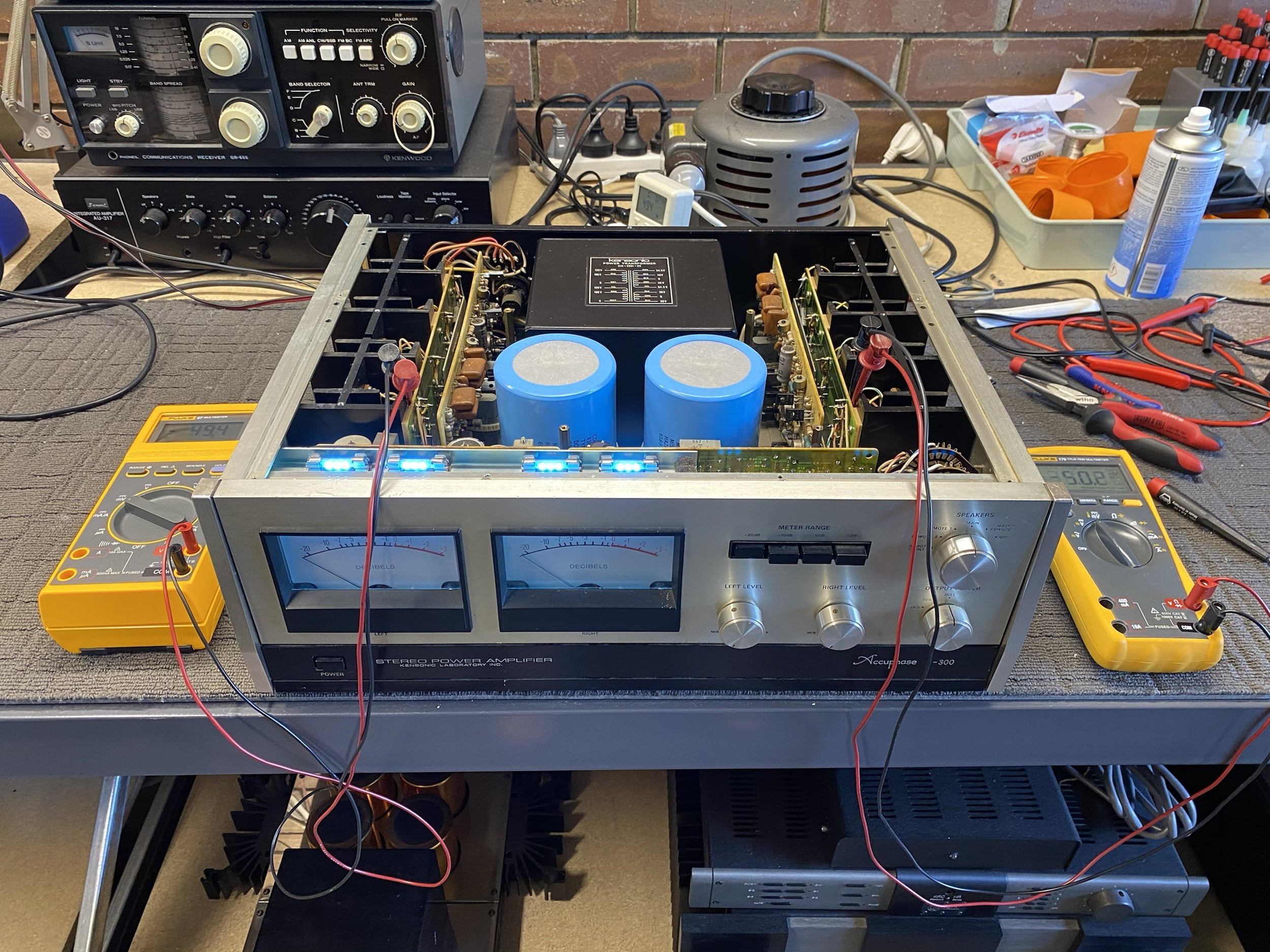 Results
Repairing this beautiful Accuphase P-300 and hearing her sing was particularly satisfying. A logical, methodical approach delivers what I consider a predictable result with this beautiful amplifier, something others weren't able to achieve.
I reckon this repaired P-300 sounded as good as new and her reliability is now enhanced by my replacement of unreliable semiconductors that often cause problems. Further work for this old girl should include full restoration of all boards. That's up to whoever owns her now but definitely needs to be done and done by someone who will do it properly.
Her owner was understandably very happy to have his P-300 running again, though I suspect he didn't appreciate the amount of work that went into fixing this one. Actually, many people have absolutely no idea just how challenging repairs like this can be. That's where the money goes folks – the time and intellectual challenge of actually repairing something like this. Perhaps this article will help!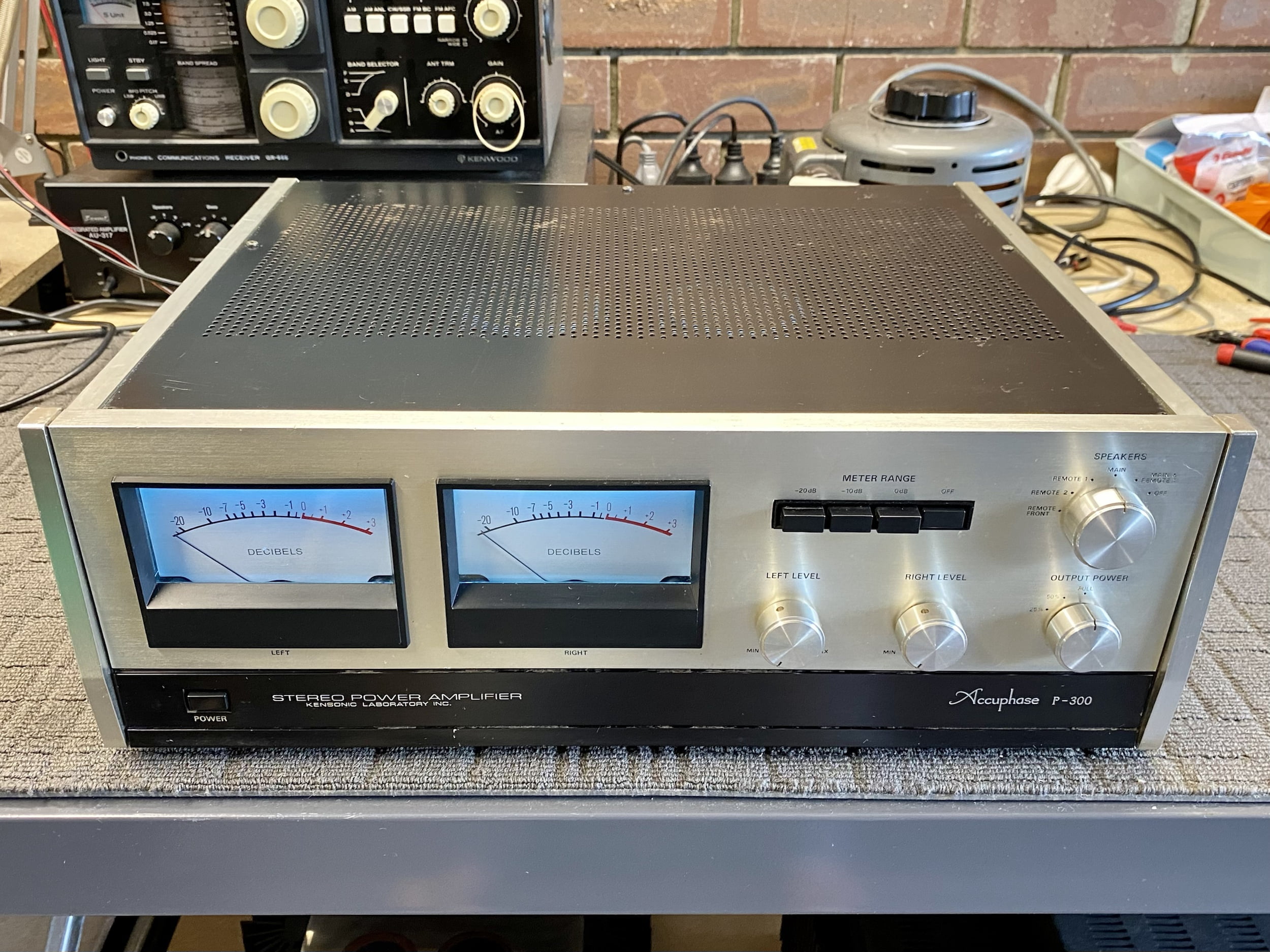 It's worth mentioning a couple of points about this job. Having this Accuphase P-300 fixed properly when it originally failed would have been the ideal solution and would likely have saved a ton of time and money. We don't know when that was or what the circumstances were, so as usual, a lack of history leaves us to speculate about exactly what happened here.
Without the right attention, complex, beautiful pieces like this classic amplifier are lost, perhaps destined for the Hall of Shame after falling into the wrong hands. It's important to seek really good advice regarding any work on an amplifier like this.
By the way, I'm not for a moment suggesting that the right approach is only offered by Liquid Audio, but I can say that we are one of a very small group of repairers offering it.
Repair vs Replace
That's the real question for any owner faced with a scenario like this, but I'm sure that if you made it this far, you'll know where this is going. If you are ever faced with this question, it will likely come down to how much spare cash you have.
Replacing an Accuphase P-300 with something equivalent new, such as the current model Accuphase P-4500, will set you back around $14K AUD. That's a gorgeous amplifier, but still only 90 Watts per channel, much less than the P-300's 150 Watts per channel.
Alternatively, you could drop similar money on a Yamaha M-5000. The M-5000 certainly looks pretty and I'll bet it sounds good. Still, it's only 100 Watts per channel and for me, the P-4500 looks even better and weighs more.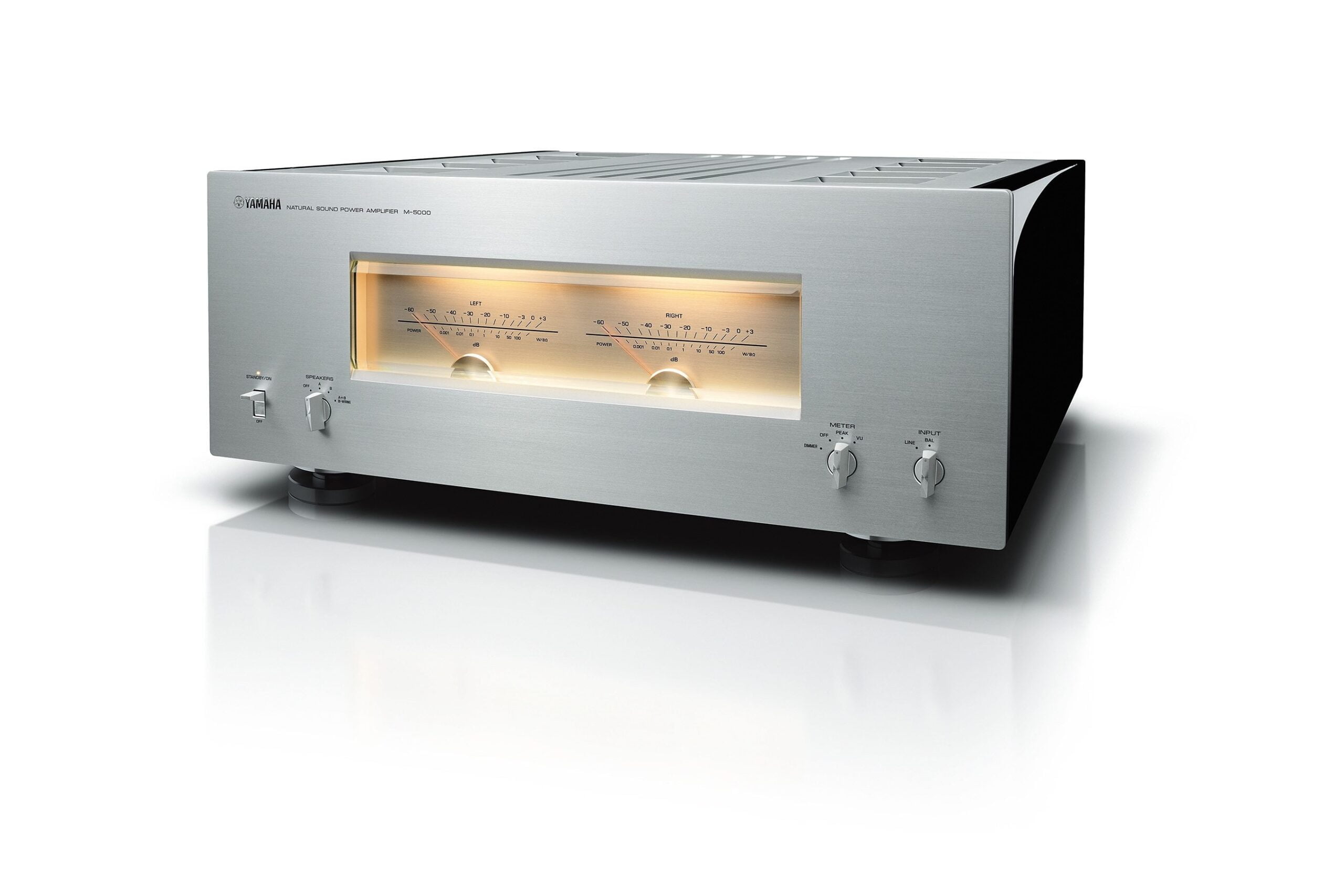 I honestly think most will be surprised at just how good a well-sorted P-300 sounds. Very surprised. Forget technological advancements and other nonsense, this is an analog amplifier, and all the better for it. I'd take the P-4500 over the P-300, followed by the M-5000. In terms of power, if I needed the grunt, the Accuphase P-300 beats both.
Repairing even this very broken Accuphase P-300 was economical by comparison. Checking back over my invoice, repairs were not even 10% of that new replacement cost, despite the amount of work involved. You know what I think is the better option and I think most others would too. Besides, who's got $15K sitting around to spend on an amplifier?!
If you own one of these wonderful amplifiers and it needs repair or overhaul, seriously consider having the work done, properly. With the right approach and experience, these beautiful amplifiers and others like them are almost always worth repairing.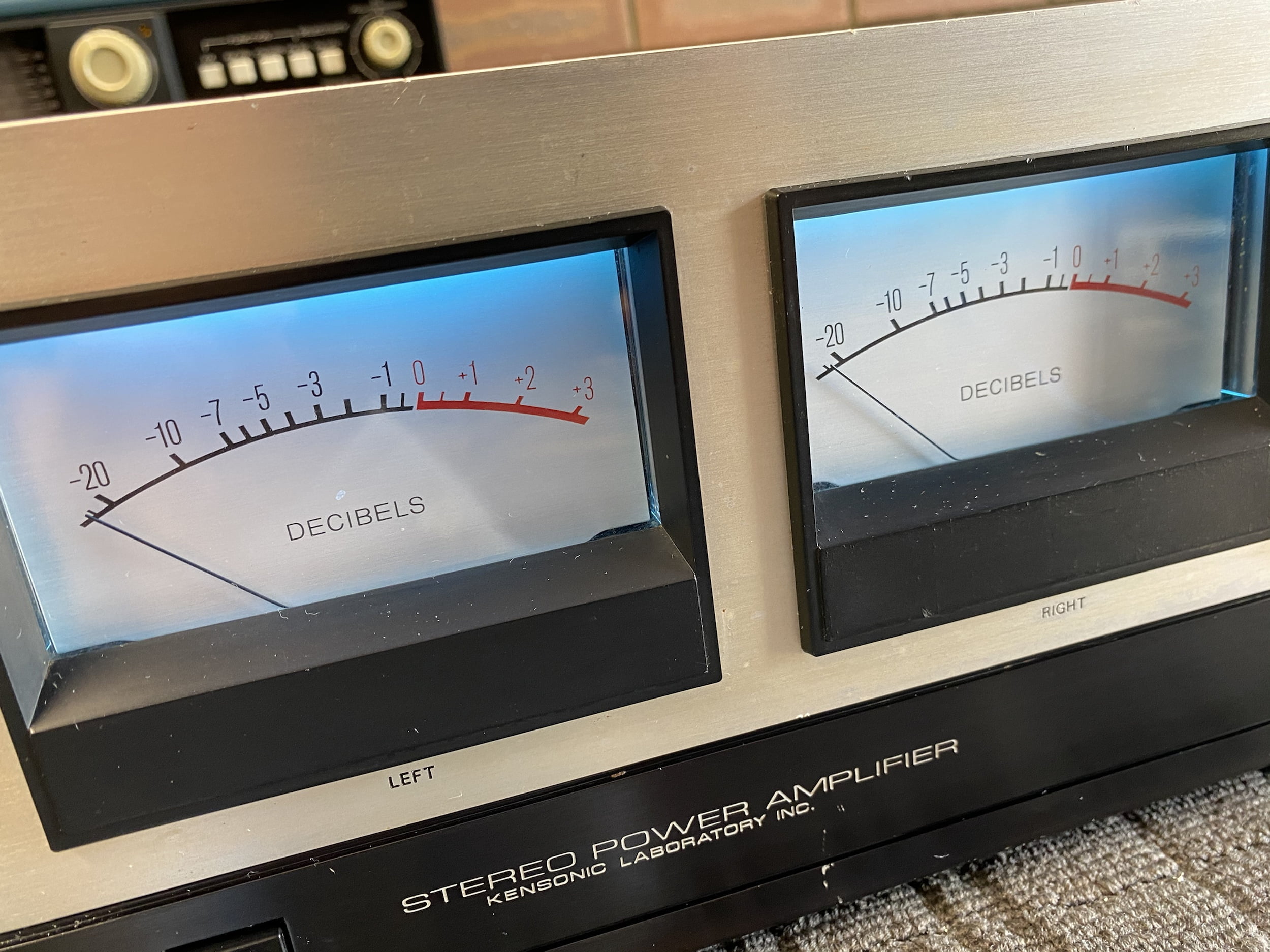 The Bottom Line
Want a high-value, high-performance, high-feature power amplifier with a luxury pedigree that can grow with you and your system? Seriously consider the Accuphase P-300 stereo power amplifier. It's a true thoroughbred, built like a battleship and sounds beautiful, just like she looks. Just don't scrimp on maintenance, it's never worth it.
And so there we have it, another repair, straight from the Liquid Audio workshop to you. I hope you enjoyed this one, I certainly always enjoy working on Accuphase equipment.
As always, a huge thanks to my regular and new readers for stopping by and sharing the story. Don't hesitate to let me know if you have any Accuphase or other classic hi-fi equipment you'd like us to look at for you, in the unique way that we go about this type of work.
As always, please like, share and subscribe and if you've particularly enjoyed this article, you can even buy me a drink in the footer. Goodness knows I needed one after this!
Accuphase P-300 Power Amplifier
$1500 - $3000 AUD
Pros
Superb Accuphase build and reliability
Fantastic drive, power and sonics
Very serviceable all these years on
Beautiful meters, timeless styling
Flexible inputs, attenuators, headphone socket
Cons
Needs the right care and technical attention
Styling may not have a high WAF