One of my customers recently donated his malfunctioning Technics RS-M45 cassette deck. I've repaired and serviced her and she is now for sale.
The Technics RS-M45 direct-drive cassette deck is a real classic, from the golden era of cassette decks of around 1979 – 1983. This RS-M45 wasn't playing cassette tapes though and needed some deep service work, including lots of cleaning and lubrication.
With that work completed, plus a deep clean of the tape path, head demagnetisation and some attention to switches and controls, this lovely old Technics RS-M45 is now running beautifully and is ready for sale.
UPDATE: Sold!
Cassette Tape Resurgence
It's really interesting to look at just how many cassette decks are coming in these days for service and repair work. Cassette tape as a medium is experiencing somewhat of a revival, something I picked a few years back and discussed with many of my customers and friends. Judging by the number and quality of decks coming in, I'd say that people really are rediscovering this classic, enjoyable format and making mixtapes all over again!
I still use and enjoy my Pioneer CT-A9X most days and it gives me a real kick to make recordings to tape and then play them whilst I'm working. Cassette tape has an analog richness that still brings a smile to most people's faces and there is something about the interface between a human and a cassette deck and tapes that you can't replicate with other media.
Technics RS-M45 Specifications
Type: 2-head, single compact cassette deck
Track System: 4-track, 2-channel stereo
Tape Speed: 4.8 cm/s
Heads: 1 x record/playback, 1 x erase
Motor: FG servo DC
Tape Type: type I, FeCr, CrO2, Metal
Noise Reduction: B
Frequency Response: 20Hz to 20kHz (Metal tape)
Signal to Noise Ratio: 68dB (dolby B)
Wow and Flutter: 0.035%
Input: 60mV (line), 0.25mV (mic)
Output: 0.7V (line)
Dimensions: 430 x 98 x 345mm
Weight: 6.1kg
Finish: black, silver
Year: 1980
Service & Repair Work
I see a lot of cassette decks these days and it makes me very happy to work on decks like this one. By this age they need extensive mechanical work to free up mechanisms, clean, lube, replace belts and so on.
More specifically, the head block of this RS-M45 was sticking and unable to complete its full traverse. This hampered deck operation and caused cassettes to stick in the mech. Also, the reel torque was low due to a glazed idler tyre and worn idler drive wheel and reduced idler spring tension.
My work on this RS-M45 involved a full clean and lube, which meant pulling out the mech to allow me to place the synthetic lubricant in all the right places. The correct lubricants have to be applied sparingly, in many locations, and then really worked through to free things up.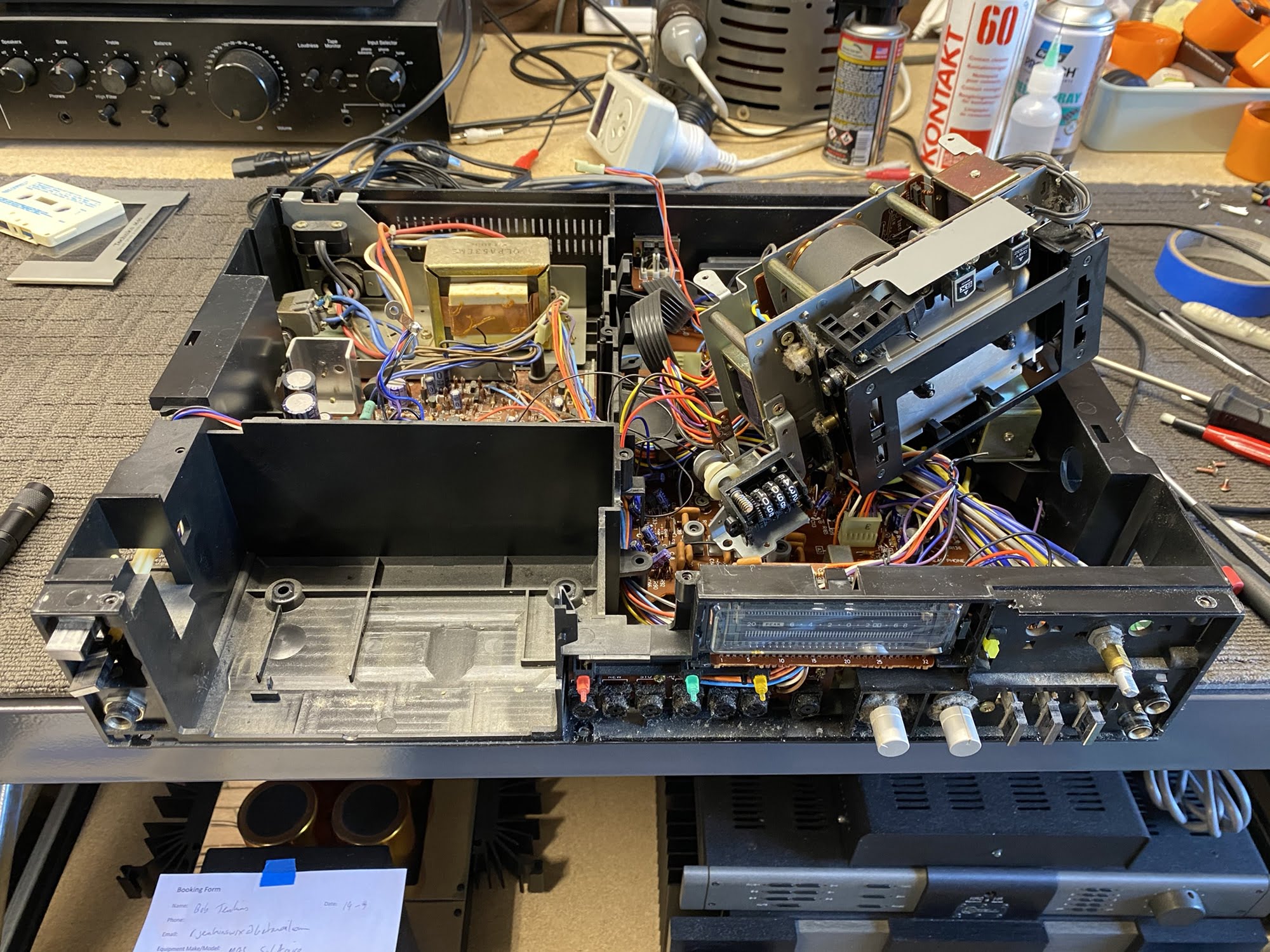 I also did some restorative work on the idler tyre, tyre drive and idler spring, which together greatly improved torque and got everything spinning correctly again. The usual tape path cleaning, demagnetisation and a head-polish for this old girl and were also done.
Results
I have a real fondness for these old Technics machines. I love the styling, the nearly all-metal construction of the tape mech and the solid mechanical build quality. The bi-coloured VFD peak meters add to the appeal and timeless Technics styling.
With a direct-drive capstan, this machine has no capstan belt, so that's one less thing to worry about. In fact, the only belt is the one driving the counter, so in the worst case of belt-death, only the counter stops working! A direct-drive capstan means low wow and flutter and the all-metal eject mechanism is so smooth you have to operate it to believe it.
This service produced great results, with the Technics RS-M45 back to full normal operation, looking and sounding great as they usually do. I spent at least two hours getting this old girl running nicely and that's normal for older decks. Servicing my Pioneer CT-A9X took me a whole day, so this Technics job was a quick one!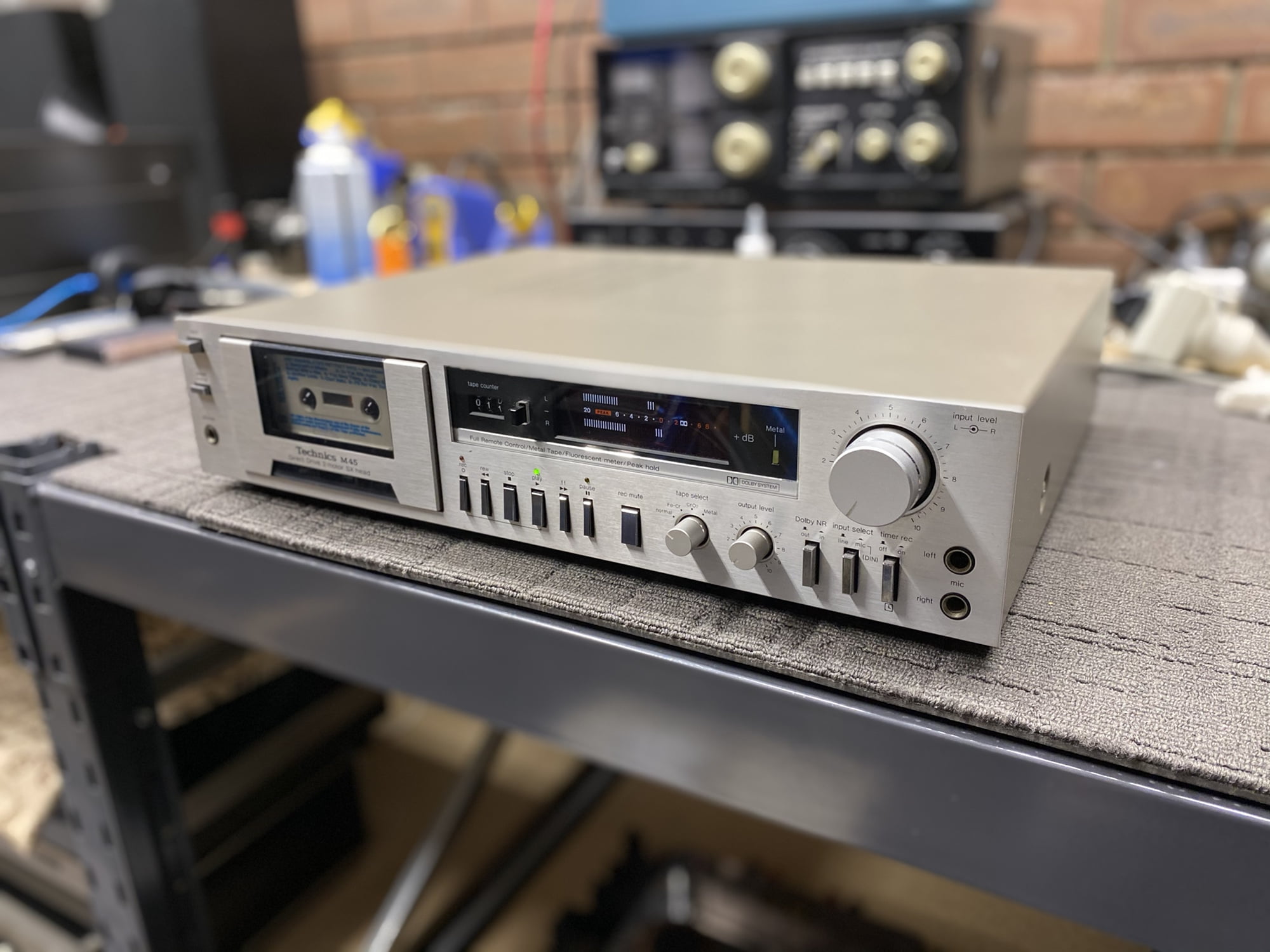 As always, visit my Store for more details and contact me if you'd like to buy this beauty, or if you'd like me to work on your cassette deck.