Many won't be familiar with their high-end products, but this TEAC VRDS-10 CD player is an absolute gem. Let's take a look.
The TEAC VRDS-10 is a very serious CD player from around 30 years ago now. Utilising the venerable Sony KSS-151A laser mech and a custom, heavy-duty direct-drive CD motor and chassis, the VRDS-10 means business. In this article, we repair and service this old girl.
Something to consider: this CD player still works, using her original laser, some 30 years after manufacture. I really cannot overstate this, because many new players last around 2 – 5 years. Anyway, don't forget to check out my accompanying video on YouTube:
The Good, the Bad & the Ugly
There's much to love about the TEAC VRDS-10 and not much not to. Starting with the good, the build is fantastic, 10kg of metal, very little plastic. The machine is serviceable and built to last. The Sony KSS-151A laser is legendary for its performance and reliability and the loader is built like a tank. This machine will last, no doubt about it.
In terms of the bad, the DAC chips used here are the relatively ordinary Philips TDA1547, one of the first bitstream chips and, in my opinion, not a great-sounding one. Note however that opinions on this vary and the overall machine design is more important than the DAC chips used.
The boards have somewhat flimsy traces, not Sony ES or Accuphase grade. The loader uses two drive belts, one of which is easy to access and the other not. That's it though, overall a great machine. Thankfully, there is no ugly with the VRDS-10.
Keep in mind that this was a premium player at the time of sale. Costing GBP £769, roughly $1150 USD or $2000 AUD, and that's in 1993! This VRDS-10 still sounds excellent, no doubt a result of good overall design, so don't be put off by its age if you find one in good condition.
Specifications, courtesy of HiFi Engine
Disc format: CD
Digital converter: 2 x TDA1547, bitstream, 8 x oversampling
CD Mechanism: KSS-151A
Frequency response: 1Hz to 20kHz
Dynamic range: 99dB
Signal to Noise Ratio: 110dB
Channel separation: 110dB
Total harmonic distortion: 0.0013%
Line output: 2.2V
Digital outputs: coaxial, optical
Dimensions: 442 x 149 x 331mm
Weight: 10kg
Accessories: RC-481 remote control
Year: 1992
Price: GBP £769 (1993)
Problems with this TEAC VRDS-10
If you visit regularly you'll know I enjoy CD player repairs. Not all machines can be viably repaired of course, but this one certainly could.
This TEAC VRDS-10 came to me jammed up with a disc stuck inside and a history of not playing or running reliably. Inspection revealed the need for a full mech-out mechanical service and a board-level repair to the analog power supply.
Most of these machines have a resistor that gets too hot, the solution is not to change the value but to replace it and mount the part in such a way that it radiates heat more effectively, i.e. off the board rather than hugging it.
Repair & Service
This VRDS-10 needed a full mechanical service and board repair, so let's dig in. First I repaired the power supply issue.
Mechanical Work
Next, I focussed on the loader. These machines suffer from worn drive belts as all CD players do. Reduced belt efficiency and diminished lubricant lead to excessive friction in the loader mech, causing the drive not to actuate the limit switches, causing player confusion and operational issues.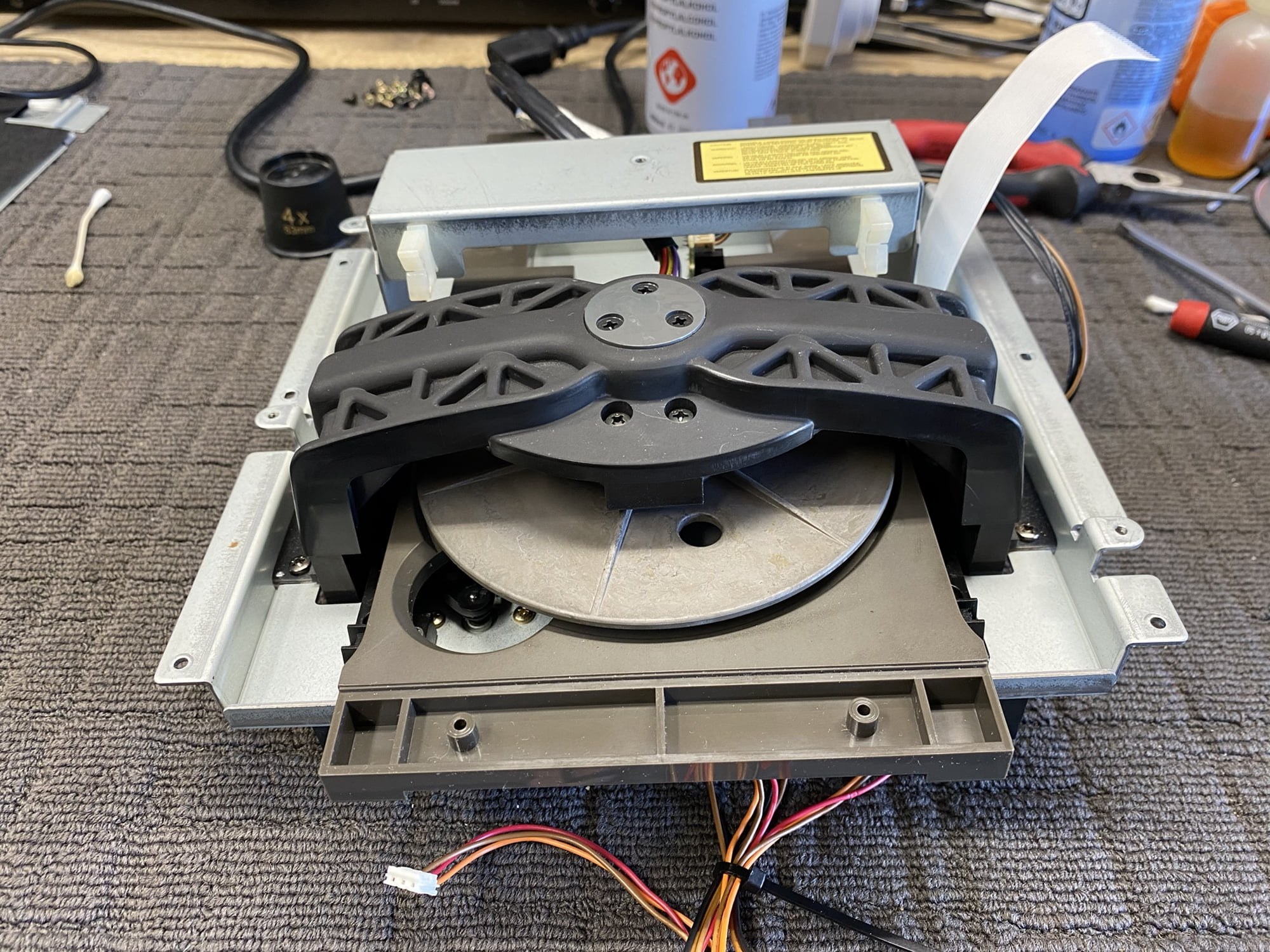 Results
This TEAC VRDS-10 now works perfectly again, a great result. I got some great feedback from the owner about the machine. He seemed most impressed by the fact that she works smoothly and sounds quite a bit better, no doubt due to the service and power supply repair. He felt she sounded somewhat veiled before the repair and service, less so now, so that's great.
In terms of outright performance, it's fair to say she is limited by her TDA1547 DAC chips. As I mentioned previously though, they have a sound of their own that some like and she still sounds great. This only confirms that the whole is always more important than the sum of the parts.
To buy a player built like this now would cost many thousands of dollars, so I always feel it's best to keep equipment like this running and enjoy it, while we still can! You can add a nice external DAC and you'll have a high-performance player, far better than sub $2000 players now, as long as you use a semi-decent DAC like a PS Audio NuWave DSD for example.