Kenwood's legendary KD-500/KD-550 direct-drive turntables are classics from an era when things were built to last.
Indeed, if decks like the KD-500/KD-550 with this level of custom engineering were manufactured now, they would cost many thousands of dollars. The Technics SL-1200 is a classic example – it's recently been reissued and costs thousands. This is one reason I love these Kenwood decks and others like them.
I've written many Kenwood KD-500/550 articles. Don't forget to also check out my articles on the Kenwood KD-600/KD-650 turntables, just about the best direct-drive decks from Kenwood, apart from the legendary L-07D.
The only difference between the KD-500 and KD-550 is in the tonearm. The KD-500 came without an arm from the factory, while the 550 was supplied with a Kenwood arm. The idea was that you would then fit your favourite Grace G-707, or perhaps an SME Series 2 or 3 to the KD-500.
Specifications, courtesy of Vinyl Engine
Drive: direct-drive system
Motor: 8-pole 24 slot brushless DC servo motor
Platter: 30cm, 1.5kg aluminium alloy die-cast
Speeds: 33.33 and 45rpm
Wow and flutter: less than 0.03% WRMS
Signal to noise ratio: more than 60dB
Tonearm: static balance type, s-shaped pipe arm
Effective length: 237mm
Overhang: 15mm
Tracking force range: 0 to 4g
Usable cartridge range: 5 to 12g
Dimensions: 502 x 382 x 162mm
Weight: 14.9kg
Engineering
Nothing from Rega or Pro-Ject comes close to the level of precision engineering included with a KD-500 or KD-550. In fact, most contemporary turntables pale in comparison. Its almost as though they come from different universes and they really do, no matter what the salesperson might tell you.
The deck in the pictures here is a KD-500 and therefore has a non-Kenwood arm. These Kenwood direct drive decks have a chassis made from Kenwood proprietary ARCB synthetic granite. The motors are a custom, high-torque design, the tonearm on the KD-550 is also a Kenwood custom design. More on this custom engineering below.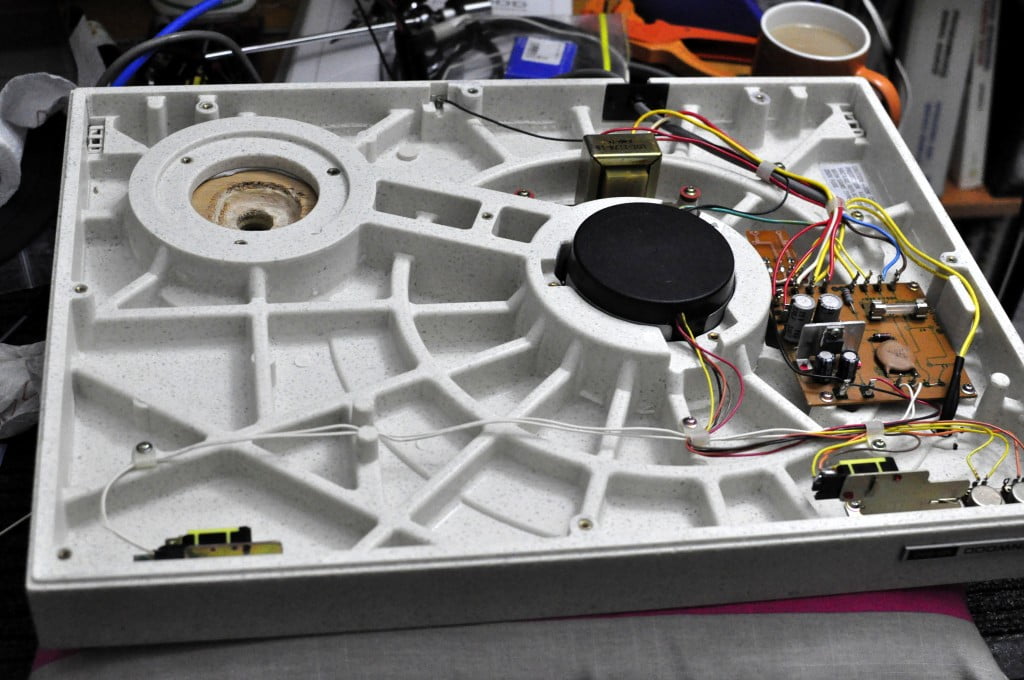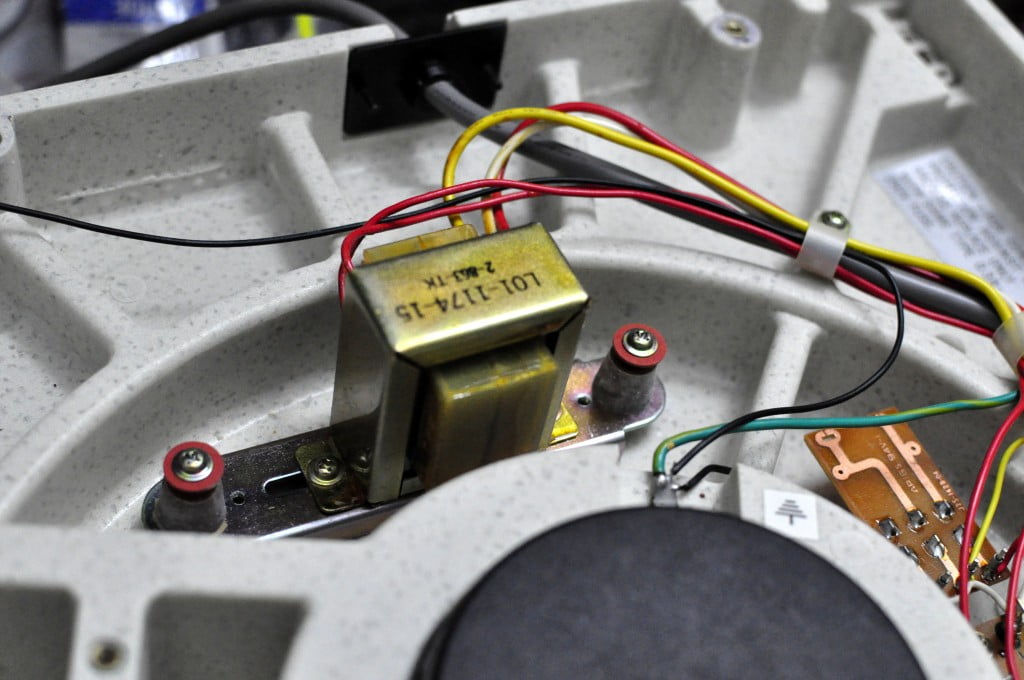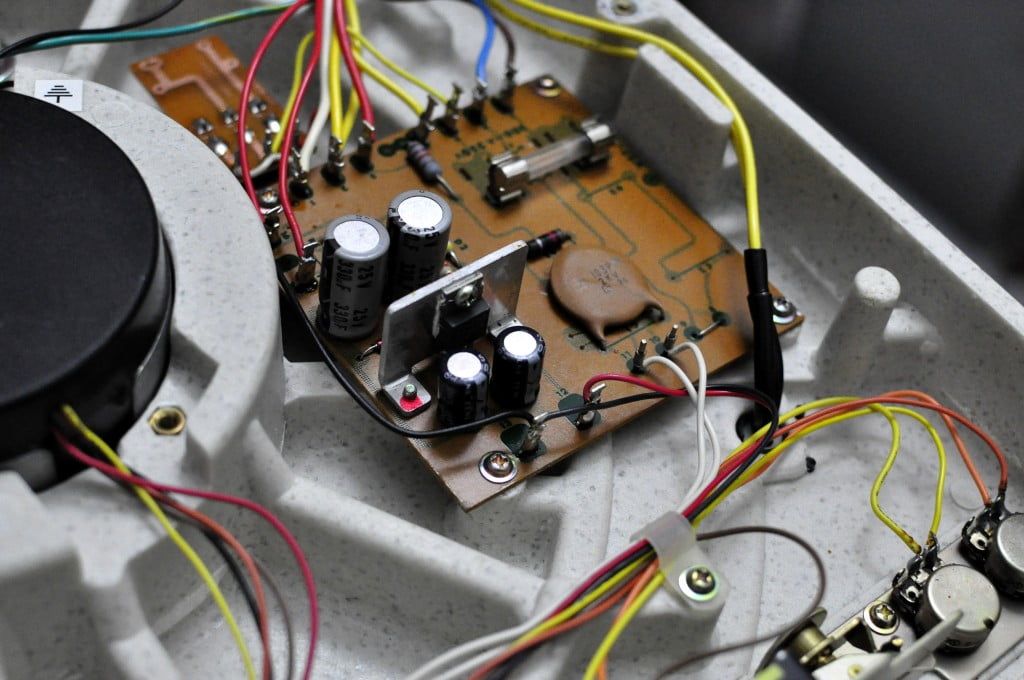 Motor
The KD-500/KD-550 feature custom-manufactured direct drive motors. This is a world of precision apart from the puny AC clock motors you find in Rega or Linn decks and is exactly what the Japanese do best – impeccably designed well-executed custom engineering.
Belt-drive decks cannot compete with the speed and pitch stability imparted by direct-drive motors like those found in these Kenwood turntables. This becomes apparent as soon as you play a record.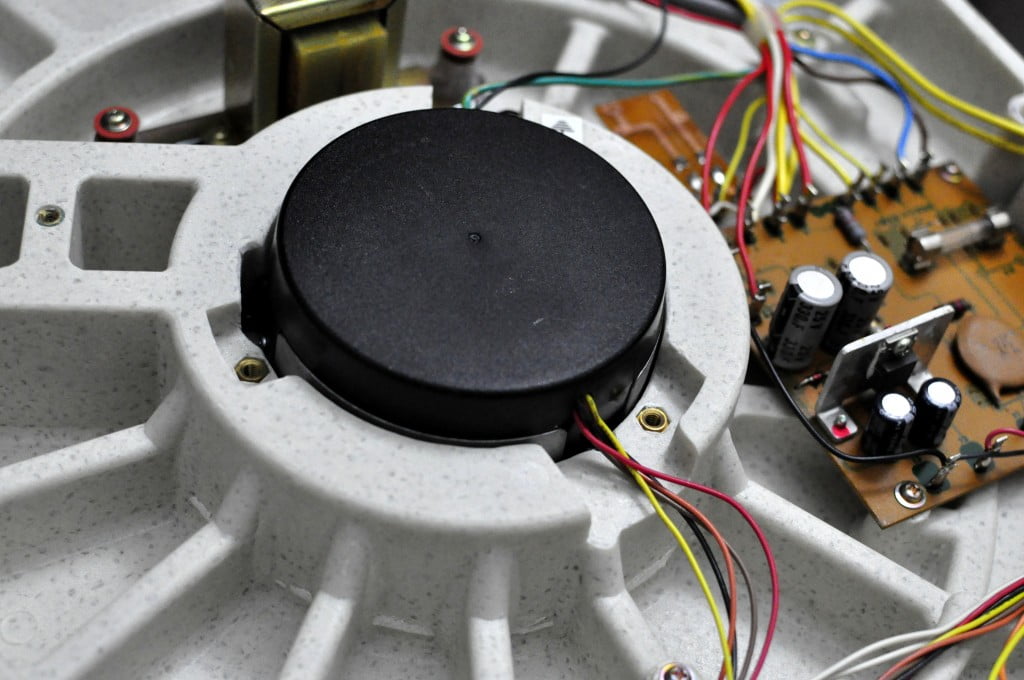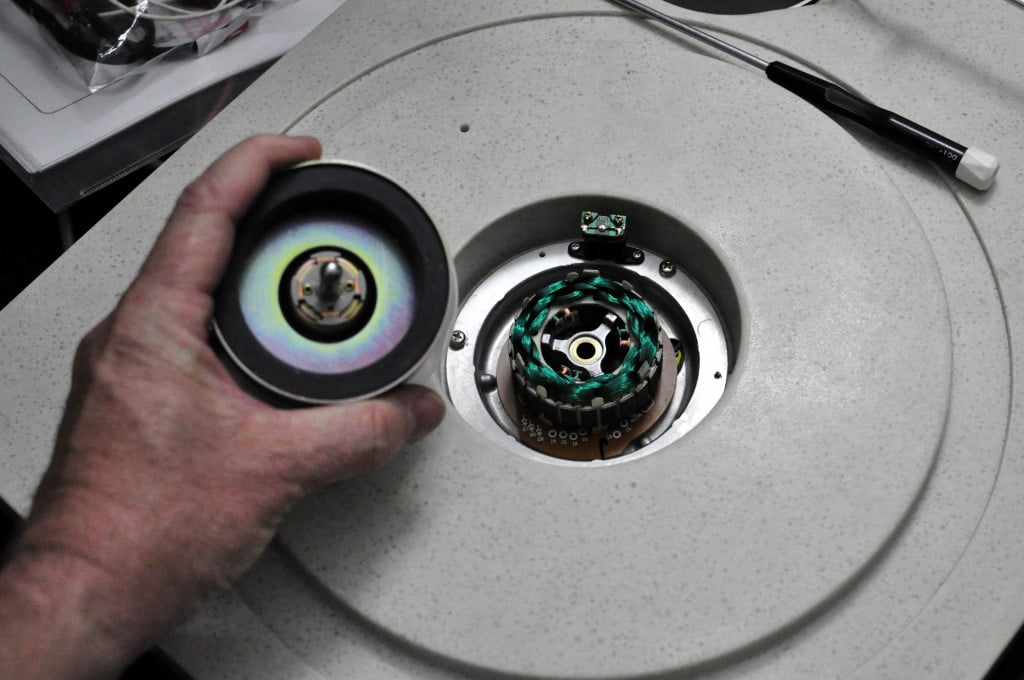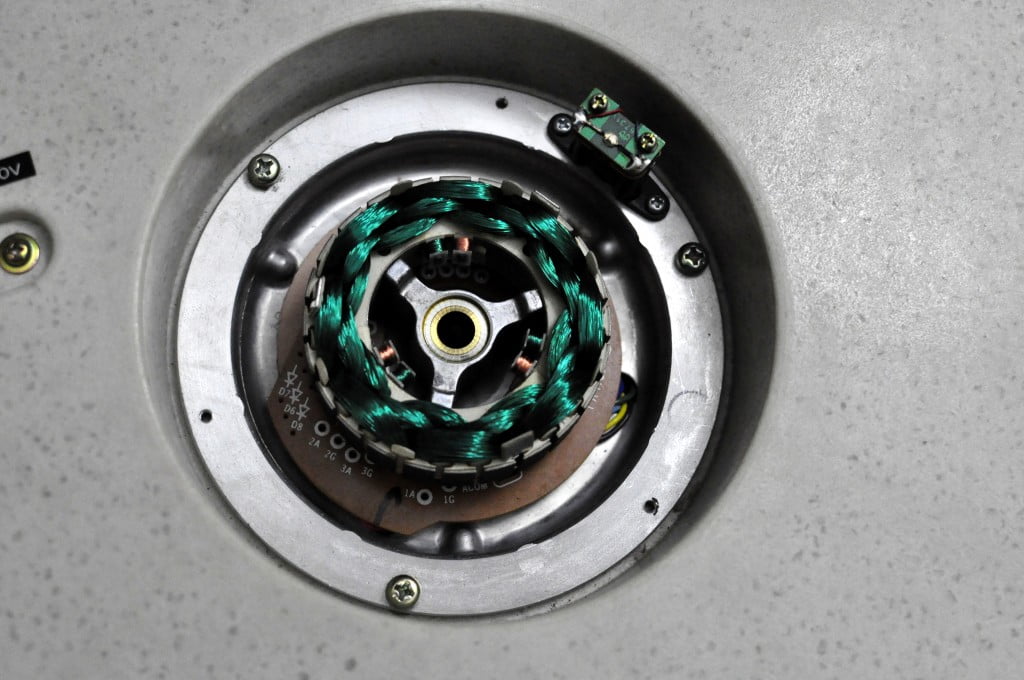 Chassis
Another area where the Kenwood KD-500/KD-550 excels is the chassis or 'plinth'. This is not a plinth made of wood or chipboard like many other decks. Instead, the Kenwood plinth is made from a synthetic marble, or granite, called ARCB.
ARCB is a resin-impregnated composite. It looks and feels like marble and is a material Kenwood became well-known for. Many customers still whisper about the "marble turntables" when they see Kenwood decks here in the workshop. Possessing excellent strength and damping properties, ARCB can also be moulded into complex shapes, like the KD-500/550 chassis for example.
With the extraordinarily high costs needed to set up production, it's unlikely we will ever see custom materials engineering like this again in turntables. If you look at the featured image at the top of this page, you'll see the attention to detail in the heavily ribbed under-chassis. All this was designed to dampen and minimise resonance in the deck.
The platter on the Kenwood is nice and solid, weighing around 1.5kg. It's not a heavyweight platter, but the deck weighs around 15kg which these days would put it in the massive category. Rumble is around -70dB and wow and flutter sit at around 0.03%, very good figures even now.
You can see a few more pics of the KD-500 at The Vintage Knob.
Service
One thing I always do when a Kenwood KD-500/KD-550 comes in for service is clean and lubricate the bearing and motor. These motors were designed as sealed-for-life units. It turns out that the folks who designed the deck and wrote the service manual underestimated how long these wonderful turntables would last!
These days, unserviced motors are very much in need of a fresh dose of synthetic bearing oil. This makes a deck run more quietly, often better than new due to improvements in lubricants. This is best left to an expert as there are various things to break for those unfamiliar with the job. Mechanical parts are of course no longer available, so be careful if you are planning on doing this yourself.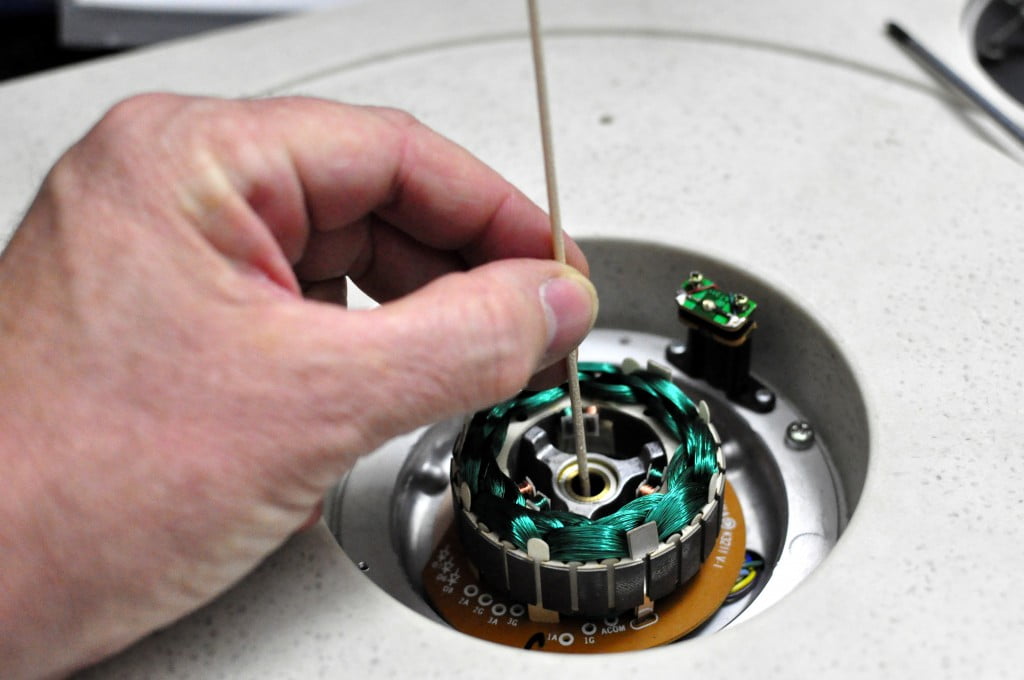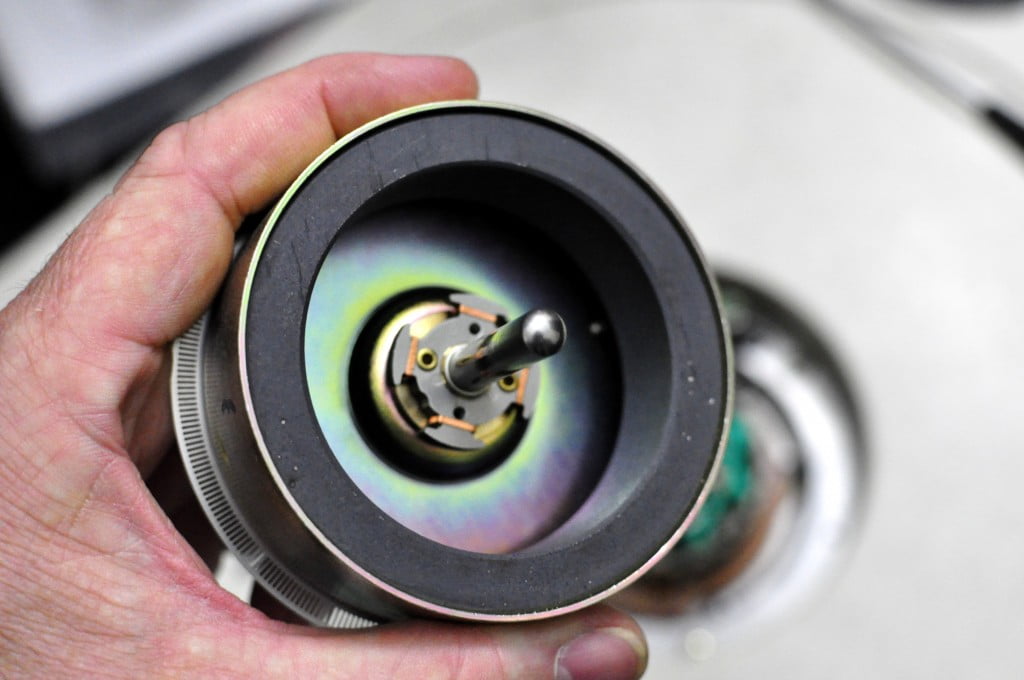 I should also mention the Kenwood KD-600/650 direct-drive turntables. These are even better ARCB decks from Kenwood. I own one of these and it is a superb deck. Mine came with a gorgeous SME Series 3 tonearm.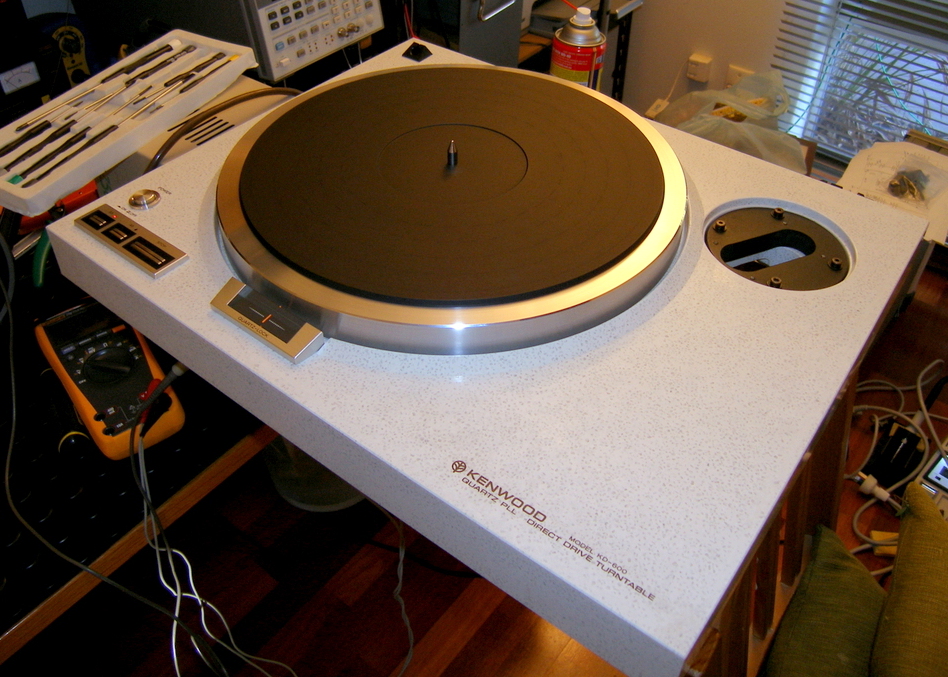 Performance
The KD-500 and KD-550 are a delight to use. Being fully manual decks, you get to raise and lower the arm yourself, cueing the lead-in groove and returning the arm to rest at the end of a record. This is proper turntabling and, because it's manual, nothing interferes with the tonearm and its ability to extract information from the groove.
Simple push-buttons select the speed and there's a handy strobe to help you get that spot on. This is not a quartz-locked deck, rather the speed is referenced to the mains frequency of 50 or 60Hz, depending on where you live. Because of the massive chassis and compliant feet, the deck is pretty well isolated from external noise and vibration. Even so, you should always mount a deck on a dedicated shelf, preferably wall-mounted.
This is a very nice sounding turntable. It gets out of the way and plays records, exactly what you want and exactly what cheap modern decks find it really hard to do. With a good arm or the Kenwood arm in the KD-550, the bass is deep and controlled. Midrange and treble are smooth and non-fatiguing. Sound-staging is excellent. Being direct-drive machines, pitch stability is of course also excellent. Just find a good cartridge to match and you're all set.
The Bottom Line
If you want a manual deck with a huge bang for the buck and cool retro looks, look no further than the Kenwood KD-500 or KD-550. These are excellent decks and certainly one of the best mid-range decks from this period.
If you need yours serviced, I look at many of these decks and can quickly and easily get yours running at it's best. I can recommend, supply and fit a suitable cartridge, and I'm very familiar with all the little tricks needed to get these machines running perfectly. Contact me for more details.
Don't forget to check out my other KD-500/KD-550 articles.