I've just serviced two gorgeous Kenwood D-3300P CD players for a customer of mine. He loves his classic audio gear and owns three of these beautiful CD players.
Background
The Kenwood D-3300P CD player dates to 1986 and is a superbly built component. In fact, this unit is built from such quality hardware and components, that it would cost way too much to make now. The die-cast sub-chassis, for example, could never be included in players these days, short of 10+K Accuphase.
The D-3300P was the best player Kenwood knew how to make at the time. It weighed in at just under 11 kg, ridiculous for a CD player now. Much of the weight comes from the massive bottom panel and die-cast aluminium sub-chassis. Add gorgeous real wood cheeks and the large transformer and you can see where the weight comes from.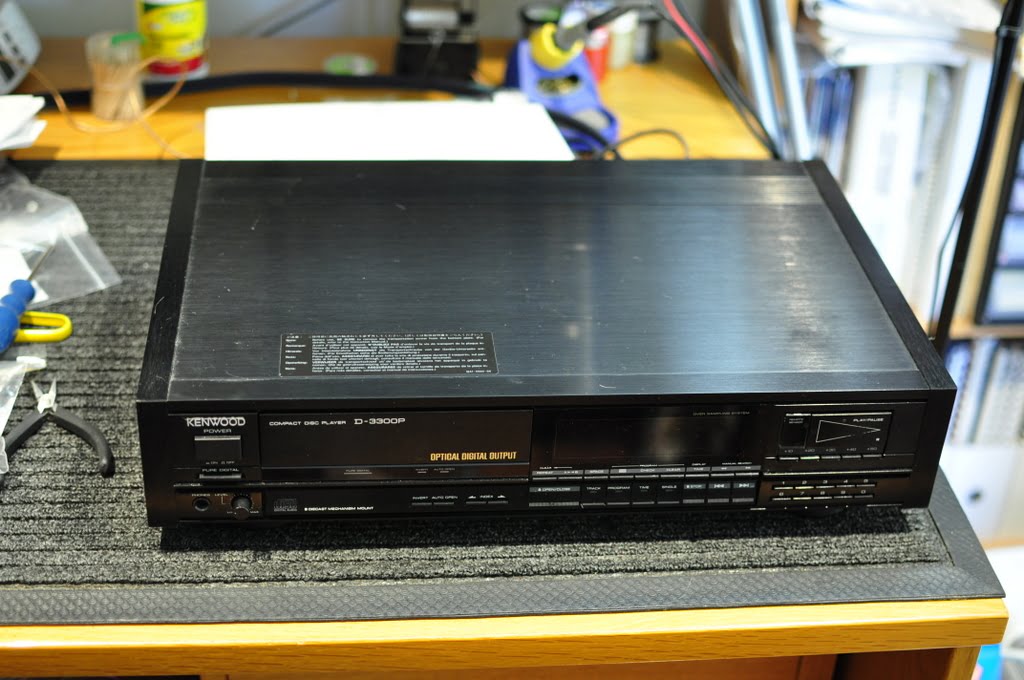 Architecture
It is worth mentioning a little about the digital and analog circuitry of the Kenwood D-3300P. The player features the Burr-Brown PCM56P DAC chip – two, in fact, one per channel. This chip is a multi-bit as opposed to bitstream DAC. As such, it has the classic multi-bit sound that so many people love.
The chips were very expensive to manufacture and this is partly what drove the development of bitstream DACs. The PCM56P used precision, highly temperature-stable resistors in the resistive ladder output. All were laser-trimmed during manufacture to maximize the linearity of signals down near digital zero. The chips themselves were also trimmed, to null out the zero-crossing error and reduce distortion.
Burr-Brown claimed a 15-bit tonal resolution from this chip and the chip itself is the precursor to the very highly regarded and perhaps ultimate Burr-Brown chips, the legendary PCM63 and PCM1704K.
Specifications
Model
CD player
Reading method
Non-contact optical reading
laser
GaAlAs, λ=780nm
Number of rotations
About 200 rpm-500 rpm (CLV)
Error correction method
Cross interleaved Reed Solomon code
Number of channels
2-channel stereo
<Audio characteristics>
Frequency characteristics (EIAJ)
1Hz to 20kHz
SN ratio (EIAJ)
105 dB or more
Dynamic range (EIAJ)
97 dB or more
Total harmonic distortion
0.001% or less (THD, 1kHz)
0.003% or less (EIAJ)
Channel separation (EIAJ)
115 dB or more
Wow and flutter (EIAJ)
Below measurement limit (±0.001% Wpeak)
Output voltage (EIAJ)
Fixed output: 2.0V
Variable output: 0V to 2.0V
Headphone output
25mW (32Ω) with dedicated volume
Optical digital output
-15dBm ~ -21dBm (wavelength 660nm)
Coaxial digital output
Coaxial output: 0.5Vp-p/75Ω
Analog output
2V (0dB)
<Multi-insulation system>
Mechanism mount
Die-cast mechanism mount
Mechanism/insulator
Anti-vibration mechanism/hybrid insulator
High rigidity/weight class housing
3.5mm top plate, 3mm bottom plate with sideboard
Insulator
Audio stabilizer + large insulator
<Circuit configuration>
Servo system
Optimum Servo TypeIII
Digital filter
4x oversampling
Analog filter
7th Butterworth FDNR type discrete
D/A converter
Left and right independent high precision ladder network type
<Comprehensive>
Power supply
AC100V, 50Hz/60Hz
power consumption
16W
External dimensions
Width 475x height 109x depth of 316mm
weight
10.8kg
Included
Wireless remote control RC-P3300D
both pin code
audio stabilizer x4
Issues
Both of my customer's Kenwood D-3300P CD players required careful service. One was not reading discs properly, the other made an awful clunking sound when loading a disc and had some power supply issues. Both players benefitted from an optical clean, tweaking of laser focus and tracking servos and gain, one had a spring that a previous tech had failed to re-attach and some dry joints in the power supply that I reworked.
After a bit of Liquid Audio TLC, both players work superbly once again. My customer tells me they both sound better too. They should, as the cleaning and adjustments I made will certainly have improved the accuracy of reading data from the disc and therefore reduce the error correction needed. The power supply re-working I did will improve every aspect of player operation.