Sold Equipment Gallery Page 3
---
Just in, yet another PM-25! This one is $175.
SOLD!



---
Just in, another Marantz PM-25, available for just $150, or make me a sensible offer!
SOLD!
These are a great little integrated amp, featuring a built-in phono amp, and headphone amp. This means you can play vinyl without needing anything else, other than speakers!
This cute little Marantz amplifier would make a great little first amp for someone. It's not perfect, but actually works very well and I've just serviced her.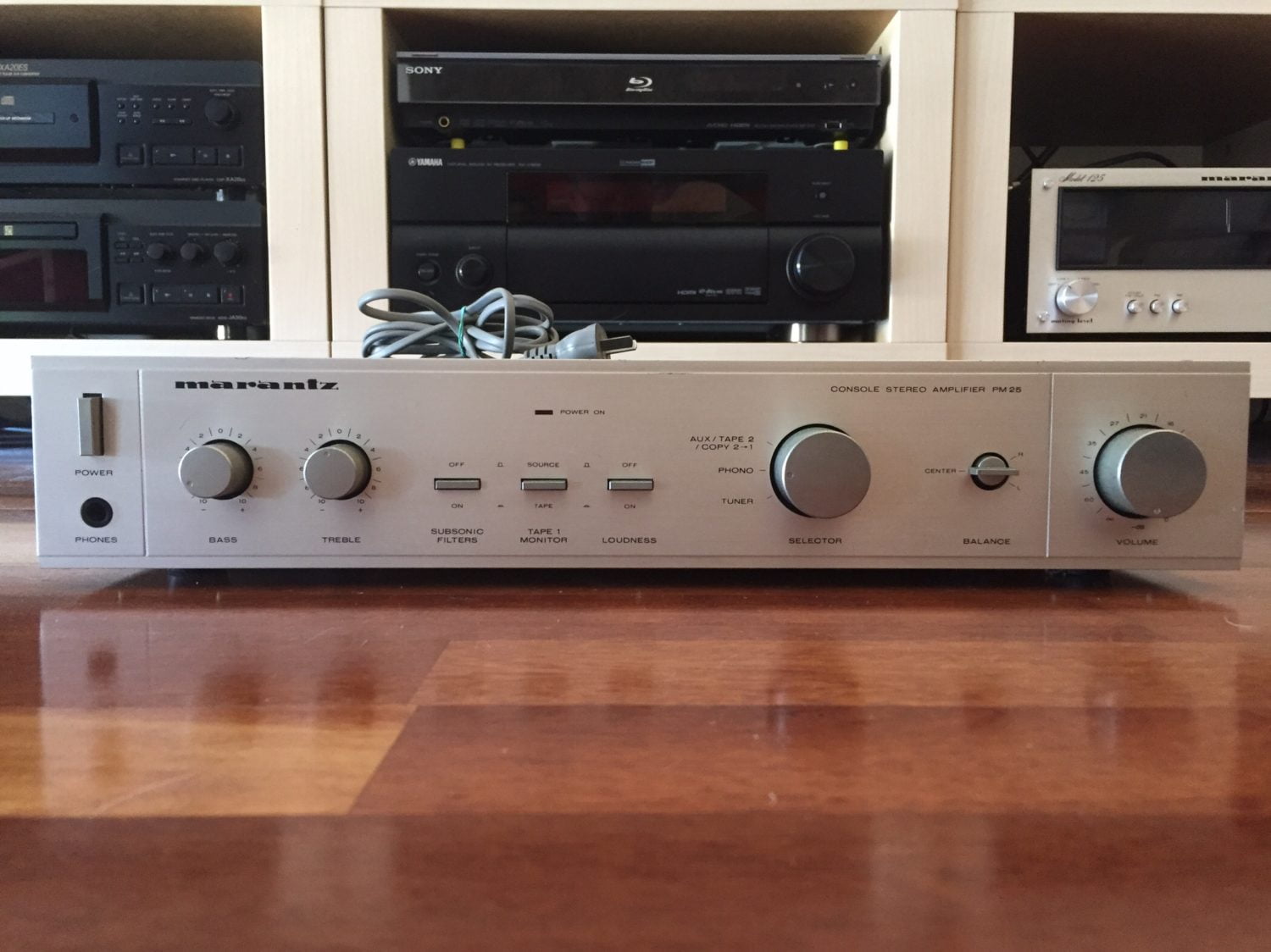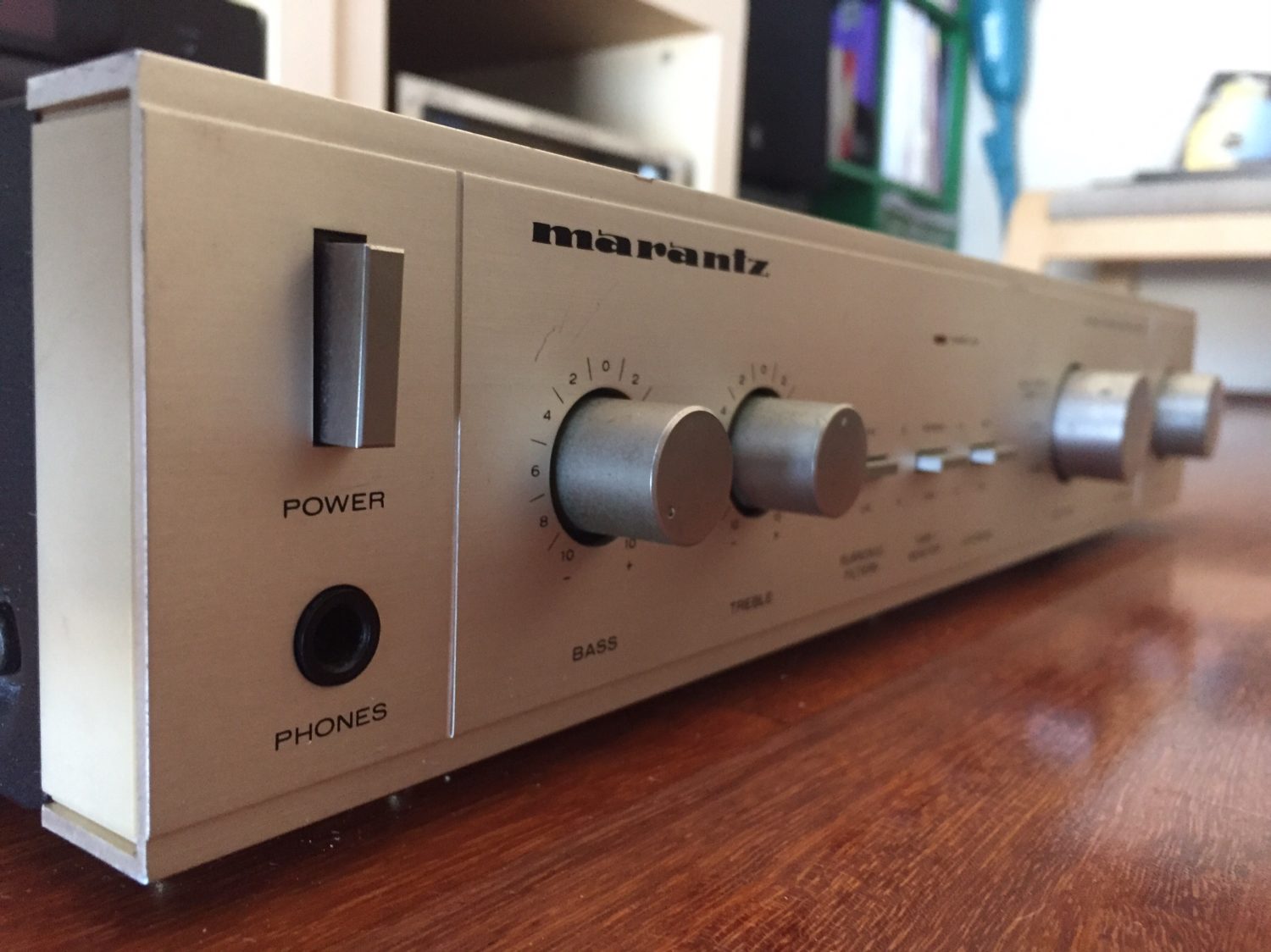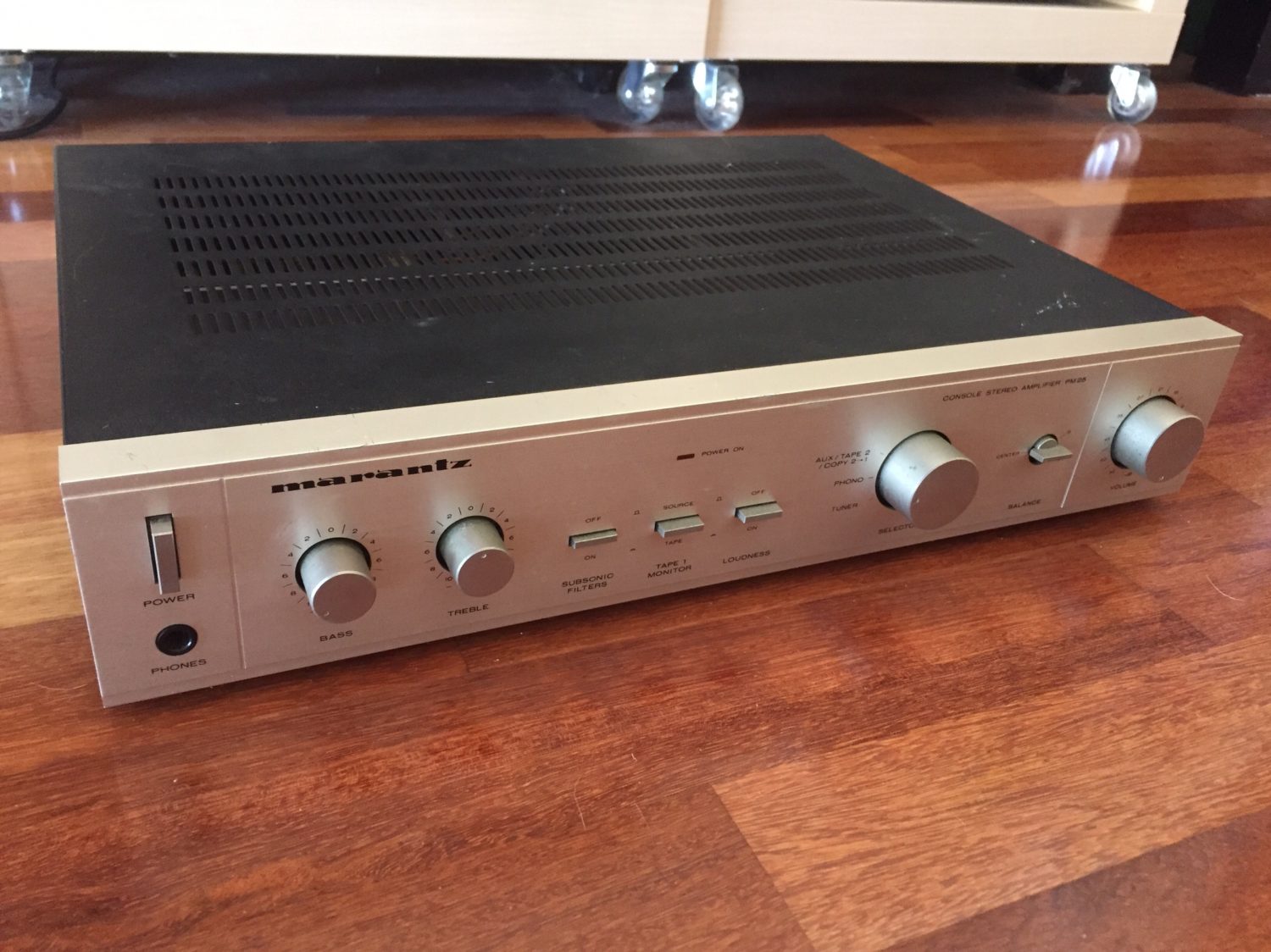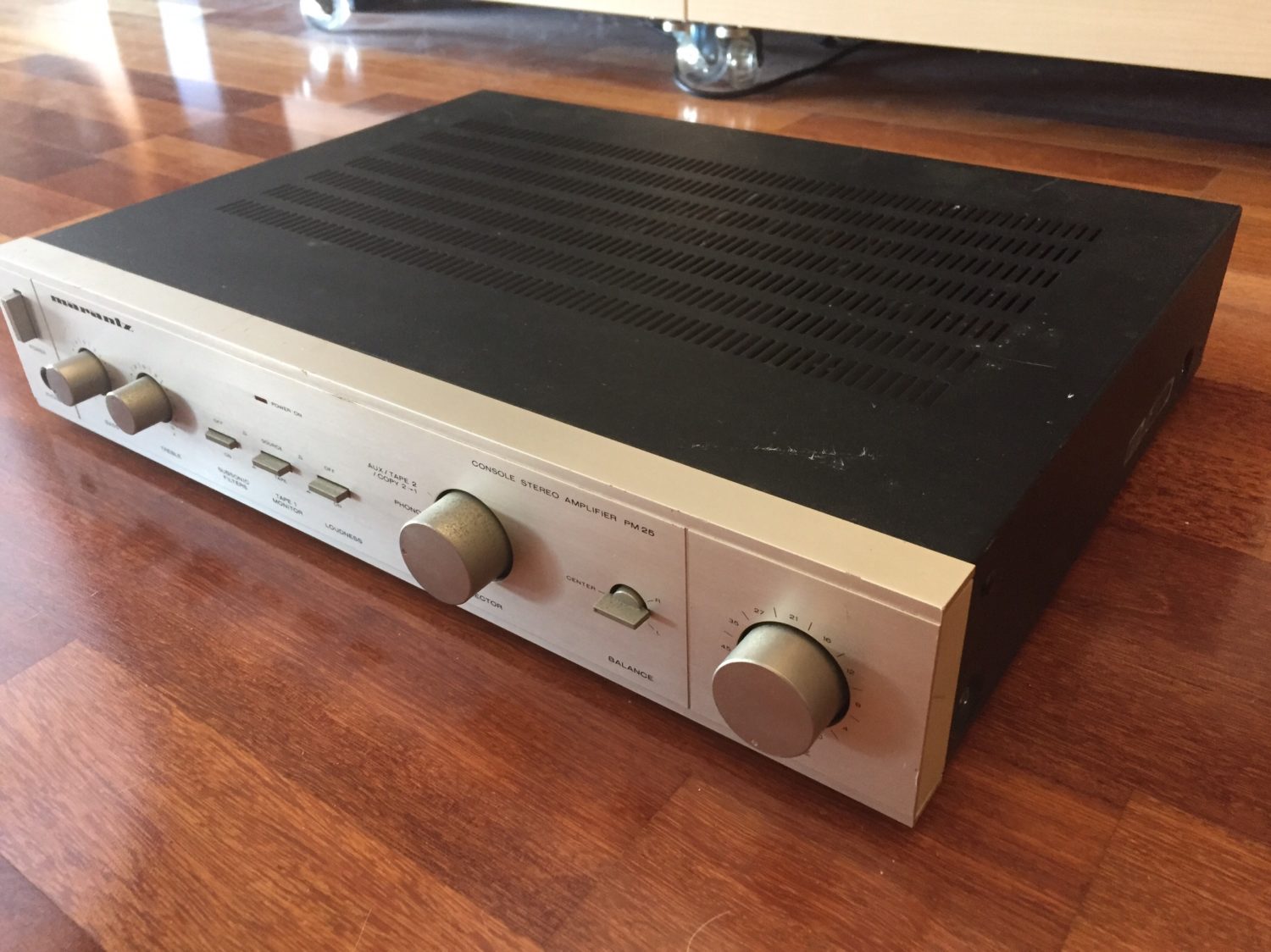 ---
Also new, this beautiful old Pioneer SA-500A, with real wood sides. A true taste of vintage audio goodness, perfect for a small or second system. Priced at just $195.
SOLD!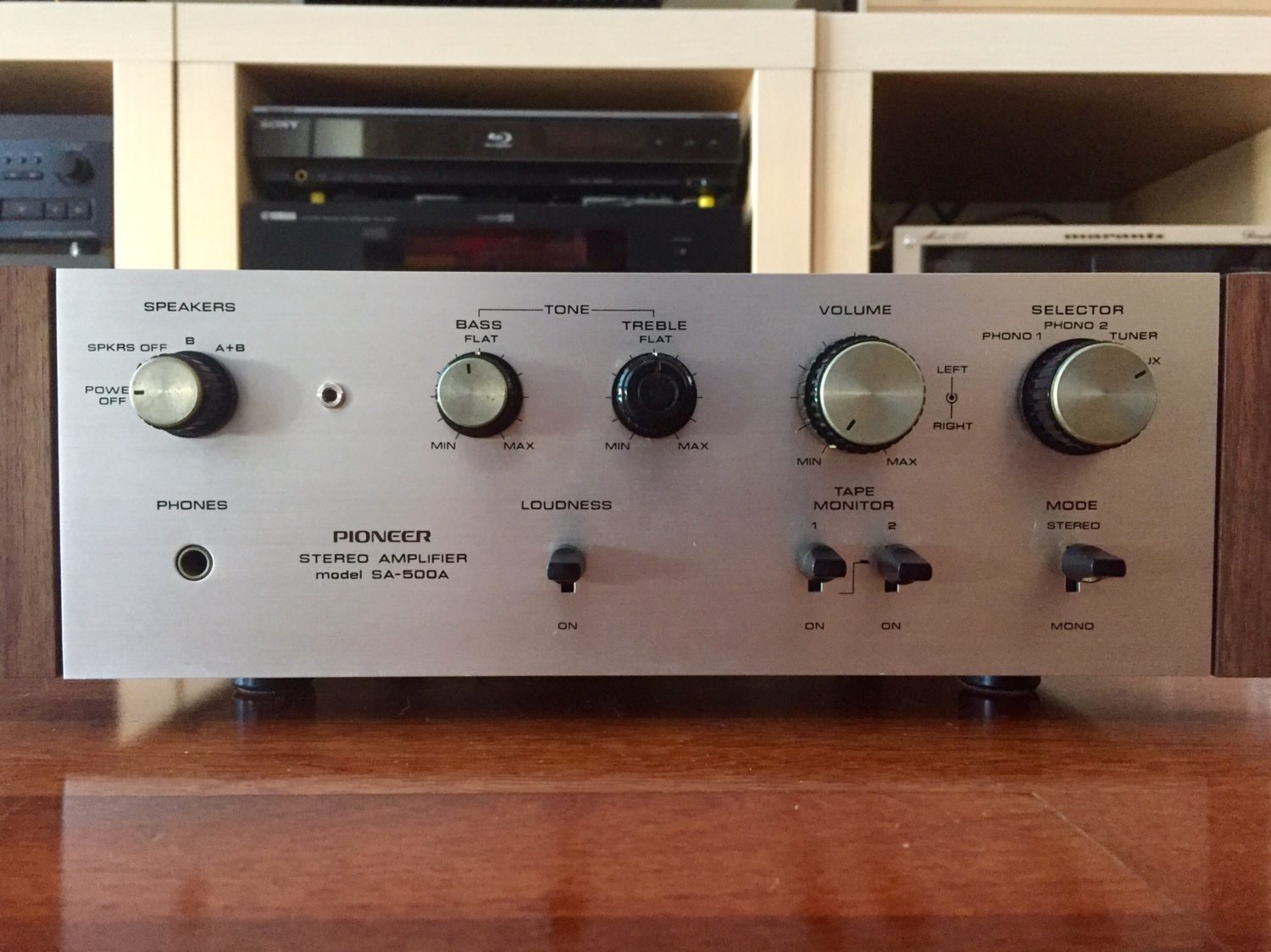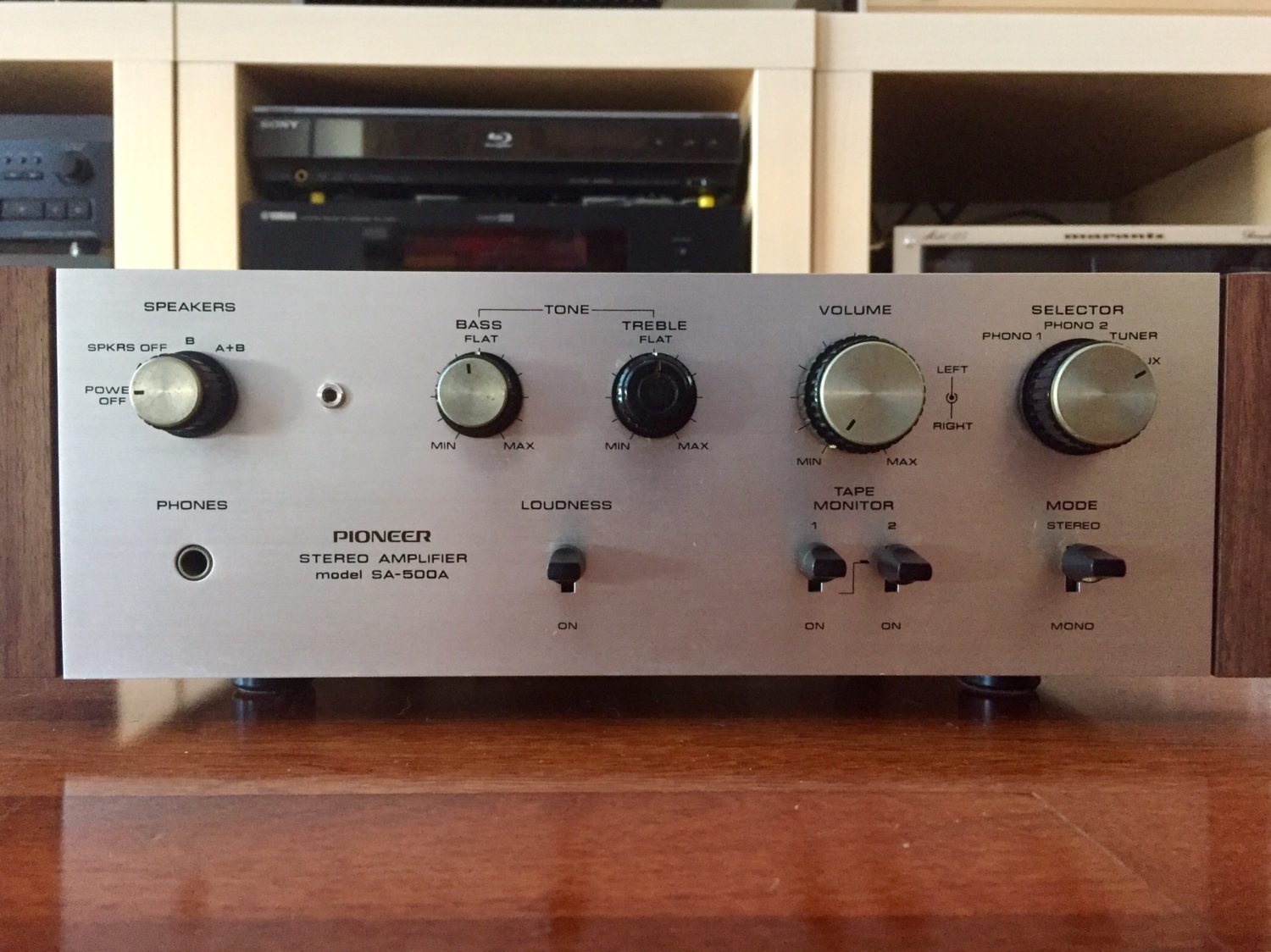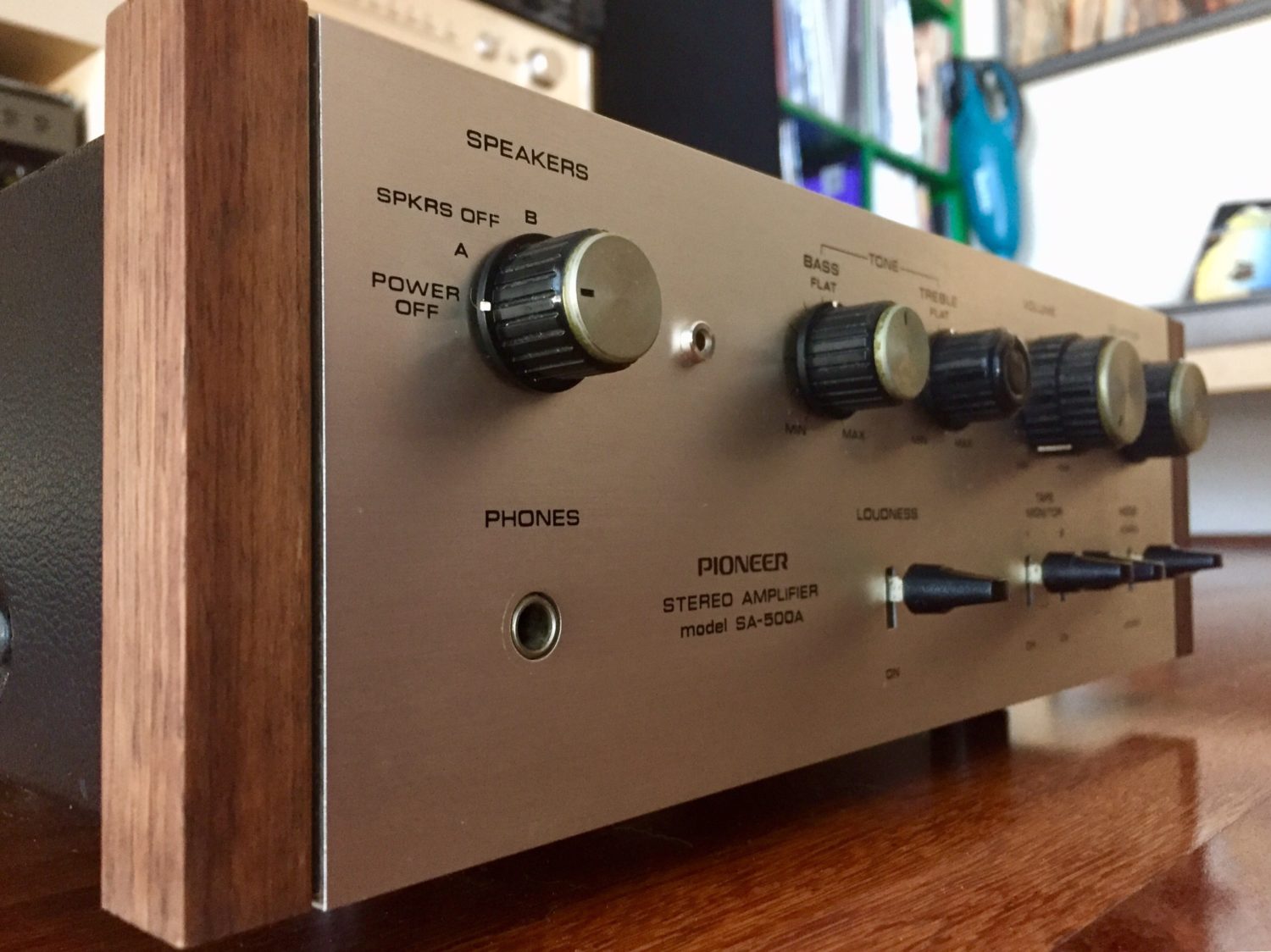 Specifications
Power output: 13 watts per channel into 8Ω (stereo)
Frequency response: 30Hz to 50kHz
Total harmonic distortion: 0.5%
Damping factor: 40
Input sensitivity: 2.5mV (MM), 200mV (line)
Signal to noise ratio: 75dB (MM), 90dB (line)
Channel separation: 50dB (MM), 55dB (line)
Output: 200mV (line)
Speaker load impedance: 4Ω to 16Ω
Semiconductors: 18 x transistors, 6 x diodes
Dimensions: 330 x 118 x 316mm
Weight: 5.5kg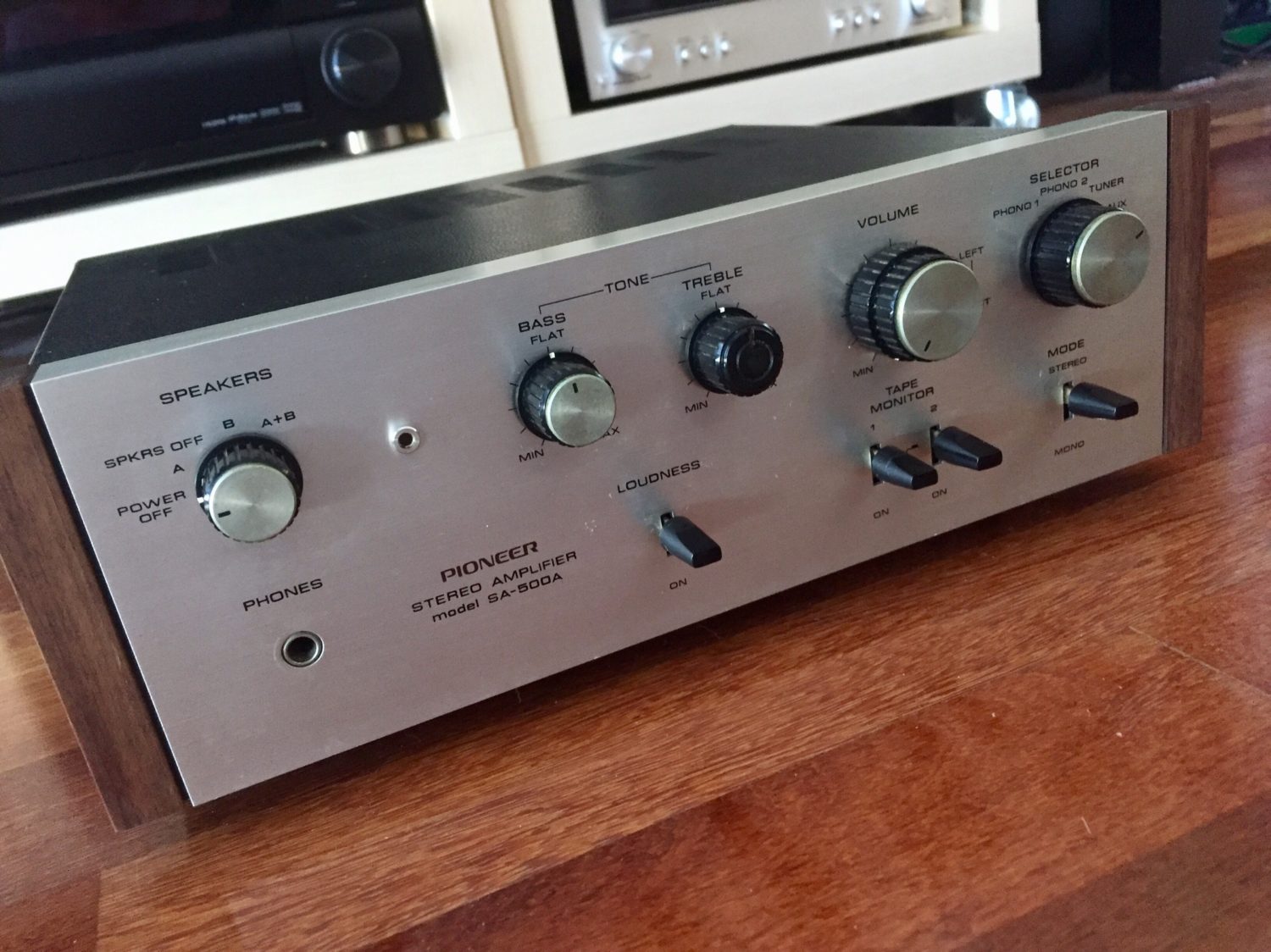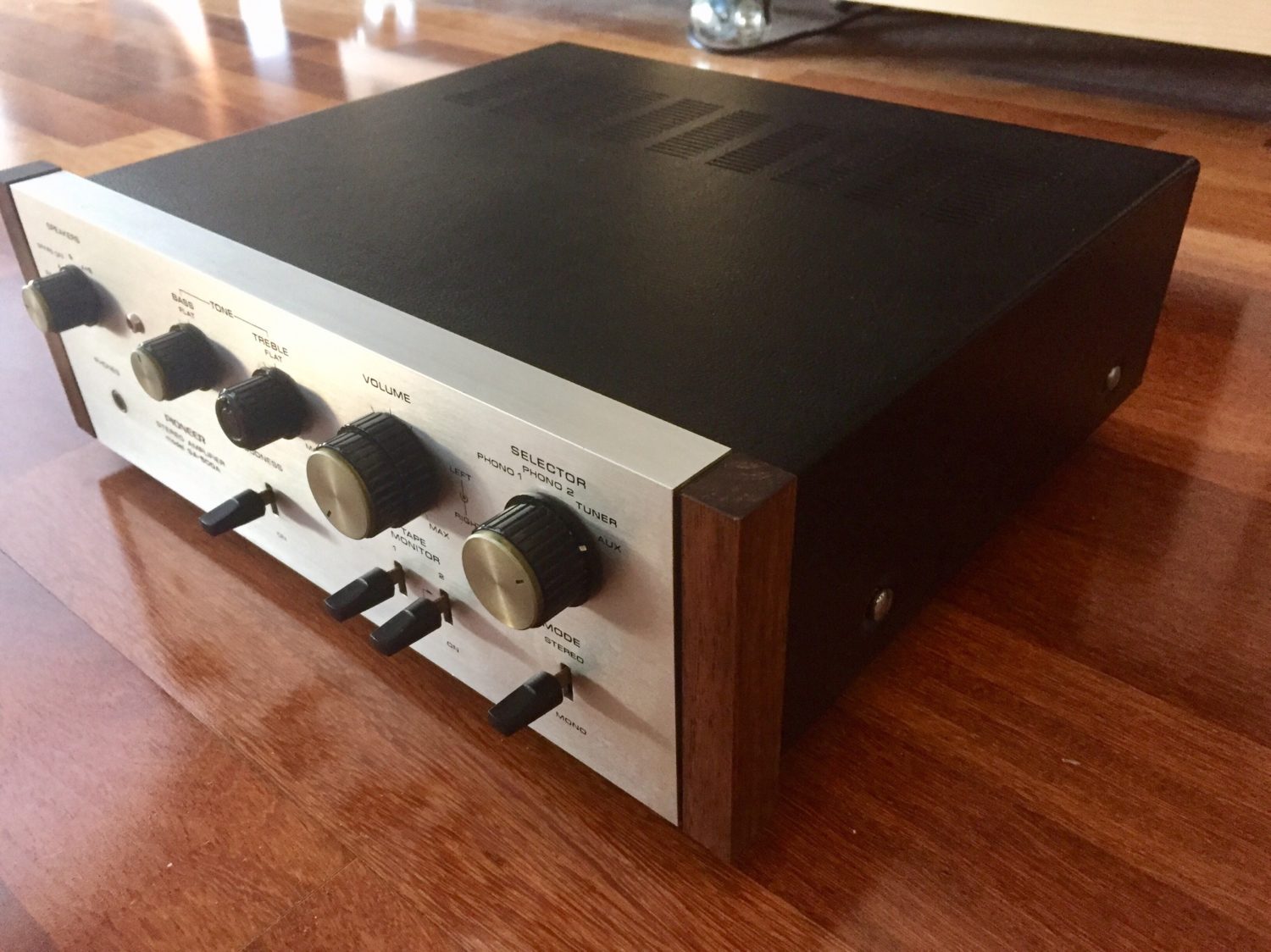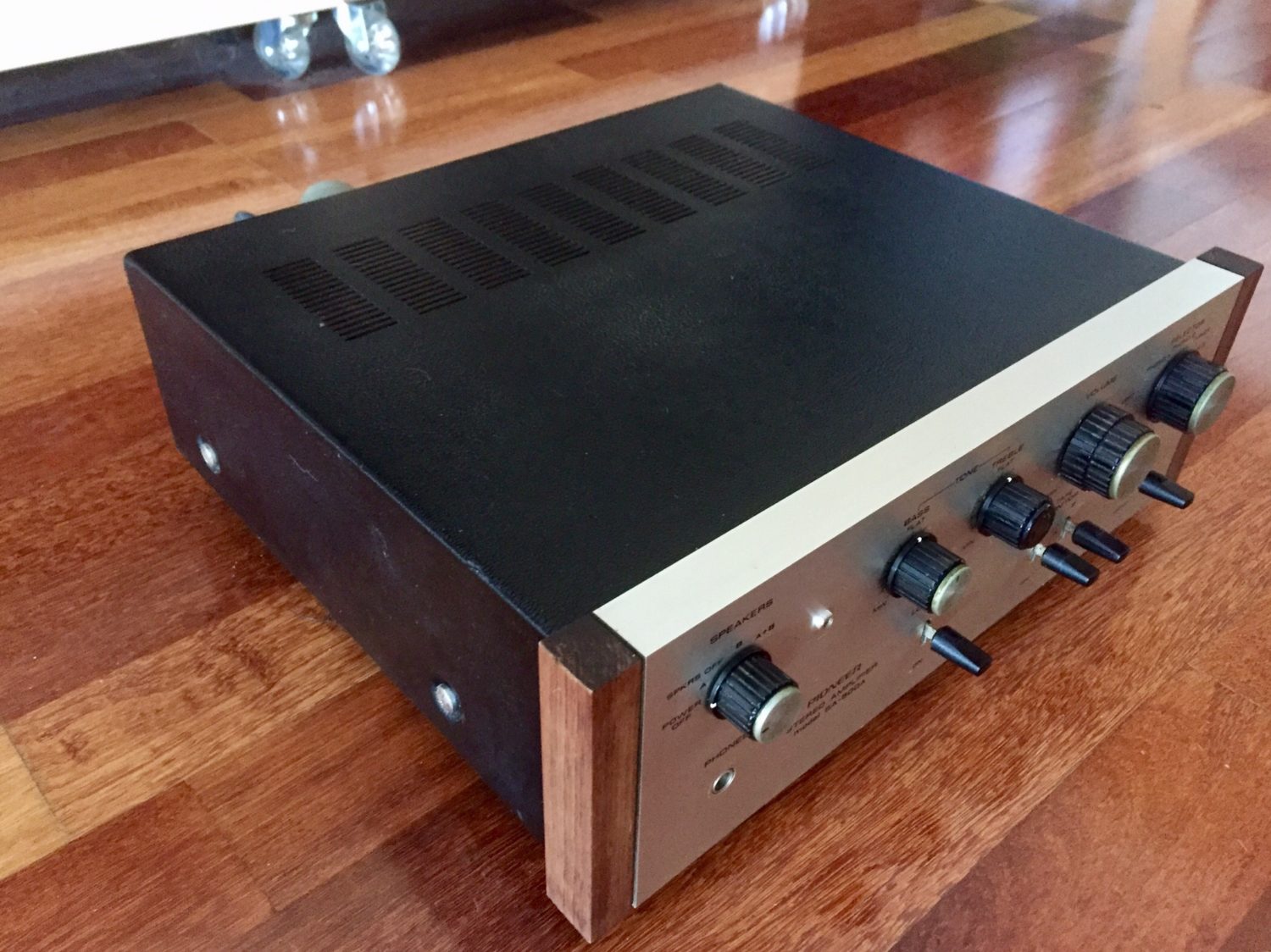 ---
Also just in, this lovely Pioneer AM/FM Stereo Tuner. You certainly can't buy a proper radio like this anymore, just gorgeous. Just $95.
UPDATE: SOLD in 5 minutes!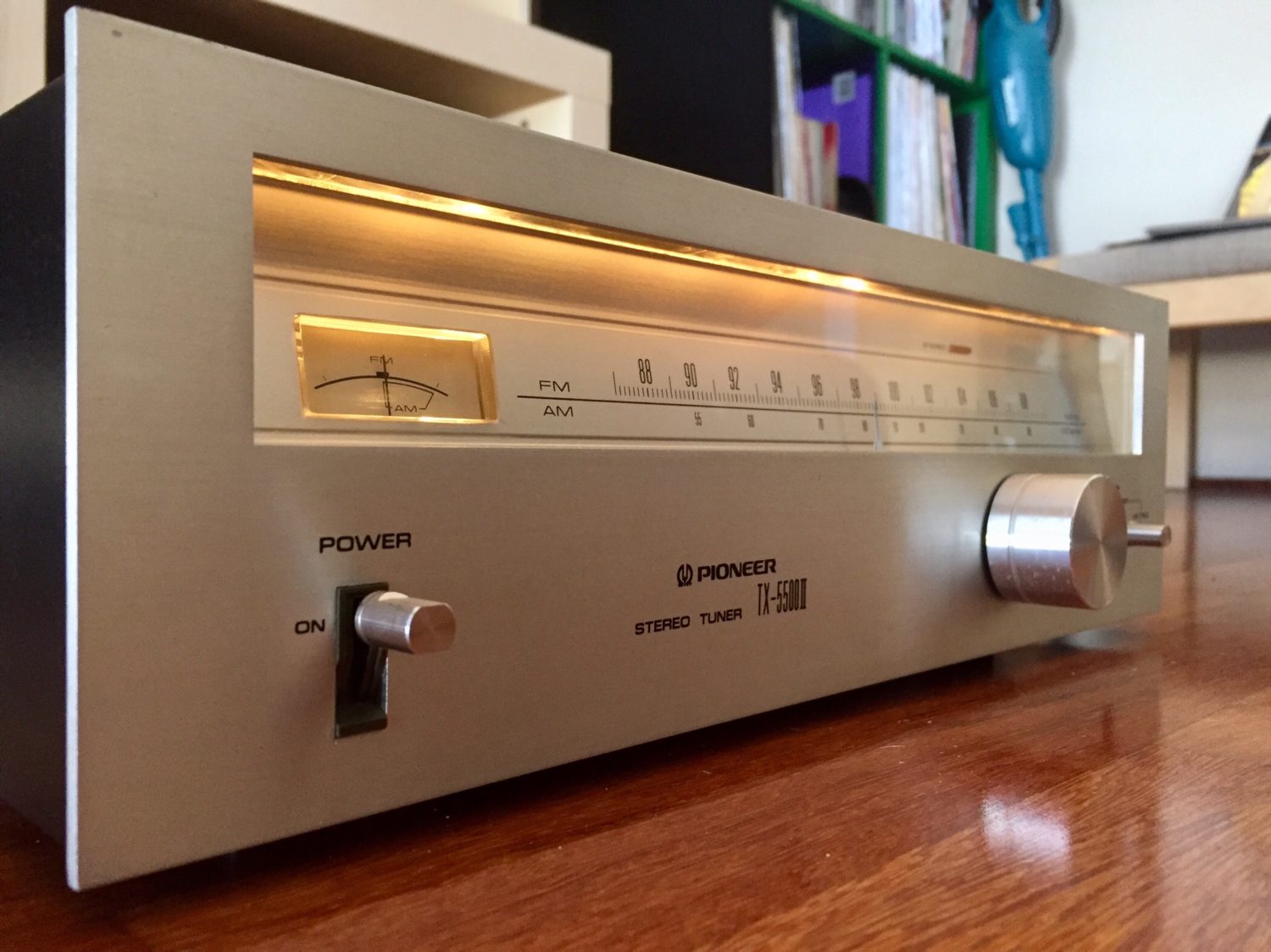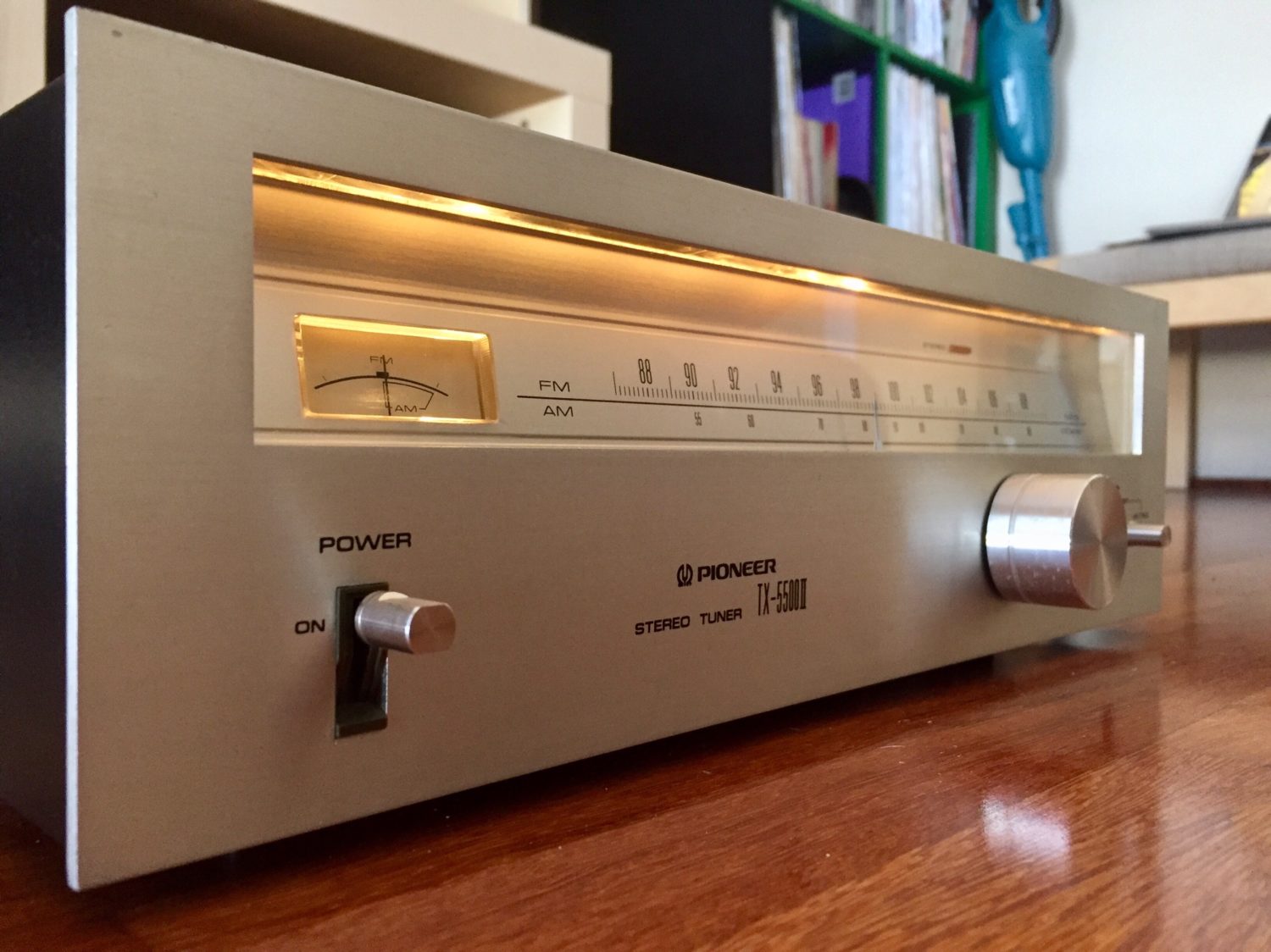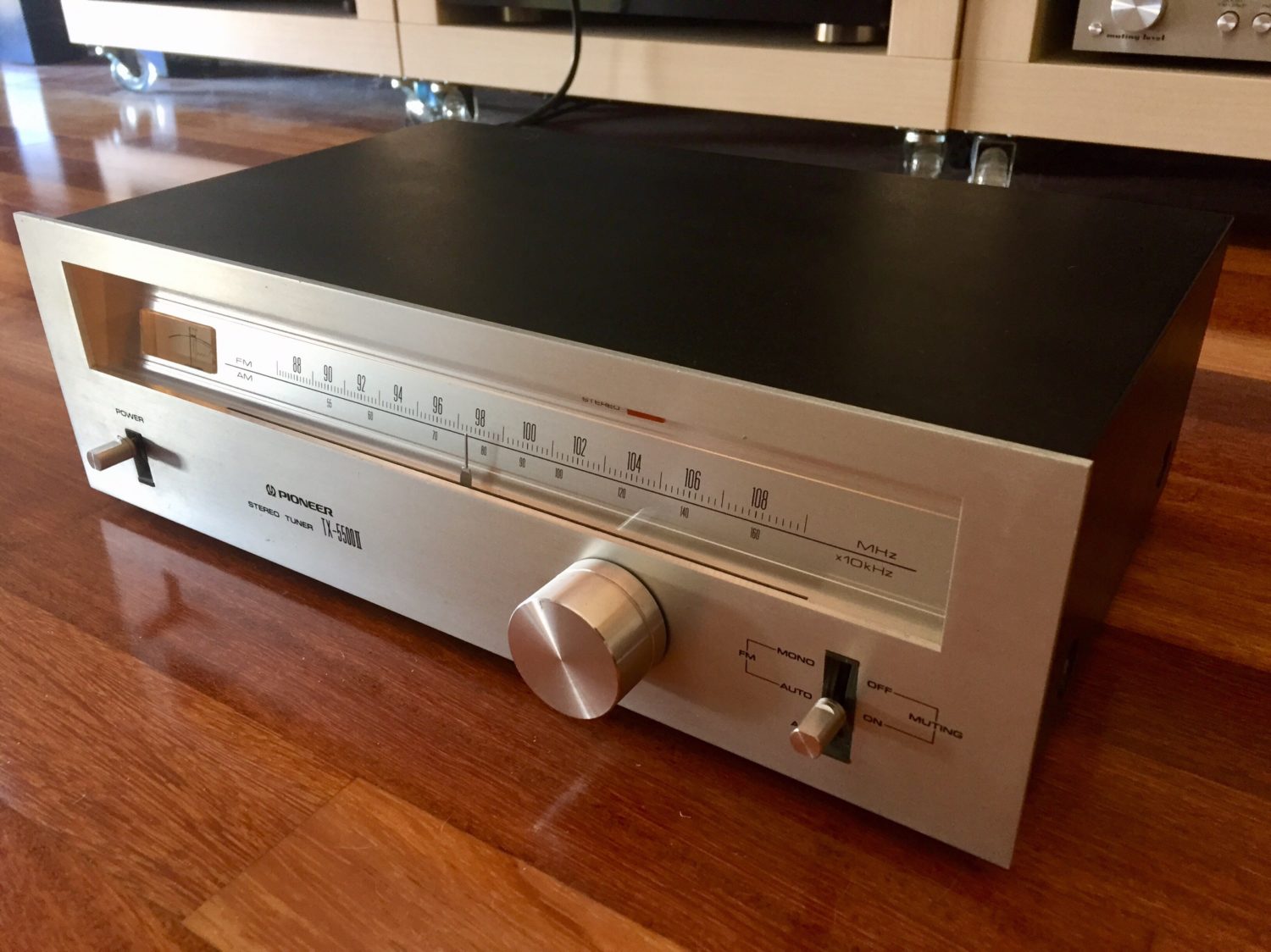 ---
Just in, and just out of a full service, I have this lovely NAD 5120 belt-drive turntable for sale. This unit has a brand new German drive belt and is priced at $375.
UPDATE – SOLD!
The NAD 5120 is a classic belt-drive deck from the '80s, complete with very cool folded smoked perspex lid. The 5120 is a sprung sub-chassis design and uniquely quirky in the way typical of NAD.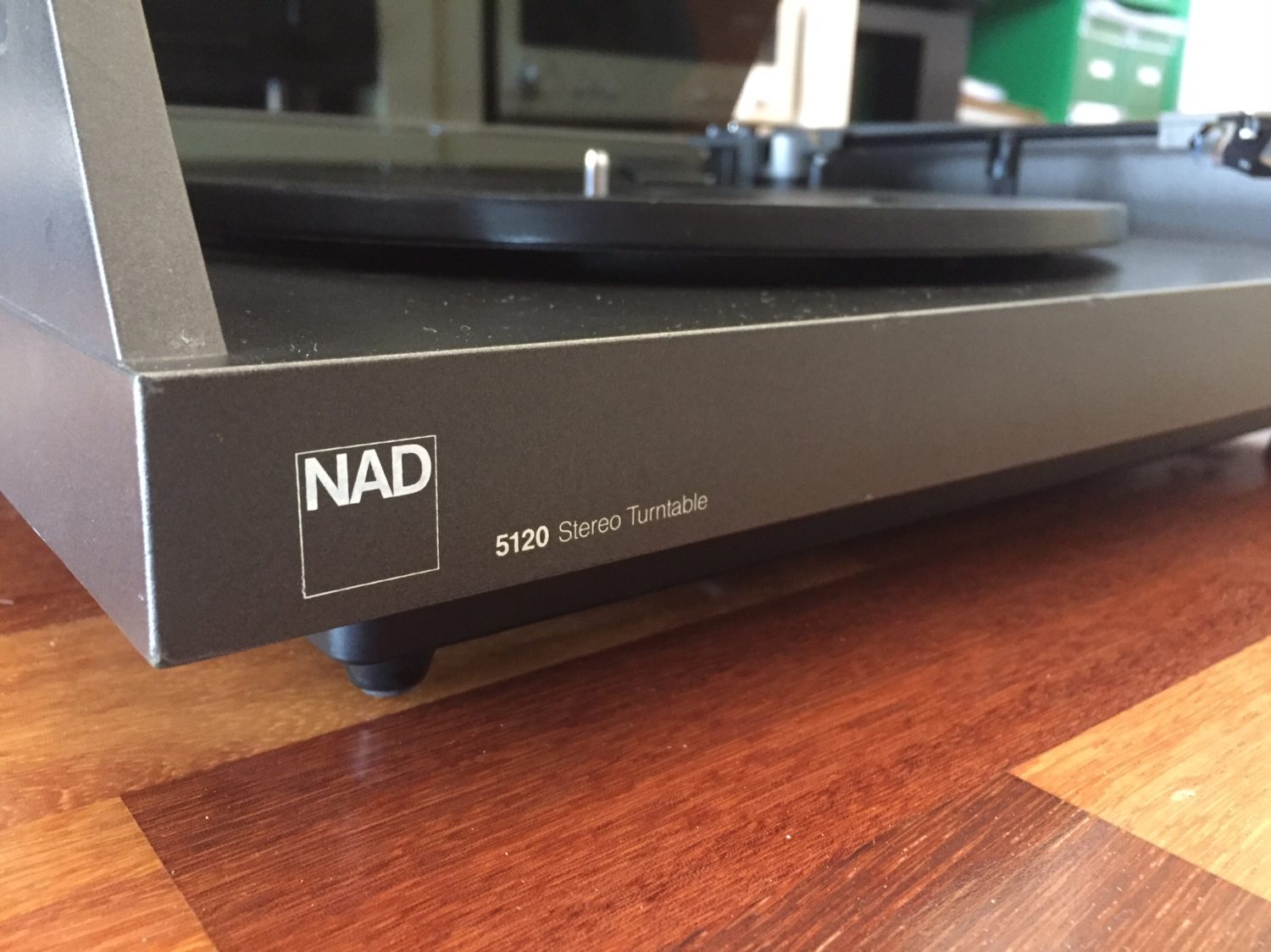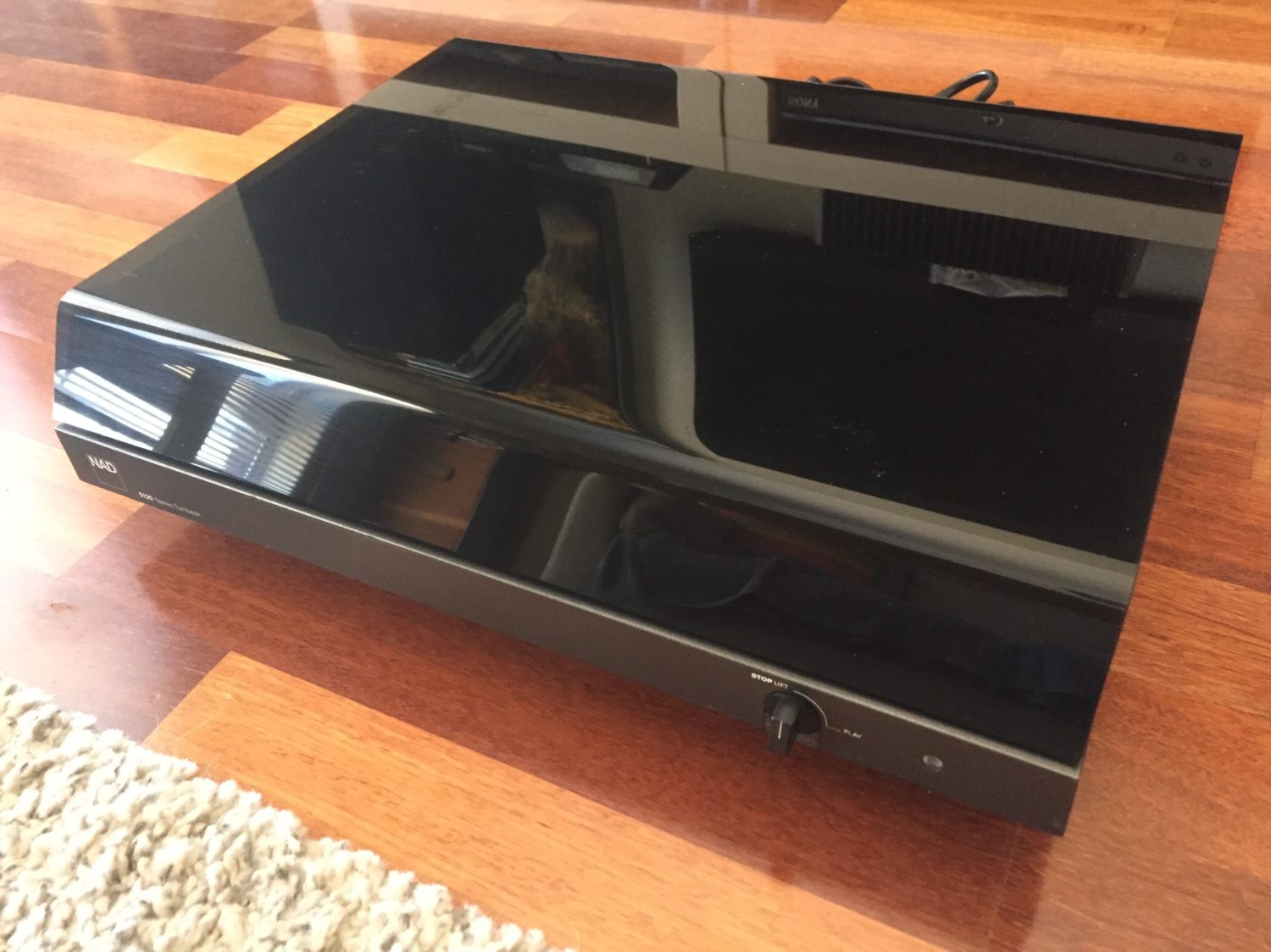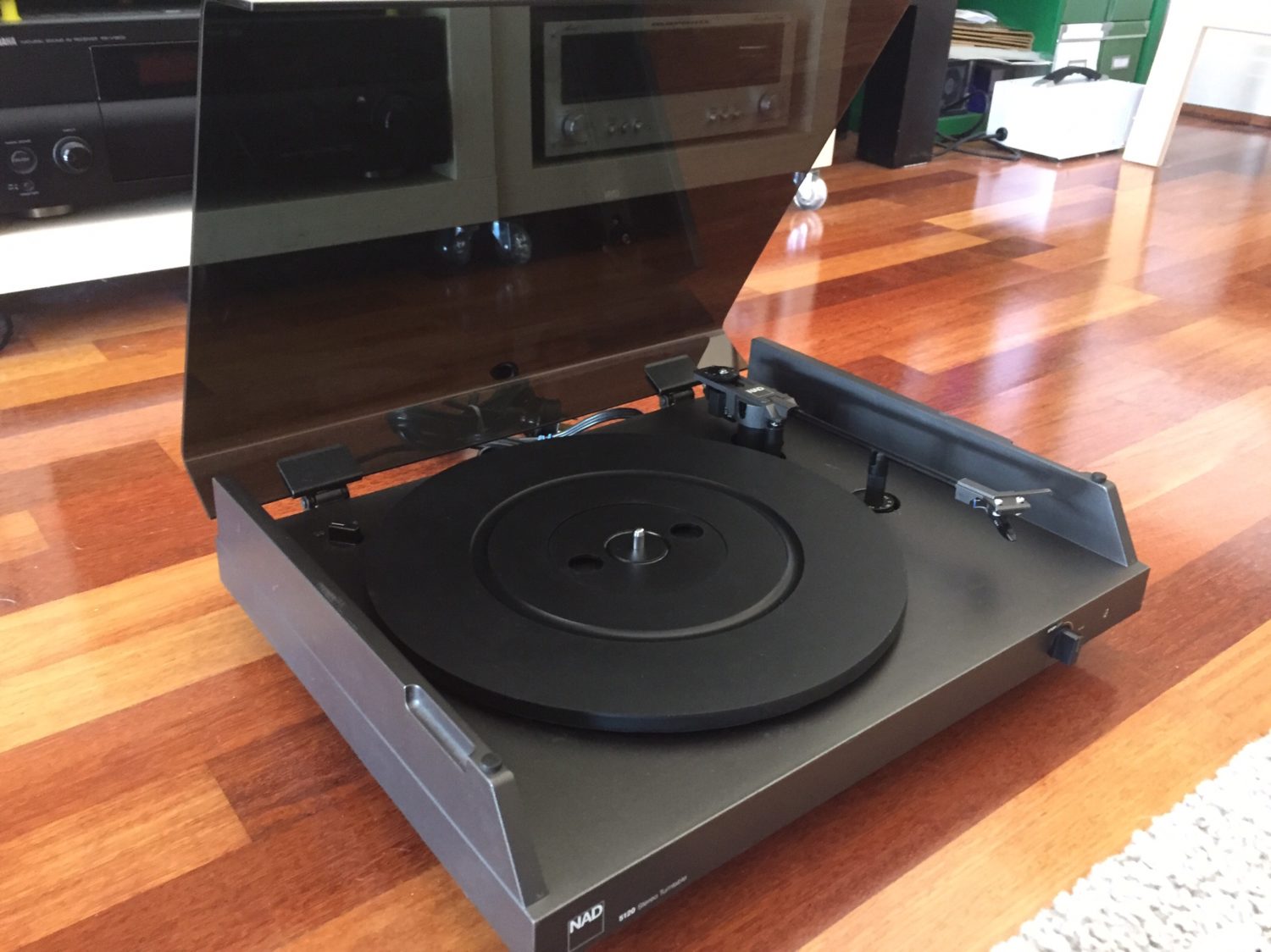 Fully Serviced
I've just completed a full service on this deck including synthetic bearing oil, lubricated motor, cartridge alignment, tonearm setup (tracking force, anti-skate, resonant frequency and Q  adjustments), cleaned and adjusted drive pulley, new premium German drive belt and new Ortofon OM 5E stylus. This deck runs like a dream.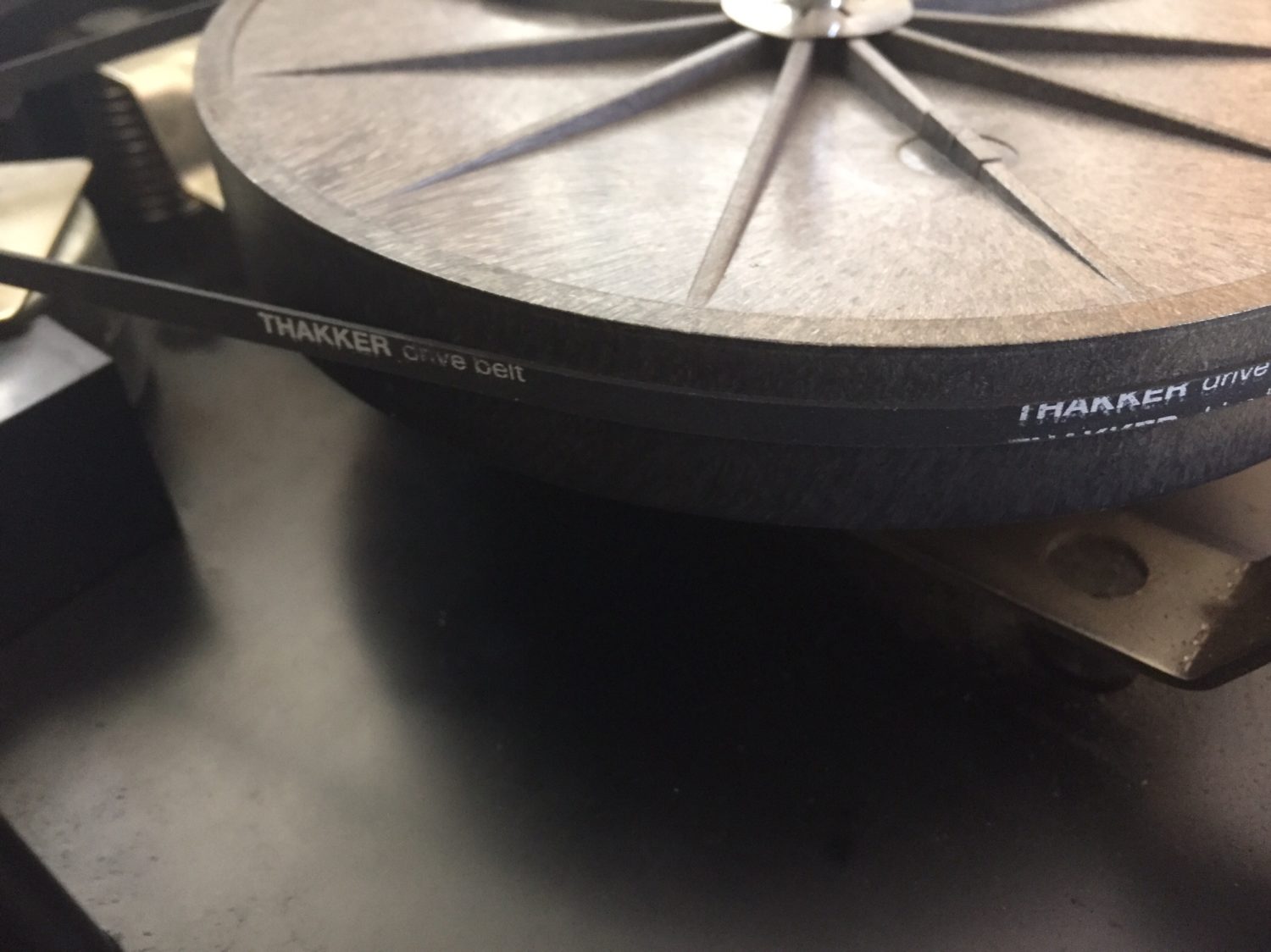 Description
On the plug-in arm, you can set balance, VTF and DVA (dynamic vibration absorber) frequency and damping. The counterweight is not mounted rigidly to the tonearm but rather suspended on a spring, forming a compliant assembly that is free to vibrate. When correctly tuned its vibration matches and cancels the fundamental arm/cartridge resonance.
Specifications, courtesy of the Vinyl Engine
Drive system: precision neoprene belt drive
Motor: synchronous motor
Speeds: 33 and 45rpm
Speed accuracy: +-0.5%
Wow and flutter: 0.04% WRMS
Rumble: -70dB
Suspension system: sprung sub-chassis
Tonearm: static balance arm with dynamic vibration absorber
Effective length: 208mm
Effective mass: 6g
Overhang: 19.1mm
Offset angle: 26 degrees
Dynamic vibration absorber: spring-suspended counterweight with viscous damping
Cartridge weight: 2 to 8g
Tracking force: 0 to 3g
Dimensions: 420 x 105 x 354mm
Weight: 5kg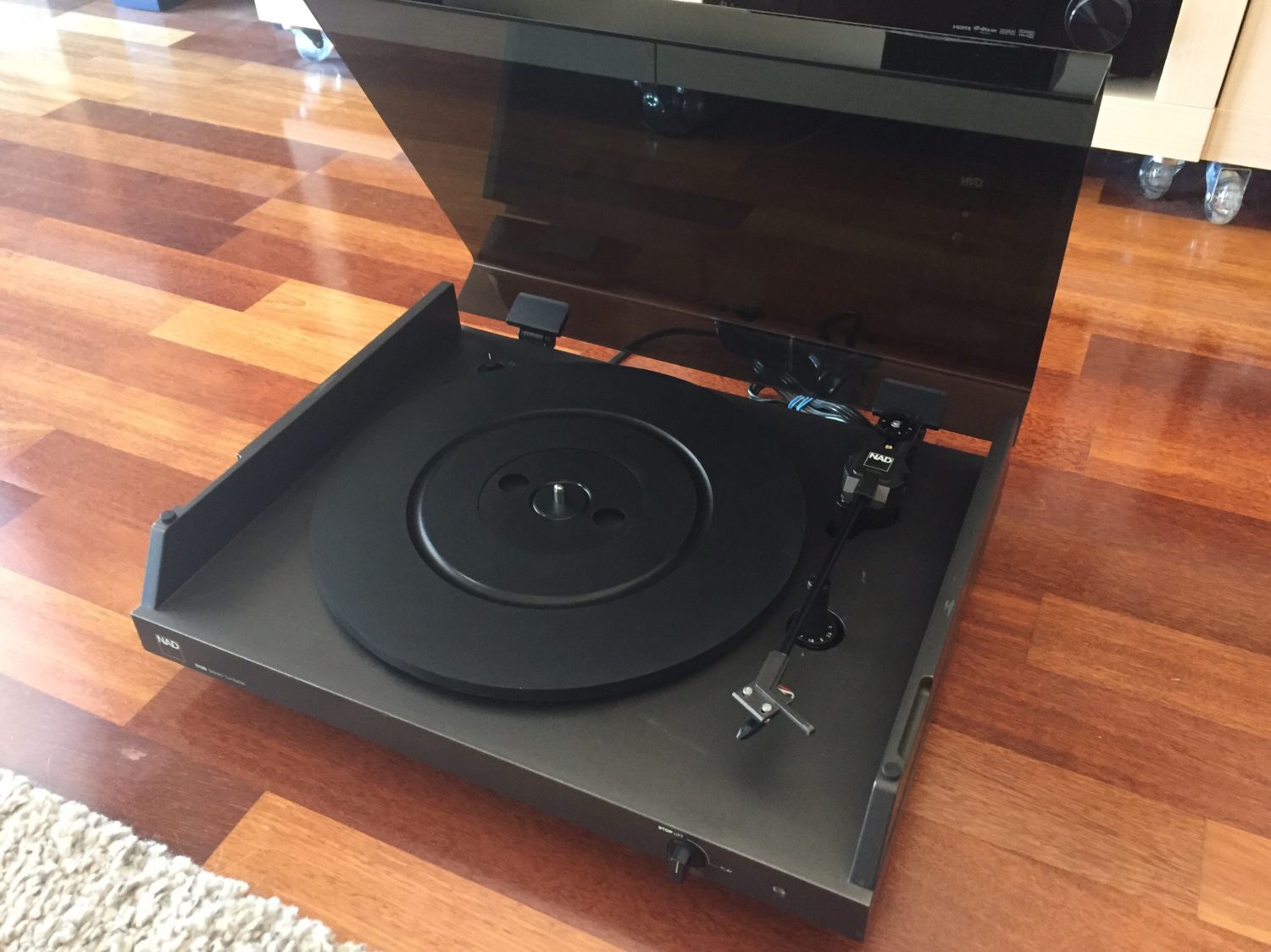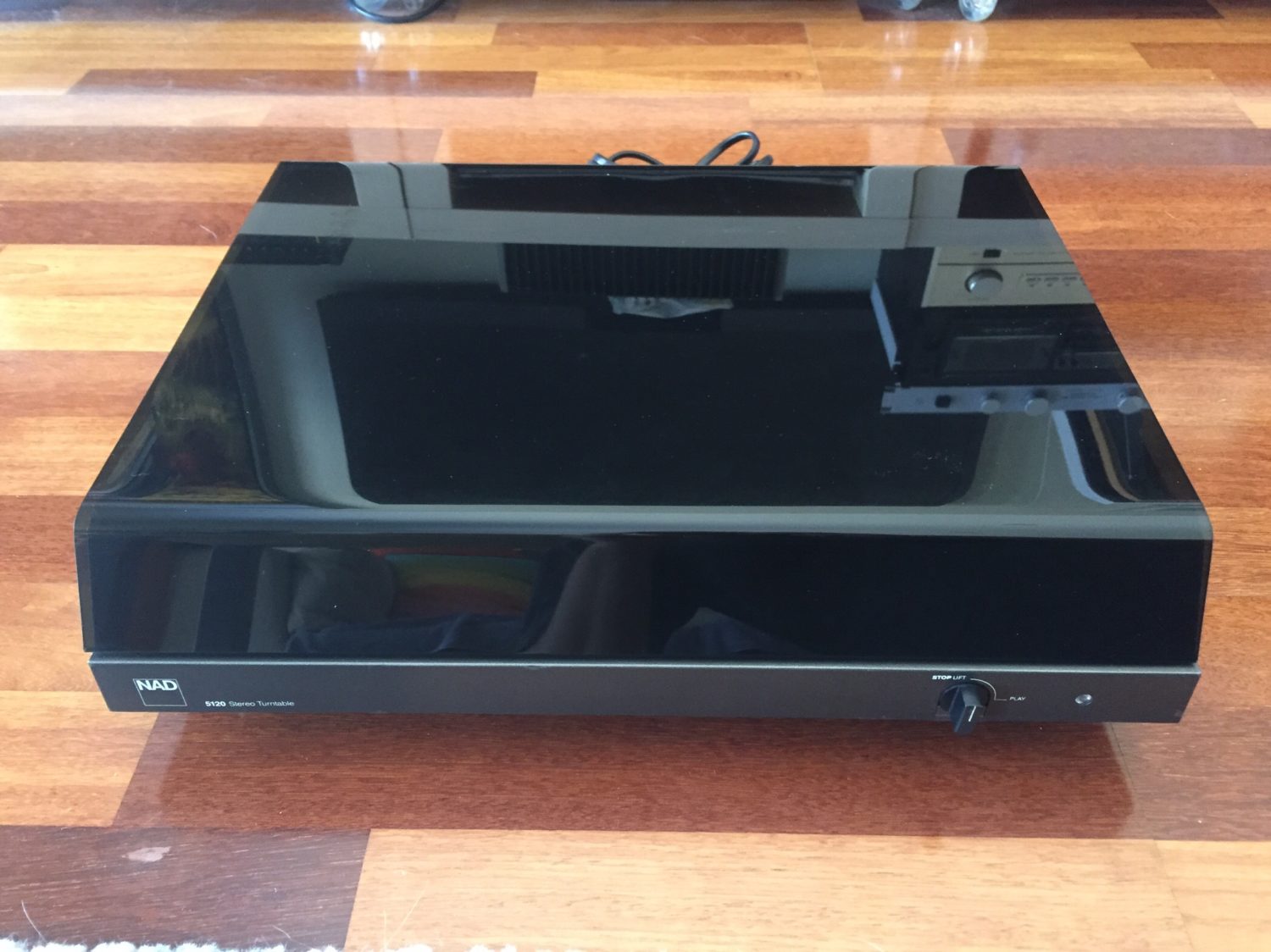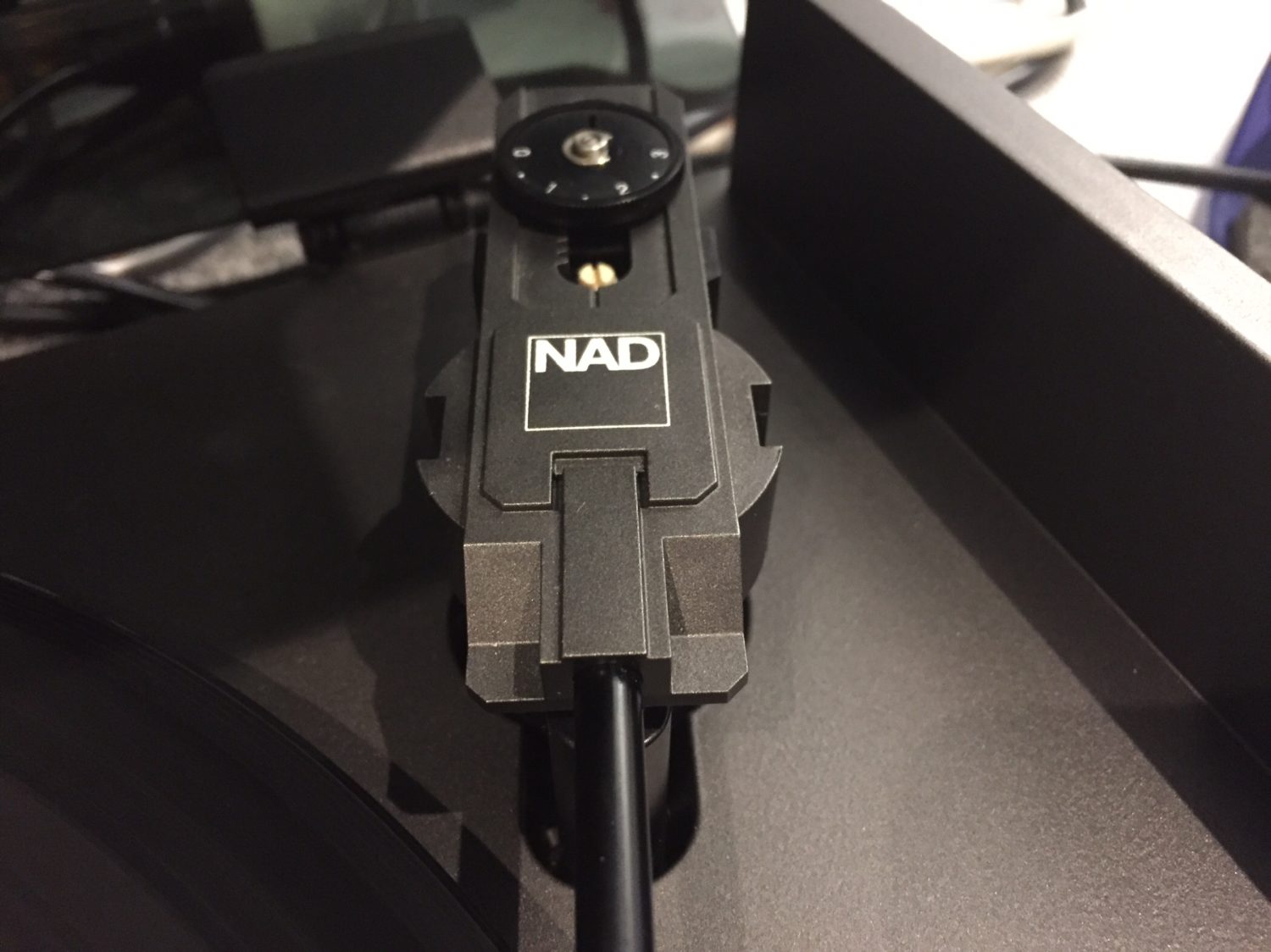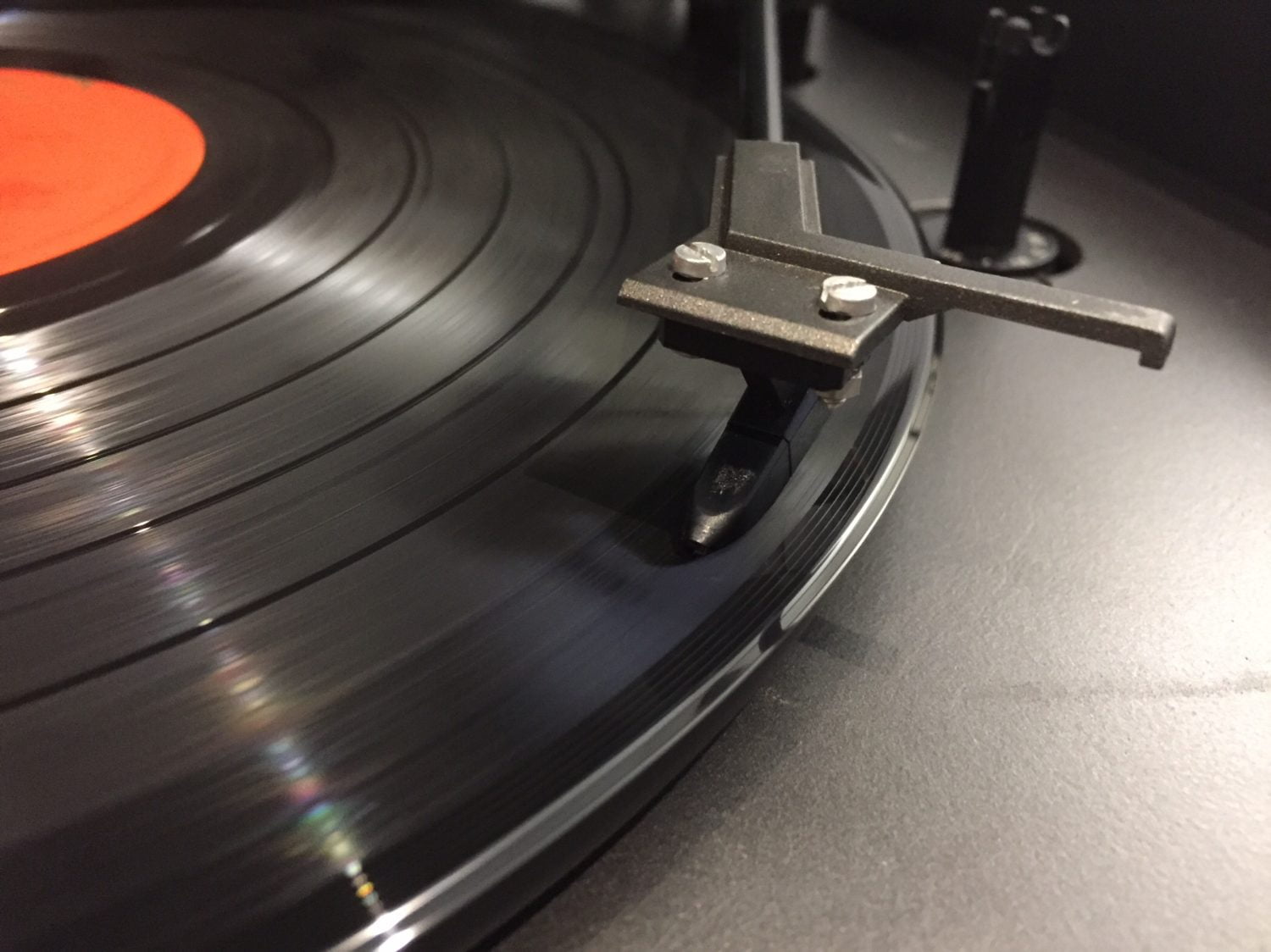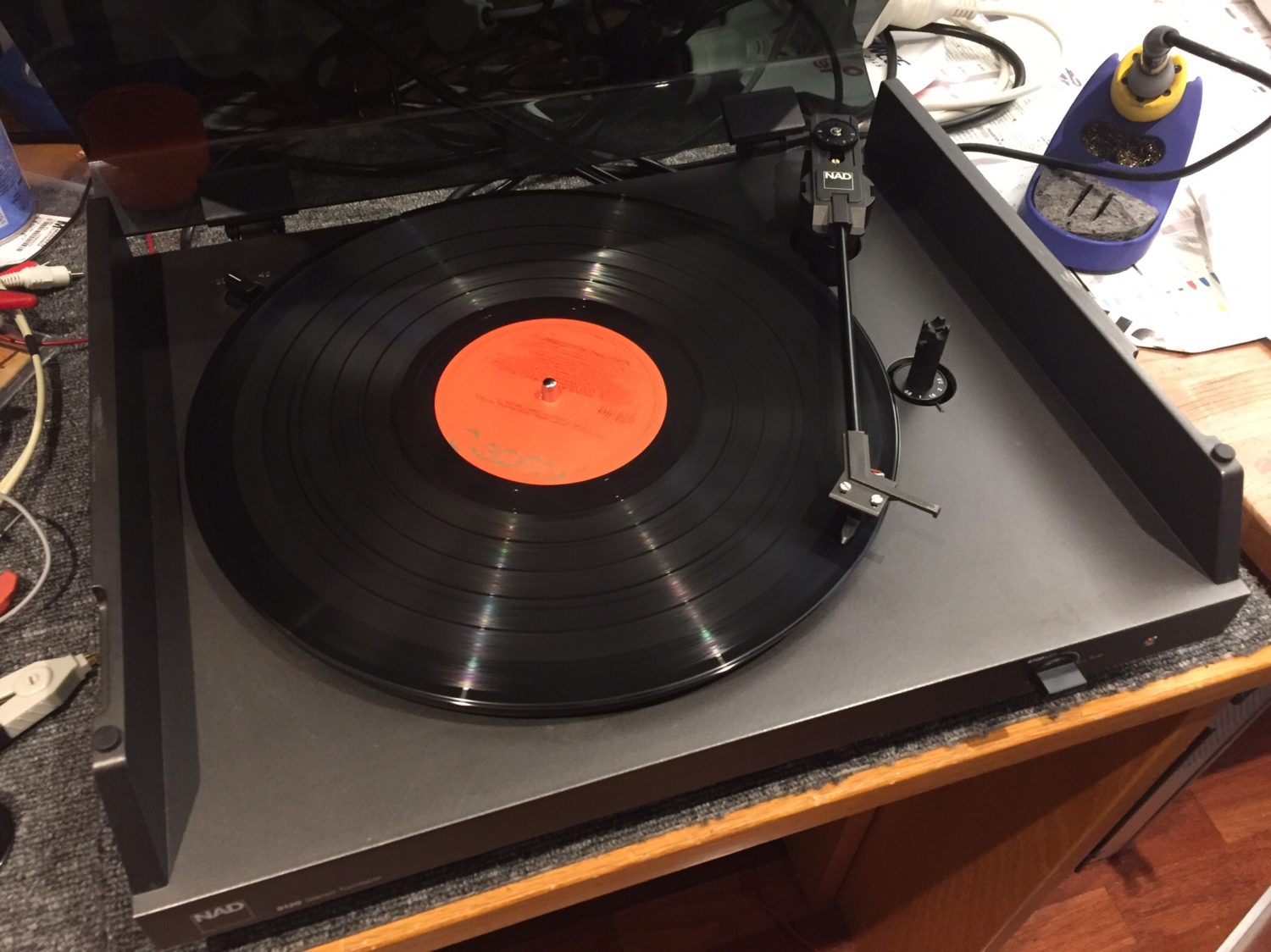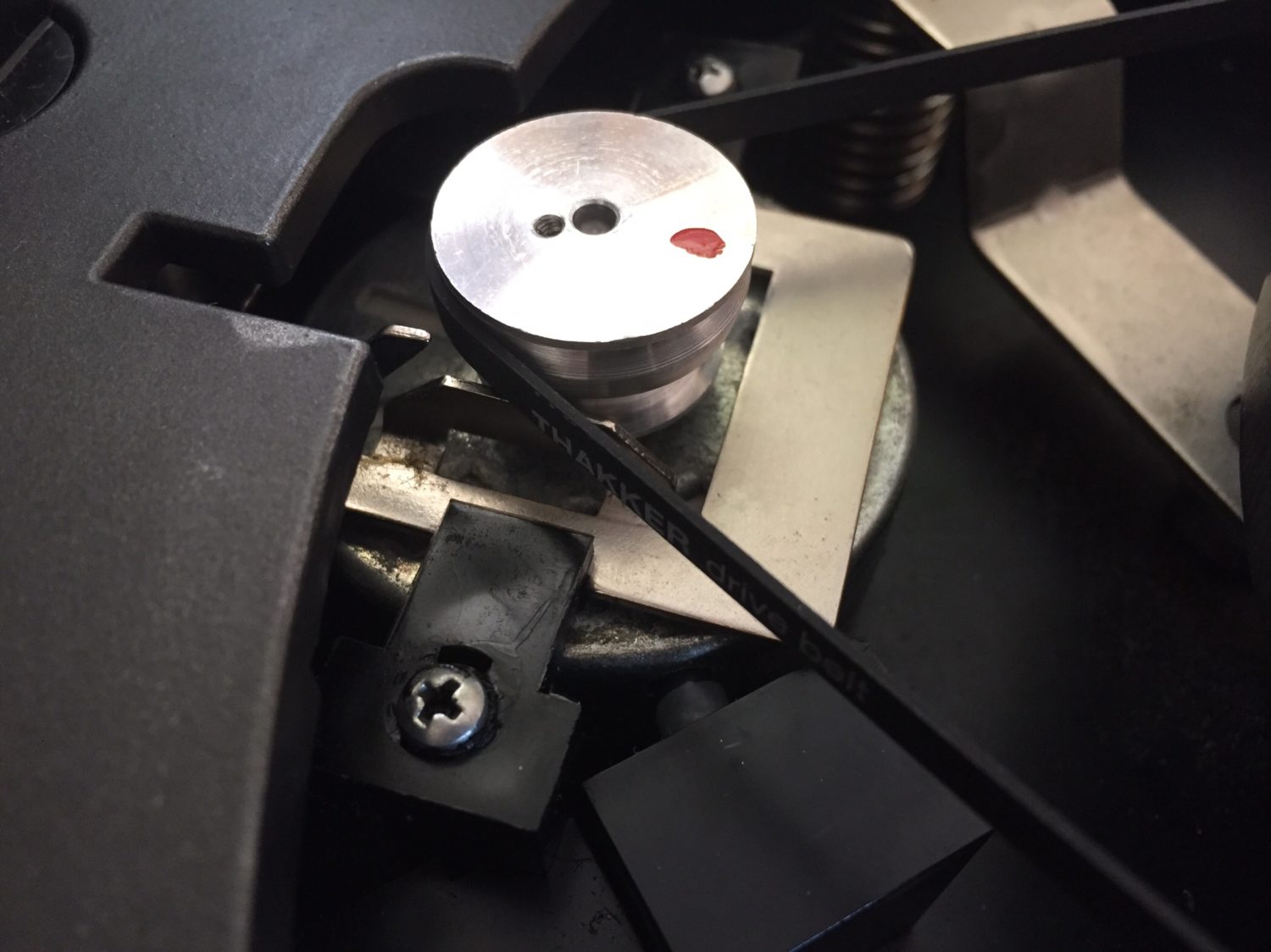 ---
Just added for sale, this lovely little Marantz PM-25 integrated amplifier. The PM-25 has a phono preamp built-in, meaning you can play vinyl without needing anything else, other than speakers!
SOLD!
This Marantz would make a great little first amp for someone and I've just serviced her, so she's running perfectly. Asking just $175.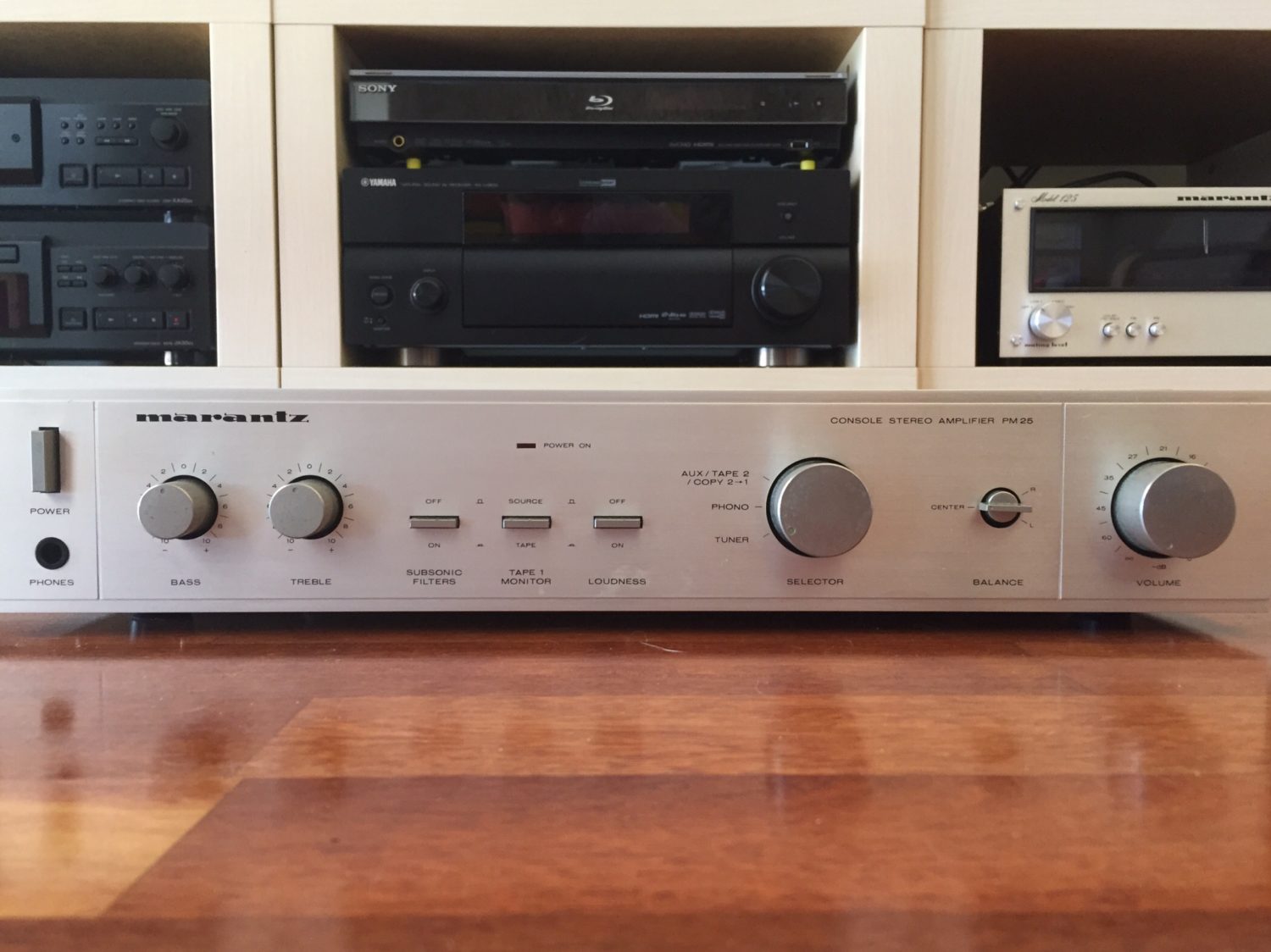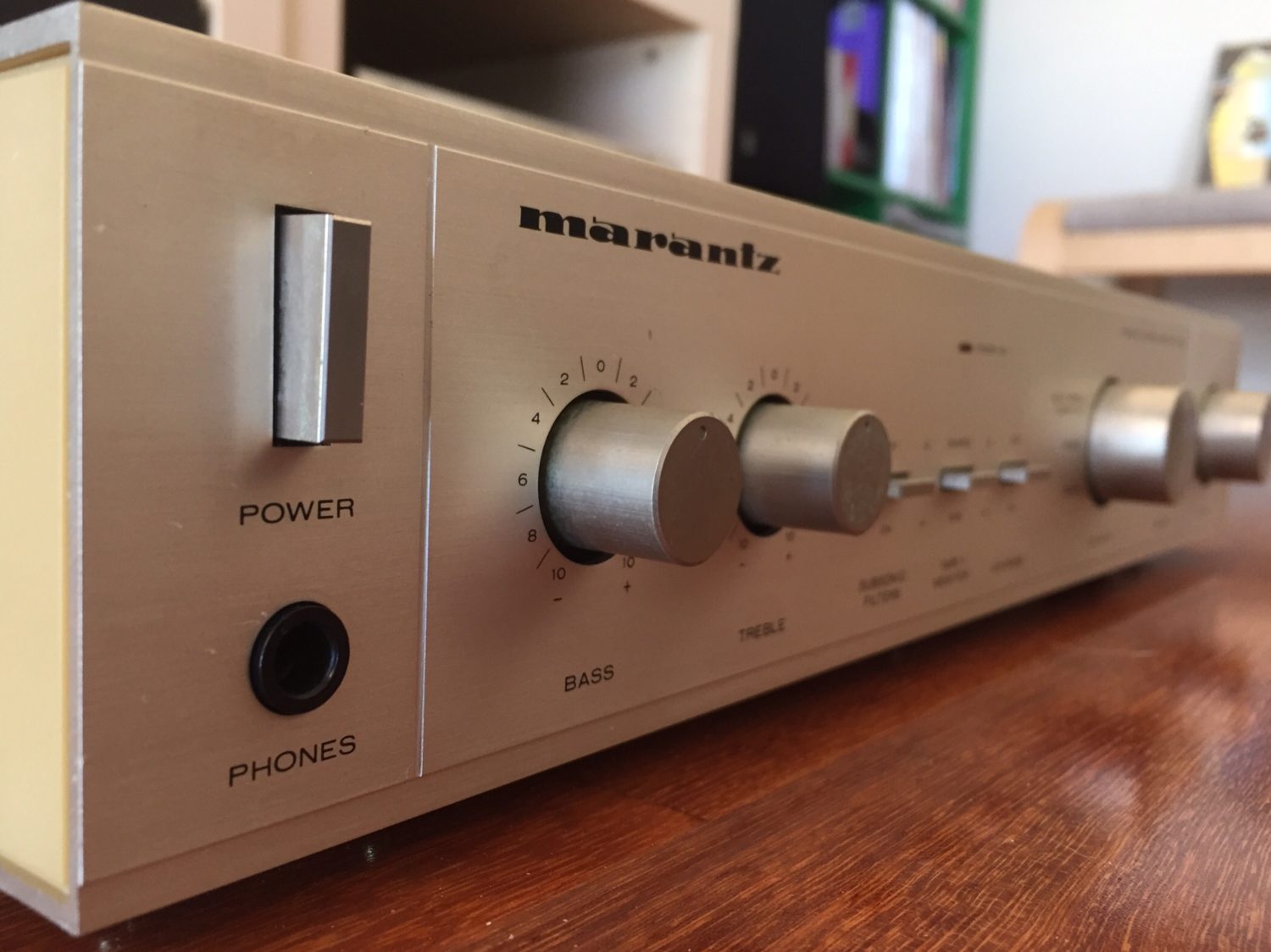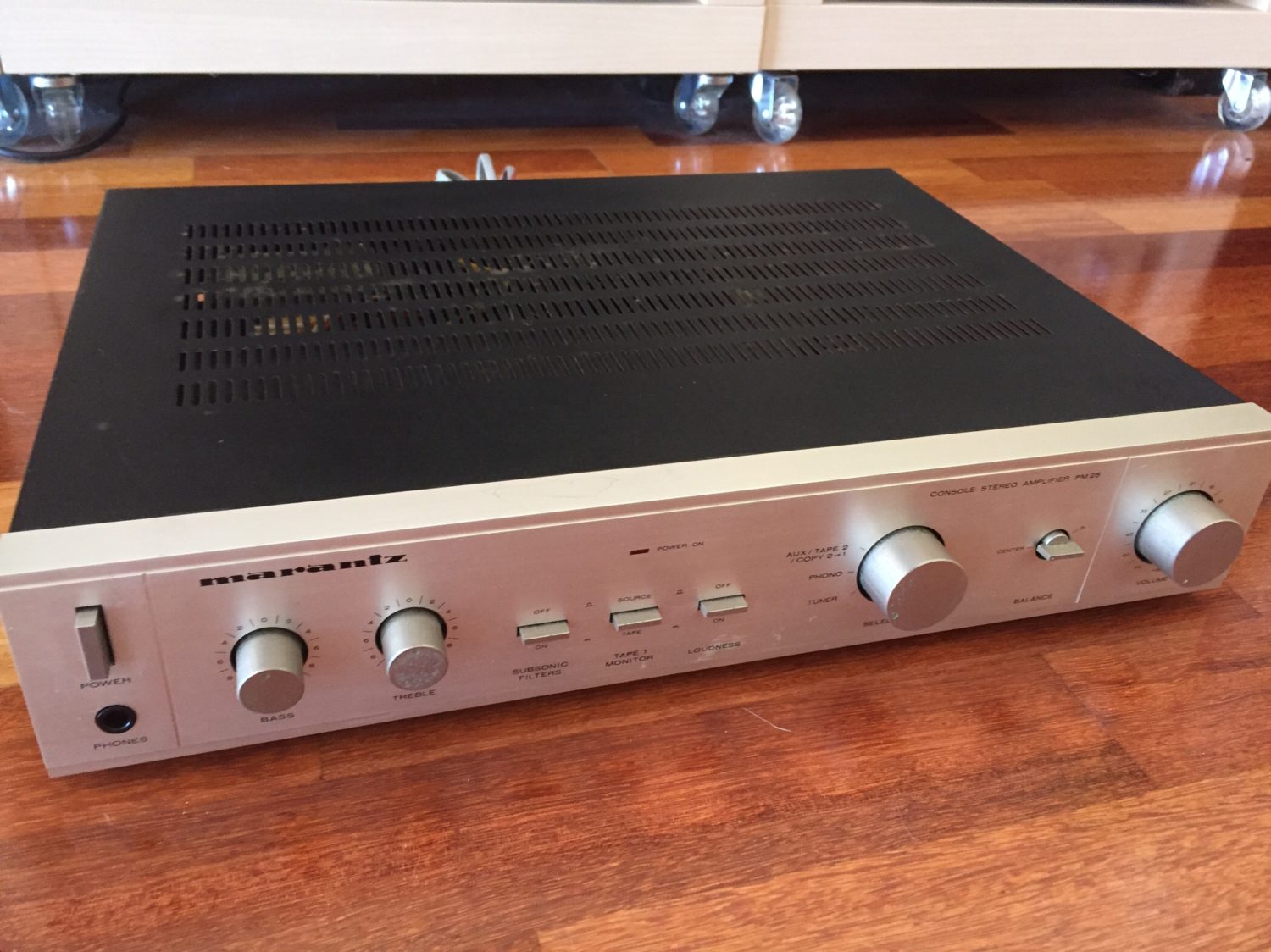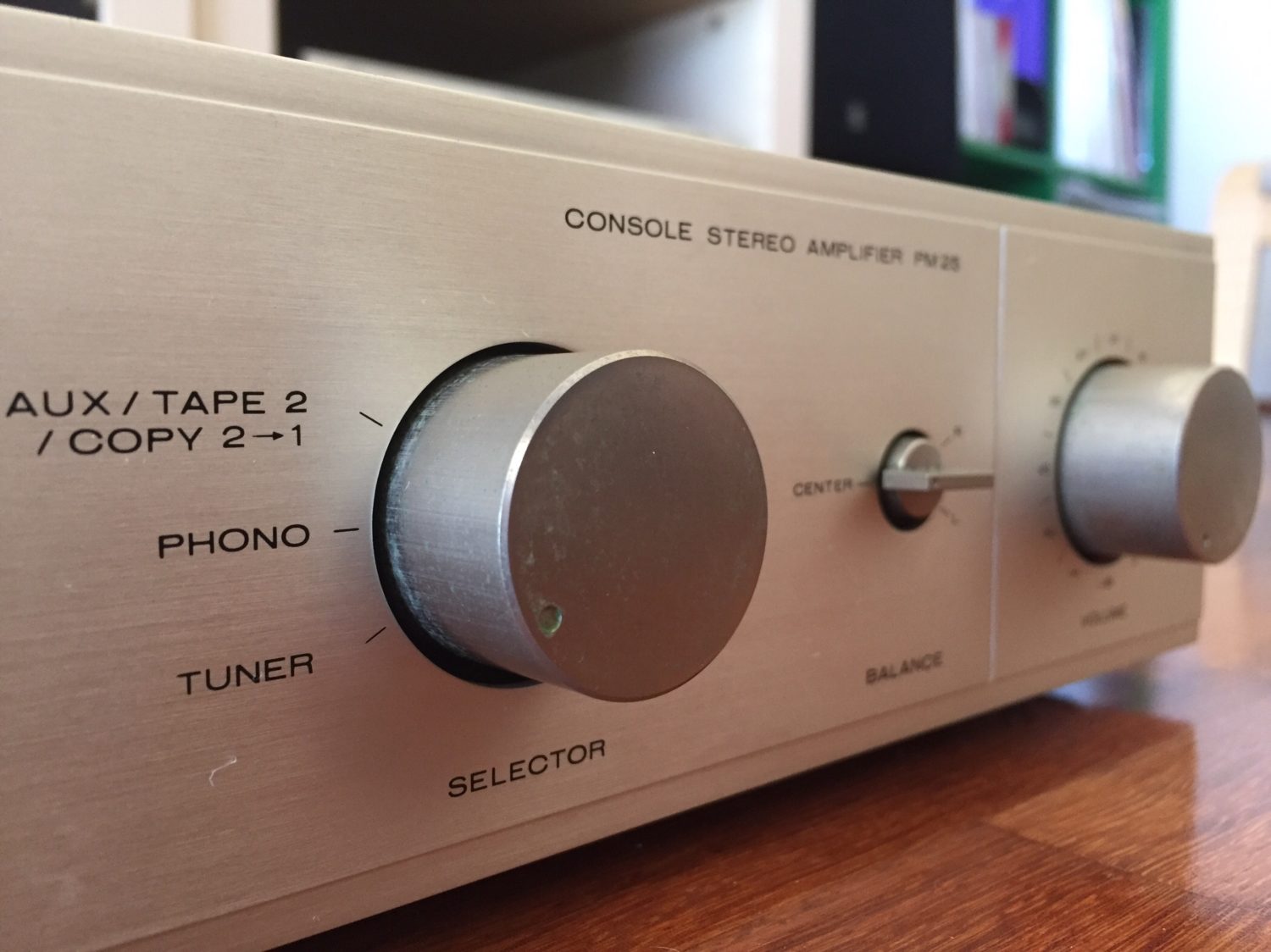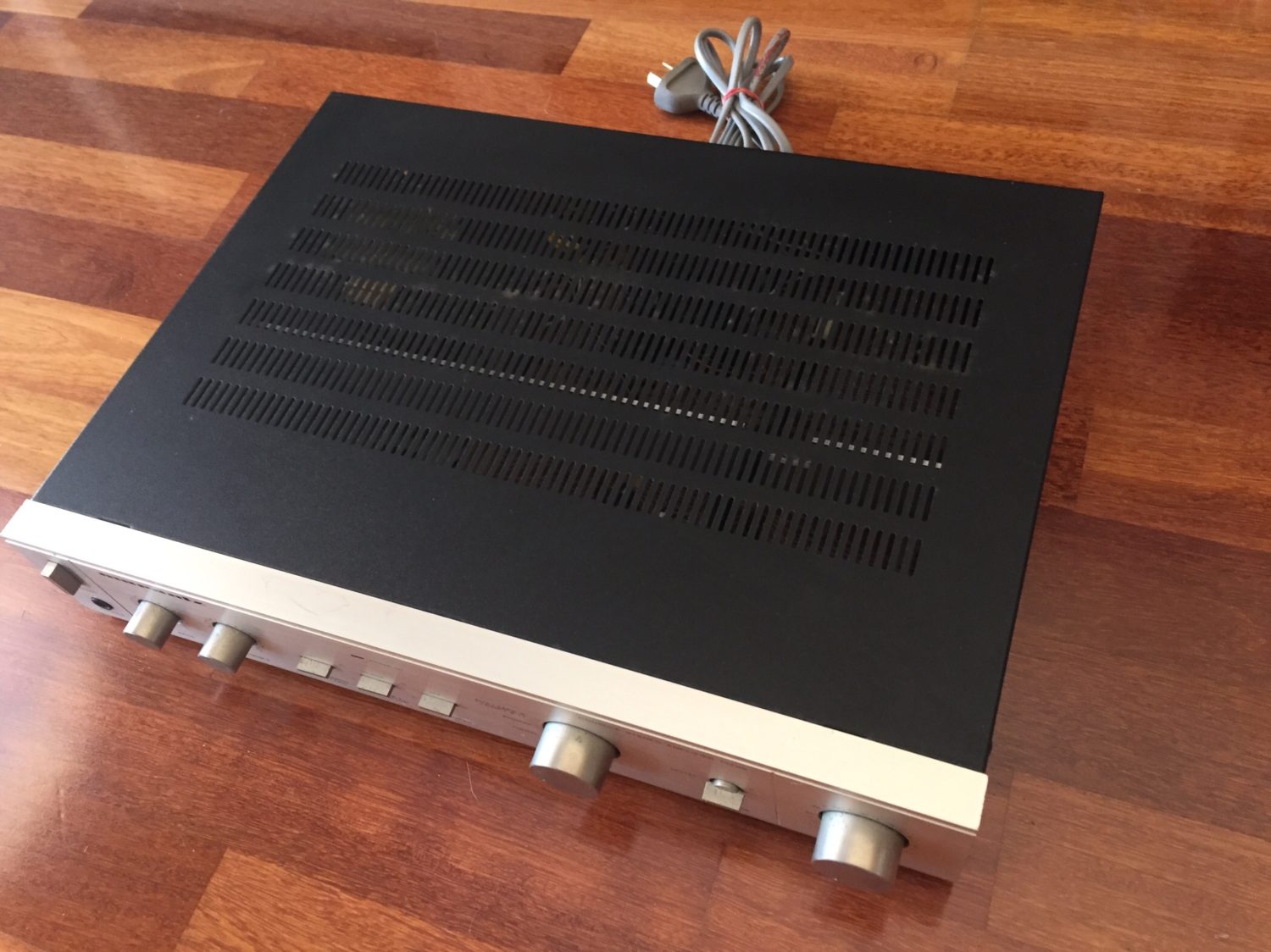 ---
Need a cassette deck to make mixtapes or maybe just to have some fun recording again? How about this lovely little Proton AD-430 cassette deck, just $150!
Sold!
This deck comes from a company well-known at the time for making quality, stylish pieces to compete with the likes or Rotel and NAD.  The AD-430 is a two-head cassette deck featuring Dolby B, C and HX-Pro, to ensure crystal clear, noise-free recordings.
Front Loading (left)
Chrome and Normal tape capable
Full Auto Shut Off
12-stage recording meters
Multiplex filter
Dolby B, Dolby C, Dolby HX-Pro,
Program search
Auto tape select
Made from 1990-1993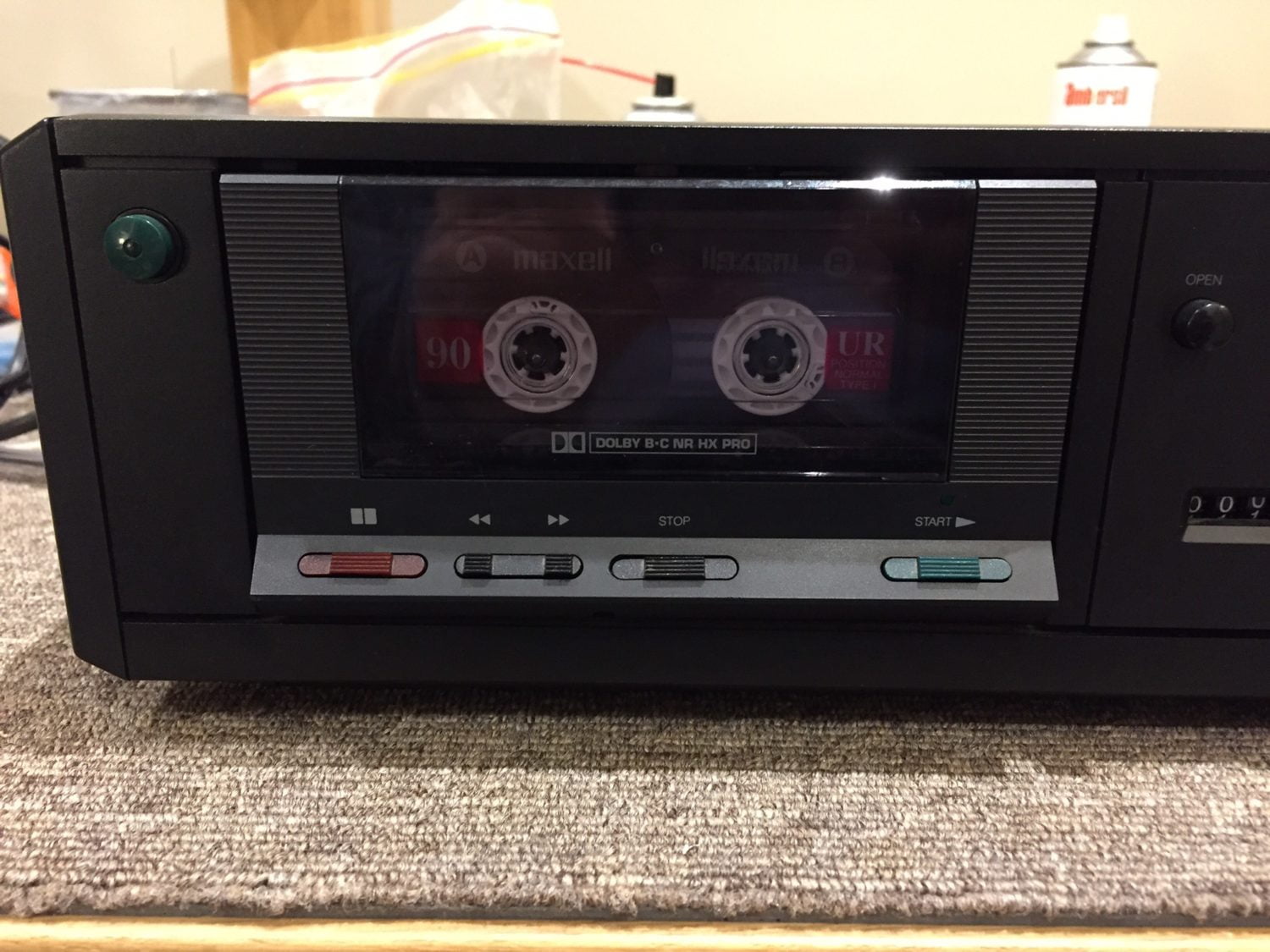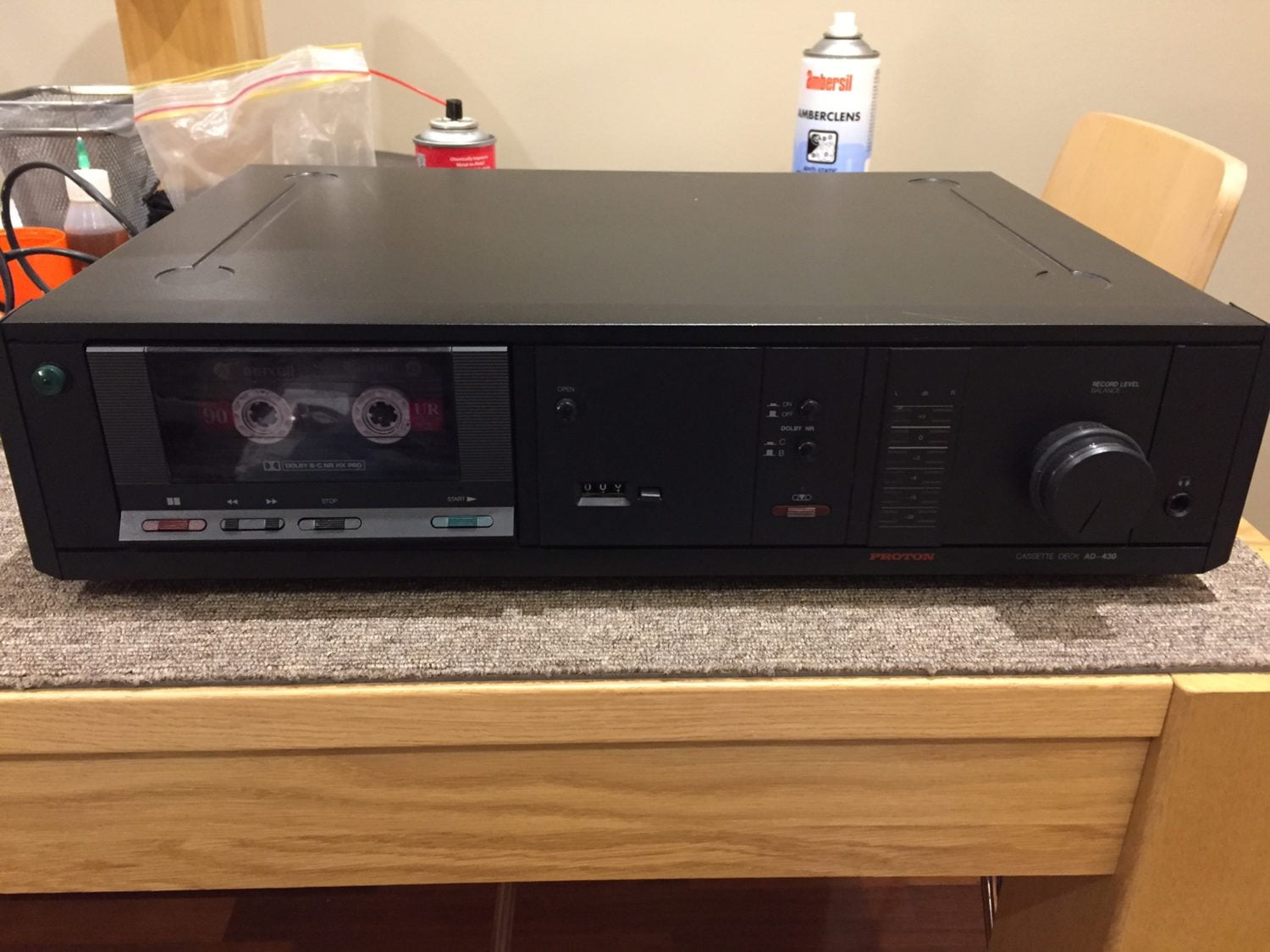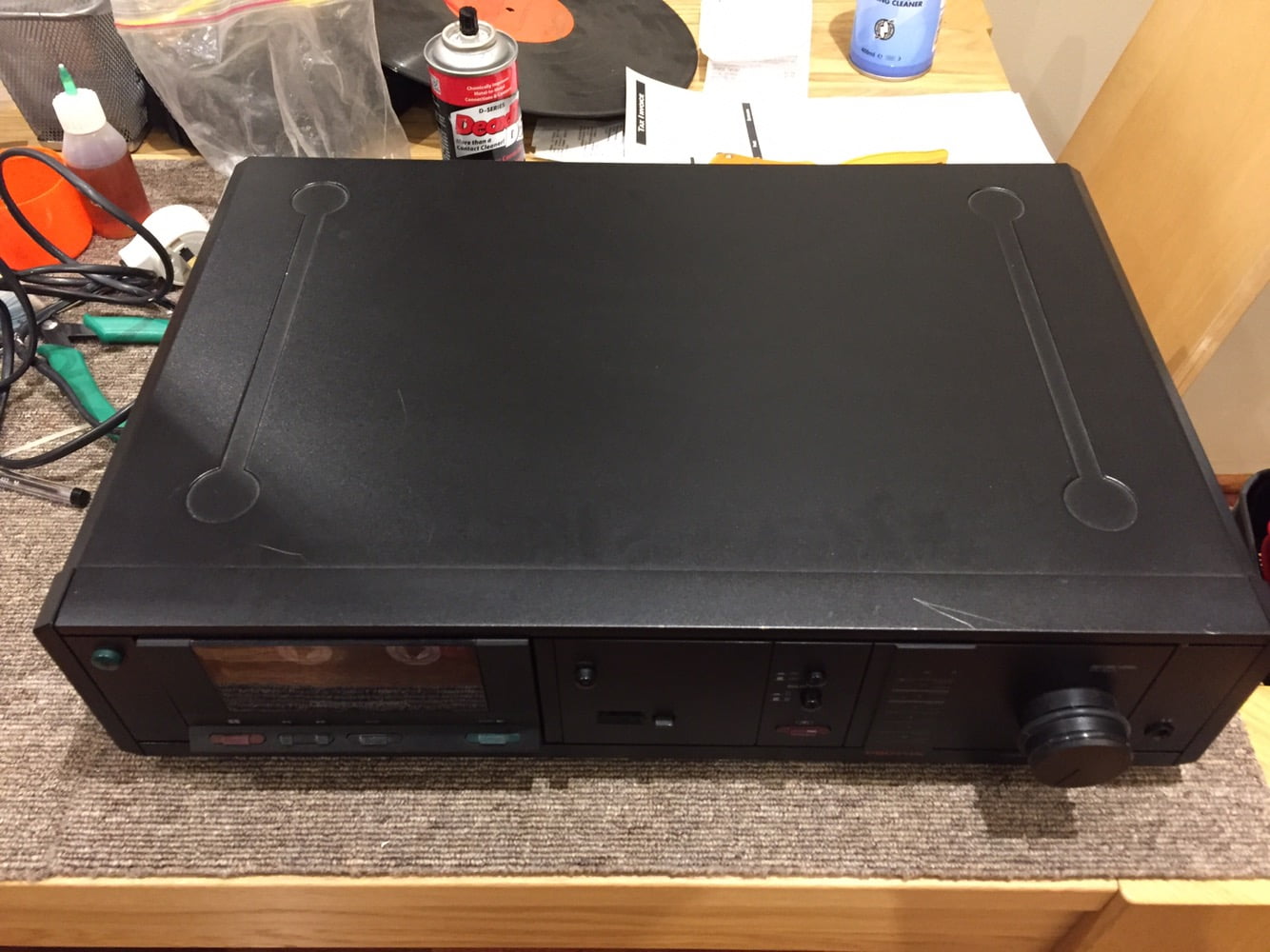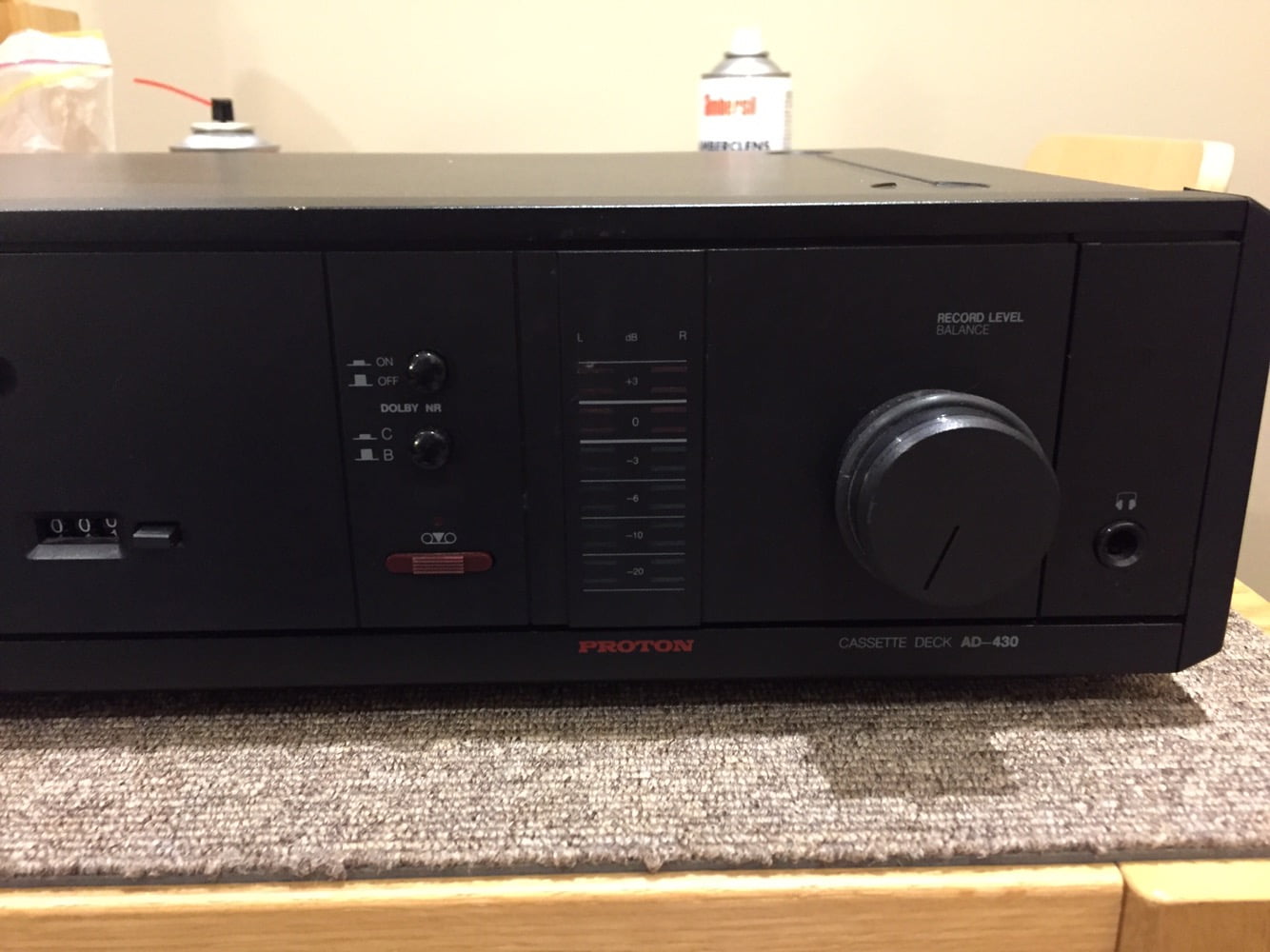 ---
I've just added another item for sale, this time a lovely old Kenwood DP-5030 CD player, just $150.
UPDATE – SOLD!
Kenwood made some really excellent CD players back in the day and this one is no exception. Still playing discs perfectly after all this time, the DP-5030 would make an excellent second CD player or a great first one for someone setting up a system.
Digital converter: CXD2552Q, 1-bit, 8 x oversampling
CD Mechanism: KSS-210A
Frequency response: 2Hz to 20kHz
Signal to Noise Ratio: 110dB
Channel separation: 103dB
Total harmonic distortion: 0.0025%
Line output: 2V
Digital outputs: optical
Dimensions: 440 x 118 x 314mm
Weight: 4.2kg
Year: 1991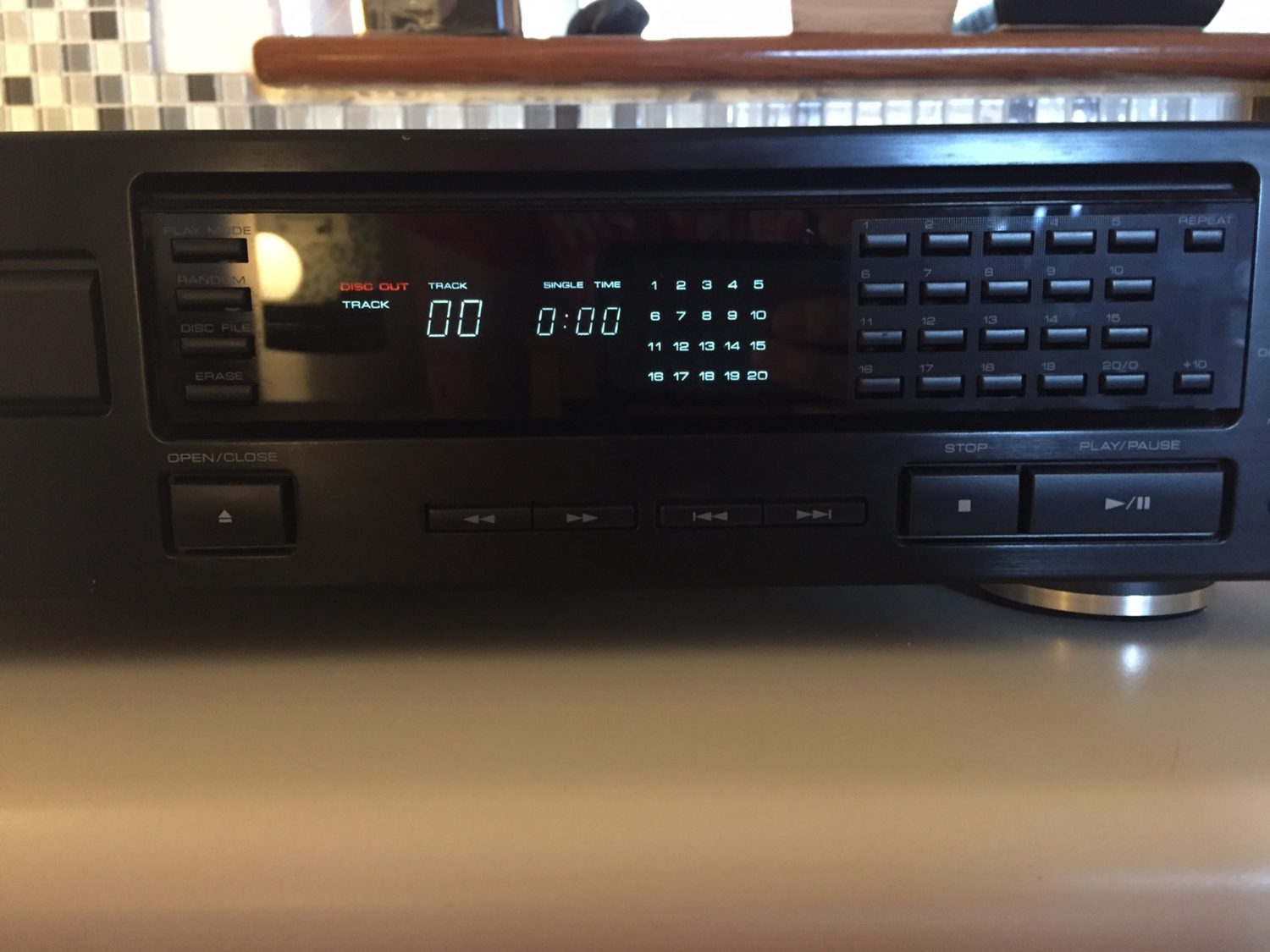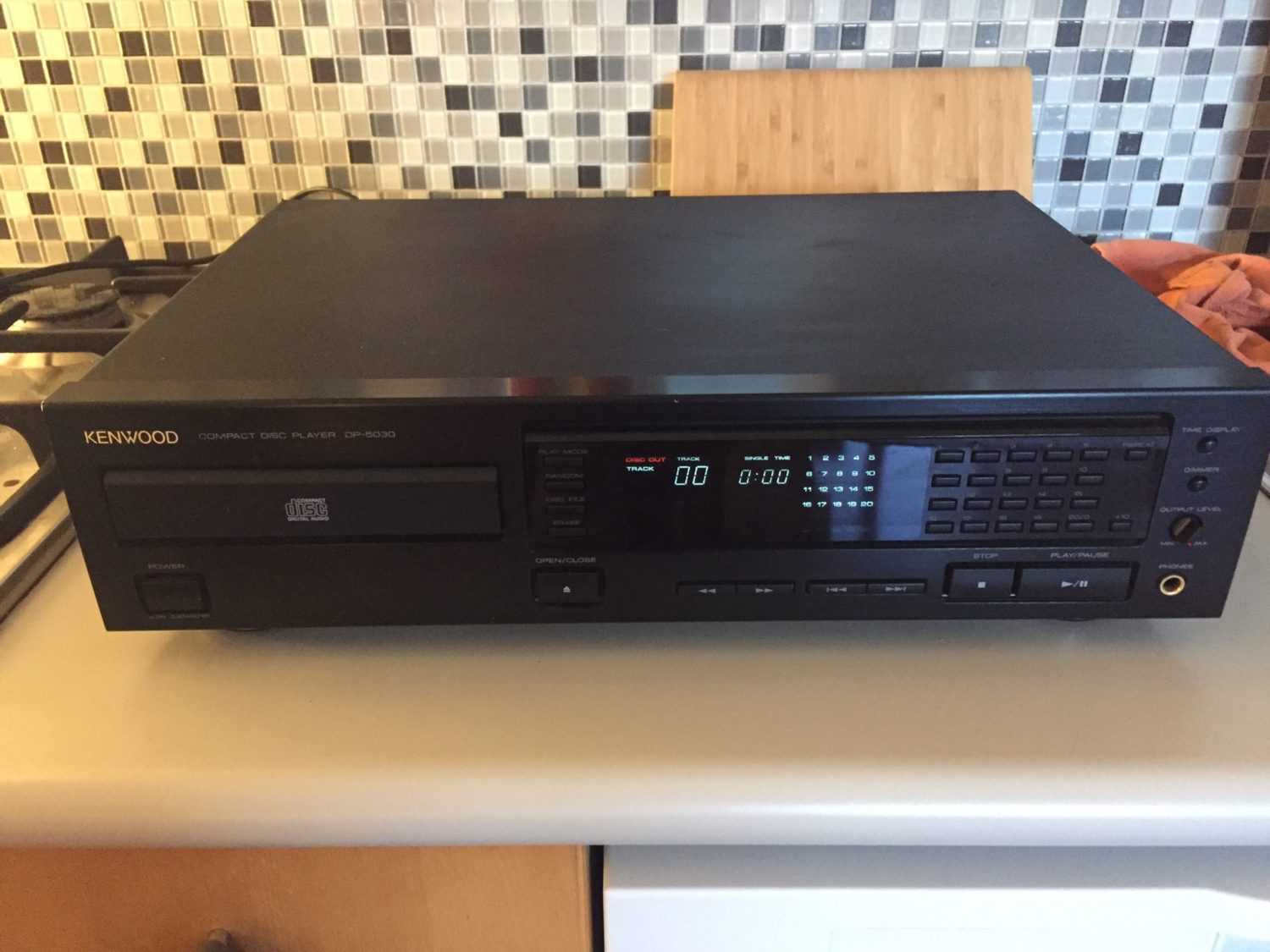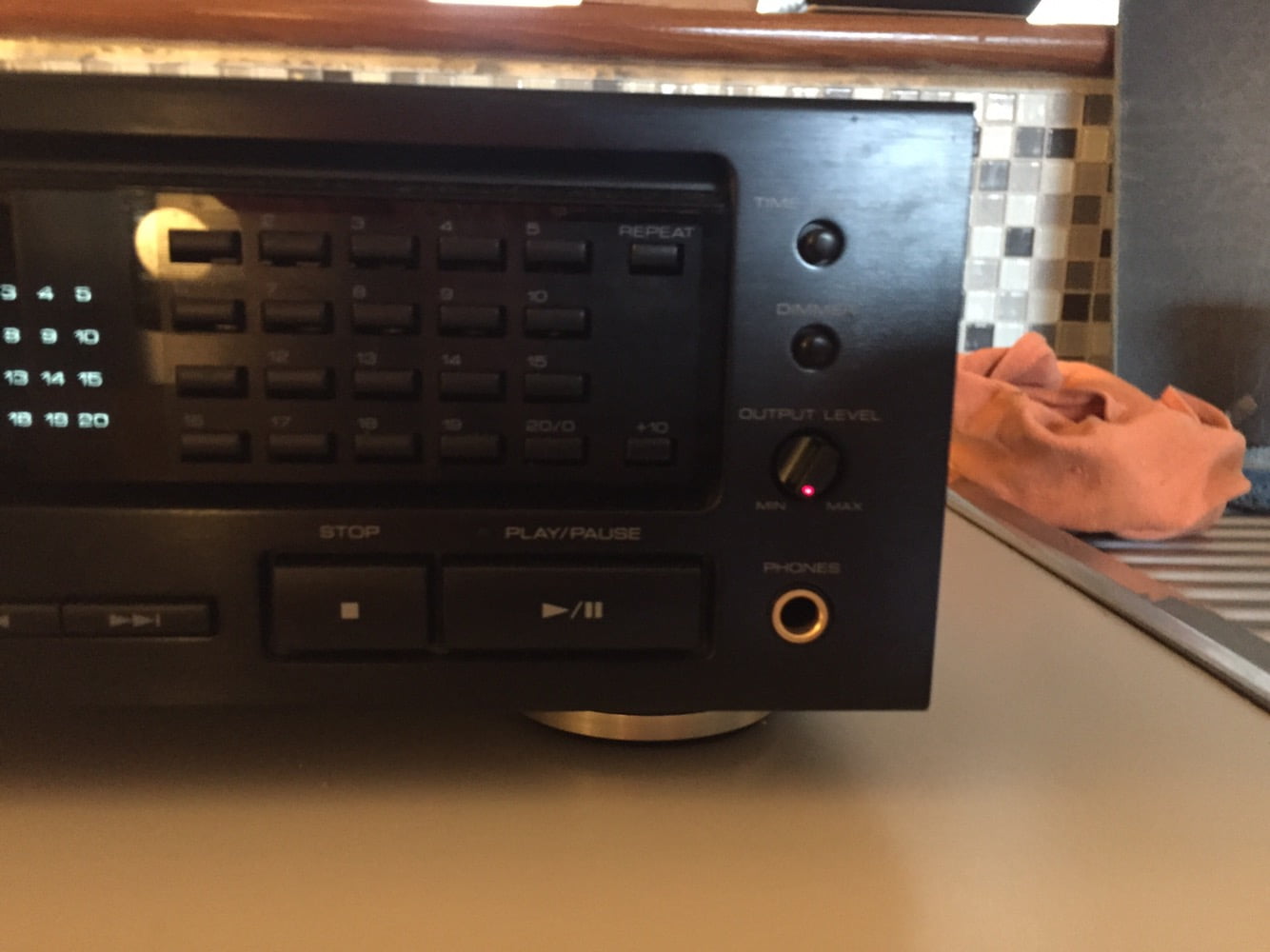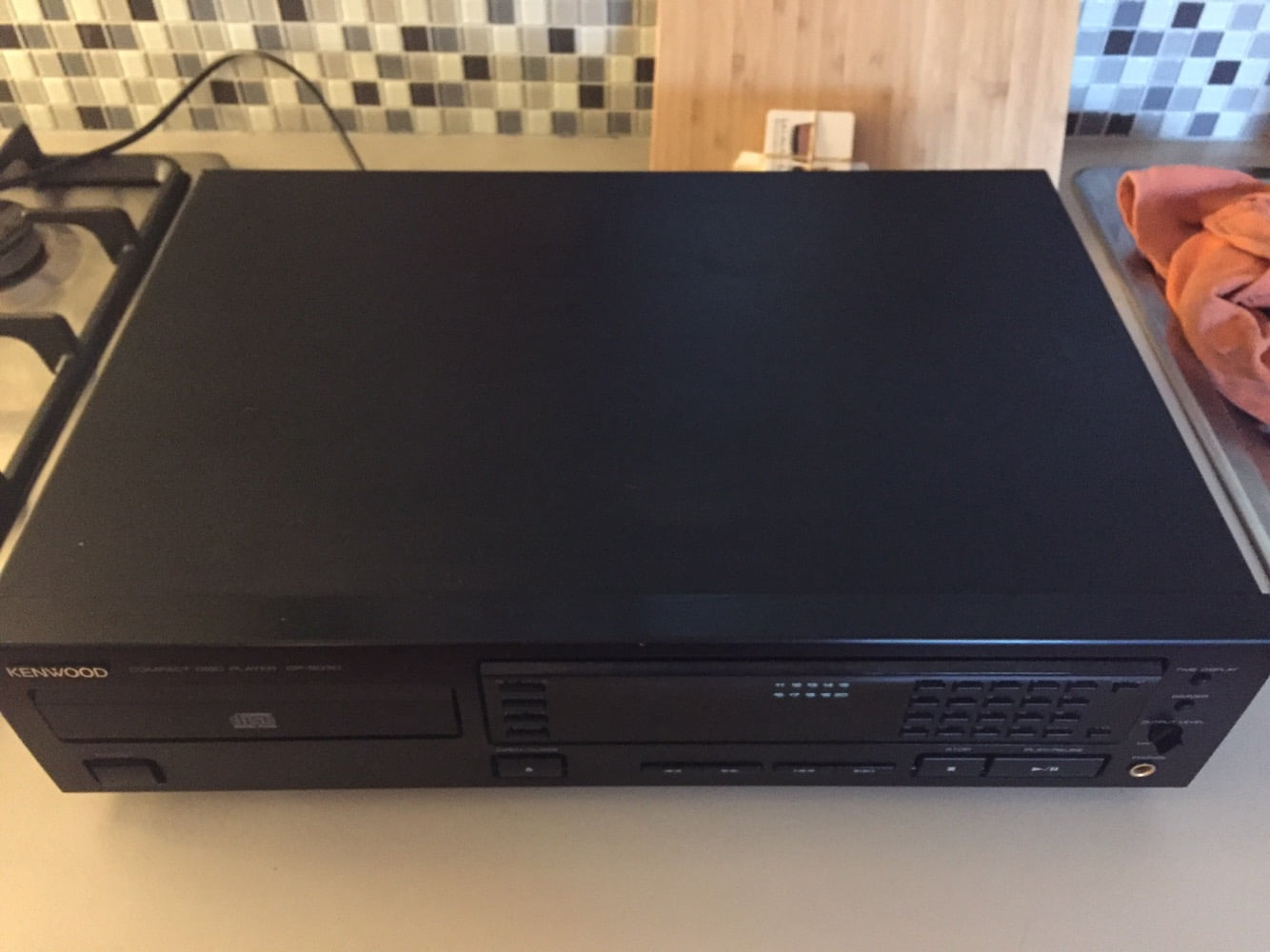 ---
I have an absolutely stunning Ortofon MC Jubilee moving coil cartridge for sale, yours for $1495.
UPDATE – SOLD!
This MC Jubilee comes from my personal collection. I've owned her since new and she has enjoyed a very easy life, on a superb turntable, playing pristine vinyl.
The beautiful Shibata stylus and boron rod cantilever are in perfect condition, as you'll see from the images below. The cartridge body is unmarked and comes with original accessories, in original packing materials and box.
This cartridge was launched to mark Ortofon's 80th anniversary and it really is a superb transducer and very rare to find one for sale at all, let alone in this condition.
More information from Ortofon's dedicated page.
Features
The Ortofon MC Jubilee features a unique exterior design and an interior construction based on numerous technological advances. The cartridge incorporates Wide Range Damping system controlling the high and low-frequency damping separately.
The effective mass has been reduced in the stylus/cantilever system by using a very thin boron rod. This material is extremely stiff and even more lightweight compared to aluminium. Besides is the velocity of sound almost 3 times higher compared to that of aluminium.
Combined with the Nude high-polished Shibata diamond stylus at the end of the cantilever we have developed one of the new elements responsible for the new sound 6-nines (99.9999%) pure silver is used for the coils on the armature.
Amazing tonal neutrality, dynamics and purity of sound of the Ortofon MC Jubilee set new standards for potency, detail, consistency and sound staging.
A high-performance MC transformer or MC preamplifier is required to take full advantage of these qualities. Recommended load: 10 Ohms or much higher, unless the ancillary system has bright tendencies.
Specifications
Output voltage at 1000 Hz, 5cm/sec.  –  0,34 mV
Channel balance at 1 kHz  –  < 1 dB
Channel separation at 1 kHz  –  > 27 dB
Channel separation at 15 kHz  –  > 20 dB
Frequency range at – 3dB  –  20-60.000 Hz
Frequency response  –  20-20.000 Hz + 1,5 / – 0 dB
Tracking ability at 315Hz at recommended tracking force  –  100 µm
Compliance, dynamic, lateral  –  16 µm/mN
Stylus type  –  Nude Shibata
Stylus tip radius  –  r/R 6/50 µm
Tracking force range  –  2,0-2,5 g (20-25 mN)
Tracking force, recommended  –  2,3 g (23 mN)
Vertical tracking angle  –  20°
Internal impedance, DC resistance  –  5 Ohm
Recommended load impedance  –  > 10 Ohm
Cartridge body material  –  Stainless steel/aluminium
Colour  –  Purple/Black
Weight  –  10,5 gram
This cartridge sounds incredible. If you are chasing a really high-end moving coil cartridge, with all the charms of pure silver coils, Shibata gem and superb construction, get in contact with me.
Asking just $1495, around half the Australian retail price. This is a  rare opportunity to purchase a collectible cartridge in pristine condition. I don't imagine this will hang around for long.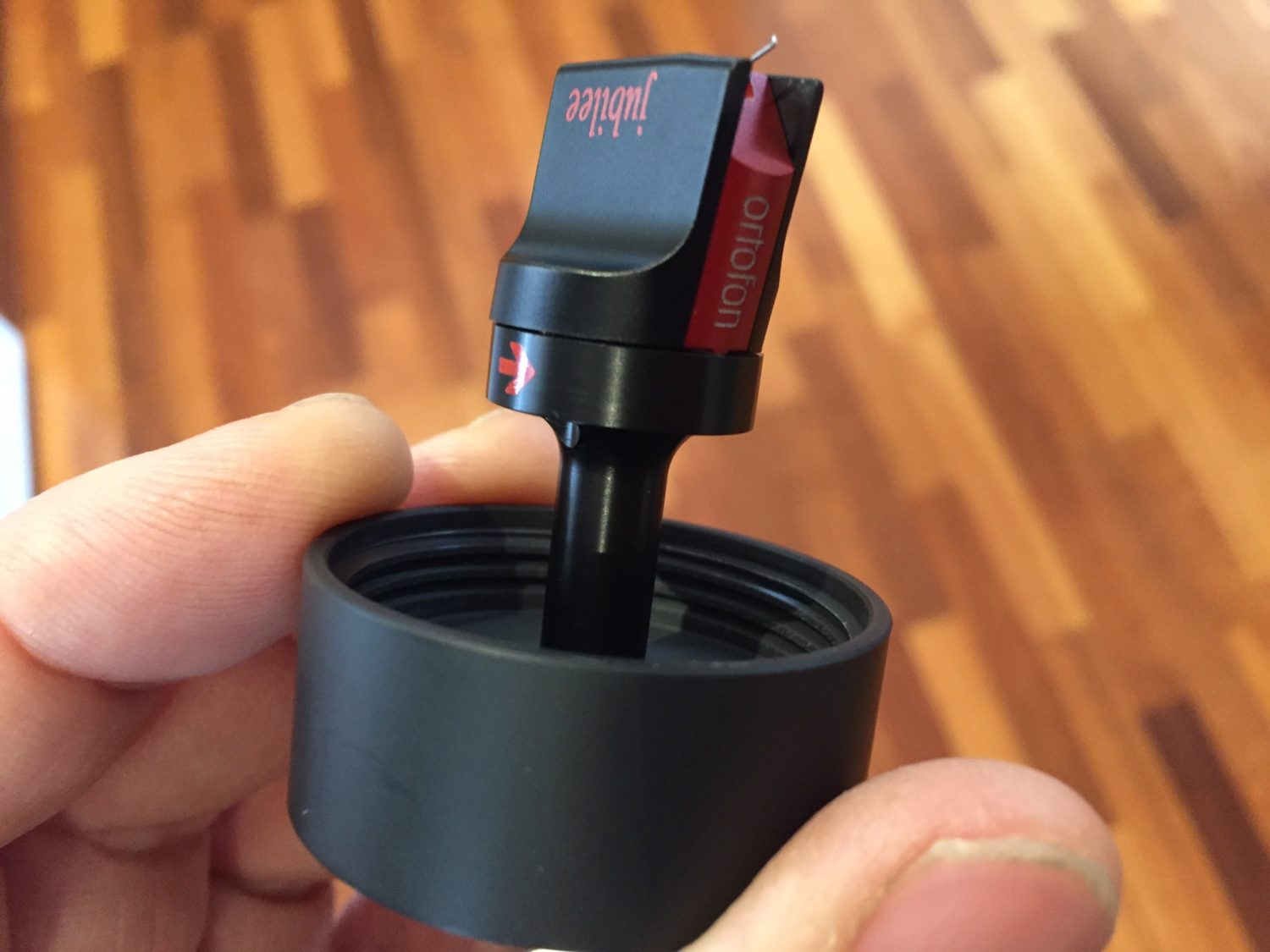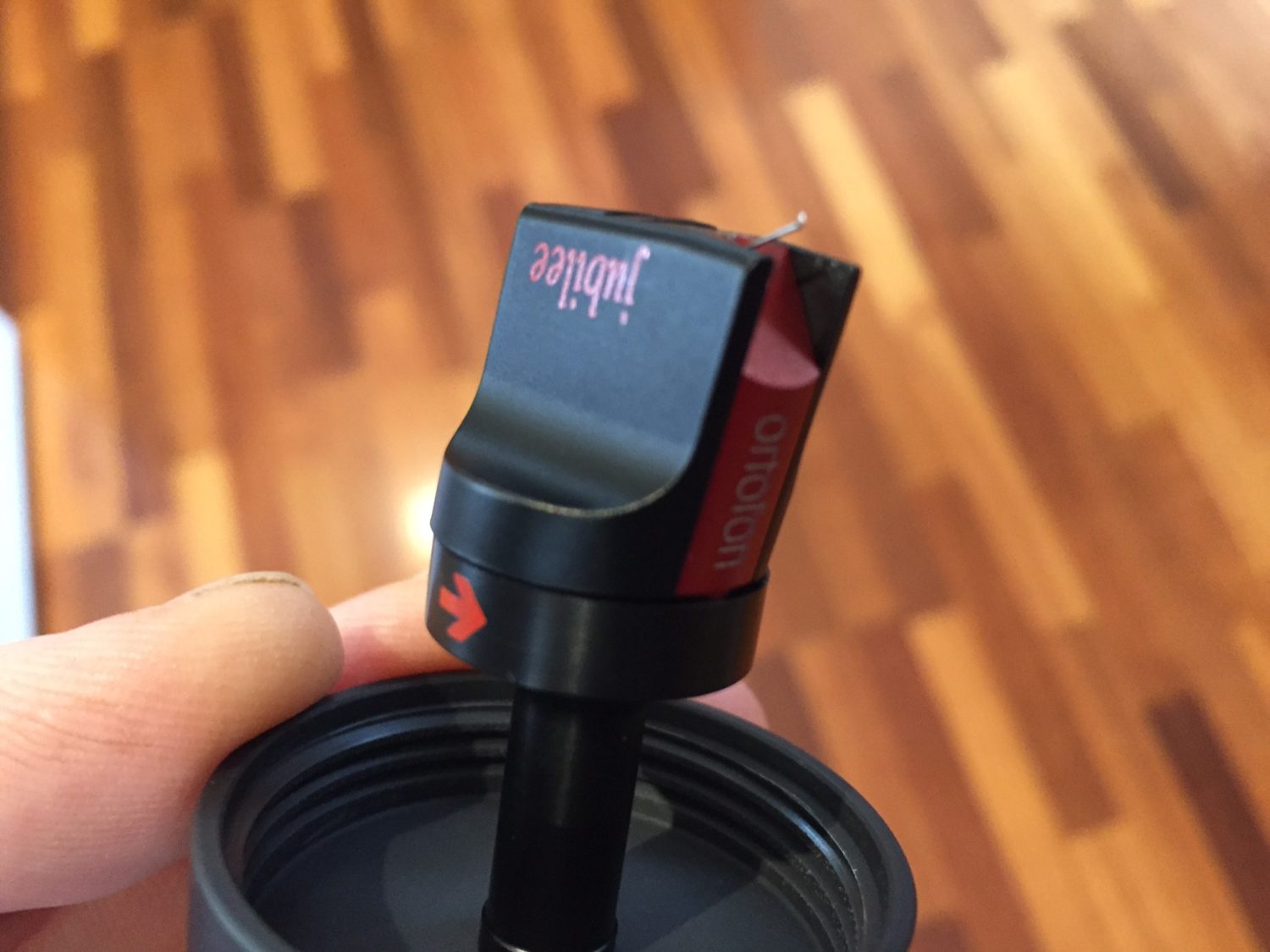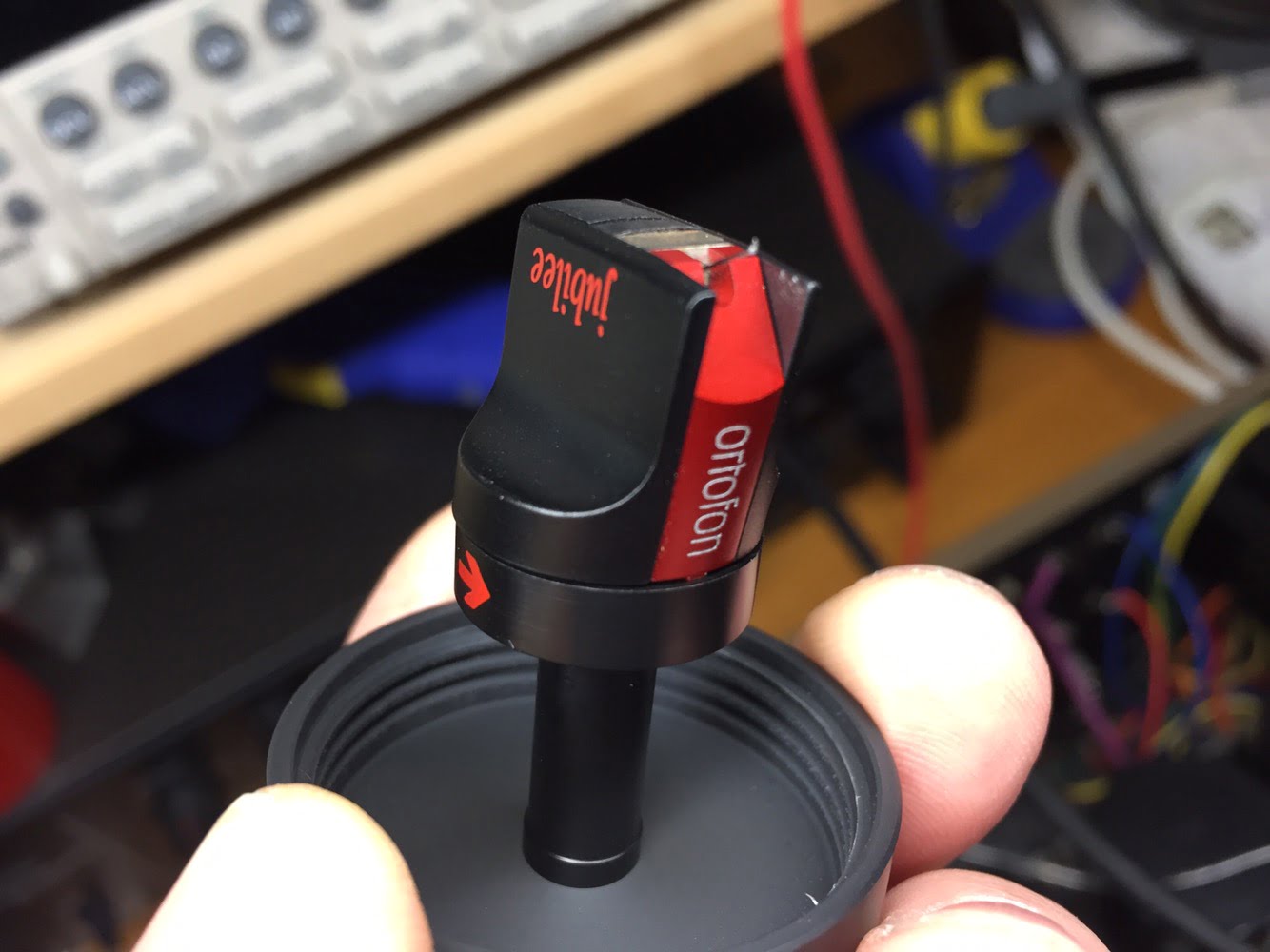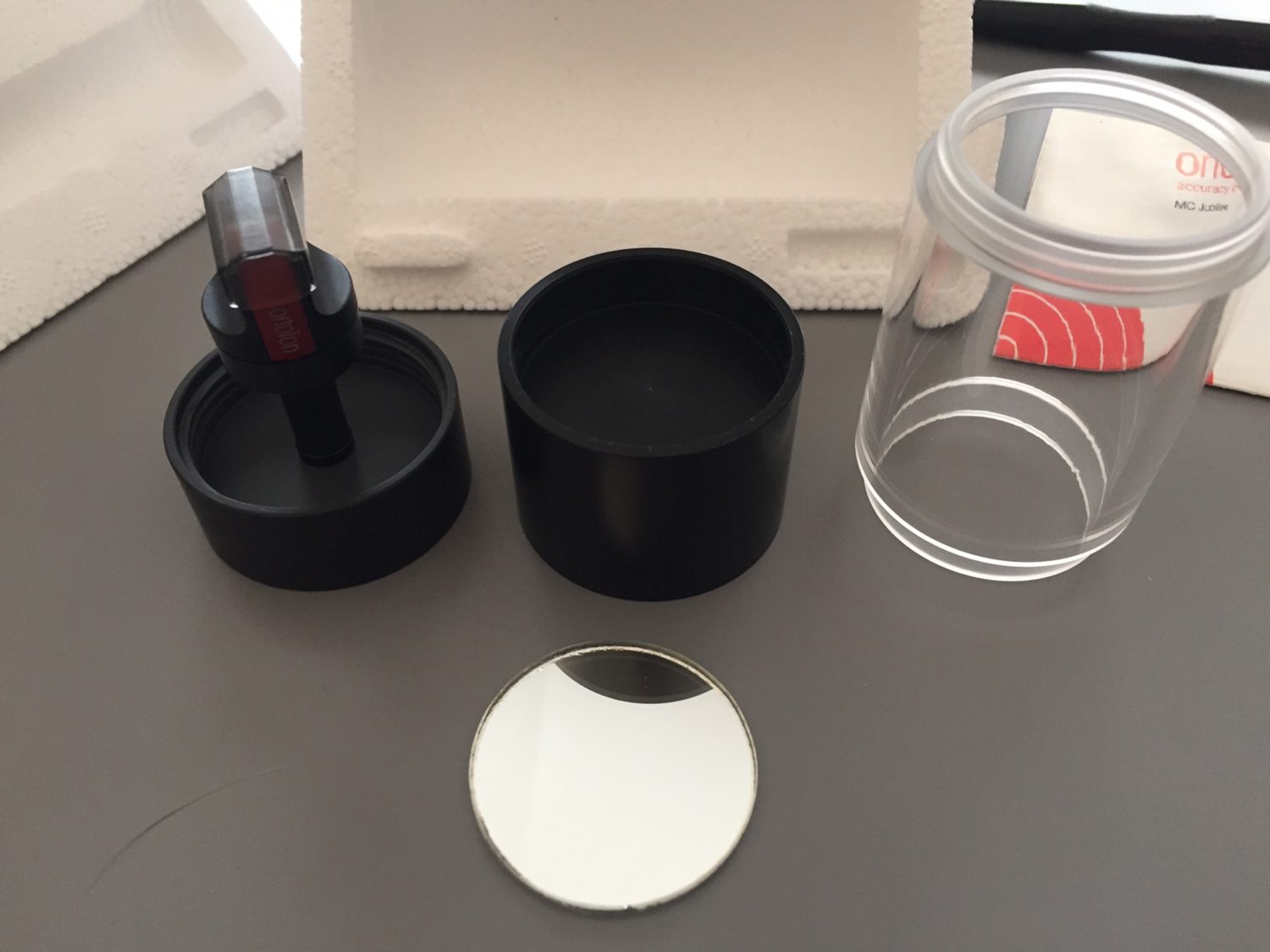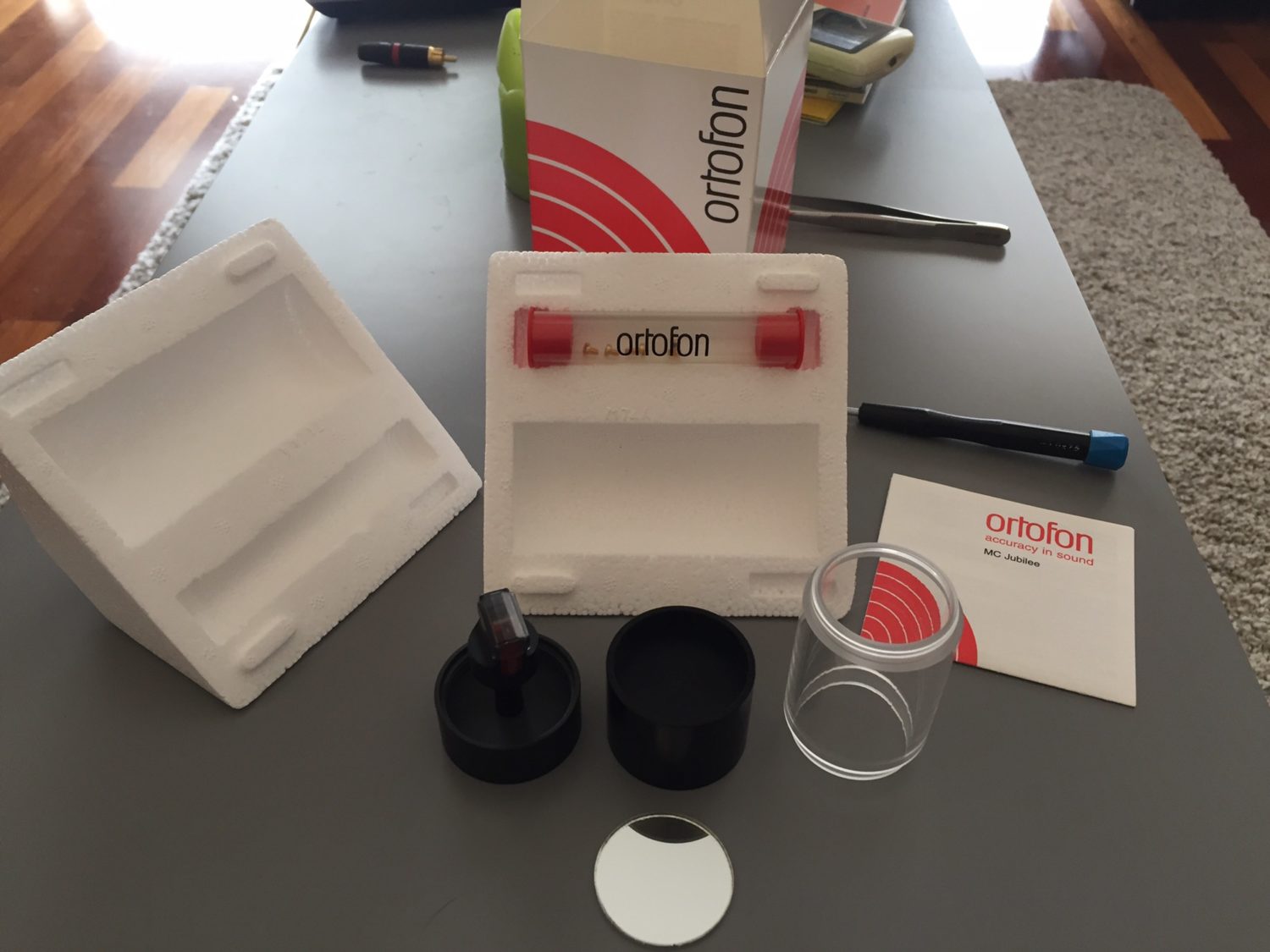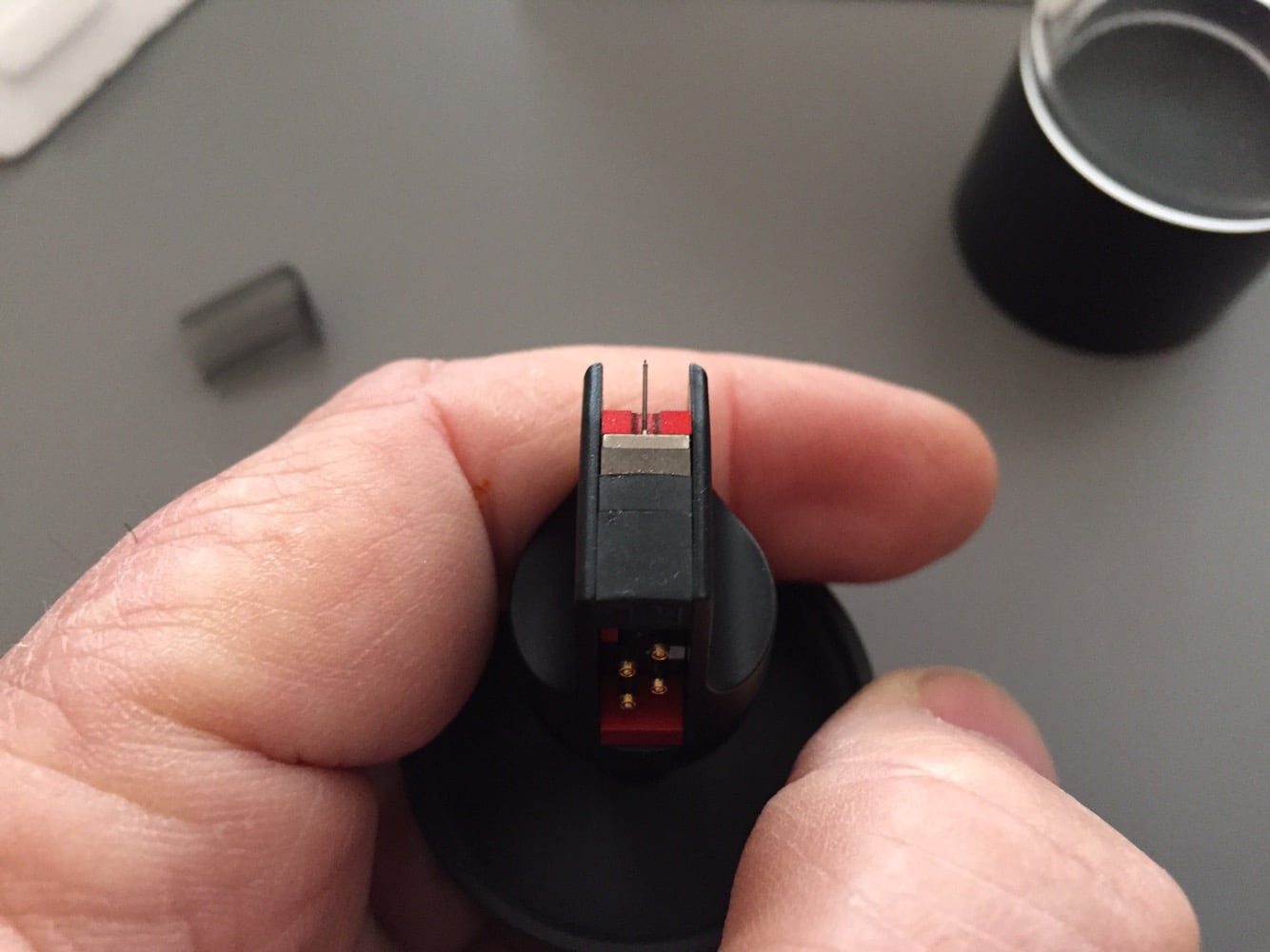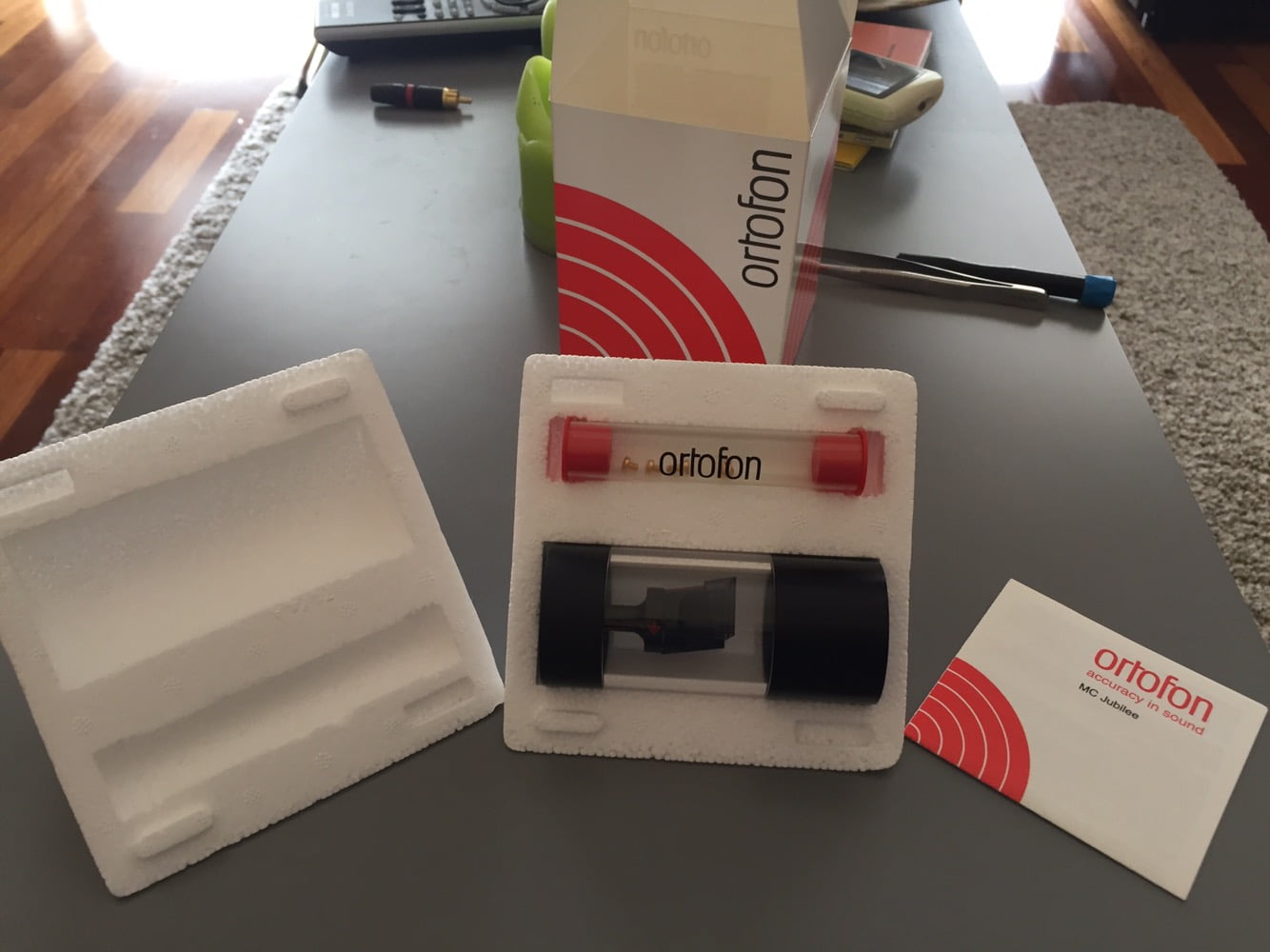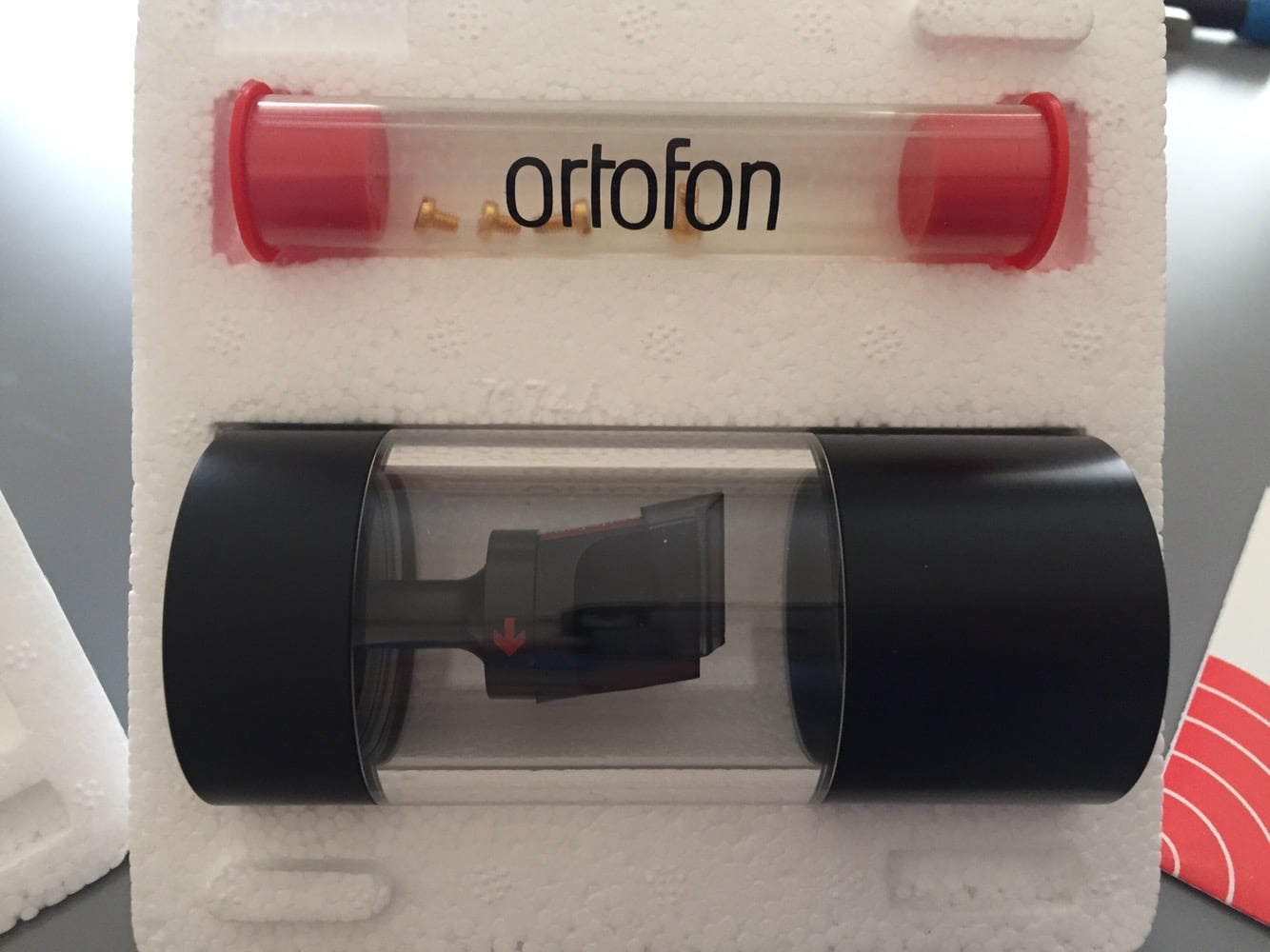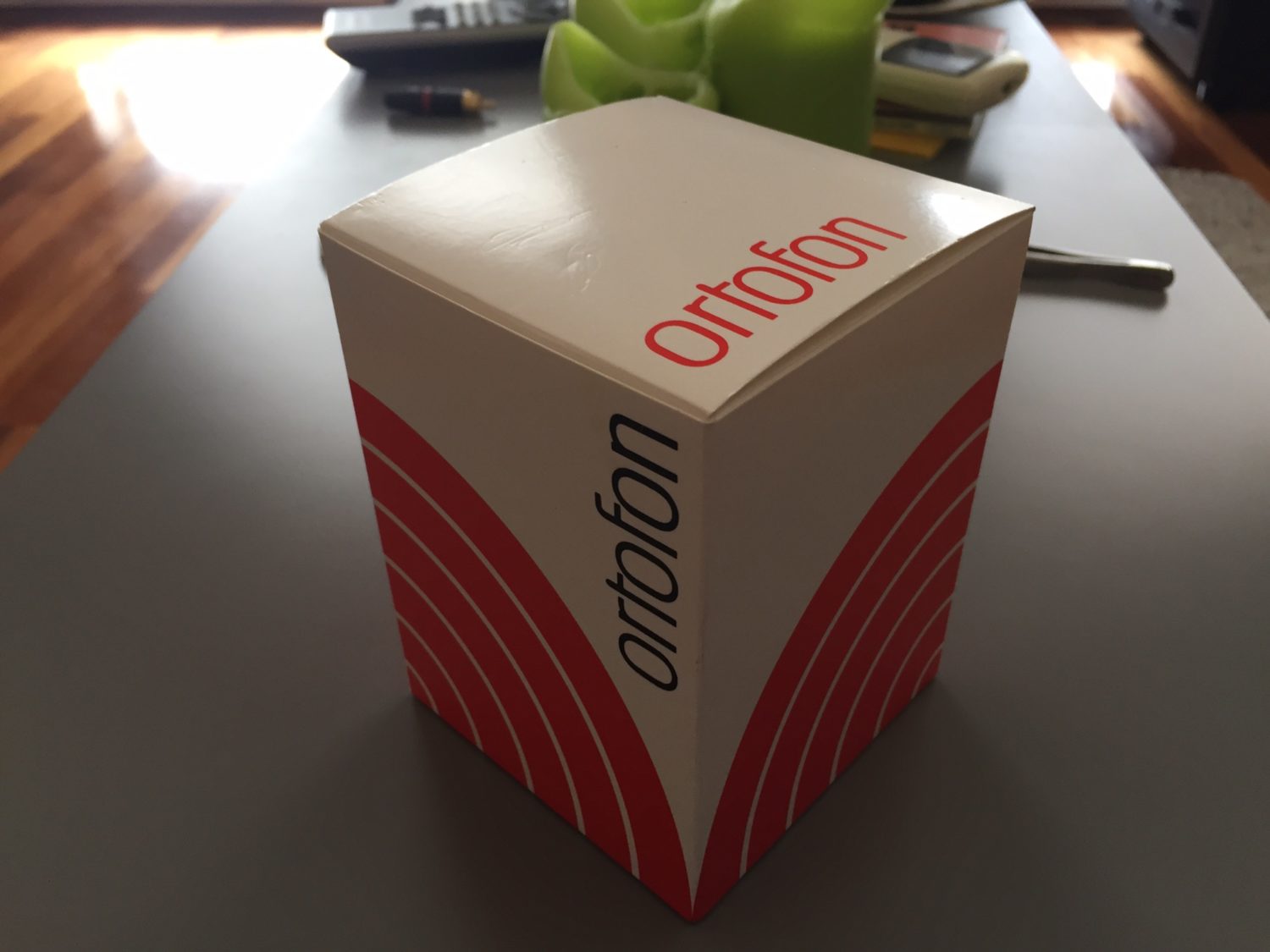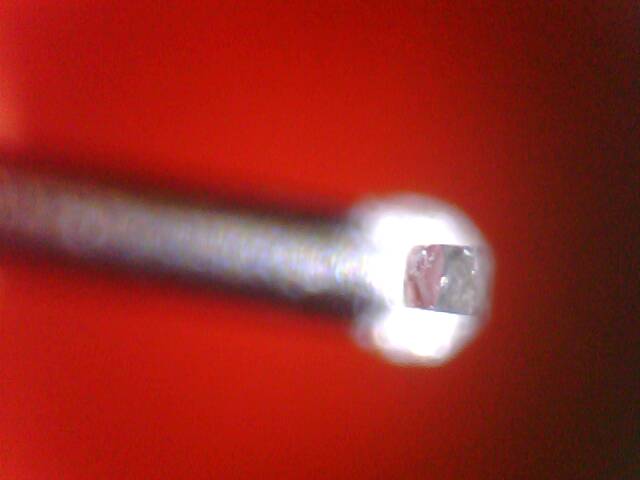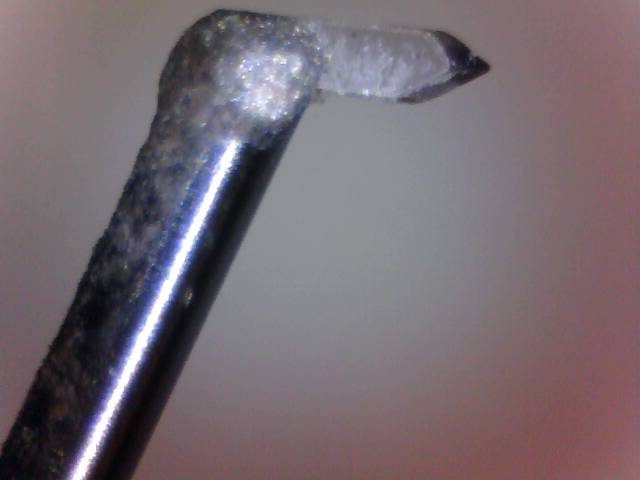 ---
I'm selling an amazing subwoofer – the awesome Mackie HRS120 THX studio subwoofer. Grab it for just $1395.
UPDATE – SOLD!
The Mackie HRS120 is a monster, weighing in at nearly 50kg. It's able to deliver 400 watts continuously, via a high-power linear amplifier and power supply. All this power is fed into a downward-firing 12-inch Italian RCF bass driver.
The HRS120 sub is an awesome performer for home audio. These were mostly used in studios, to master THX soundtracks and so on, which should give you an idea of their quality. This sub was marketed as part of the Mackie high-resolution or 'HR' product lineup.
The sub is in excellent condition, just missing the fabric from the cover. This is easy to fix, but honestly, it looks better without the grille on.
If you want a really good sub, this is an excellent option. It can be yours for just $1395. Contact me for more details.
Specs
Applications:
Professional Recording Studios
Film (THX) & Post Production Studios
Home Theater Installations
Key Features & Benefits:
Active Technology Benefit: Precise phase alignment Benefit: Extremely low distortion Benefit: Minimal chance of 

speaker damage due to overdriving

Servo Loop Woofer Technology Benefit: Output is as true to incoming signal as possible Benefit: Extraordinarily high 

damping factors

Built-In, Front-Firing, Mass-Loaded Passive Radiator Benefit: Clear, detailed low-frequency

 enhancement

User-Adjustable Controls Benefit: Flexibility to adjust to a wide range of user needs
HRS120 Features:
Extended high-resolution output down to 19 

Hz

Adjustable high pass output for use with full range 

monitors

Adjustable 60 to 110 Hz 

crossover point

110 Hz elliptical filter for Dolby 

AC-3

0 dB/+10 dB Output Level switch for 

AC-3 and THX Dot1 recording

Crossover Defeat switch for THX

0(0)/180(0) 

Polarity switch

Balanced XLR/unbalanced 

RCA inputs and outputs
Acoustic Performance
Free field 

frequency response: 21Hz – 150Hz +/-1.5dB

LF cut-off 

frequency: -3dB at 19Hz

Sound Pressure Level @1 meter, 7.5dBu into balanced input: 100dB [email protected]
Transducers:
Low frequency: 12-inch (305mm) RCF Precision, extended LF transducer with 4-inch voice coil and cast 

aluminium frame

Passive radiator: 12″(

305mm)
Amplifier:
Power: 400 watts, 8 Ohm load (500 watts 

peak)

Slew rate: >35V/s

Signal-to-

noise ratio: >107db

Distortion THD/

SMPTE/IMD/DIM100: <0.02%

Type: FR Series Class 

AB
Construction:
Enclosure: 3/4″ (19mm) MDF with 1.25″ (32mm) MDF top panel, internal bracing

Damping: Adiabatic foam
Controls:
Subsonic Filter: flat/15Hz, 18dB/octave 

filter

Filter bypass: In/full range (THX)

Filter Select: Variable/110Hz elliptical

Polarity: 0/180

Variable crossover: 55Hz to 110Hz, 24dB/octave 

Linkwitz-Riley

 

filter
Product weight & dimensions (without packaging):
Height: 21″ (533mm)
Width: 18″ (457mm)
Depth: 21.3″ (541mm)
Weight: 94 lbs (42.6 kg)
Some Pics: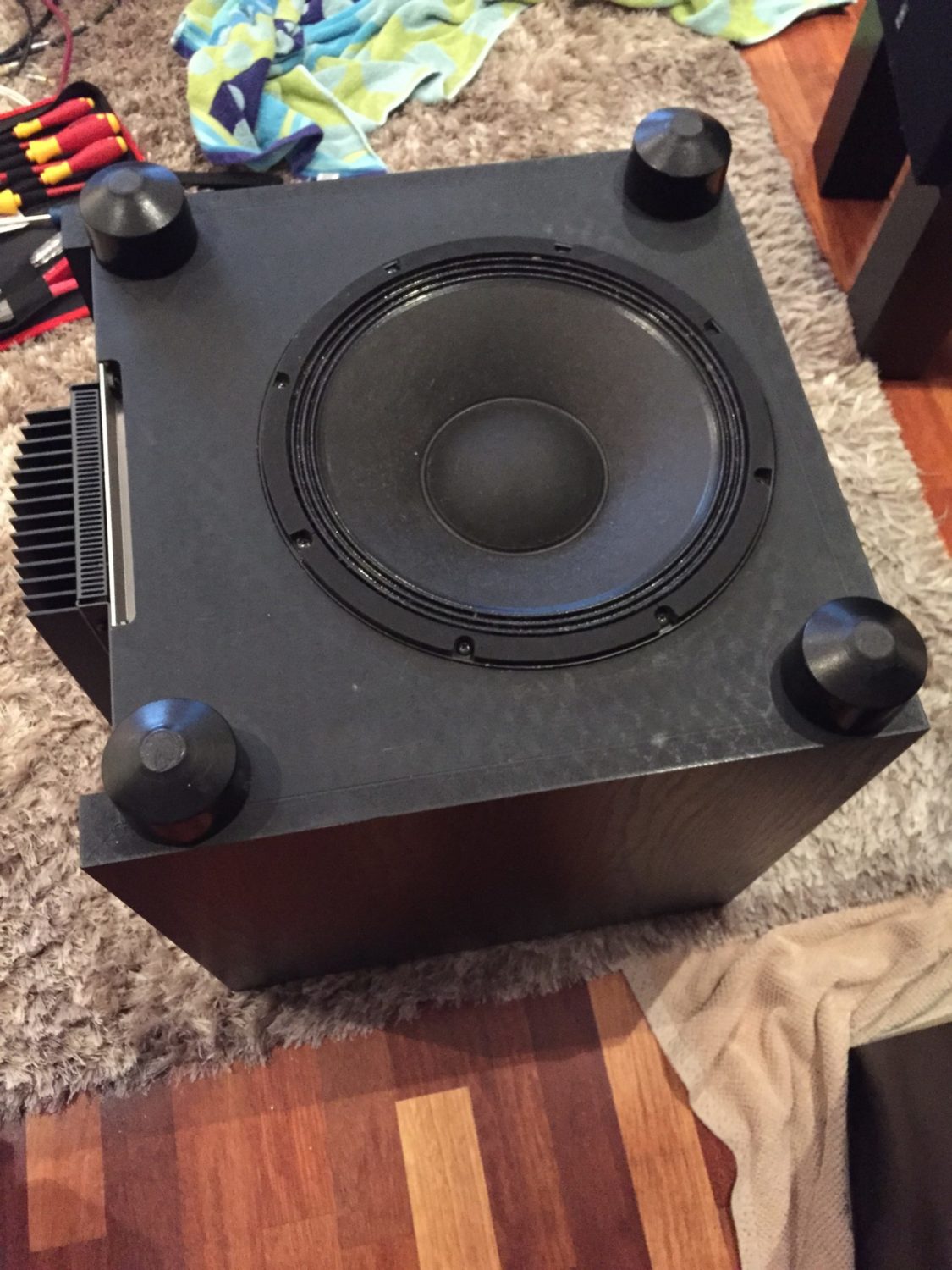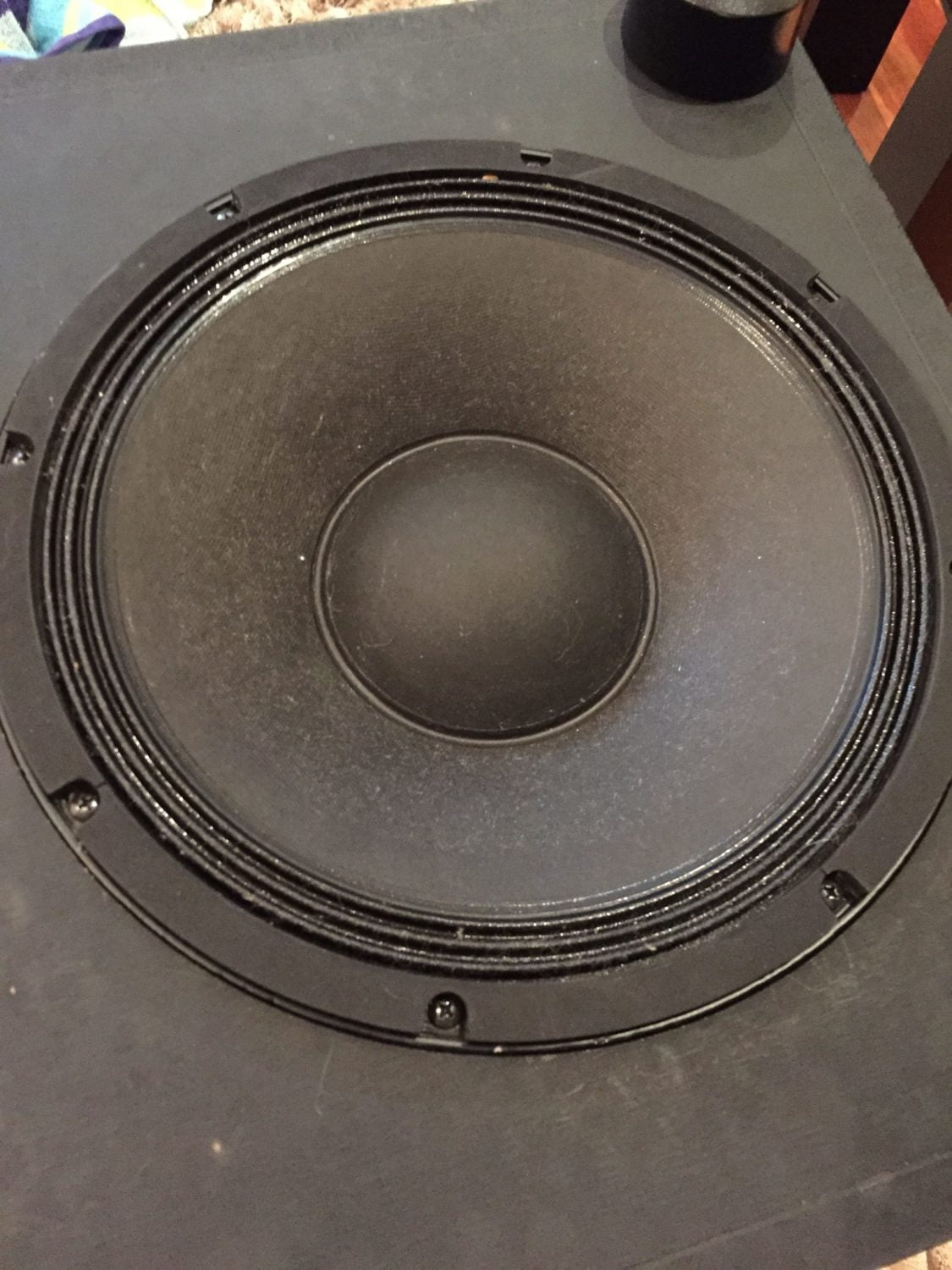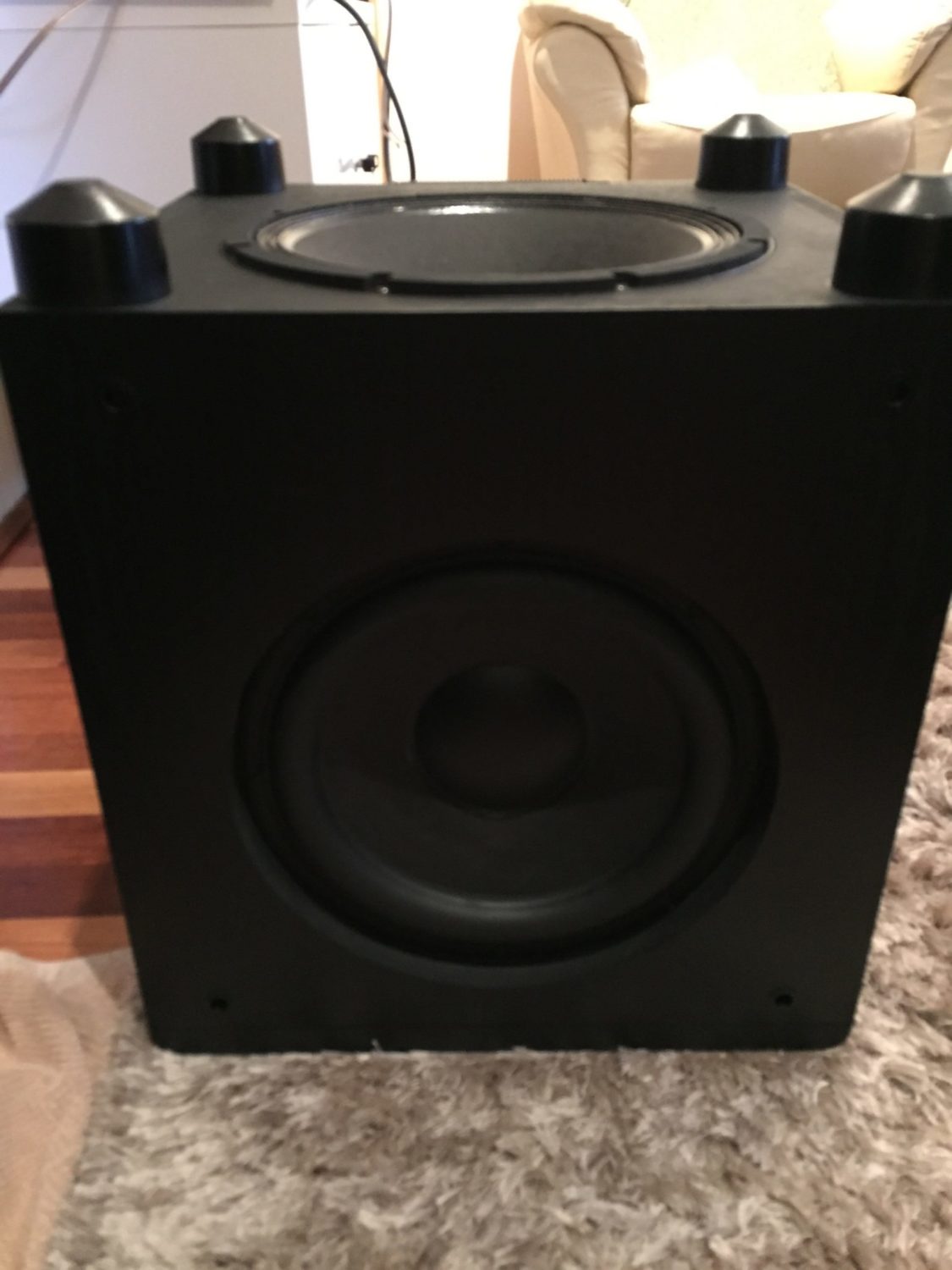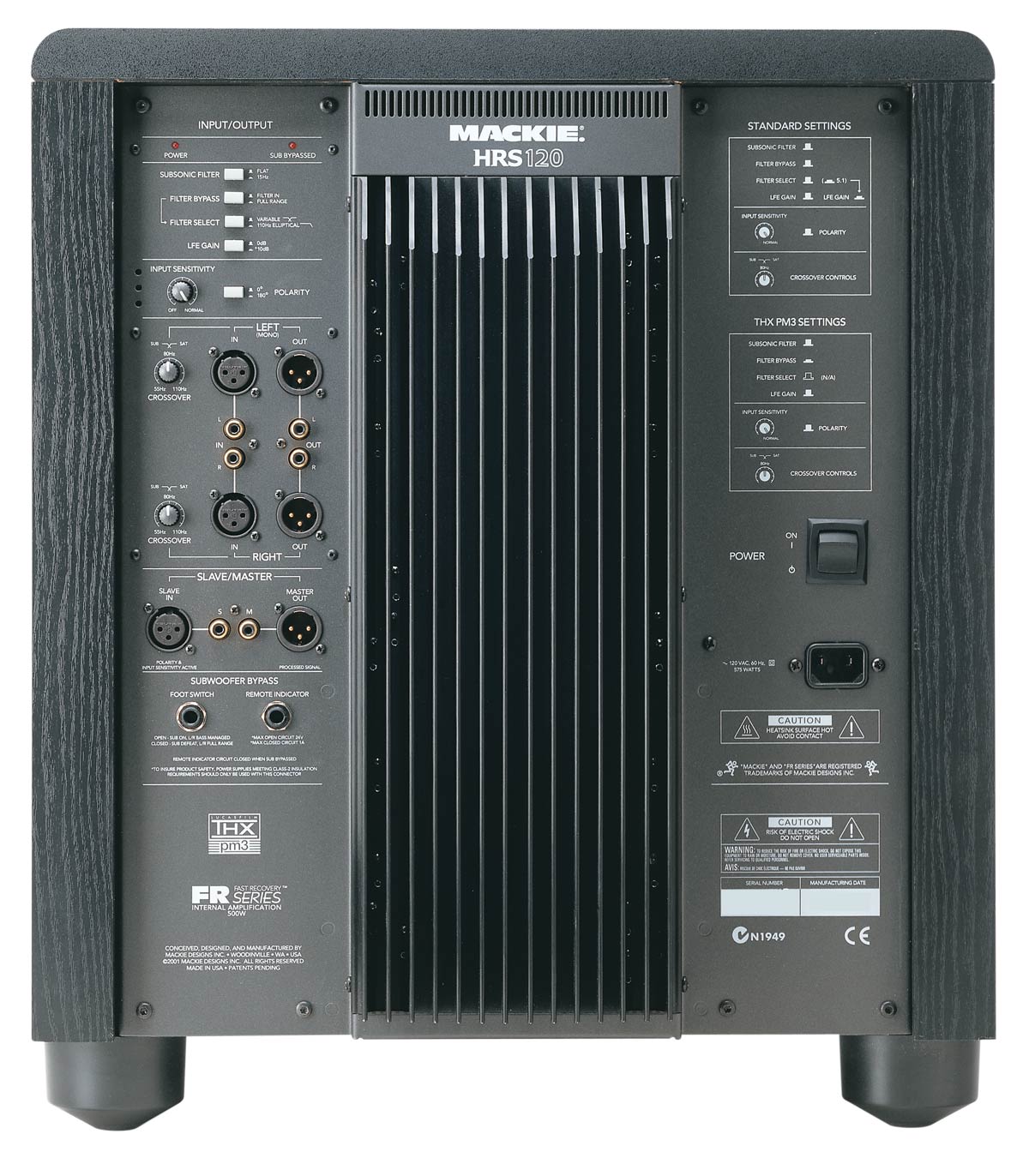 ---
For sale, a lovely and rare Mission DAD-5 Bitstream CD Player. This is a first-generation bitstream player and was the quite the thing, back in the day. Just $150, a bargain.
UPDATE – SOLD!
Partly English, the optical device is a Philips CDM 4, the digital section mainly Philips. The output stage is British, so the player has a great pedigree. The Mission DAD5 uses a massive Philips CDM 4 laser mech. It is based on Philips technology, covered by a light alloy cast for the curvaceous fascia which conceals the BitStream electronics lying within. The fascia holds a tiny display and frugal facilities.
The unique appearance hides a loading tray, which emerges motor and laser, at the touch of a button. It allows the placement of CD directly onto the motor spindle which then holds the CD in position while the laser reads from below.
When it is fired up, it is a far better sounding player than most expect from its modest dimensions. It has plenty of airiness and space percolating through the most complex of classical tracks. It is a very accommodating and upbeat player that allows music to performs freely.
Violins, piano and even brass soar without fear of compression. Bass is not often perceived as the fullest or deepest of instruments, while the fiercest of strings can often appear a mite shrill. Simple melodies can be seductive, the flow of guitar and vocals extending to the far corners of the room allowing the listener to have a real out-of-the-box experience.
The Mission DAD5 is a potential choice for audiophiles who value the sense of space and atmosphere and treat them as precious and valued commodities.
Specifications :
Frequency Response…………………………2 – 20kHz
Amplitude Linearity……………………………0.035 dB
Phase Linearity………………………………..0.5 degree
Dynamic Range………………………………..92 dB
Signal-to-Noise Ratio…………………………100 dB (A)
Channel Separation……………………………95dB
Total Harmonic Distortion…………………….0.0025%
Output Level…………………………………….2V
Digital Output…………………………………..SPDIF
CD Drive…………………………………………"Philips CDM4″
Power Consumption…………………………..10W, 5W (Stand by)
Dimensions(w x d x h)………………………..36.5 x 30 x 10.5 cm
Weight……………………………………………3kg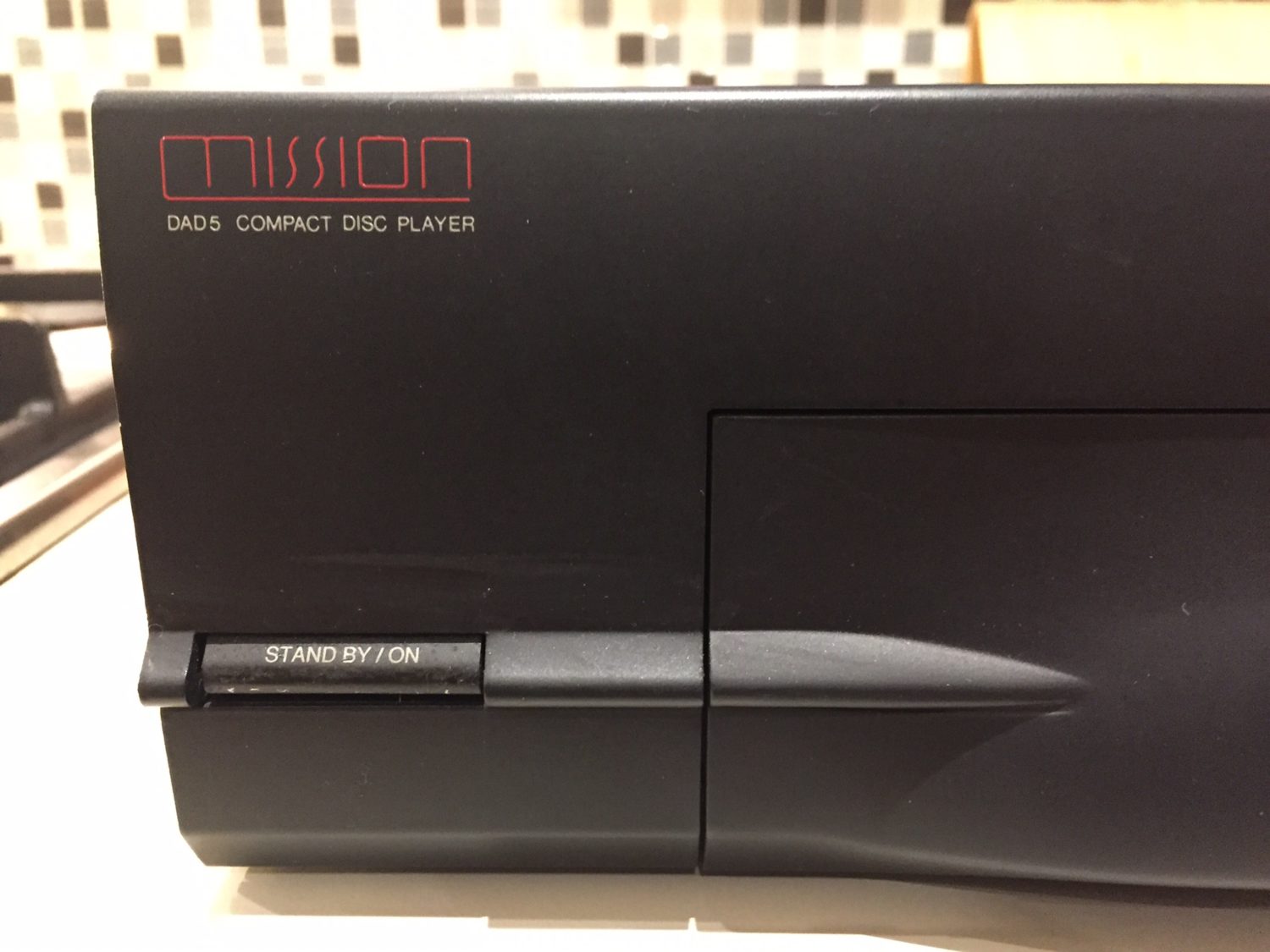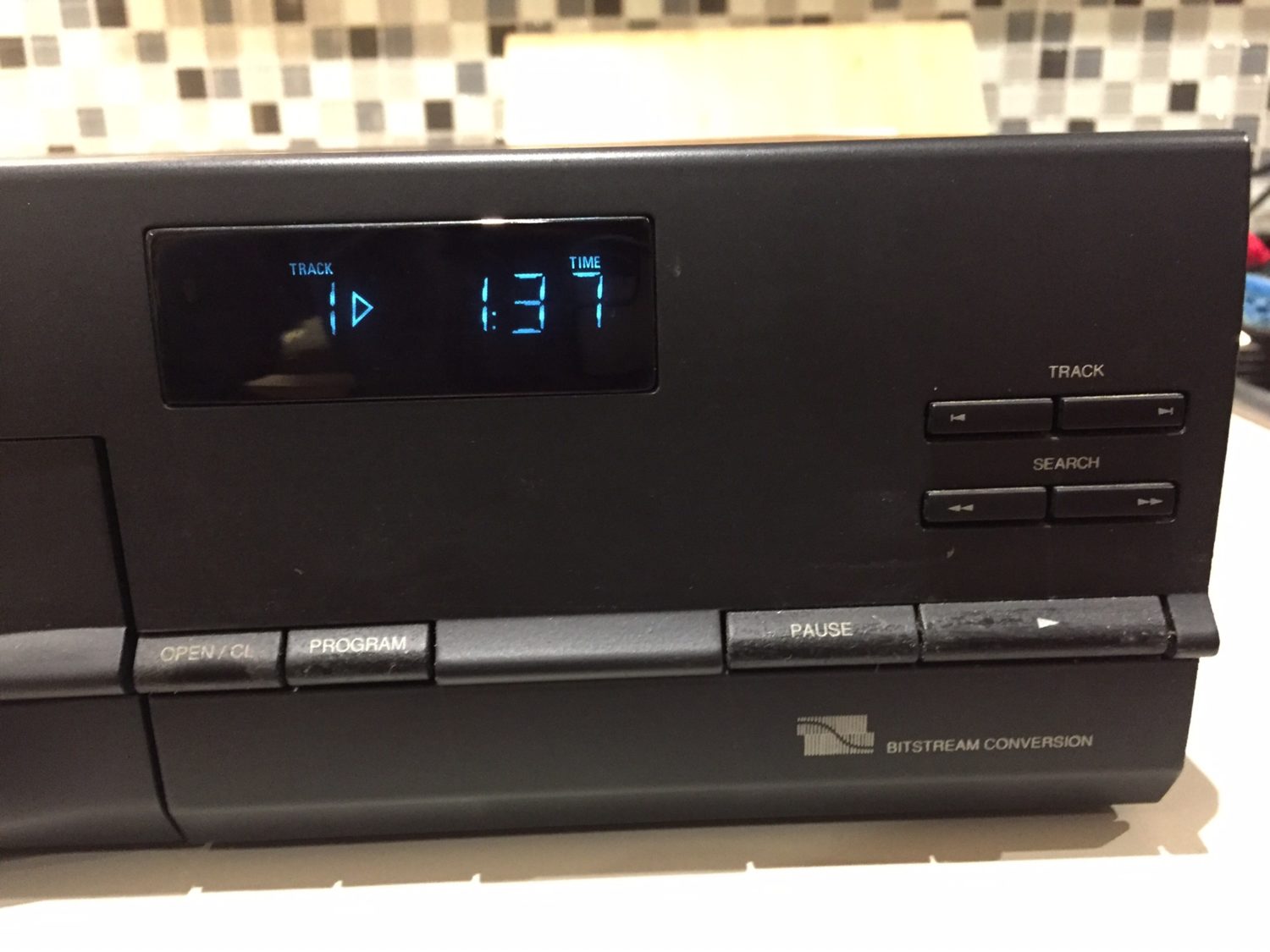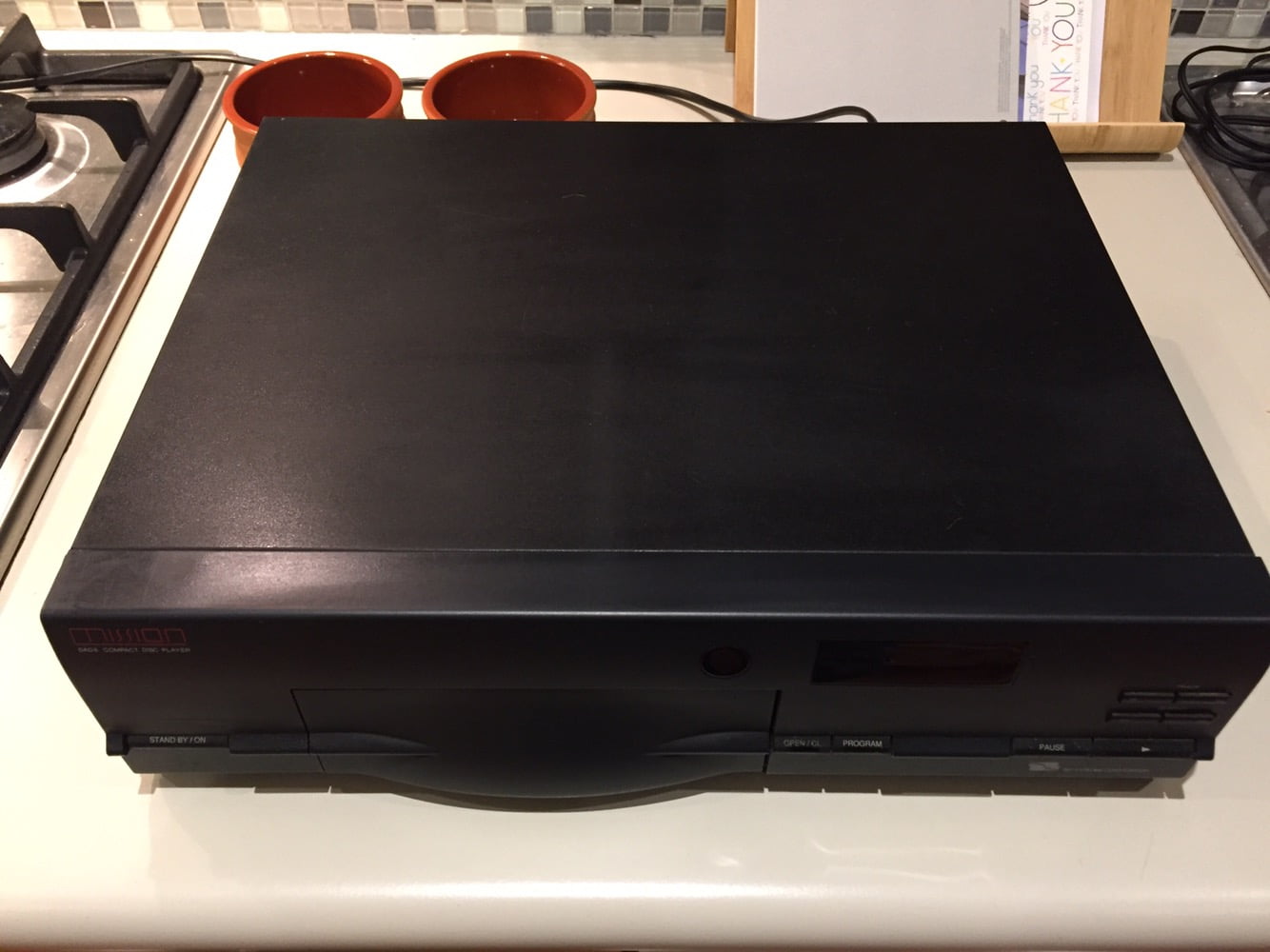 ---
New from Liquid Audio is a stunning little Pioneer A-X540, 85 watts per channel integrated amplifier. Asking just $295.
UPDATE – SOLD!
This amplifier is perfect for someone looking for a compact, powerful amplifier for a second system, or perhaps looking to set up their first proper system. Again, this is a one-owner amplifier and a great buy.
Make no mistake, this amplifier might be physically small, but it comes packed with features:
Power output: 85 watts per channel into 8Ω (stereo)
Frequency response: 10Hz to 100kHz
Total harmonic distortion: 0.005%
Input sensitivity: 2.5mV (MM), 150mV (line)
Signal to noise ratio: 72dB (MM), 102dB (line)
Output: 150mV (line)
– Volume, bass, treble, balance controls, EQ controls
– Phono preamp
– Headphone amp
– Muting Switch, CD direct function
– 240 VAC mains operation.
Dimensions: 360 x 349 x 115mm
Weight: 8.5kg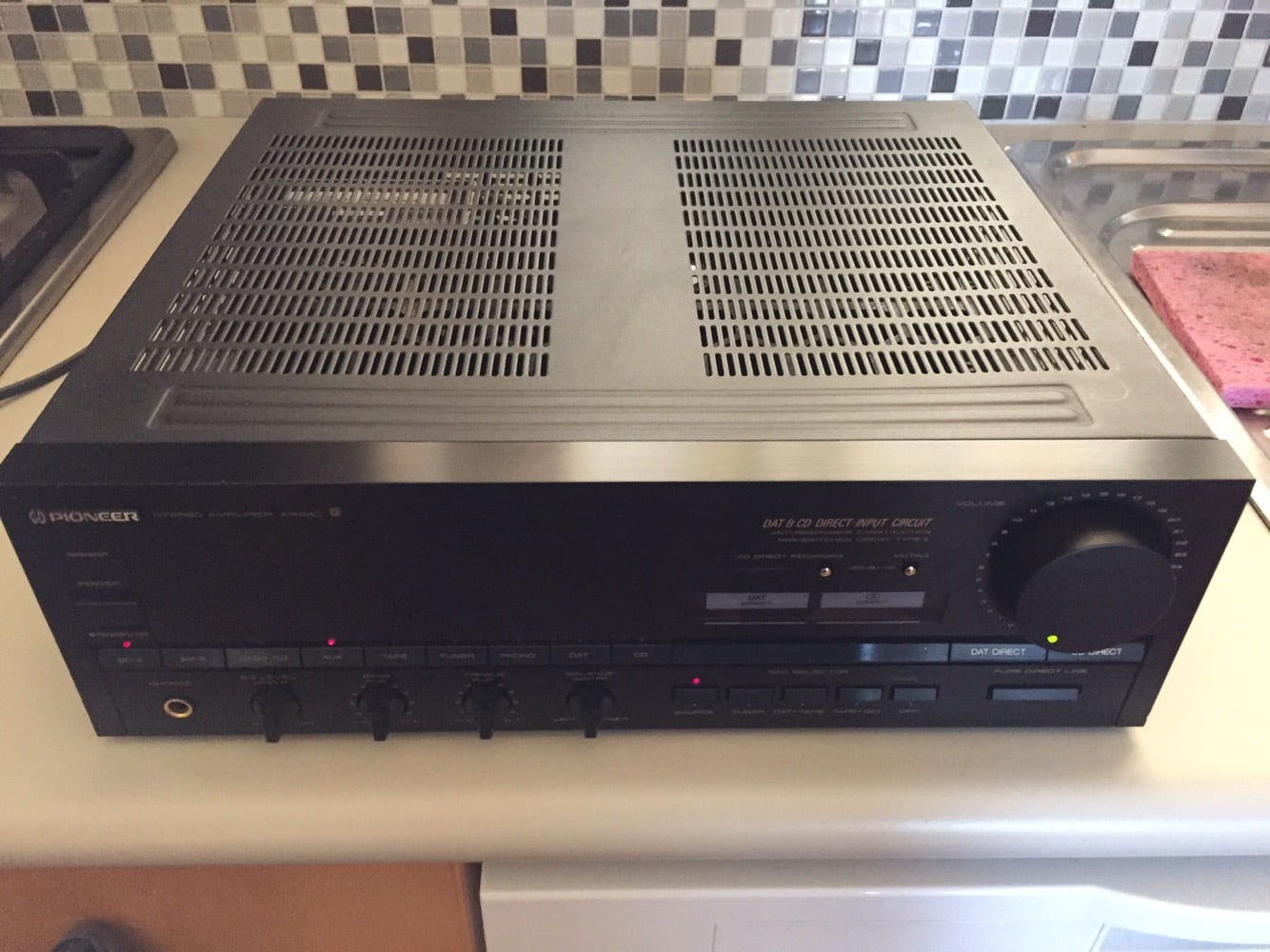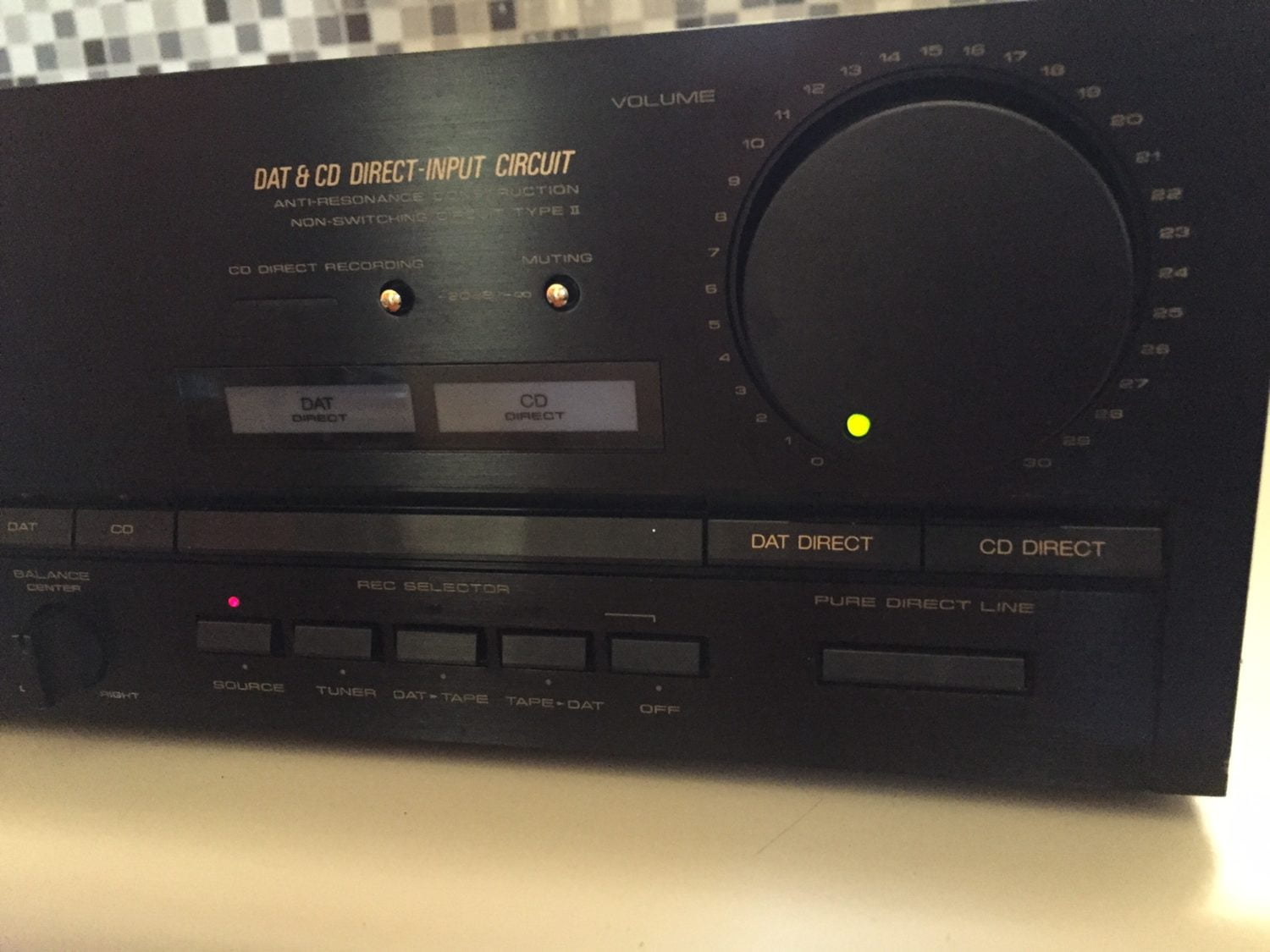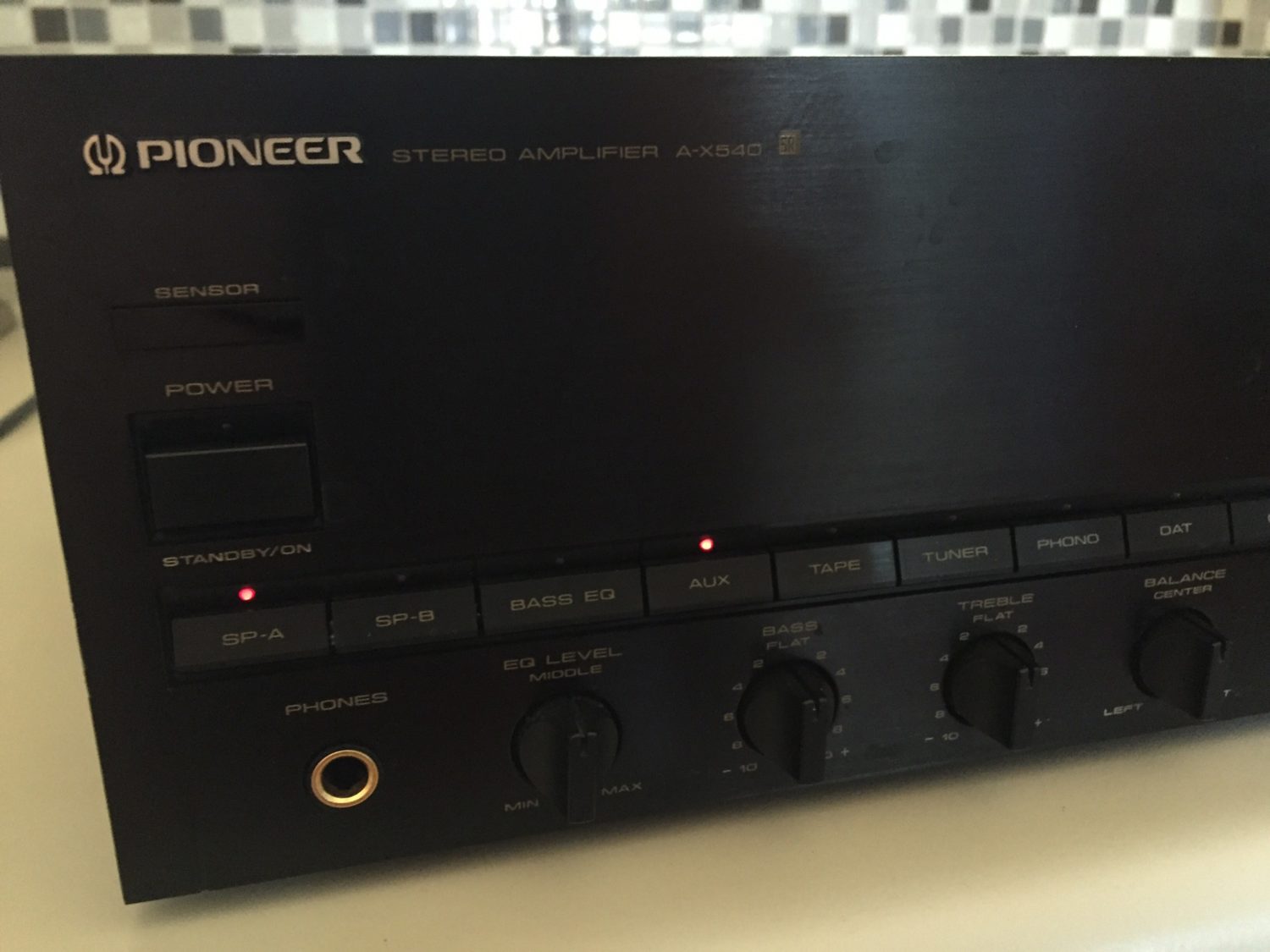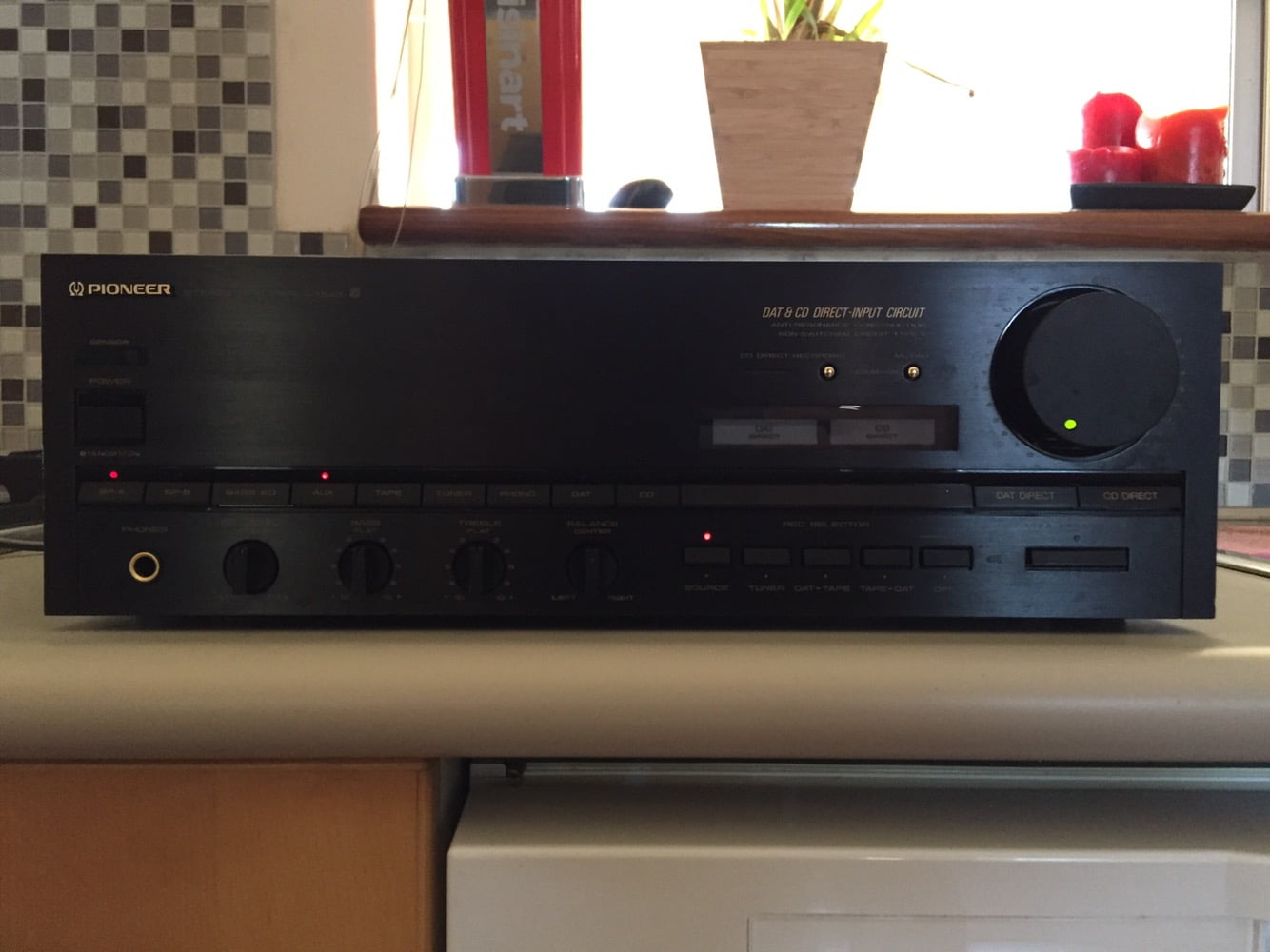 ---
This X-CAN V3 class-A tube headphone amplifier is another great example of the fine audio gear I have for sale. The X-CAN V3 comes with all her original packaging, instructions, power supply and AU adapter, for just $450.
UPDATE – SOLD!
As an added bonus, I've upgraded the amp with a premium capacitor package. The Panasonic FC and FM capacitors take this already excellent amp to the next level. You can read about the upgrades here.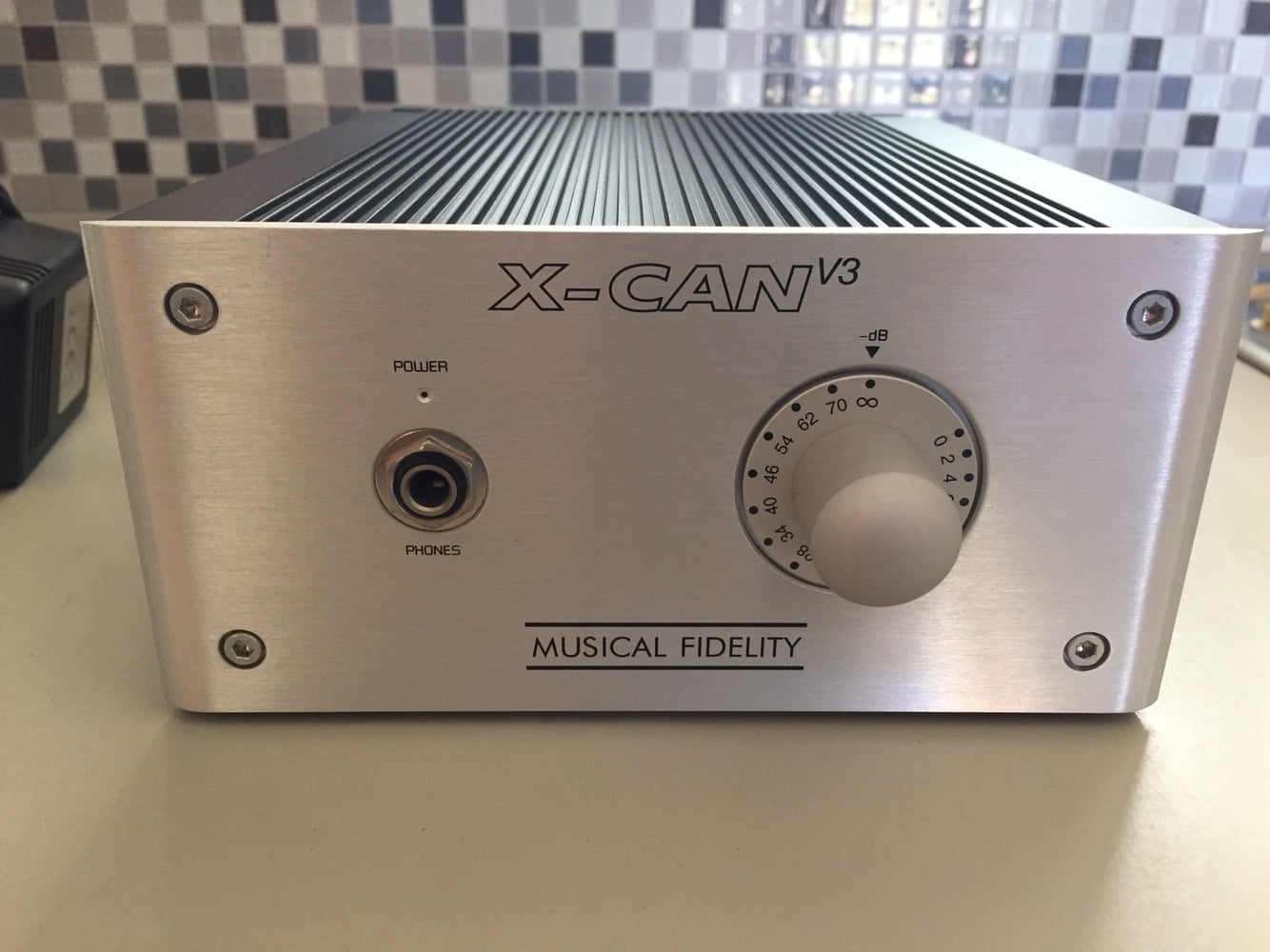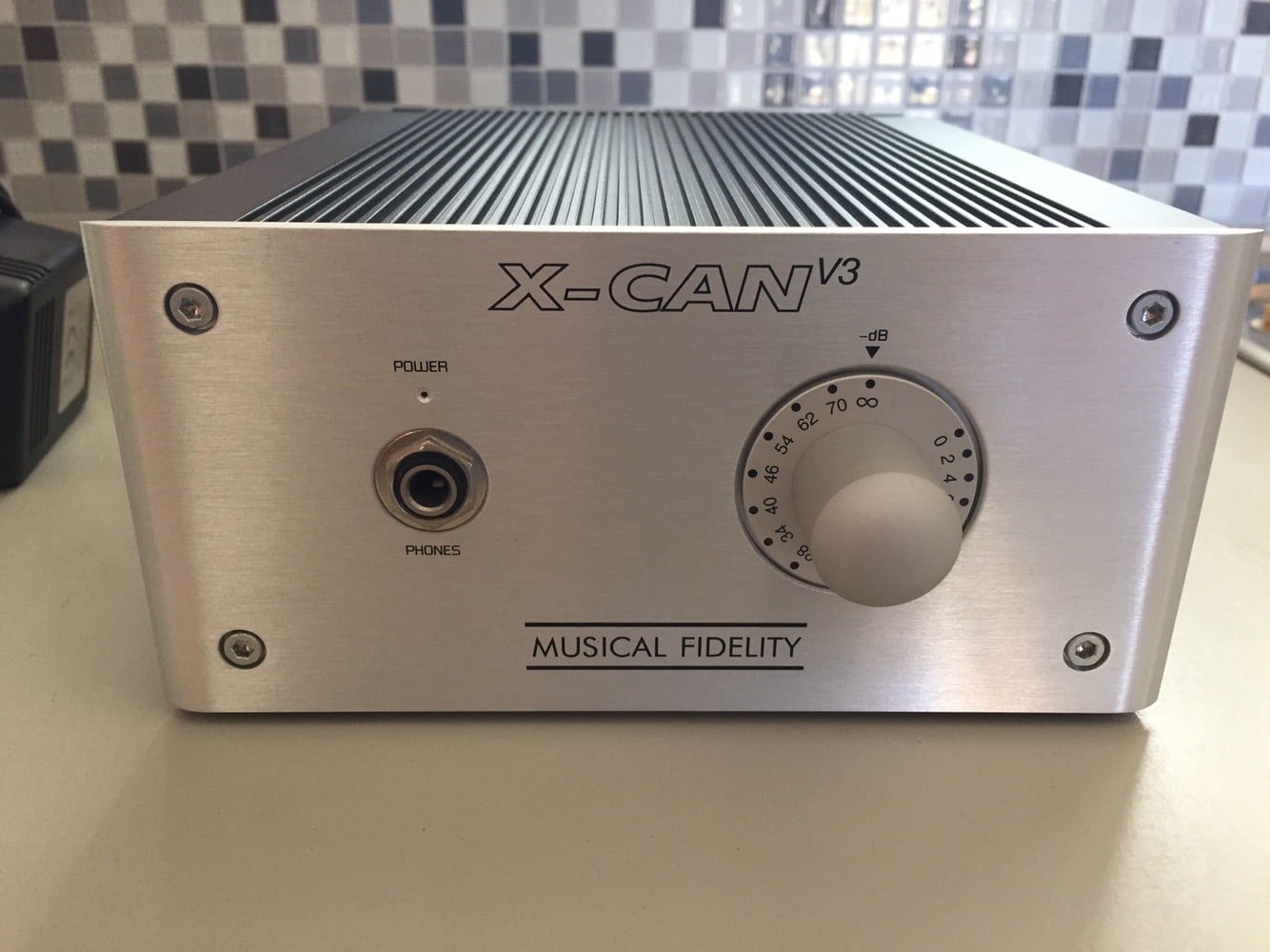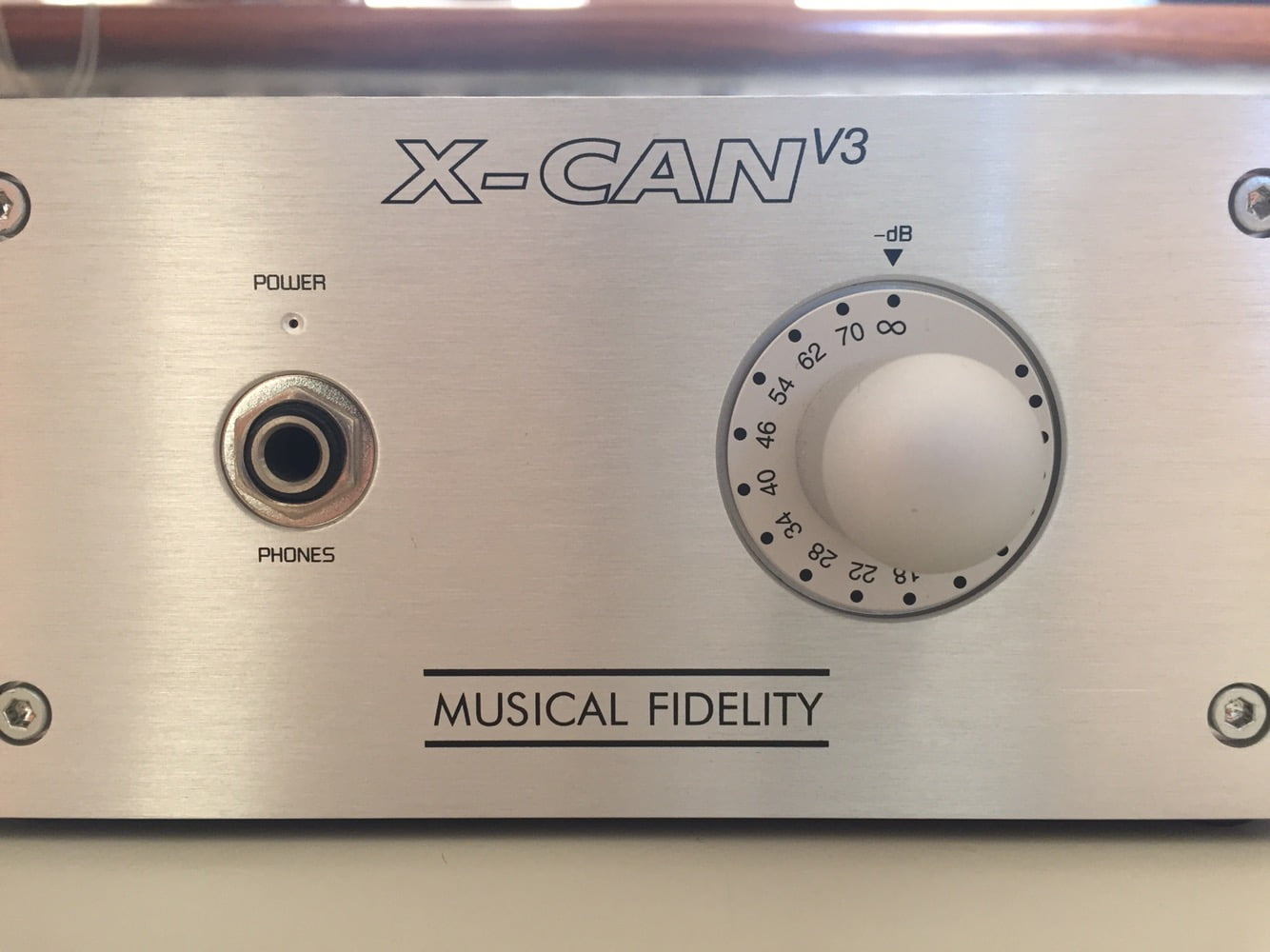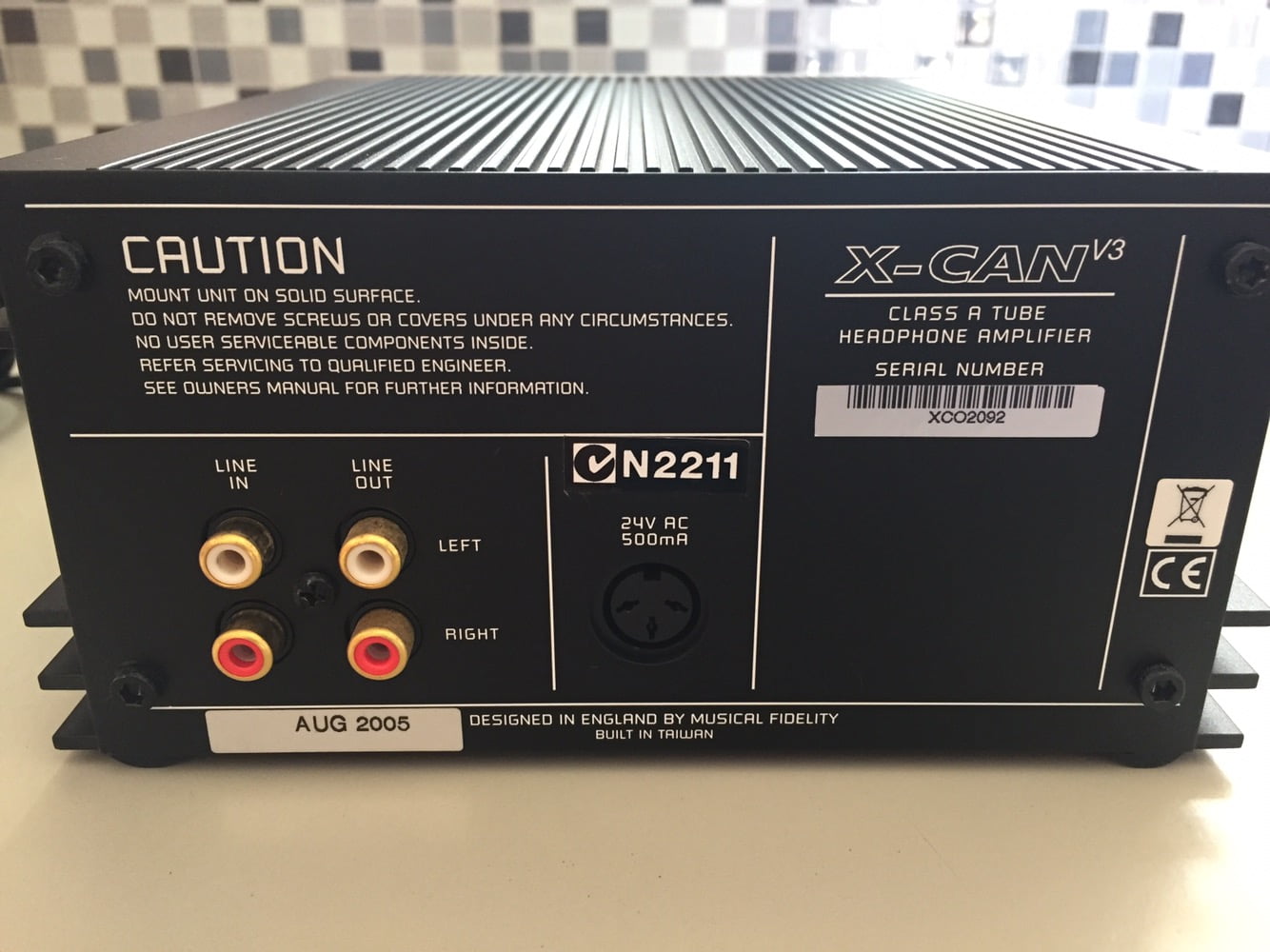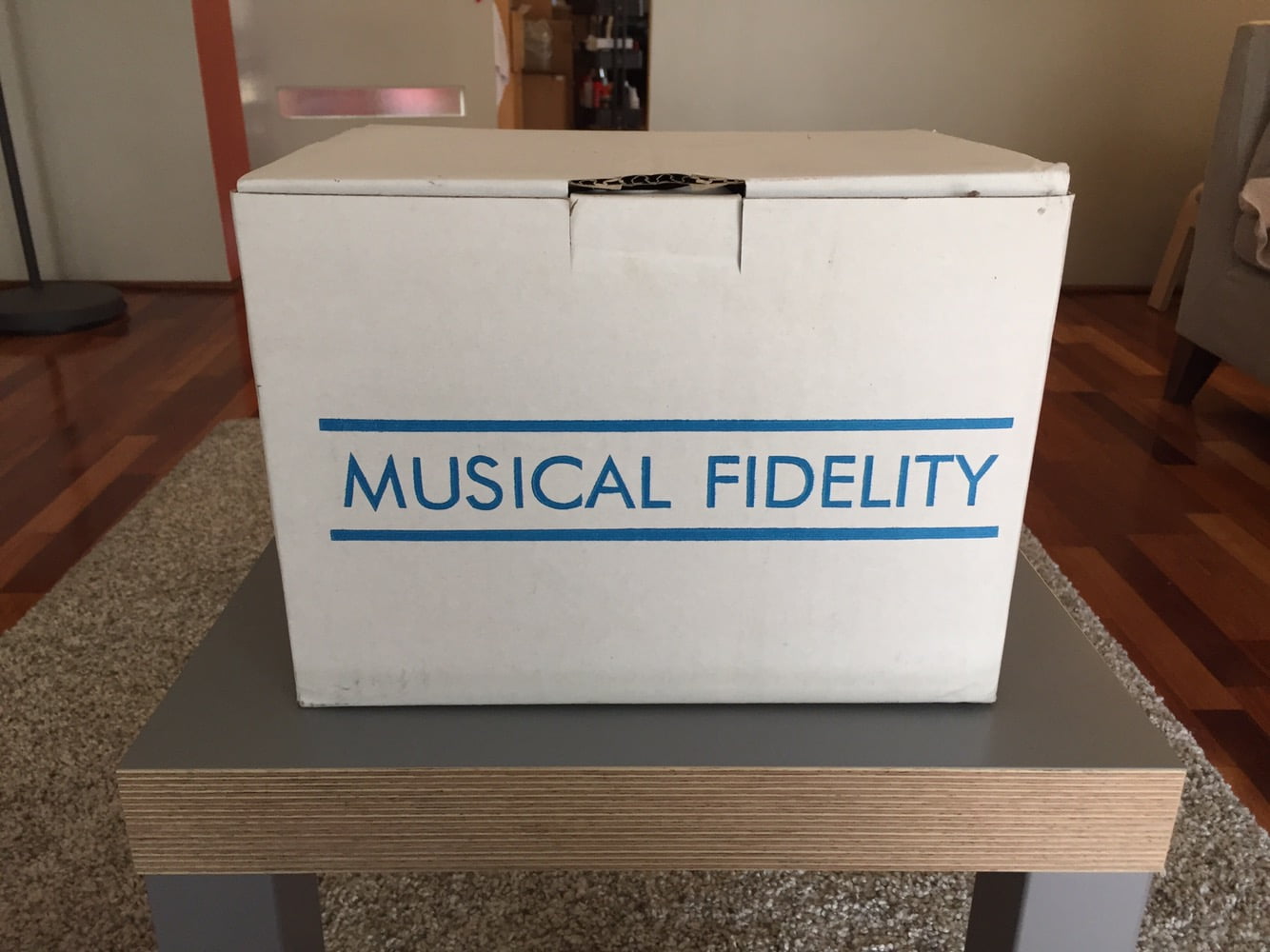 The user manual can be found here. This class-A tube amp outputs 1 watt per channel, so it will drive just about any headphones to earsplitting levels – beware!
If you are looking for a powerful headphone amplifier from an expert in the field, look no further.
Specifications
Output power: Typically 1 Watt
Input impedance: 47K Ohms
THD: <0.015% 20Hz to 20kHz unweighted; <0.005% 20Hz to 20kHz "A" weighted
S/N ratio: >96dB unweighted ref. full output; >108dB "A" weighted
Frequency response: 30Hz to 75kHz <±1.0dB
Power requirement: 12 – 0 – 12 Volts AC 500mA, (via mains adaptor supplied)
Dimensions: 180mm (7.1″) wide; 88.2mm (3.5″) high including feet; 239mm (9.4″) deep including knob
Weights: Unit, net: 2.6kg (5lbs 12oz); Adapter, net : 0.45 kg (1 lb)
Total packed weight : 3.2kg (7 lbs 1oz)
I'm asking just $450 for this fantastic, upgraded headphone amplifier, in pristine condition with the original packaging.
Will ship anywhere at cost. Contact me for more details.
---
I am really excited to present this stunning, completely overhauled and restored Marantz 1152DC integrated amplifier for sale.
UPDATE – SOLD!
This very rare piece is just $1295. This 1152DC would suit a Marantz collector – it's easily the nicest example I've seen.
The Marantz 1152DC is a legendary Marantz integrated amplifier. The 1152DC is very rare and collectible, thanks to its unique look, great sound and battleship-like construction Marantz was famous for.
These were very expensive amps new and this example is undoubtedly one of the best you'll find. This amplifier is in almost perfect condition, completely overhauled, with only one owner from new.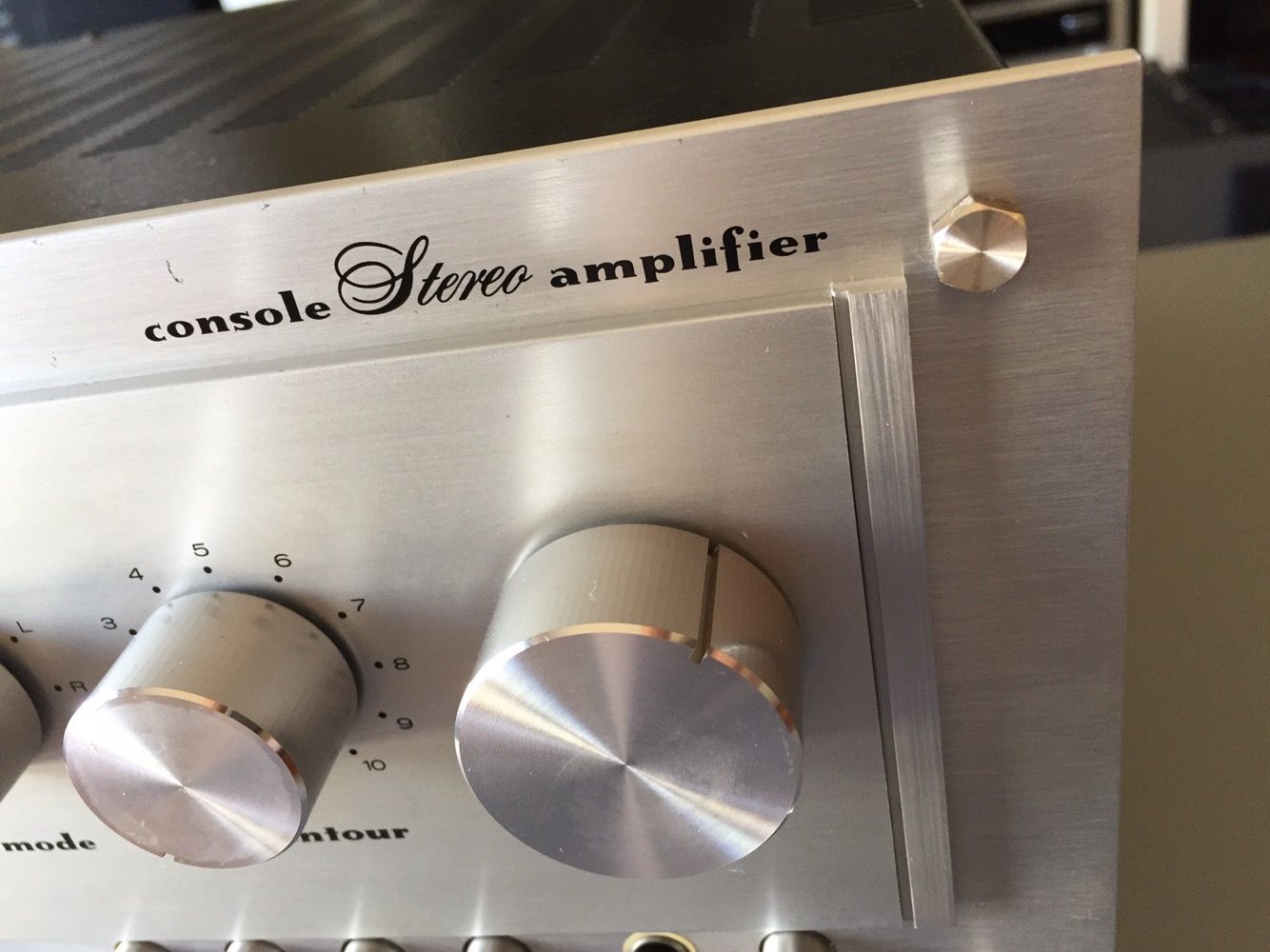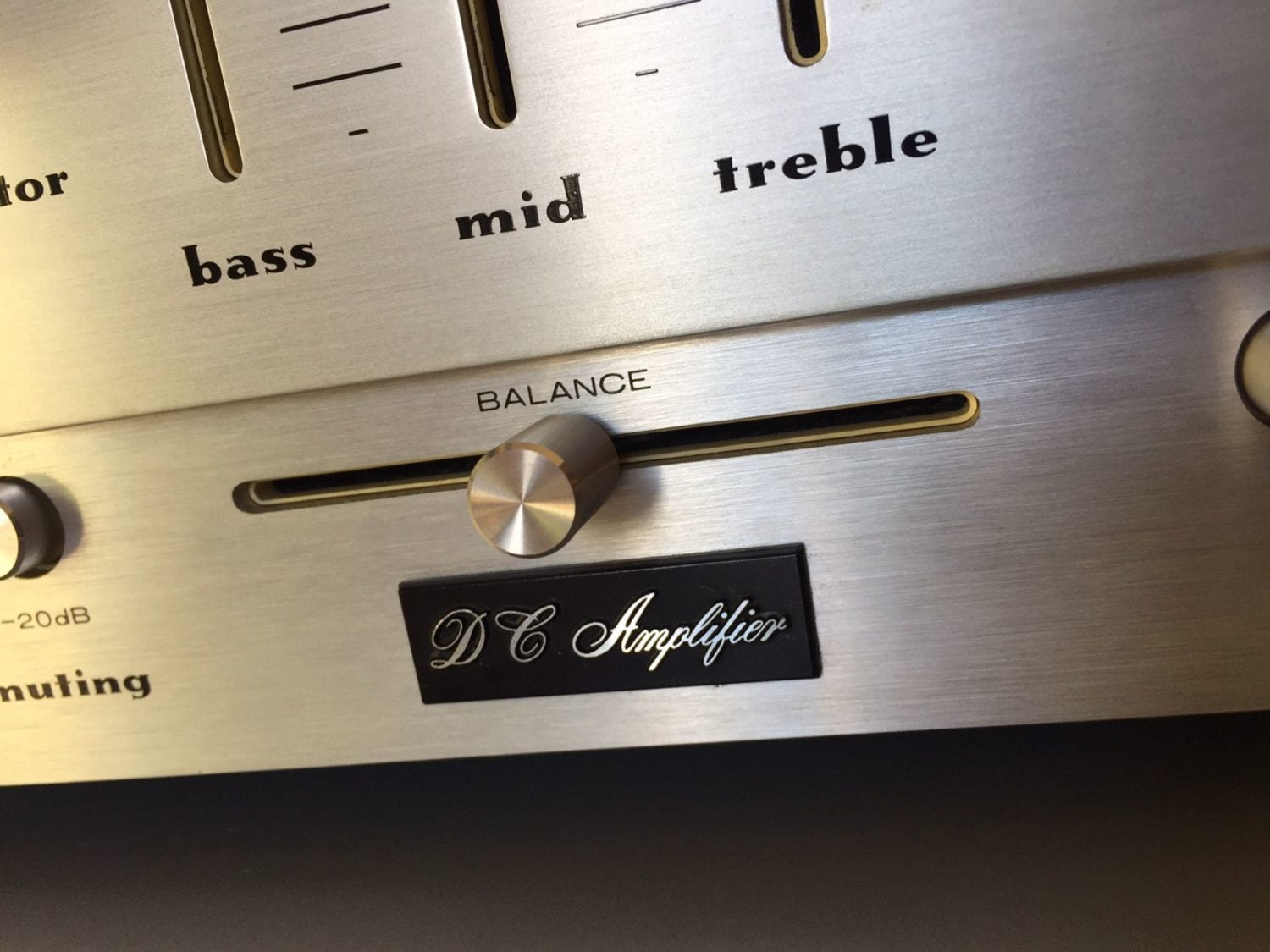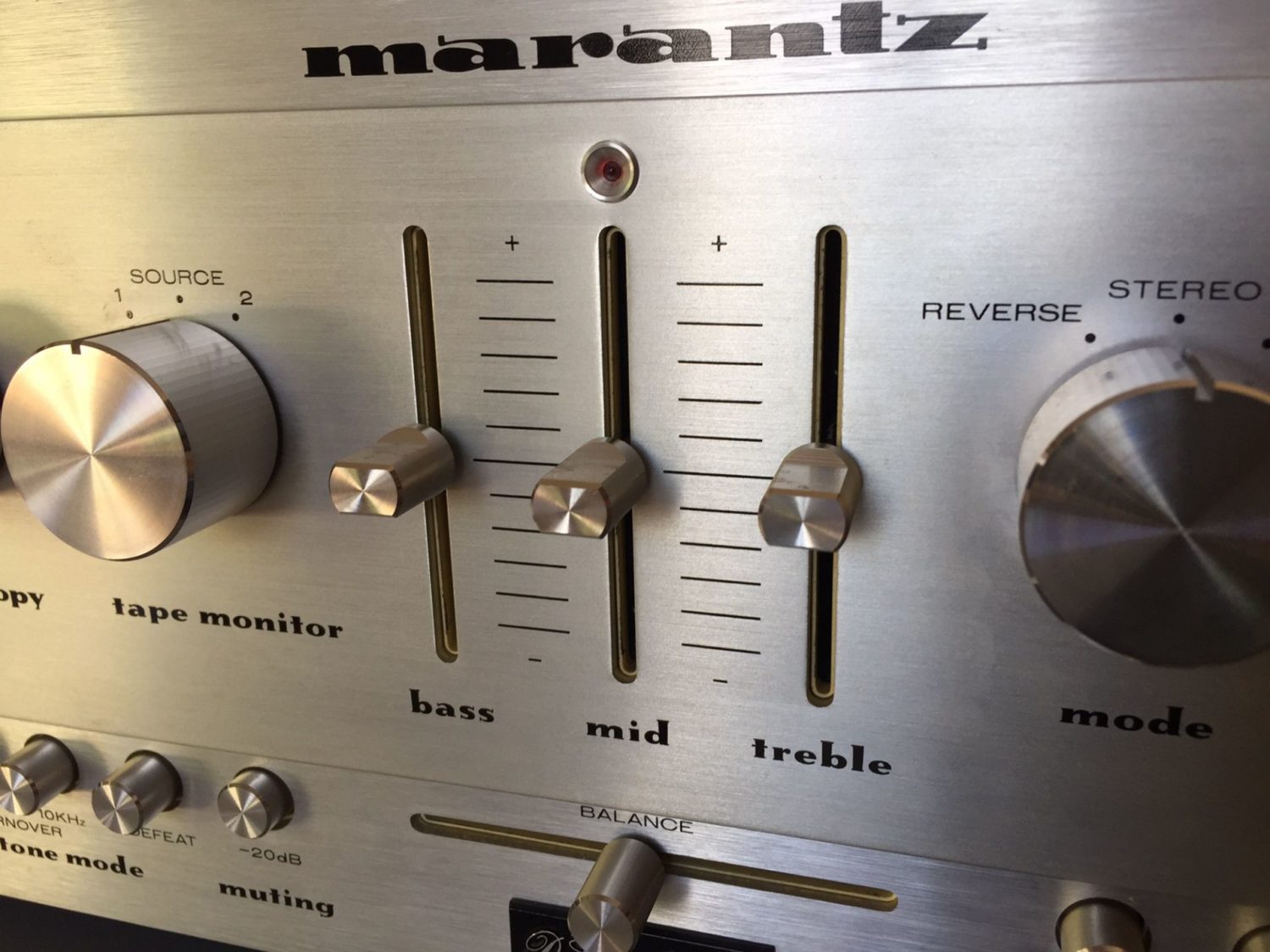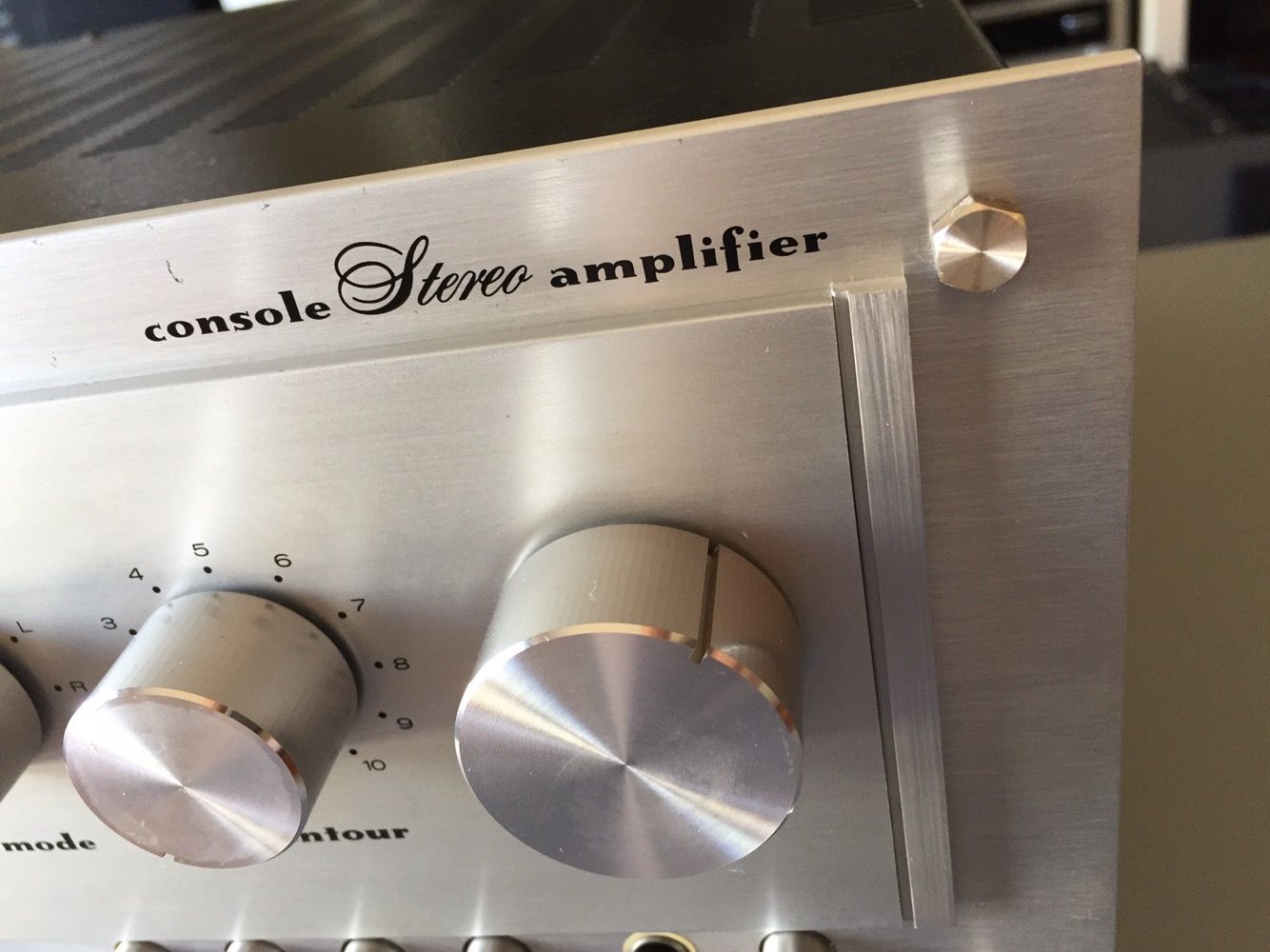 Specifications, courtesy of the HiFi Engine
Power output: 76 watts per channel into 8Ω
Frequency response: 7Hz to 70kHz
Damping factor: 45
Input sensitivity: 1.8mV (MM), 180mV (line)
Signal to noise ratio: 78dB (MM), 91dB (line)
Output: 180mV (line), 1.5V (Pre out)
Semiconductors: 73 x transistors, 44 x diodes, 4 x FETs
Dimensions: 416 x 146 x 316mm
Weight: 14kg
Loads more great information about the Marantz 1152DC can be found at Classic Audio.
Overhaul
I've just finished an end-to-end service and overhaul. There is now nothing whatsoever for her new owner to do but sit back and enjoy the music!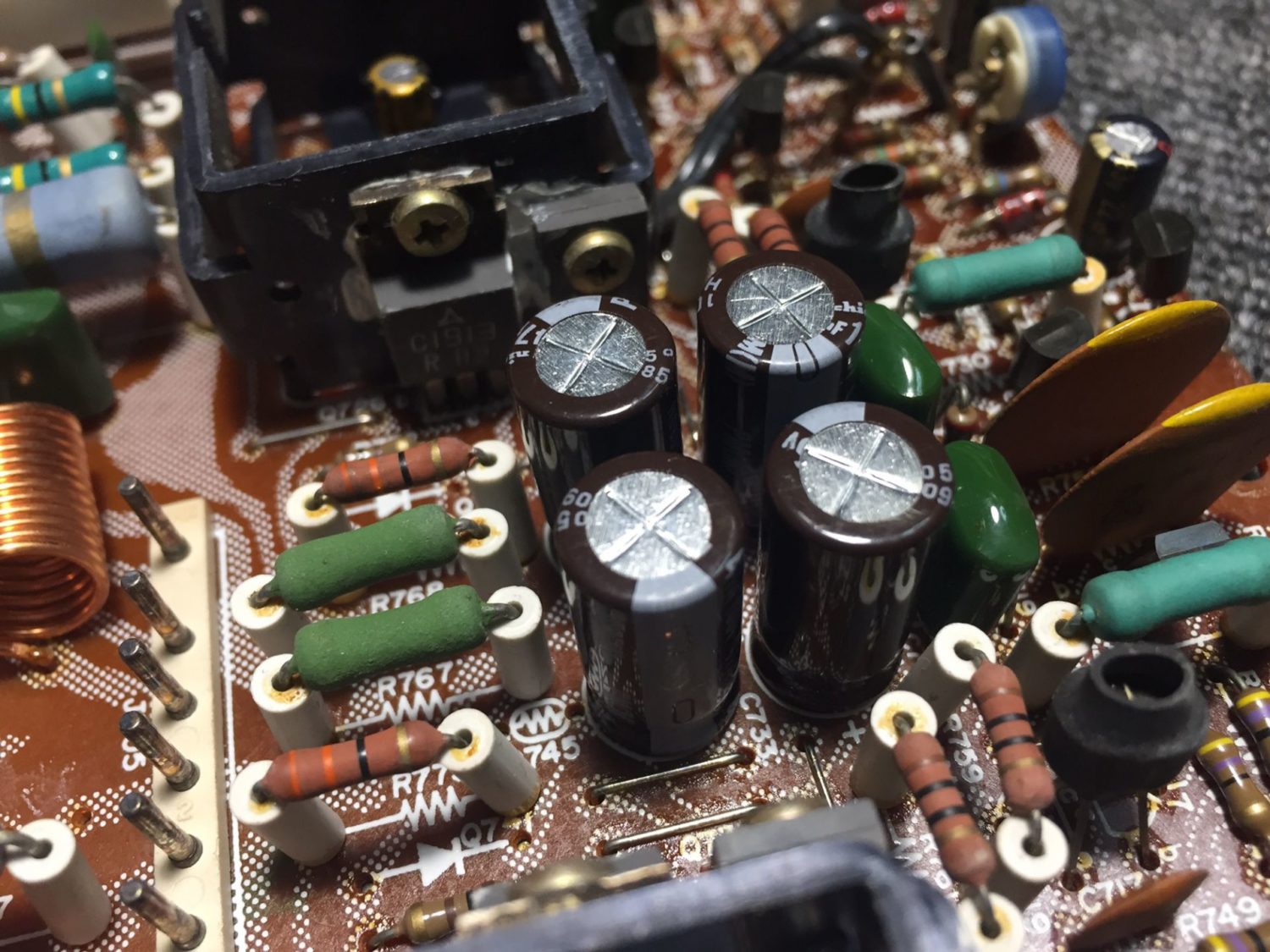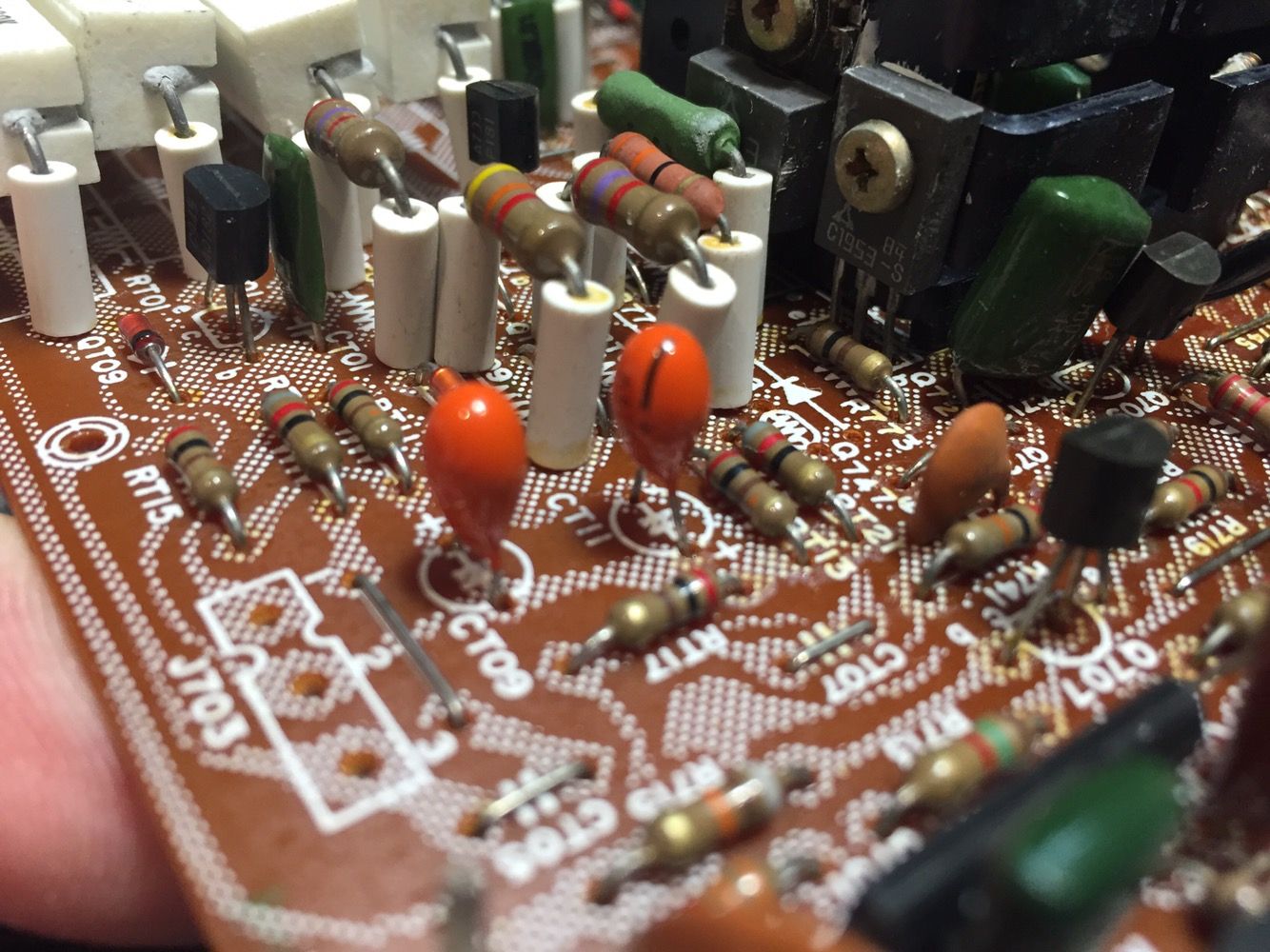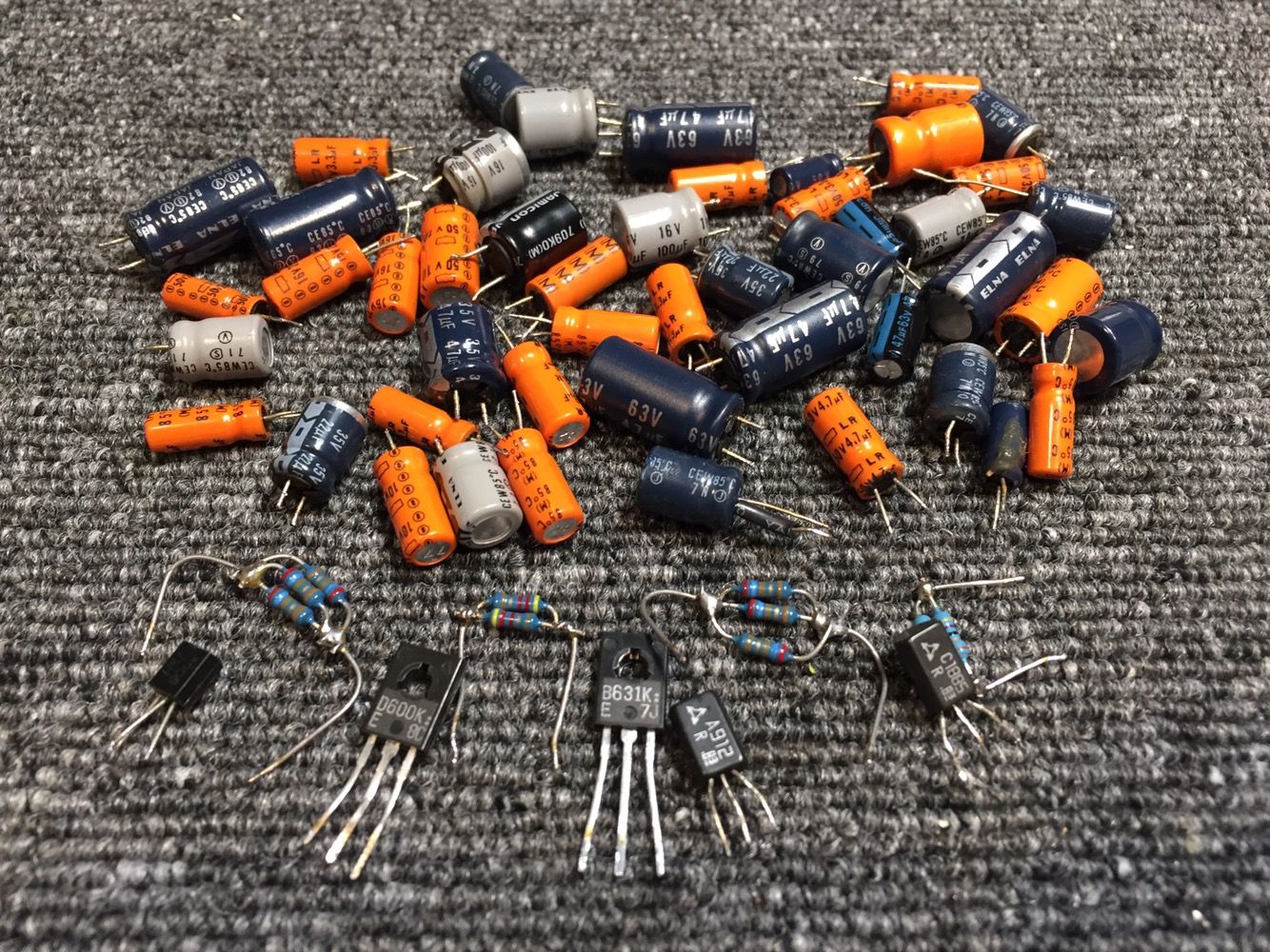 As usual, I've used premium parts, including period-accurate resistors, lab-grade capacitors and transistors that meet or exceed original spec. Output devices are factory original Marantz, which contributes to the classic Marantz sound.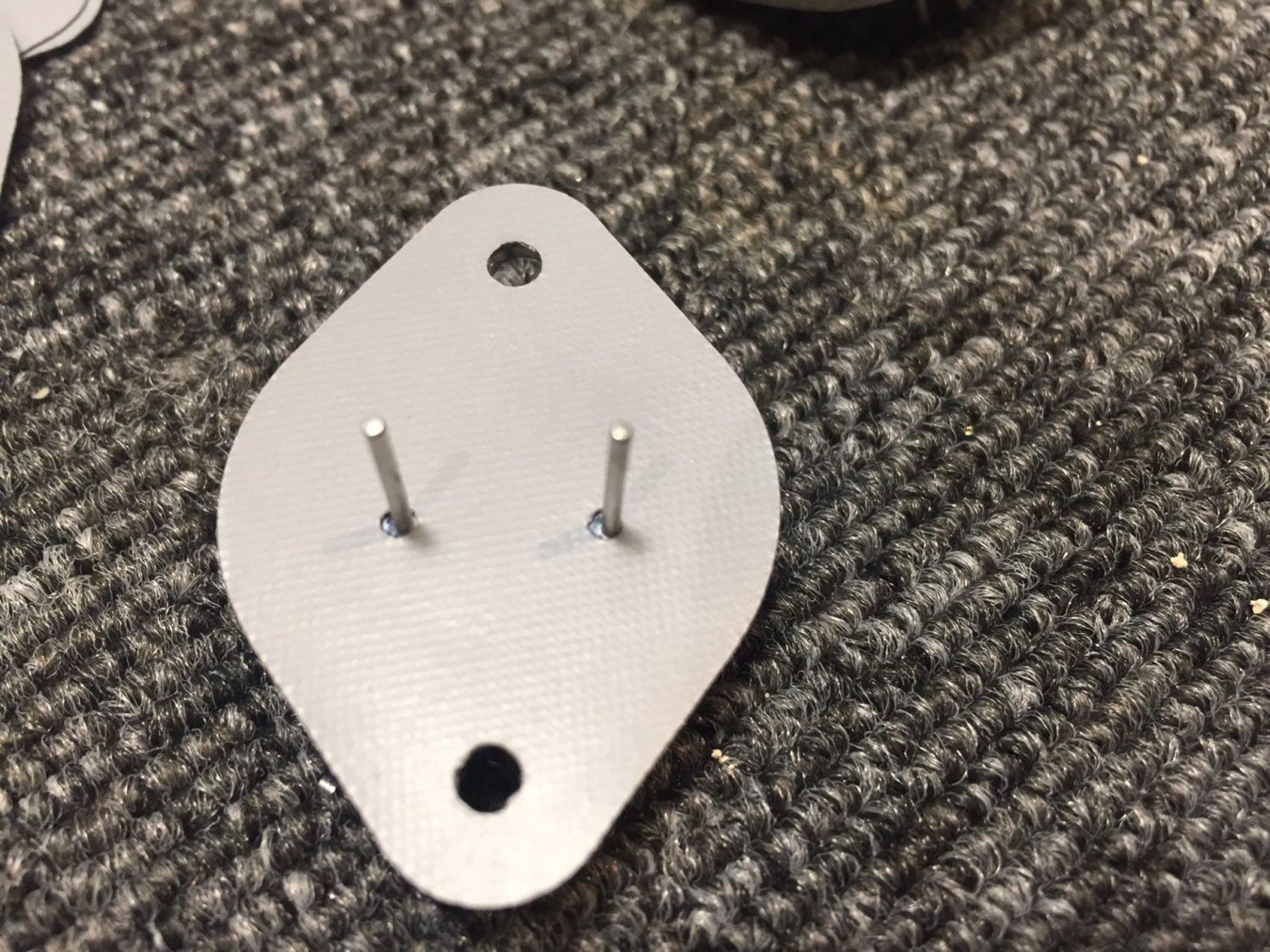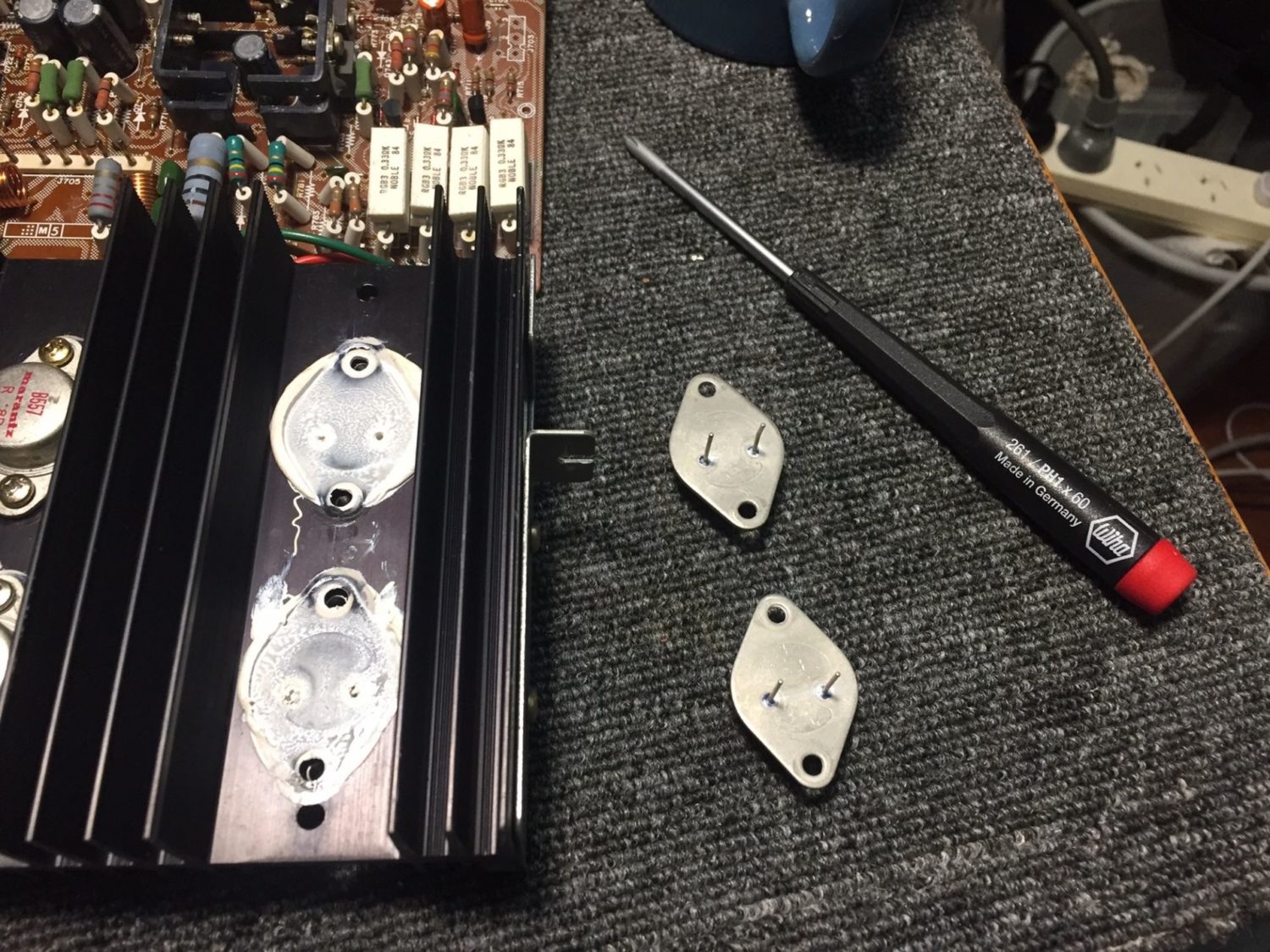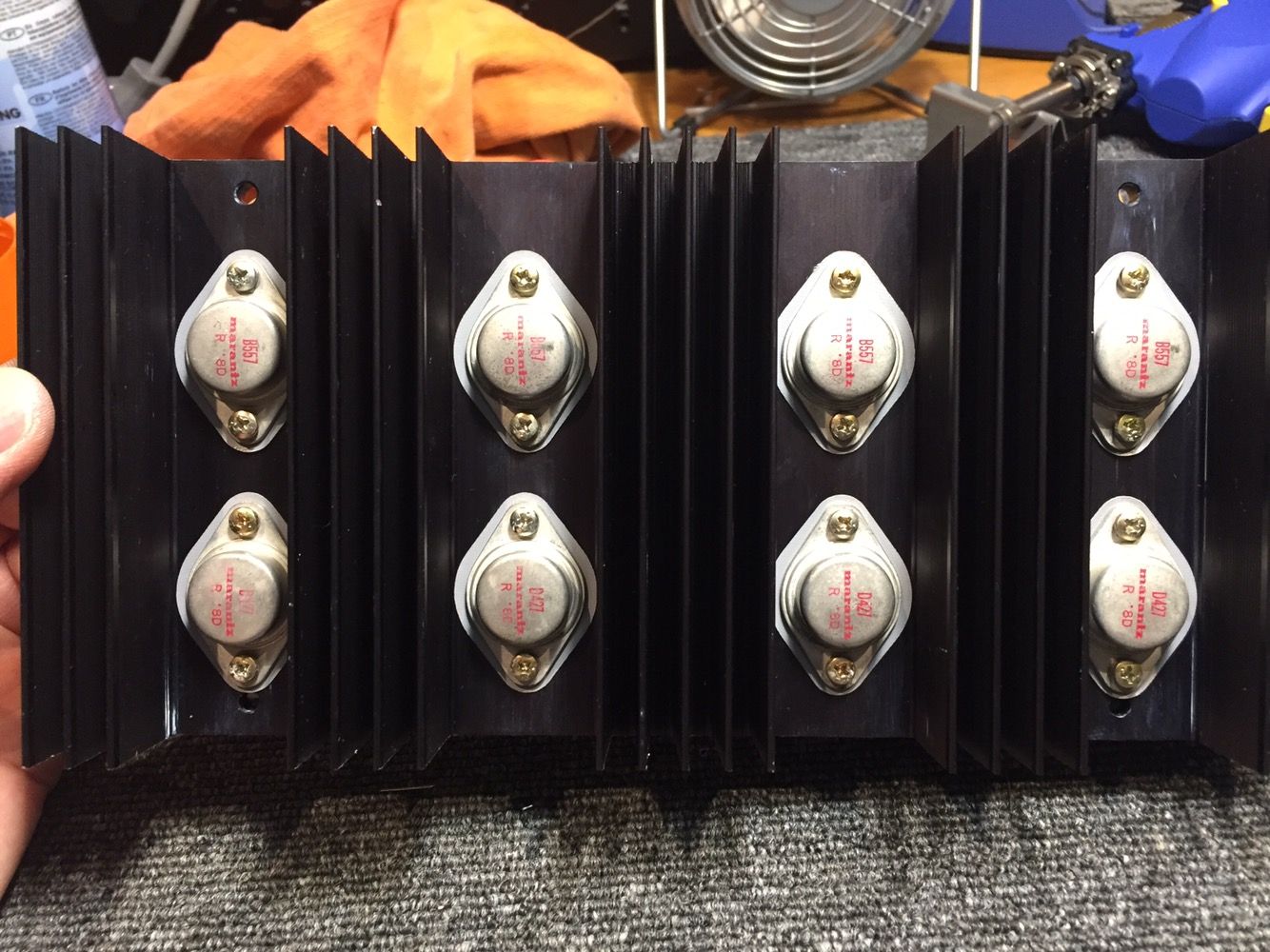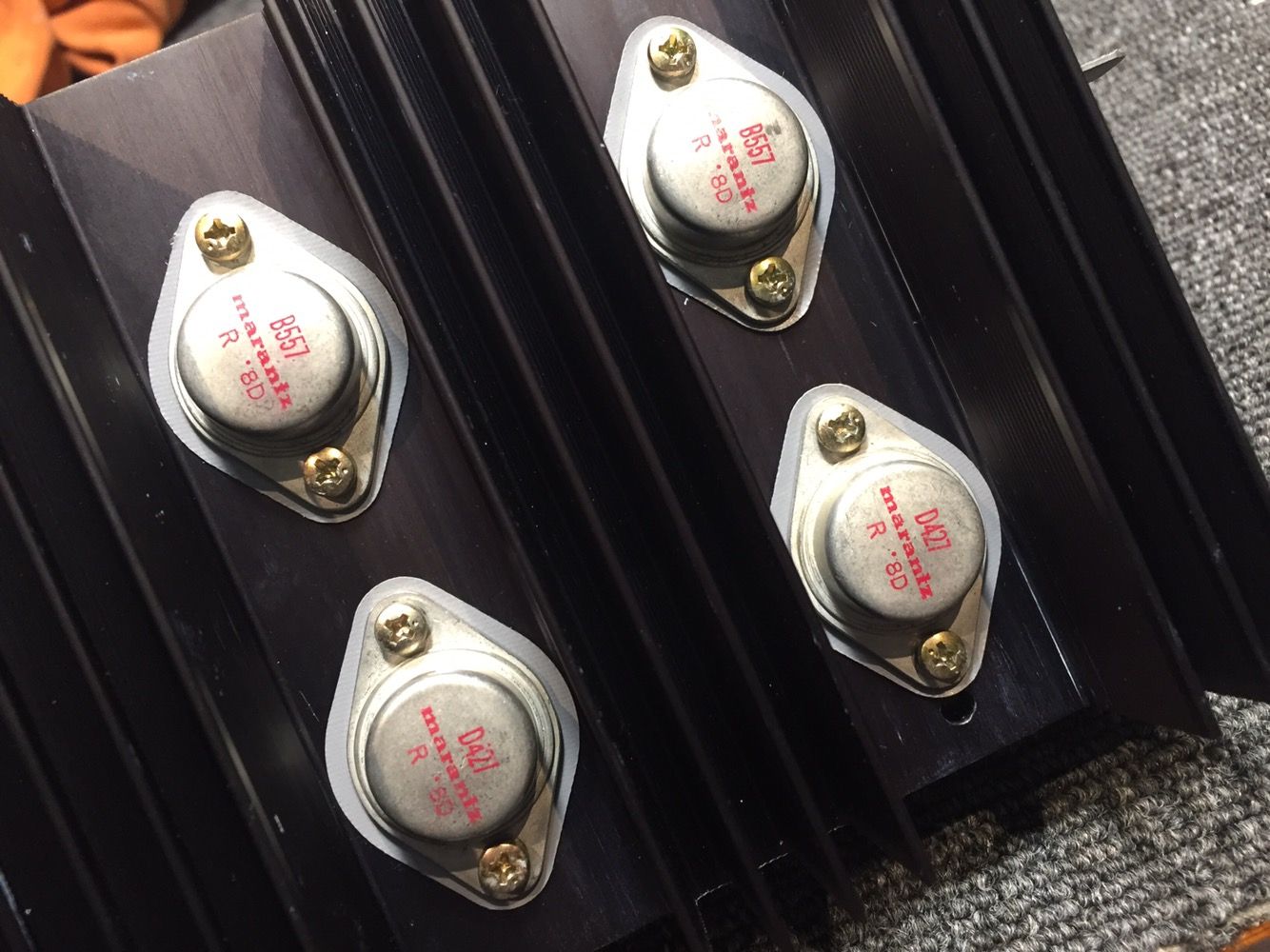 This stunning 1152DC sounds fantastic, with completely silent controls and the warm sound you'd expect of a gorgeous vintage amplifier like this.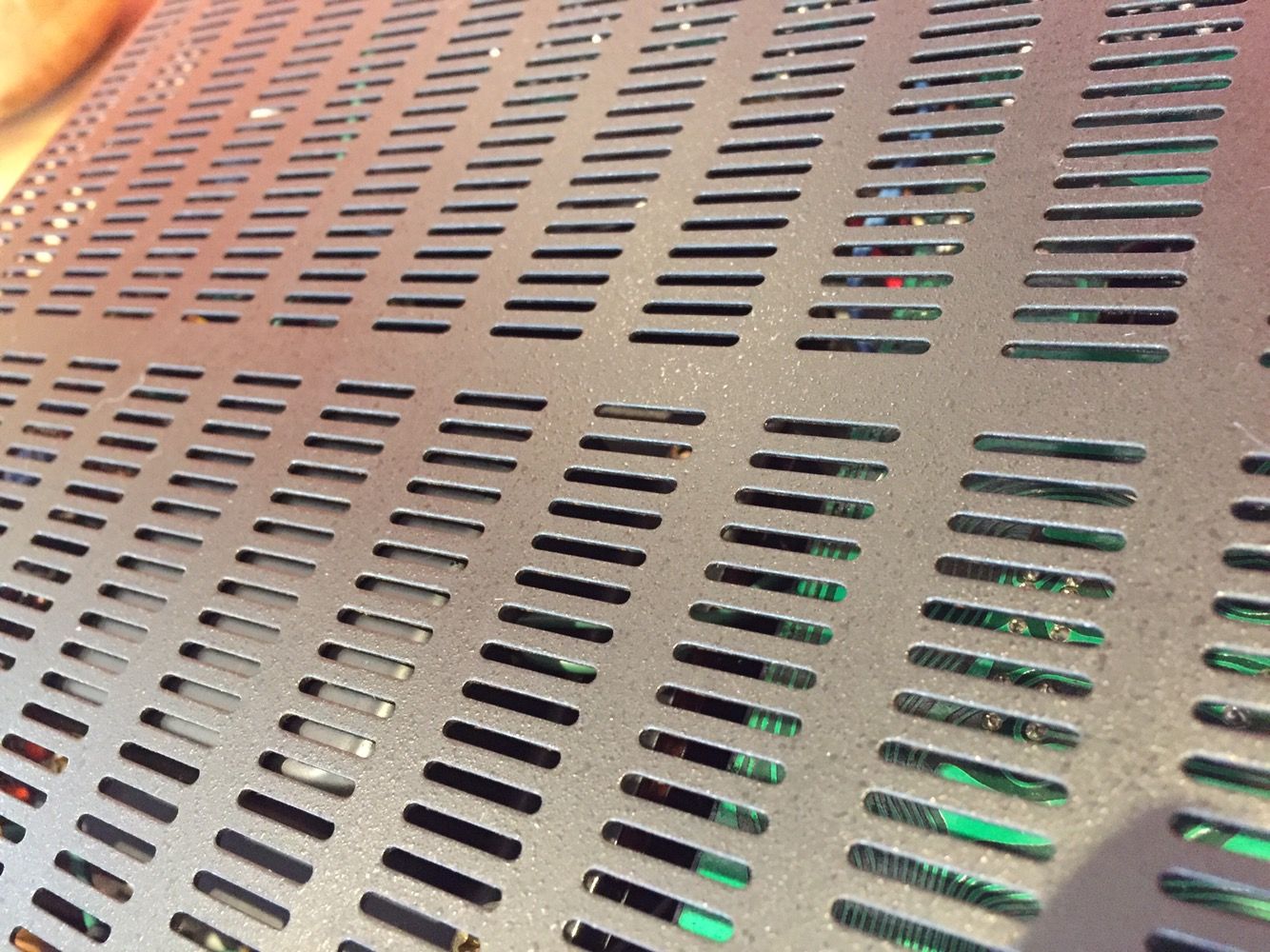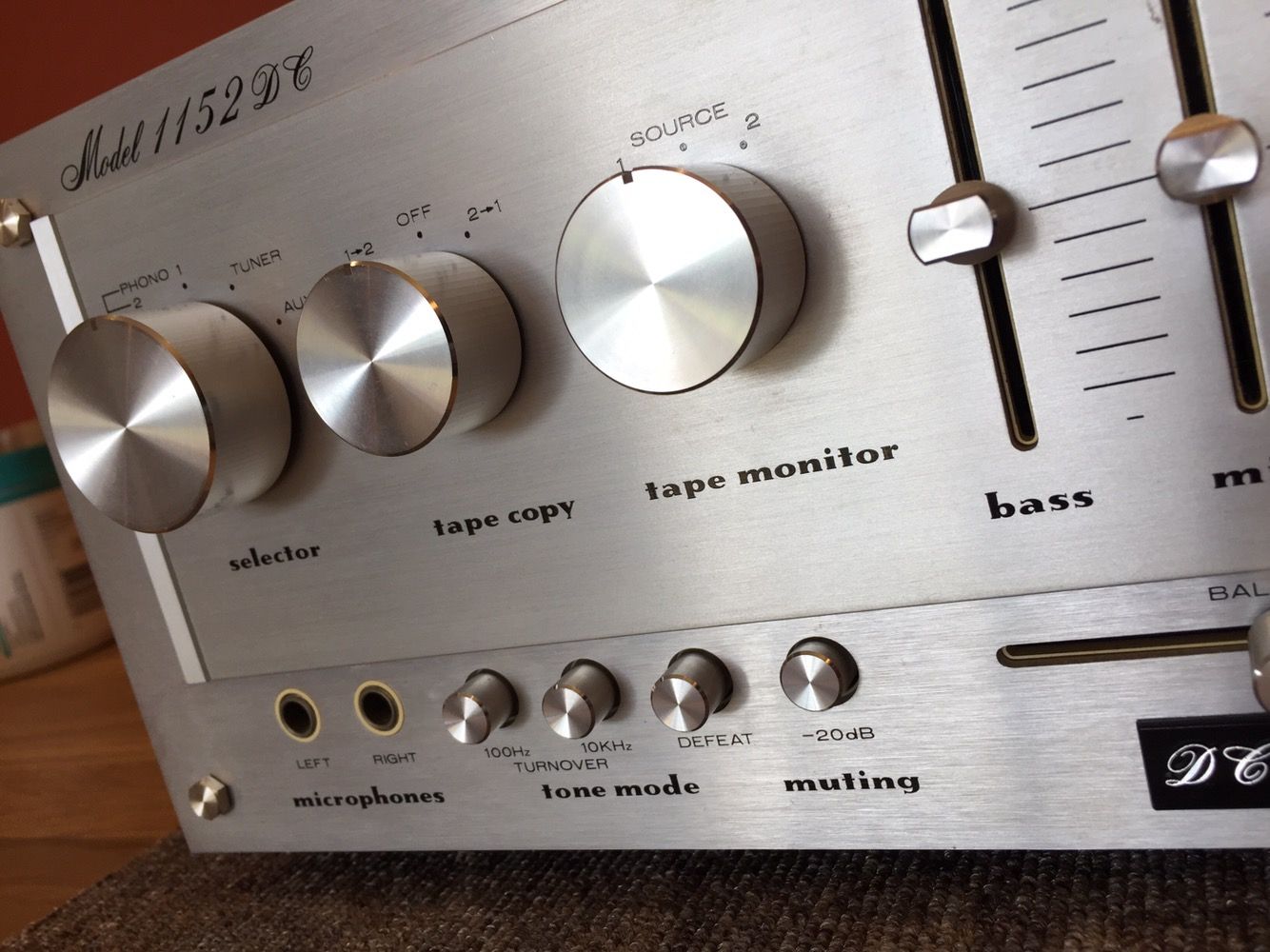 I'm asking just $1295 for this stunning piece, INCLUDING the full restoration job! Remember, every vintage amp like this will need an overhaul and this one has been done, end to end.
I will happily ship anywhere in the world at cost. This 1152DC is multi-voltage, configured for 240V.
Inquiries via my contact page or call 0439690436.
---
Next, a lovely Lenco A-50 integrated amplifier, just $395.
UPDATE: SOLD!
Lenco was a highly regarded Swiss audio manufacturer. The A-50 is an integrated amplifier,  but the pre and power sections are separately accessible, meaning you can upgrade your system without having to get rid of your Lenco A-50 – a nice touch!
The Lenco A-50 also has a high-quality discrete transistor phono preamp. This is great because it means you can directly connect a turntable, without needing to buy a separate phono preamp as you do with many modern amps. This will sound better than almost any cheap one preamplifier too.
The amplifier is in excellent condition overall. It sounds great and is beautifully built, with a very solid weight to it. Even better, it's got gorgeous illuminated meters, a classic feature on good audio gear from this period. They certainly don't build them like this anymore.
The only blemish is that the headphone socket is non-functional. You could easily attach a dedicated headphone amp though
As usual, I've carefully cleaned and serviced this amplifier so that her new owner doesn't have to. Just plug her in and enjoy the music.
I'm asking just $395 for this classic vintage amp. Contact me via the contact form!
Specifications
Power output: 40 watts per channel into 8Ω
Frequency response: 10Hz to 40kHz
Total harmonic distortion: 0.2%
Input sensitivity: 2.5mV (MM), 160mV (line)
Signal to noise ratio: 56dB (MM), 58dB (line)
Dimensions: 430 x 370 x 132mm
Weight: 10.5kg
Year: 1977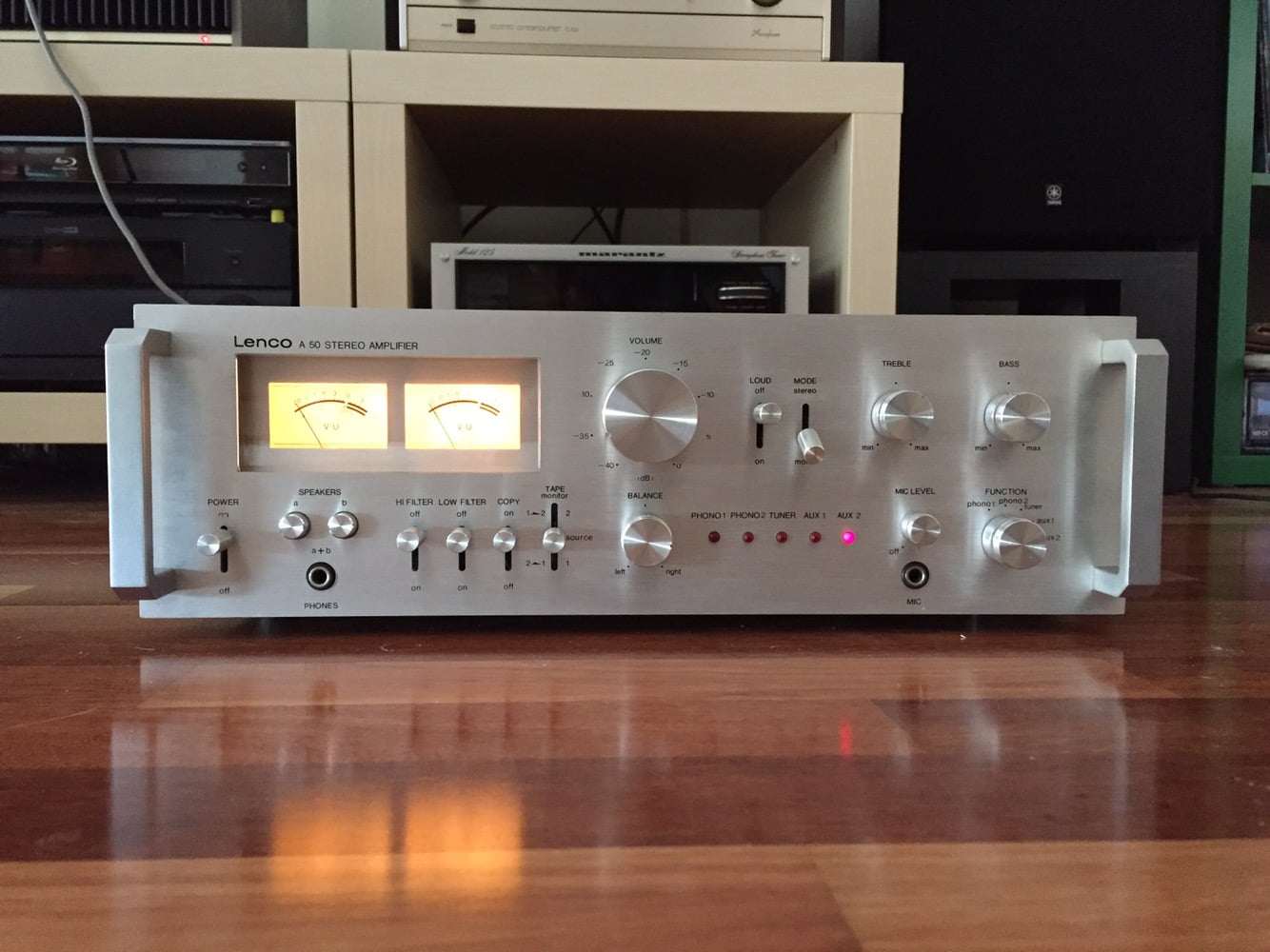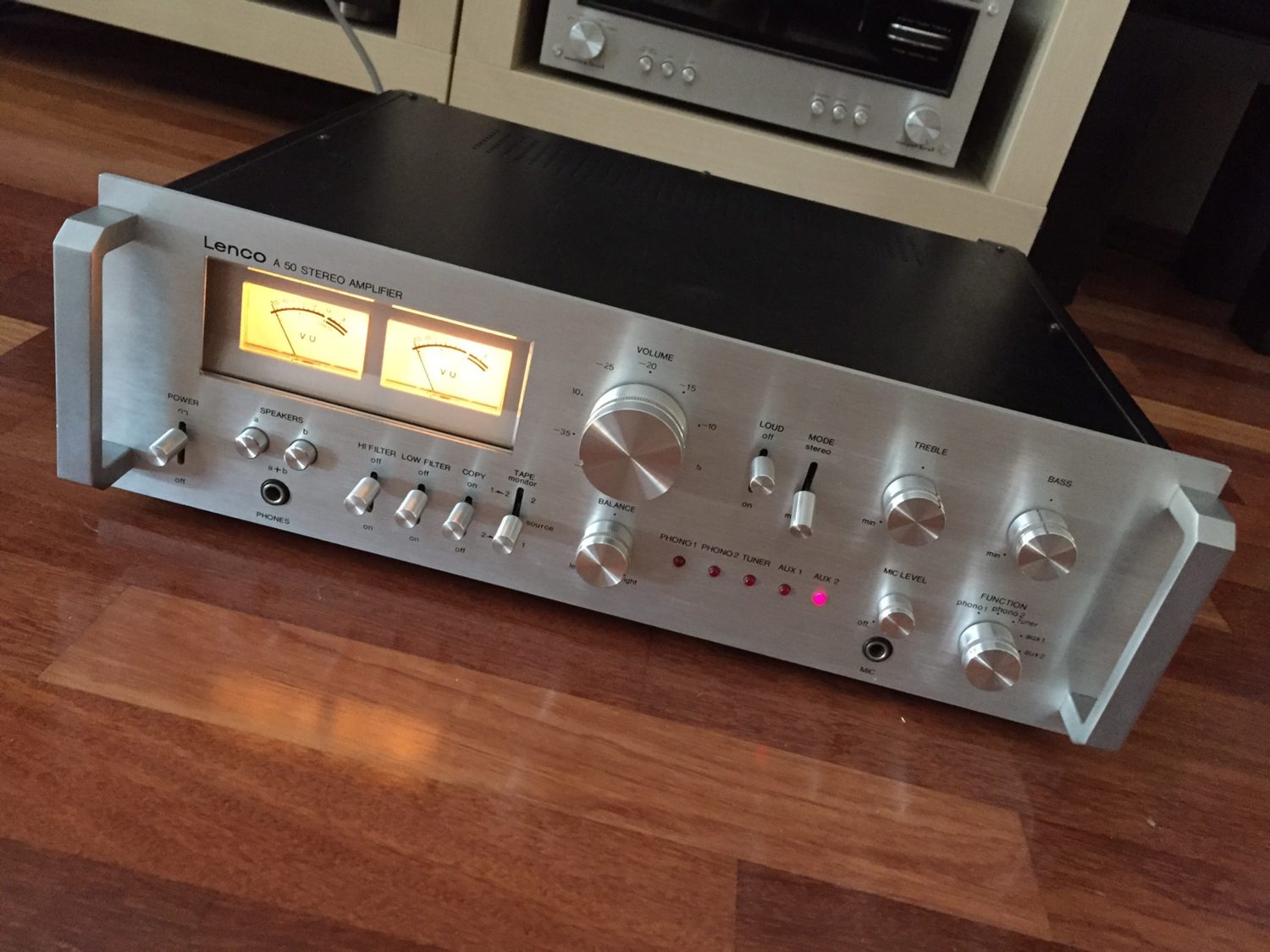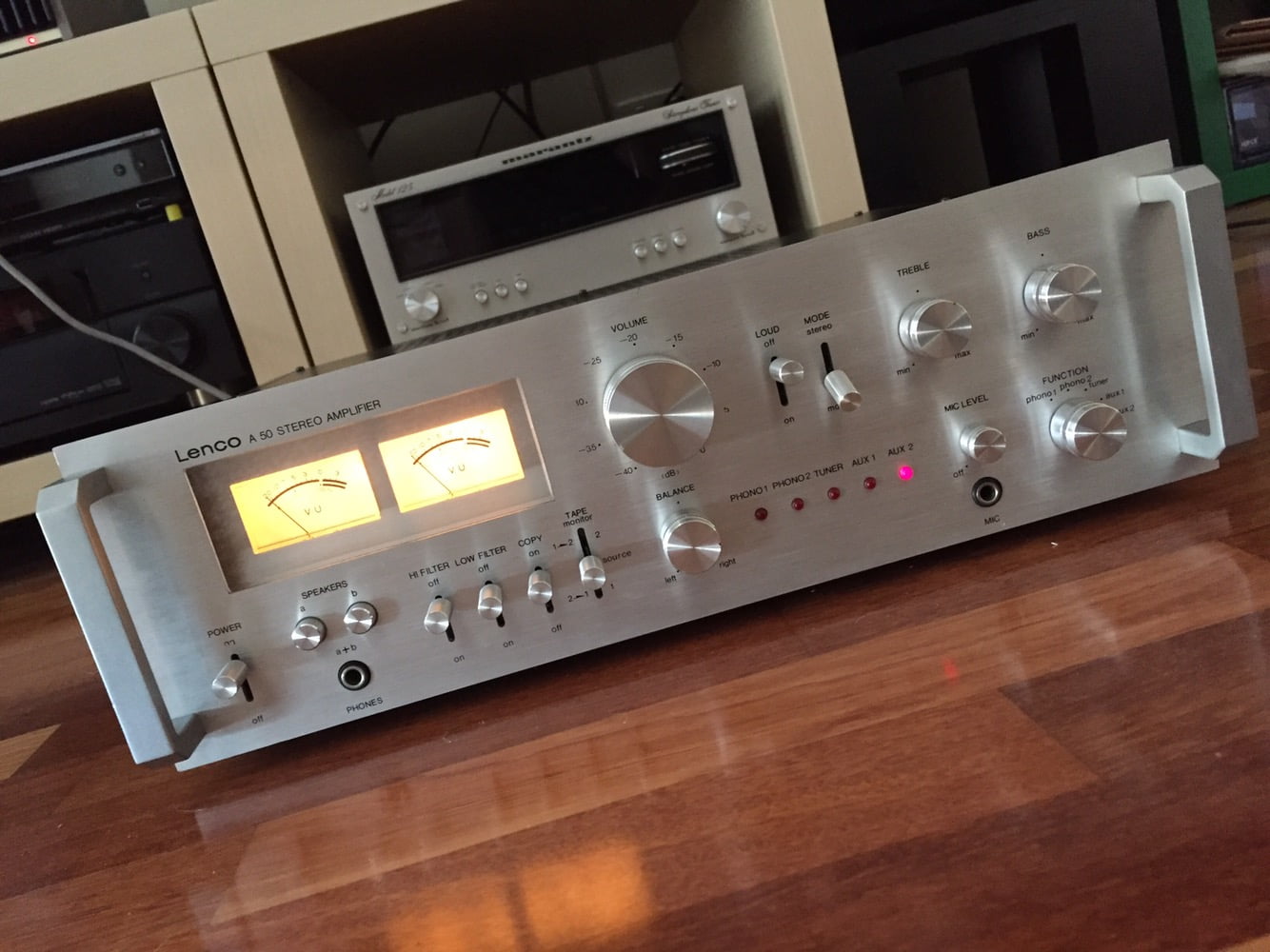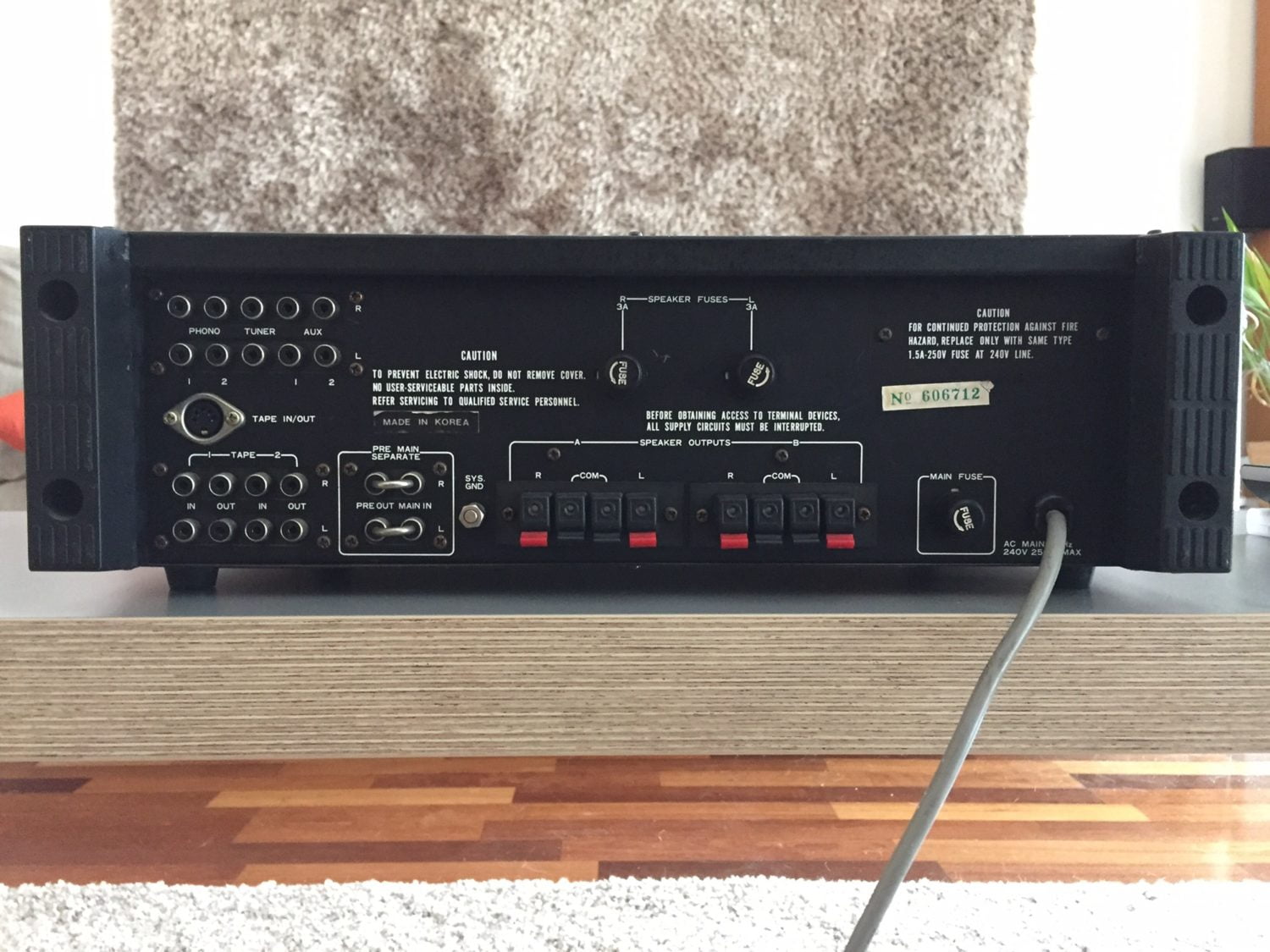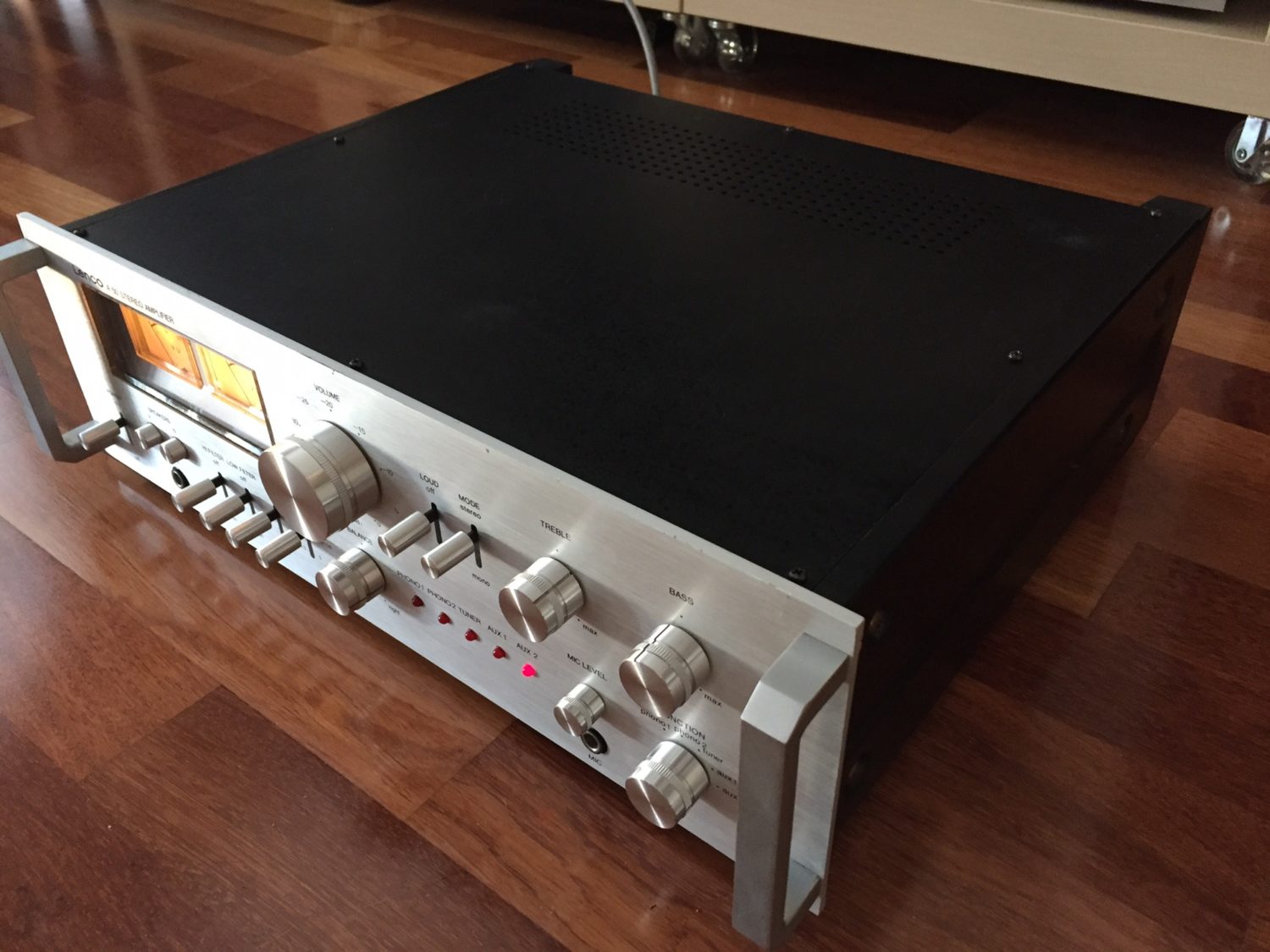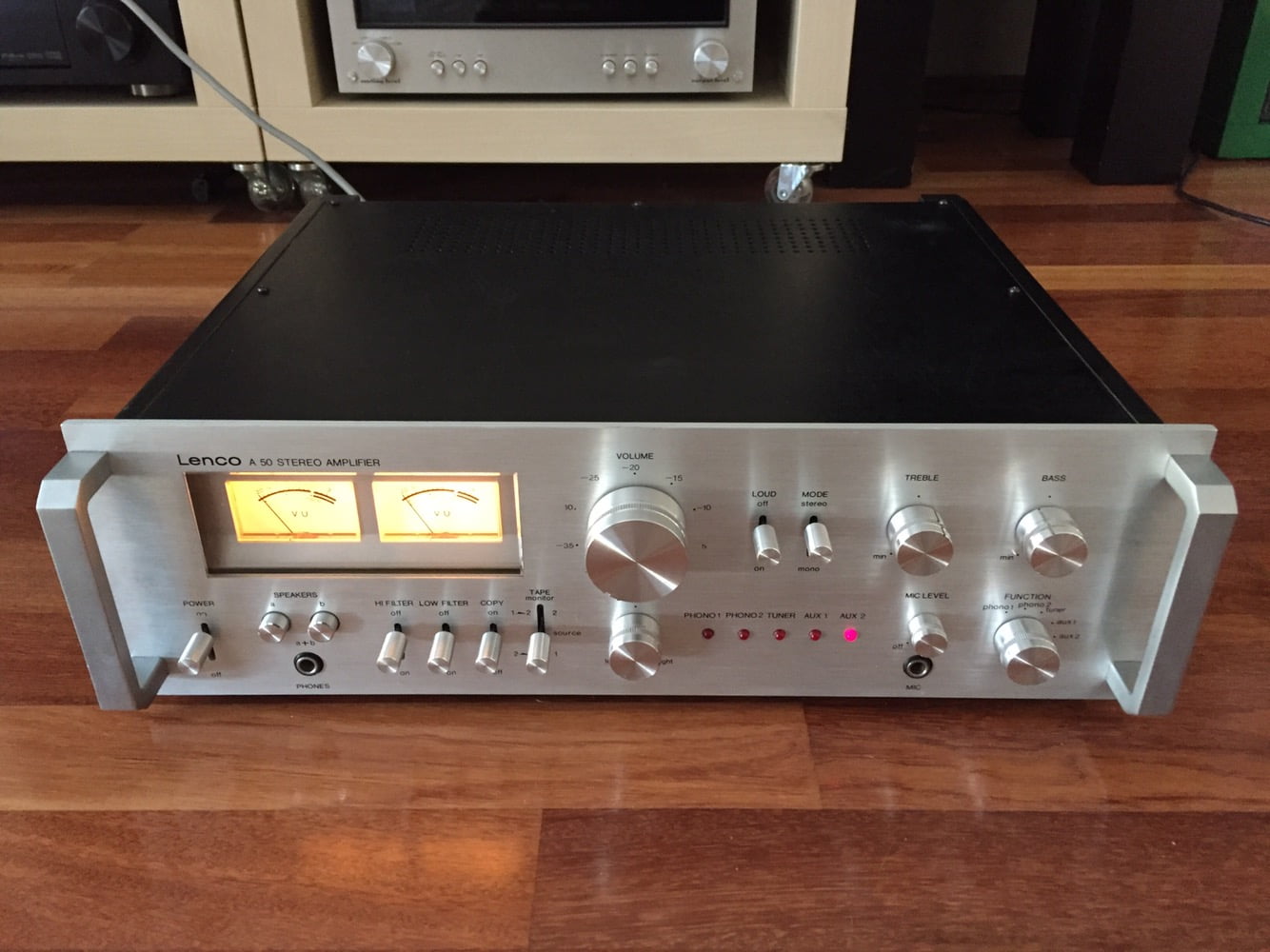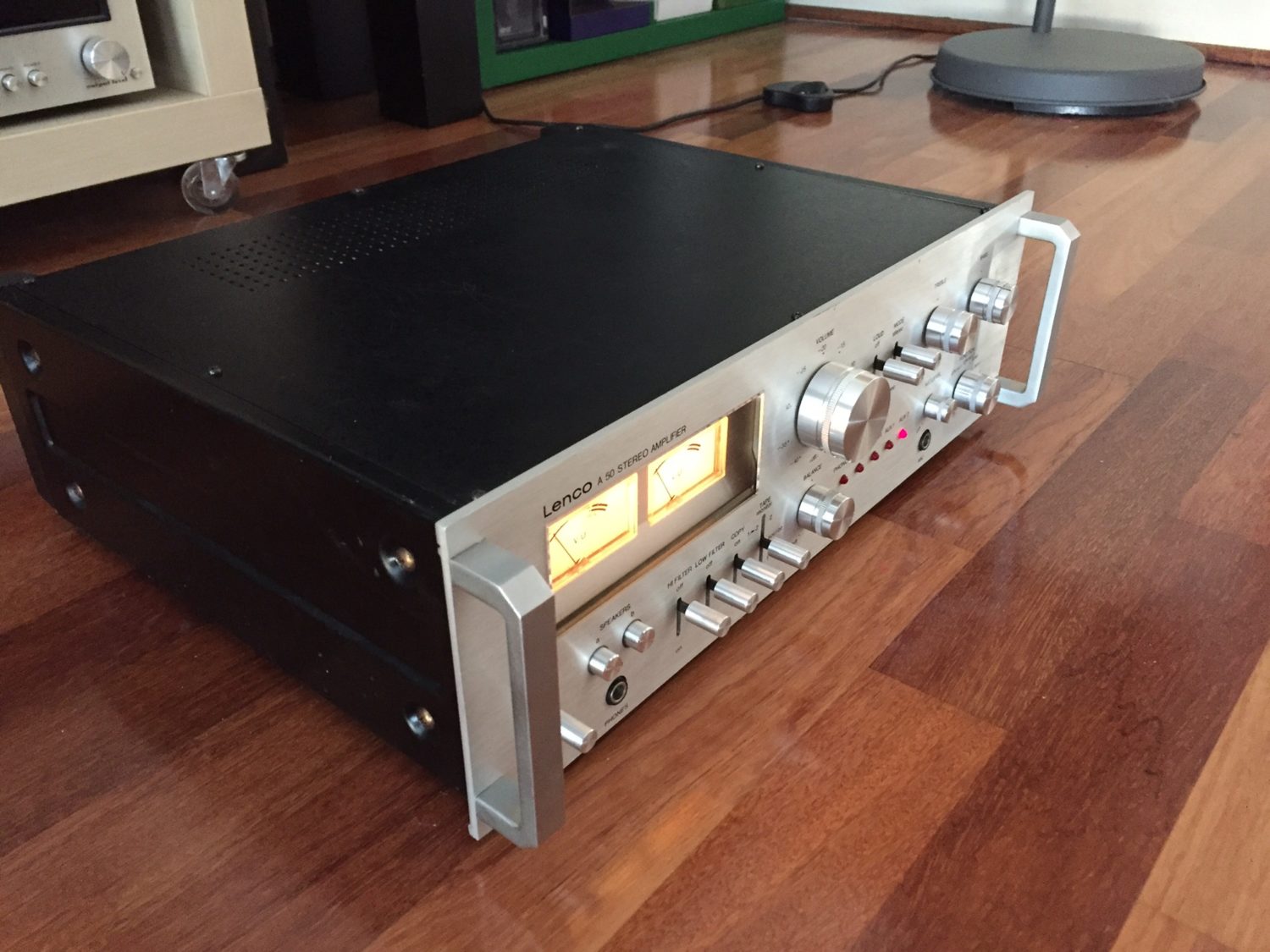 ---
For sale, a gorgeous Lenco GL75 rim drive turntable, made in Switzerland, just $175.
Update – SOLD!
A quick google search will throw up a wealth of information on these legendary Lenco decks. This GL75 would make a perfect project for somebody, perhaps with a heavy new custom plinth.
I've had a chance to test her and everything works. The arm board is cut for a Rega arm, but others like Linn will likely fit.
Asking just $175 for this lovely old girl!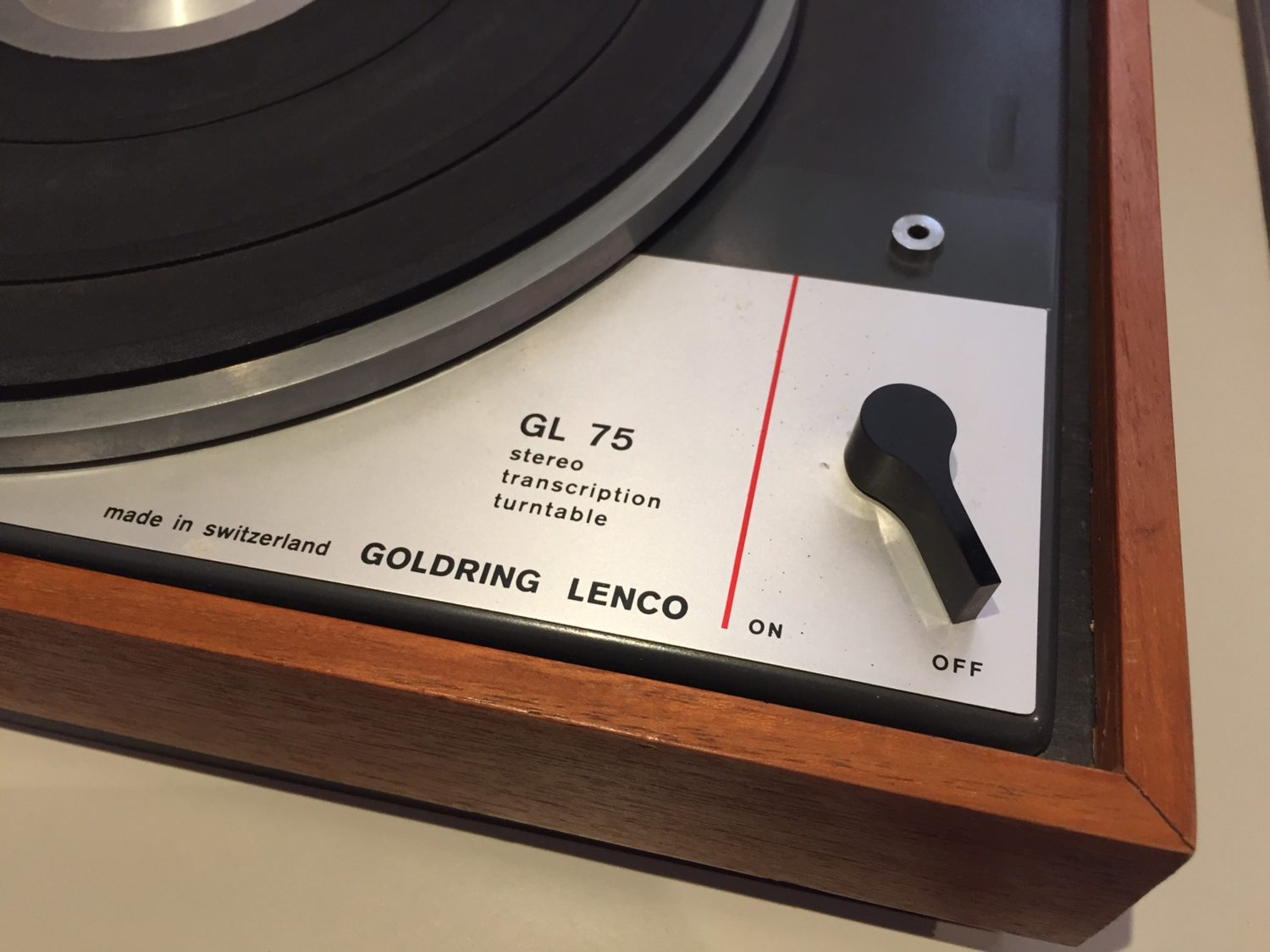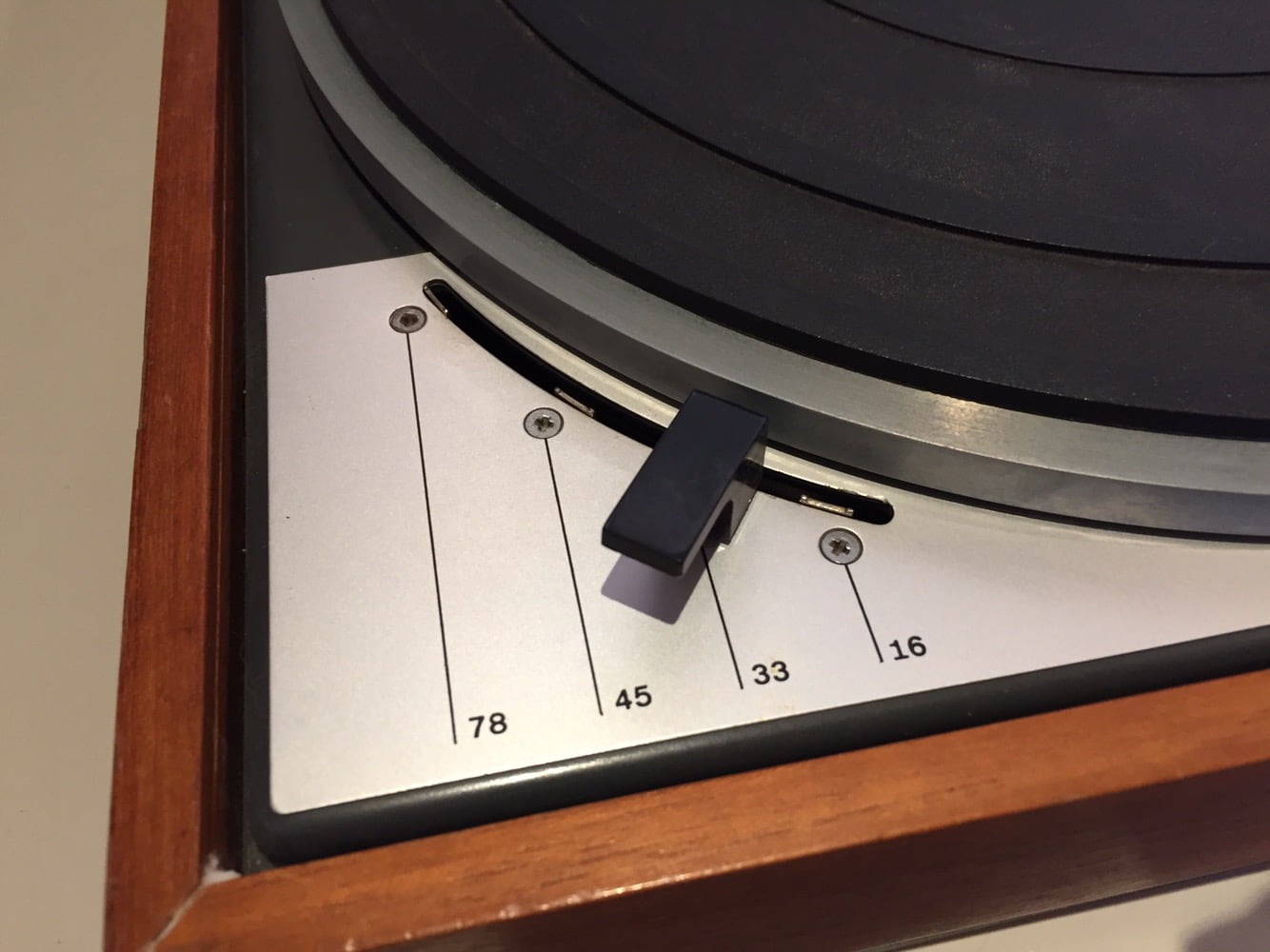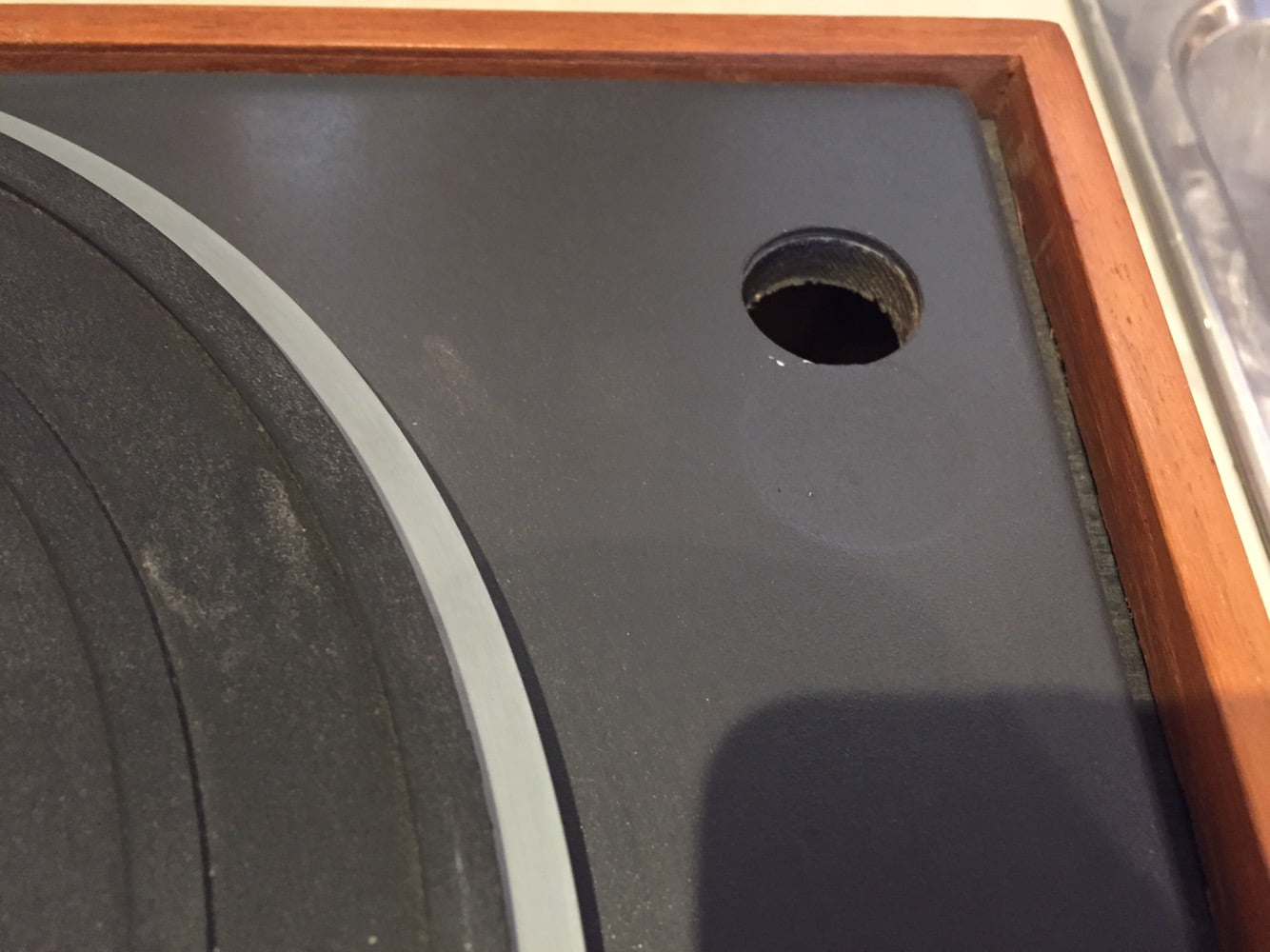 ---
I have a lovely HP 3468A bench multimeter for sale.
SOLD!
The HP 3468A is in a very good state of calibration and excellent physical condition. I'm asking $175 for this lovely instrument.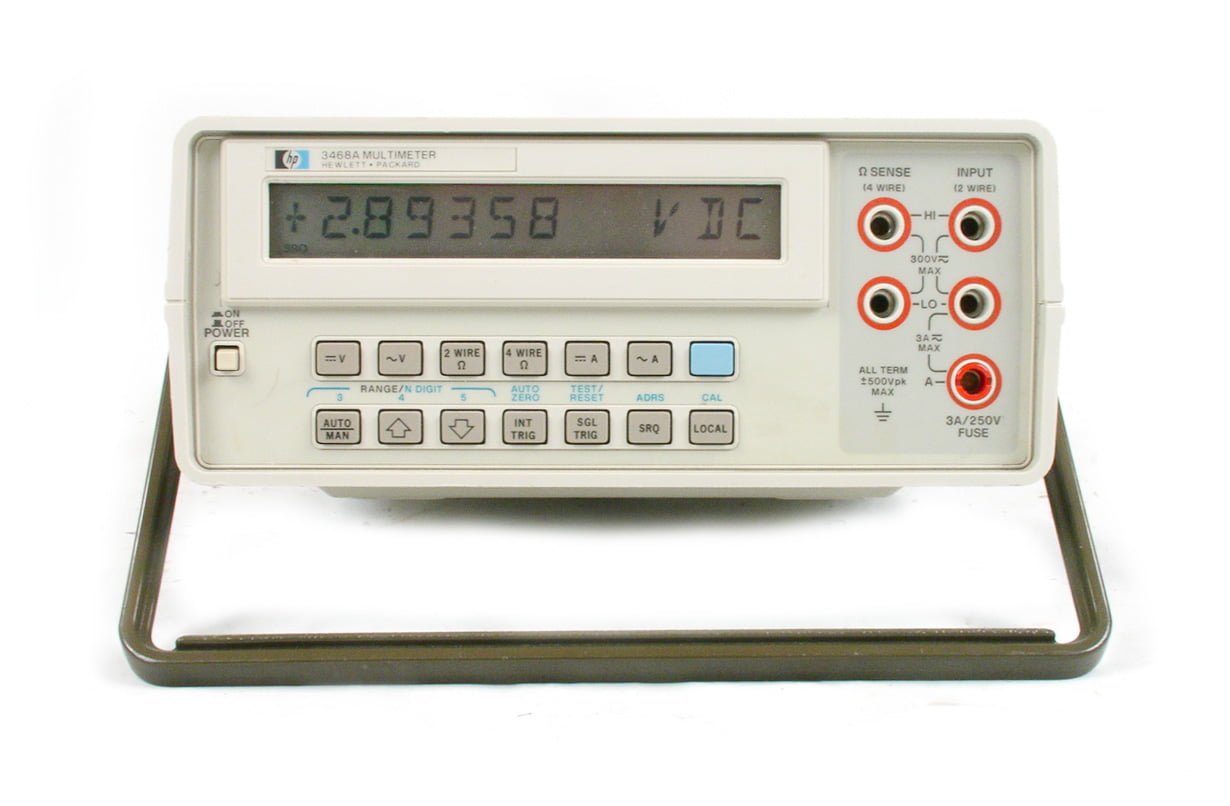 ---
WOW – here's a once in a lifetime opportunity to own a near-mint, fully restored, special S/N Krell KSA-150 class-A power amplifier, with original double boxes and 15A power cable!
This beast is just $3500 – of course, it's SOLD!
This amp, by pure chance, has a very unusual 15-11150 serial number, perfect for a KSA-150. I even have the original owner's manual somewhere and will try to find it for the lucky buyer.
Seriously, this monster amp is in perfect working condition. I fully restored her only a few years ago and spared no expense – it was for me after all! She has worked perfectly ever since and is a great example of this model, almost blemish-free.
This Krell KSA-150 sounds amazing of course, probably better than new after the overhaul. Remember, these were $10,000 in the early '90s, equivalent to the price of a car at the time.
She will drive absolutely ANY speaker load. The only reason for sale is that I work on hi-fi gear for a living, I have too much of it and need to down-size.
When I overhaul an amp like the KSA-150, it can cost $2000 – $2500. Think of the money you DON'T have to spend on this one, and trust me, they all need restoration. You can read more about these great amps here, and here.
Sensible offers around $3,500 considered, remember, this is a fully restored KSA-150 in amazing condition.
Shipping anywhere can be arranged at buyer's expense. Configured for 240V, but easily configurable for any voltage. With original double boxes and power cable.
Don't miss out on a chance to own a legend!
Specifications
Power output: 150 watts per channel continuous into 8Ω (stereo), 300 watts per channel continuous into 4Ω, 600 watts per channel continuous into 2Ω, 1200 watts per channel continuous into 1Ω!
Weight: Nearly 50kg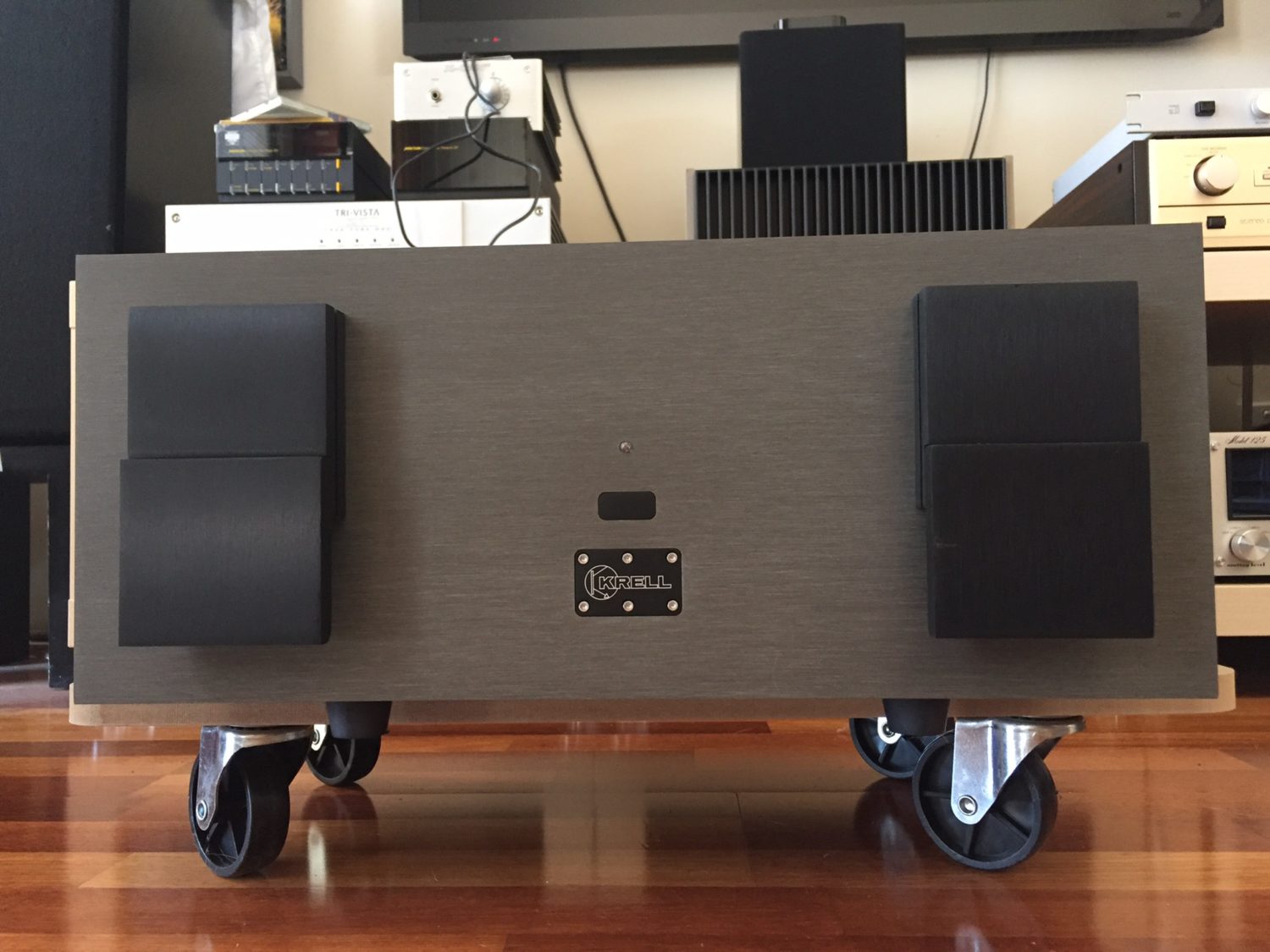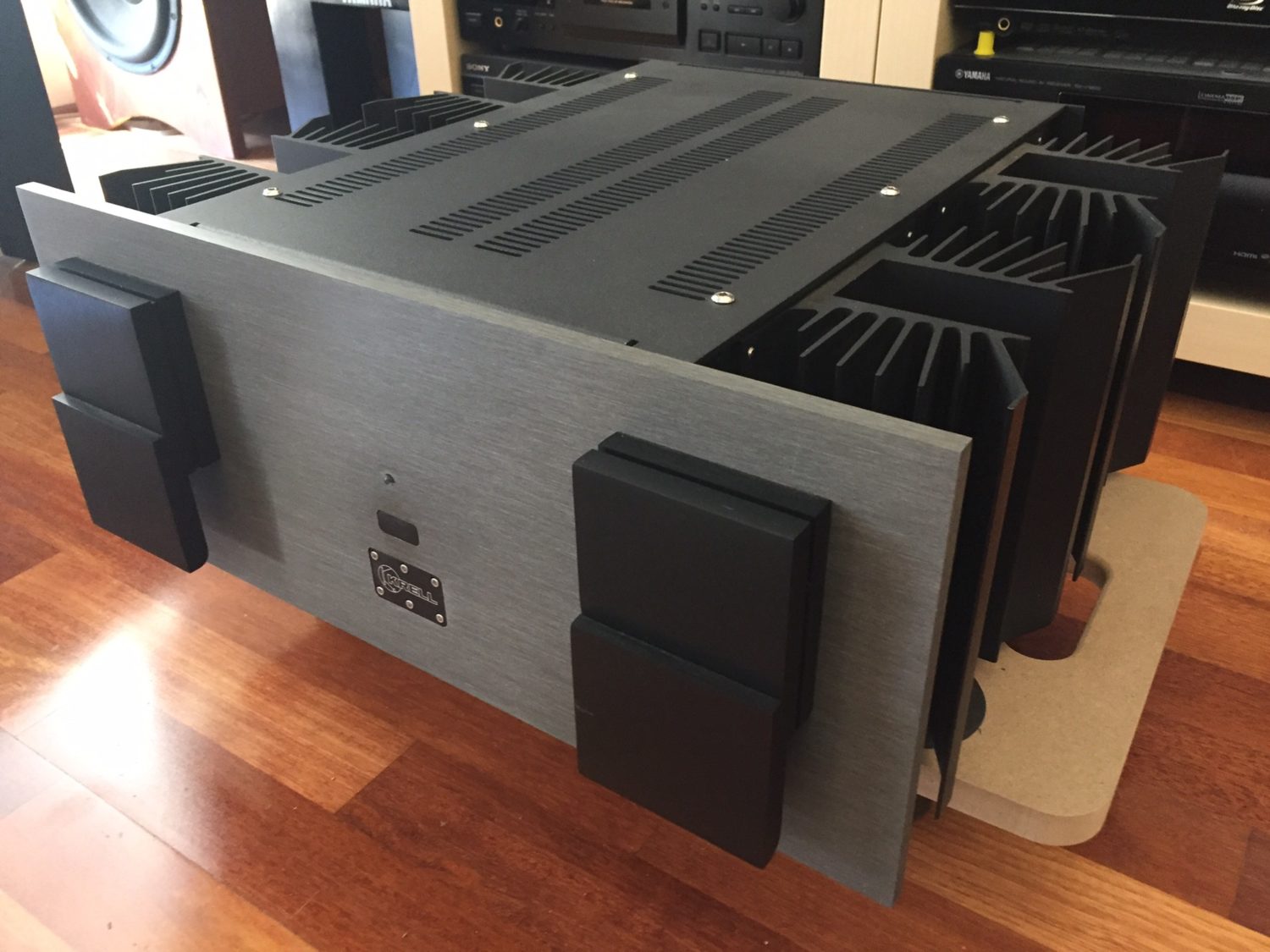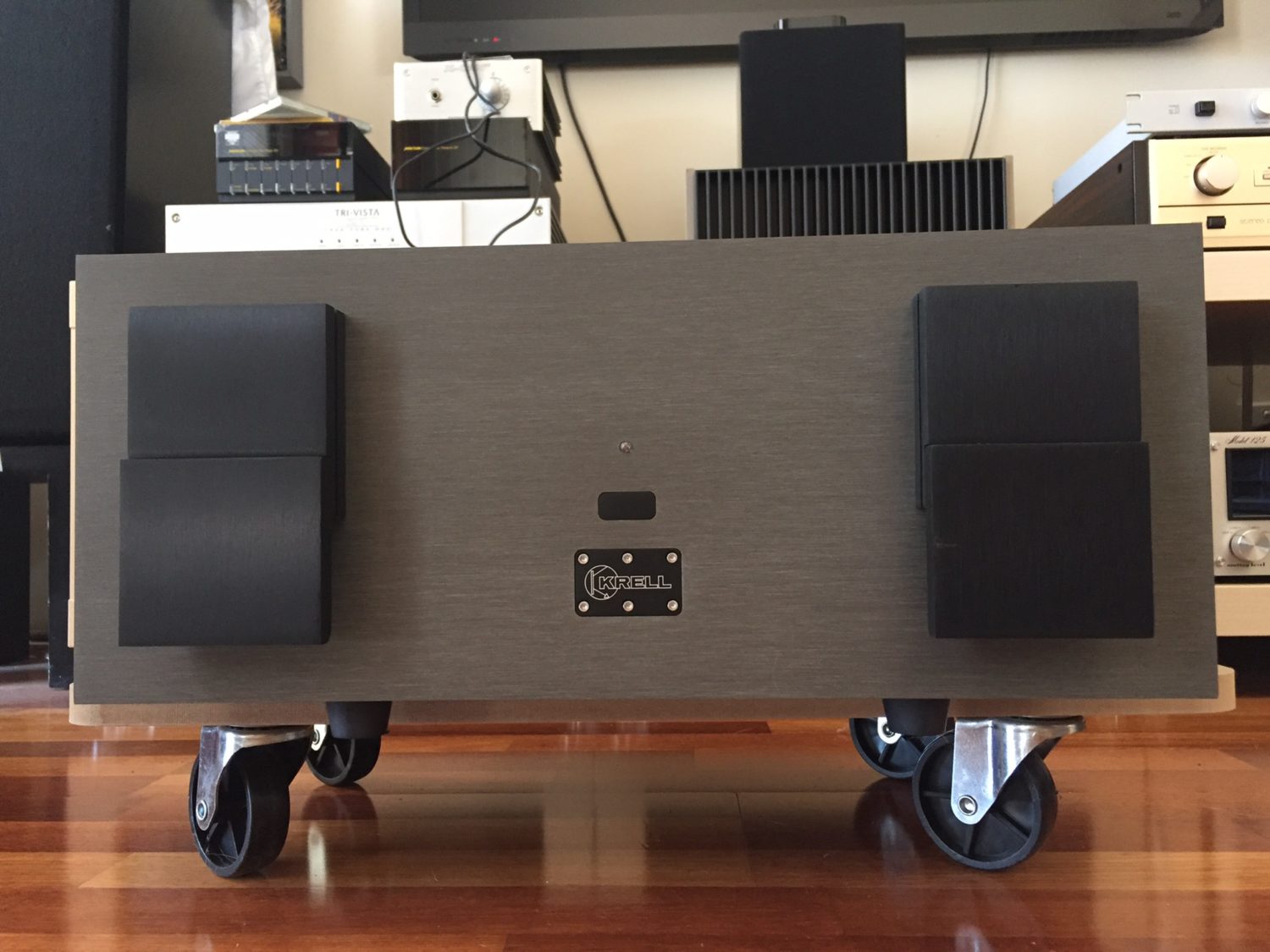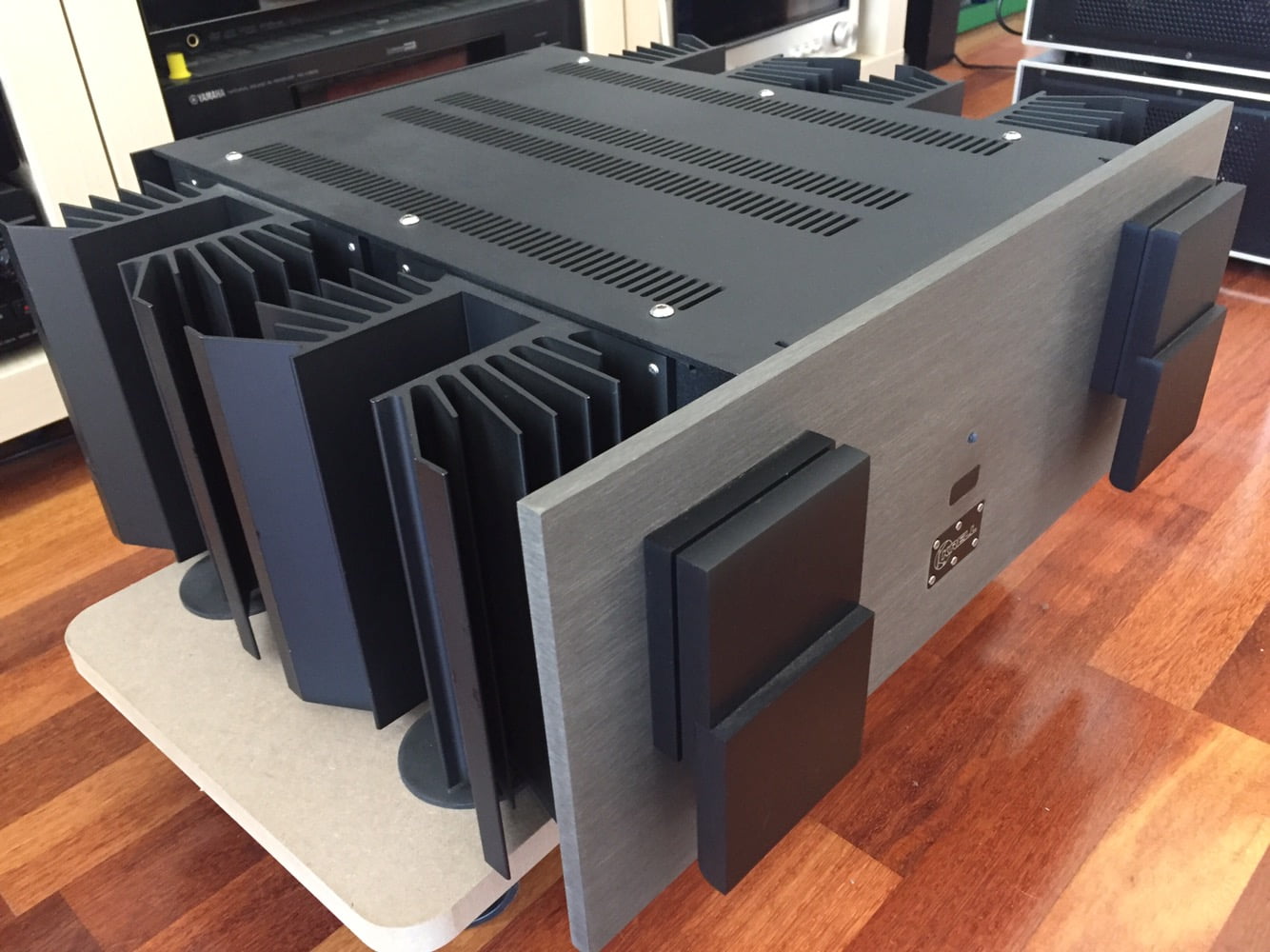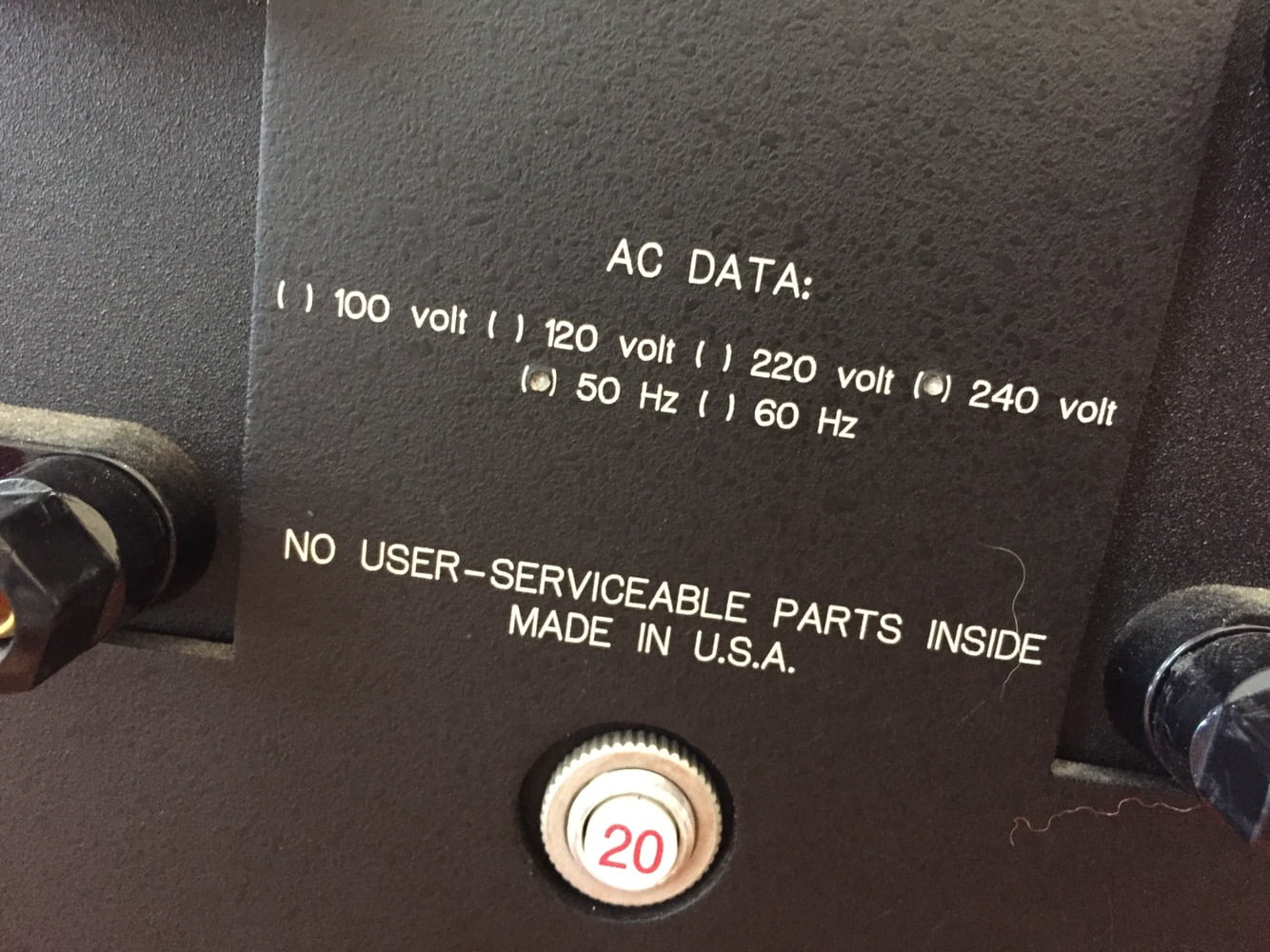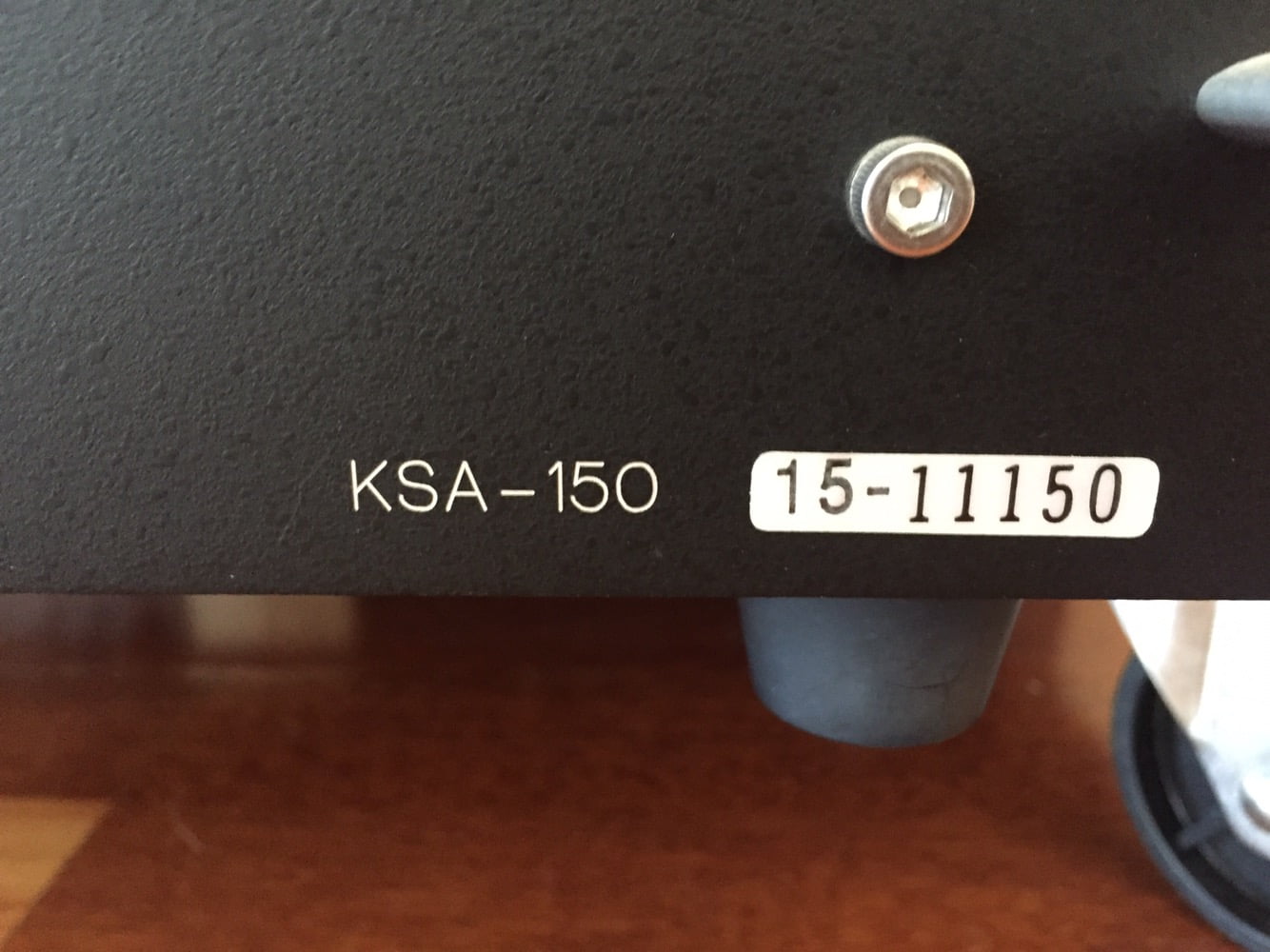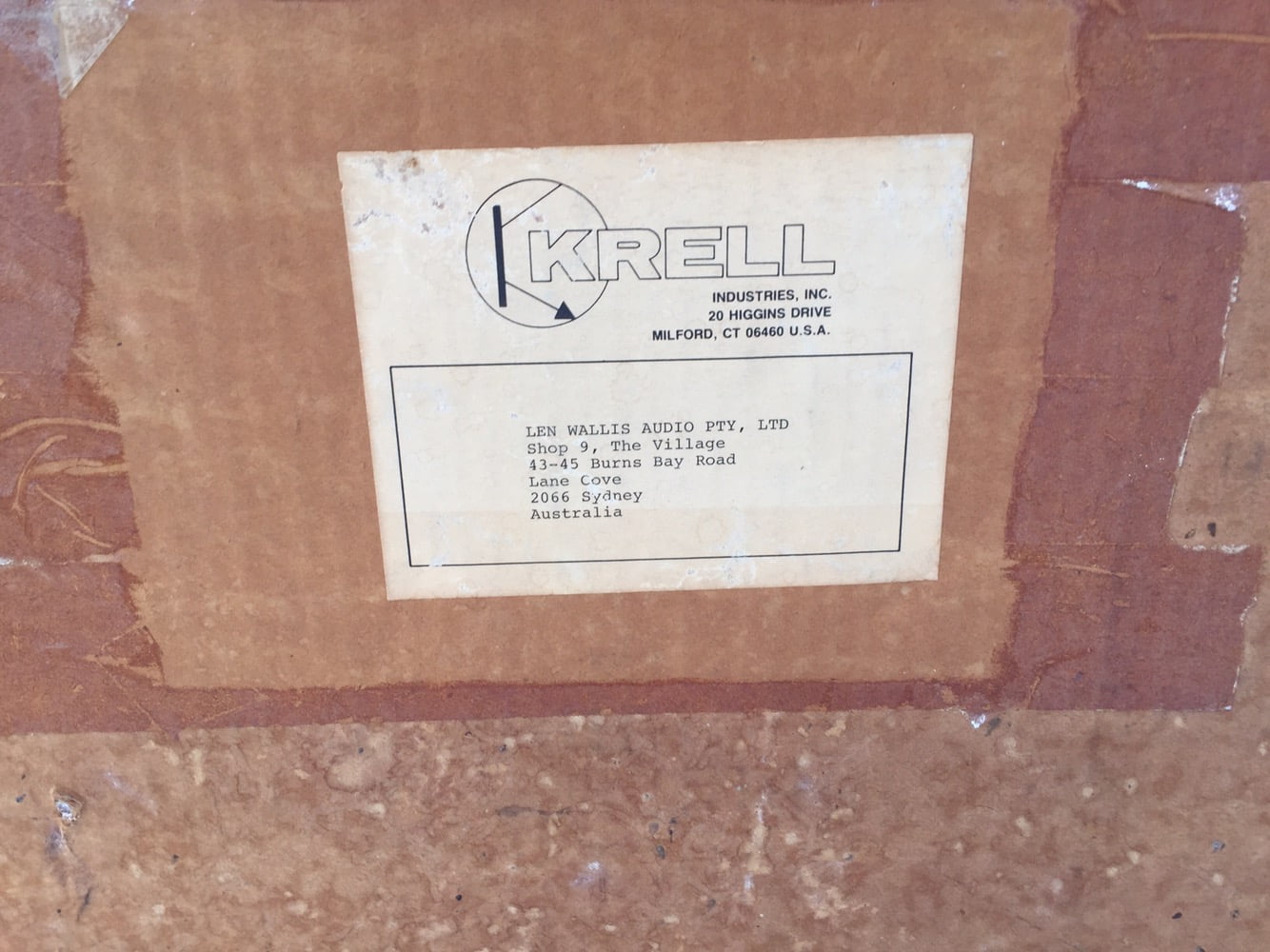 ---
I have a lovely Primare R32 phono preamplifier for sale.
UPDATE – SOLD!!
This R32 comes complete, with box, original packaging, power cord and manual and has light use, for demo purposes only.
Lots has been written about this excellent phono preamplifier and I have comprehensively reviewed it here. The R32 is an all-discrete, super-high-precision dual-mono MM/MC phono preamplifier, with adjustable loading to suit any MM or MC cartridge. Without labouring the point, it's safe to say that for around $1299, there's not much to touch it.
The Primare phono pre is described as:
"Beautifully built, full-width phono stage is the perfect partner for serious vinyl systems." – techradar"

"Technically and sonically brilliant. Elegant high quality housing. The Primare R32 is clearly a "Best Buy" for its price tag." – AudioEnz
$1299 is the retail price for one of these great phono stages, but you can grab this mint, low hours unit for just $849. This is an absolute bargain compared to anything else at the price.
I'd suggest you get in contact pretty quickly, it won't last long at this price.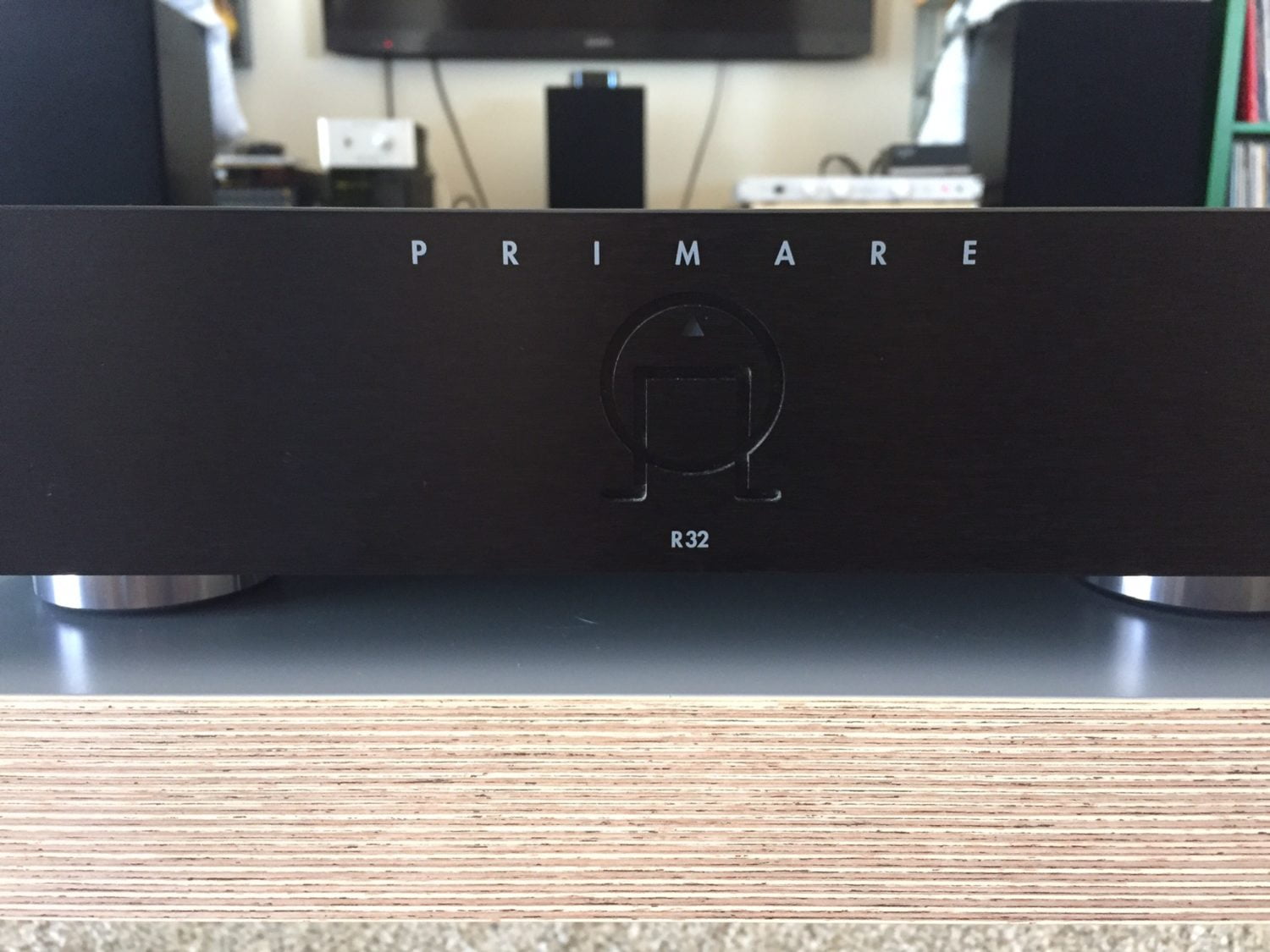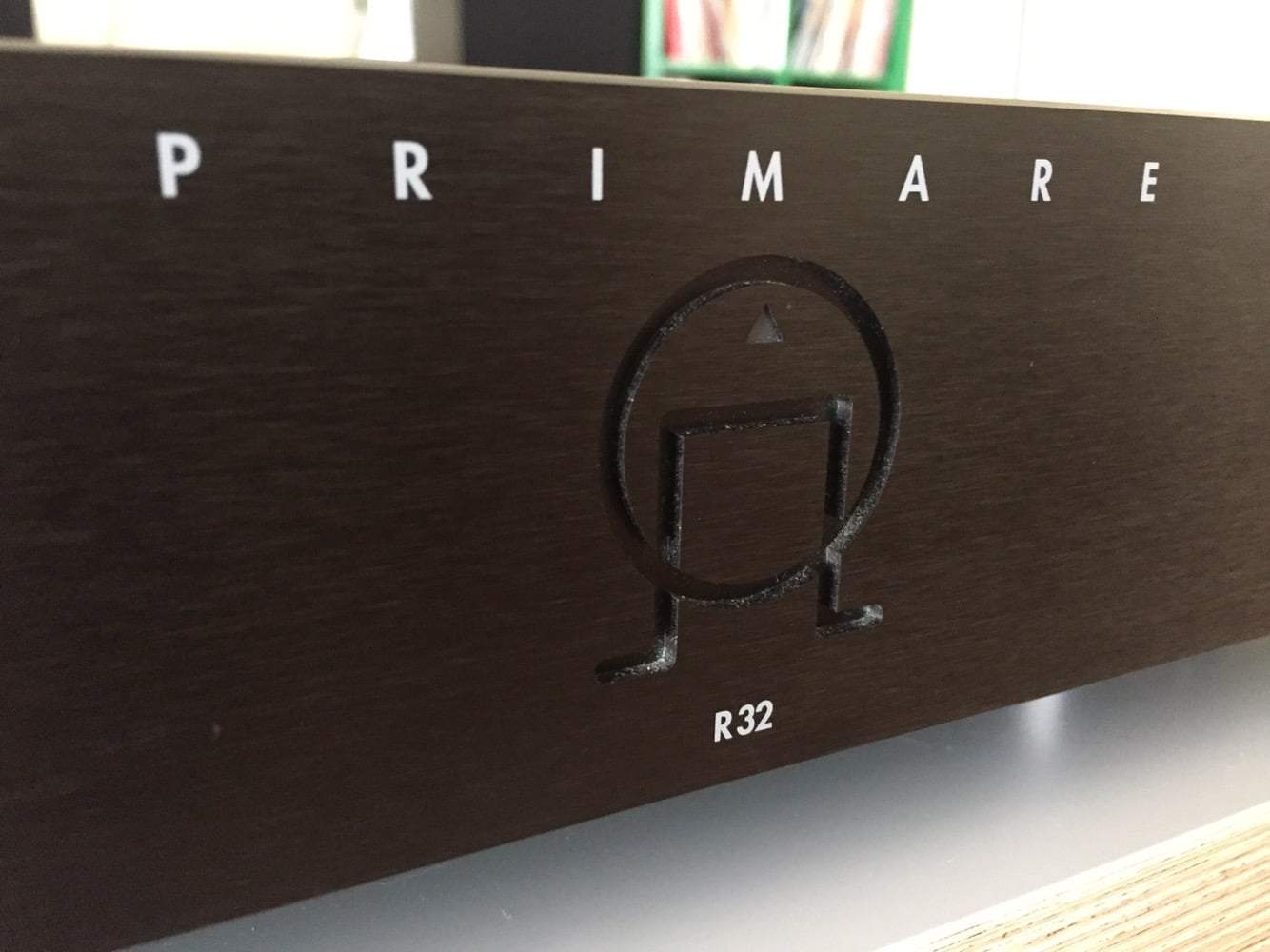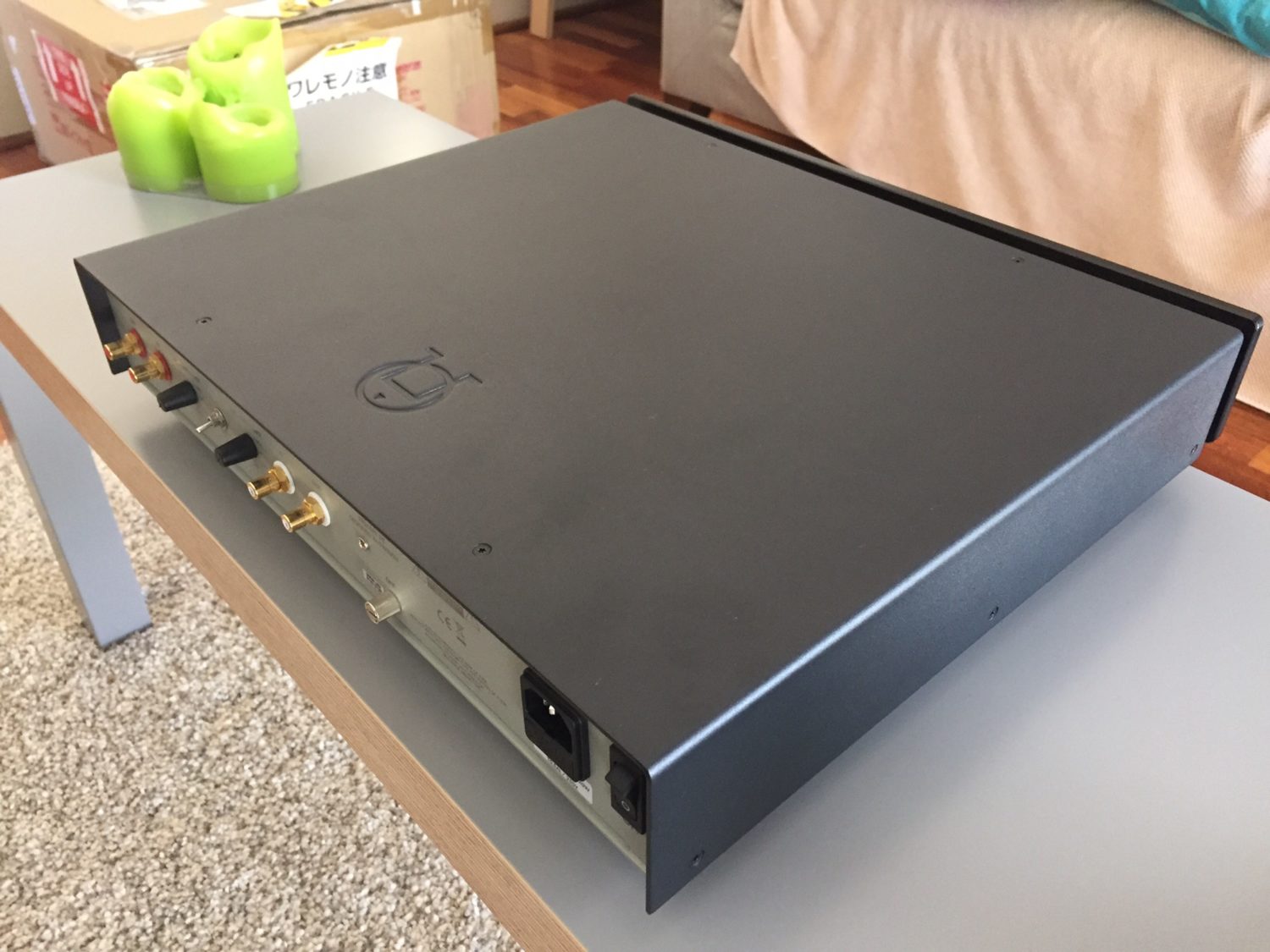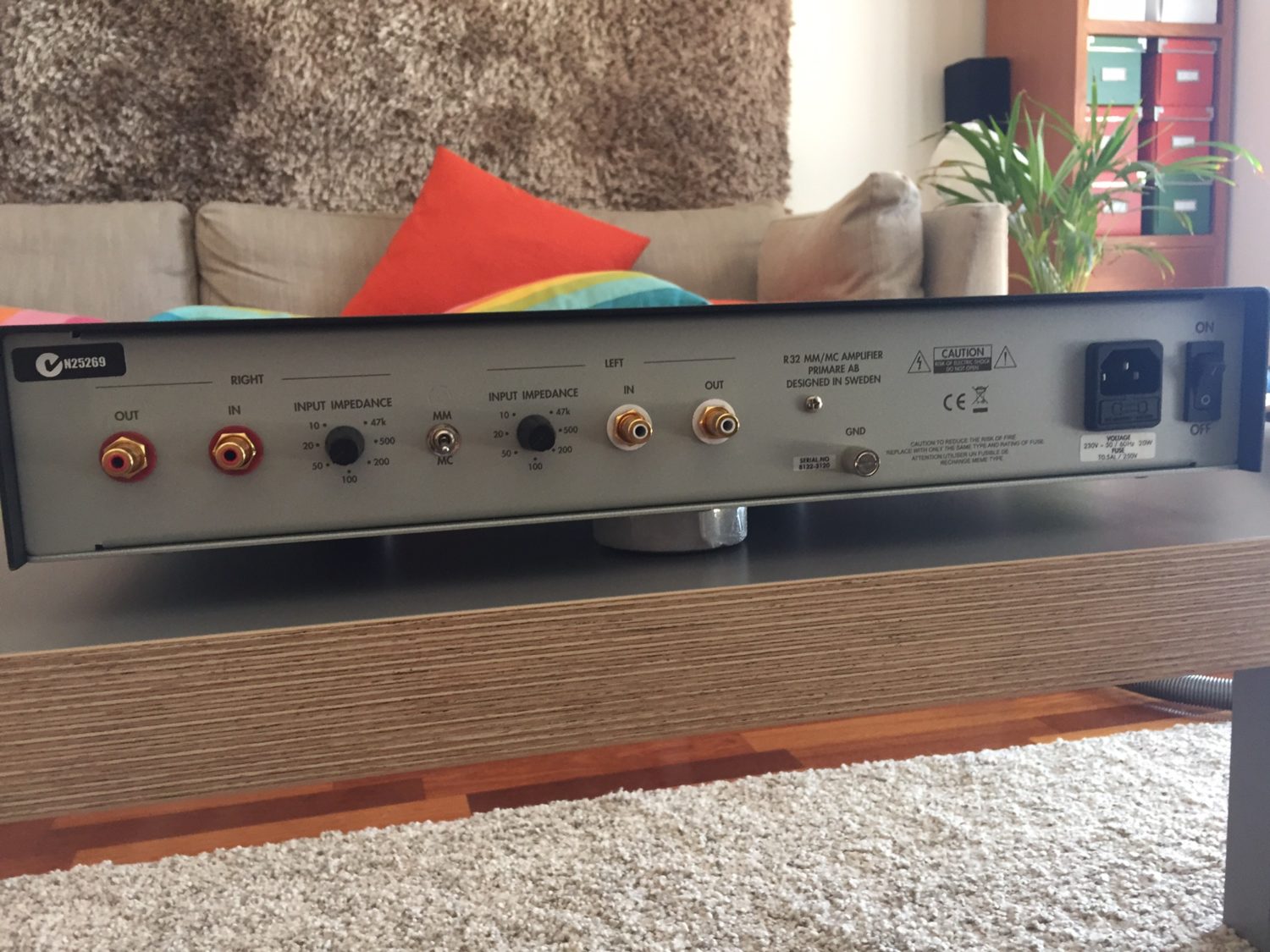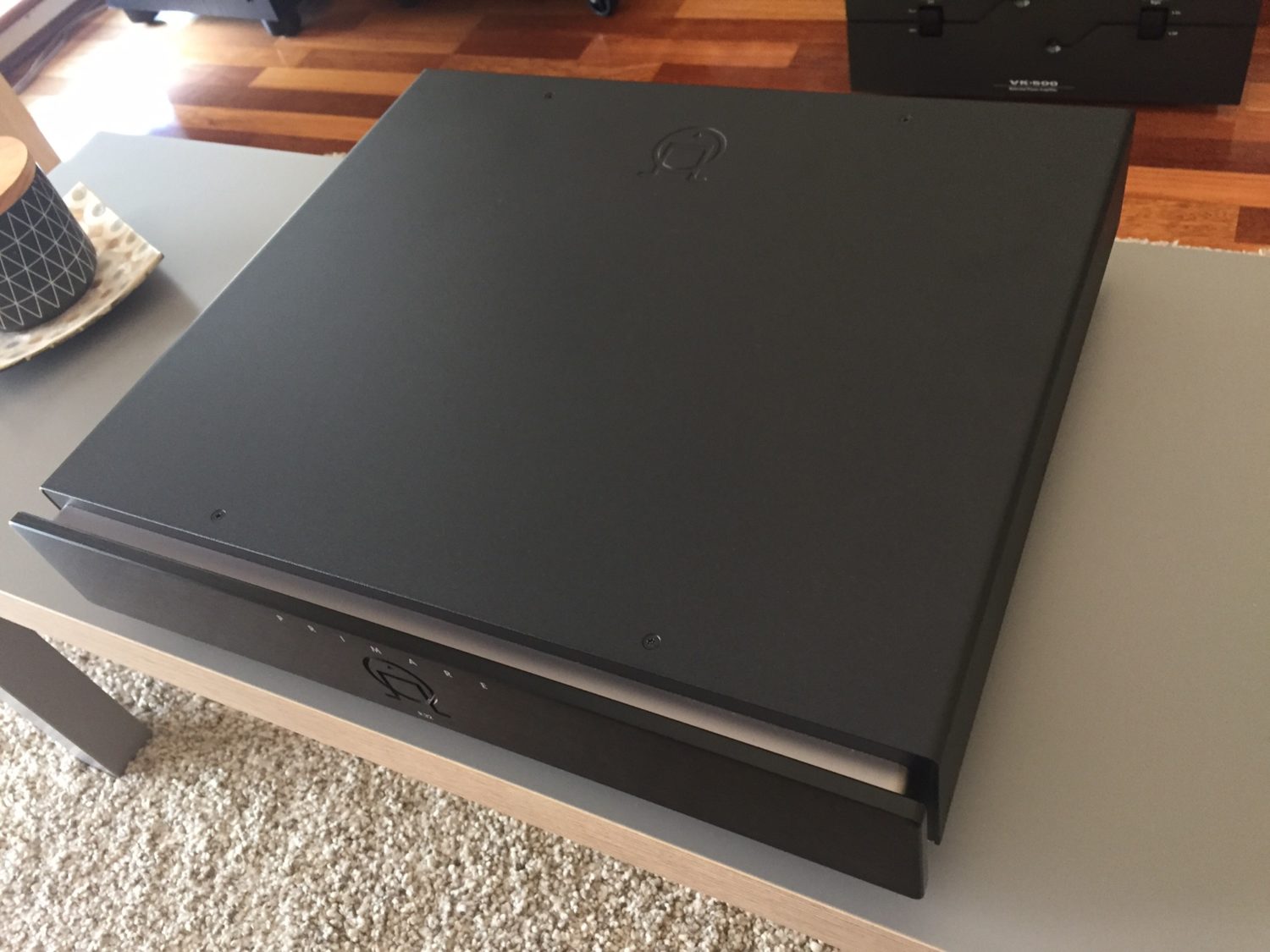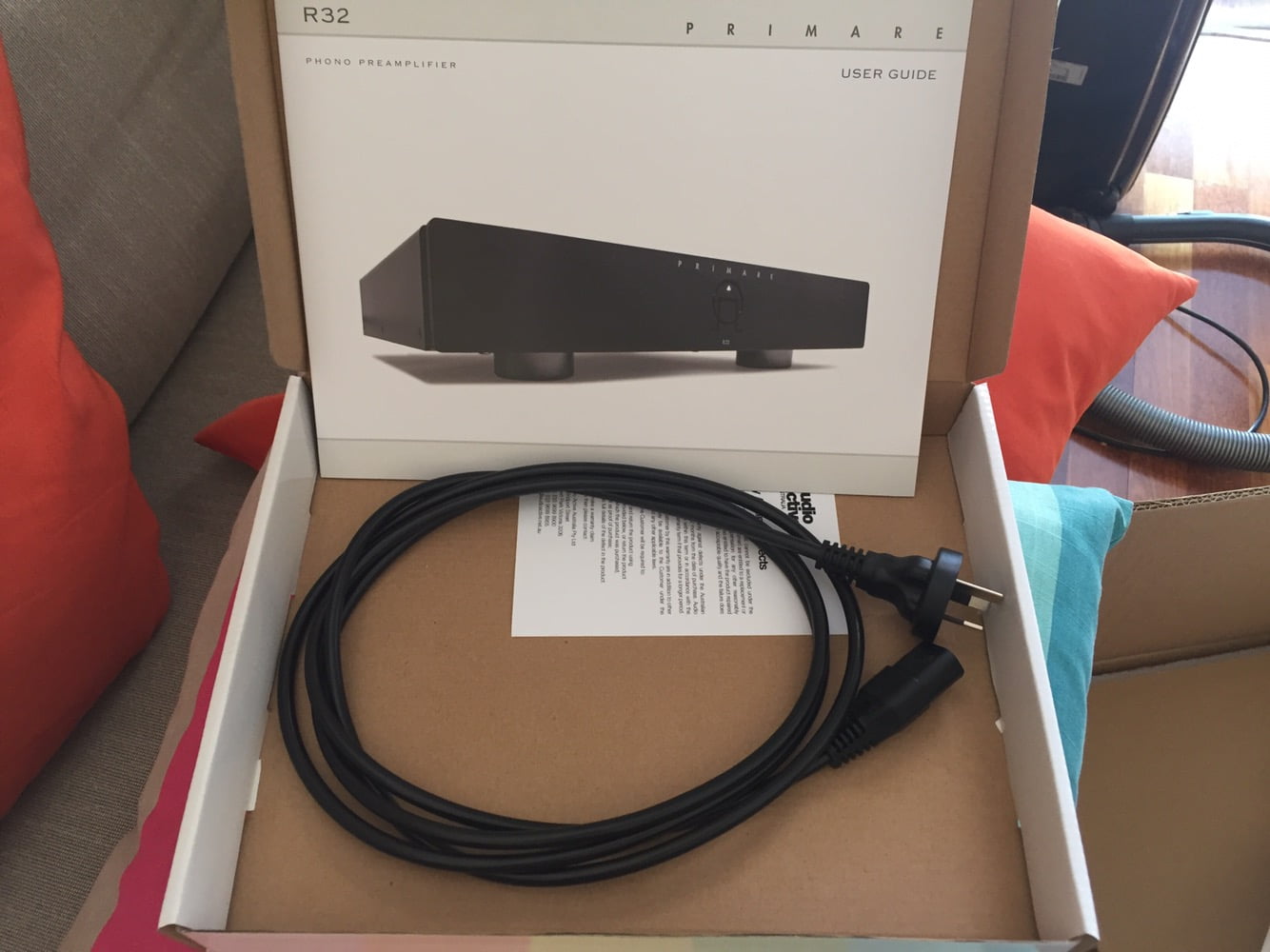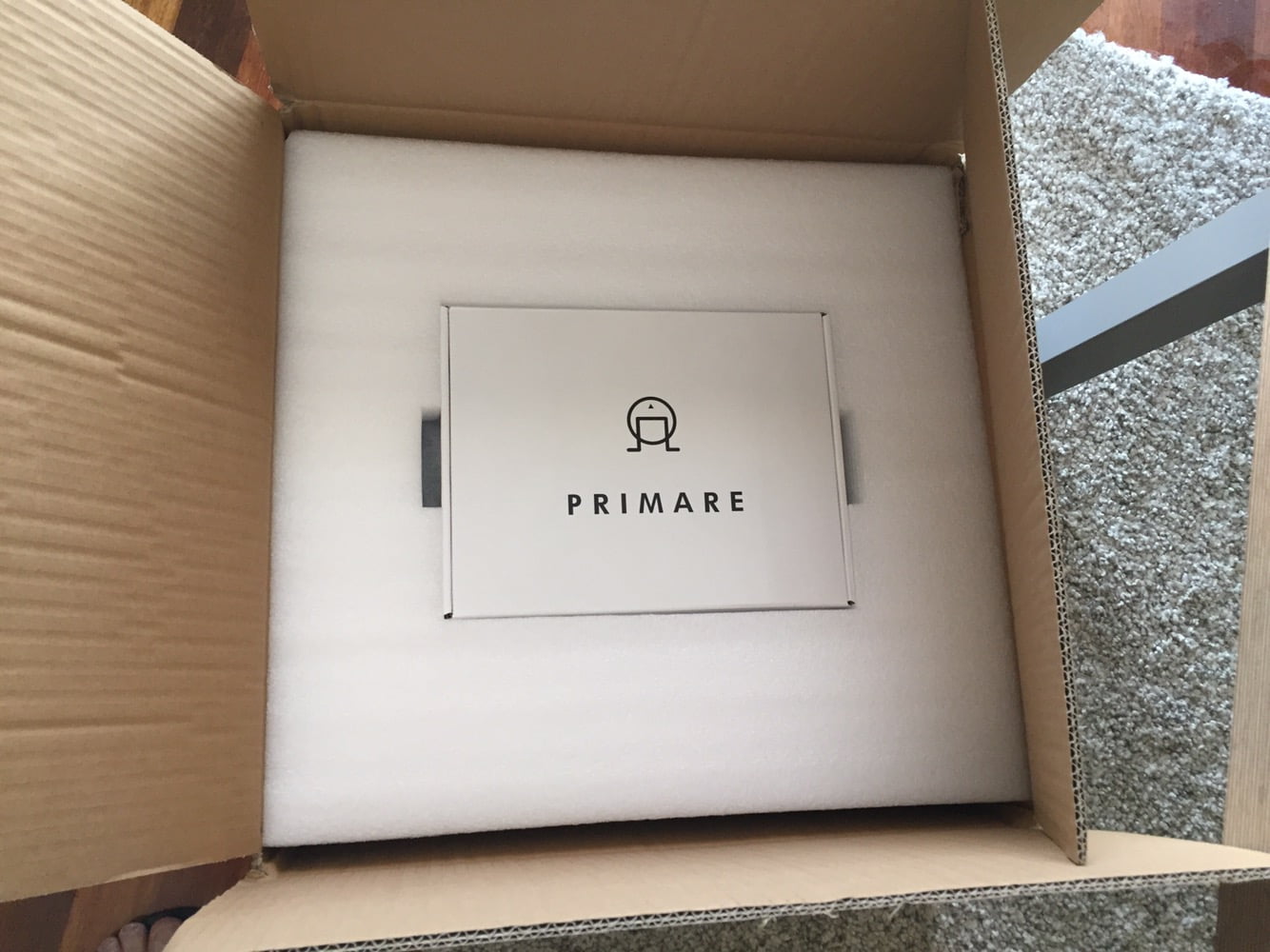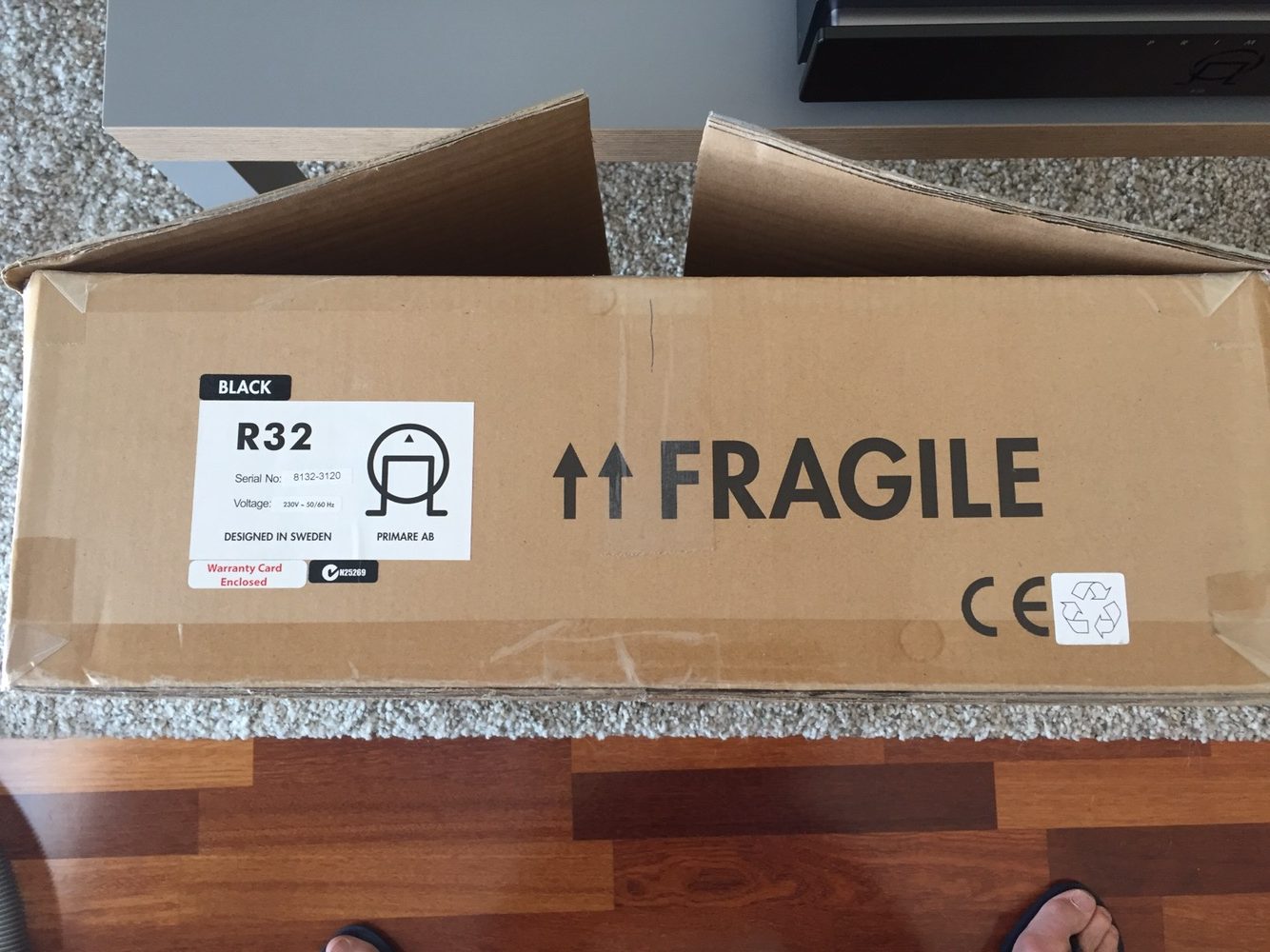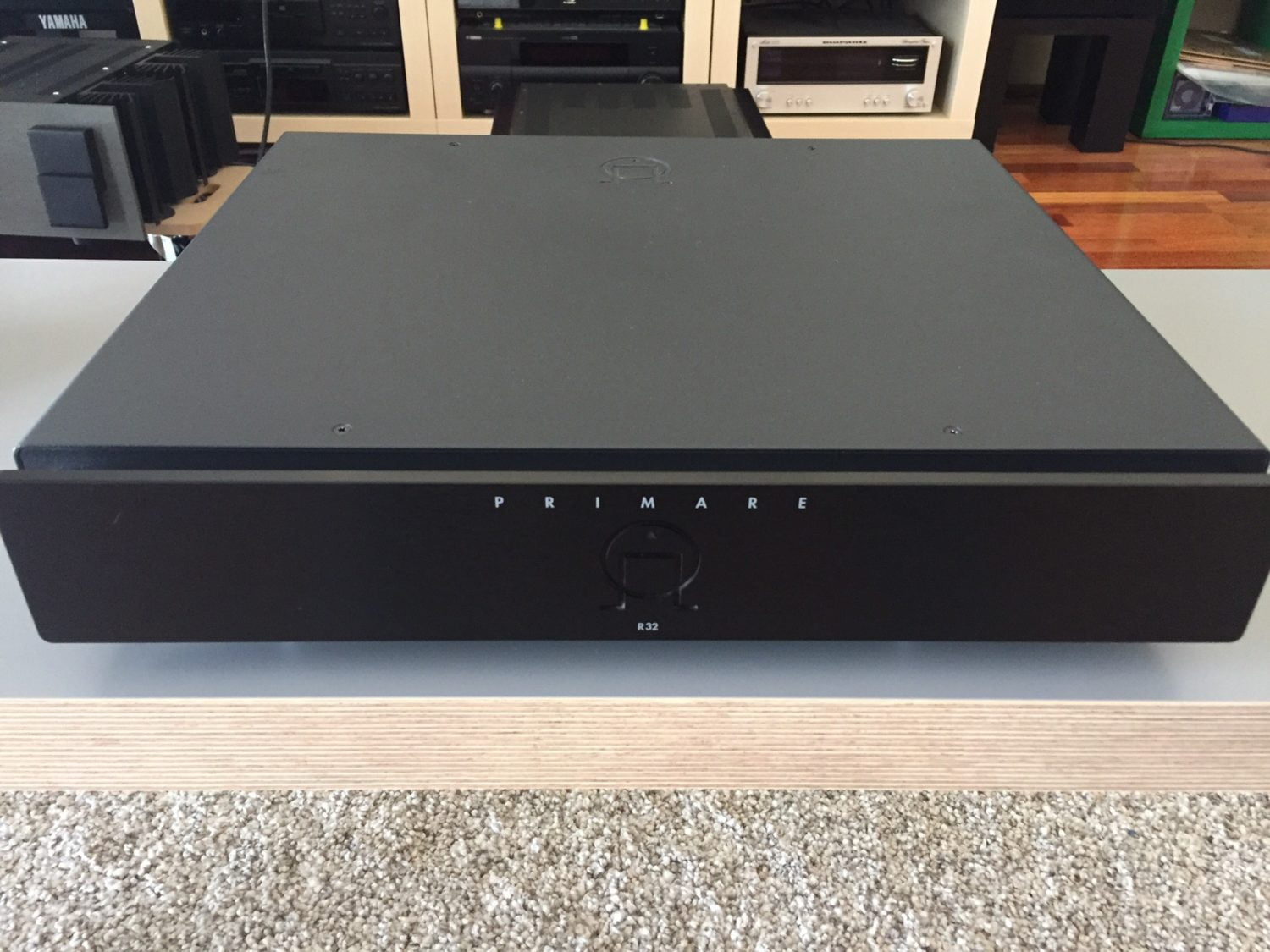 ---
Liquid Audio is very pleased to offer this glorious Music Angel Class A 845 tube amplifier for sale in brand new condition – $900.
UPDATE – SOLD!!
The Music Angel Class A 845 is a beast, weighing in at 28kg. This is a pure Class A, single-ended triode (SET) tube amplifier that sounds nothing like any solid-state amplifier you have ever heard. The 845  is warm, liquid-smooth, powerful and totally silent. There is a mid-range warmth and energy that solid-state amplifiers cannot manage. The 845 also has prodigious bass and you get to look at those gorgeous 1000v output tubes glowing orange, with the lights out…
This Music Angel Class A 845 tube amp is absolutely like new, purchased for demo and review purposes only and comes with a full set of original tubes, original boxes and manual. This example is even better than new – I've professionally earthed the chassis so the amp is safe, something that really matters when you have close to 1000VDC lurking inside the chassis!
The cheapest price for one of these 845's brand new via eBay, including shipping and taking your chances of getting it from Hong Kong is around $1250AUD. Add 10% for customs and you are in for $1400.
I'm selling this tested, correctly earthed and new in box example for $900, saving you around $600 on the new price! A set of NOS Russian military tubes can be included for $50.
Local pick up is best for this beast. Contact me for more information.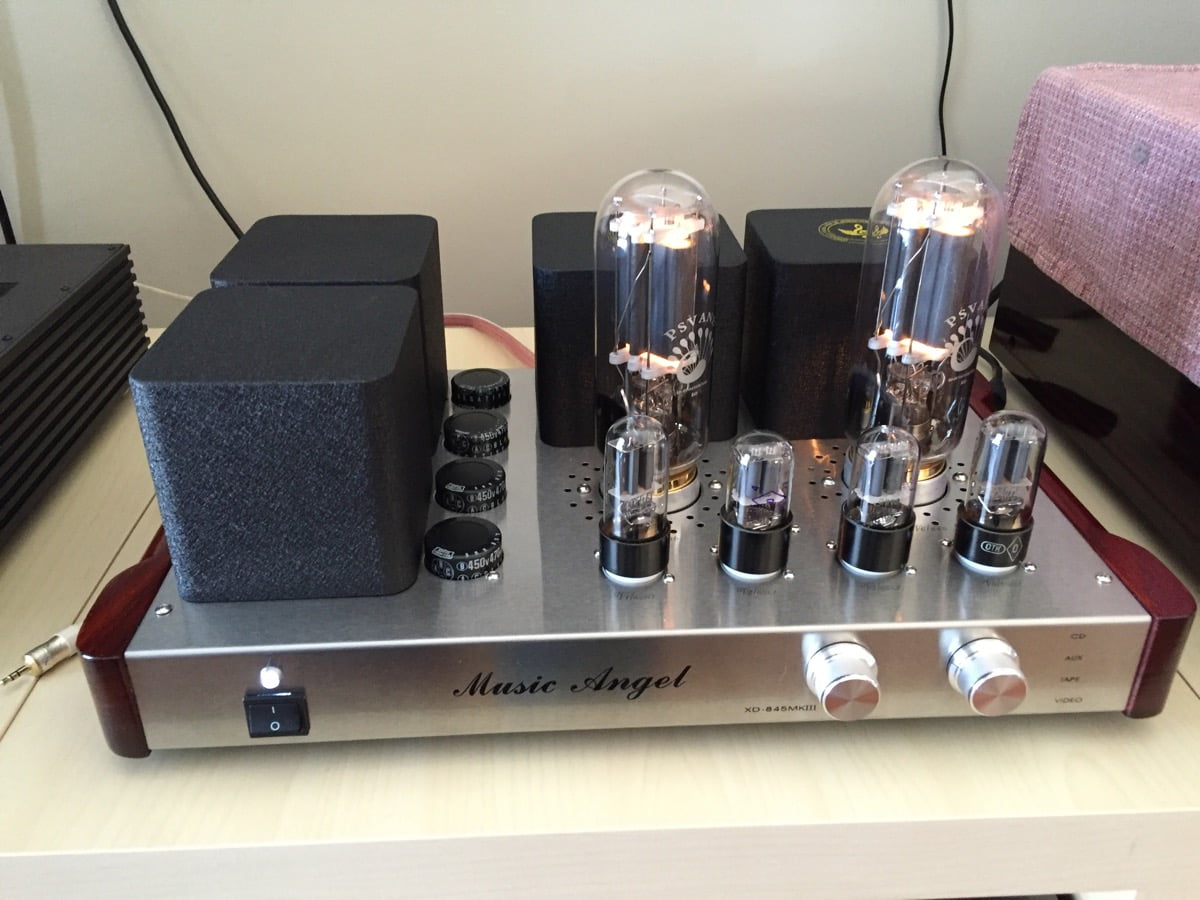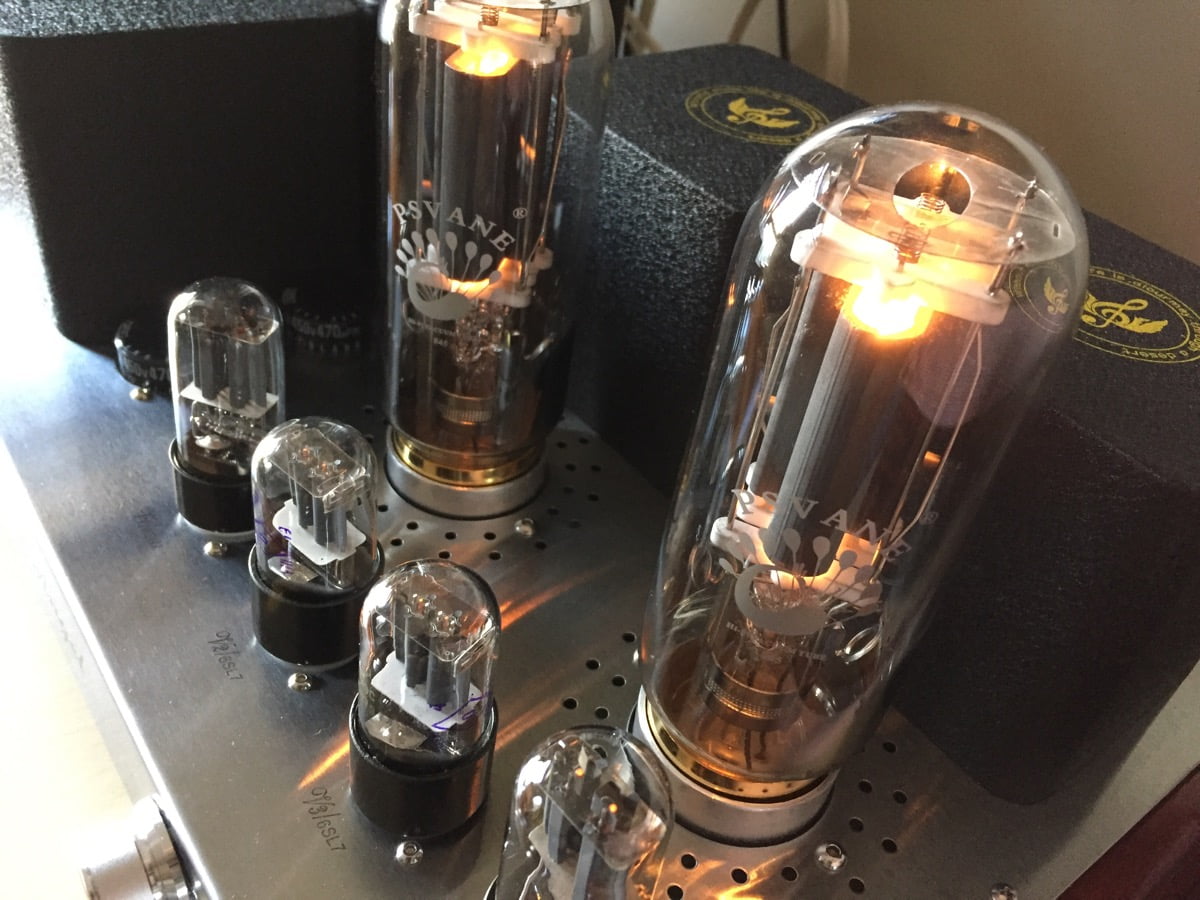 ---
For sale is my gorgeous Yaesu FRG-100.
Update – SOLD!
This is the later 'B' model and I have owned her for the last 10 years.
The radio works perfectly, comes with a linear power supply and original instruction manual and is almost completely unmarked.
It would certainly suit a collector or someone wanting a superb desktop shortwave radio.
This is a superb radio at just $500.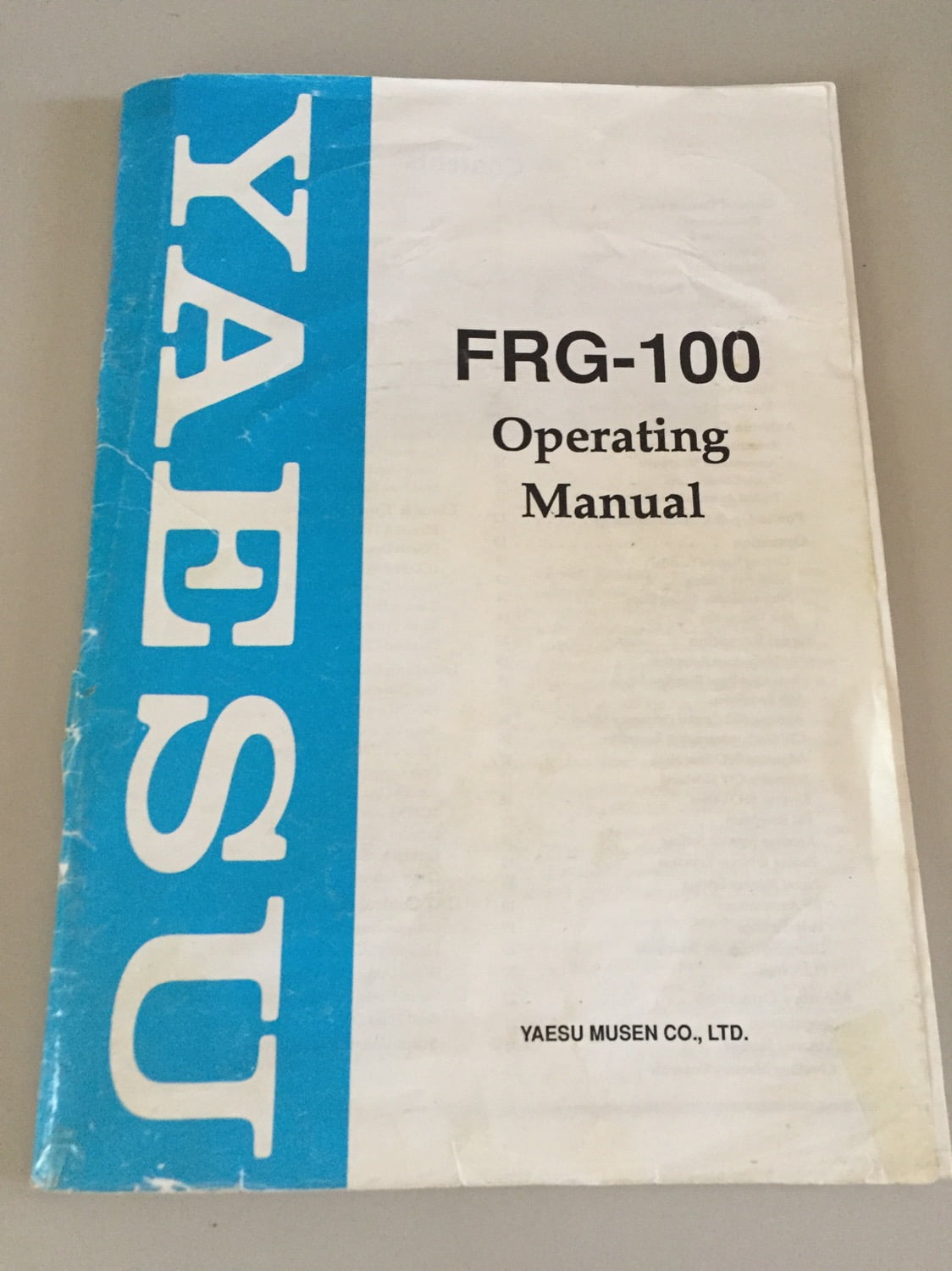 ---
Liquid Audio is selling one Krix Centrix centre channel speaker for a home theatre system.
SOLD!!
Many will be aware that Krix is one of our best known Australian speaker manufacturers and this was the best centre speaker they made.
Sound quality is superb and the condition is excellent. There are only a few very small marks and it's astonishing how good this looks and sounds. Priced to sell at $295.
Enclosure Type: Bass-reflex, front vented
Dimensions: 175mm high x 650mm wide x 400mm deep
Material: 17mm MDF
Finish: Black ask lacquered timber veneer
Volume: 32 litres internal
Weight: 17kg each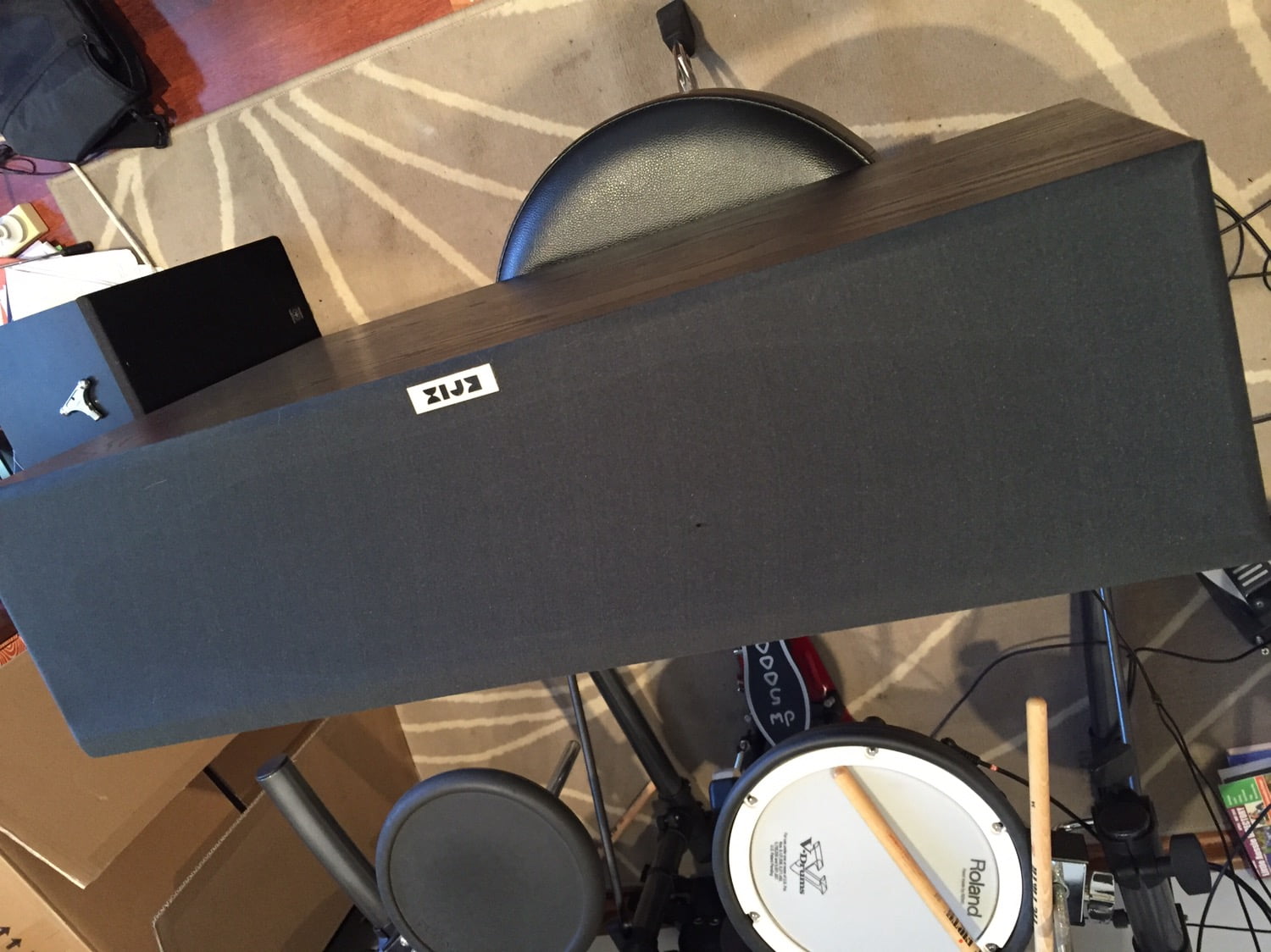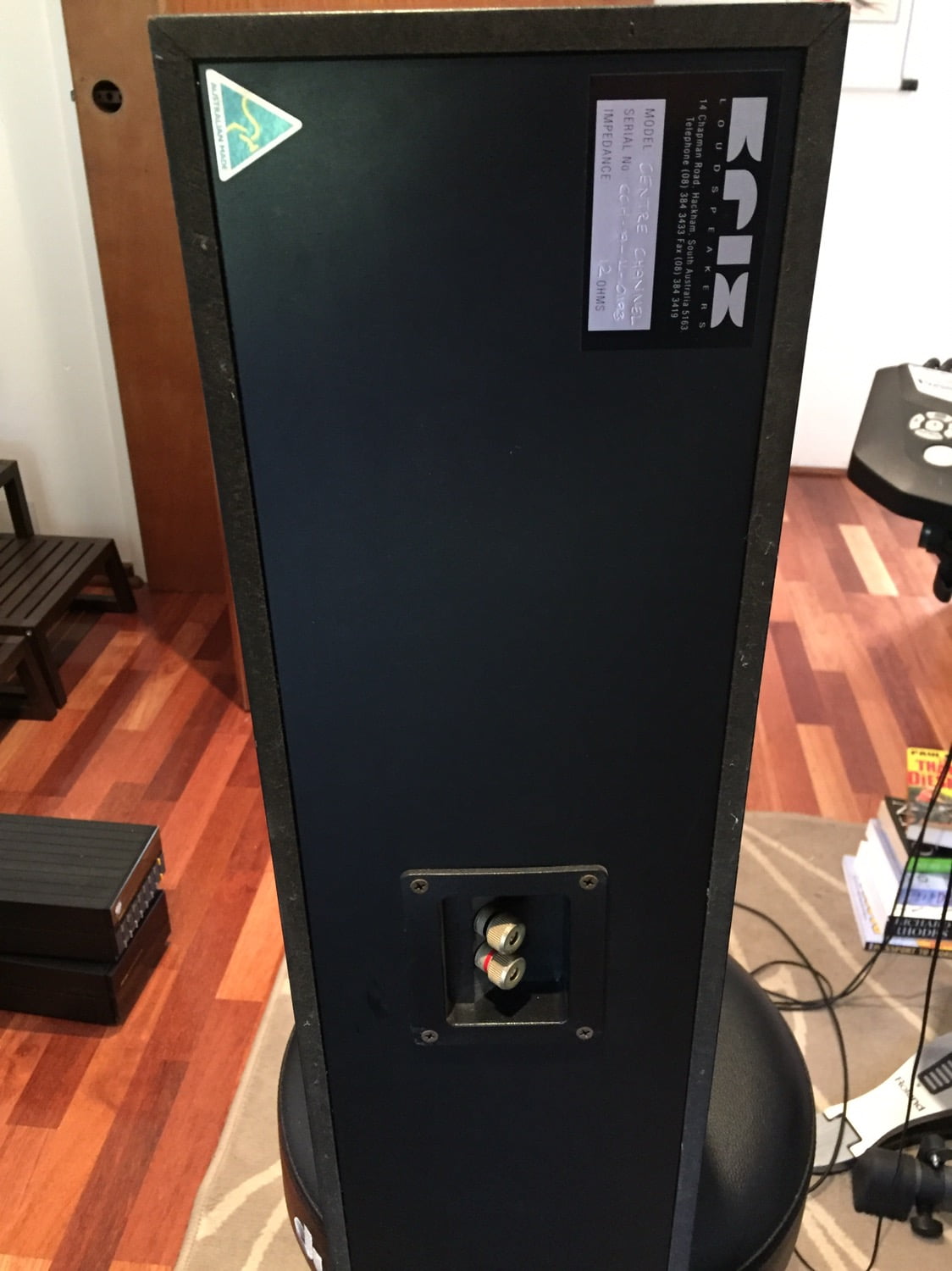 ---
Update – SOLD!
These are in excellent condition and many of you will already know them by reputation. Please contact me to register your interest in this legendary reference-class loudspeaker. More details here!
I have this cool audio equipment rack for sale folks. UPDATE – sold!
My gear including a very heavy Krell amp has been sitting on this rack and it's good as new. Asking $135. I knew this one would sell quickly – SOLD!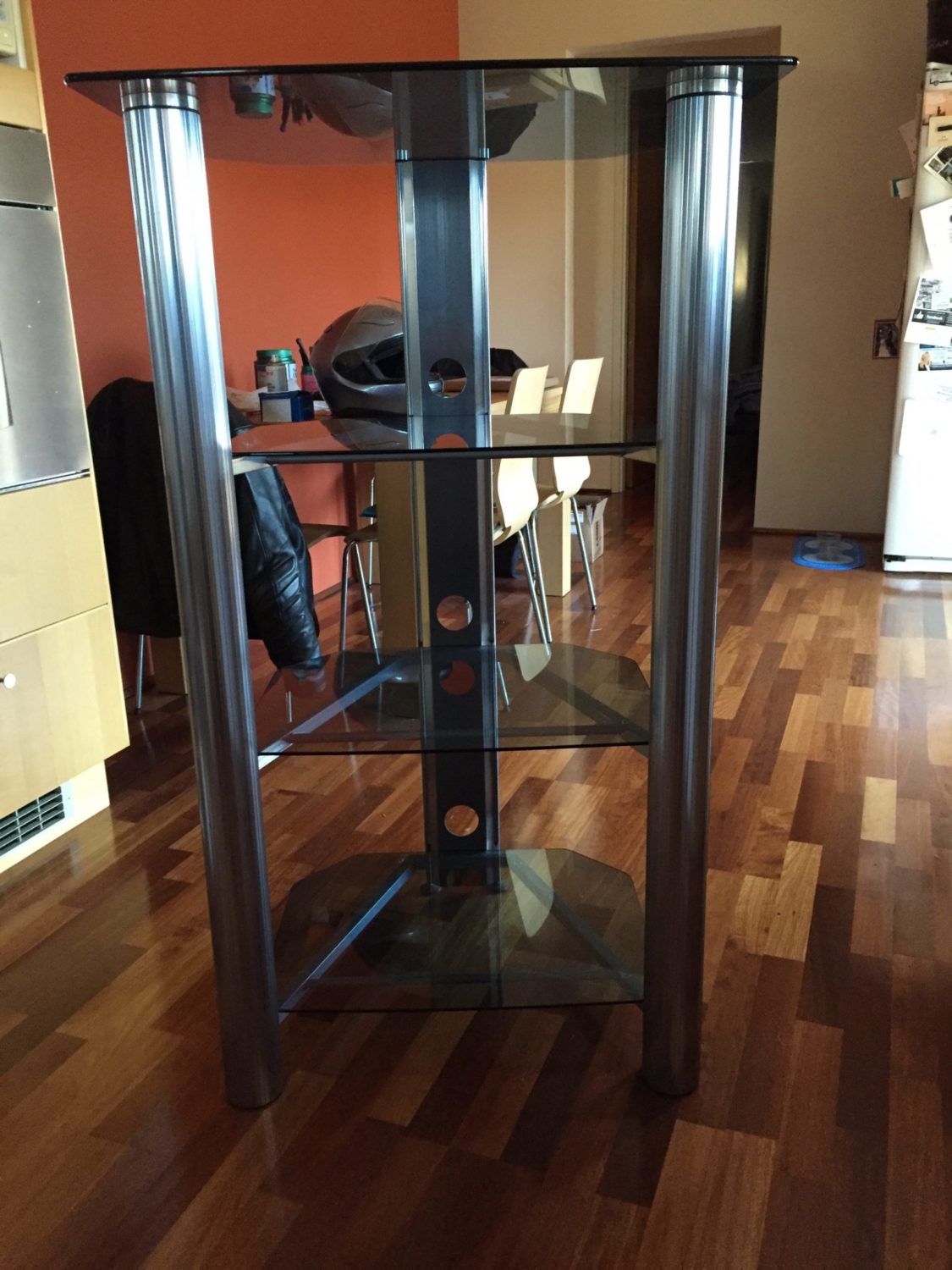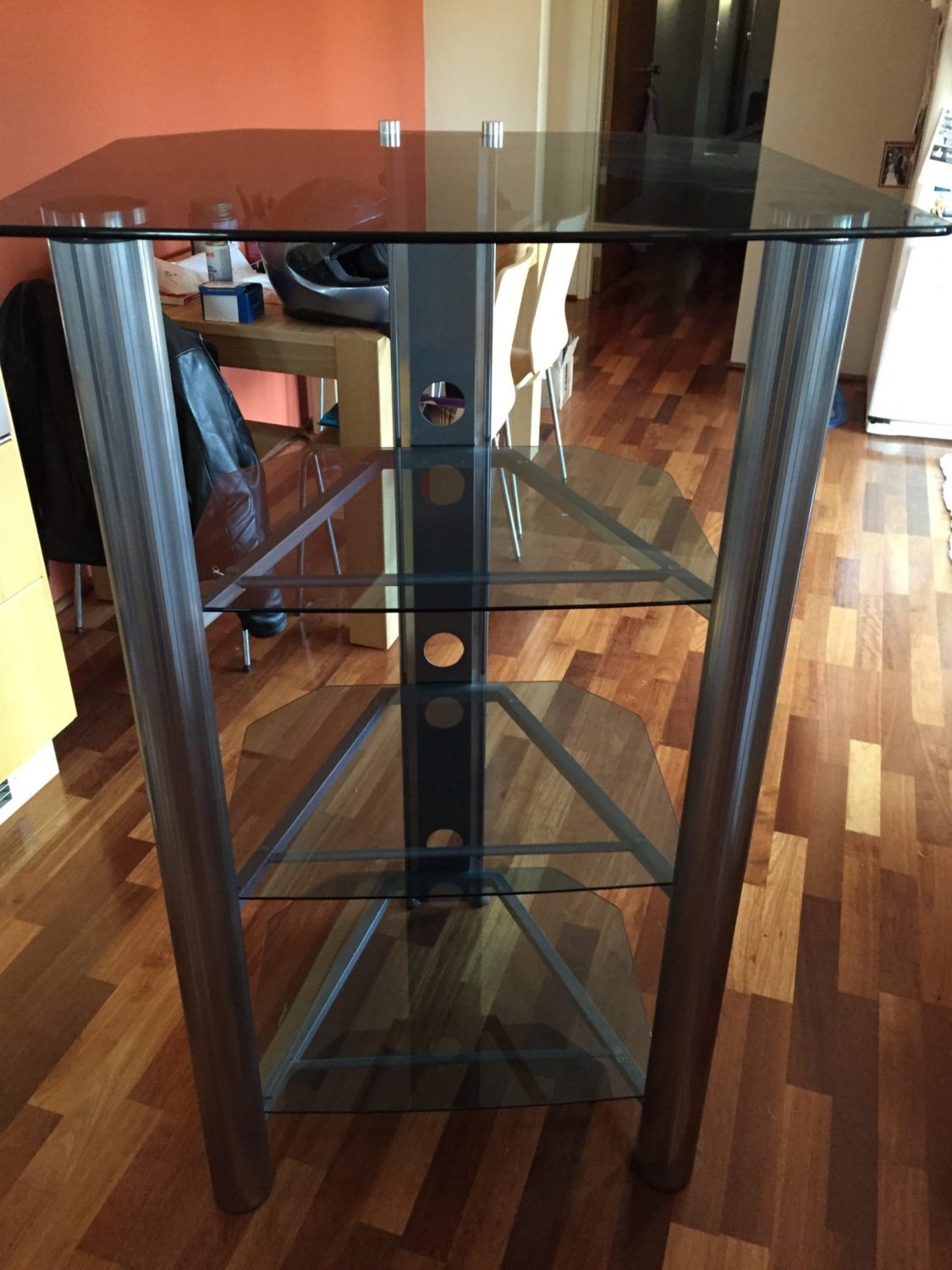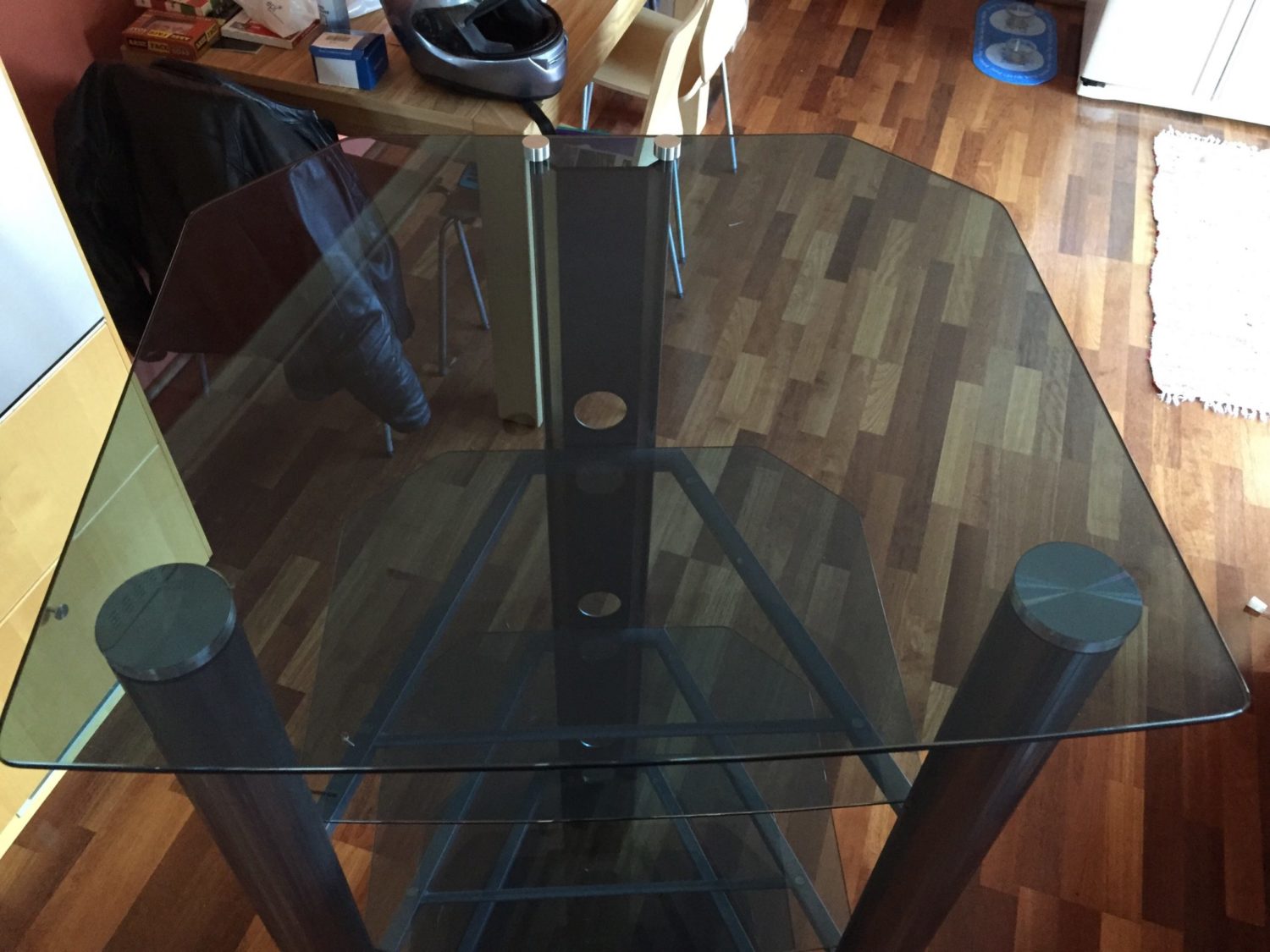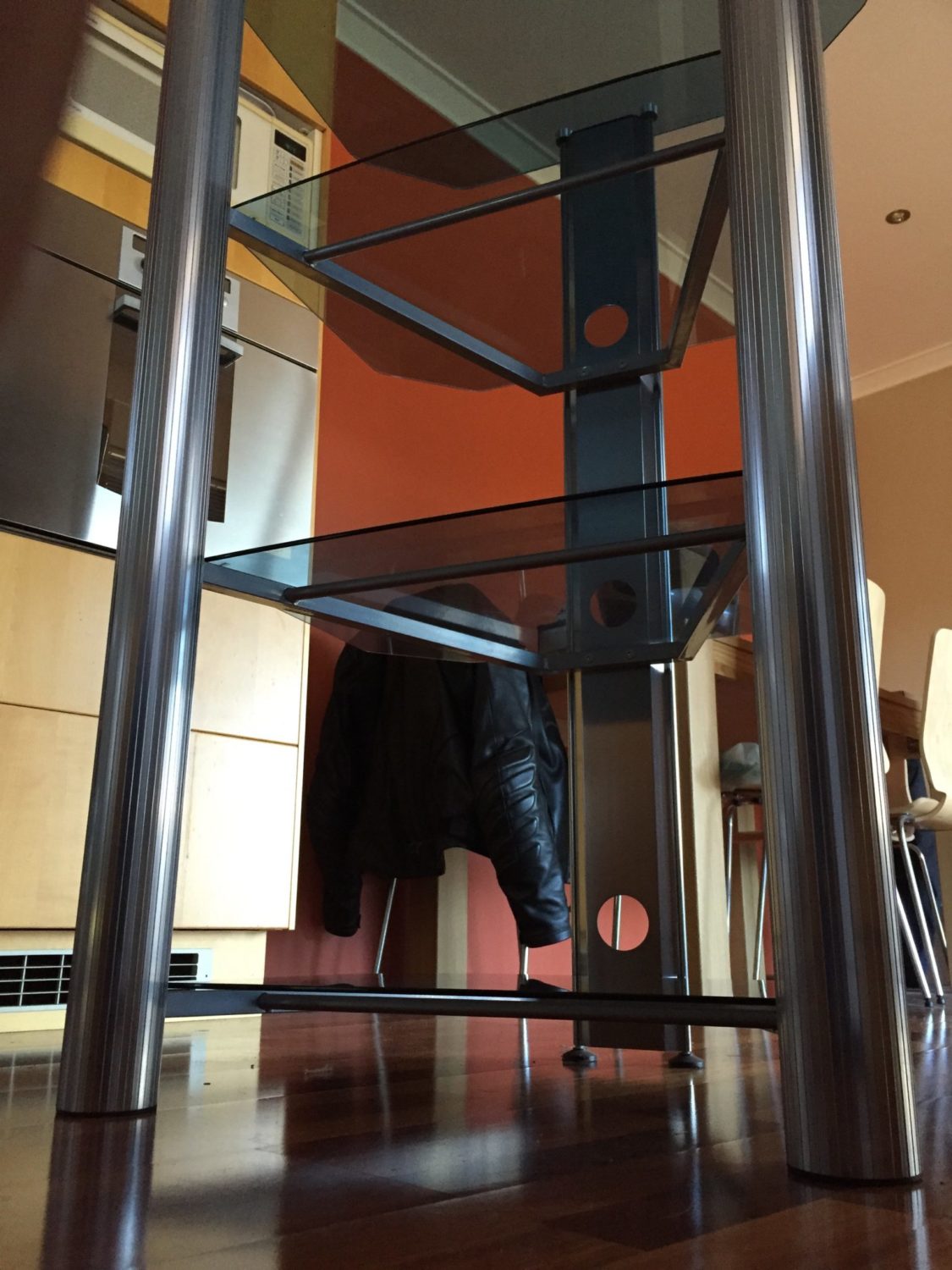 ---
Also for sale is this gorgeous, one owner from new and very collectible Luxman SQ-505 integrated amplifier.
UPDATE – SOLD!
This is vintage, made in 1968 or 69, and is very, very cool. The amplifier features a very nice phono preamplifier built-in, using lots of premium styroseal capacitors that would be unheard of in a preamp now due to their ridiculous cost.
She is completely original and has nothing more than a few scuffs on the real wood enclosure. These could be quickly fixed by anyone with some skills working with wood. These are rapidly becoming very collectible, one recently sold in the UK for around $800.
I have tested the SQ-505 on the bench to around 32 watts per channel, continuous, into 8 ohms, which is right on spec.
Great information can be found here: http://audio-database.com/LUXMANALPINE-LUXMAN/amp/sq505-e.html
The amplifier has been fully tested and is working very nicely indeed. Priced to sell at $375!
Here are a few pics of the old girl: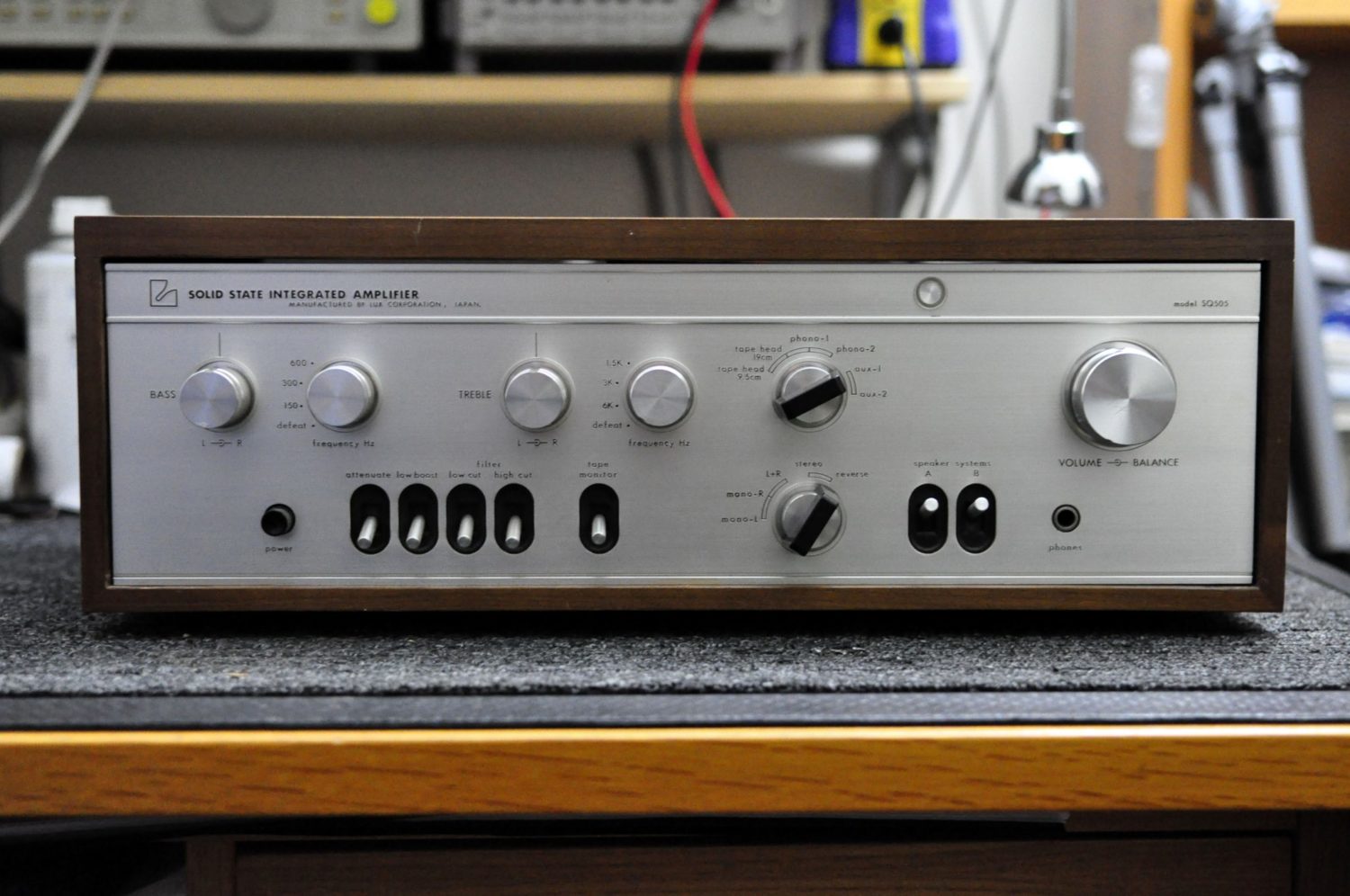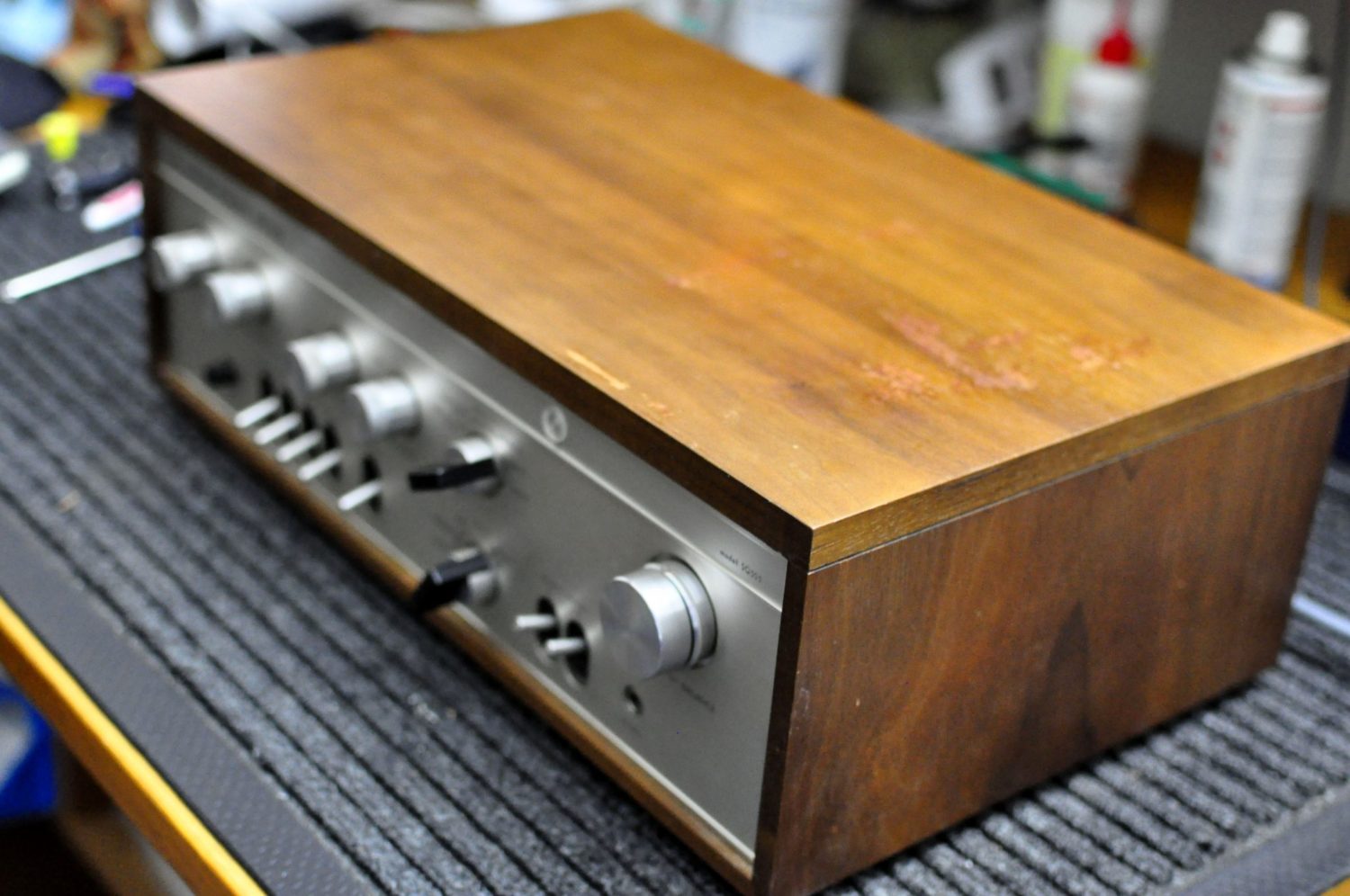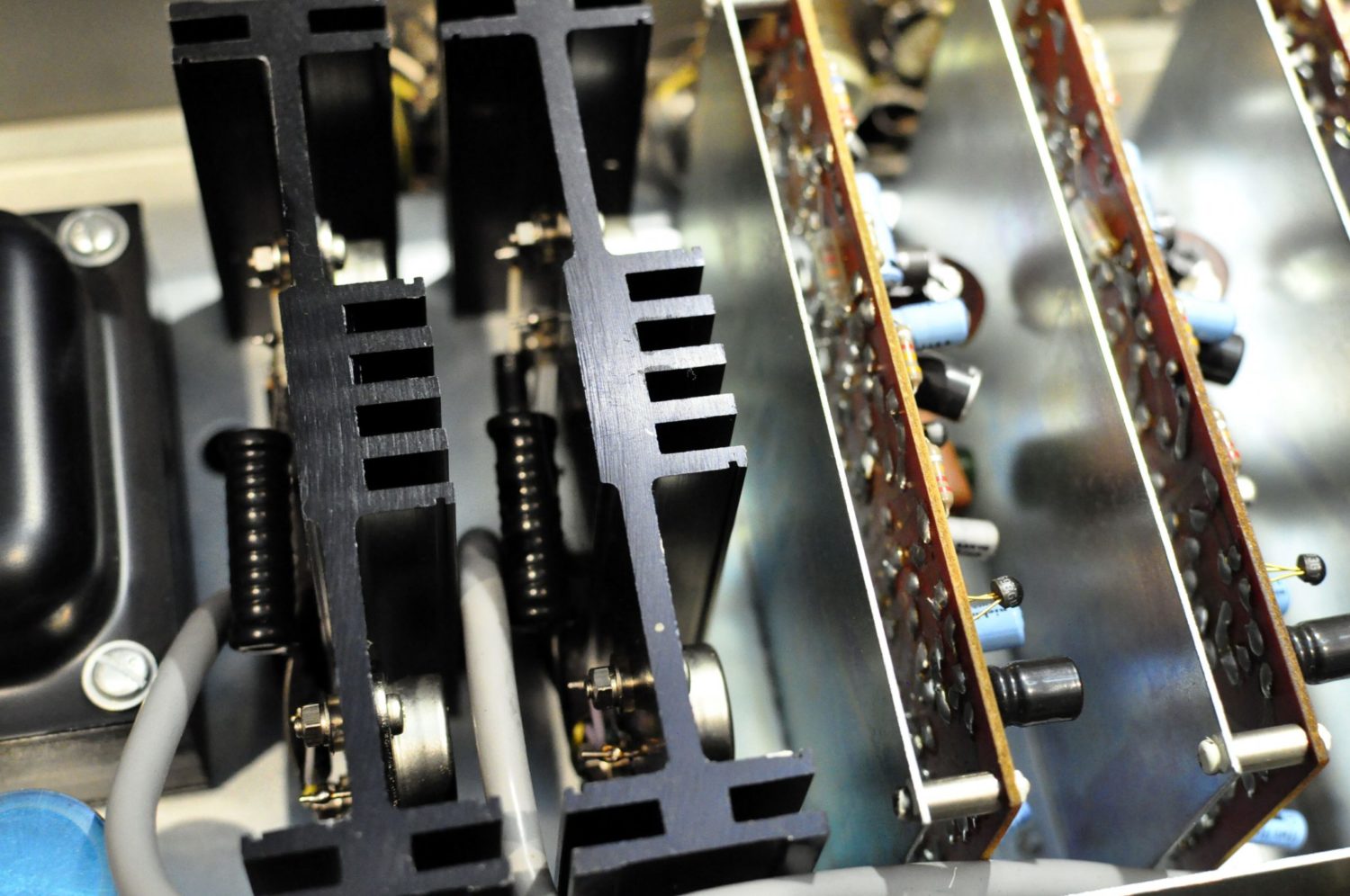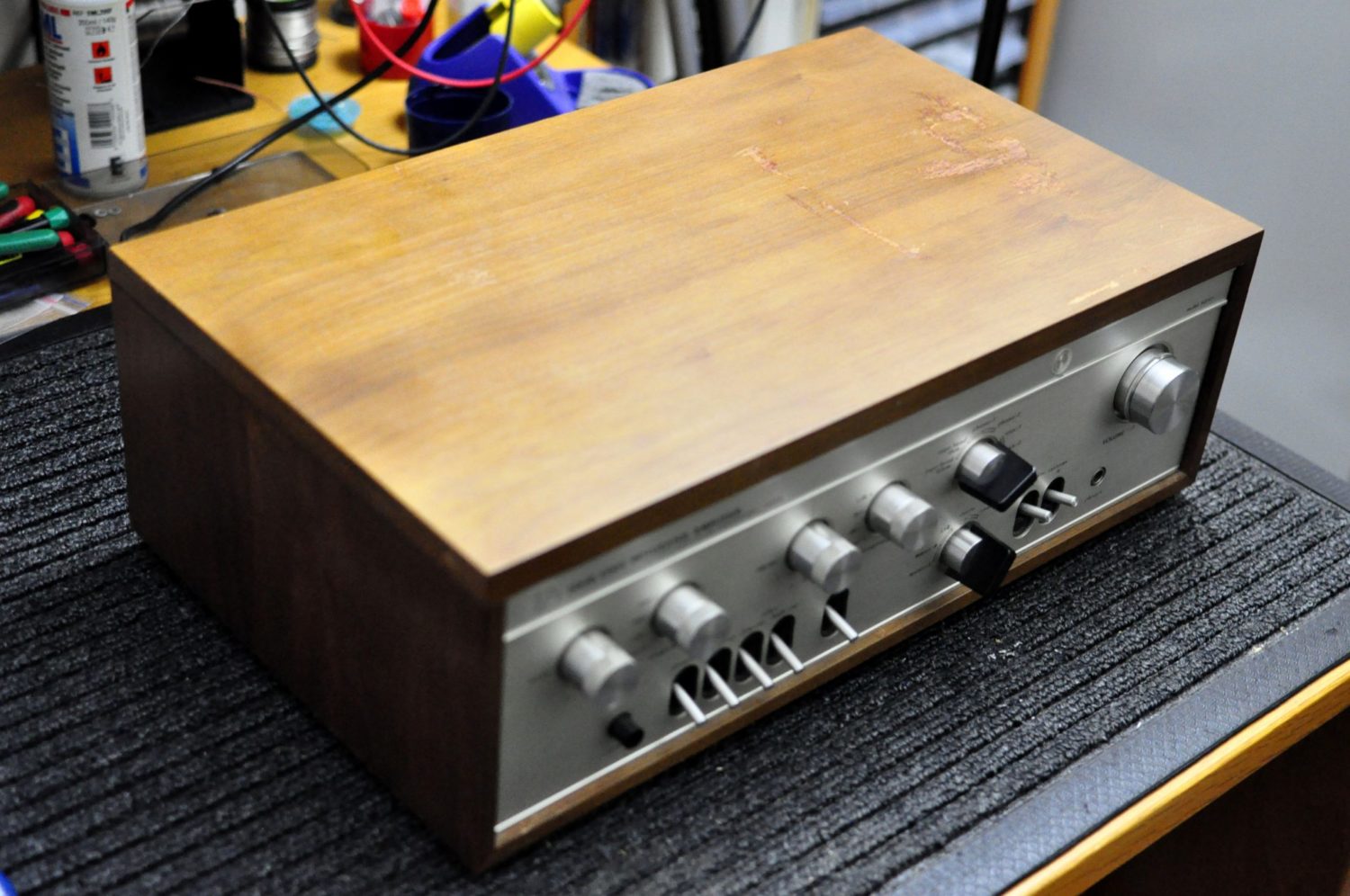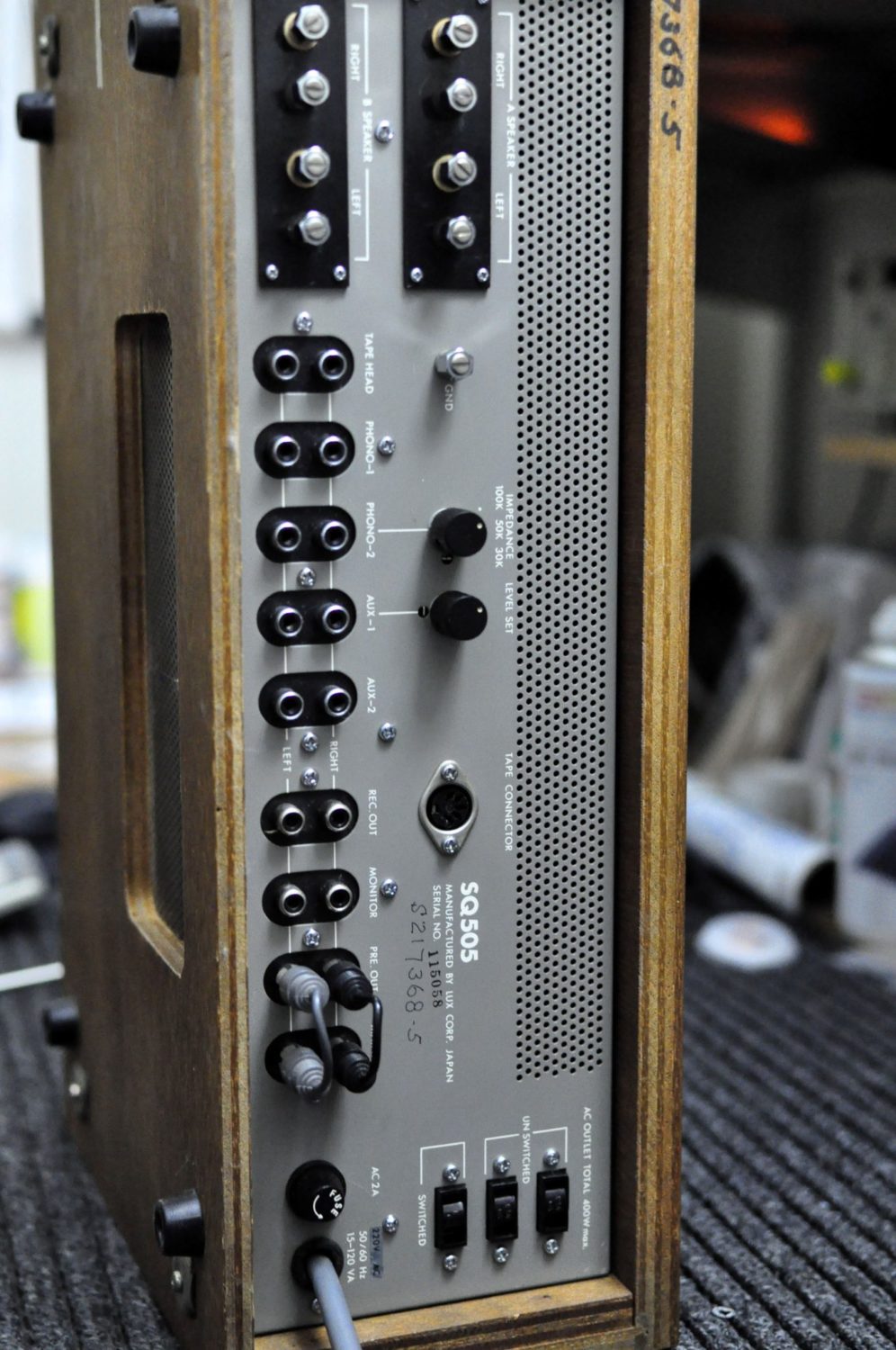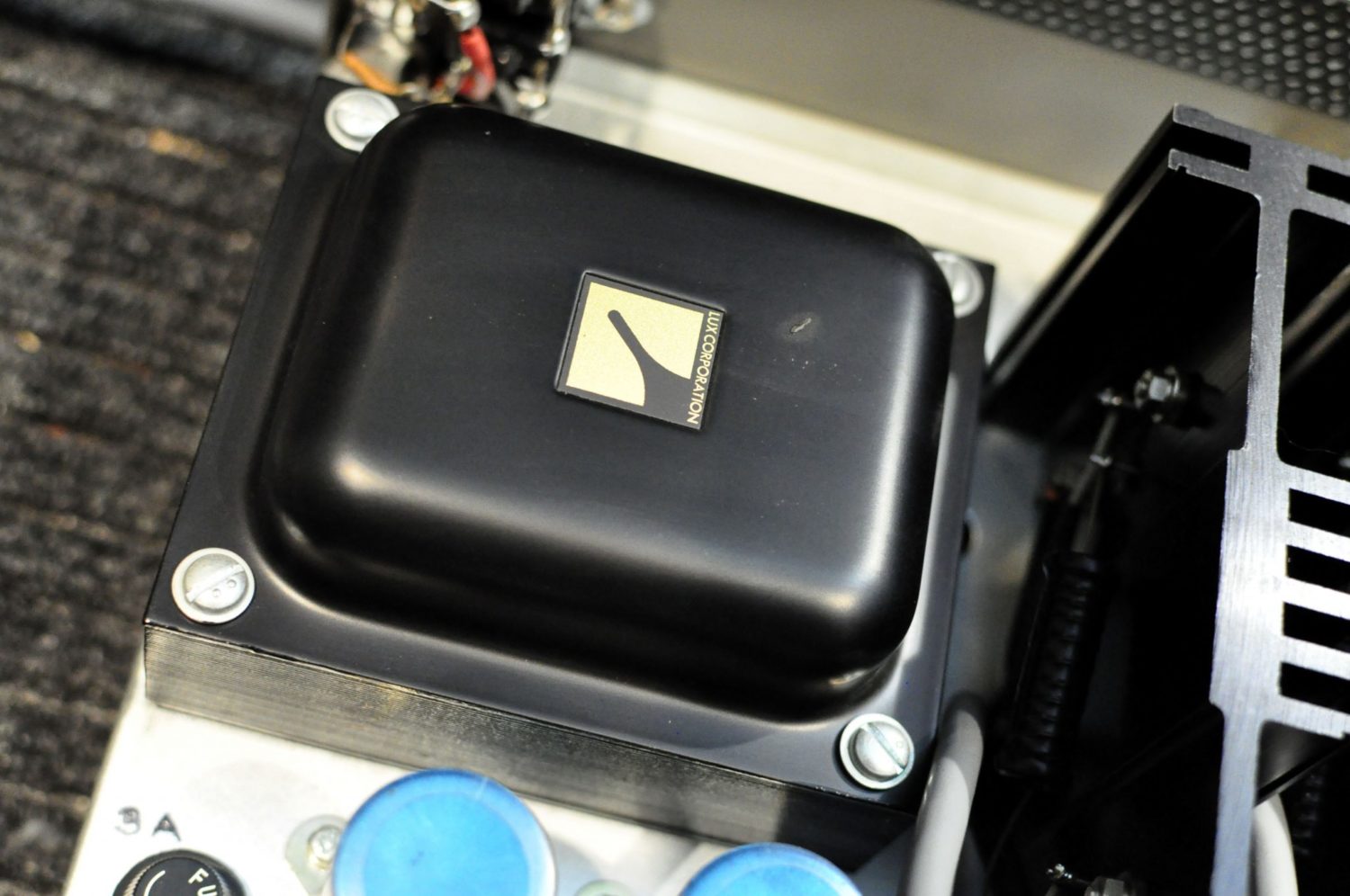 ---
New for sale is a gorgeous, one owner from new, complete vintage Pioneer HiFi system.
UPDATE – SOLD!!
This was a really lovely system back in the day (1970) and it still holds up beautifully today.
The system consists of a very nice Pioneer Rondo 3000 belt-drive turntable, Pioneer AM/FM Stereo Receiver and matching Pioneer speakers, all in vintage walnut veneer.
The turntable that comes with this system is a legend in its own right, having become popular all over again these days, due to its robust build and the fact that they still sound and look good, over 40 years since they were built. It is very similar to the SPL-100 and PL-12. They all use the same tonearm and motor, with small detail differences.
The receiver is also a classic, with its cool blue backlit dial and silver knobs. Add the speakers and you have a wonderful vintage system for the modern-day music lover! This system is priced to sell at $500 and will be carefully tested prior to sale. The turntable will be serviced, a $95 value on its own.
Pics below!
UPDATE – SOLD!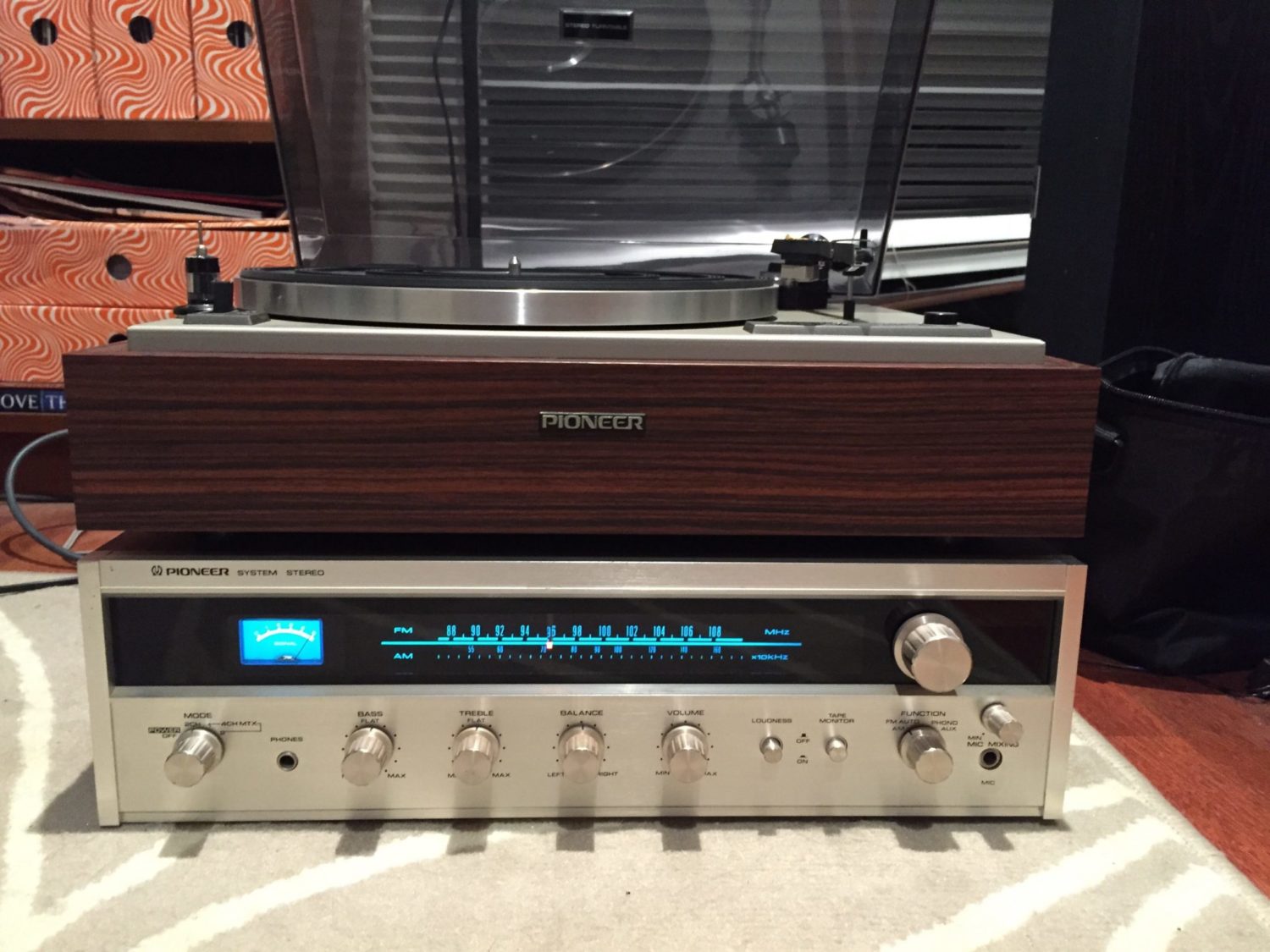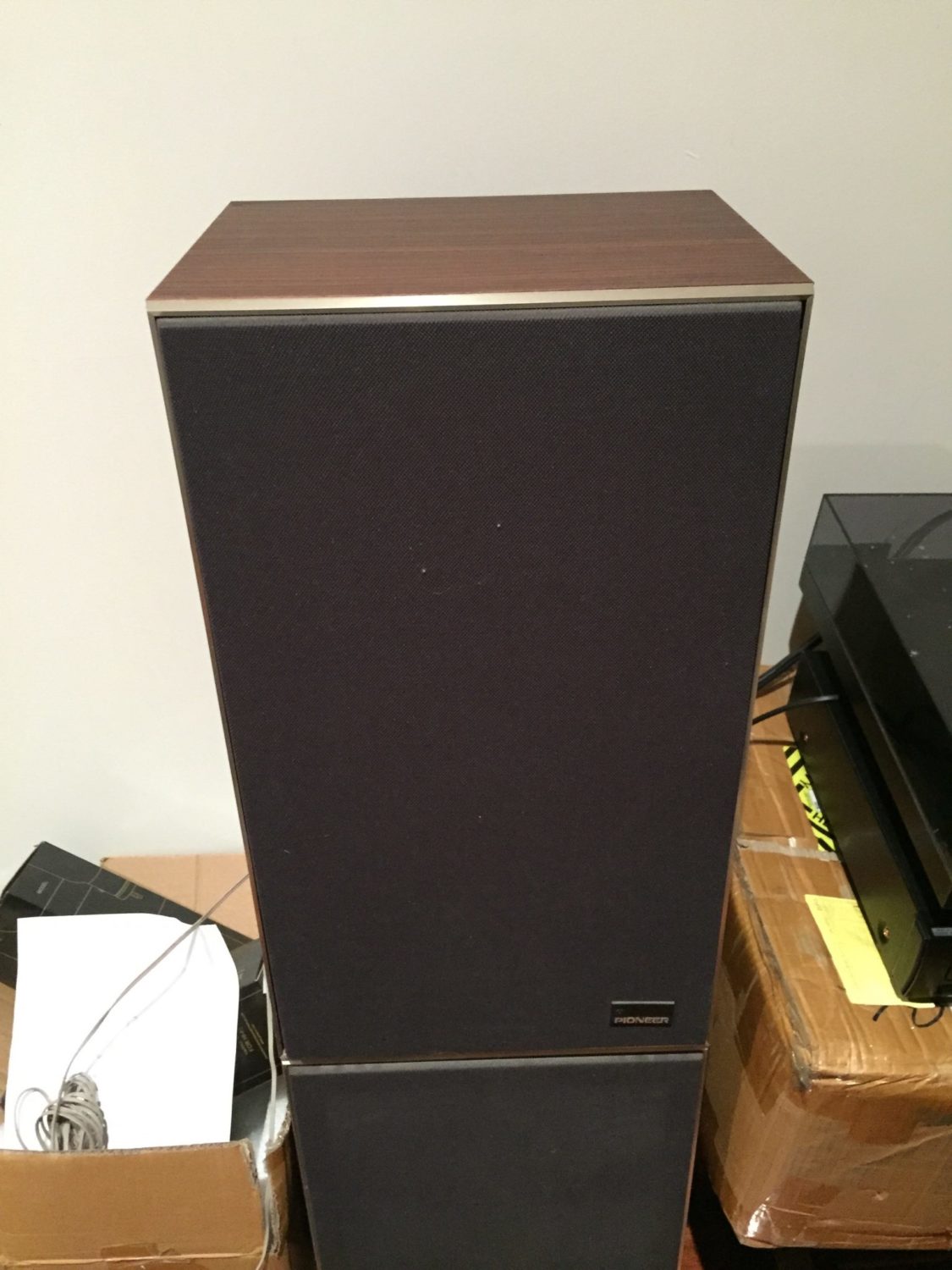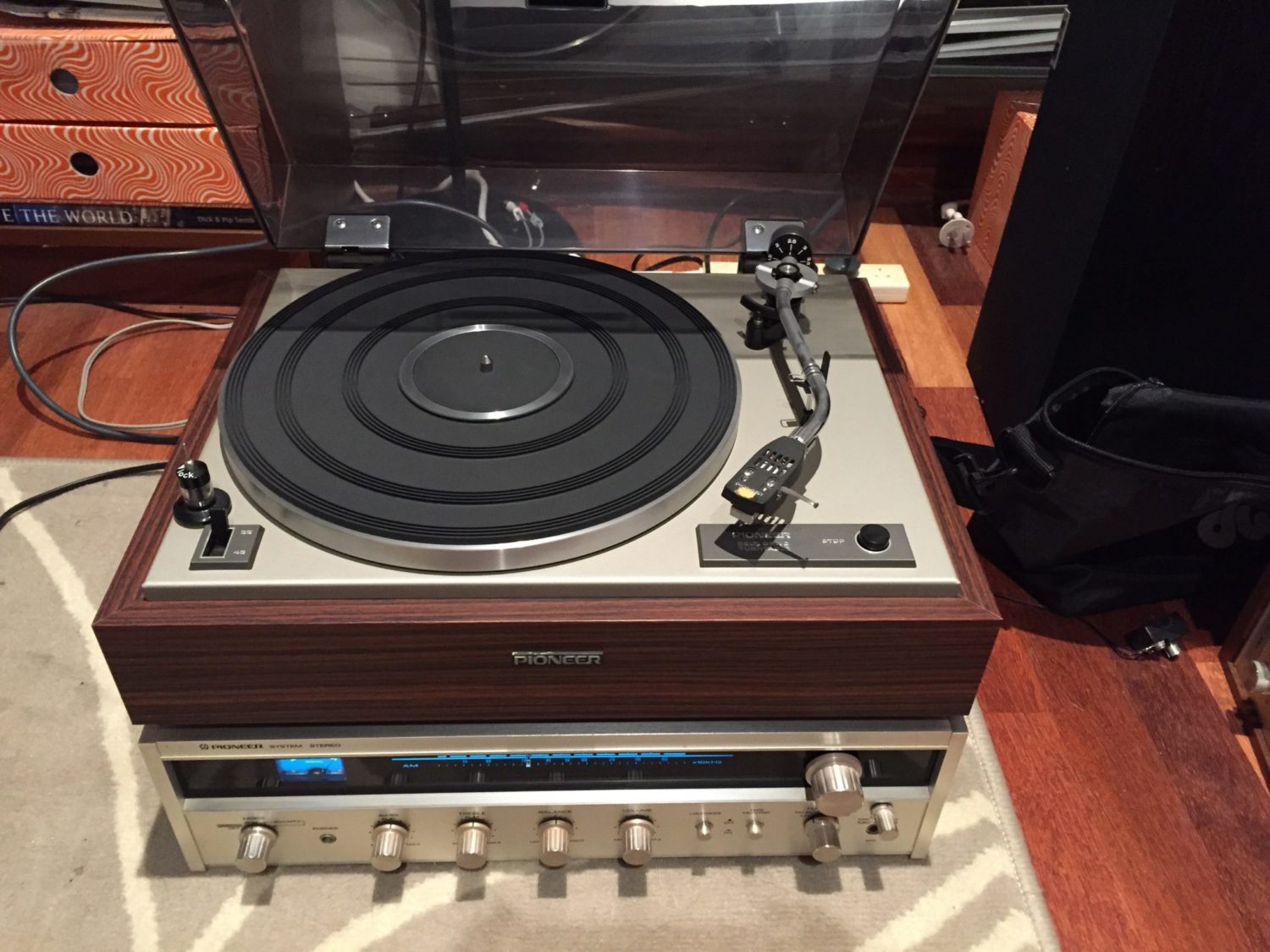 ---
May 12, 2014 – I have some lovely new audio gear for sale. Scroll down the page to see all the items.
UPDATE – SOLD!
First is a beautiful Pioneer TX-5300 AM/FM Stereo Tuner for sale. I obtained it from a deceased estate. It only had the one original owner until I obtained it and it has been stored since. It is tested and perfect, like new, except for a couple of tiny paint imperfections.
Seriously, the glass window is literally perfect, crystal-clear. This thing is very cool. Have a look and contact me if interested. Comes with original owners manual, fuses, Allen key to tighten the control knob and glossy literature from the day. This is a piece of history!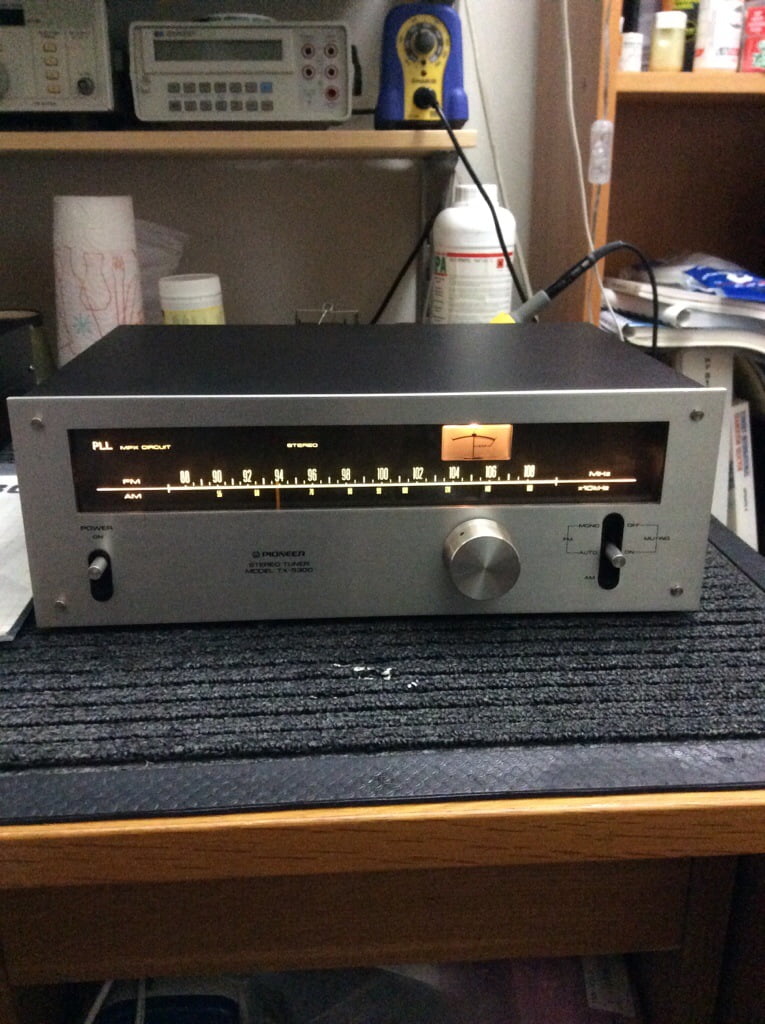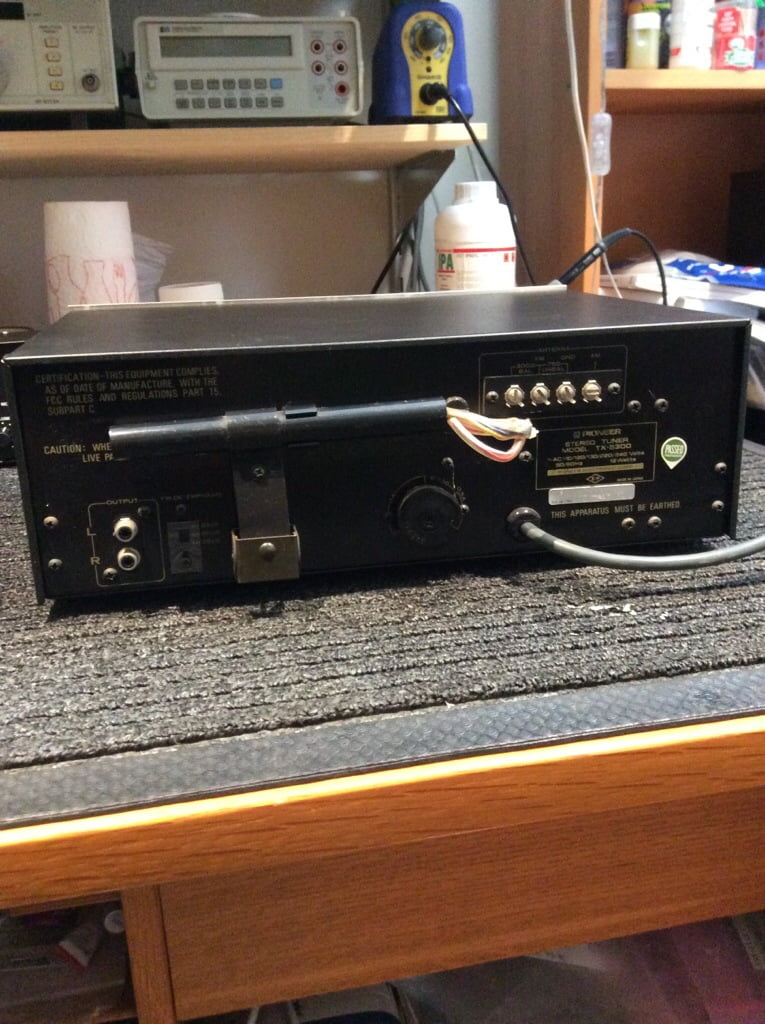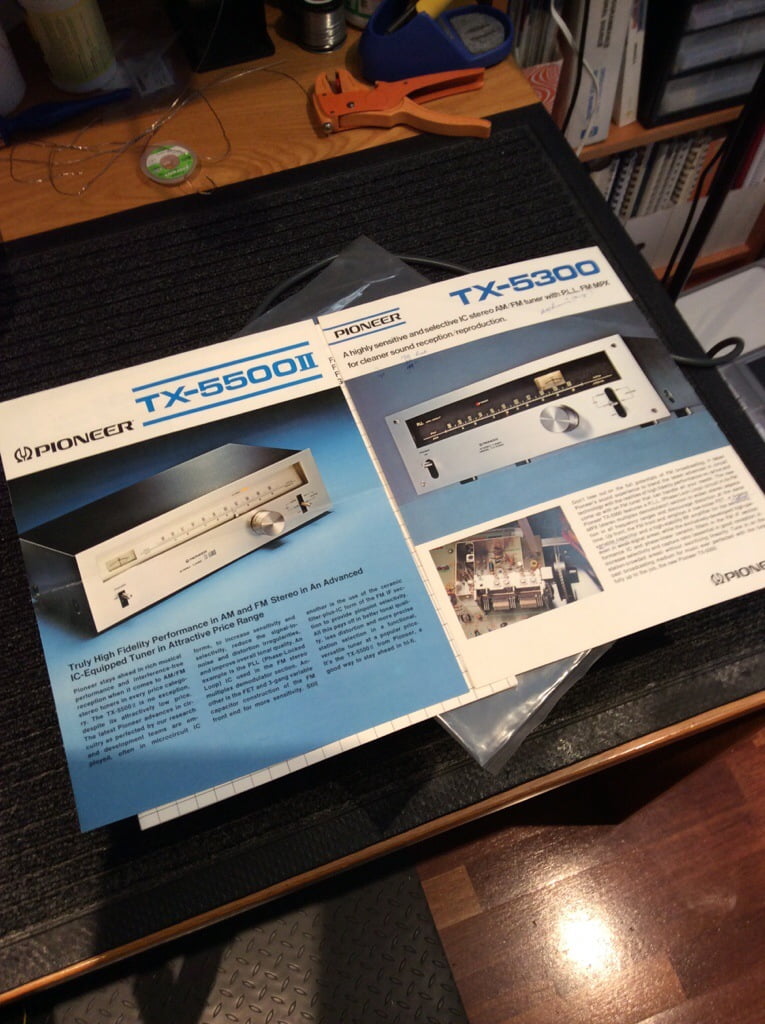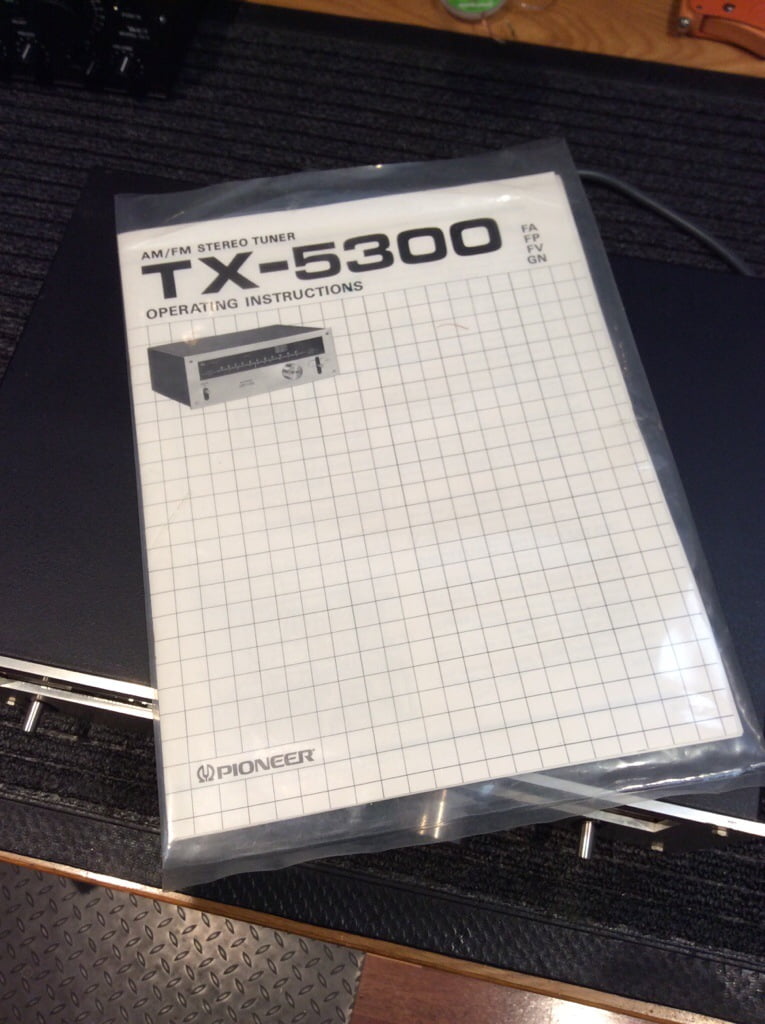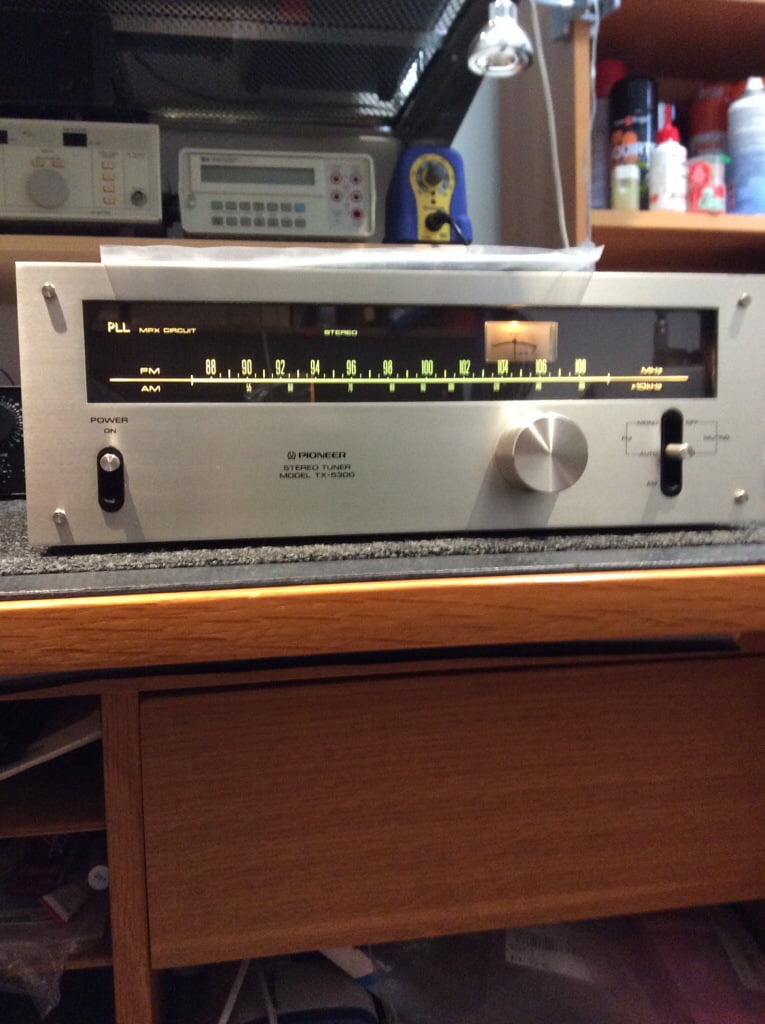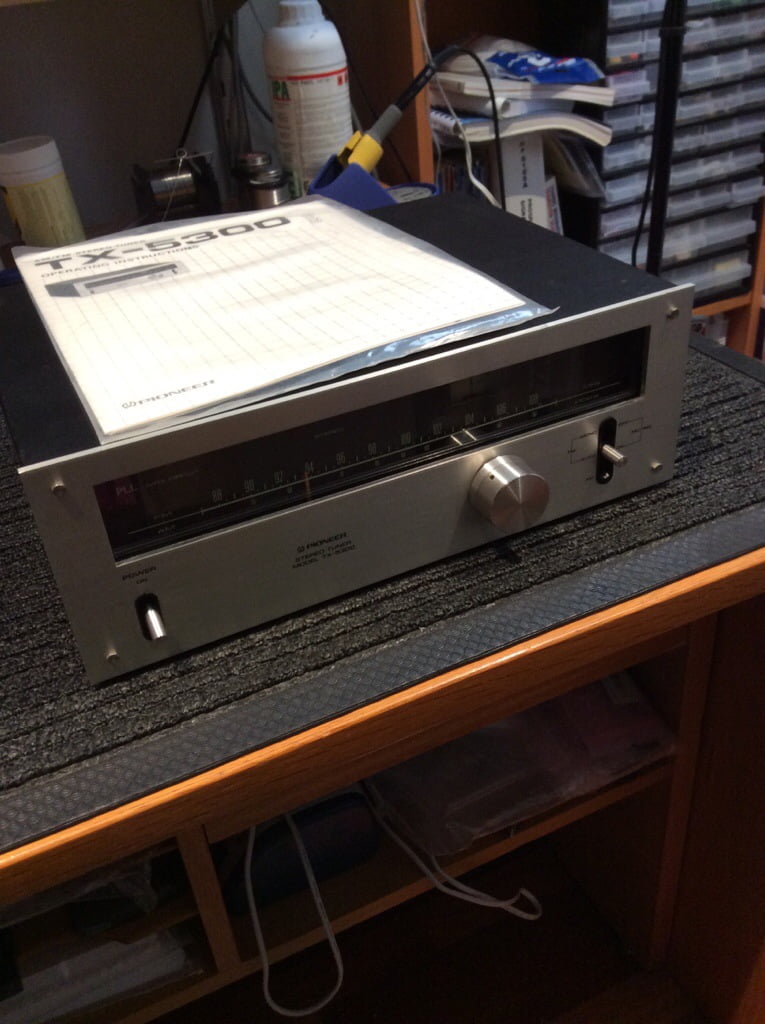 ---
Next up we have a gorgeous Luxman T-4 AM/FM Stereo Tuner, from my personal collection.
UPDATE – SOLD!
This amazing tuner has been restored from the ground up, with new premium electrolytic capacitors everywhere, new diode bridge, new op-amps and a full alignment. Distortion is way better than spec at around 0.07% @ 1kHz. This is very low, almost as good as one can obtain with a proper stereo tuner like this one.
The tuner also features the amazing Accutouch circuitry which literally locks the tuning wheel in your fingers upon perfect mid-signal positioning of the tuning dial. No more trying to wiggle this way and that to get the best tuning – the Accutouch circuitry does this for you.
If you haven't heard FM on a proper tuner like this before, you have no idea what you've been missing. Far and away better than DAB, good FM broadcasts have a tactile and organic quality through a good tuner like this one.
The Luxman T-4 is in almost immaculate condition, with only a couple of tiny blemishes, almost perfect. Here are a few pics of this heavy-weight tuner: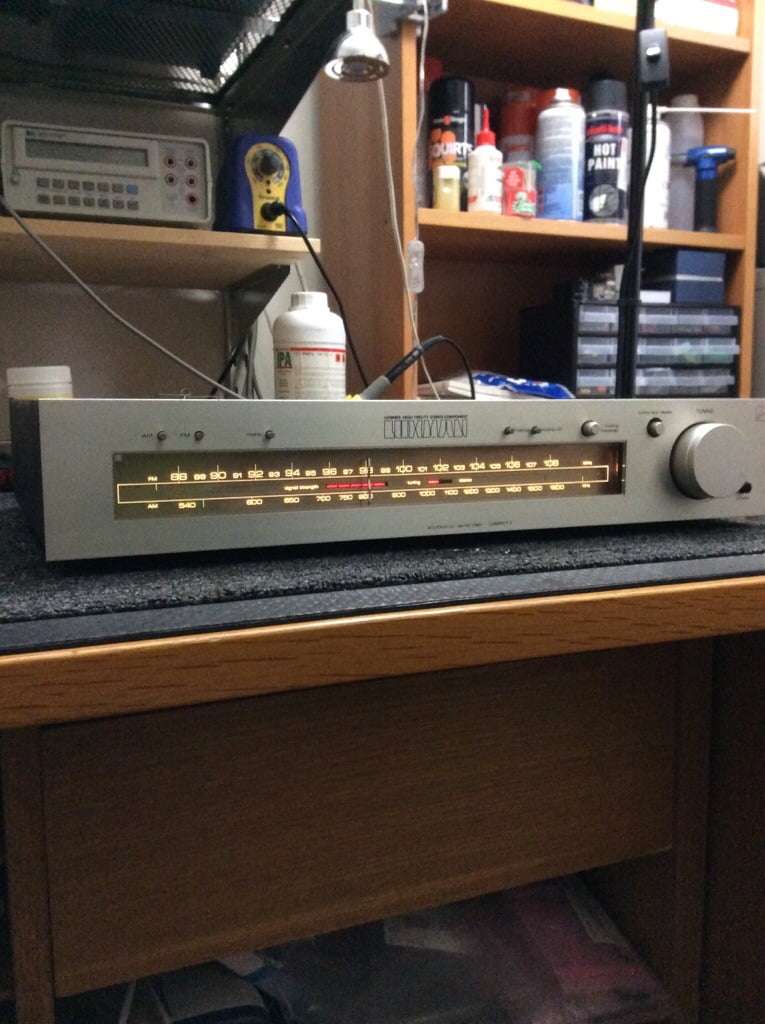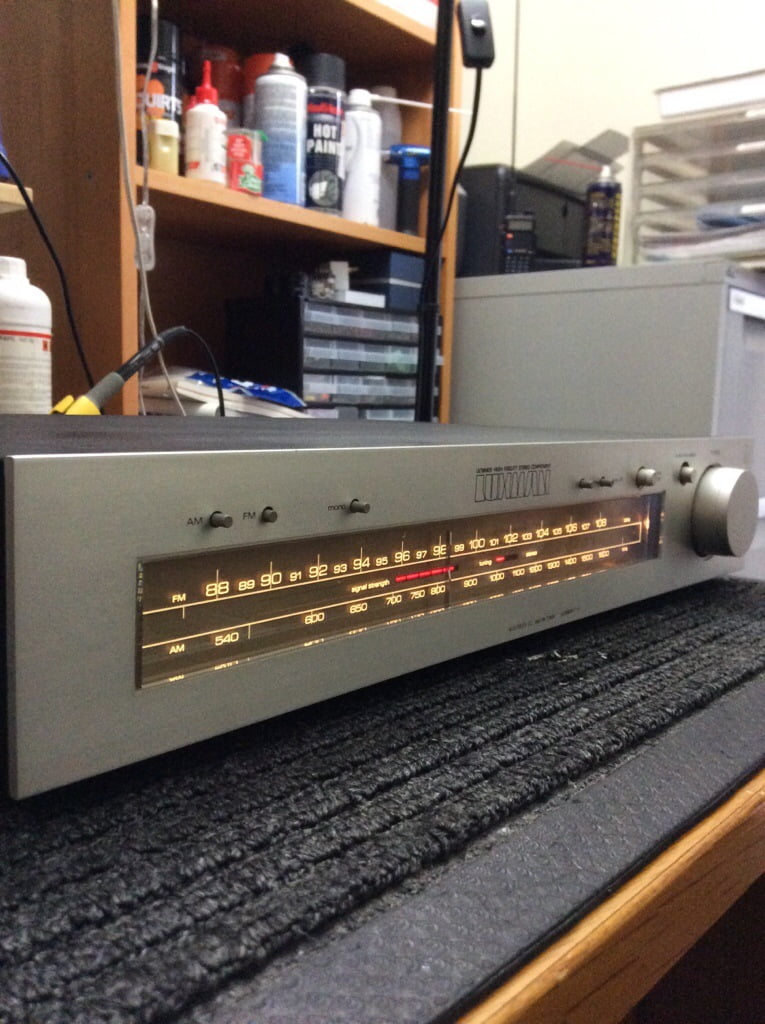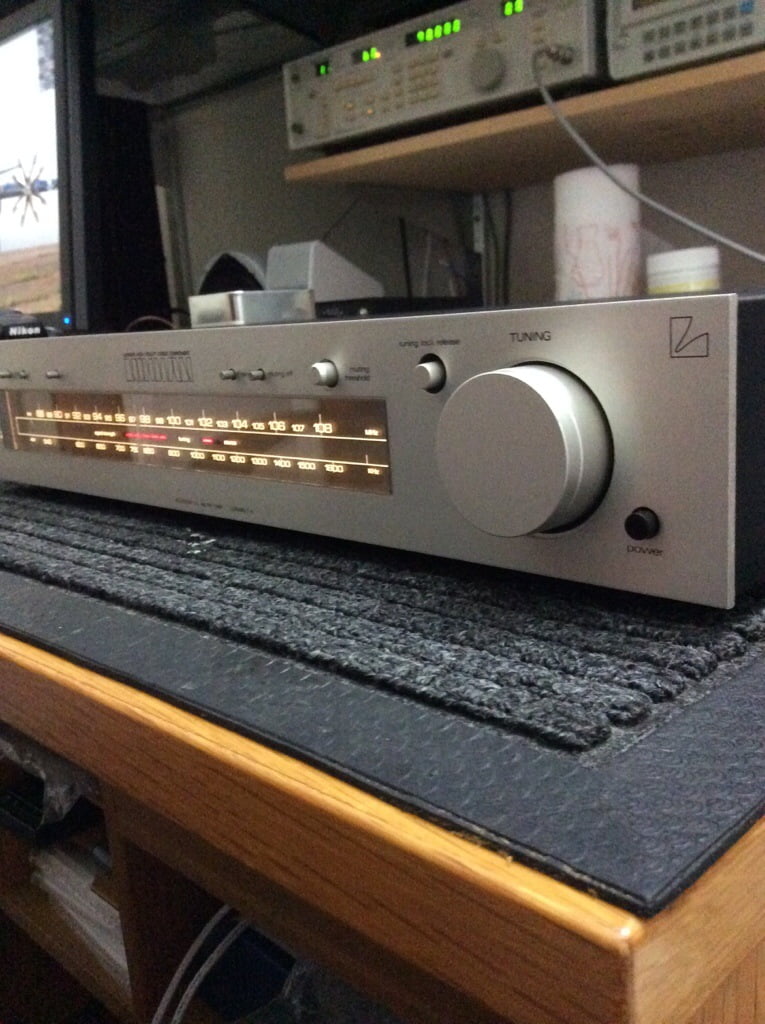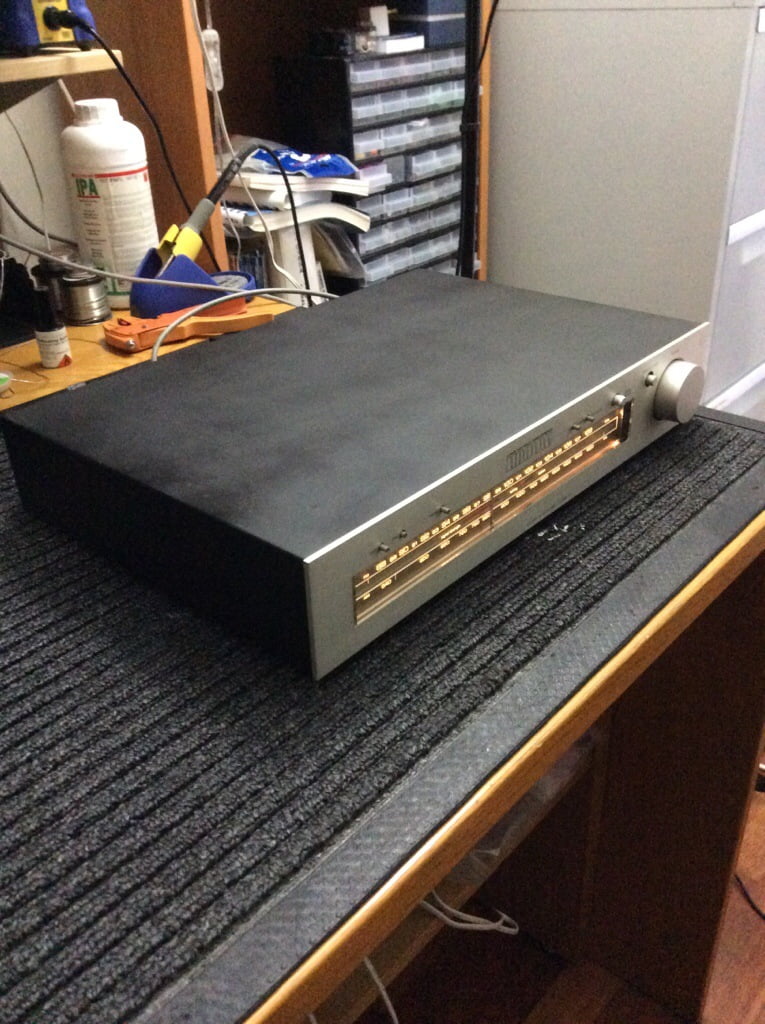 ---
Next for sale here is a nice Marantz CD-63.
UPDATE – SOLD!!!
This is the player that really set the cat amongst the pigeons in terms of bang for the buck with CD players, back in the day. Just do a quick search for CD-63 and see how much comes up. I have repaired a common regulator failure on this one and she is good to go again, in very good condition overall. Nice sounding player for the audiophile on a budget.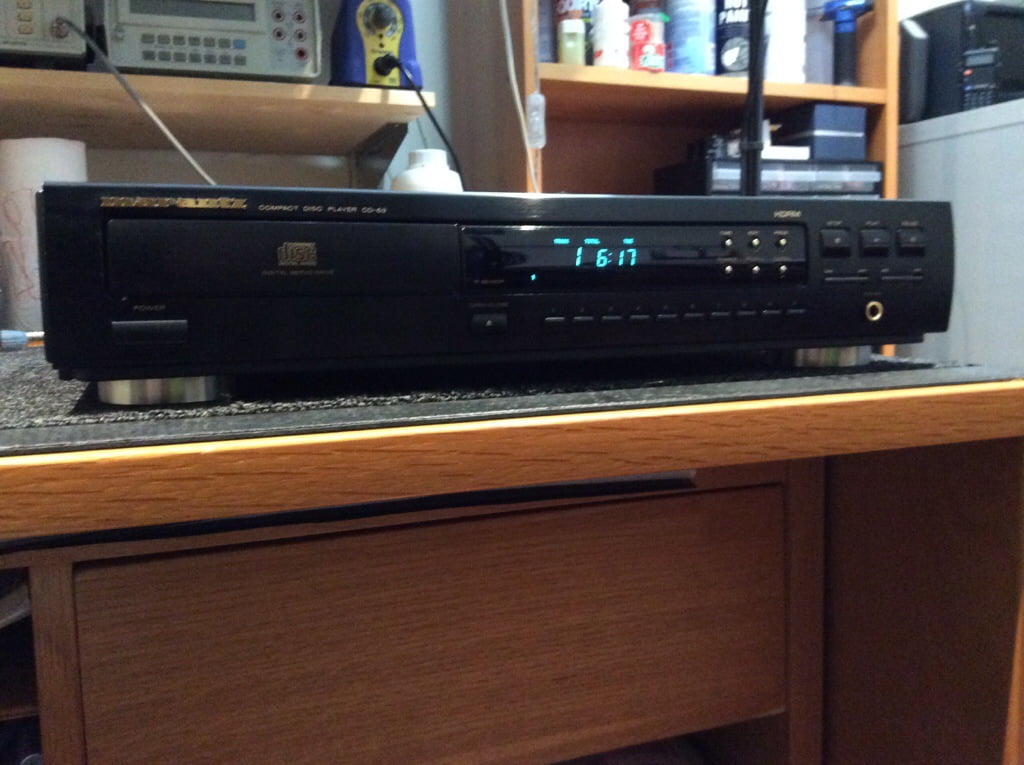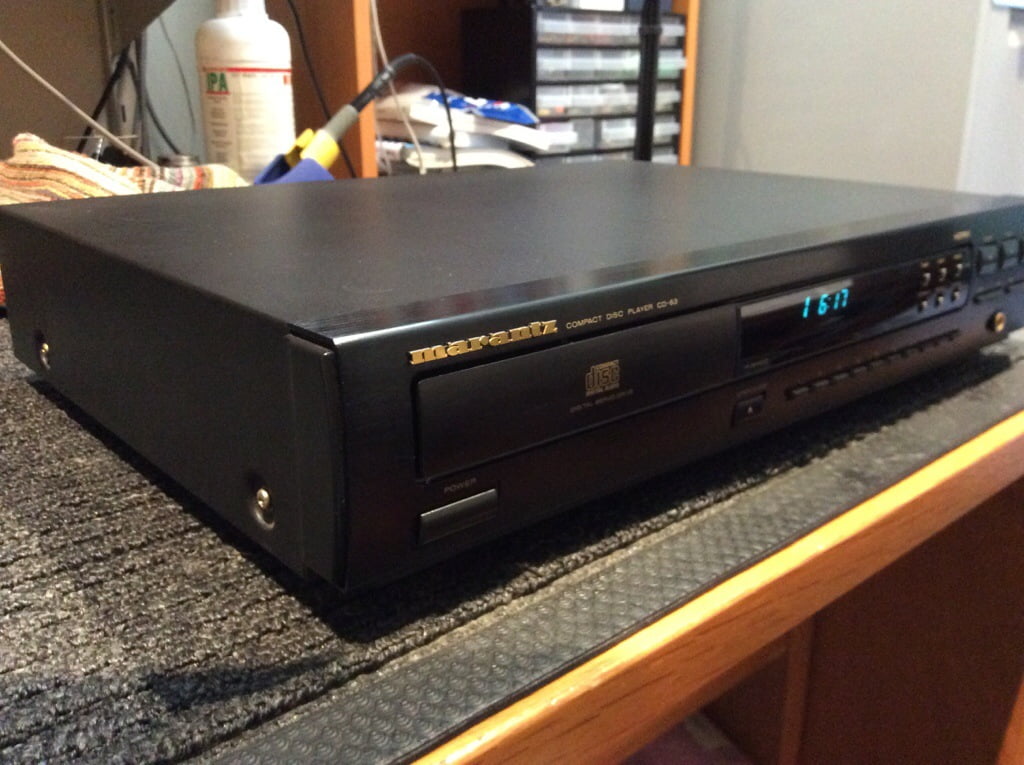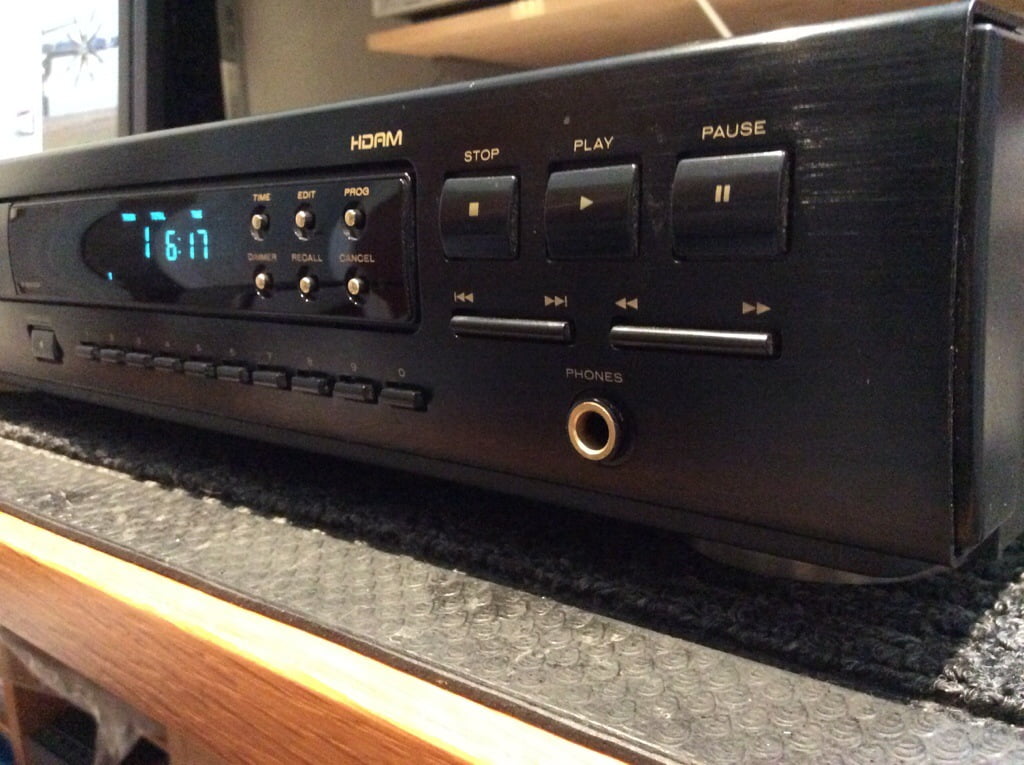 UPDATE – SOLD!
---
This piece is really special – we have a Luxman RX-101 servo face receiver for sale – the one with the motorised face that magically glides in to expose all the knobs and controls at turn on!
You just have to see this thing, but it used the Luxman 'ice cube' button style they were using at the time (1983) and really is a full-featured and classy receiver. It has a nice built-in AM/FM stereo tuner, 40 watts per channel amplifier, phono stage so that you can just plug a turntable straight in, and lots of other cool features like power output meters and presets for the radio.
Luxman quality as always, these are built to last like most Luxman gear is. Just looking for a new home! Check out some pics…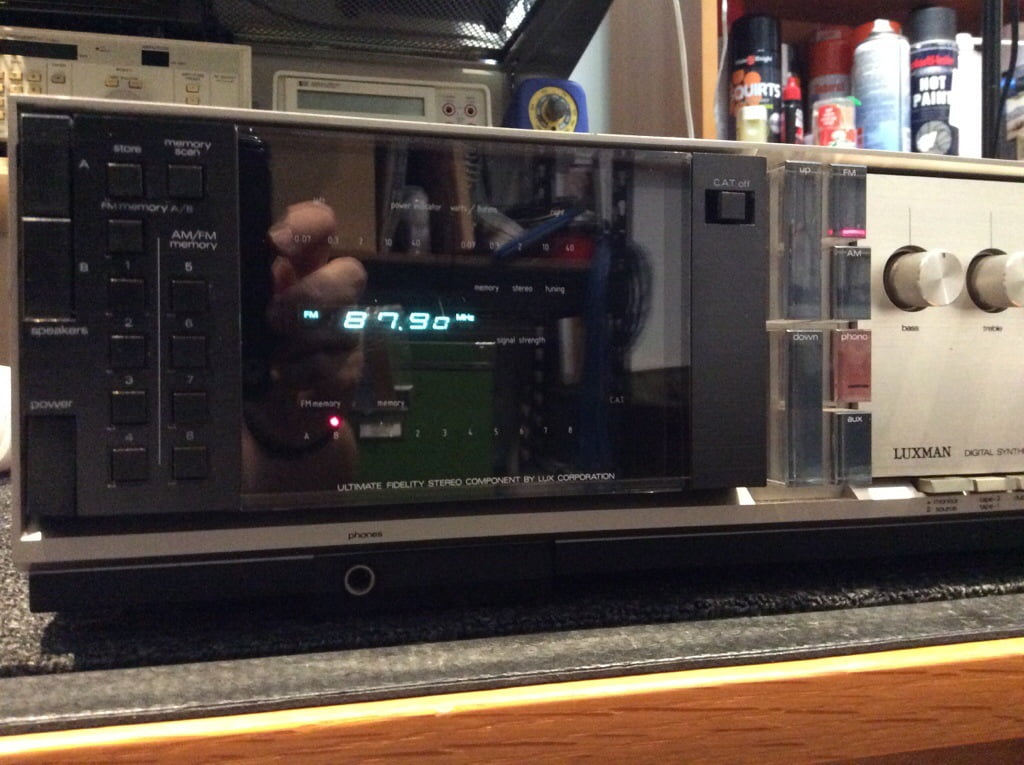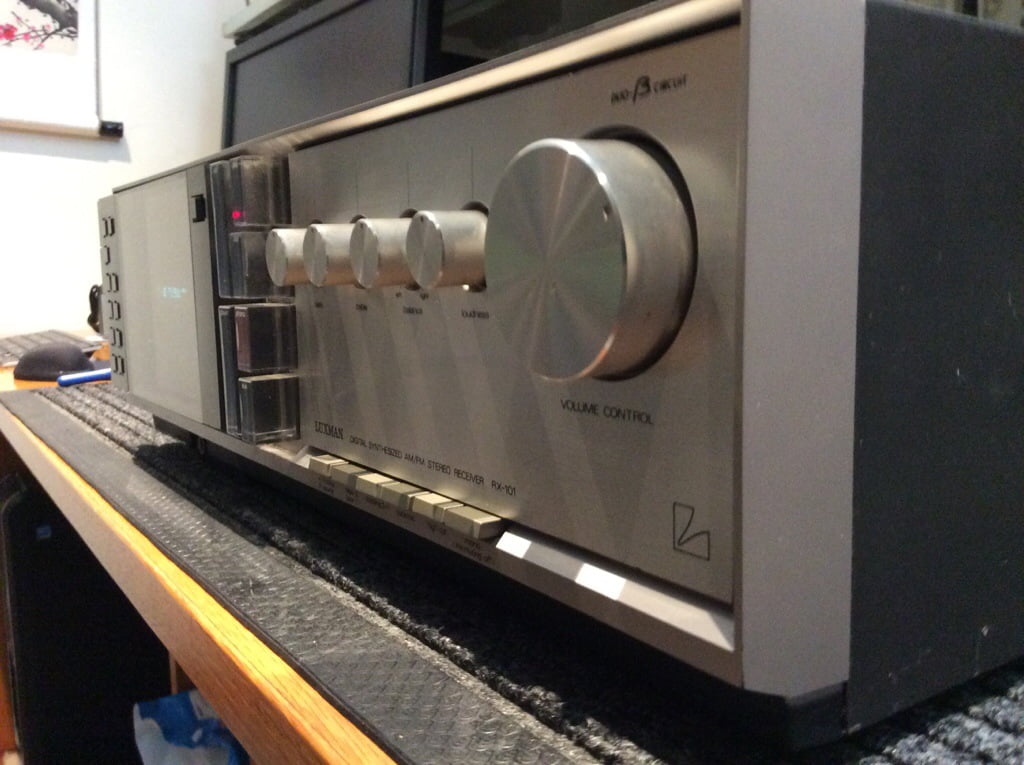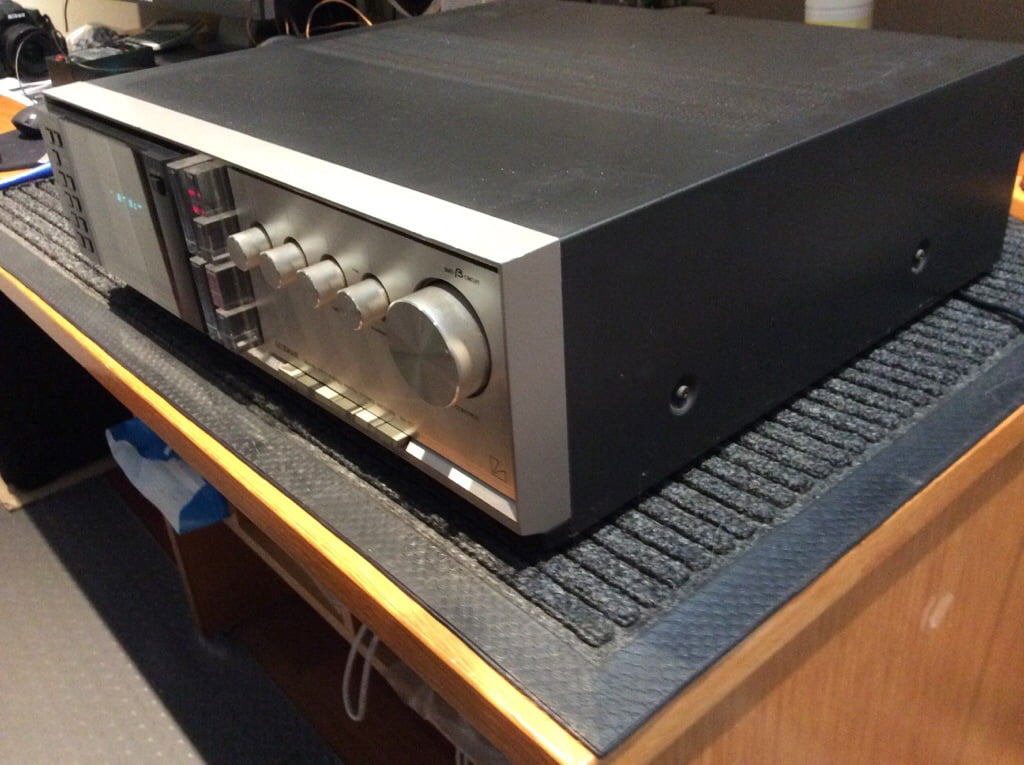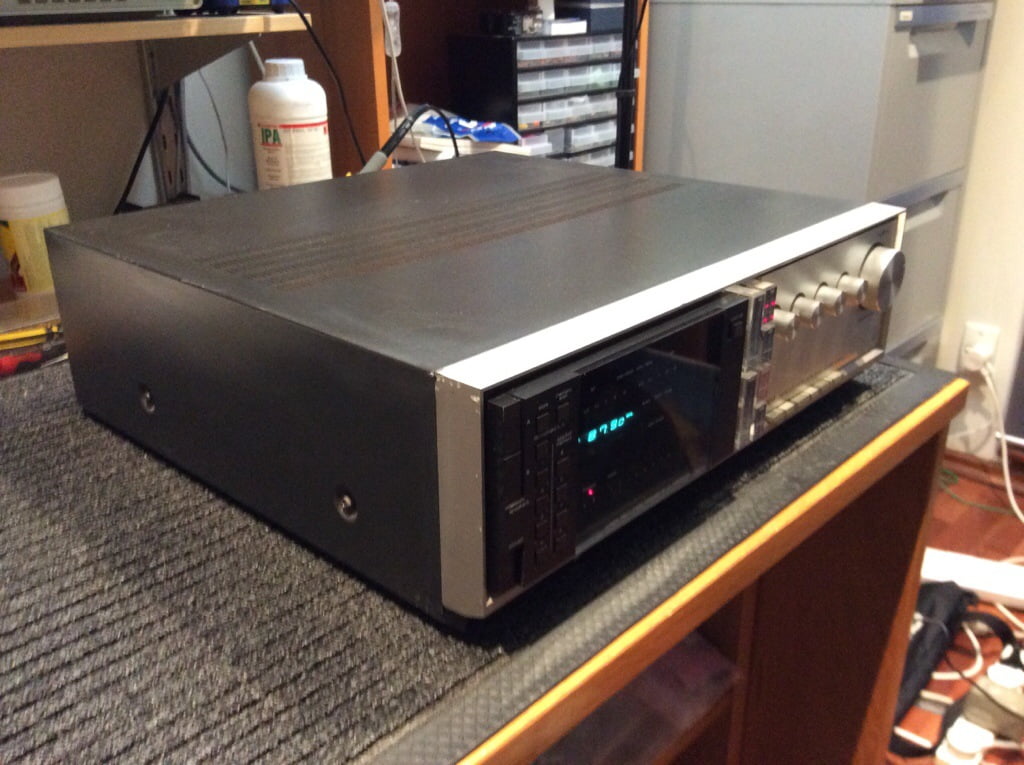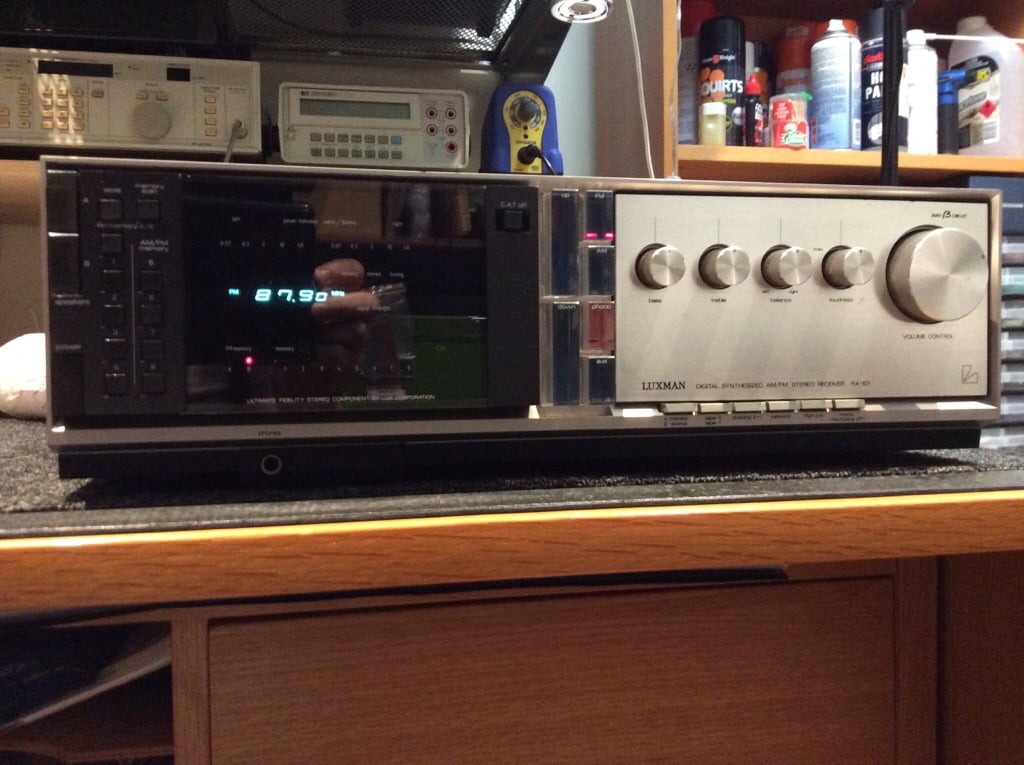 ---
Jan 2014
Happy New Year everybody. I made a resolution for this year, to sell some of the many audio and electronics-related items I have sitting around gathering dust. To that end, I am starting with some speaker drivers for sale on eBay.
If you check out my eBay auction you will find some lovely Richard Allen 10 inch full-range drivers, some Wharfedale and Vifa tweeters and some superb Morel Elite soft-dome midrange drivers. The Morel and Vifa drivers are brand new, never used. The Richard Allen and Wharfedale drivers have been carefully removed from the box in which they were originally installed and are rare as rocking horse sh#t!
The Richard Allen drivers are especially interesting, now that there is so much interest in full-range drivers and open baffle designs. The Allen's can be used in an open baffle very successfully and if you have ever heard speakers like these in an open baffle you will know there is nothing quite like the sound you get from this sort of installation.
The Wharfedale tweeters were together in the same box with the Allen's. Whilst the Richard Allen drivers are full range, they roll off as all full-range drivers do at the frequency extremes. This means that deep bass will be limited, unless they are in a truly massive box, and treble will roll off above around 10kHz, hence the need for a super-tweeter to take care of the higher frequencies.
The legendary Vifa D25 tweeter features in dozens of designs over the years and still in production. The Morel mids are spectacular and feature very low distortion, hand-applied doping, a sealed chamber and an alloy faceplate.
If you have any questions about any of these drivers, be sure to let me know.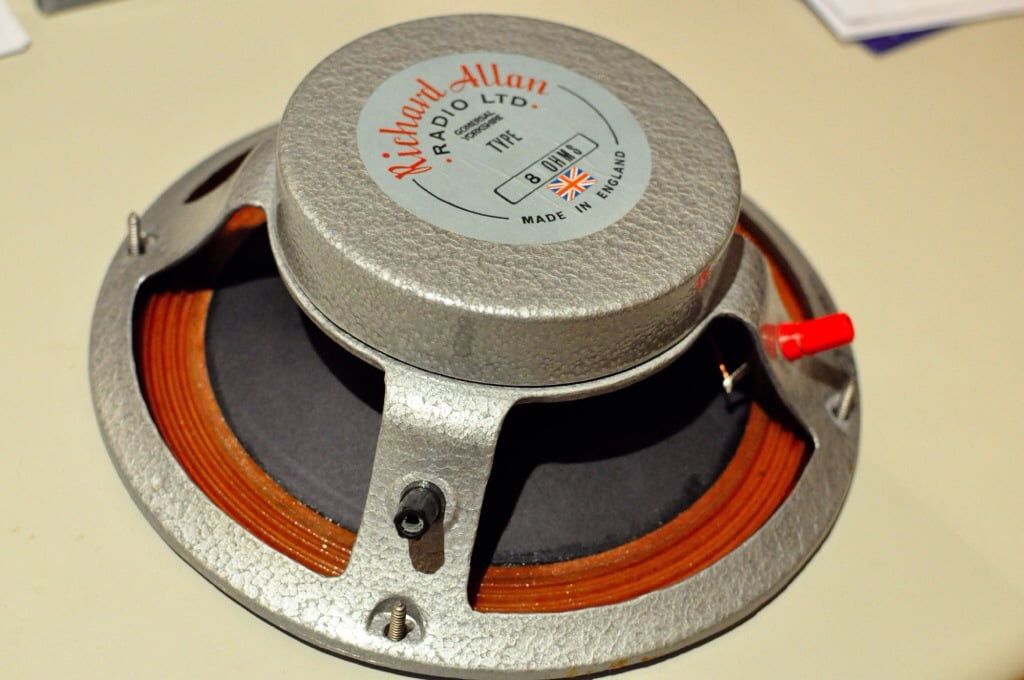 UPDATE – SOLD!
---
Gorgeous original and working perfectly – a rare and collectible Philips CD-303. Add this one to your collection of original CD hardware. The player uses the iconic TDA1540 DAC chip, complete with 14-bit resolution and not easy to tell upon listening! This was superseded by the TDA1541 chip, which resolved the full 16 bits in each digital word.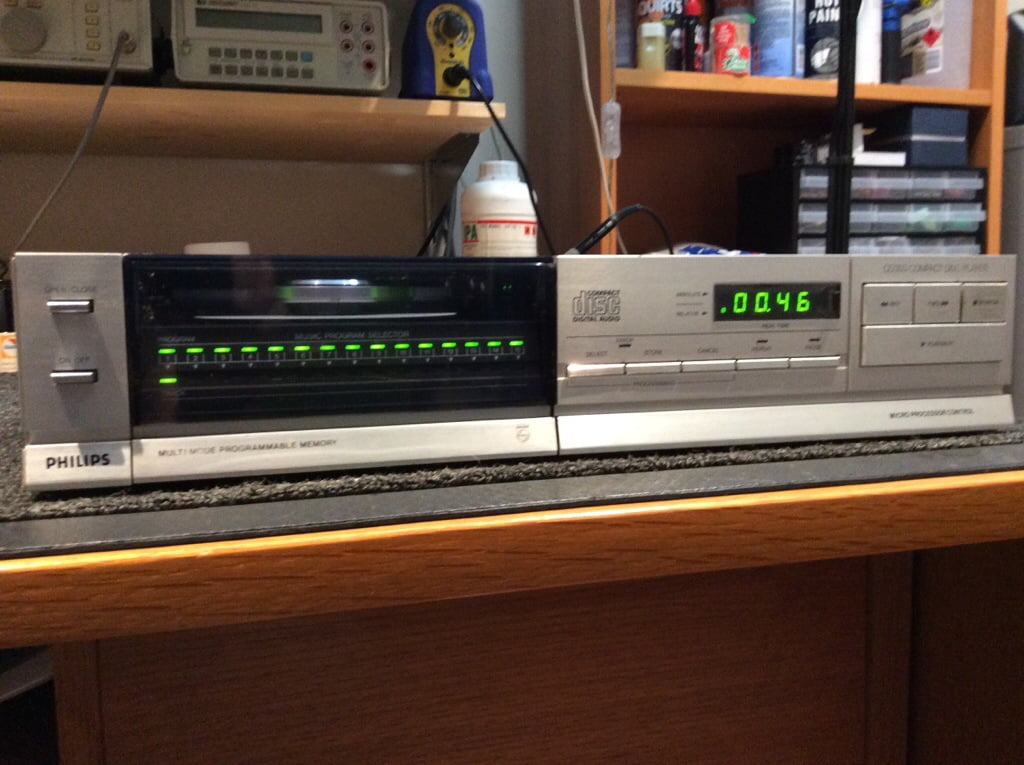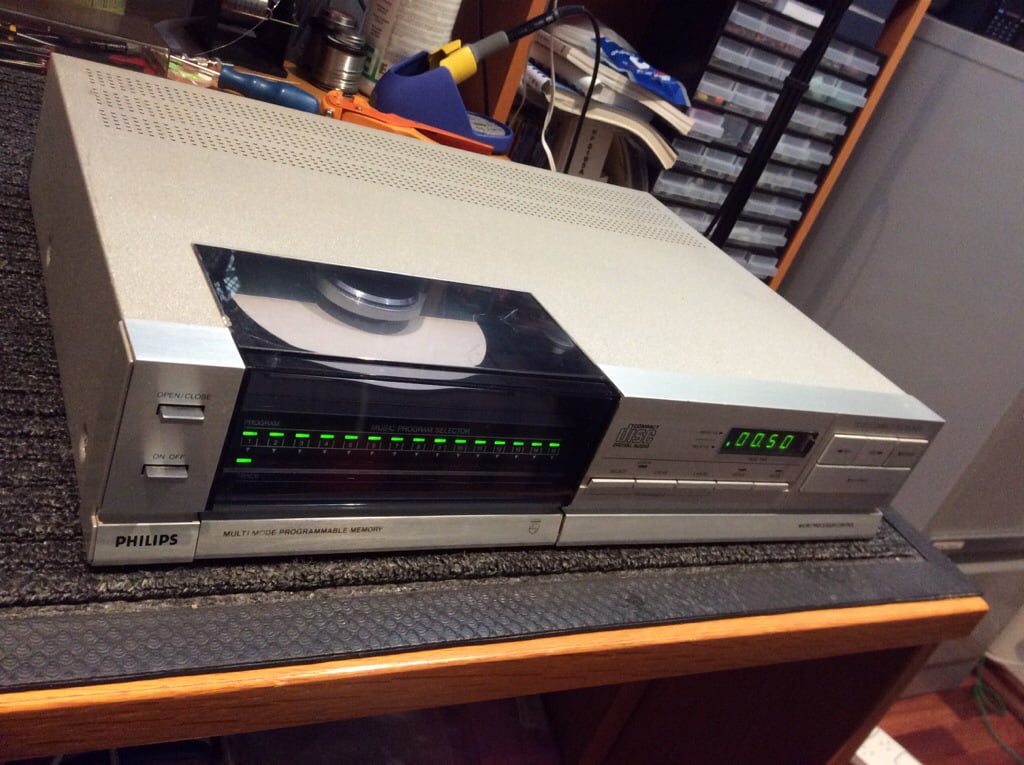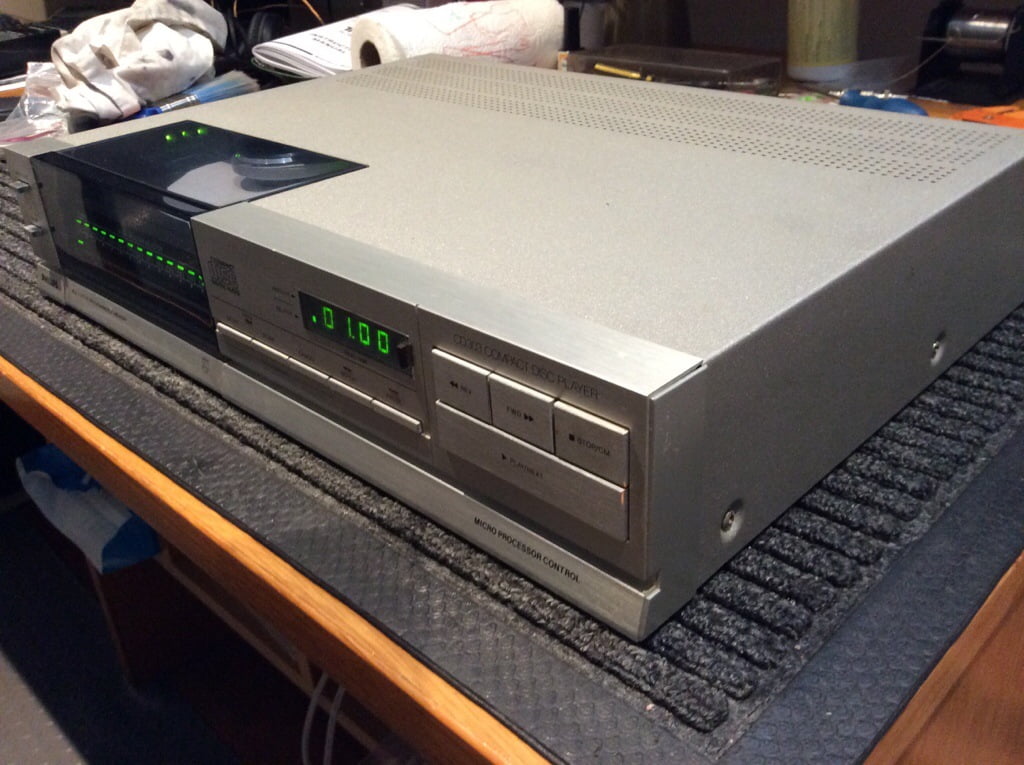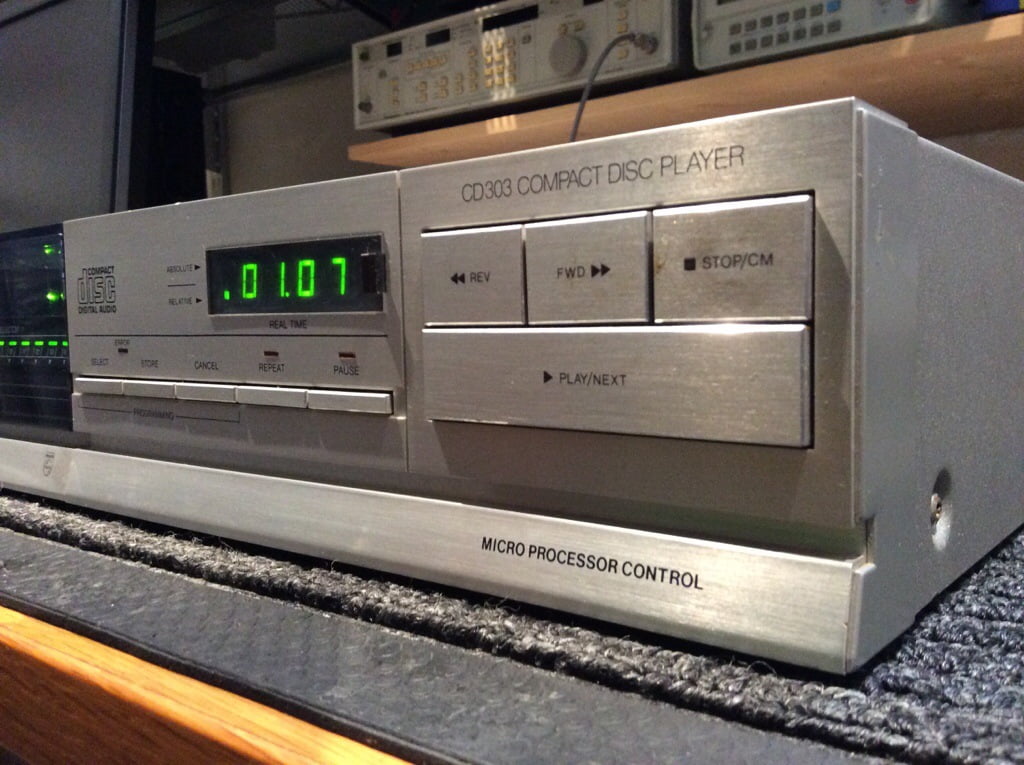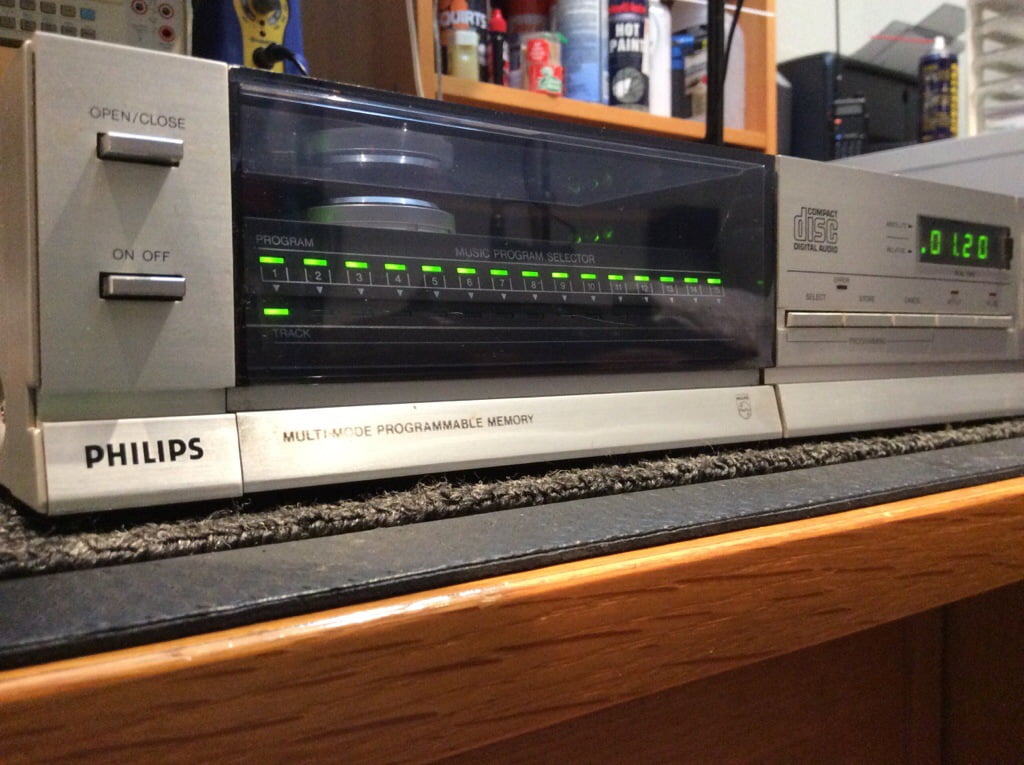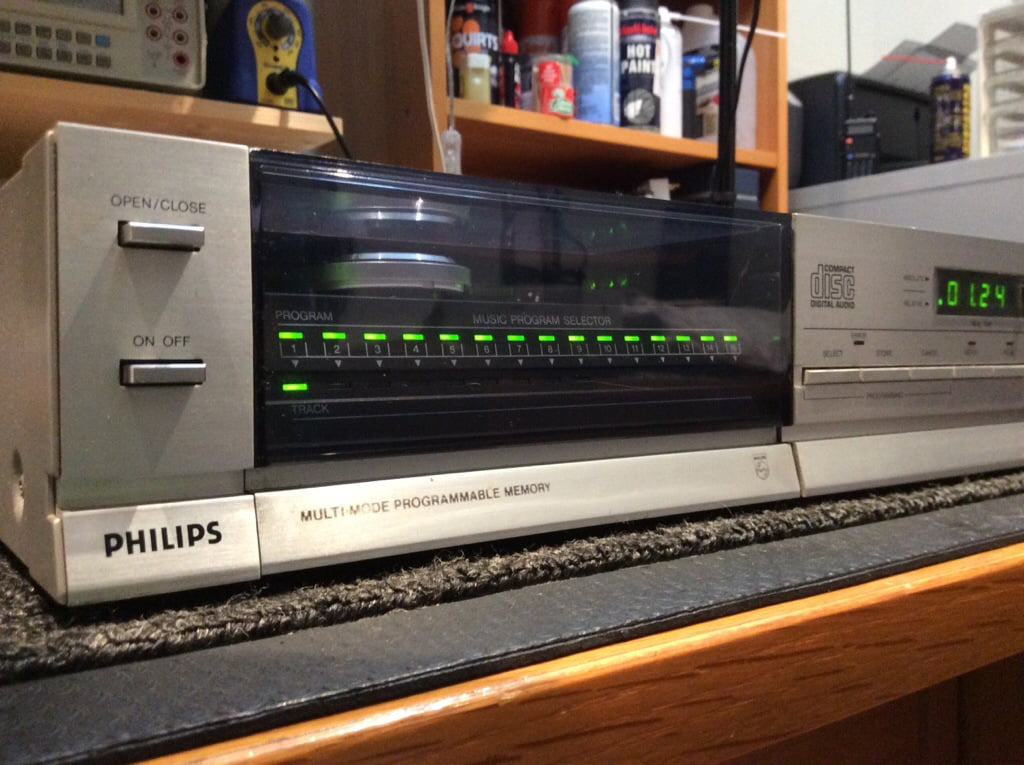 ---
November 2014
UPDATE: SOLD!
I have my wonderful old HP 332A Distortion Analyser for sale.
I completely restored this lovely instrument a few years ago now. This restoration included premium lab-grade capacitors, thoroughly clean with isopropyl alcohol and a complete calibration.
These are extremely sensitive analysers so the high impedance circuit board areas have to be literally spotless. This instrument would be an ideal first analyser for someone or a second tester for the lab or bench.