Welcome to Our Sold Equipment Gallery.
All the equipment and accessories on these pages have been sold but you are most welcome to browse.
---
Cool Pioneer TX-540 AM/FM Tuner
Need a nice little analog radio for your hi-fi setup? Look no further than this lovely little Pioneer TX-540, yours for just $99.
UPDATE: Sold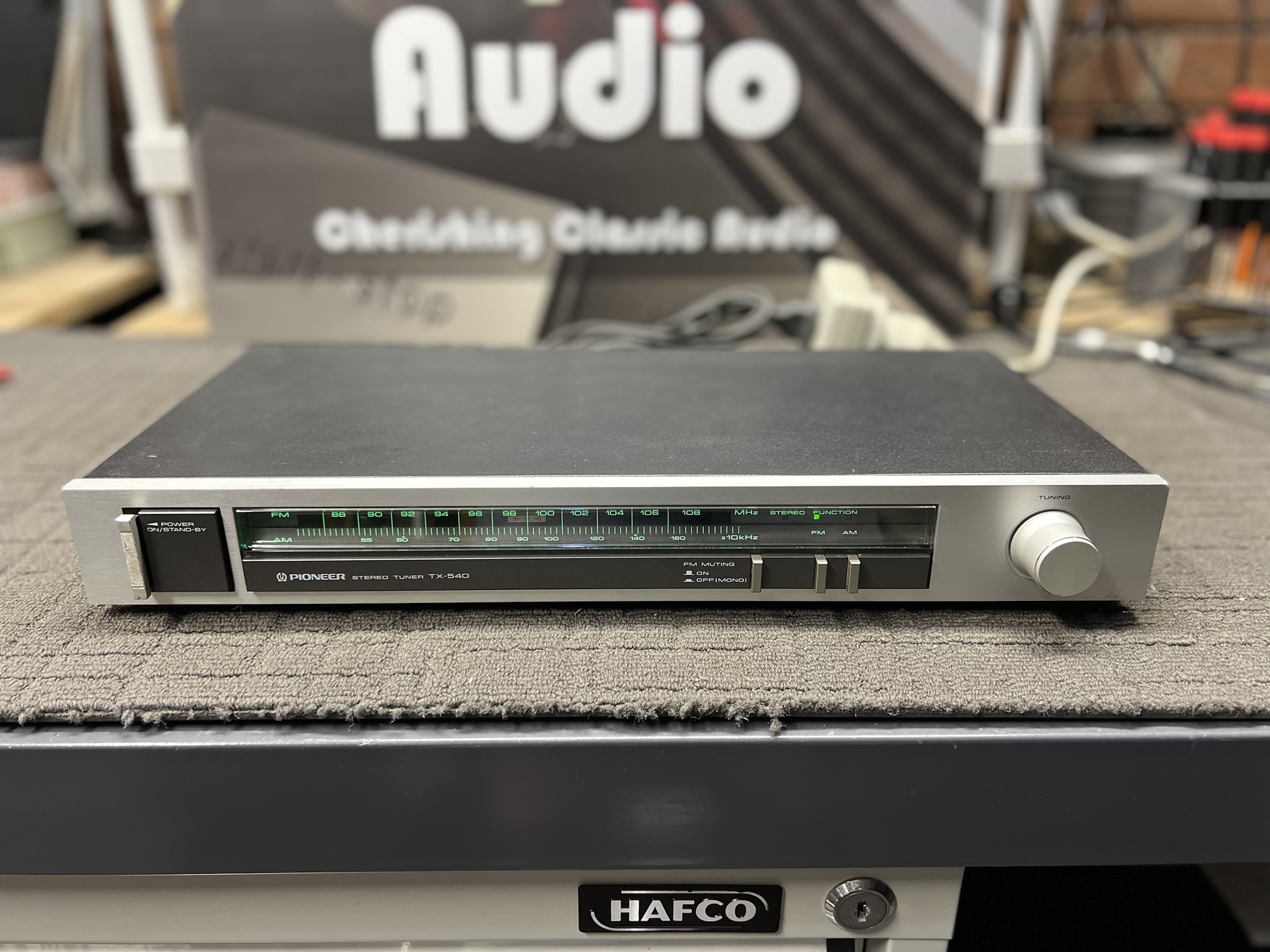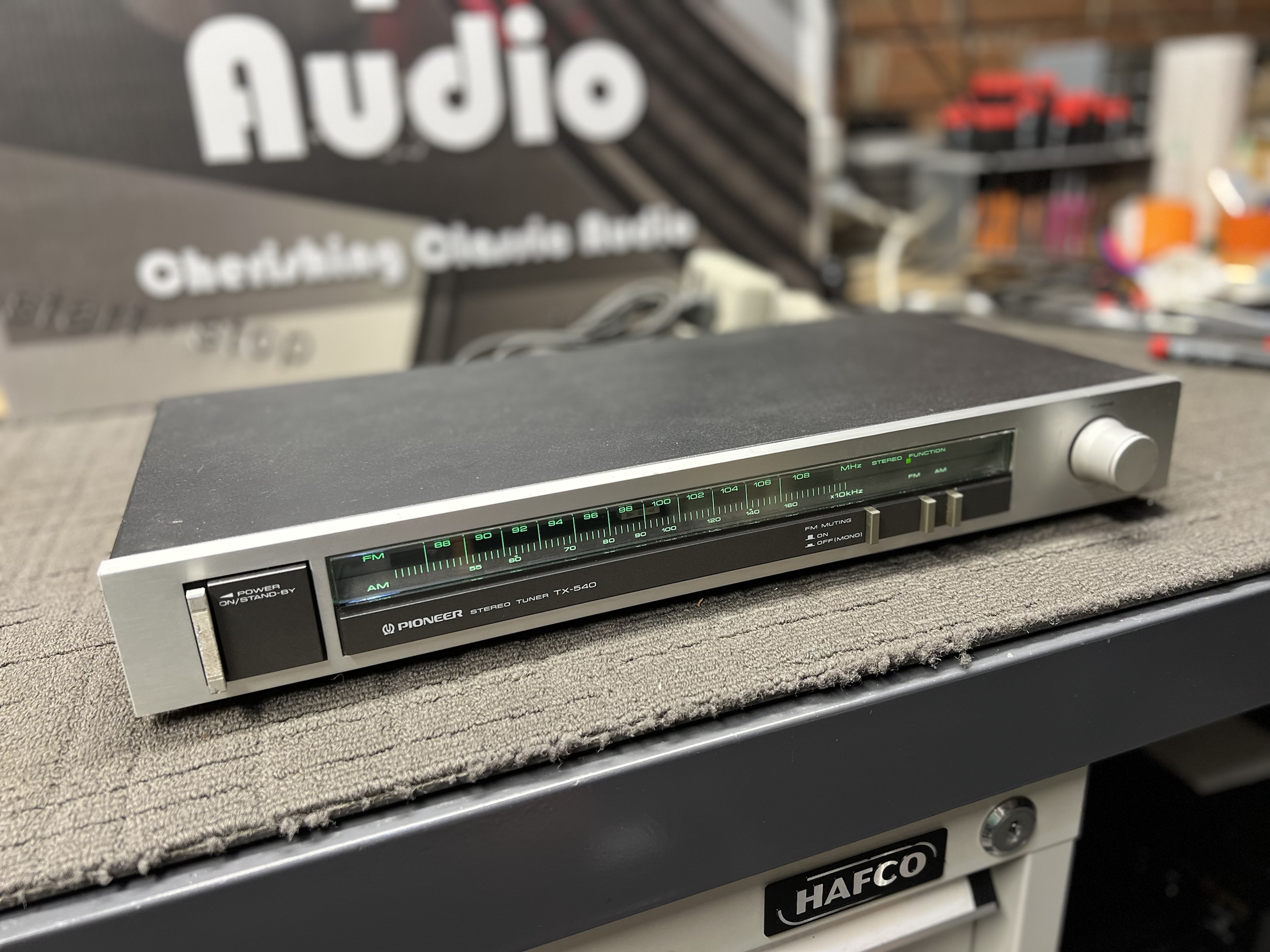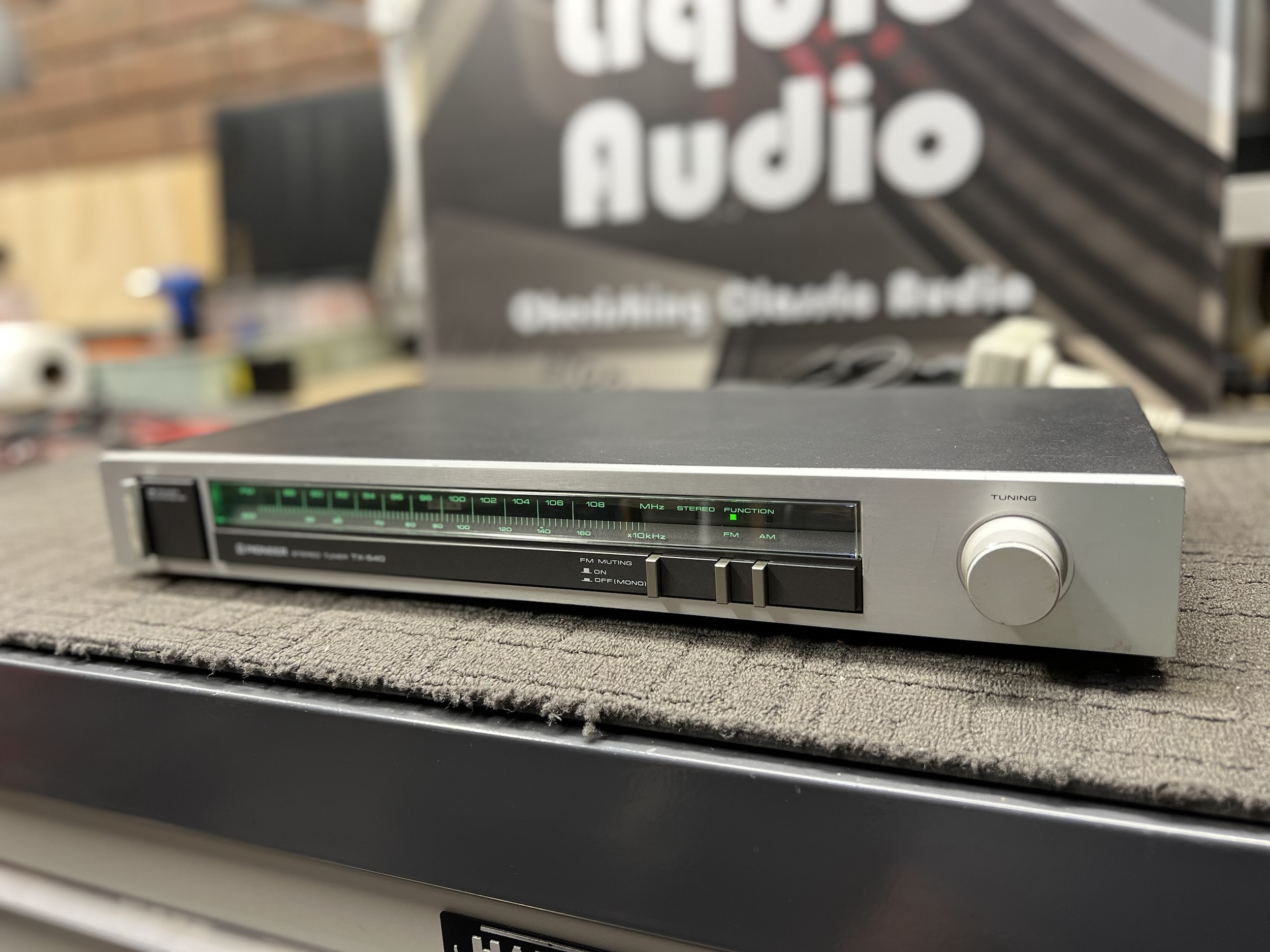 ---
Classic BIC Venturi Formula 4 Three-Way Speakers
Wow, look at this classic pair of legendary BIC Venturi Formula 4 three-way speakers, made in the US of A and just in. Feel the power of the Venturi!
UPDATE: Sold!
The BIC Venturi Formula 4 is a classic and well-regarded large three-way bookshelf style speaker from around 1975. These were quite famous back in the day, you can read more about them here.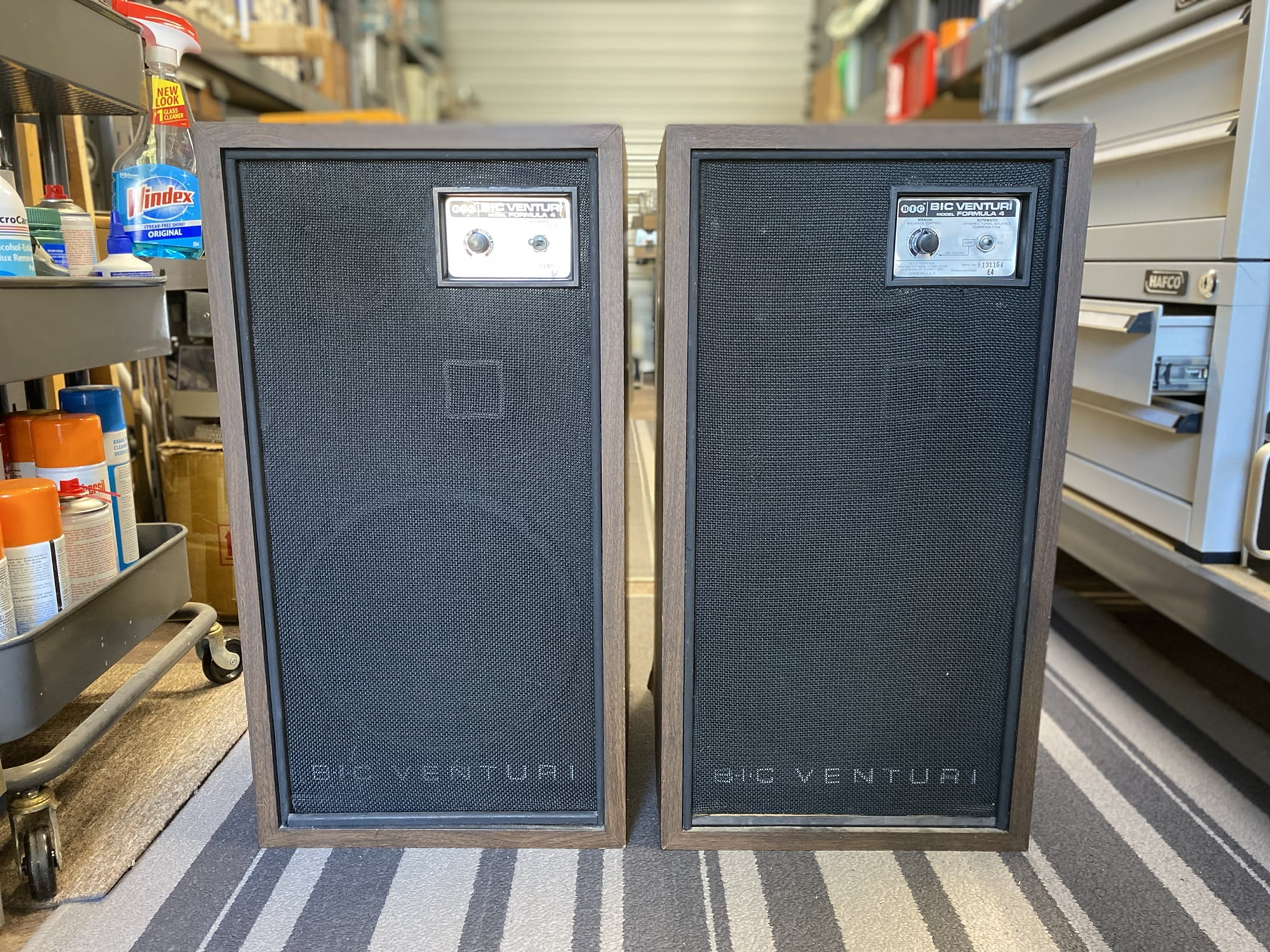 Specifications
Power Handling:  100 watts RMS
Frequency Response:  25 – 23,000 Hz
Dispersal:  120° x 120°
Woofer:  10″
Midrange:  Biconex
Treble:  Super Tweeter
Controls:  Manual and Automatic Dynamic Tonal Balance Compensation
Grille:  Reticulated, zero-loss removable foam.
Colour:  Brown, Black, Beige, Burnt Orange, Blue, Red
Dimensions
(W x H x D):  13 
¼
" x 25′ x 13″
Weight (shipping):  48 lbs
 Genuine three-ways aren't a common thing, and desirable for a number of good reasons. A three-way design allows greater tailoring of drivers to suit a narrower band, very useful to improve power handling and reduce distortion.
This pair of BIC Venturi Formula 4 speakers are in excellent condition for their age. The original foam grilles have long since decomposed and been replaced with this quite stylish grille cloth which I prefer. Other work may have been done behind the grilles, but since these are now semi-fixed, I can't say for sure. All drivers appear original though, from what I can see.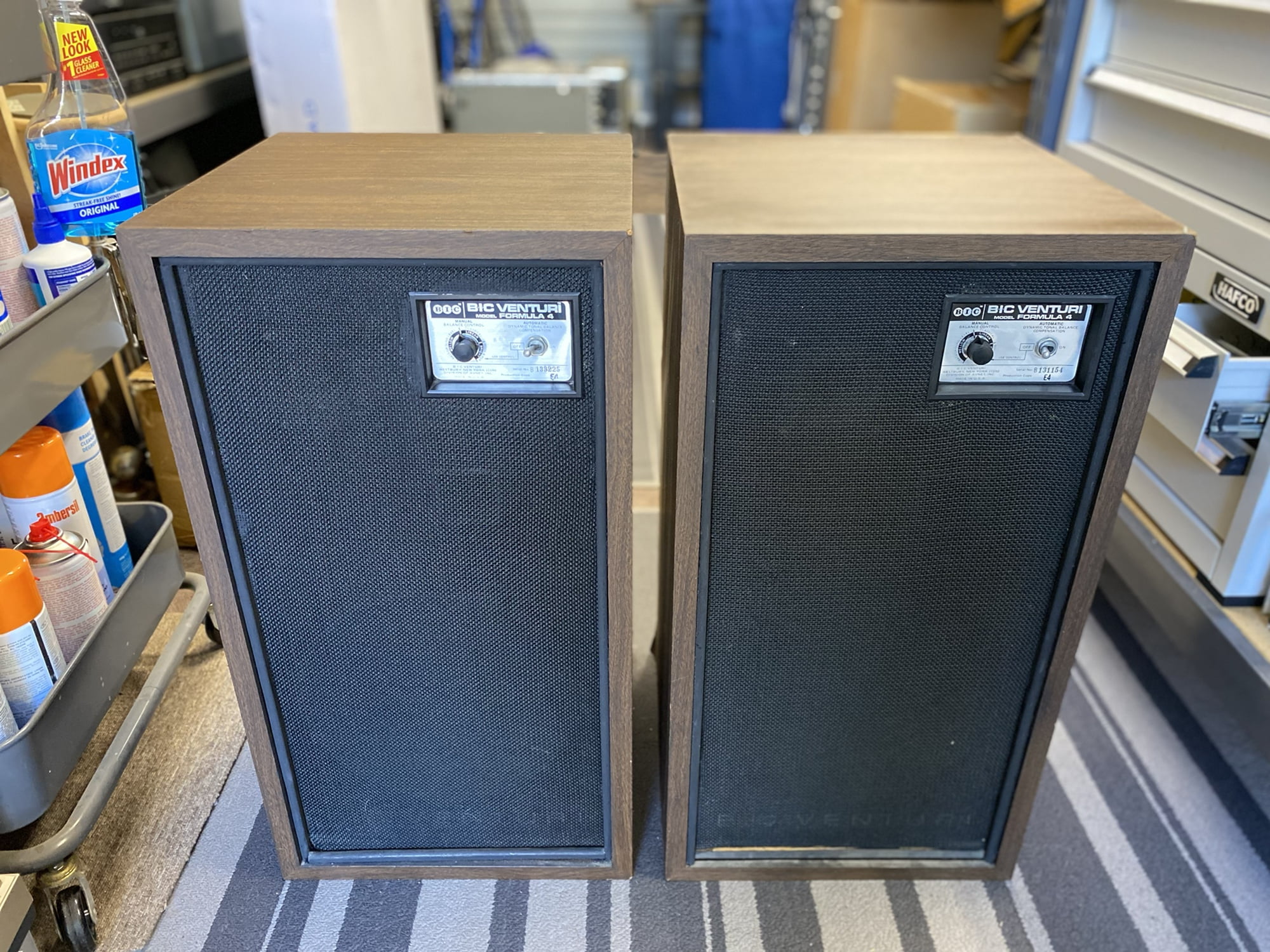 I cleaned and tested this pair and replaced the nasty, broken factory speaker terminals with some much more substantial gold plated banana terminals. I also replaced one of the attenuator fastener nuts.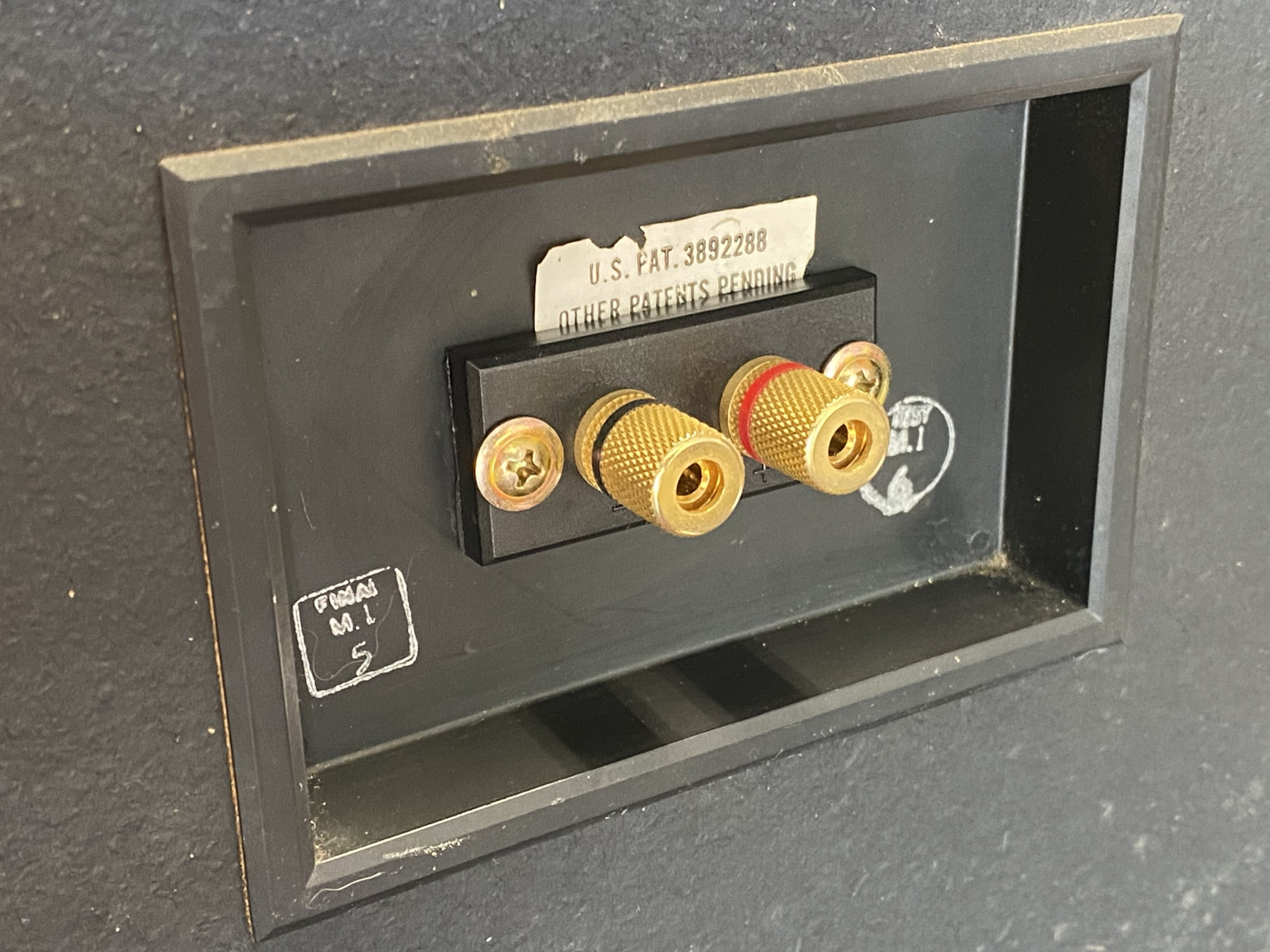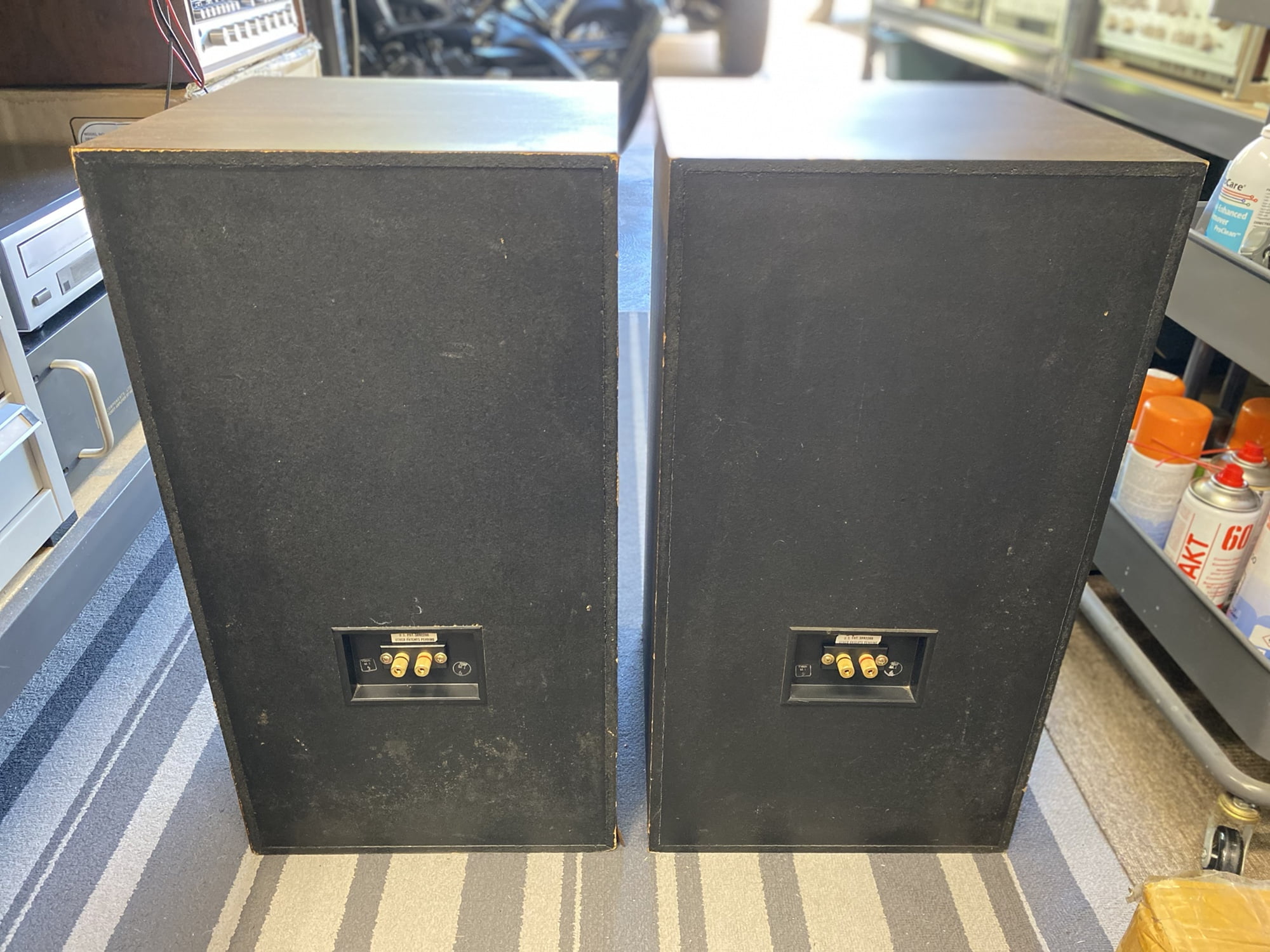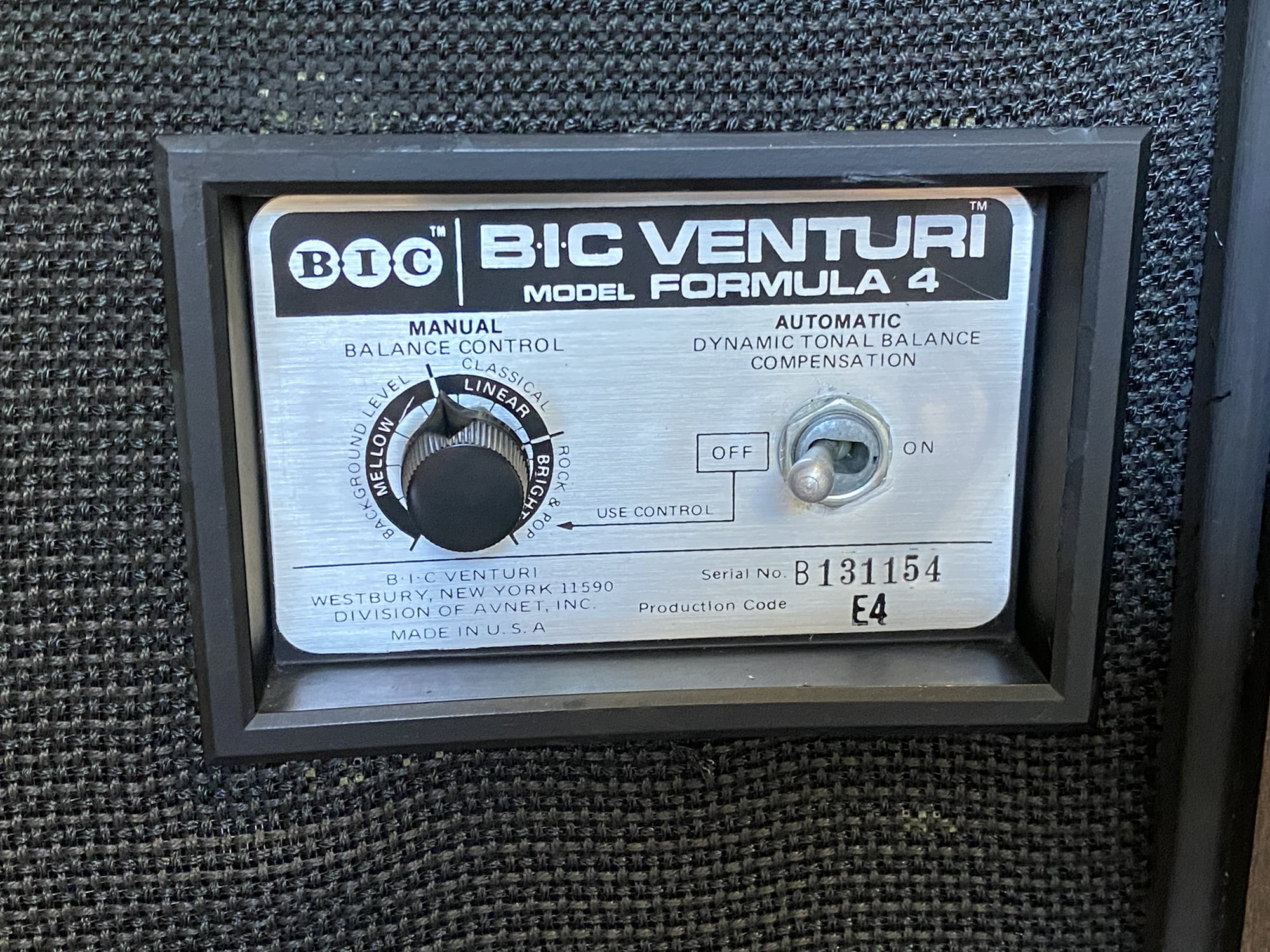 These BIC Venturi Formula 4 speakers have a lot of bass for their size, it's actually quite surprising on first listen. This was part of their appeal and meant that a high dynamic range was possible, even with smaller systems. Mids and highs are clean and the horn does a great job of increasing sensitivity and adding to that punch that horn drivers deliver.
These iconic speakers need a new home and I don't have room to store them. Grab them for $495.
---
Beautiful Luxman DZ-111 CD Player, Lovely Sounding Player, Just Serviced!
Check out this very nice Luxman DZ-111 CD player, just serviced and with a new loader drive belt installed.
These players were excellent sounding units from around 1990, so another early CD classic. These are heavy players for their size, and very nicely built and easy to service. I had the whole mech out, cleaned, lubricated and with a new belt installed in around an hour.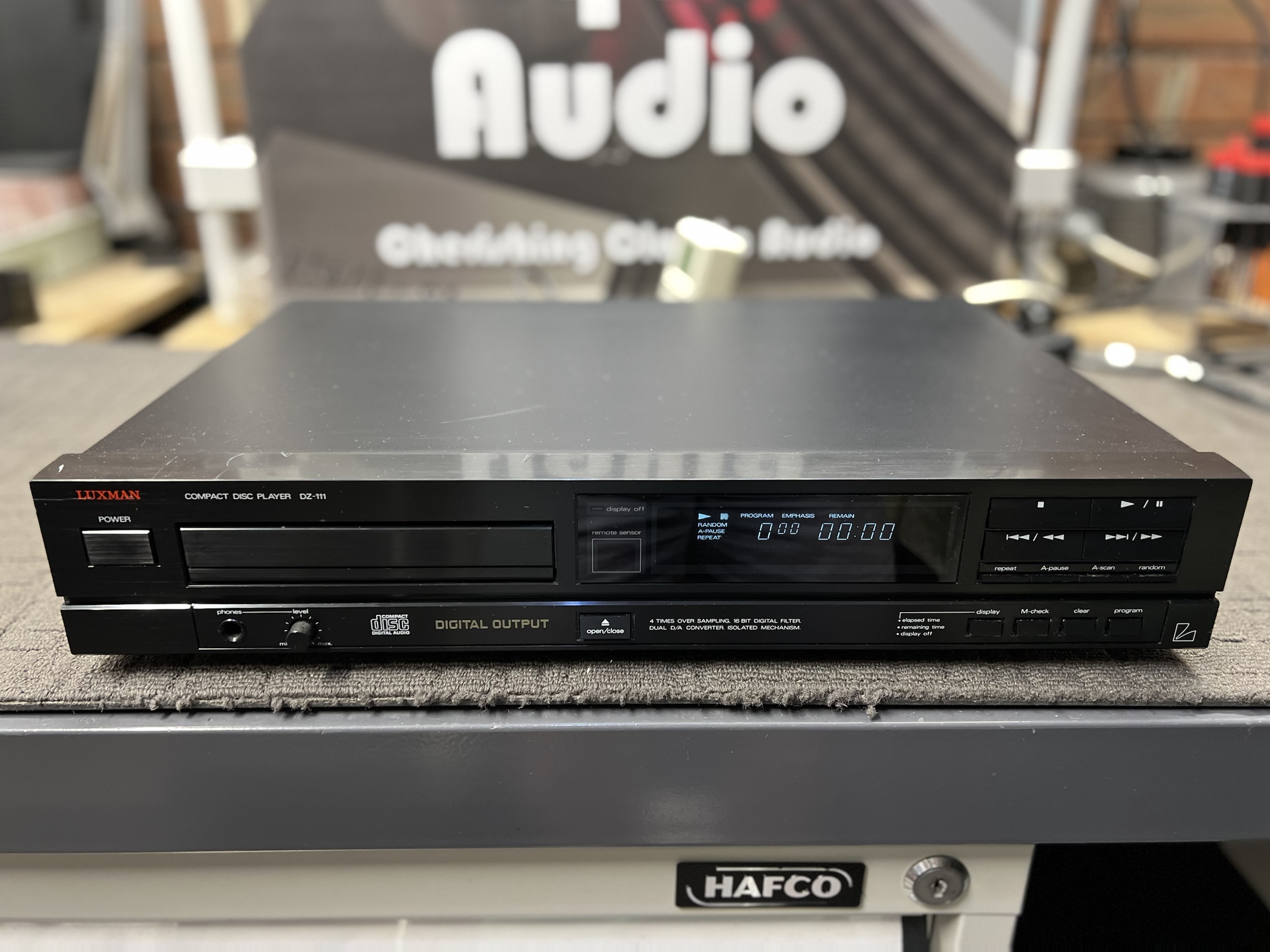 Specifications, courtesy HiFi Engine
Disc format: CD
Digital converter: LC7881C
CD Mechanism: KSS-152A
Frequency response: 50Hz to 20kHz
Dynamic range: 85dB
Signal to Noise Ratio: 100dB
Channel separation: 90dB
Total harmonic distortion: 0.08%
Line output: 2V
Digital outputs: coaxial
Semiconductors: 16 x IC, 21 x transistors, 2 x FET
Dimensions: 438 x 85 x 314mm
Weight: 5.5kg
You'll note this player uses the venerable Sony KSS-152A, a great laser.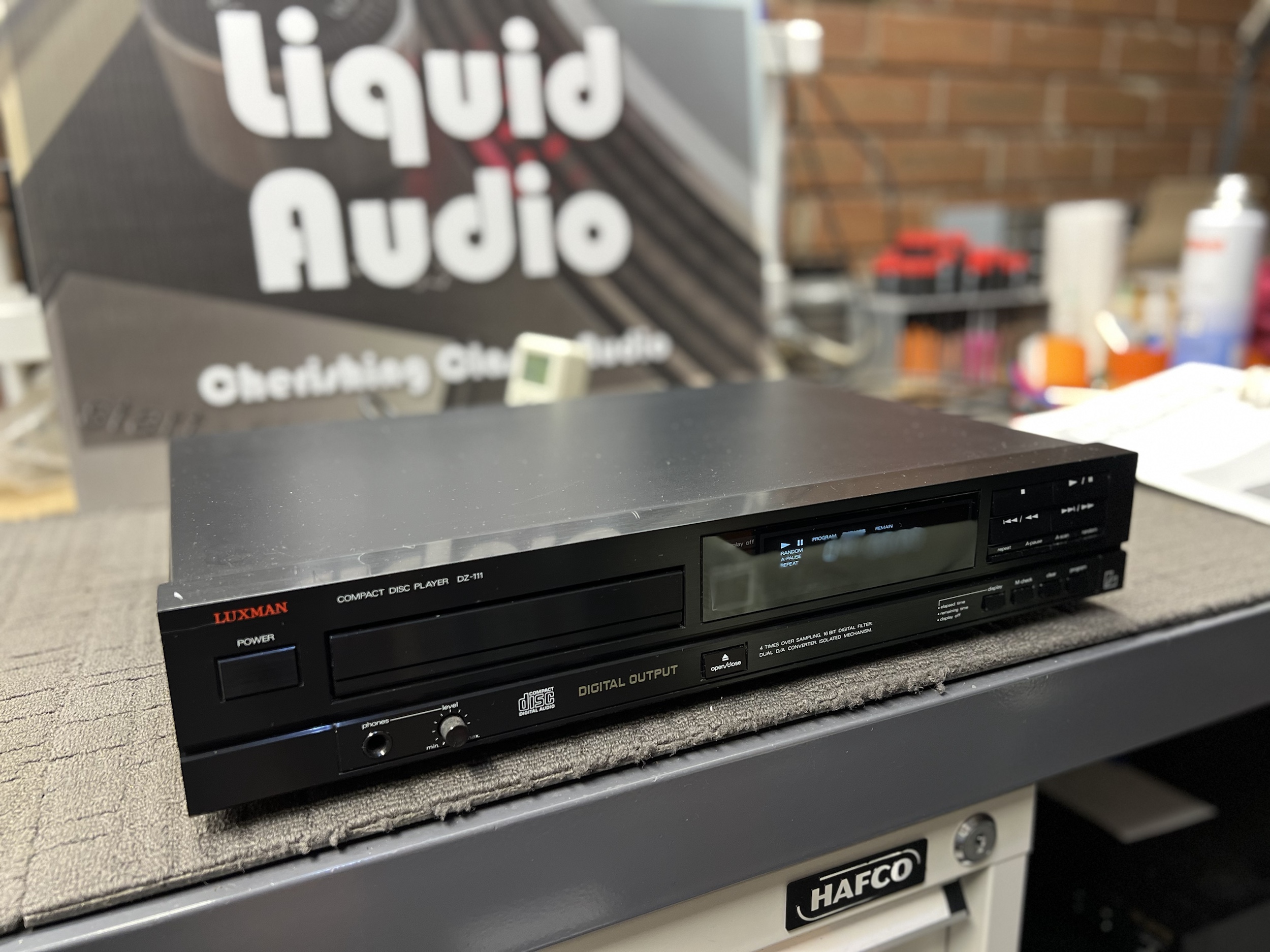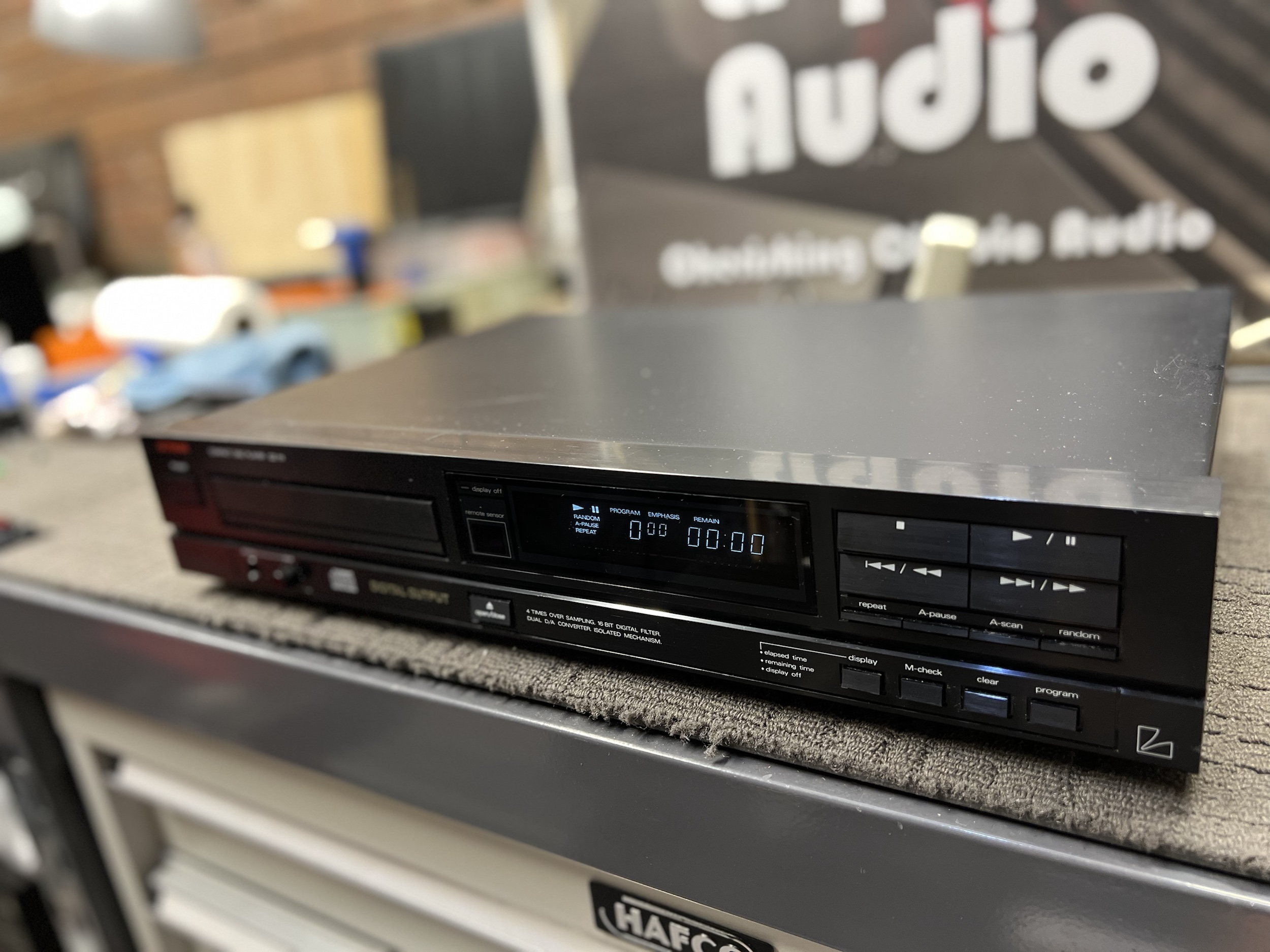 This lovely Luxman DZ-111 also comes with her original manual, courtesy of her careful previous owner/s.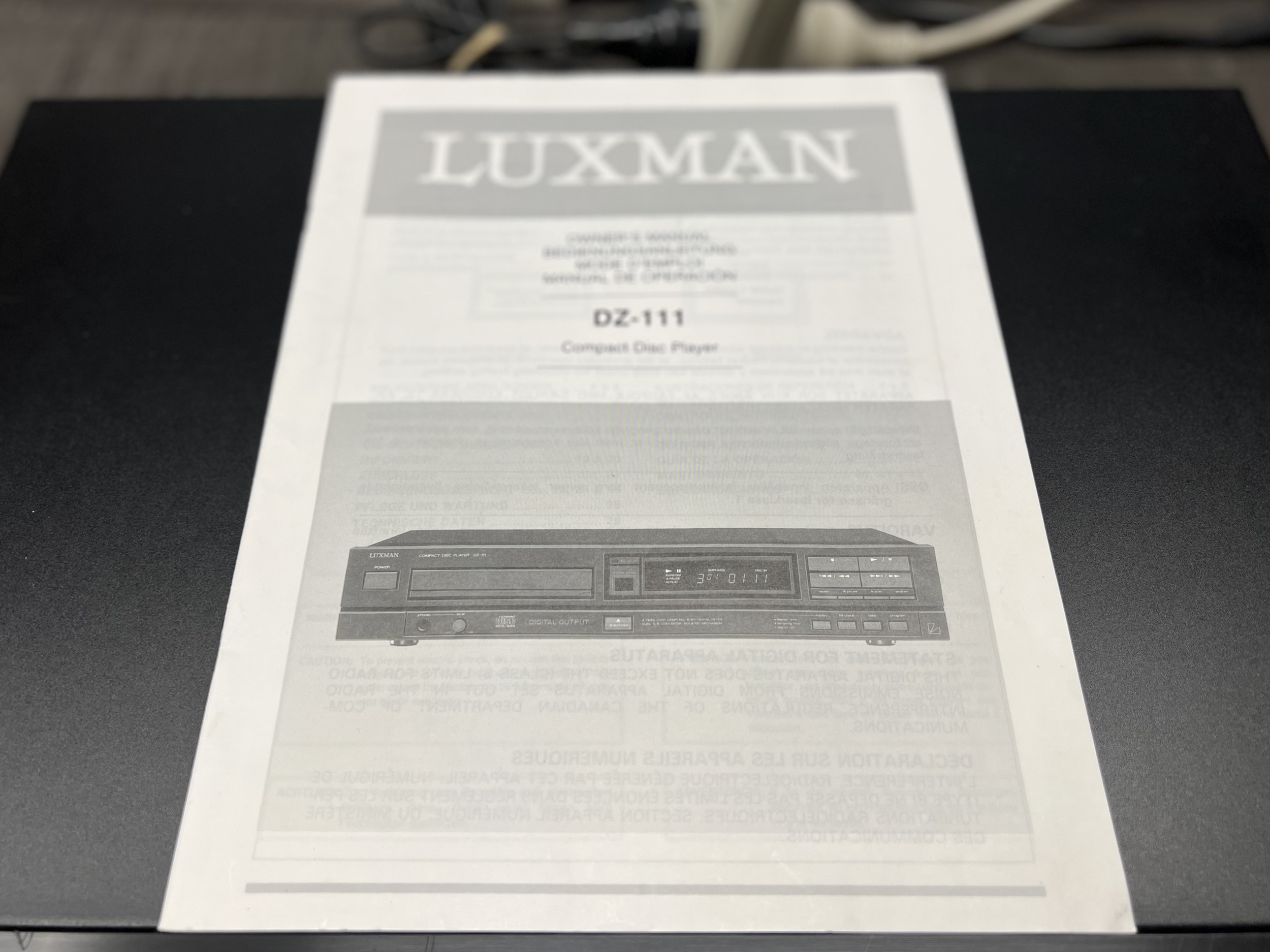 Again, this is a classic player from the time when CD players were built to last. This serviced Luxman DZ-111 can be yours for $395.
---
Classy Sony TC-K33 Cassette Deck, One Owner, Serviced!
UPDATE: Sold!
Take a look at this really lovely Sony TC-K33 two head cassette deck, just serviced with a new capstan drive belt, mechanism lube, tape path clean and de-mag. Proudly made in Japan, this deck needed some TLC as all do at this age, but she rewards with crystal clear sound, rock-solid speed-accuracy thanks to the new drive belt and heavy flywheel.
This deck comes from the same generous owner who donated several pieces featured here and he purchased the deck new. You can read a bit more about this delightful Sony deck, here.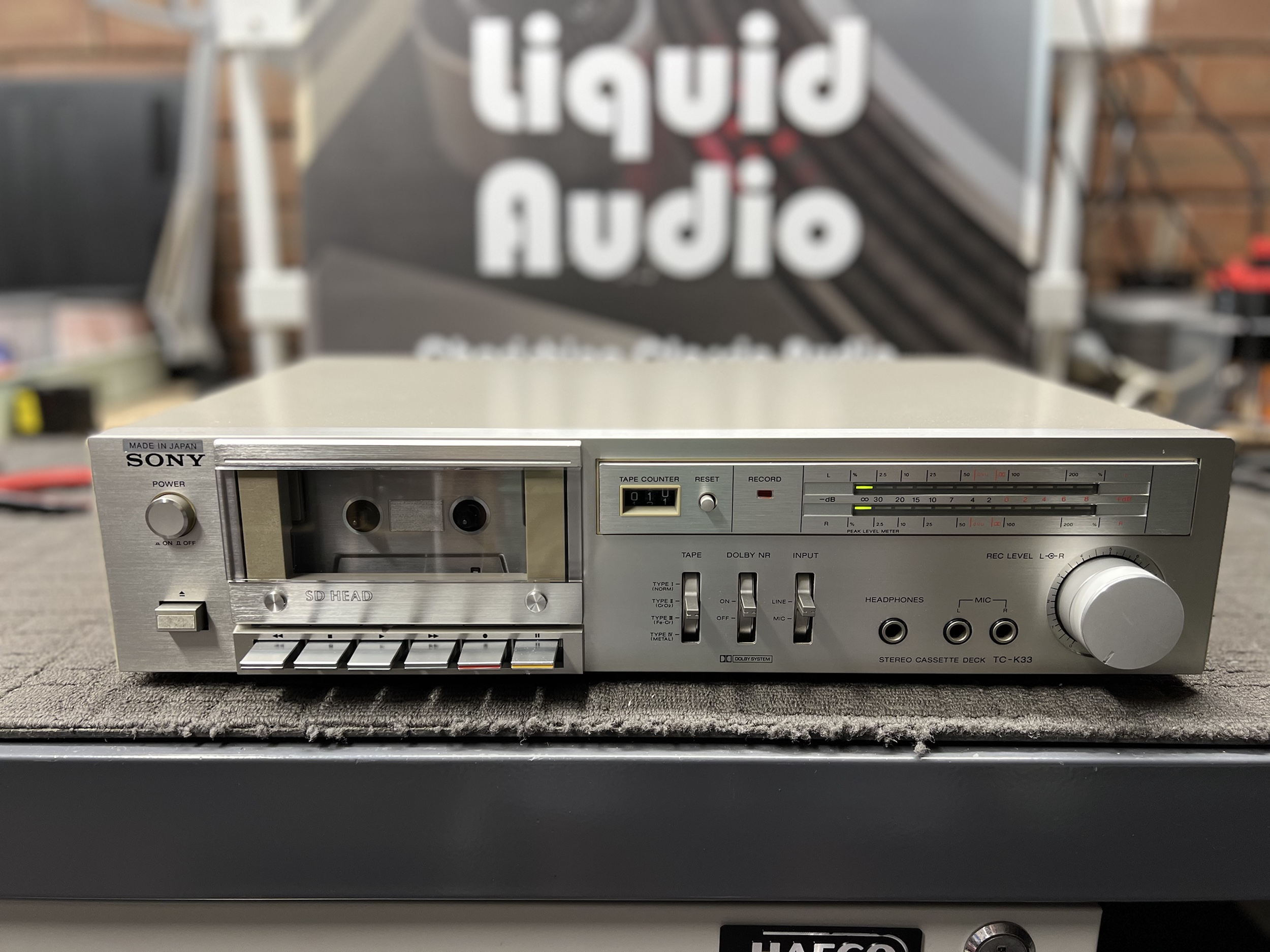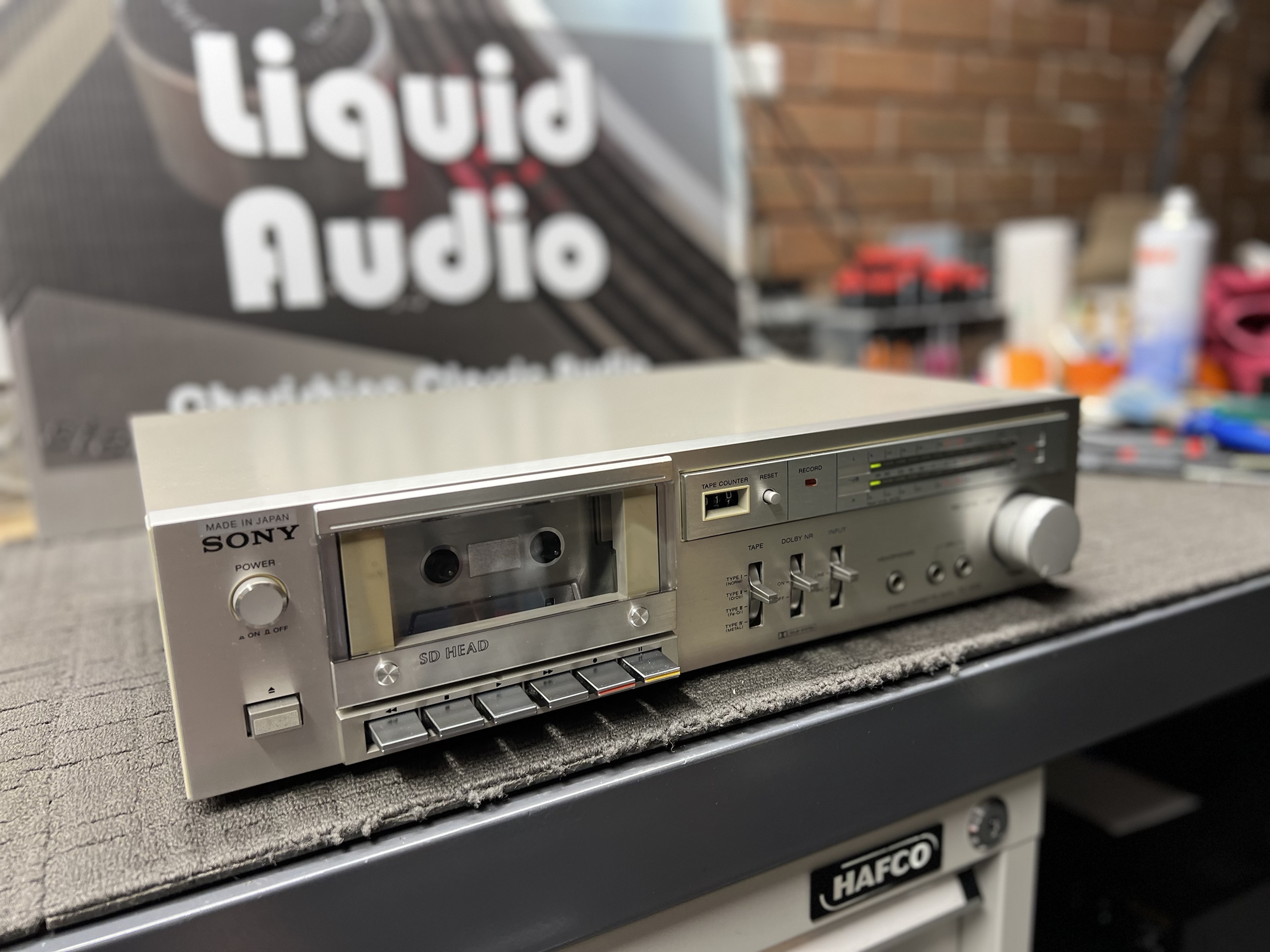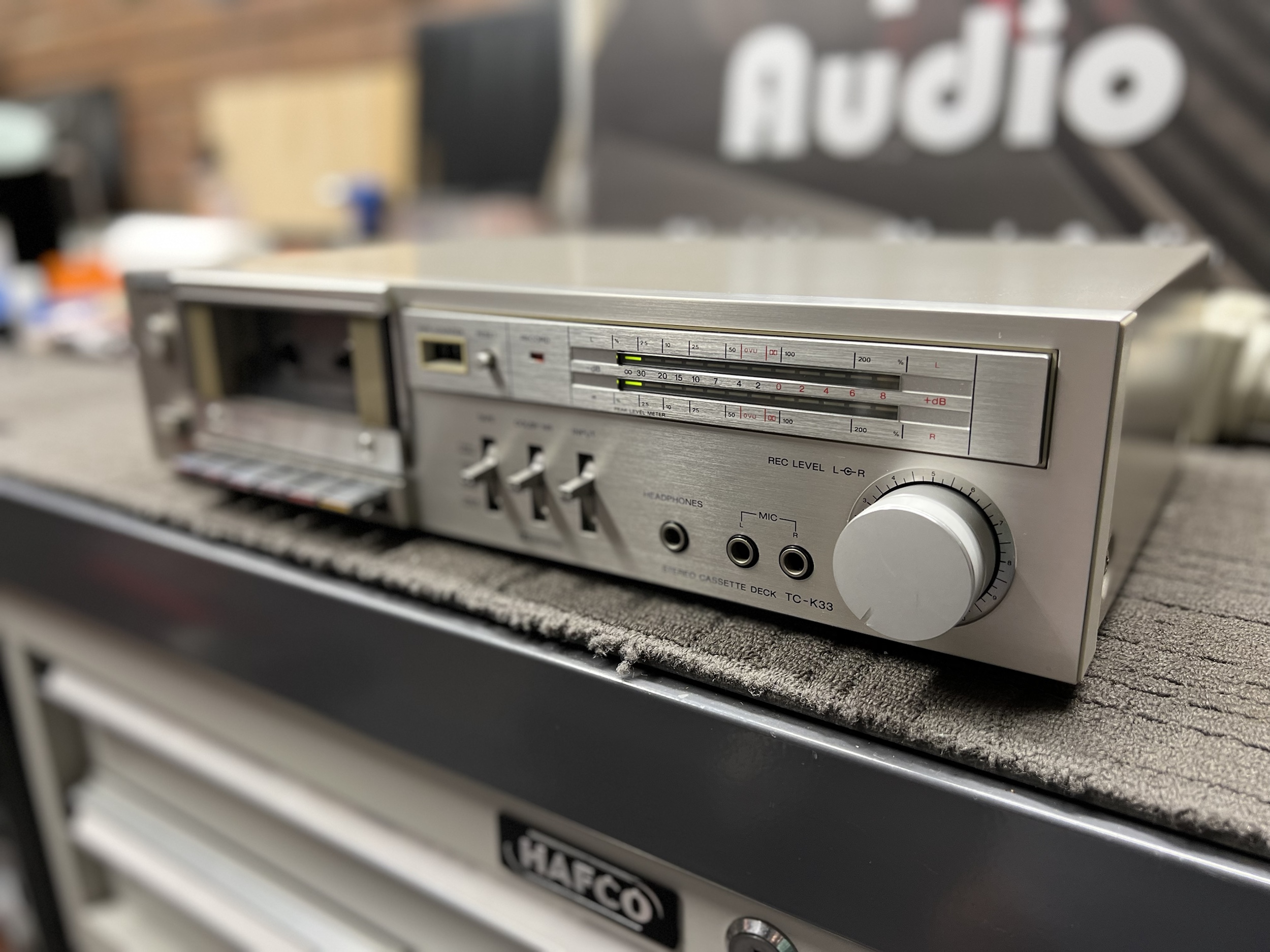 Specifications, courtesy HiFi Engine
Type: 2-head, single compact cassette deck
Track System: 4-track, 2-channel stereo
Tape Speed: 4.8 cm/s
Heads: 1 x record/playback, 1 x erase
Tape Type: type I, CrO2, Metal
Noise Reduction: B
Frequency Response: 20Hz to 16kHz  (Metal tape)
Signal to Noise Ratio: 66dB  (dolby B)
Wow and Flutter: 0.07%
Total Harmonic Distortion: 1.0%
Input: 77.5mV (line), 0.25mV (mic)
Output: 0.435V (line)
Dimensions: 430 x 105 x 290mm
Weight: 4.5kg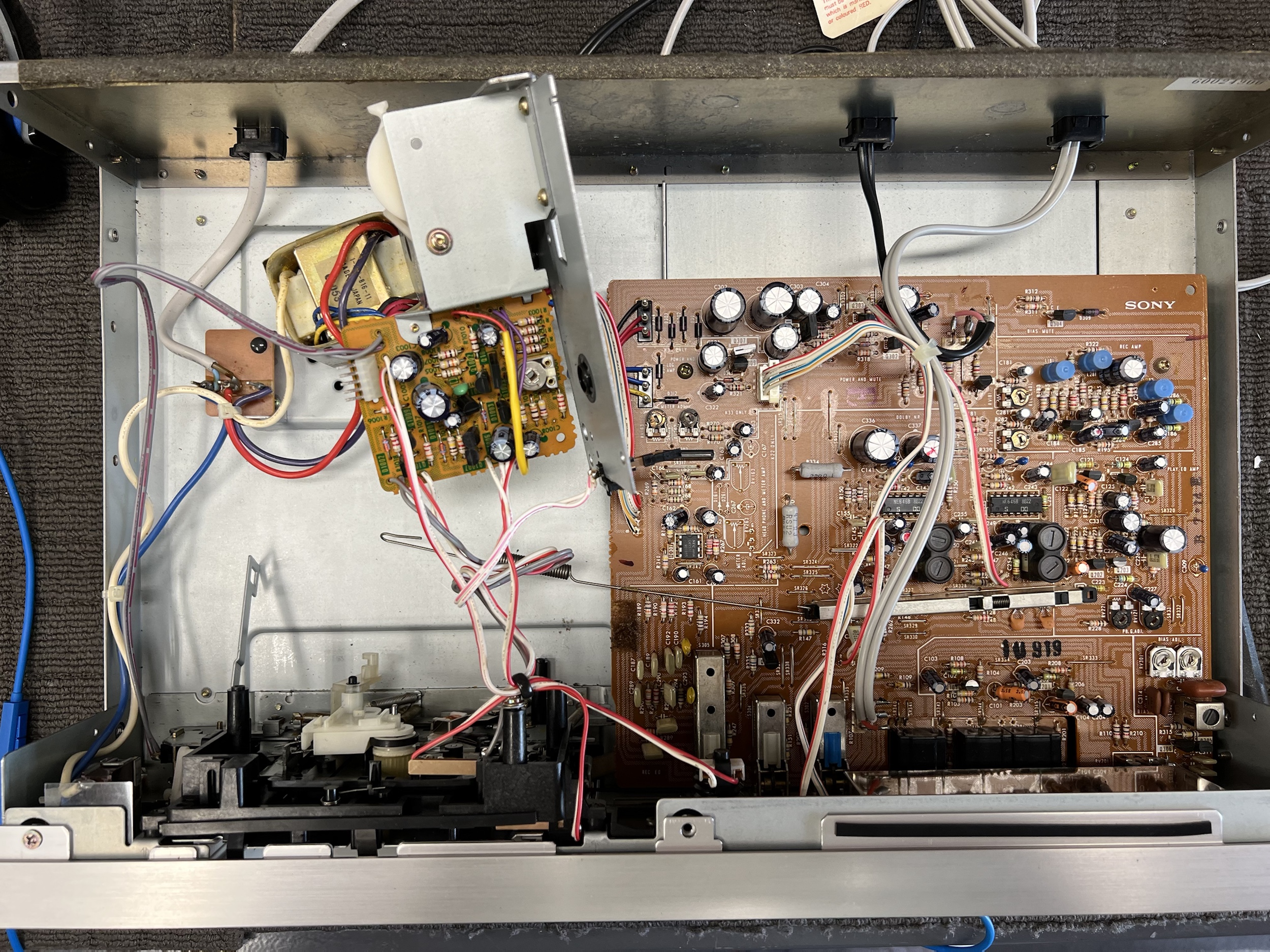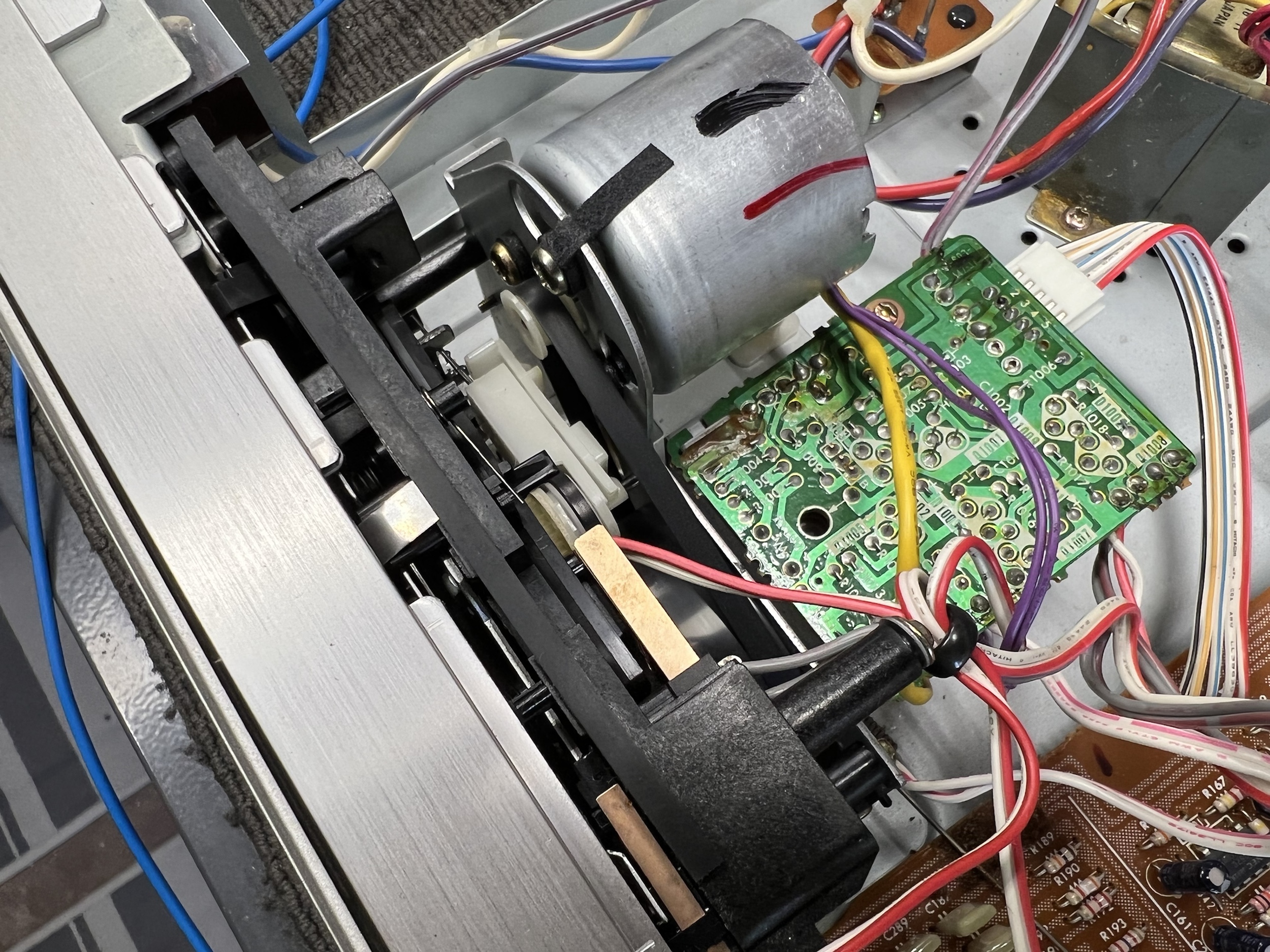 Are you looking for a lovely, value-priced cassette deck for your collection? Look no further than this one-owner, made in Japan, just serviced Sony TC-K33, for just $375.
---
 Beautiful Sony TA-333 Integrated Amplifier, in Amazing Condition!
Just in, check out this absolute beauty! If you need a really high-quality, modestly powerful integrated with LED meters, a nice phono stage and all the features needed to run a great little hi-fi stereo system, this could be perfect.
UPDATE: Sold!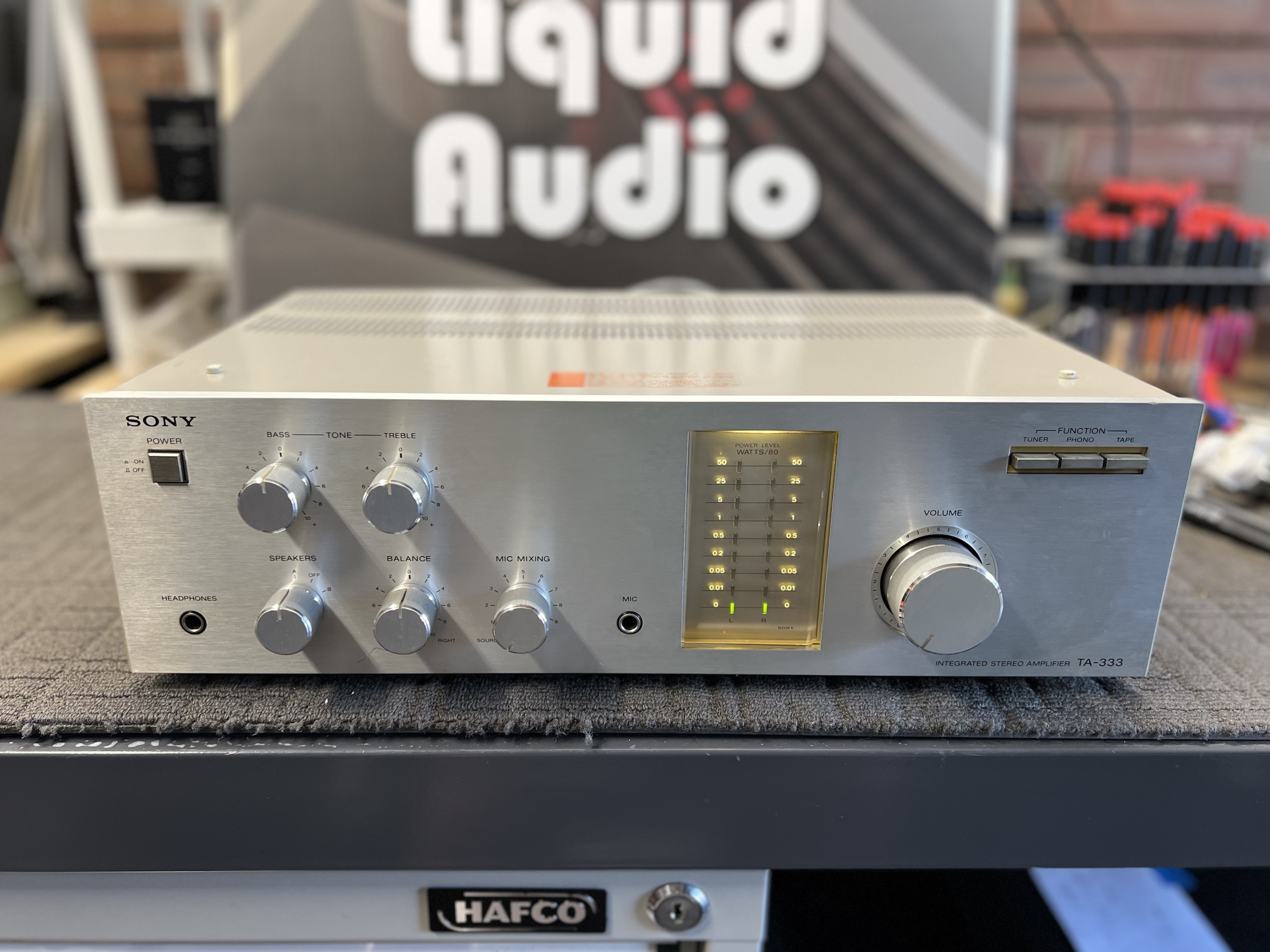 Just cleaned and serviced, she's also received an LED lamp upgrade for the meters, full adjustments and switch and control maintenance, far beyond what almost any other retailers offer. That's the advantage of buying directly from a specialist!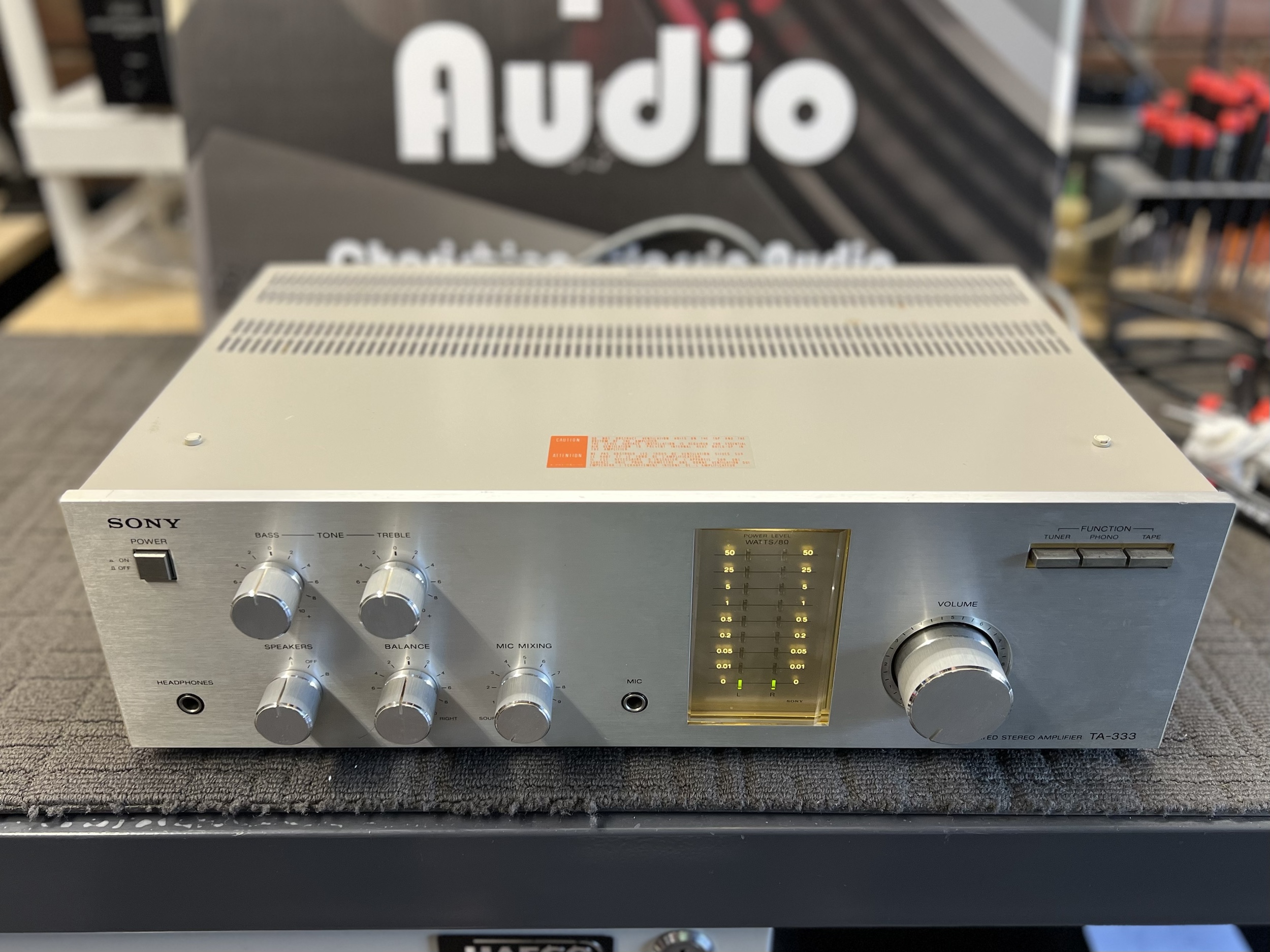 Specifications, courtesy HiFi Engine
Power output: 25 watts per channel into 8Ω (stereo)
Frequency response: 10Hz to 50kHz
Total harmonic distortion: 0.3%
Damping factor: 30
Input sensitivity: 2mV (mic), 2.5mV (MM), 150mV (line)
Signal to noise ratio: 72dB (MM), 95dB (line)
Output: 150mV (line)
Speaker load impedance: 4Ω to 16Ω
Dimensions: 430 x 135 x 290mm
Weight: 6.2kg
Year: 1979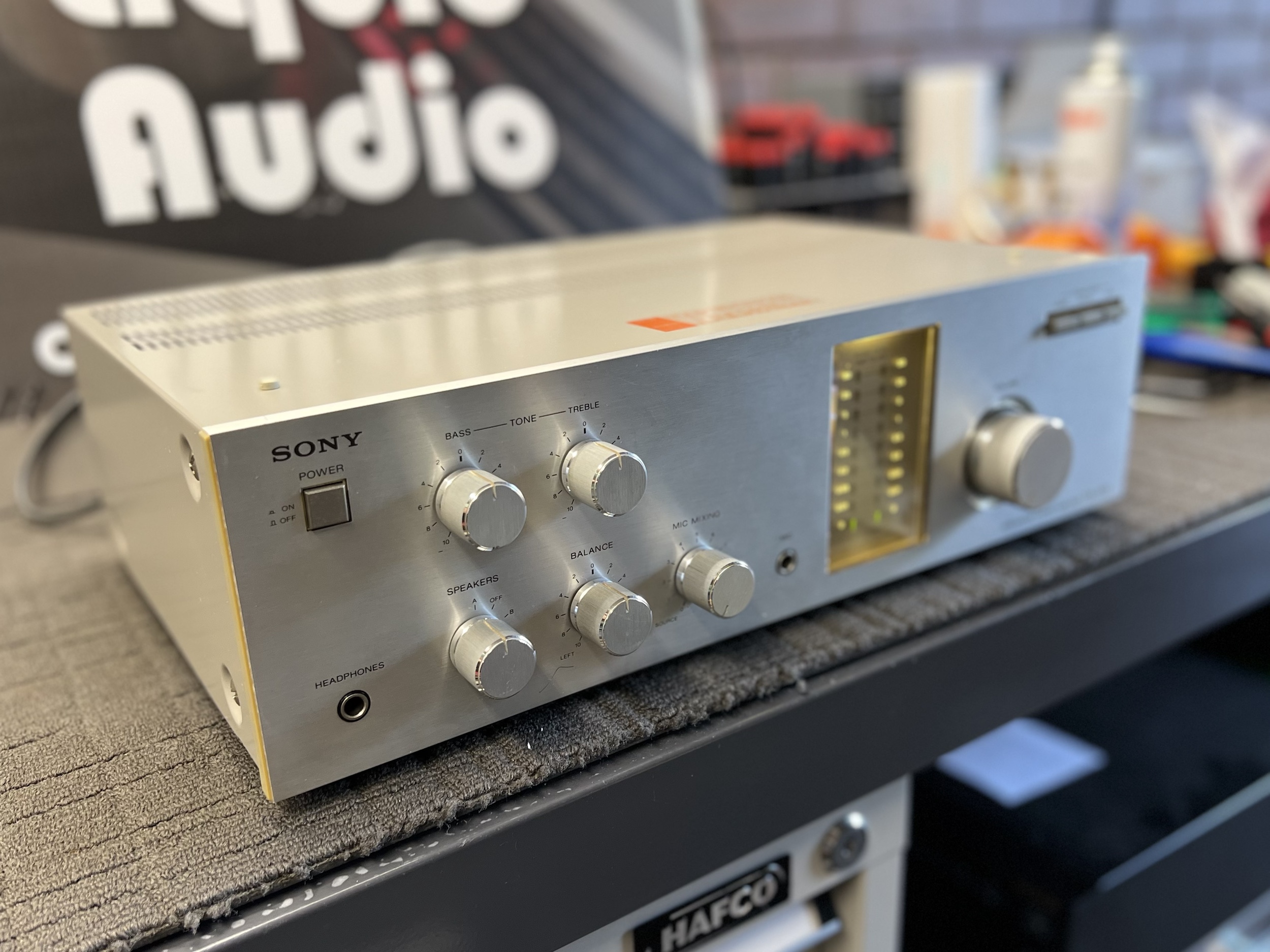 I want to keep all the great gear like this that I come across, but that's obviously ridiculous. She has to go, she's a bit too pretty to have sitting around!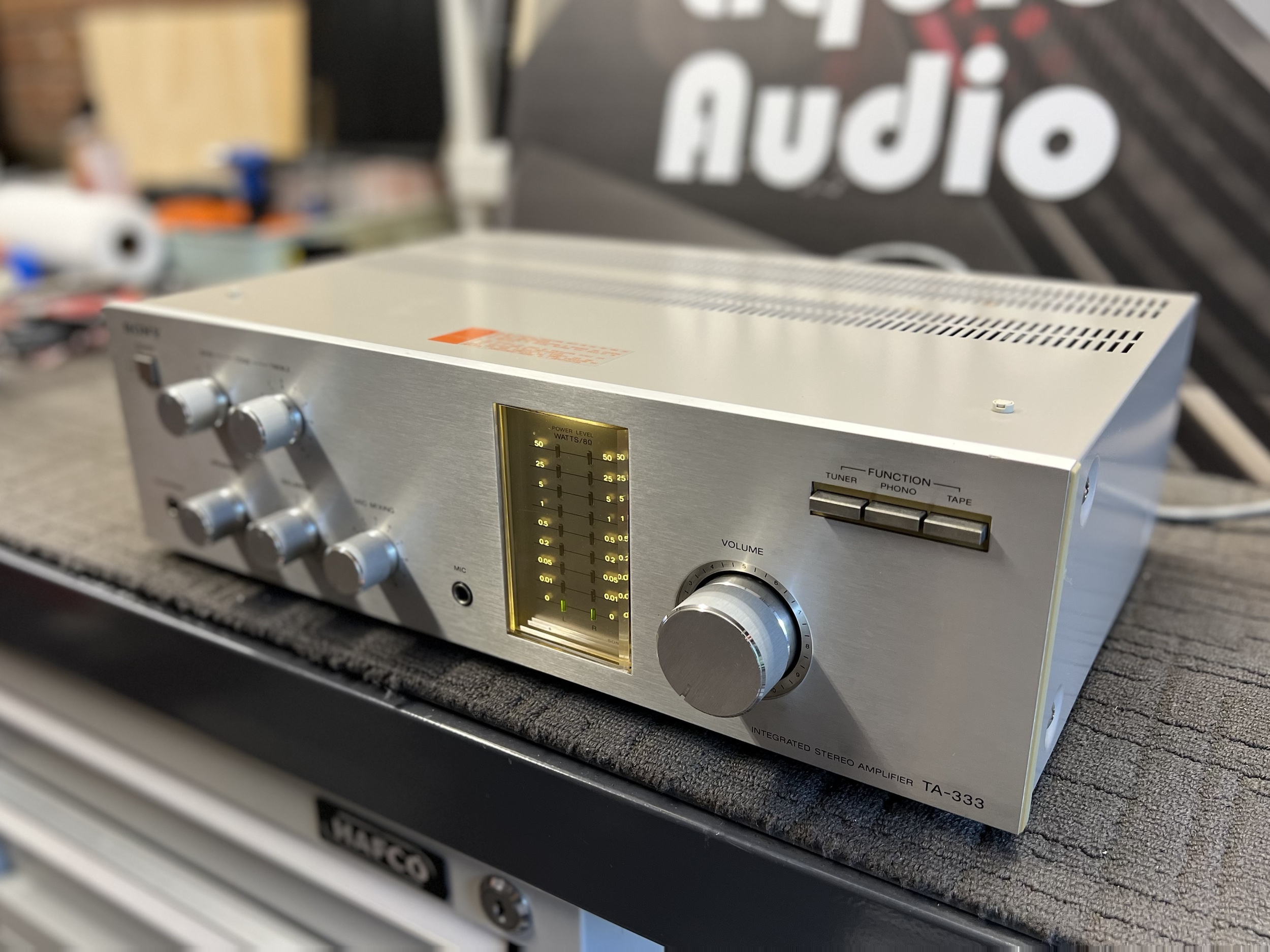 Please, take this lovely girl and give her a new home before I change my mind! She can be yours for $495.
---
Perfect Pioneer SA-408 Integrated Amplifier!
UPDATE: Sold!
You just have to see this old girl to believe the conditions she's in. As always, just serviced and detailed, you could eat off this almost pristine Pioneer classic. SHe's a very similar spec to the Sony TA-333 above, in other words a high-quality, modestly powerful integrated amplifier, with built-in phono preamp as all amplifiers had, back in the day.
Specifications, courtesy HiFi Engine
Power output: 25 watts per channel into 8Ω (stereo)
Dimensions: 420 x 88 x 220mm
Year: 1979
Like the Sony TA-333, this Pioneer SA-408 has just been cleaned and serviced and is ready for a new home. This would make a great first hi-fi amplifier for someone, she's a lovely simple little unit from an era when gear like this was made to last.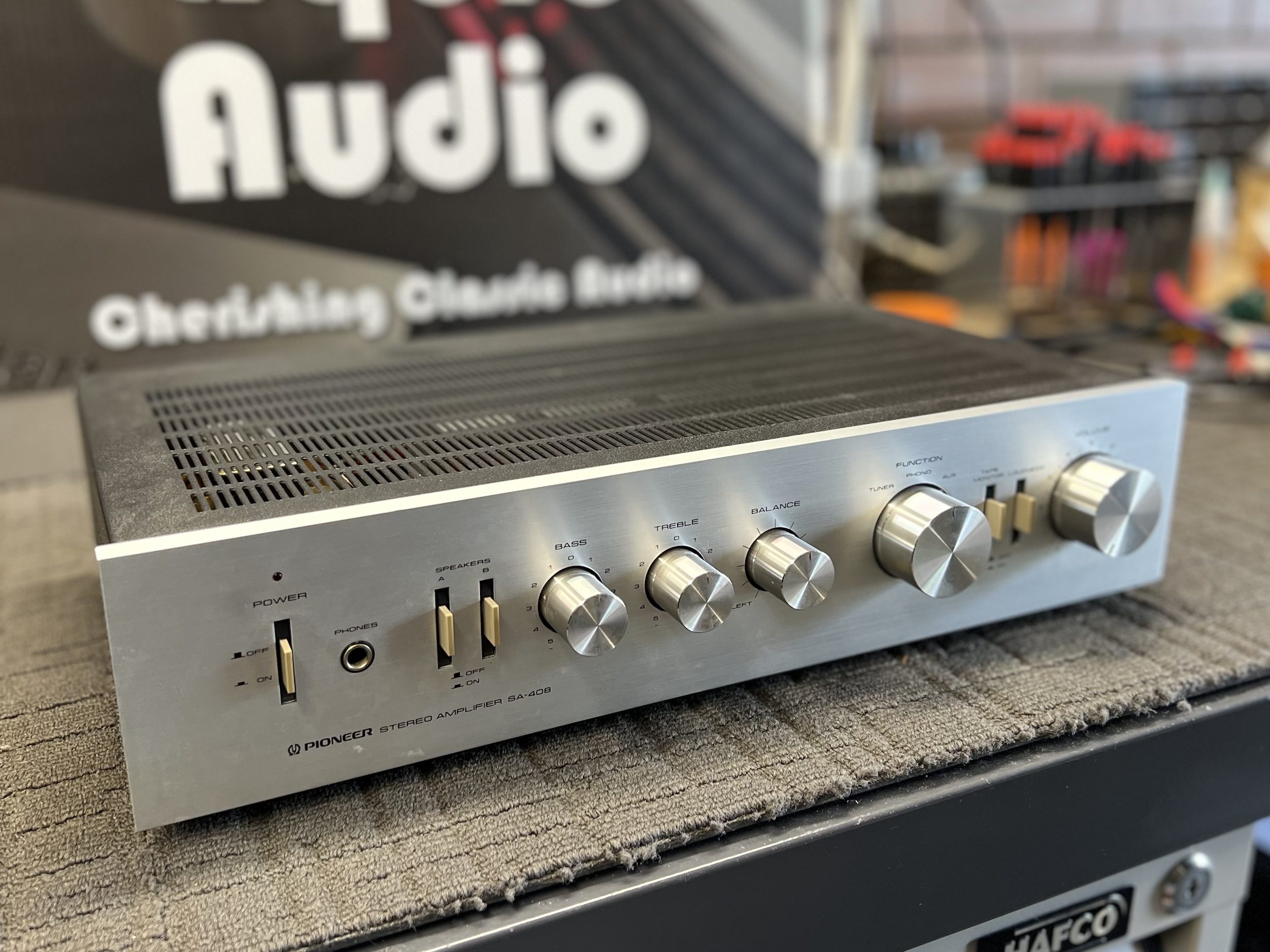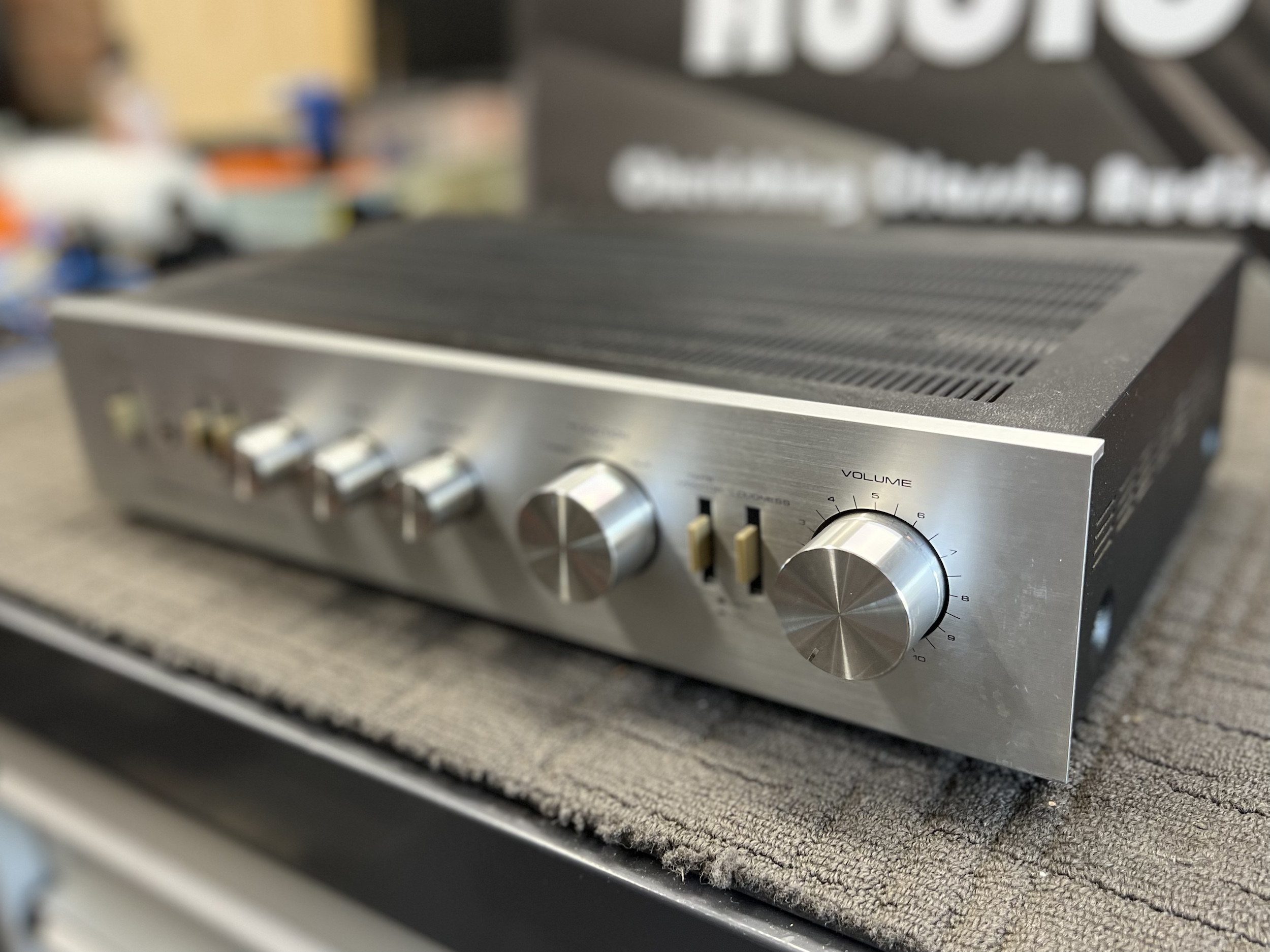 This Pioneer SA-408 would be perfect driving a little set of bookshelf speakers and can be yours for just $375.
---
 Wow – Music Angel XD-845 Mk3 Class-A Tube Amplifier, Cosmetically Imperfect, NOS, Tested!
Check out this beautiful Music Angel XD-845 Mk3 class-A single-ended triode tube amplifier for sale. This is a cosmetically imperfect unit and sold as-is, without tubes. The amplifier package was dropped in shipping, resulting in some cosmetic damage.
UPDATE: Sold!
The damage is easily fixable by anyone good with their hands. I sold the replacement unit many years ago, you can see and read about it in this article. Since then, this original, shipping damaged unit has been sitting in a box, unopened and unused.
UPDATE: By request, I've powered her up to reform her capacitors and test her. All voltages are present and correct and she powers up normally. The damage appears purely cosmetic. All that being said, this unit is being sold as-is, tested and working, but with no warranty.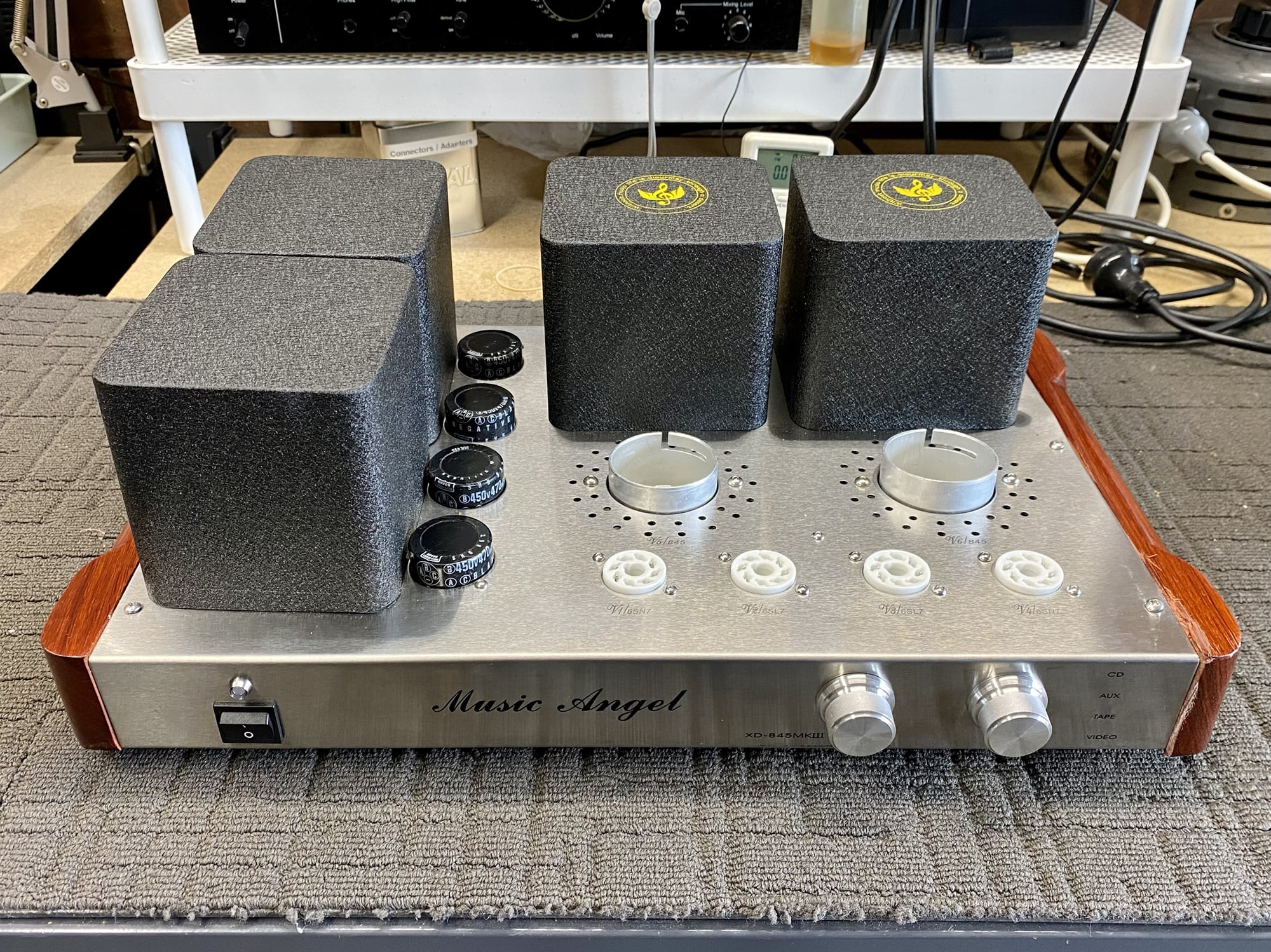 The Music Angel Class-A 845 is a beast. This is 28kg of pure Class-A, single-ended triode (SET) tube amplifier that sounds nothing like any solid-state amplifier you've ever heard. The 845 is warm, liquid-smooth and powerful for its rated 20 Watt/ch rating.
With an amplifier like this, you'll hear mid-range magic that only SET amps provide. The 845 also has prodigious bass and you get to look at those gorgeous output tubes glowing orange, with the lights out…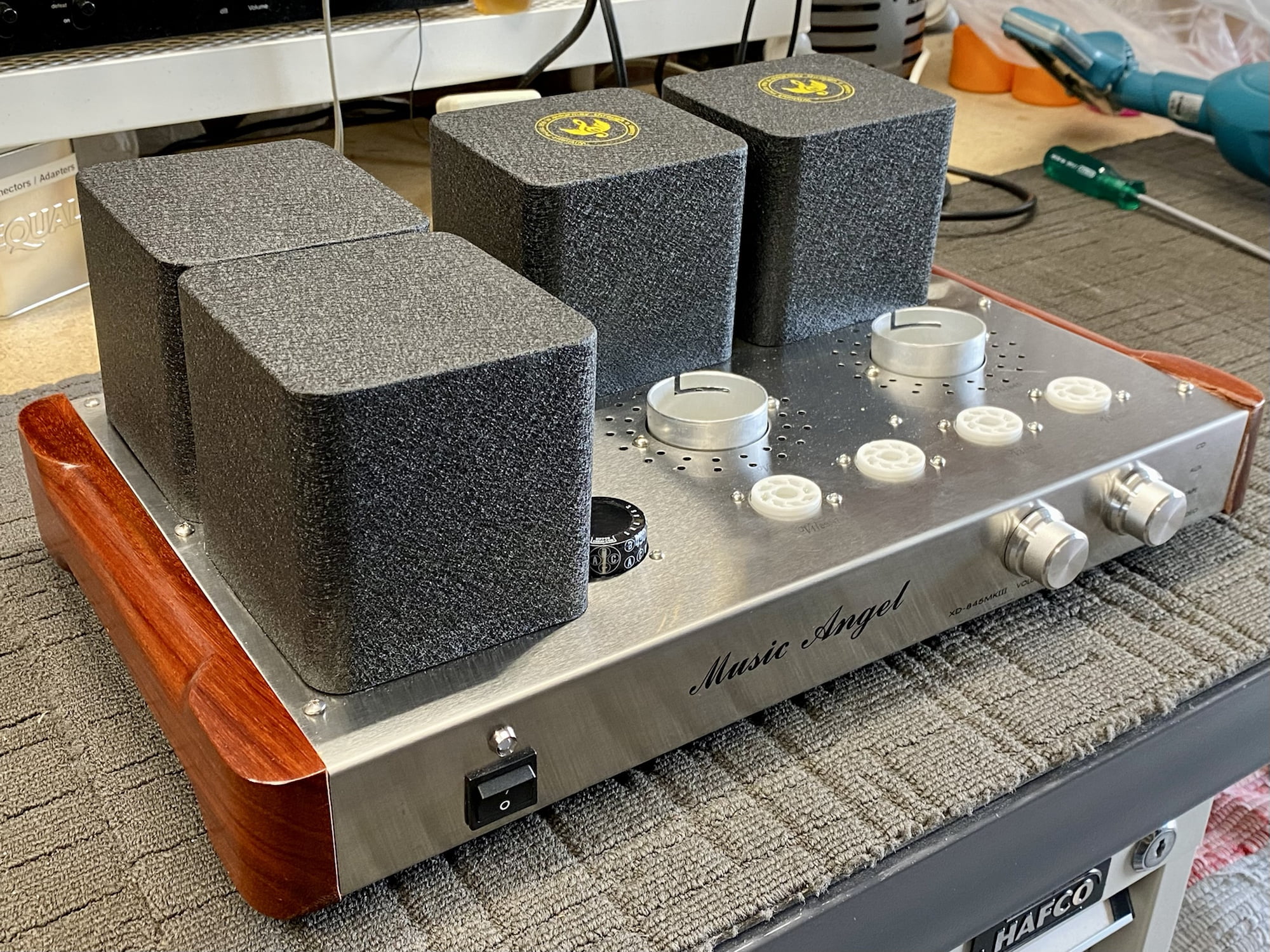 There is a ton of info out there on these liquid-smooth sounding tube amplifiers, so just search for Music Angel 845 and loads of articles will come up. This unit obviously has no tubes and is priced accordingly.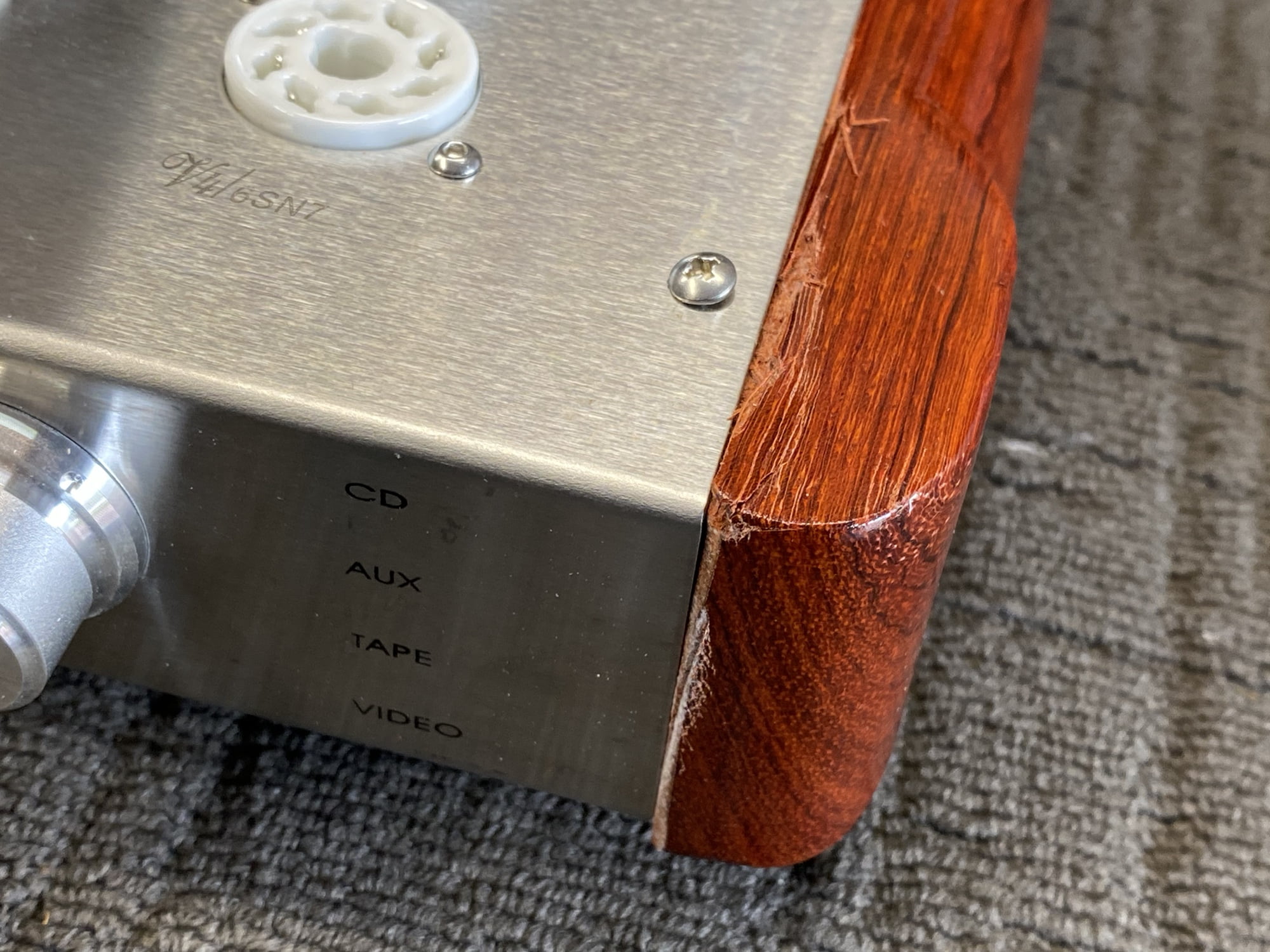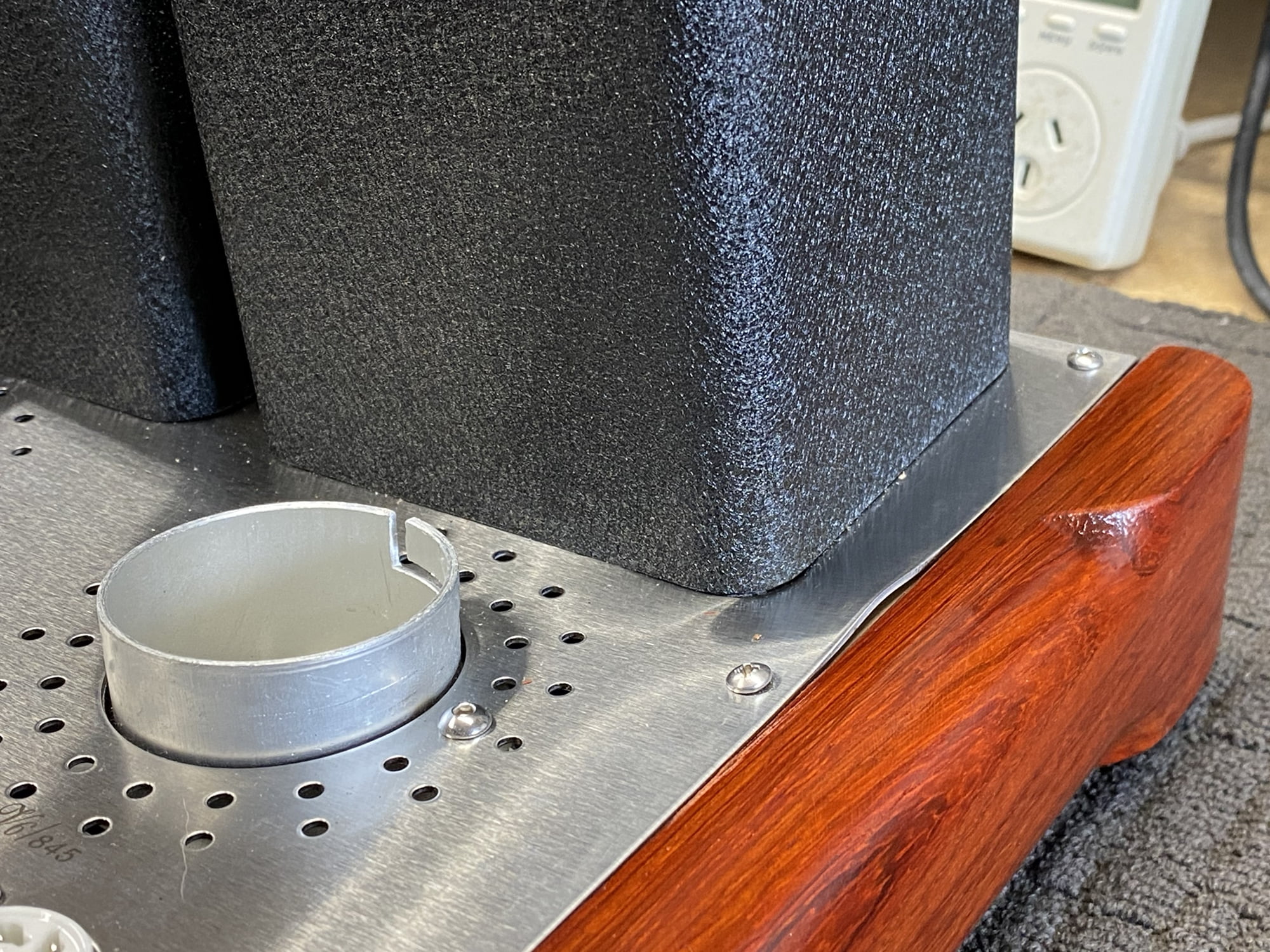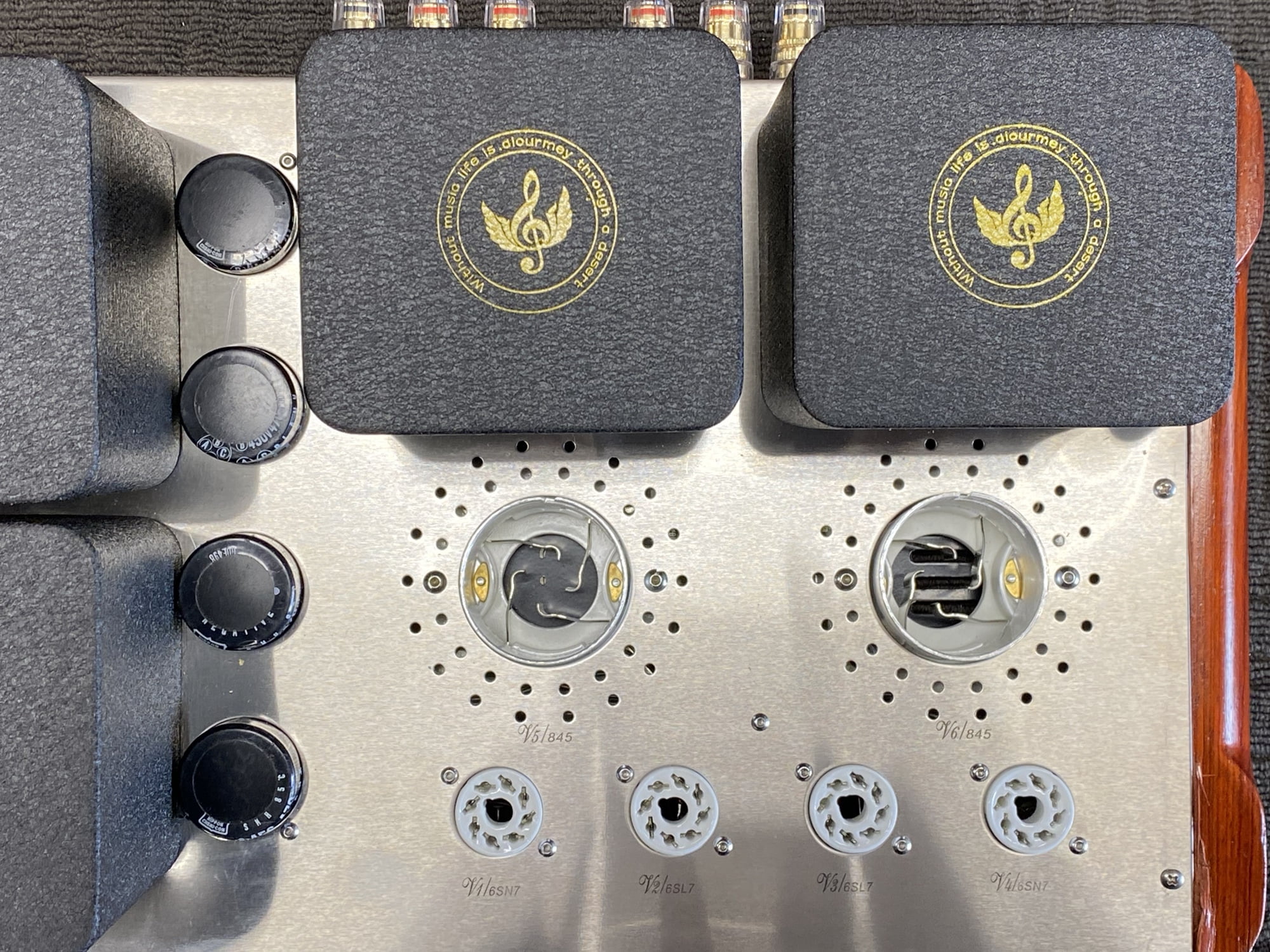 As mentioned, I don't have any 845 tubes for this amplifier. I DO have some very nice NOS Russian military small signal tubes. A set of four would normally set you back $100, but I will include a set @ just $50 for any interested buyer. The big 845 output tubes can be purchased from around $150 per set of two, upwards. So you need say $200 worth of tubes and she is cosmetically imperfect but otherwise good.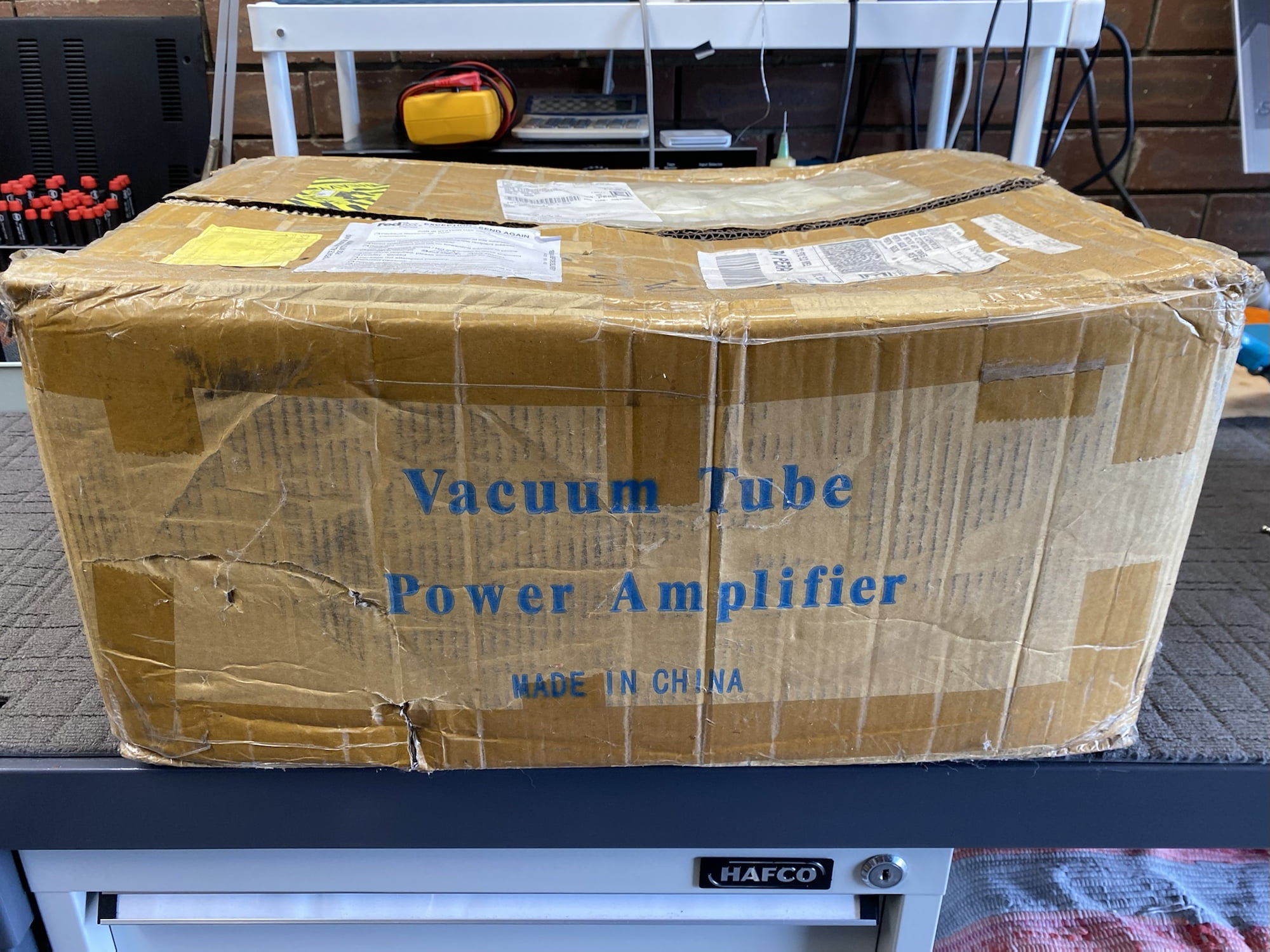 This otherwise lovely, NOS, Music Angel XD-845 Mk3 Class-A amplifier comes in her original box and sold for around $1500 AUD new, in 2014. She is sold as-is, tested and running, needing a set of tubes and a little TKC. This would be a great project for someone wanting a sweet-sounding class-A valve amp.
Make me an offer on this beauty!
---
Attention Marantz Collectors: Stunning Marantz CD-84 CD Player For Sale!
That's right, here is an original, classic, first-generation Marantz CD-84, with CDM1 mech and finished in classic Marantz champagne. I've just written about this beautiful CD player, so check that out, too.
UPDATE: Sold!
Regular readers will know that I have too many CD players and, despite having sold a ton of gear recently, and my desire to keep this classic piece of digital audio equipment, I just don't need this plus the Sony CDP-X7ESD, Nak OMS-7, Meridian 207 etc, so she is up for grabs.
This player is in excellent condition for her age, with light scuffing noted on the top panel but no major scrapes and scratches.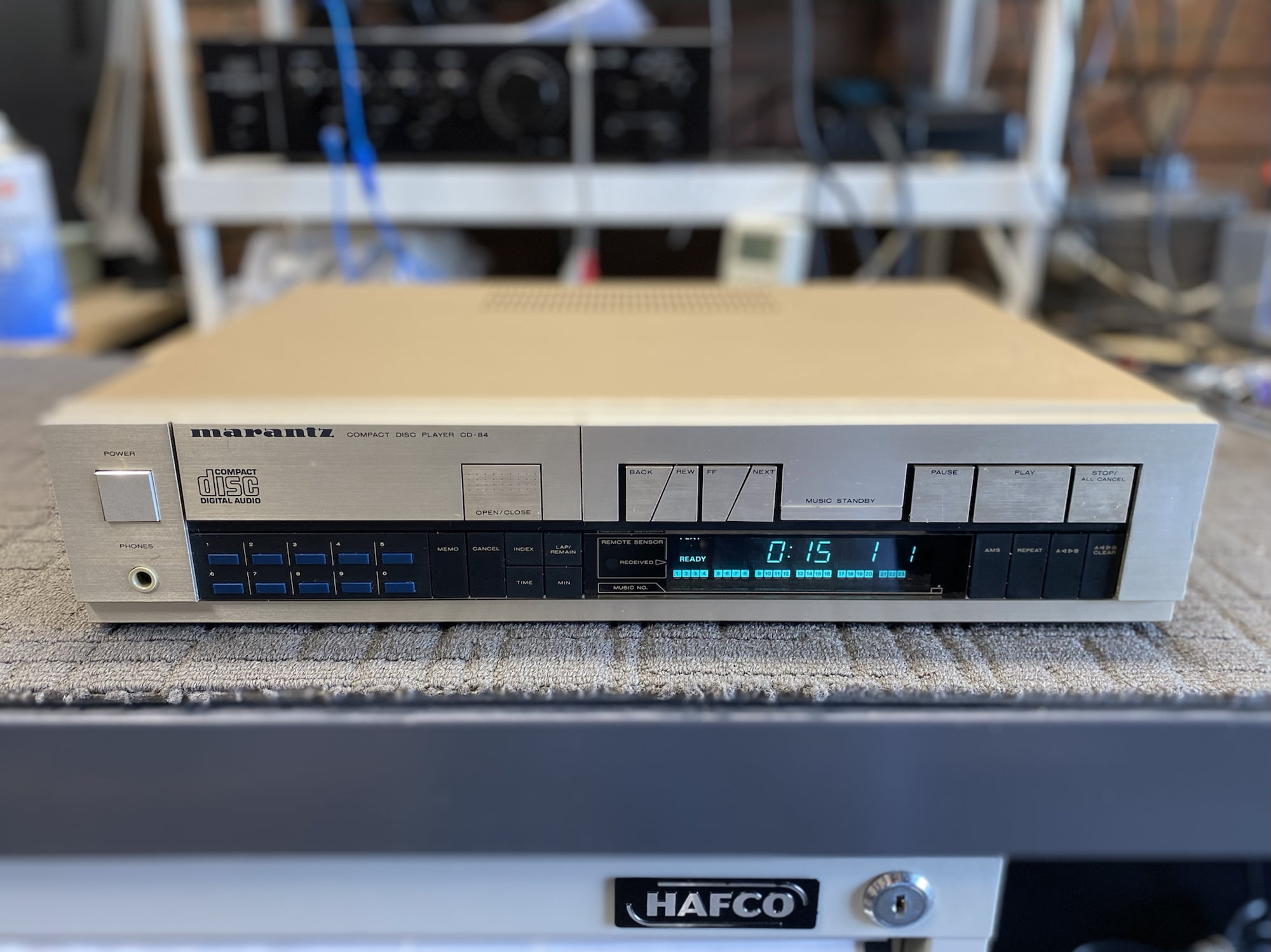 The Marantz CD-84 isn't true first-gen in terms of CD players but it's damn close. These early players were really seriously built, the CD-84 weighing around 10kg, mostly because of its heavy-duty power supply, metal construction and serious Philips CDM1 mech. That's right, the Marantz CD-84 uses the infamous and perhaps most highly sought after mech of all, the all-metal and glass CDM1.
Not only that, but the Marantz CD-84 also uses Philips classic TDA1540 DAC chip. These chips are famous for having 14-bit resolution and a unique, warm sonic presentation. This CD-84 for example has a strong, robust sound, with the warmth and smoothness often lacking in early CD players. But this was an upmarket player, you'd expect a strong performance.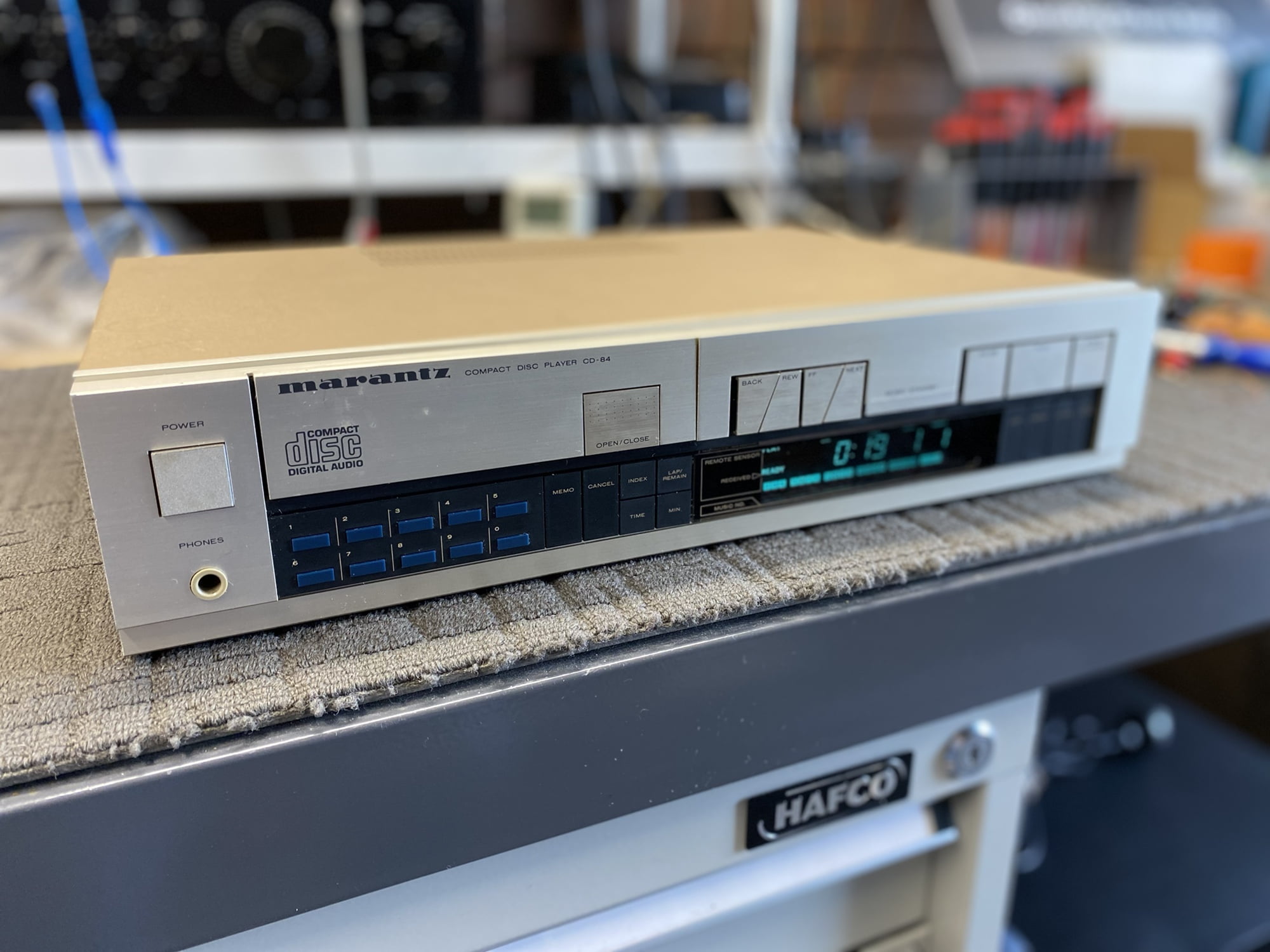 Specifications
Disc format: CD
Digital converter: TDA1540, 16-bit linear (almost!)
CD Mechanism: CDM-1
Frequency response: 4Hz to 20kHz
Dynamic range: 90dB
Signal to Noise Ratio: 90dB
Total harmonic distortion: 0.003%
Line output: 2V
Dimensions: 416 x 90 x 300mm
Weight: 9.2kg
Year: 1984
I've just repaired and serviced this machine. I repaired the drawer load motor wiring, fixed a bunch of dry joints on the DAC and front panel boards, cleaned and lubricated the metal loader mechanism and gave her a general clean.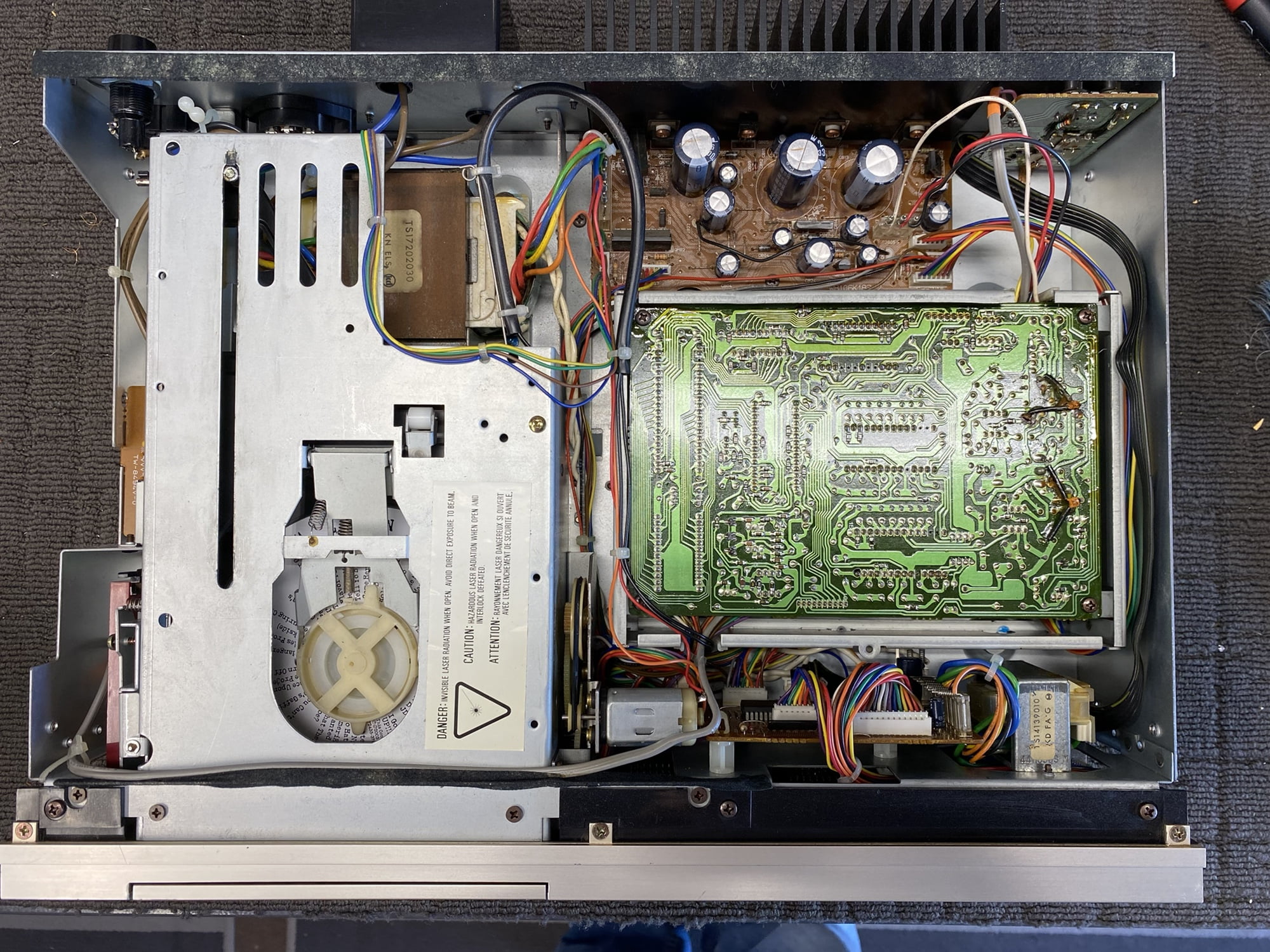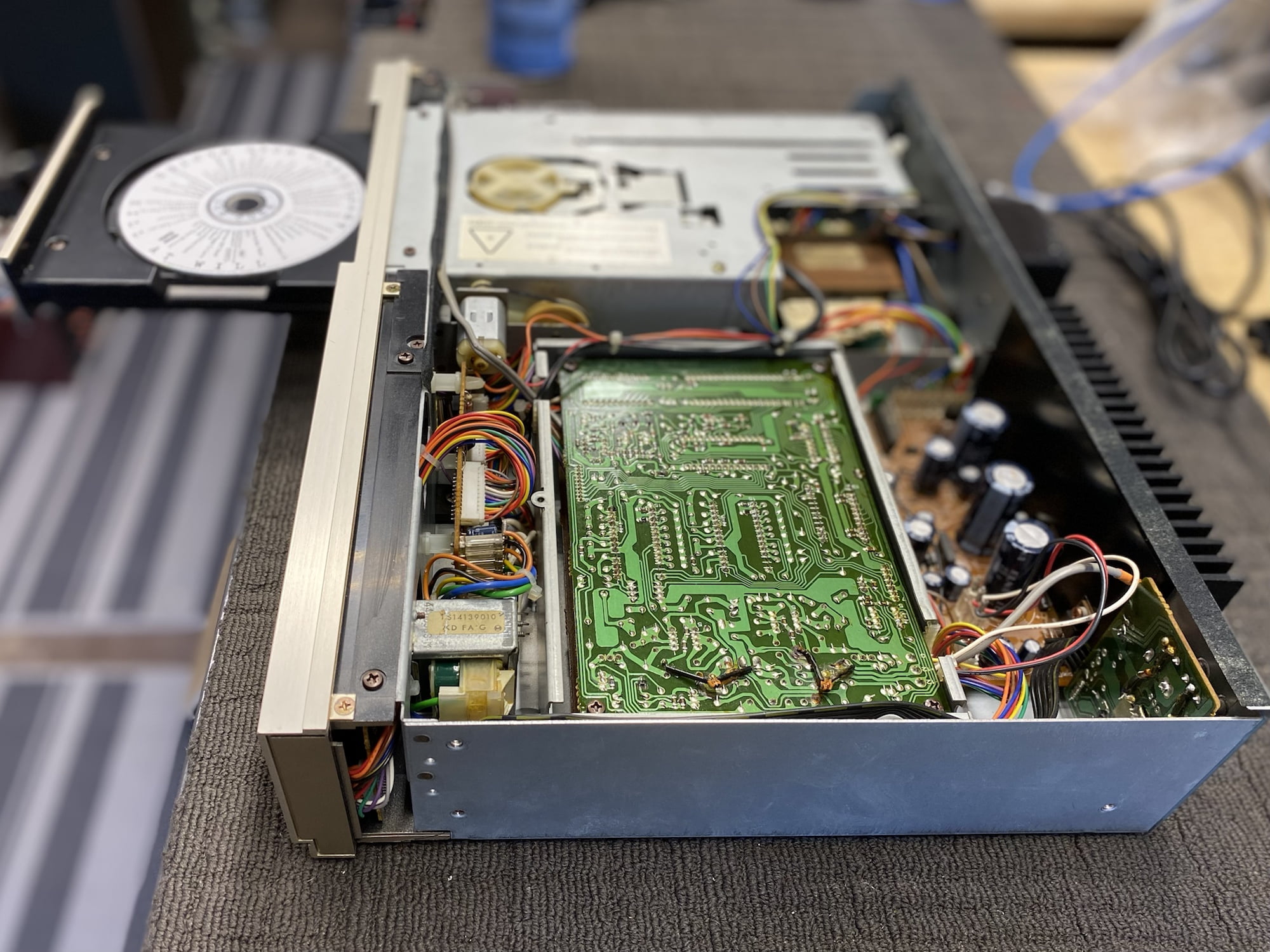 Sound-wise, the CD-84 is punchy and warm. She's not the highest resolution player, but these TDA1540 and 1541 machines have a warmth that belies their age. It's strangely counterintuitive to think about older players which often sounded thin and shrill sounding warm and rounded, as this machine does.
Machines like this CD-84 are becoming very collectible, like other quality, historic audio gear. I've said before that CD is the new vinyl and it really is. With CD collections selling for as little as $1 per disc, you just can't go wrong with great players from the '80s, '90s and 2000s.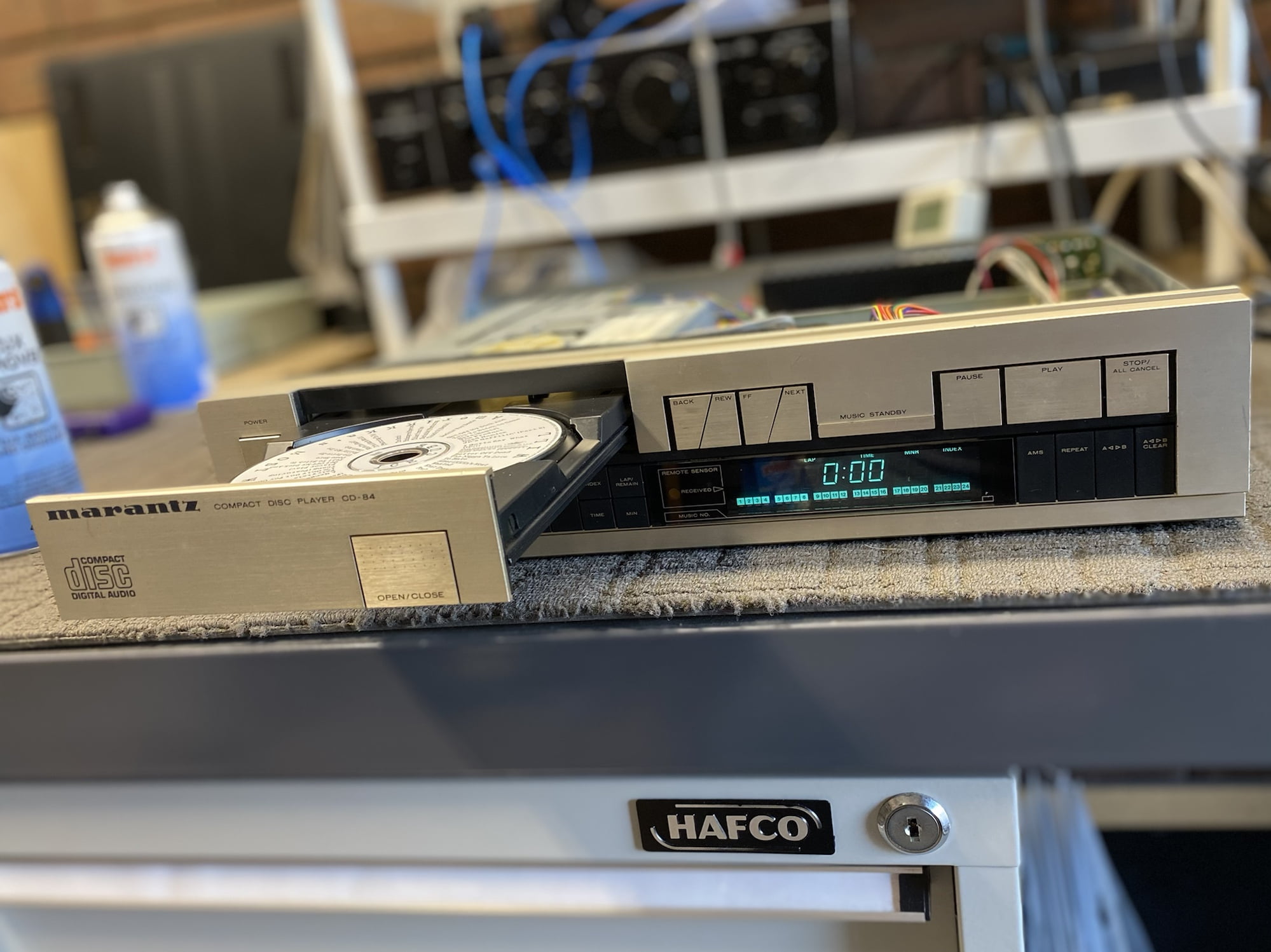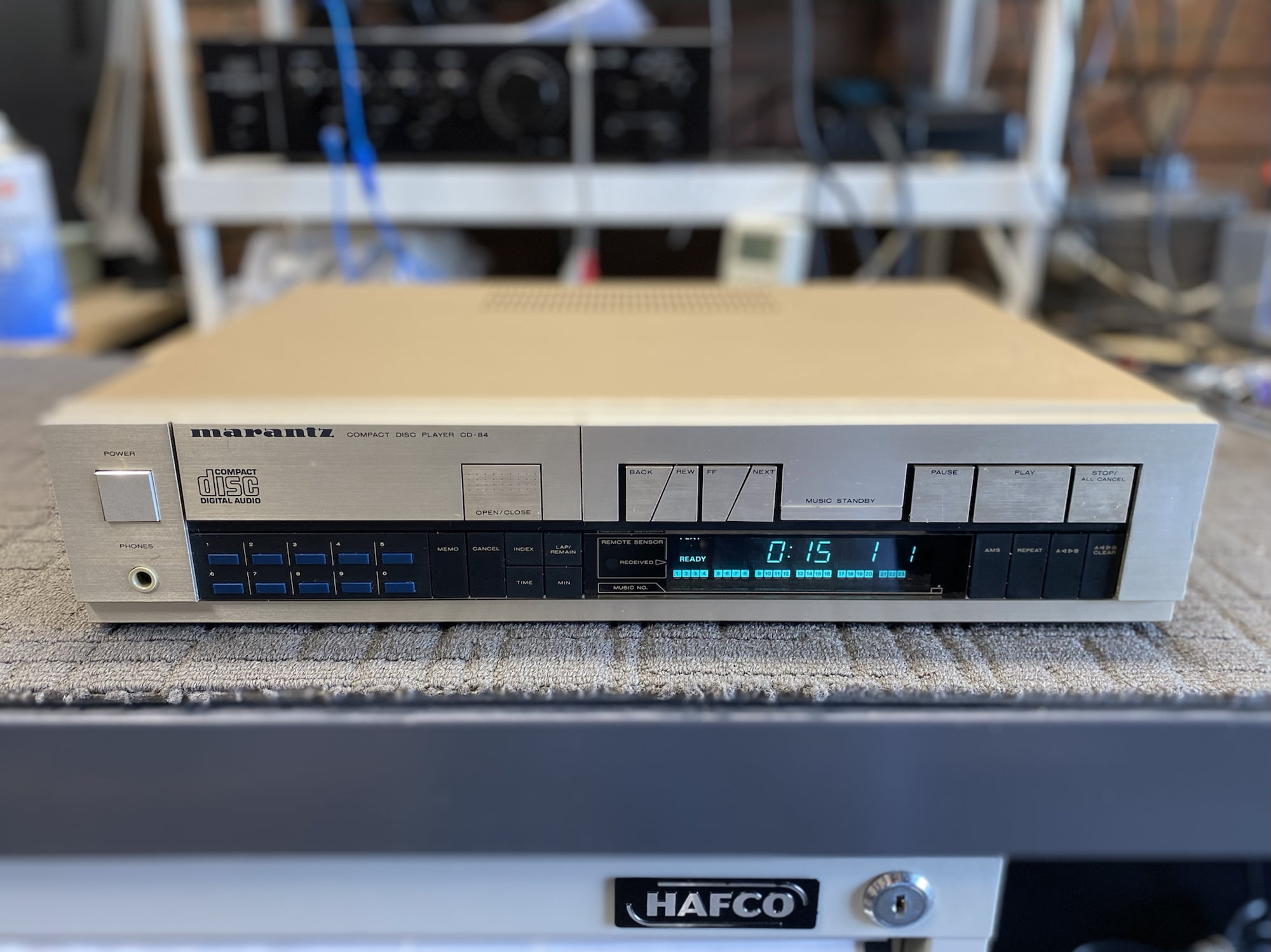 Keep in mind that this CD-84 is completely original, apart from her recent repair and service. I've left her that way on purpose, so that her next owner can make decisions about her future hopefully under the right guidance.
Sacrilegious as it is, the two TDA1540 DACs and the CDM-1 are so sought after now that some will see this as a part-out opportunity. I hope that doesn't happen. This Marantz CD-84 is far too rare and collectible in her own right to be broken up for parts. She deserves to sit in a vintage hi-fi system, where someone can rightly enjoy her.
This beautiful piece of hi-fi history can be yours for $995.
---
Lovely Marantz CD4000 CD Player, Like New, In Box!
Just in, this very nice Marantz CD4000 CD player, from the golden era of CD, is ready for a new home.
UPDATE: Sold!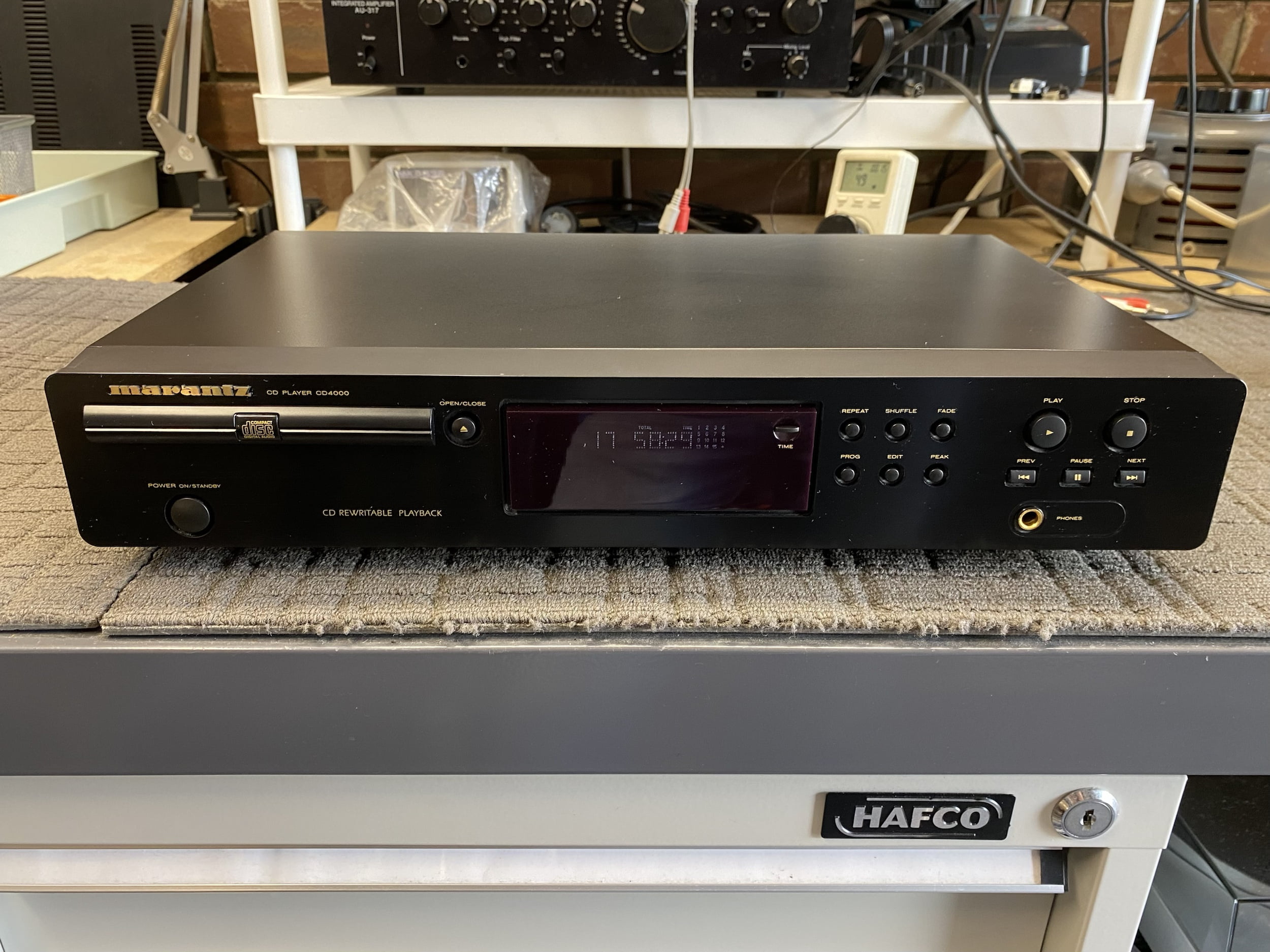 Specifications
Disc format: CD
Digital converter: TDA1545
CD Mechanism: CDM-12.1
Frequency response: 20Hz to 20kHz
Dynamic range: 95dB
Signal to Noise Ratio: 98dB
Channel separation: 85dB
Total harmonic distortion: 0.0063%
Line output: 2V
Digital outputs: coaxial
Dimensions: 435 x 86 x 265mm
Weight: 2.9kg
Year: 1999
Utilising the classic Philips CDM-12.1 mechanism and TDA1545 bitstream chipset, this is a great sounding budget machine from a time when decent budget CD players like this lasted longer than a couple of years!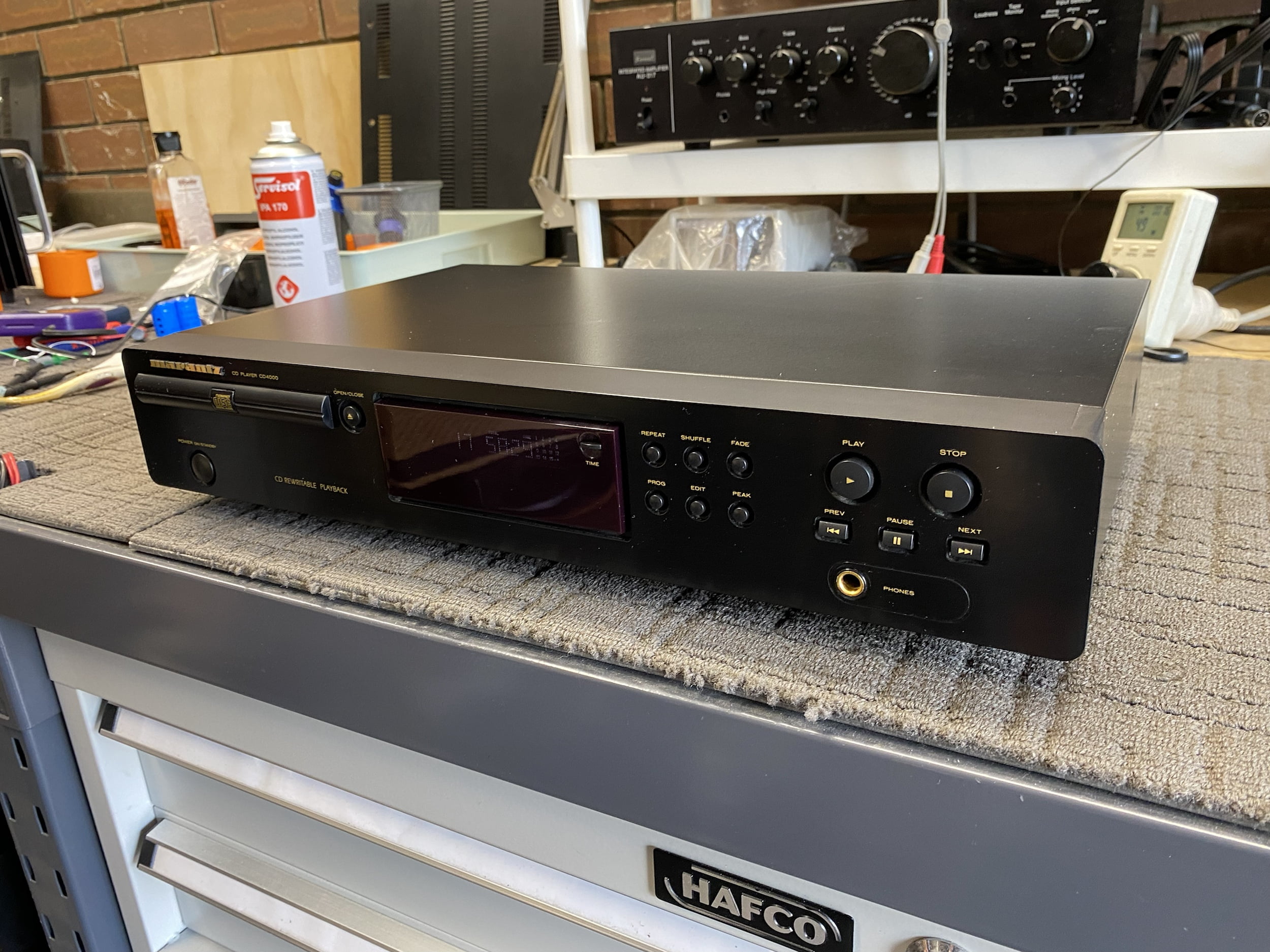 This Marantz CD4000 comes with her original box, manual and cable, but no remote. You can pick up remotes for $10, so I wouldn't be worried about that. You can read more about the CD4000 in the original brochure, here: Marantz_cd4000_brochure_en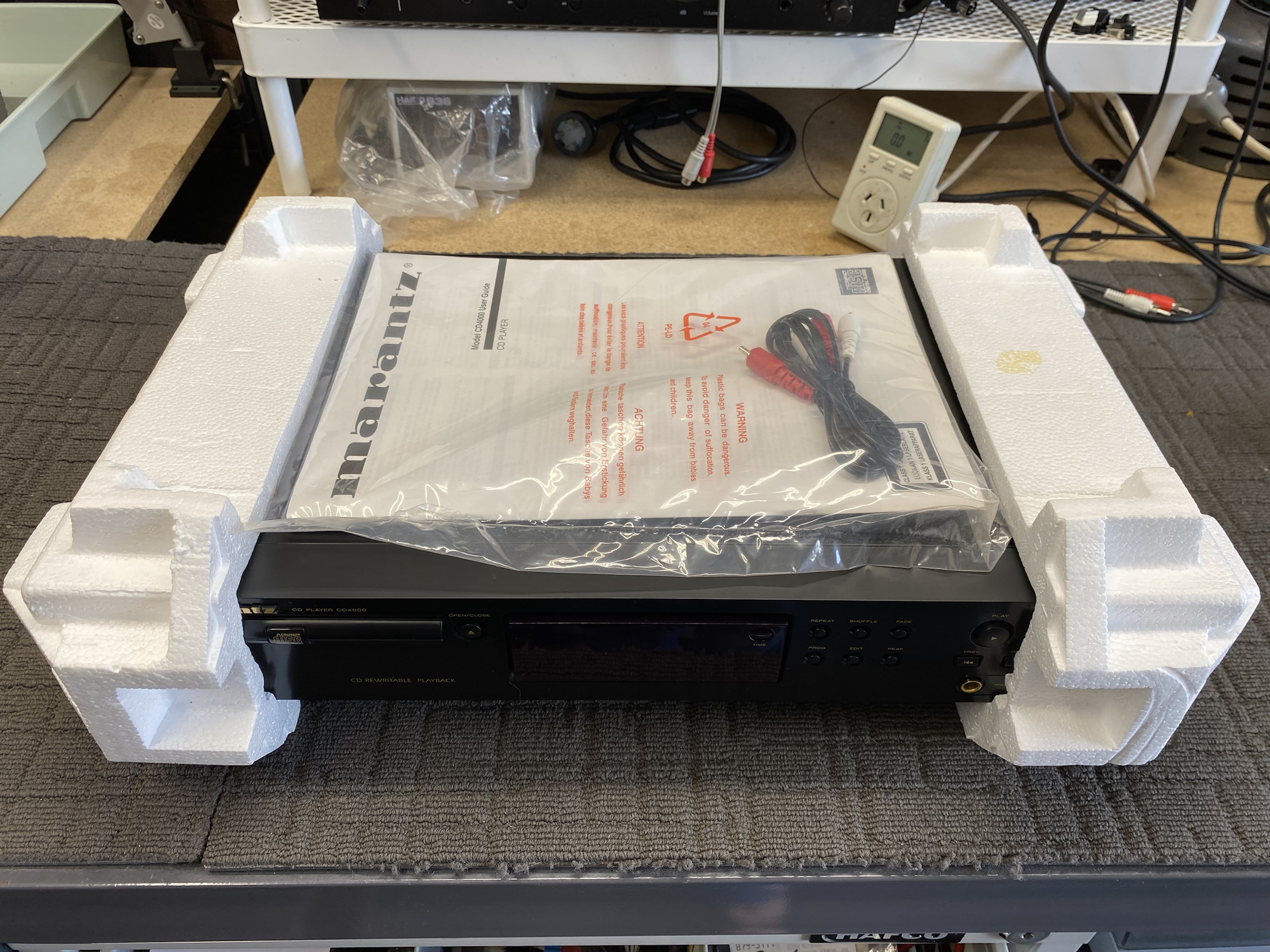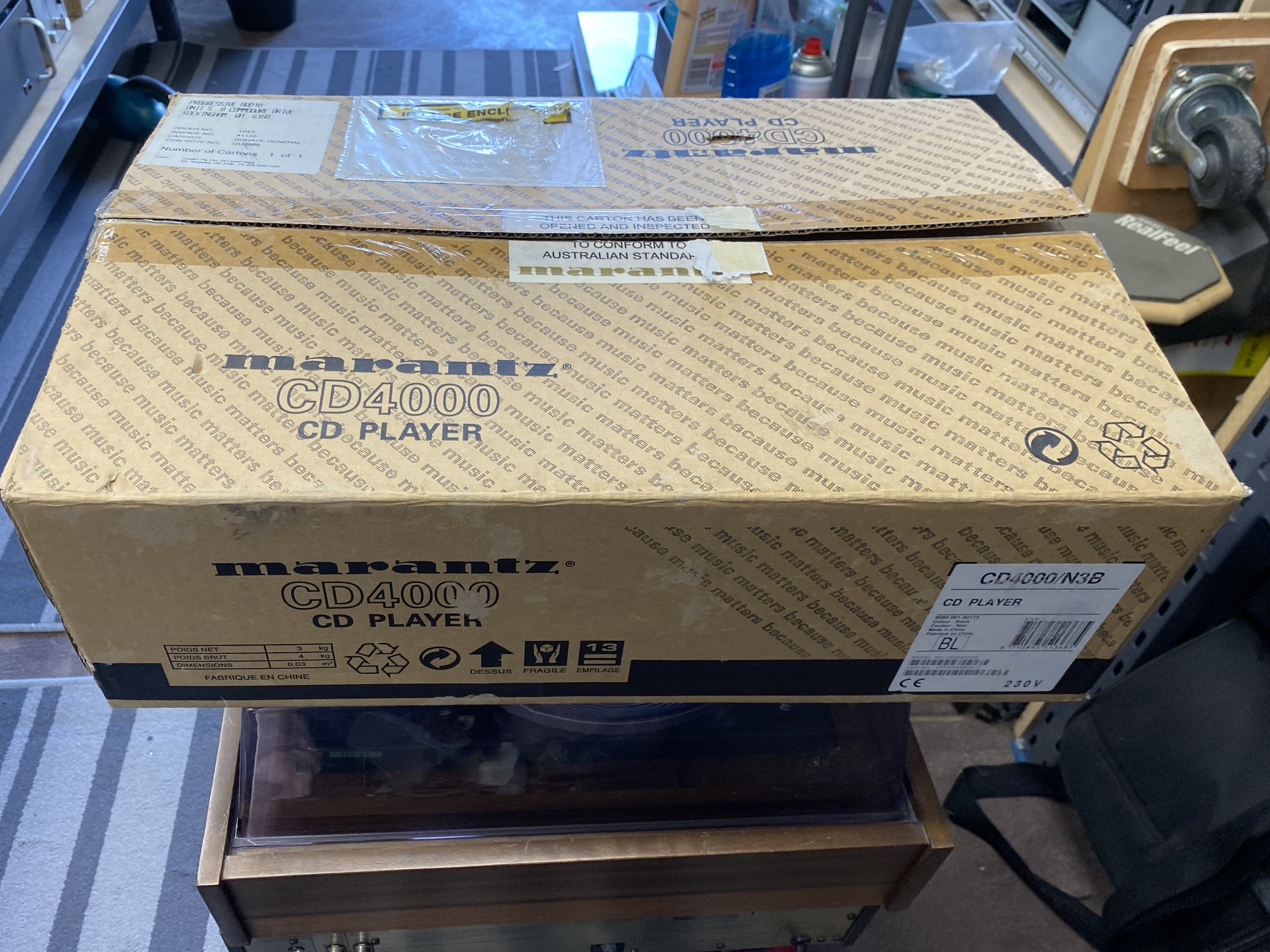 If you are after a good, proper old-school CD player that smashes other entry-level players like the new CD5005 for build quality and service life, look no further than this CD4000, for $395.
---
Legendary Pioneer A-400 Integrated Amplifier, One of the Best!
Alright, so many of you will know about this legendary classic integrated amplifier from Pioneer – the A-400. One of the best-reviewed amplifiers of its era, this little gem is still widely used in many good systems.
UPDATE: Sold!
The Pioneer A-400 hails from the early '90s. She features 50 Watts per channel, solid build and a focus on sonic performance over features, hence the low switch and control count. More can be found here, including the very high review ratings.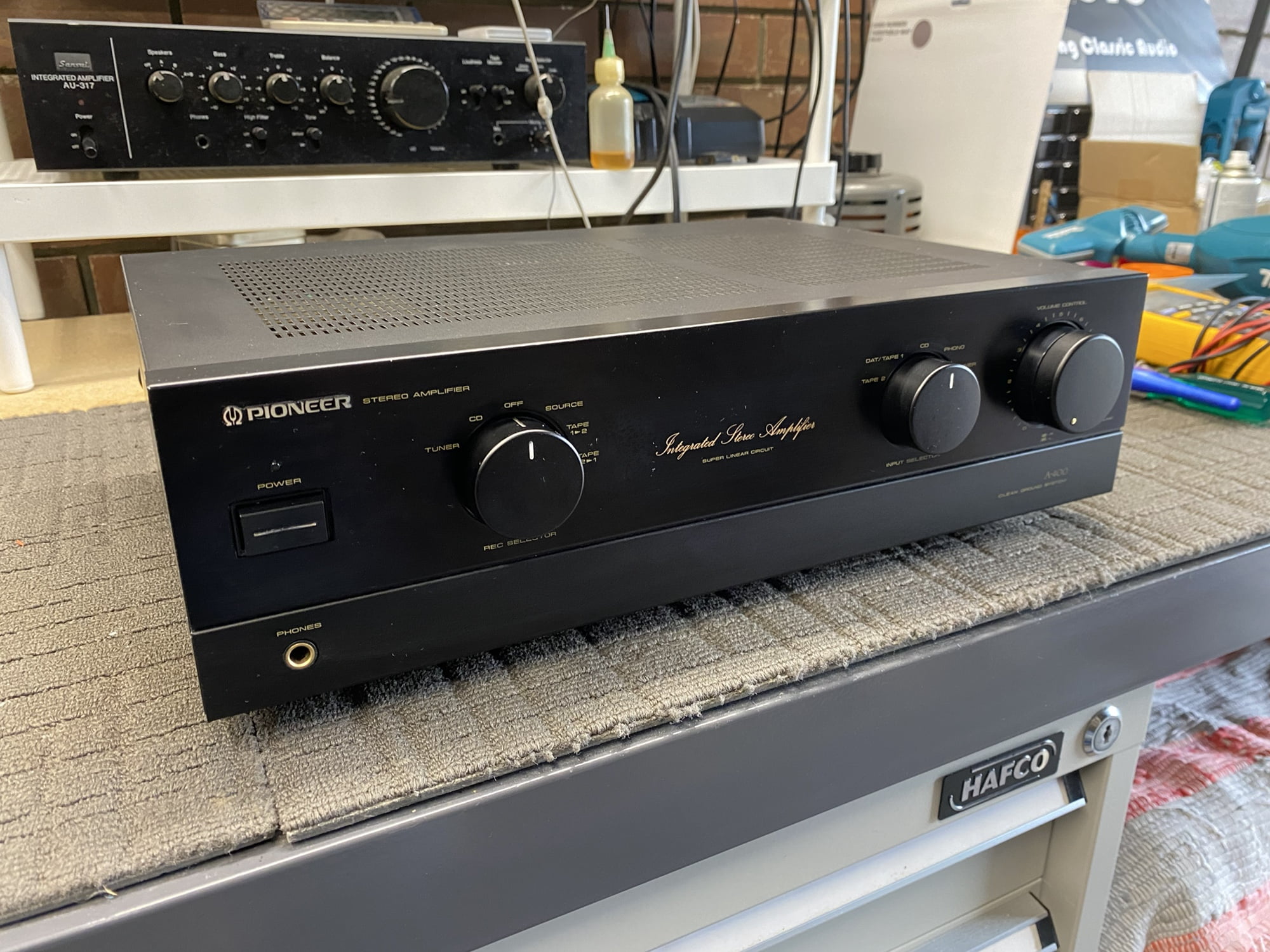 This one is cosmetically and electrically perfect – EXCEPT – check out the back panel connectors. I have no idea what happened here, I don't really care either. I'm not fixing it but someone else certainly can if they can be bothered.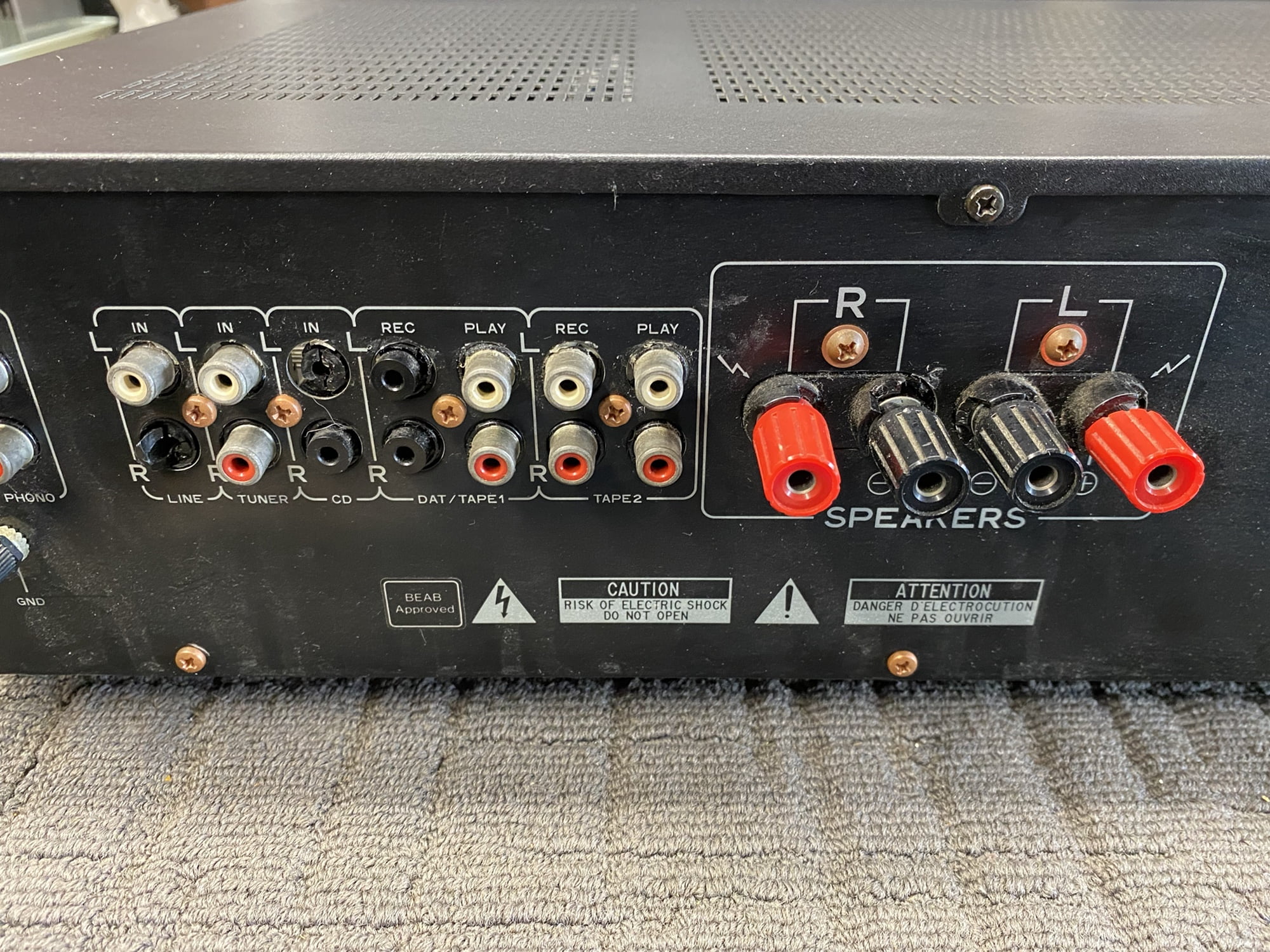 Other than this back panel madness, the amplifier works perfectly. A good project for someone I reckon.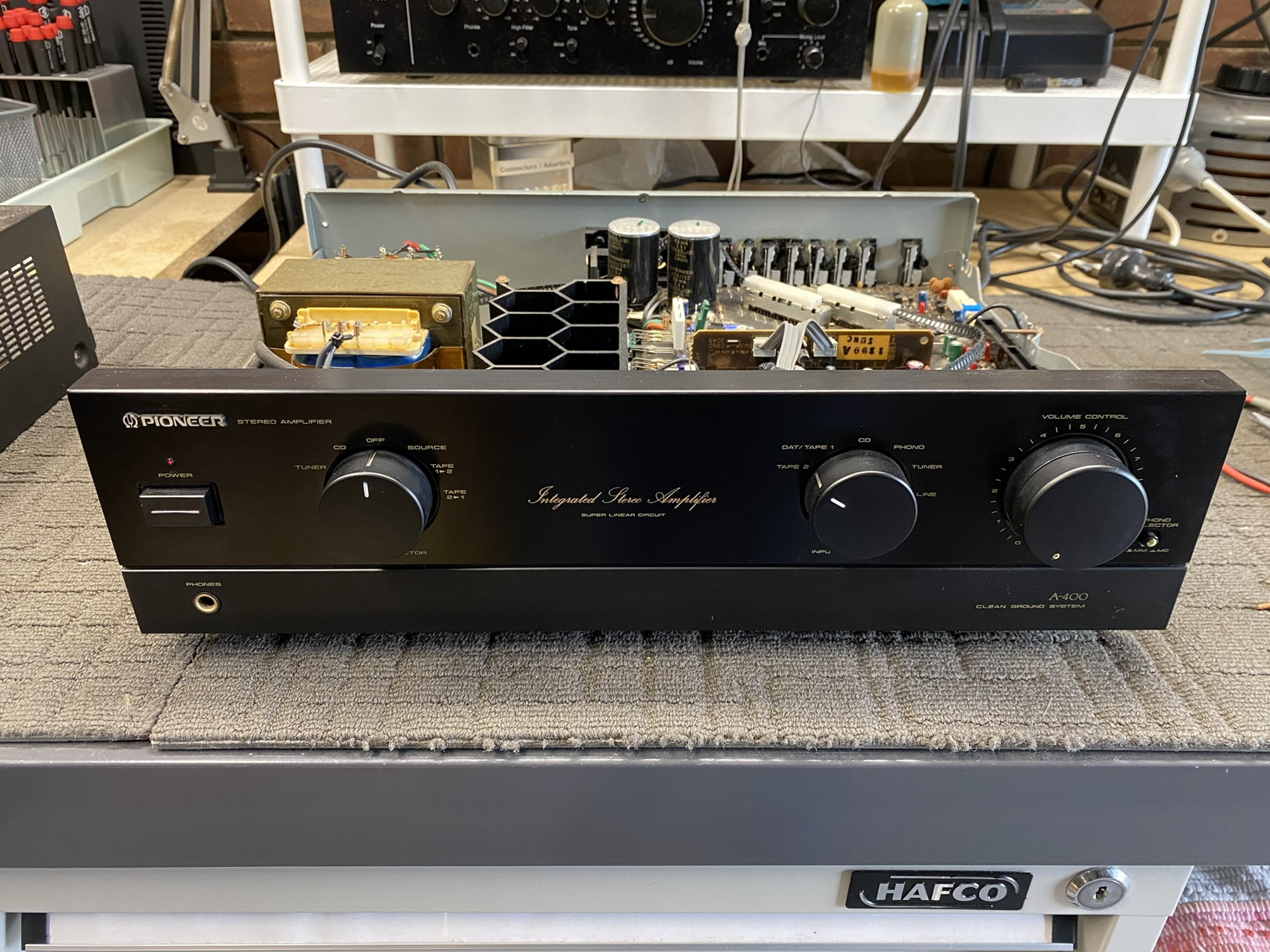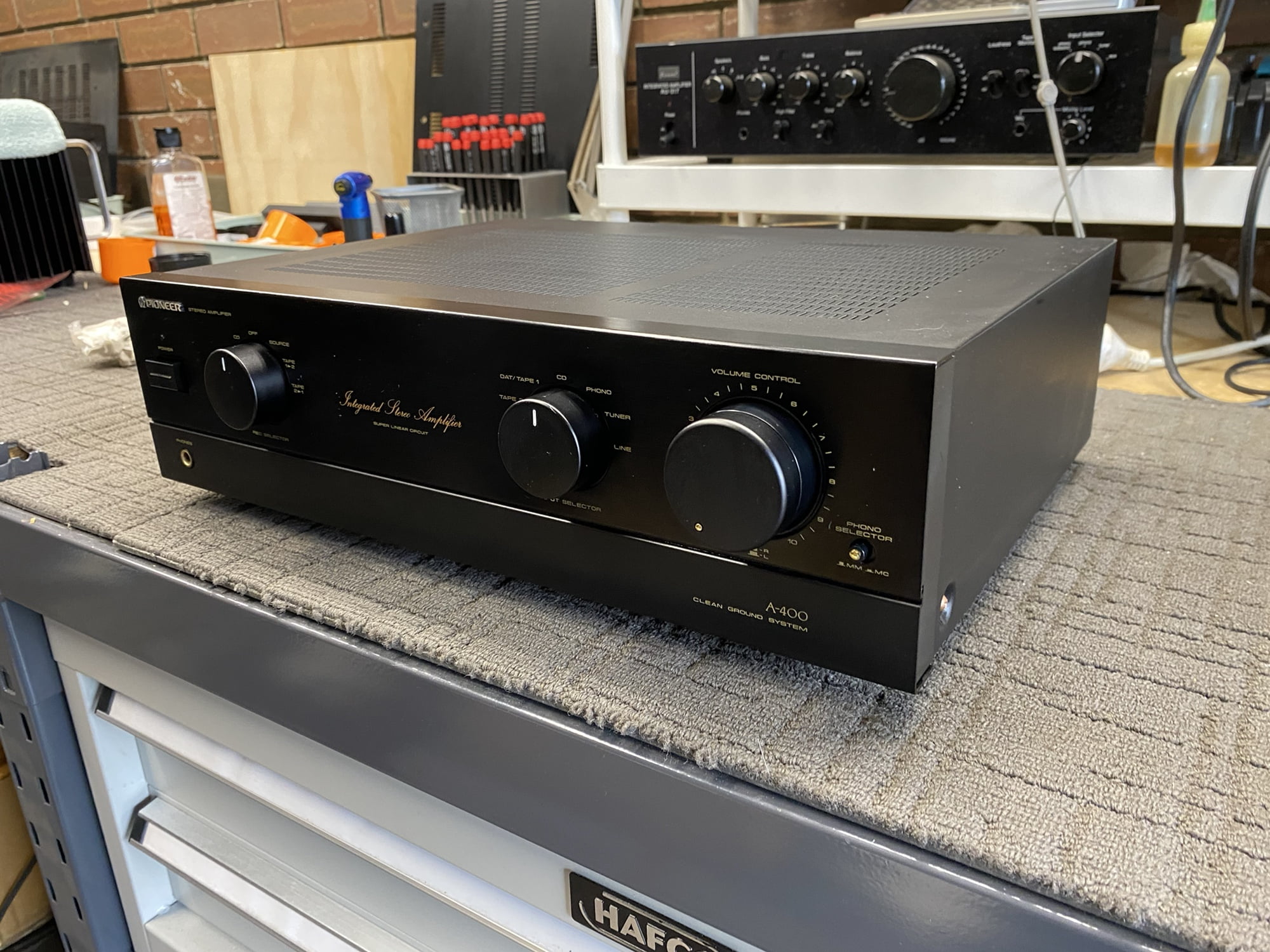 Grab this lovely old girl, in need of a little TLC, for $99!
---
 Lovely Yamaha CDC-705 Multi-Disc CD Player
Here is yet another beautiful CD player from back in the day. This CDC-705 was one of the best Yamaha five-disc machines, with impressive weight and build for this style of machine.
UPDATE: Sold!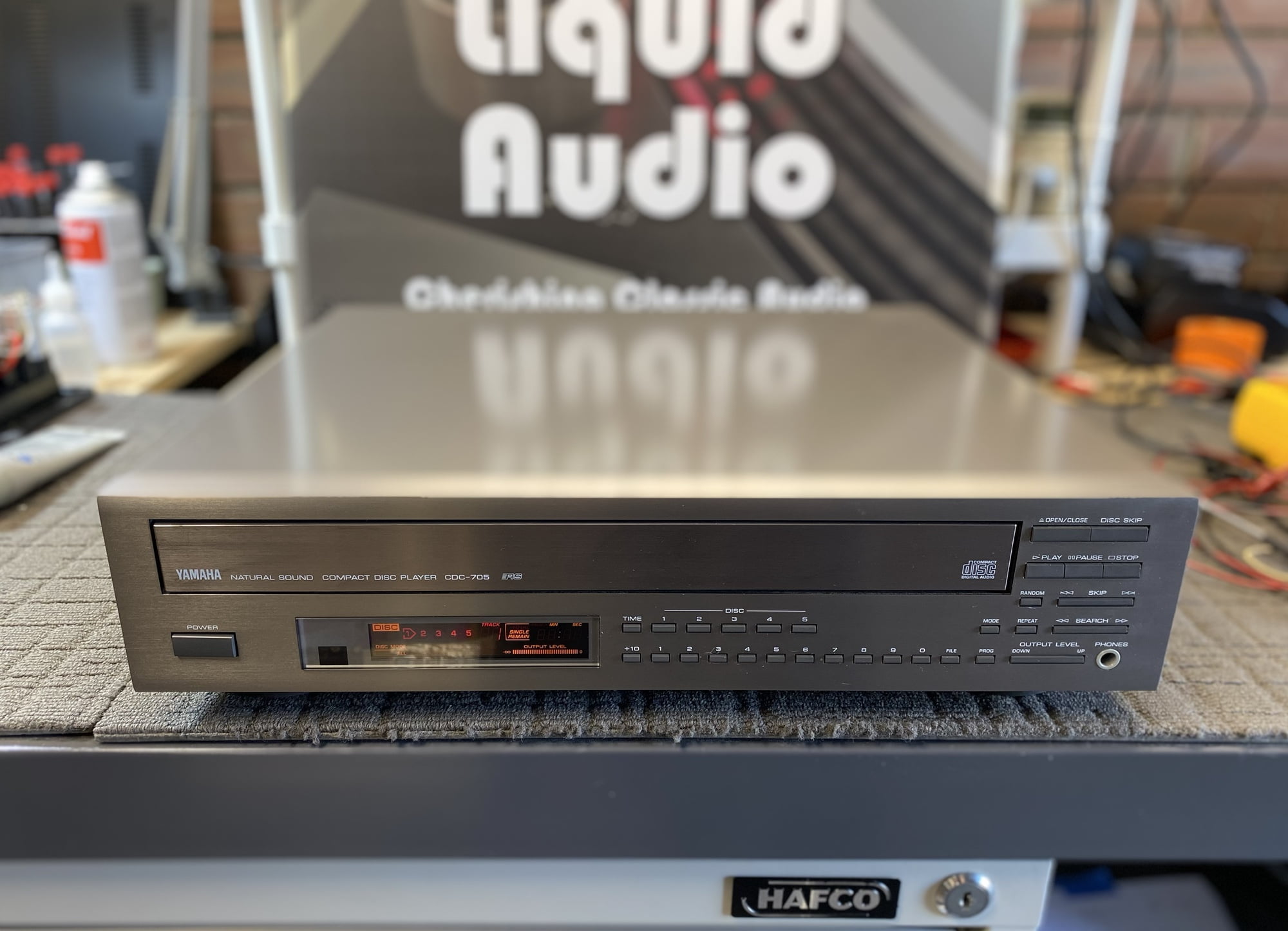 Recently serviced with a new tray drive belt, clean and lube, this player runs very well and plays discs perfectly. You can read more about the CDC-705 here.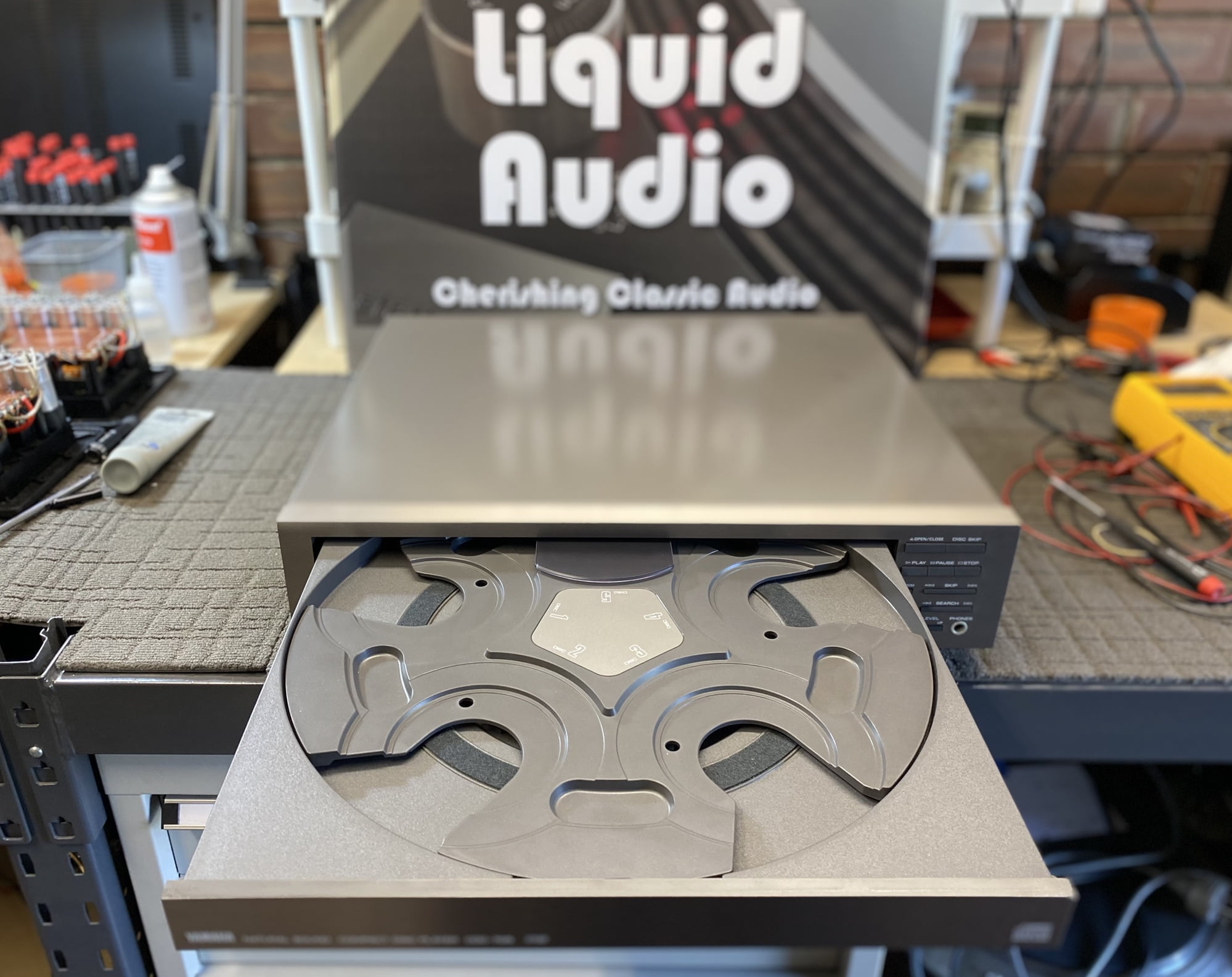 The CDC-705 is also in almost perfect physical condition, amazing given that she hails from 1990!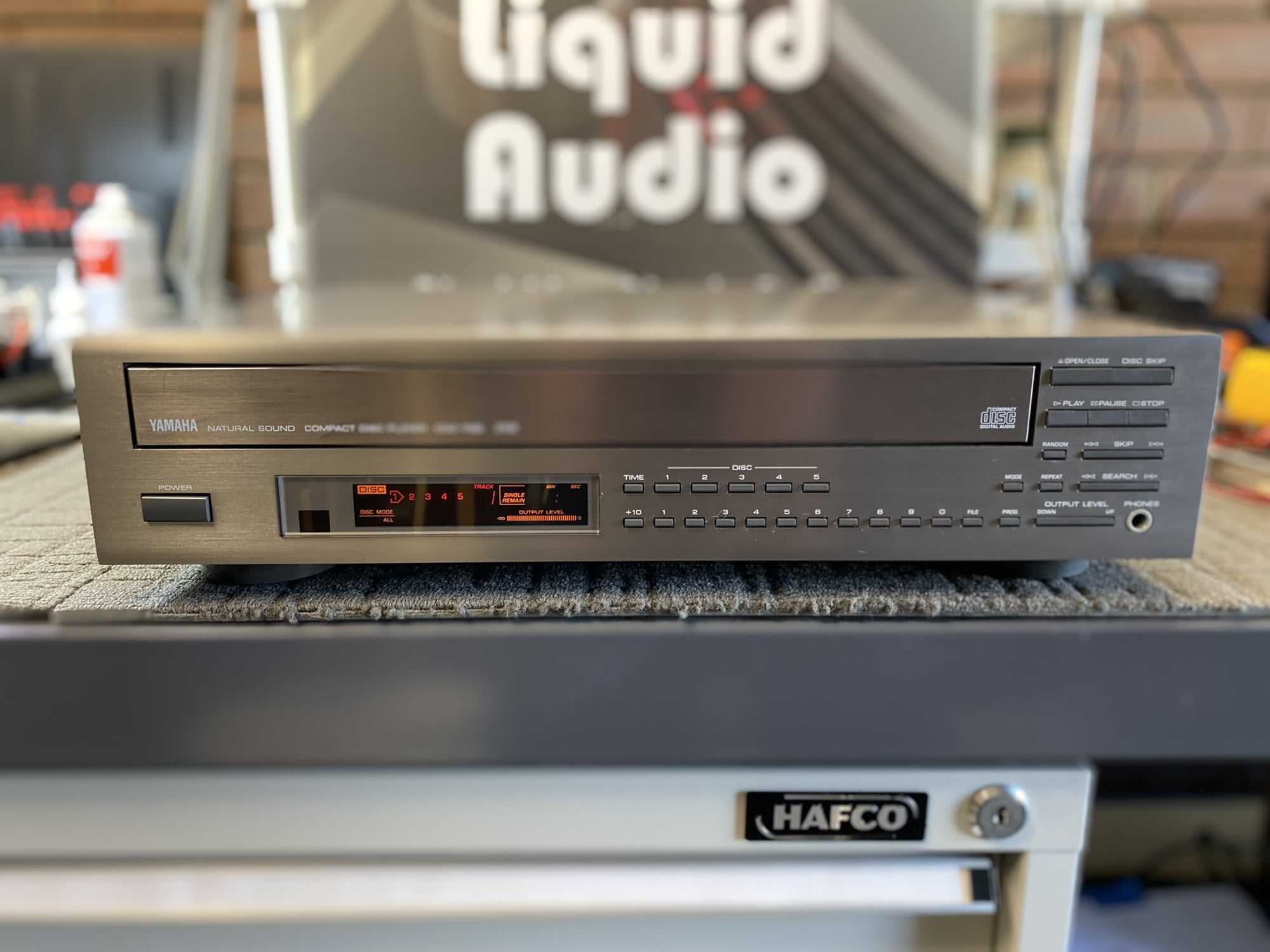 Need a good multi-disc player, with some classic vintage style and build quality? This classic Yamaha CDC-705 CD player can be yours for just $295, not much at all for such a cool player.
---
Stunning NAD Master Series M3 Dual Mono Integrated Amplifier
Just look at this beautiful and almost pristine NAD Master Series M3 Dual Mono Integrated Amplifier. It's hard to imagine an amplifier in better condition than this beautiful integrated.
UPDATE: Sold!
This is one of NAD's most powerful and advanced amplifiers and certainly their most expensive at around $5000 AUD new. The M3 packs a punch with around 200 Watts per channel from its dual-mono design, full preamplifier functions, stunning styling and massively heavy build.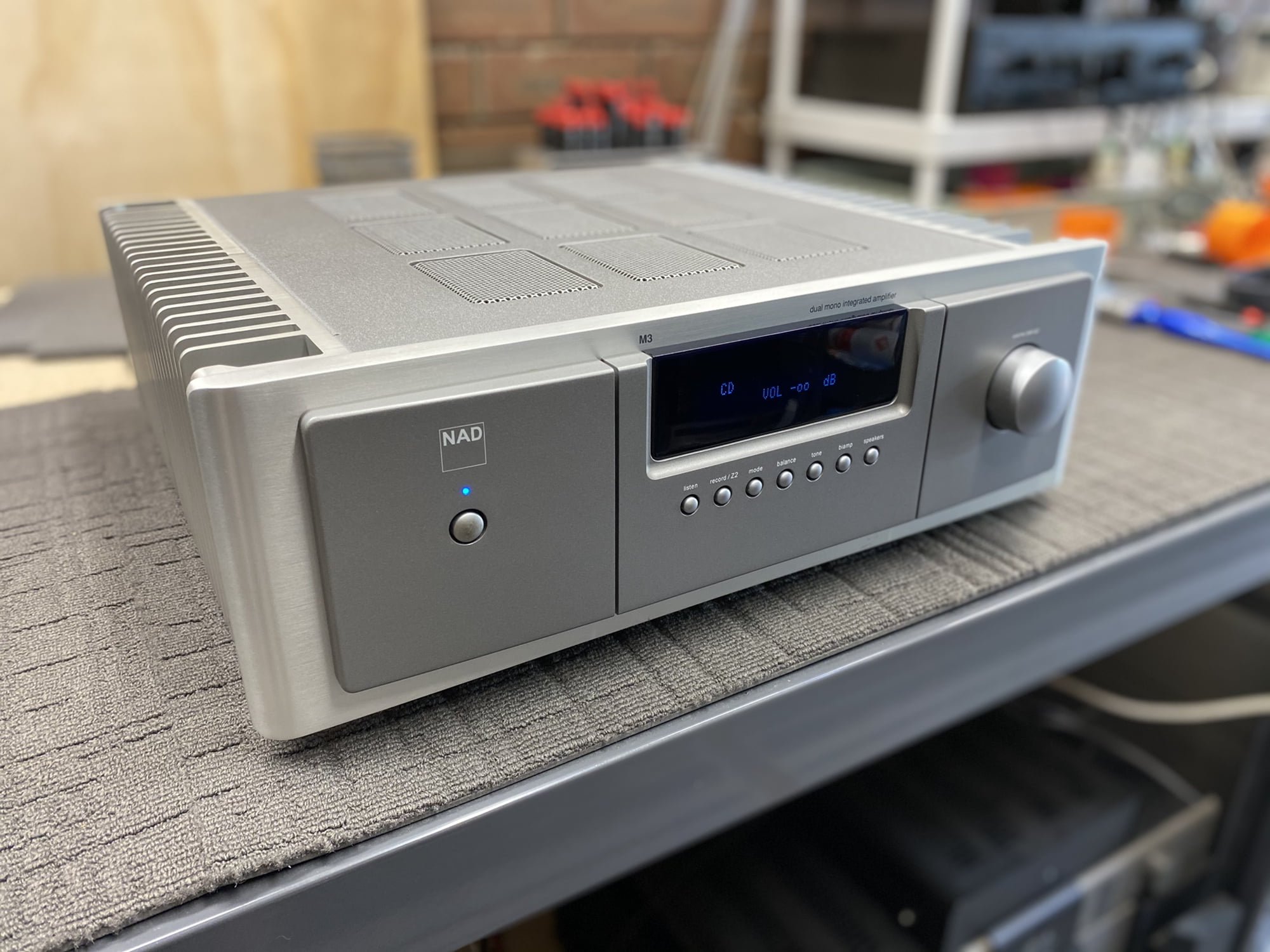 You can read this Stereophile review of the M3 and check out the NAD datasheet for more information.
Specifications
Description: Solid-state, two-channel, remote-controlled integrated amplifier with seven line inputs (including one balanced XLR).
Maximum output power at clipping: 220W (23.4dBW)
Continuous average output power: 180Wpc into 4 or 8 ohms (22.5dBW)
Dynamic power: 300Wpc (24.7dBW) into 8 ohms, 520W (27.2dBW) into 4 ohms, 700W (28.4dBW) into 2 ohms
Frequency response: 20Hz–20kHz, ±0.3dB (–3dB at >80kHz)
Damping factor @ 8 ohms: >150
Amplifier input impedance: 20k ohms
Input sensitivity: 1.38V
Signal/noise (A-weighted): >107dB, ref. 1W; >130dB ref. rated power
Total harmonic distortion: <0.004%, 20Hz–20kHz.
Dimensions: 435mm W by 135mm H by 386mm D
Weight: 51.8 lbs (23.5kg) net, 67 lbs (30.5kg) boxed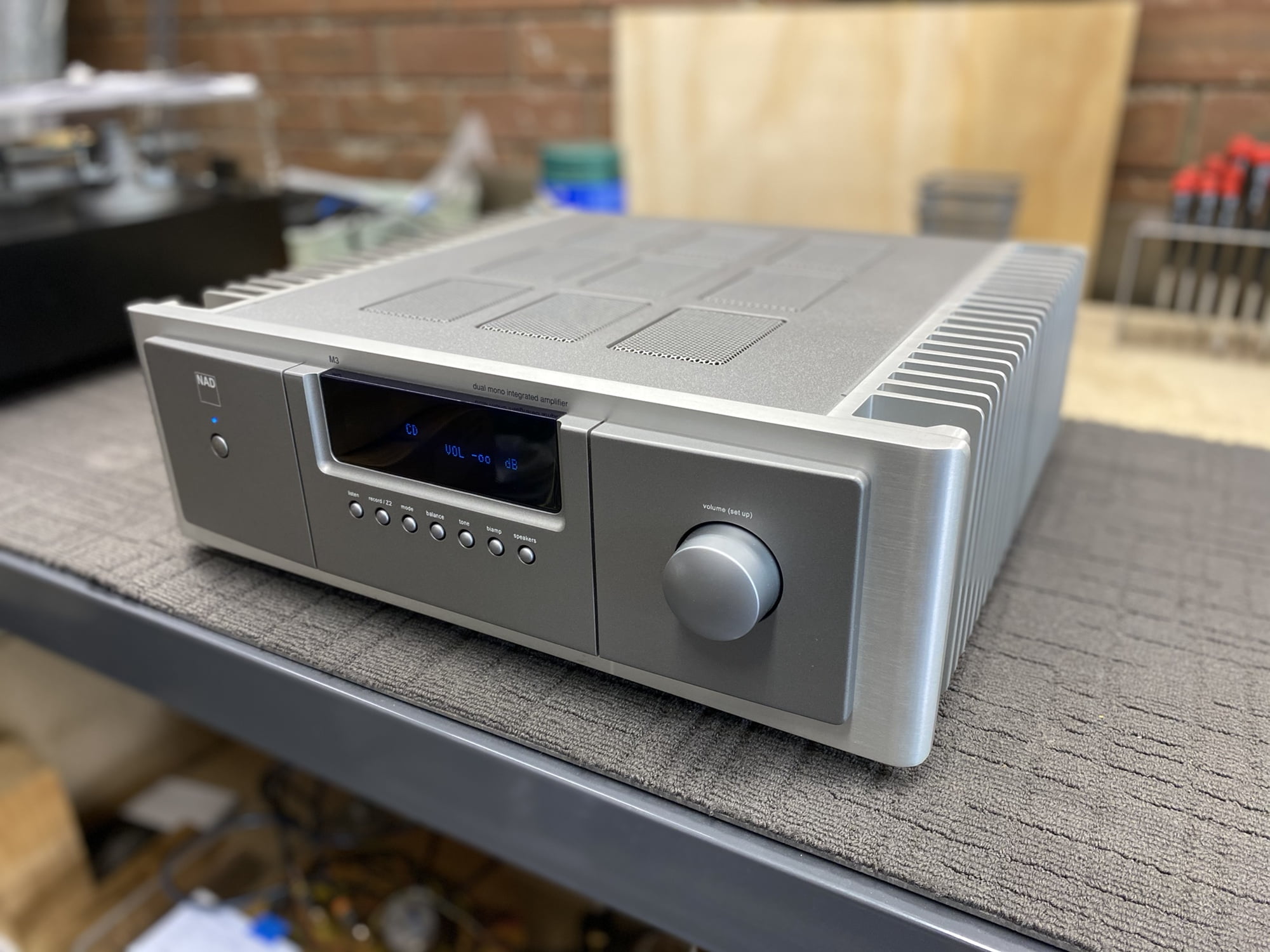 I recently cleaned and serviced this lovely NAD M3, making all critical electronic adjustments and conducting reliability testing over an extended test period of several days. I had a good listen to her and she sounds fantastic, far better than most integrated amplifiers, as you would expect of an amplifier like this.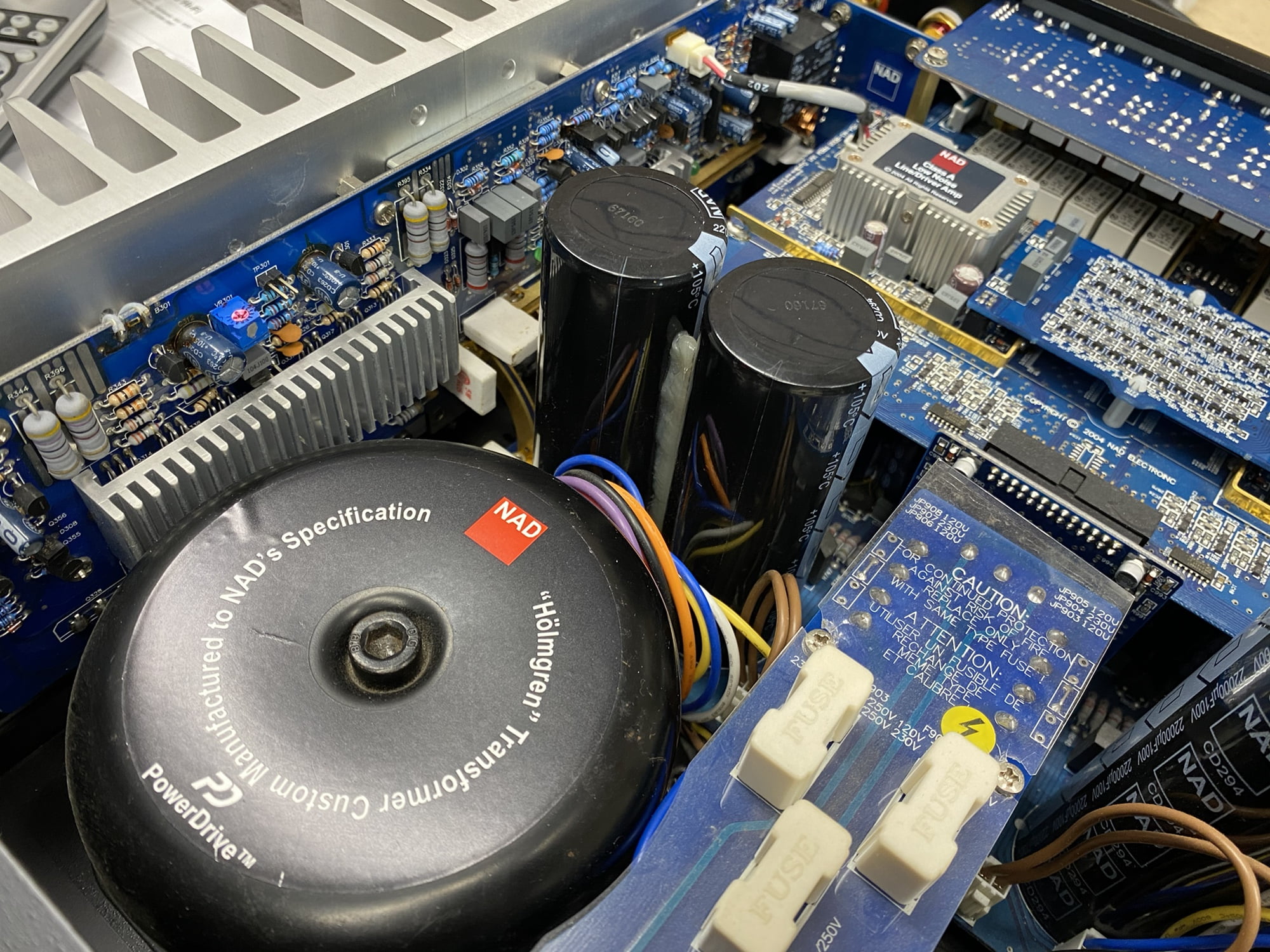 This NAD M3 is a plum one owner example and comes with her original box, manual and remote. You won't find many M3s for sale, let alone one in this condition.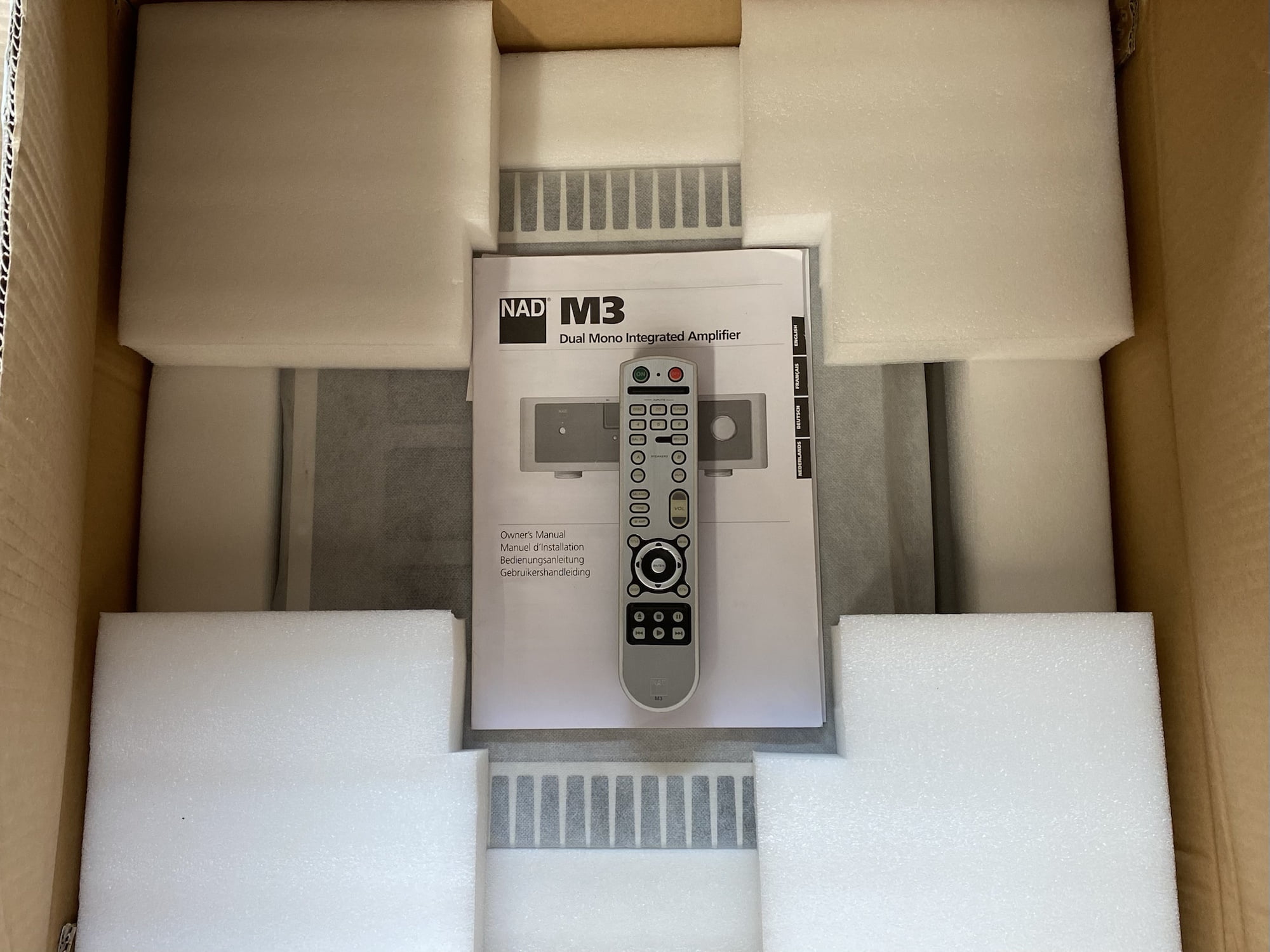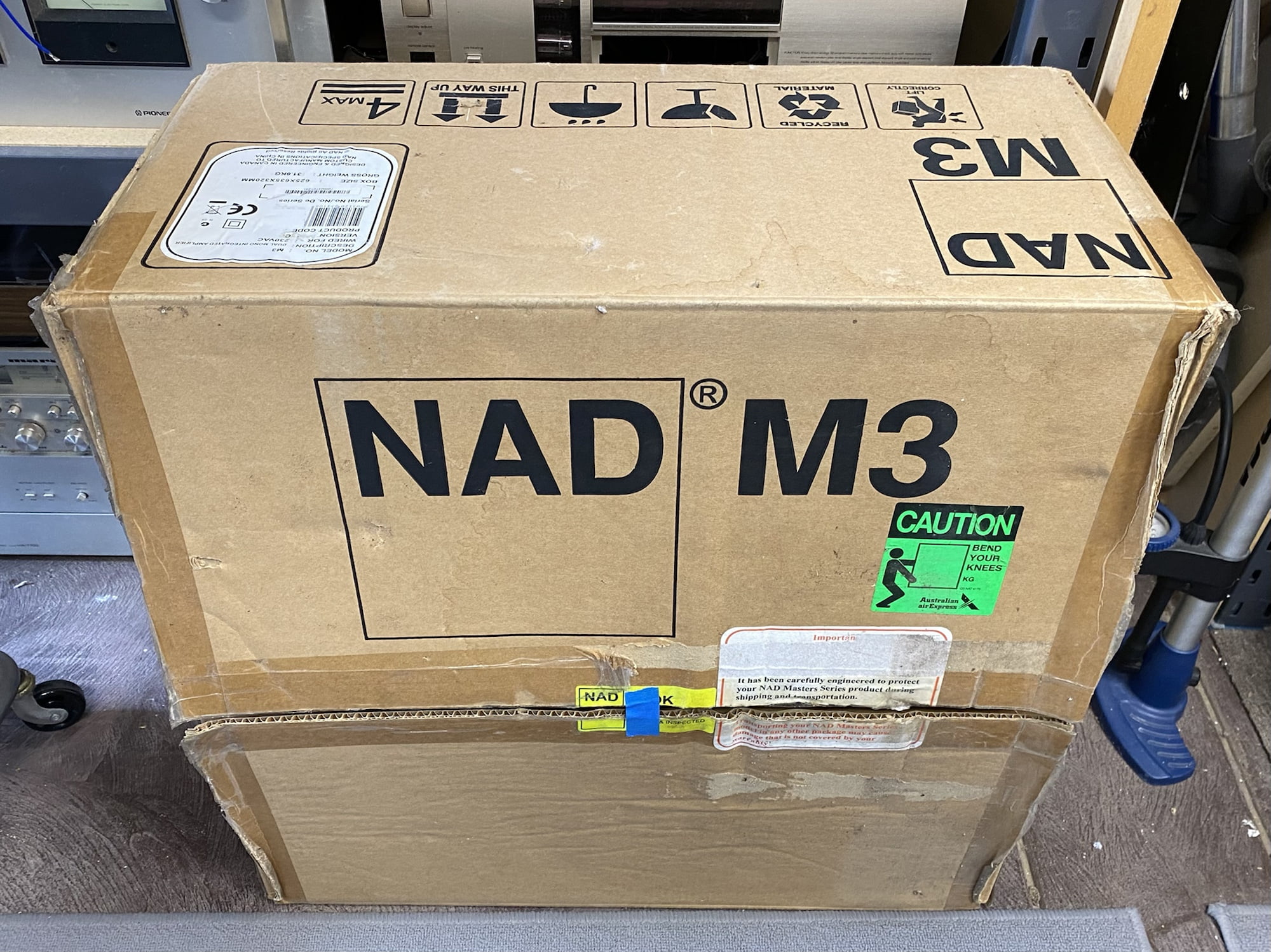 This stunning example of the NAD Master Series M3 Dual Mono Integrated Amplifier can be yours for $1750. that's a lot of amplifier for the money, especially compared to the class-D rubbish available new, for even more.
---
Stunning Pioneer/Centrex KH-5522 Home Stereo System with AM/FM Radio, Record Player, Cassette Deck & Speakers!
How's this for a ripper home stereo set-up with the lot! Just look at this beautiful Pioneer KH-5522 Cassette Home Stereo Recording System with AM/FM Stereo and Record Player – to use its full title!
UPDATE: Sold!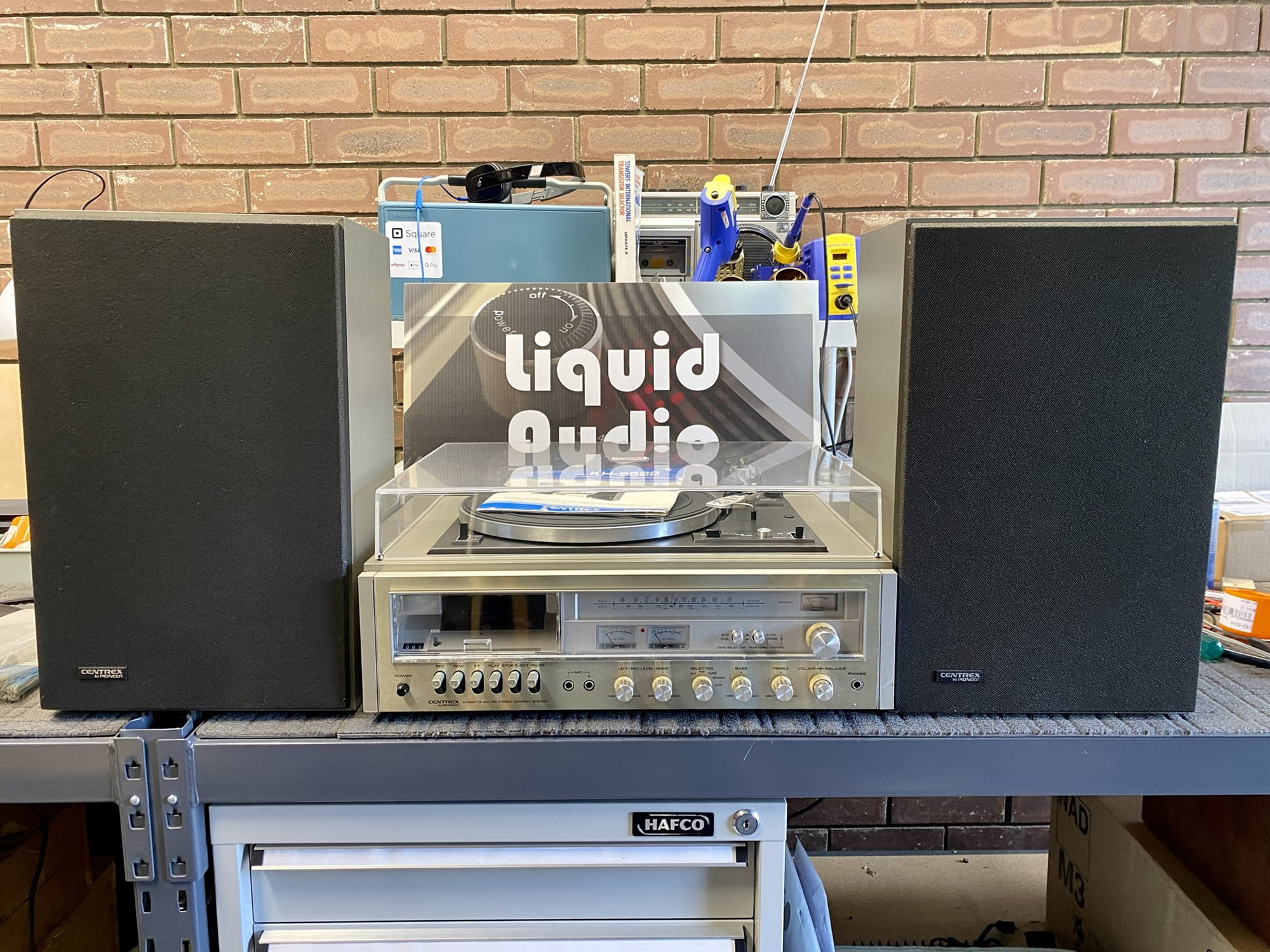 This is a complete music system with radio, cassette deck, turntable, amplifier and speakers.
This lovely system comes complete with speakers and sounds great. All sources and functions work well. She's not perfect, but not much 45 year old gear is. Balance varies a bit as you you change volume but the balance control fixes that. The cassette deck plays very slightly slowly, but sounds good nonetheless. Many potential owners won't play tapes, but the facility is there.
The KH-5522 has the warm, rich sound so often associated with this older all-analogue gear. It would make an excellent first system, or a cool second system for the spare room or kids.
The turntable part of this unit is actually pretty good. This deck very similar to the iconic Pioneer PL-12, with high quality motor, bearing and mostly metal construction. It's a bit better than the solid-mounted deck found in the common Rondo 3000 for example.
I serviced this unit for her original owner going back many years. This explains the nicely running turntable and Ortofon OM-10 cartridge, a solid choice for this turntable. He kindly donated the system to Liquid Audio earlier this year when it needed attention. Now, after some much needed maintenance, she is ready for a new home.
I've just serviced her (Sept 2021), and spent time on the turntable, which received the usual premium rubber drive belt, full lubrication and new foam arm return buffer. I also cleaned and serviced the cassette deck which works well, and performed other general maintenance.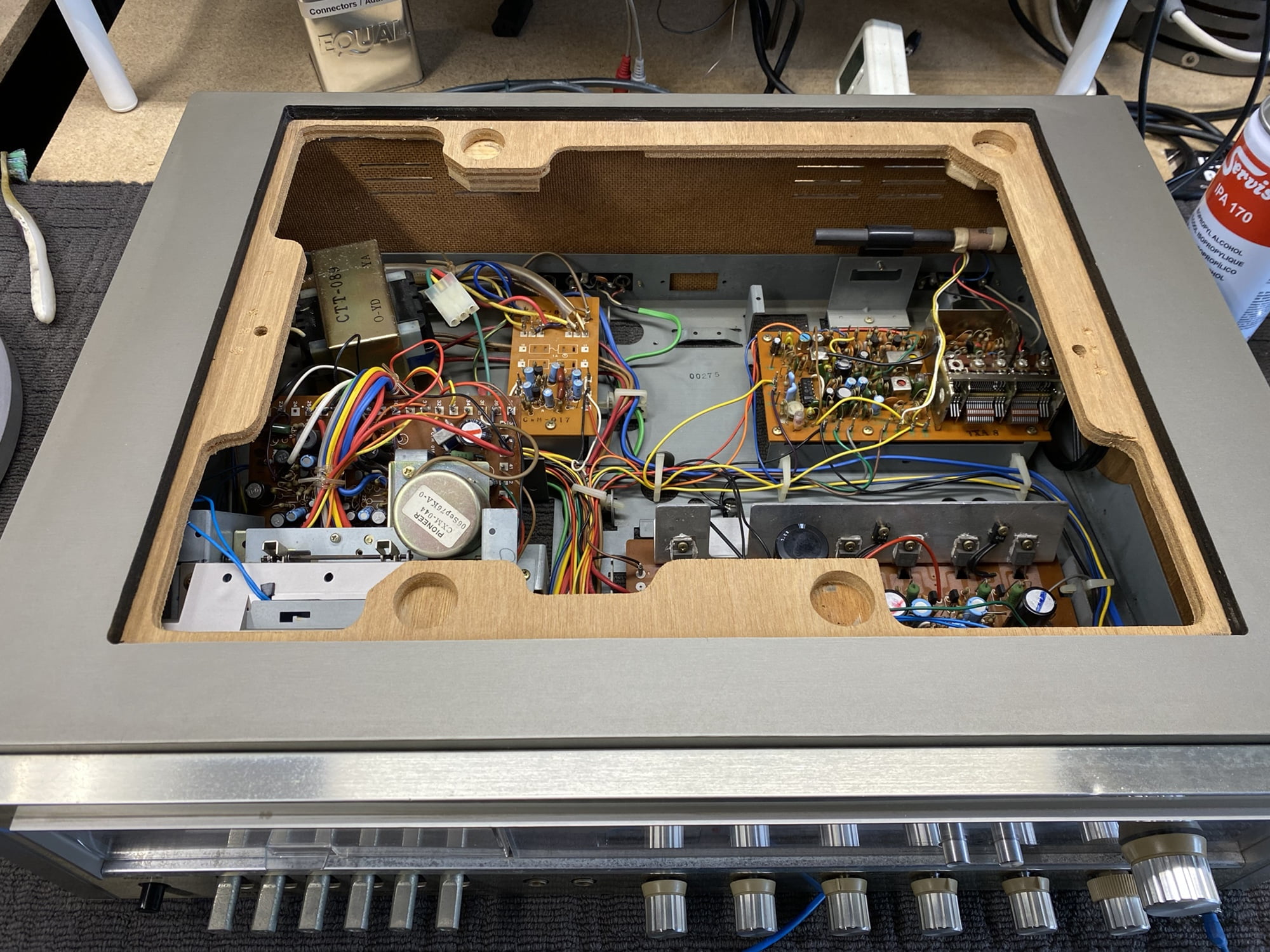 This one owner from new Pioneer/Centrex KH-5522 home stereo system is a piece of vintage home stereo history. It comes with the original owners manual and can be yours for $695.
---
Set of Four Vibrapod Model 3 Isolators
Vibrapod Isolators are classic equipment support and isolators, all the way from St Louis in Missouri, USA!
This set had light use before the item they were supporting was sold. They've been stored in the box since then and present like new.
UPDATE: Sold!
Vibrapod Isolators reduce vibration transmission and therefore improve the sound of just about anything you support with them.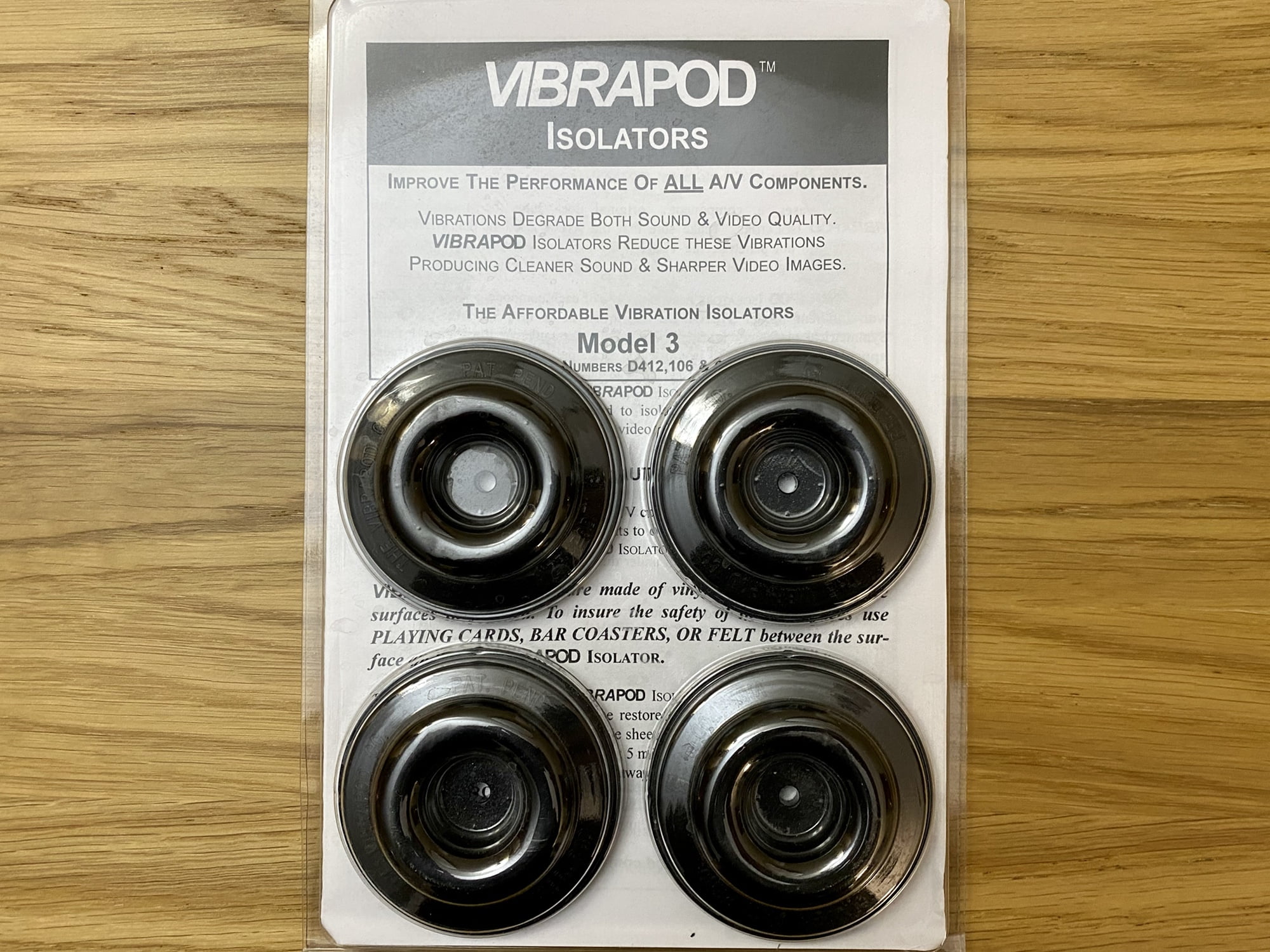 Each Vibrapod Model 3 can support 3.5 – 5.5 kg. Some quick math gives a set of four supporting gear up to 22kg. Suggested uses include Medium Weight Amps, DAC's, Transports, Turntables, Speakers.
Prices vary, but a set of four Vibrapod Model 3 Isolators retails for up to $152. Grab these for $75. Let me know if you find them for less and I'll match or beat it!
---
Stunning Nakamichi PA-1 Five Channel Power Amplifier
WOW! I was so pleased to repair and service this monster amplifier and I now present her for sale. Actually, I can't believe she's still here!
UPDATE: Sold!
This rare, five-channel Nakamichi beast weighs a ton. I deal with some heavy amplifiers, but this one is seriously dense! In terms of performance, the PA-1 is highly rated, regarded as an exceptional amp for home cinema or stereo duties. Check out the 4.9/5 rating and reviews over on AudioReview.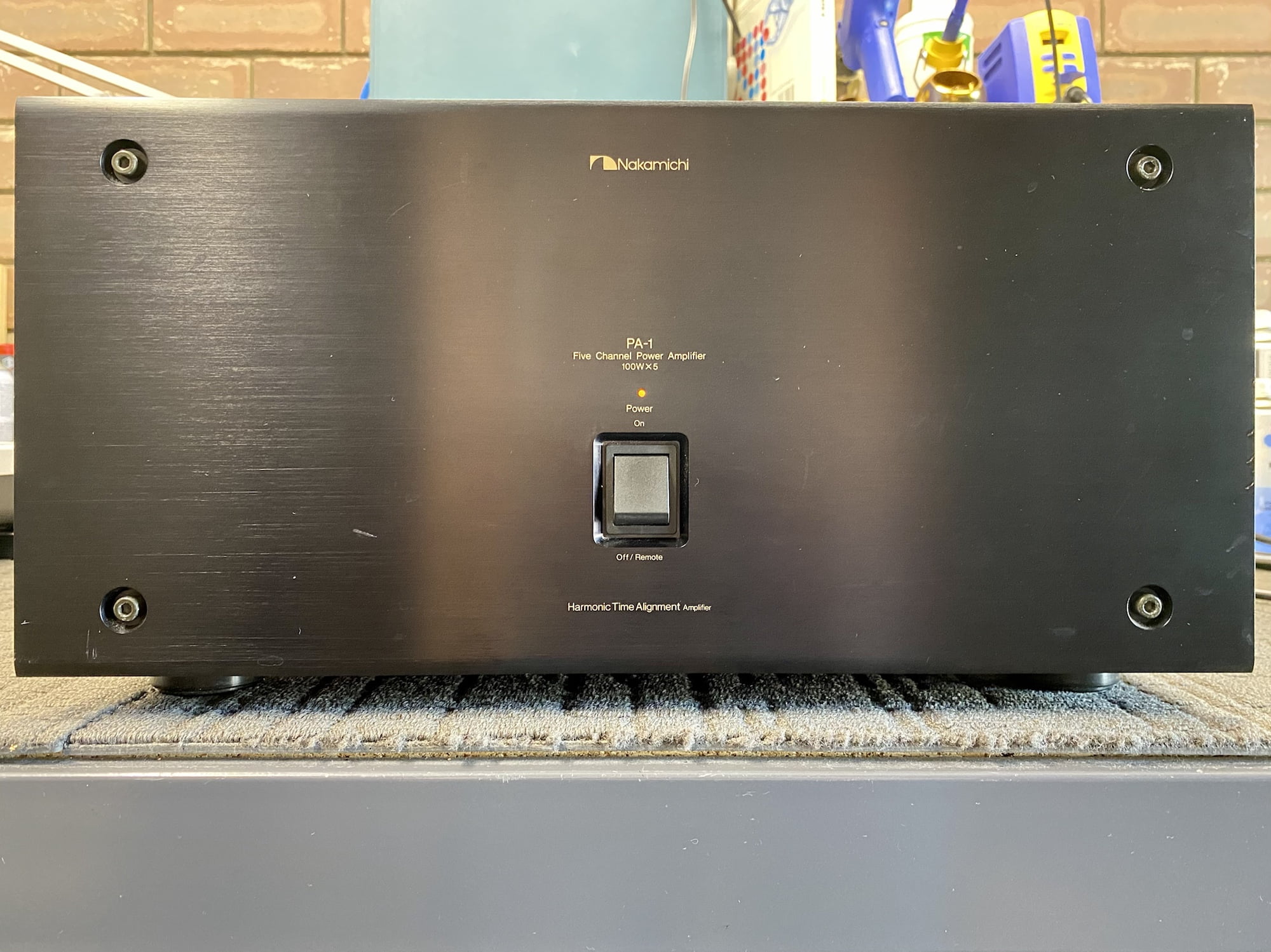 Boasting five equal 100 Watt channels of proper old-school linear amplification, no class-D cost savings to be found here, the PA-1 is a made-in-Japan Nakamichi that will drive almost any speakers with ease. Use it as a stereo amp, bi-amplify a pair of speakers using four channels, or use all five channels driven by a home cinema preamplifier.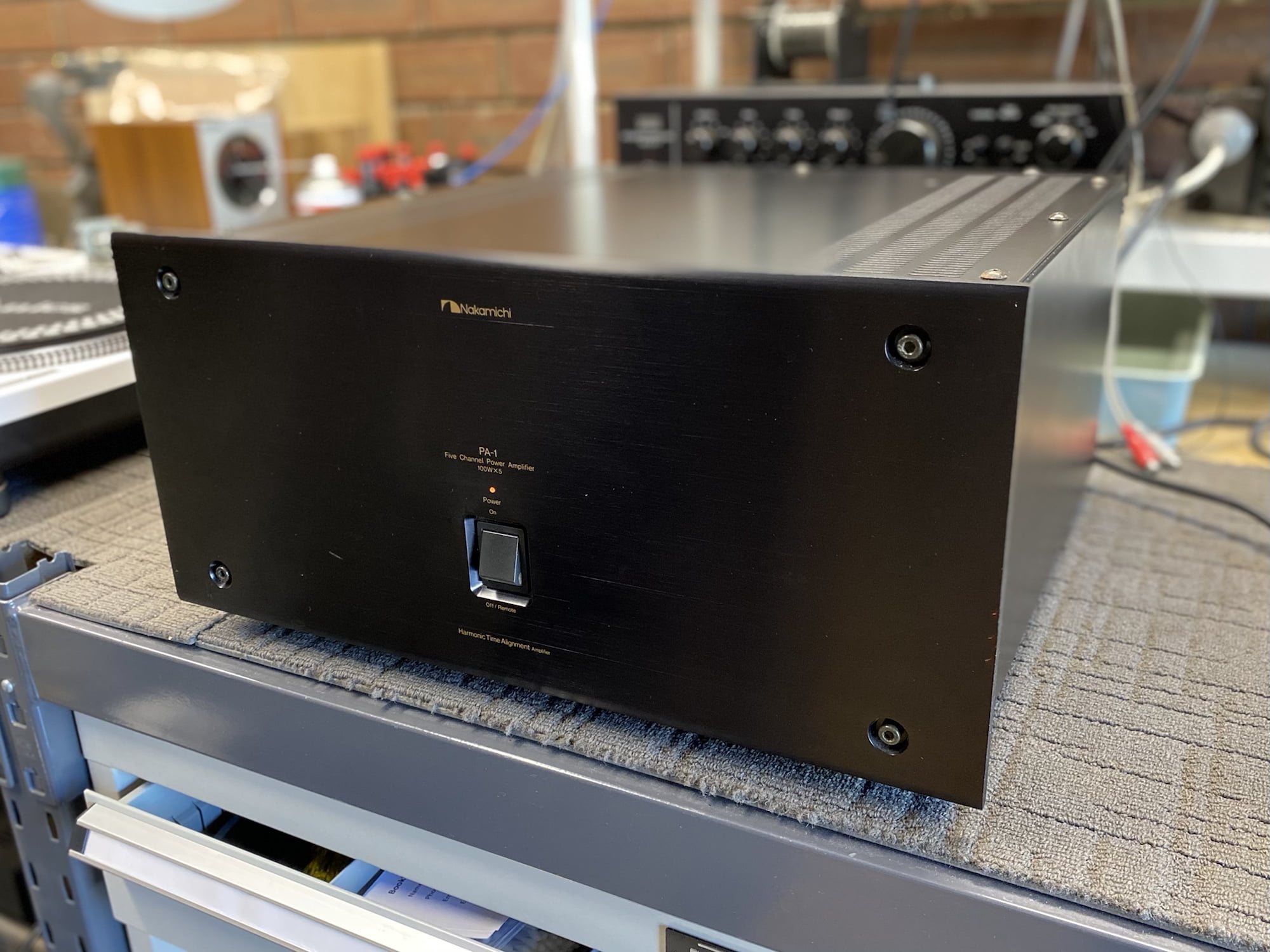 Specifications
Nakamichi is one of Japan's most famous high-end hi-fi manufacturers and most things they made have become collectible. The PA-1 is rare and similarly desirable because of its performance heavyweight build and Nakamichi, made in Japan pedigree.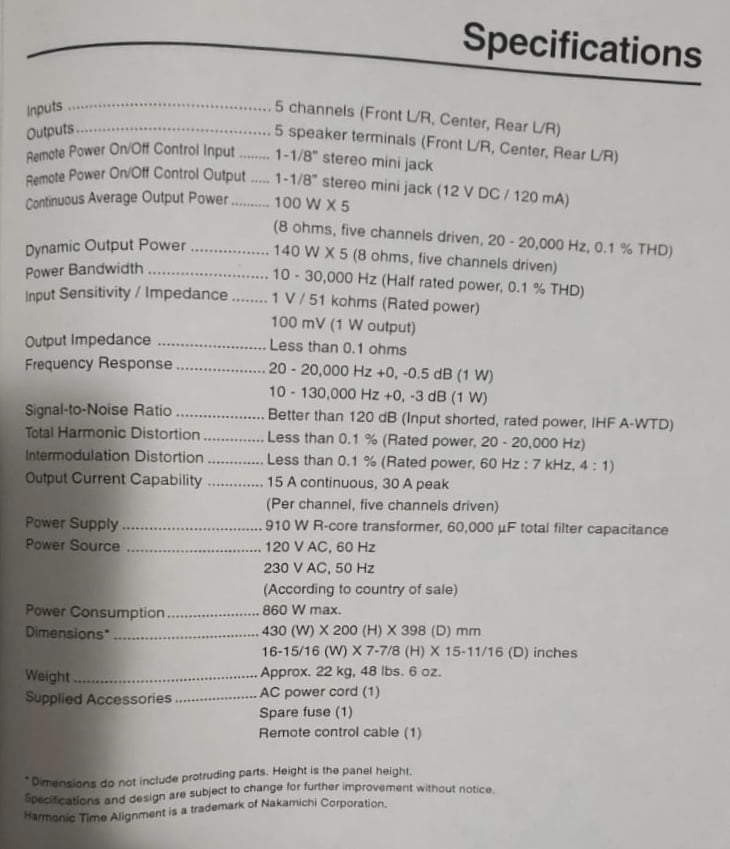 If you've seen modern multi-channel amplifiers, you'll know how many corners are cut to make them affordable. This amp would cost many thousands of dollars if it were made like this and sold now.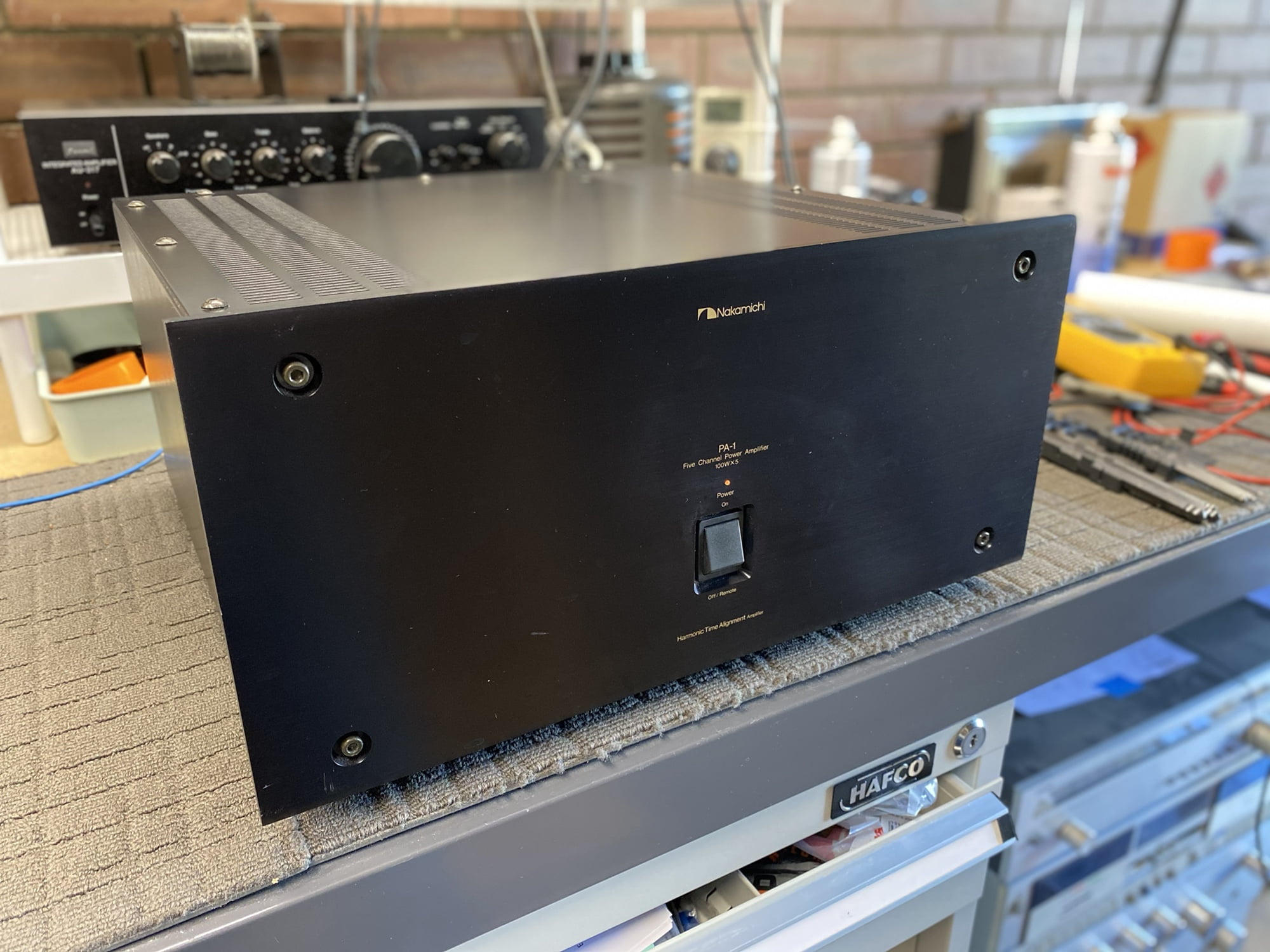 This Nakamichi PA-1 is in almost perfect condition. Recently fully serviced and thoroughly cleaned, she's received dry joint repair and full electronic adjustment as per factory specified methods. She's also been bench tested for reliability.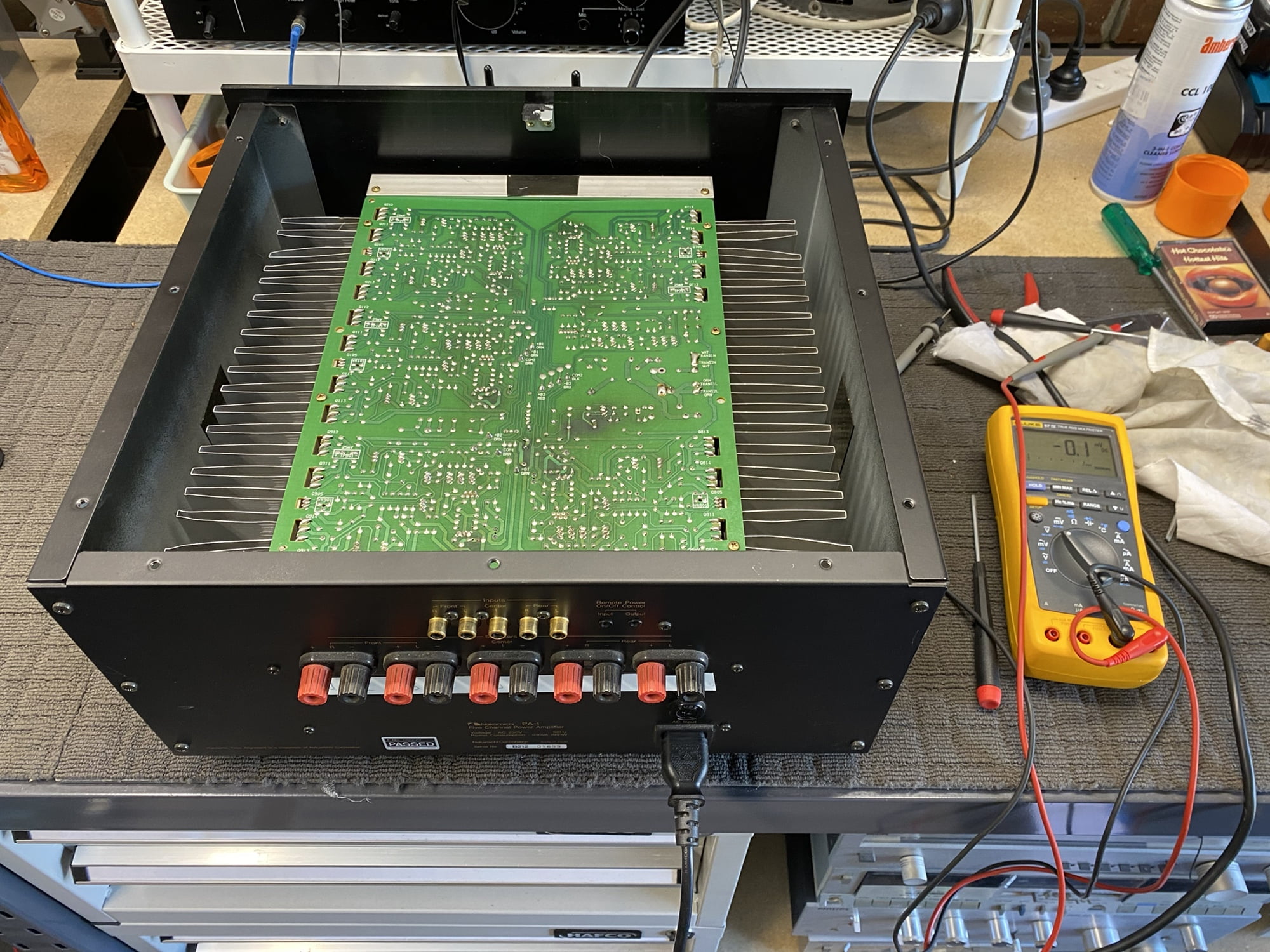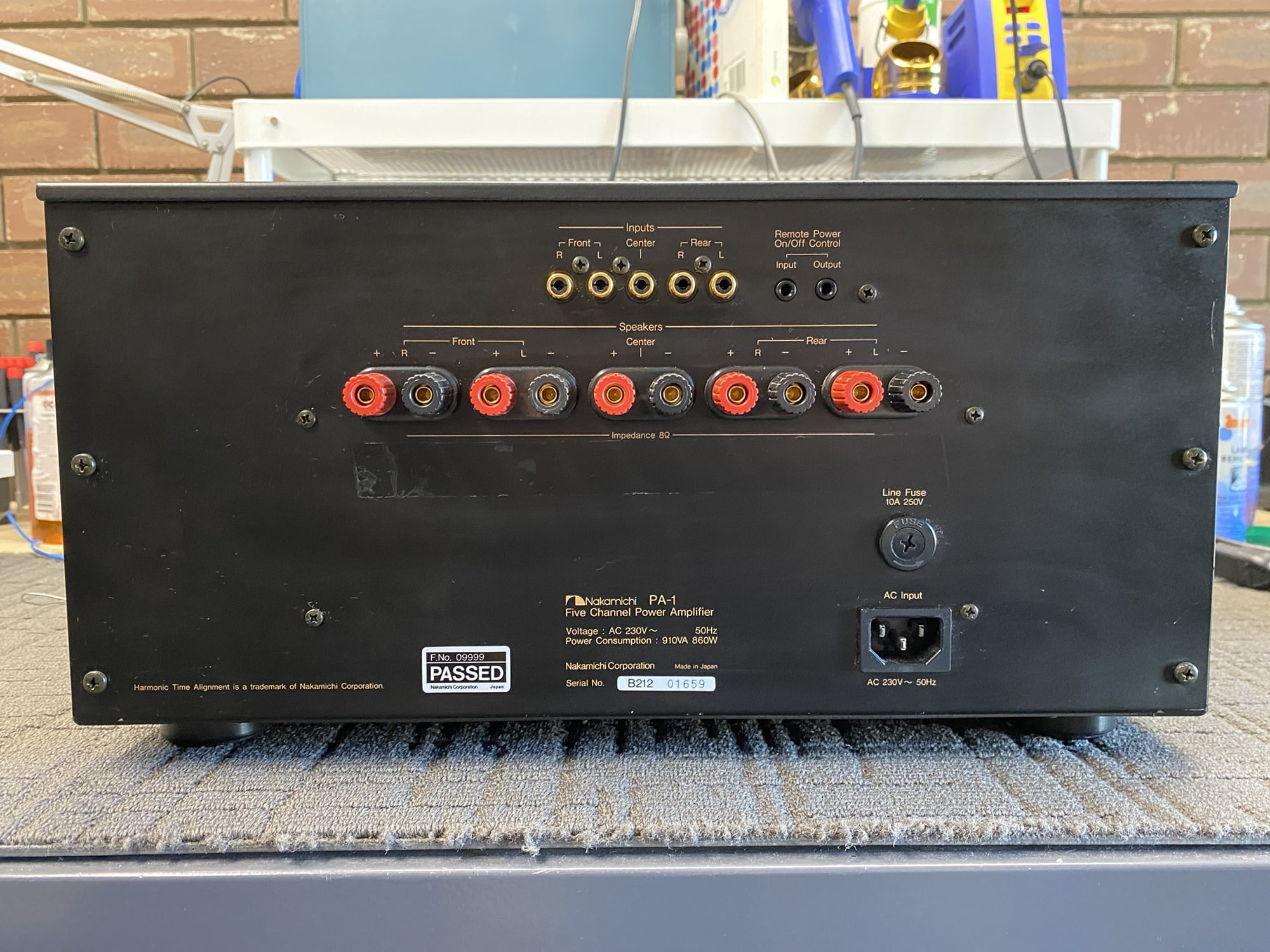 You can own this stunning Nakamichi PA-1 five-channel power amplifier for just $1395.
---
Beautiful Arcam Alpha 5 CD Player, Upgraded & Restored by Liquid Audio!
Wow, I'm selling yet another piece from my CD player collection. I figure I'll keep two CD players, so all the others need to go.
UPDATE: Sold!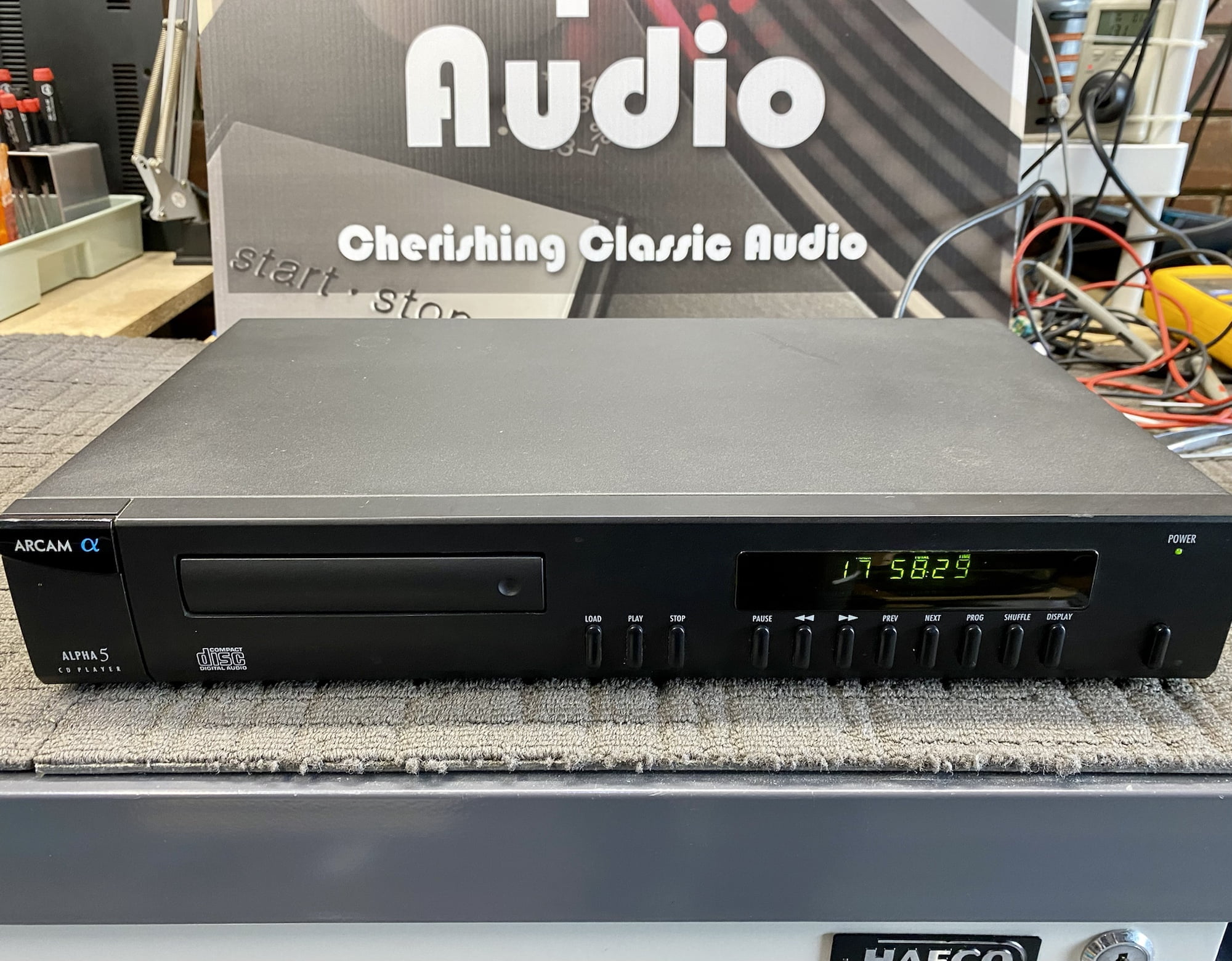 The Arcam Alpha 5 needs no introduction to most people who know their players. This one has a new TDA1541A DAC chip installed, with very few hours on it, so it should be good for many more years. All electrolytic capacitors were upgraded at the time of overhaul, along with special high-speed rectifier diodes and many other changes designed to improve performance.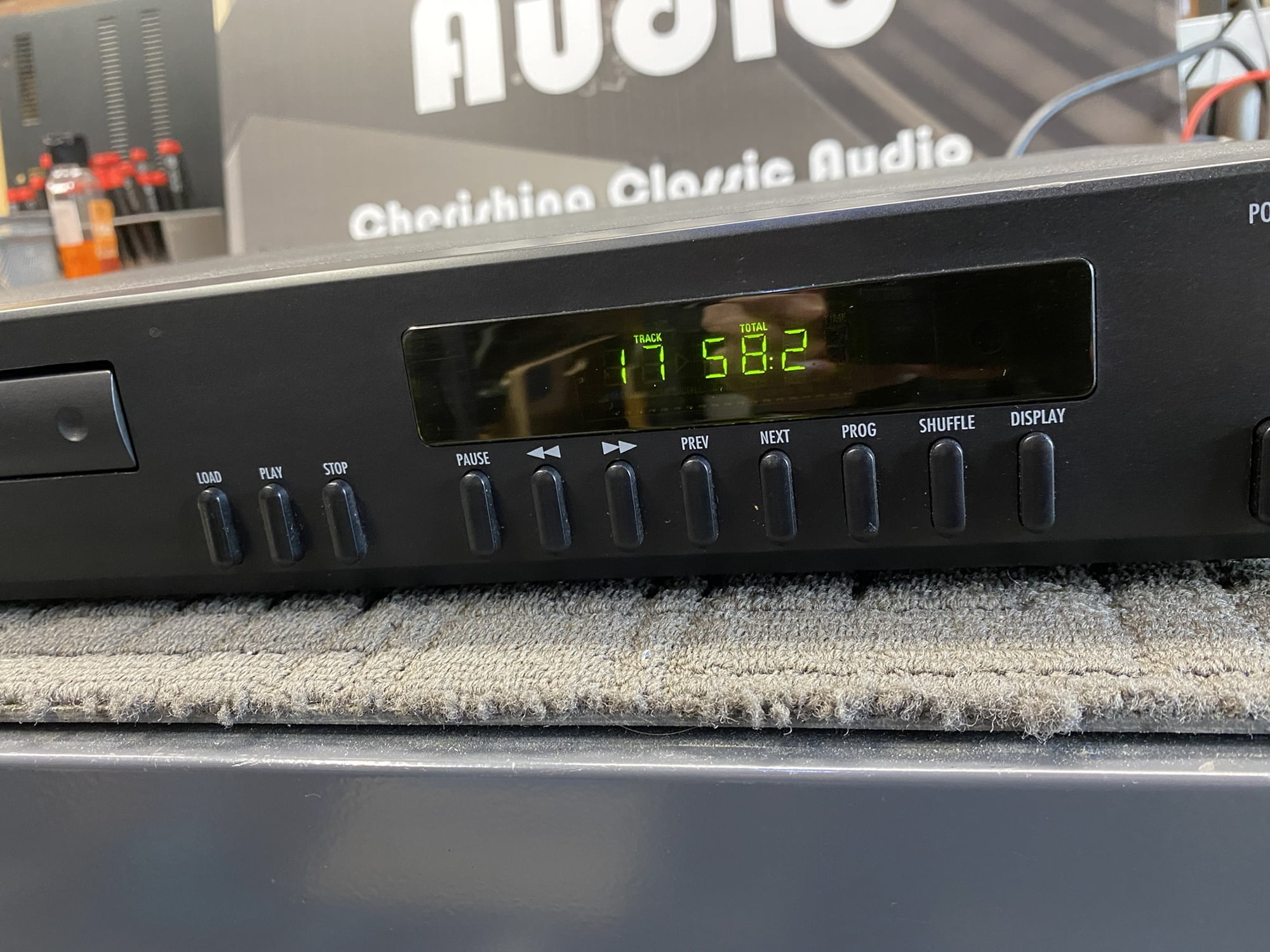 This beauty has the classic Philips TDA1541 sound – organic, warm, lush, you know the terms. Nothing else sounds quite like the 1541 and nothing else probably ever will. Heaven forbid but if you needed a TDA1541A for another machine, this one is socketed and has very low hours. These chips are rare as hen's teeth these days, so watch out for fakes.
The Arcam Alpha 5 also features the legendary Philips CDM9 swing arm laser mech, another rare and sought after part these days. Naturally, this one performs flawlessly.
I made a video about this machine when I did the work, some years ago, you can watch it here:
This lovely, old-school CD player plays discs with ease and sounds fabulous. She now just needs a nice new home!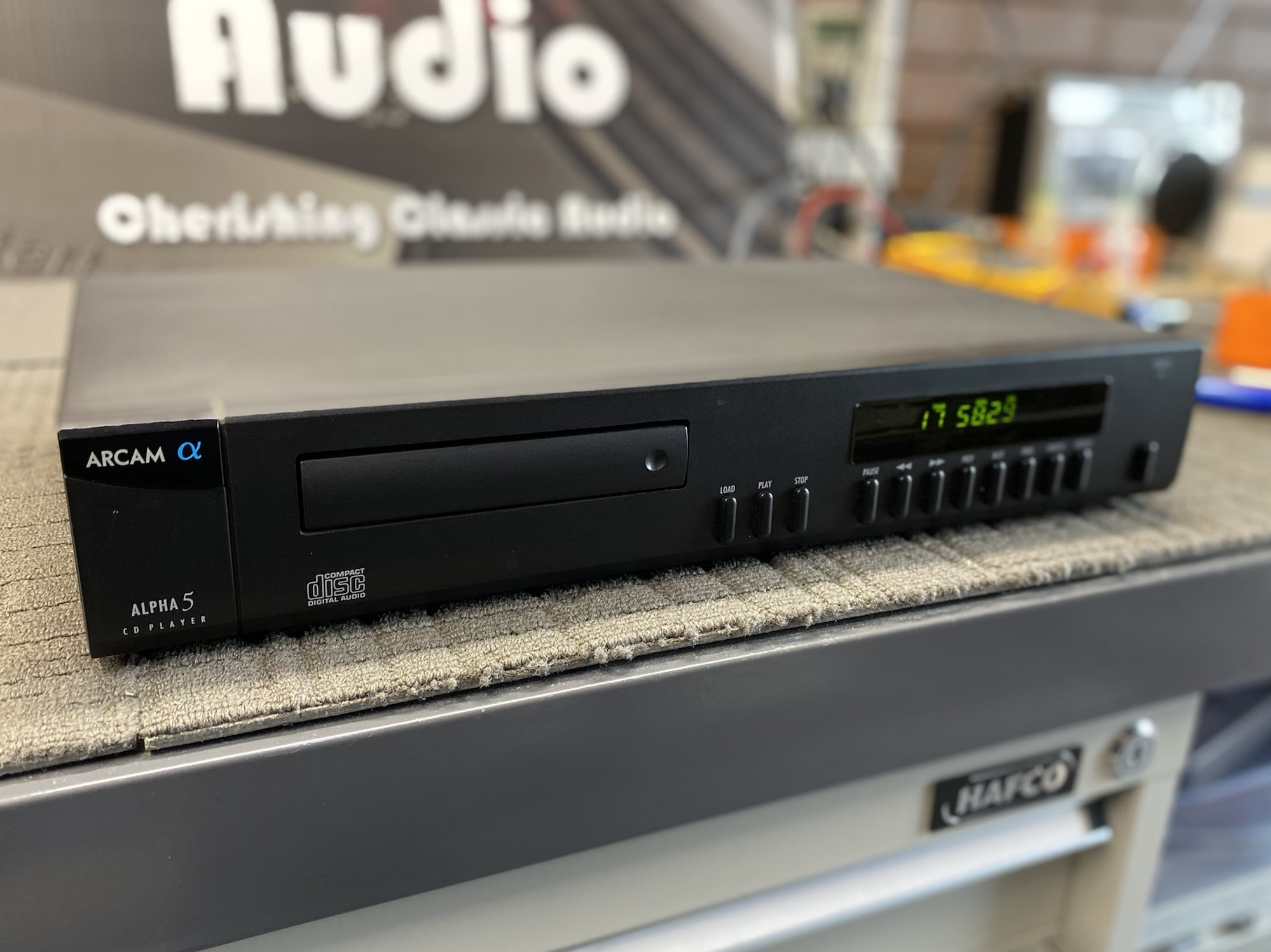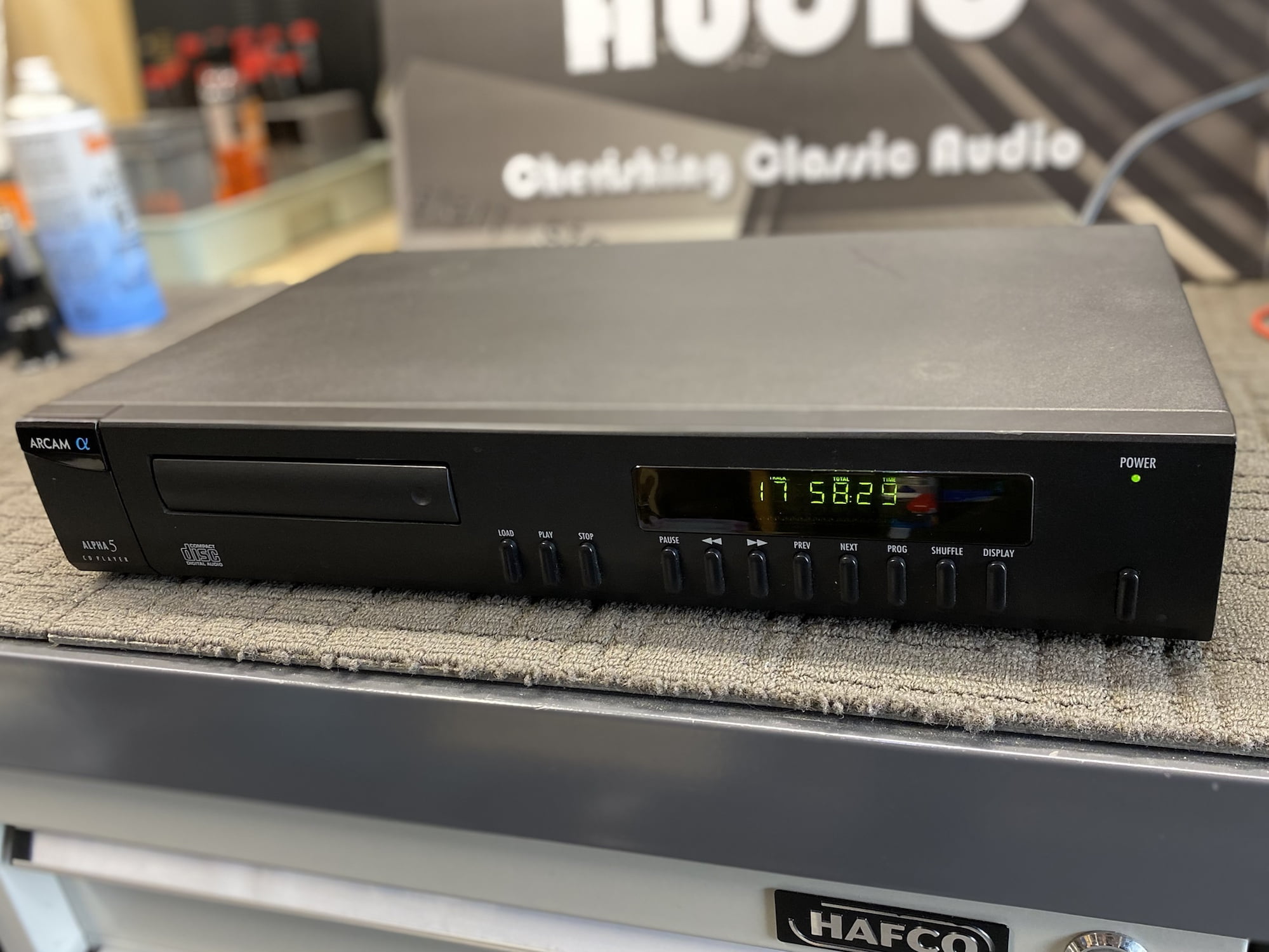 This heavily improved and restored Arcam Alpha 5 CD player can be yours for $750.
---
Gorgeous Sony XA-20ES CD Player, With Box and Remote!
Yet another piece of equipment from my personal collection for sale here, and believe me, they don't build them like this anymore. Check out this gorgeous Sony XA-20ES CD Player, with the original box and remote. I even have the manual somewhere!
UPDATE: Sold!
I bought this player brand new, from Douglas Hi-Fi. I paid around $1000 AUD for her way back then and she has never missed a beat, an icon of Sony reliability and build quality.
Specifications
Disc format: CD
Digital converter: CXD8505BQ
CD Mechanism: KSS-213B
Frequency response: 2Hz to 20kHz
Digital outputs: coaxial, optical
Dimensions: 430 x 125 x 350mm
Weight: 7.5kg
Accessories: remote commander
Year: 1997
Price: GBP £450 (1997)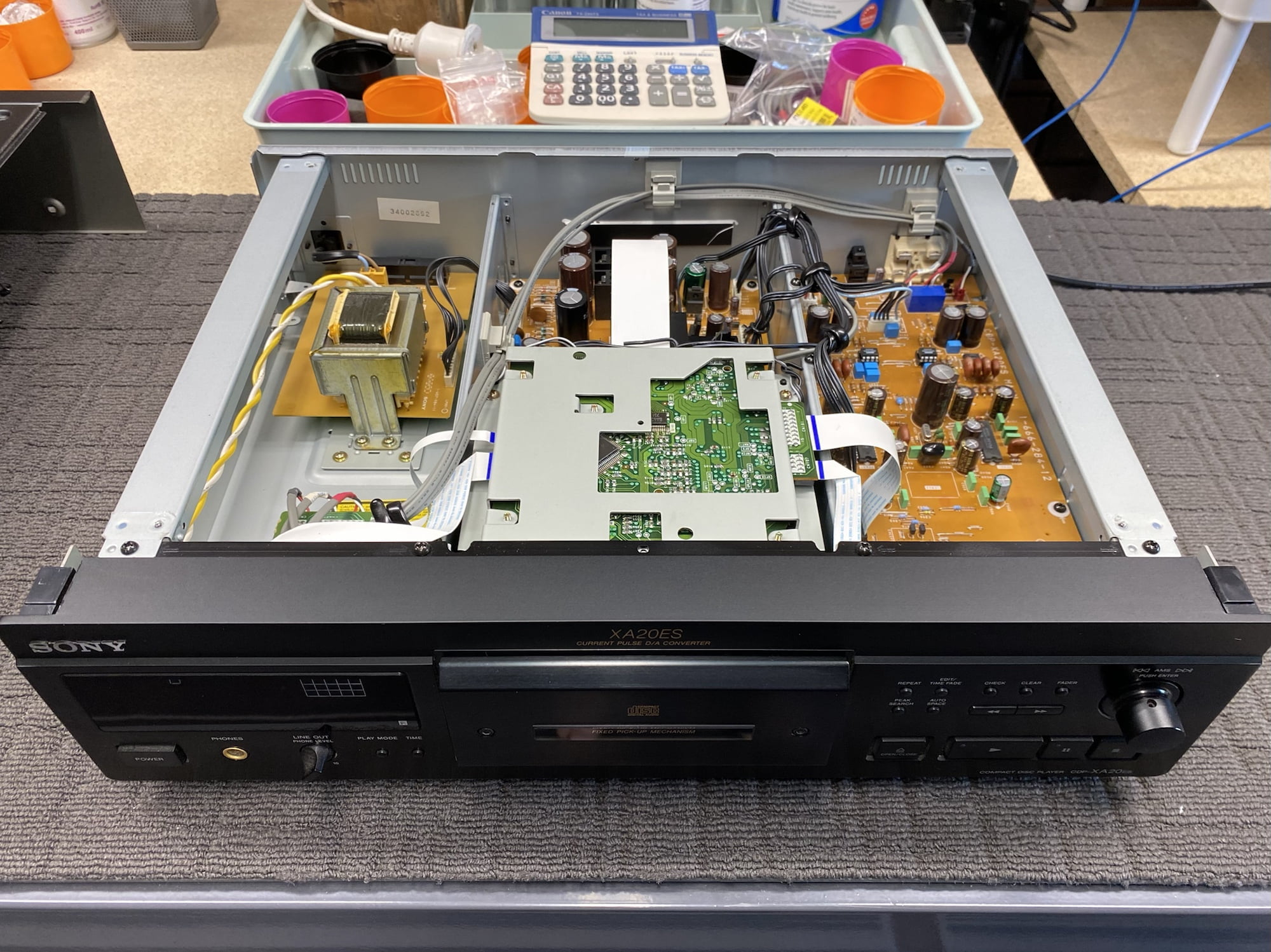 I made some small improvements to her but she is essentially factory original, apart from a couple of better op-amps and film caps. She still runs her original laser and performs perfectly. People love these players, they were from Sony's ES series when that meant something. The frame and beam construction of the machine contributes to the substantial build quality and weight.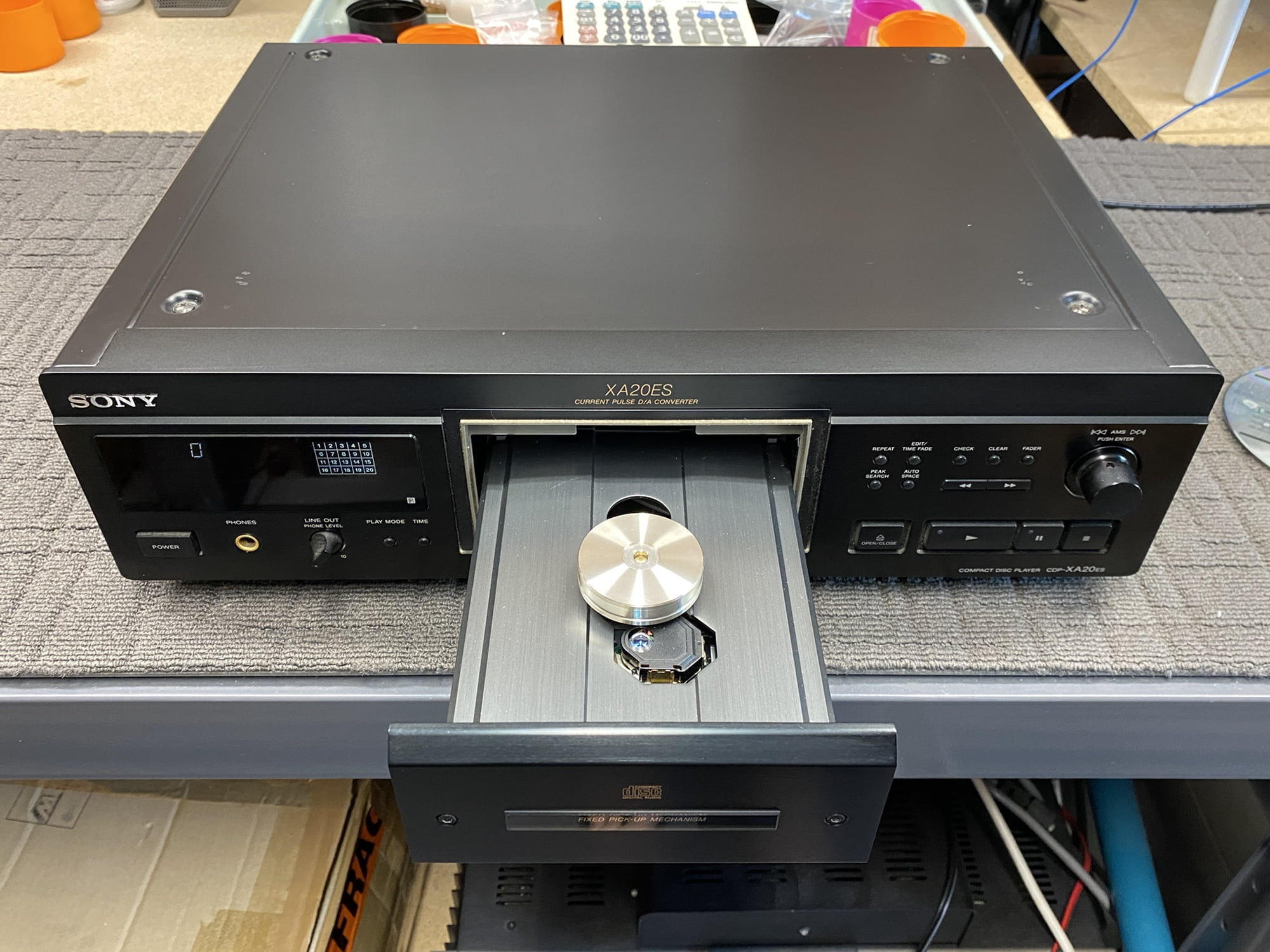 I'm sad to say goodbye to this beautiful Sony XA-20ES and the other Redbook CD equipment I'm selling, but CD is far from dead in my system or elsewhere. CD is actually the new vinyl in many ways, offering more and more from discs that are bargain-priced these days and it can sound absolutely superb with the right playback setup, finally, 40 years on from its release.
I've just purchased an even better sound new (old) machine and so I have to clear some of my collection. That's the only reason I'm selling these pieces from my collection! This Sony XA-20ES can be yours for just $675.
Stunning, Upgraded PS Audio NuWave DSD DAC for Sale!
Check out this beautiful PS Audio NuWave DSD DAC, improved and loved by me in my system and now for sale, ready for a new owner!
UPDATE: Sold!
I'm having a special sale of items from my collection and this NuWave DSD is one of many lovely pieces that have to go. This is to make way for new acquisitions including a new (old) CD player, phono preamplifier and more. Stay tuned for some crazy rare and expensive NOS Siemens tube-rolling and other stuff!
The NuWave DSD is an affordable breakthrough digital to analog processor or DAC. Based on the acclaimed Sabre 32 bit Hyperstream architecture, the NuWave DSD accepts inputs from any digital source including I2S, coax, TOSLINK and USB, playing both asynchronous PCM (up to 192/32) and DSD (single or double rate) through our exclusive class A hybrid output stage with either single-ended (RCA) or balanced (XLR) connections.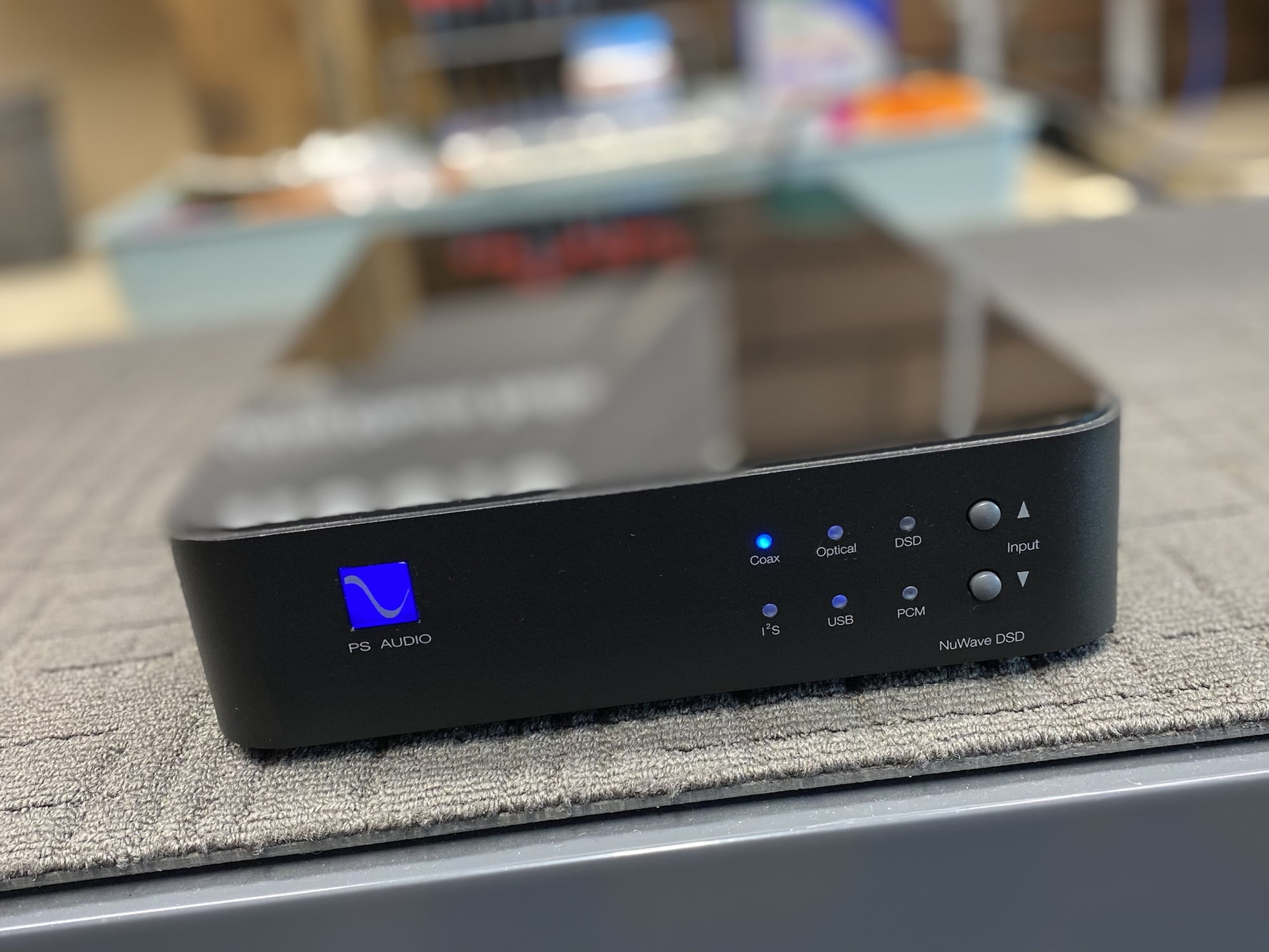 I've been using this PS Audio NuWave DSD DAC with my Meridian 506 24-Bit CD Player, also for sale. This is a really spectacular combination and a killer Redbook CD duo. The NuWave DSD needs a really clean jitter-free digital feed and the Meridian provides it. Having said that, any good digital source will do the job. Feed it a lesser quality stream though and it won't like it.
You can read a good review, here.
This is from my personal collection and features the improvements I developed for the DAC and which add to this DACs performance and value. I added these improvements to many NuWave DSDs from around Australia, for many very satisfied customers!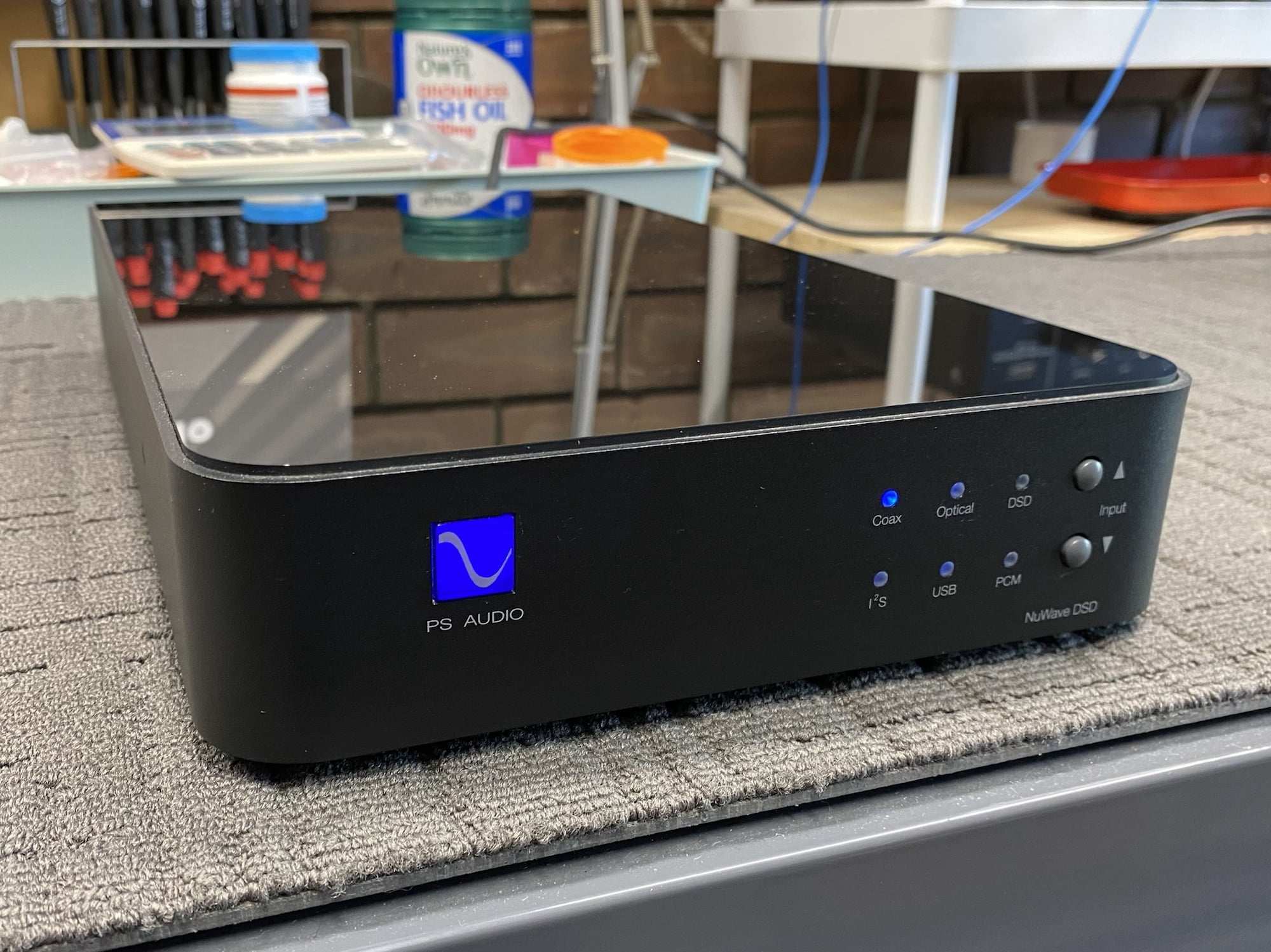 This DAC is a sublime performer, especially when the modest cost is factored in. Incredibly, it betters my previous reference Musical Fidelity TriVista 21 DAC in terms of power and control and punches way above its substantial weight.
The NuWave DSD is in pristine original condition and can be purchased for just $1095.
---
Legendary Meridian 506 24-Bit CD Player
UPDATE: Sold!
Another beautiful digital piece for sale from my collection, this Meridian 506 has been my staple disc-spinner for the last few years, taking over from my venerable Sony XA-20ES, also for sale.
The 506 24-Bit CD player is regarded as one of the best sounding and constructed CD players available at the time and probably since. The 506 is made almost entirely of metal and glass, with a smooth loading drawer that has to be experienced to be believed.
Created by a British manufacturer famous for their pioneering work with digital and Redbook in particular, the 506.24 was a very expensive machine to purchase new. With three main iterations: the original 506, the later 506 20-bit and the last 506 24-bit iteration, this 506 is the best sounding and most desirable of the range.
The Meridian is a better player than the Sony, and a little fussier about discs, like a true thoroughbred. I deeply serviced and re-lasered this player a couple of years ago, so she has plenty of life left in her.
The build quality of these players is superb and, used on her own, she is a lovely smooth sounding CD player, far better than machines from even just a few years before she was released and many since. These players are also well known for being one of the best transports from the RedBook CD era. Partnered up with a good DAC, you get superb results. I used this 506.24 with my PS Audio NuWave DSD DAC, also for sale (now sold). Either way, as a discrete player, or a rock-solid jitter-free transport, the 506 excels.
This Meridian 506 24-Bit CD player is one of the later versions with newer firmware and 24-bit processing, delivering even greater subtlety and detail in the sound. She is in almost perfect, pristine condition and will make her next owner very happy I'm sure.
This iconic Meridian 506 24-Bit CD player can be yours for just $895.
---
Lovely Sony CPD-295 CD Player
UPDATE: Sale pending!
This Sony CDP-295 is a cheaper machine, but still a proper Sony, from 1992. Predictably, she plays discs perfectly and is in remarkable cosmetic condition. Try finding a modern CD player in 30 years time and see if it still plays discs. I'll save you the pain – it won't.
I've just serviced her and installed a new power cable. The only blemish is what looks like some paint overspray on the lid. The lid finish is original and unmarked under this and the overspray will come off if it bothers her new owner.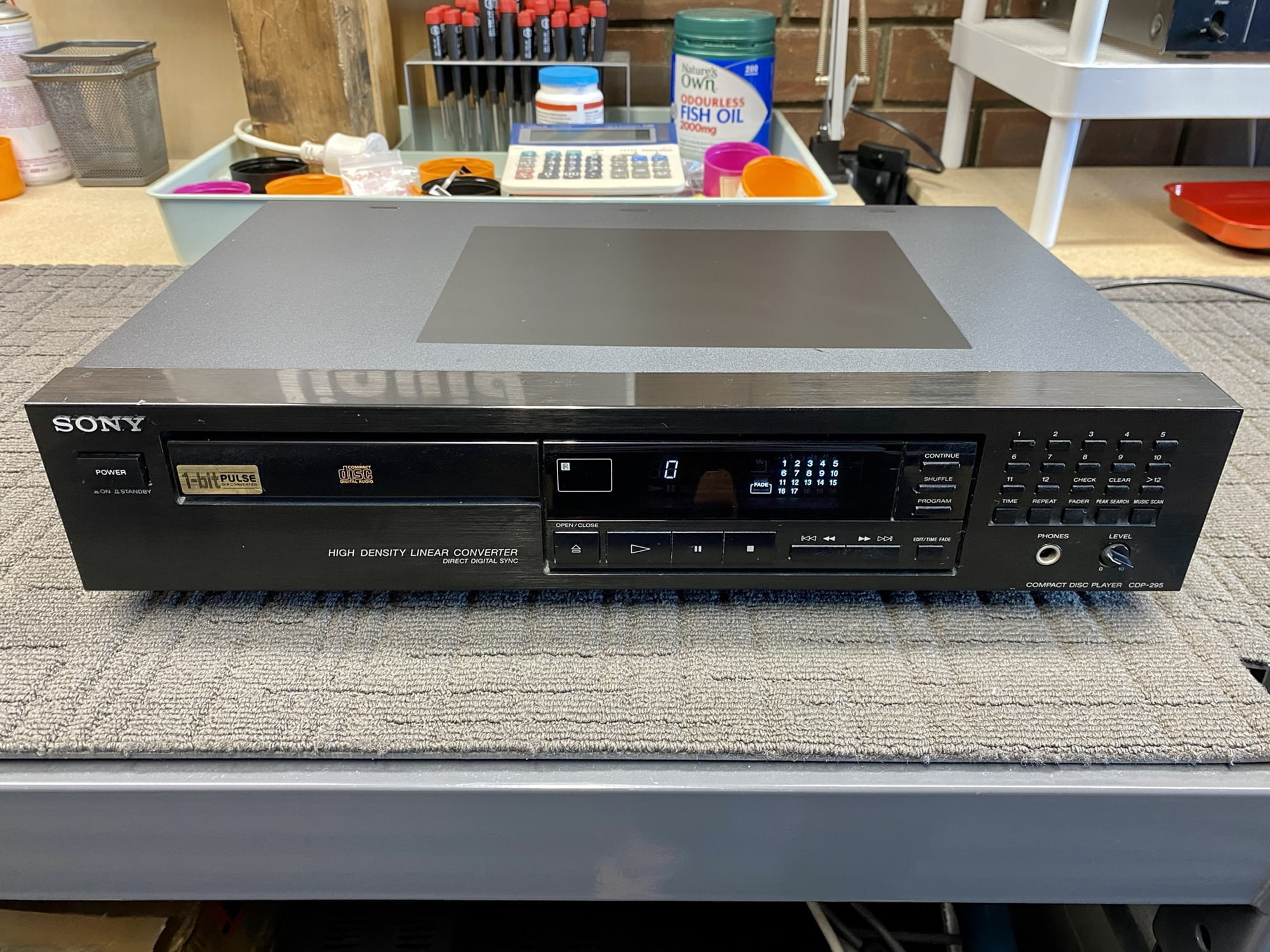 Specifications
Disc format: CD
Digital converter: CXD2552AQ
CD Mechanism: KSS-240A
Frequency response: 2Hz to 20kHz
Dynamic range: 97dB
Signal to Noise Ratio: 100dB
Channel separation: 95dB
Total harmonic distortion: 0.005%
Line output: 2V
Dimensions: 430 x 100 x 280mm
Weight: 3.5kg
This very nice CD player has a headphone socket, variable headphone output for convenient listening and sounds really nice for a basic machine. She can be yours for just $250.
---
Awesome Luxman C-03B Preamplifier and M-03B Power Amplifier Combo
WOW! Now it's not often you see a pair of these for sale in almost perfect condition! This beautiful Luxman C-03B and M-03B have just arrived for sale on consignment.
UPDATE: Sold on first audition to a very happy new owner!
These are the infinitely more desirable black 'B' variants, able to fit into most modern systems and still look quite space-aged to me anyway. I might be biased, but I love the look of these two and still miss my own pair!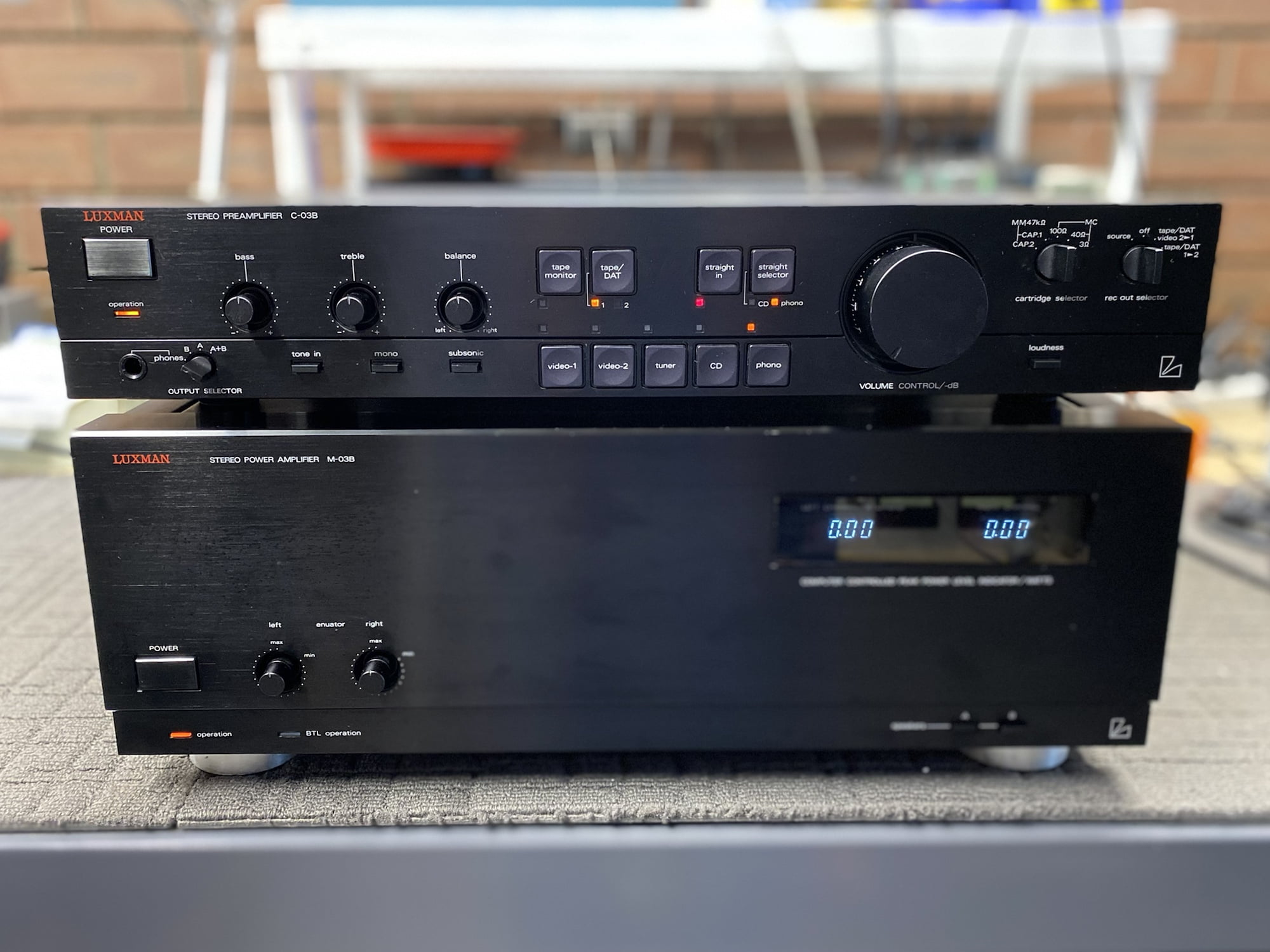 For background, the Luxman C-03/M-03 pre/power combo is a famous Luxman duo from the golden era, when proper hi-fi equipment was still made of metal, in Japan. Others in this lineage are the famous C-05/M-05. Some readers will know that I owned a C-03B/M-03B pair for many years and can attest to the fact that these are very well-made, great-sounding units. You can read a little more about the pair, here.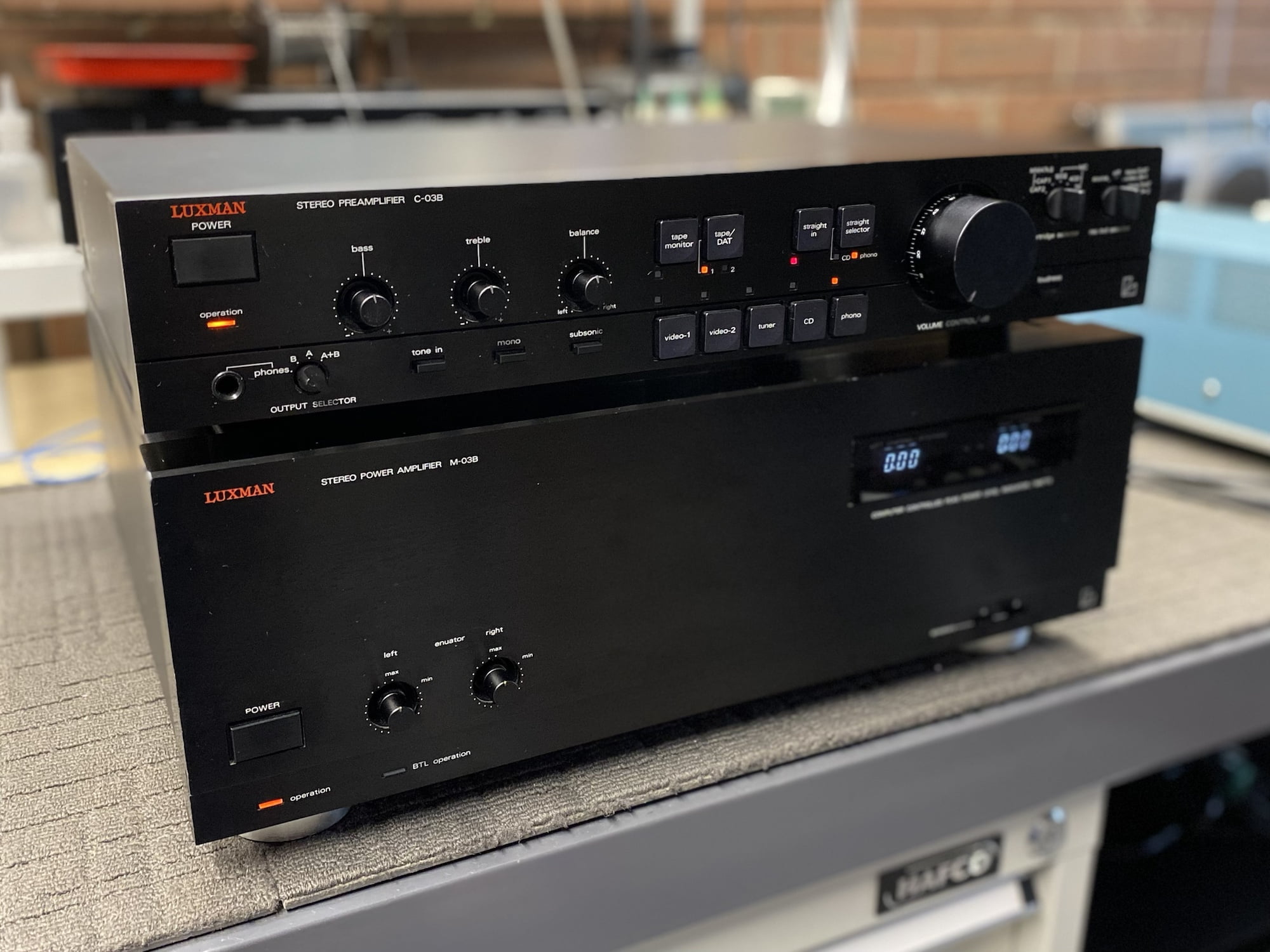 The C-03 is a very nice, full-featured preamplifier with an excellent phono stage featuring switchable loads for moving coil cartridges. It also has a direct signal selection option, bypassing unnecessary circuits, a great headphone amplifier and multiple outputs for added flexibility. You can read more about the class-A output stage, headphone amplifier, and other features here.
The full-featured phono preamp is a very useful touch if you are building a proper vinyl playback system. The ability to add good moving coil cartridges and listen to them properly, without needing to buy a phono preamp is a critical feature of a preamp like the C-03.
Oh and a phono preamp like the one in the C-03 would cost you at least a grand, probably two, to buy separately, so this is great added value. The headphone amp is icing on the cake.
I've just serviced this C-03, it runs perfectly and sounds great! These rarely come up for sale, so keep this in mind when you look at the next part of the pair!
The M-03 is a beast of a power amplifier. One of the densest amplifiers I've carried recently, this thing will drive any speakers with ease. You can watch a video I made about repairing my old M-03, now owned by a friend of mine and read more about the M-03 here.
I ran my old M-03 power amplifier on the test bench, delivering 200 Watts per channel into a test load and hardly working up a sweat! To say the M-03 is a powerful power amplifier is an understatement, but consider this: if you have two of these, each can be bridged to deliver around 1/2 a kilowatt per channel!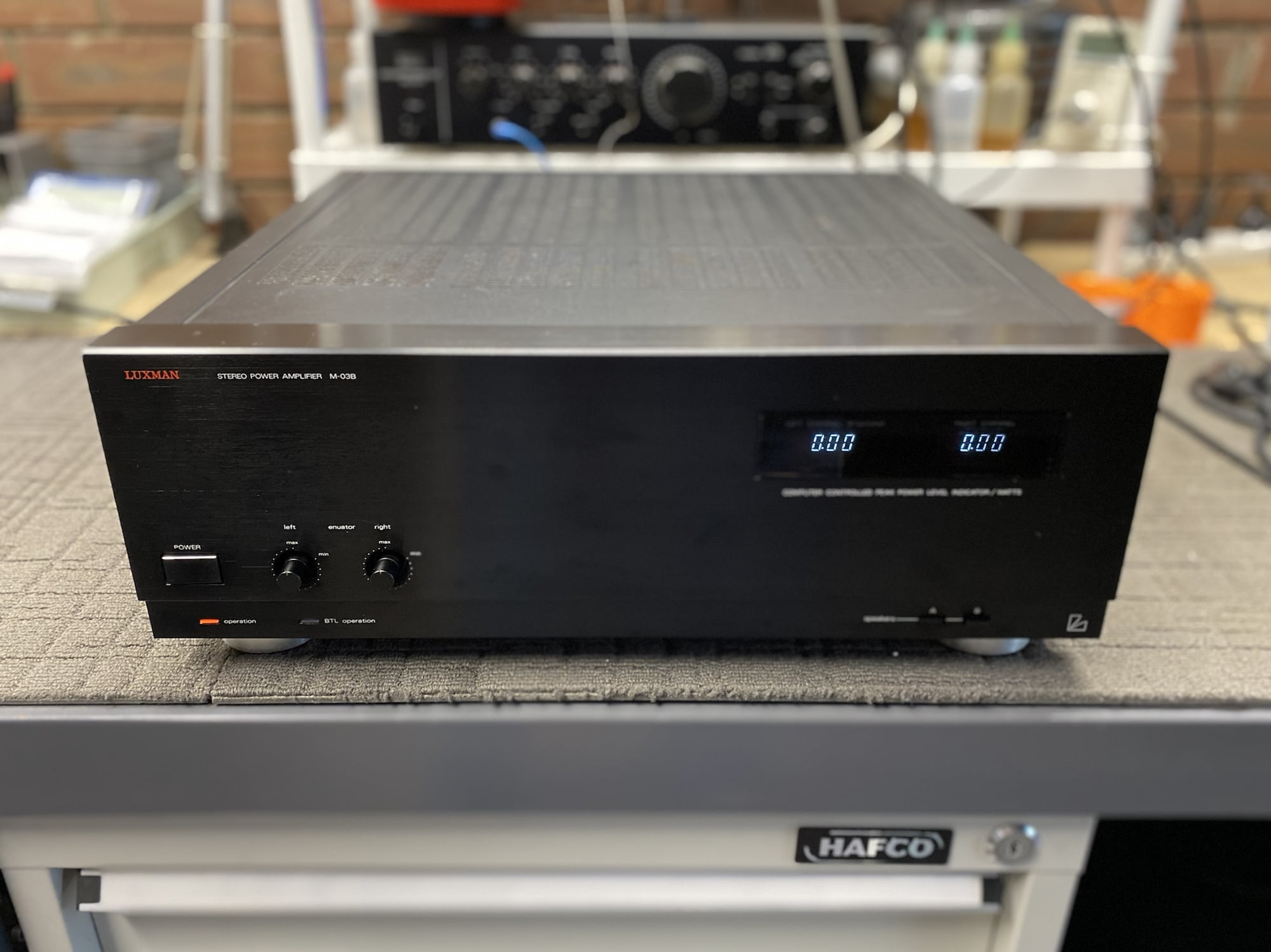 This M-03 received extensive maintenance and service from me only a few months ago so you can be confident she runs perfectly.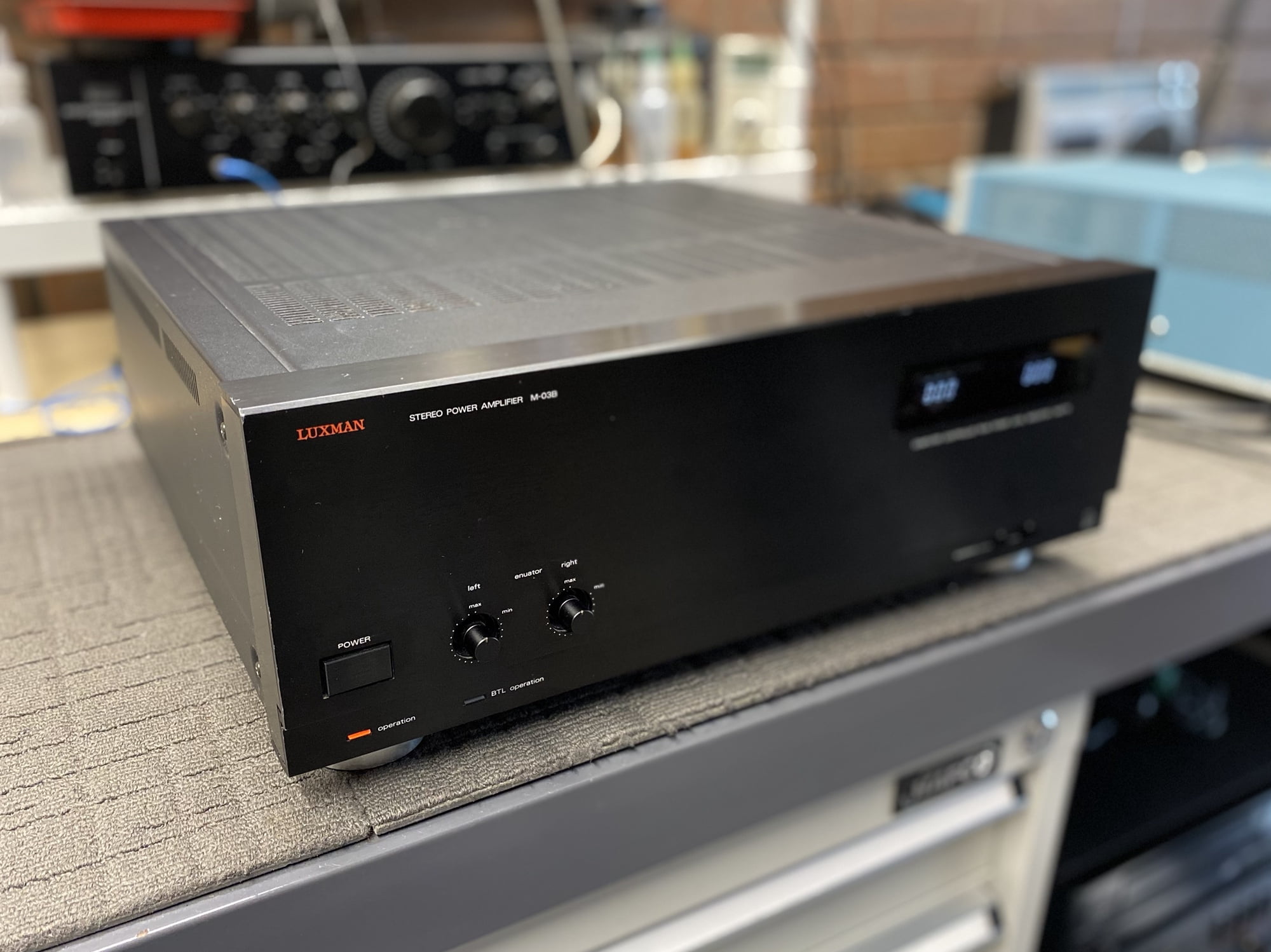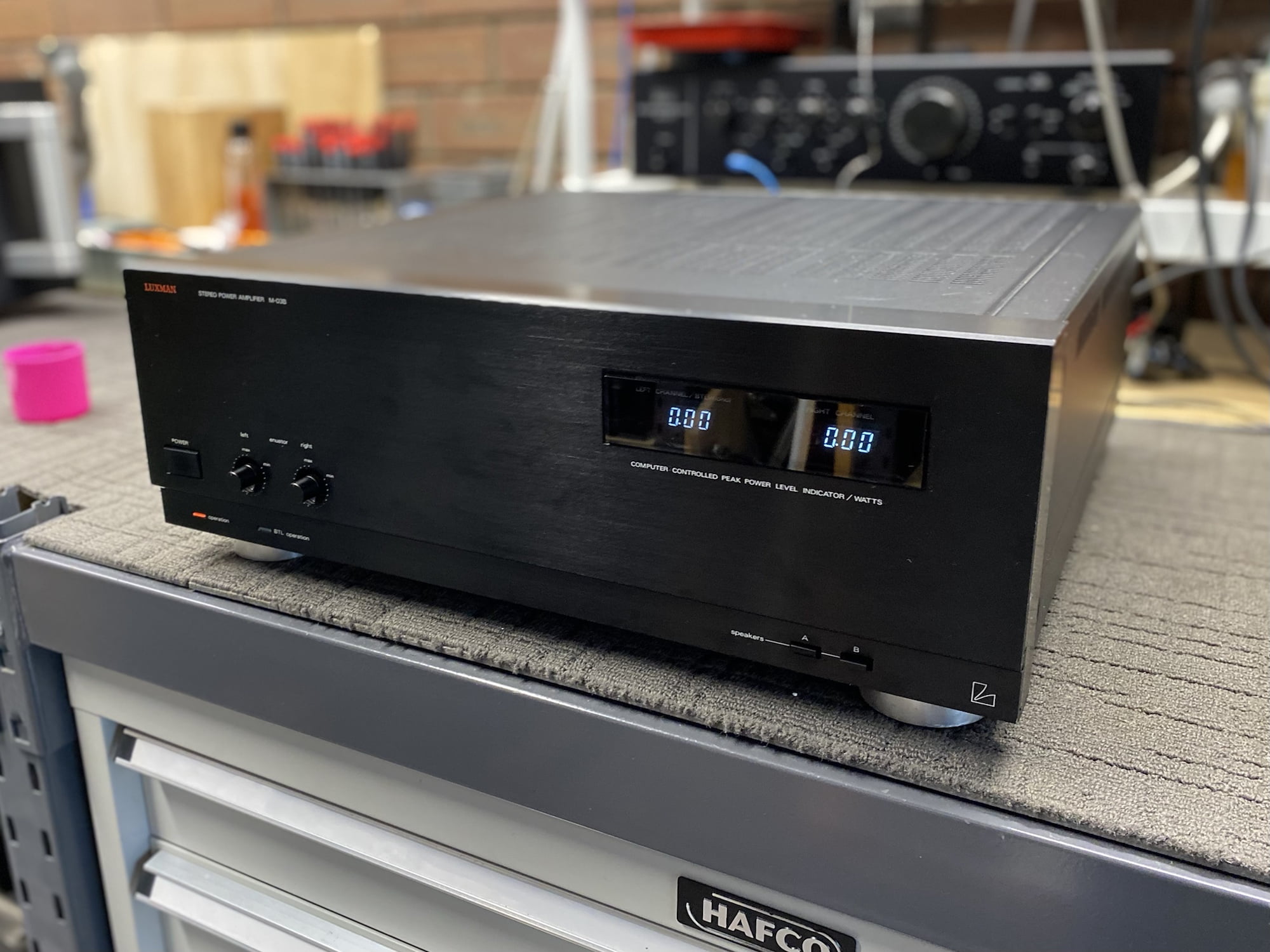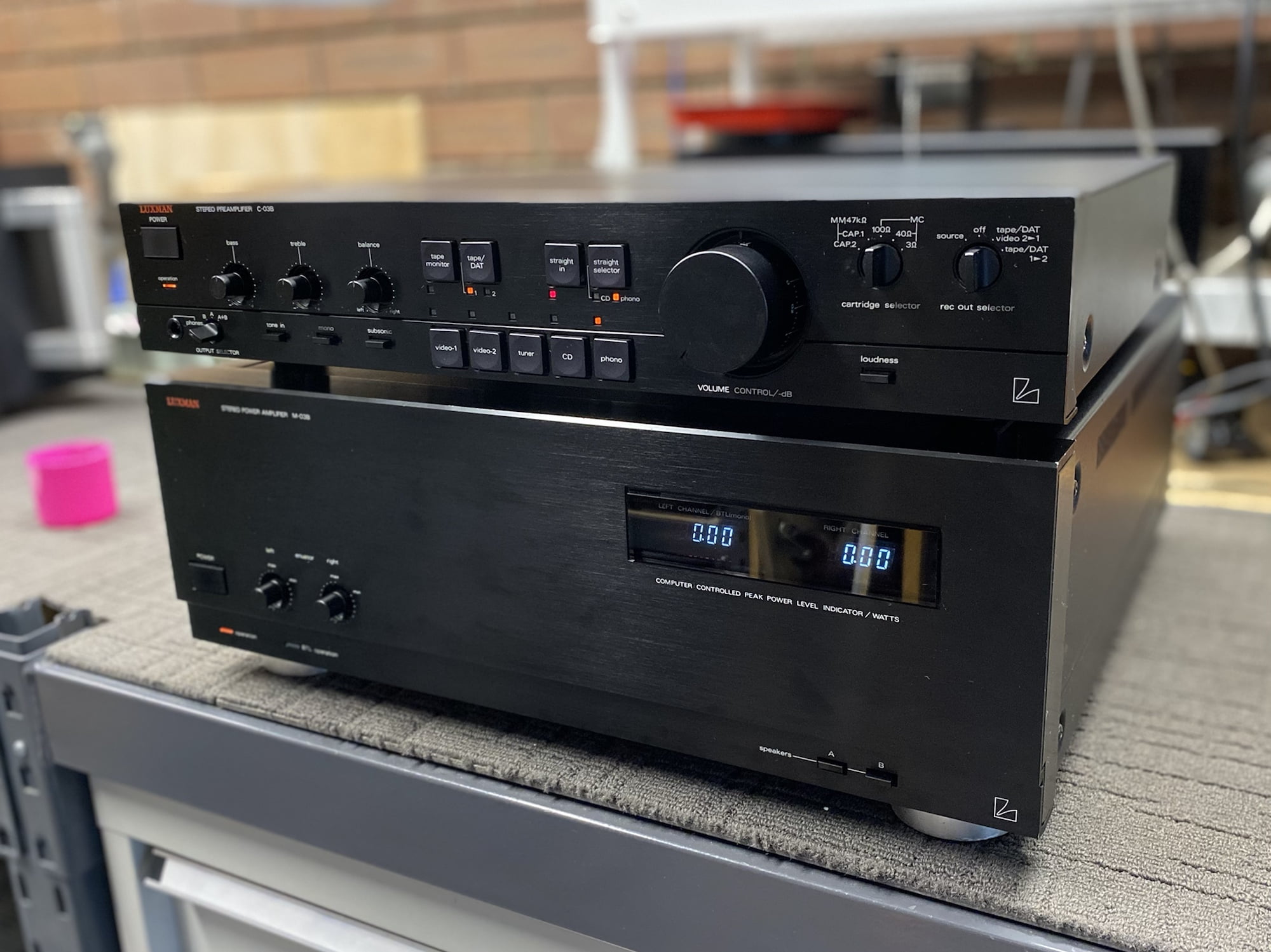 Sold as a pair to keep these stunning units together as they belong, this near mint Luxman C-03/M-03 pre/power combination from the golden age can be yours for $2950. You'll occasionally find others for sale, but they are usually gold and remember, these two have been carefully cleaned, serviced and are sold with a 3-month warranty. Try to find that on Gumtree or eBay!
---
Sony Bravia 55 Inch HD 3D LED LCD TV
What a mouthful, but newly for sale, here is my much loved Sony Bravia 55 inch HD LED LCD TV, in perfect original condition!
UPDATE: Sold!
Owned by me from new, she is unmarked and has never missed a beat. This is a KDL-55EX720, full HD (1080p) 3D LED LCD TV.
You can have this lovely tv for less than half the price of a new, plastic 55-inch one. It's much better made, mostly metal and glass, full info and specs here:
https://www.sony.com.au/electronics/support/televisions-projectors-lcd-tvs/kdl-55ex720
This is a great tv, with typical Sony reliability, build quality and excellent picture.
Comes with the original stand and remote, for just $495.
---
Sony STR-DE898 Home Cinema Receiver
Also for sale, this Sony STR-DE898 125W x 7 home cinema receiver is a solid 7 channel unit, in very good condition.
UPDATE: Sold!
The only issue is that the display is very dim. It can still be read, but the remote is included and the on-screen display functionality means you don't really need the VFD, thankfully.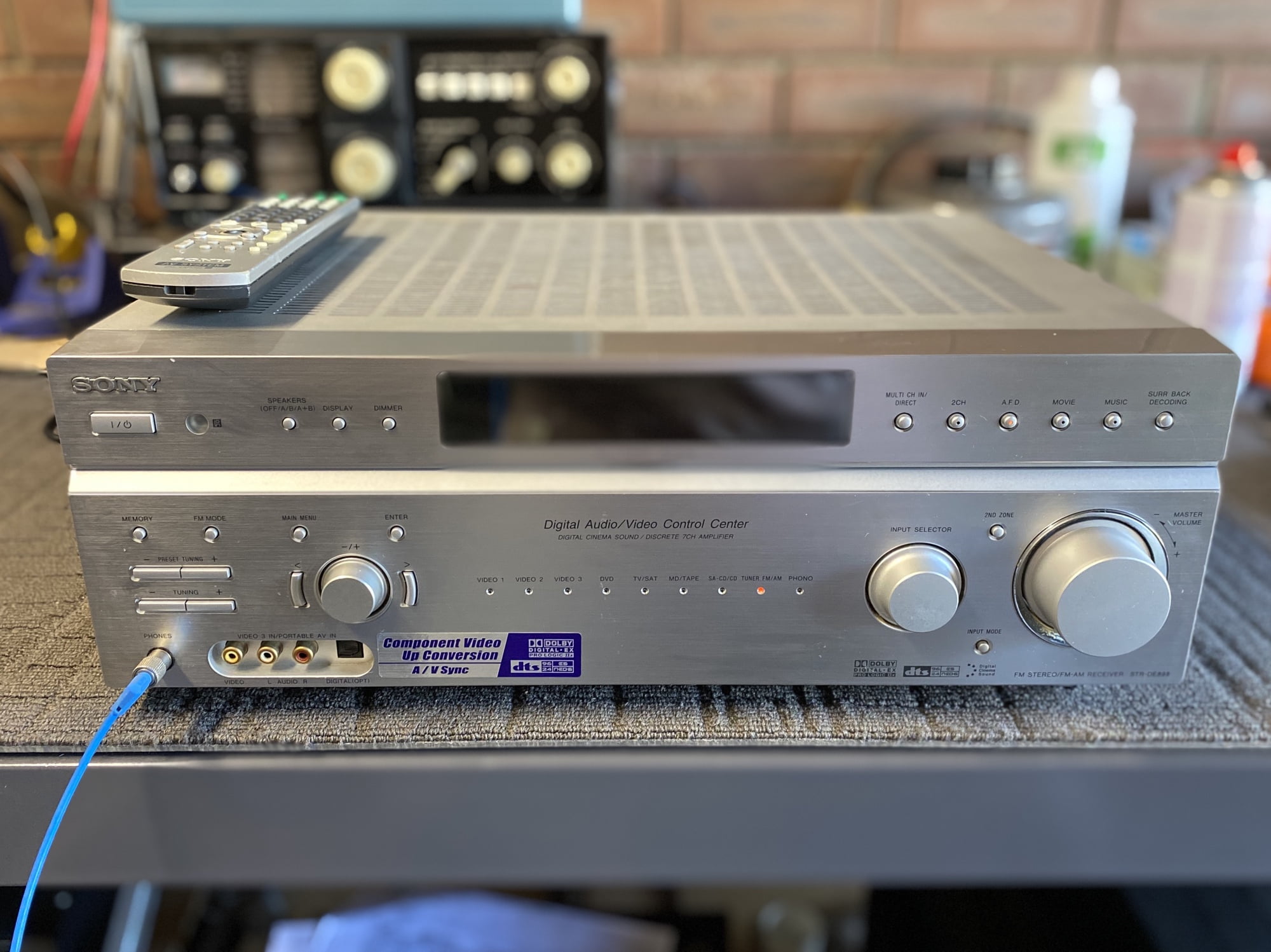 Aside from that, she sounds good and runs well. She even has a phono preamplifier, making it possible to use this unit as the heart of a basic stereo turntable setup.
Features
125 Watts x 7
This receiver packs plenty of power with 125 Watts over 7.1 channels all driven at 8 ohms with very little distortion for great sound at almost any volume.
Dolby EX, Pro Logic IIx, DTS-ES, DTS Neo:6, DTS 96/24 Compatibility
The STR-DE898 is compatible with the top digital audio formats.
Dot Matrix Fluorescent Display
This highly readable, classic display is pleasant to look at and easy to use.
Multiple Zone
This receiver can control up to 2 zones/rooms in your house at the same time making it a versatile solution for all your home audio and video needs.
30 Radio Presets
With 30 station presets, you'll have all your favourite radio stations programmed and accessible in no time.
Component Video Upconversion
From both composite and s-video sources, this receiver will display in component video mode for the highest possible video clarity.
6 Digital Inputs/1 Output
With multiple digital inputs, this receiver has the versatility to hook up to all the latest digital devices.
Pre-programmed Learning Remote
Use the included remote to easily control all your home theatre equipment.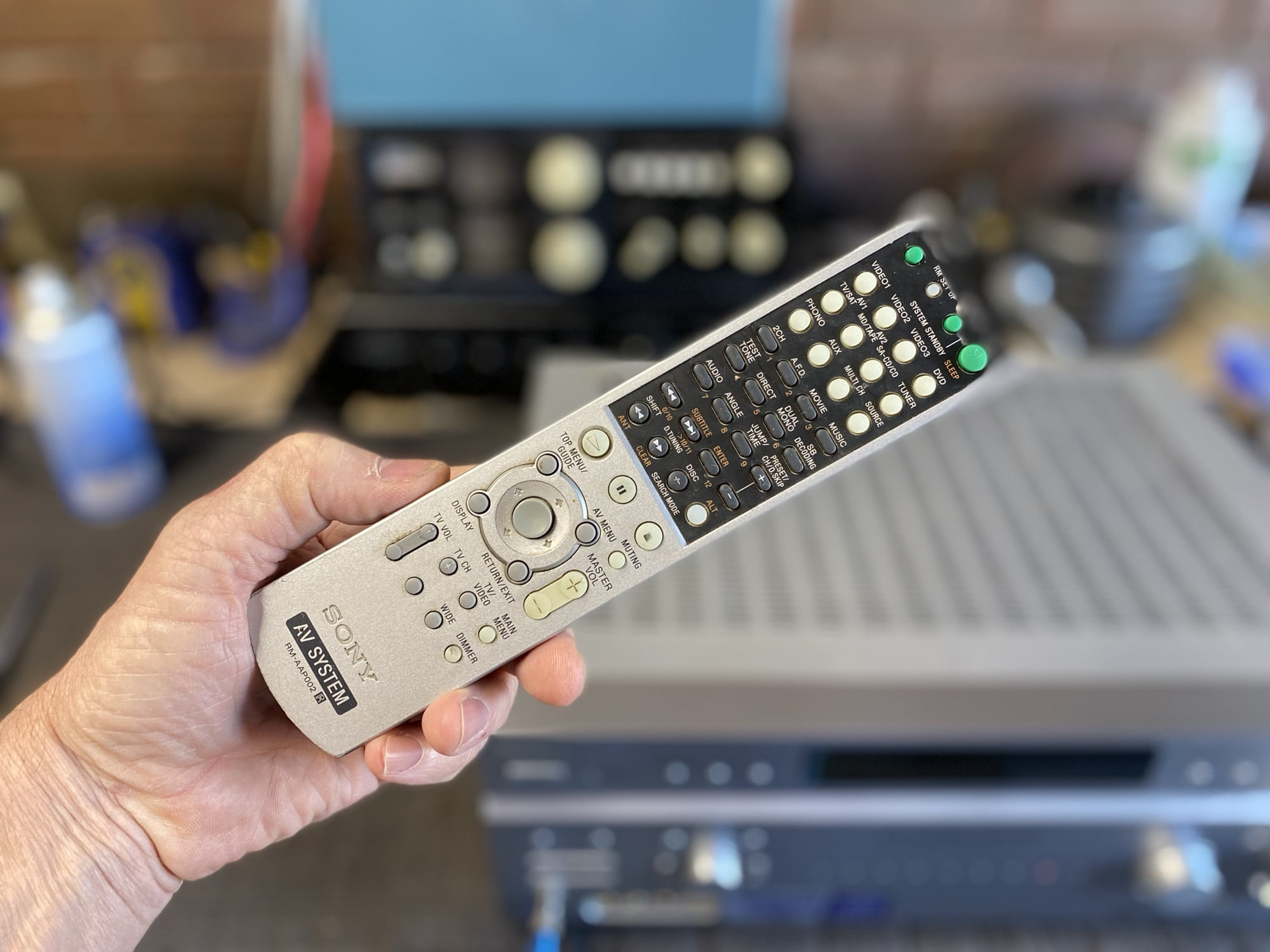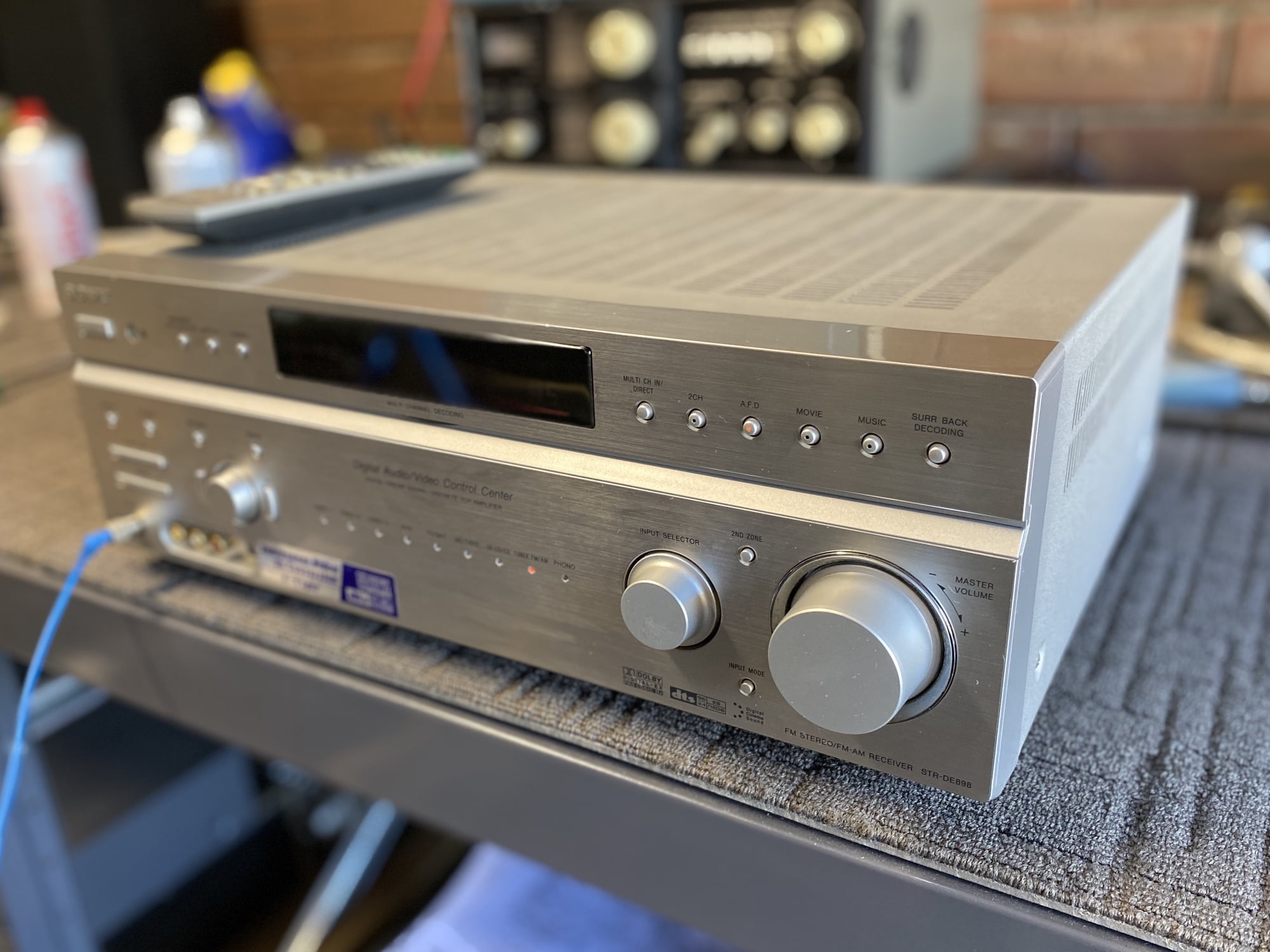 This Sony STR-DE898 can be yours for just $195.
Amazing Denon DCD-2560GL Limited Edition CD Player – Like New!
Wow, seriously this piece really blows my mind in terms of condition. This beautiful Denon DCD-2560GL CD player is in as close to like-new condition as I think it's possible to find.
UPDATE: Sold!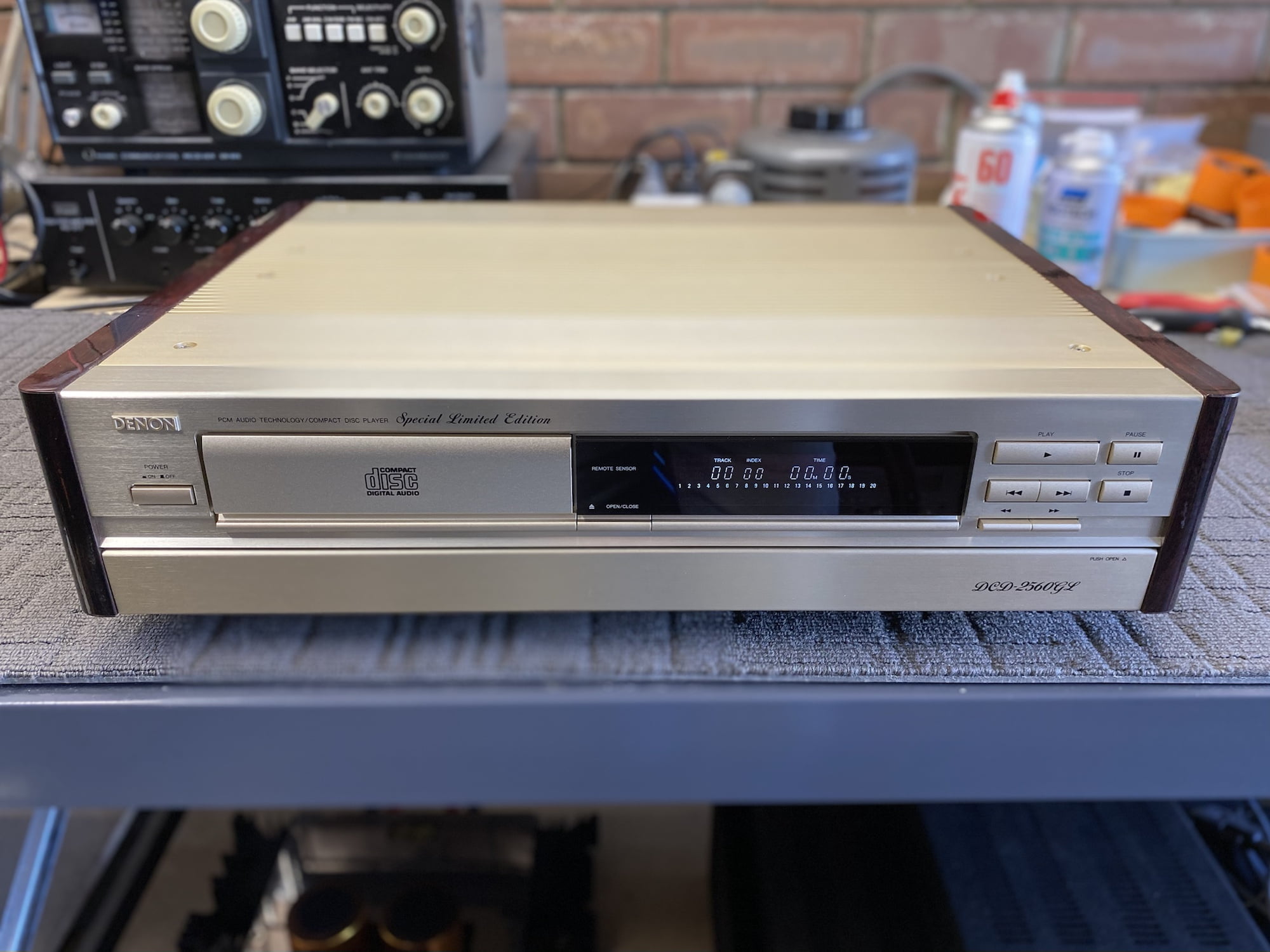 The DCD-2560GL is a very high-spec player and built like a tank, unlike most modern machines this side of $5K. Using four Analog Devices DAC chips and a healthy dose of premium Elna and other parts where it matters, this CD player is a heavy hitter.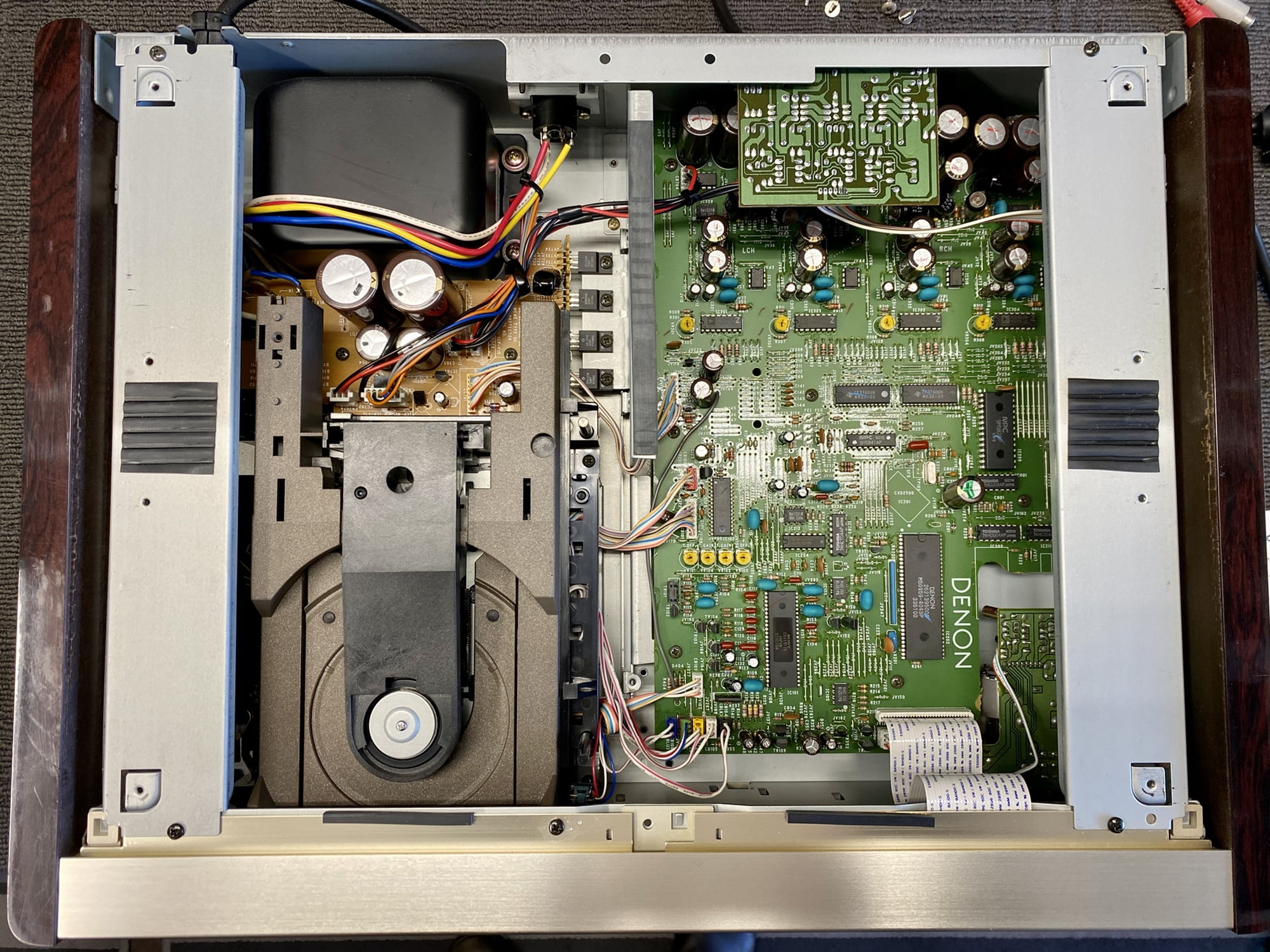 Specifications
Note: these specs are for the standard DCD-2560, this is the DCD-2560GL, with balanced outputs, better parts and an improved output buffer.
DAC: 4 x AD1862N-D, 20 bit, 16 x oversampling
CD Mechanism: Sony
Frequency response: 2Hz to 20kHz
Dynamic range: 100dB
Signal to Noise Ratio: 116dB
Channel separation: 110dB
Total harmonic distortion: 0.0018%
Line output: 2V
Digital outputs: coaxial, optical
Dimensions: 434 x 122 x 360mm
Weight: 10.5kg
Accessories: RC-232 remote control
Year: 1991
Price: GBP £570 (1991, standard edition..!)
Certainly, if you are looking for a classic CD player with balanced outputs, wooden side cheeks and the sort of build quality that you have to pay many thousands of dollars for these days, this DCD-2560GL could be perfect. It would also make for a superb CD transport for use with a more modern DAC.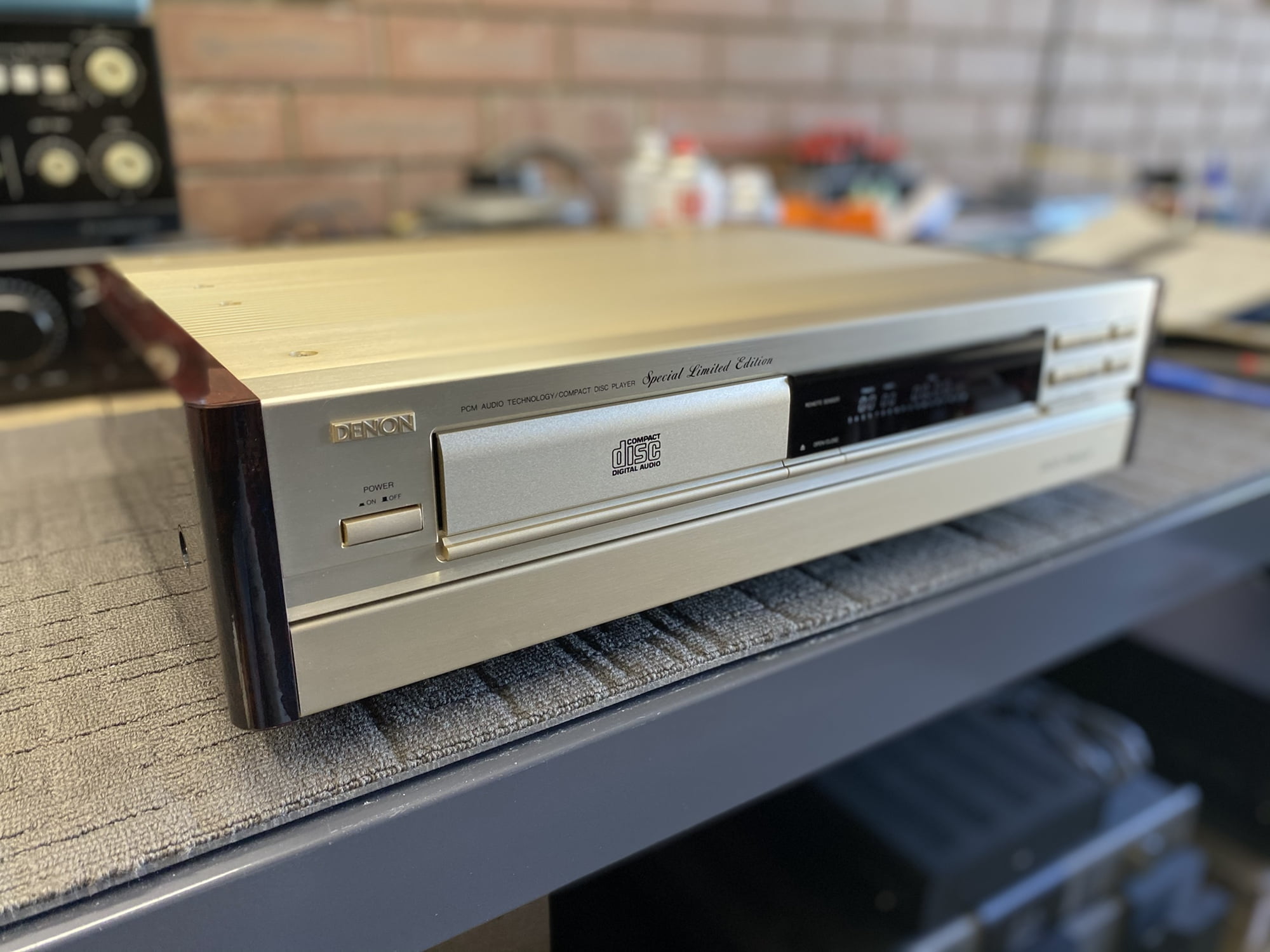 I've tested this player and it has a very healthy laser, reading even burned discs in seconds. You should have zero reservations about buying this lovely old girl if you are interested.
She comes in her original box, with manual, remote control and three-month warranty for just $1100.
For comparison, you can buy a modern plastic CD player with a laser that will last two years, like this Marantz CD-6006, for $1250 AUD. I just replaced the laser in a CD-6006 for a customer, his lasted just over two years. The Sony laser in this DCD-2560GL is stronger after 30 years, sad, but this is how things are.
---
Gorgeous Technics RS-M45 Direct-Drive Cassette Deck
The Technics RS-M45 direct-drive cassette deck is a real classic from the golden era of cassette decks. This one wasn't playing and needed some deep service work on the mech, including lots of cleaning and lubrication. She is now for sale.
UPDATE: Sold!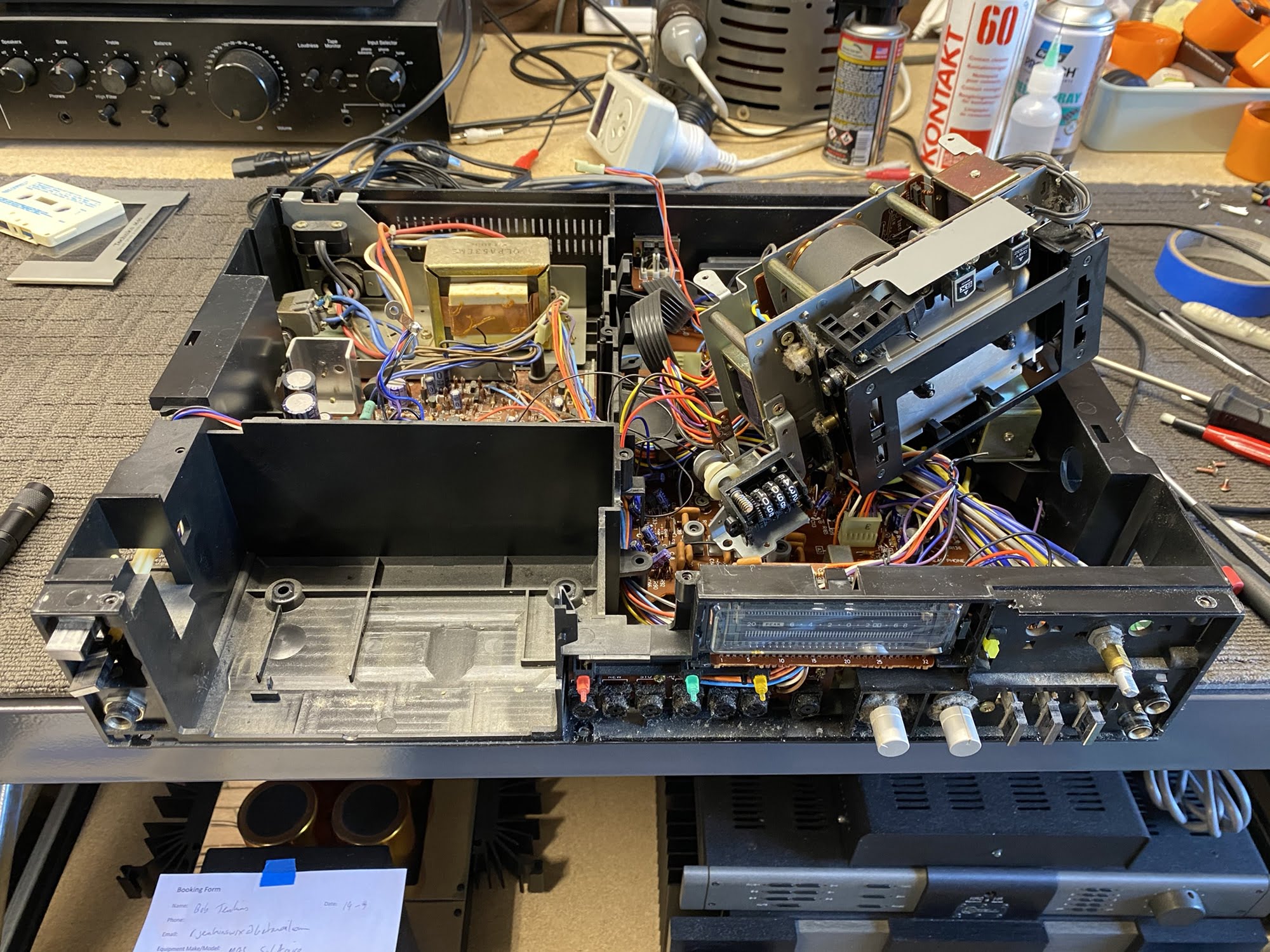 With that work completed, plus a deep clean of the tape path and head demagnetisation, this lovely old Technics RS-M45 is now running beautifully.
I have a real fondness for these old Technics machines. I love the styling, the nearly all-metal construction of the tape mech and the solid mechanical build quality. The bi-coloured VFD peak meters add to the appeal and timeless Technics styling.
This machine has no capstan belt, so that's one less thing to worry about. The direct-drive capstan means low wow and flutter and the all-metal eject mechanism is so smooth you have to operate it to believe it.
Specifications
Type: 2-head, single compact cassette deck
Track System: 4-track, 2-channel stereo
Tape Speed: 4.8 cm/s
Heads: 1 x record/playback, 1 x erase
Motor: FG servo DC
Tape Type: type I, FeCr, CrO2, Metal
Noise Reduction: B
Frequency Response: 20Hz to 20kHz  (Metal tape)
Signal to Noise Ratio: 68dB  (dolby B)
Wow and Flutter: 0.035%
Input: 60mV (line), 0.25mV (mic)
Output: 0.7V (line)
Dimensions: 430 x 98 x 345mm
Weight: 6.1kg
Finish: black, silver
Year: 1980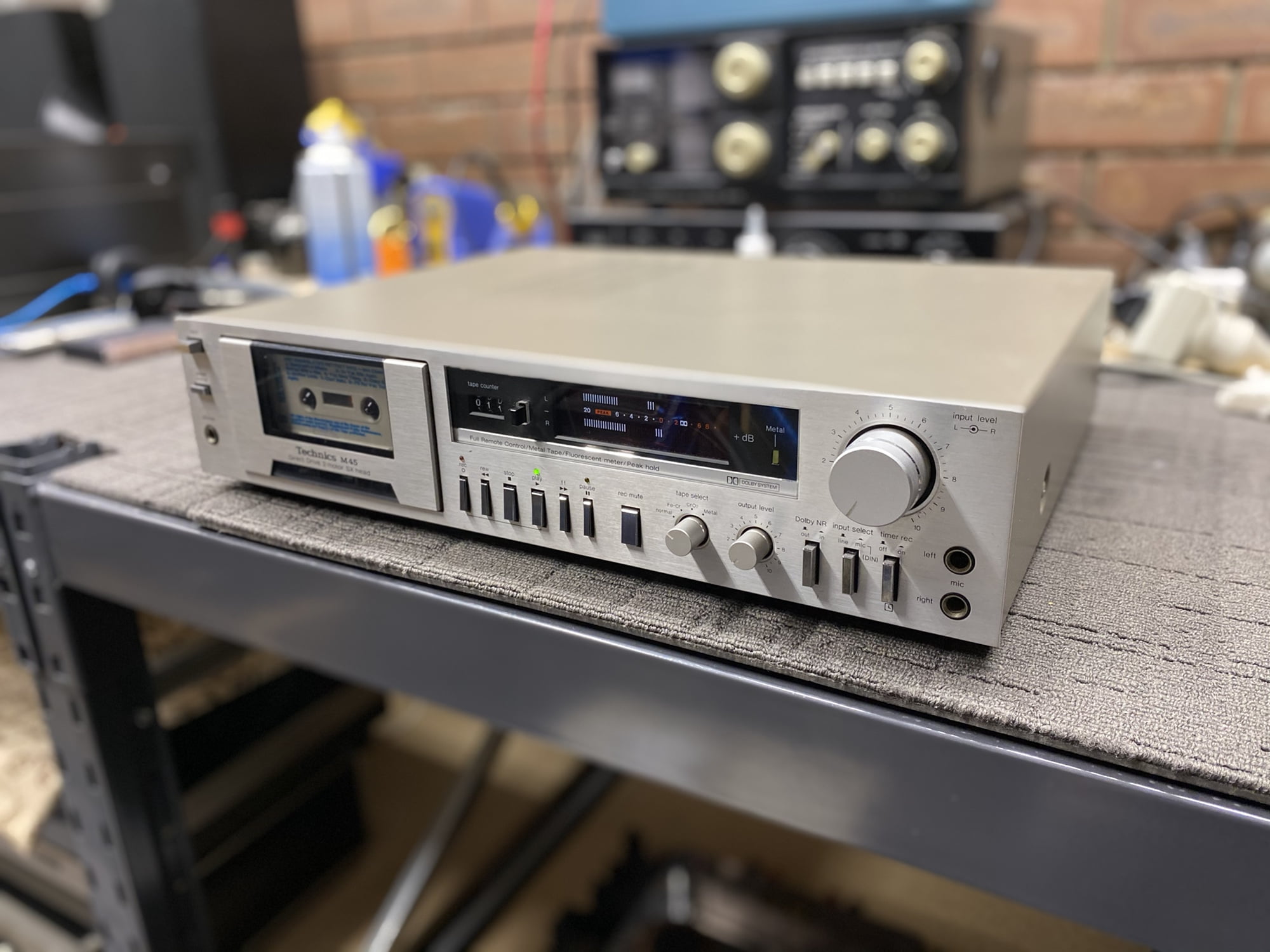 This Technics RS-M45 is available for just $375. As always, contact me if you'd like to buy this beauty.
---
Beautiful Harman/Kardon TD4200 Transcription Quality Cassette Deck
Check out this beautiful, recently serviced Harman/Kardon TD4200 cassette deck, kindly donated by a customer and now for sale.
UPDATE: Sold!
The Harman/Kardon TD4200 was a very popular deck back in the day and one of the last decent decks H/K made. This transcription quality deck is very nicely put together and has great specifications.
In terms of service and operation, I've cleaned and demagnetised the tape path, calibrated the playback speed, serviced the drive belt, drivetrain and motor.
This stunning and nearly flawless machine now works perfectly but for peace of mind, she comes with a 90-day warranty and can be yours for just $275.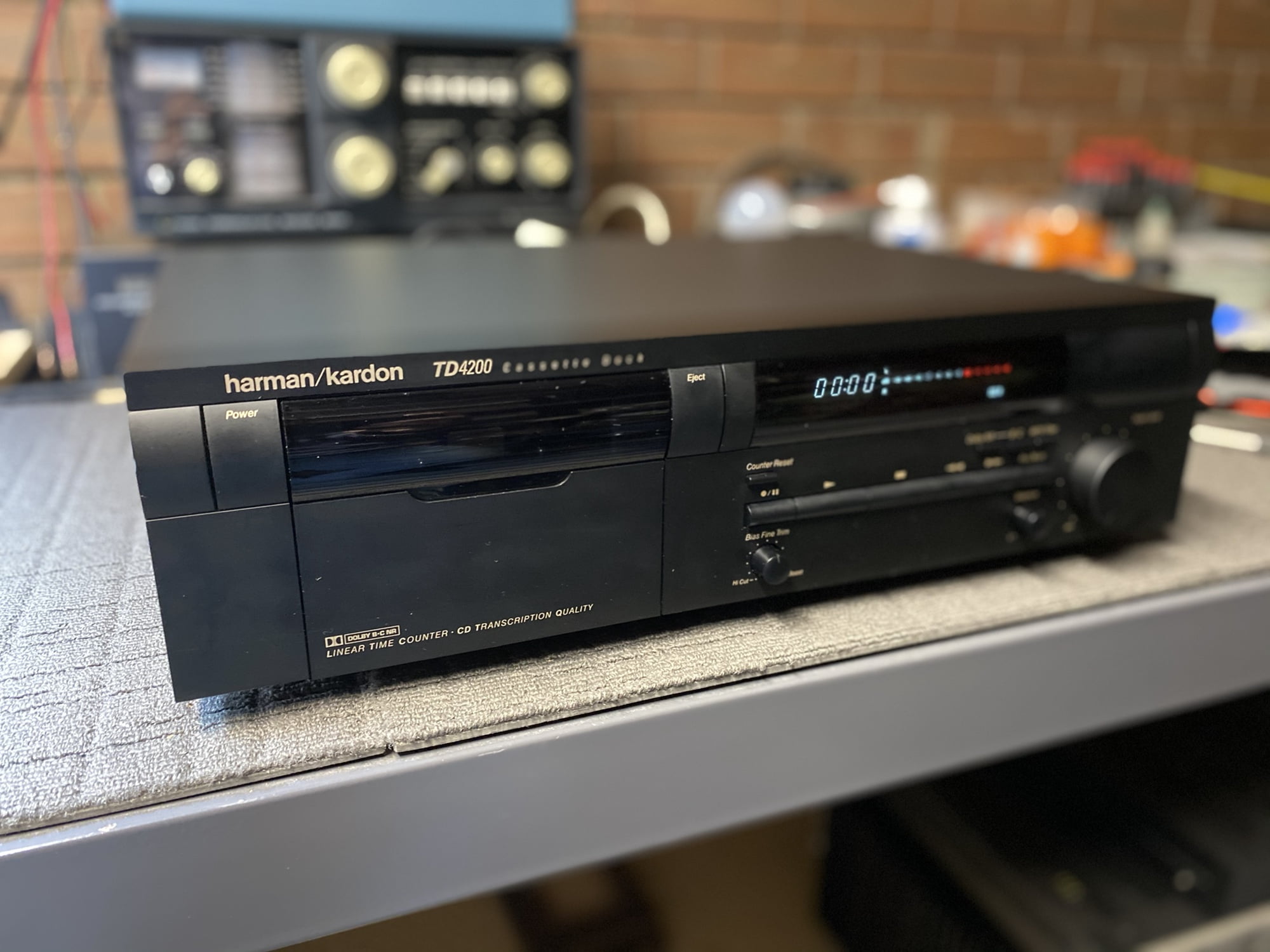 The Harman Kardon TD4200 is a stereo cassette deck with Dolby B and C noise reduction. It was introduced by Harman Kardon in 1990 with a manufacturer suggested retail price of USD $329 and discontinued 5 years later in 1995.

The main features of the Harman Kardon TD4200 are: 2 heads, electronic linear tape counter with 4 digits, automatic tape type selection with support for normal, chrome and metal tapes, belt driven single-capstan transport.

Full-logic transport controls used on the TD4200 let it respond to the slightest finger contact for fast and effortless transport function selection. Dolby C-type used in the TD4200 provides 20 dB of noise reduction above about 1,000 Hz, doubling the amount given by B-type.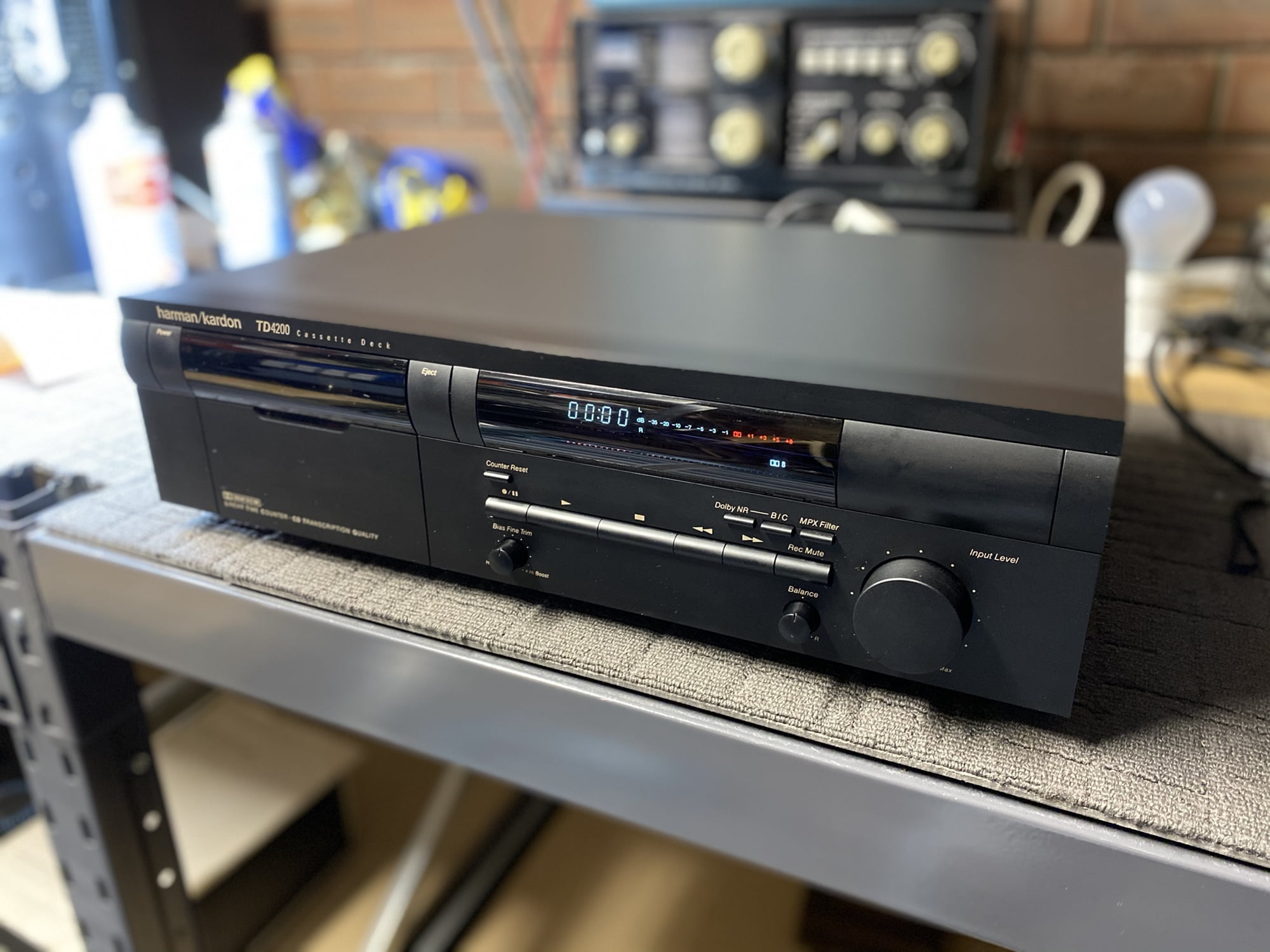 Specifications, thanks to HiFi Engine:
Type: 2-head, single compact cassette deck
Track System: 4-track, 2-channel stereo
Tape Speed: 4.75 cm/s
Heads: 1 x record/playback, 1 x erase
Motor: 1 x reel, 1 x capstan
Tape Type: type I, CrO2, Metal
Noise Reduction: B, C
Signal to Noise Ratio: 70dB  (dolby C)
Wow and Flutter: 0.05%
Total Harmonic Distortion: 1.5%
Dimensions: 442 x 126 x 320mm
Weight: 5.4kg
This quality cassette deck can be yours for just $295.
---
Stunning, Like New, Kenwood KX-7030 3-Head, 3-Motor Cassette Deck, with Box and Manual!
Wow! Check out this absolutely beautiful Kenwood KX-7030 cassette deck in like-new condition, with original manual, box and remote control.
UPDATE: Sold!
That's right, this Kenwood KX-7030 3-head, dual-capstan, Dolby B/C cassette deck is in as close to brand-new condition as you'll find. I've recently serviced her which includes cleaning, lubrication and demagnetisation of the tape path, plus some electronic adjustments to playback and record levels.
Specifications
Type: 3-head, single compact cassette deck
Track System: 4-track, 2-channel stereo
Tape Speed: 4.76 cm/s
Heads: 1 x combination record/playback, 1 x erase
Motor: 3 x DC
Tape Type: Normal, CrO2, Metal
Noise Reduction: Dolby B, C
Frequency Response: 20Hz to 20kHz  (Metal tape)
Signal to Noise Ratio: 75dB  (dolby C)
Wow and Flutter: 0.045%
Total Harmonic Distortion: 0.7%
Input: 77.5mV (line)
Output: 0.49V (line)
Dimensions: 440 x 127 x 324mm
Weight: 5.1kg
Accessories: remote control
Year: 1991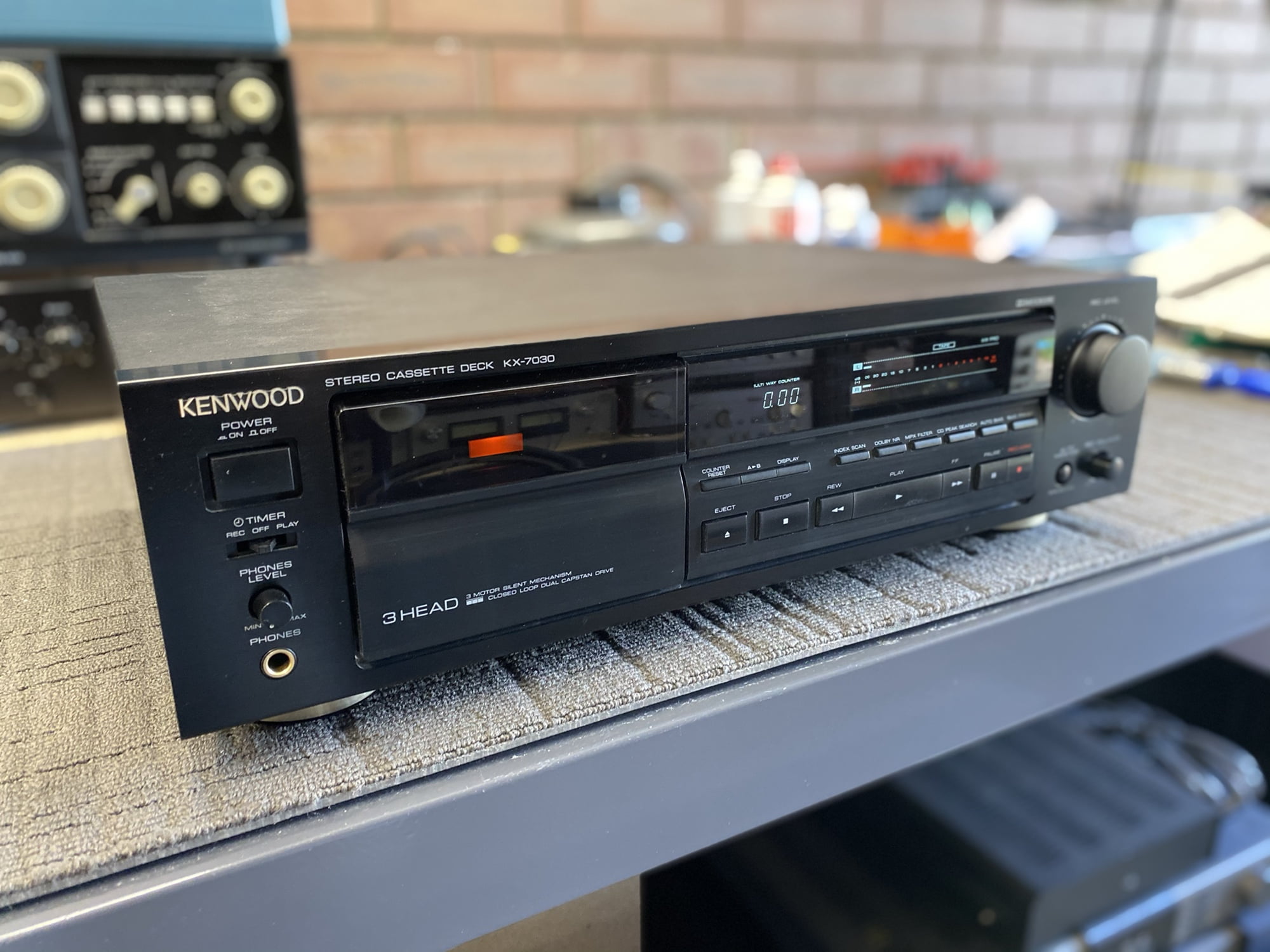 She runs like new, makes great recordings using the Dolby B & C noise reduction features and auto-biasing which is a nice added bonus, simplifying matching the deck to the cassette type used for recording.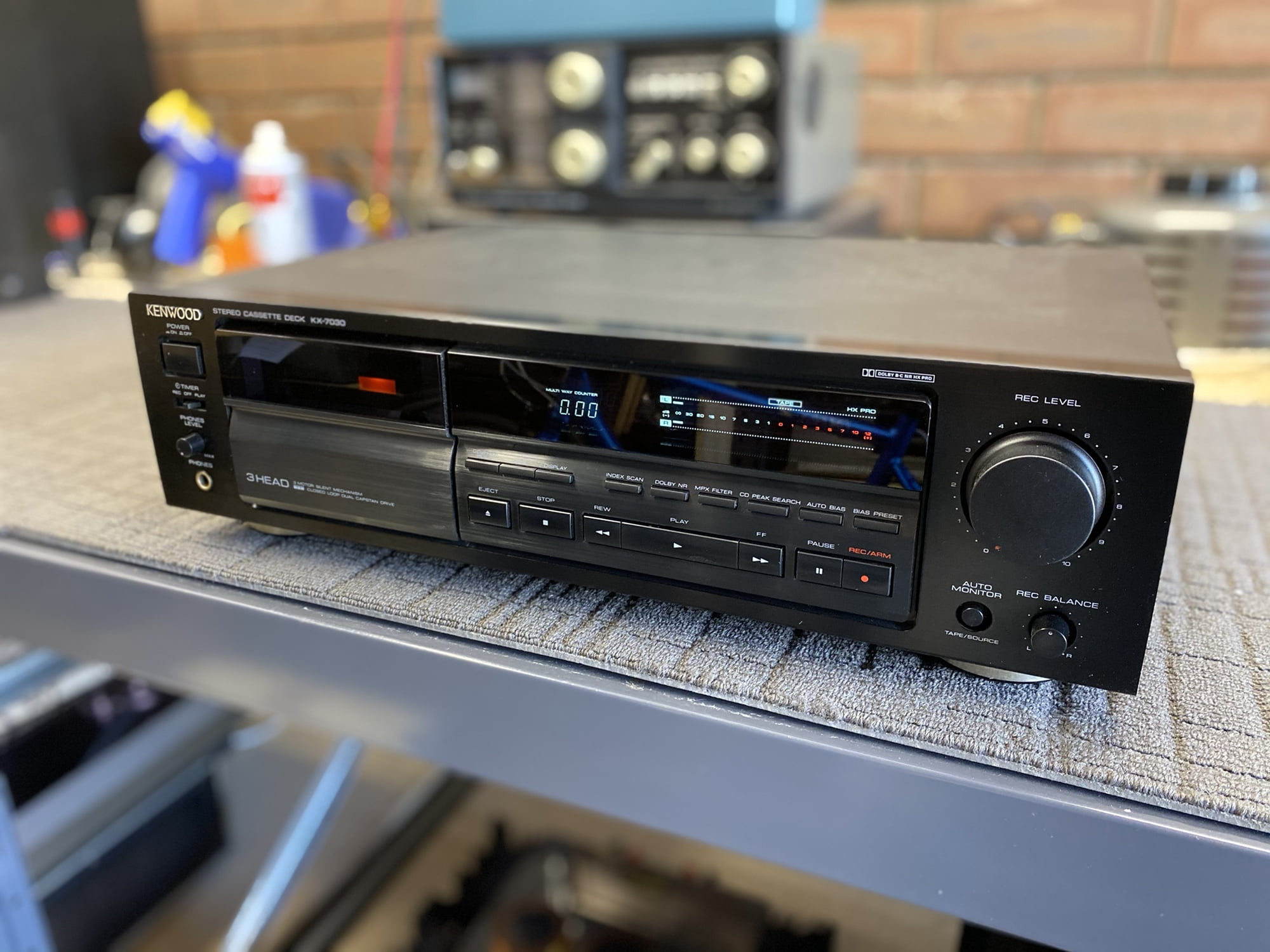 With three heads, three motors and dual capstans, this KX-7030 has all the high end features more discerning cassette deck owners are looking for.
Don't miss out on this absolutely lovely machine. She comes complete with box, manual, remote and 3-month warranty for just $595.
---
Beautiful Yamaha RX-777 Stereo Receiver
Check out this beautiful Yamaha RX-777 stereo receiver, newly listed for sale.
UPDATE: SOLD!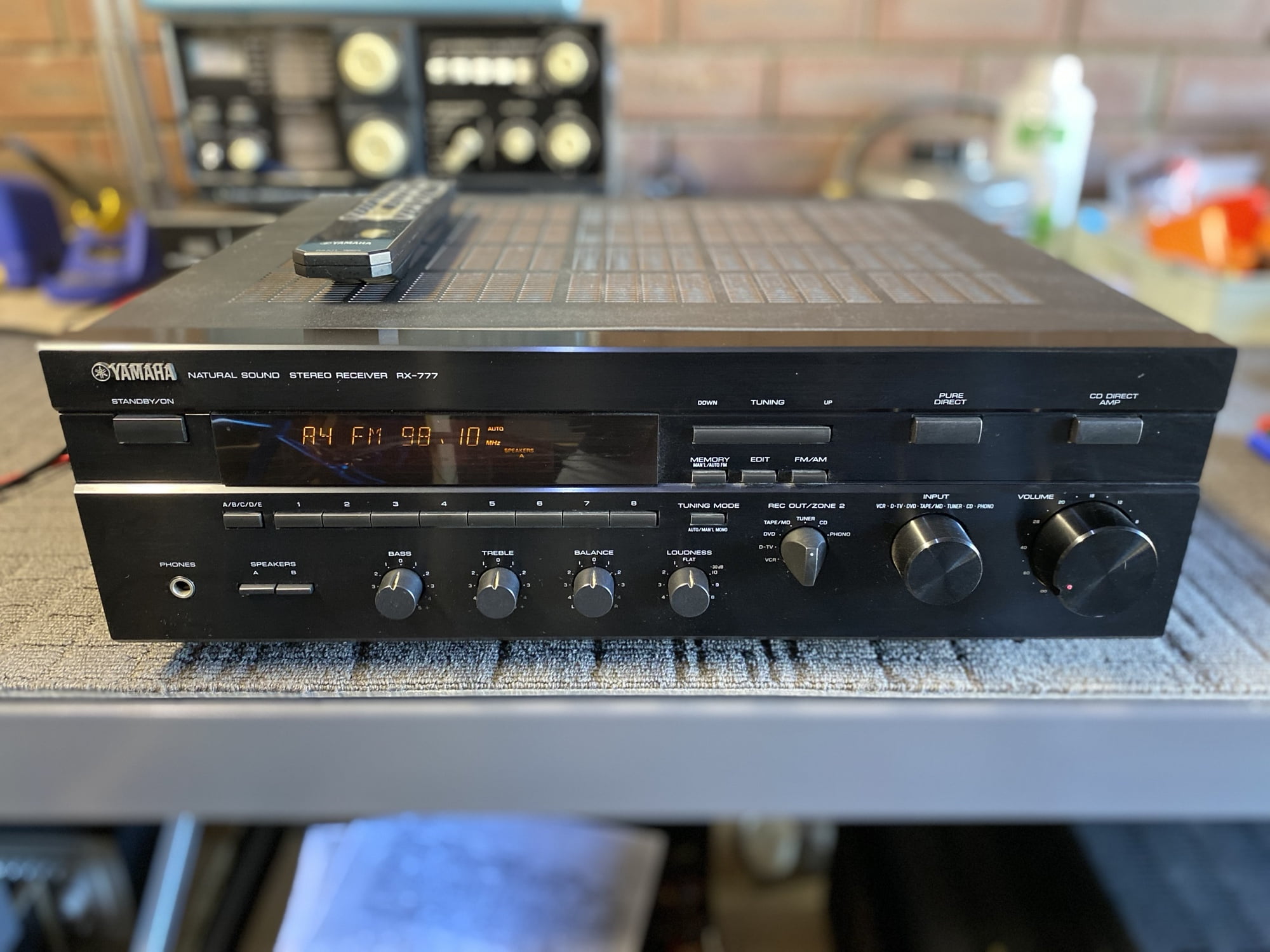 The RX-777 was one of the last good stereo amplifiers/receivers from Yamaha for some time it was released and the top of the 'RX' line-up.
Featuring 100 watts per channel, audiophile parts, phono preamp and AM/FM tuner built-in, the RX-777 packs in a lot of features. It also has video switching, but I'd stick to using it at the heart of a nice stereo system and be done.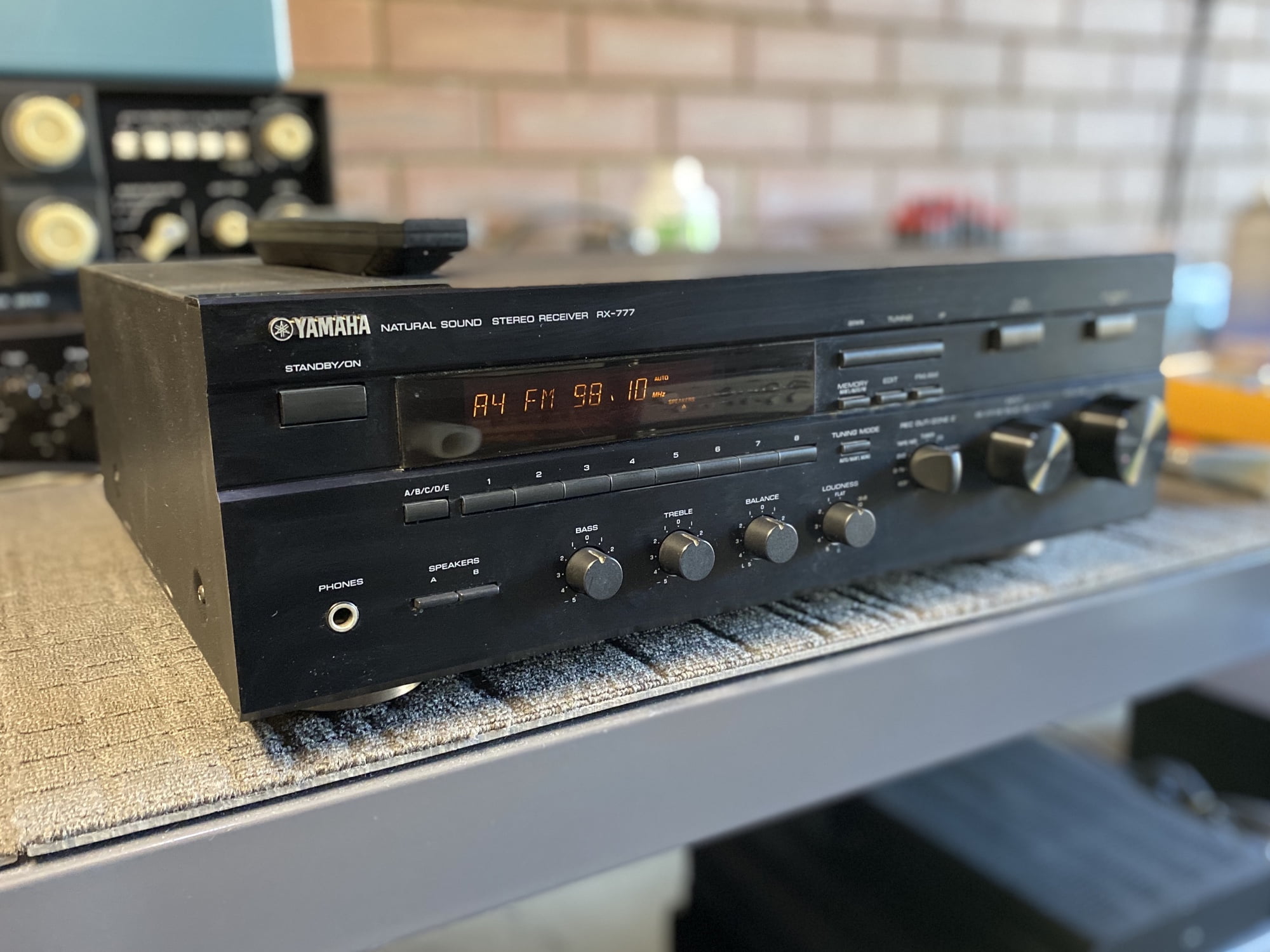 Specifications, courtesy HiFi Engine:
Tuning range: FM, MW
Power output: 100 watts per channel into 8Ω (stereo)
Frequency response: 20Hz to 20kHz
Total harmonic distortion: 0.012%
Damping factor: 240
Input sensitivity: 2.5mV (MM), 150mV (line)
Signal to noise ratio: 87dB (MM), 110dB (line)
Output: 150mV (line), 1V (Pre out)
Speaker load impedance: 4Ω (minimum)
Video Connections: composite
Dimensions: 435 x 151 x 390.3mm
Weight: 9.8kg
Accessories: remote control
Year: 2001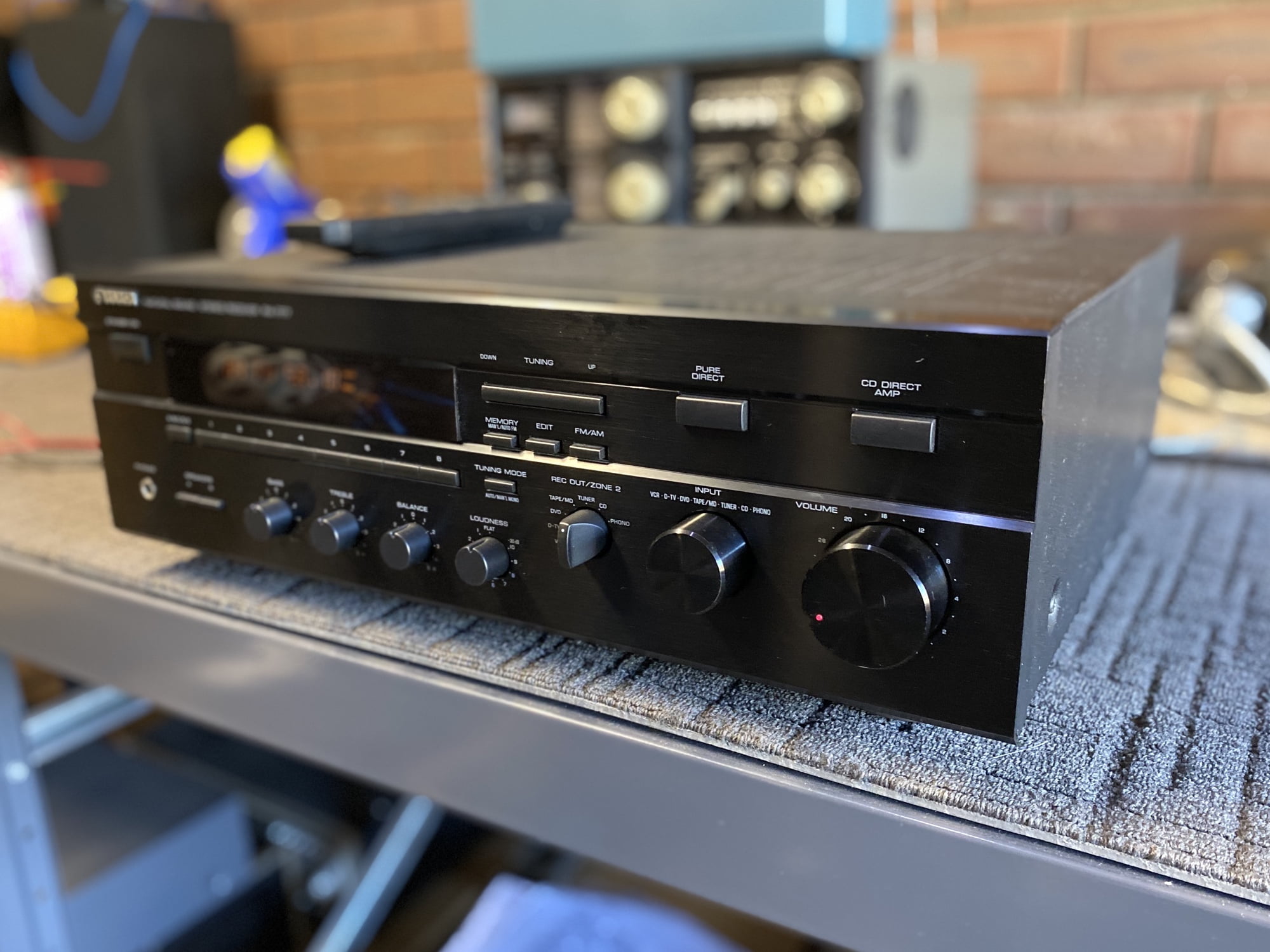 I've just serviced her fitted a brand new volume potentiometer, so this most often used control should be good for many years to come. The remote control even still has the clear plastic protective film on it, ready to peel!
With several gold-plated inputs and made in Malaysia rather than China like everything now, this receiver even contains a handful of audiophile capacitors and other parts, given the focus on sound.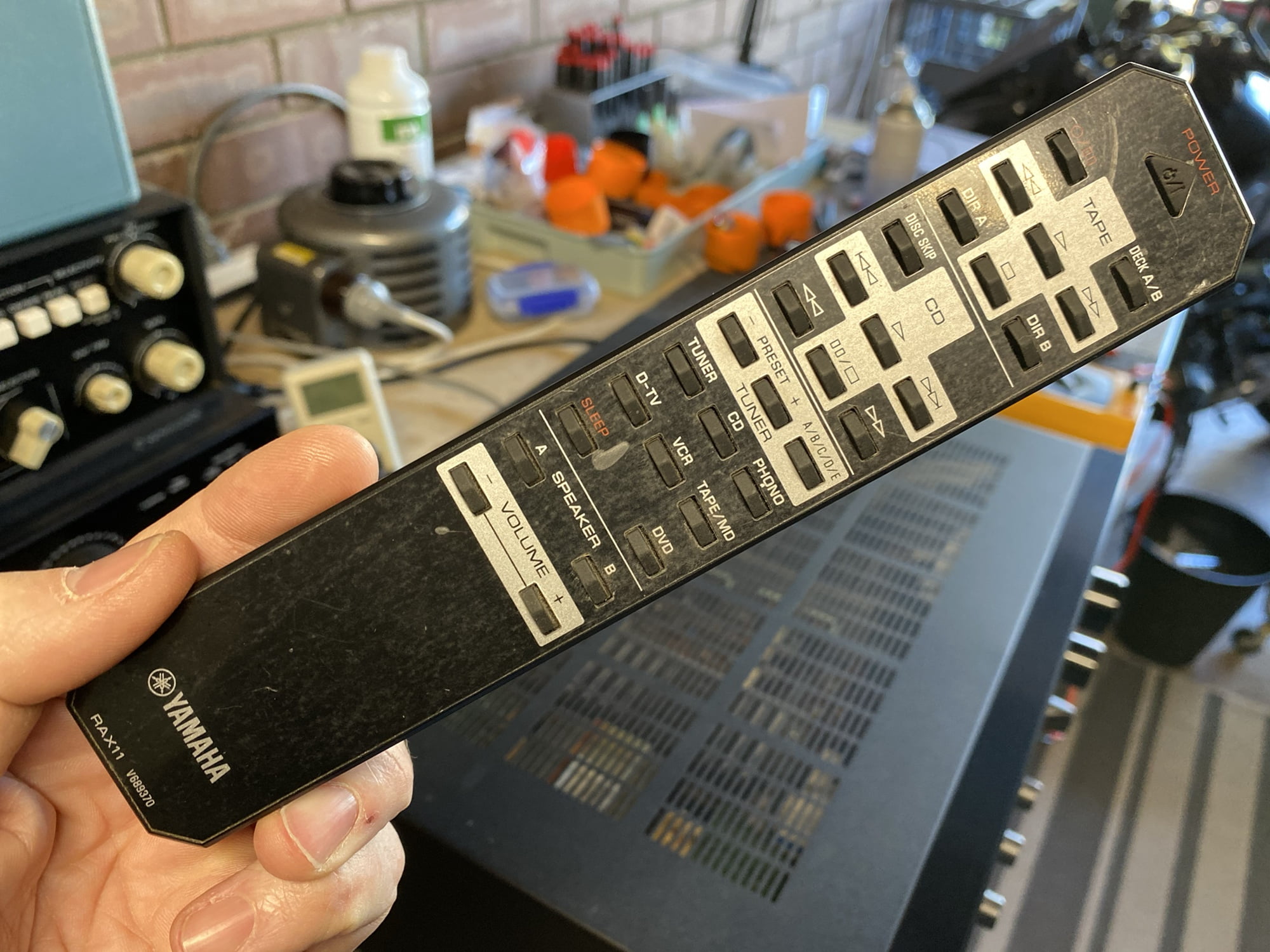 This lovely stereo receiver can be yours for just $500.