The Yamaha GT-2000 is one of my favourite turntables so naturally, I jumped at the opportunity to work on another one, shipped from Japan. Let's take one of the first ever close-up looks inside this great deck from the golden era.
It's true, I do love the Yamaha GT-2000 direct-drive turntable and have written about them several times previously. In that article, I reviewed a GT-2000 and documented replacing the audio cable with a custom-made Mogami cable I built for that machine. This time, however, we take a really deep dive inside a recently imported Yamaha GT-2000. I check the motor, spindle bearing, circuitry, take a good look at how I care for the chassis of a deck like this and fit a beautiful Ortofon Quintet Black S MC cartridge! This deck sounds amazing.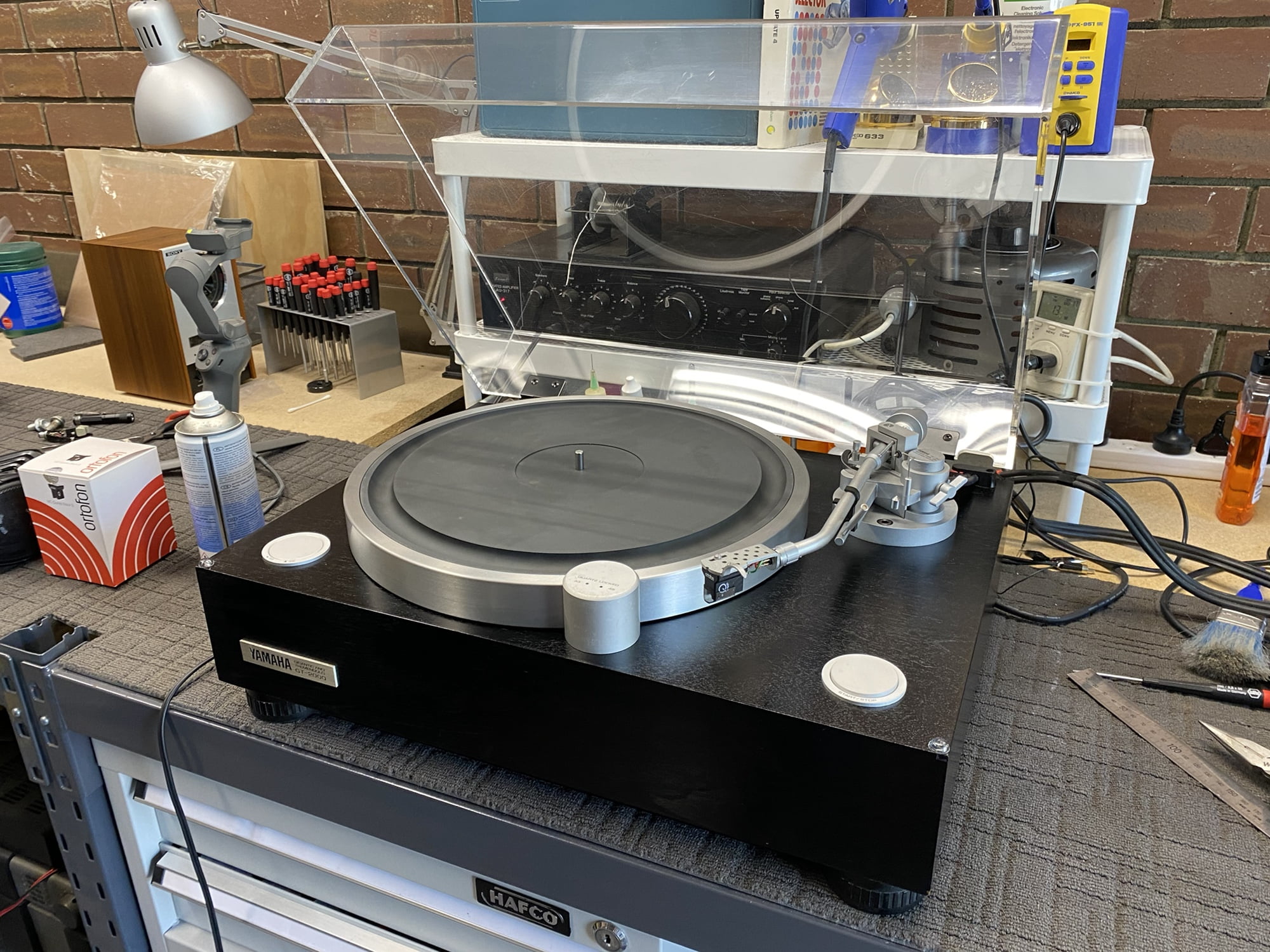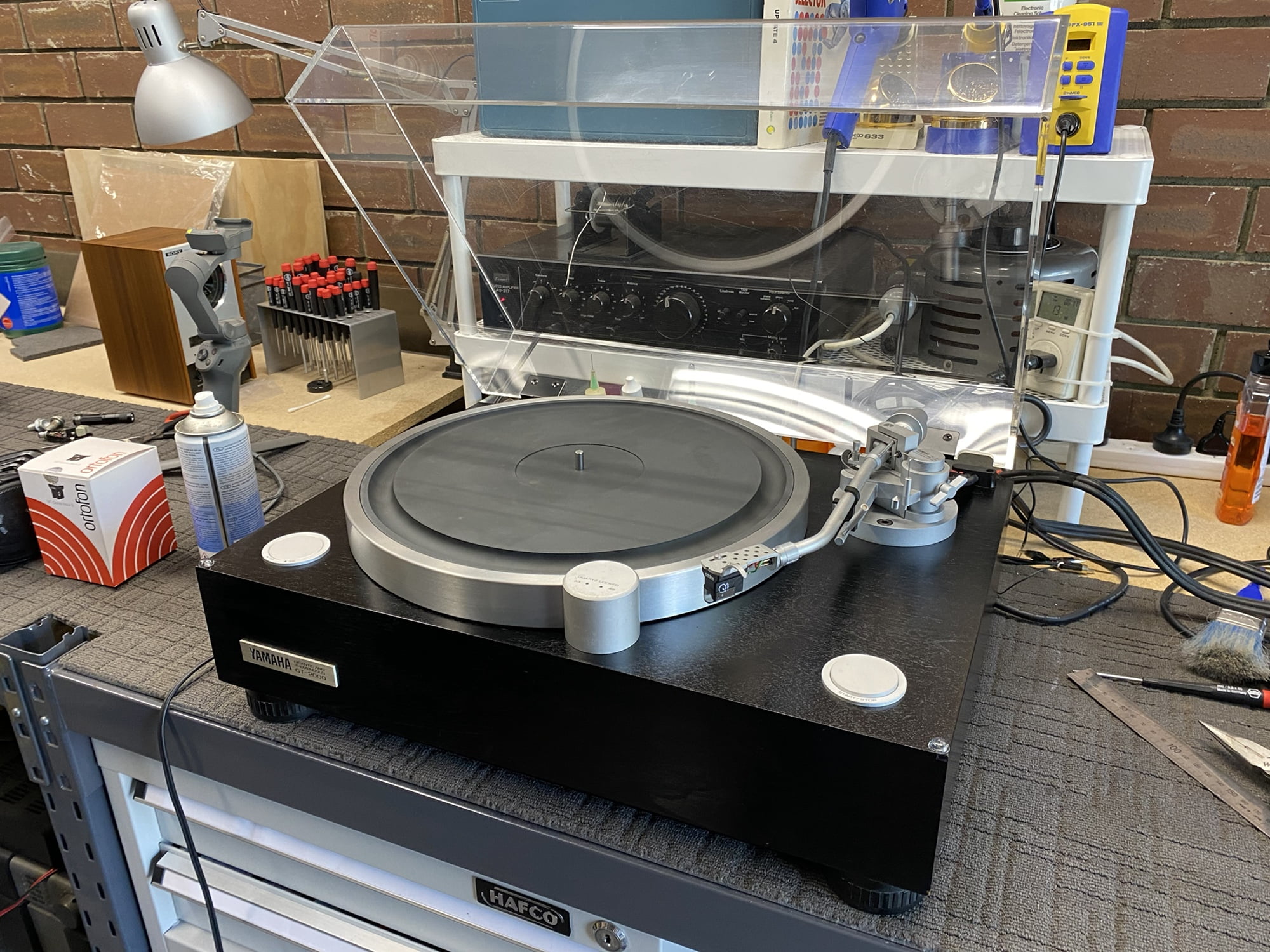 If you need specs and other details on why the Yamaha GT-2000 is one of the great turntables, check out my GT-2000 review. As always, visit the Vintage Knob for more great Yamaha GT-2000 info!
Stay tuned here for a video about this major service, as soon as I get a chance to edit it.
Straight Outta Japan
This Yamaha GT-2000 came almost directly from Japan to me, via my customer. This is a new customer and we had a few chats on the phone about turntables, what I recommended and so on. I have to point out the obvious here – this is part of the advantage in speaking with a specialist. I persuaded him to consider upgrading from a Pro-Ject turntable to one of these beasts. I don't think he'd even considered it prior to reading my articles and speaking with me.
After a few conversations, he'd ordered a GT-2000 from a vendor I recommended in Japan. Great result. Seriously, this is like going from 1 to 10, like going from a Hyundai Getz to a Mercedes G-Wagon, straight to the pointy end of analog audio. Talk about an upgrade. But I reckon this is what the hi-fi hobby is all about, learning, listening, trying new equipment, speaking with people who give us a better understanding, and so on.
Anyway, let's get into it.
Inspection
The Yamaha GT-2000 came here partly for a post-purchase inspection, testing, service and set-up. As will become evident, time is needed to properly go through, assess, service and set up a deck like this. The first part is always to inspect the package. Is everything there? Are all the accessories included? Is there any obvious damage? Is the main bearing OK?
This was the first issue I found. There was excessive clearance or free-play in the spindle bearing of this deck. I knew this because of my previous experience with this model and with other high-end turntables and I have data saved based on my measurements with other similar decks. I was able to considerably improve this though, more on this later. Everything else appeared OK, a great start.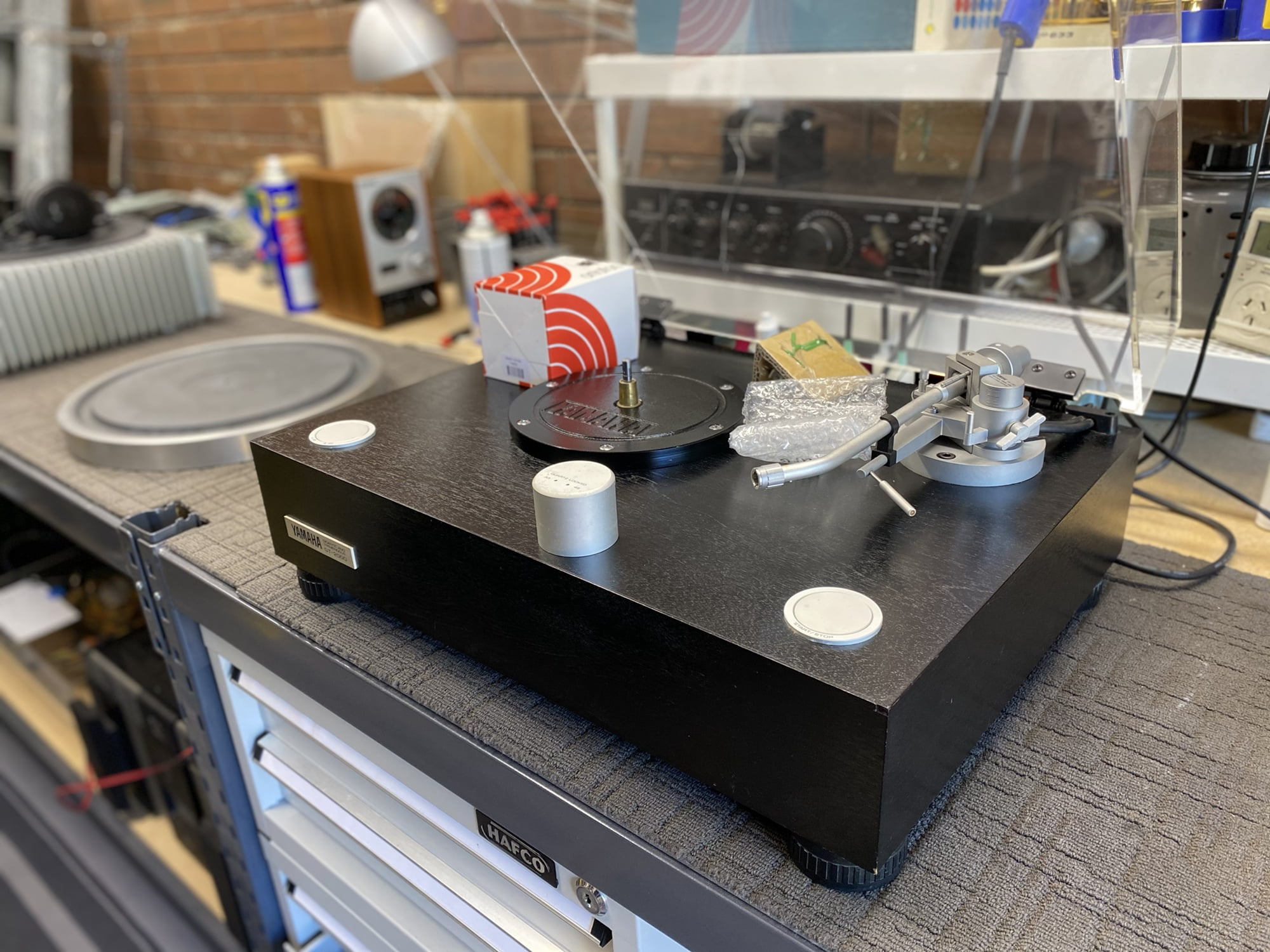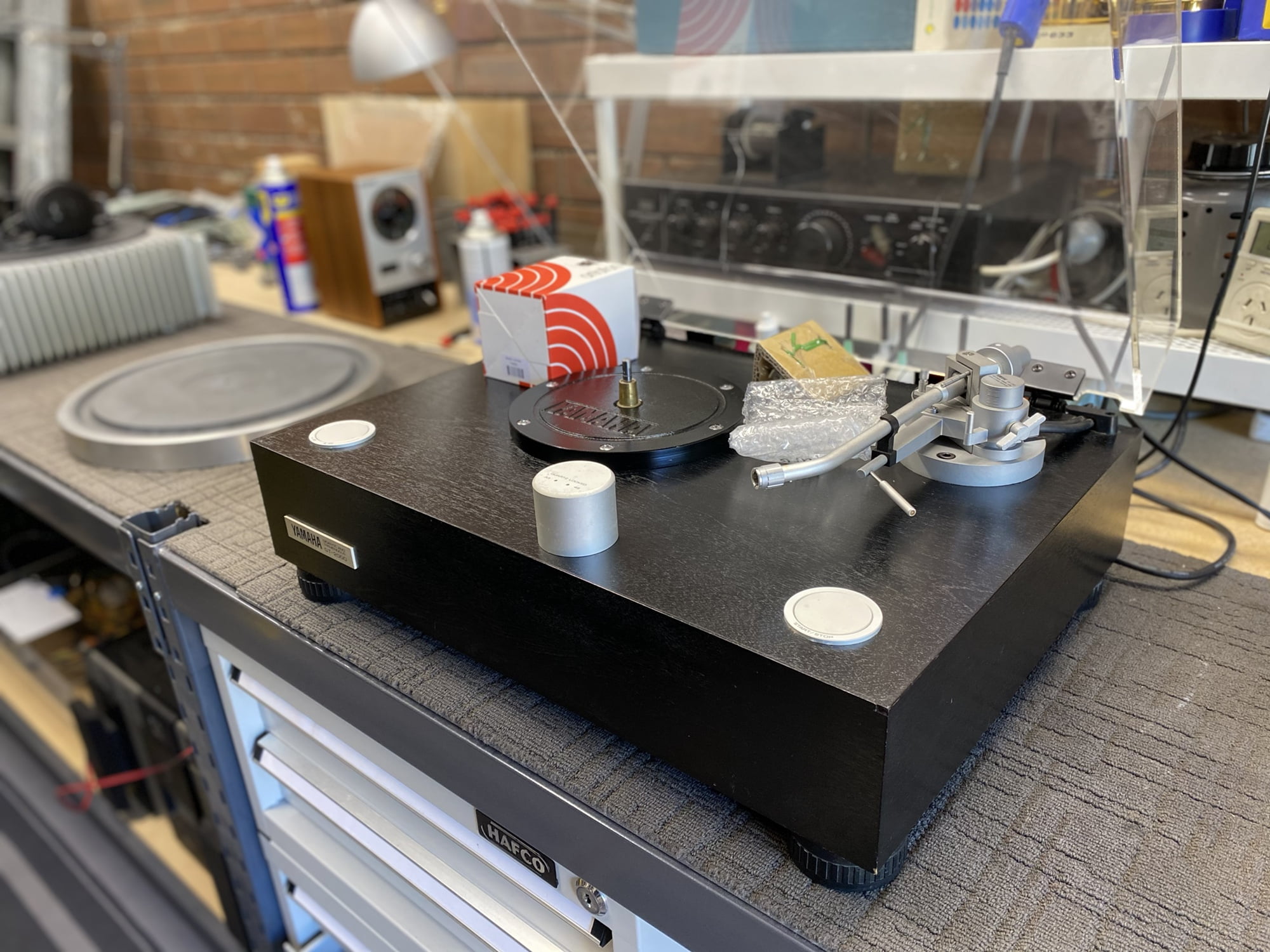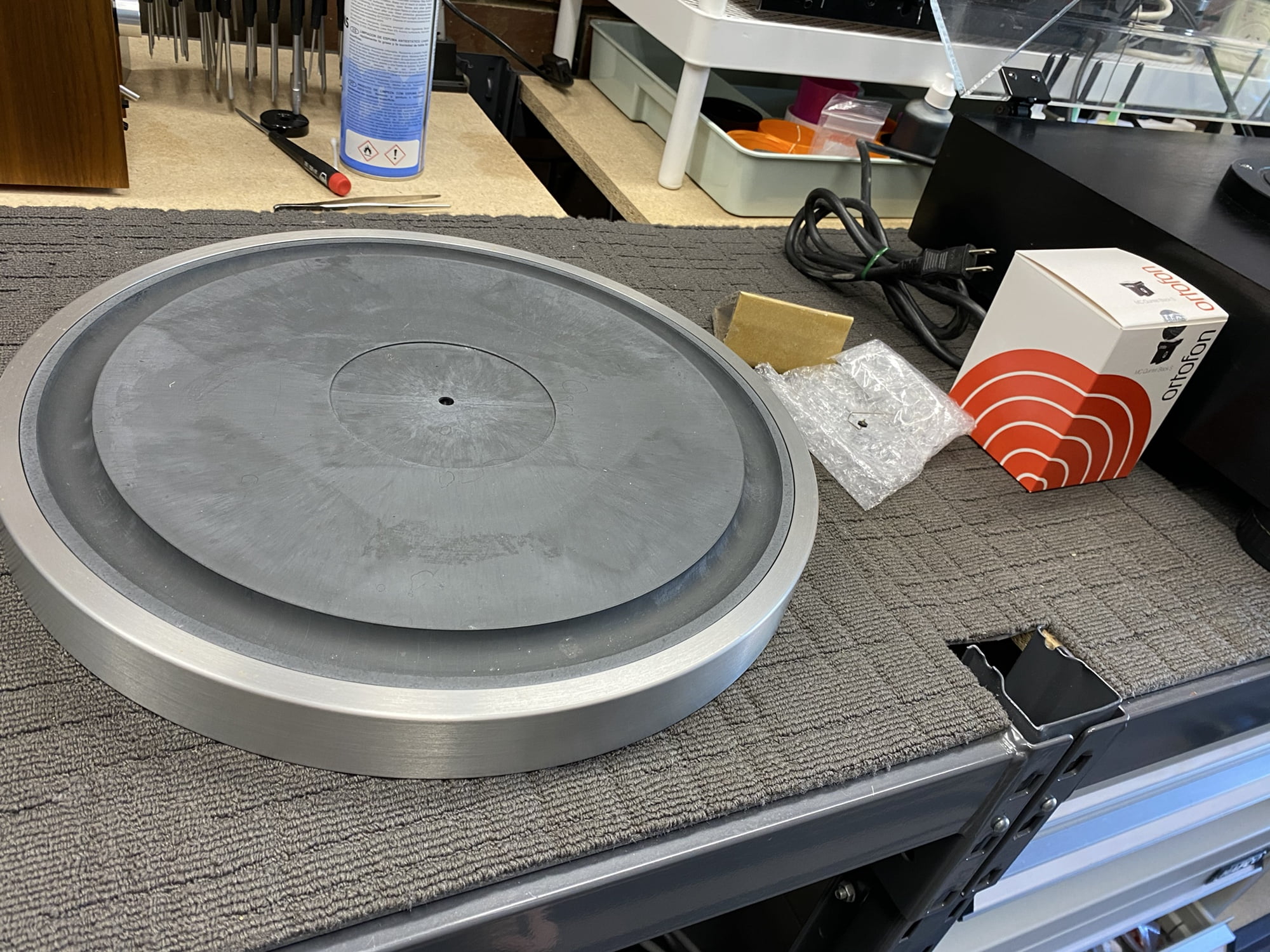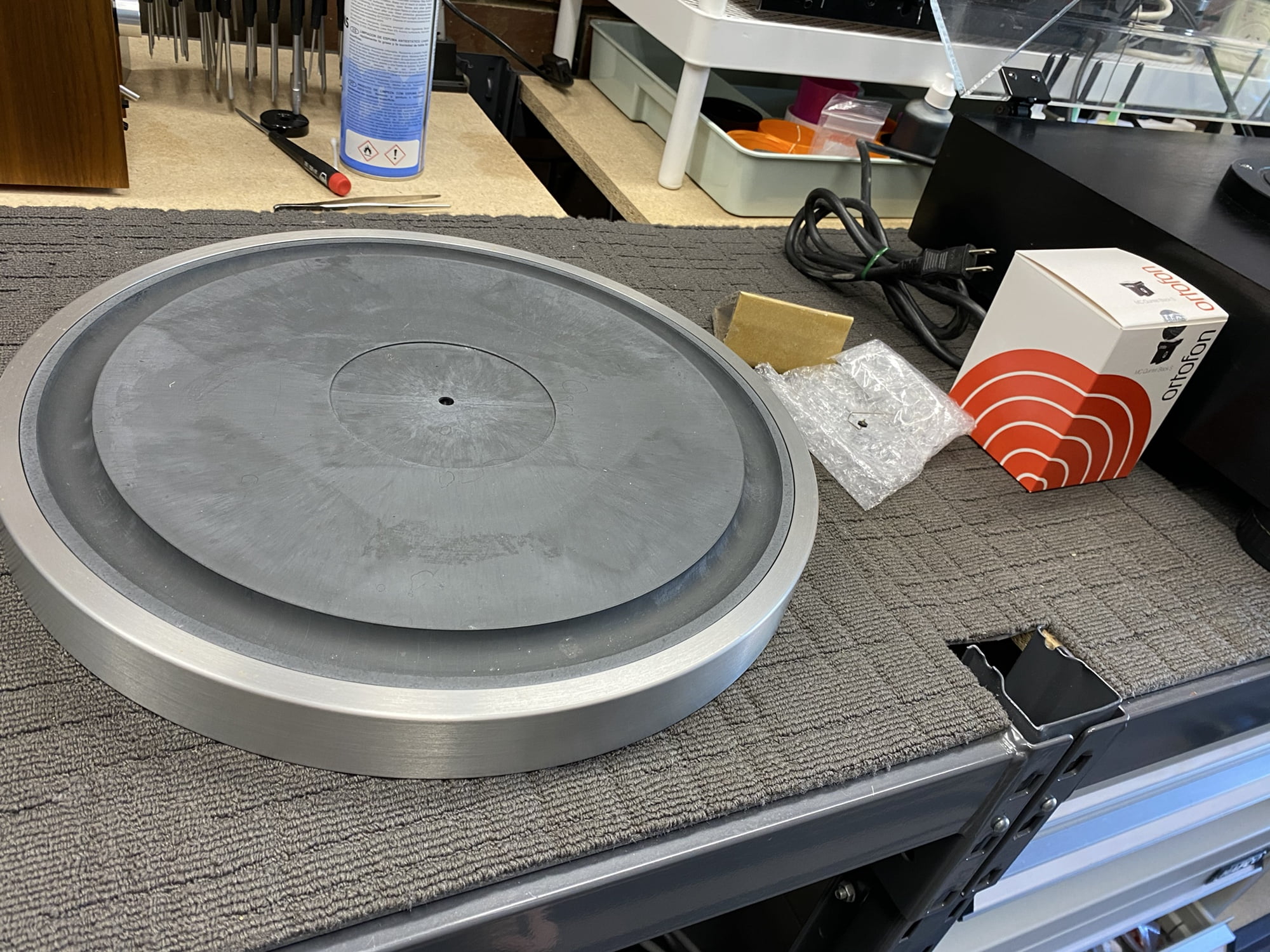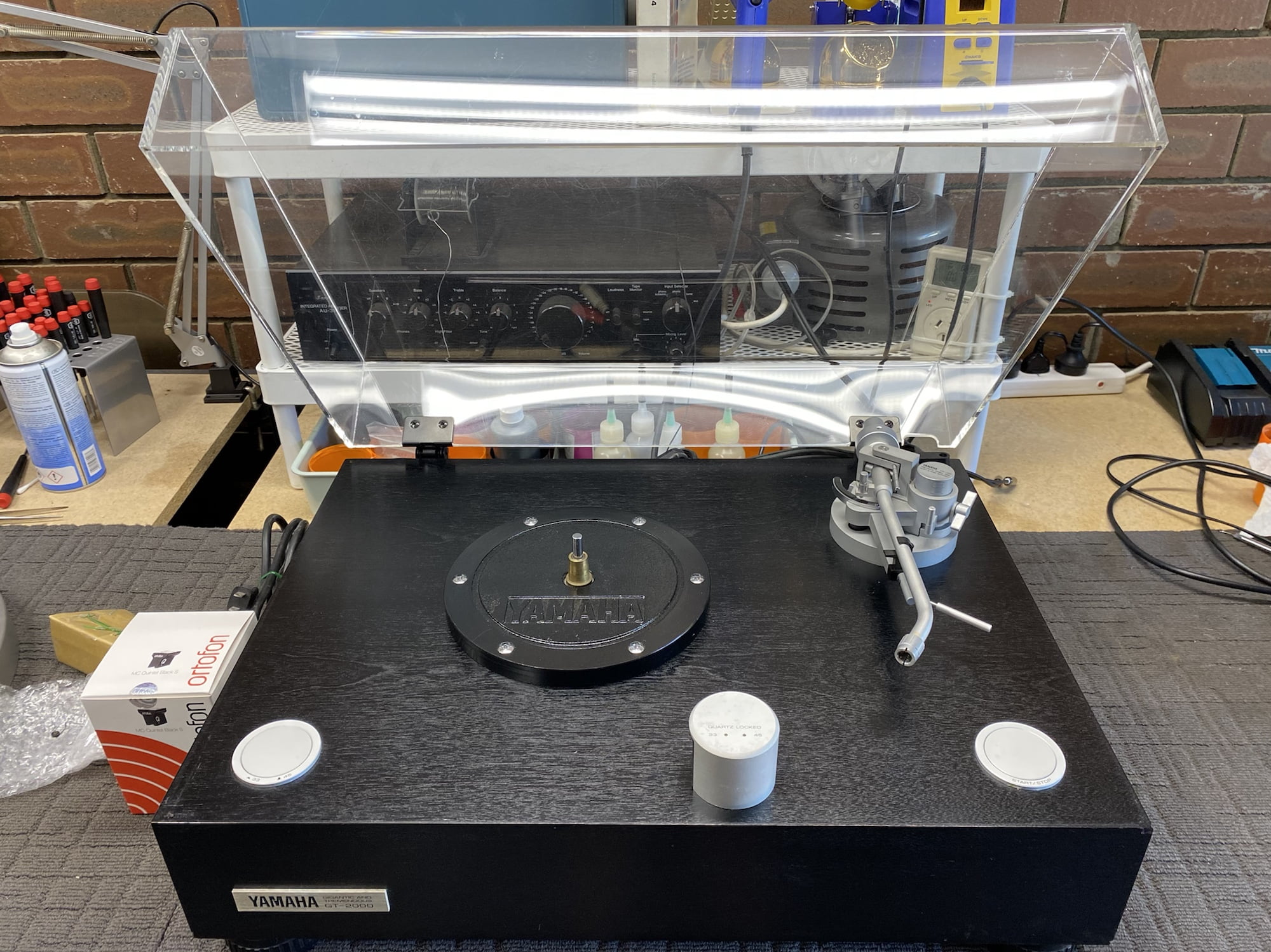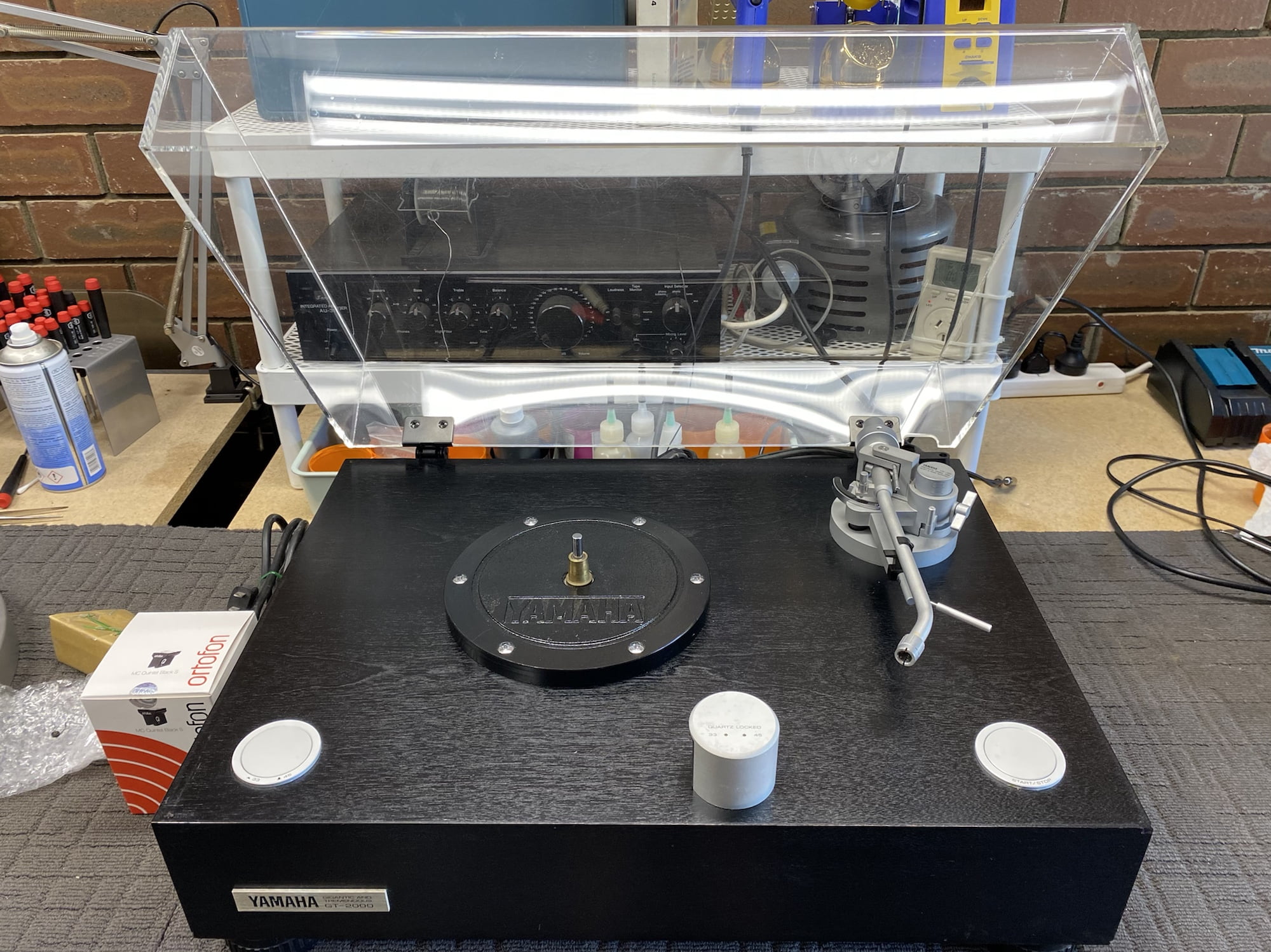 Deep Cleaning & Rejuvenation
The cleaning process for me is always quite relaxing, more so on large turntables like this one. I always start by removing whatever parts I can and all loose dust and dirt using a very soft brush. I then usually go over the chassis and check the torque of all fasteners, the tonearm, lid and motor fasteners in particular.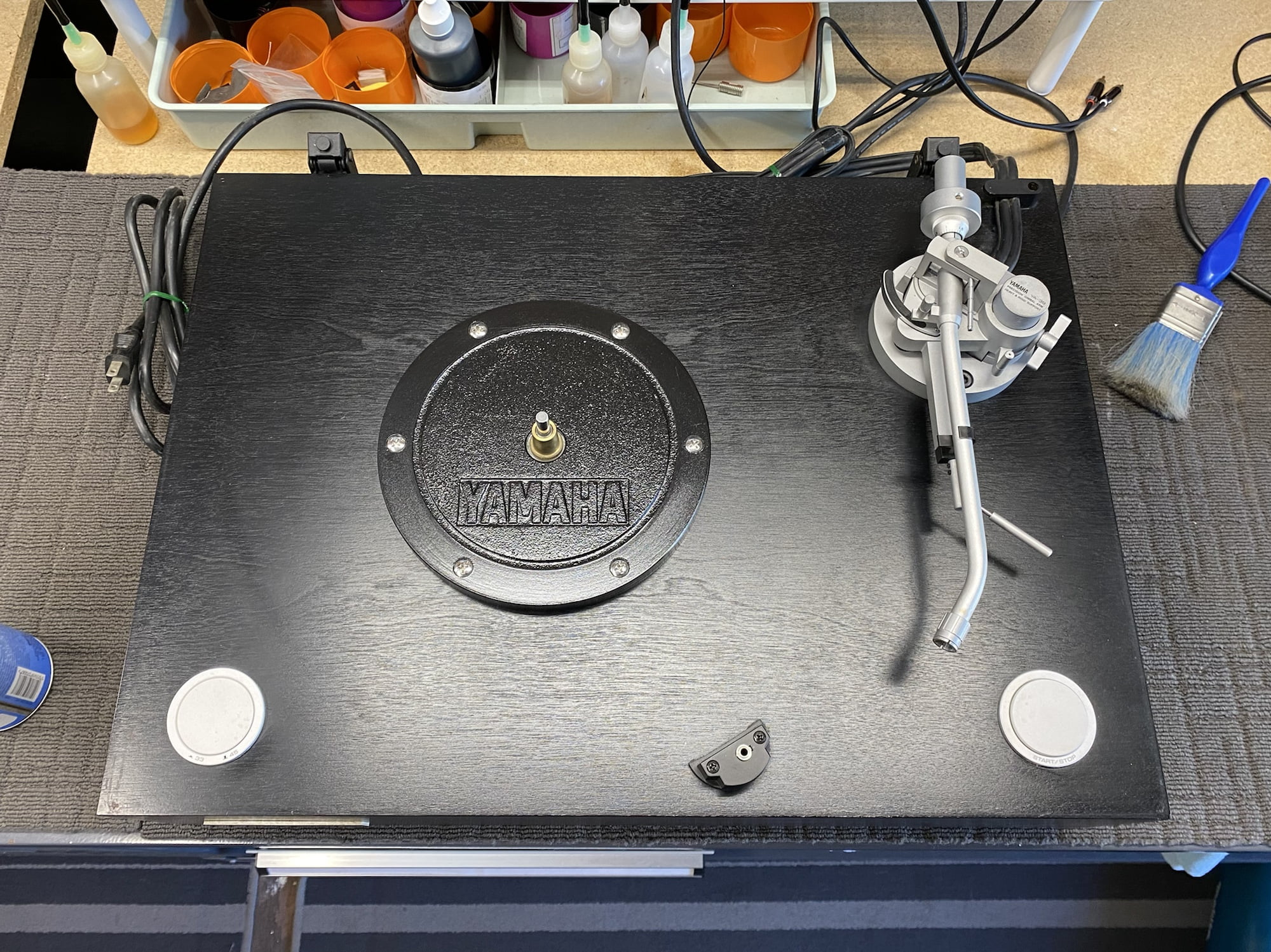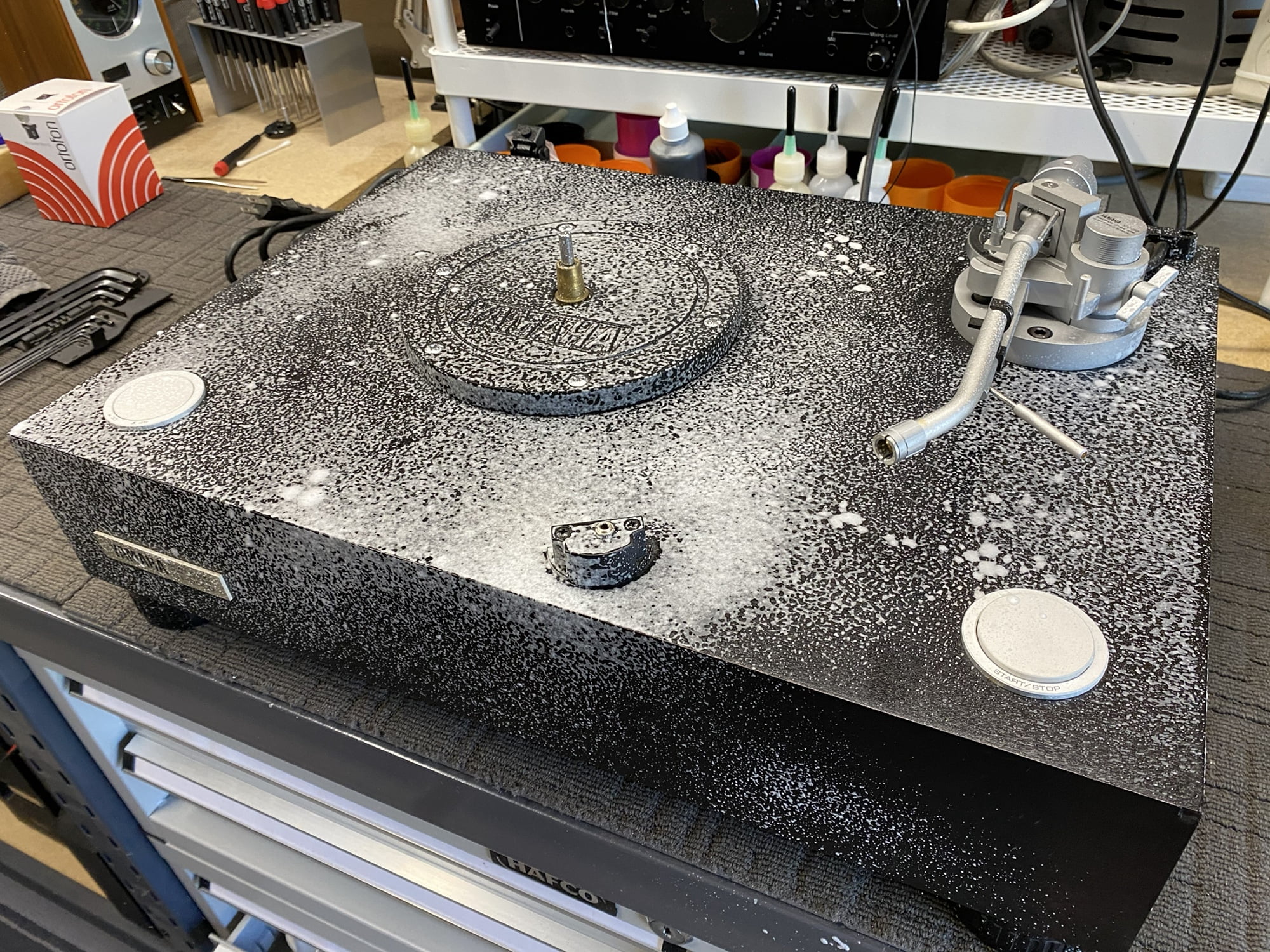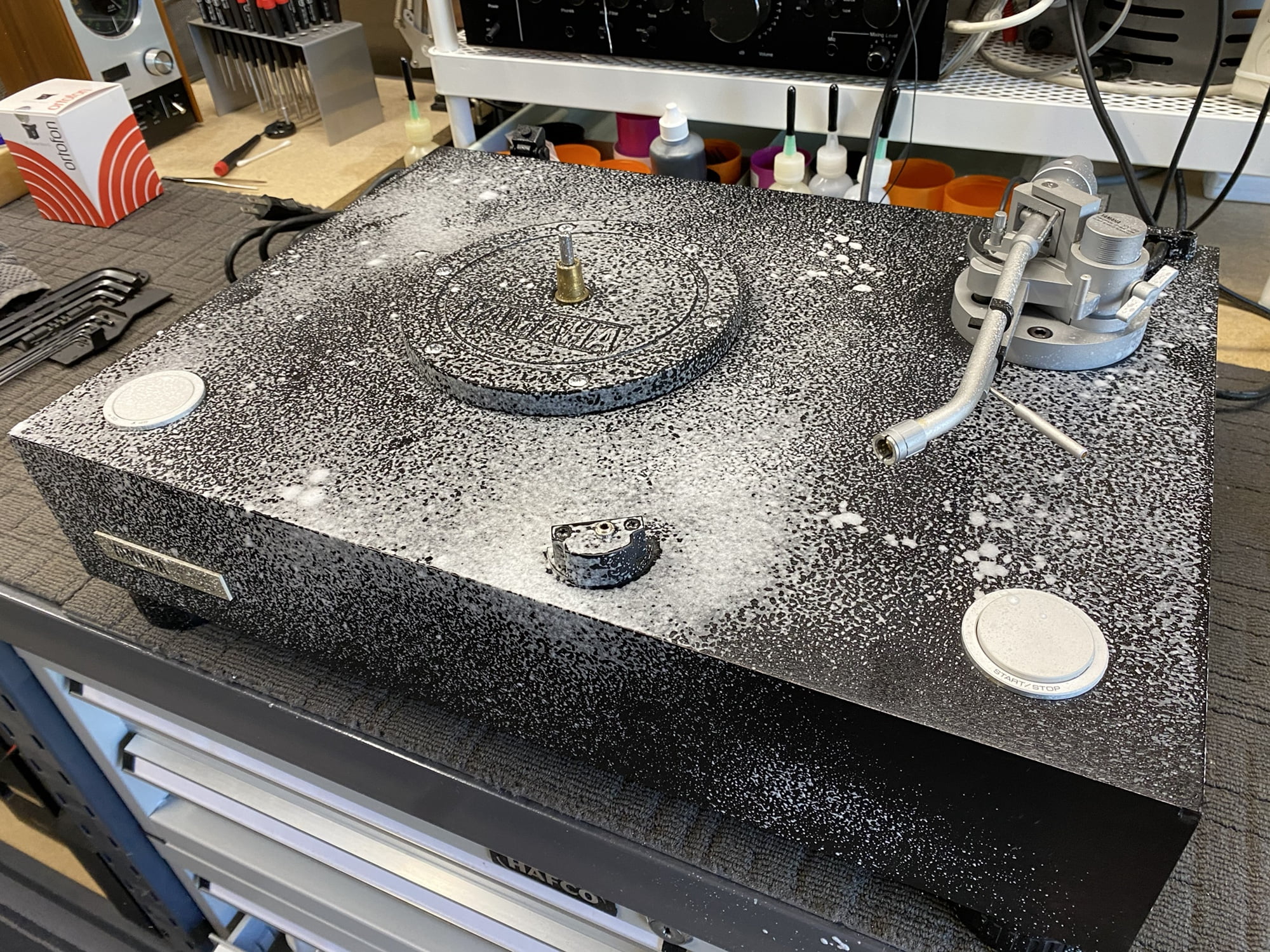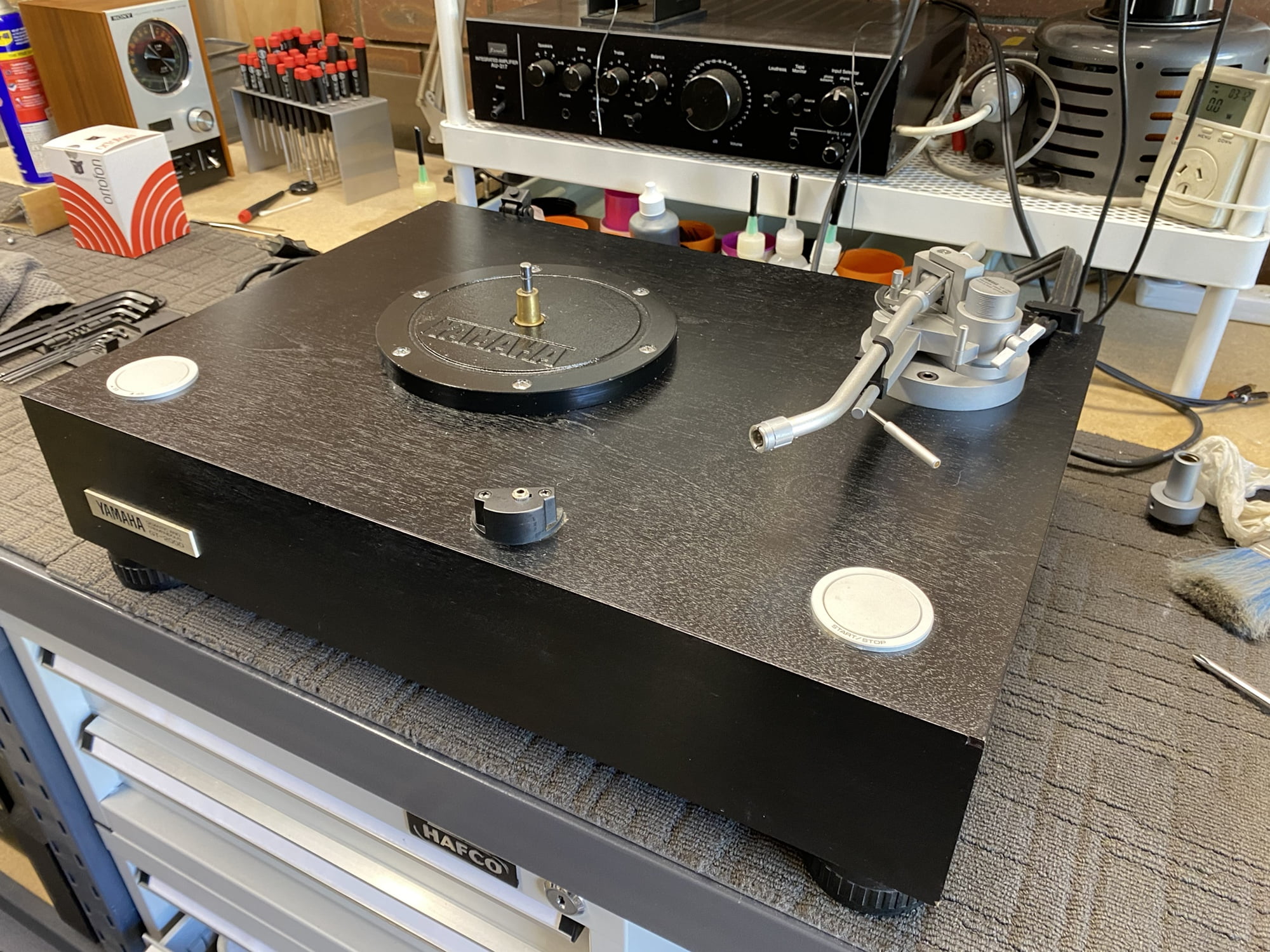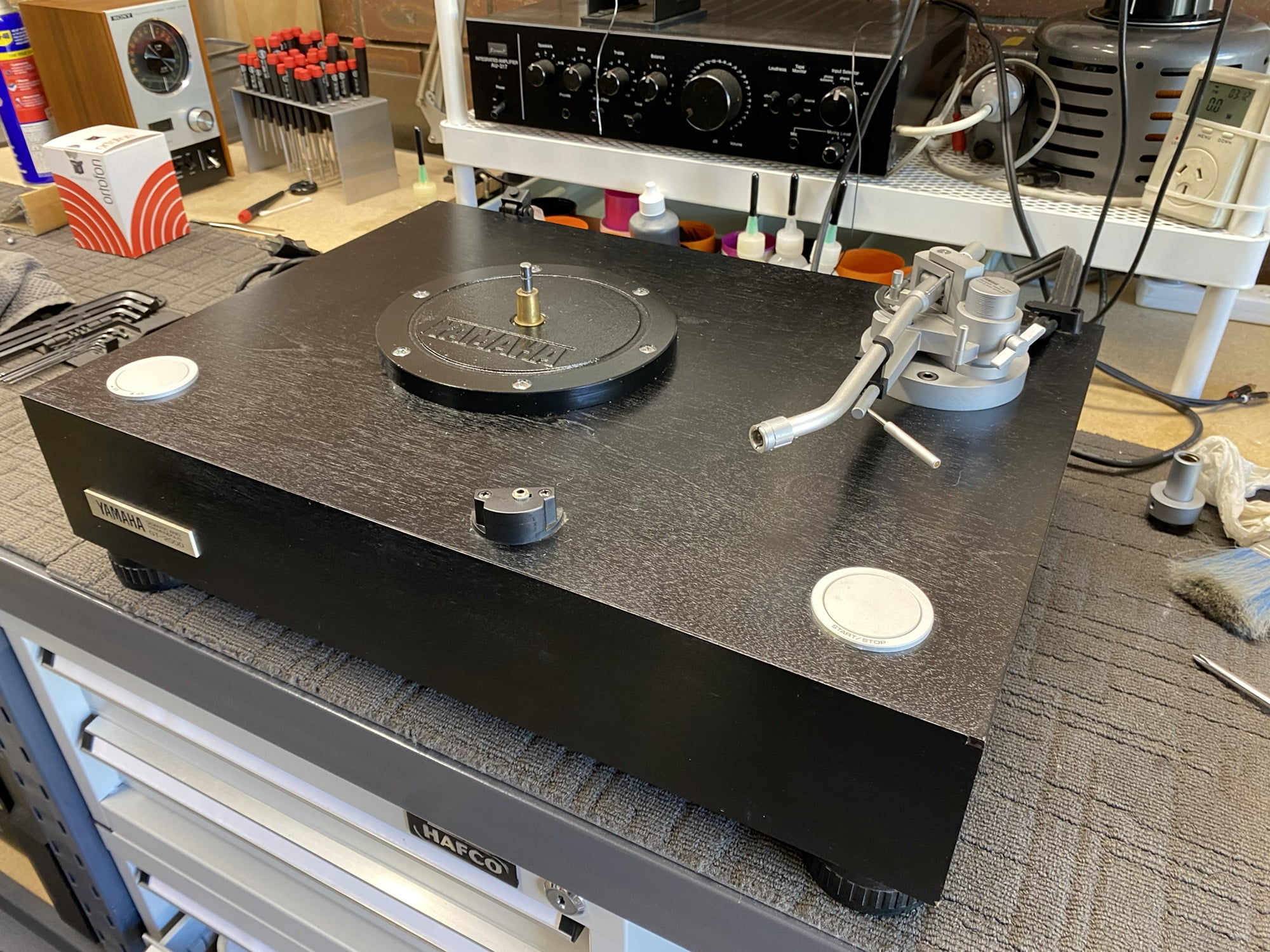 Step 3 is rejuvenation. In this case, because of the beautiful wooden plinth, I've treated the wood with special furniture-grade wood oil. This oil gives me great results every time.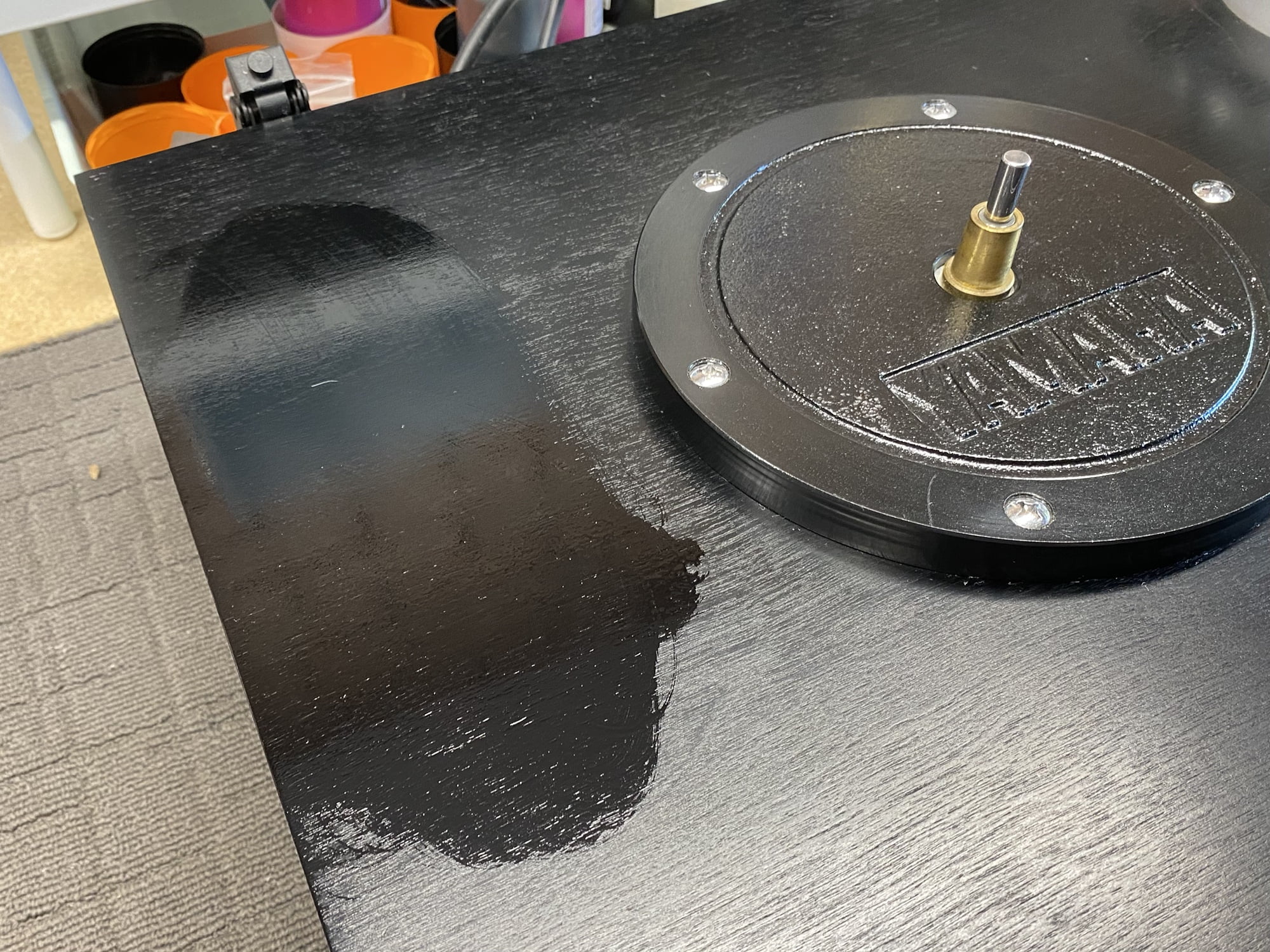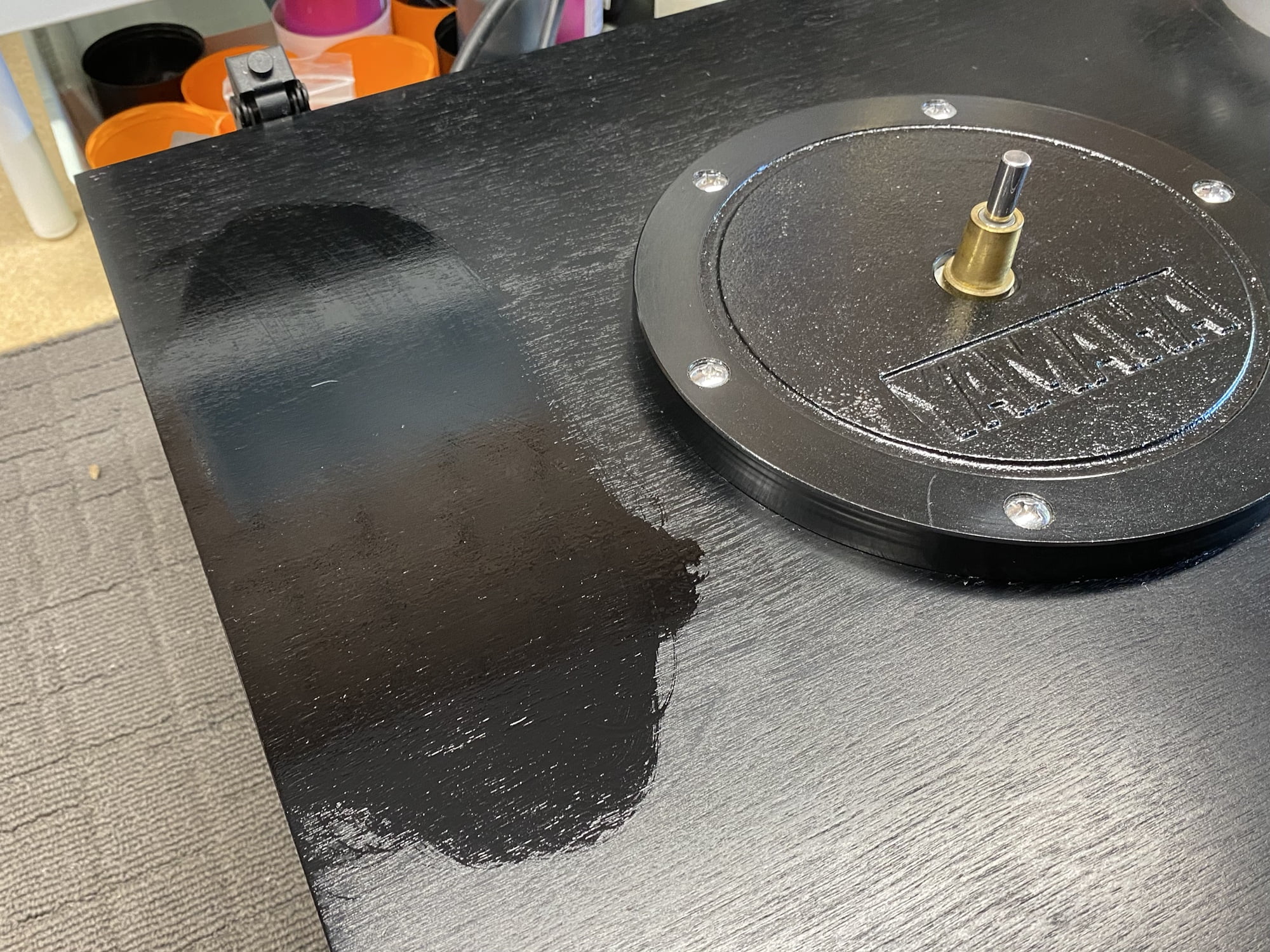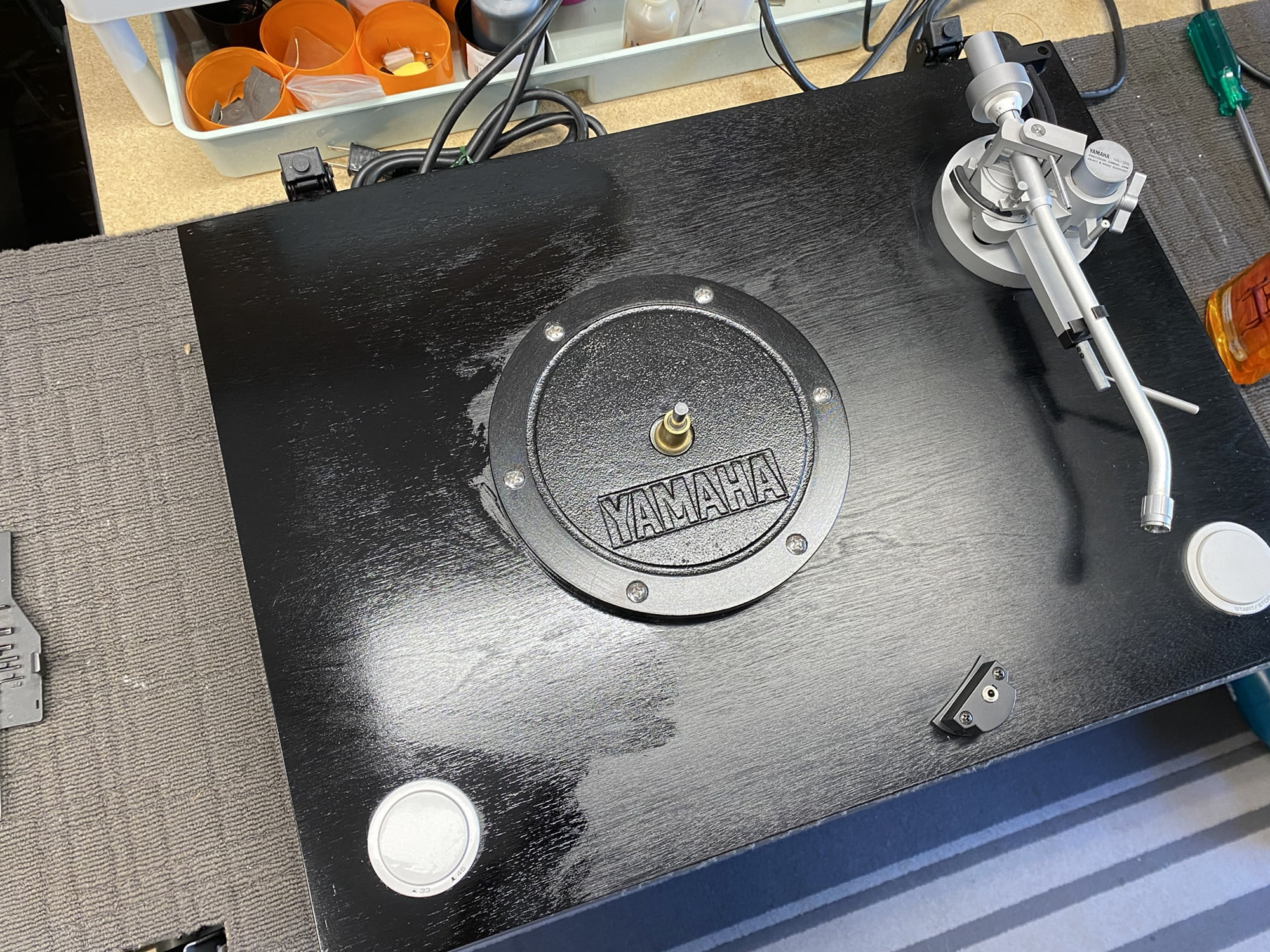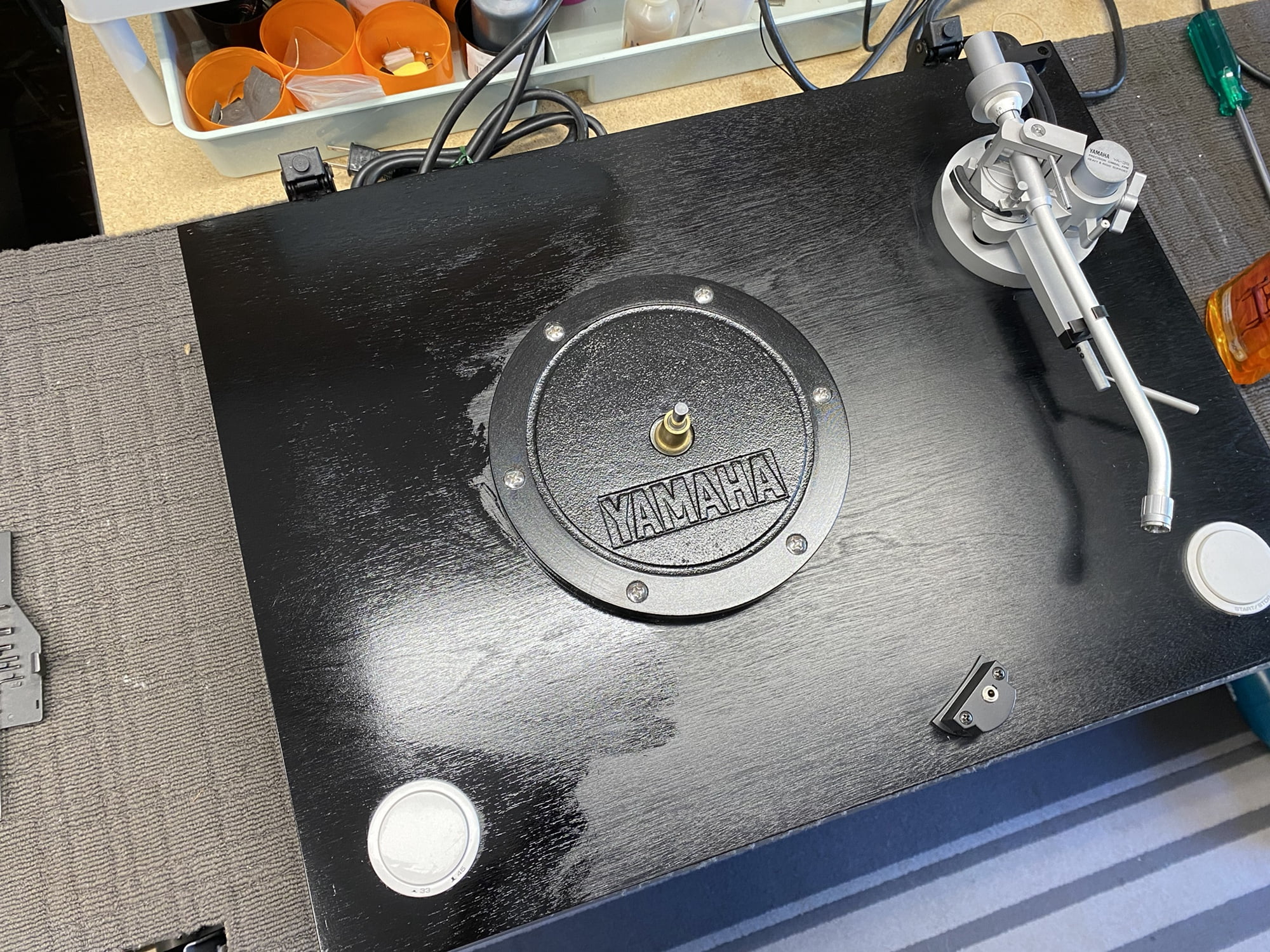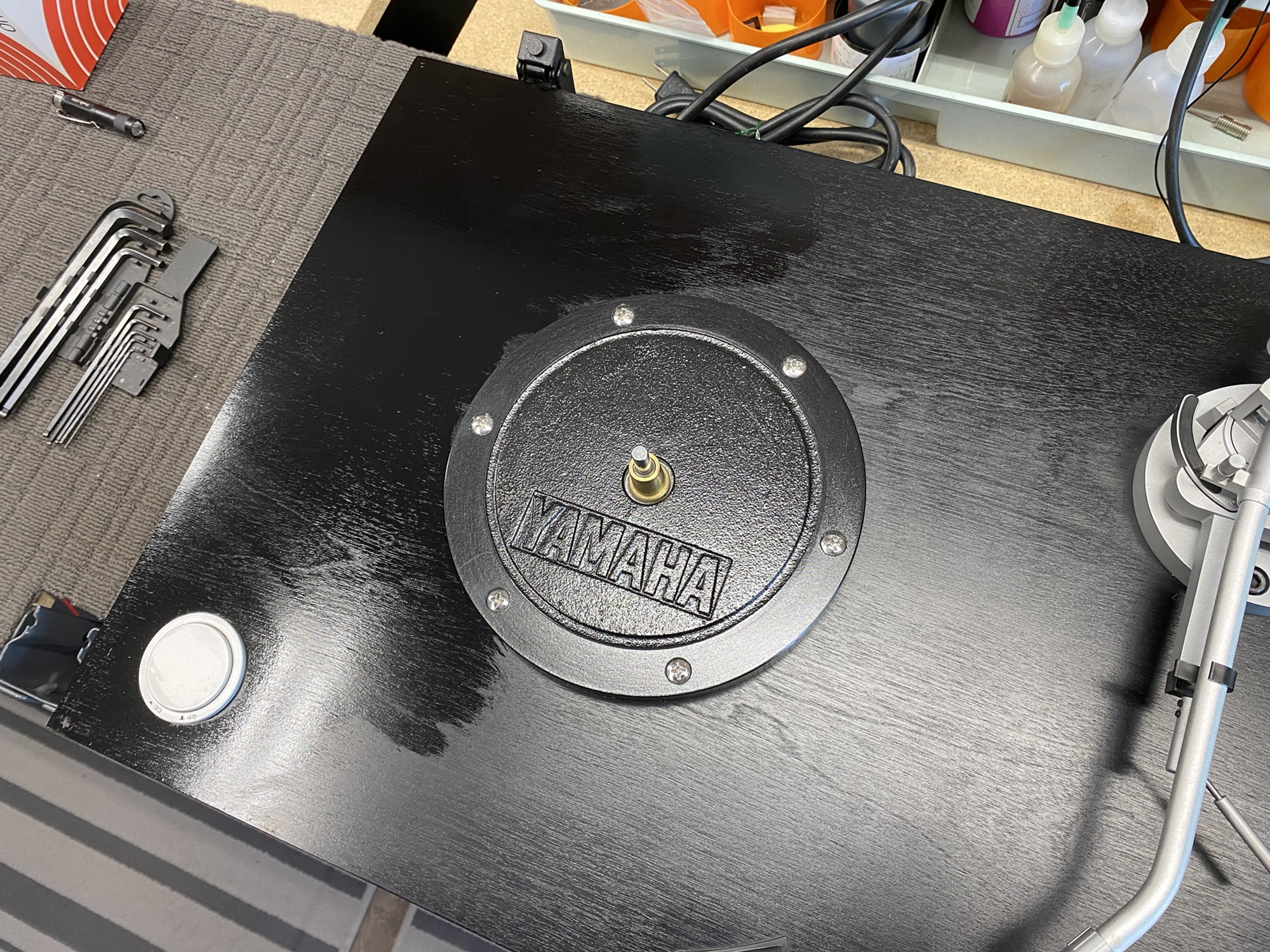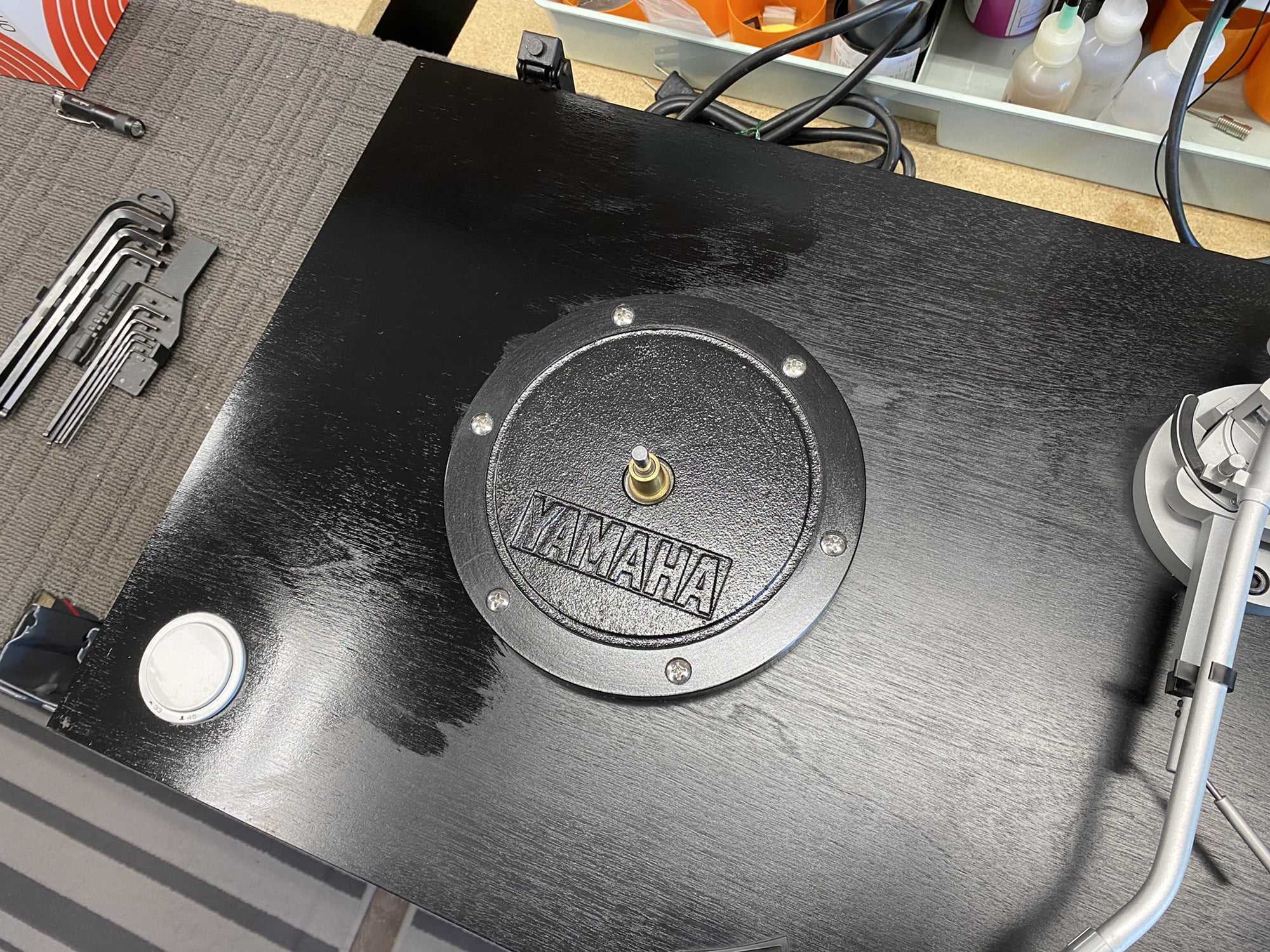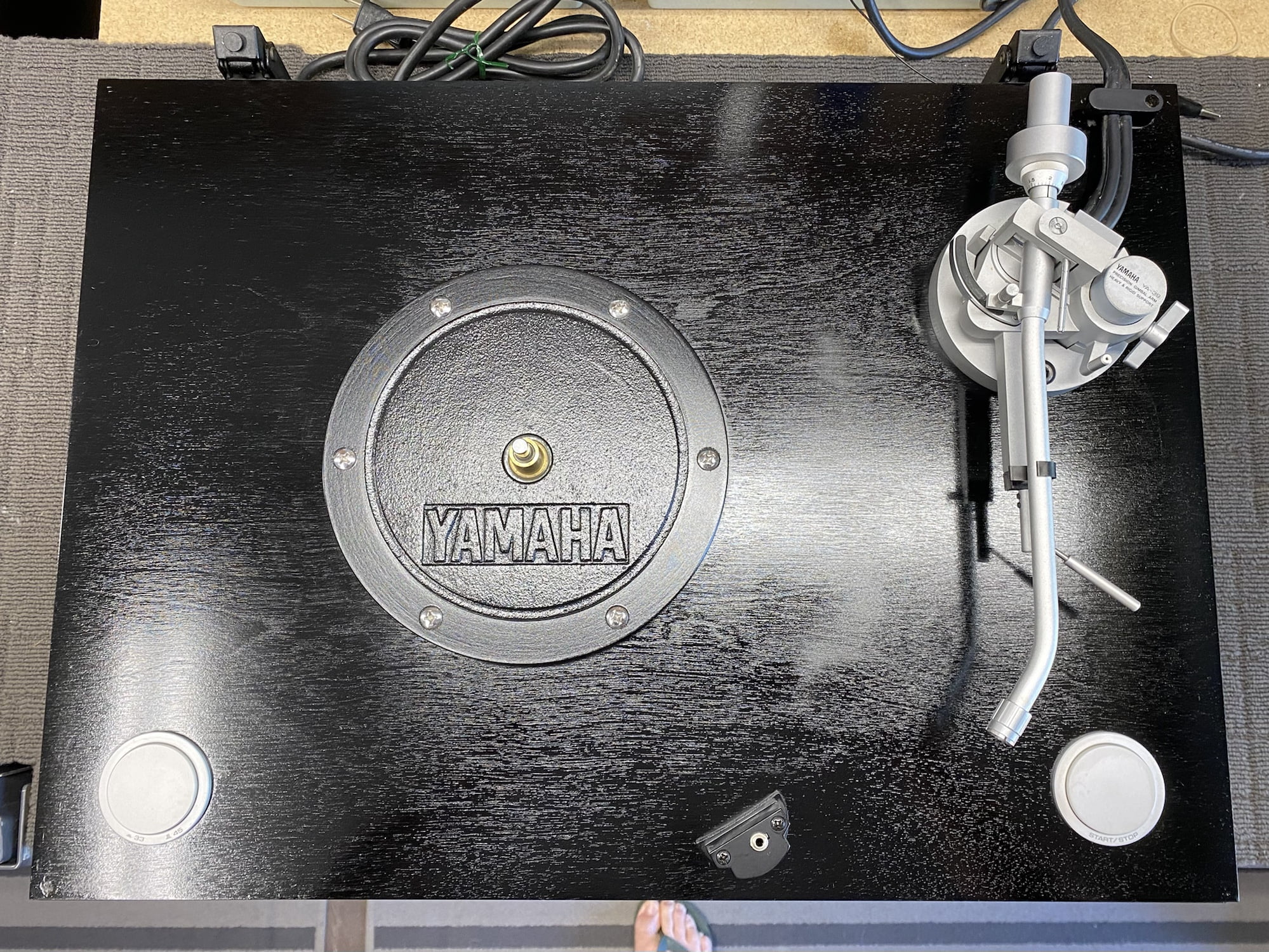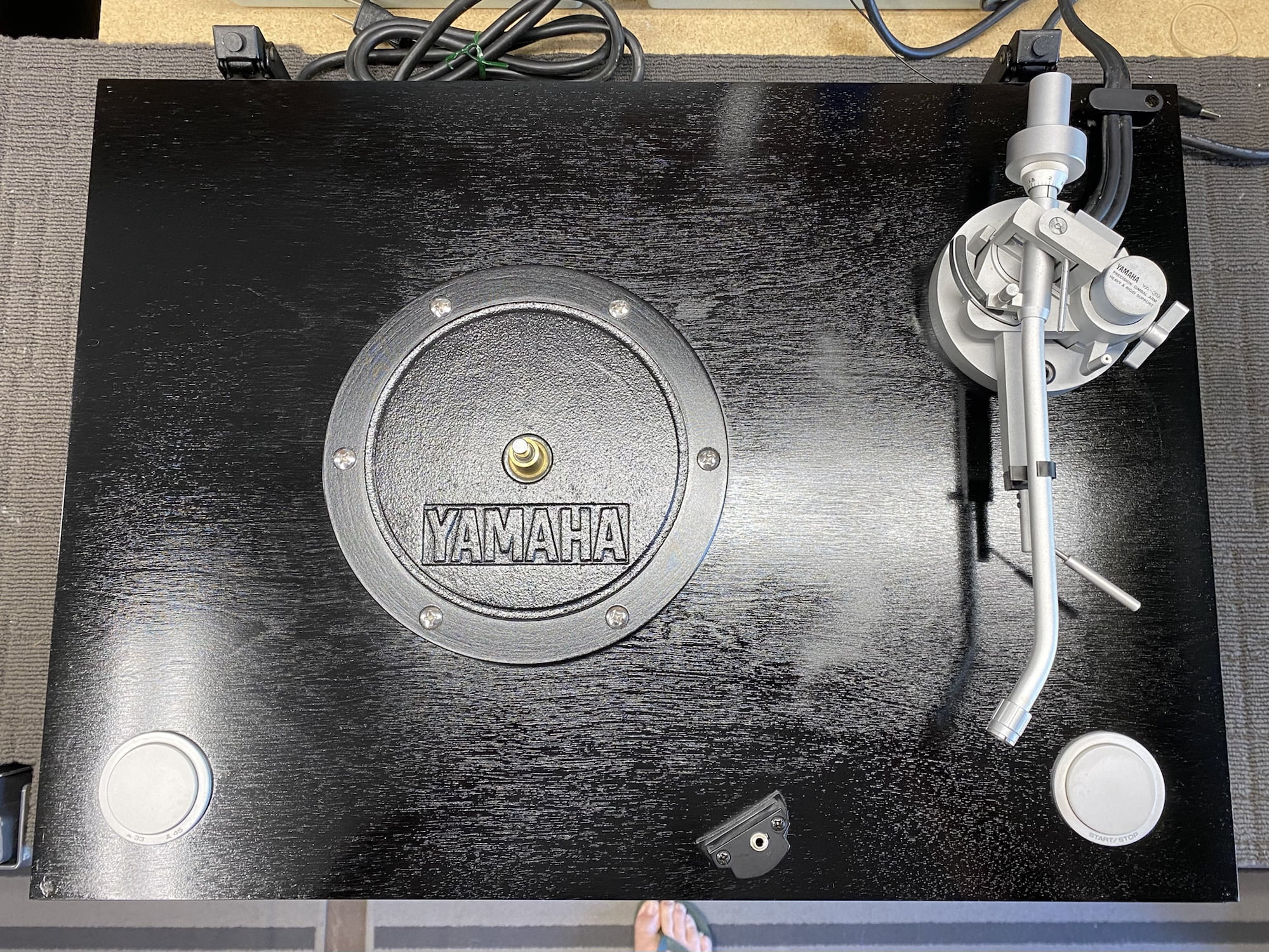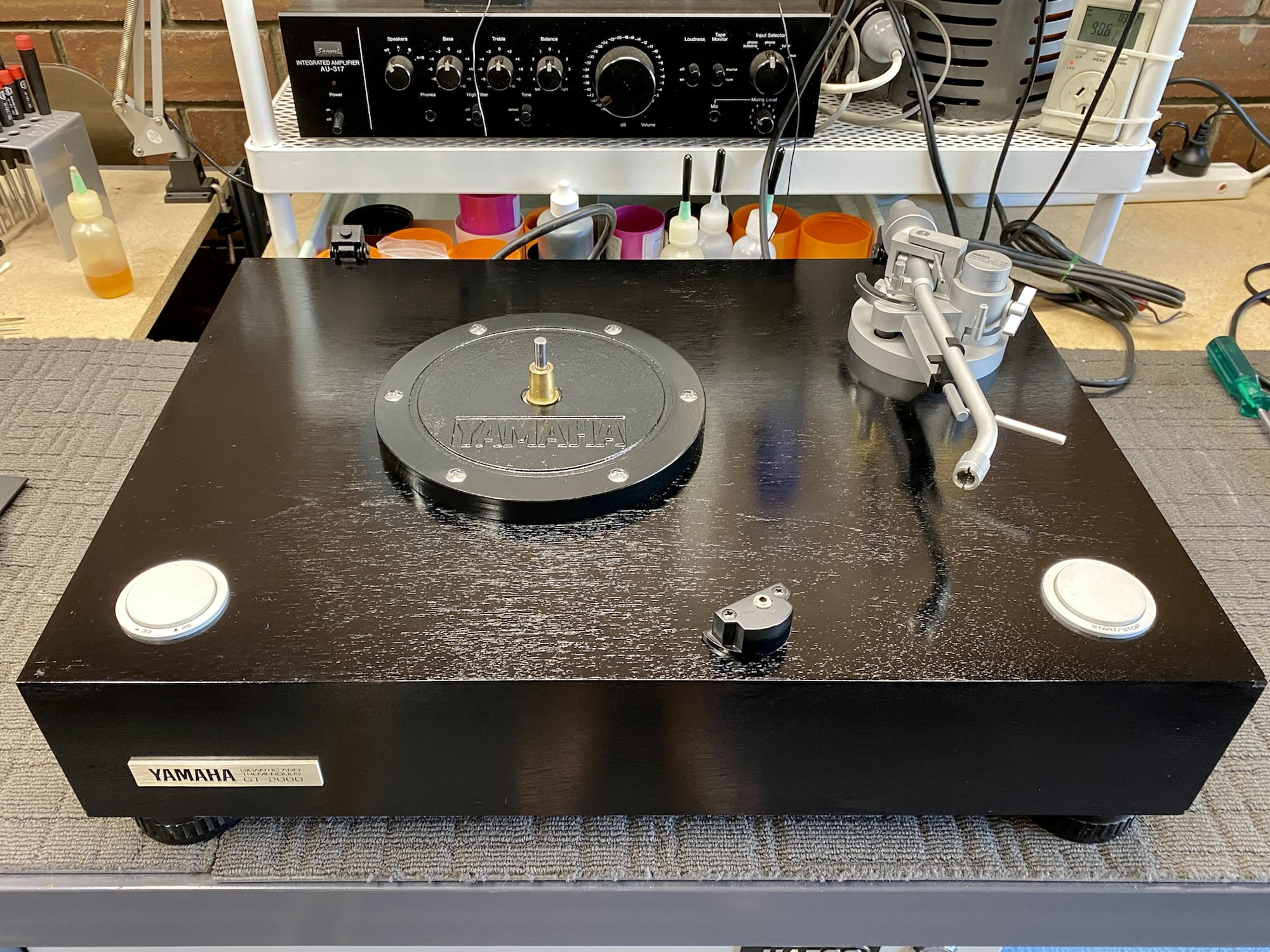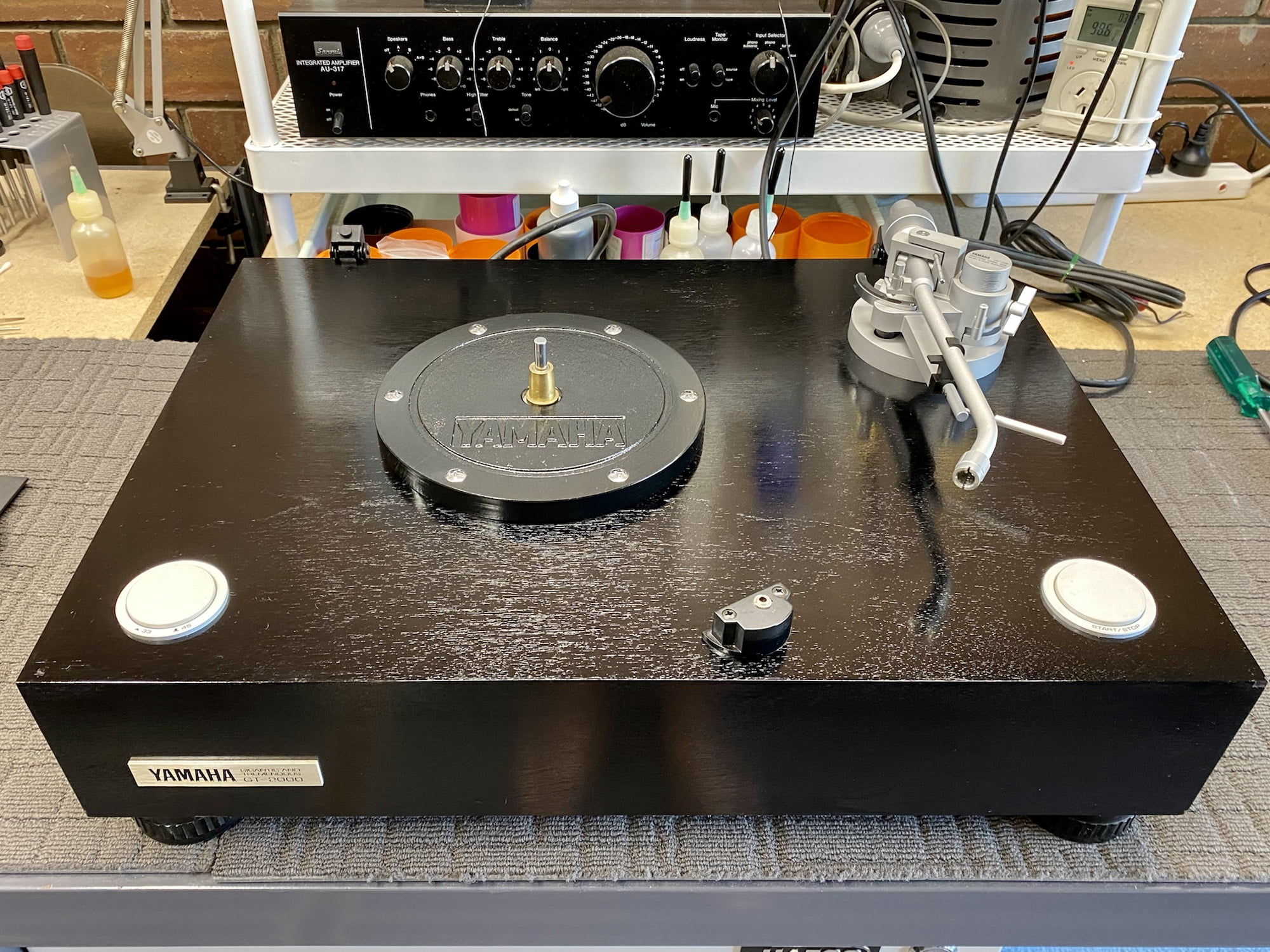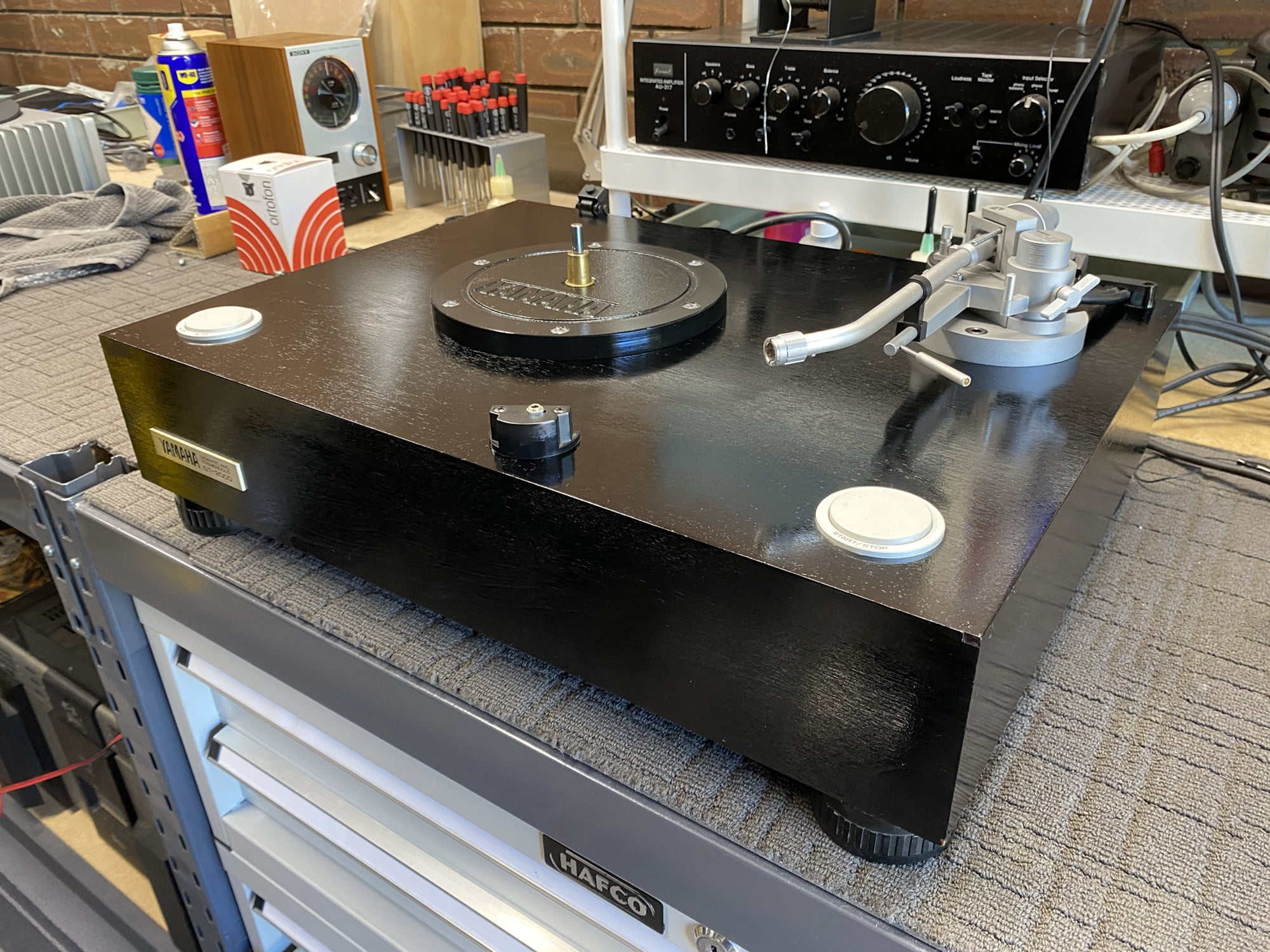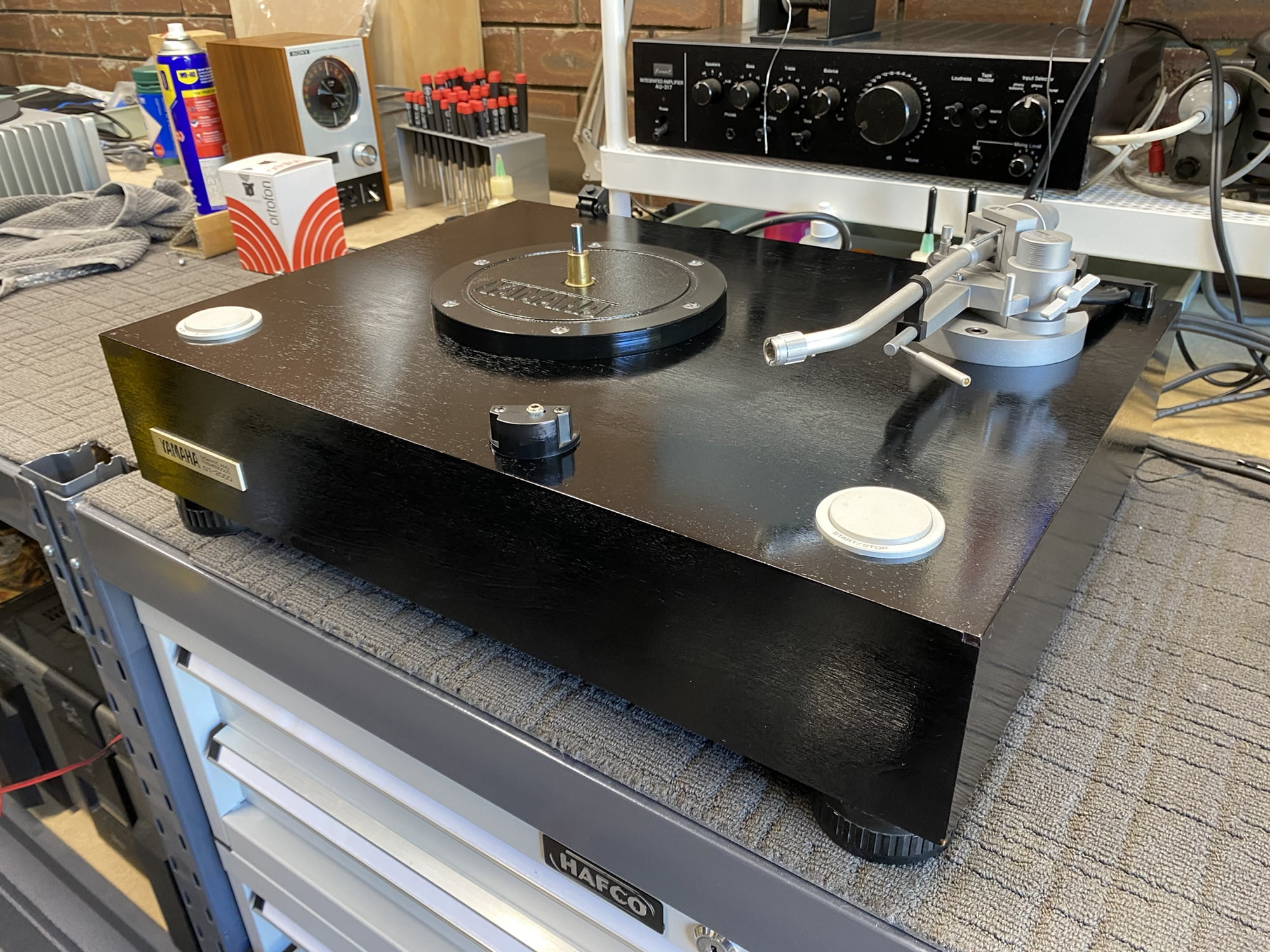 Service
Servicing a Yamaha GT-2000 or any other turntable involves mechanical and electronic elements and steps. With this machine, I've focussed on the mechanical aspects of service as the electronics tested and worked perfectly. I expect this from these very reliable machines, from a very reliable manufacturer. I love Yamaha, for lots of good reasons.
Let's begin by accessing the motor and electronics.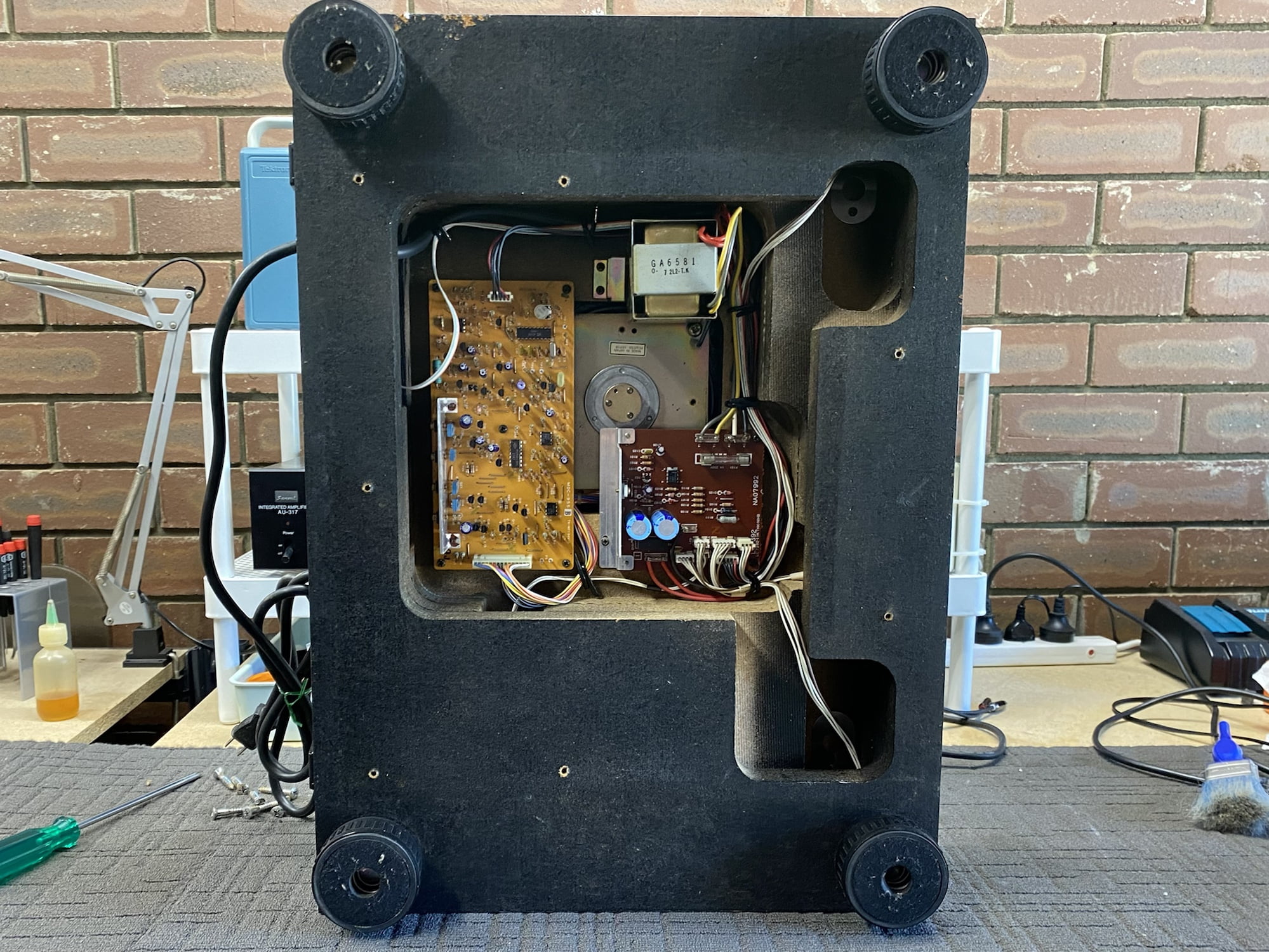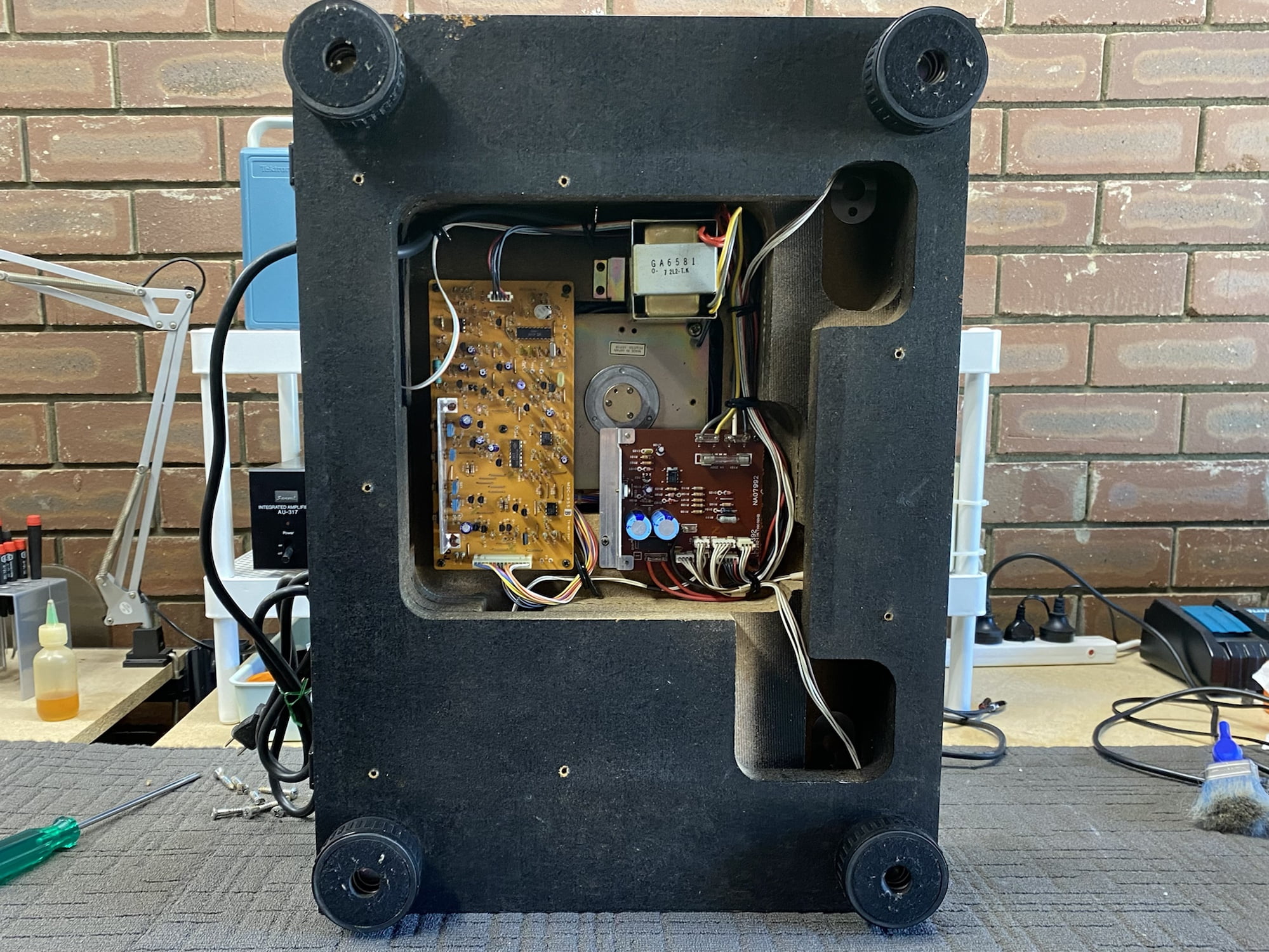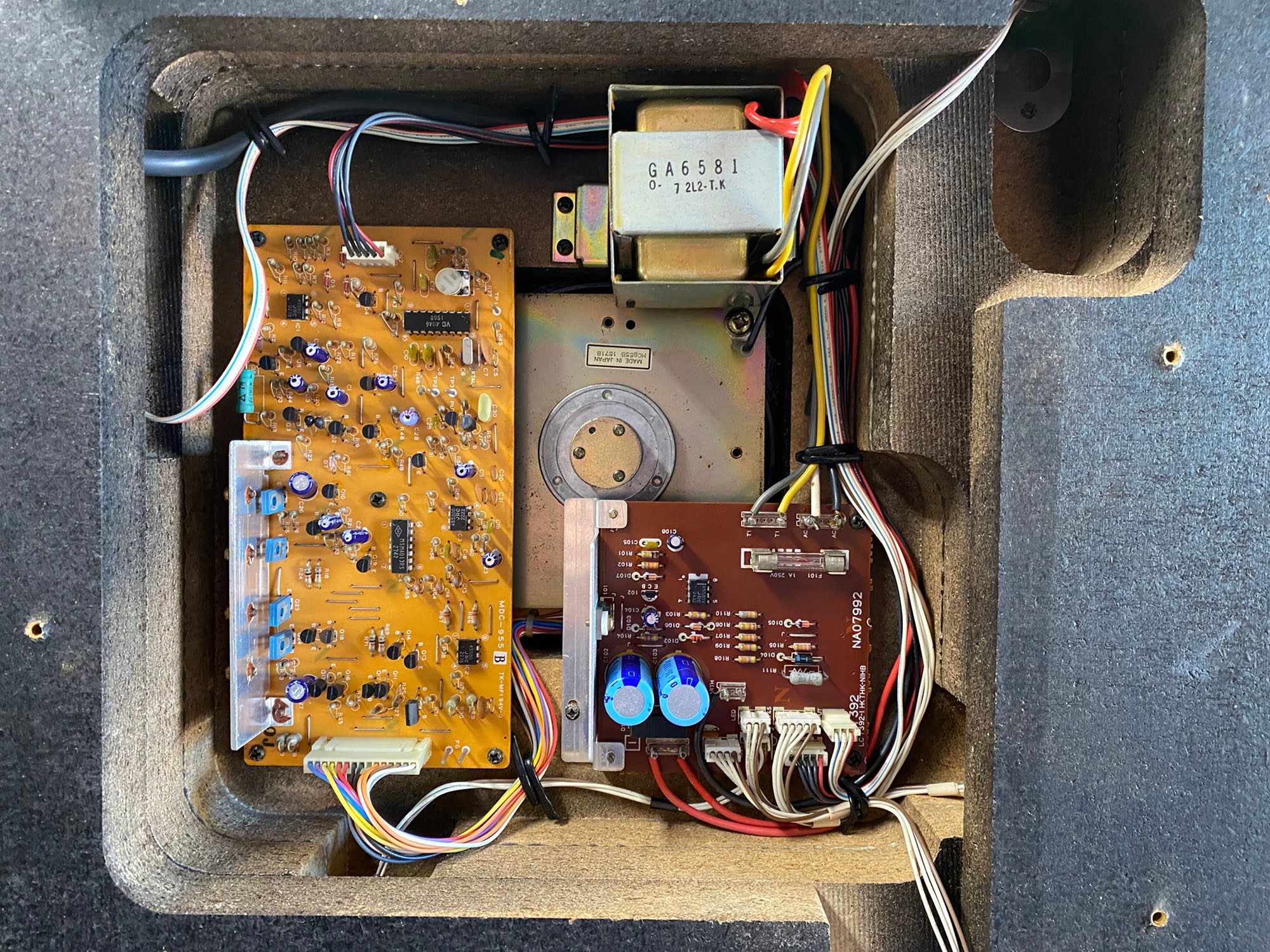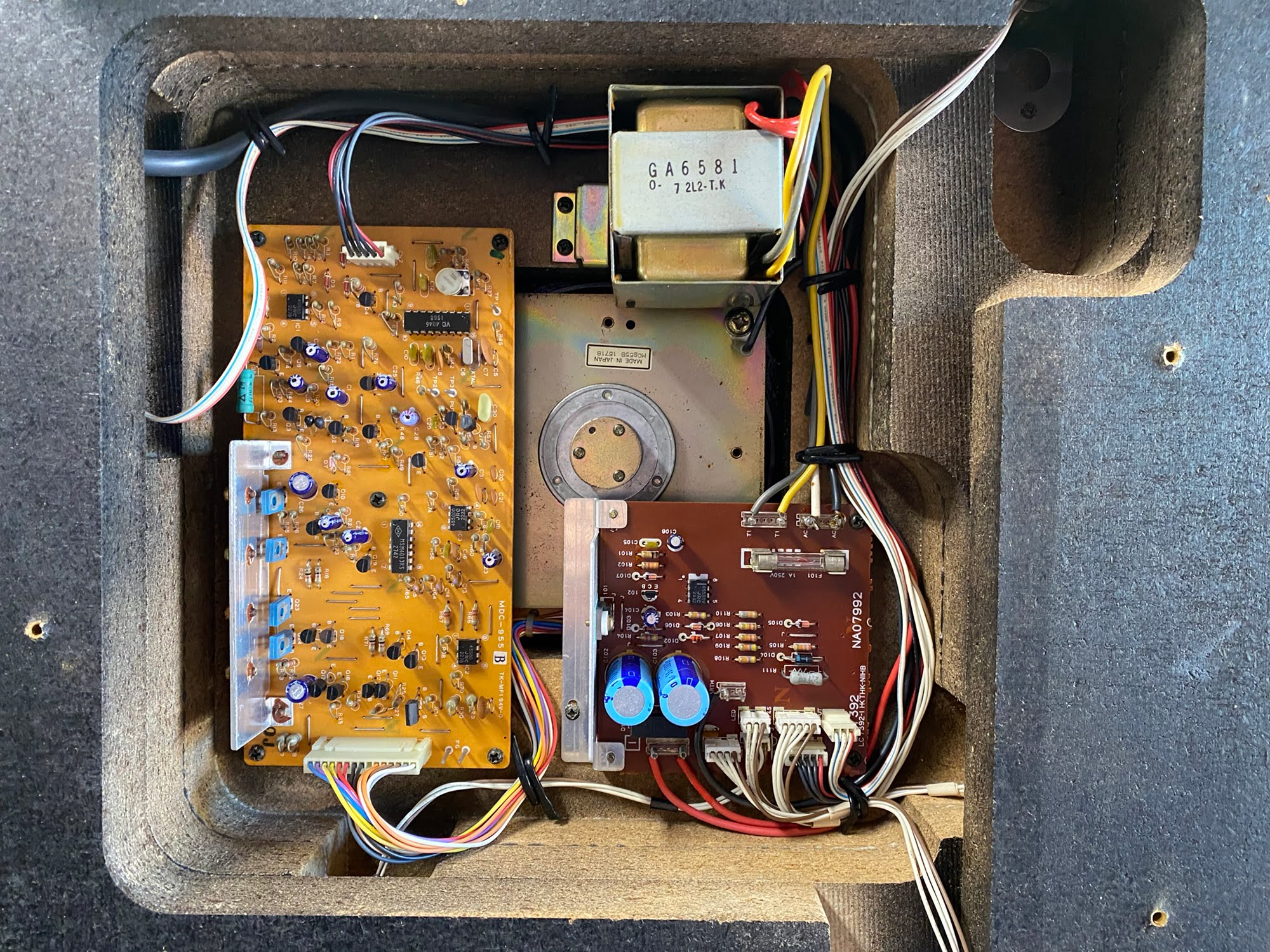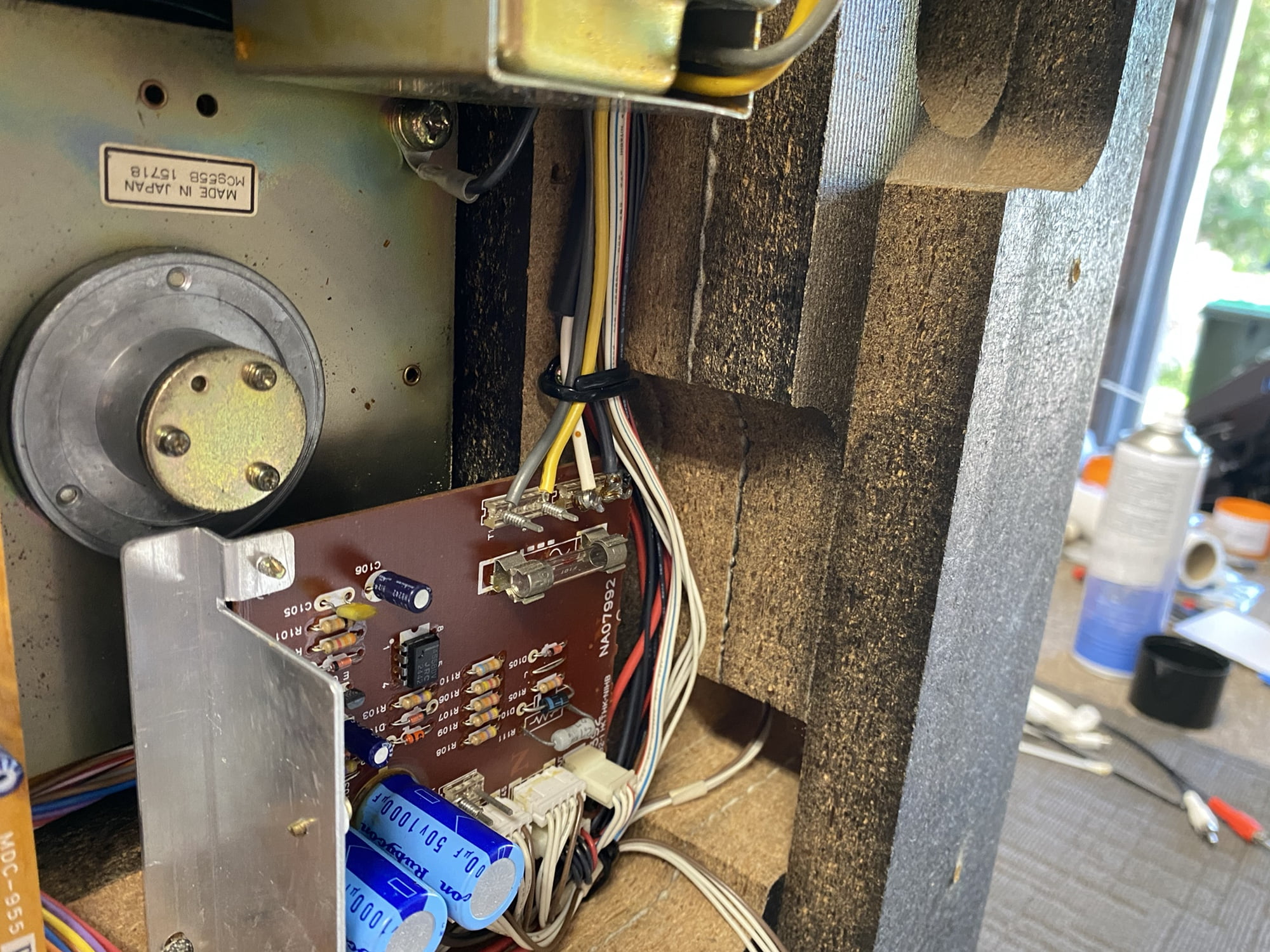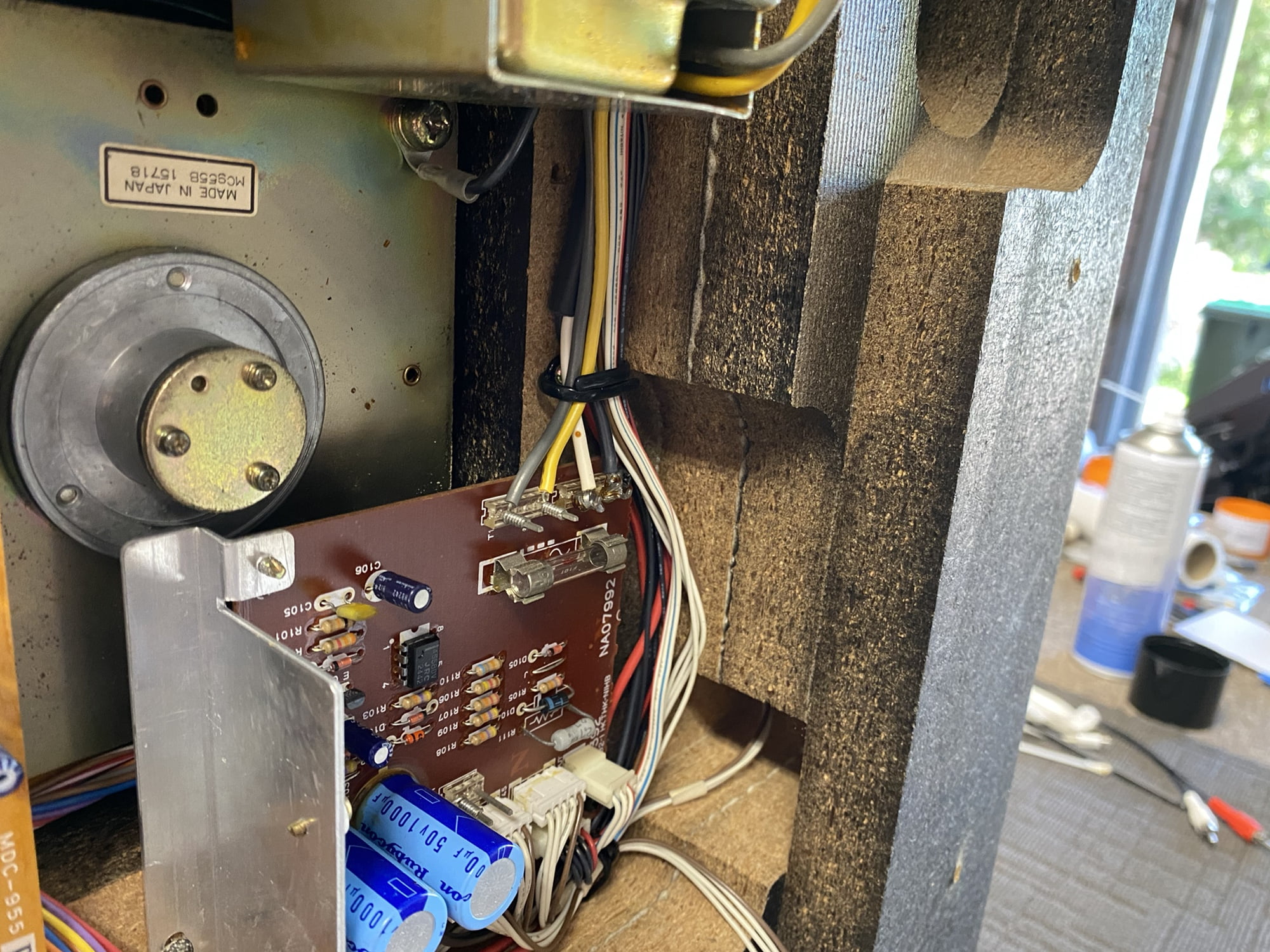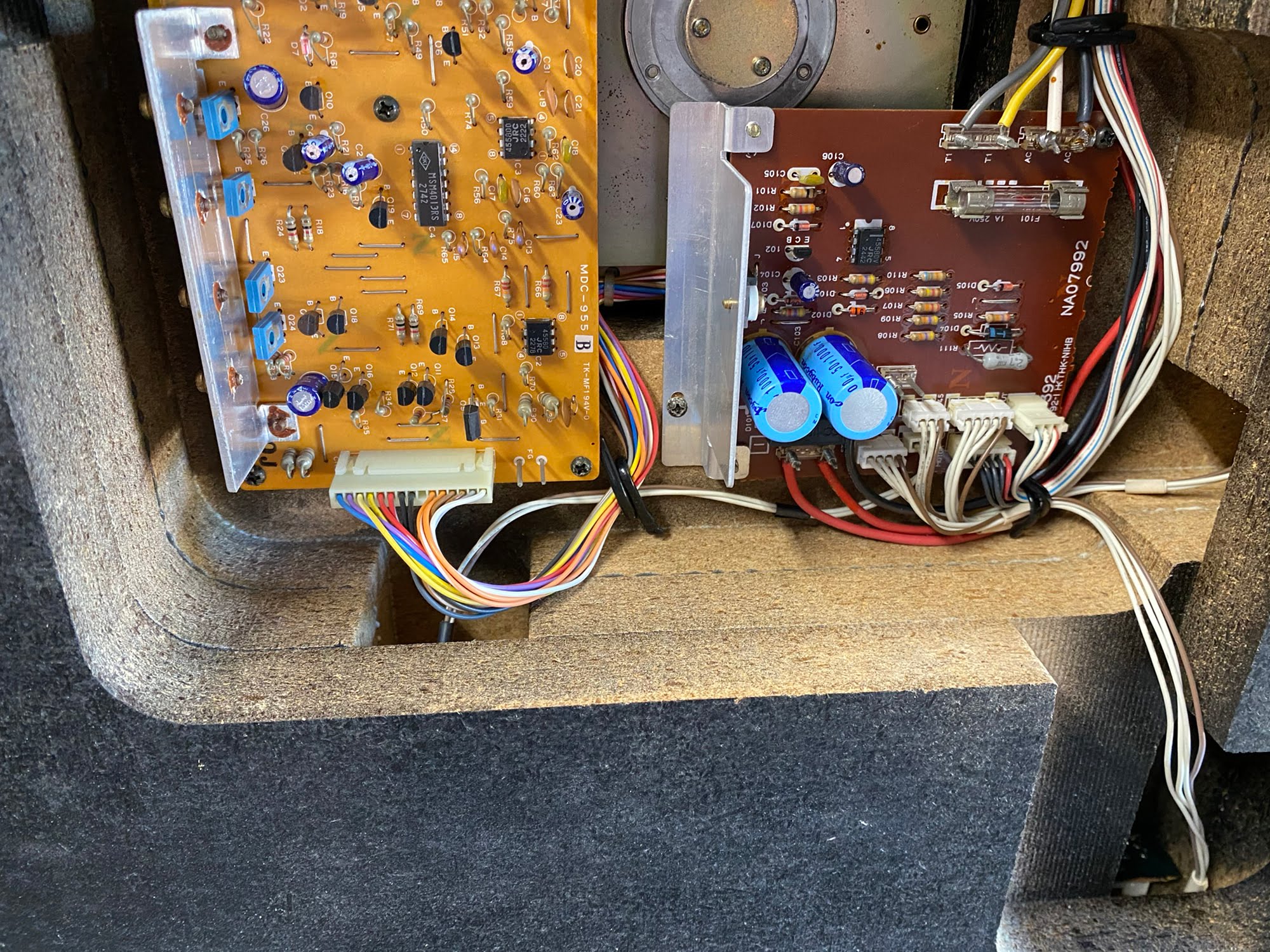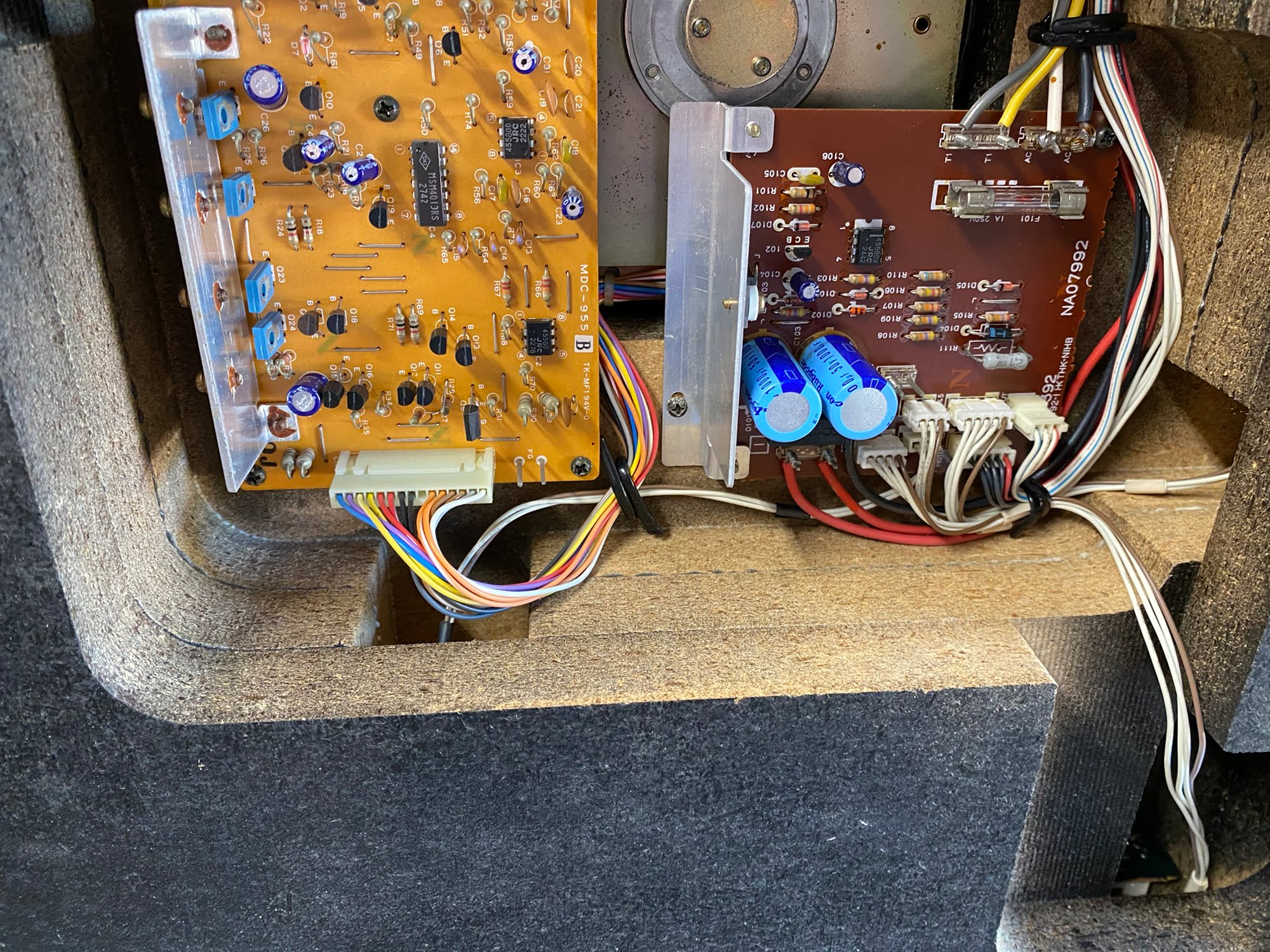 You might remember I noted an issue with the main bearing on this GT-2000. This is part of the reason why a deck like this should always receive a professional inspection, especially after a long trip from Osaka. Knowing this, I can investigate further and do something about it.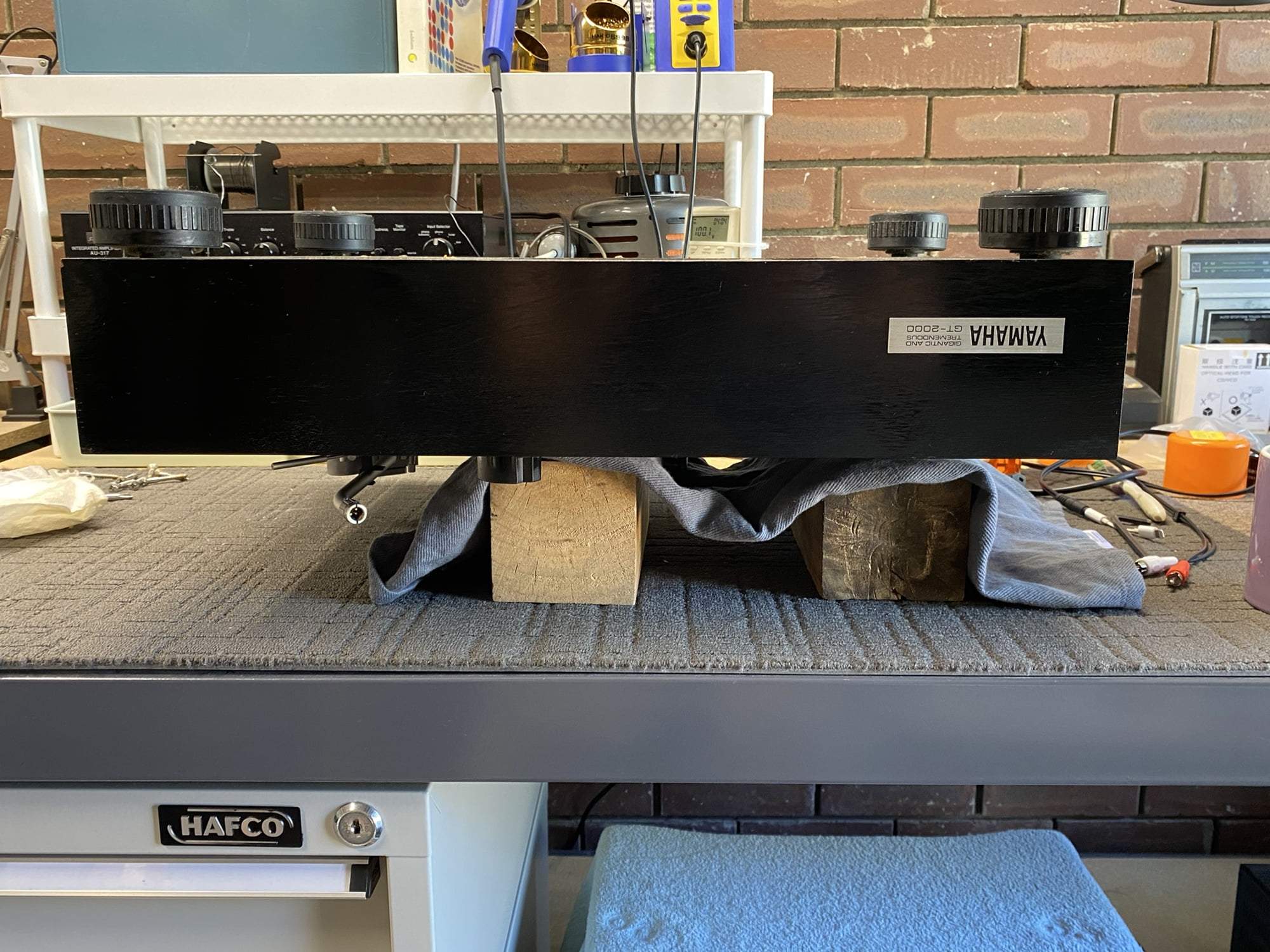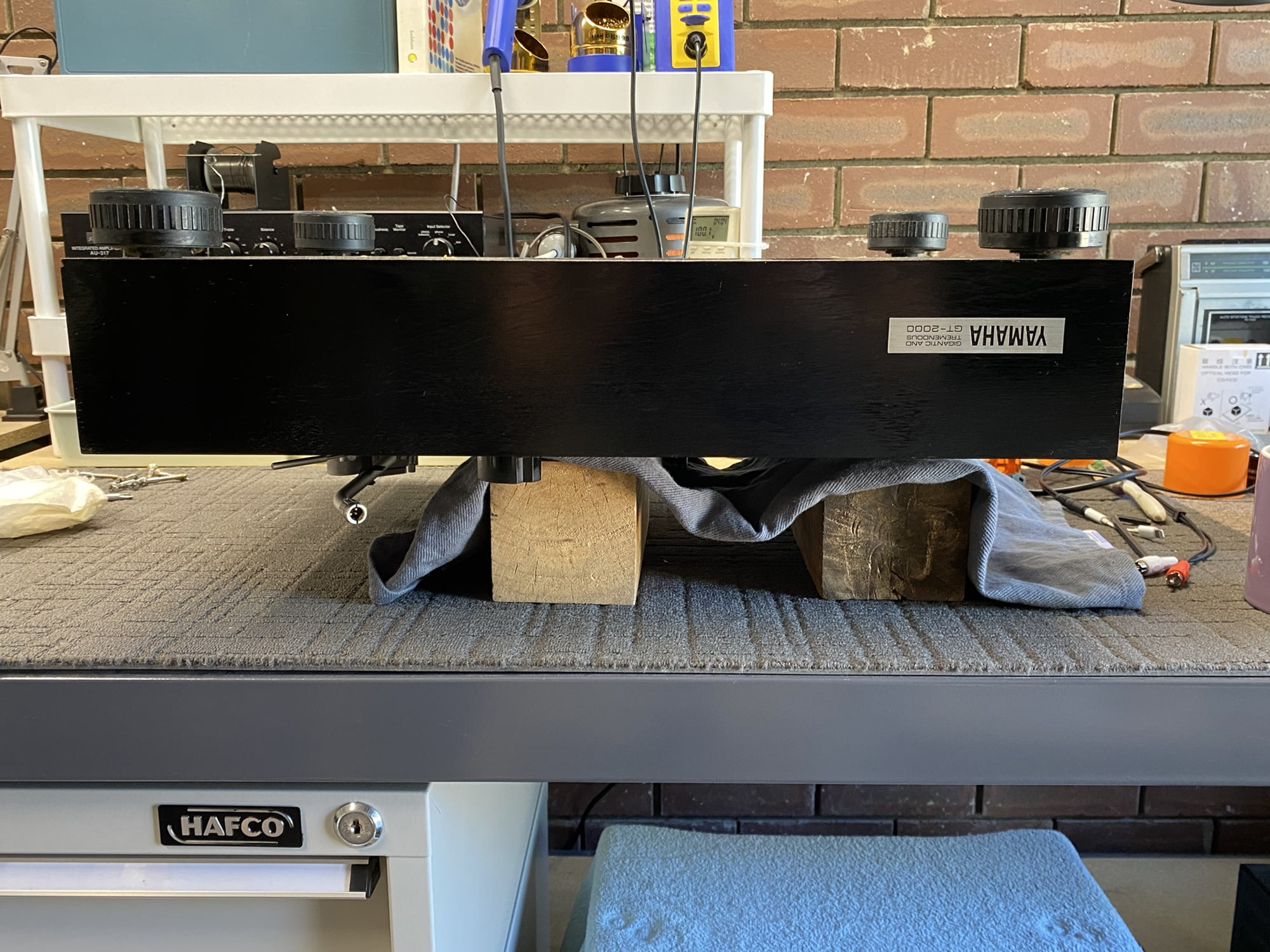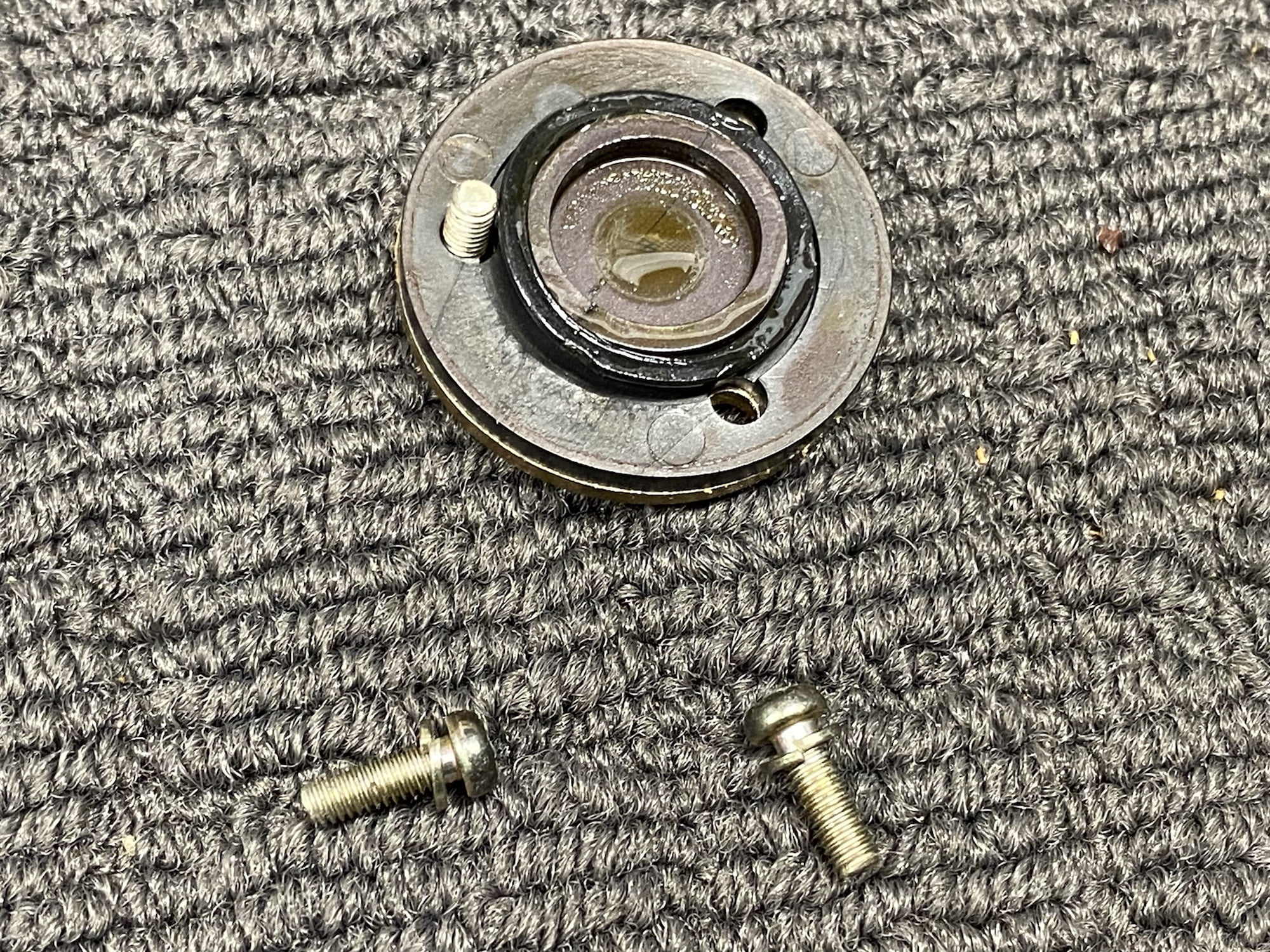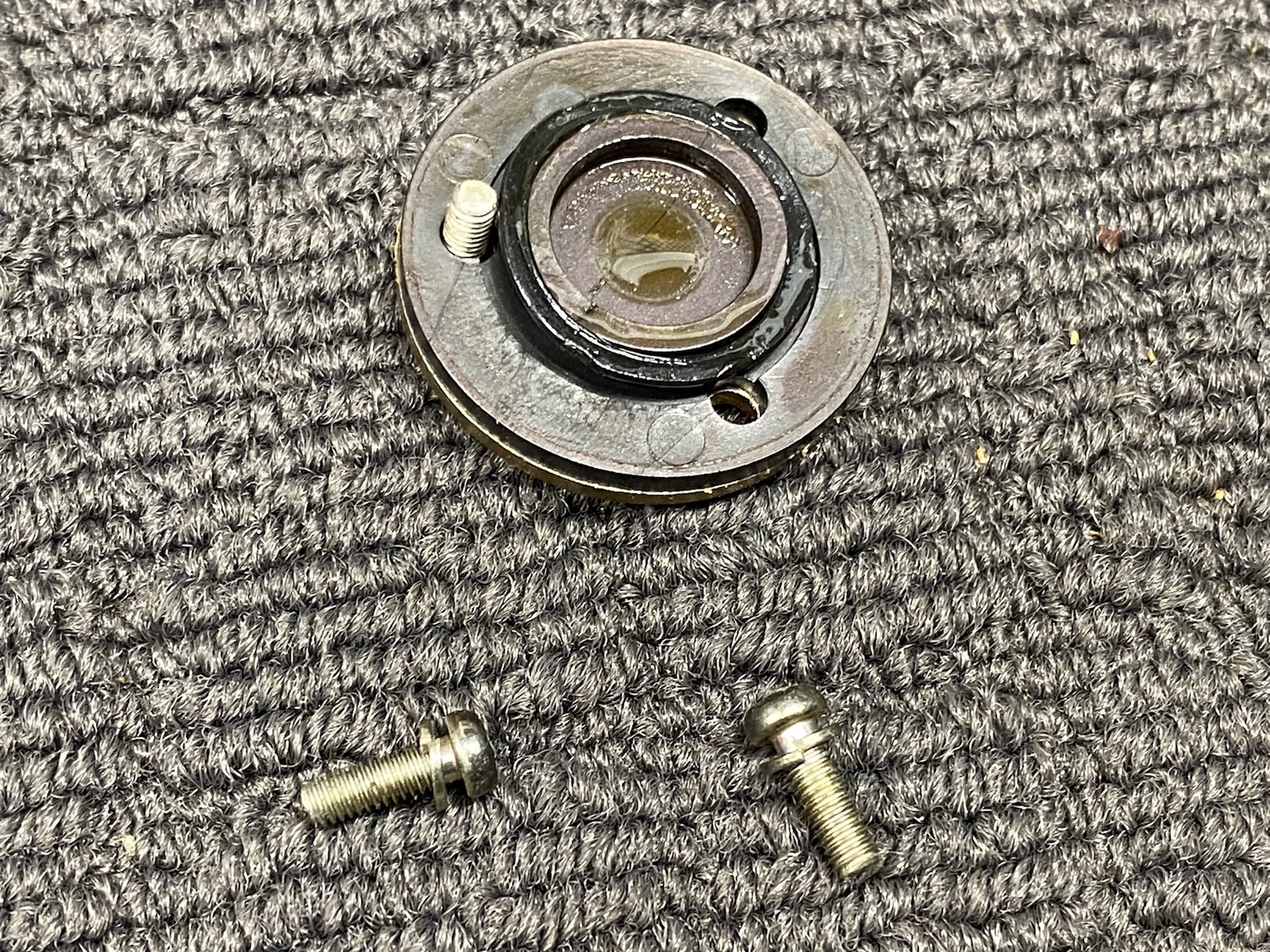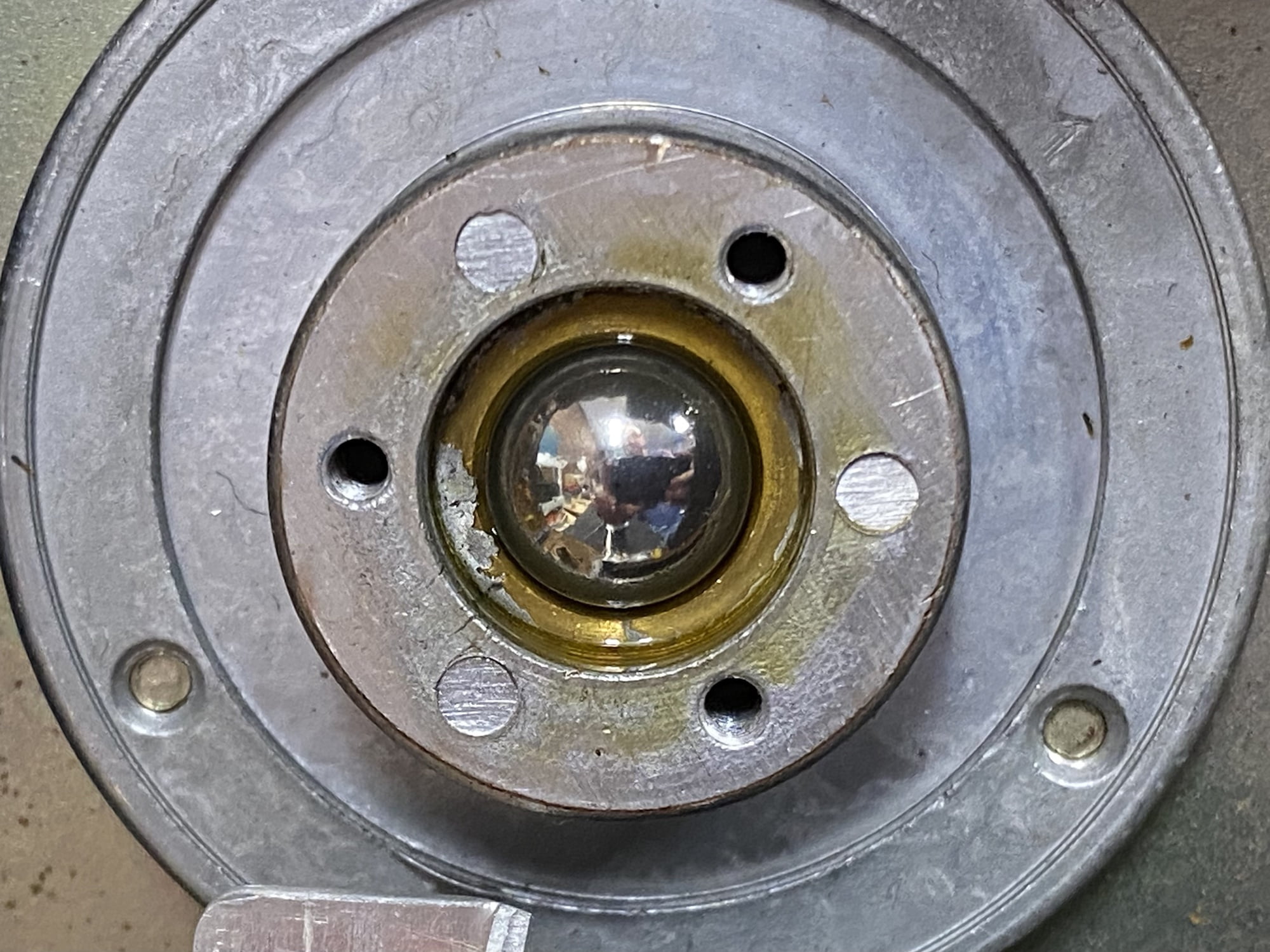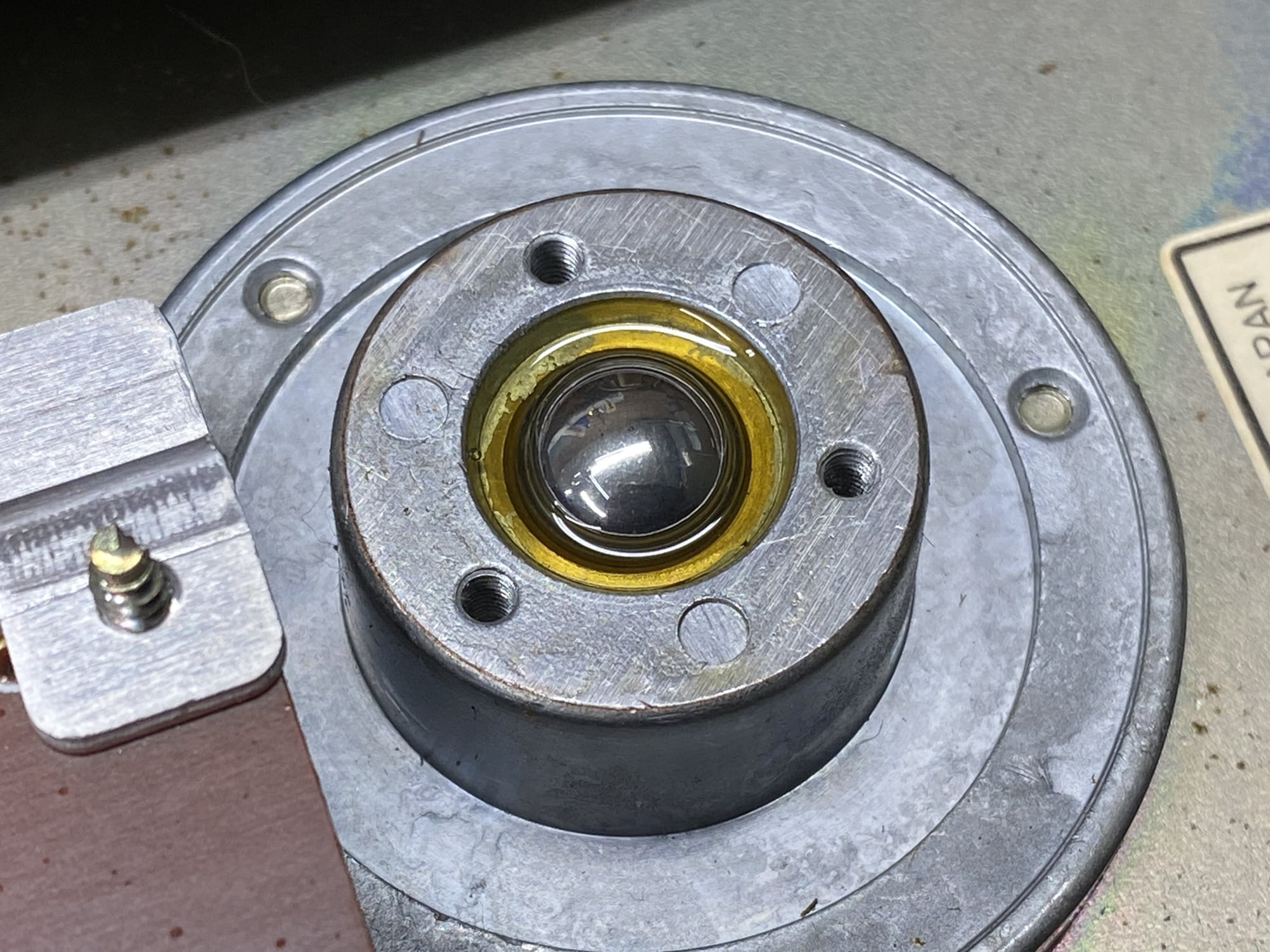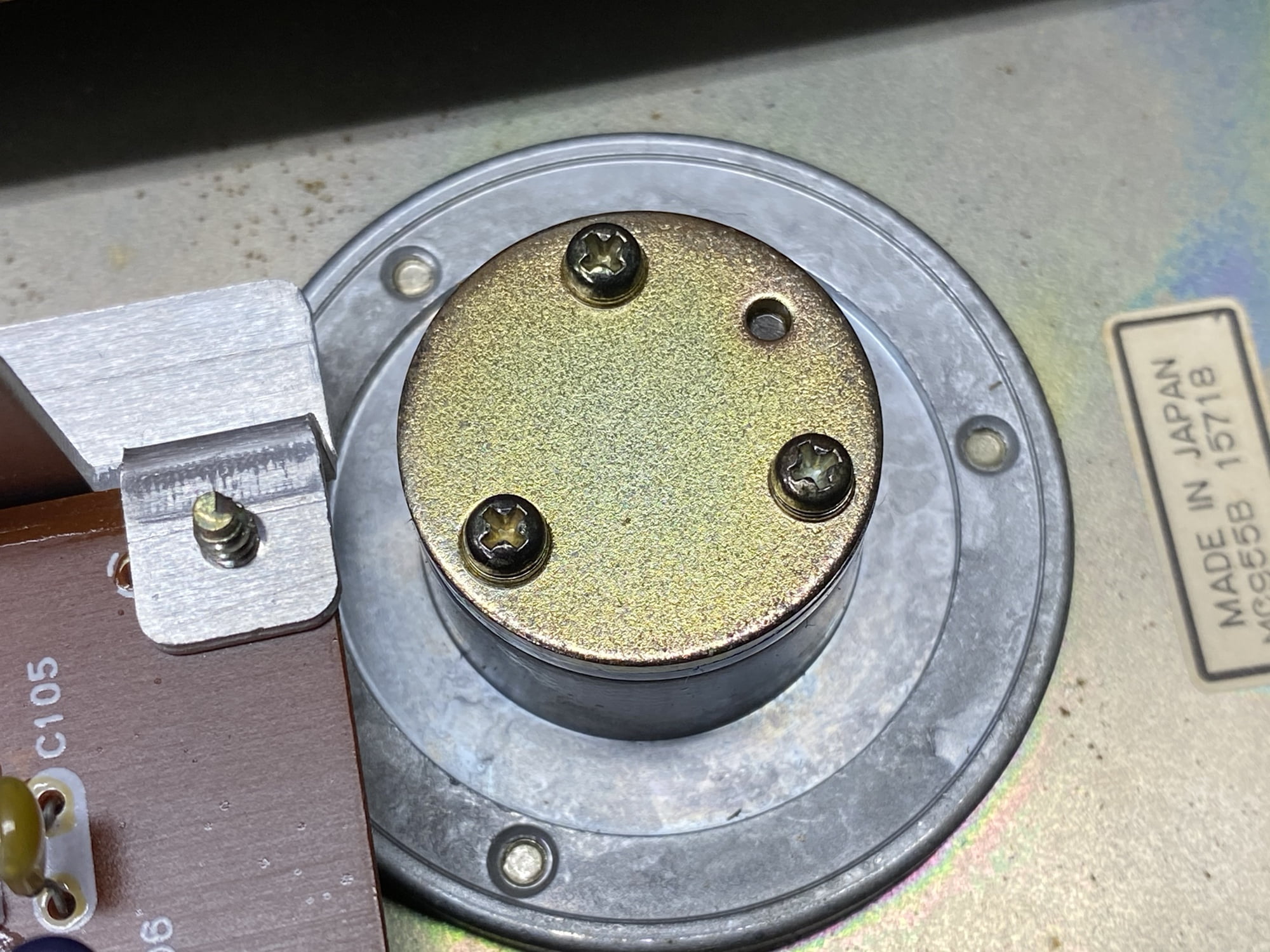 Servicing the bearing didn't fix the excessive bearing clearance, but it did reduce it. The platter certainly rotated more freely after service.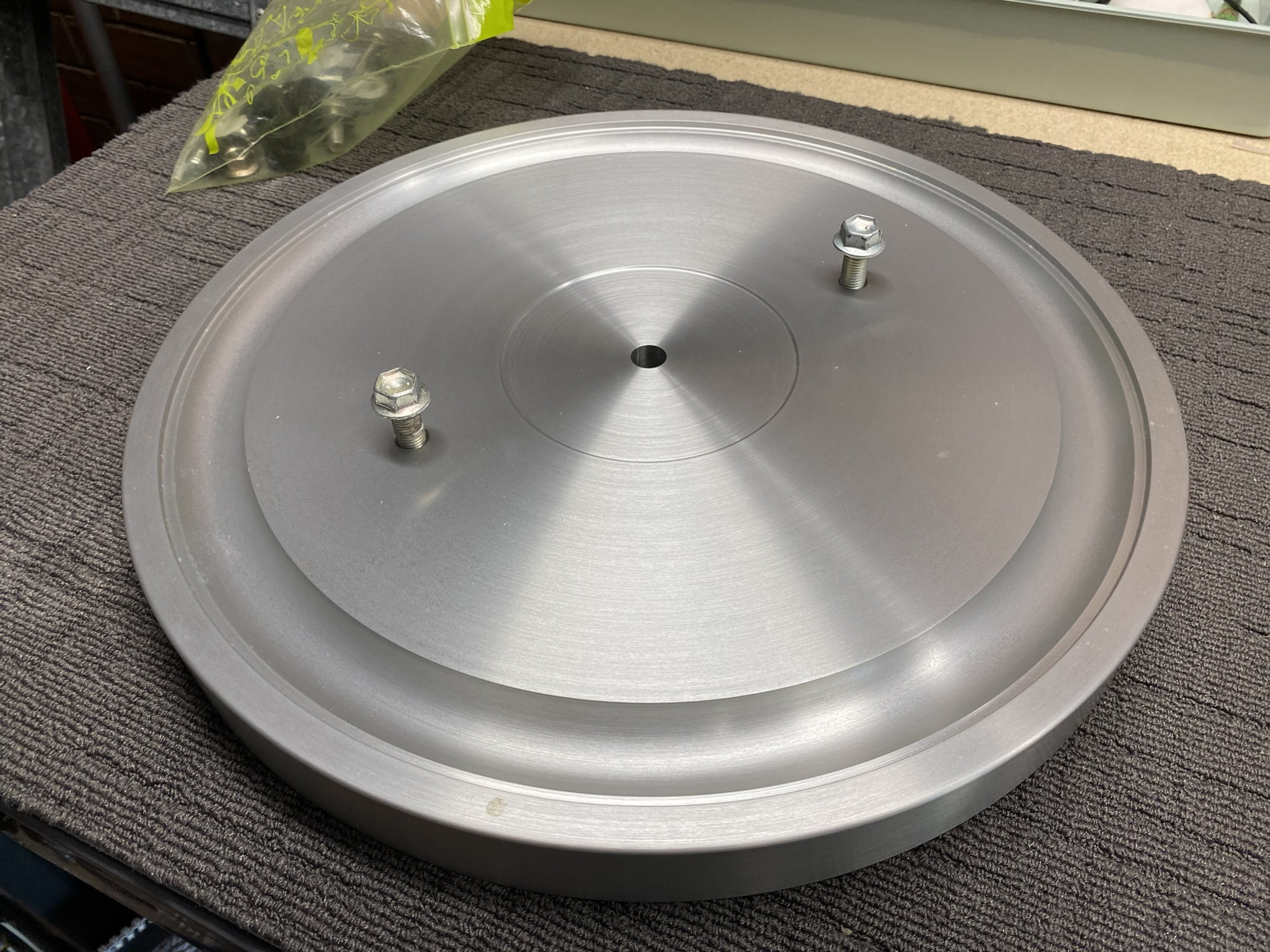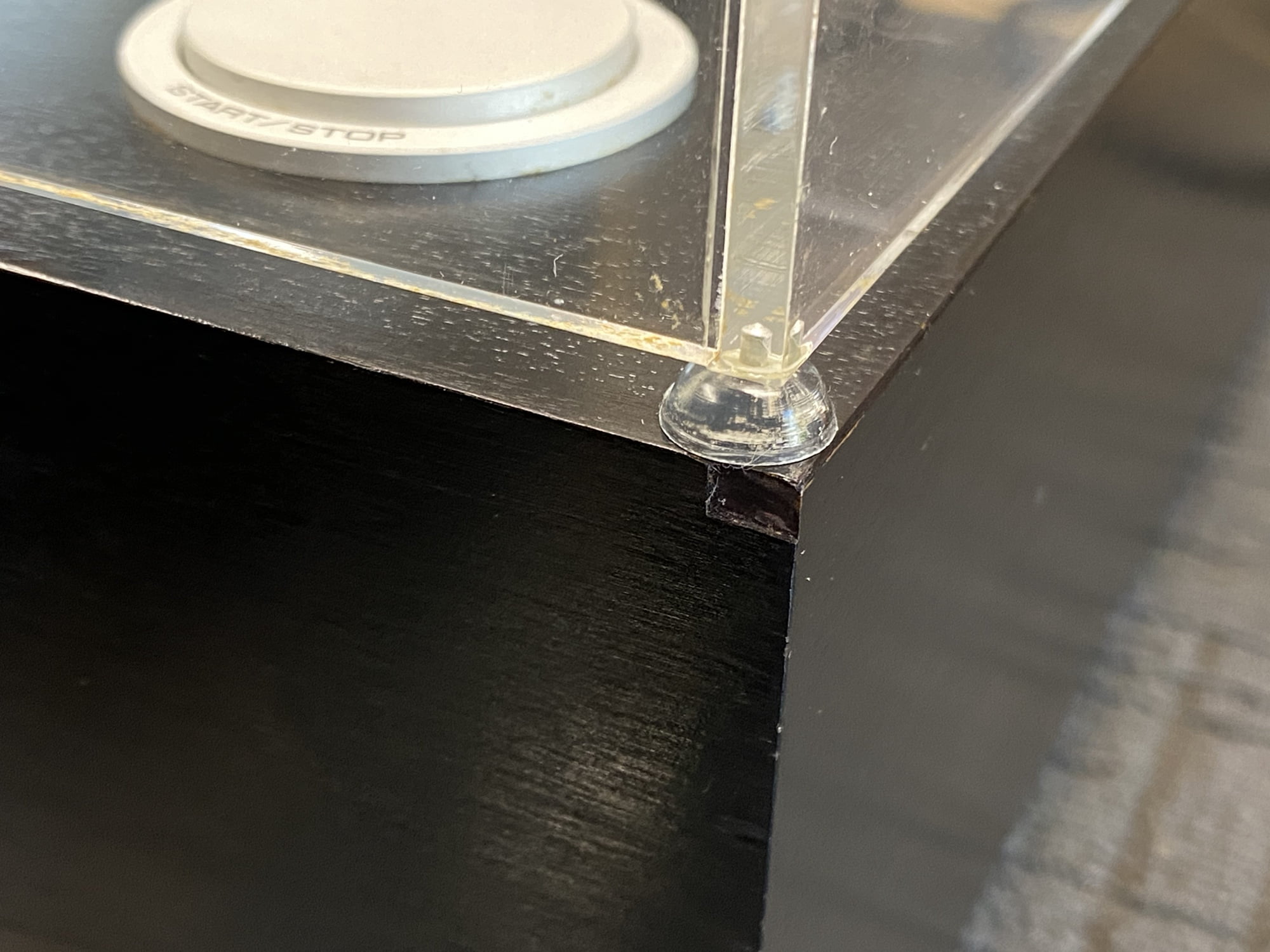 Cartridge Installation
Lastly, I installed a lovely Ortofon Quintet Black S moving coil cartridge on one of the lightweight alloy headshells I stock for lower mass arms like this. The Quintet Black is perhaps not my ideal choice for this machine but it works well enough and sounded fantastic when installed on the new headshell and correctly aligned for overhang, azimuth, tracking force, anti-skate and VTA. All of these parameters are critical when setting up a turntable, never more so than with a line-contact or Shibata stylus like the one fitted to the Quintet Black S.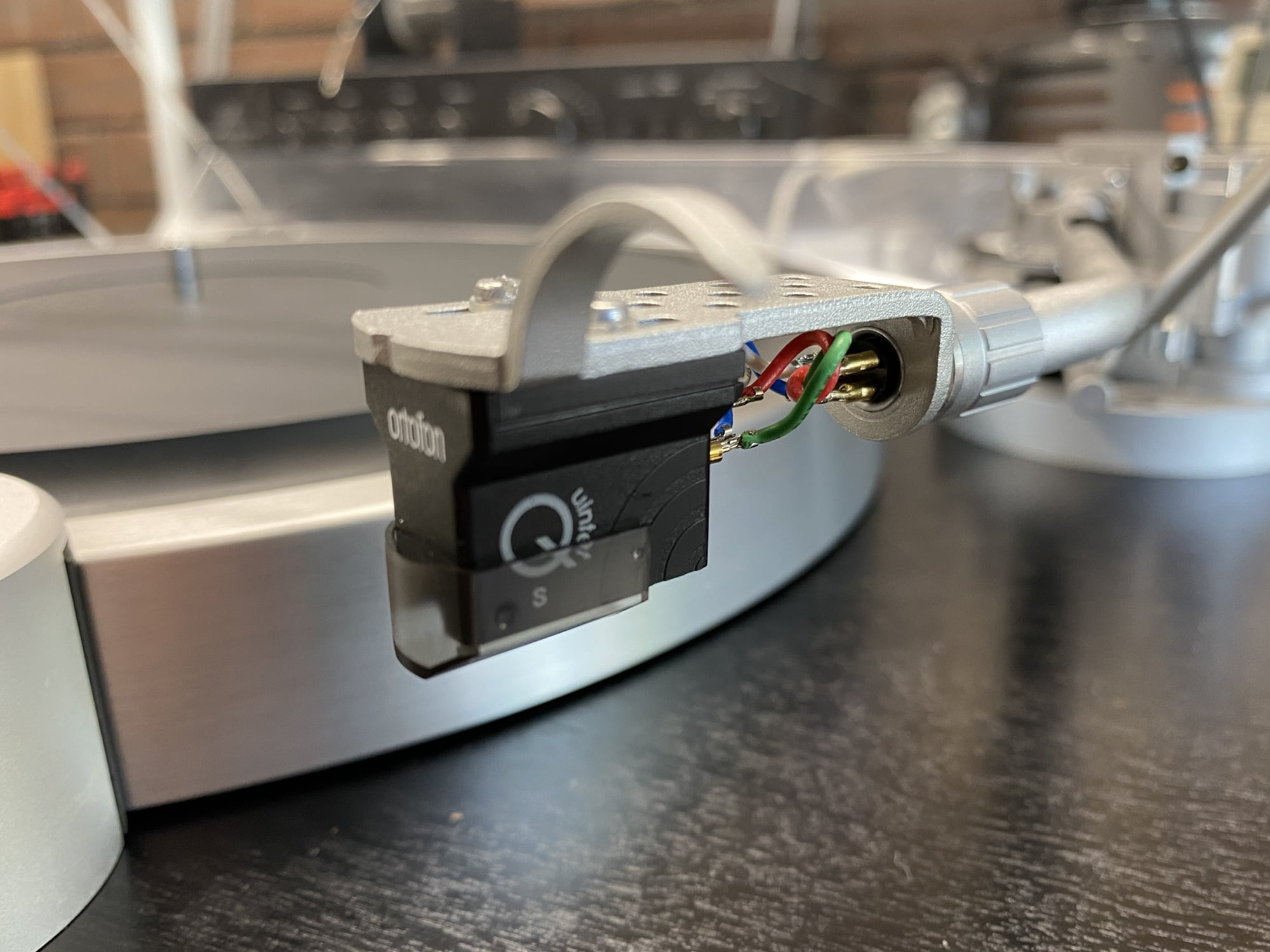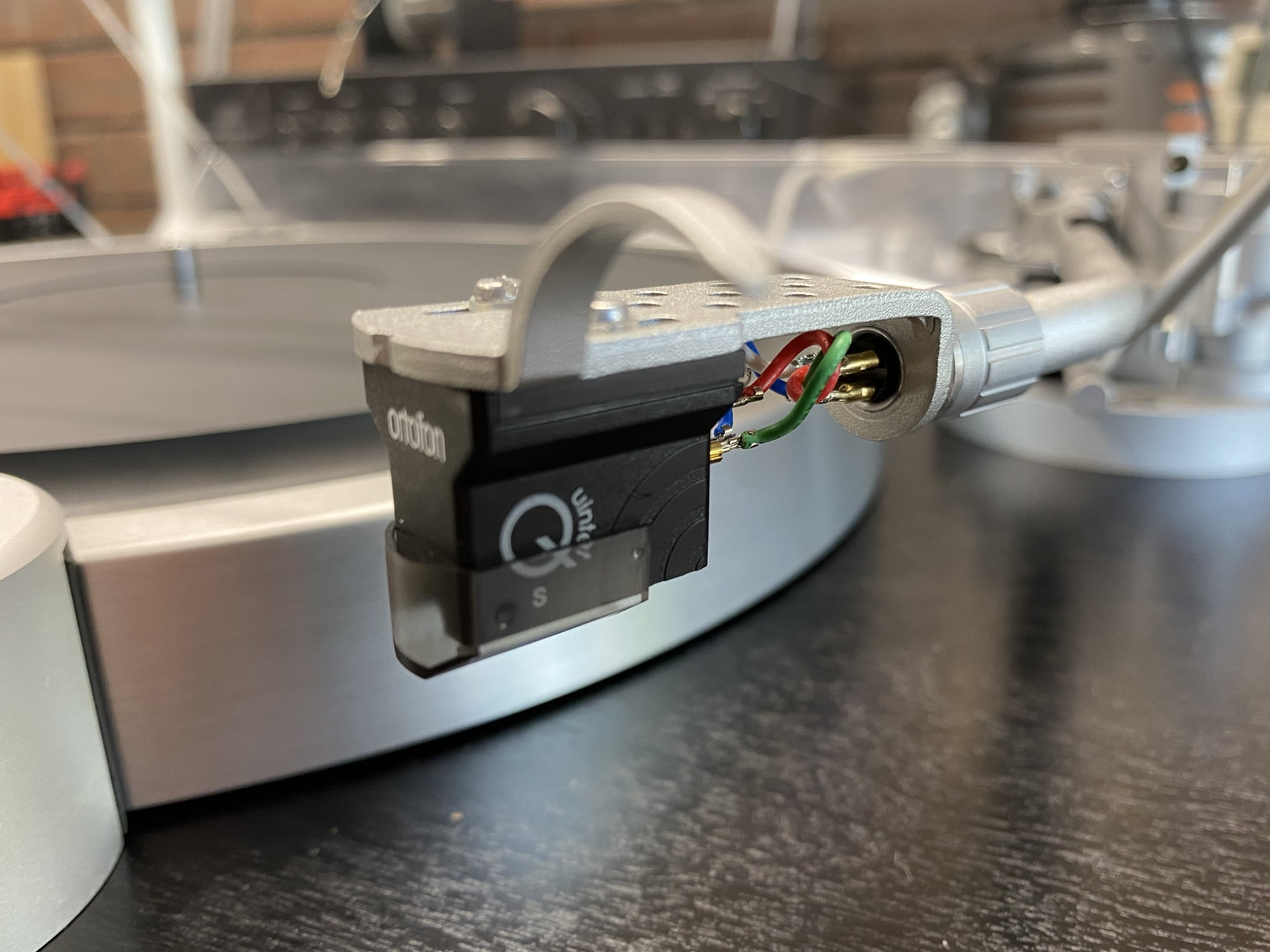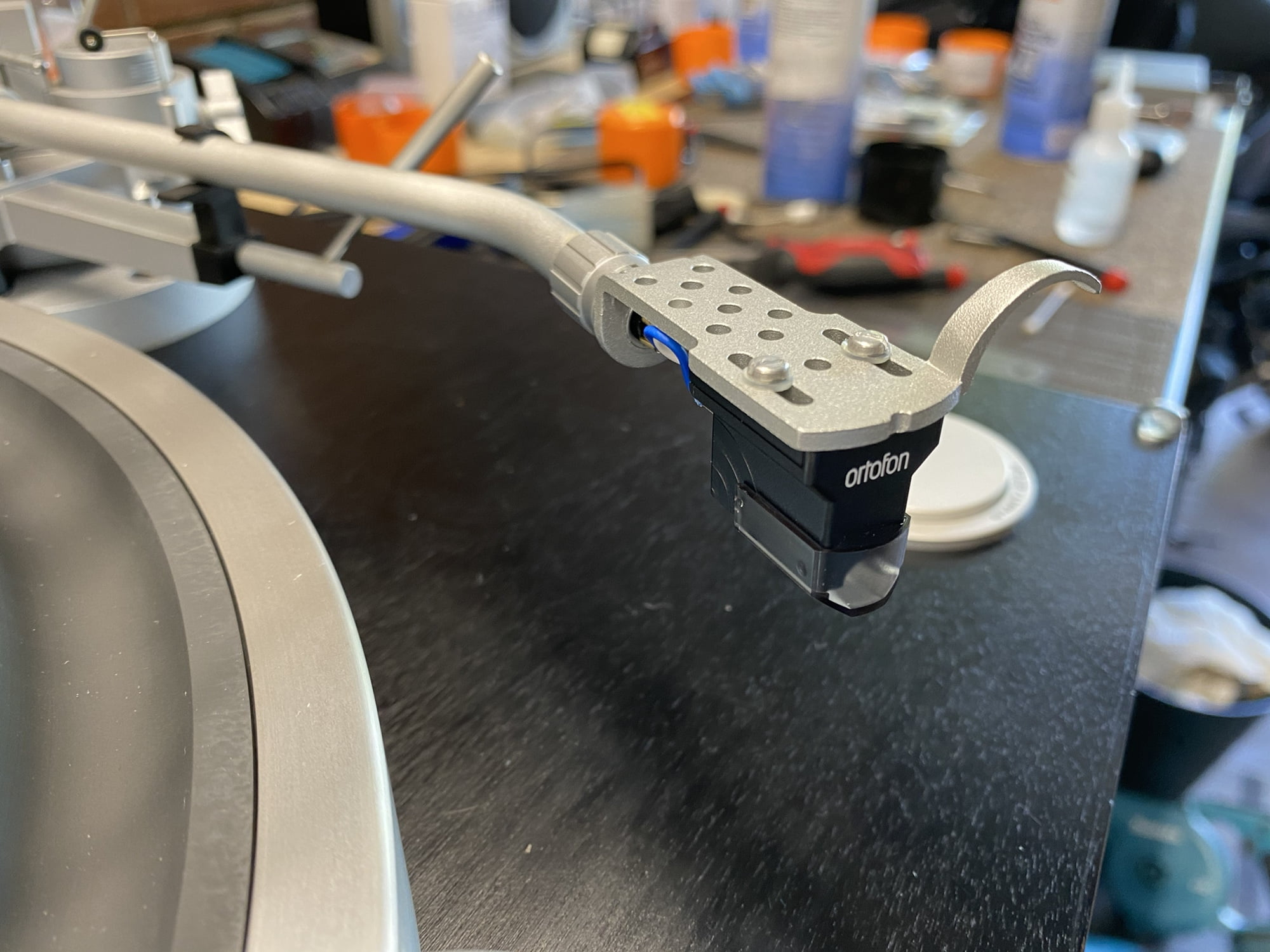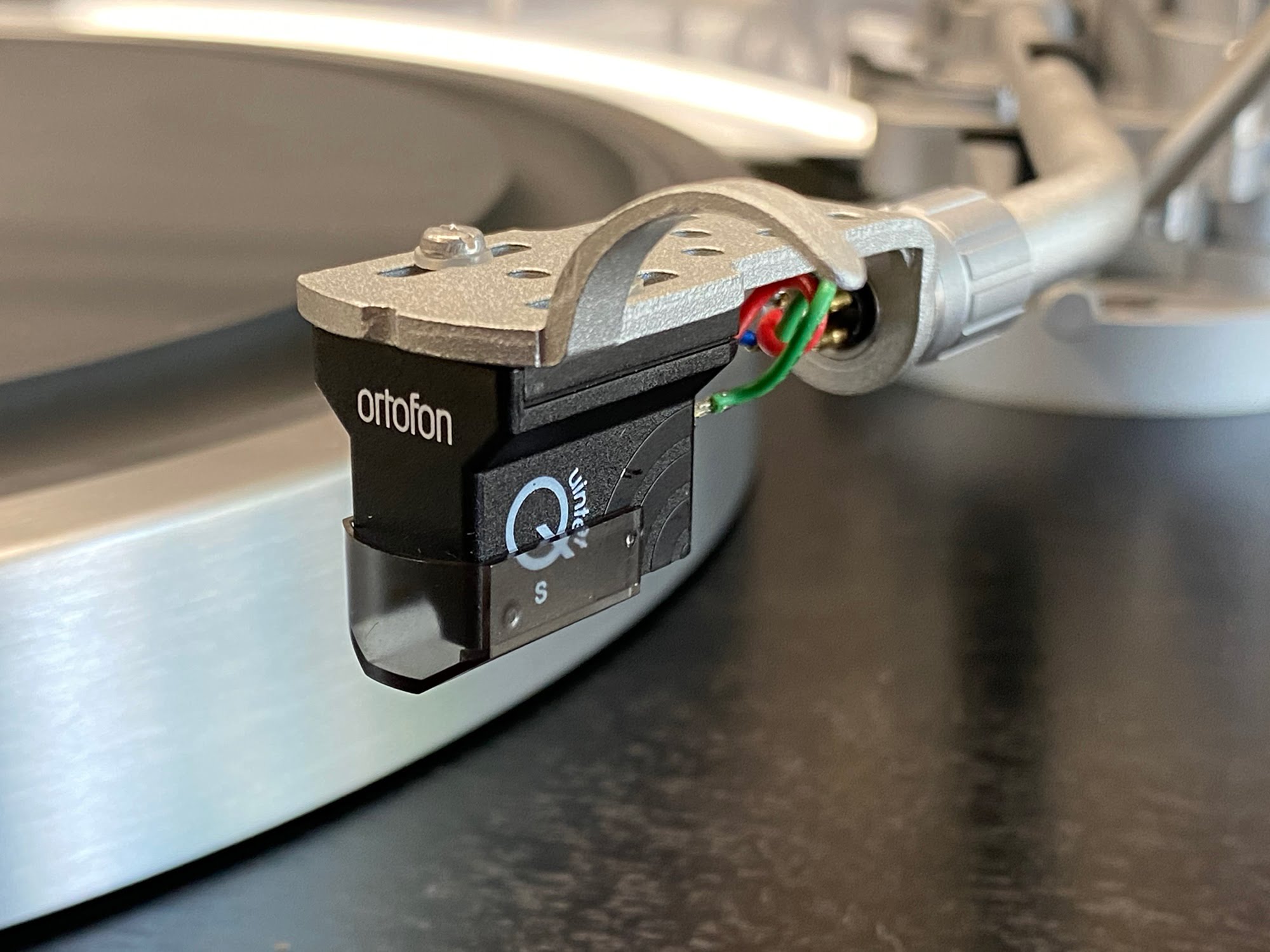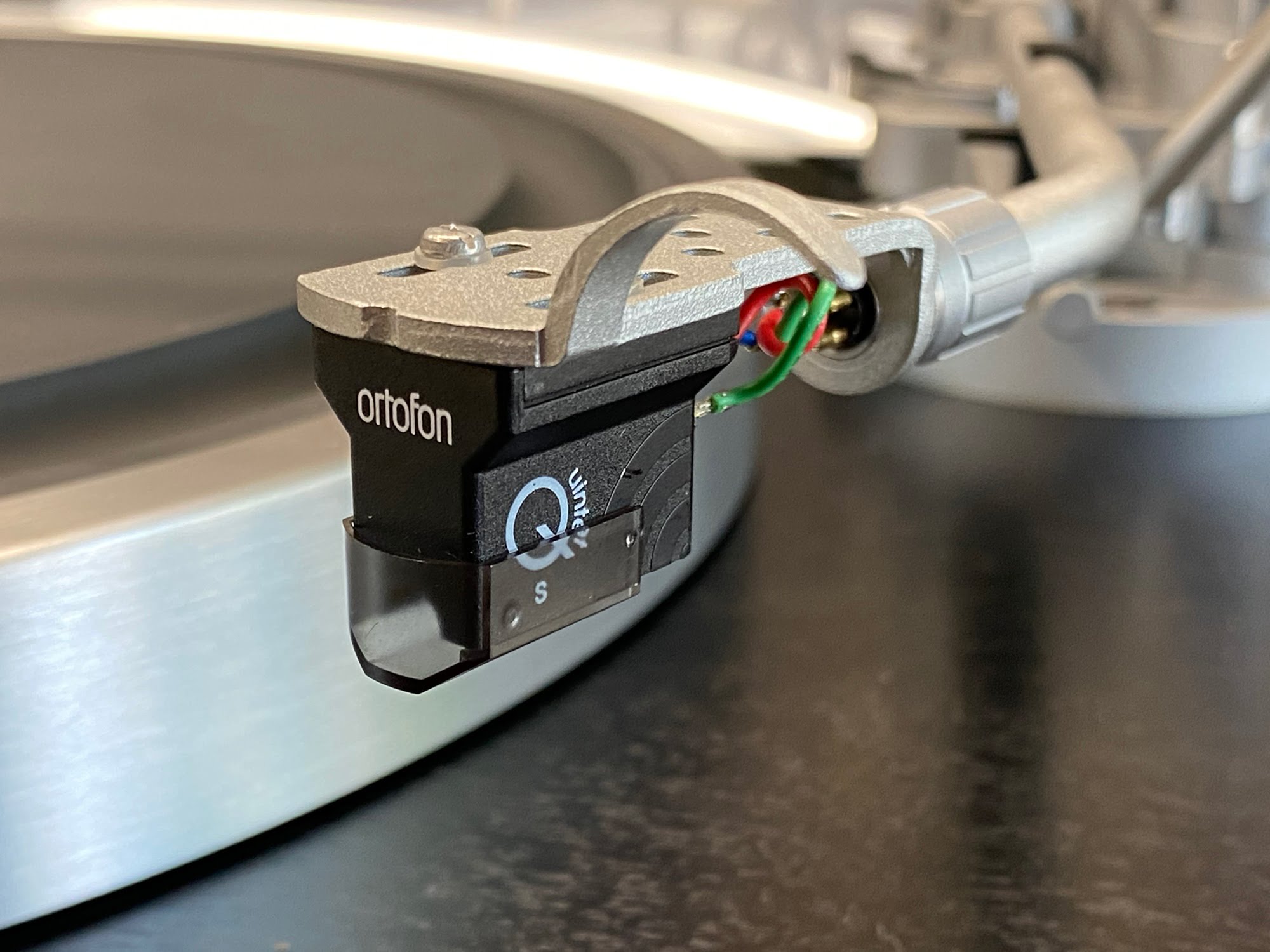 Results, Final Thoughts & Further Improvement
I really think the results speak for themselves and whilst this customer disappeared as quickly as he initially appeared, I'm sure it's because he's just loving playing his records. I have to say that this deck sounded amazing, set up as you see her here. As if any of this would be a surprise, but I need to say it, just in case you had doubts.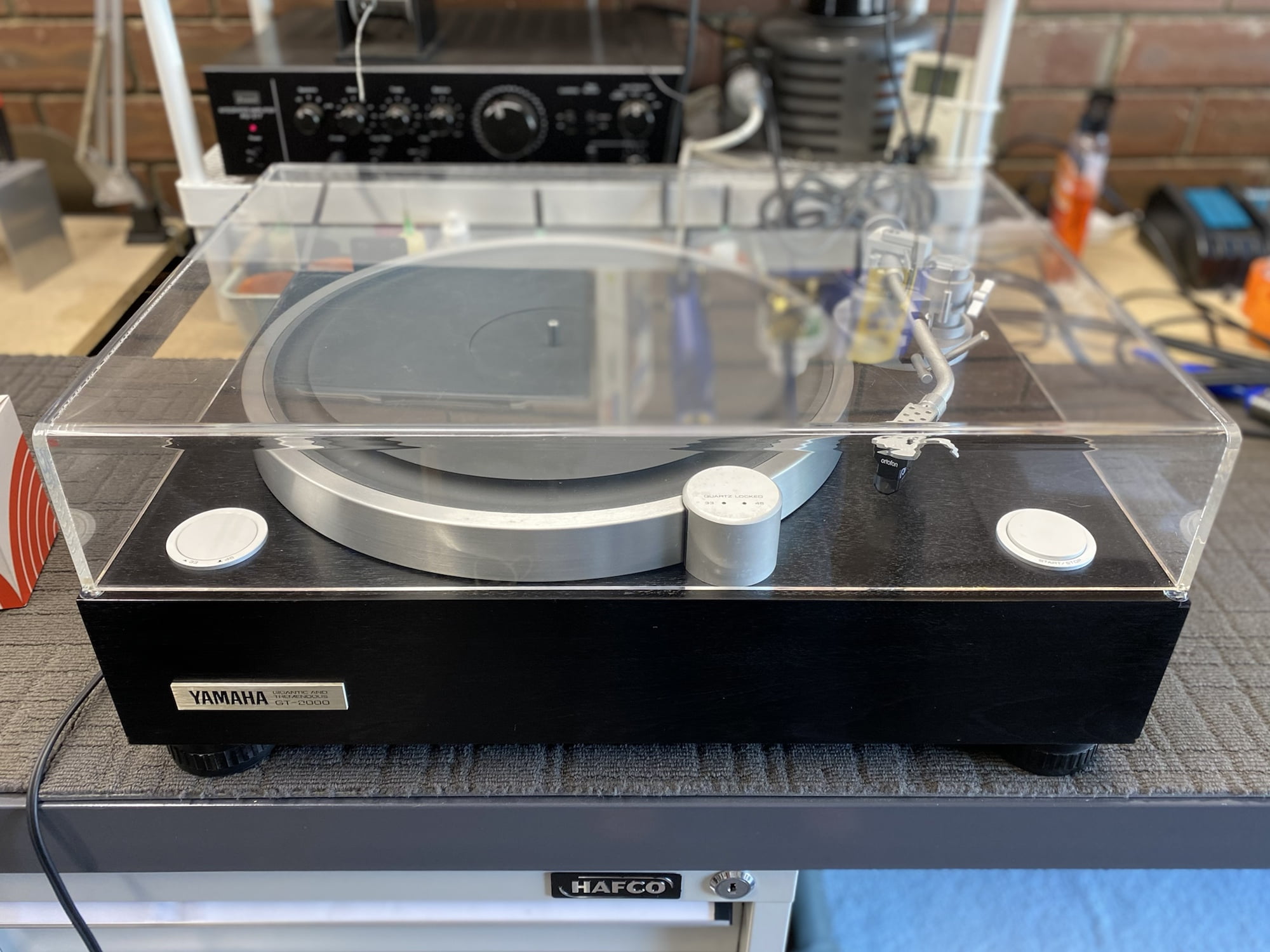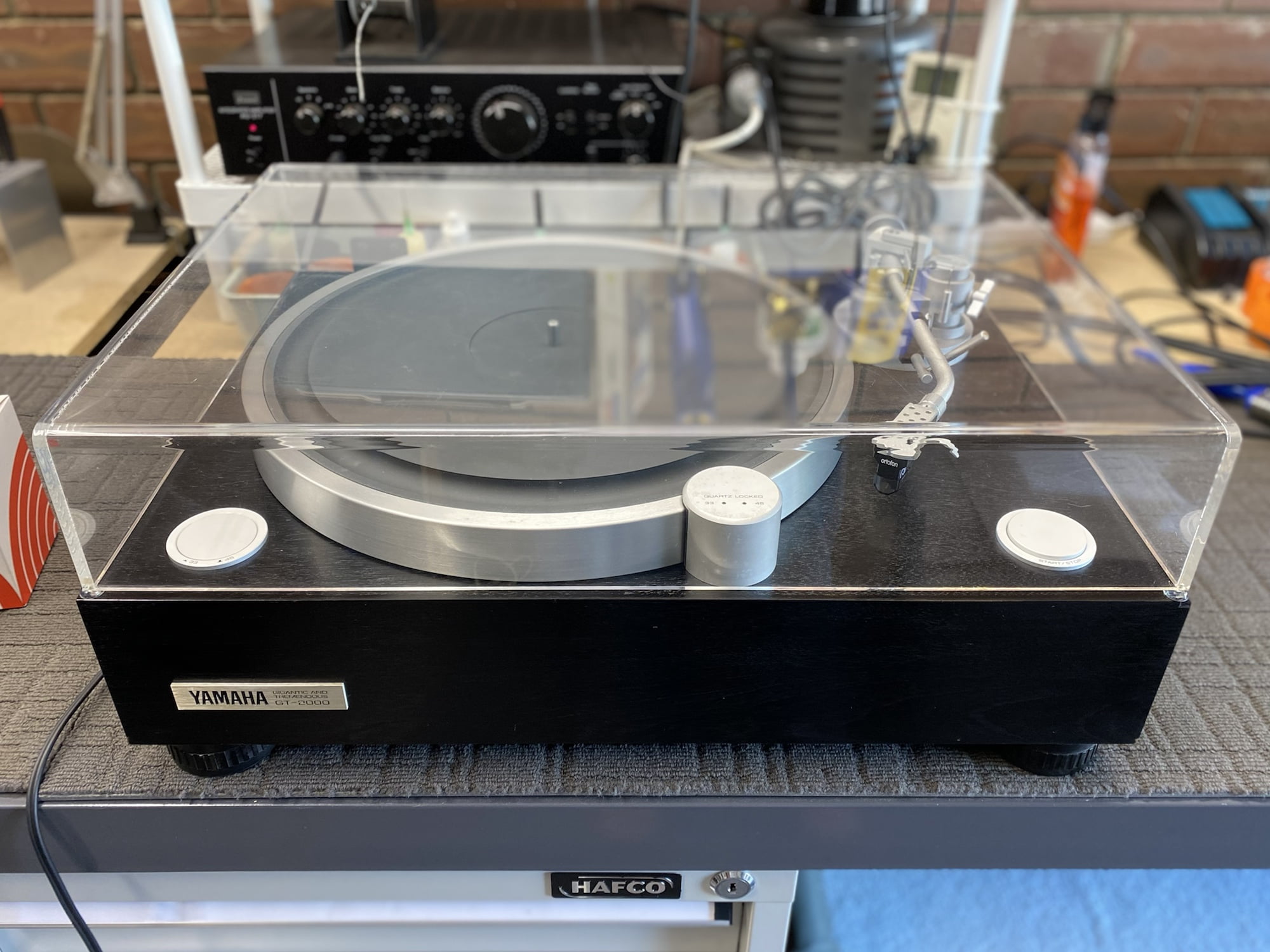 I was pleased to be able to improve both the appearance and performance of this timeless Japanese classic. The bearing issue is something we work with on a case by case basis. Whilst this deck has suffered some damage, it is still so far ahead of the owner's previous Pro-Ject machine and most other decks you might be able to afford that it doesn't matter. It's nice to have a little performance 'headroom', the fresh synthetic bearing oil certainly helped and in playing a record, the deck is dead quiet, so all is mostly well in this instance.
So is it worth spending $3000 AUD to get yourself a Yamaha GT-2000? You bet it is! Go and look for yourself at what Yamaha wants for the GT-5000, a pale belt-driven imitation of this great classic. It's $13,000 AUD for goodness sake. Which would you rather have? Three grand for a GT-2000? Sign me up. If I didn't already own a Luxman PD-350 and Kenwood L-07D, I buy one tonight
To further improve performance, I would fit a better headshell and some really good headshell wires, like these Ortofon LW-800S silver headshell wires I have in stock.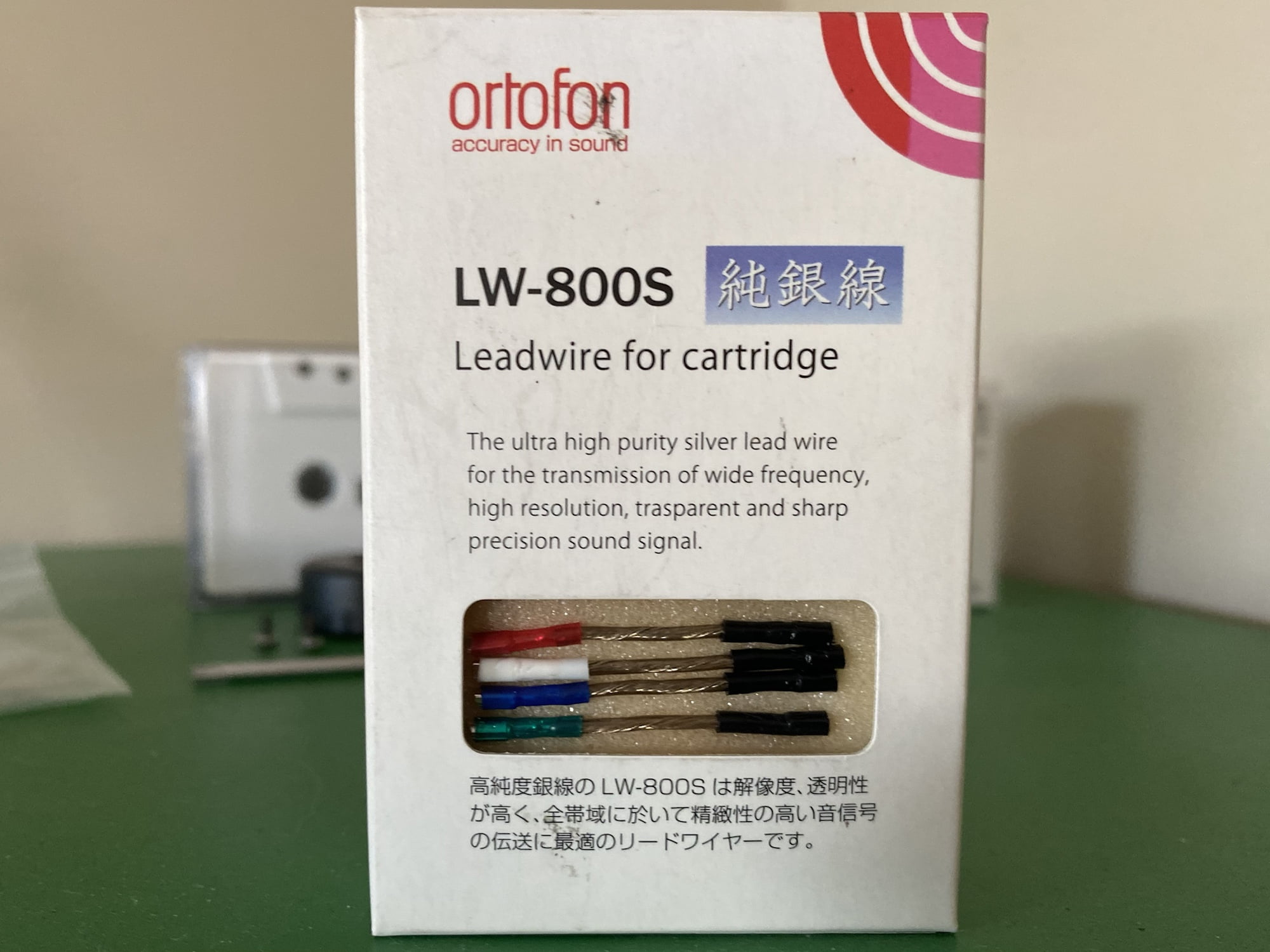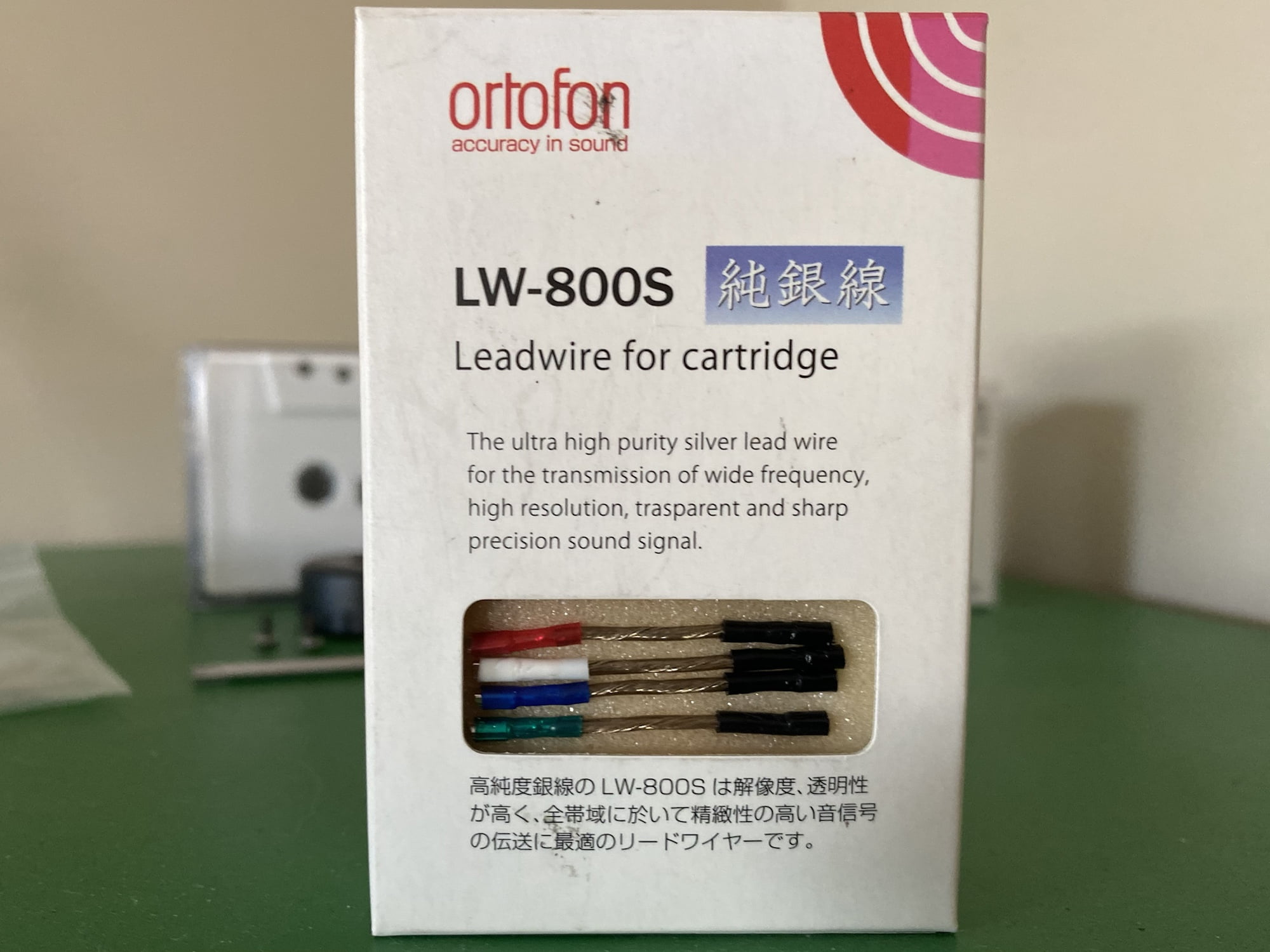 The headshell issue requires thought because it's easy to overwhelm the small counterweight with a headshell/cartridge combination that's just too heavy. Then there are the critically important resonance considerations. The arm can be rewired and a higher quality audio cable can be fitted if required, but fitting a better cartridge will yield a noticeable improvement as well. The age-old question is where does one draw the line?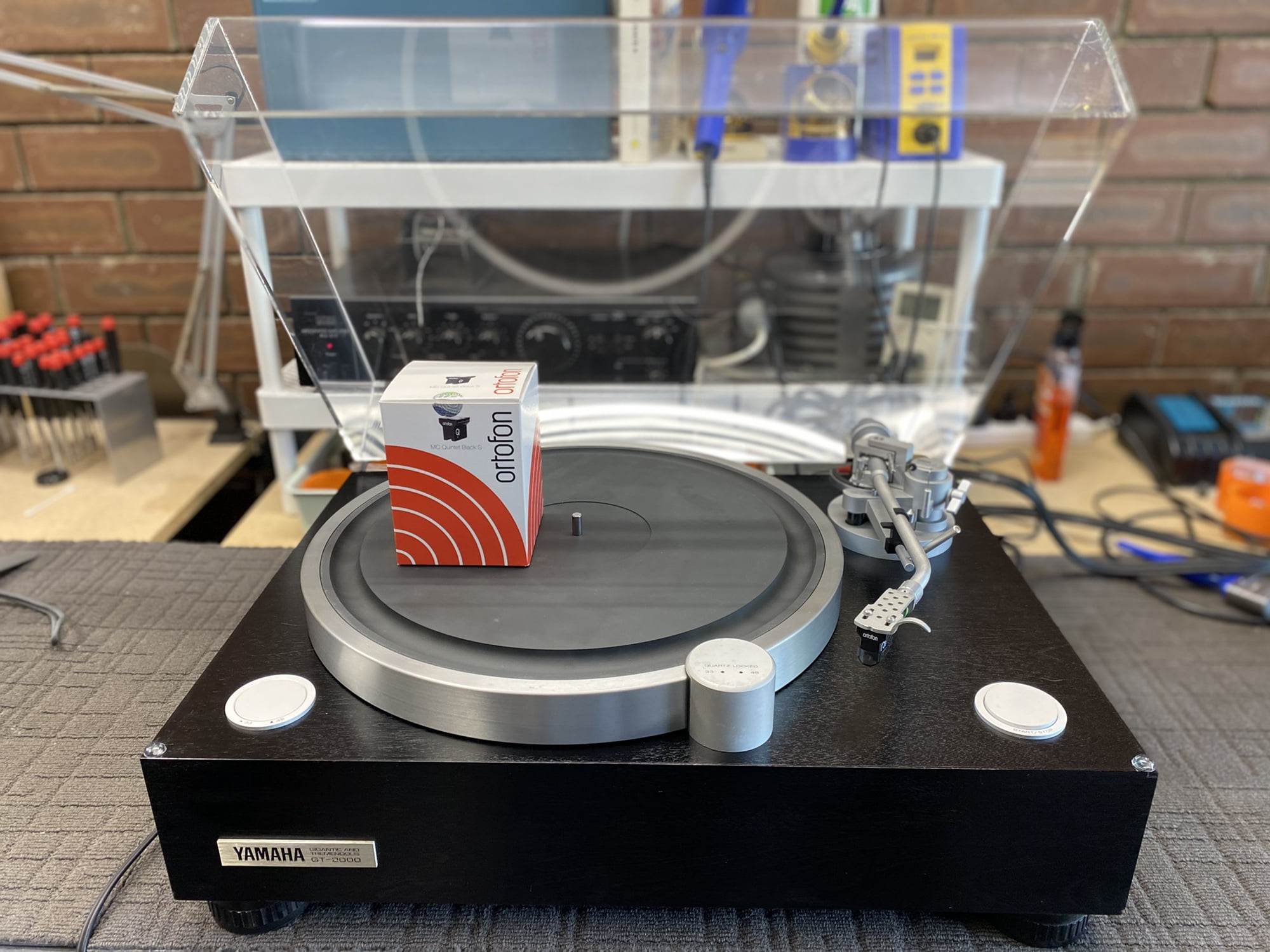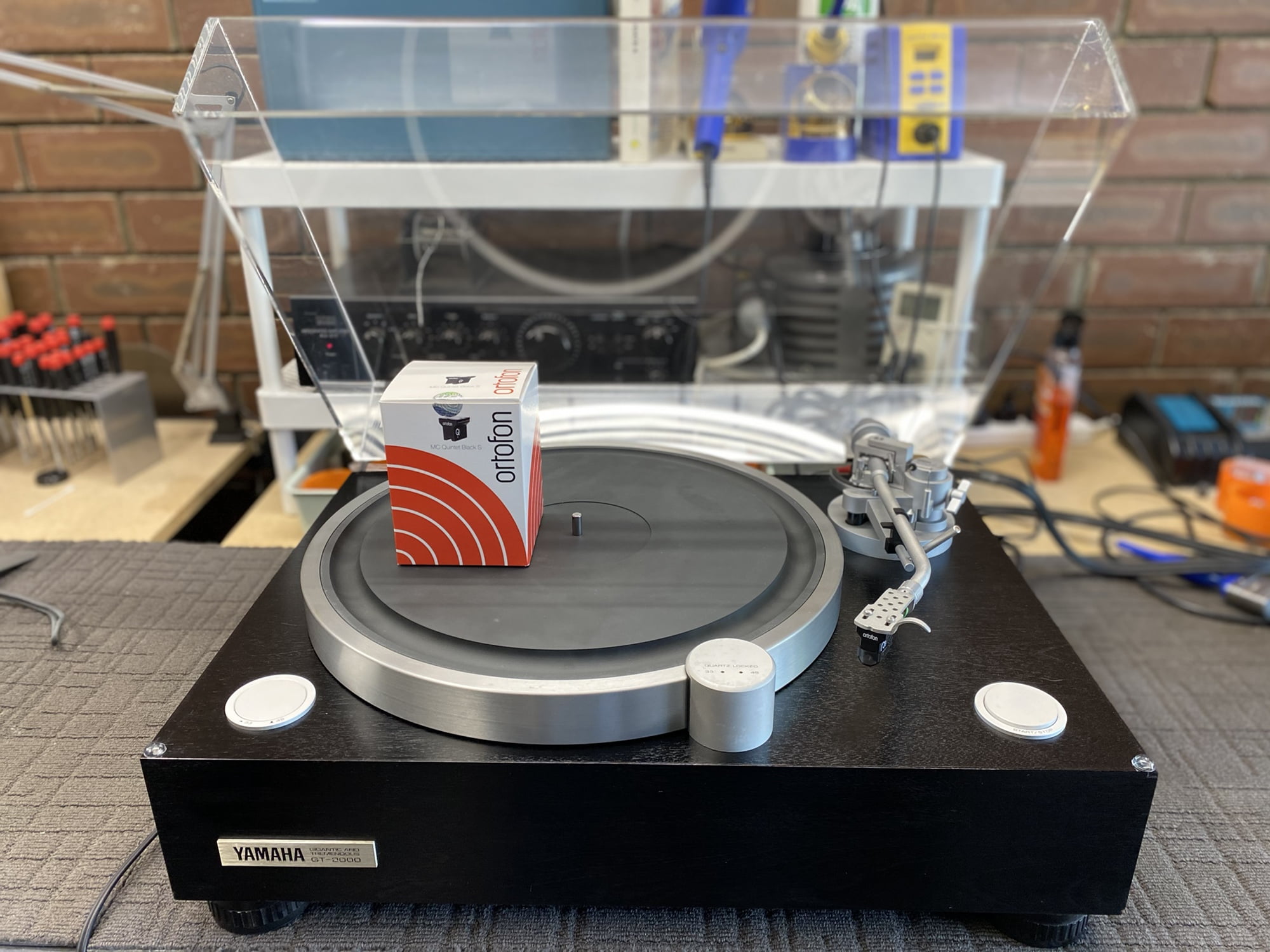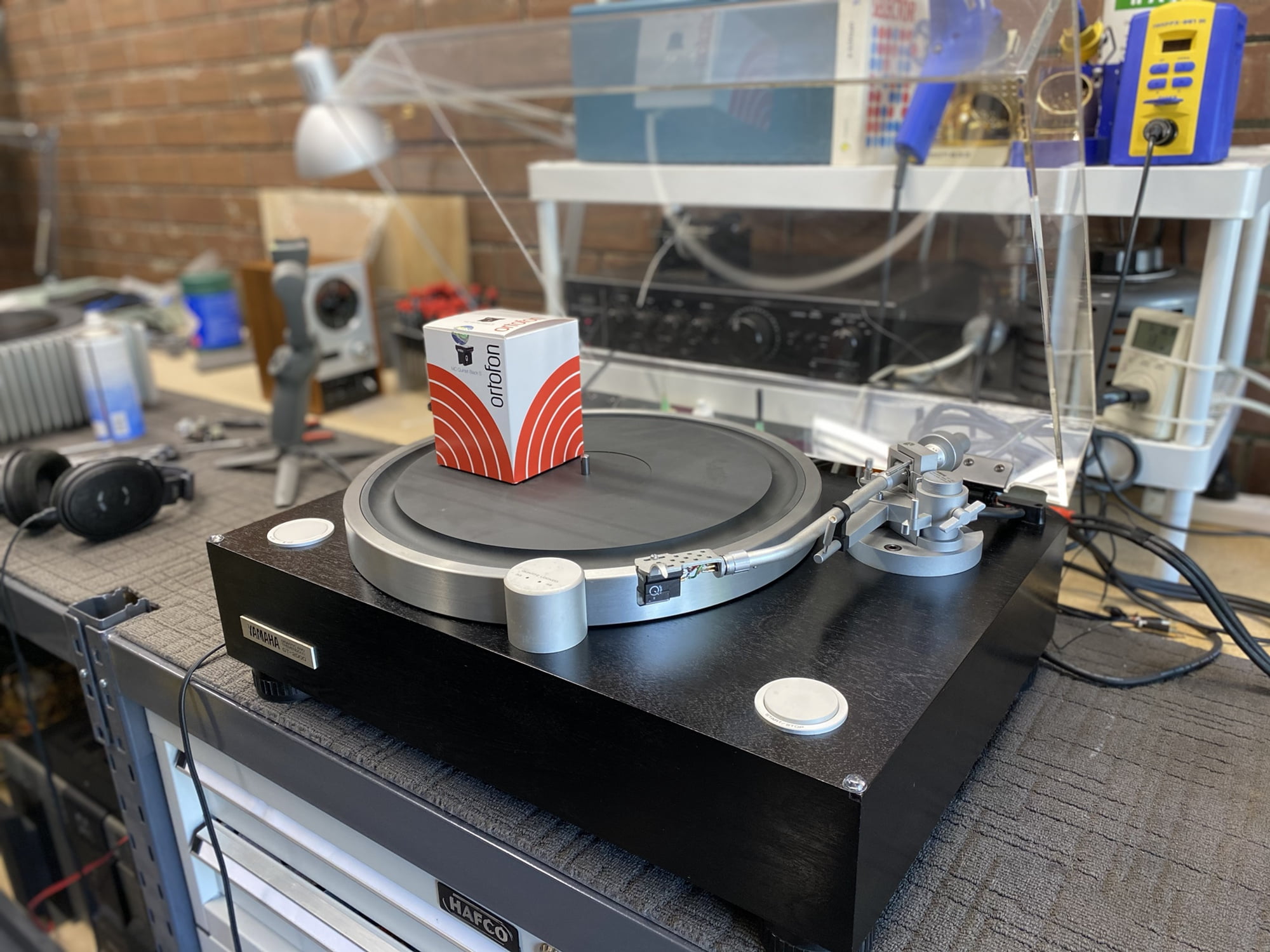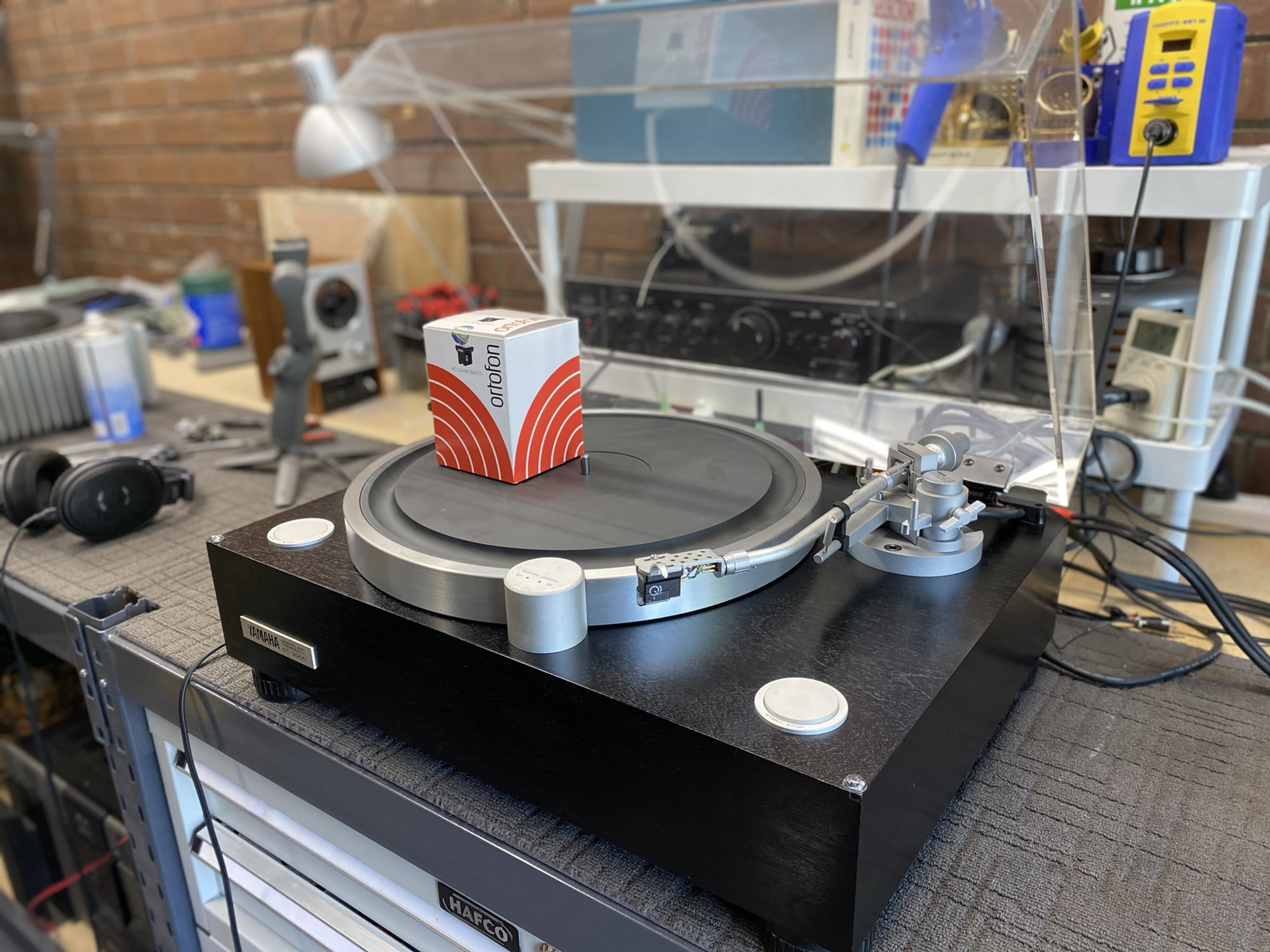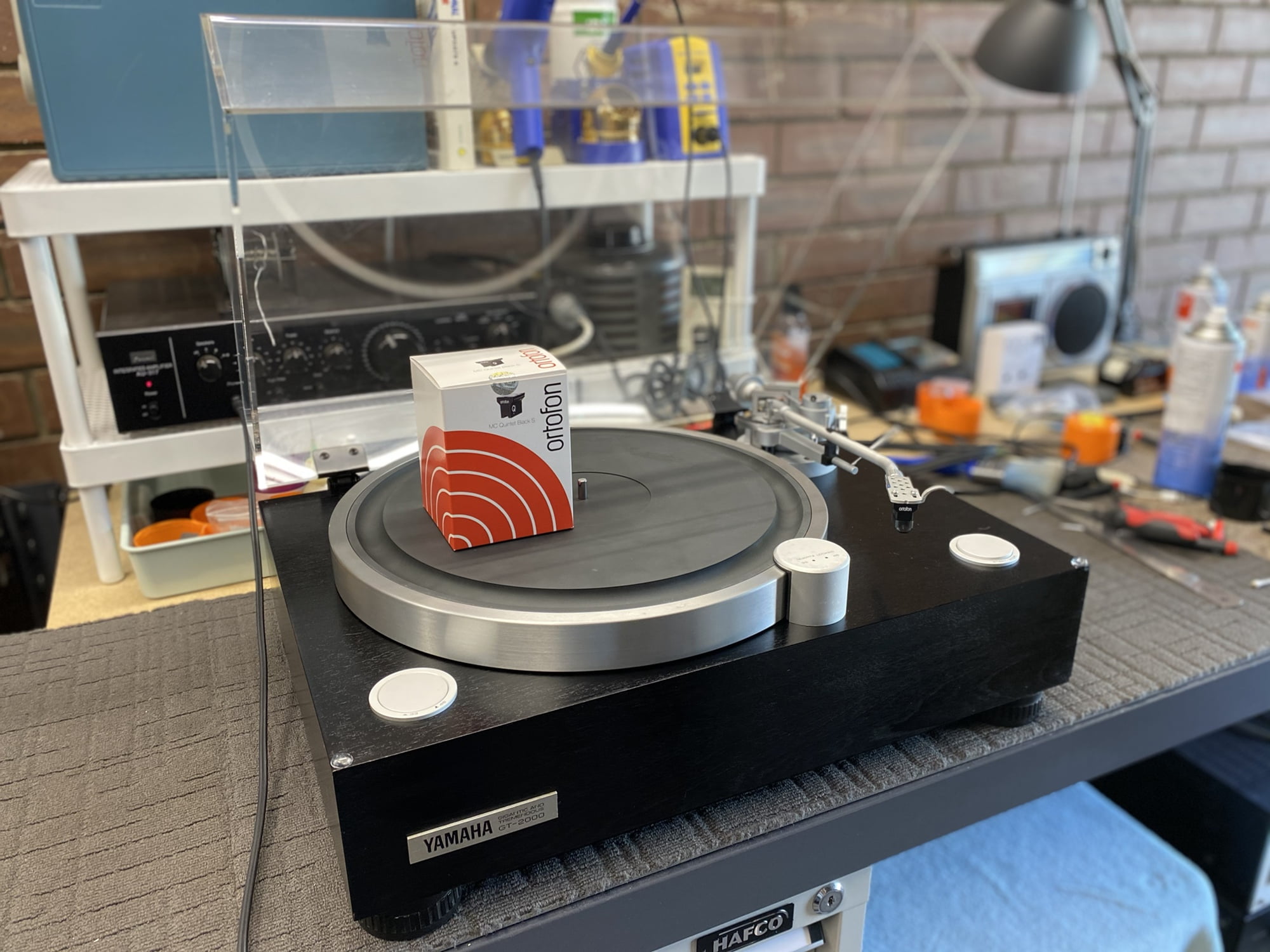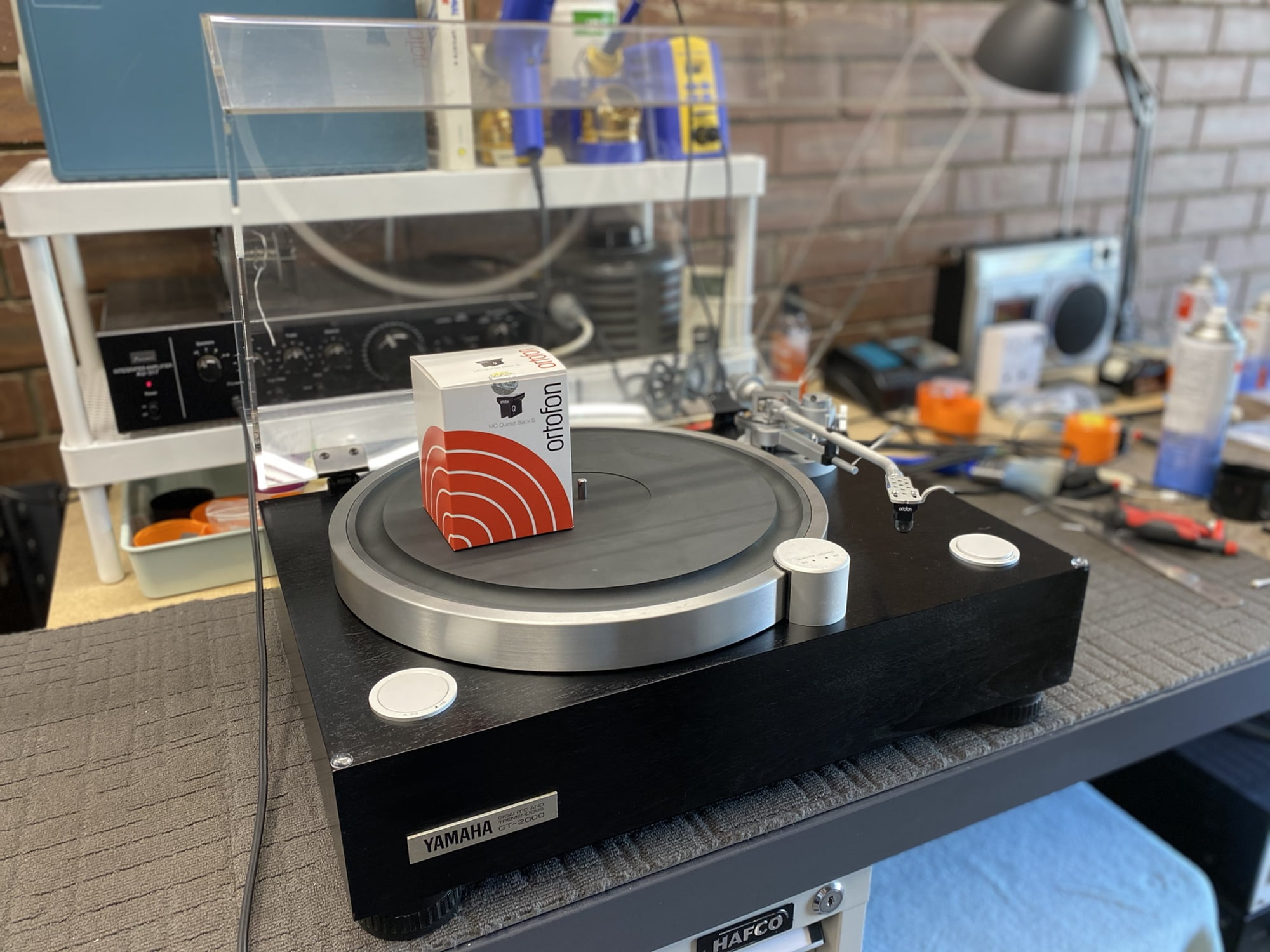 As always, thanks for reading. Don't hesitate to let me know if you'd like me to look over and service your Yamaha GT-2000, or any other high-end turntable for that matter.