Take a look at this beautiful Accuphase AC-2 moving coil cartridge. It belongs to a customer, has a broken cantilever and will soon be repaired.
The Accuphase AC-2 is a high-performance moving coil cartridge from 1980, utilising a tubular sapphire cantilever and line-contact diamond. Jewelled cantilevers like those made from ruby, sapphire and diamond are fabulously stiff.
UPDATE! She has now been repaired, read through to the bottom for details.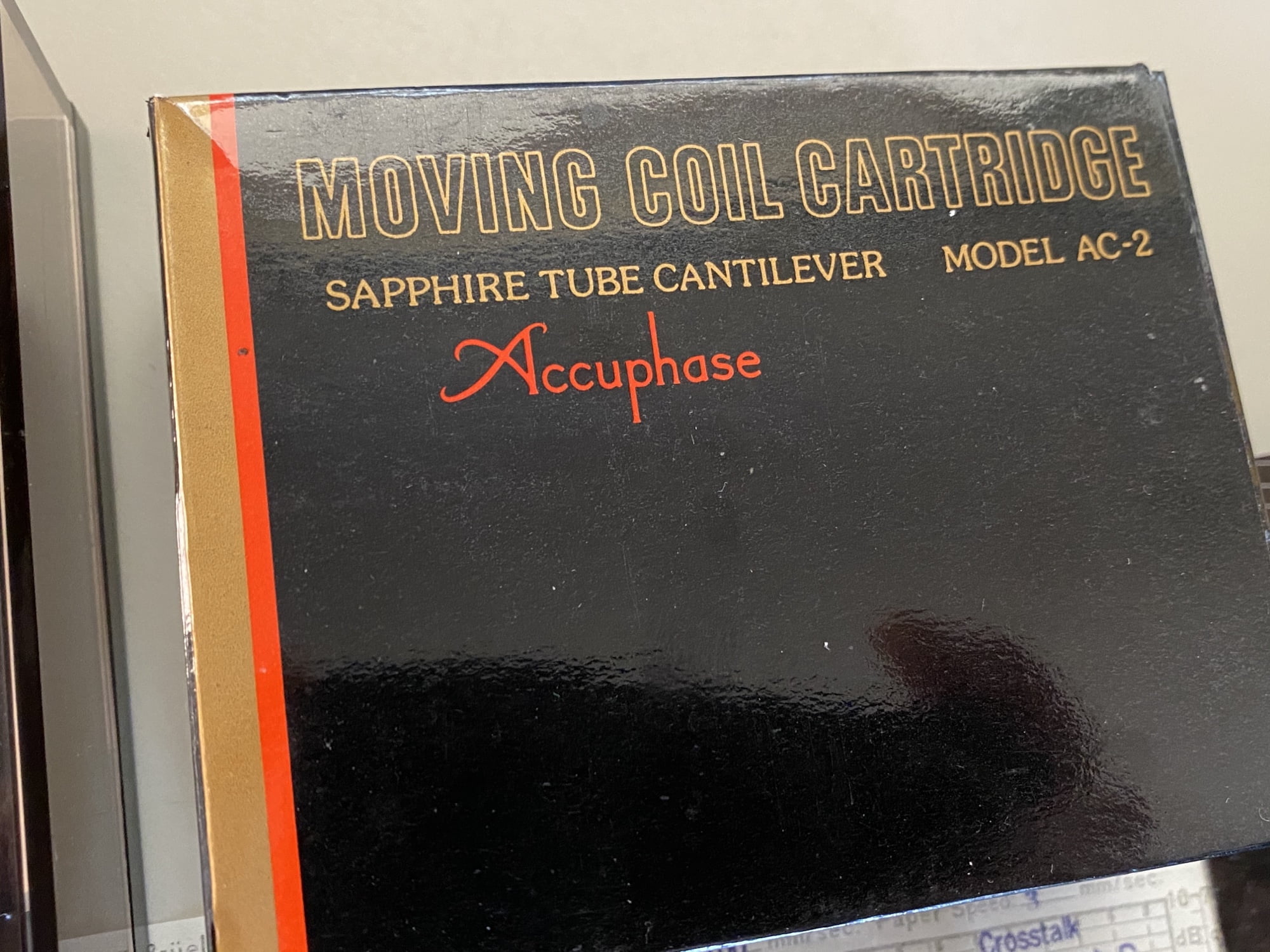 ….BUUUUT stiff in engineering terms also means brittle. Like glass, jewelled cantilevers break easily when excessive bending forces are applied to them. 
Broken cantilevers are common, jewelled ones especially, often as a result of mistaken attempts at cleaning. Sadly, someone broke this AC-2 cantilever but the good news is that this type of damage can be repaired.
There are several experts in the field of cartridge repair. This AC-2 is being retipped by Soundsmith in the USA, one of the best. They are fitting new sapphire cantilever and line contact stylus, as per original Accuphase spec and my recommendation.
I also use Garrott Brothers here in Australia. They did a great job retipping my Fidelity Research MC-202 for example, and an FR-1 for a customer of mine.
Accuphase AC-2 Specifications
As always, courtesy of Vinyl Engine.
Generating element: moving coil
Output voltage: 0.18mV
Frequency response: 20 Hz to 60 kHz
Channel separation: 30dB
Channel balance: 0.5dB
Internal impedance: 4 ohms
Load impedance: higher than 50 ohms
Vertical tracking angle: 20 degrees
Compliance: 15 x 10*6 dyne/cm
Stylus type: line contact diamond
Tracking force range: 1.5 to 2.5g
Recommended tracking force: 2.0g
Weight: 9.5g
It goes without saying that 0.5dB channel matching and 30dB separation are extraordinary specifications. If you look at the supplied frequency response graph for this AC-2, you'll see it's almost ruler-flat from 20Hz to 20kHz. Who says analog equipment is coloured..?! Oh, that's right, people who forget that microphones are also transducers and capture all the music we love!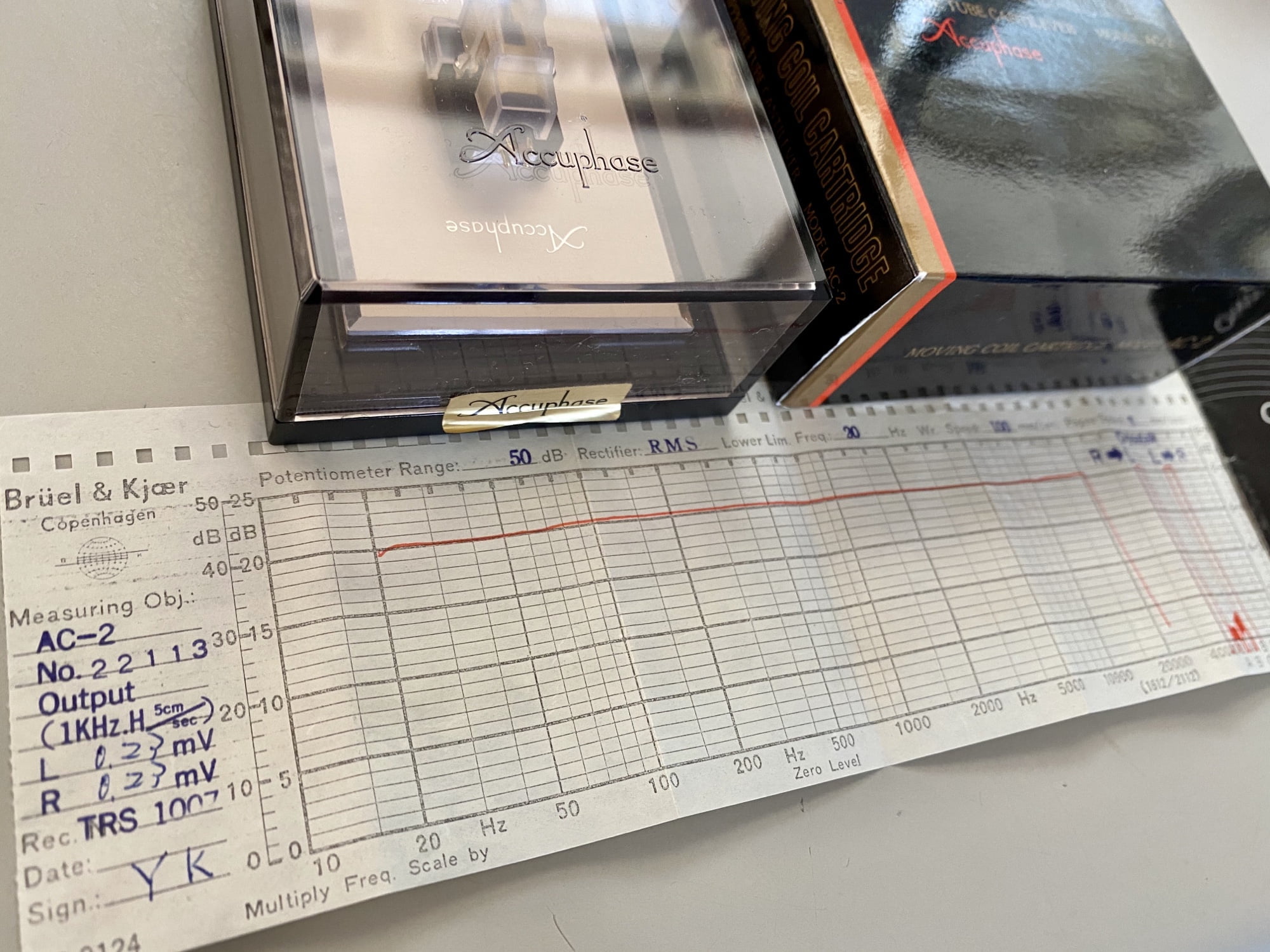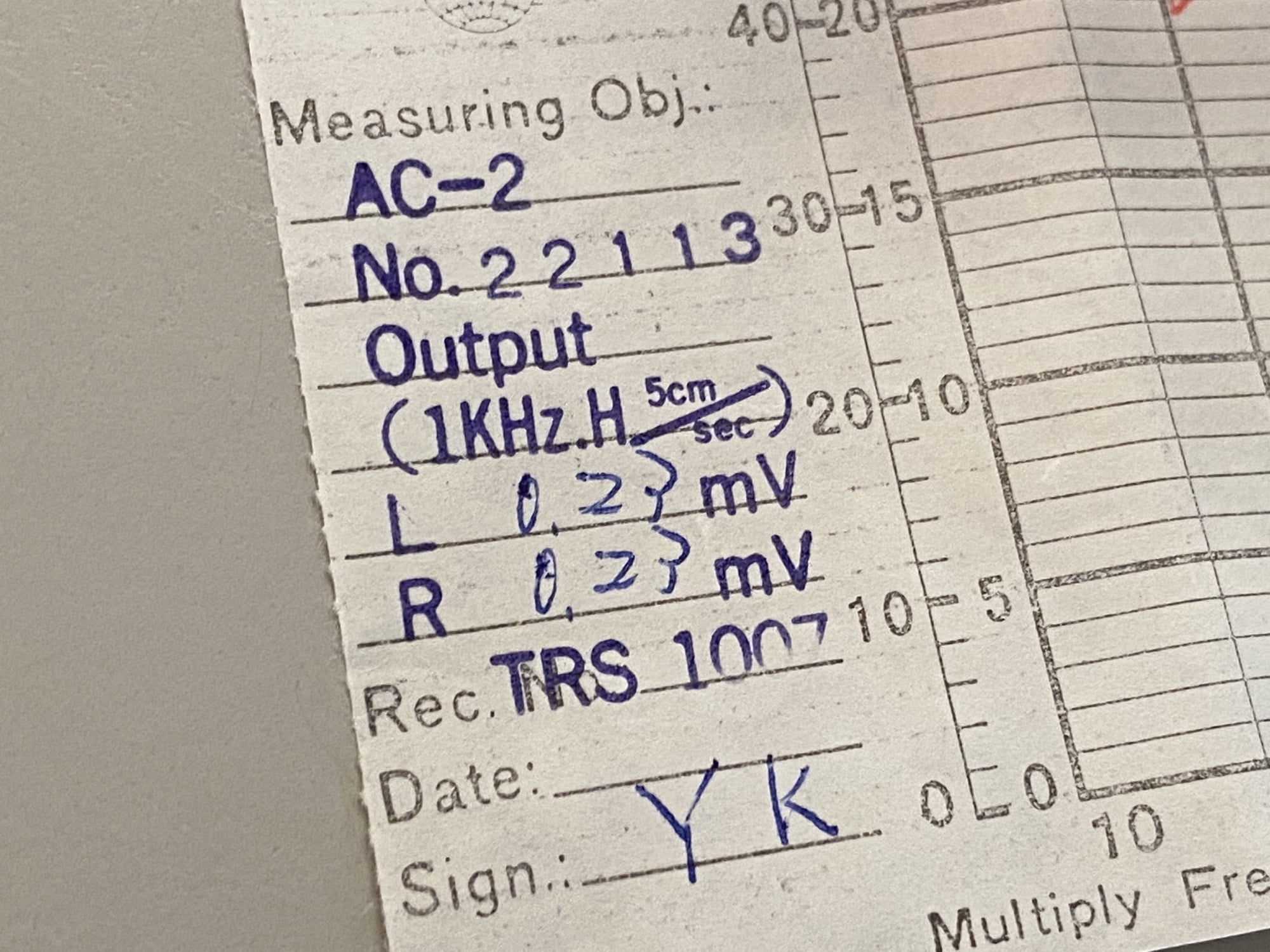 Features and Compatibility
The most critical features of the AC-2 are that tubular sapphire cantilever, samarium cobalt magnet assembly, die-cast body and line contact diamond.
Various design elements come together to make a cartridge sound clean, agile, fast, airy and so on and the AC-2 is imbued with these desirable sonic attributes. A stiff, low-mass cantilever plays a big part, as does that lovely, line contact gem. 

Electrically, the low 0.18mV output and 4 ohm impedance mean it will match up well with most low to medium impedance step-up transformers. The measured output seems to be somewhat higher too, which helps.
A transformer is certainly the best way to extract the most out of a cartridge like the AC-2. An active MC preamp will need lots of gain and in my experience, is unlikely to have the air, speed or low noise of a transformer. If using an active MC preamp, I'd suggest 40 – 50 ohms loading as a starting point. Less will likely crush the life out of it.
Mechanically, the AC-2 is a medium compliance, medium tracking force design that will work well on low to medium mass tonearms. It will match everything from the lighter, lower mass arms from the late '70s through to medium mass arms common now. Be careful with high mass arms. The resonant frequency is likely to be low and this can be very bad with a jewelled cantilever and heavy bass!
Damage
Have a look at these close-ups of the damaged AC-2 cantilever.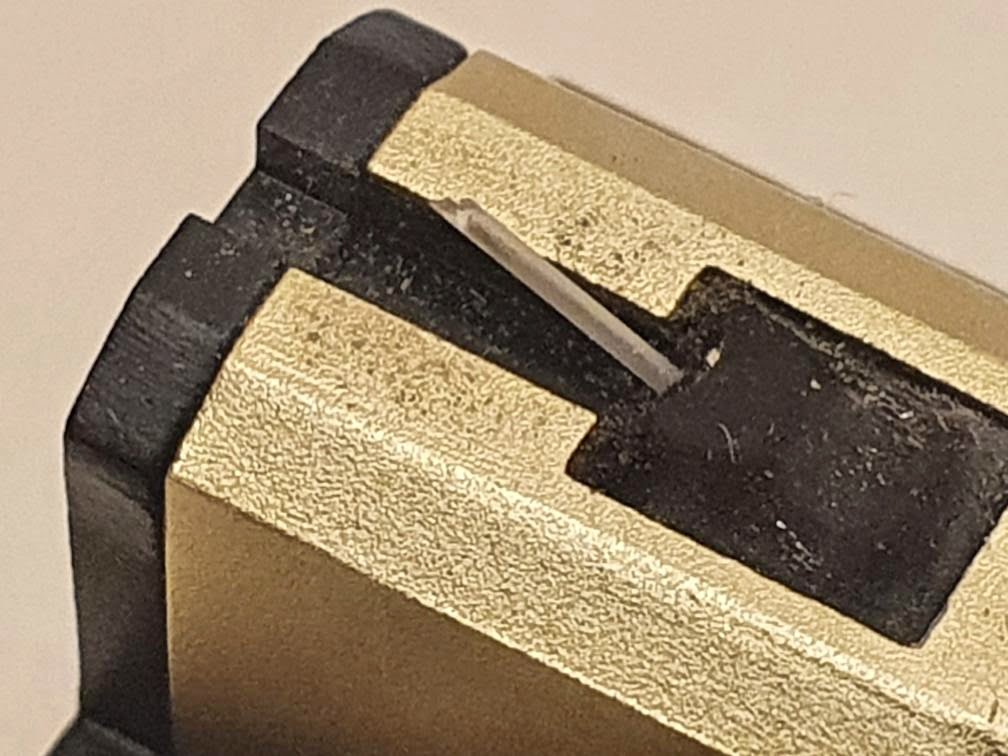 Repair
We finally got the cartridge back and I have to say it's a very nice job indeed. The new sapphire cantilever and line contact diamond look perfect under the loupe and you'll see everything is nice and straight.