This is the second JVC QL-F4 direct-drive turntable with speed control issues I've repaired recently. Come with me as I resolve the problem.
The JVC QL-F4 is a great direct-drive deck, perfect for someone stepping up from a belt-drive or lower-tier DD. They actually have stellar wow and flutter figures, really low for an affordable deck like this. Best of all, people don't know about them so they are a cheap little secret 🙂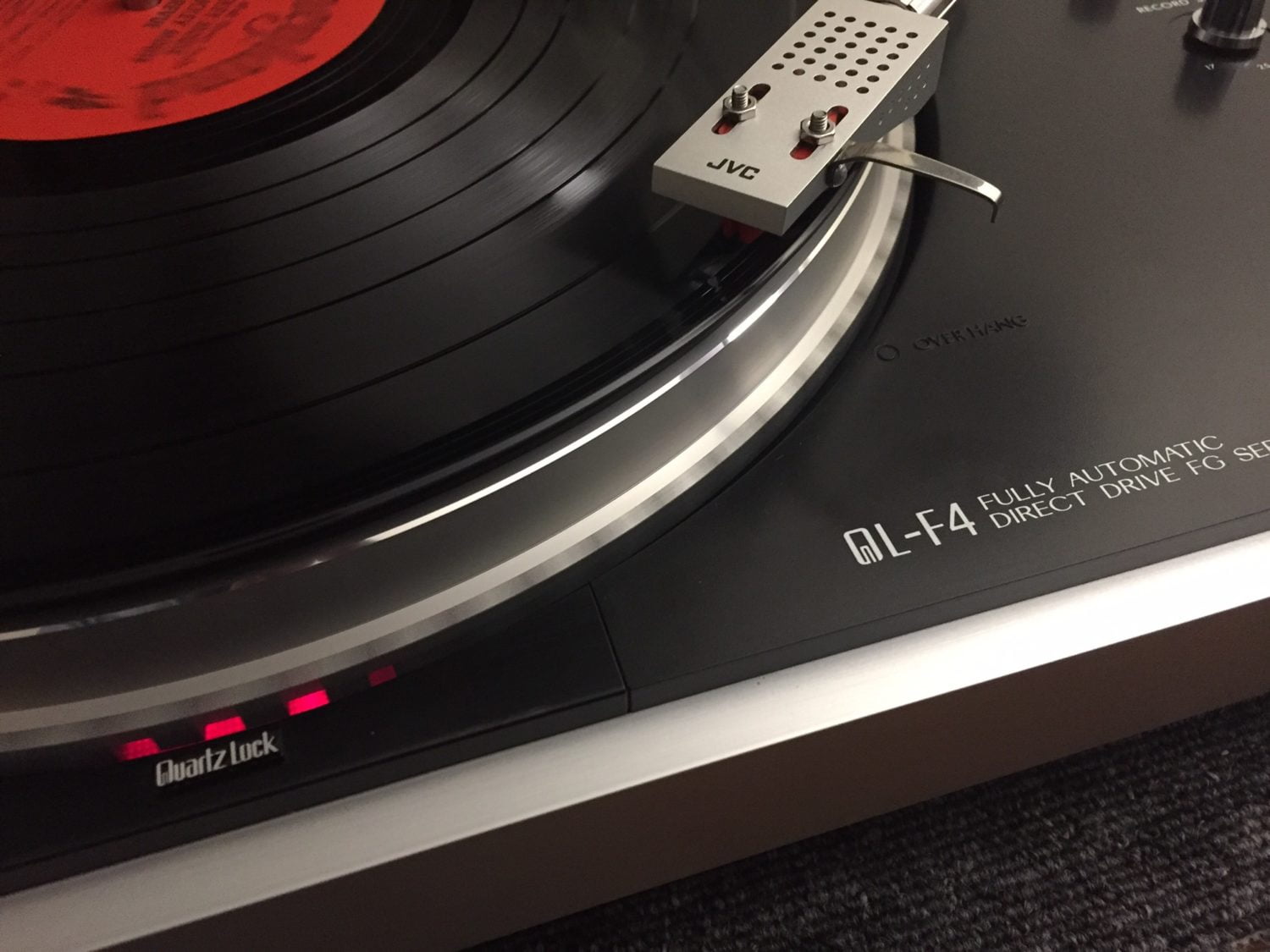 You can read about my previous QL-F4 repair here. There are various causes of control issues with this and other decks. In these cases,  the old 'corrosive glue' problem I've written about before has a part to play, as do dead and or dying capacitors, and the occasional semiconductor fault.
The QL-F4 has the best of both turntable worlds: platter rotational accuracy and full automatic operational ease. The combined use of a coreless motor, a direct-drive mechanism and the renowned JVC Quartz technology is the secret behind its performance and its low wow/flutter of 0.025% WRMS.
The QL-F4 features a Quartz servo system which incorporates a precision Quartz oscillator, super servo frequency generator and responsive servo circuit. Its major highlight is the core-less direct-drive motor; this doesn't "cog" and thus assures absolutely smooth and accurate revolution, and leads to low wow/flutter.
The turntable offers the convenience of fully automatic operation. Among its unusually versatile functions are:
Auto-repeat offering from 1 to 6 plays at the twist of a rotary control, with the 'R' setting offering infinite replays
Auto-lead in which raises the tonearm, moves it over the edge of the record and gently lowers it to the lead-in groove to start playing.
Auto-return which sets the tonearm automatically to its rest when a play is completed and then shuts the power off. As a bonus, the moment you move the tonearm manually, the QL-F4 can be operated as if originally designed for manual operation.
Other features include new gimbal support, one-row strobe, oil-damped cueing, anti-skate control and a low-resonance cabinet.
The Problem
This deck presented well, but it wouldn't run. It would start up and then, frustratingly, slow to a halt. There were a few other smaller set-up type issues, but if it doesn't work, nothing else really matters.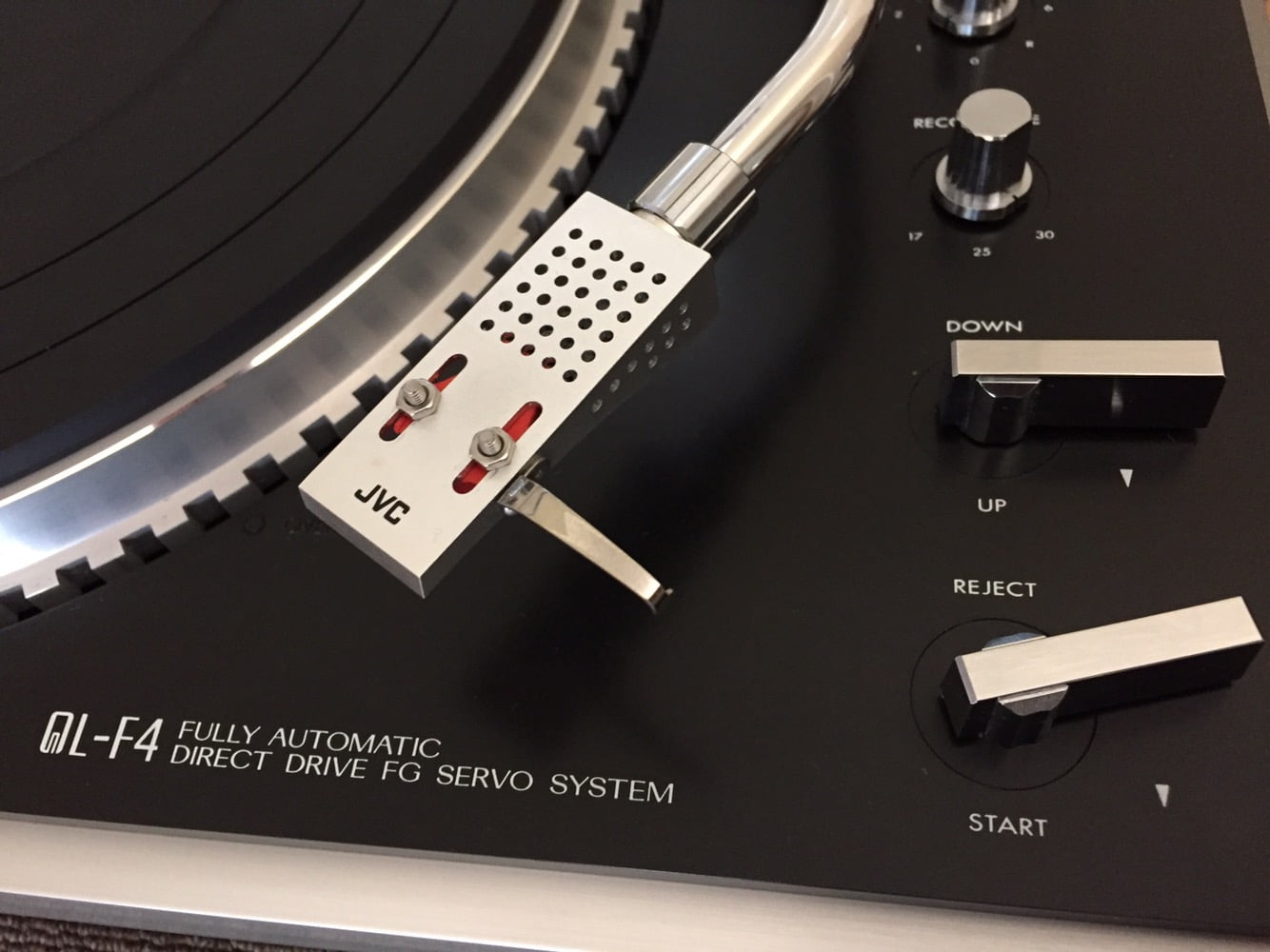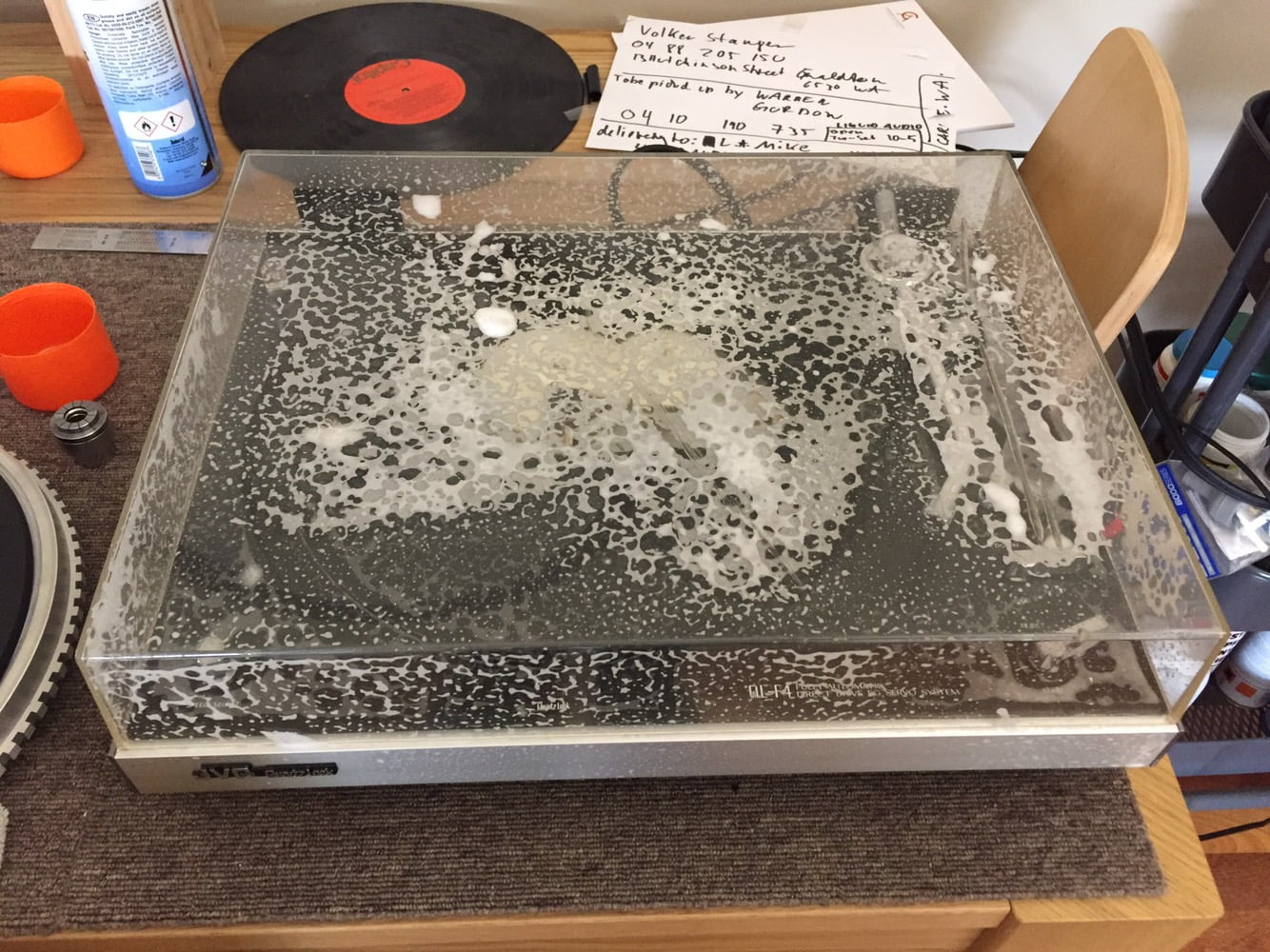 Closer inspection revealed problems I've seen many times before. The polychloroprene adhesive used in manufacture to glue capacitors to boards is a corrosive nightmare.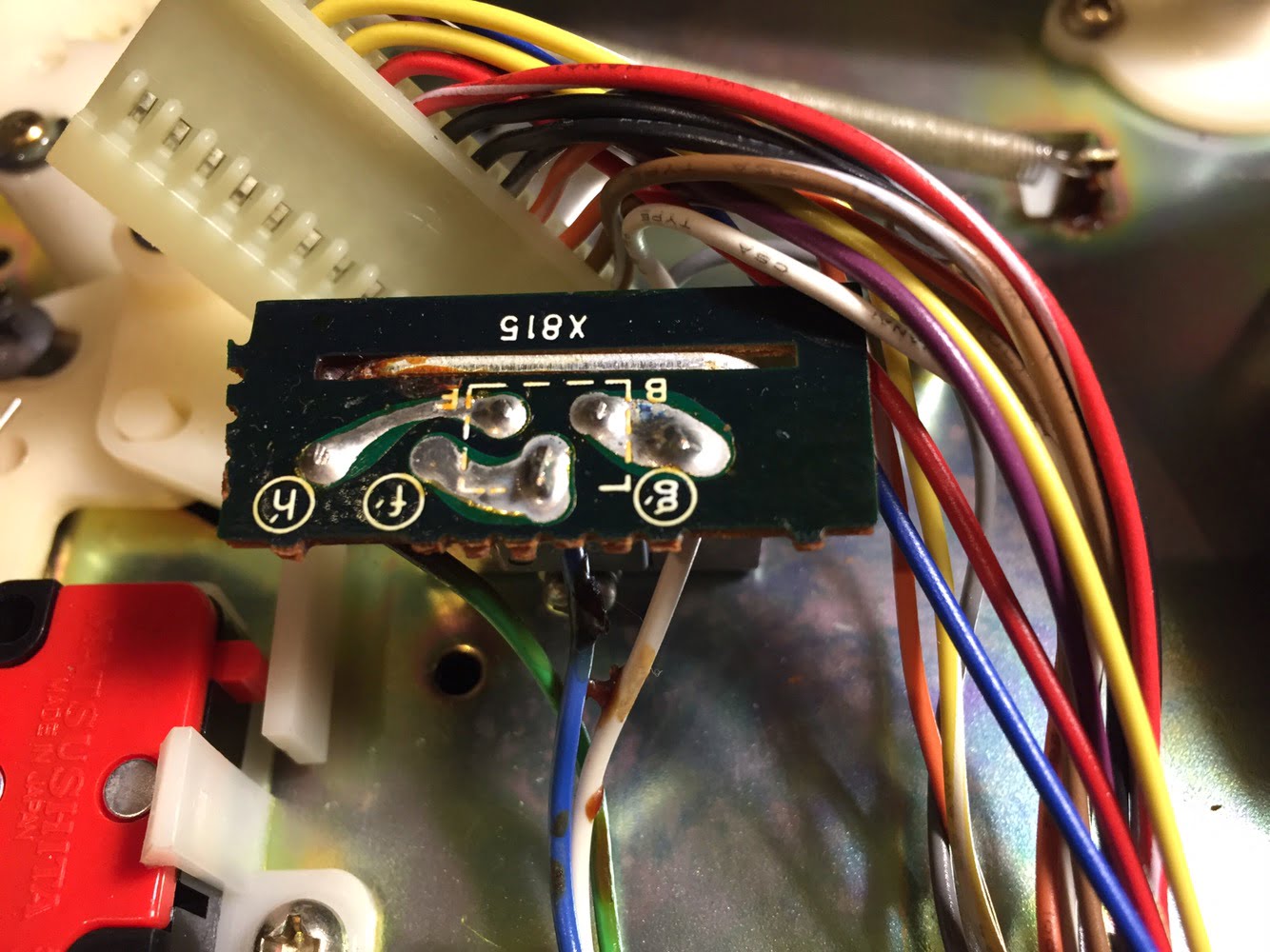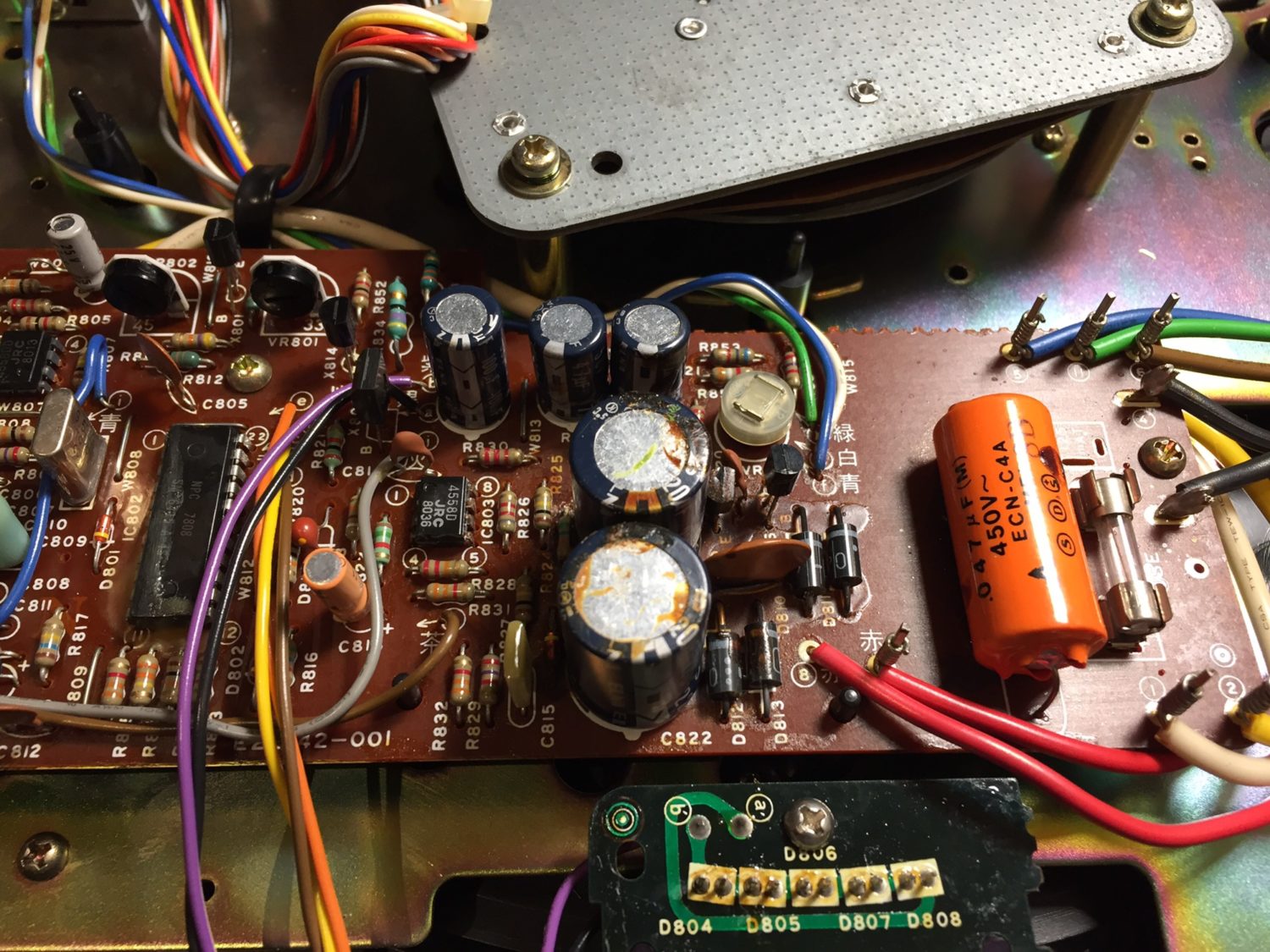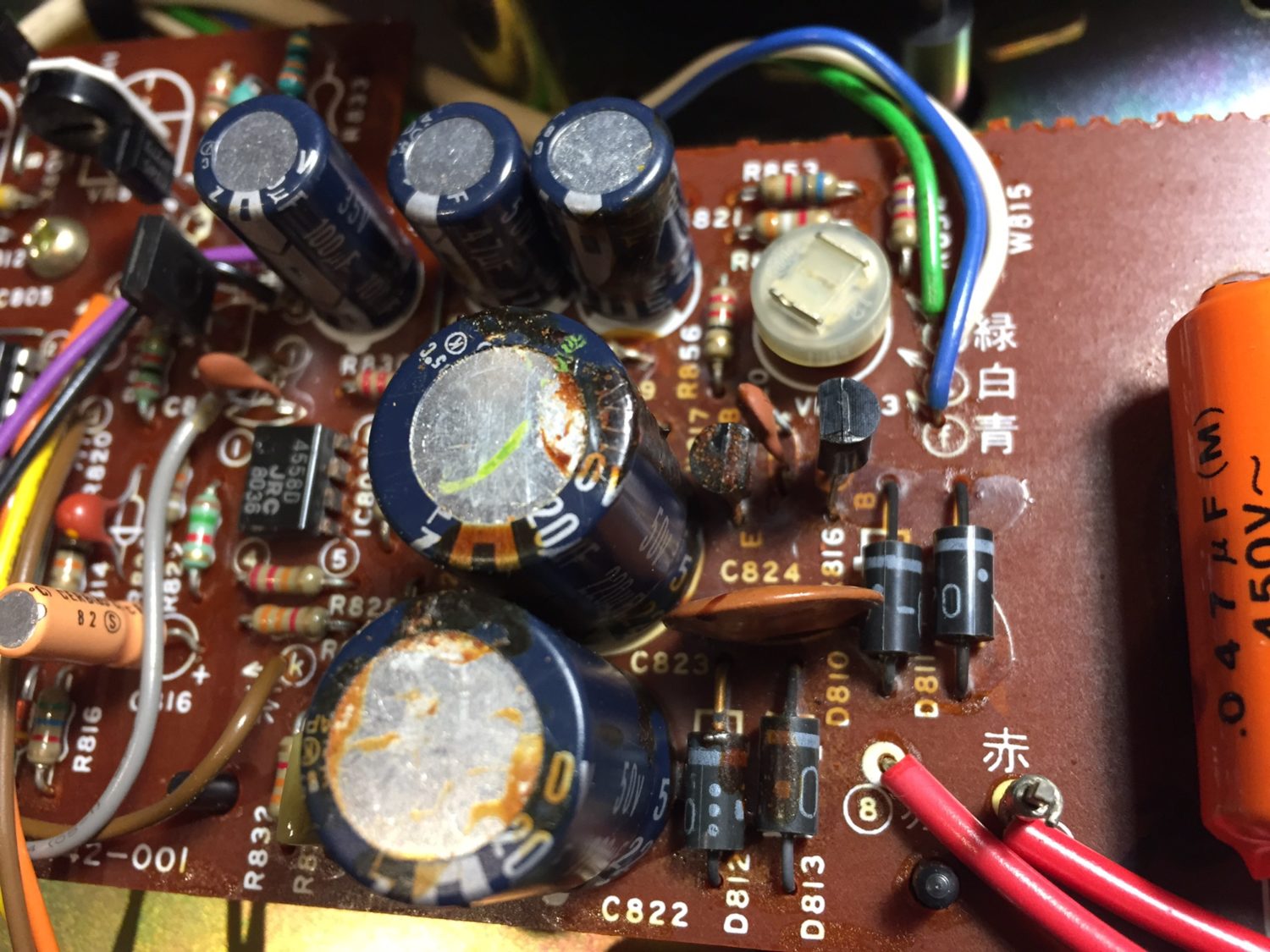 The Repair
In this deck, the glue ate through two diodes completely. I replaced those and the five main power supply capacitors, after first removing as much of the glue as possible.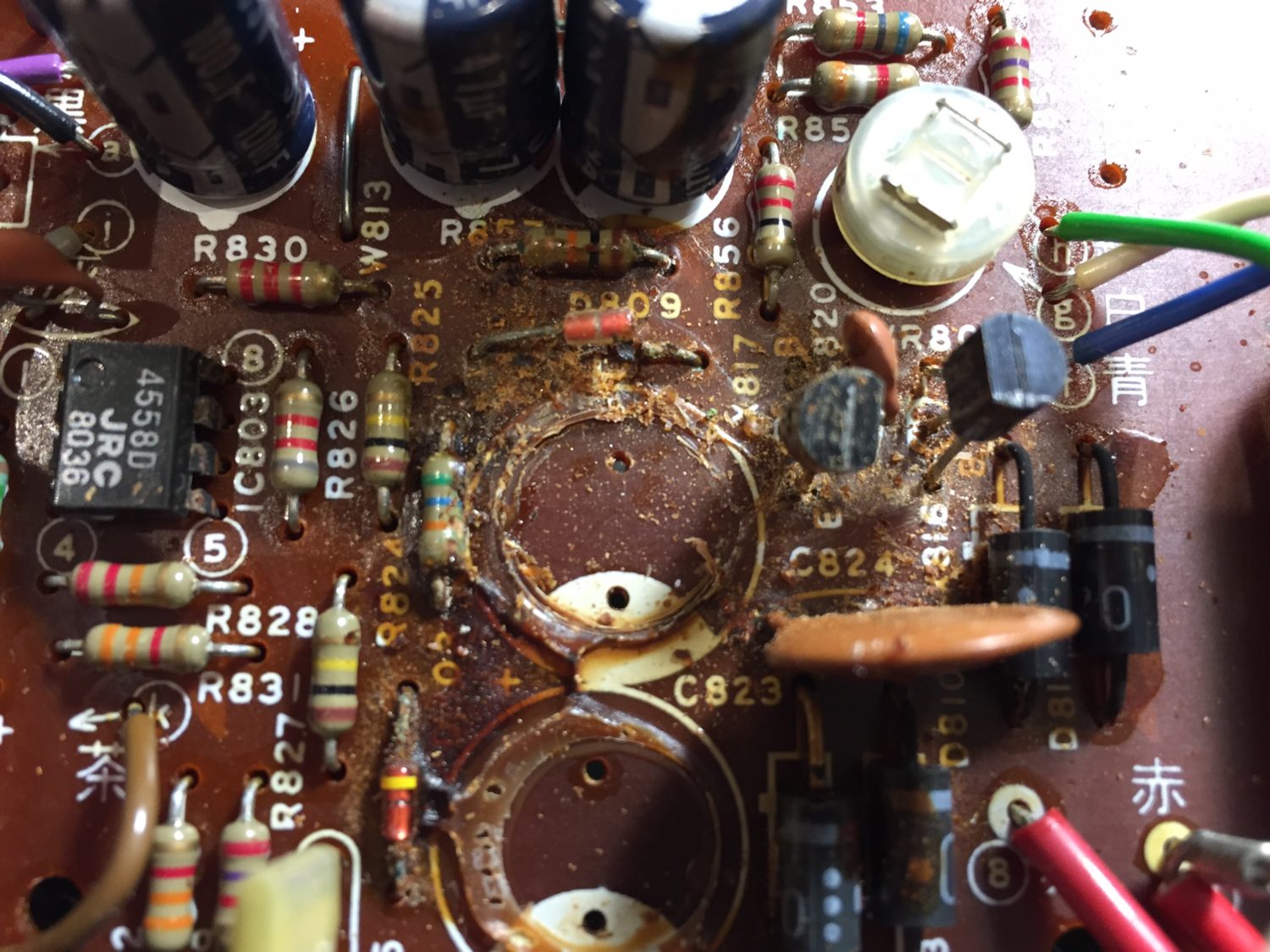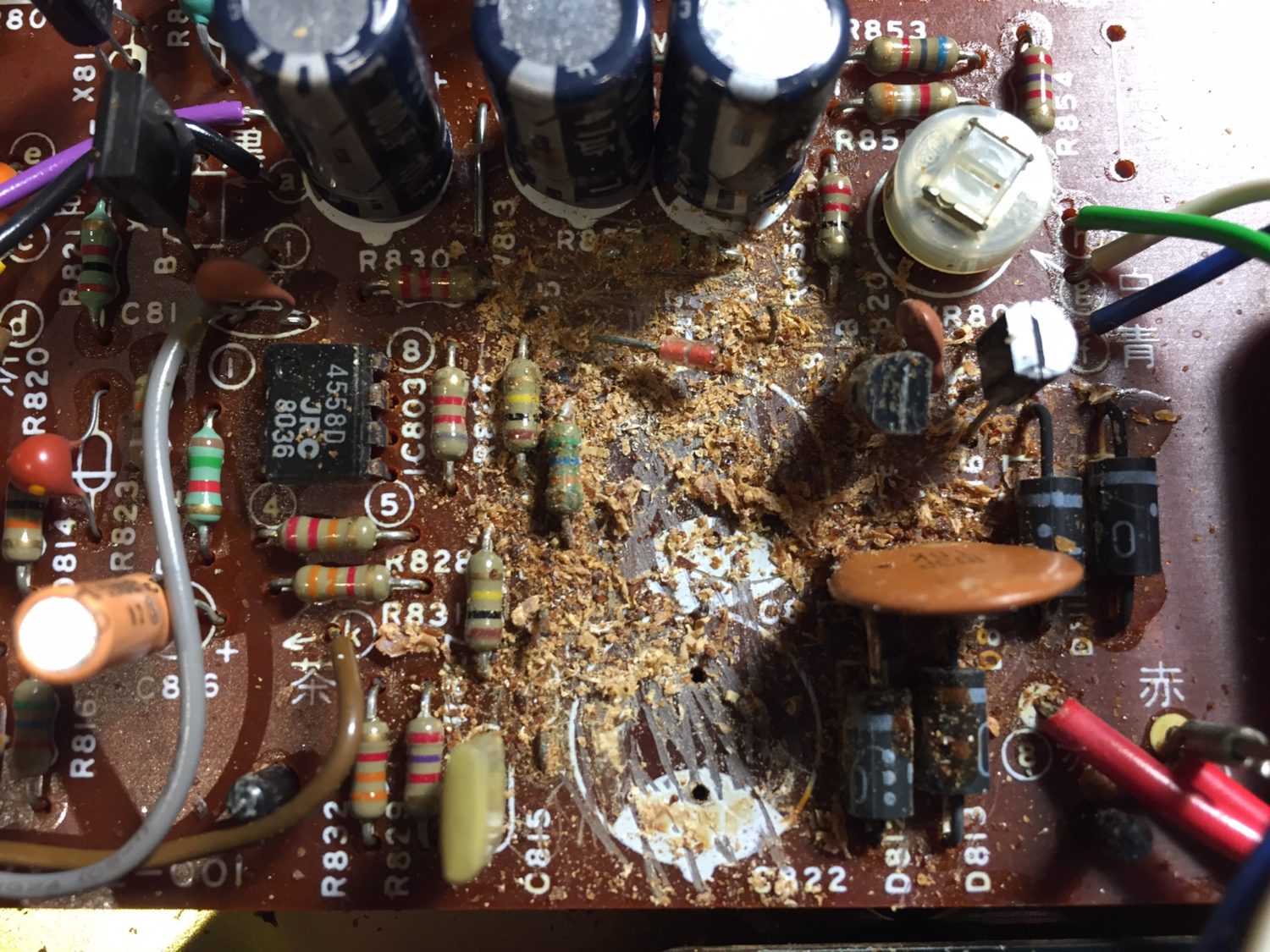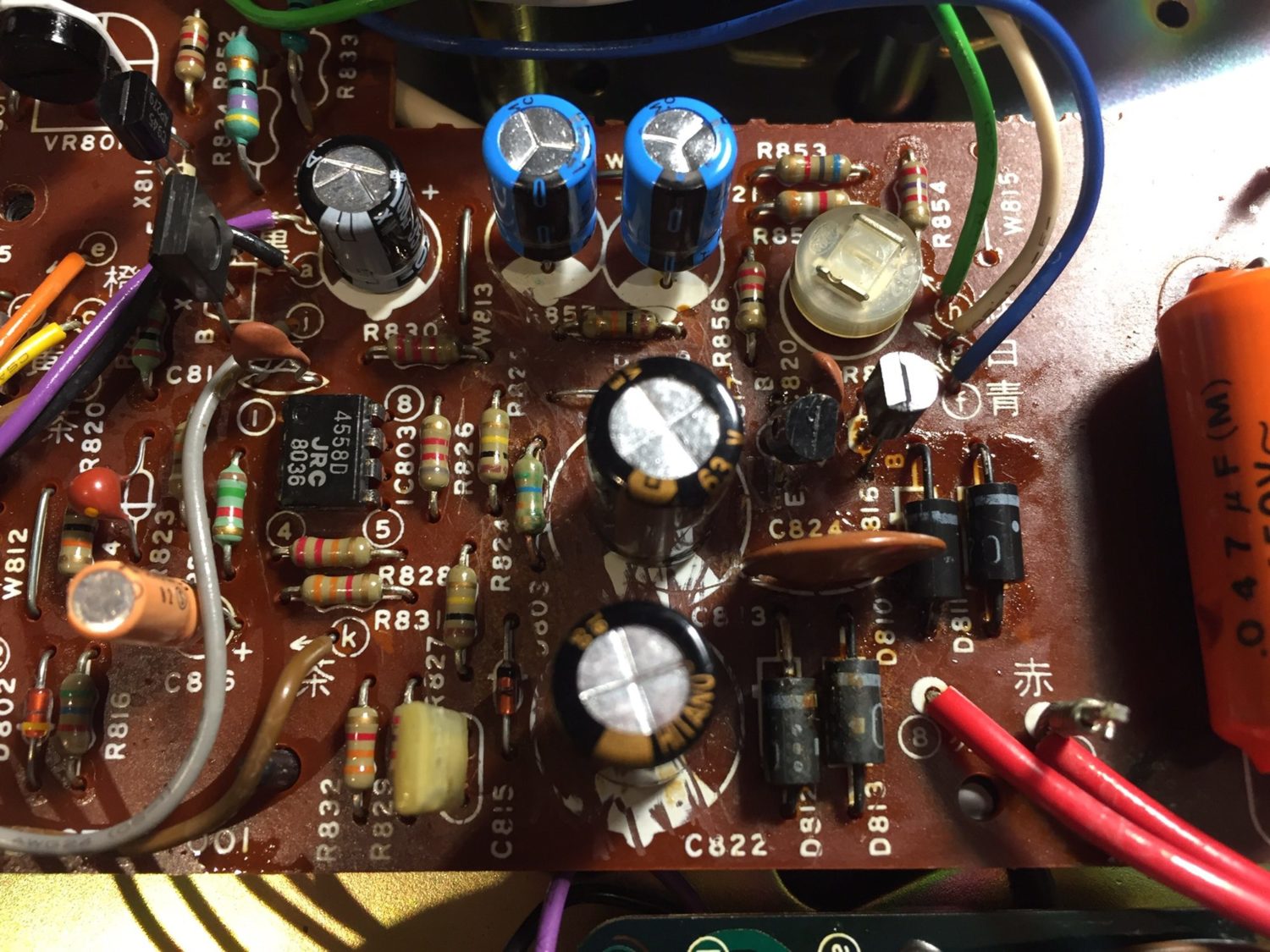 Adjustment
With the repairs completed, the final job is to adjust the power supply voltage and quartz lock, phase-locked-loop circuit. This is often very awkward with direct-drive decks like this one because you have to simultaneously probe several test points whilst the deck is running! Invariably, I set up a jig like the one in the images below.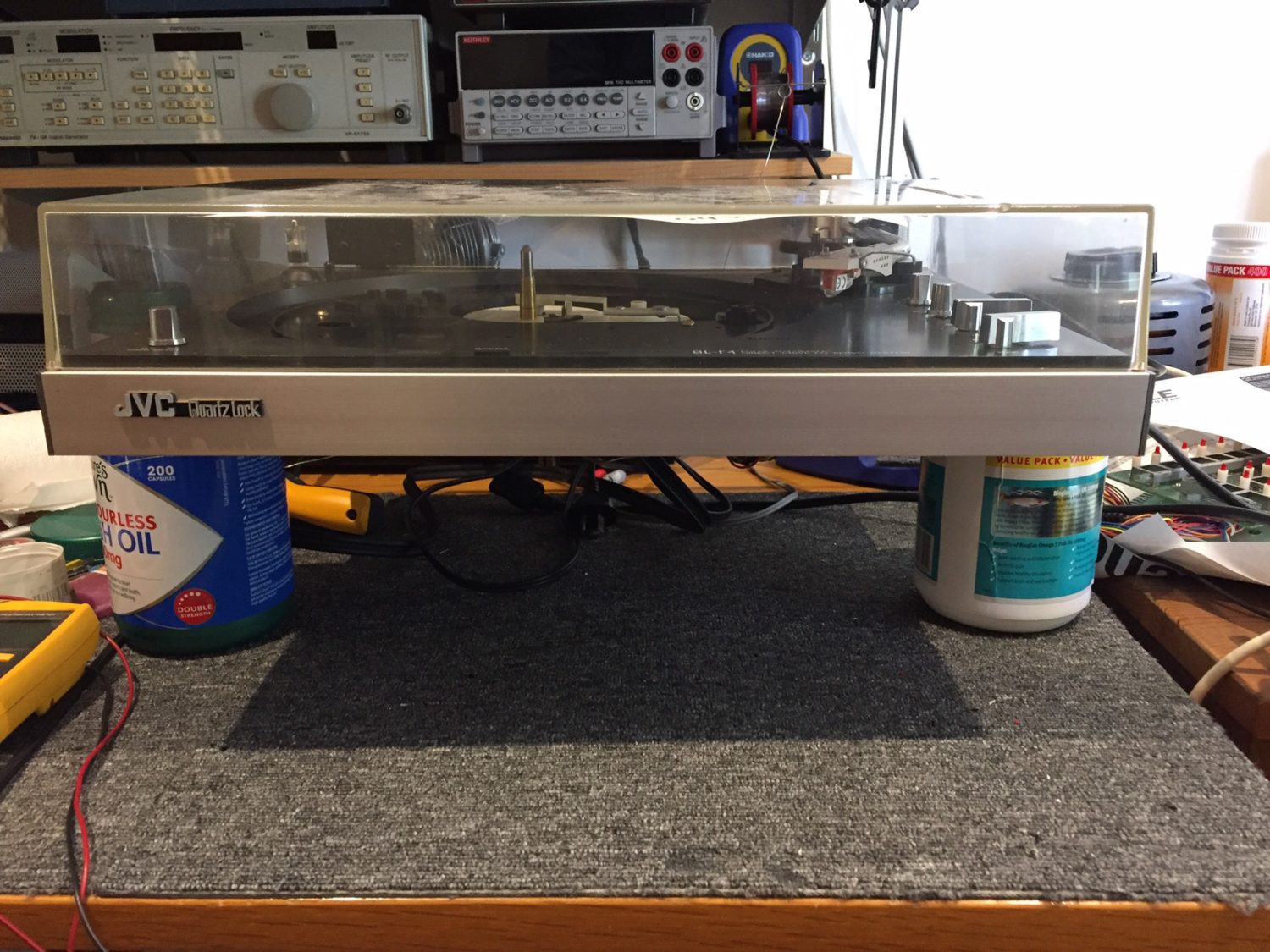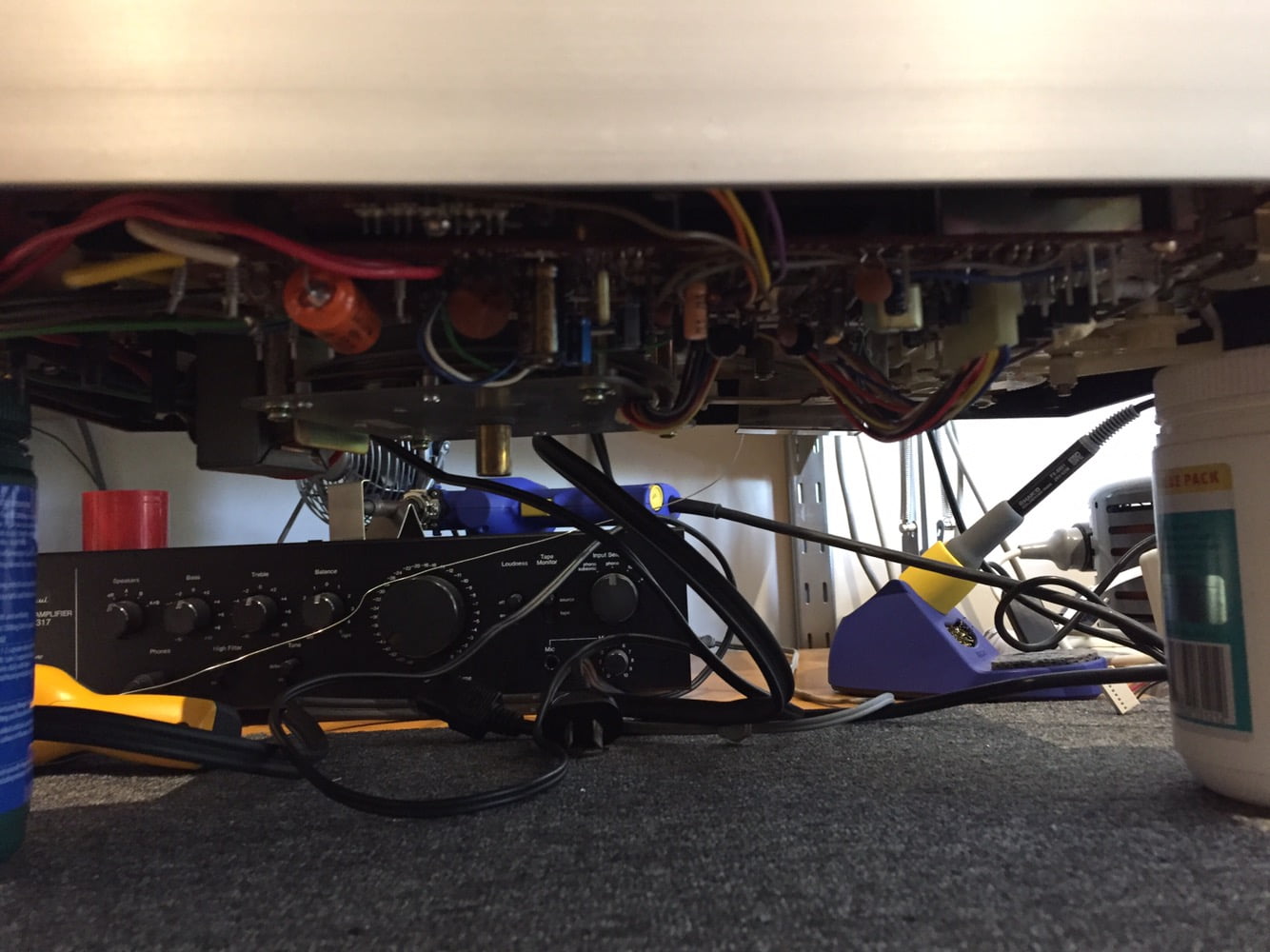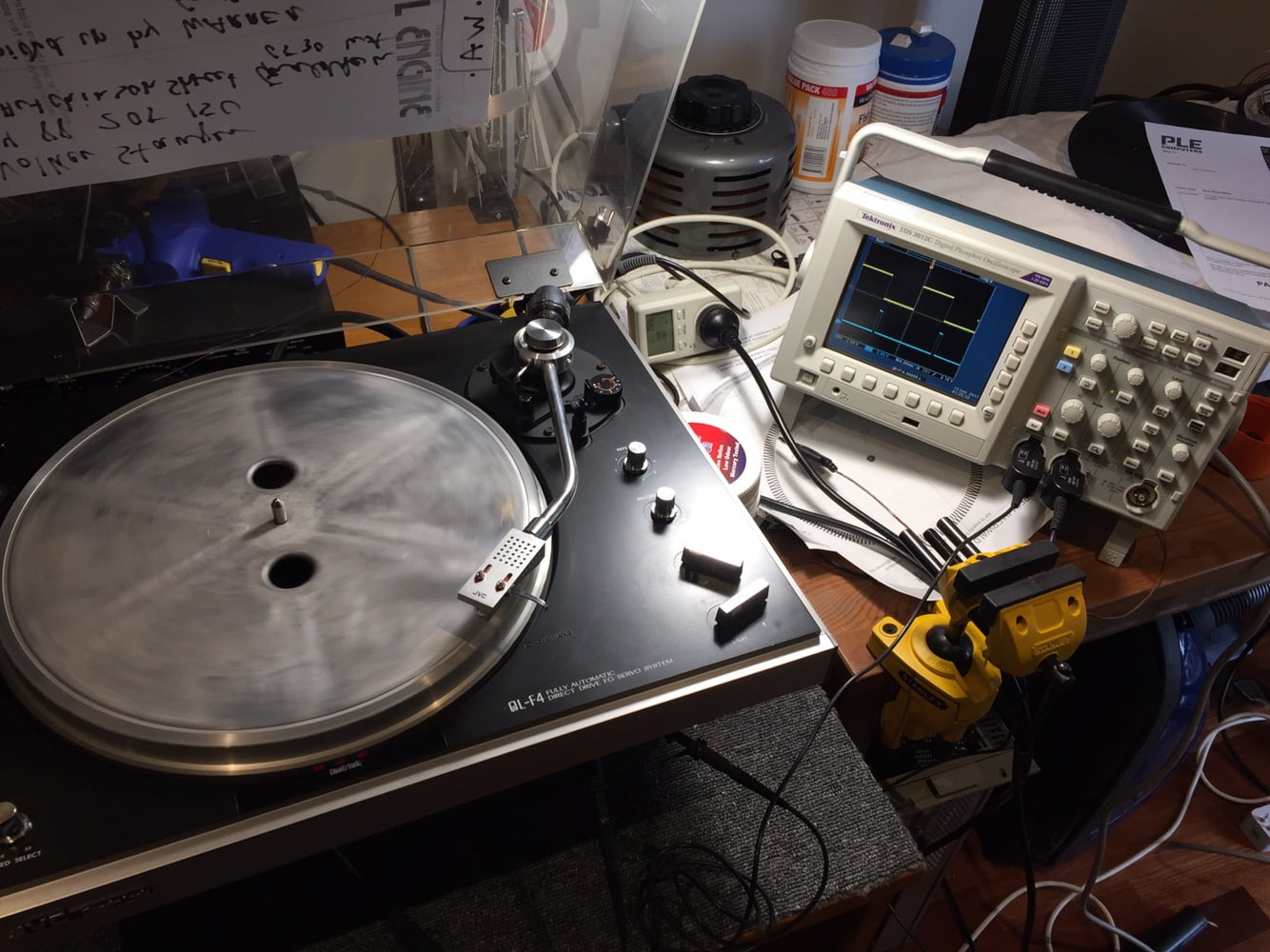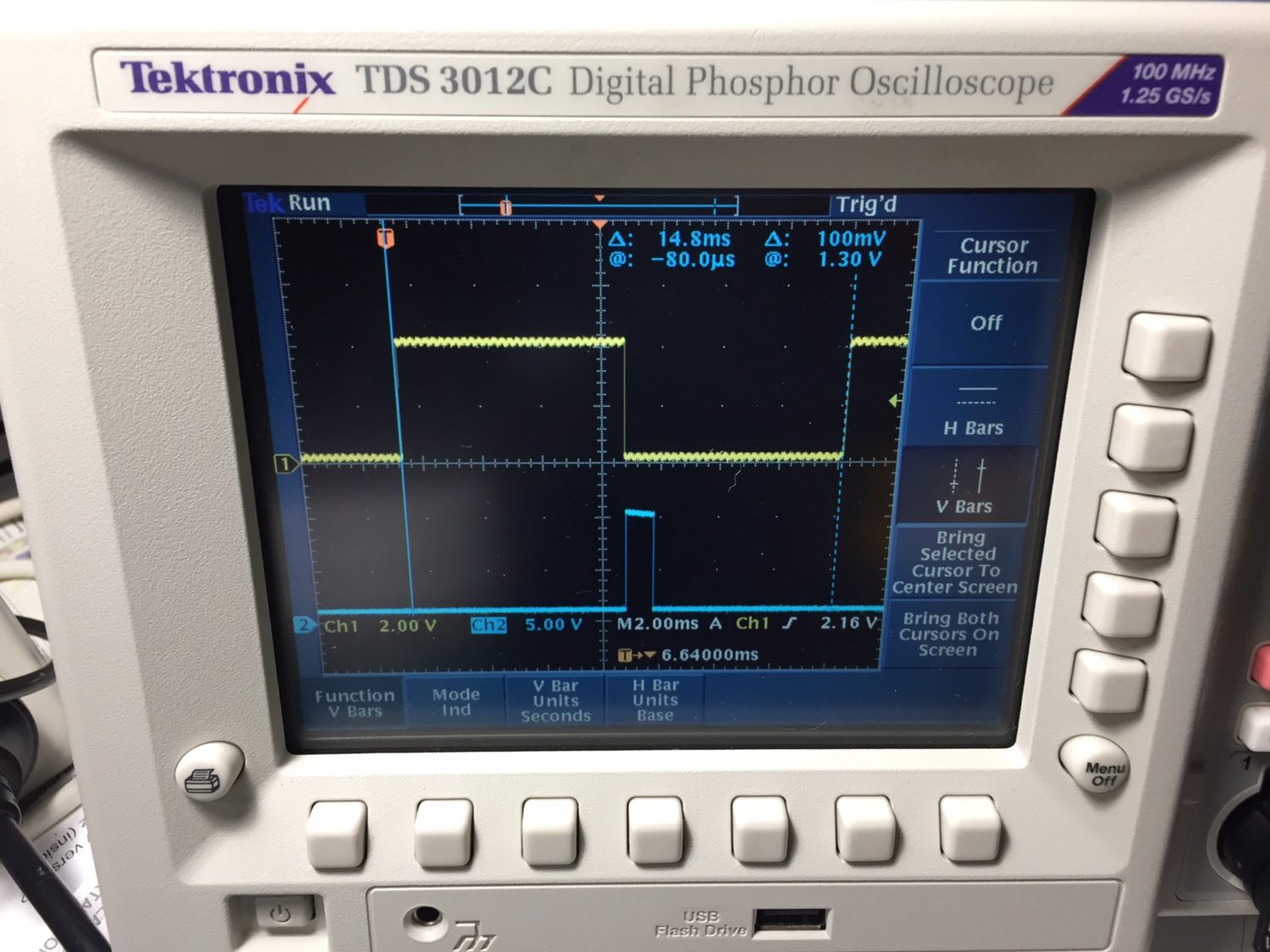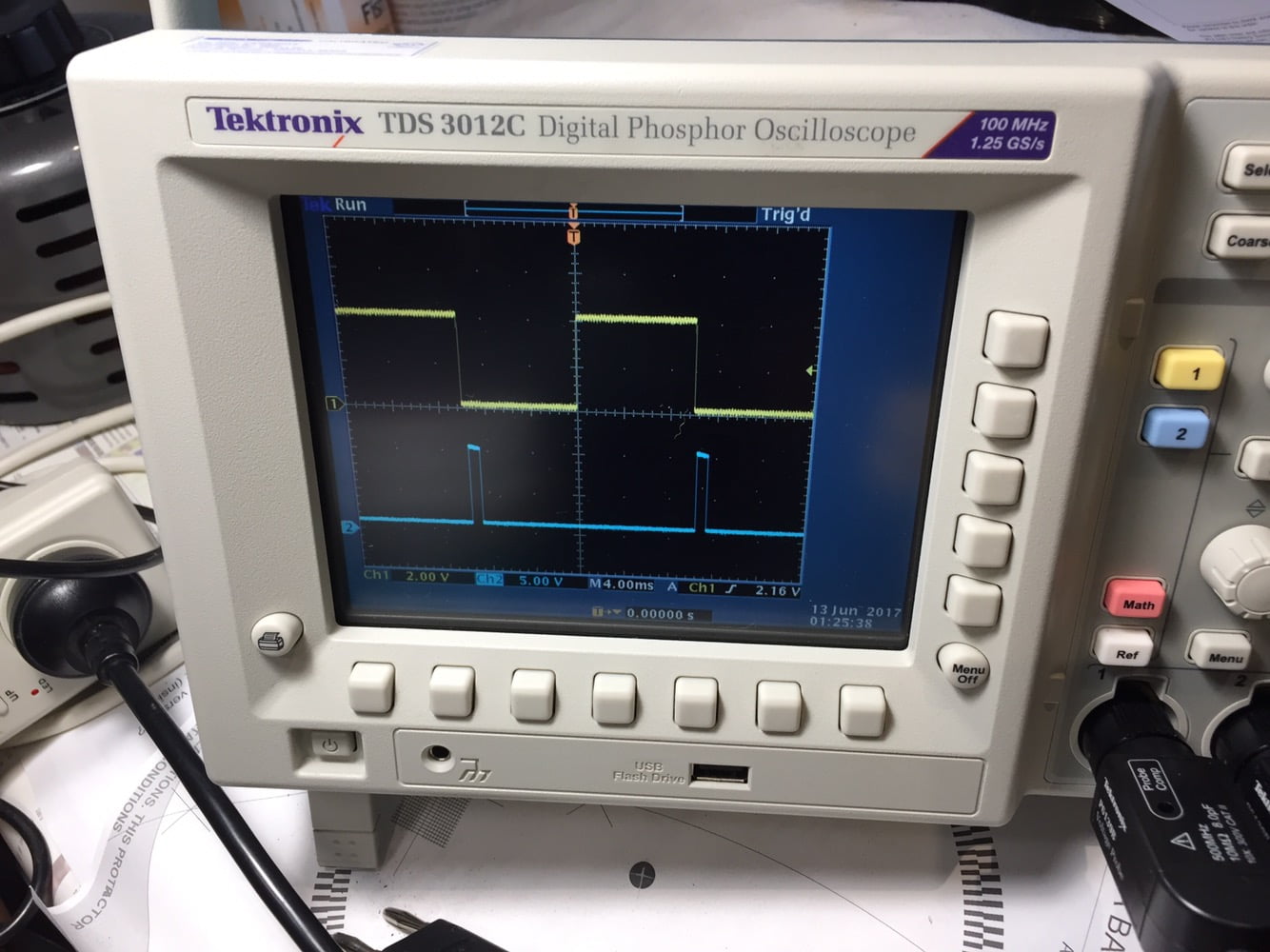 Final Setup
The last set of things to do in this case was to correct the errors caused previously by someone at West Coast Hi-Fi. They managed to not only install the wrong type of cartridge for this tonearm but also connect every single headshell wire to the wrong place!
I kid you not, each one of the four headshell wires was connected to the wrong cartridge pin. This is the risk with getting anything done by mainstream hi-fi retailers – they are generally clueless for the most part, especially when it comes to vinyl.
So, West Coast Hi-Fi installed a Rega Bias, far too short to work correctly with this arm. The resultant vertical tracking angle is all wrong, so I replaced this with an Ortofon 2M Red, a much better choice for this deck.