One of my regular customers recently acquired a gorgeous new old stock (NOS) Sansui SR-929 direct-drive turntable from her original owner in the USA and asked me to check it out.
This beautiful Sansui SR-929 also needed the voltage and set her up for Australia and a full set-up and naturally, I wanted to share some images of this beautiful old beast with my readers.
The Sansui SR-929 was top of the line in the Sansui catalogue back in the day, at some point in the late 70s or early 80s. It featured a very heavy die-cast composite chassis overlaid with lacquered chipboard, a knife-edge bearing tonearm with height adjustment, standard Audio Technica moving magnet cartridge and space-age styling.
Because this came from the USA, but luckily was a multi-voltage unit, the first thing to do after removing the deck for its original box and packaging was to select the correct mains input voltage. I then cleaned and checked everything before carefully aligning the cartridge and setting up the tonearm.
The SR-929 is a very sexy deck whether powered on or off and the soft orange glow of the status indicators is a very nice touch. Additionally, the strobe speed indicator has been executed with precision on this deck.
The slightly blurred edges you get when looking at the strobe speed marking engraved on the platter are crystal clear and sharp on this deck. This has been achieved by driving the strobe with a very precisely controlled waveform, derived from the Quartz lock circuit, rather than the slightly jittery 50Hz mains waveform.
A few words from Sansui
"Sansui is proud to contribute to the advancement of state of the art turntable technology with the introduction of the remarkable SR-929.
It's newly developed quartz direct drive servo system represents a significant Sansui engineering breakthrough in keeping with our policy as a high fidelity only manufacturer to bring you the finest in musical reproduction.
At last, within reach of ordinary music fans and audio buffs, there is now a turntable so accurate and so precise that it exceeds even the strictest professional standards of performance. Not only is it's speed very close to absolutely perfect, it's generated noise in relation to the audio signal is, in practice, immeasurable.
Platter rotation constancy is amazing, with a deviation of less than 0.002% – that's less than 2 revolutions out of 100,000! Speed is unaffected by load changes, temperature changes, power voltage/frequency fluctuations and ageing.
Sansui combines the latest quartz crystal accuracy with advance electronic servo circuits in the SR-929."
Sansui SR-929 Specifications
Type: two-speed, quartz-servo, direct-drive, manual turntable
Motor: 20-pole, 30-slot DC brushless type with built-in frequency generator
Drive system: direct spindle drive, quartz servo controlled
Platter: 302mm, 1.4kg, aluminium die-cast
Wow and flutter: less than 0.028% WRMS
Signal to noise ratio: better than 66dB
Speeds: 33 and 45rpm
Fine speed adjustment: +-3.5%
Tonearm: statically balanced, s-shaped tonearm
Effective length: 240mm
Overhang: 15.6mm
Cartridge weight range: 2 to 11g (11 to 21g with sub-weight)
Dimensions: 490 x 173 x 381mm
Weight: 17.1kg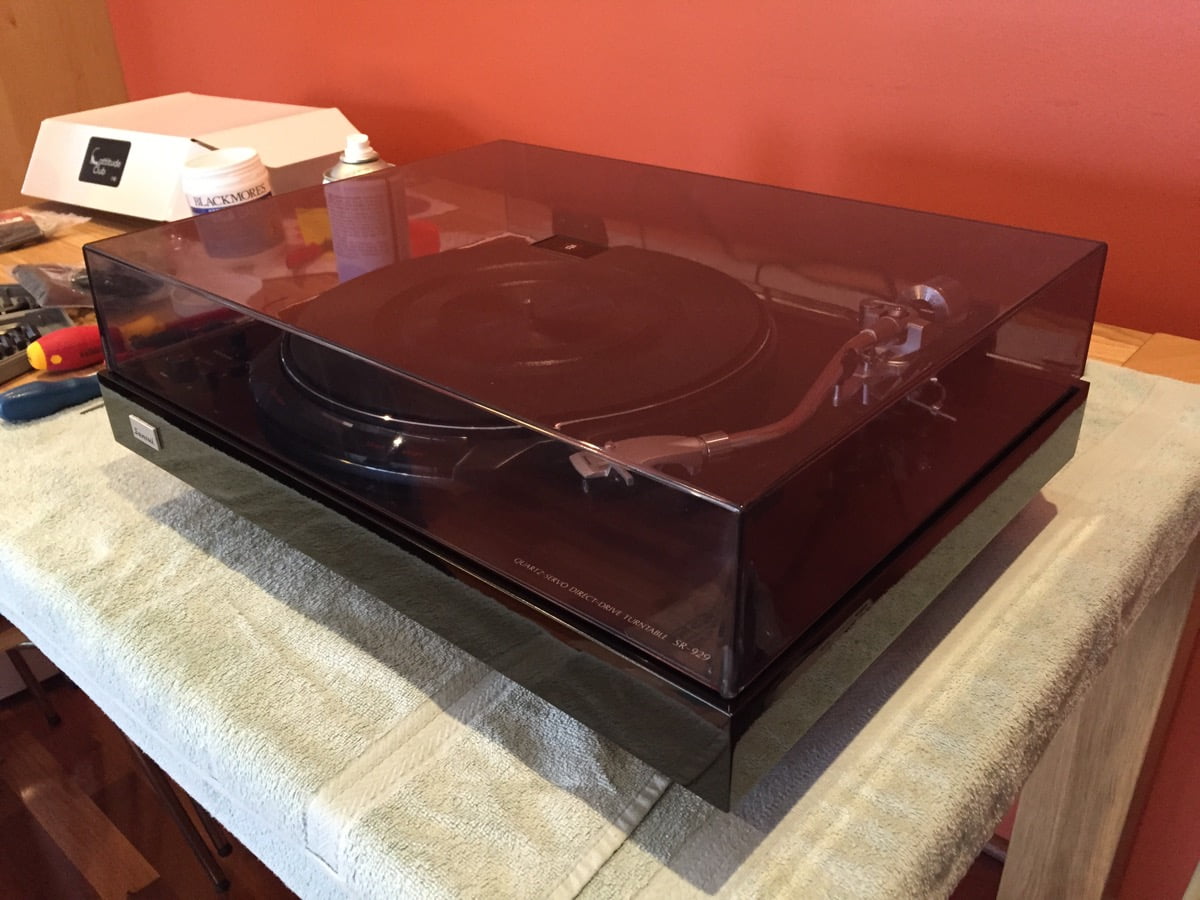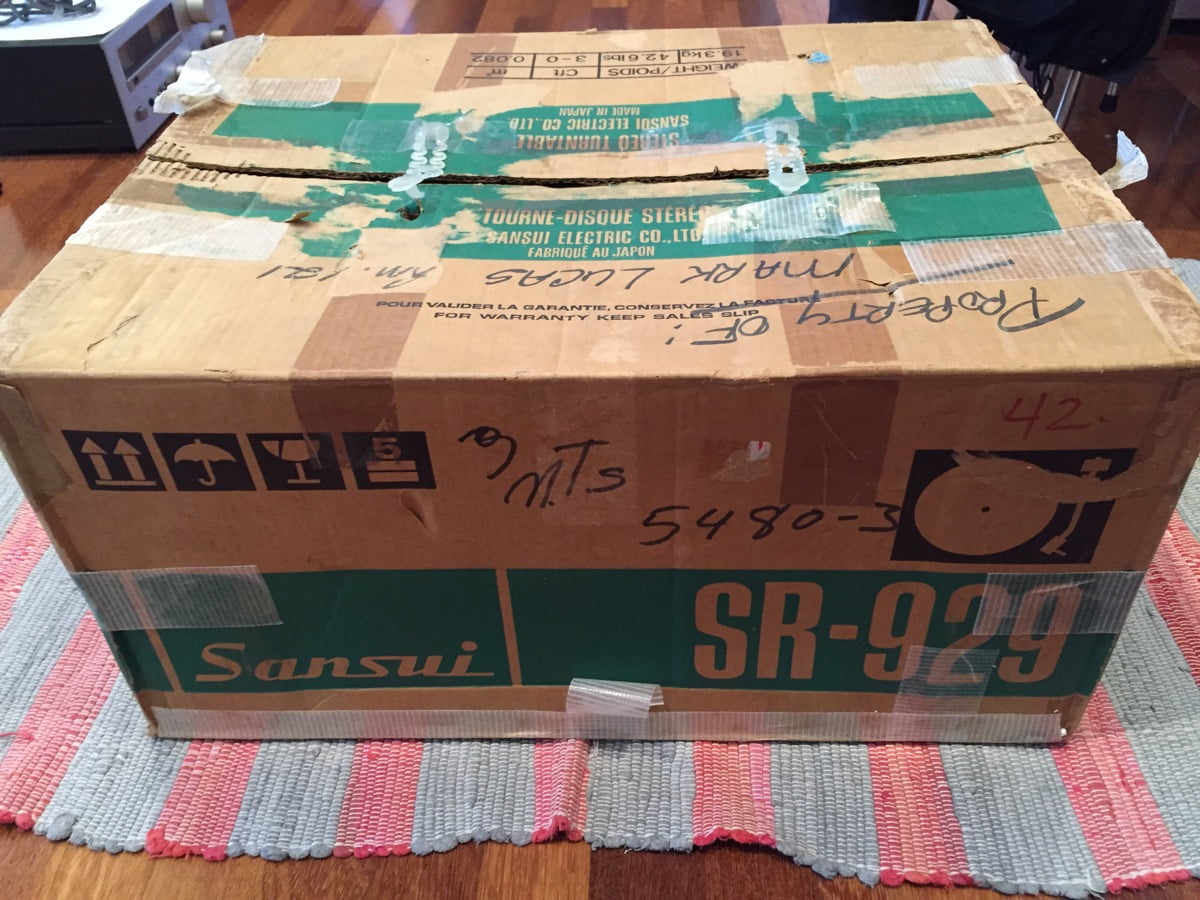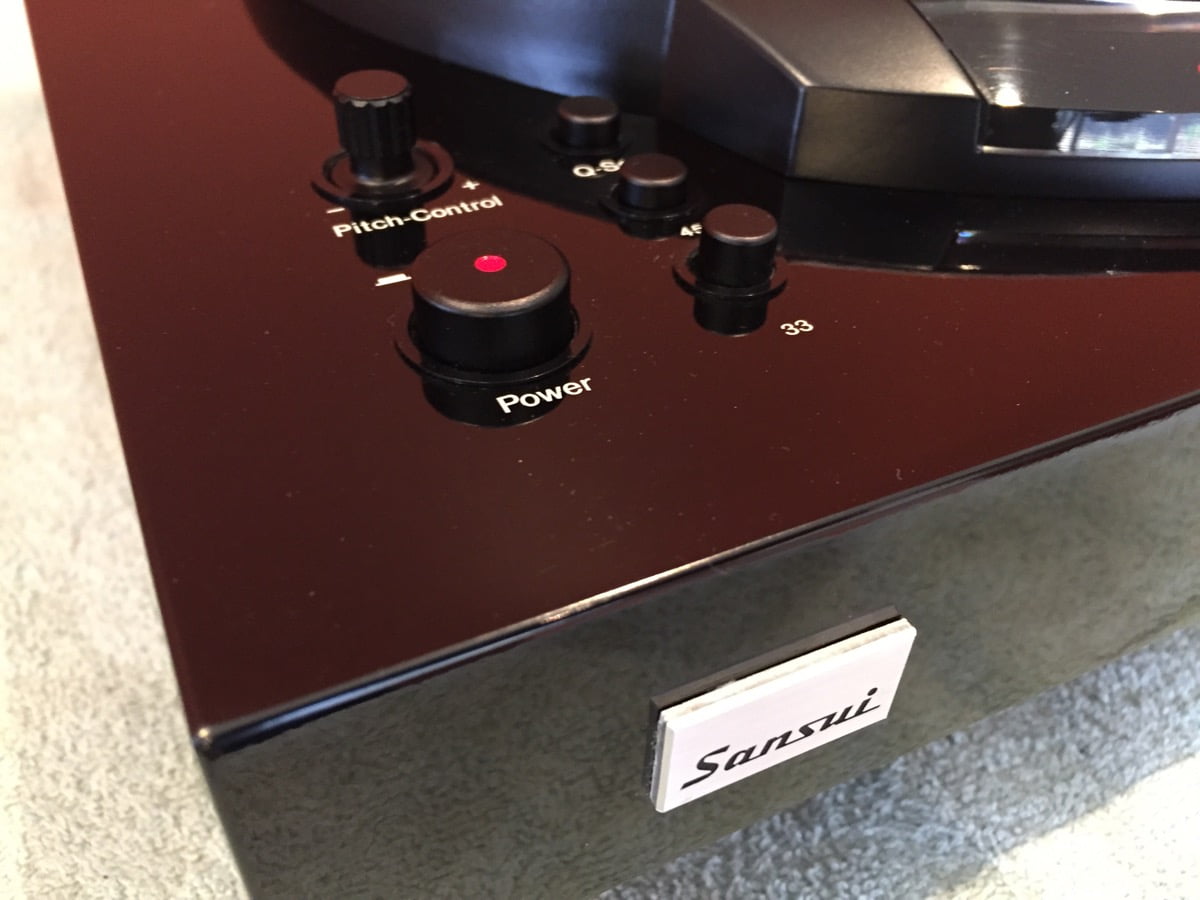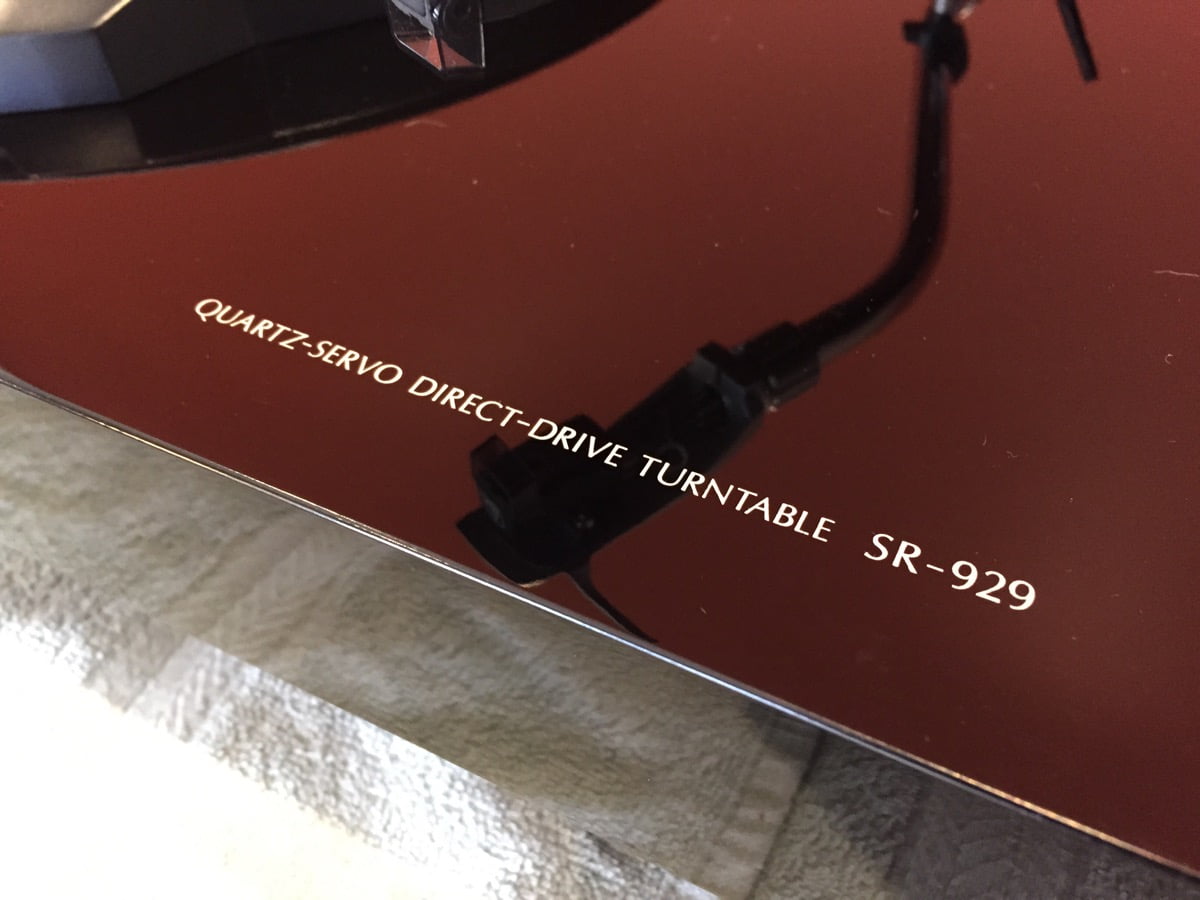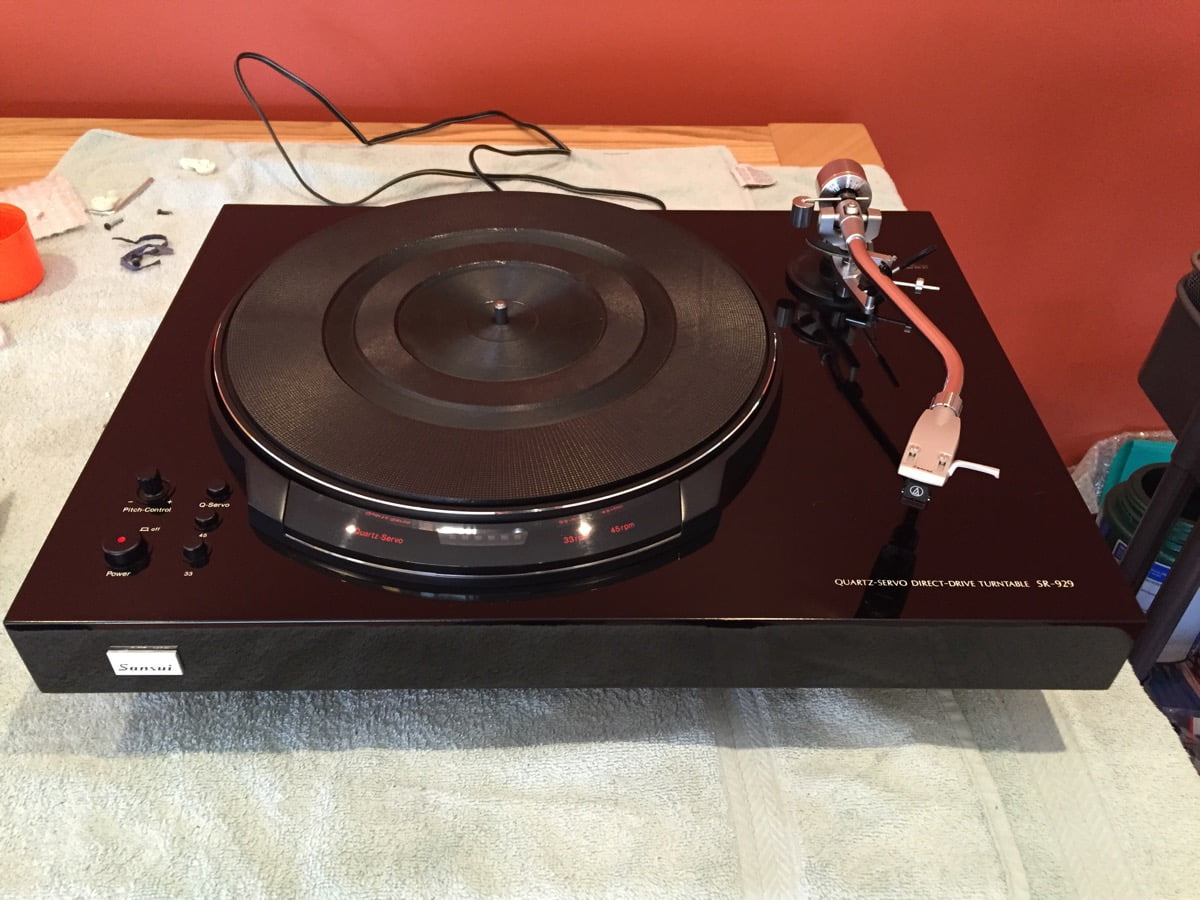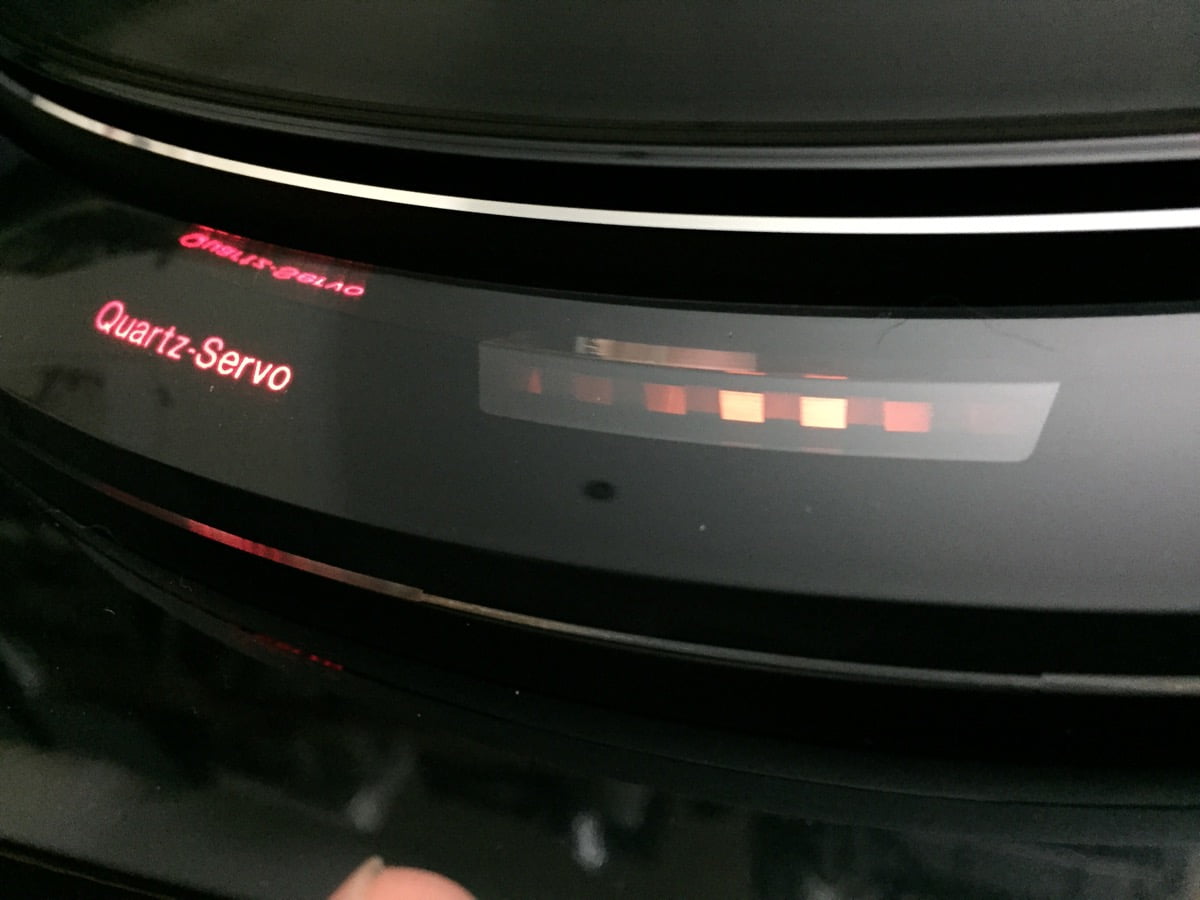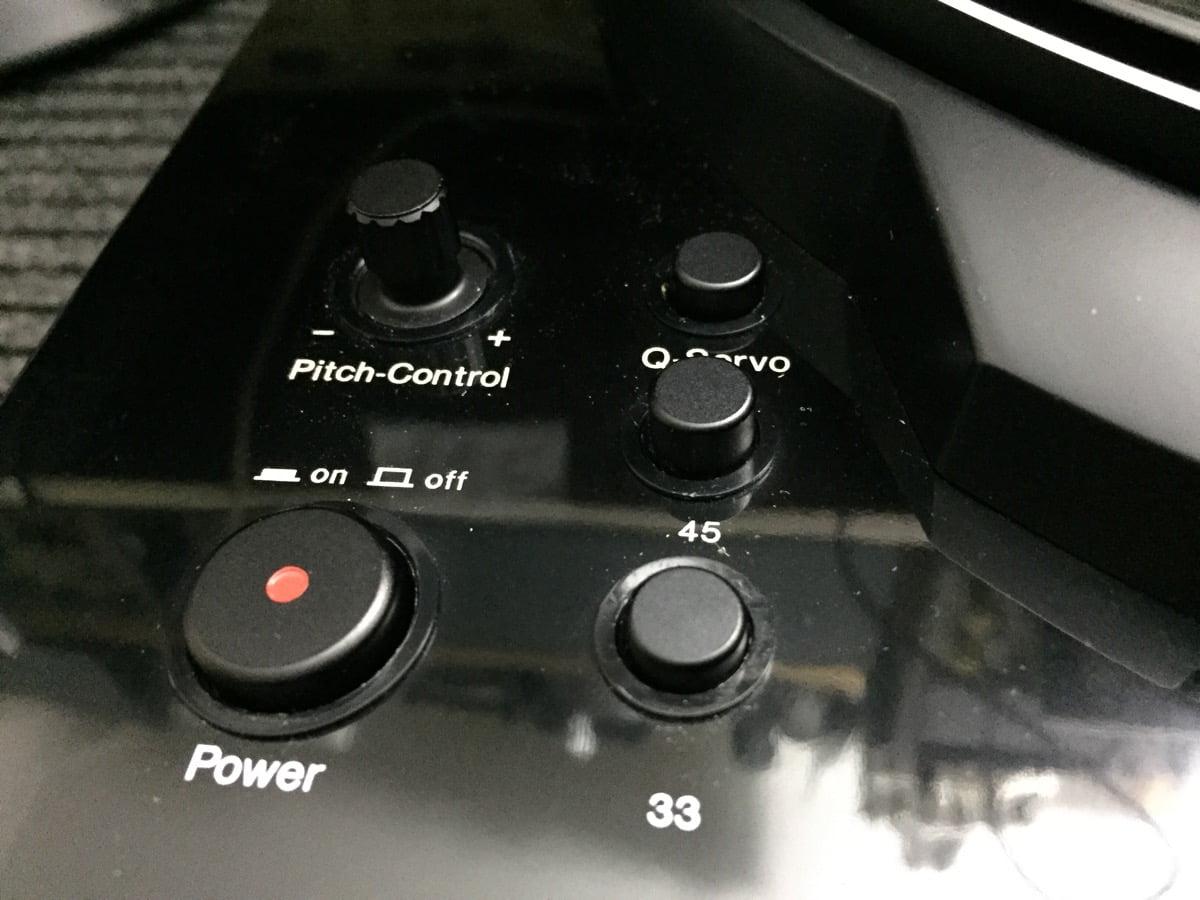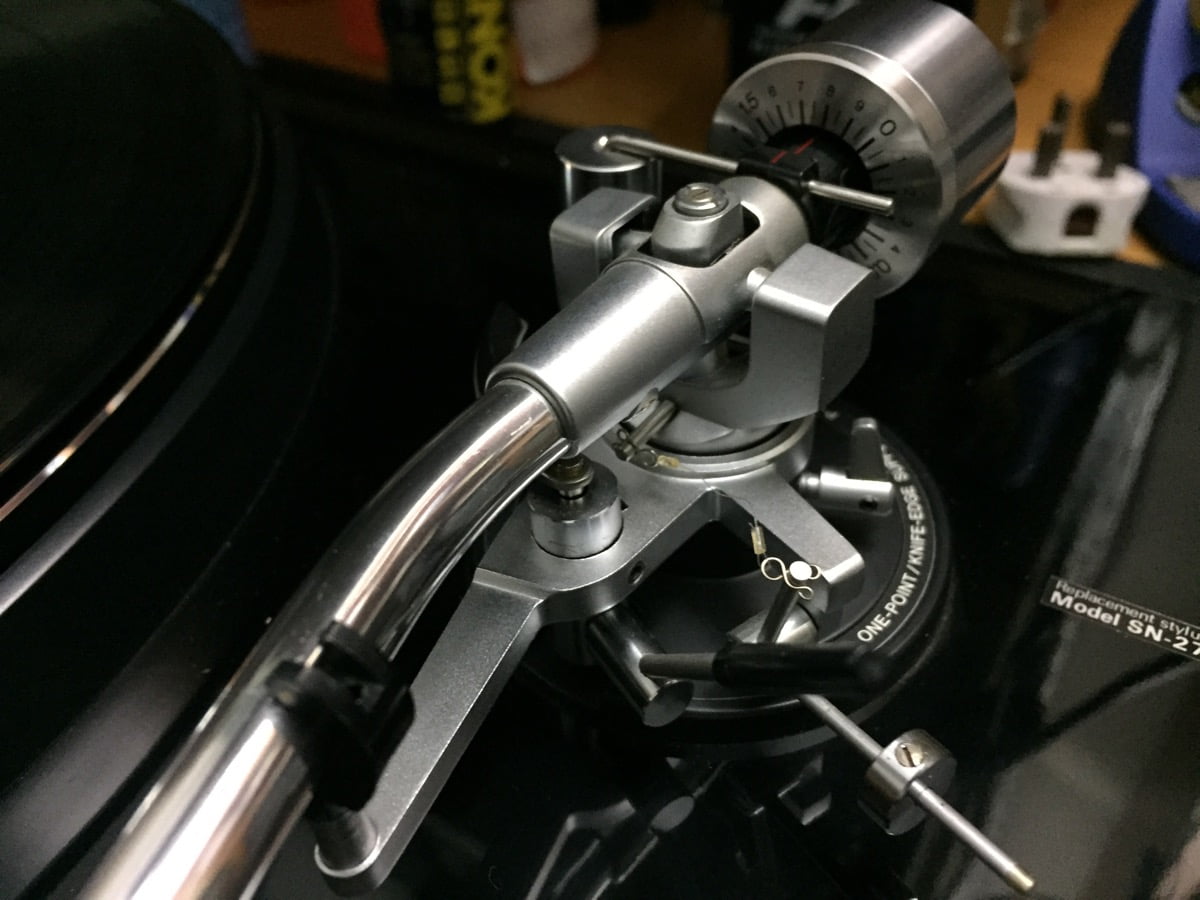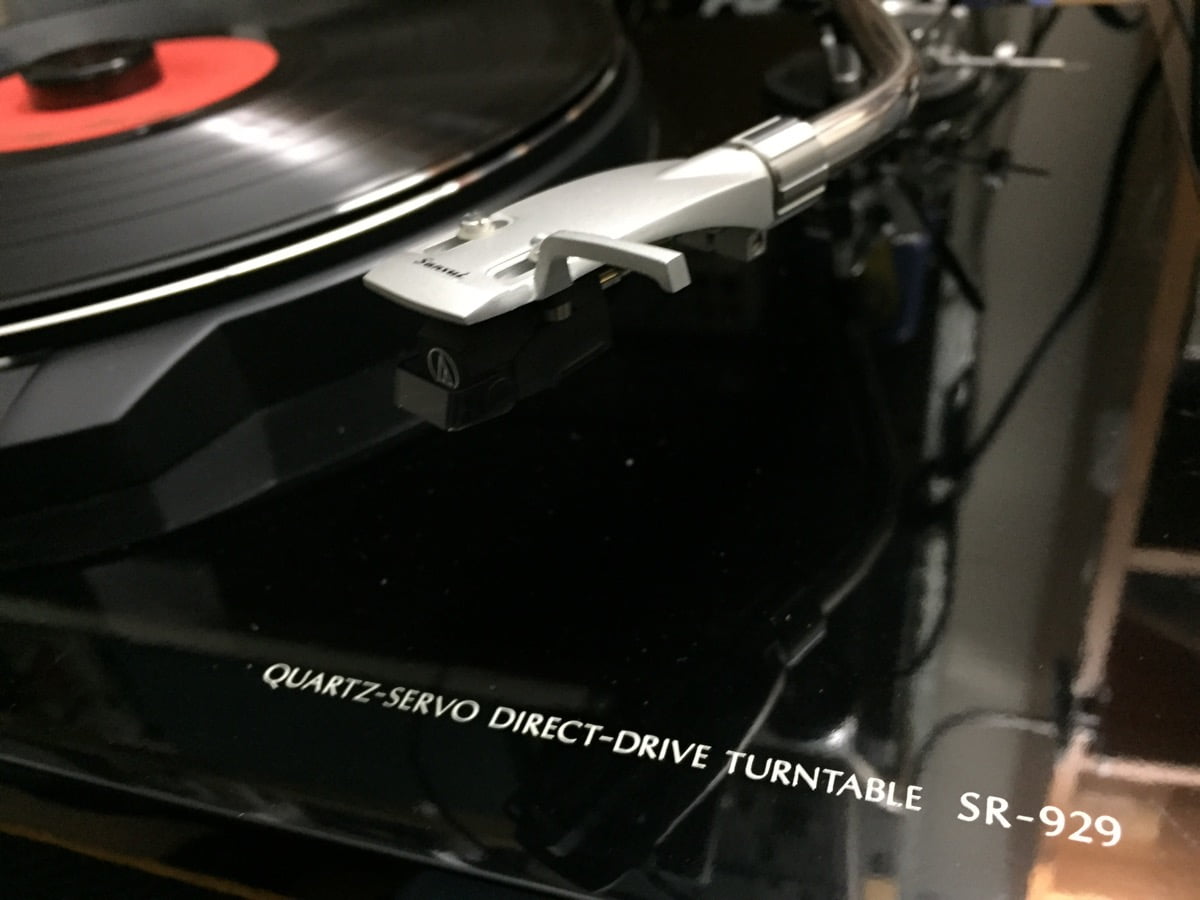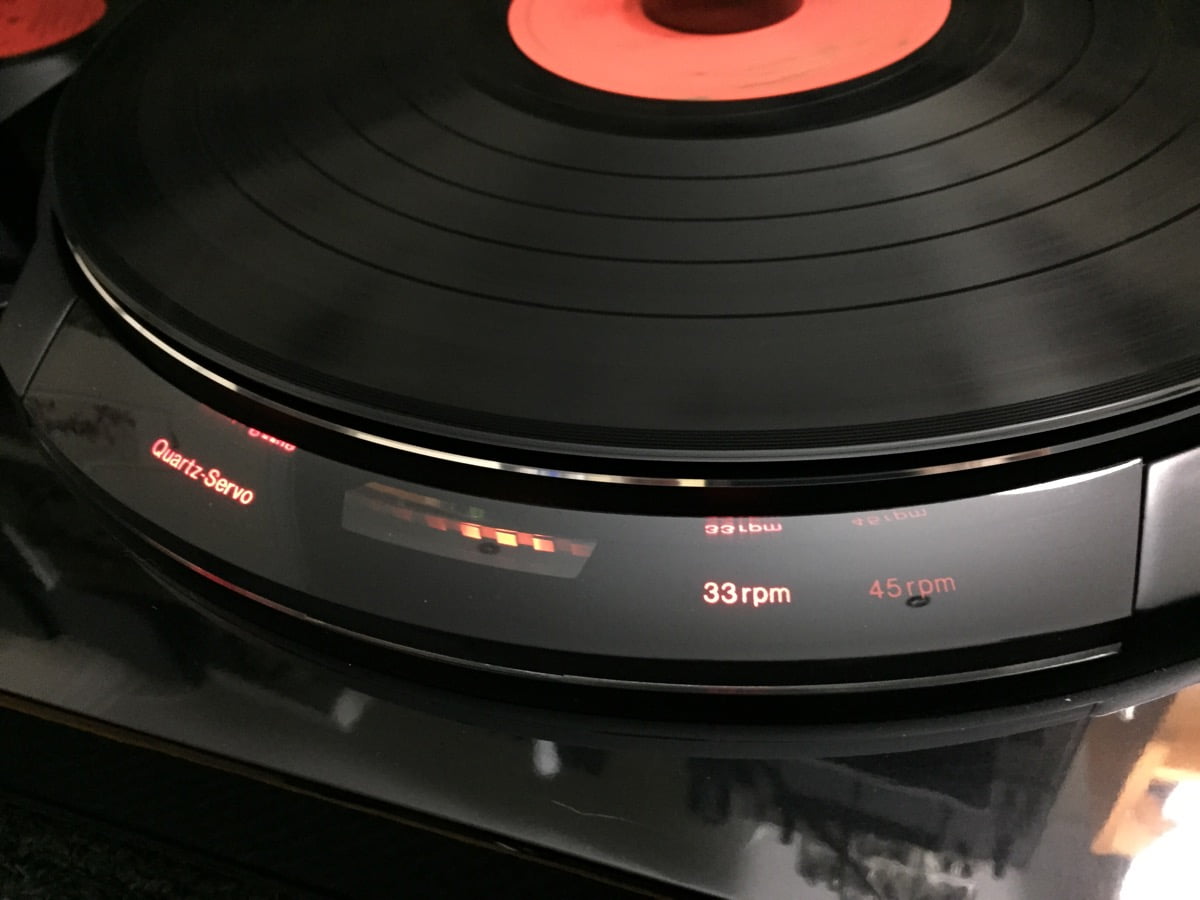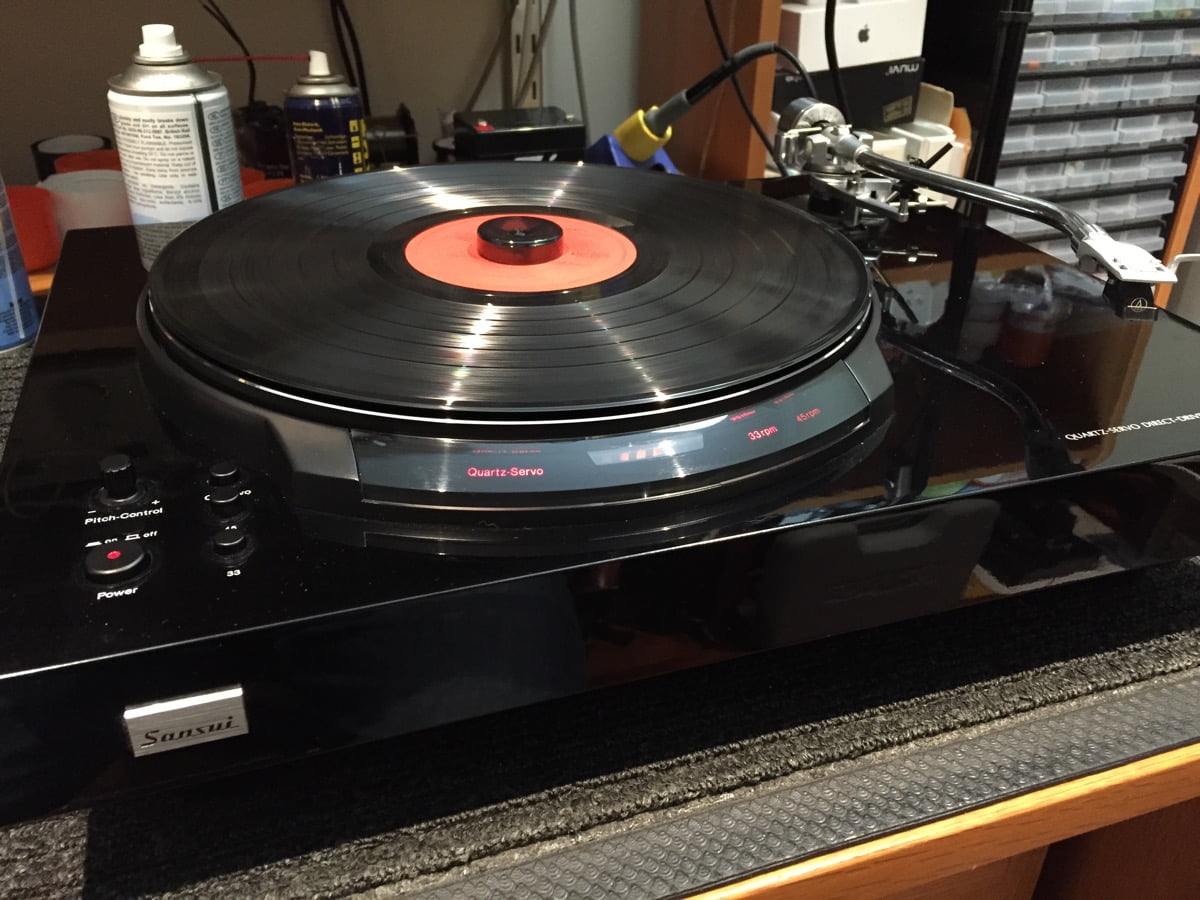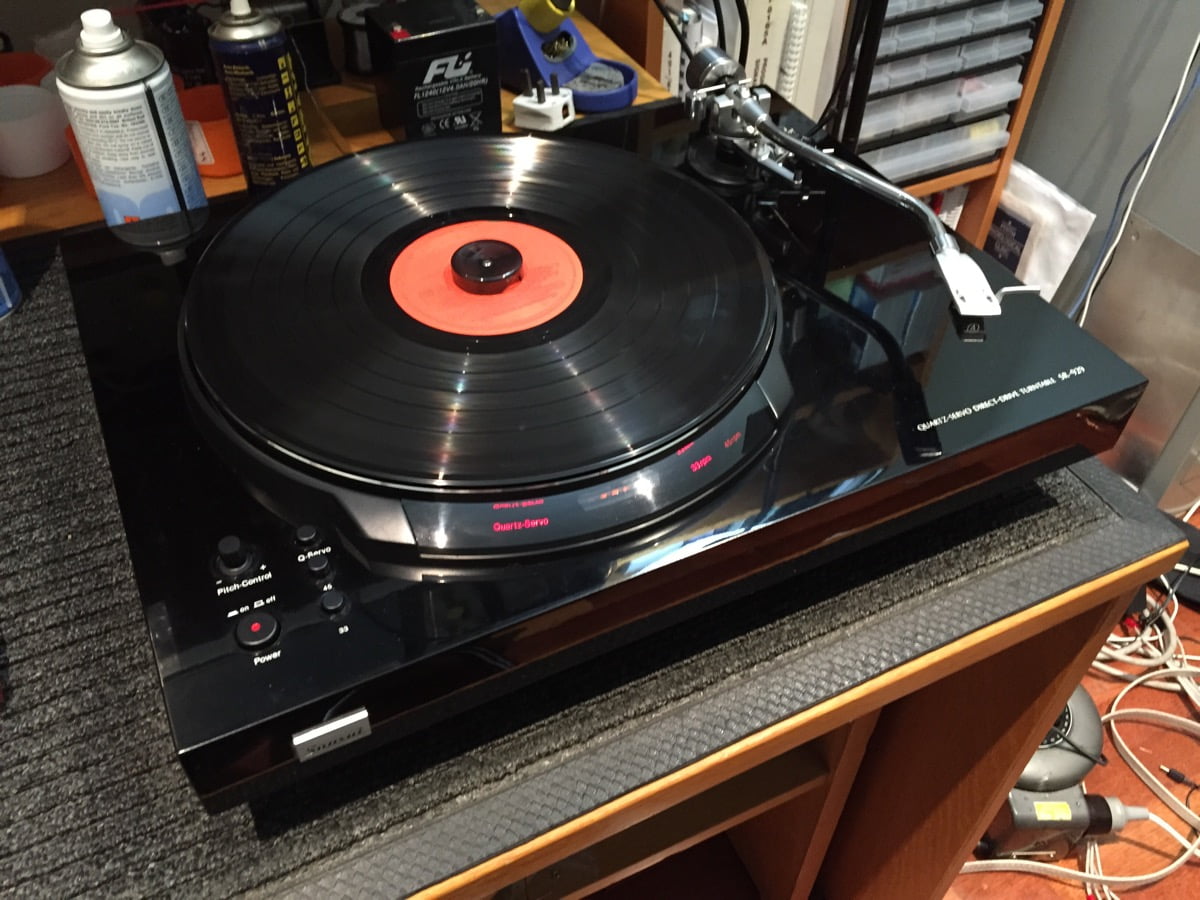 All in all, a lovely deck from Sansui, hard to find at all, let alone in NOS condition – nice work Tim!