I recently restored a gorgeous Sansui AU-717 integrated amplifier in need of some serious TLC. Let's take a look at what goes into a typical restoration and discuss these classic amplifiers.
The Sansui AU-717 integrated amplifier is one of those pieces that I just love working on. Sansui designed and built the AU-717 at a time when labour was cheaper. The money went into build quality, parts and layout and this resulted in a timeless, enduring design that is appreciating in value.
The AU-717 is an integrated amplifier, meaning that it has a preamplifier and power amplifier in the chassis. The pre and power functions can be separated if necessary and the whole unit is extremely well laid out, inside and out.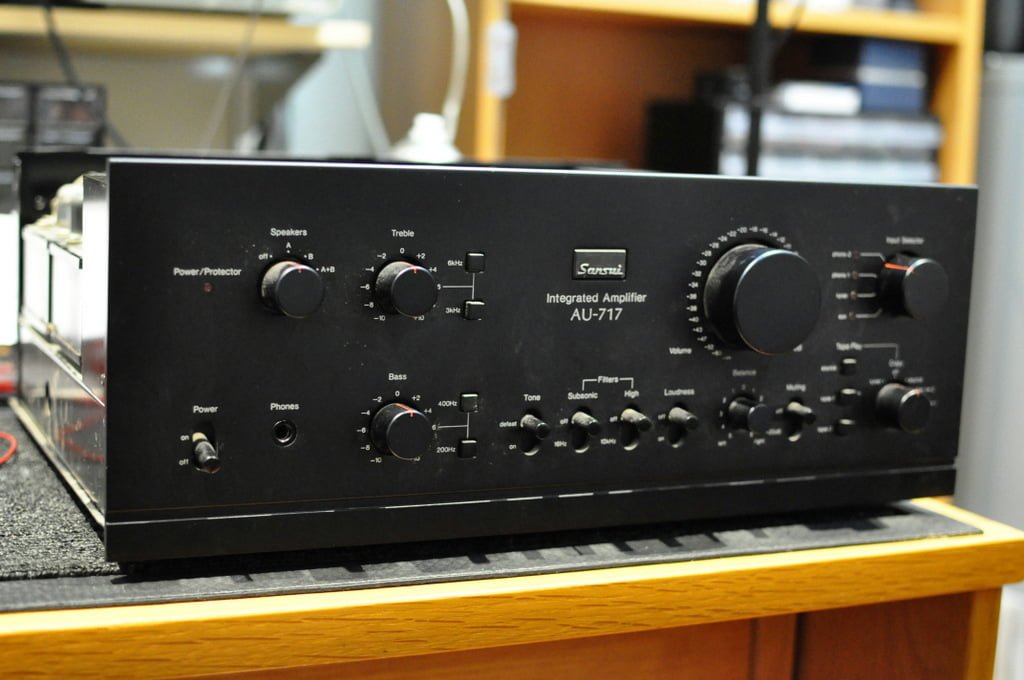 Specifications
Courtesy of HiFi Engine
Power output: 85 watts per channel into 8Ω (stereo)
Frequency response: 20Hz to 20kHz
Total harmonic distortion: 0.025%
Damping factor: 60
Input sensitivity: 2.5mV (MM), 150mV (line)
Signal to noise ratio: 78dB (MM), 100dB (line)
Channel separation: 60dB (MM), 65dB (line)
Output: 150mV (line), 1V (Pre out)
Speaker load impedance: 8Ω (minimum)
Dimensions: 430 x 168 x 389mm
Weight: 17.8kg
Year: 1978 – 1980
You can read a little more about the classic Sansui AU-717 in this article from Tone Audio.
Construction
The weight of this amplifier is amazing for something that was not even top of the Sansui range at the time. The AU-919 is a little heavier and even nicer of course.
Sansui laid out their equipment beautifully in terms of ease of servicing and sparing little expense. The amplifier contains a really nice dual-mono phono preamplifier, with selectable gain and lots of polystyrene capacitors. The phono preamplifier sits in a separate shielded box, which is a sound way to reduce noise in sensitive high-gain circuits.
This beast has two separate power transformers – serious in a mid-range integrated amp, and almost unheard of now. And let's not forget something I tell customers all the time: there is nothing new in amplification. No new inventions have furthered the field and you can buy something like this with great confidence, though it's likely to need service and probably an overhaul at this age.
Restoration & Some Points to Consider…
Let's now look at some images detailing my repair and restoration of this Sansui AU-717. This 717 was a victim of the Sansui 'corrosive glue' problem, more on that later, but first, let's discuss some rumours and hearsay.
You'll read plenty in forums about what 'must' be done on these and other amplifiers for that matter, but most of it is written by folks who've read it somewhere else rather than worked on these things for a living. In other words, forums, unfortunately, tend to breed Chinese whispers, and so it is with the AU-717.
I've heard that all the fusible resistors MUST always be replaced for example, but nothing could be further from the truth. In almost all the 40+-year-old AU-717s I've worked on, the original fuse resistors measured perfectly! Crazy how these stories propagate isn't it Another one you'll hear is that filter capacitors must be replaced, but again, this is absolute BS in most cases!
The only thing you really MUST do is test and measure everything, carefully, with proper equipment, rather than guessing. Only through this approach, based in science, will you actually learn what needs to be replaced and what doesn't, based on actual observation and measurement, rather than hearsay. I can't stress enough just how critical this data gathering approach is.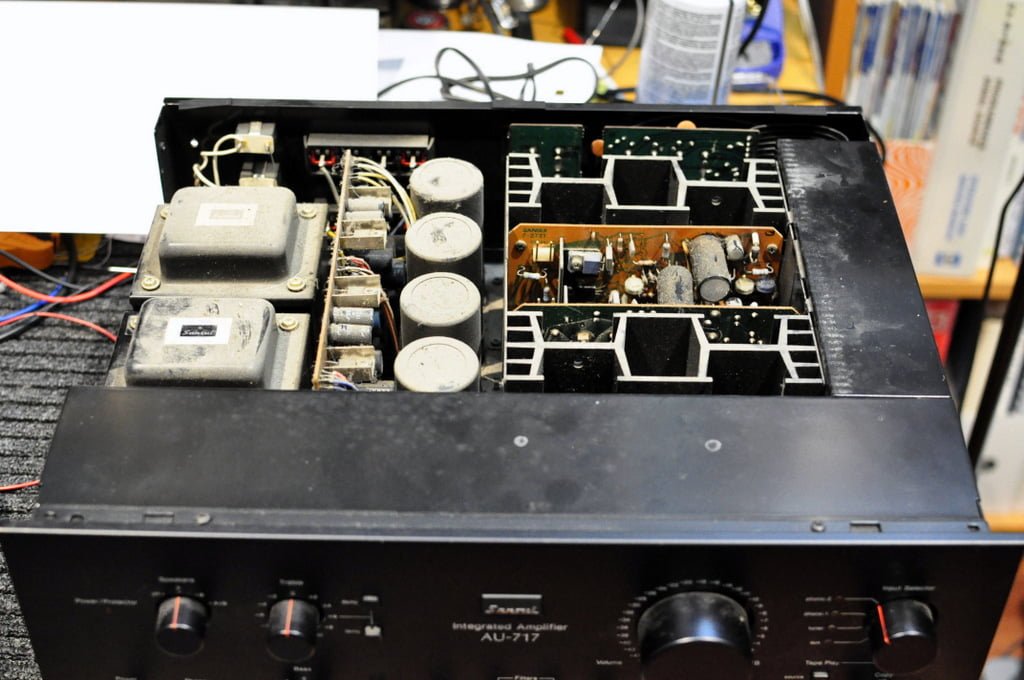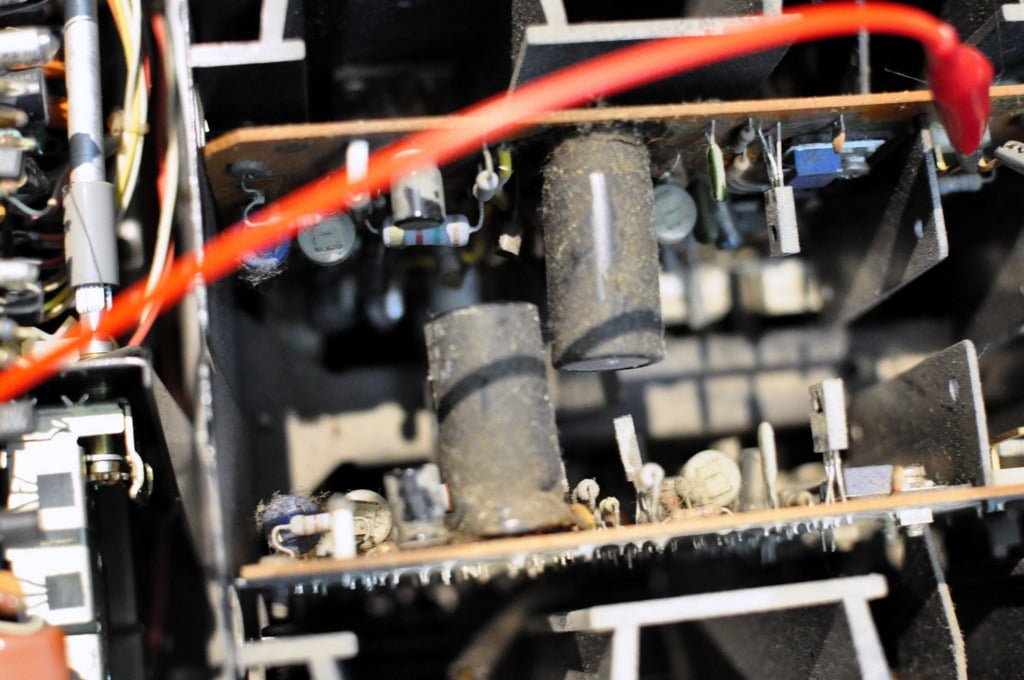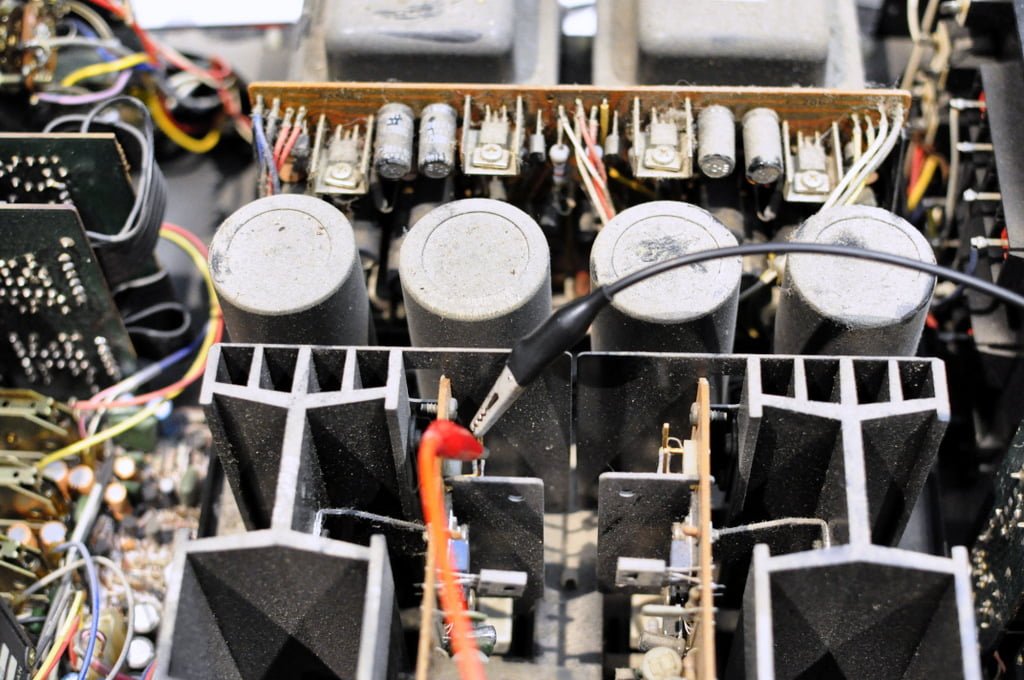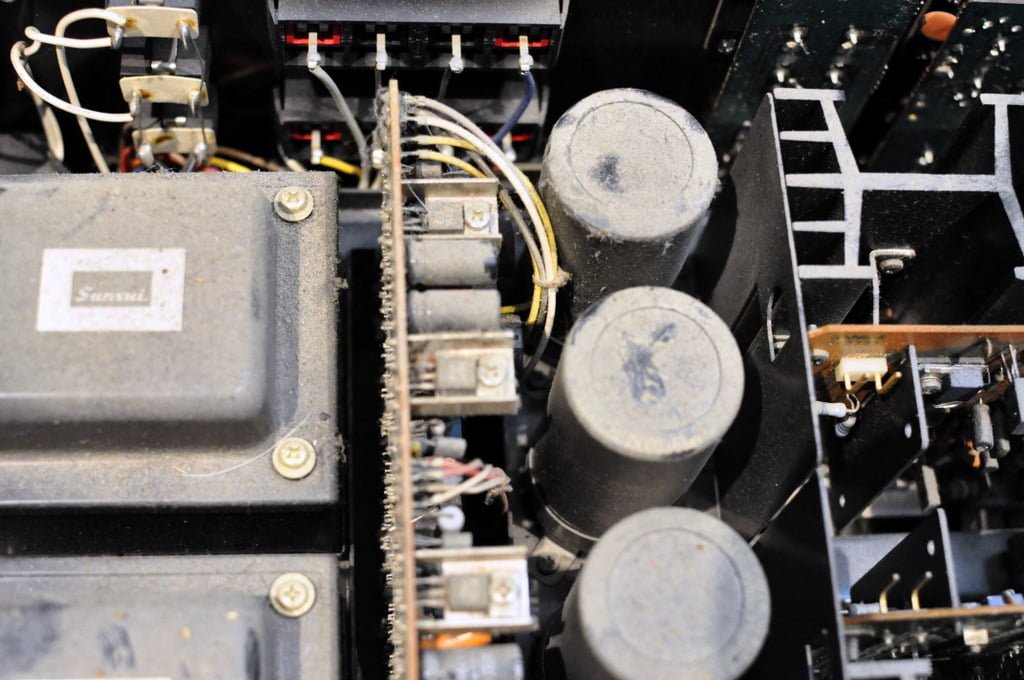 Cleaning
Cosmetically, I thoroughly cleaned the insides of the AU-717 using a system I've developed for chassis-level cleaning, based on how laboratory test and measurement equipment like Tektronix oscilloscopes used to be cleaned. You could literally eat out of this old girl now!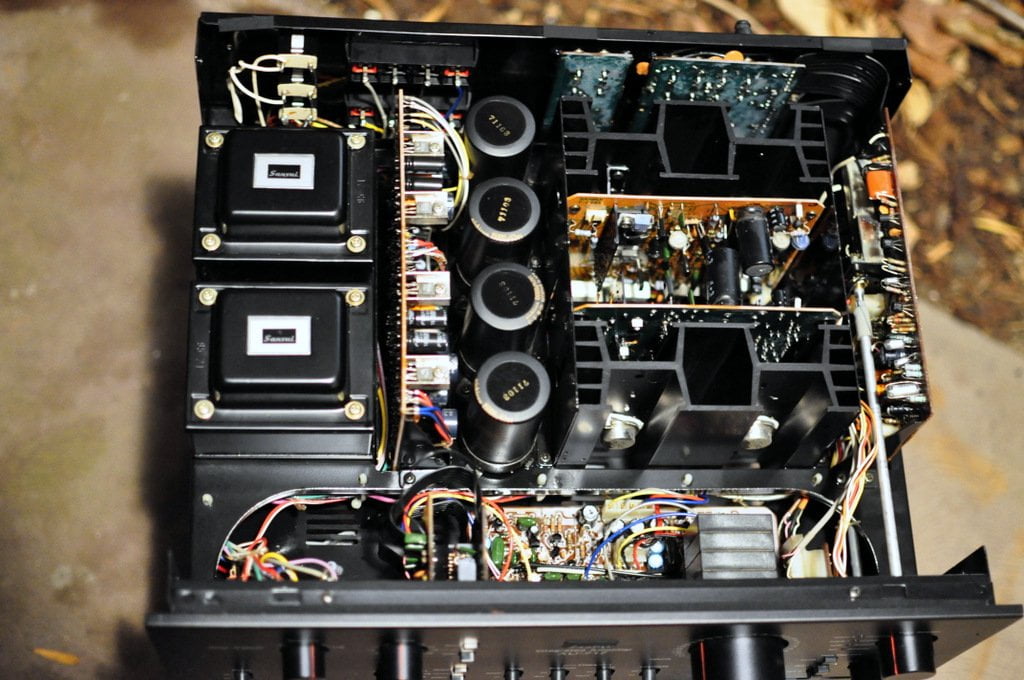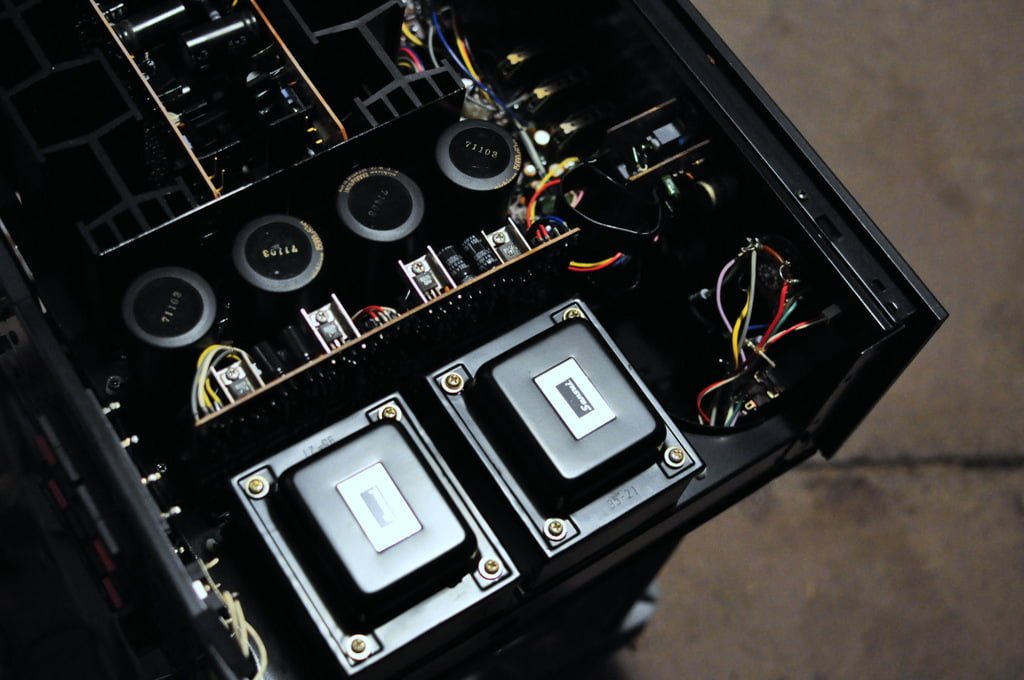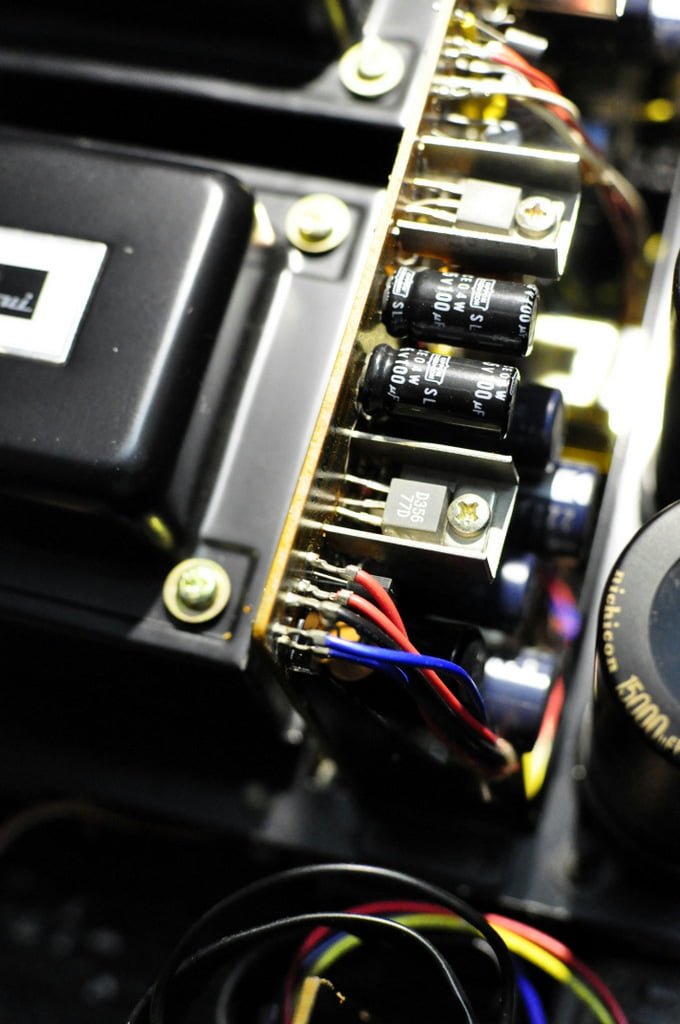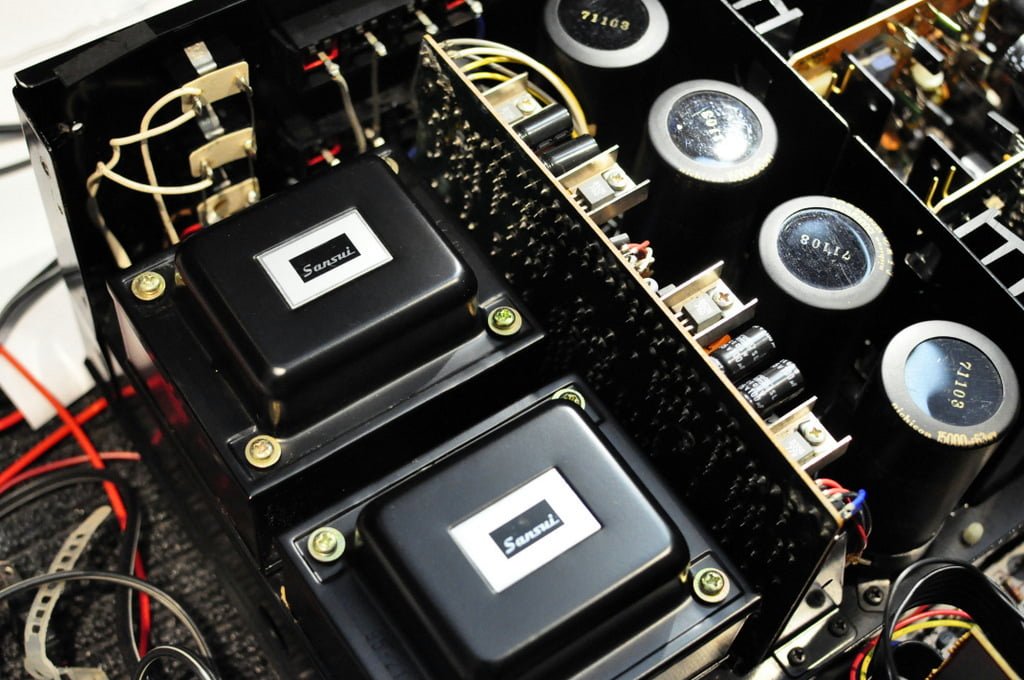 Parts Replacement & Corrosive Glue
A large part of this restoration involved replacing aged electrolytic capacitors and removing the Sansui corrosive polychloroprene glue. Working on one board at a time, I meticulously clean, removing old capacitors and corrosive glue, replace affected parts, install new capacitors and then flux-level and clean.
I installed a new protection relay for this AU-717 as it was faulty in this example. I also spent some time cleaning front panel potentiometers, trimmers and adjusting quiescent current and DC symmetry in the output modules.
Having said that I installed a new relay, these days, some 6 years on, I generally open and service the original relays as this is just as effective, saves money and retains originality.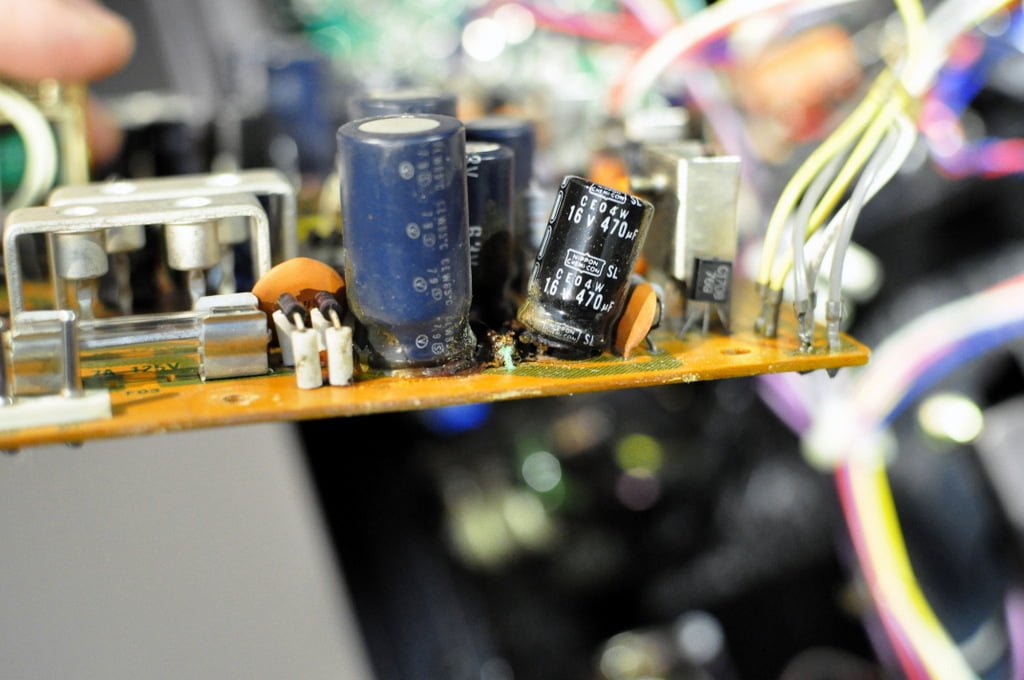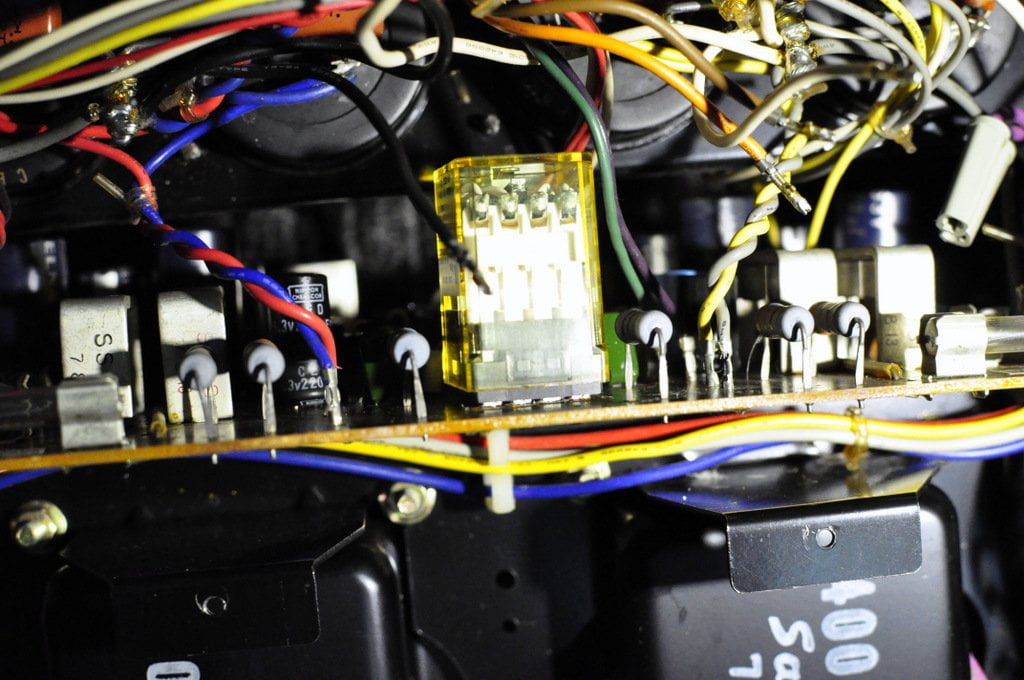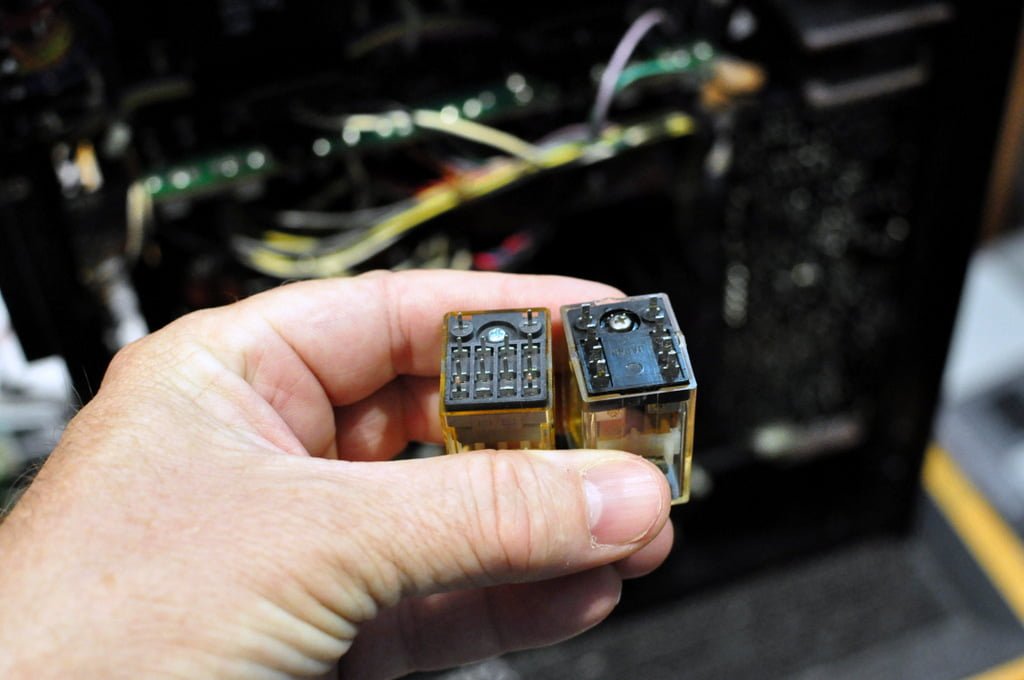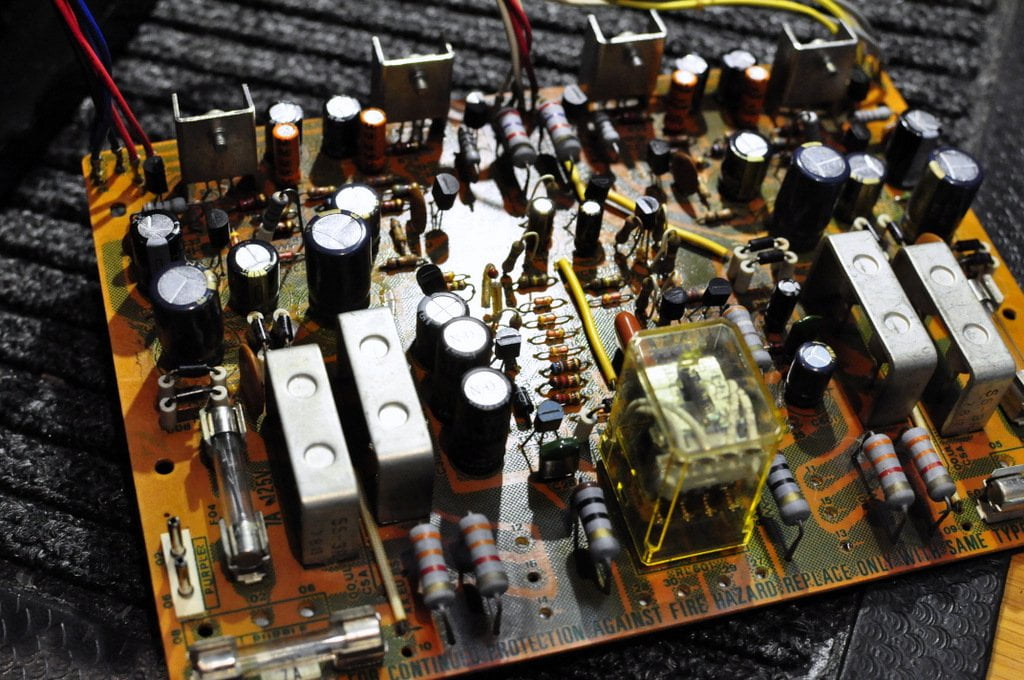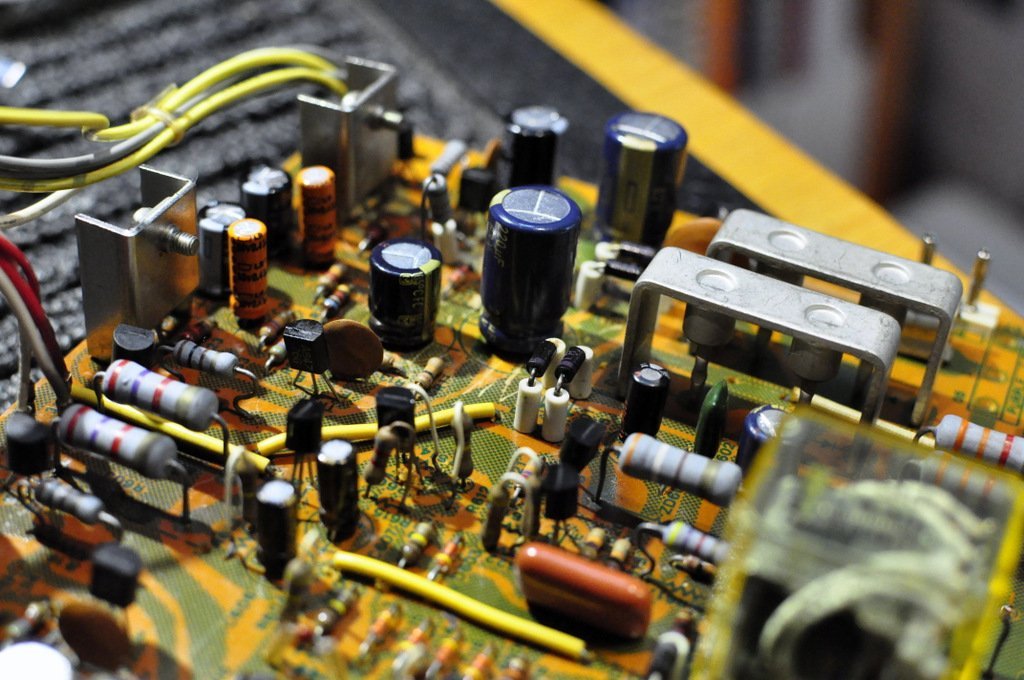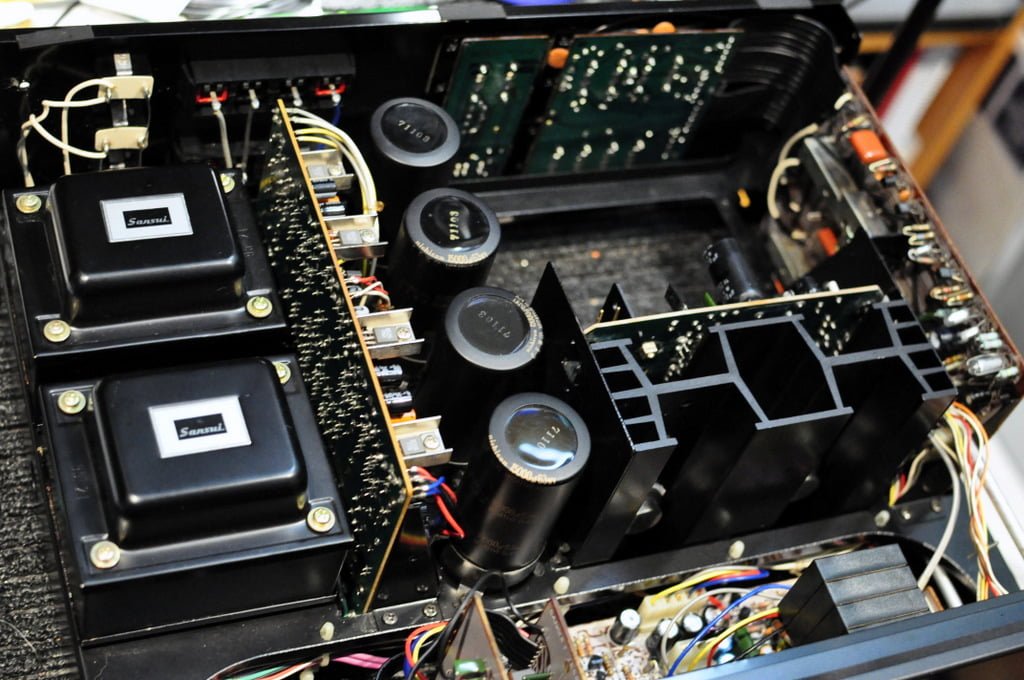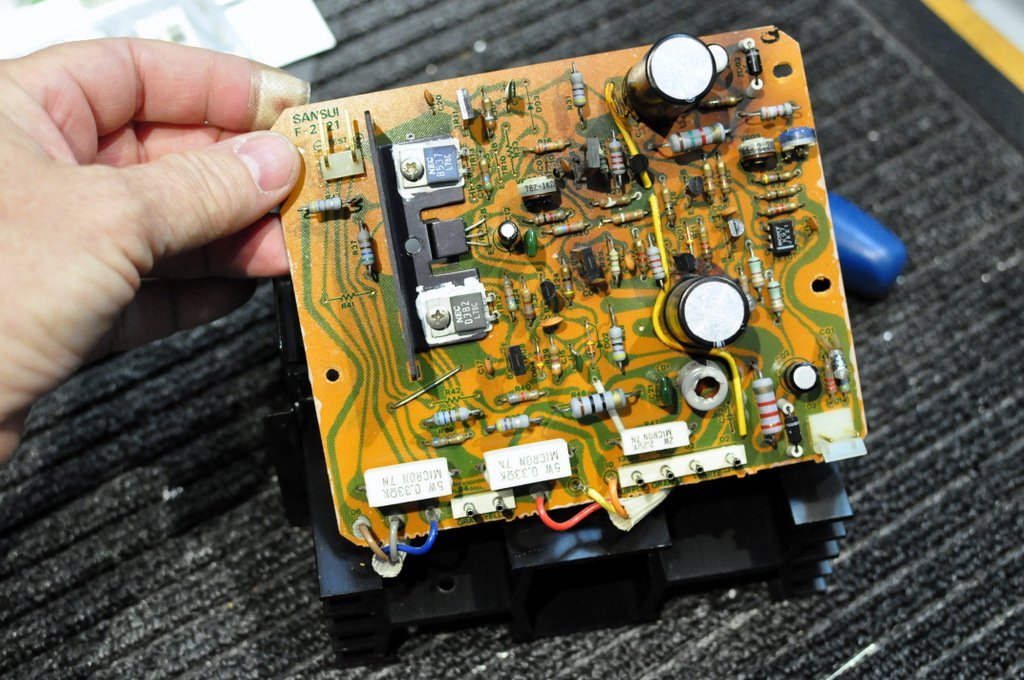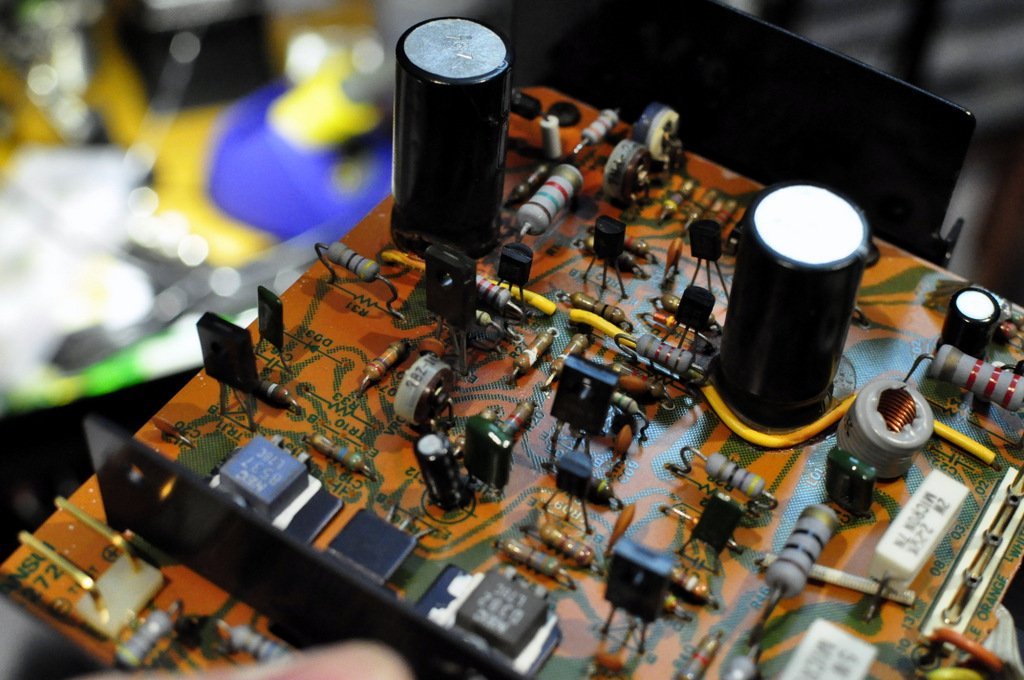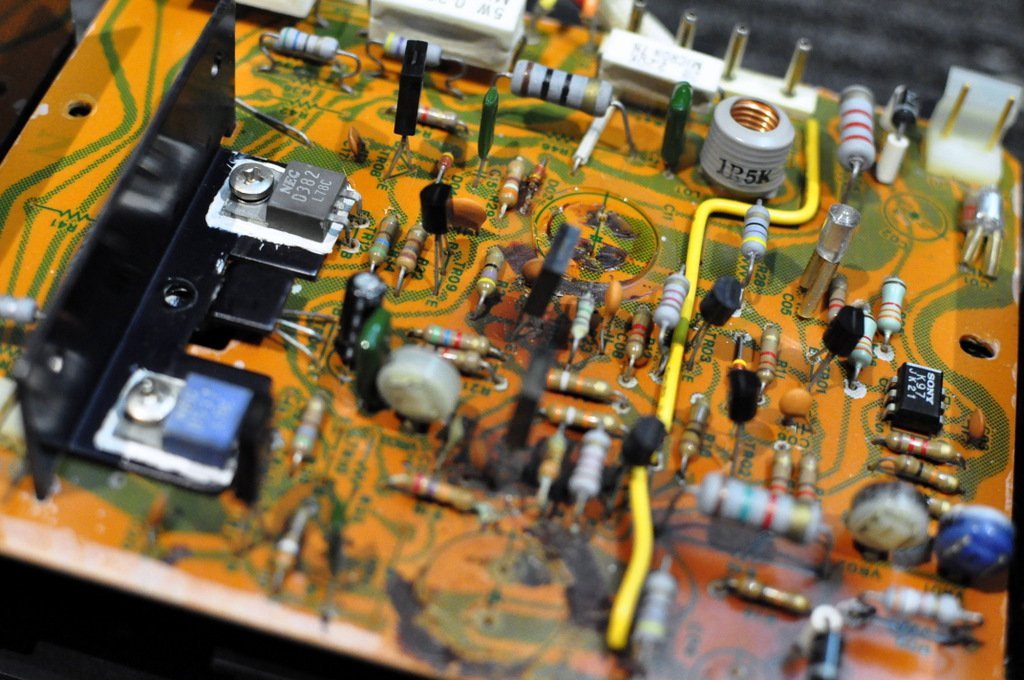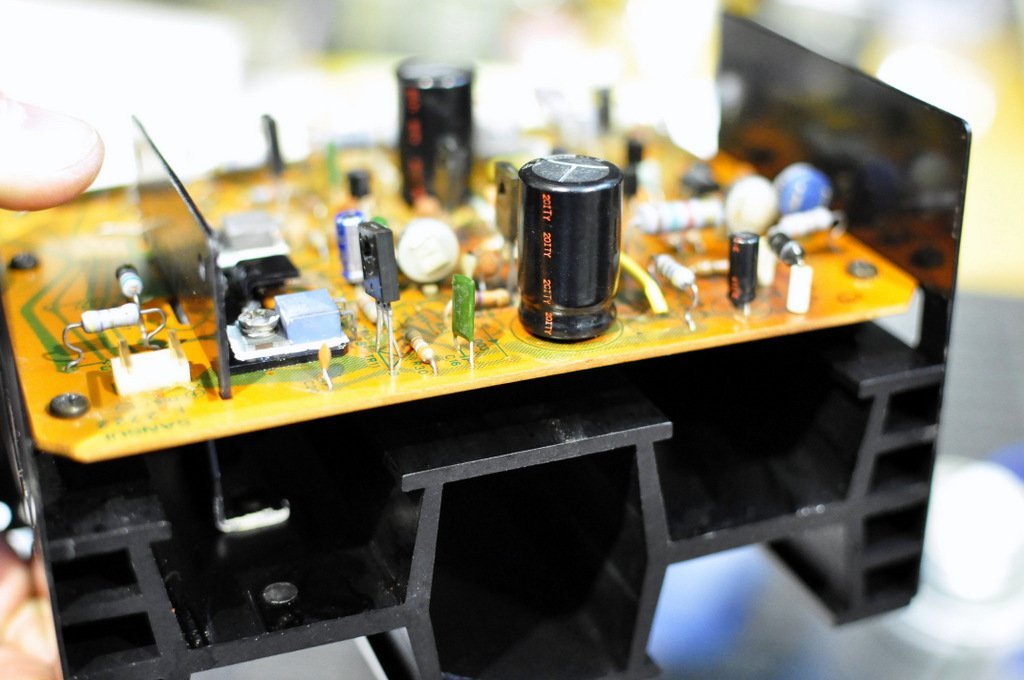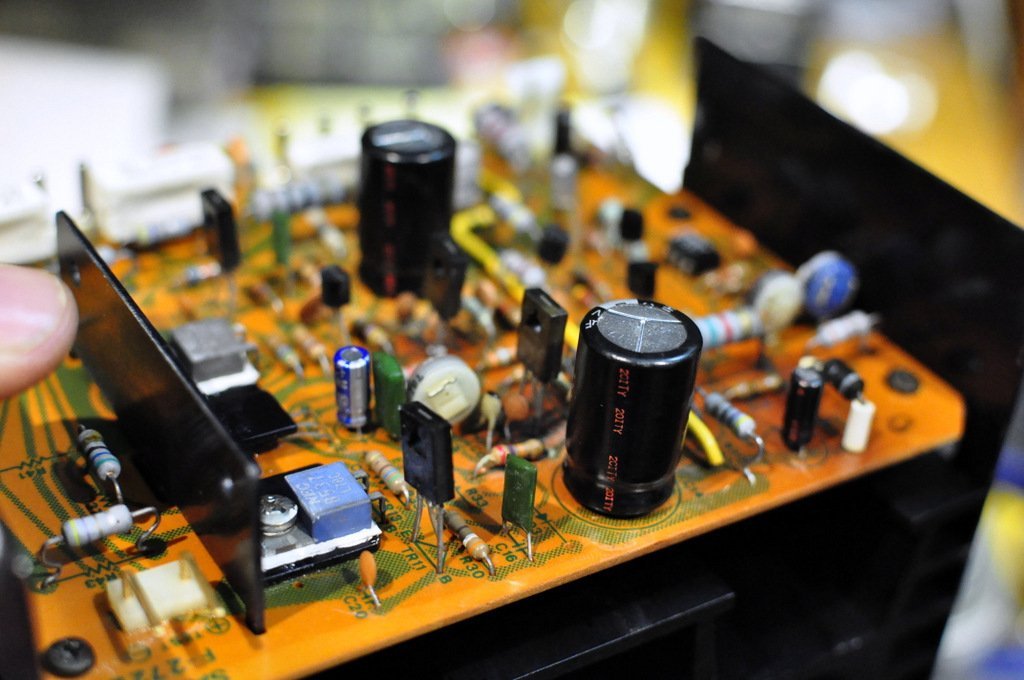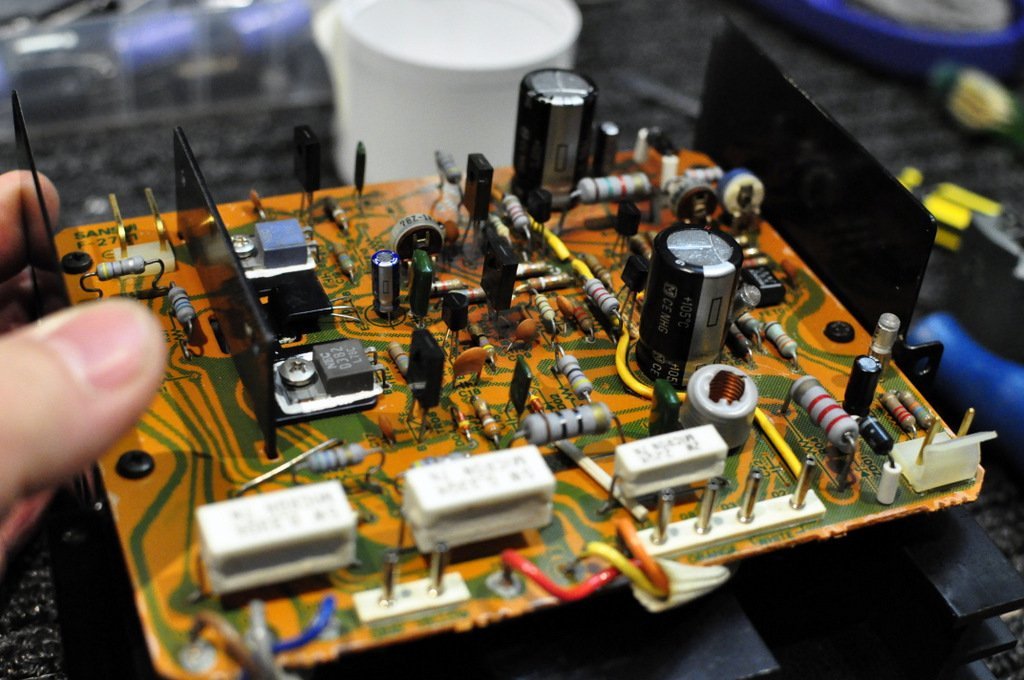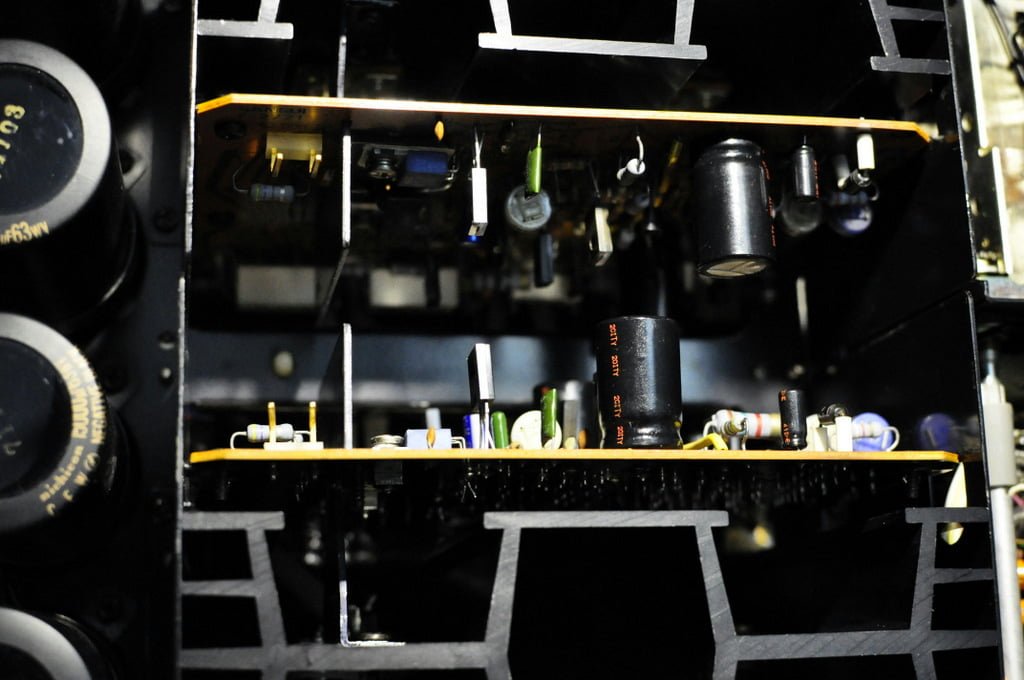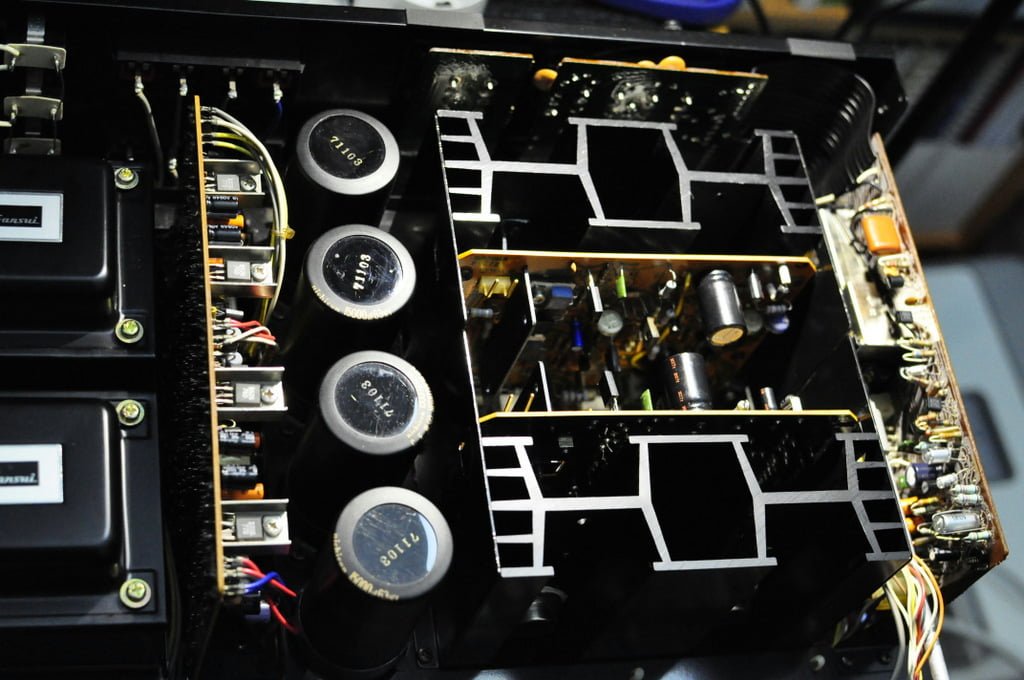 Results
So you might be wondering how the old AU-717 sounds after all this care and attention and big birthday..? In a word, fantastic. I've done many of these overhauls and the results are always worth it. These amplifiers sound clean, fast and smooth, punchy and articulate. What more could you want, plus they look amazing!