I recently restored a gorgeous Sansui AU-717 integrated amplifier. This AU-717 was not running properly and was in serious need of some TLC.
The Sansui AU-717 integrated amplifier is one of those pieces that I just love working on. Sansui designed and built the AU-717 at a time when labour was cheaper. The money went into build quality, parts and layout.
This amplifier is an integrated model, meaning it has a preamplifier and power amplifier in the same chassis. The pre and power sections can be separated if necessary and the whole piece is extremely well laid out.
Anyway, This AU-717 was another victim of the Sansui 'corrosive glue' problem, more on that later.
Specifications (Courtesy of the HiFi Engine)
Power output: 85 watts per channel into 8Ω (stereo)
Frequency response: 20Hz to 20kHz
Total harmonic distortion: 0.025%
Damping factor: 60
Input sensitivity: 2.5mV (MM), 150mV (line)
Signal to noise ratio: 78dB (MM), 100dB (line)
Channel separation: 60dB (MM), 65dB (line)
Output: 150mV (line), 1V (Pre out)
Speaker load impedance: 8Ω (minimum)
Dimensions: 430 x 168 x 389mm
Weight: 17.8kg
Year: 1978 – 1980
Construction
The weight of this amplifier is amazing for something that was not even top of the Sansui range at the time. Sansui laid out their equipment beautifully in terms of ease of servicing and sparing little expense. The amplifier contains a really nice dual-mono phono preamplifier, with selectable gain and lots of polystyrene capacitors. The phono preamplifier sits in a separate shielded box, which is a sound way to reduce noise in sensitive high-gain circuits.
This beast has two separate power transformers – serious in a mid-range integrated amp, and almost unheard of now. And let's not forget something I tell customers all the time: there is nothing new in amplification. No new inventions have furthered the field and you can buy something like this with great confidence, though like this one, it's likely to need a decent service and maybe even a few new parts.
Cosmetically I have thoroughly cleaned the insides of the AU-717 and you could literally eat out of this beast now. I ordered a new protection relay as the relay was faulty in this example. I also spent some time cleaning potentiometers, trimmer pots and controls and tweaking bias and offset in the output modules.
Restoration
What follows are some pictures, with captions, detailing the work and the various stages needed to get the old Sansui Au-717 back up and running again.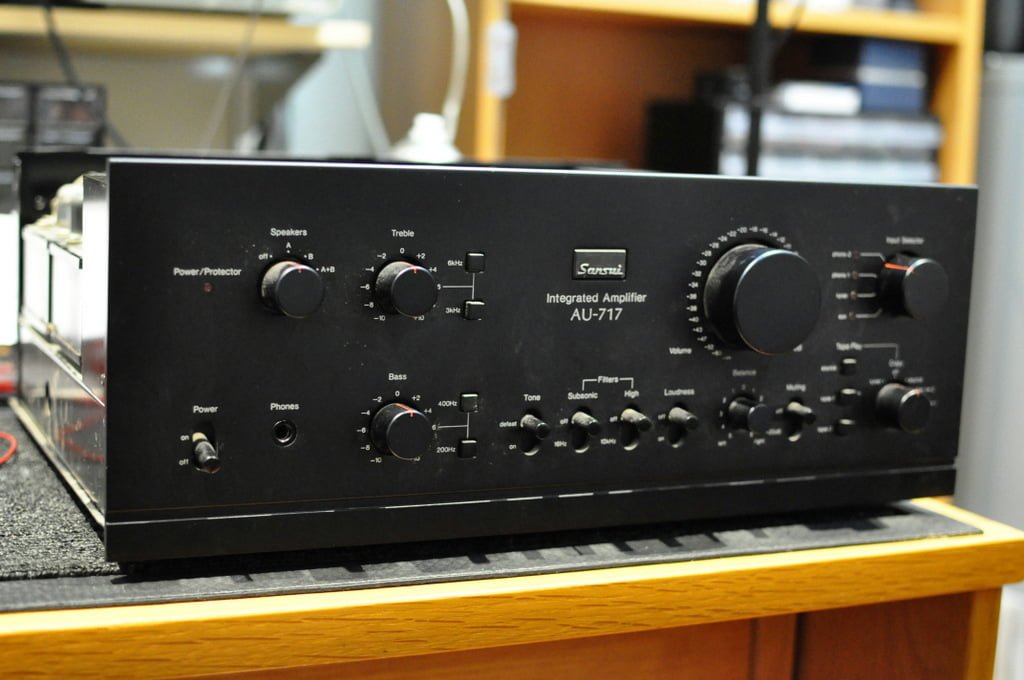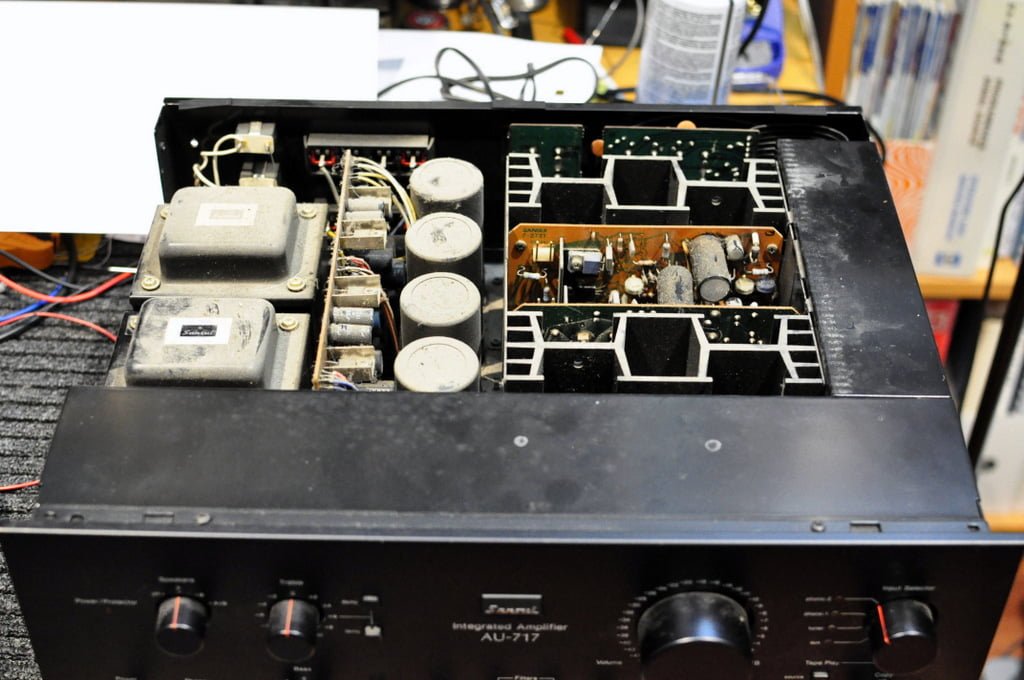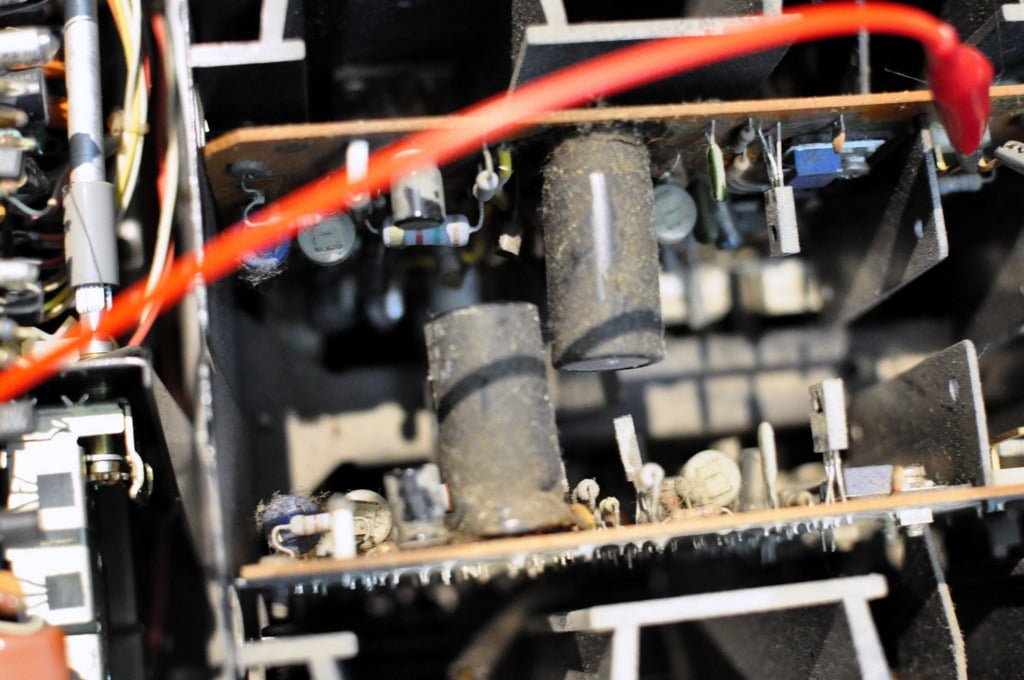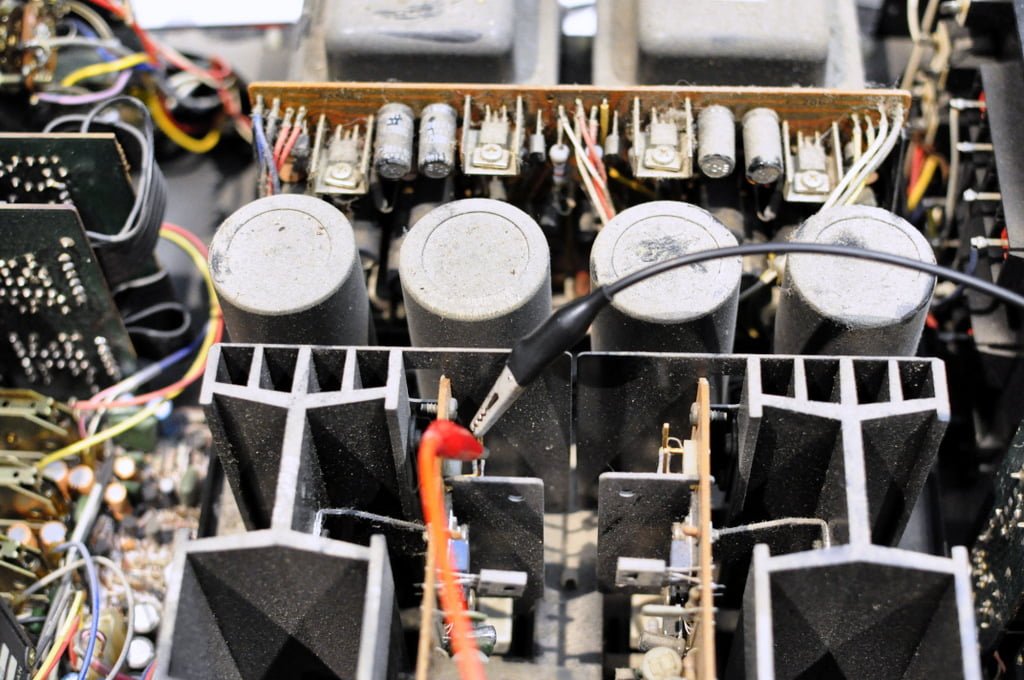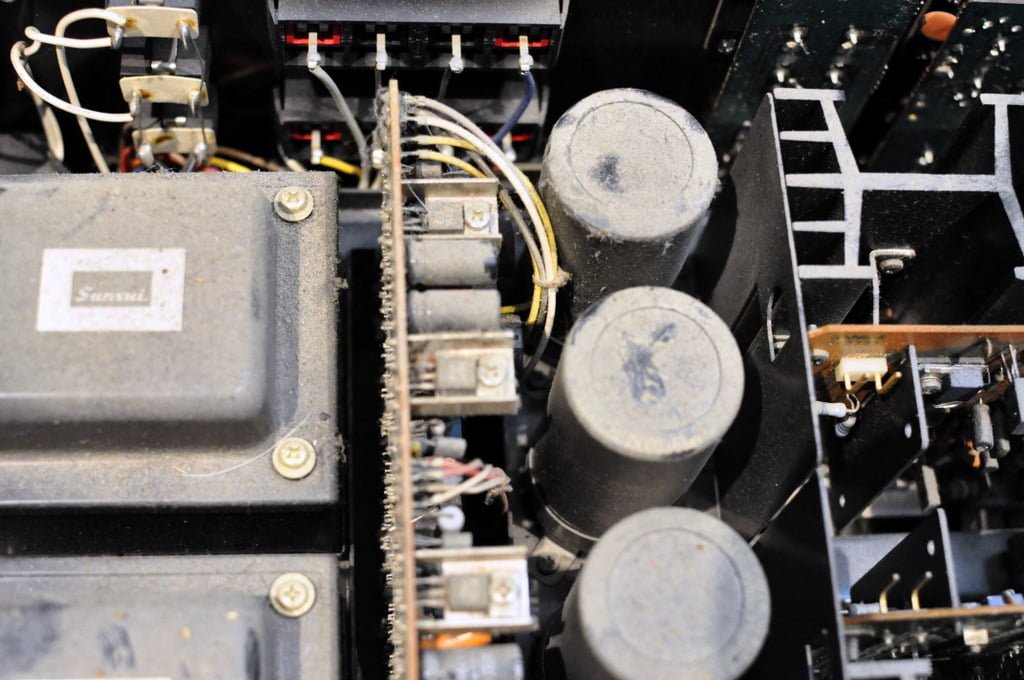 Post-Cleaning
These shots are after a very thorough cleaning, using a system I've developed for chassis-level cleaning during restorations.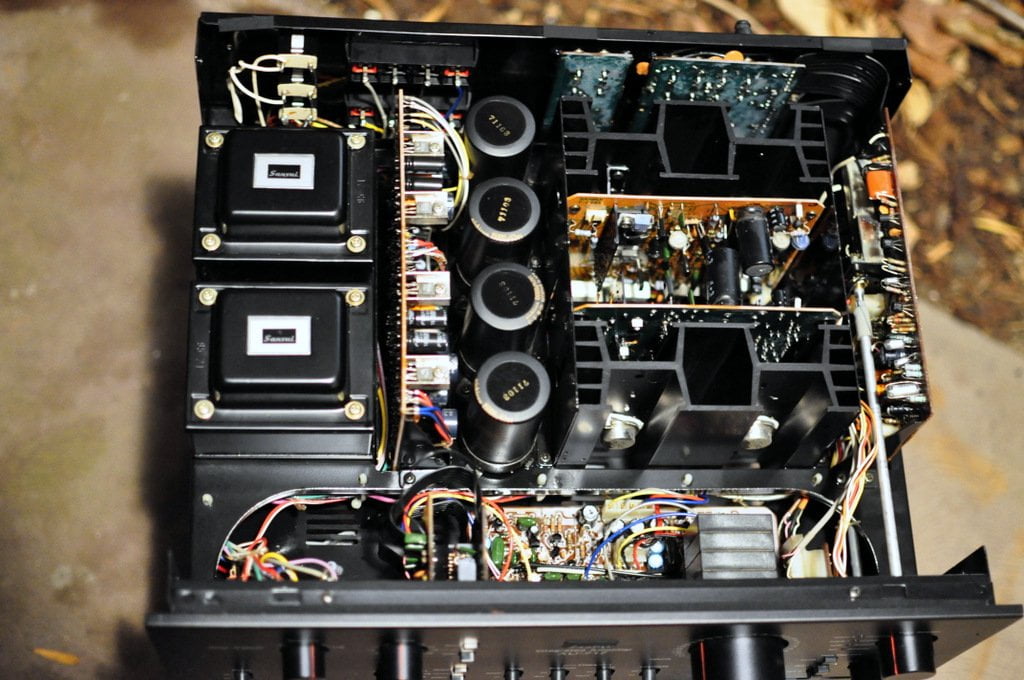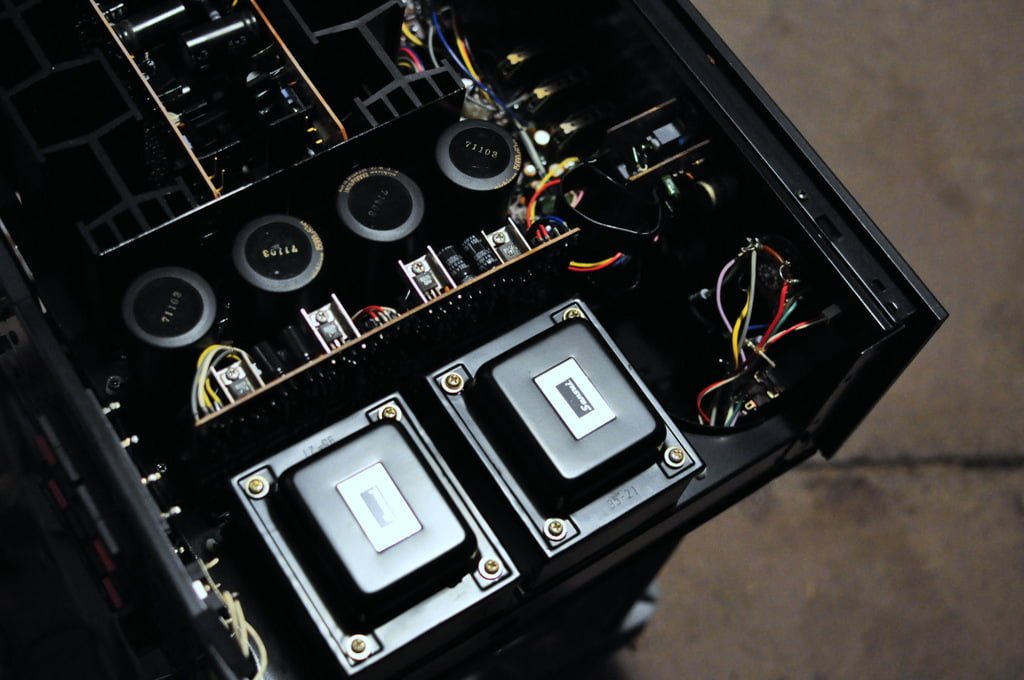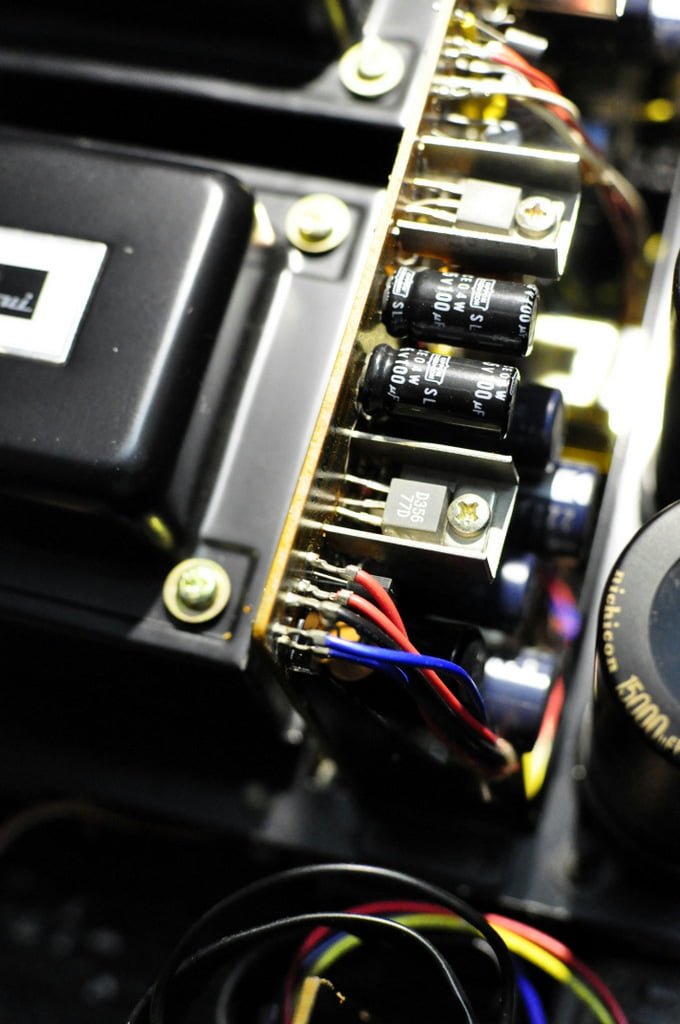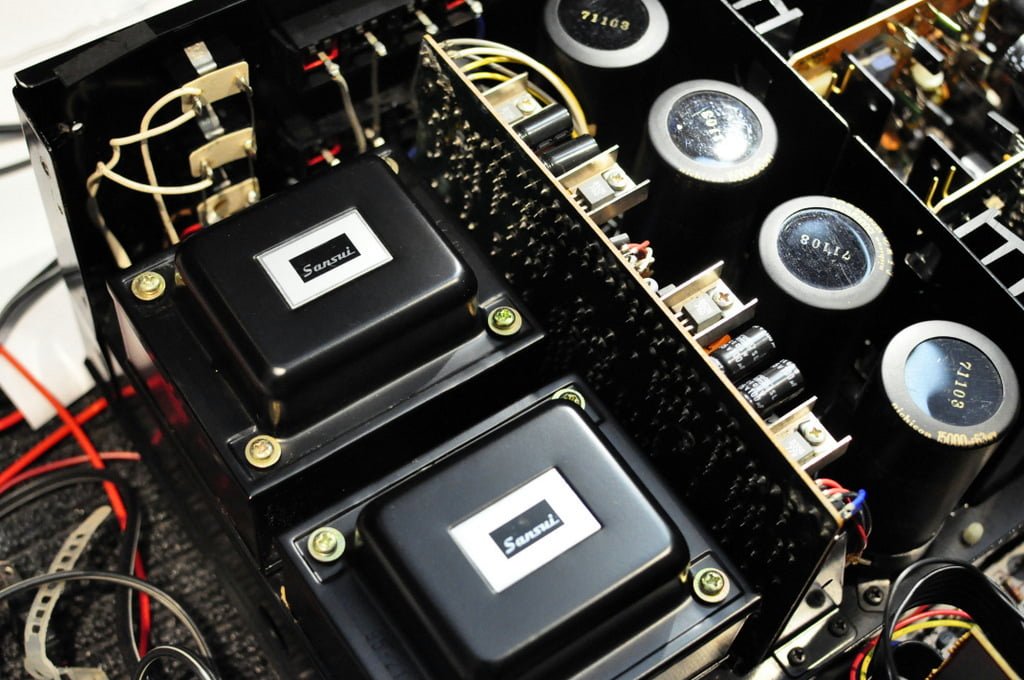 Parts Replacement & Corrosive Glue
A large part of the restoration involved replacing aged electrolytic capacitors and removing the Sansui corrosive glue from each circuit board. I worked on one board at a time, meticulously cleaning them, removing the old caps, cleaning away the corrosive glue, replacing any affected parts, installing new capacitors and flux cleaning.