I recently repaired and serviced this monster Musical Fidelity NuVista M3 integrated amplifier. Come with me as we take a look inside.
The Musical Fidelity NuVista M3 Integrated Amplifier is a true two-box monster amplifier. The NuVista M3 was one of Musical Fidelity's statement products back in 2001. Back then it cost $4500 USD and that was a heck of a lot of money! If you'd like more of a review article, try this, from Stereophile.
Design
Unlike conventional designs, the Musical Fidelity NuVista M3 consists of two large and heavy boxes. The smaller box is the power supply. It actually houses transformers and that's it, so it isn't really a power supply, more a transformer cabinet. Three heavy-duty cables link these transformers – left power, right power and preamplifier – to the main amplifier chassis.
The second, larger cabinet holds the rectifiers and filter capacitors, preamplifier circuit and power amplifiers. The circuitry is straightforward and the quality of the parts is quite basic, in typical Musical Fidelity style. Board quality is good and the modular design is again typical of MF. There is nothing unusual here, except maybe the Nuvistor tube buffer implementation, which is cool.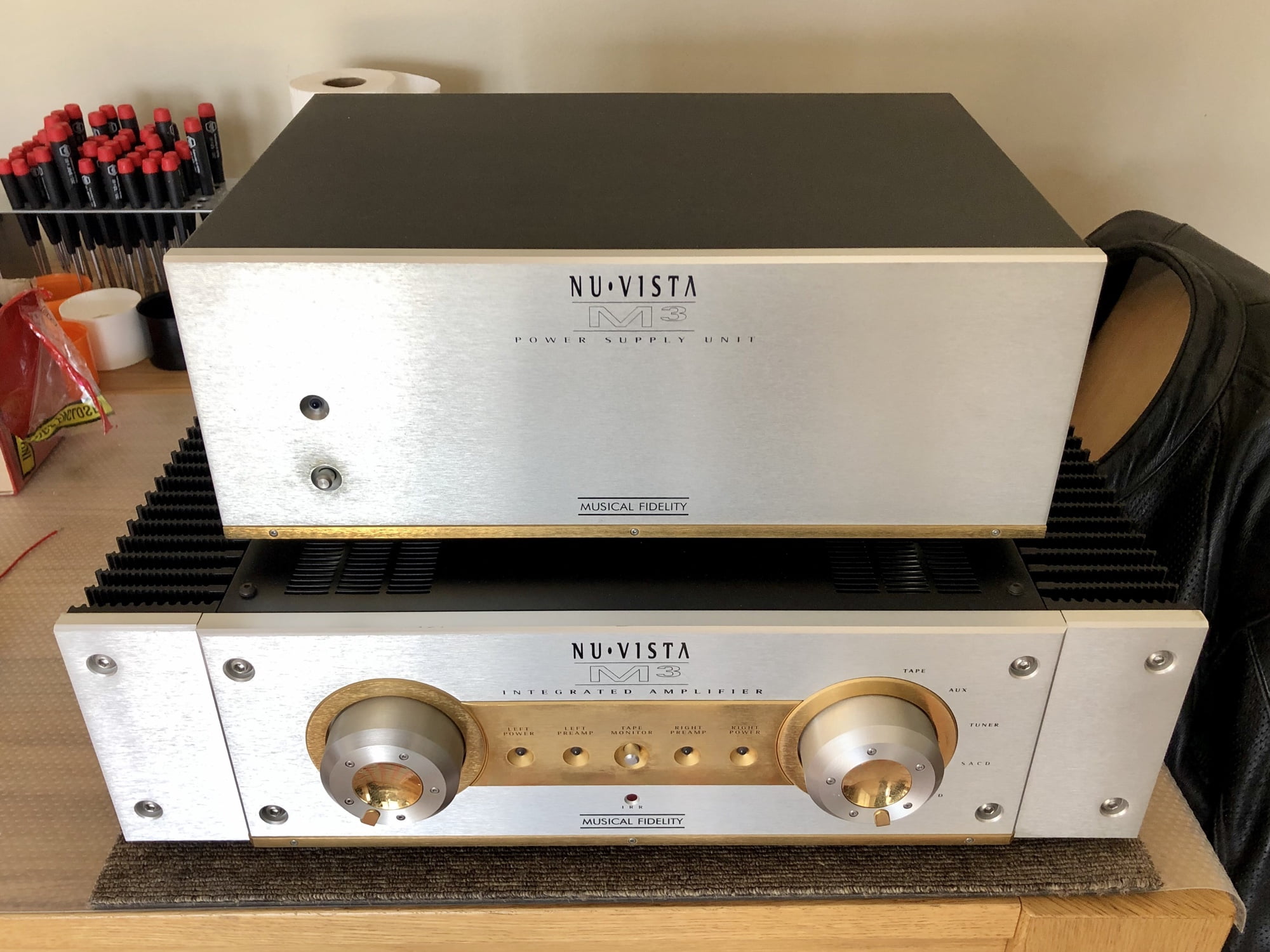 In terms of other design elements, the Musical Fidelity NuVista M3 uses Sanken SAP15 Darlington output devices. Each unit consists of two bipolar transistors, a diode and an emitter resistor in a high-gain configuration. This reduces the number of components needed in the drive circuitry but creates its own issues.
These devices are no longer available though and are hard to match due to their inconsistently high gain. If this thing blows up, it could be a pain to fix now, especially if you can't get access to the large number of devices you'll need to select an adequately matched set.
Musical Fidelity NuVista M3 Specifications
Power Output: 250 watts per channel into 8 Ohms
THD: (Typically) < 0.003% at 1kHz ('A' weighted)
Frequency response: (Typically) 20Hz – 60kHz +0.25 / -3dB
Inputs: 1 phono 5 line level
Outputs: Speakers, Tape out, Preamp out.
Input sensitivity: (line) 300mV, (MM) 3.5mV
Input impedance: (line) 100KOhm, (MM) 47KOhm
S/N Ratio: (line) (Typically) 102dB A-weighted
S/N Ratio: (MM) (Typically) 83dB A-weighted
Power consumption: 1200W max
Power requirements: 100/115/230V AC 50/60Hz
Dimensions: Amplifier 482 x 145 x 470mm (W x H x D)
Dimensions: PSU 365 x 145 x 250mm (W x H x D)
Weight: Amplifier – 23kg (un-boxed); PSU – 16kg (unboxed)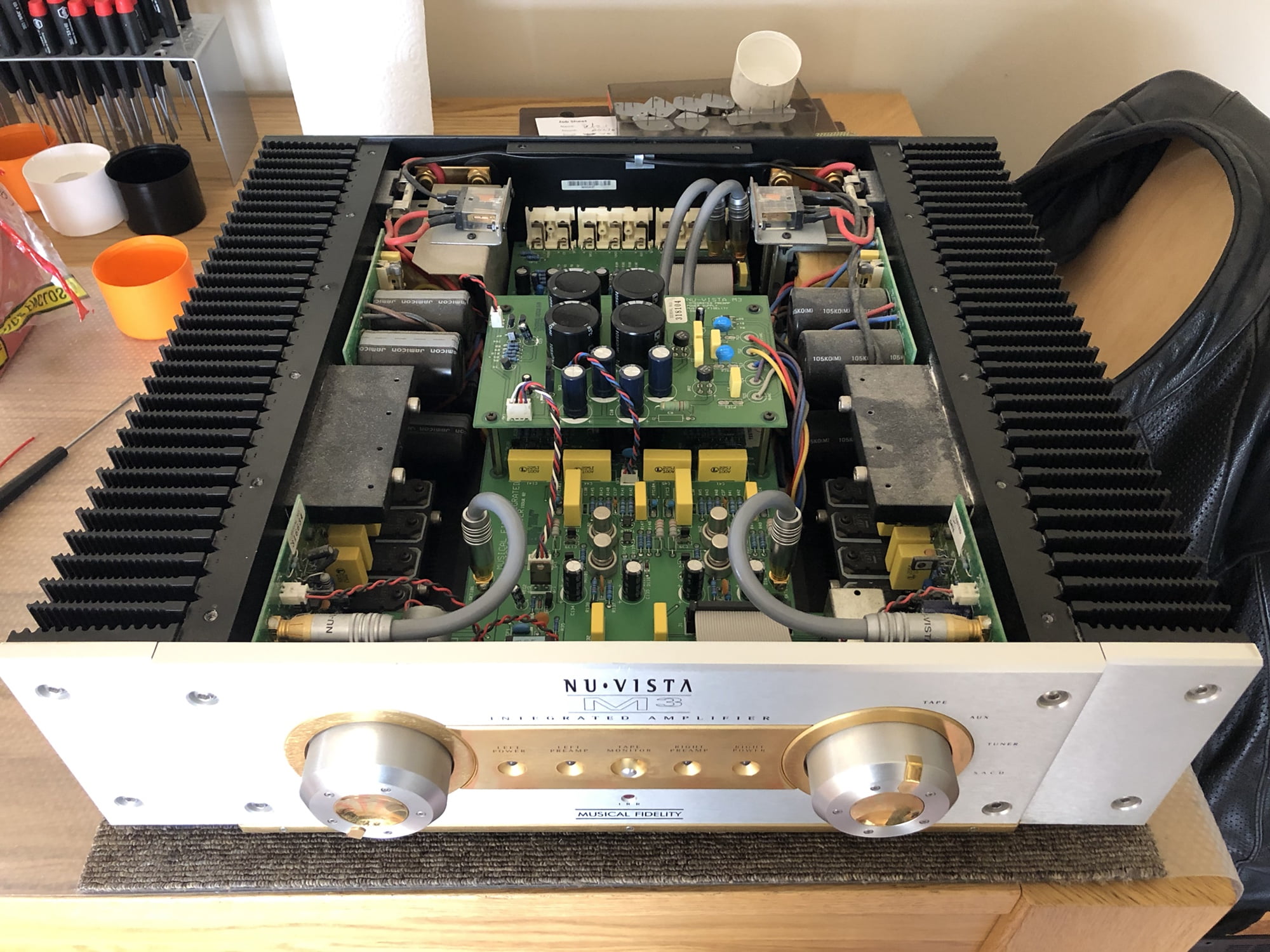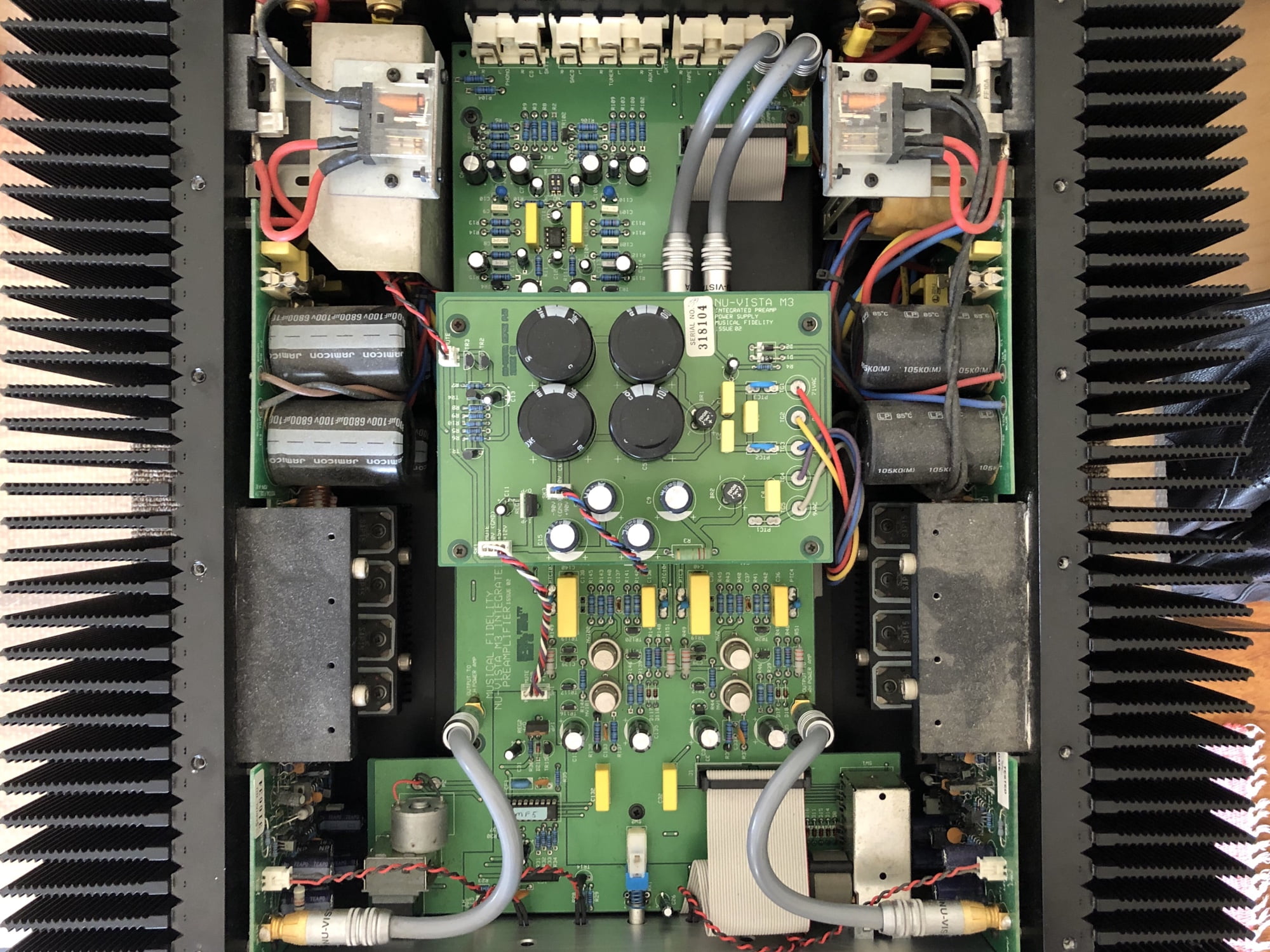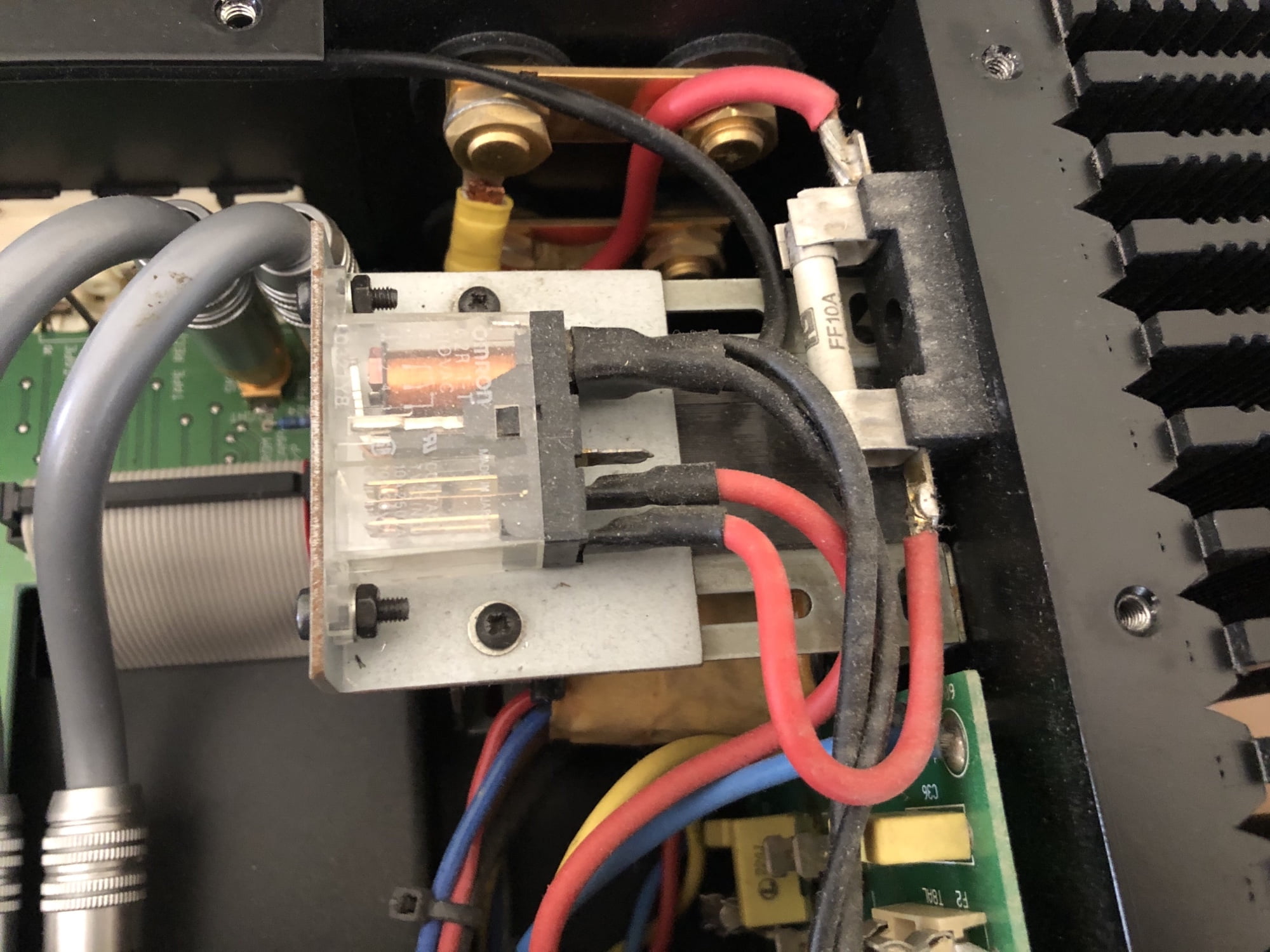 Previous Work…
This late serial numbered unit had visited a technician prior to its arrival here. This technician had replaced parts as part of an expensive repair job. In this case though and much to my relief, things were, for the most part, neat and tidy.
The issue, and I'm not sure if this had occurred to the owner, is that this work didn't resolve the problem with the amplifier and was therefore completely unnecessary and expensive, with no net positive result. The original channel drop-out problem with this NuVista M3 returned shortly after the work done a few years ago. My customer lived with this for some time before bringing the unit to me. Can you pick the new parts in the image below…?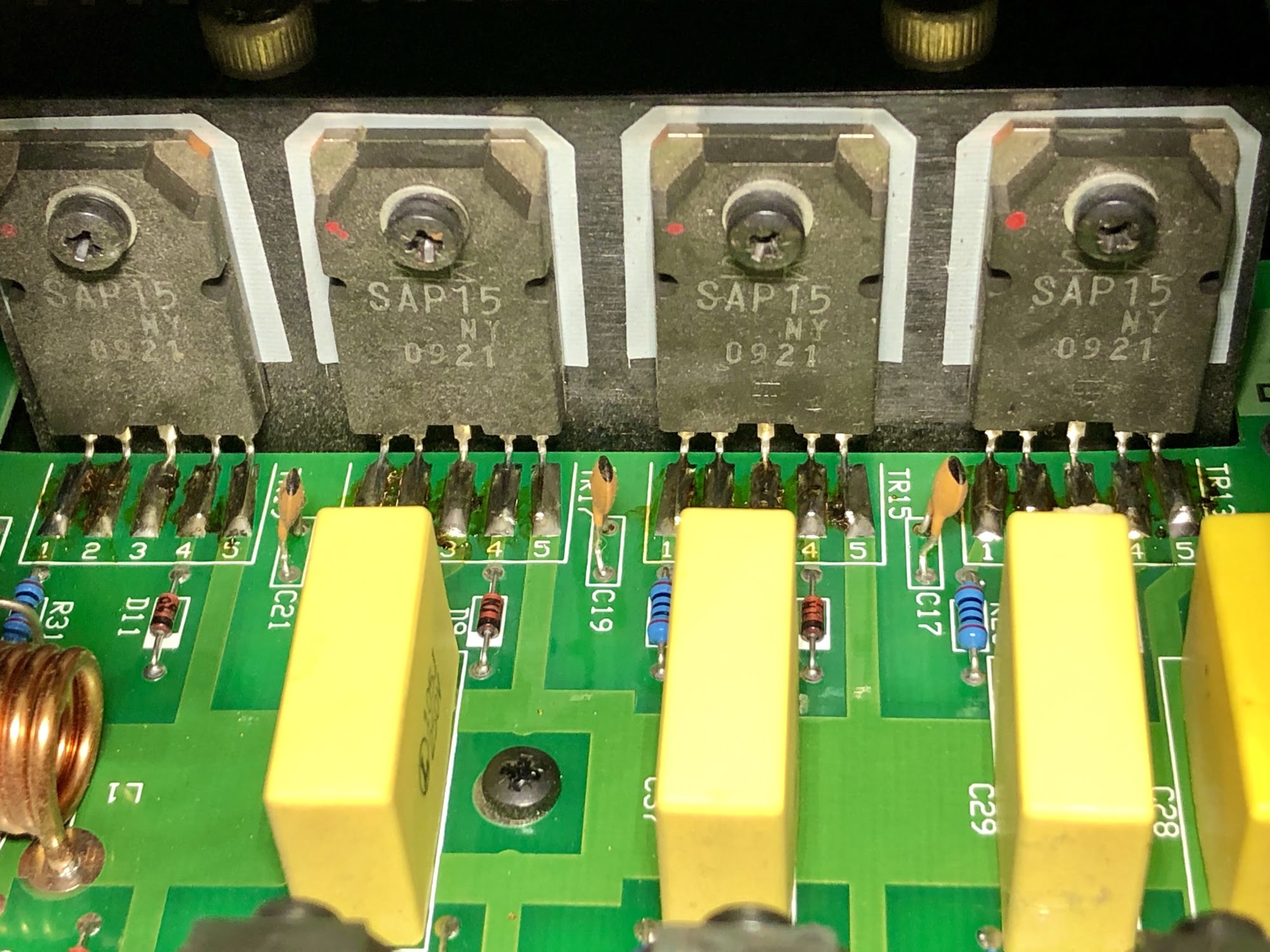 So, I found a set of 16 SAP15 Darlington devices from 2009 in this amplifier from 2001. As I said, the work is neat so I have no problem with it from that perspective. The problem is that it didn't need new output devices. This work cost the owner well north of $1000 AUD.
The original fault returned shortly after the output devices were replaced. This tells us that they were absolutely OK. The amp still ran at this point and these things usually explode when they fail, leaving signs that are visible even after replacement. These devices are used across a range of MF amplifiers and they generally fail catastrophically.
Issues
One of the first things I do with any piece of equipment exhibiting a recurring fault is to carefully examine every component possible. I'm looking for clues (thanks, Robert Palmer), signs of damage or overheating, poor soldering or anything that might exhibit intermittent poor contact, like a switch or relay.
I found three critical and two potential issues in this NuVista M3:
A damaged TO-126 device (inflicted during the previous repair)
Poor soldering on a diode bridge
Excessive idle power consumption and asymmetrical bias
A remote-controlled mechanical input selector – potentially flaky
A full complement of crappy original capacitors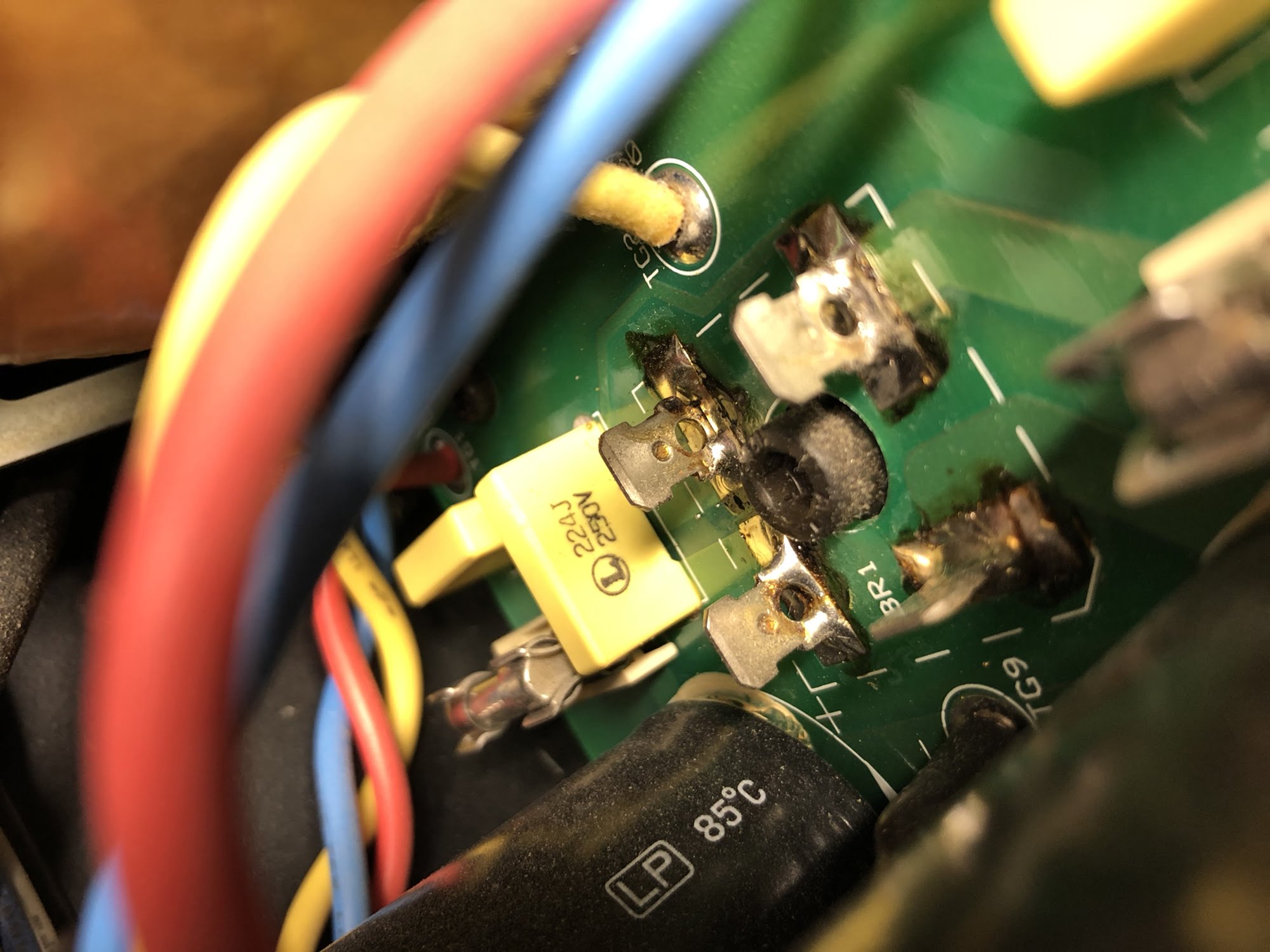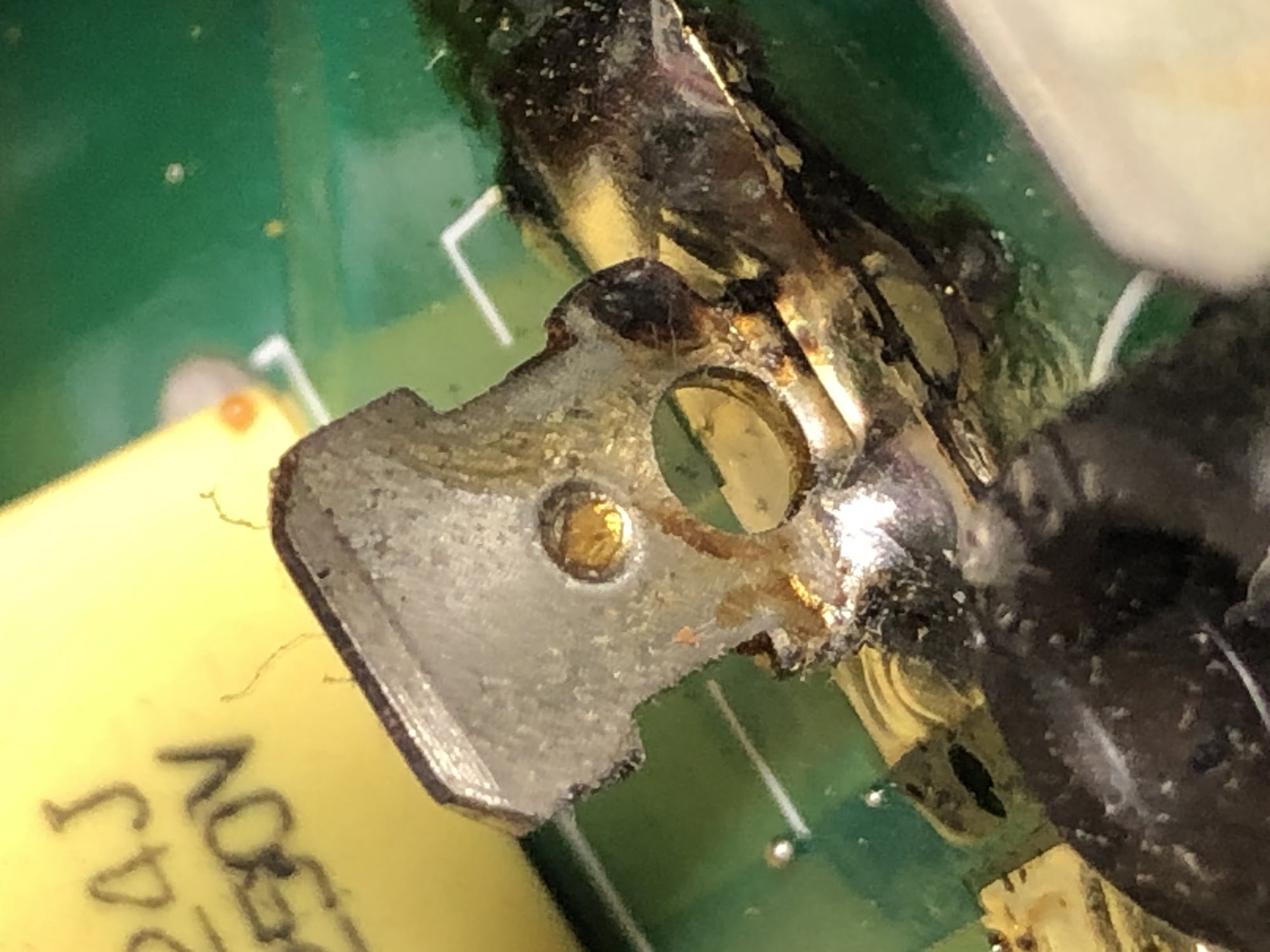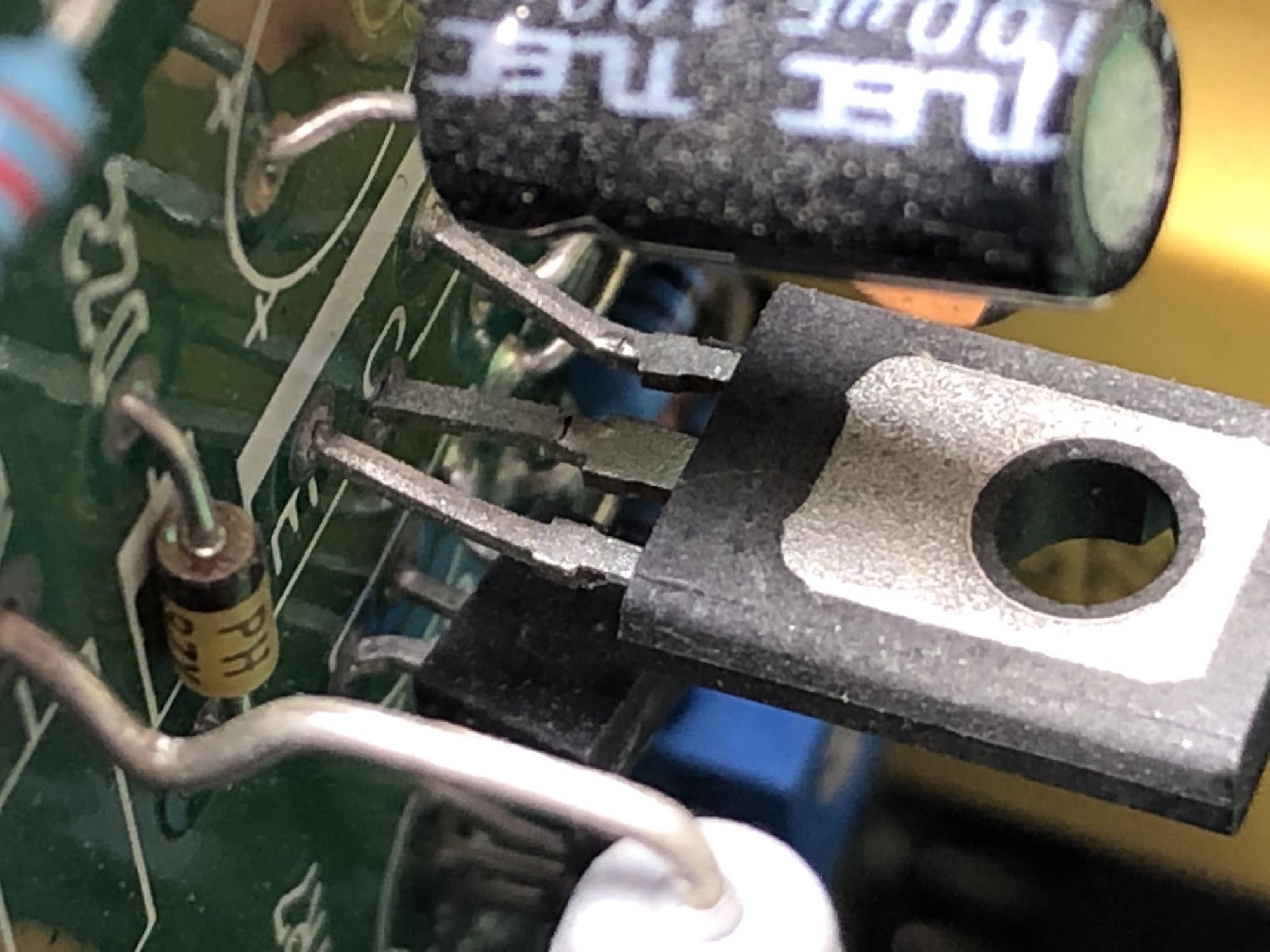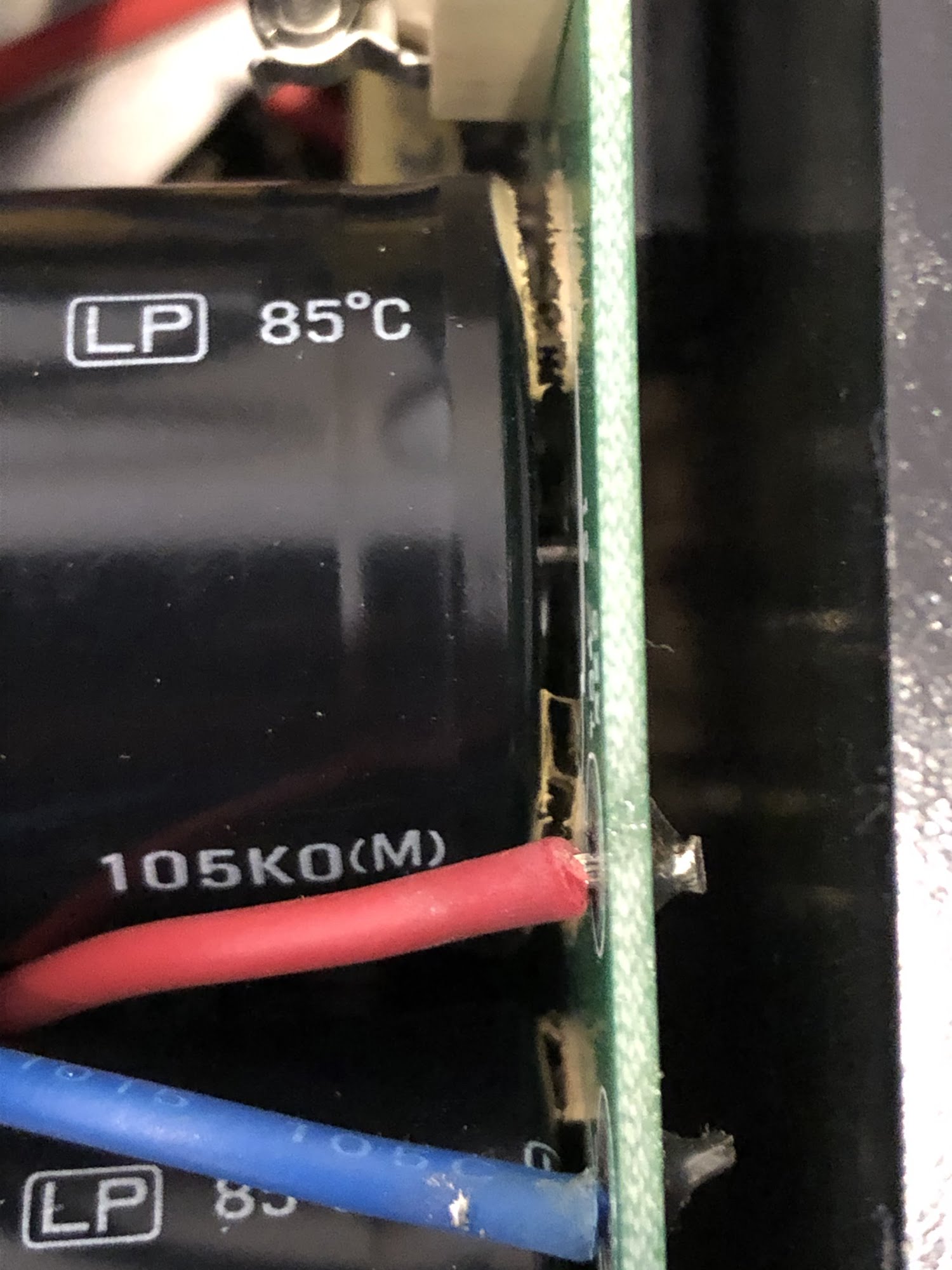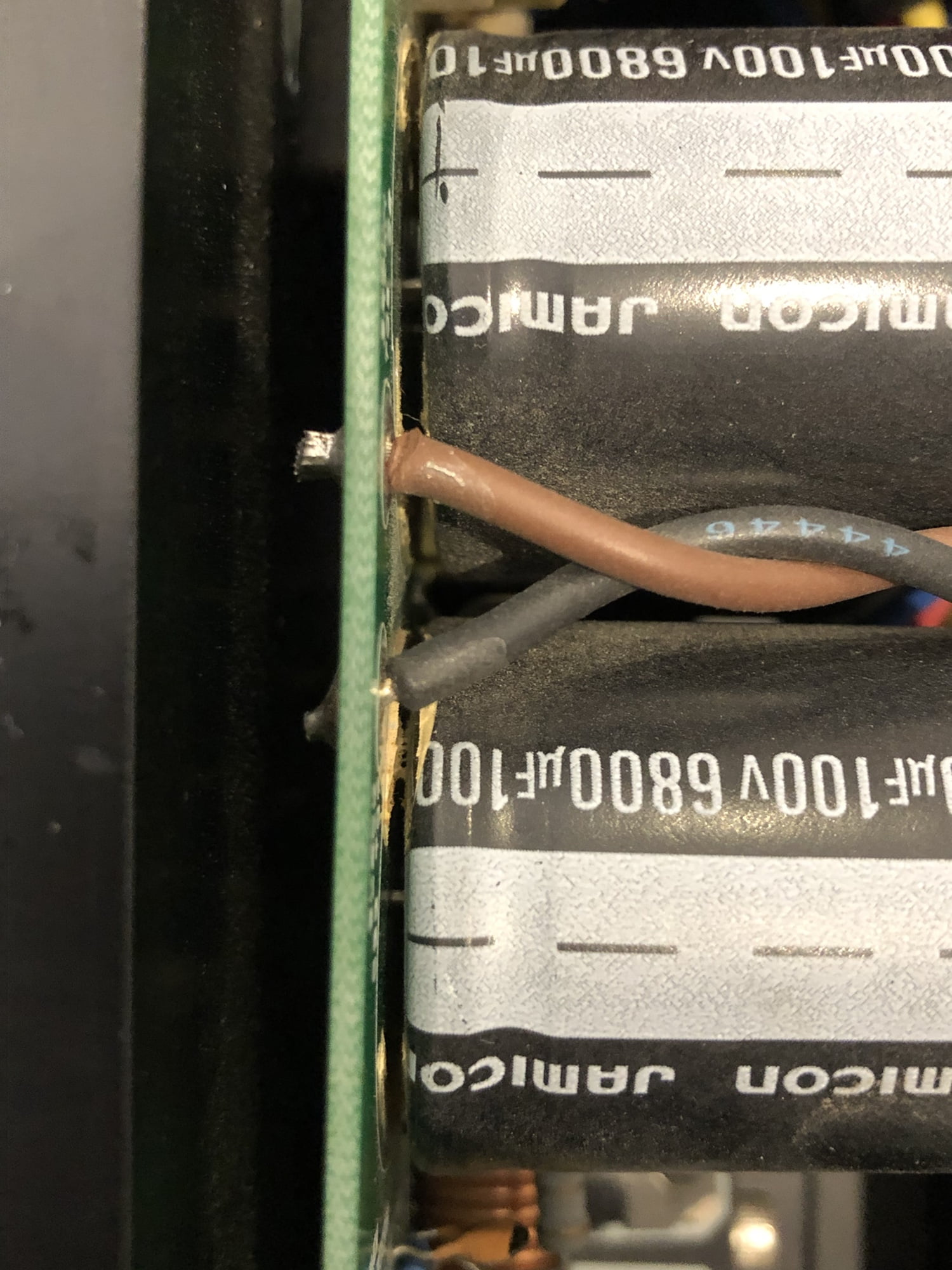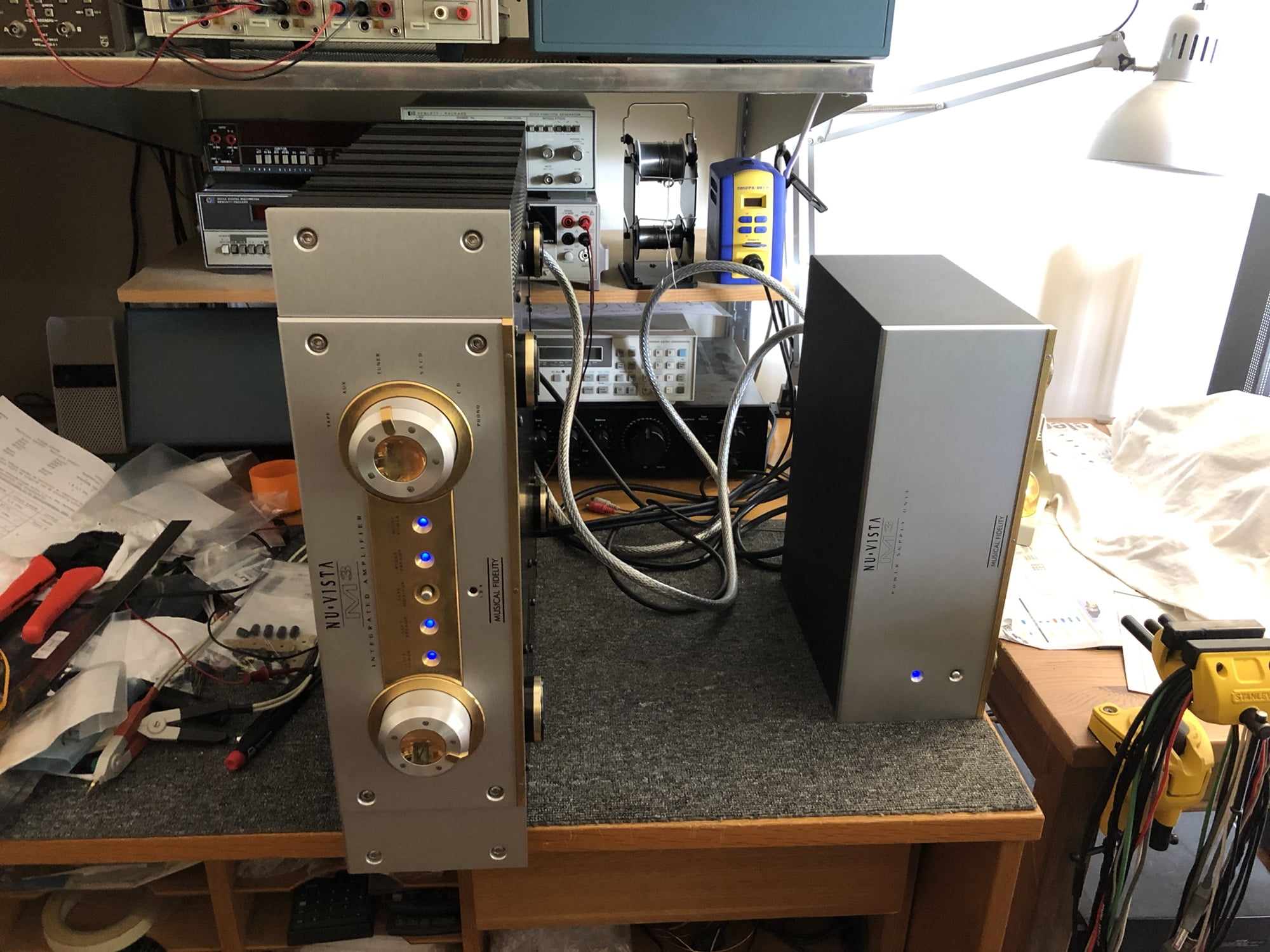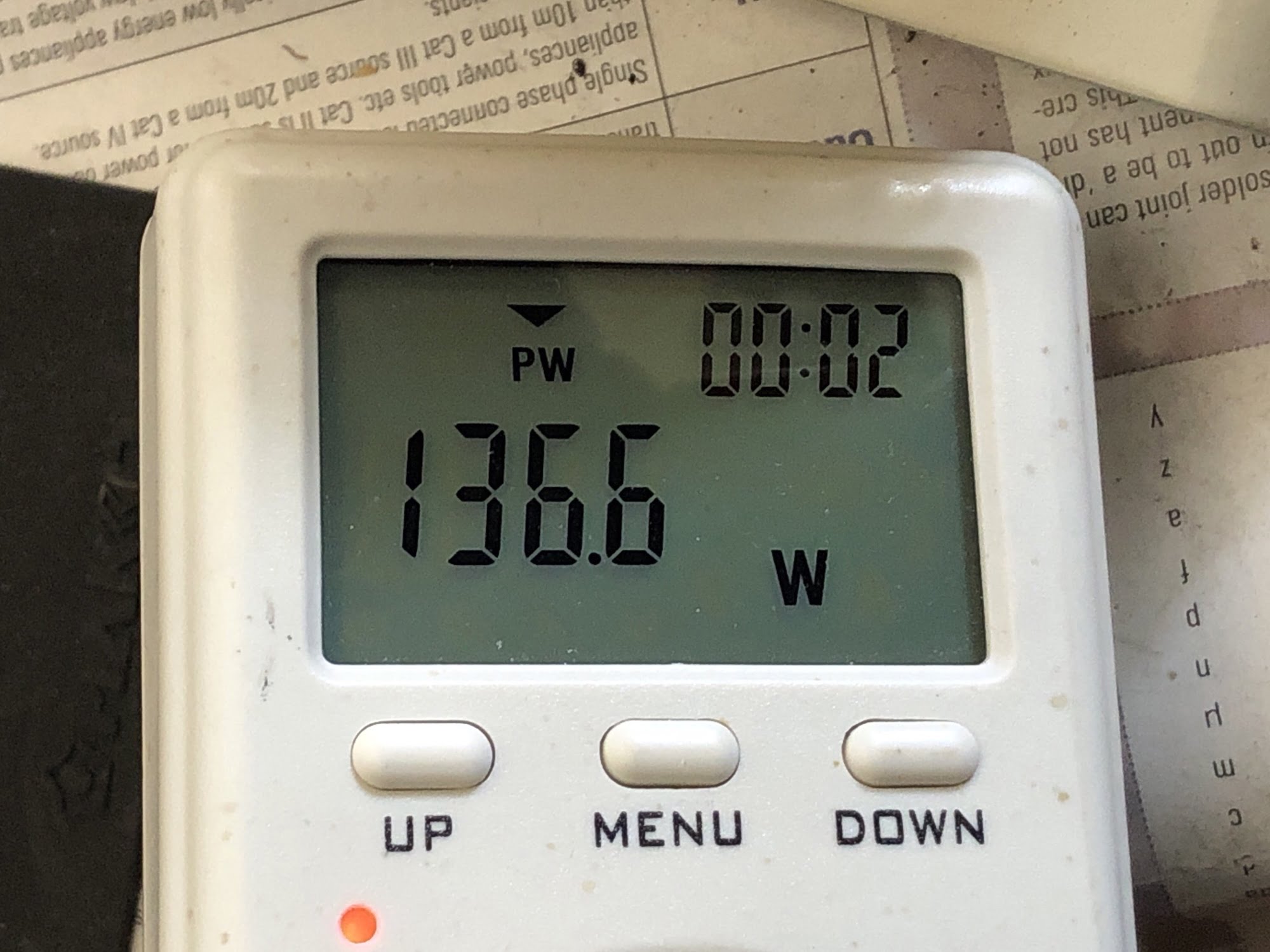 Repair & Service
First, I repaired the poorly soldered diode bridge and the TO-126 transistor with the fractured legs.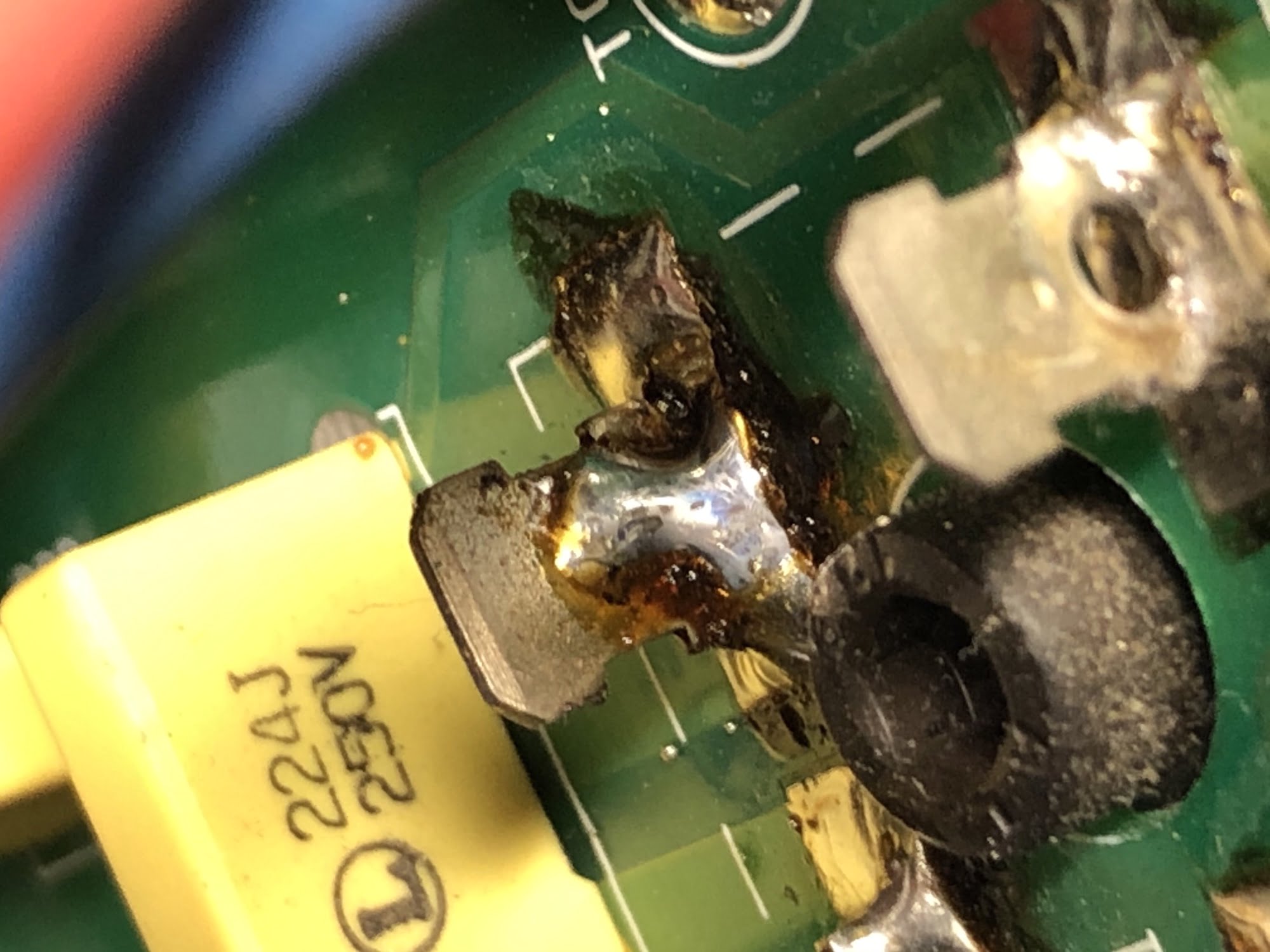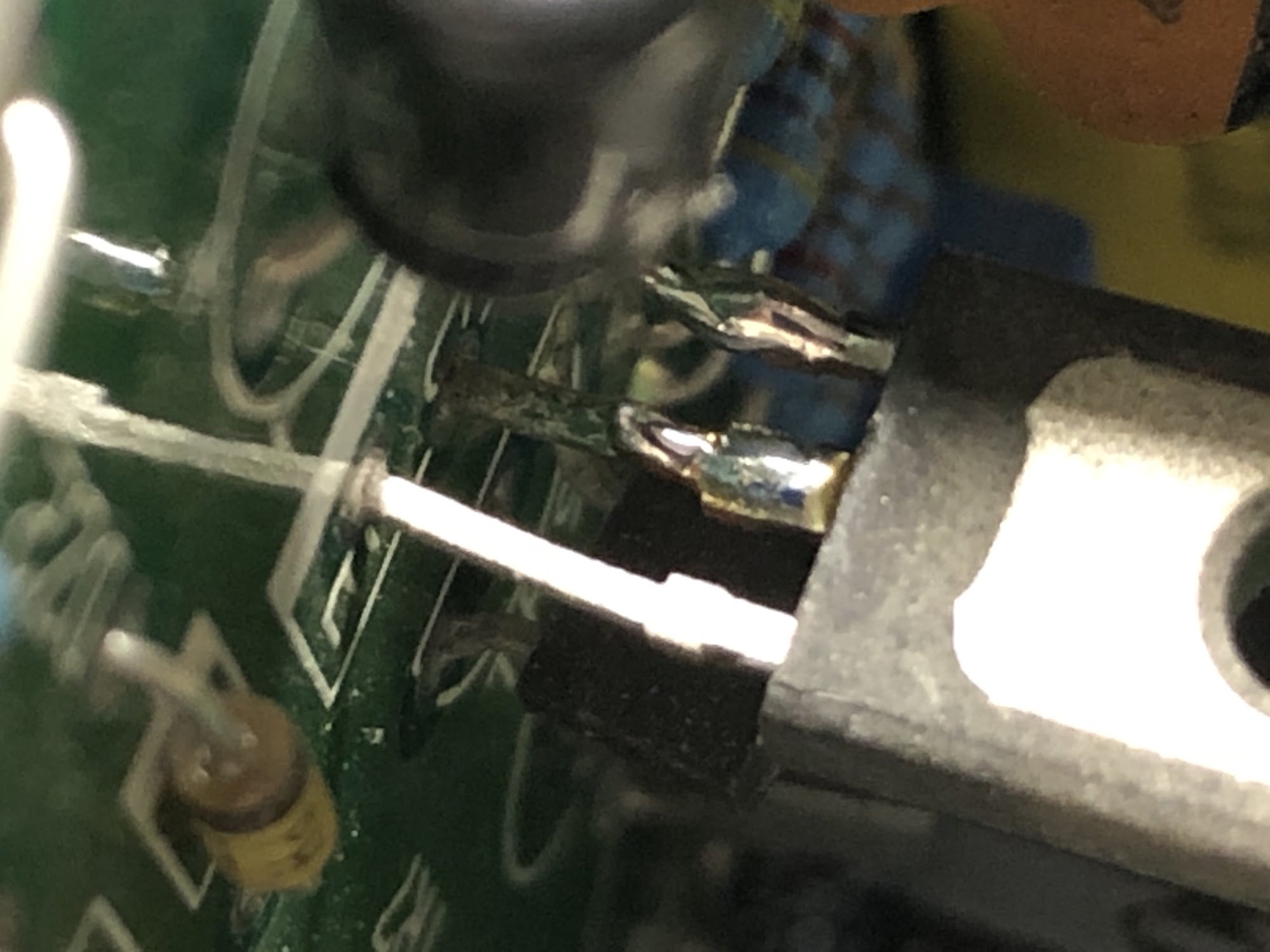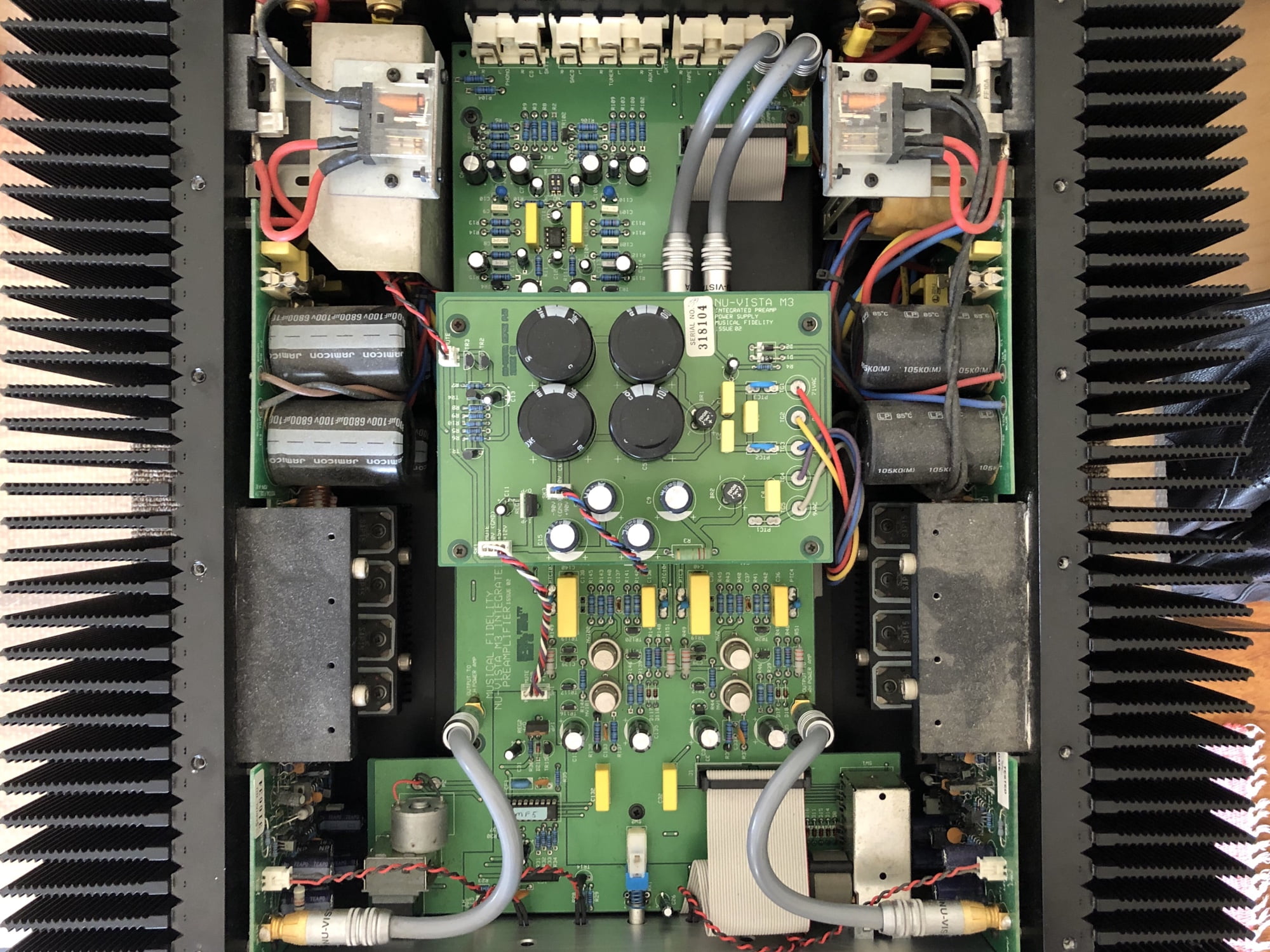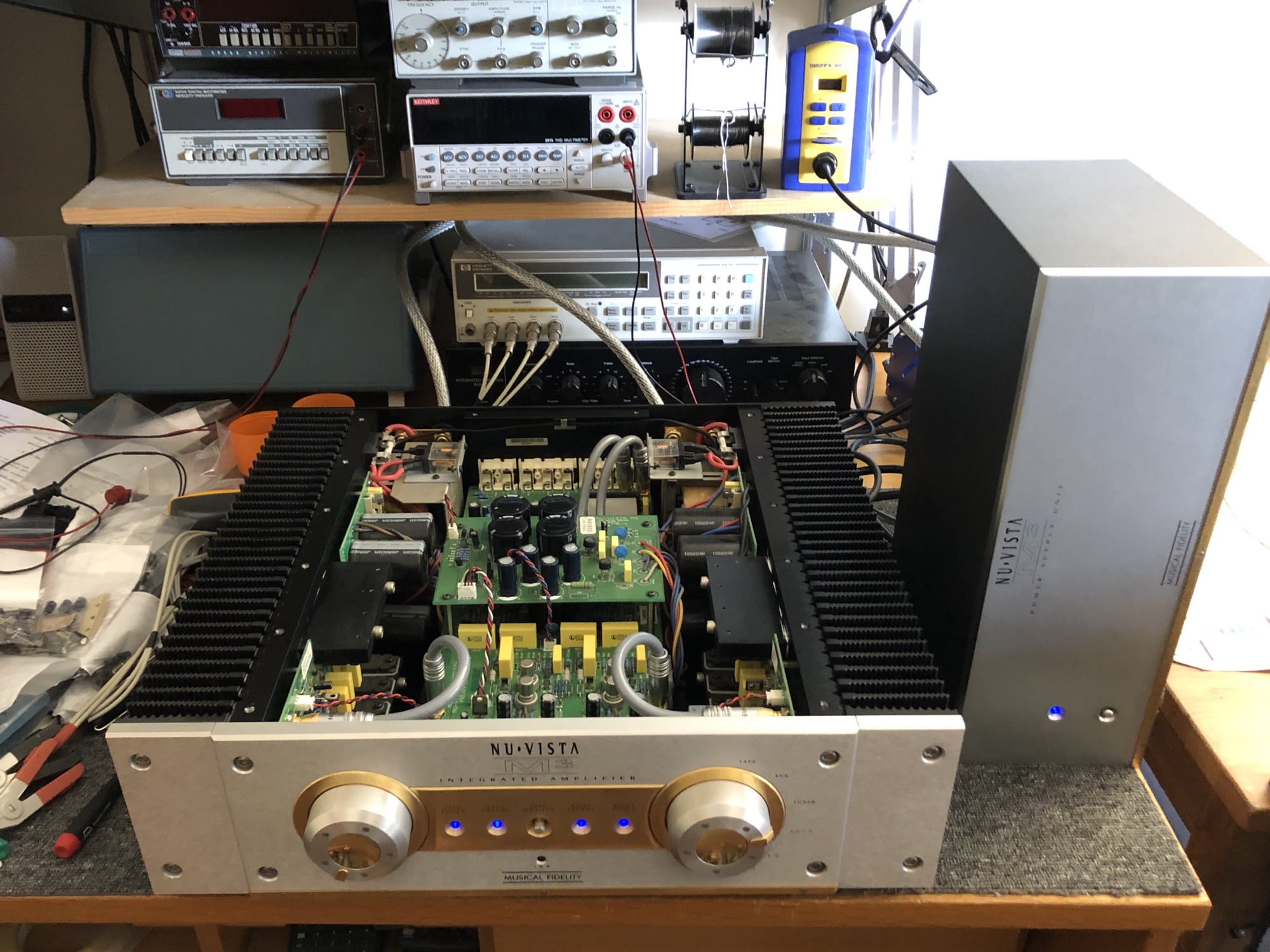 So what were the main issues here? When the output devices were replaced in the previous repair attempt, the technician failed to correctly re-bias them. He either misadjusted the quiescent current or never looked at it at all. This caused a thermal imbalance and poor sound and this, combined with a flakey input selector switch were the likely culprits. The damage he caused to the transistor was incidental but not a good thing.
Results & Suggestions for Improvement
After addressing the problems with this Musical Fidelity NuVista M3, including the poor soldering and fractured transistor legs, extensive bench testing and adjustment, I gave her a clean bill of health. Listening to the M3, she sounded lovely, particularly BIG, powerful and clearly capable of driving big speakers in larger rooms.
The only other thing I recommended to her owner is an overhaul, using better parts in critical locations and some other improvements that I know work well with all Musical Fidelity gear. This will transform the performance of an M3 in sonic terms, as well as improve its reliability.
To anyone owning a Musical Fidelity NuVista M3 integrated amplifier and wanting the best performance and reliability, a full overhaul including new filter capacitors, improved film capacitors and additional critical bypass and decoupling with some special NOS vintage parts is the prudent way to proceed.
Feedback from her owner is extremely positive:
Dear Mike

I thought I would let you know that my amplifier has never missed a beat since getting it home, thanks so much, I really appreciate it.

Dennis
My customer is bringing her back next year for this work and if you or anyone you know has one of these or any of the other big Musical Fidelity amps, I am very happy to service, repair and overhaul these units.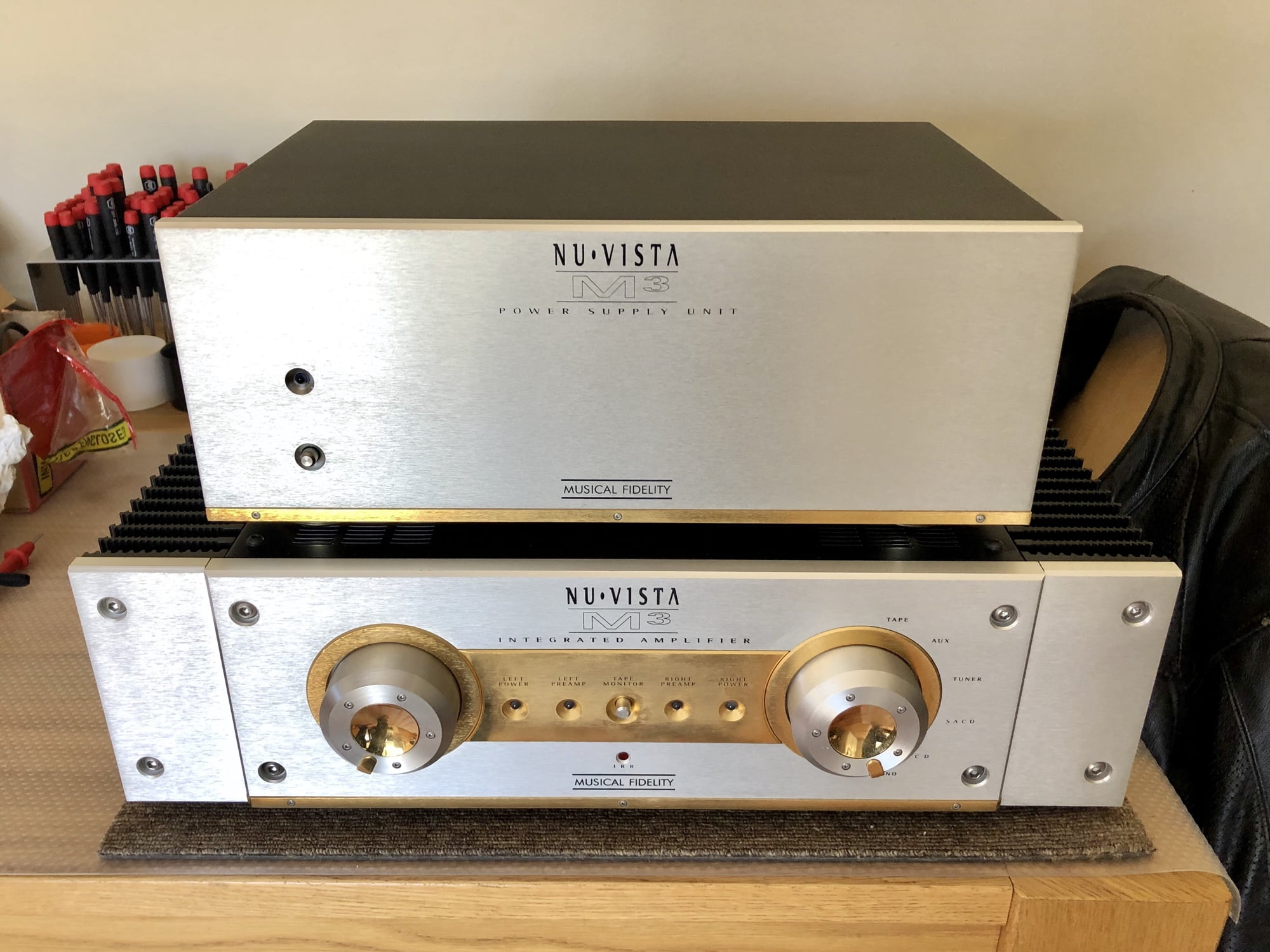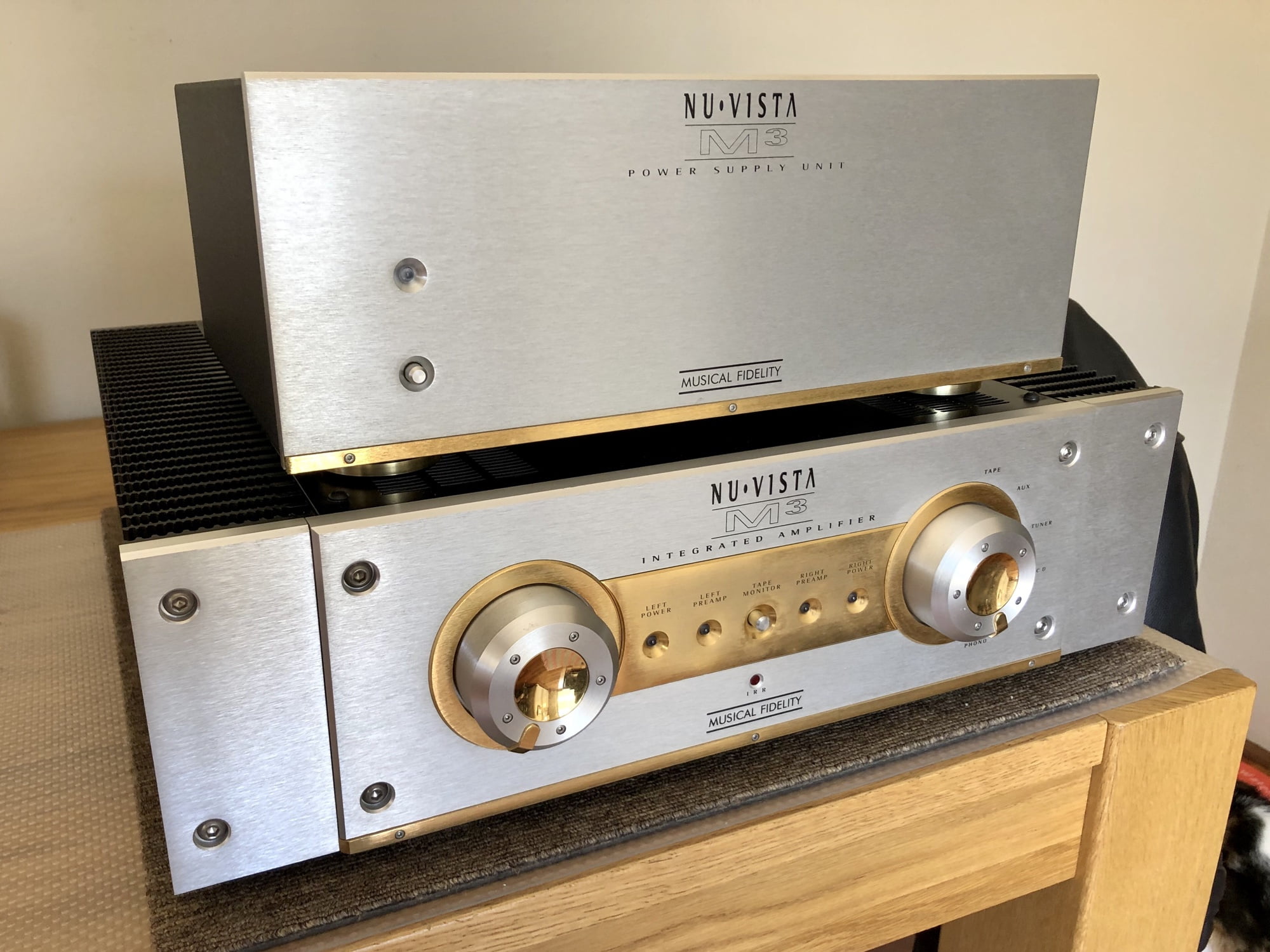 As always, thanks for reading. If you would like me to service or repair your Musical Fidelity NuVista M3, or any other lovely Musical Fidelity equipment, don't hesitate to let me know.