The Yamaha NS-1000M monitor loudspeaker is proof it can be done. 'It' in this case being to create a unique and inspired loudspeaker, that in many ways still has no peers.
These legendary monitors are vaunted across audio circles and loved by thousands of owners. I'm lucky enough to own this pair, so it's about time I reviewed them.
All products are a mix of compromises and audio equipment is no different. Still, it's hard to argue that the Yamaha NS-1000M holds fewer compromises than most loudspeakers. Indeed, the NS-1000M is one perhaps one of the least compromised designs ever produced for mass market.
Background
The Yamaha NS-1000M first reached the market in 1974. Imagine what people thought when they first saw it – in 1974! Everything was brown when these hit the market. Look at the image above and it's at once timeless and space-age in appearance.
They enjoyed a huge production run, for good reason. Manufacture of the NS-1000M continued unchanged until around 1984. My pair has matched serial numbers in the 60,000 range but I've seen them with six-digit serial numbers.
They were widely reviewed at the time and adopted as just as widely. The late, great J Gordon Holt wrote this review for Stereophile, back in the day. More recently, The Vintage Knob added this great page on the NS-1000M and there is loads more to be found, all over the web.
This classic stand-mounted monitor came in two versions. The NS-1000M features black ash veneer and weighs 31kg. A more up-market version called the NS-1000 comes in a rosewood veneer and features an even heavier 37kg per box.
The Yamaha NS-1000M sprang from Yamaha's wish to create a premium monitor-style loudspeaker for home and studio use. The goal was a design that raised the bar in terms of neutrality and resolution.
By definition, monitors are used as references when mastering and mixing in recording studios. The goal is to make sure the music is heard as it really sounds, minimally coloured by the loudspeakers themselves. To achieve this, the NS-1000M features several design considerations that make them extremely desirable for use in a home hi-fi system.
Beryllium

Yamaha had all the R&D and resources necessary to create the world's first beryllium dome drivers, for use in the midrange and treble drivers of the NS-1000M. Why beryllium? Because it is the stiffest and lightest material available for loudspeaker dome design. Stiffness and lightness translate into higher sensitivity, faster transient response and better retrieval of fine detail.
These great dynamic attributes help create the incredible air and detail these speakers are known to produce. It is incredibly hard to manufacture and work with beryllium, but it's unique properties imbue the NS-1000M with a unique sound.
Yamaha designed and manufactured all three NS-1000 drivers. They didn't need to rely on third-party parts or designs and were therefore able to customise these drivers to perfectly suit the NS-1000. This doesn't happen anymore, drivers are almost exclusively supplied by Scanspeak, SEAS, Morel, Vifa, Peerless etc.
All three drivers in the NS-1000M have large magnet assemblies, especially the midrange driver. This boosts sensitivity and power handling, aiding the speaker's ability to retrieve fine detail and helping the overall system sensitivity to a handy 90dB/Watt. This means low-powered amps need not be afraid of driving the Yammies.
Boxes

Whilst vented boxes are more efficient, a well designed sealed box will have tighter bass and have a gentler 6db per octave roll-off below the resonant frequency of the bass driver and box. With room gain countering this gentle rolloff, bass response can actually be quite impressive. Typical in-room response is very tight and clean.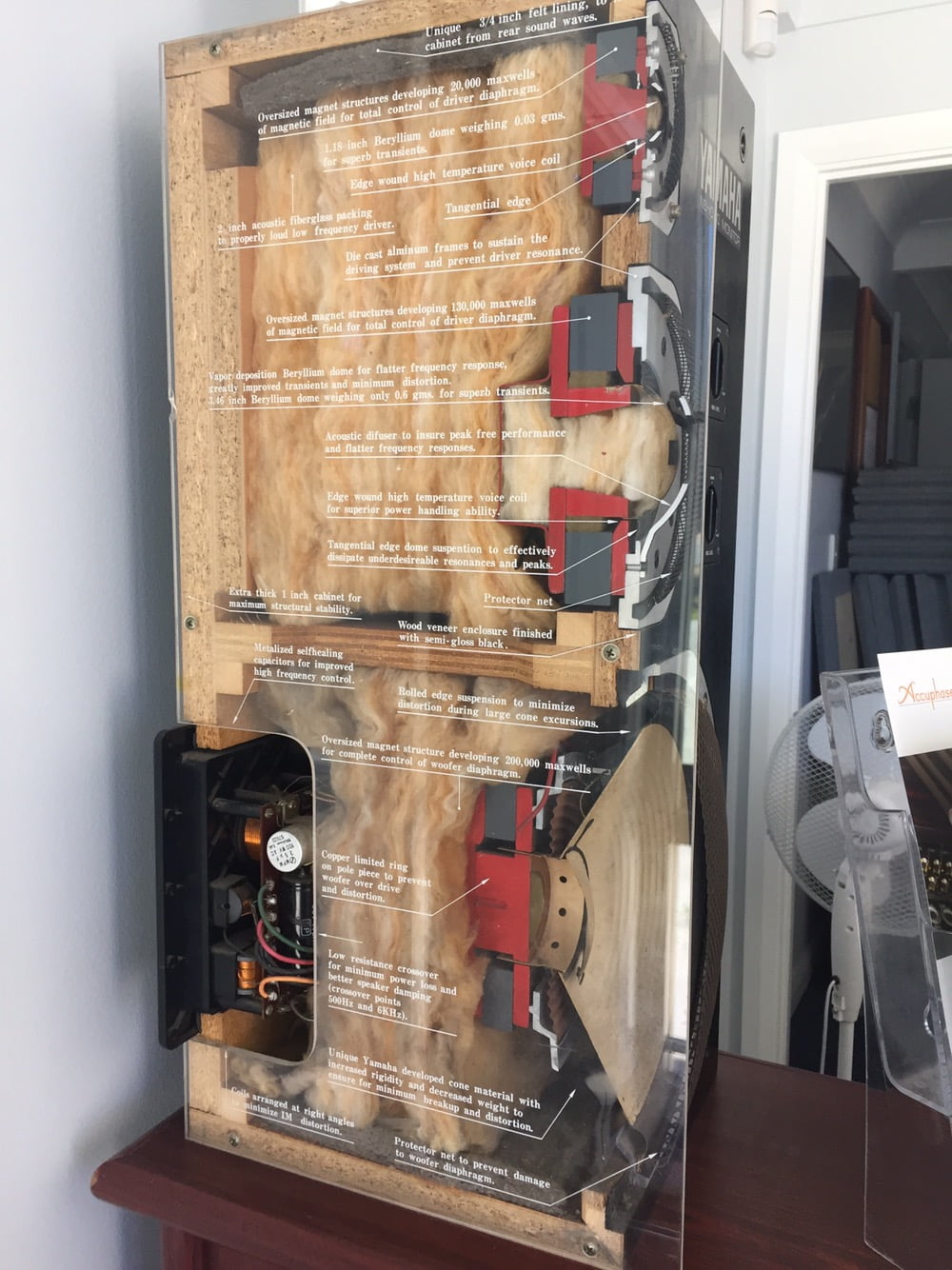 As you can see from the photo I took of a display NS-1000M sliced in half, the boxes are incredibly solid and inert. Cabinet are built from a mixture of chipboard and ply. Yamaha utilised extensive internal bracing and cabinet damping materials and even used the offcuts from cutting out the hole for the woofer to brace other parts of the cabinet. Why waste good wood?
A sub-woofer can very nicely augment the bottom end of the NS-1000M, with the sealed bass of the Yammies yielding low-distortion bass down to around 45Hz. The highly linear motors and light weight of the driven elements mean that these speakers exhibit extremely low distortion across the spectrum. In fact, in a famous test conducted by Hifi News back in the day, of all the loudspeaker systems tested, the Yamaha NS-1000M exhibited the lowest measured distortion.
Crossovers
Yamaha understood the importance of a loudspeaker's crossover network and they designed this one with few compromises. Crossovers are hard-mounted to the rear terminal block. They feature large iron-cored inductors that are unlikely to saturate and non-polar paper-in-oil capacitors feeding the midrange driver.
Slopes are all second-order, which minimises group delay and phase inconsistencies. The midrange and tweeter in each box are wired out of phase, relative to one another. This is said to improve dispersion and reduce cancellation effects. One weakness I see lies in the series high-pass electrolytic capacitor feeding the tweeter.
Protection

One thing that might not look particularly aesthetically pleasing, but which usually preserves the condition of those amazing drivers in the NS-1000Ms are the driver guards protecting each driver. The delicate beryllium domes of the mids and trebles drivers are very rarely damaged, as a result of having such good driver protection.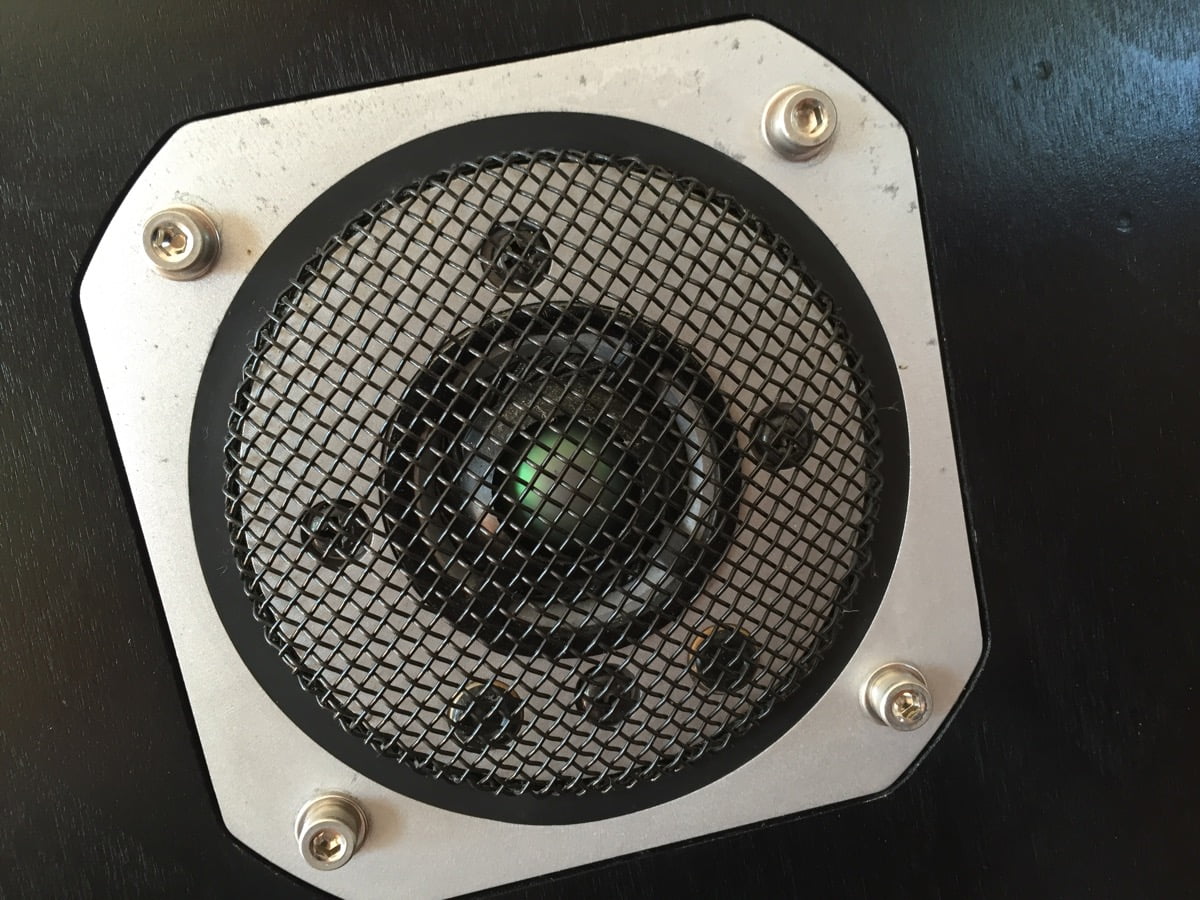 The sound?
In a word, amazing. Airy, clean, smooth, tight, wide open, like electrostatics in some ways. Really good systems benefit enormously from the insight afforded by a pair of these babies. The reality is that there is nothing new in speaker design. Even without modification, these speakers sound remarkably, refreshingly clean. The NS-1000Ms are fast, precise and have amazing off-axis performance. You'll get great mid and high-frequency response from all around your listening room and very little beaming.
A complaint often levelled is that the NS-1000Ms sound bright. It's true that they are brutally revealing of poor source equipment and material. If you have a harsh sounding CD player or bright amplifier, it will probably be tough going.
Much of my audio setup utilises Class-A amplification and this certainly helps by giving you a smooth starting point. Even so, with poor recordings they can be brutally unforgiving. Choose good recordings though and these speakers will give you more of the music than you may have ever heard before. The NS-1000M certainly also favours tube amplifiers and wonderful synergy can be achieved, as kooky Mr Lim of the Affordable Valve Company notes here.
Modifications
You can incorporate better capacitors into the crossovers, to great effect. A good starting point is to replace the series capacitor feeding the tweeter. Try a modern MKP or MKT film capacitor, or even a vintage paper-in-oil (PIO) capacitor. Bypass everything with a 0.1uF film cap and you will be 'cooking with gas' as they say.
I also replaced (bypassed) the capacitor array feeding the mids. In their place I used precision Russian military paper-in-oil capacitors, bypassed with a small MKP capacitor. This yielded a useful improvement in performance, most notably clarity and harmonic richness. I also replaced the large bipolar electrolytic capacitors in the network feeding the bass driver with gorgeous ERO vintage parts. I matched these caps to very tight tolerances.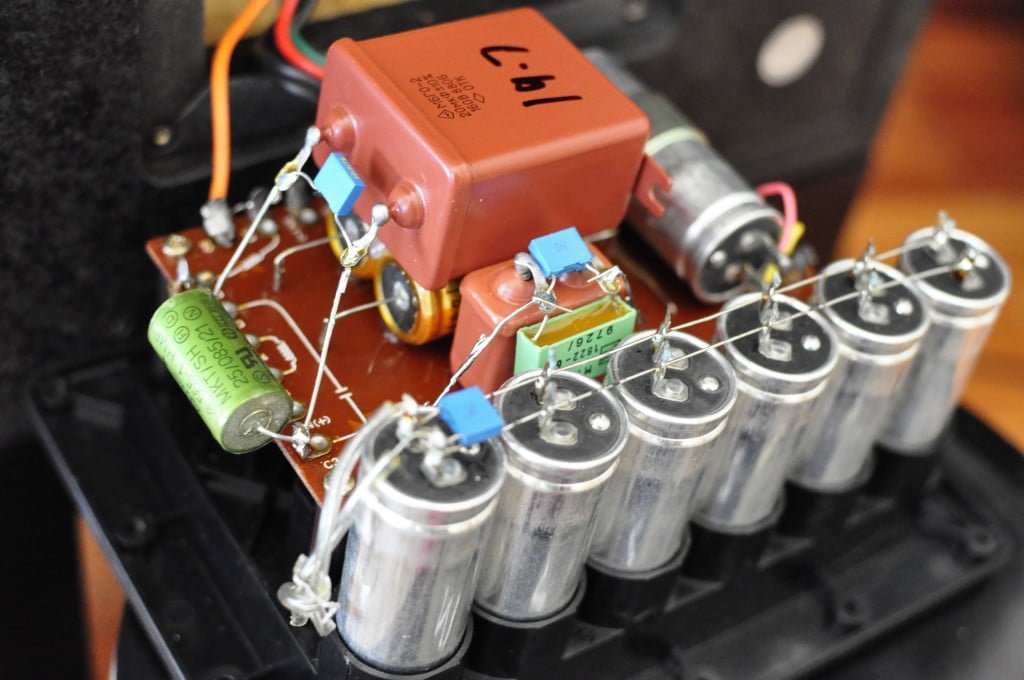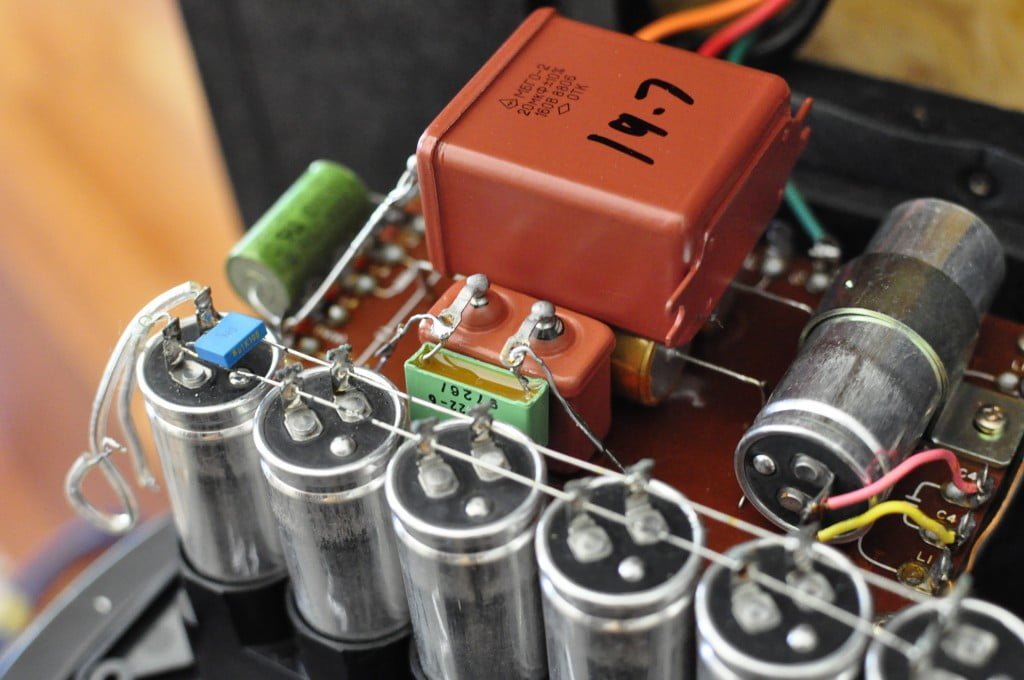 The cabinets are incredibly solid and you can do little to improve them. I highly recommend replacing the fasteners that hold the drivers onto the baffle. I use marine-grade stainless steel Allen bolts in place of the Philips-headed screws. Allen bolts allow you to torque the drivers down tightly and are a definite cosmetic improvement.
You might also improve the factory speaker terminals, which are flimsy and only accept small gauge bare wire. I replaced them with gold-plated brass binding posts, which fit conveniently onto the existing mounting plate and look almost like they came that way from the factory.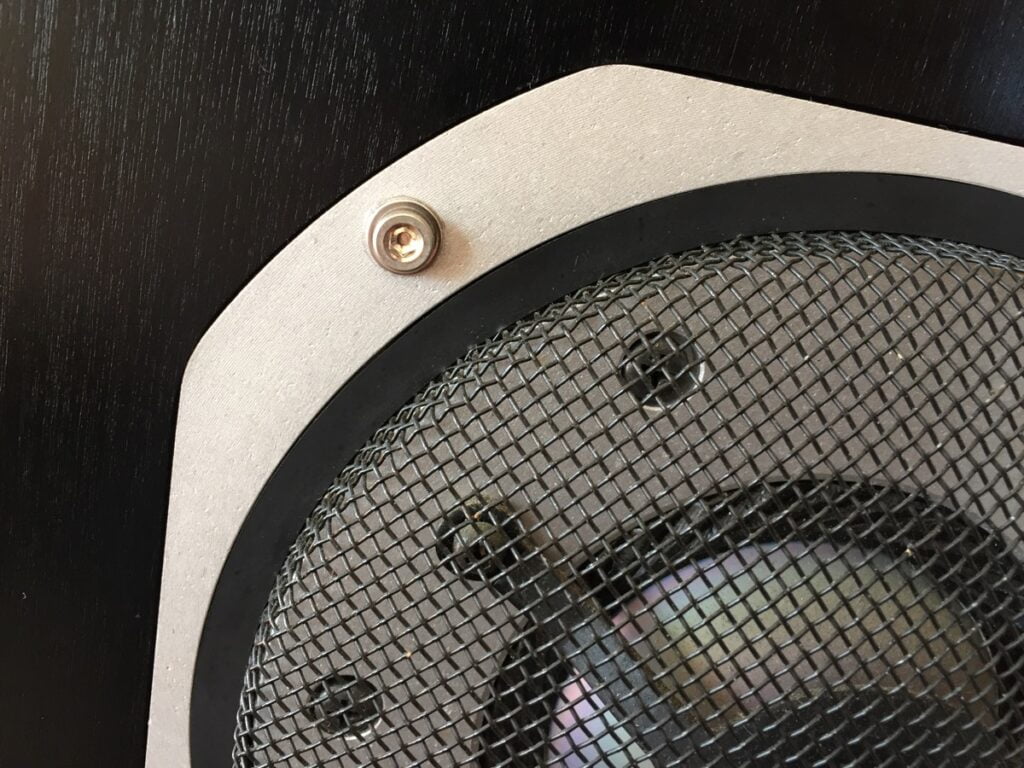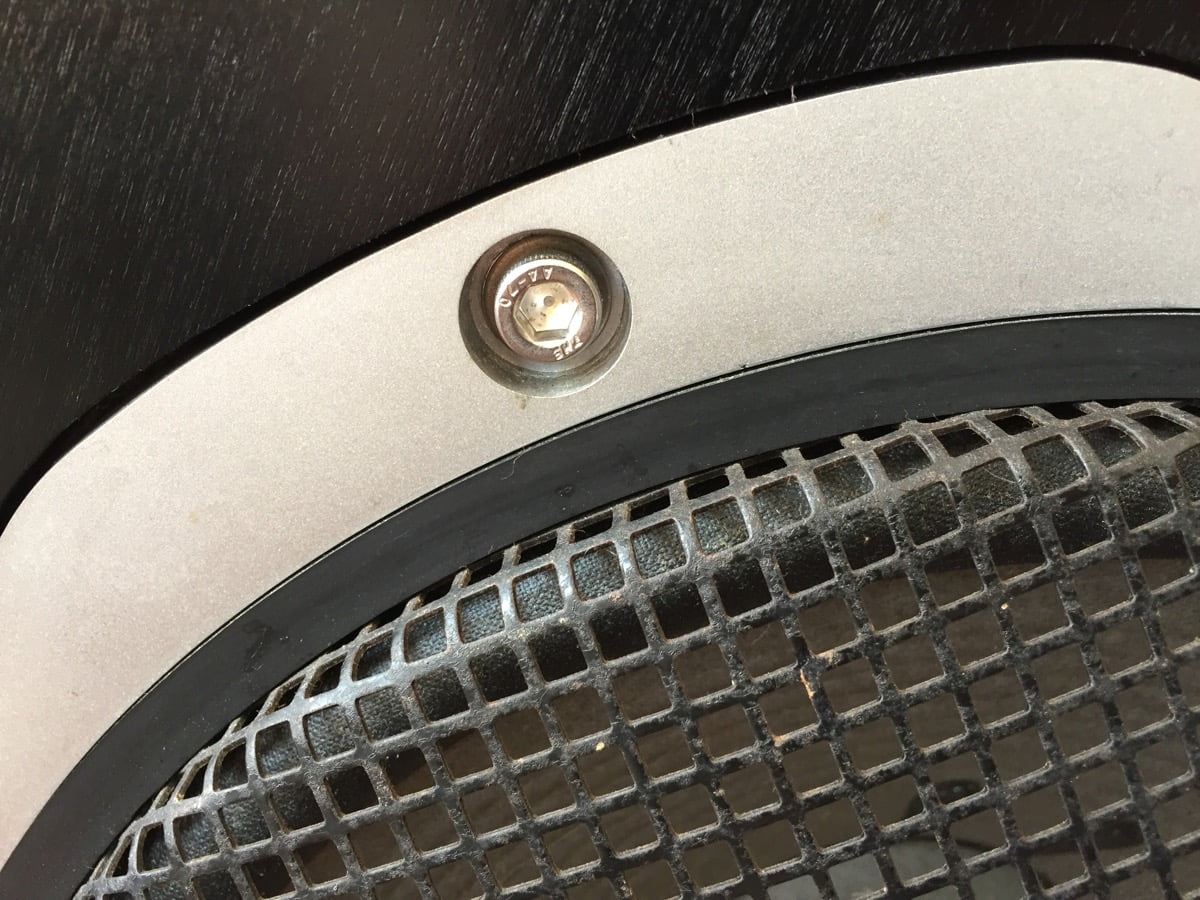 Speaker Stands
One thing you will need to get the most out of these great transducers is a good pair of stands. Stands for the NS-1000 are not easy to come by.They are officially known as the SPS-500, here are some pics…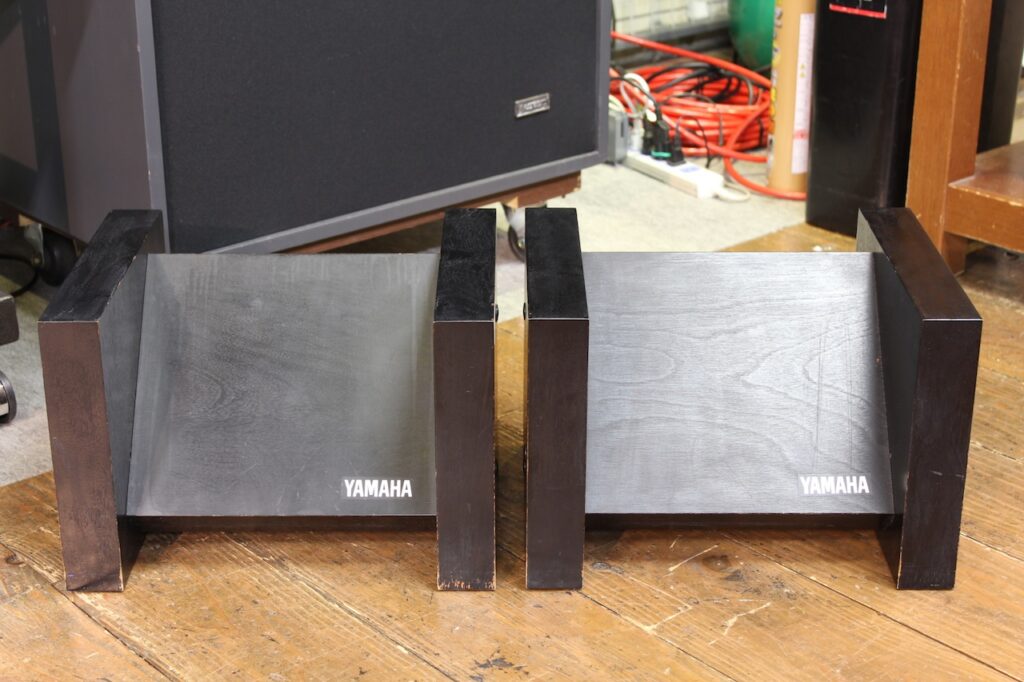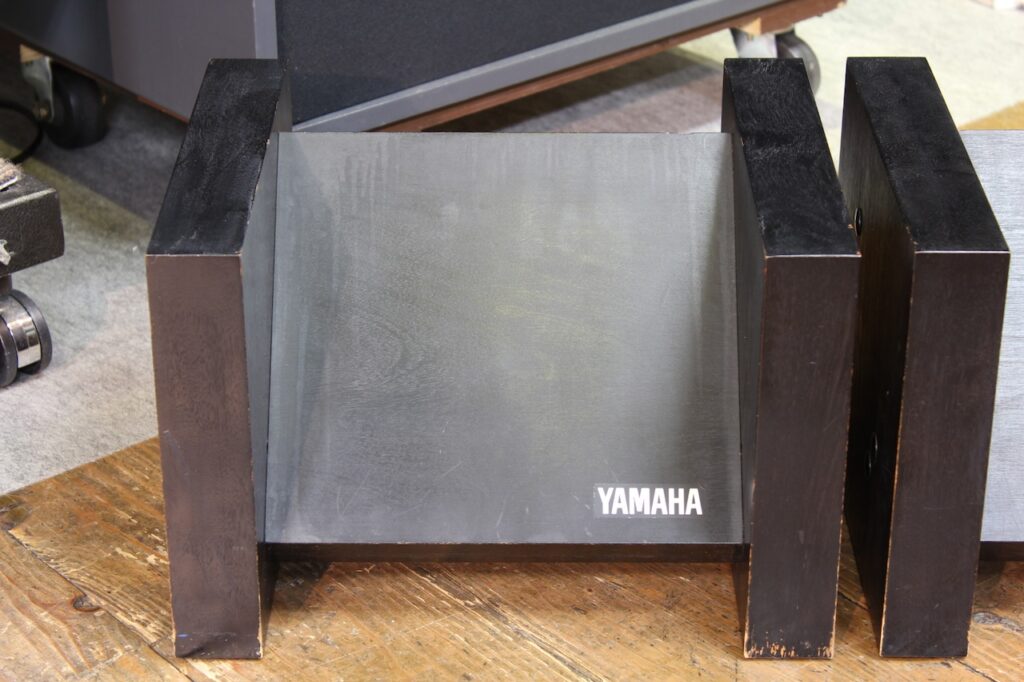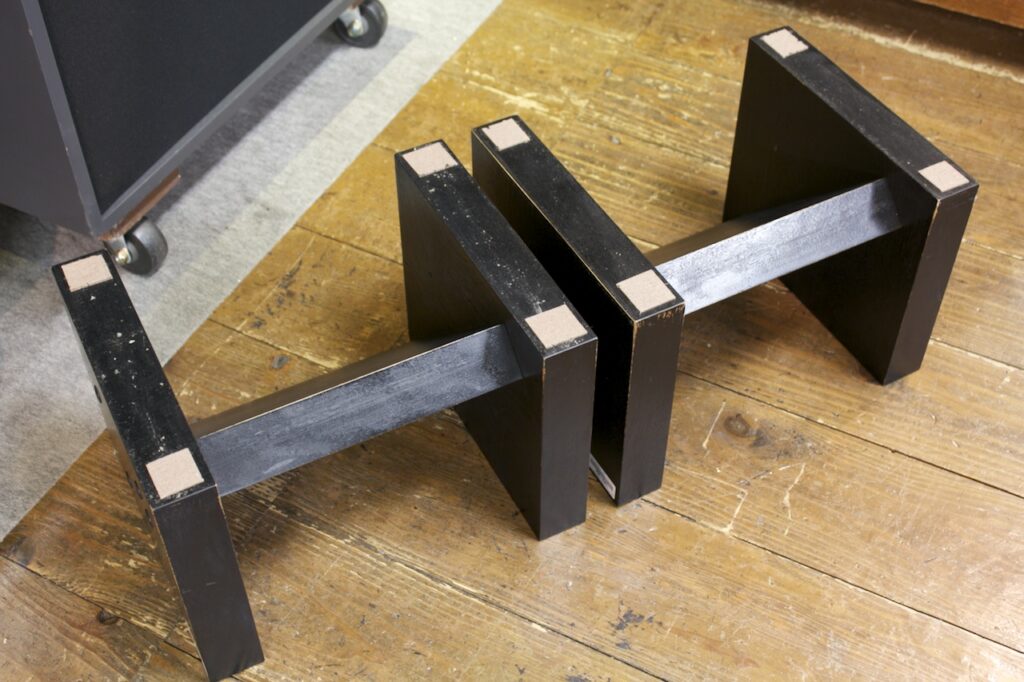 It's almost impossible to obtain a pair of the original Yamaha stands because owners just aren't selling them. Instead, I decided to design and build a pair that would be easy for the average DIY'er to manufacture. I've written an article documenting the build of my DIY NS-1000 speaker stands here.
Summing Up
In engineering per dollar terms, there's no way Yamaha could sell the NS-1000 now for less than 10 grand a pair, there's just too much custom engineering, metal, wood and toxic beryllium. If you are able to find a pair now, in good condition, with undamaged drivers and matched serial numbers, they are worth almost anything you are prepared to pay. Nothing for sensible money comes even close.
Yamaha has in fact decided to resurrect the venerable NS-1000M in the form of this monster – the stunning new NS-5000. You can read the full story here, with loads of tasty details and an interview with the chief design engineer.
Yamaha have just released the NS-5000 in Australia, with a recommended retail price of – wait for it – $ 19,999!! Who knows how they will sound, but looking at the details, it's hard to imagine the that NS-5000 will sound anything less than spectacular.