This lovely Denon SL-7D direct drive turntable needed a thorough service in order to play records nicely again. I figured it was a great opportunity to review this classic deck.
I've written about the Denon SL-7D previously, they are good, honest turntables and I enjoy working on them. The SL-7D definitely isn't a super-deck, but they are well-engineered turntables, relatively affordable and, with regular service, should provide many years of listening pleasure.
If you'd like a brief summary and prefer a video, check out my Denon SL-7D service and set-up video, on the Liquid Audio YouTube channel.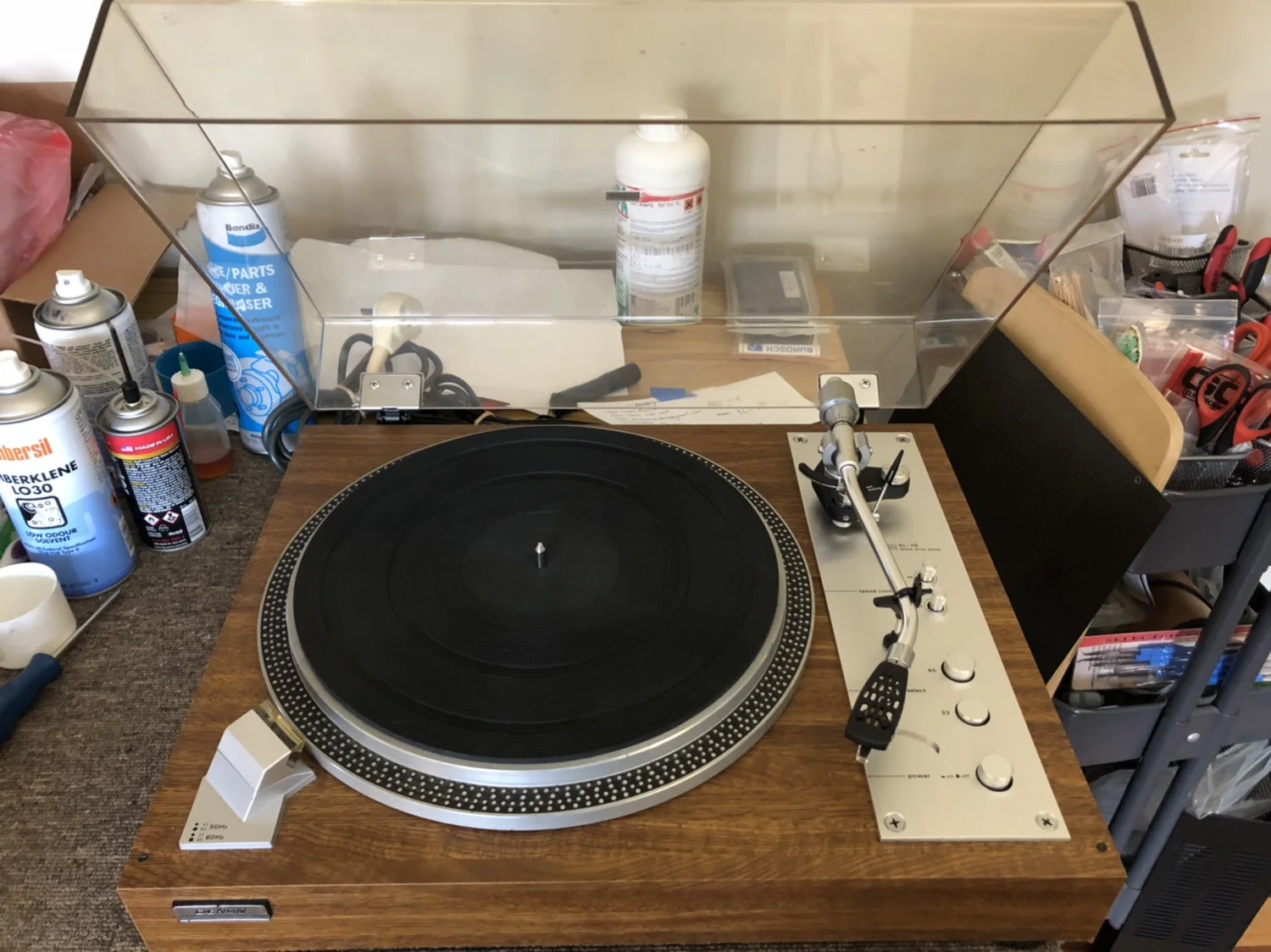 Features / Colours / Market Sector
Typical of the era and price point, the Denon SL-7D comes with a basic vinyl wrap and fairly lightweight platter, not quite in keeping with the rest of the deck. It does have a nice tonearm however, and she'll play a record very well, once properly set-up.
I'm aware of two finishes – the first is this light coloured vinyl wrap you see above. The second, and my preferred colour, is the darker wrap you see below, as featured on this SL-7D I worked on earlier in the year.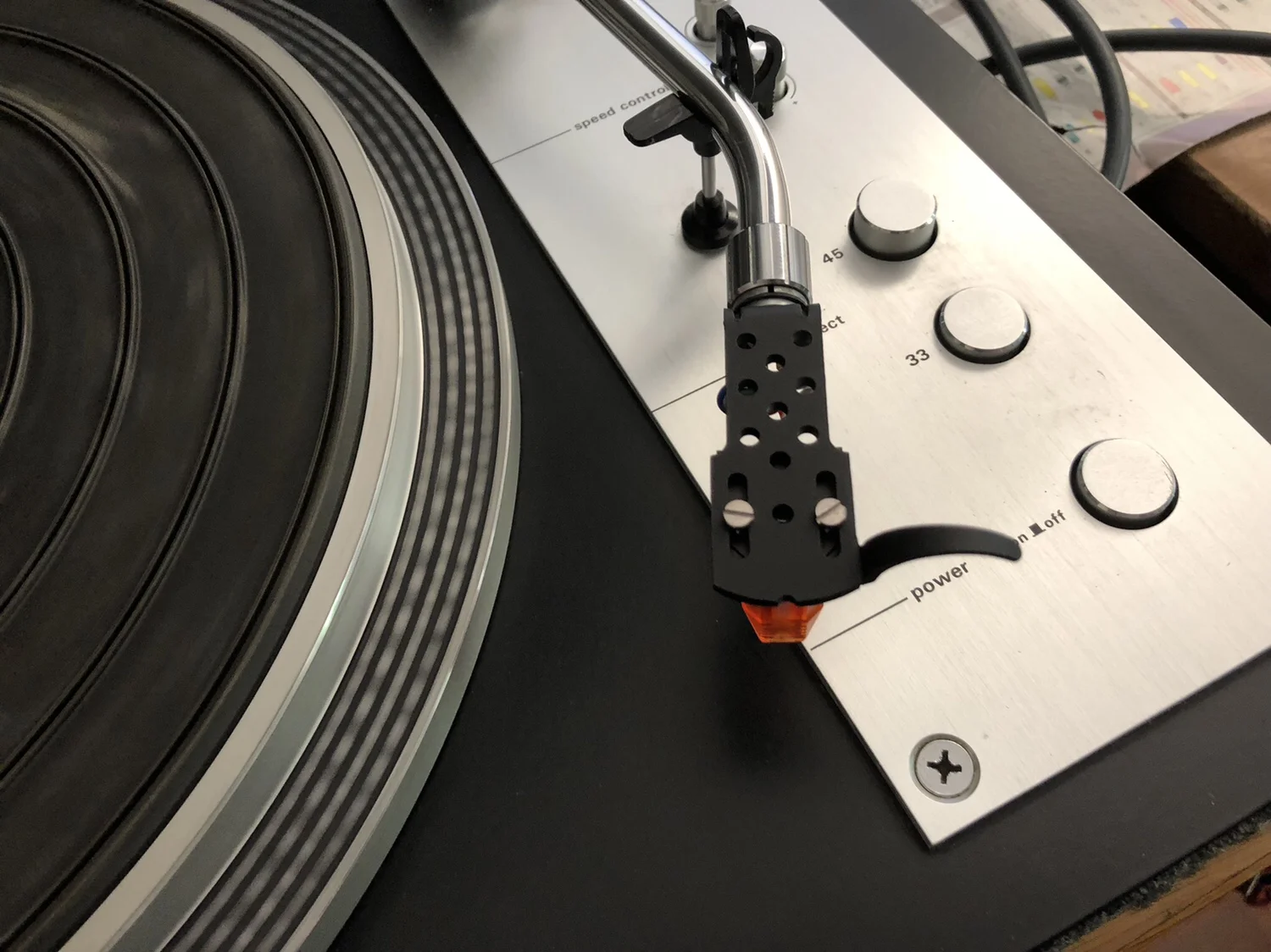 The deck is fully manual, meaning you set your speed, manually raise and lower the tonearm and return the arm to the resting position at the end of a record. Manual operation is usually best for sound quality, but many people prefer the push-button simplicity of an automatic machine, or the arm return benefits of a semi-automatic deck.
In terms of where the SL-7D fits into the turntable spectrum, she is definitely not as nice as a Technics SL-1200 or Kenwood KD-500 / 550. The deck is more similar to something like the Denon DP-30L, JVC QL-F4 or Kenwood KP-2055.
The SL-7D would make a great first direct drive deck for someone moving up in the turntable world. It would also be an ideal stepping stone into proper vintage turntabling and ideal if you want something a little nicer than plastic Pro-Ject, Rega and Thorens rubbish, but at a similar price-point.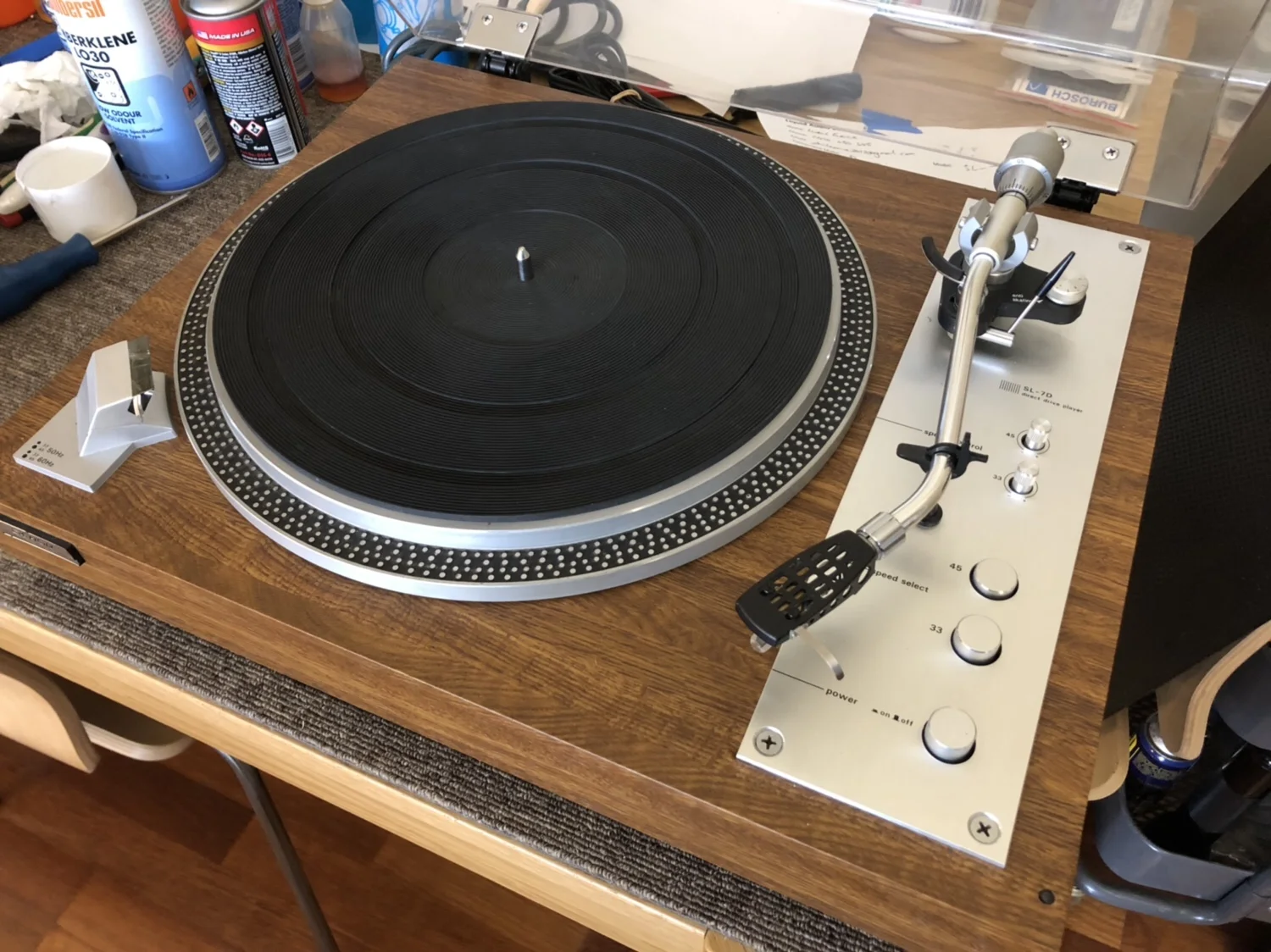 Drive method: direct drive
Speed control: servo-controlled
Motor: 6-pole outer rotor
Platter: 338mm aluminium alloy diecast – light-weight, not great
Speeds: 33 and 45rpm
Wow and flutter: 0.04% wrms – pretty good spec
Signal to noise ratio: 60dB
Tonearm: static balanced, S-shaped pipe arm
Effective length: 235mm
Overhang: 14mm
Cartridge weight range: 4.5 to 10.5g
Dimensions: 484 x 405 x 163mm
Weight: 9kg – moderate overall weight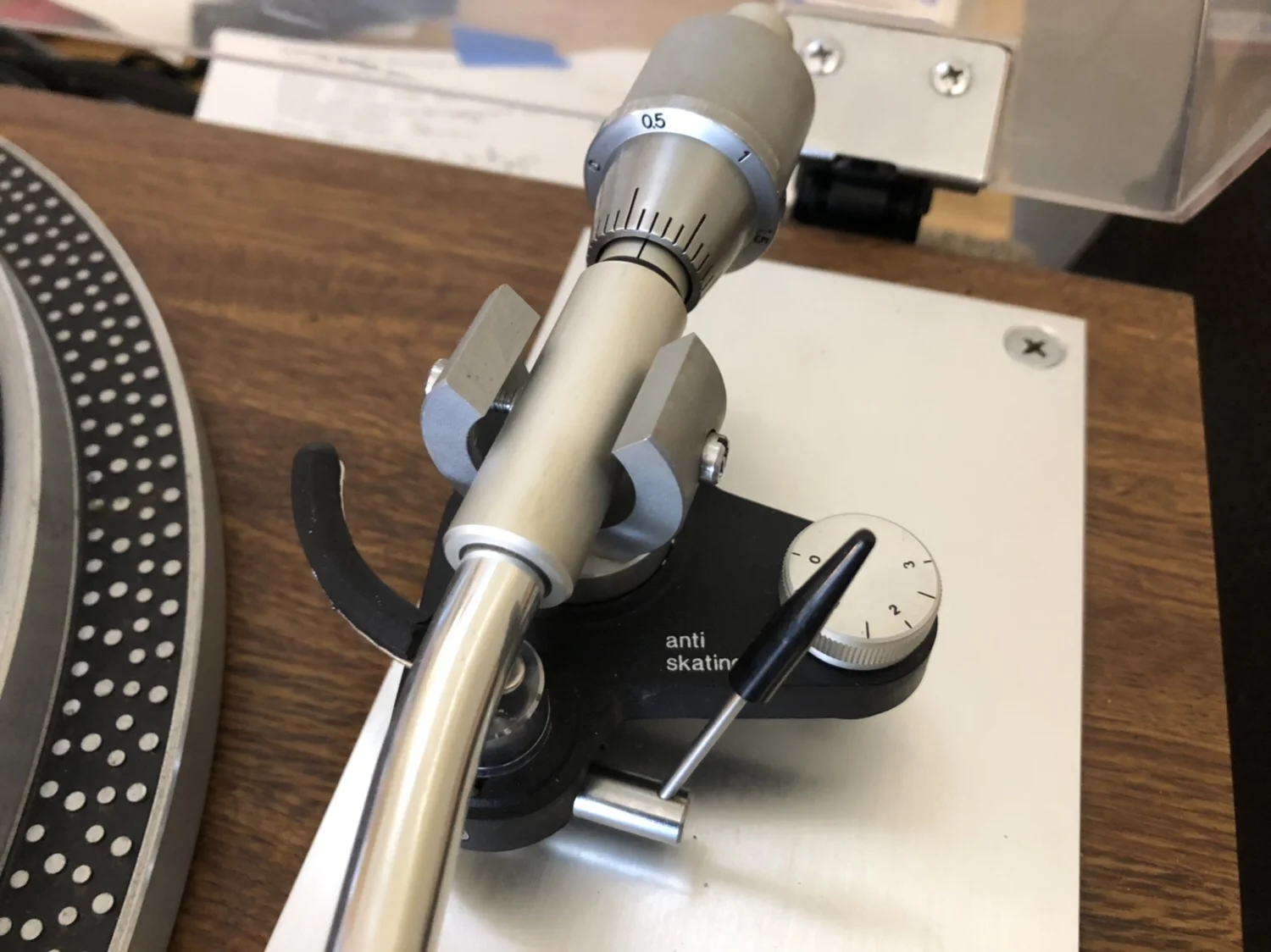 Issues and Faults
SL-7Ds are generally reliable machines, the most common problems being speed control issues. This unit came to me supposedly working. I've learned over the years that this rarely means working correctly or even playing a record. Often, it just means the platter turns and, sure enough, that was the case here. The unit produced no sound out of one channel, with high levels of noise. The speed controls were also at the end of their travel, indicating adjustments were needed.
Testing and inspection showed that the Ortofon OM20 cartridge fitted to the deck was broken where the body meets the mounting flange. This wasn't a problem, I have Ortofon OM series bodies in stock and (with a few exceptions) the bodies are common across the range. The upgrade path comes via the stylus assemblies, which improve as you go up through the range from the OM3 and 5, to the 30 and 40. The OM20 stylus was perfect. More on cartridges for the SL-7D later in this article.
Service
Right, let's get started. All controls and switches needed the usual attention, as did the deck setup, chassis fasteners, bearing etc.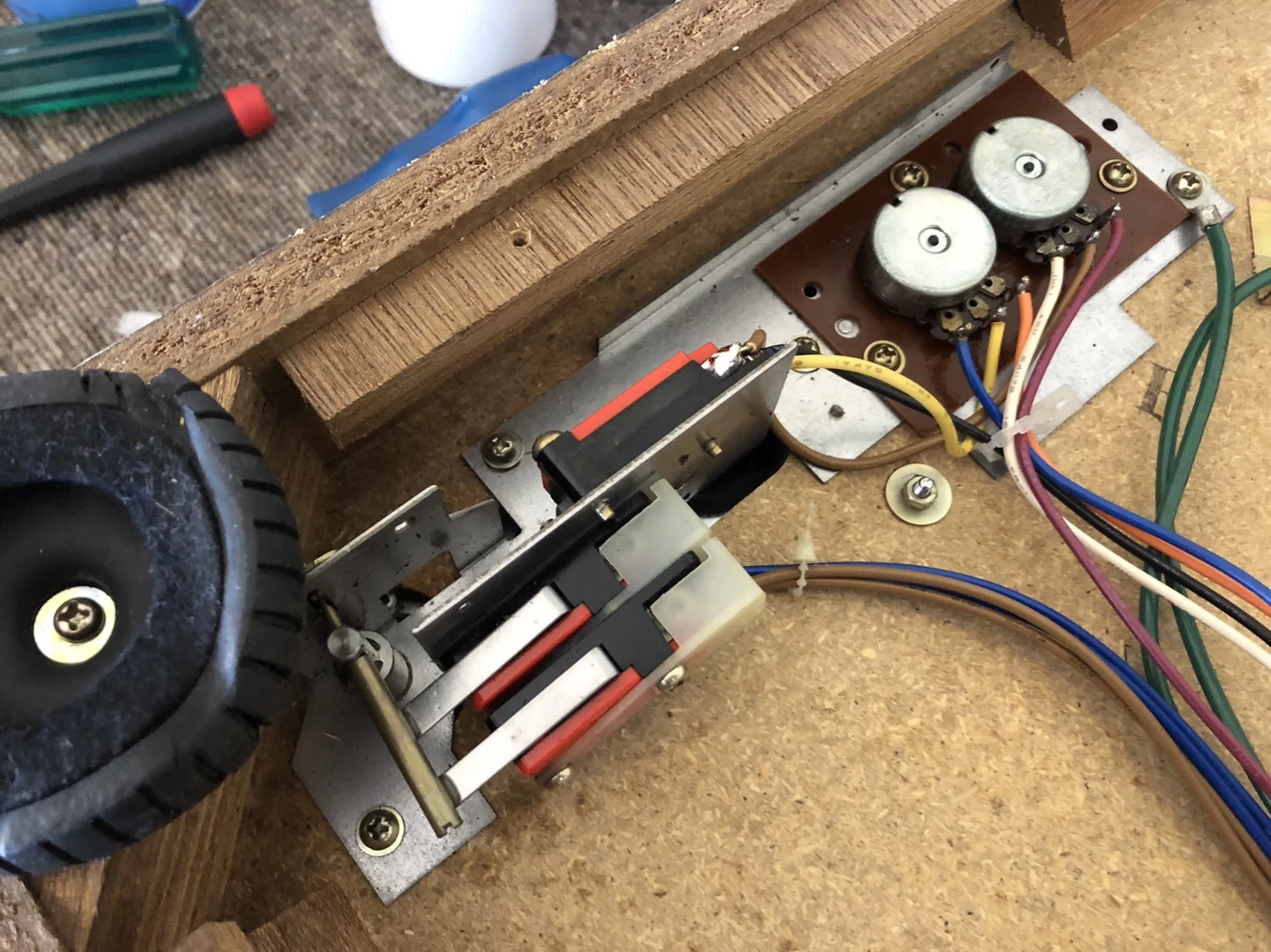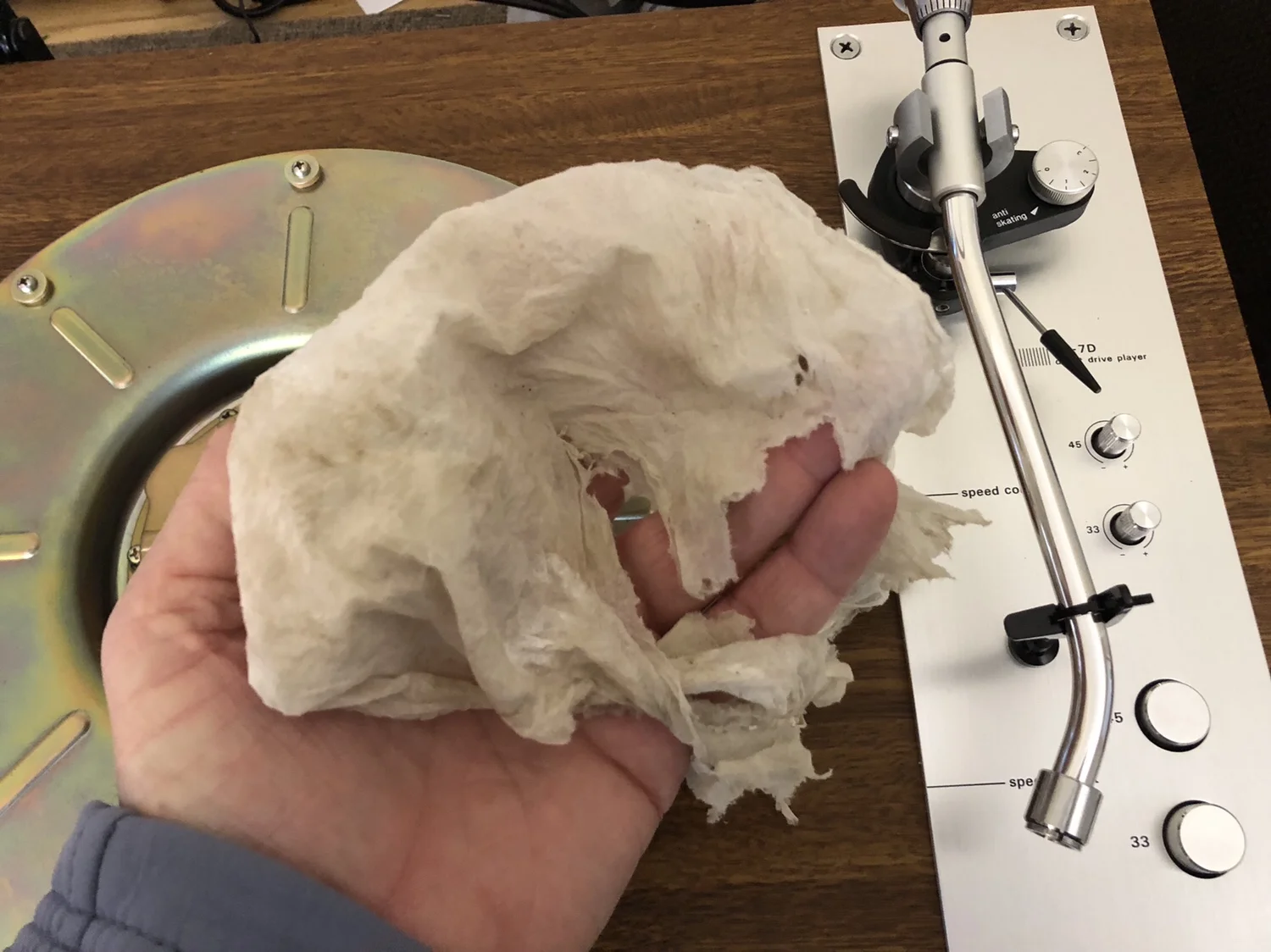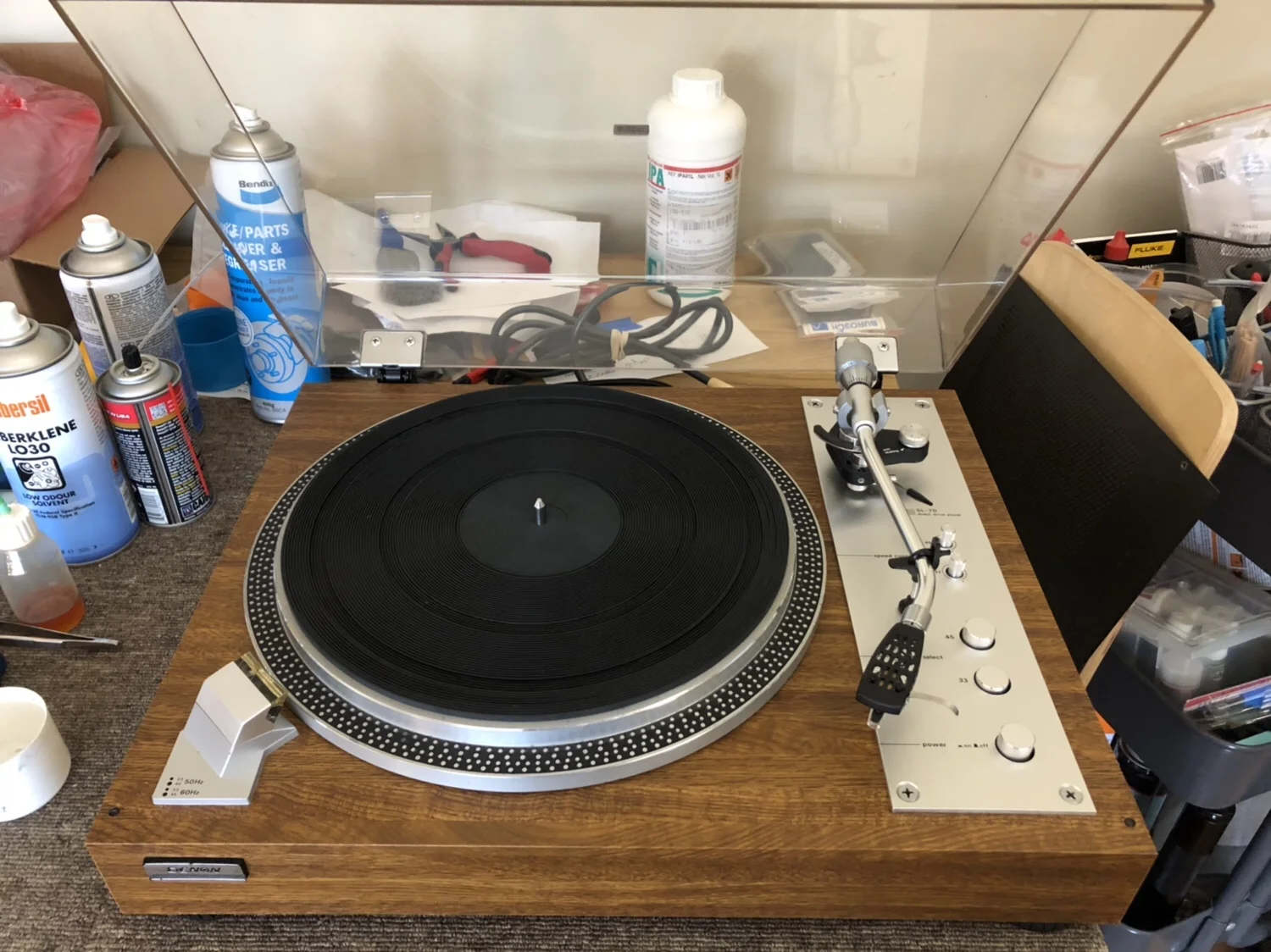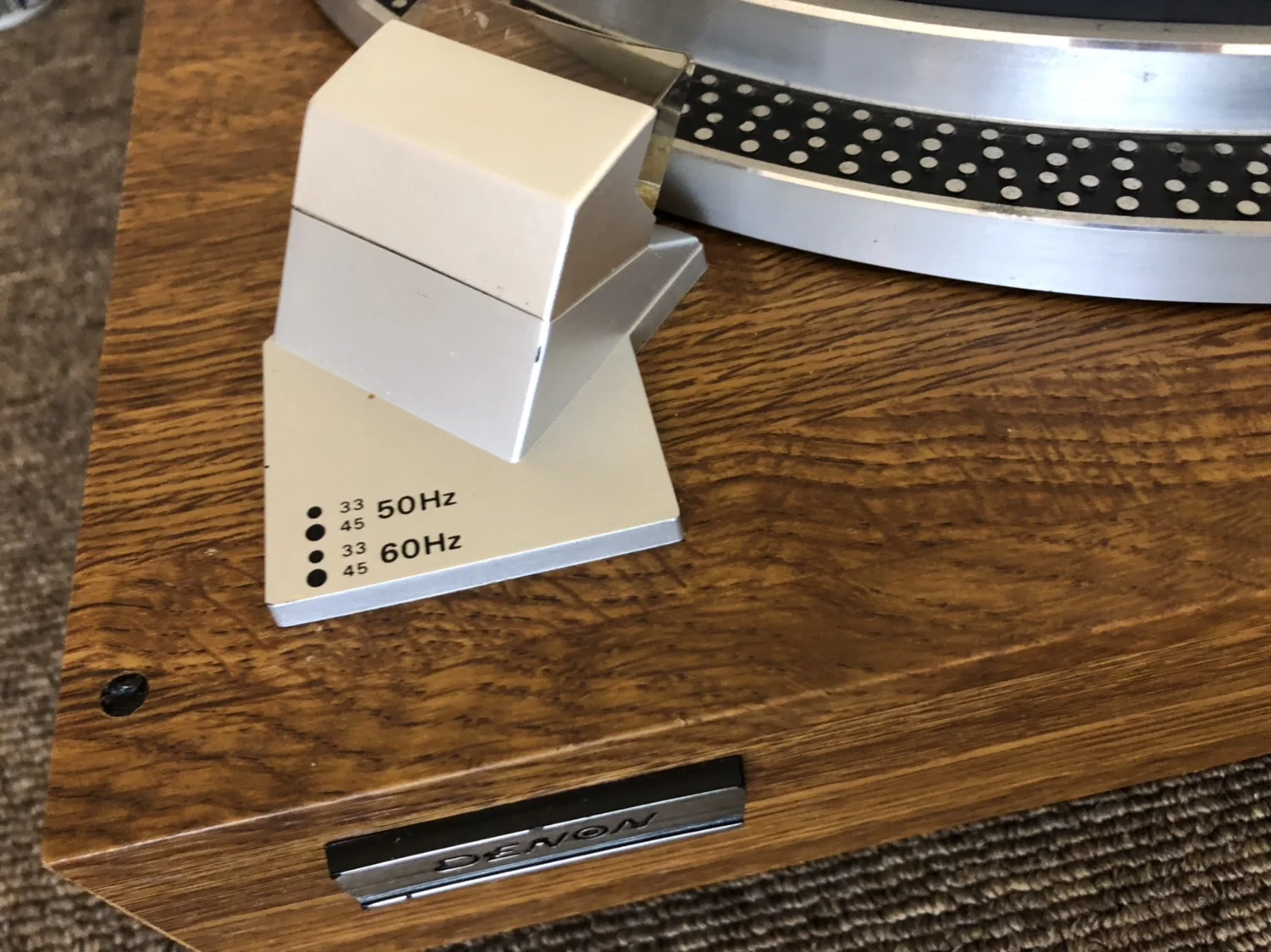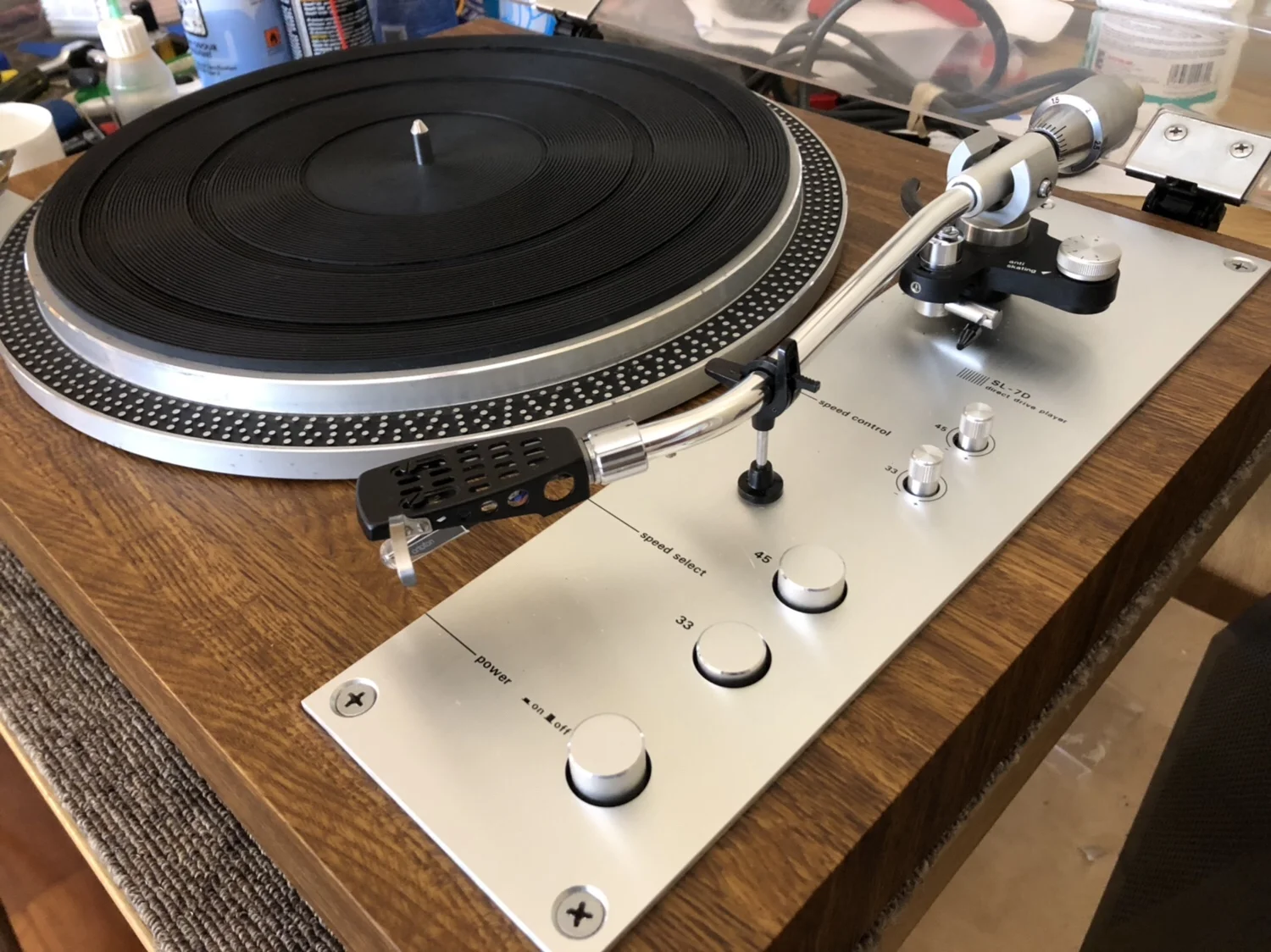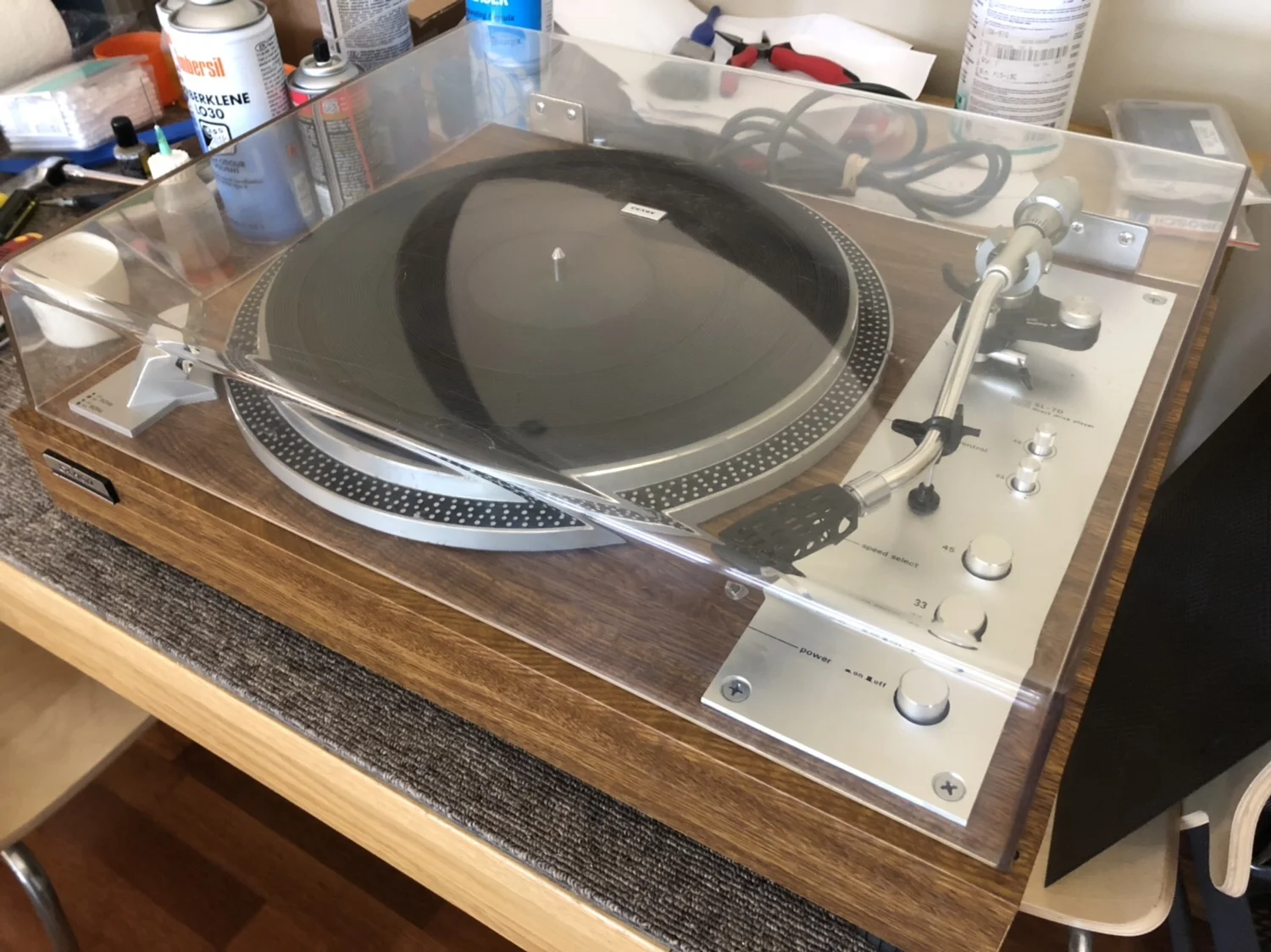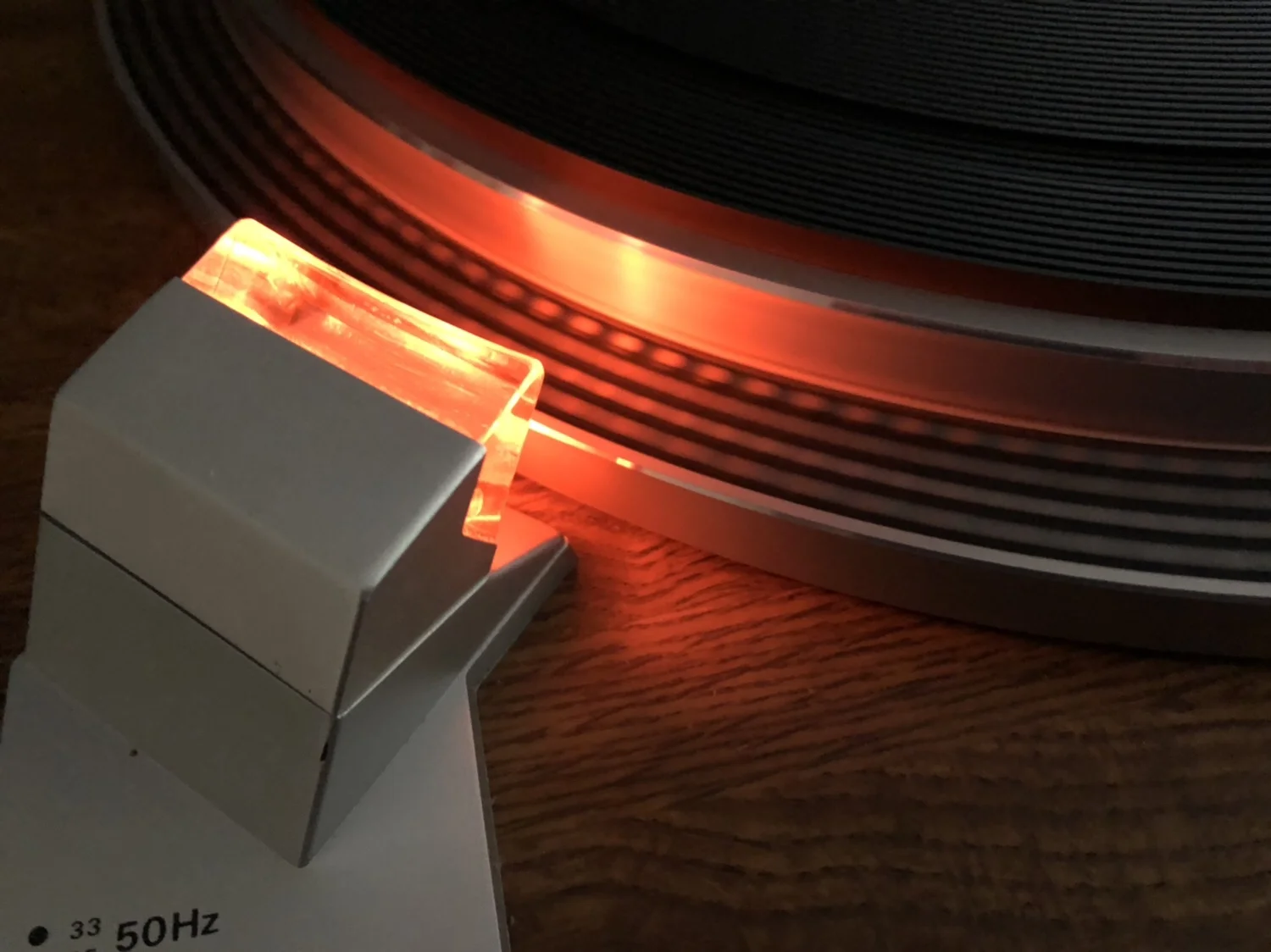 Cartridges for the SL-7D
This is pretty important and easy to get wrong. The height of the SL-7D tonearm is non-adjustable. Sadly, this is a shortfall that limits the number of cartridges usable with this deck.
Most cartridges are not tall enough to use on the SL-7D. Use the wrong cartridge and the back end will be too high. This compromises the vertical tracking angle, negatively impacting sound quality.
As it turns out, the Ortofon OM series of cartridges is one of a few that will work well and let you achieve the correct ride height when installed in the SL-7D.
Once I'd installed a new OM series body on the deck, I slipped on the supplied OM20 stylus and she was good to go. I used a spacer with this OM20 installation to get the vertical tracking angle spot on. This had the added benefit of creating a little more mass at the headshell, better suiting this light cartridge/headshell combination.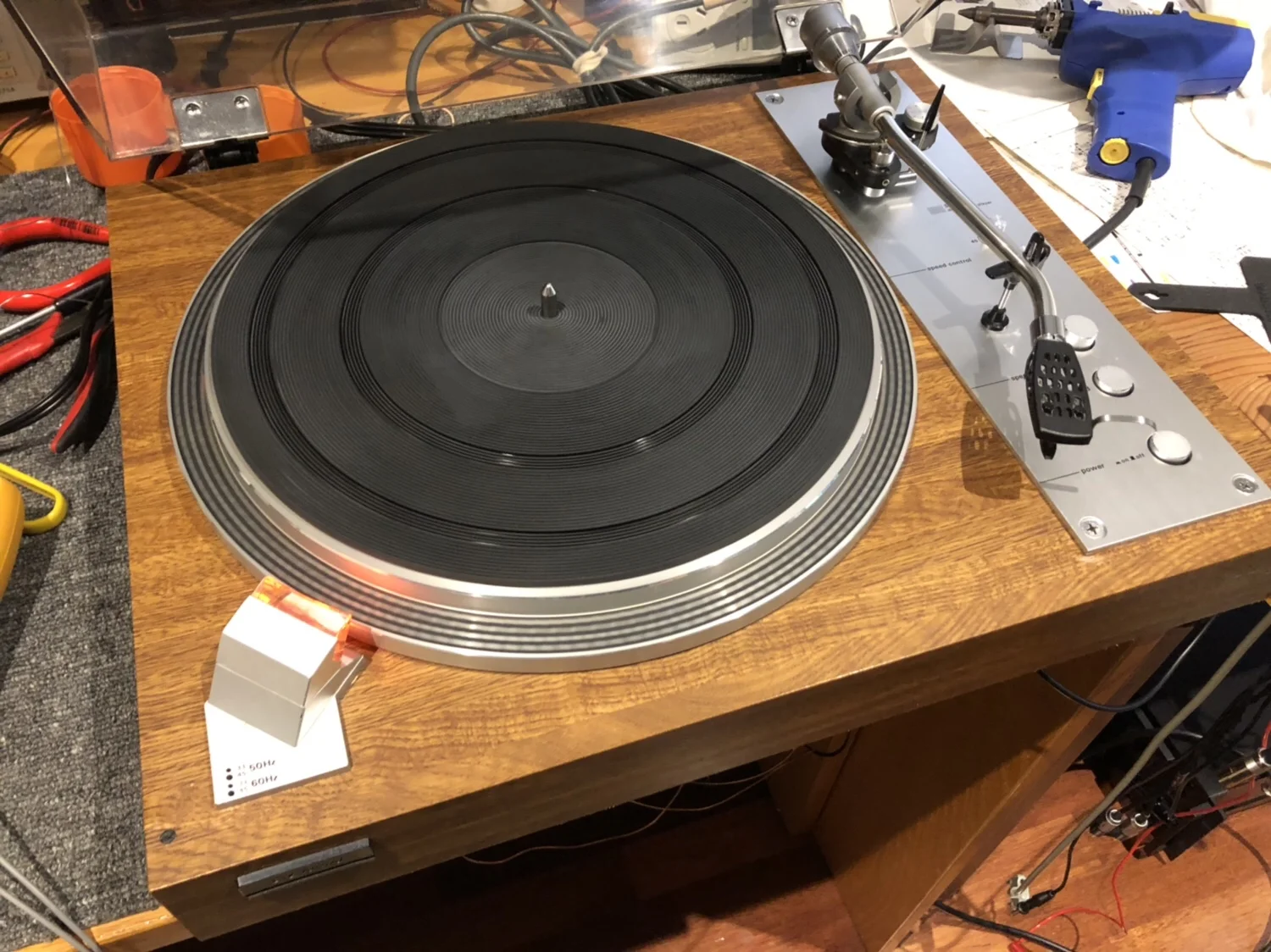 Other good cartridge options for the SL-7D come from the Ortofon 2M series. Earlier this year I serviced another SL-7D and fitted an Ortofon 2M Bronze for that customer. The 2M Bronze is an excellent cartridge and worked well with the deck, albeit with a better headshell. The 2M series doesn't have quite the height of the OM series, but again a spacer helps there.
We've only discussed moving magnet carts so far. In terms of moving coils, you have to keep in mind the fairly lightweight tonearm and smallish counterweight of the SL-7D. There aren't many moving coil carts with high enough compliance to work with this deck, but the AT OC9 mk3 springs to mind as a good option.
I can of course supply and professionally fit any of these models to your deck.
Sound Quality & User Experience
"So how does she go, Captain..?" Good question. When properly serviced and set up, these decks sound really good and play a record nicely. Choose your cartridge and headshell carefully, get the deck serviced, the alignment spot-on and you'll be rewarded with low distortion from the long-ish arm, low noise and lower wow & flutter than most belt-drive decks at this point in the market.
The SL-7D is definitely a step up from a more basic belt-driven deck like the Technics SL-23 for example, as much as I like those decks. The pitch and tone of piano, stringed instruments and singers is more solid and bass performance is better than with more basic machines.
You also have the generally high level of precision the Japanese manufacturers are famous for. All the switches and controls are silky smooth once serviced and everything here is built for the long haul, down to the O-ring seal in the brass bearing housing. Very nice and puts many others to shame.
The Bottom Line
The Denon SL-7D is a proper direct-drive deck for sensible money. I mean sensible though, occasionally you'll see people trying to sell these for $1000+AUD, but that's just being stupid. Get a sensibly priced one though, a nice one might go for say $750 with a cartridge, and you'll be rewarded with a real old-skool player you can have some fun with. And don't we all just want a player we can have some fun with..?!
Don't forget to contact me for all your vinyl service and repair requirements if you live in Perth, WA. I love working on turntables, I think you'll hear that when you get yours back from me and set-up again in your system!